Special offer for agencies
AI Powered
WordPress Platform
Do NOT miss out on the
AI revolution. Join the
first ever
AI-Powered
WordPress platform,
become the leading agency in
your industry
and grow your
revenue with this limited offer.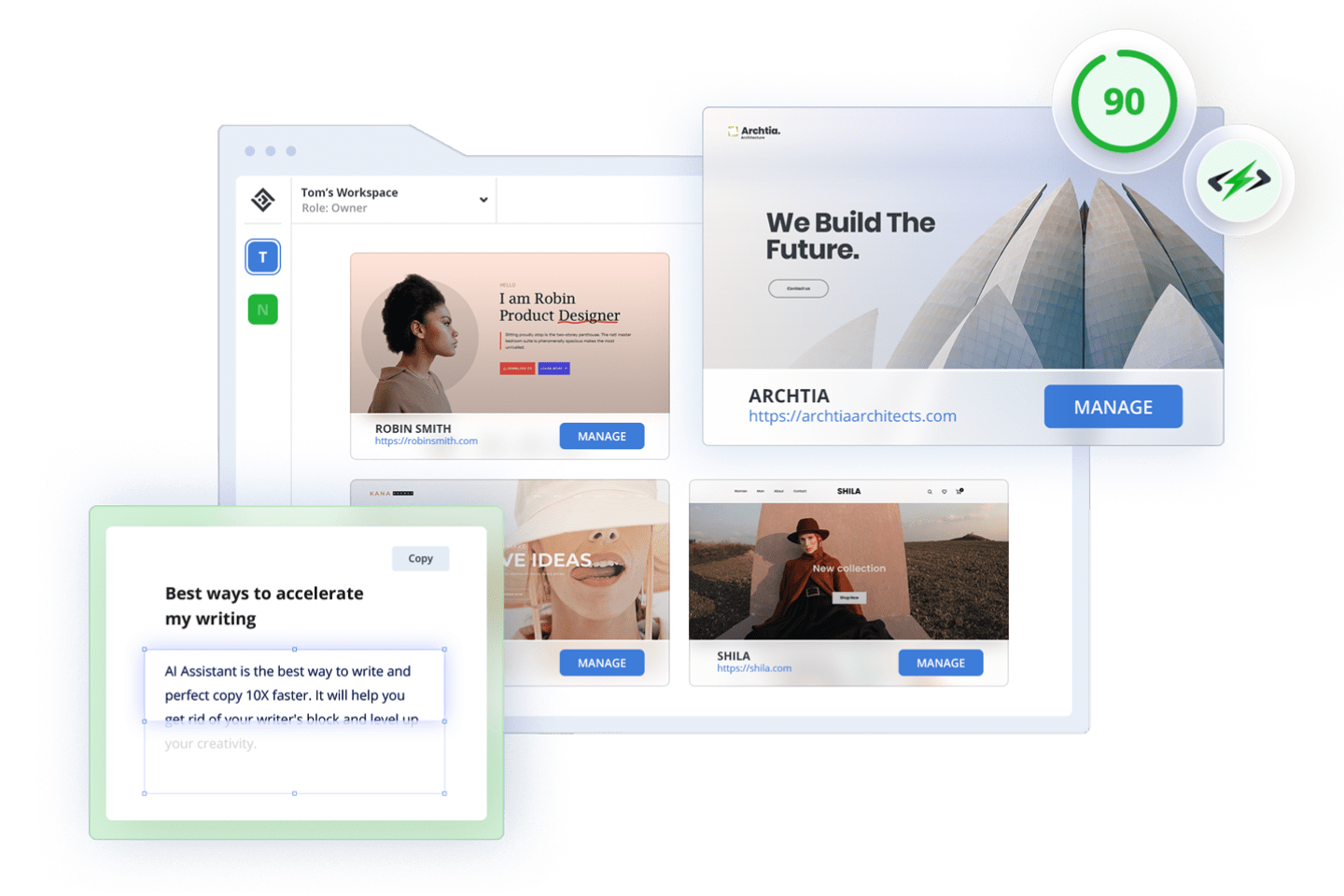 10Web presents limited time offer designed for agencies
Build and manage your clients' websites with the latest and
the greatest technology in the market.
Get full access
to the AI powered WordPress platform
AI Assistant
AI Builder
PageSpeed Booster
Automated Hosting
AI Assistant
Use 10Web AI Assistant to
make your content creation process 10X faster, as well as improve your clients' SEO and readability errors.
Generate SEO-optimized content with one click
Fix SEO and readability errors in Yoast SEO
Generate and edit content
in Classic Editor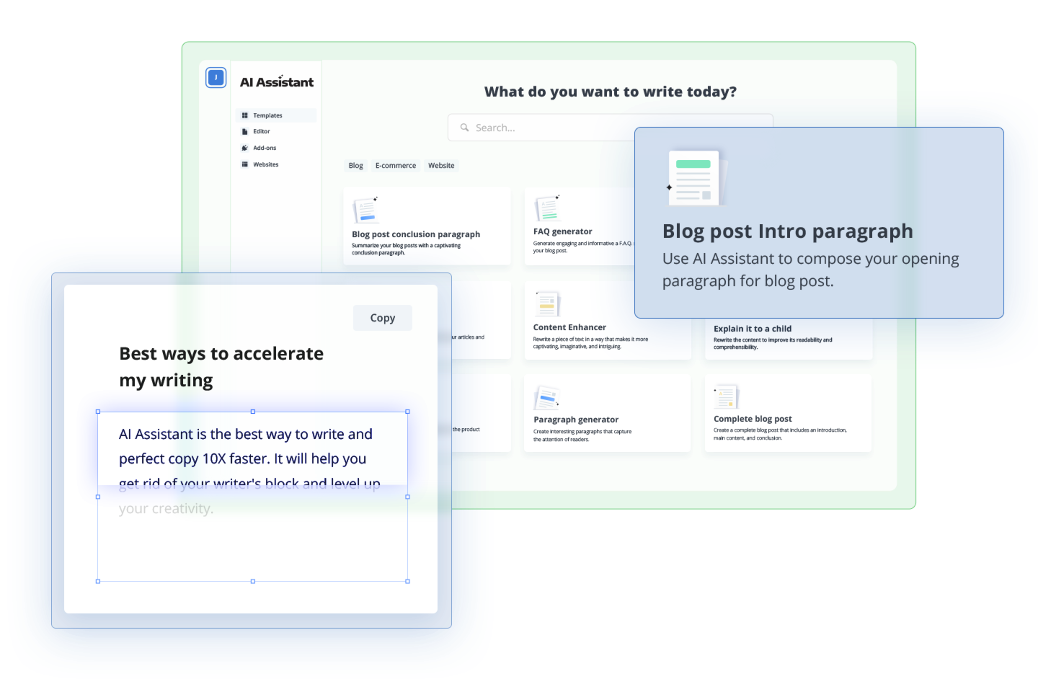 AI Builder
Build websites for your clients in just minutes leveraging the power of AI.
Build a professional website 10X faster with AI
Get AI generated content and images for your website
Customize with 10Web editor based on Elementor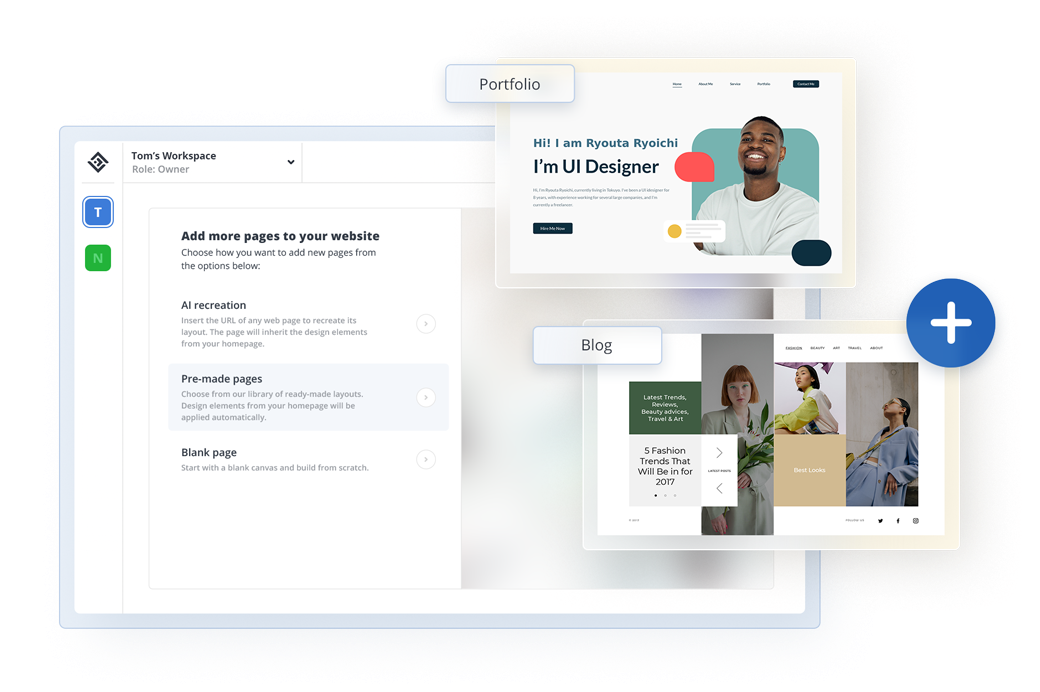 PageSpeed Booster
Automatically optimize your clients PageSpeed score and pass Core Web Vitals ensuring higher rankings
and positive ROAS.
Automated 90+ PageSpeed
Improved Core Web Vitals
Cloudflare Enterprise CDN
Full website caching
Unmatched security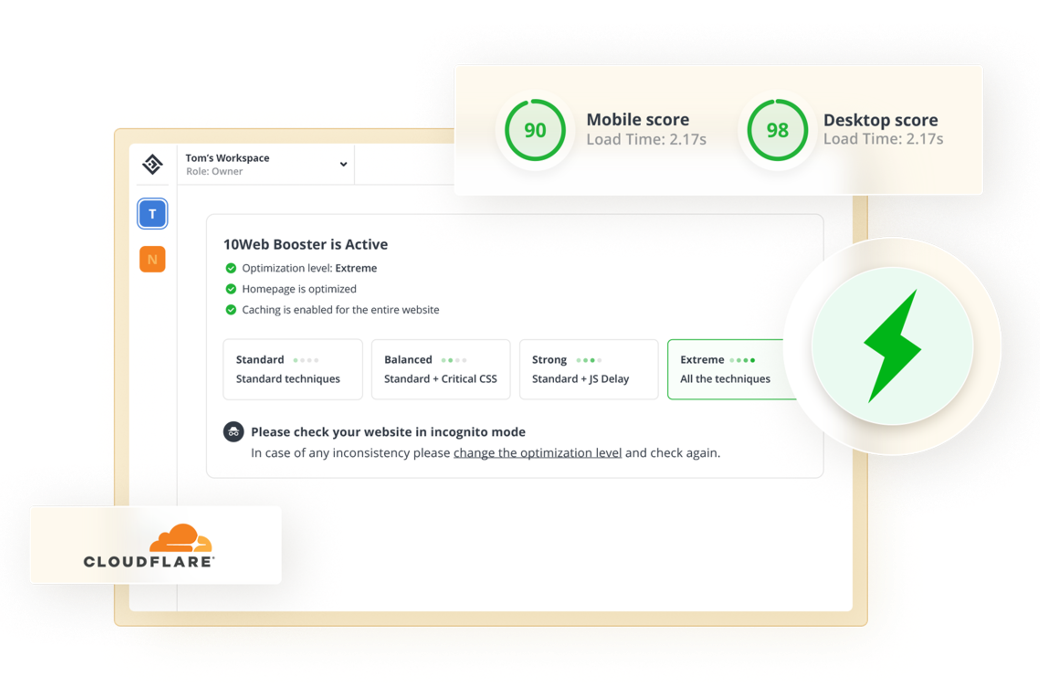 Automated Hosting
With 10Web hosting on Google Cloud you won't have to worry about your clients' websites facing any issues anytime whether increase in traffic or DDoS attacks.
1-click migration
Next gen infostructure
99.9% uptime
Elastic scaling
Real-time backup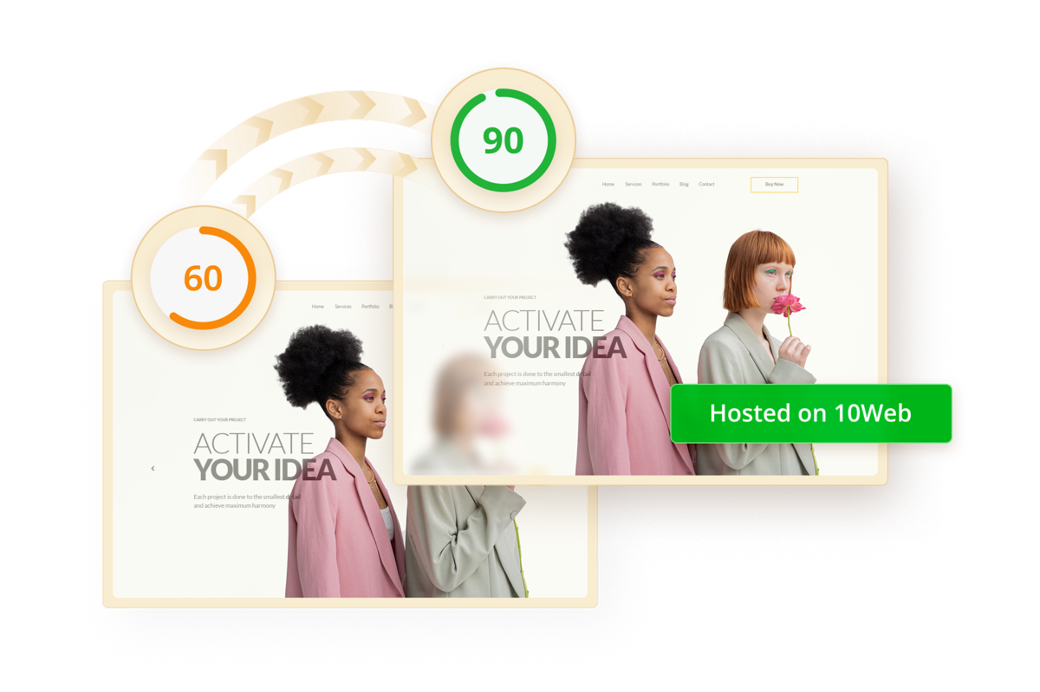 Get early access to our all
upcoming products
Be the first to test all the new AI technologies we have to offer.

Get major discounts on all additional new features.

Be the first to offer it to your clients.

Become a member of exclusive
WordPress community

Dedicated
Slack channel
Get access to the Slack community where you
can interact with
other WordPress folks like you.

Access
to exclusive content
Access exclusive content like guides, presentations
and webinars
that can help you grow your agency.
Get a subscription to
a monthly AI newsletter
Being a leader in AI technology we curate a monthly
newsletter with all the hot topics in the AI world to
help your agency always be aware of what's new
and next in the AI revolution.
Catch up on the most recent and relevant AI news
Information on the best AI tools to grow your business
Interviews with AI leaders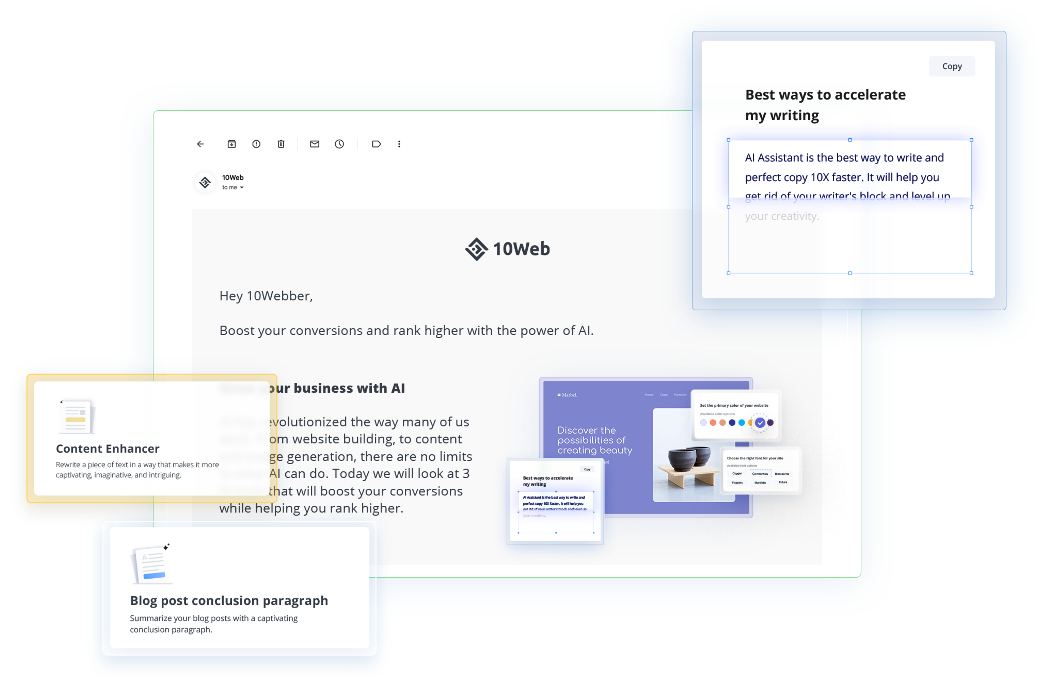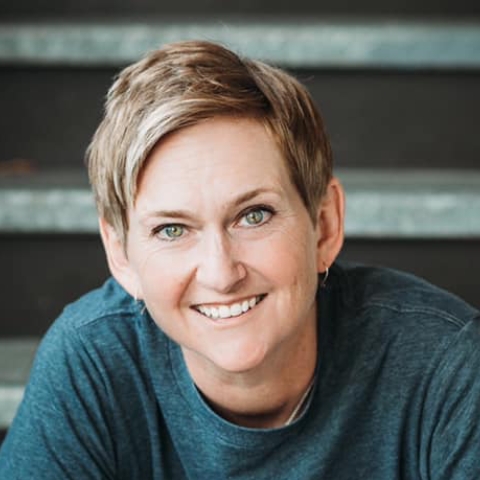 One of the best things that 10Web offers us is the 90-plus page speed score. 10Web has incredible reviews. It's just amazing how many people love the support and the product of this company.
If you don't get 10 clients
in 30 days after utilizing all
the 10Web AI-
Powered tools,
we guarantee your
money back.

Become
an Agency client,
start generating
more revenue
Agency
10 websites
$720
/yr
Billed annully
Billed monthly
Automated hosting on Google Cloud
Visits

For every 10K extra visitors you'll be charged an extra $2 at the end of the billing month Visits are measured by the total monthly traffic (unique IPs) to your site. These visits are shared across the plan.

Storage

You'll be charged an extra $2 at the end of the billing month for each extra 5GB used All servers use the fastest SSD storage on Google Cloud with built-in redundancy to ensure data integrity.

Automated real-time backups

Schedule automatic backups and restore a previous version of your site whenever needed.

99.9% uptime

Websites hosted on 10Web are up and running 99.9% of the time without a glitch due to Google Cloud.

Automated 1-click migration

Move your website to 10Web from any other hosting with just 1 click.

Malware removal program

Scheduled automatic scanning for security issues in your current versions of WordPress core, themes, plugins and unwanted changes made to your files.

Free SSL certificate

10Web provides you with a free one-click SSL using Let's Encrypt integration. The SSL certificate will automatically renew once expired, without additional interference.

SSH access

SSH access automates your workflow and eliminates risks of man-in-the-middle attacks, keeping data transmissions private.

12 data center locations

Choose between 12 global data center locations for each WordPress install. Your datacenter should be close to your visitors.
90+ PageSpeed score We achieve 90+ PageSpeed through a series of technical actions including:
- CSS & HTML Minification & Compression
- JS Minification and Compression
- Image Lazyload
- Font Swap
- iFrame and Video Lazyload

Improved Core Web Vitals 10Web helps you pass Core Web Vitals Assessment by:
- Using Critical CSS
- Preload images
- Optimize font delivery
- Use web workers
- Delay or remove non-critical third-party

Image optimization 10Web optimizes website images through a number of activities:
- Converting Image Format to WebP
- Container-specific Image Resizing
- Lossy reduction
- Keeping Full-sized images

Caching

10Web's advanced caching mechanism caches everything and re-optimizes edited pages to continuously decrease load time.

Auto optimization of images

Automatically optimize images uploaded to the media library.

Custom optimization rules

Customize and manage optimization modes of specific pages on your website.
Cloudflare Enterprise CDN add-on
Price per website

Get website security, performance, and reliability boost thanks to the Cloudflare Enterprise.

CDN bandwidth per website

For every 10GB of extra badnwidth you'll be charged an extra $5 at the end of the billing month. 100GB of bandwidth is on average equivalent to 50K website visits.

Up to 60% performance boost with CDN

Increase your website performance by up to additional 60% by enabling Cloudflare Enterprise CDN on your website.

Up to 10X faster load times

275 data centers located across the globe provide visitors with location-based access to your website, while removing latency and improving performance.

Under 100ms TTFB

Reduce the time it takes for your user's browser to receive the first batch of your data to under 100ms.

Full page caching on edge network

Improve server response time and loading by enabling full page caching for static pages to read entirely from the cache.

DDoS protection

Protect your website with Cloudflare's enterprise-grade unmetered mitigation of DDoS attacks.

Web Application Firewall (WAF)

Cloudflare's Web Application Firewall protects your website from DDoS and Bot attacks, Brute force attacks, and other threats.
Image and copy generation with AI

Answer our brief questionnaire, and our AI-powered content generator will create tailored content and images for your business.

AI recreation

Insert the URL of any web page you like to recreate the layout. It will inherit the design elements and header & footer of your homepage.

Drag & drop live editor based
on Elementor

Edit newly built websites using the 10Web Editor based on Elementor. Drag and drop widgets and customize them to your own unique style.

Responsive design

Adapt any website you build to mobile, tablet or any other device with ease.

50+ basic & pro widgets

We have enhanced Elementor with our 50+ premium widgets.

Theme builder

Turn any web page into a template with our AI Builder, all without copying a single line of code.
Backend speed optimization
Google Cloud Premium Tier network

Premium Tier delivers GCP traffic over Google's well-provisioned, low latency, highly reliable global network.

TTFB faster than 200ms

TTFB measures how much time it takes from the initial request for a web page until the first byte of data is returned. If TTFB is slower than 200ms, it affects the overall Server response time, user experience and SEO.

Server performance acceleration

Total time of execution calculated by running several tests on PHP and MySQL. This metric affects the speed of WordPress admin and dynamic pages.

WordPress performance boost

Time it takes to perform 1000 queries — 250 insert, select, update and delete functions through $wpdb.

Up-to-date version of MySQL

10Web supports the newest MySQL version for a faster database and faster performance.

Up-to-date PHP version

10Web supports the up-to-date PHP version to improve code execution performance and speed.

Database optimization

Optimization of a database (MySQL) specifically designed for WordPress websites.

Faster WP Admin and dynamic pages

10Web hosting and subsequent features speed up WP Admin & dynamic pages, minimizing wait time and improving overall experience.
User & team management

Invite users and give them different permissions to your account and websites.

Staging area

Stage and test the coming updates on your website's clone before publishing them.

WordPress and plugins update

Easily update WordPress core through our intuitive dashboard.
White label

White label your WordPress dashboard of websites hosted at 10Web and take your business to the next level.

Additional hosted sites Get more websites
$6/mo per site
20K visits
5GB SSD storage.

Multisite support

Install WordPress multisite and manage all aspects of your WordPress multisite from the 10Web dashboard.
Email assistance

Submit tickets with any issues you have and our team will get back to you in the shortest time.

Real-time chatbox assistance 24/7

Our customer support team is at your service 24/7. Reach out to us anytime.

VIP support

Directly connect with our engineers through your dedicated Slack channel to solve any issue.