10 Reasons Why You Should Use WordPress to Run Your Business Website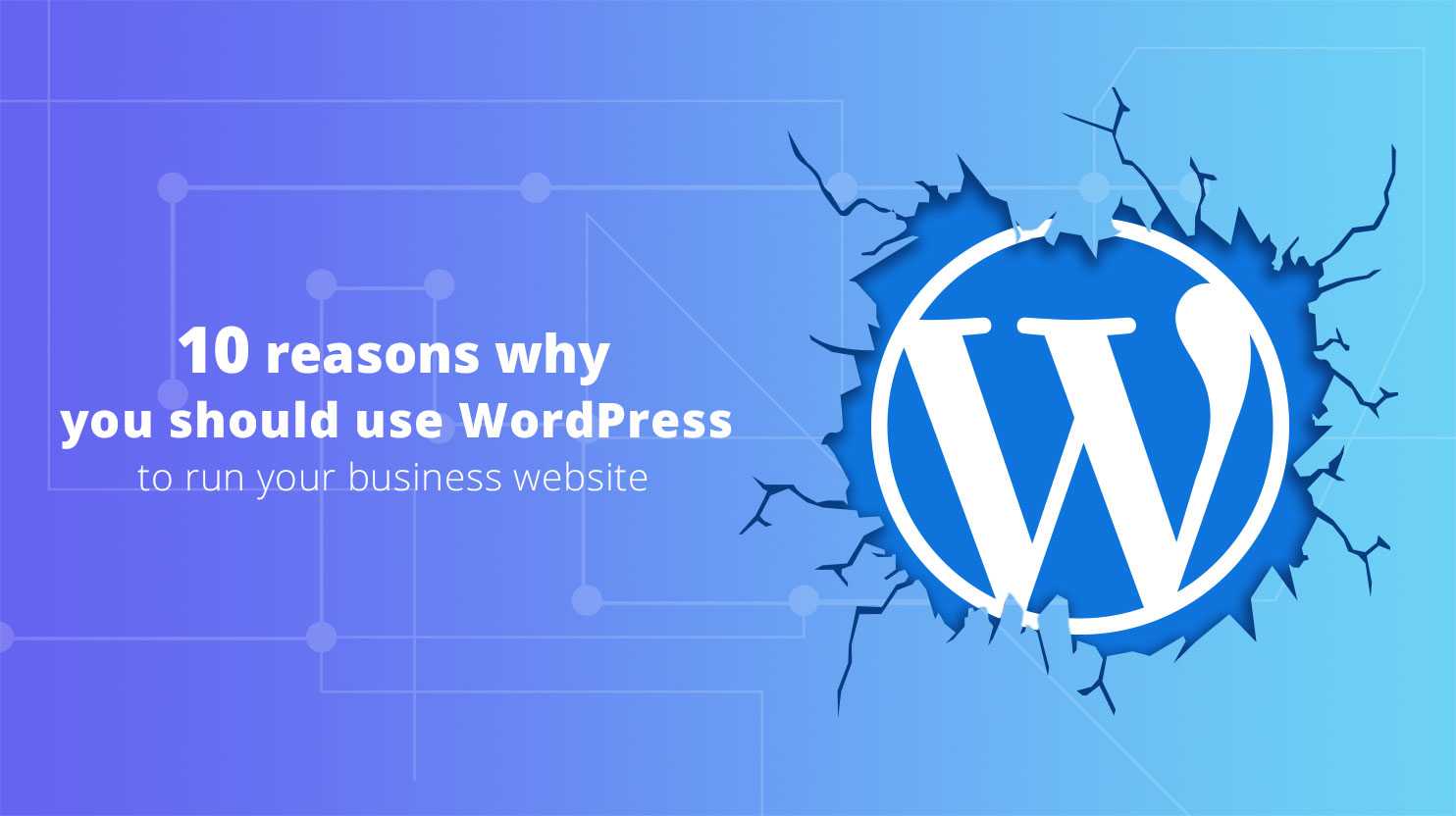 Running a business, though very rewarding, is a very hard task and requires lots of time, skills, and effort. One of the key components of a successful business is a carefully planned website. Especially with the pending trends, its importance should not be underestimated.
When it comes to the world of professional websites as means of promotion, the whole process is a huge labyrinth with dozens of paths rotating and swirling and crossing each other and making no sense when you try to figure out which one to take or what techniques to use.
One of the first decisions to make and one of the most crucial ones is the choice of platform. Which platform to use for your website? Wix? WordPress? Maybe hire a group of programmers and ask them to write the code manually without popular PHP frameworks, such as Yii and Laravel?
Let's dedicate a few minutes to discussing the advantages of WordPress when it comes to creating a business websites. After all, there are over 76.5 million WordPress websites out there, so people must have their reasons for preferring WP, right?
So let's go:
1. WordPress sites are very easy to set up and manage. There are professional themes and plugins and lots of them to keep the site evolving.
"Designing a website with WordPress" sounds way more complex than it is. You don't have to be a coder or know basic HTML to create your own WP site. It's as user-friendly as possible.
In the WP directory and CodeCanyon alone, there are about 60000 magic packages called plugins made for simplifying the process of getting started and proceeding with WordPress. You can read more on the number of plugins and their roles here . When it comes to installing plugins (60+ of which are actually offered by 10Web), you can find a complete guide on the their installation process here.
If you are completely new to WordPress and need a simple guide, check out this article,it's almost algorithmic in listing and explaining all your steps.
You absolutely don't need to be able to draw to design your site. Themes are there to help you. Here you can find a complete list of WordPress statistics on the number of themes, plugins available and much more. Turns out everything has already been done for you and all you need to do is choose the theme that suits your needs best and matches your product. Isn't it just wonderful?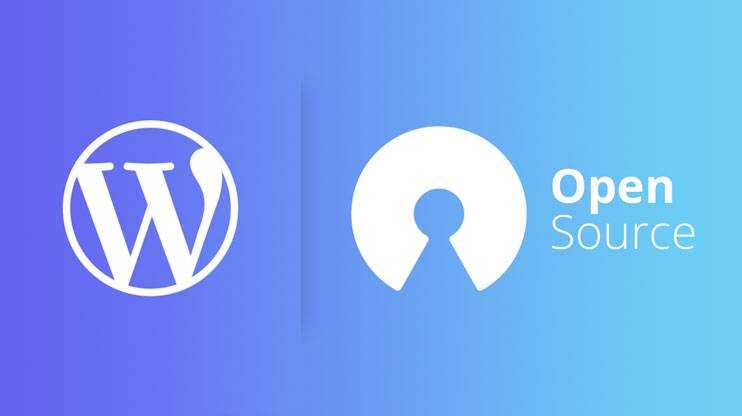 2. There is no cost and WordPress is open-source.
WordPress is absolutely free. Yeah, you got that right. You can promote your business online via a professional site without paying any money. In addition, with all the services offered, it's a dream come true. At the same time, it's open source, which not only means that it is totally free of annoying limitations and ads, but also suggests freedom in all matters, whether it's choice of host or of software use methods and techniques.
3. WordPress reigns supreme on the CMS market.
We tend to care about trends because they most often have their reasons and triggers. Drum roll here, please. So, let's jump to the statistics. Here you can see that CMS (content management system) market stats: WordPress is currently prospering as the leading platform with 59.9% of the market share.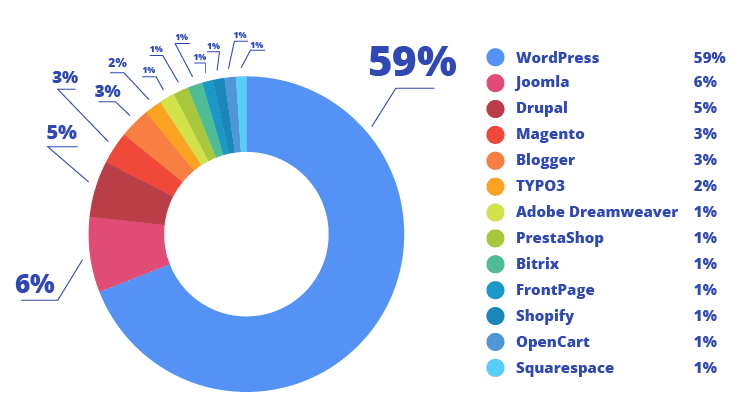 4. It's search engine friendly, secure, adaptable, and customizable.
Sounds like a four-component key to guaranteed success? Well, actually it pretty much is.
WordPress is easy to crawl which means the most famous search engines somewhat prioritize WP sites. This in turn means that using WordPress raises your product's visibility online at least in the Google & Co. department.
Hackers are out there and, I'm sure, you're well aware. However, WordPress is caring enough to take measures against attacks. It offers automatic updates and takes care of keeping your data secure.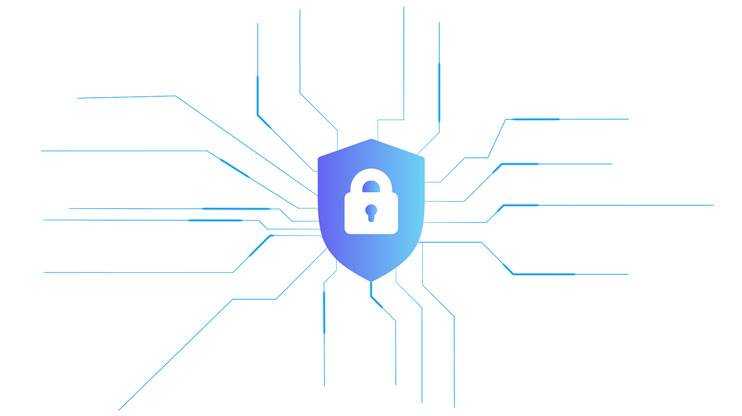 In addition, if you want your site to feel extra safe, stay tuned for 10Web security service, it's on its way!
Moreover, WordPress gives you to option to fully control your User Interface. With all those available themes, you're still free to pick the style most convenient for you, adopt the colors of the site to promote your company's logo, and otherwise customize it accordingly.
5. You can schedule posts or choose to publish immediately.
Seems like WordPress is designed to be as convenient as possible. If there is an instant ad you came up with and need to post right away, you have that option. If you need your post to run at a certain time, but actually have a date you don't want to miss in the evening, there's still the option of taking a few simple steps to schedule your genial post and it will self-publish while you're sitting in a café enjoying Ray Charles with your date.
6. WordPress is popular among developers and has a big support community.
Which is indeed very important. When you're having troubles with a certain plugin or are not quite sure what to do, there are all those other users out there who might have already encountered the same problem and thus know the cure for your pain.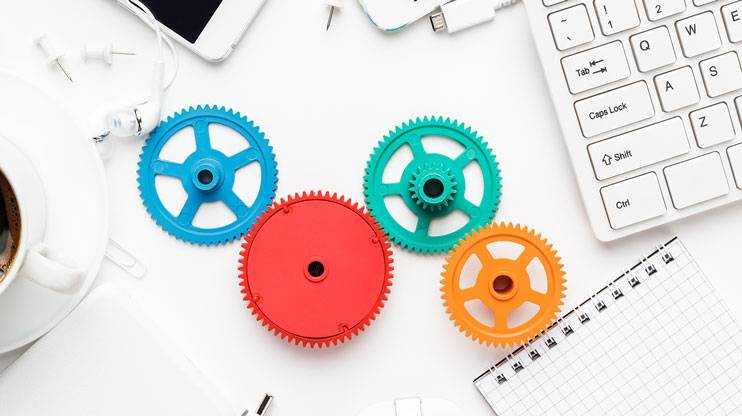 The support community has your back when it comes to WordPress. There are a lot of forums and sites, where you can ask questions and get carefully thought out professional advice from your "colleagues" from all over the world.
By the way, you can find a huge list of ready made "How to" articles that will guide you and answer a lot of your potential questions right on this blog.
7. WordPress is mobile-friendly.

Studies show that the rapid trend switch from mobile to desktop was more drastic than we could've imagined. In just one year, 2016 to 2017, mobile use rose from 57% to 63%, which is exactly why you absolutely need to make your site mobile-friendly. More than 63% of your future clients are more likely to see your product from their smartphone, instead of a laptop screen and you need to make the right impression.
The good news is that WordPress is very mobile-friendly so basically you'll have no problems at all in this department.
8. WordPress requires no commitment to the hosting provider.
WordPress is open-minded enough to accept an open relationship. Yes, when it comes to hosting, it does not require any particular commitment from you. Once you get tired of your old hosting provider or they "act in a way you can't accept," you're almost absolutely free to switch to another host and WP won't be holding your hand. That assures flexibility, a significant factor. Check out this list of the top hosting providers from around the world for some guidance.
9. There is the great multi-user capability!
WordPress is a very democratic platform: it gives you the option of many users controlling the site. Instead of just one person running everything, as in monarchy, you can assign different roles to different people and that assures the increase in professionalism, quality and implementation speed of work. The WordPress Codex will give you a complete list and descriptions of the available roles and positions you can choose from.
10. And finally, 10Web!!
Do you prefer shopping from small private shops or supermarkets? I'm pretty sure the majority prefers shopping malls and supermarkets, because first off, they offer an attractive package: all in one. You don't have to waste time going from shop to shop to tick off items from your grocery list or webpage to webpage to create your company's site. 10Web is like a big WordPress supermarket that gives you all the best-quality necessary products. Cloud hosting and a magical easy website builder, themes, plugins, an image optimizer, backup and performance, analytics and security services are available in addition to advice and support in tackling the issues you might face.
See How 10Web Can Benefit You
Visit our homepage to learn more about the first-ever AI-powered WordPress platform.
Hope this article was useful and gave you some direction for the action plan. Of course, this was just advice and it's up to you to decide whether you're going to pick WordPress. Do feel free to share your decision in the comments below and good luck with your future business!