10 Self-Development Tips for Small Business Owners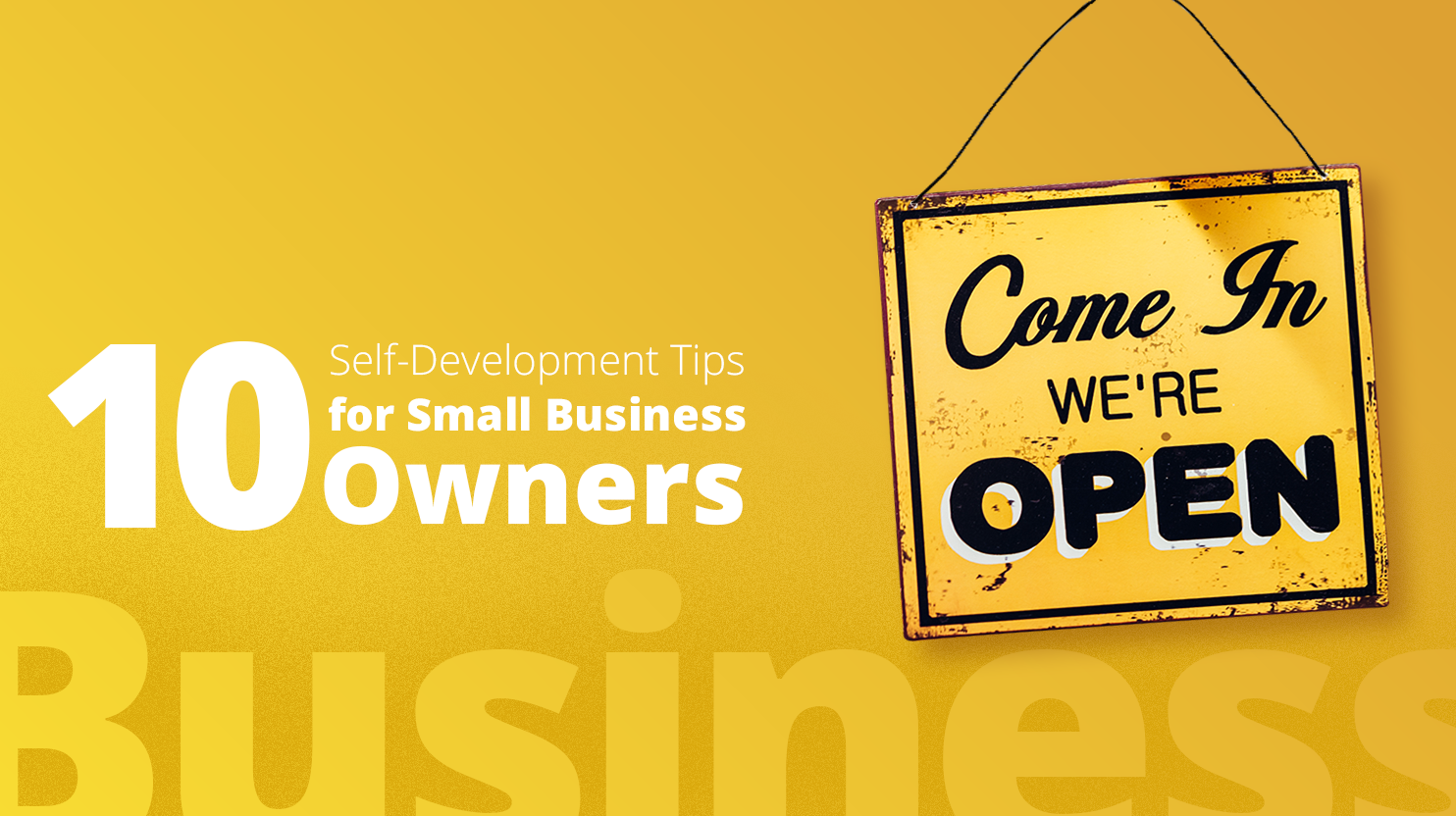 When Forest Gump opened "Bubba Gump" shrimp company, his ultimate aim had nothing to do with being obsessed about business. It was simply Forest's way of dealing with his friend's death — bringing his dream into reality.
Yet, assumably, most small business ventures have the ambitious goal of breaking through and growing success and popularity.
Unlike the famous movie, though, it might not be the easiest kind of task. But there are certain things small business owners should bear in mind and try to follow, in order to assure some percentage of success probability.
Let's jump over the tips now:
1. Educate yourself.

Knowledge lays in the back of most major change. The thing is, though, however much you know, you still don't know enough.
So, definitely, keep educating yourself. Research and investigate more. Learn and follow the best practices.
2. Market your business online.

You have to create a business website, understand your target audience and reach them by all means online. That will include actively posting on your website, updating your data and news, making sure the content you create is meaningful.

See How 10Web Can Benefit You
Visit our homepage to learn more about the first-ever AI-powered WordPress platform.
See How 10Web Can Benefit You
Visit our homepage to learn more about the first-ever AI-powered WordPress platform.
If you want to market your business online most efficiently using a solid strategy, then you should definitely check this article out.
Online marketing is the most cost-effective option and it's crucial especially if you've started your business with no funding.
3. Try new means and methods.

Experimenting is risky, even if you're still a small business. That's understandable. Following the tried and tested methods is much safer.
Yet, not trying anything new, you run the risk of becoming a dull copy of the past trends.
Instead, how about you dive right in — study the newest trends, track your audience's reaction to certain patterns and customize your strategy to a portion of experiments every now and then?
The results are possibly going to be rewarding.
Here you might find a fuller insight on why experimenting in business is probably worth it.
4. Build a relationship with your employees.

It's a fact: people are more productive when they enjoy their work. Constant pressure, conflicts and distrust between colleagues are not only highly unpleasant, but are also destructing for the job and, thus, have a negative impact on the results.
Hence, it is important to build good relationships between your employees. Of course, it doesn't mean, that you should put professional relationships aside and start developing friendships because it'll obviously harm the business.
However, team building and fun time with staff will be highly beneficial in building proper relationships between the members.
Motivating your employees is no less important for keeping them interested in performing their best.
This article will give ideas on how to build and develop positive bonds with your employees.
5. Network and collaborate.

Survival demands different tools and means — it's a law of nature. It works in business, too, and in the business world, collaboration and networking belong to the category of the most crucial weapons of survival.
This means that you should build a business support community — including other small businesses of the field or related fields, but more importantly — bigger and influential businesses.
Having a professional business network will not only help you gain more clients but also is a way of being sure that someone has your back during your ventures and initiatives.
For example, if you own a small make-up shop, your network community will logically target makeup producing agencies, beauty salons, hair salons or other related institutions.
6. Be present on social media.

Digital presence is everything today. Owning a business website is absolutely necessary but not enough. Digital presence includes active social media marketing.
Facebook, Instagram, Twitter, LinkedIn and other social media are just pools of opportunities for businesses, which is natural.
No matter what your business is about, your audience is out there on social media waiting for you. Open a professional page, talk about your products, list the advantages and stay responsive. That will increase your online visibility as well as will probably drastically increase the number of your followers.
7. Be specific in your goals.
Being specific is a life guide actually. Be honest with your staff and more importantly with yourself. The company goals might be multiple, yet they need careful sorting.
A shop is a vague idea, but a flower shop, for example, makes more sense.
Narrowing down your spectre of interest only makes you able to concentrate on one specific aspect of the business and reach the desired results.
8. Kill laziness. Work hard.

Laziness is one of the most harmful things for your business. Of course, it's easier to lay down on the couch and watch TV all day and then complain that your business is bringing negative profit.
Yet, isn't it better to fight against your biggest enemy — laziness — and start working real hard? Try to motivate yourself to get to work and stick to the plan.
If you're having hardship in winning the "Business vs Laziness" battle, check these tips out.
9. Take a break time after sometime to freshen up.

Working hard is indeed really important. However, it is equally important to give yourself some time to relax. In the end you're not a robot, you're a human — treat yourself!
If you work day and night losing sleep, you're running the risk of ruining your health and at the same time ruining your business.
On the other hand, resting helps your brain function properly. Refreshing brings a stream of new and original ideas. So, take a short holiday time after time, go out of the city and relax. You'll hardly regret it.
10. Stay realistic.
Aiming high is great. However, honesty with yourself is more important. You should differentiate your dreams from reality, otherwise you'll harm your strategy planning process and get disappointed in yourself.
Becoming an entrepreneur means you have to overcome your perfectionism sometimes.
One good tip is to sort out and put a dividing line between the short and long term goals of the business.
Instead of aiming at the further dreamlike plans, break the strategy into smaller goals and achieve them. It'll make time management much more profitable.
The tips are all very useful, yet nothing is as beneficial for business development as practice. You're gonna make choices and decisions — both good and bad, but making them itself is an important step. So go ahead and dive into work and help your business thrive and grow.