The Hitchhiker's Guide to Getting More Leads for Your Agency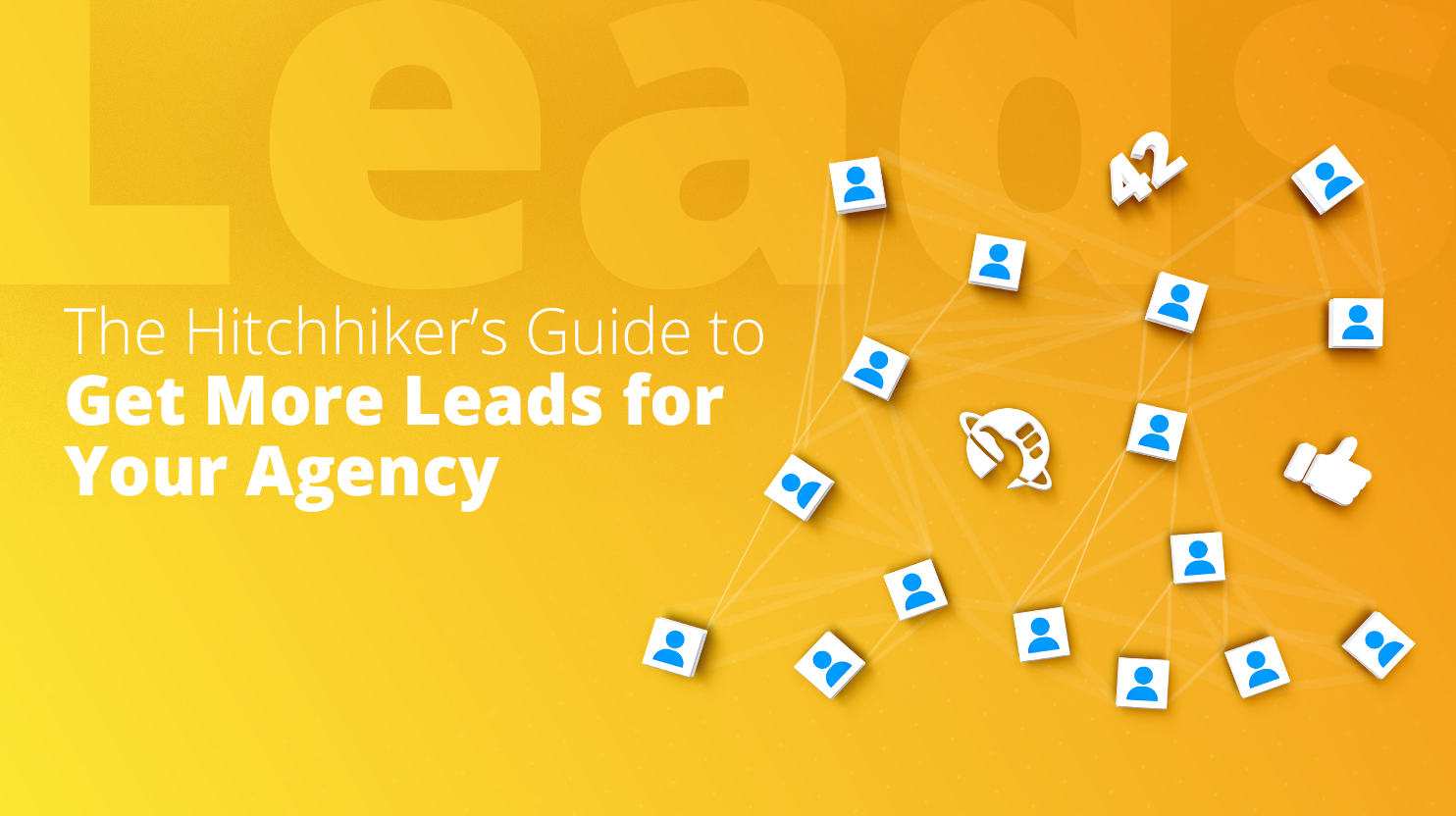 In marketing, we love coming up with terms that are often confusing for business owners. We tell them to identify their target audience, generate leads, decrease the bounce rate, and instead, increase the conversion rates. All of these essentially mean one thing, boosting your sales, but they are different parts of that process. Allow me to shed light on one of the most important steps in selling a product/service, lead generation. In this article, we will go over what leads are, what they do, and of course, how to get them.
What are leads?
The question should be what's the difference between leads and the target audience. The difference, my friend, is that a lead is someone who has already gotten into some kind of interaction with your brand. It's a person who has shown interest in your product/service by taking an action like subscribing to your newsletter. The great thing about leads is that you know where to find them. These are people who leave their contact information allowing you to get back to them with an offer (ideally, an offer they can't refuse).
As digital marketing experts, as soon as we get a lead, we leave everything behind (even our lunch break) to chase after them and convert them because a. They're interested in us and b. We know how to reach them, so we track them down and convert them to customers.
Now that it's crystal clear how important leads are, we can move to the more fun stuff, namely, how to get them. That is to say what to do so that your target audience interacts with your brand and leaves contact information.
How do agencies generate leads?
Spoiler alert: Brace yourself for more marketing terms.
Landing Pages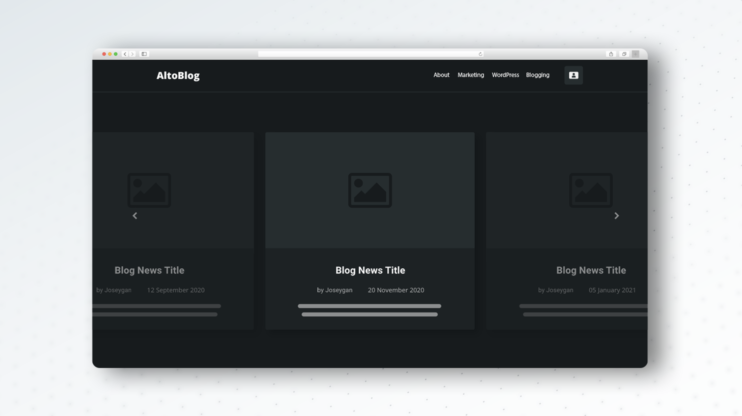 The very first thing that you need to have for lead generation is – drum rolls – a landing page. And not just A landing page but a great one. When prospects reach your landing page, they have to have no choice but to fill out a signup form or take another action that results in sharing contact information.
And again, unfortunately, there is no secret formula that equals to a successful landing page but there are things you can do to make yours more engaging, for example:
Your landing page needs to be clear and concise with a specific call to action (CTA) that comes across instantly. Make sure to have only one action you want people to take, and also use the same CTA text on all of your buttons.
Convey your reputation and communicate that you're reliable. This is usually done through testimonials and case studies.
It seems like humans beat illustrations in 2021, so make your landing page design more human-centric by using imagery and videos featuring people.
Write a convincing website copy that reflects and addresses the pain points of your agency leads. This is very important, so we'll also discuss this down the line.
Writing landing page copy
I've said it before and I'll say it again, the landing page has to be focused on one thing and one thing only. It should answer these 3 questions:
Who are you?
What do you do?
Why should your visitors care?
Landing pages are not so much about your agency as they are about its benefits. Imagine your landing page as your Day of Dedication, everything is about how great your agency is and how others love it.
Killer headlines
Ask any copywriter what their biggest challenge is and they'll all say it's writing short texts. Right now I have over 2000 words to tell you what agency leads are and why you should care about them. If you had asked me to do it in 10 words or less, I'd have to think about it for at least an hour.
I won't sugarcoat it, writing headlines is difficult but it's the most important piece of copy on your landing page. So, take some time to identify keywords and phrases, look at what your competitors have done, and write killer headlines.
KISS, HUG and CARE
For starters, KISS – Keep it simple, stupid.
Both your design and your copy have to be simple. You don't want to overwhelm your potential agency leads with a lot of hover effects and animations. You also don't want to end up writing "They are humid prepossessing homo sapiens with full-sized aortic pumps" instead of "They're warm and nice people with big hearts."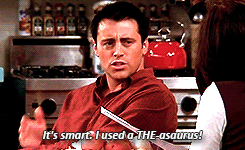 Back in my agency co-founder days, we came up with two additional corresponding terms we used on our website to acquire more agency leads: HUG and CARE.
HUG – Help You Grow
The primary objective for us was to showcase that we help our clients grow. The objective of the landing page of your business should be the same. So don't get carried away with the creative aspects of it and forget the technicalities. Do keyword research, determine keyword density, figure out what action you want the visitors to take.
CARE – Create Amazing User Experience
One of the biggest mistakes that I've seen agencies make is skipping the wireframing of the landing page. To create a good user experience, you need not only good design and development but also a good layout, which is created during wireframing. Before you run to your design and copywriting teams, have a meeting all together to do the wireframing.
Last 2 tips for creating an A-list landing page:
Always, and I mean always, research your competitors. See what's already out there and learn from their mistakes and successes.
Do A/B testing. We all have gut instincts that tell us to go with this or that version of the headline but in marketing, we listen to the results of A/B testing and not our instincts. If you don't know how to do it then my all-time favorite marketing blog HubSpot will teach you.
You don't have to reinvent the wheel. Do some research, look at some examples, and create a landing page that best illustrates the strengths of your agency. You can get some inspiration from these highly converting landing pages.
Lead Magnets
The next method of lead generation is – another set of drum rolls, please – lead magnets. And yes, it's another term that you need to know. To quote the almighty HubSpot,
A lead magnet is a marketing tool that generates agency leads by offering a long-form resource in exchange for a prospect's contact information. Lead magnets can take the form of ebooks, whitepapers, templates, and similar downloadable assets. This exchange takes place at the second stage of a buyer's conversion path.
Basically, it's a fancy way of saying gifts. Offer your clients something valuable in exchange for their contact information like good old Netflix does with its 30-day free trial. I, myself, am a Netflix user because of their lead magnet. I subscribed for the 30-day trial thinking I won't need the full one and here I am, a paying customer for over 4 years now. During those 30 days, Netflix managed to convince me that I need their product. And you should try the same strategy.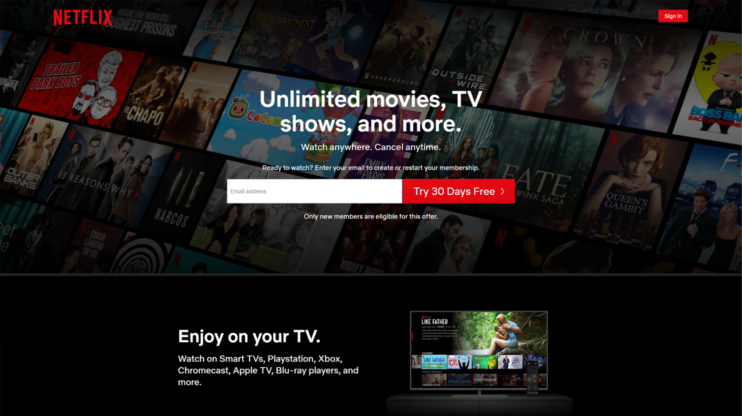 It doesn't have to be a trial. It can be a coupon code, a chapter from your new revolutionary marketing book, or access to a premium account. There are a lot of choices, but how do you know which lead magnet is the most effective and attractive for your customers? You won't find that answer easily, it requires research.
One of the rules of thumb in marketing is to know your customer. Go to your paying customers and see what they all have in common. Read the reviews of your customers and those of your competitors, see if there is any pain point that unites them which you can address with a lead magnet. To learn more about this, I recommend reading Neil Patel's article that walks you through the process of crafting a lead magnet.
Lead magnets are your chance to show and prove your worth to potential customers, so do put some thought into your offer.
The landing page is ready, how do you bring people to it?
The best landing page that ever existed has entered the world, but no one has seen it yet. What should you do? The answer is simple, drive traffic to the page. Here comes the next question:
How?
Traffic acquisition is one of the biggest objectives in digital marketing, and we've created a lot of channels for it. Some of them are expensive but fast, others are slow but cheaper. Whether it's SEO, Social Media or Google Ads, you'll have to consider your case individually and figure out which method works best for you. We always advocate for an omnichannel approach but that's not always the most effective method for everyone. Take a look at these channels, start with one, and slowly begin working on the others.
Set up advertising
Now, this is when we go back to our good old target audience. Start running online ads. Google, Facebook, Instagram, LinkedIn, Reddit – the choice of platform depends on, you guessed it right, target audience. Reach them via ads, guide them to your landing page, have them leave their contact information, and voila, you've got yourself agency leads.
Blogging and SEO
"After all these years."
"Always."
I've said this for as long as I can remember and I'll keep saying it. Create high-quality content. Not only will it help with SEO and rankings, but it will also drive traffic to your website and generate agency leads. Set aside 3 hours per week to share your experience, industry updates or simply your thoughts on a new innovation in your field. There are also a number of blogs in need of contributors and guest authors, you can become one of them.
The key is to provide valuable content, which will spark interest in your readers and motivate them to learn more about the author, in this case, you. Make sure you have the link to your landing page in your bio. Let's take my bio:
Areg is the Growth Hacking Team Lead at 10Web and is passionate about everything digital. He enjoys spending the very little free time he has like a true adult: playing video games.
If I am submitting a guest post with this bio, I'd add a link to 10Web and that link would either be to our website or a landing page of a product that is currently being promoted. You can also add links to your landing page in the article itself (if relevant, of course).
If you're writing articles for your own blog, you can also add a form for comments or questions, which ends up being another lead generation source for you.
YouTube videos and podcasts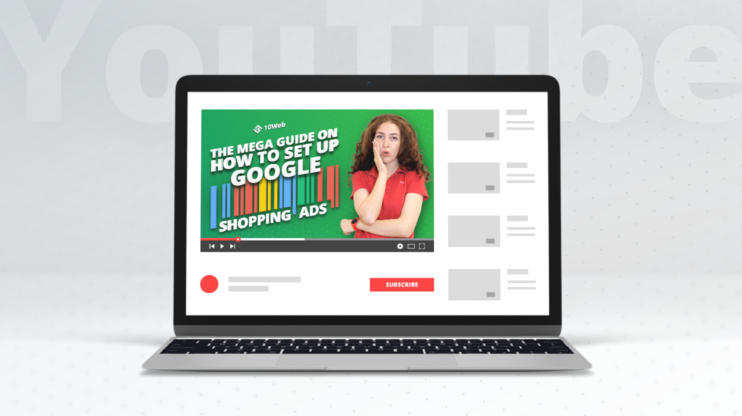 Take writing up a notch and create YouTube videos, and if you hate cameras, then opt for podcasts. Both are excellent mediums for sharing valuable content, promoting your brand including your landing page, and generating quality agency leads. Make sure to share your landing page/website in the description boxes and mention it during your videos/podcasts. If you're still doubtful about YouTube then take a look at these statistics from 2020:
After Netflix, YouTube is also the second most-preferred platform for viewing videos on TV screens among 18-34-year-olds.
YouTube is popular across other age groups as well. There's a 71% use among US internet users ages 26-35, 67% among ages 36-45, 66% among ages 46-55, and 58% among ages 56 and older.
90% of ads on YouTube drive a lift in brand recall.
Automated PageSpeed Boost With #1 WP Hosting
Get 90+ PageSpeed Score and boost Core Web Vitals by migrating your client websites to 10Web – all within minutes, all automatically.
Automated PageSpeed Boost With #1 WP Hosting
Get 90+ PageSpeed Score and boost Core Web Vitals by migrating your client websites to 10Web – all within minutes, all automatically.
And here are some Podcast stats:
54% of podcast consumers say that they are more likely to consider the brands they hear advertised on podcasts.
Roughly 51% of people over the age of 12 in the US have listened to a podcast at least once.
More than 38% of podcast advertisements are sold and purchased on a quarterly basis.
In 2018, more than 67% of podcast listeners agreed that podcasts contribute to their intellectual growth.
I have another piece of advice stored for you, which however is not for every industry. Twitch.tv, acquired by Amazon in 2014, is the world's leading live streaming platform for gamers, and the viewership numbers are growing really fast there! So one thing you can do is reach out to some famous streamers or start streaming yourself.
How to convert agency leads into paying customers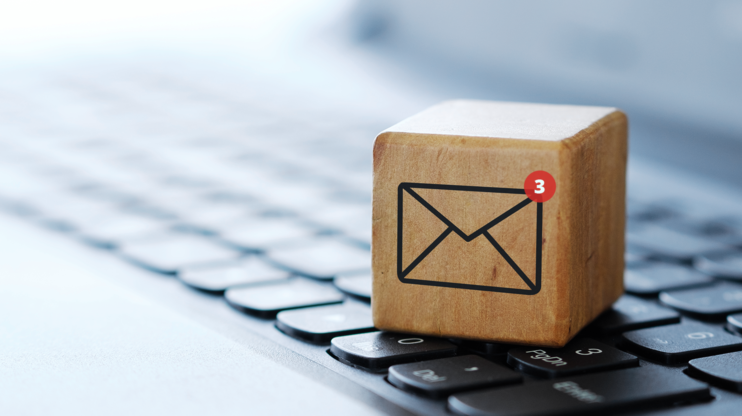 Okay, we've got traffic, we've got leads, now we need paying customers. To convert agency leads into paying customers, you need lead nurturing. It is exactly what it sounds like. Going back to the giants of Inbound Marketing HubSpot:
Lead nurturing is the purposeful process of engaging a defined target group by providing relevant information at each stage of the buyer's journey, positioning your company as the best (and safest) choice to enable them to achieve their objectives.
In simpler terms, lead nurturing is the process of walking a group of your target audience through specific steps to get their contact information and at the end, convert them to paying customers. While lead nurturing is not rocket science, it's still a process that requires a strategy and trial and error.
There is no cookie-cutter approach, depending on your business, you'll have to come up with a lead nurturing strategy that is attractive to your prospects. There are 3 general approaches to lead nurturing but the specificities depend on individual needs:
Engagement-oriented strategy
Engage with your prospects through relevant, credible, and useful content that fits their interest.
Education-oriented strategy
Introduce the benefits of your agency and explain why you're the best choice.
Active funnels
This is by far the most complex method of lead nurturing which includes creating and guiding your prospects through a buyer's journey. To create a successful sales funnel, you need to bring together marketing and sales teams. We will talk about the sales funnel and buyer's journey in another article but in the meantime, you can read more here.
My favorite technique of lead nurturing is email marketing. It's a single tool that allows you to experiment with a number of other techniques. You can use email marketing to "lure in" the leads with:
Product demos
Constant reminders
Coupon codes/Special Offers
Email marketing is a lot more than simply sending out letters. They have to have good design, attractive content, and they need to be tailored to the lead's needs and wants. Show people that they are unique and try to send only relevant emails.
Other lead nurturing examples include:
Direct mail
Sales calls
Social media marketing
Blogs
Online advertising
As a former finance major, it's my duty to share with you numbers that highlight the importance of lead nurturing: 79% of marketing leads never convert to sales. Lack of nurture is the main cause for this. Skipping lead nurturing is not an option. If your website happens to be on WordPress, here are the Top 5 Automation Plugins to Enhance Your Marketing.
So, this is all for today about lead generation. I hope you enjoyed reading this article as much as I enjoyed writing it. If you have any comments or feedback feel free to reach out to me on LinkedIn. Good luck with lead generation and we will meet in another blog post to tackle another marketing issue.