How to Calculate Your Digital Marketing Budget for 2021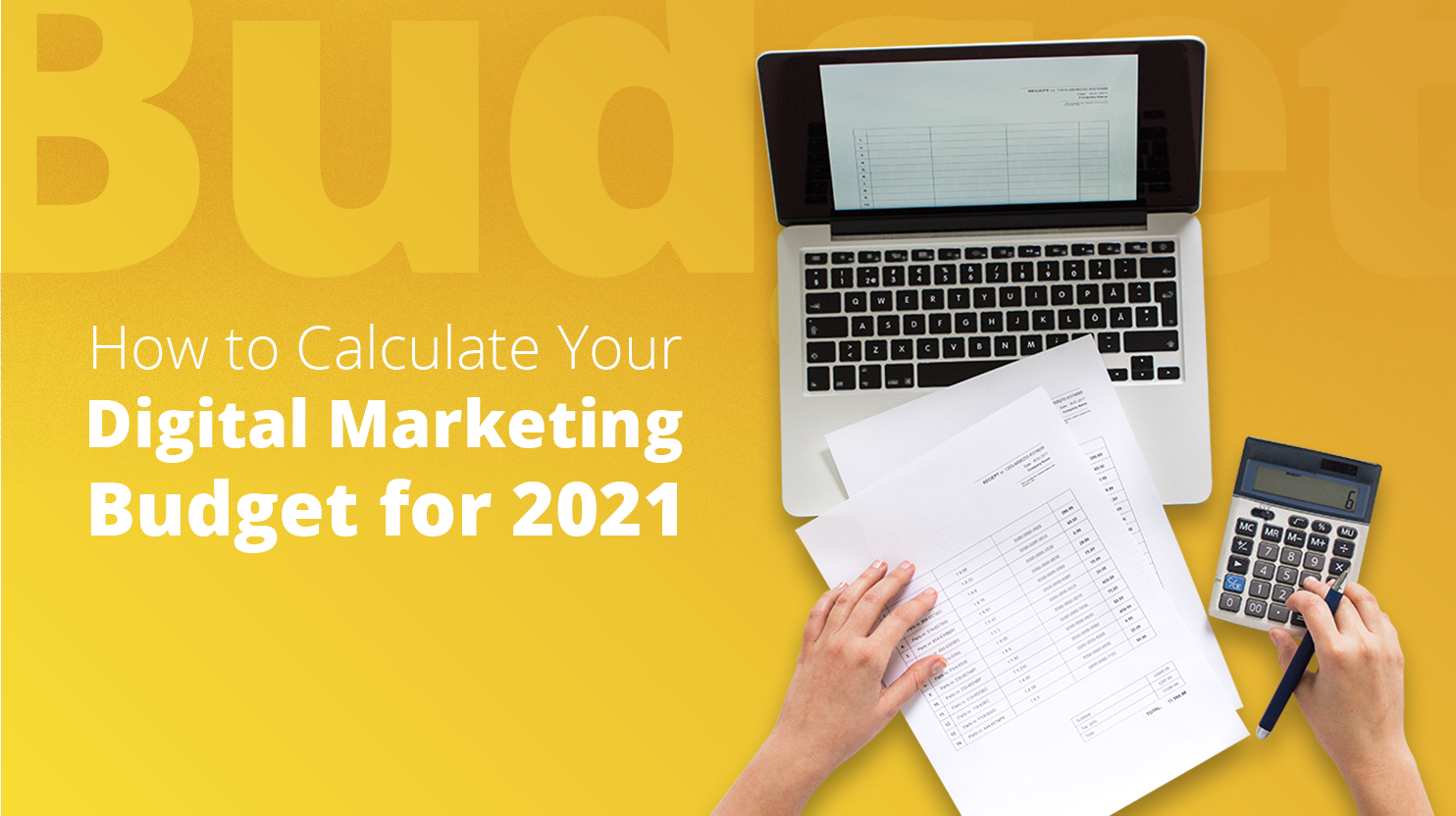 The Big Guide for Small Businesses
Every business owner hates big marketing budgets. But even if you're one of them, the income can make you love it.
You must have noticed that digital advertising has formed the fastest growing media market. To be more precise, it has annual revenue of $93.75 billion in the US only (2018's estimations).
You can find a lot of universal formulae online that suggest spending 6% or 15% or 50% of your income on online ads. Seeing these different numbers can make planning even more confusing. Honestly, there's no universal budget that works for every small business.
We'll guide you through the complicated steps of budgeting.

This article does not only cover the ad/media spendings but also the resources it will take to get your marketing campaign planned and implemented.
Deciding factors for budget planning
One of the greatest things about digital marketing campaigns is that you can track everything: views, clicks, and the exact return on investment (ROI).
If you've already run similar campaigns during previous years, we have great news for you. The previous results are the best starting point for new campaign planning. After finishing a campaign, you find out how effective each part of it was.
Let's say you got 128% as the average ROI from your email campaigns and 45% from banner ads. Aren't you more likely to invest more in email marketing now? And you'll either cut back on banner ads or totally reconsider the strategy and restart the placement of the banners with small-budget tests.
When calculating your ROI, it's essential to remember that the investment is always way bigger than the media/production budget: you spend a lot of resources planning it, testing, failing and then proceeding with the final campaign.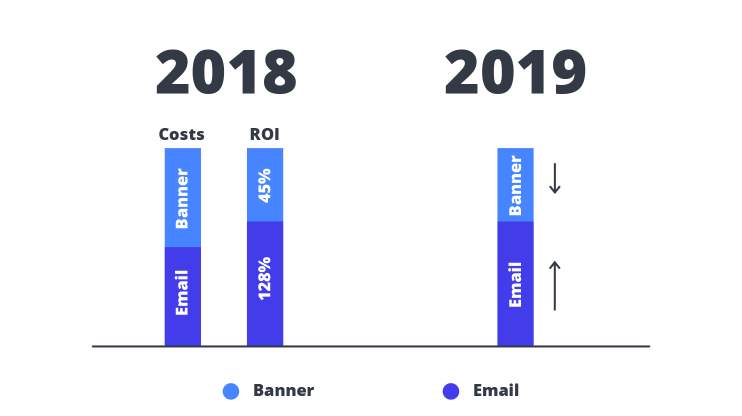 Before even starting to plan a campaign, you must have some goals in mind. Raise awareness? Increase sales? You decide. Just be more precise so that it's clear after the campaign whether you've really reached your goals.
Make your results measurable with KPIs (key performance indicators). Instead of generic goals, you can aim at raising awareness among, let's say, 800.000 people and increasing sales by 30%.
The more thoroughly you plan your campaigns, the more fruitful results you'll get. So when you know how many impressions, clicks, and purchases you aim for, your budget is easy to calculate.
With tools like Facebook Ad Manager or Google Ads, you can get full analytics for your campaigns and see estimated results before you start them.
Enter your goals in Facebook Ad Manager, Google Keyword Planner and other media platforms that you are going to use for your ads. Most of them give valuable forecasts for cost per click (CPC), per conversion or other goals. They all will change over time (12 months is a huge period for digital media) but you'll have a great perspective and starting point.
You can't overestimate the significance of the industry you work in. It often defines the target, the competition, the medium, the goals.
Are you trying to get people interested in your restaurant or are you selling your premium WordPress plugin? The difference is immense. In case of a restaurant, your target market narrows down to the people who either live in your town or visit it. Your plugin, on the other hand, can attract customers from all over the world.
So the plugin with its worldwide target would require a much bigger budget than a small town restaurant, sometimes 100 times more.
And if you're playing the big game, like marketing in the automotive industry or for mass manufacturers, you're going to need a whole different approach.
One of the biggest factors in digital marketing is whether the business is online or offline. You have more creative freedom and more tools for online products and services.
When you offer online shopping, you have to follow the entire process of conversion which increases your marketing budget due to additional analytical software and manual work (although the high ROI won't make you regret all those investments). But there are entirely offline companies like a small local shop for which you just need to evoke the customers' interest, so you only pay for impressions and clicks.
Target region and demographic
Most online advertising platforms, like Google and Facebook, generate the prices through bidding, which means that your budget depends directly on the number of competitors bidding for the same ad placement or competitors trying to reach the same demographics. For example, if you're a photographer in LA, a printing company that offers custom photo books in the same area is likely to be your competitor because you target the same audience. The competition can multiply the prices per any unit by 100. I once ran a campaign on Facebook for the same mobile app in LA, CA and Yerevan, Armenia. Price per 1000 impressions was about $2 in CA and $0.15 in Armenia. So research the competitor market well before going online.

Getting to the details
Now let's look at all the elements of your digital marketing plan and see the respective costs of each.
We're dividing the plan into two major parts: inbound and outbound. Some sources describe those two branches as different approaches to online marketing, implying that you have to choose only one. But today, you can't benefit from one without the other. You need inbound marketing strengthened by the "outbound" activities.

Inbound marketing
Inbound marketing is the methodology where you don't fight for a prospect's attention with ads. You create valuable experiences which lead the prospects to you step-by-step. Ideally, you don't go looking for a new customer but the customer finds you.
This is done through informative, educative and entertaining content.
The marketer Attracts, Engages, and then Delights the user, creating a smooth customer journey.
There are barely any media costs for inbound marketing. Instead, inbound marketing budget consists of pays for content creation and distribution, which requires a lot of manual work, tools, and software.
The costs of the workforce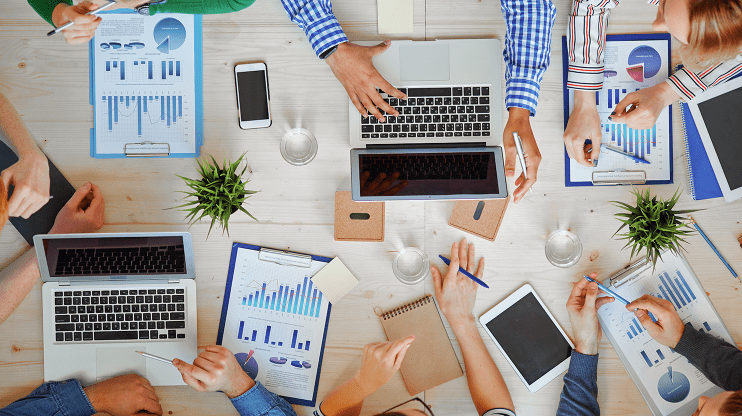 Another hard decision is whether you need to hire a team of marketers, outsource to an agency or do what you can by yourself and hire freelancers for smaller parts that require special skills.
Let's see what you need and what costs you need to take into consideration.
1. Marketing strategy
As a business manager, you either have to write the marketing plan on your own or outsource/hire an agency. It usually takes 3 weeks (120 hours) to develop a detailed annual digital marketing strategy. It varies based on the scale of the marketing activities and the author's experience.
At least once every trimester you need to revise and update the plan. Each revision takes about a week (40 hours). Altogether, you need 240 hours of work per year for strategy development and 3 revisions. Now multiply it by the marketer's hourly wage.
On the other hand, a full-time digital marketing specialist will cost you about $87.000 a year, but their job will include full planning, implementation, and supervision of the teamwork.
2. Website/landing page creation
Whether you are launching a website or just maintaining what you have and creating landing pages once every couple of months, it takes effort. But not as much as you think.
For example, using 10Web, you can launch a simple website in an hour all by yourself. Yes, with the right tools, the efforts will be at minimum: no need to hire developers and UI/UX designers. You or your marketing specialist can handle it within your schedule. Content creation will be the only additional work.
But if your business needs a website or an app custom made for your needs, you might need some outsourcing here. If such services are too expensive in your region, consider overseas partners. Many businesses in the US and Europe prefer working with software development companies in India and other eastern countries.
3. Content creation
Varying through industries and strategies, your content must generally include text, images and video. When you choose the path of inbound marketing, you do a lot of blogging, email campaigns, social media posts and your inbound marketing budget reflects that.
To get this job done in-house, you need at least one full-time content writer and one graphic designer. An average content writer in the US makes about $54.000 a year, and a graphic designer makes about the same.
If you really want to cut down these costs, you can hire freelancers on websites like UpWork.com. For instance, you can find one to write a decent 1000-word blogpost for $50. With 1 post a week (necessary minimum), you'll need 52 posts a year which makes a minimum of $2600/year on text only.
We recommend to outsource for the projects that you don't need regularly. For example, short videos with basic animation can cost about $500 apiece.
4. Social media marketing
Almost every small business manager has at least once thought "why hire someone for SMM? I can do it on my own or the marketing manager will do it on the go." If you do your social media research and plan your strategy in advance, this can definitely be one of the best weapons to beat your competitors. However, most business owners end up in panic or disappointment and hire a professional.
The thing about social media that many fail to notice is that you have to keep yourself updated 24/7. Not only you must follow all the activity of your followers and competitors, but you need to keep up with the new trends, test them and suggest new strategies when the market needs them.
A social media manager makes an average of $60.000 in the US. Outsourcing this function may save you a bit. The SM manager doesn't have to come to your office every day, as long as they know the target well and are dedicated to the job.
So we've pretty much covered the minimum workforce costs. Now let's move on to the tools and software that you'll need for inbound marketing.
Automated PageSpeed Boost With #1 WP Hosting
Get 90+ PageSpeed Score and boost Core Web Vitals by migrating your client websites to 10Web – all within minutes, all automatically.
Automated PageSpeed Boost With #1 WP Hosting
Get 90+ PageSpeed Score and boost Core Web Vitals by migrating your client websites to 10Web – all within minutes, all automatically.
The costs of tools and software
1. Tracking and reporting
The most common and basic tool to track your website's activity is Google Analytics with its free version. Advertising platforms give detailed analytics included in the ad prices.
But if you want to track the user journey as a whole, try HubSpot's professional marketing package ($9600/year). After all, it's the best-known inbound marketing software, created by pioneers of the inbound methodology.
2. Social media management tools
The more social networks you use, the more complicated this job becomes. You have to schedule posts, sometimes crosspost through different platforms with slight changes, monitor all your activity and get more detailed data. This is why you may need a tool like Hootsuise or Buffer. The free versions are good unless you want the tools for multiple users.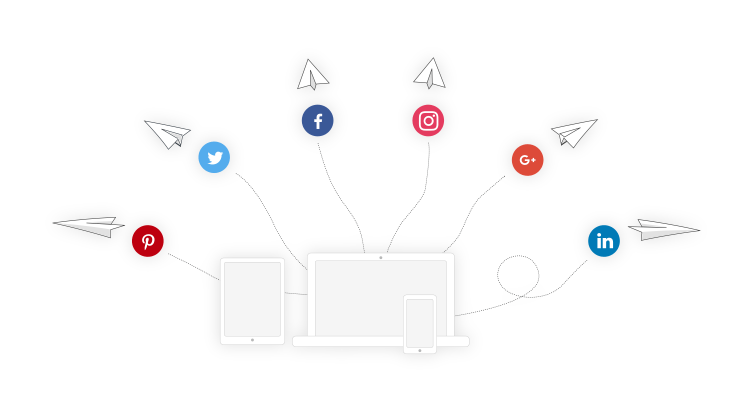 3. Mailing tools
Marketing has long stopped being a one-way conversation. You engage the customers and prospects, you want to be in touch with them and make sure they'll come back for more. That's why you need email marketing.
Newsletters, promotions, important updates — all of this needs to be sent in a safe manner so that mail systems don't think you're spamming.
MailChimp is one of the most popular email marketing platforms that also provides detailed reports on user activity related to your emails. The pricing is very flexible here. For example, if you have 10.000 subscribers, that will be $75/month which makes $900 annually.
However, there are a lot of MailChimp competitors that provide a similar experience without breaking the bag.
To help you choose the right mailing tool, here's Formget's list of 30+ best email marketing services. Compare them all and choose your best option.
4. In case you don't have a website
Build one!
First of all, you need to buy a domain name and choose your CMS (content management system). A .com domain is around $9 a year. You can pick a free CMS platform like WordPress, or a paid one like Wix, starting at $5/month.
And then you should choose hosting, buy some plugins/extensions, etc. The expenses here are endless.
If you use Joomla as your CMS, you'll pay $1500-7000 annually, based on the hosting provider, design, maintenance, and some minor costs.
There's another great option: 10Web. The team has come up with a solution that gives you WordPress hosting, website builder, premium plugins and a bunch of other services all in a bundle. All you have to buy is a domain name and a subscription to 10Web. The annual plans start from $120/year and go even cheaper if you have multiple websites, making 10Web the best solution for a small business.

So this is pretty much it with your most basic spendings for inbound. Now let's get to the outbound part.
Outbound marketing
Outbound marketing is the part where you're not afraid to be a little bit pushy. So you reach out to your potential customers and try to make them interested in your product and service.
Of course, it works much better when you combine your inbound and outbound efforts.
In this part, we are speaking just about your media budget. Let's distribute it between the mediums.
1. Social media
Each social network offers you a different pricing mechanism — per impressions, clicks, purchases, etc. And even when you know the target and campaign goal, the prices can vary not only through the year but even through the hours of one single day. So here we can only give you a rough example.
Let's say you're a family photographer working all by yourself and want to have 500 clients this year, with a $200 check each.
You have to experiment to see how your social media ads convert and need to do some math.
Now let's say you pay $1 per click in average and 1% of those who click contact you. Then, 10% of those who contact you become actual clients. It makes you spend $10 per purchase ($1/0.1=$10). Multiply by the number of clients, and $5000 is all the budget you need (just for this case with this tiny target). It all changes of course, when you take another industry or another goal.
For simpler solutions, you can just spend 5% of your revenue on social ads, as many sources suggest.
And while managing social media, don't forget about influencers! One $500 post for the right audience can pay back better than a $1500 campaign.
2. Display ads (GDN, Adroll, etc.)
Do you have a network of partner websites? Do you prefer buying banners via the Google Display Network? Which one works best for you? Before choosing, better experiment a little bit.
Google has simple tips on how you should plan your display ads.
If you're running a small local business, you might benefit more from what your local news websites have to offer. Contact them directly and ask for a price list.
Mostly, such small publications offer CPC — price per 1000 impressions. Compare it to what Google offers for your target and choose your best option. Keep in mind that this will be a little more expensive than social media. So if your SM budget is $5000, the same result with banners will take $6000-$8000 in most cases.
3. Search ads (AdWords, Bing ads, etc.)
The best way to get to the top of search results is SEO (search engine optimization). But SEO takes a lot of time, and for quick results you would want to try search ads. Just pay your way to the highest ranks of search engines. Don't forget that Google is not the only one. Bing ads sometimes cost less due to lower competition but give the same results.
Also, if you're campaigning for overseas users, make sure you know which search engine is most popular for them. The world leader Google is not the top search engine in megamarkets like Russia and China.

So pick the search engine(s), find your best keywords and start experimenting.
So,
How do you calculate your digital marketing budget?
Firstly, get a general idea of what the typical digital marketing budget for a company of your size is. One rule of thumb is to just take 12-20% of gross revenue if you're a new company and 6-12% if you're an established company.
Then you have devise a marketing strategy or task your marketing team with devising it. Make sure to make detailed assessments of the costs of the subsections we discussed above: How much are you planning on spending on inbound marketing? And outbound?
Keep a close track of your ROI (return on investments). Which activities are leading to more active conversions and why? Work closely with your team to determine all the possible reasons why something is working and something else is not. Take into account your competitors' digital marketing strategies and incorporate the ideas you like.

Adjust your next year's marketing budget according to the analysis of your previous year's budget and changes in goals or the market.
Note that there is a whole range of marketing budget software you can use. A simple Google search for "digital marketing budget calculator" results in quite a few helpful options. 
Conclusion
Now we are leaving the pieces of this puzzle for you to pick and connect.
You can start with operating all by yourself and spending a tiny media budget on social media.
But if you can afford it, we recommend hiring a marketing team for about $250.000 a year, including a marketing manager, a social media manager, a content writer, a graphic designer, and some freelance jobs once in a while.
As for software, the necessary investment starts at $1000 for a website management platform and email marketing software, whereas you use the free versions of analytics and social media management tools.
And the media budget is entirely up to you! Just spare some 5% of your revenue, do a couple of tests and see how fast you get your investment back.
Have questions about digital marketing? Ask our experts in the comments section, and we'll be happy to help.