What You Should Know About Google's June 2019 Core Update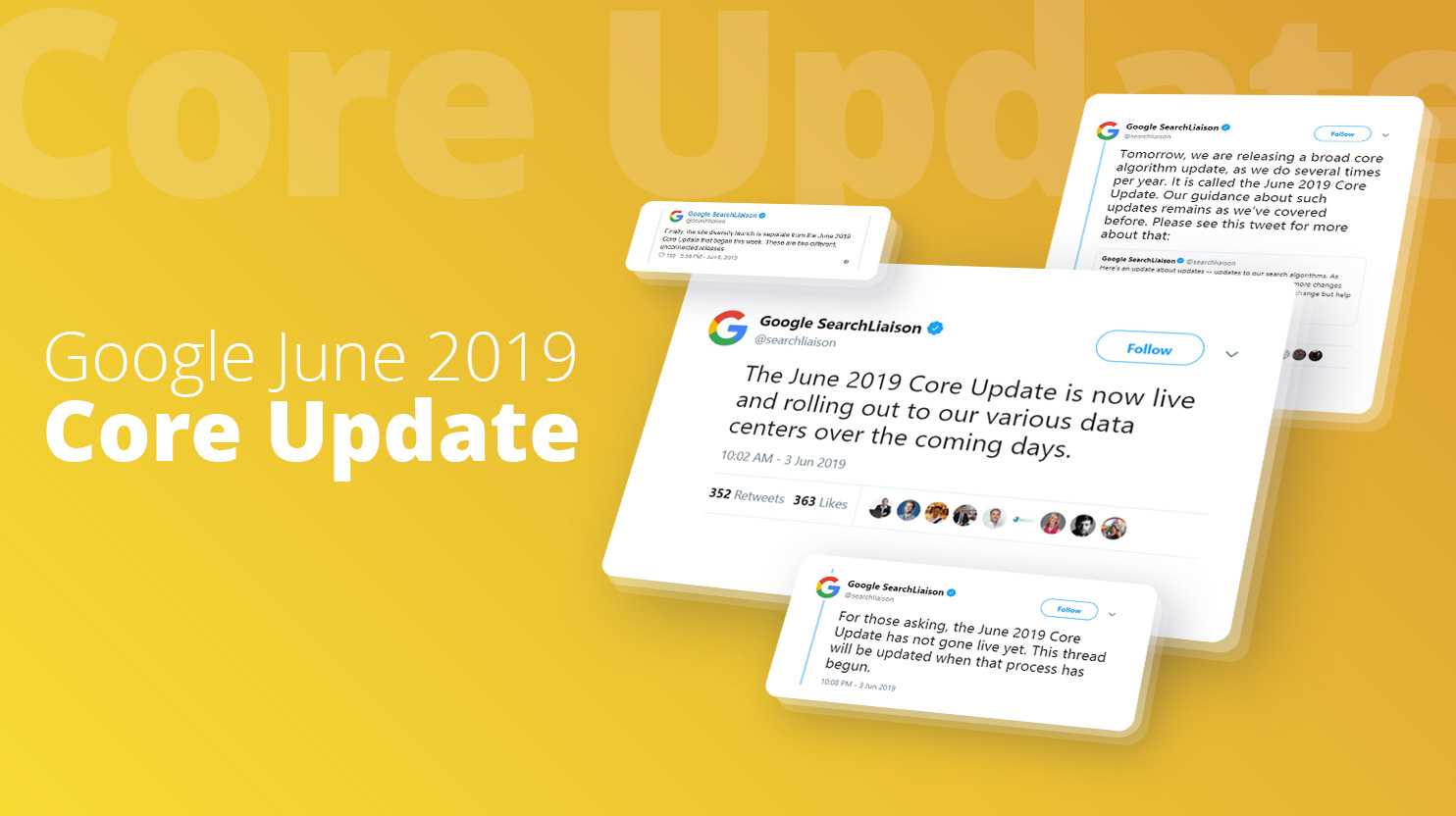 We all know that Google optimizes its search algorithms all the time in order to deliver the best experience for its users.
The search engine has a big history of algorithm changes of all scales, large and small.
In April 2018 Google launched a line of broad changes called "core" updates.
The June 2019 core update was especially marked by users' controversial feedback.
Now that the situation has settled a bit, let's find out what happened there.
What is the June 2019 Core Update about?
Before launching its major updates, Google always reminds webmasters what it's all about: improving the user experience.
All you have to do is improve your content and make the website as user-friendly as possible. Oh, and never forget about speed. That's always a competitive advantage in the battle for the top rank.
Here is the latest version of the Google Quality Raters' General Guidelines updated every year. Google guarantees that following these guidelines will keep webmasters out of trouble.
Anyway, the update started rolling out on June 3 and finished on June 8.
The June 2019 Core Update is now live and rolling out to our various data centers over the coming days.

— Google SearchLiaison (@searchliaison) June 3, 2019
During that period, Google announced another algorithm change on Twitter — the "diversity update" — specifically clarifying that it has nothing to do with the June Core Update. Its only purpose is limiting top search results from a single domain to two so that users get a variety of answers.
Finally, the site diversity launch is separate from the June 2019 Core Update that began this week. These are two different, unconnected releases.

— Google SearchLiaison (@searchliaison) June 6, 2019
The June Core Update, on the other hand, isn't directed at any specific aspect of search but at improving user experience in general.
But if this is what it was about, where does all the fuss come from?
Let's see.
Which websites have suffered from the June 2019 Core Update?
The feedback on this core update was as diverse as humanly possible. Some websites reported an increase in search traffic and some reported a decline, but there were two majorly discussed cases that require some explanation.
1. The DailyMail case: How Google June 2019 Core Update affected DailyMail
On June 6, as the update was still in process, a user named Jesus Mendez posted on Google Webmasters help forum stating that the website he's working for — dailymail.co.uk — has suffered a 50% drop in organic search traffic although nothing had changed on the website except for the everyday news updates.
It was interesting to see that the second most popular newspaper in the UK had a bigger traffic drop in the UK than in the US.
During the first few days after this was published, various media outlets criticized Google for the update.
But now as weeks have already passed, the top answers in the forum are those criticizing the Daily Mail.
In the recommended answers section, a user named Dave Turring points out 5 reasons why Daily Mail's content and the website, in general, can be classified as low-quality and untrustworthy.
"1. Run your website in Lighthouse it takes over 12 seconds to load a web page.

2. You have covered your website with far too many adverts.

3. You have covered your website with so many sexy girl images it is almost an adult website.

4. [….] No real value and any real news! [….]

5. Annoying auto-play videos slowing down the loading and playing totally unrelated videos about the story! Poor User Experience!"
So we're getting back to the point where people should stop complaining about the update and start focusing on the website content and user experience.
But before that, let's discuss another case.
2. The CCN case: How Google June 2019 Core Update affected CCN
CCN (Crypto Coins News — not to be confused with CNN) is a leading crypto news website. After the core update, the editors announced the website's shutting down because of a 71% drop of organic mobile traffic and 53% decline of overall visibility.
In the announcement, they also reported a 90% fall of their daily revenue.
Earlier, Jonas Borchgrevink from CCN had asked on the Google Webmasters forum if there's anything they can do about this issue. He said that this could result in cuts in their staff of 60 editors and journalists.
The most probable reason for this decline is that the non-found pages from the old domain, cryptocoinsnews.com, are redirected to CCN's homepage instead of their successors under the ccn.com domain.
This violation alone could have led to serious traffic loss issues.
But CCN's case had more reasons to cause such a major stir. On one hand, other webmasters were worried that the same could happen to them. Google was even accused of deliberately taking cryptocurrency-related websites down.
But on the other hand, the announcement about closing the shop sounded somewhat suspicious.
Cointelegraph, another crypto news website, shortly published a detailed article about what's wrong with all the noise around CCN.
Reddit users also found CCN's case pretty strange. Some accuse CCN of using this as a PR move. And, let's be honest, who relies on daily search results for as much as 90% of a news website revenue? What about returning visitors? What about email lists?
However, the heads of CCN found answers and advice on the webmasters' support forum useful and announced the website's resurrection just a few days later on June 13.
Jonas Borchgrevink, as you can see in the announcement, didn't sound as convinced about the June Core Update being evil anymore and told us they'll try to fix any issue that may have led to the decline in the first place.
Who benefited from Google June 2019 Core Update?
The honest answer is users. Just like all Google updates, this one is for improving user experience.
But are there websites that got a traffic boost or are there only those sad cases?
Luckily enough, there's a number of winners as well.
Among many other UK publications, the Mirror, the Sun, and the HuffPost had over 50% organic traffic boost within the first days of the update, according to Sistrix.
Check the changes on your own website again. How did it do between and after 3 to 8 June? You'll see how the update affected you.
How to fix issues if your website has suffered from the June Core Update
Anyone from Google and many of the webmasters will tell you this: there's nothing to fix.
Google's John Mueller explains in detail why and how there's nothing to fix. You can watch his Hangouts session here.
Basically, you just need to keep following Google Search Quality Raters General Guidelines. It's "only" 166 pages of information on how Google rates your website.
Besides, you can always ask your colleagues and strangers on forums for feedback.
Sadly, or not, you can't ask Google the same because they claim to be working for users, not websites. And when they make changes, those changes are general, and no one even at Google can predict how they will impact a particular website.
Plus, if they started consulting separate websites, that would harm the "natural selection" of the high-quality pages.
Quality Raters' Guidelines: Why they matter
As for why they matter, these guidelines are the most trustworthy source of information on how Google ranks your website.
But you must keep in mind that regardless of any update, these guidelines are a webmaster's holy book. And Google updates its algorithms to better filter content according to the guidelines, not the other way around.
If your rank increases, that's probably because users are starting to like your website and content more. And if it drops, then better matching pages are just outranking you.
What other webmasters think of the June 2019 Core Update
1. Victor Pan, the Principal Technical SEO at HubSpot, former Search Director at Catalyst Digital, a subsidiary of WPP
"Google's June 2019 Core Algorithm Update, like all the other core algorithm updates, is about tweaking the weights and balances of 200 ranking factors to maximize user satisfaction. At the end of any algorithm update, there will be winners and losers. Keep doing what you're doing if you're seeing a boost in organic traffic, and look to revisit existing content that has lost organic traffic given that time frame.
There's no magic bullet for dealing with these core algorithm updates, but what everyone can do is look at their content that lost visibility and traffic, look at the SERPS of those pages, empathize with the user's need, based on device time, location, time of day, or need state, what search features are showing up… and then update the content to address those gaps. Time and time again, the best content wins. One-and-done evergreen content is dead. Periodically updated evergreen content is the new norm."
2. Jakub Kliszczak, Marketing Specialist, CrazyCall
"It's still really hard to assess the exact changes the Google's update had on SEO. According to early data from major traffic-analysis sites, some outlets have seen major gains in both traffic and keywords positioning, while others got massive drops in organic traffic. Yet, the other updates that Google rolled out (besides the core one) have already-noticeable changes to SEO. For example, for a particular keyword, there will be max. 2 listings from the same domain. This means no longer can one outlet dominate the top 10 search page, which is obviously good and creates natural diversity.
All in all, we still have to wait for enough data to be processes if we want to see what has changed and what hasn't."
3. Cale Loken, 301 Madison Consulting, LLC
"Google core updates always make some significant changes in the search landscape that webmasters are always paying close attention. Our agency manages over 30 websites and around 90% of them had a positive movement from the latest update. It seems like websites that are continually being updated with a new look and fresh content are benefiting. To summarize what John Mueller from Google mentioned on a hangout, he said they want to see websites that people can trust, that have a new look, fresh content and more real photos instead of stock images. There is never just one thing, but over the years we've learned to ensure that our websites are mobile optimized, are secure with an SSL, have a new updated look and feel, great content and are optimized properly. There are many more, but it seems like Google is pushing us down a path of best practices of websites that rank well and that their searchers want to see."
4. Alexa DeKalb, Founder of NYC Search & Social
"For quite a few industries, there's not much new in the latest Google Core Update. Their recommendations since the beginning: create great, unique content, in a way that users can easily navigate through, holds true. It does seem, though, that organizations that have followed that finally have some metrics that seem to be leading toward higher Google rankings – like time on site, pages visited, and engagement.
For other industries, particularly medical websites, there appear to have been drastic shifts towards more traditionally reliable sources. While these changes may not be permanent, the early indications are that Google is working more toward a factual, authoritative set of information for things that may be highly volatile (like vaccines and other sources of conspiracy on the Internet.)
Either way, for those doing SEO and content online, the core algorithm doesn't change the principle tenet of Internet marketing. Create interesting things consistently, and you'll eventually be rewarded."
5. Sadi Khan, SEO Manager at runrepeat.com
"It was first considered the continuity of Google Medic update that targeted YLYM websites lacking in E-A-T (expertise, authoritativeness, and trustworthiness). Especially because a lot of cryptocurrency websites took a hit. However, Danny Sullivan, Google Public search liaison, mentioned Google Raters Guidelines, which is more than 200 pages of information. Most SEO experts and forums now believe that core update has a much broader scope and it has targeted websites that lacked in one of many quality signals, as far as content is concerned."
Conclusion
So what's the takeaway?
First of all, always follow the rules, especially if it's Google's rules, and your revenue strongly depends on Google.
Second, follow all industry news and stay updated.
Finally, never hesitate to discuss any question or issue with your professional network and your audience. Outsiders are surprisingly good at seeing things that are too close for you to see.
And don't forget to use the latest SEO tools to keep your rank as high as possible.