How to Configure Form Confirmations and Notifications on WordPress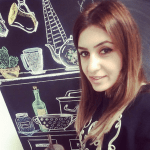 Web Development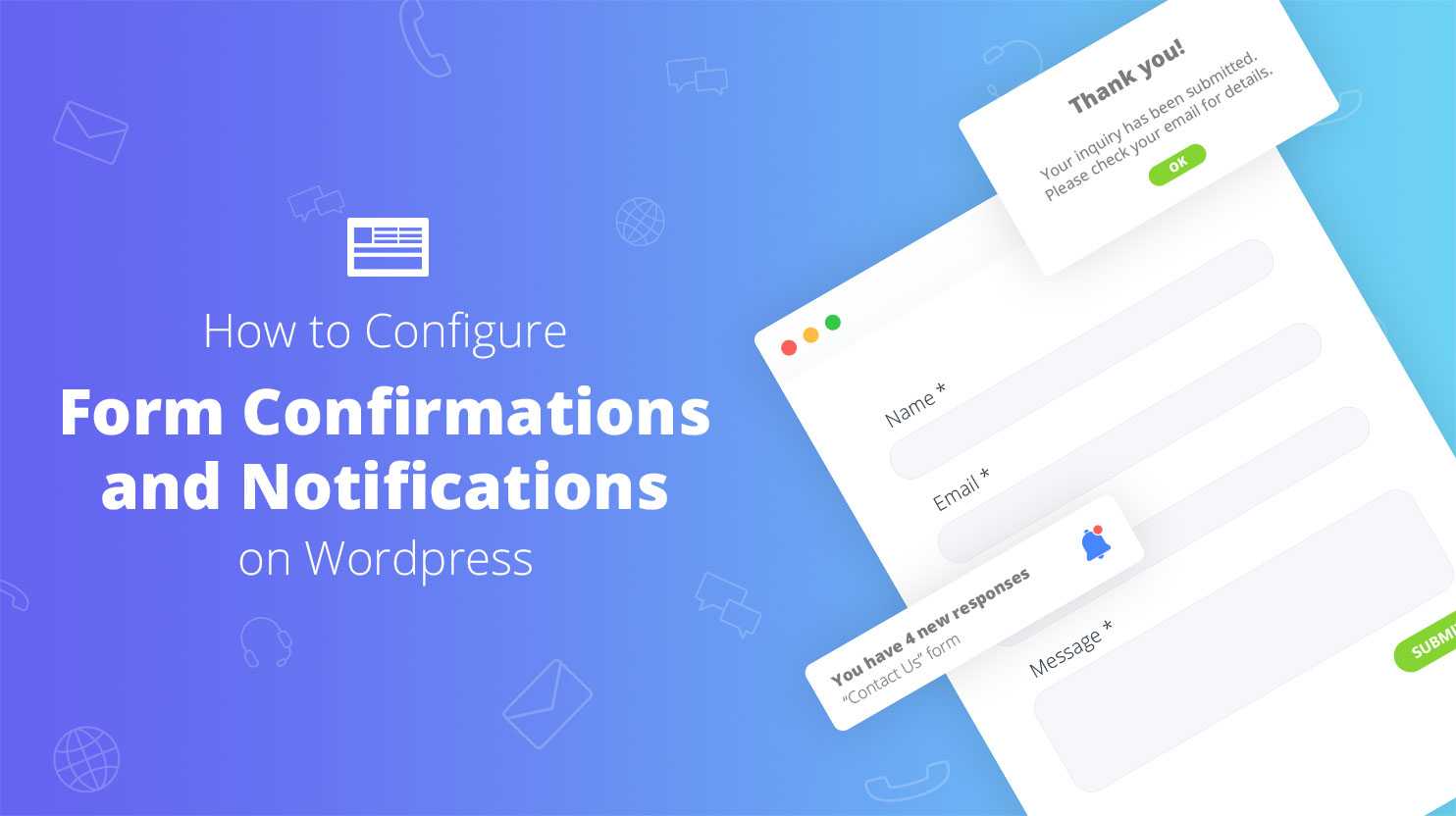 Web forms are an essential part of most websites. Configuring their confirmations and notifications will let you monitor the stats of the replies, drop a thank-you note or send out an automated email in an attempt to "humanize" your site.
The initial step is installing and activating Form Maker plugin. Here's a beginner's guide on how to do it. In this step-by-step tutorial, you will learn how to configure the "communicativeness" of the contact form we created in a previous tutorial using WordPress Form Maker plugin. But these instructions will work on any form really.

Configuring Form Confirmations and Notifications
A form confirmation is what your website visitor sees after they submit the form. It could be a thank-you message or a redirection to a relevant page. Alternatively, you could choose not to have one, keeping the users on the form page.
After clicking the left menu's Form Maker, picking the form, and pressing Form Options you can see the Actions after Submission section.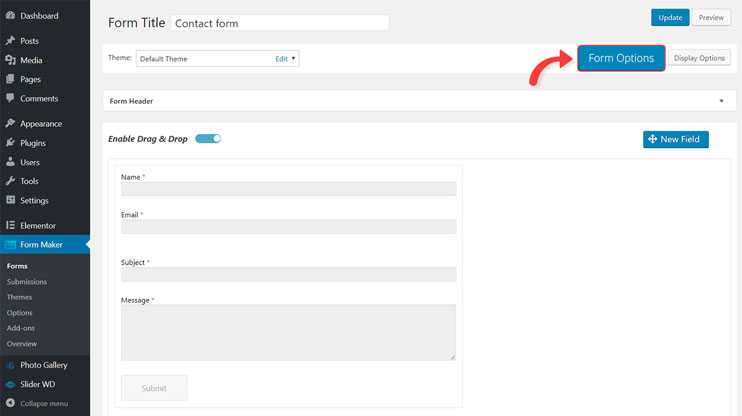 Here you can choose the Action Type from the available options:
Stay on Form, which means the user will stay on the form page;
Post, which redirects the user to a site post of your choice;
Page, which opens a page of your choice upon form submission;
Custom Text, which means the user will see the text you write in this box;
URL, which redirects the user to any link on the web.
Let's go with Custom Text and write "Thank you" in the text box. Click Update and the message of deep gratitude is ready!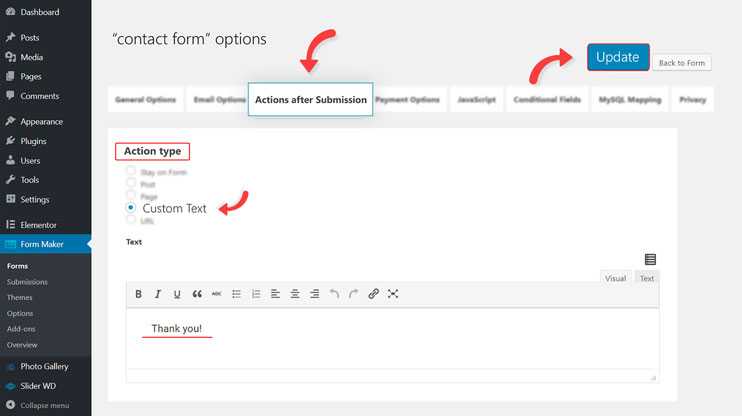 Now let's configure the form notification, the email message you receive after the user submits a contact form on your website. To get to Form Notification go to Form Options and select Email Options.
The notifications are by default sent to the admin email you set upon WP installation. If you want to send it to another email address, just replace it. If you want to send the notification to multiple emails, simply separate the email addresses by commas. You can write any content in the email message that will be sent to you.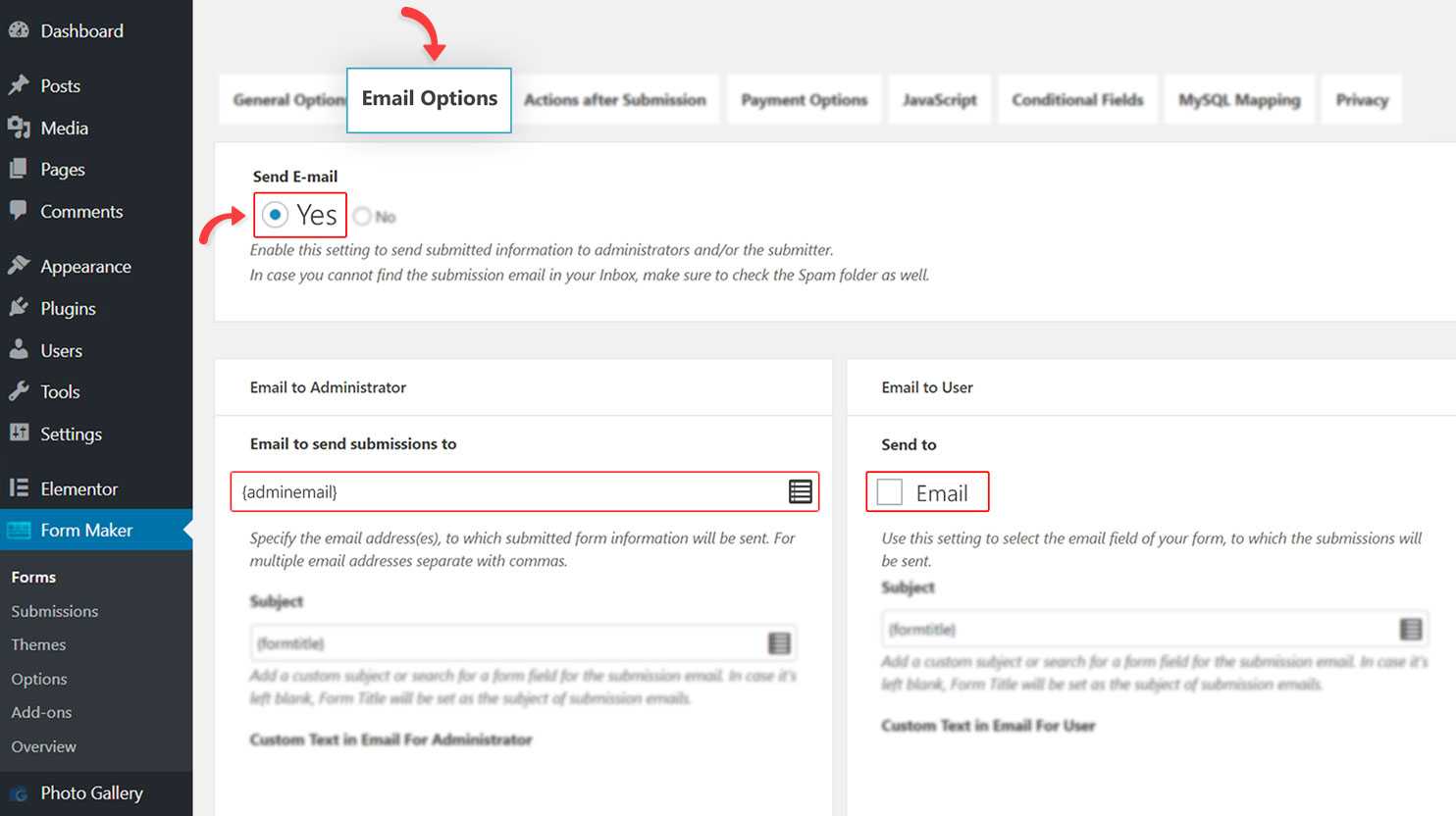 There's also an option to select a submission field and use its value as a placeholder. For example, if you pick the form field "Name" from the menu that opens when you click "Add placeholder," you will receive all the submitted names in your email one by one.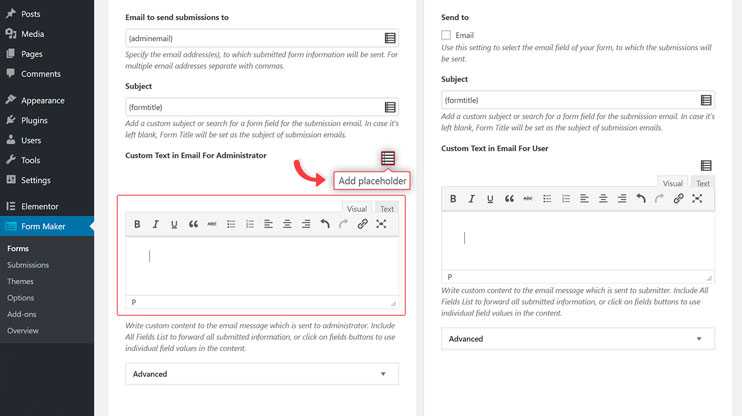 In the right part of Actions after Submissions, you can set up the process of sending out emails to the users, too. Most options require the same configuration for Email to Administrator and Email to User. However, Email to User section has the Email verification feature you can activate if you want the users to verify their email addresses to avoid spam. If it's enabled, a verification link will be sent to the user's email.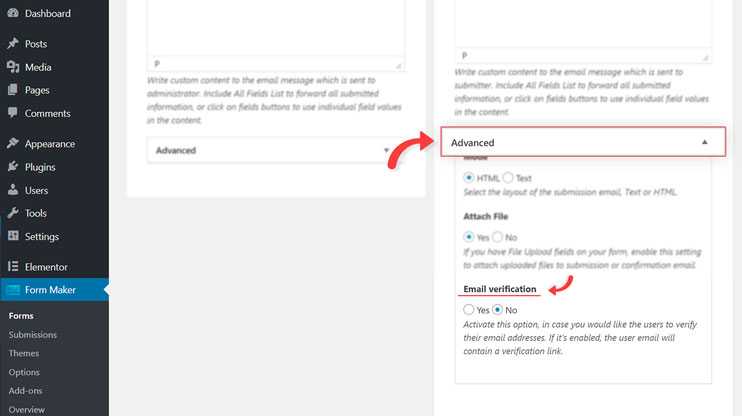 Managing Submissions
The Form Maker plugin also gives you the opportunity to view the submission records of each submitted form. Go to the Submissions menu of Form Maker and pick the form you want to configure.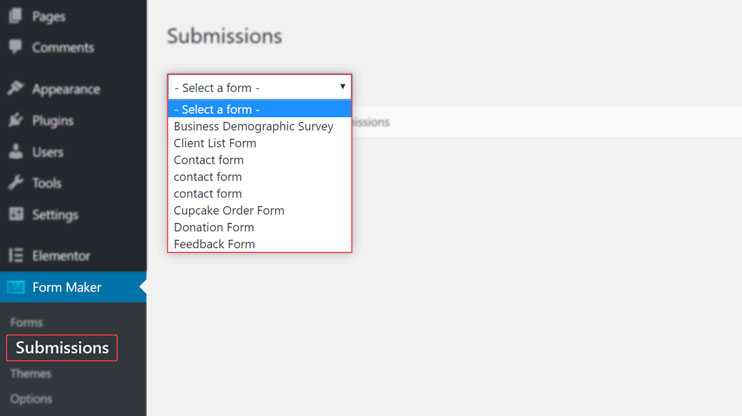 You can download all the information from the submitted form showcased here in CSV or XML formats: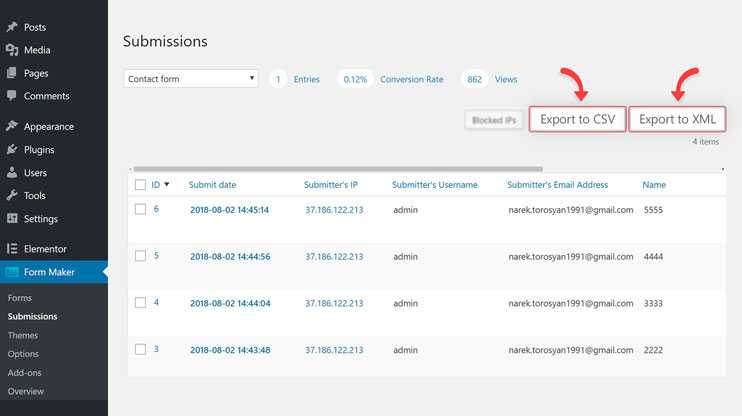 If you scroll down, you can select the particular submission field and date range for the information you want to see as statistics from the drop-down box.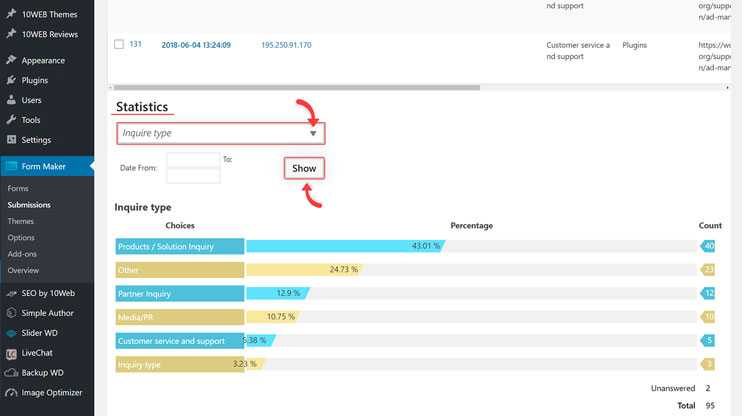 Next, you could give our tutorial on creating a donation form a read. Oh, and if you have any questions about this one, leave us a comment below.
Automated PageSpeed Boost With #1 WP Hosting
Get 90+ PageSpeed Score and boost Core Web Vitals by migrating your client websites to 10Web – all within minutes, all automatically.
Automated PageSpeed Boost With #1 WP Hosting
Get 90+ PageSpeed Score and boost Core Web Vitals by migrating your client websites to 10Web – all within minutes, all automatically.
This is a comprehensive tutorial on managing the form submissions you get on your WordPress site.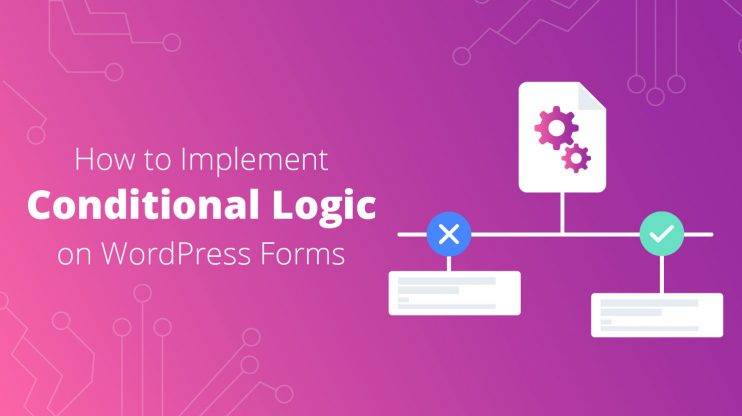 Would you like to show/hide form fields depending on user answers? Conditional logic of the WordPress Form Maker plugin allows you to create smart, user-friendly forms with complex logic. You can show the user only what they need to see and keep the forms short and straightforward. In other words, depending on the options they choose, the users see only those fields that are related to their chosen values. Employing conditional logic renders significantly more simple and comprehensible forms. Keep in mind, however, that conditional logic works only on the premium version of this plugin. If it's something you will use on your site often, you can read up on the pricing scheme, conditions, and additional functionality on our site. Creating forms using conditional logic Let's get started by creating the form with the WordPress Form Maker. From the submenu of the plugin go to the > Forms page, >…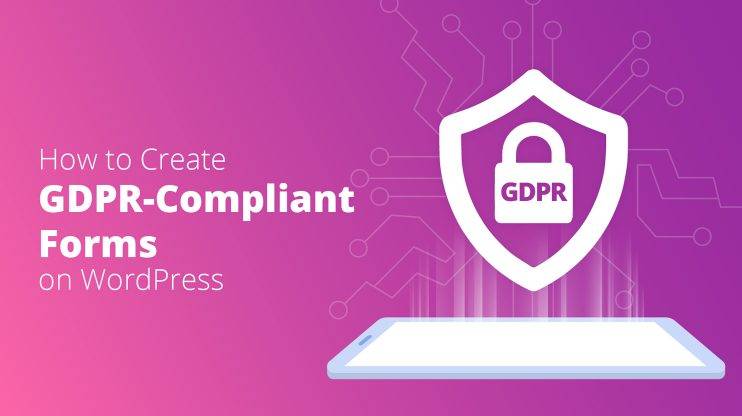 Want to create a GDPR compliant WordPress form 🤔? Here's how to create GDPR-Compliant forms on WP using 10Web WordPress Form Maker plugin 👌.