How to Make a WordPress Website in an Hour: Step-by-Step Guide for Beginners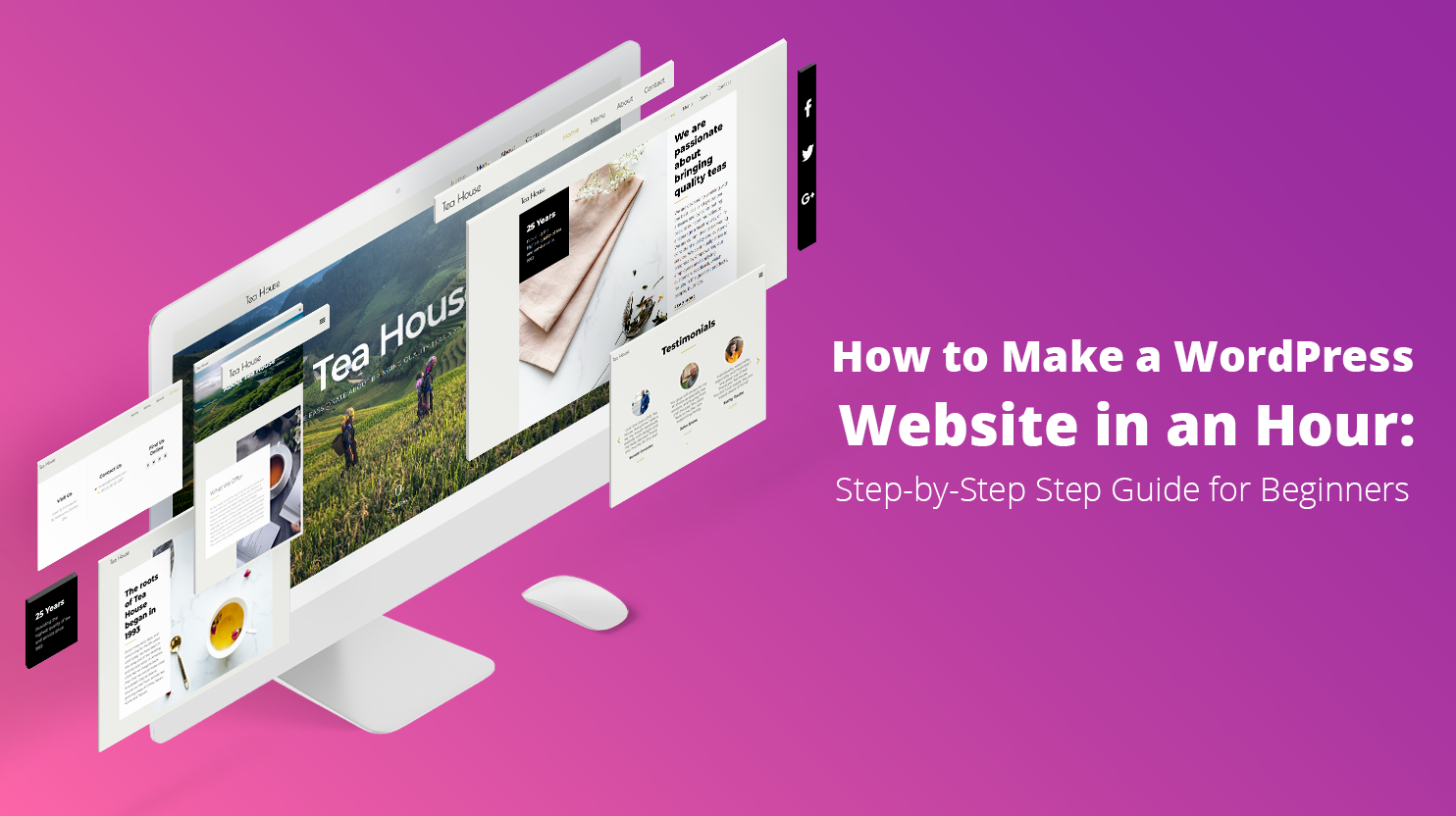 We've all heard of the elaborate checklist you need to tick off and the time-consuming process you need to go through to kick off your brand new WordPress website.
Well, 10Web is here to change things up! You won't need any tech skills or a sacrifice of a whole weekend. All you need is an hour and your secure and functional website will be live.
Is the clock counting down the minutes already? Then let's get started!
Getting an account
First off, you need to register here.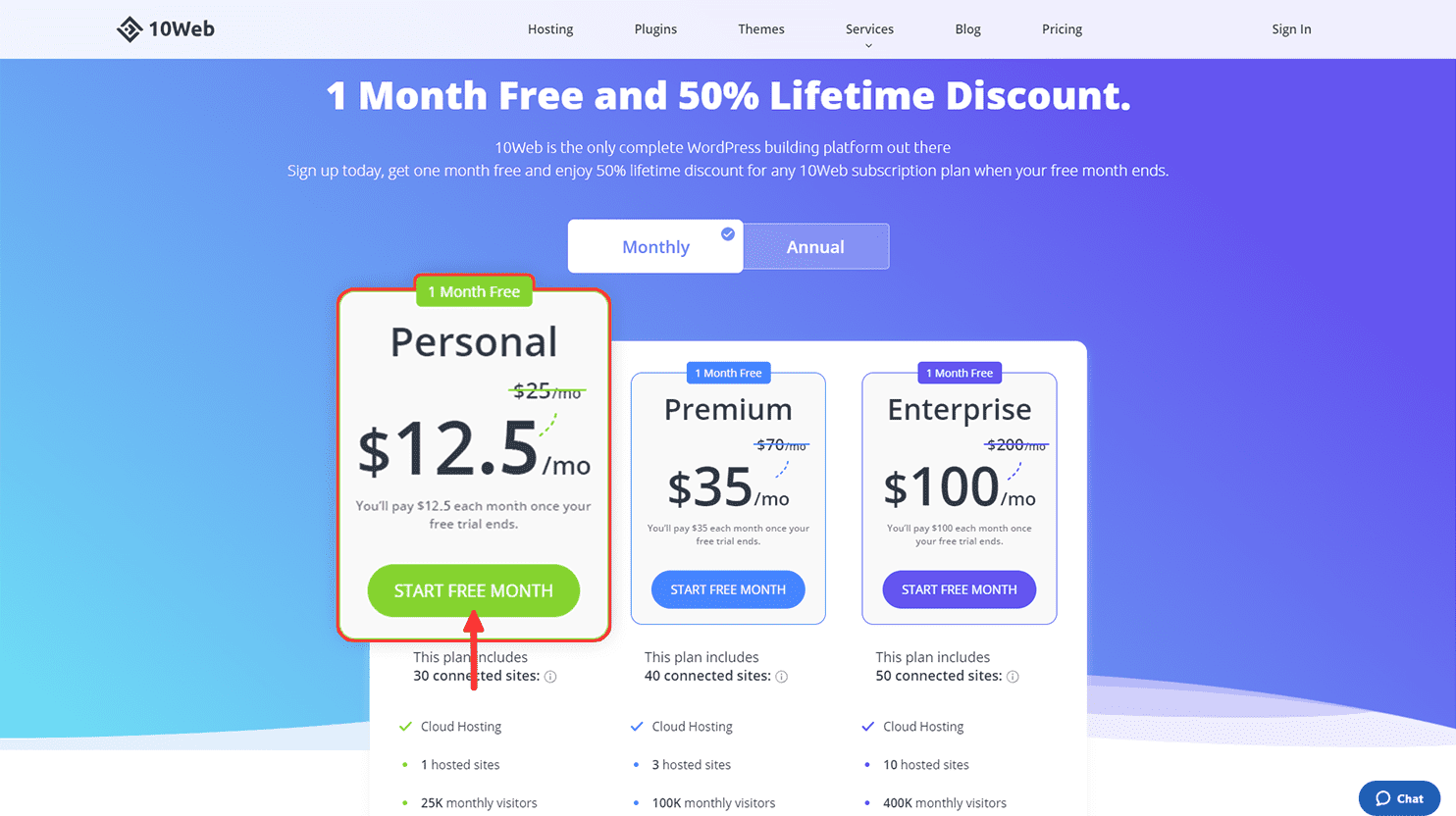 In this example, I'm gonna go with Personal to make sure I take advantage of all offered 10 components, such as hosting, builder, and themes.
Personal is more than enough for getting started with WP but if you run a whole enterprise or just want to host more popular sites, go with whichever plan better suits your needs.
So, after you click "Choose plan," fill in your information in the "Set up your account" page.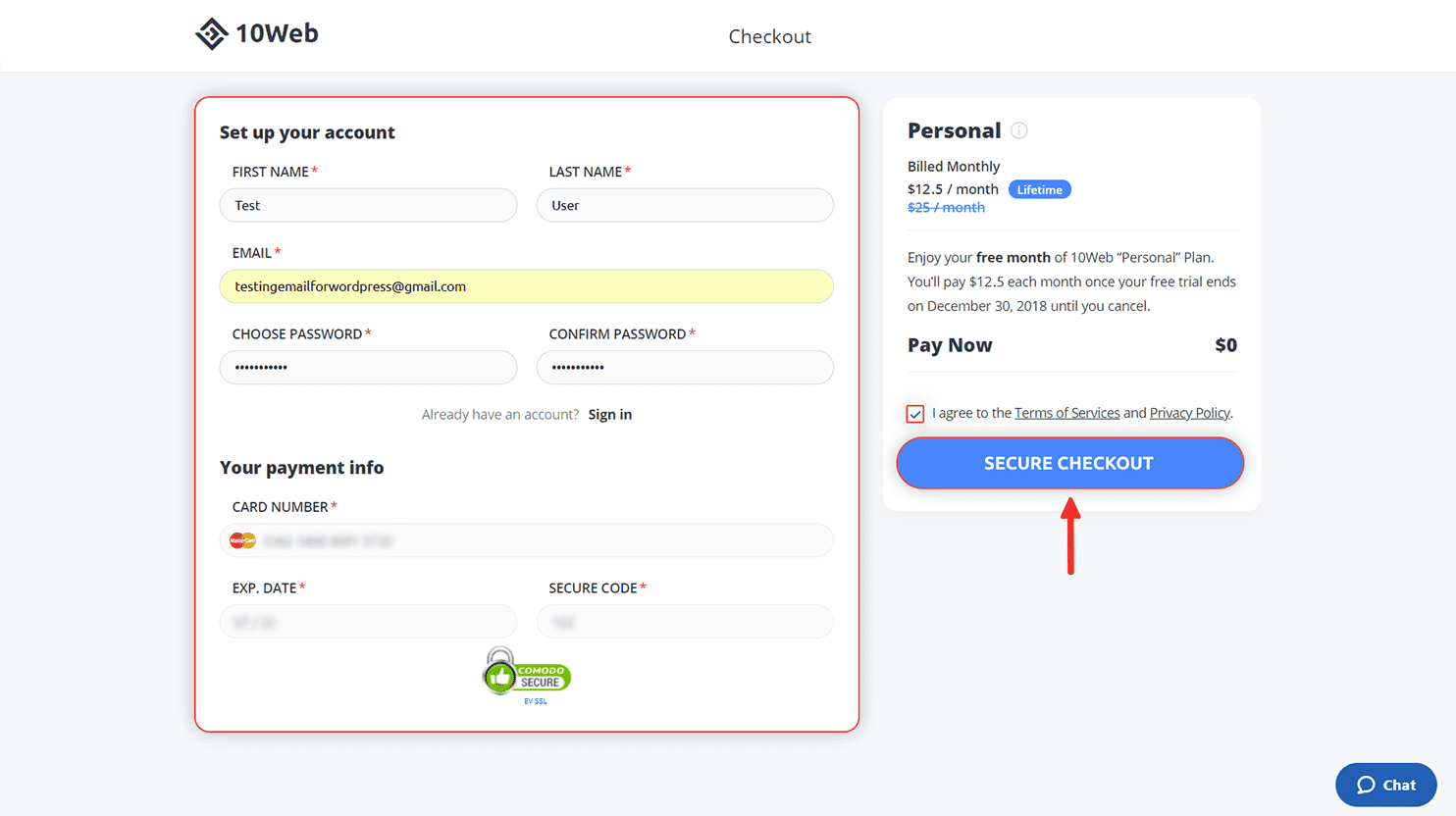 Make sure to check the "Terms and Privacy" agreement box. If you read it, too, you'll probably have the joy of being the text's first reader ever.
Anyway, just check it and click "Secure checkout." Congrats! Now you have an account and will see this page: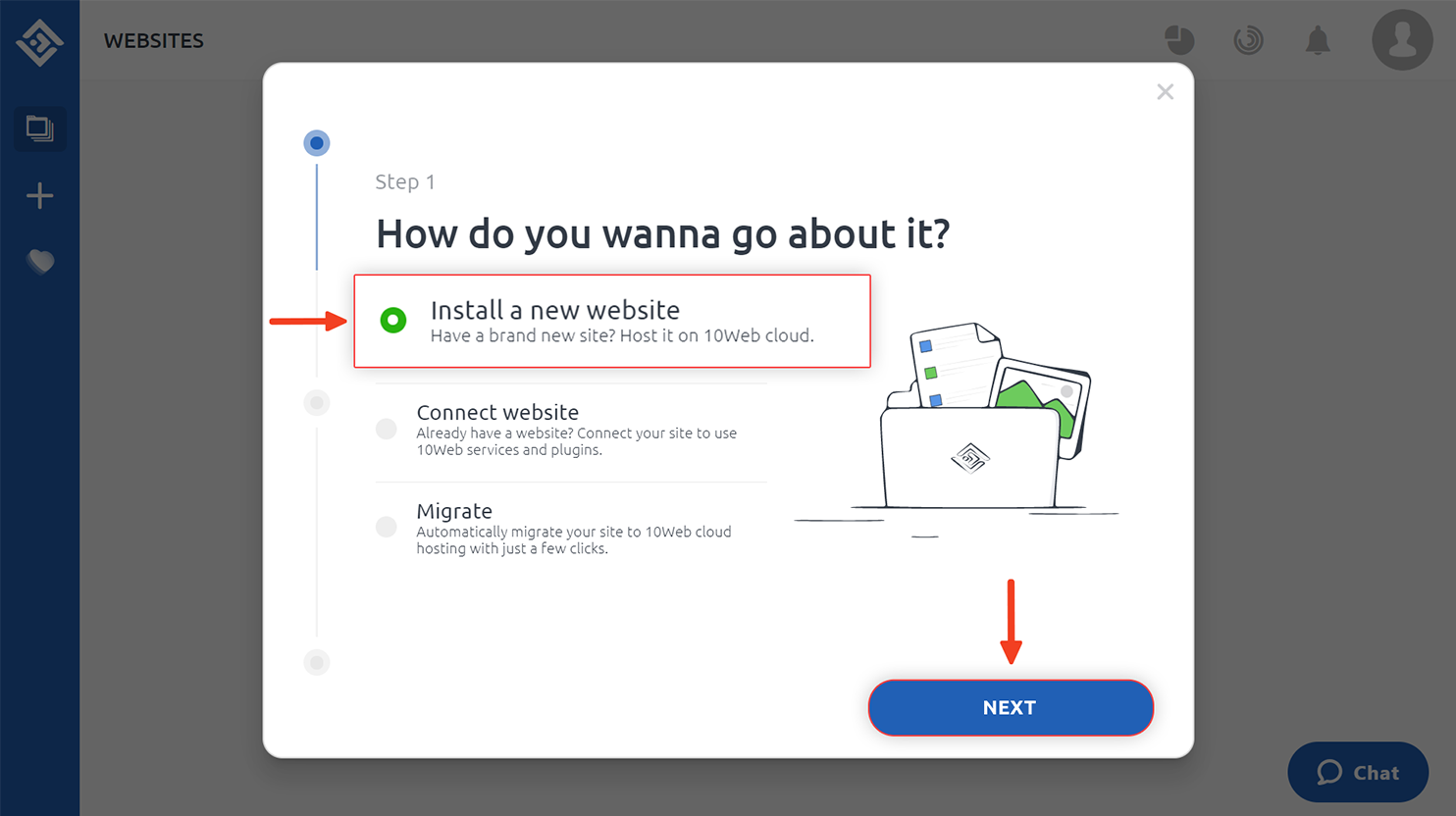 Since yours is a new website, go with "Install a new website" and click "Next."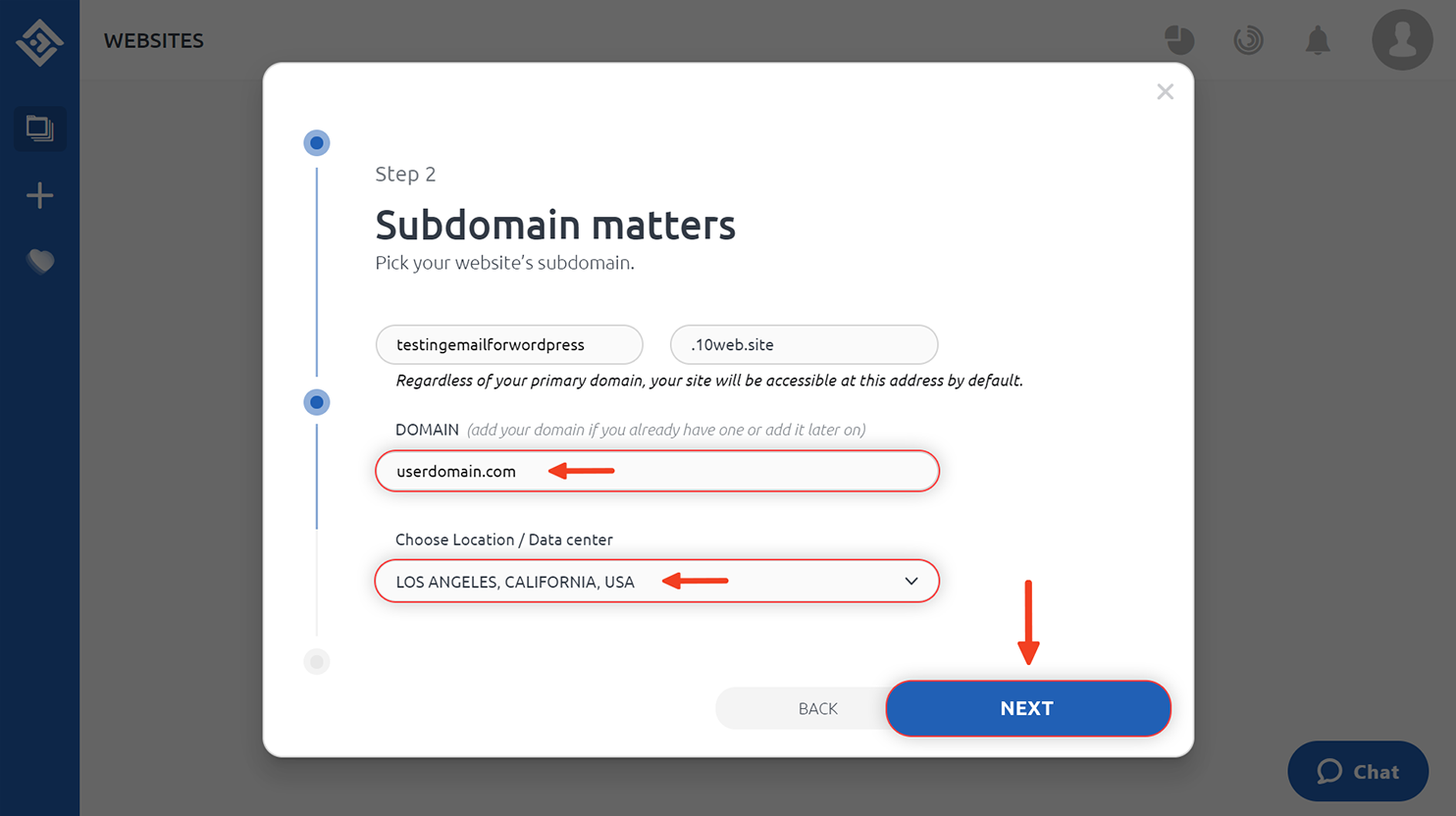 Then you'll need to choose a 10Web subdomain, add your domain if you already have one or leave the domain field blank for the time being, and pick the data center closest to your potential website visitors' location.
The third step is setting up the admin credentials for your new WordPress website. Write in your site title. You can change it later if you need to. Then choose a WP admin username and generate a password: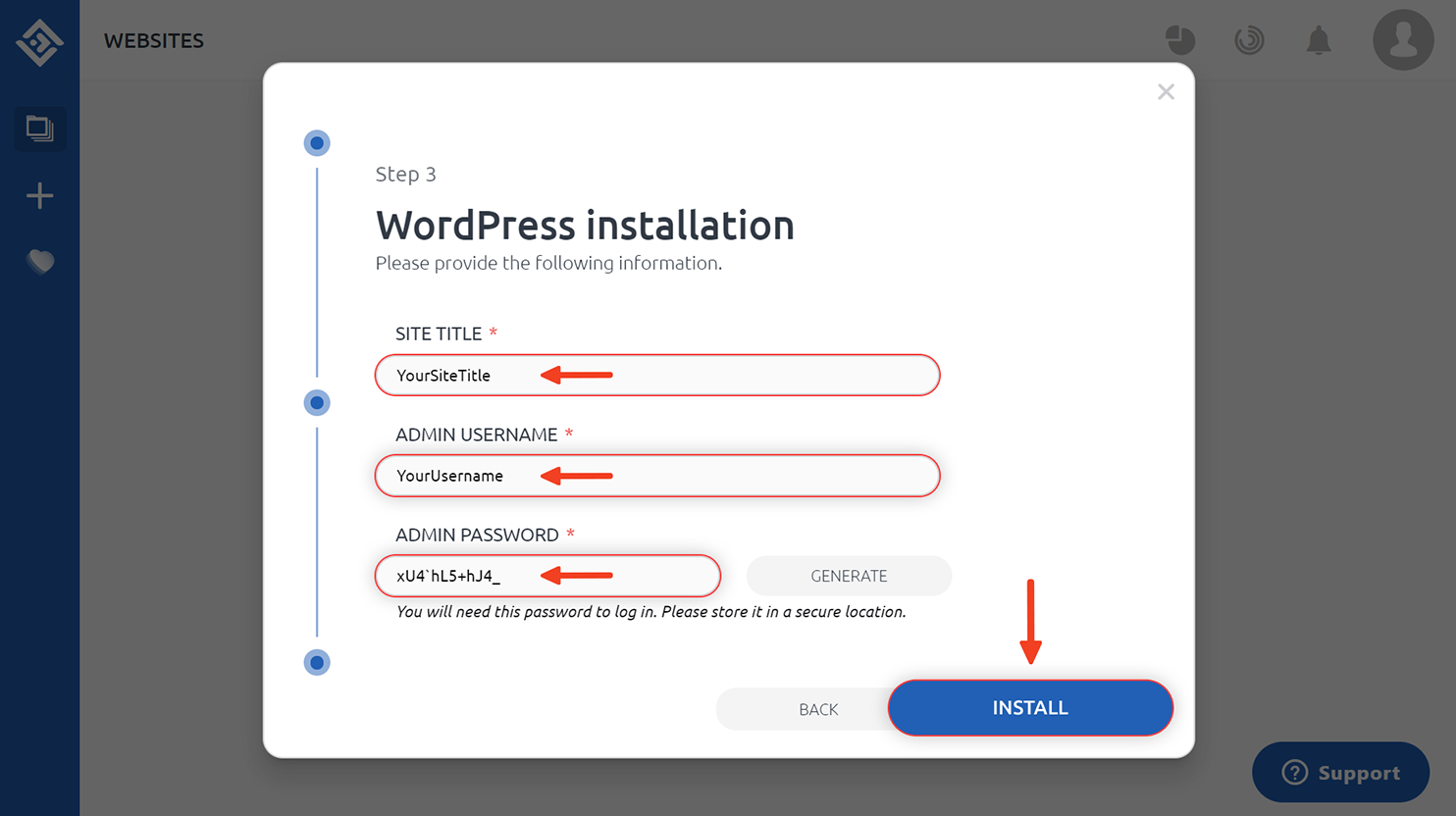 Security hint: don't go with "admin" as a username because it's the most popular option, making it easier for hackers.
Also, make sure your password is automatically generated and, so, complex.
Now click "Install." In a few minutes your site is created and you'll see this page: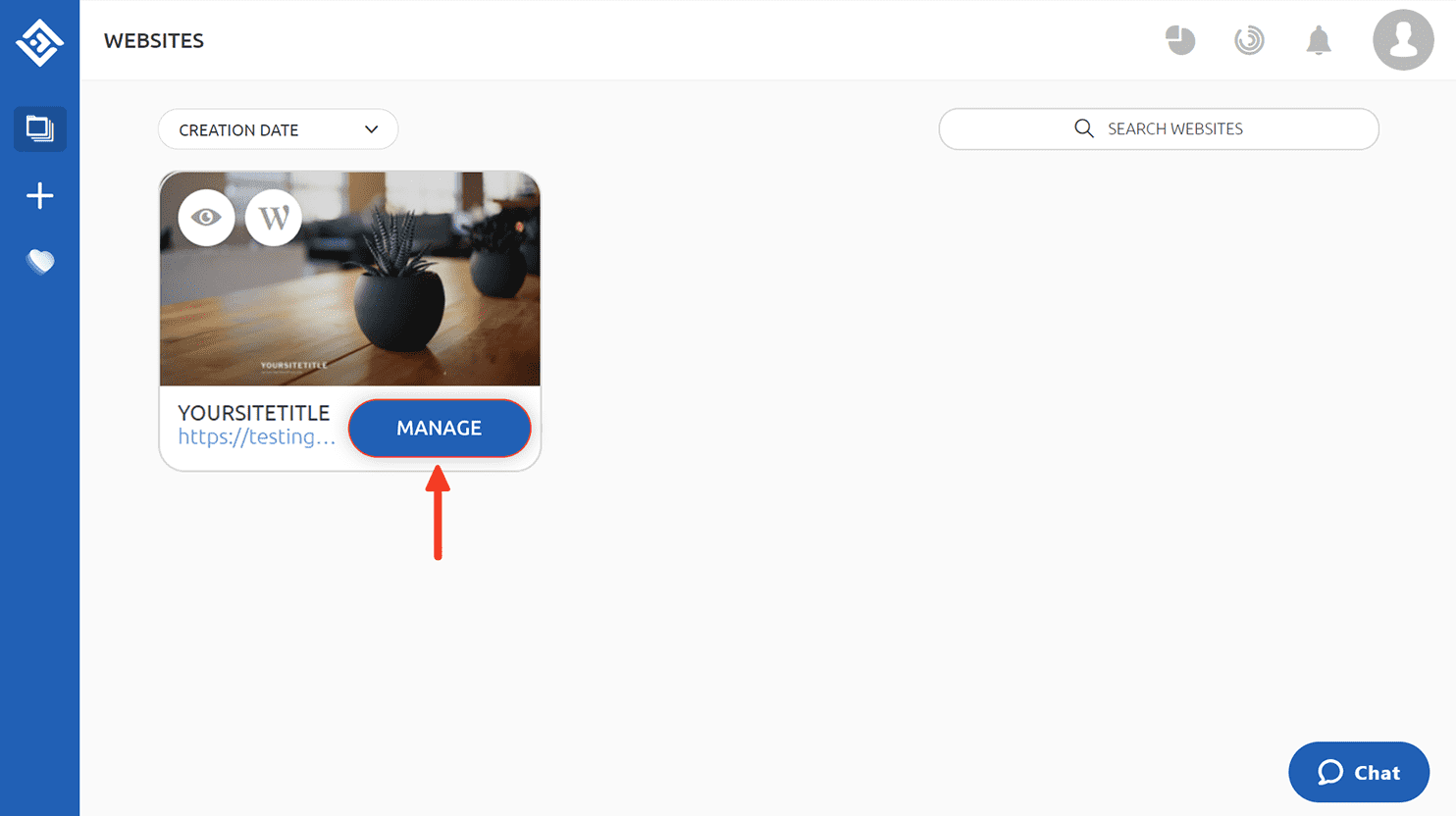 Your website is already live! You can view it by going to "whateveryoursubdomainwas.10web.site."
Setting up a theme
Viewing your site right after creating it is sure to fill you with a sense of pride, but it can also make you want to change the standard theme as soon as you can.
Luckily, with 6 sleek 10Web themes and the whole WP theme repository under your fingertips, you have that opportunity.
Click "Manage" from the screen where we left off.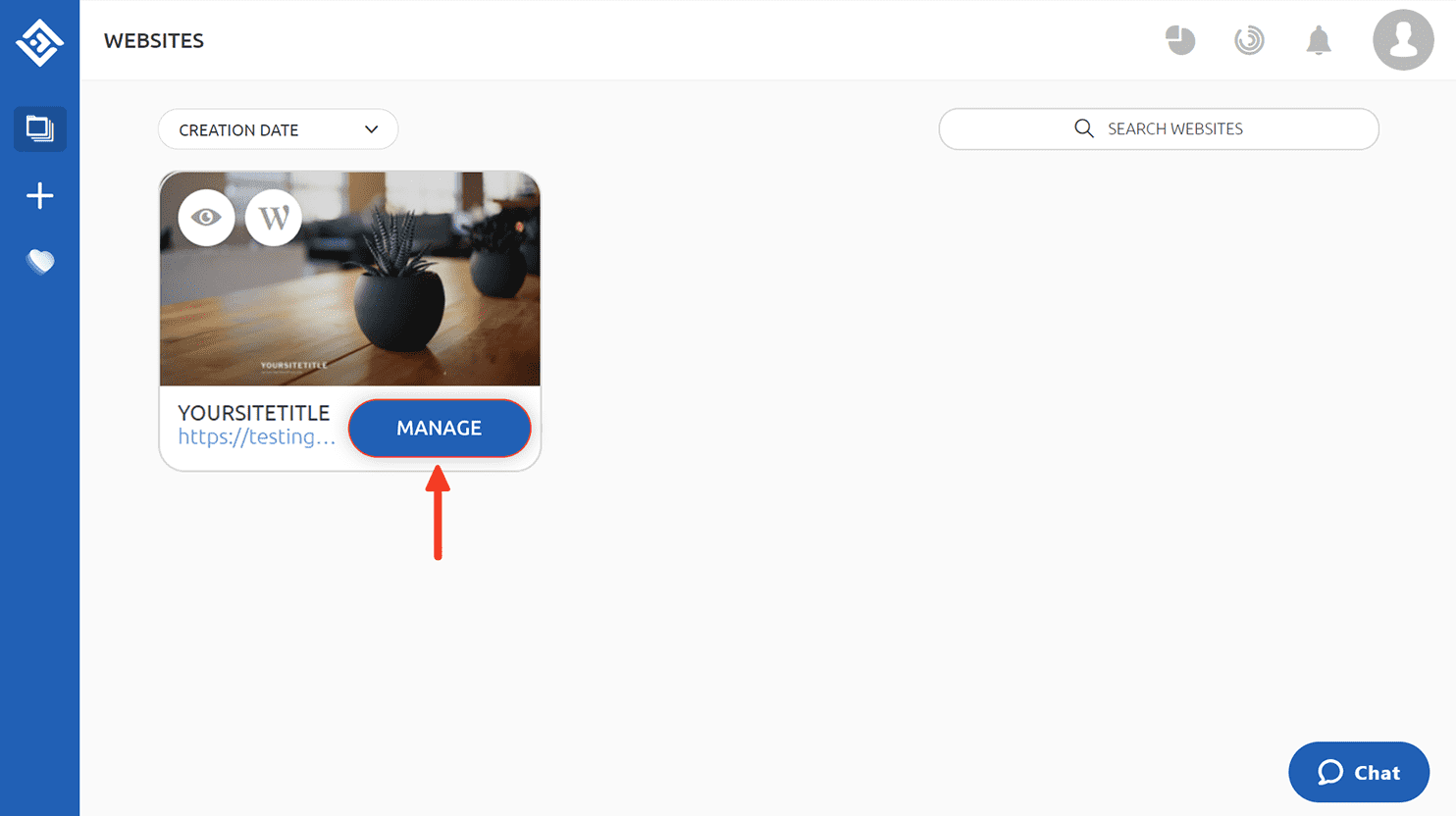 You'll get to your 10Web dashboard. Now click "Themes."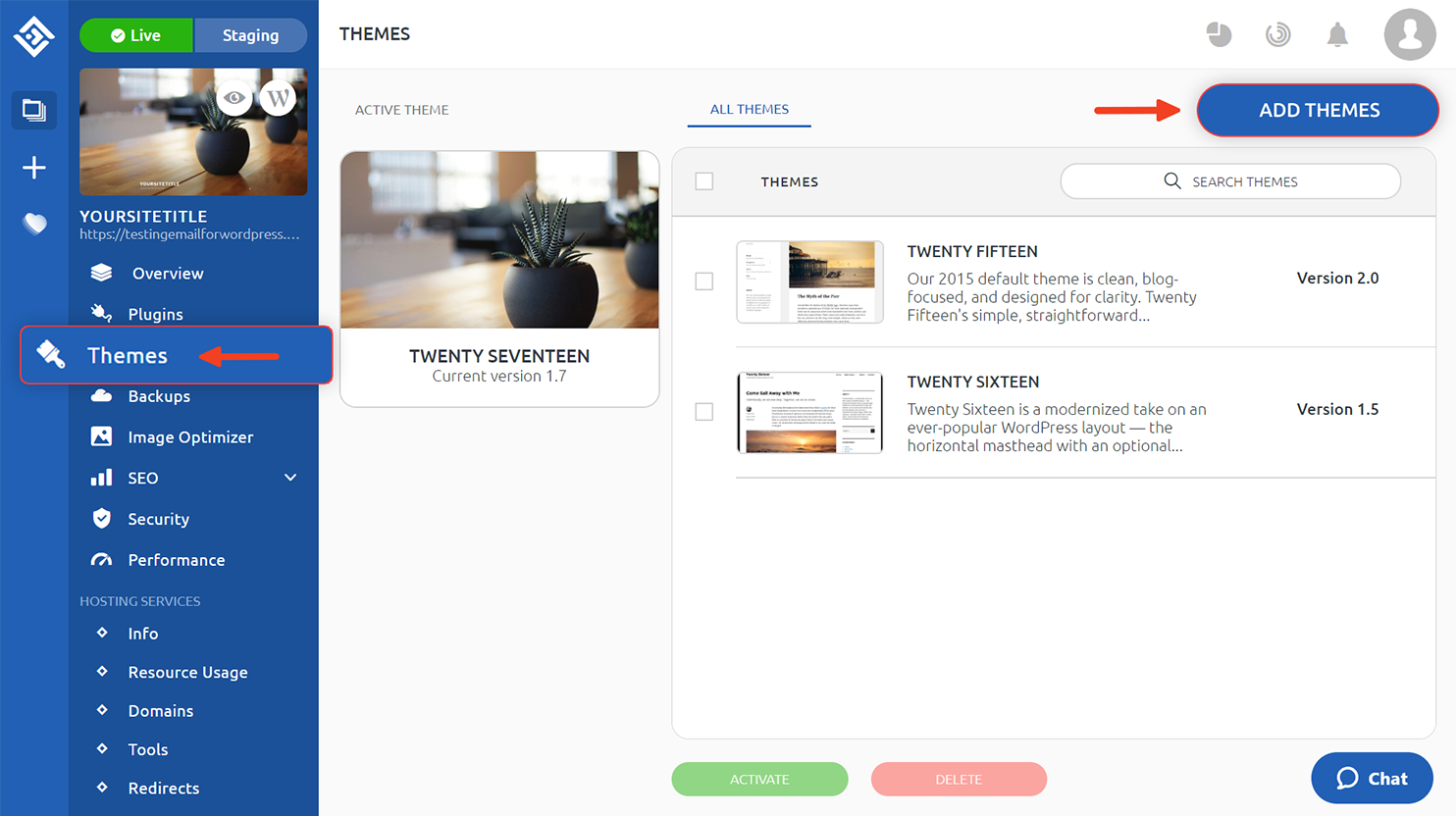 Don't know what a theme is or how to install it? No worries, this article is a quick and helpful read. Now after you click "Add Themes," you need to choose the theme that fits your new site, and click "Install."
Since mine is probably gonna be something similar to an online lit magazine, I decided to go with "Best Magazine," a premium 10Web theme:
Tick the box to the left and press "Activate."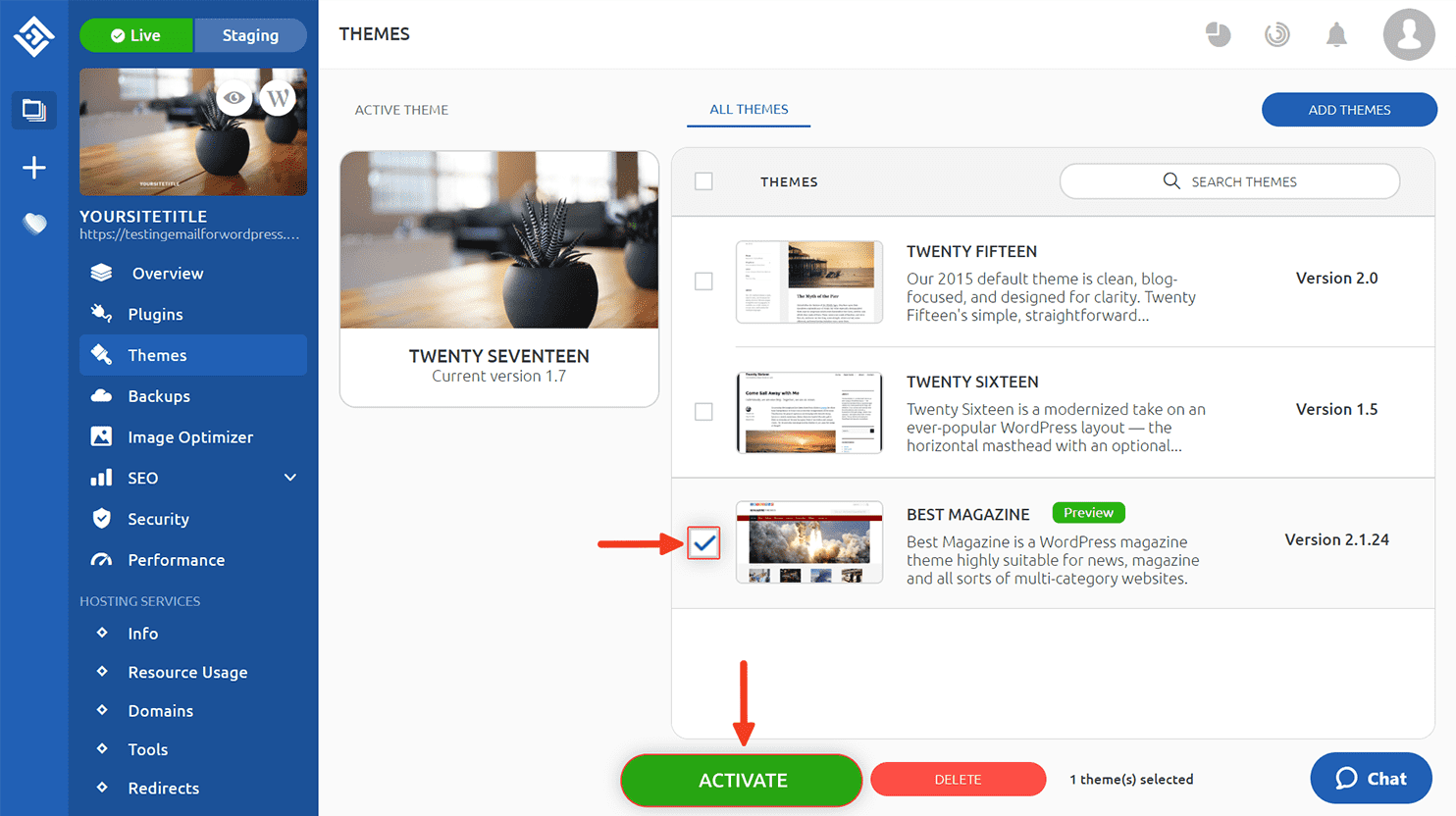 Clicking the eye in the upper left corner opens the site with the new theme already installed:
Now click the WordPress icon to login to your website. From your dashboard click "Appearance" and then "Customize."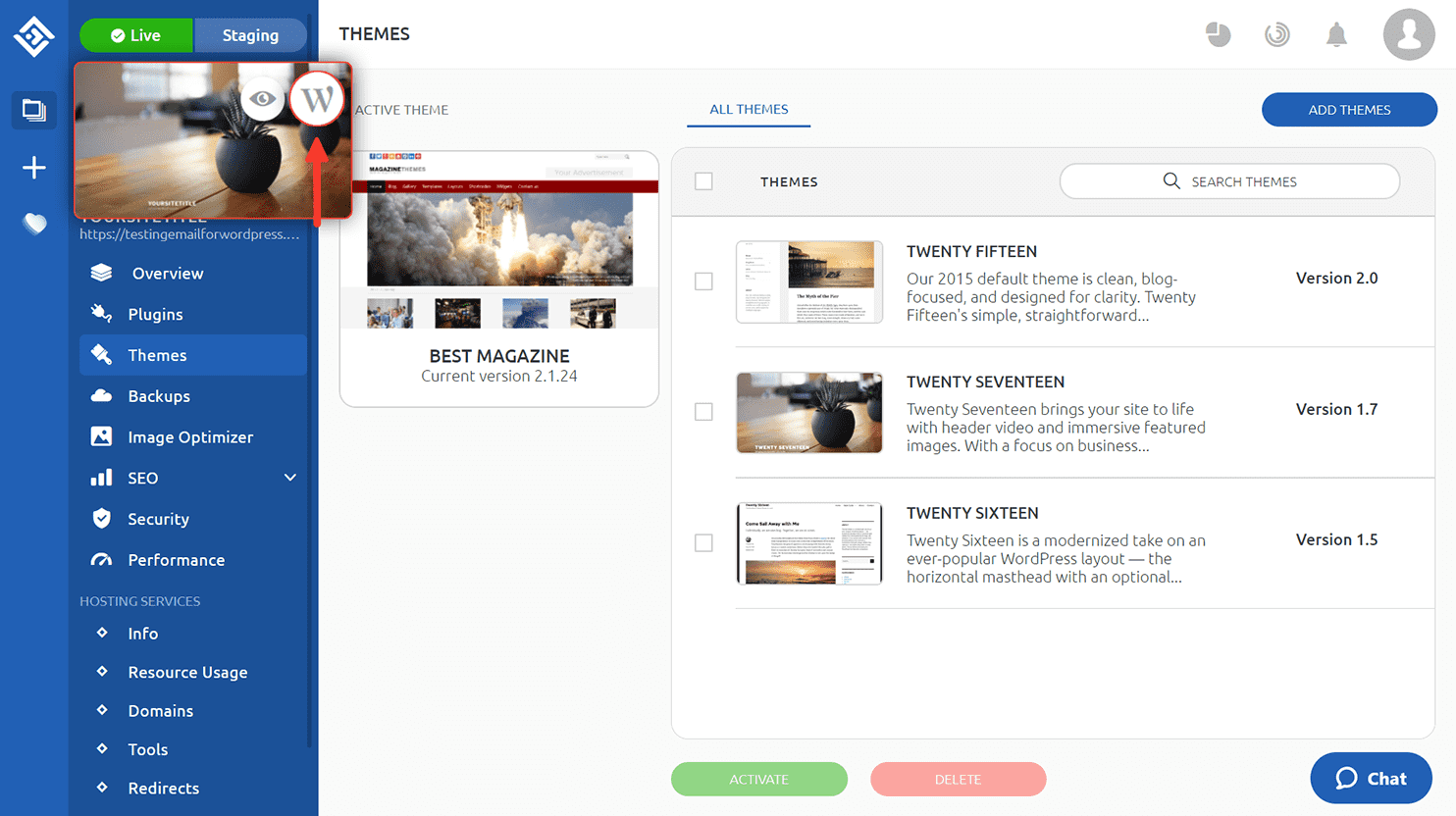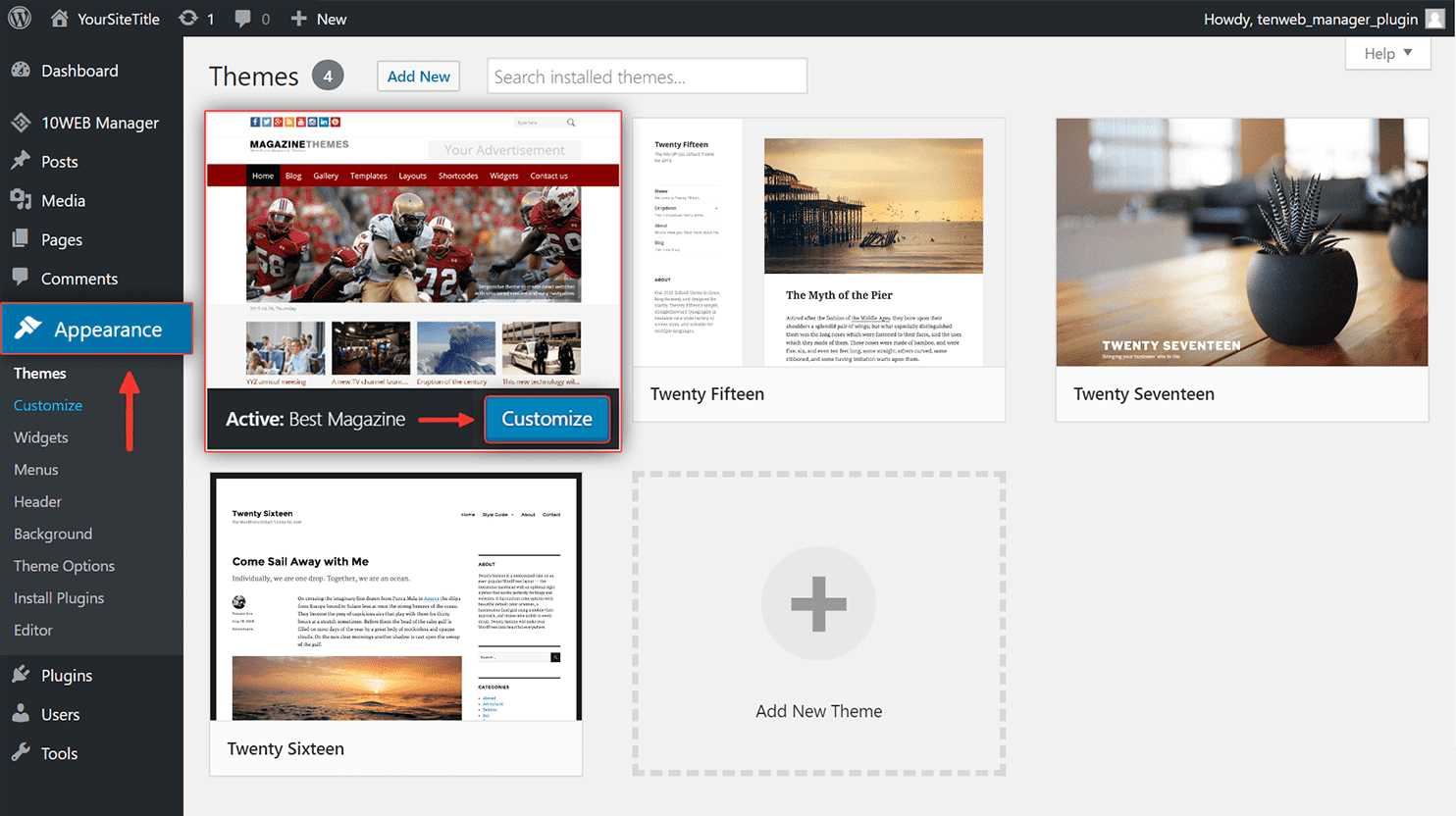 You can change up a bunch of things to suit your site better, from slider text and images to background color and tab names.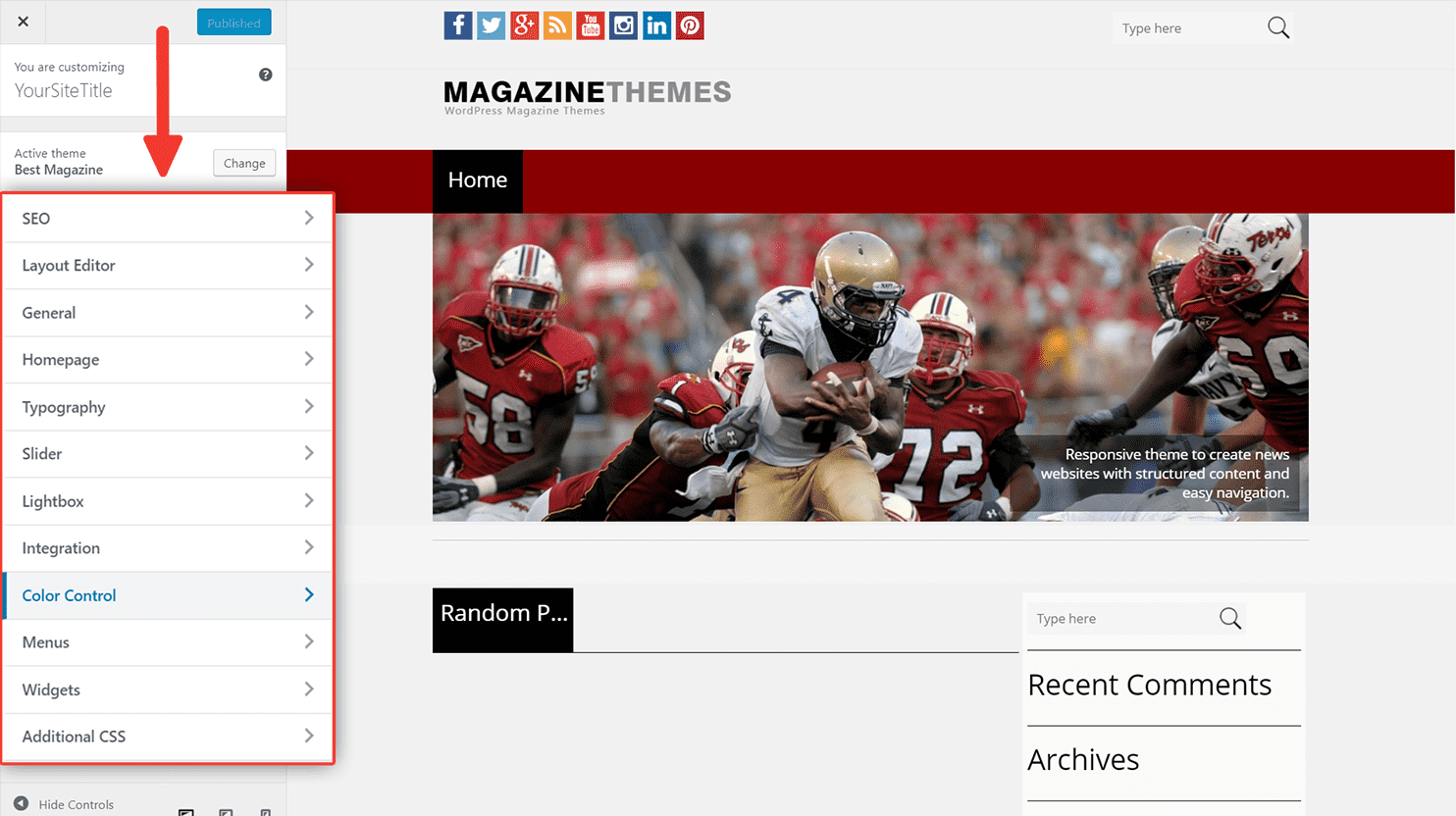 Building your website
10Web has enhanced the most popular WP page builder Elementor with premium widgets and turned it into a full-fledged website builder.
To begin using it you need to click "Plugins" from the menu on the left: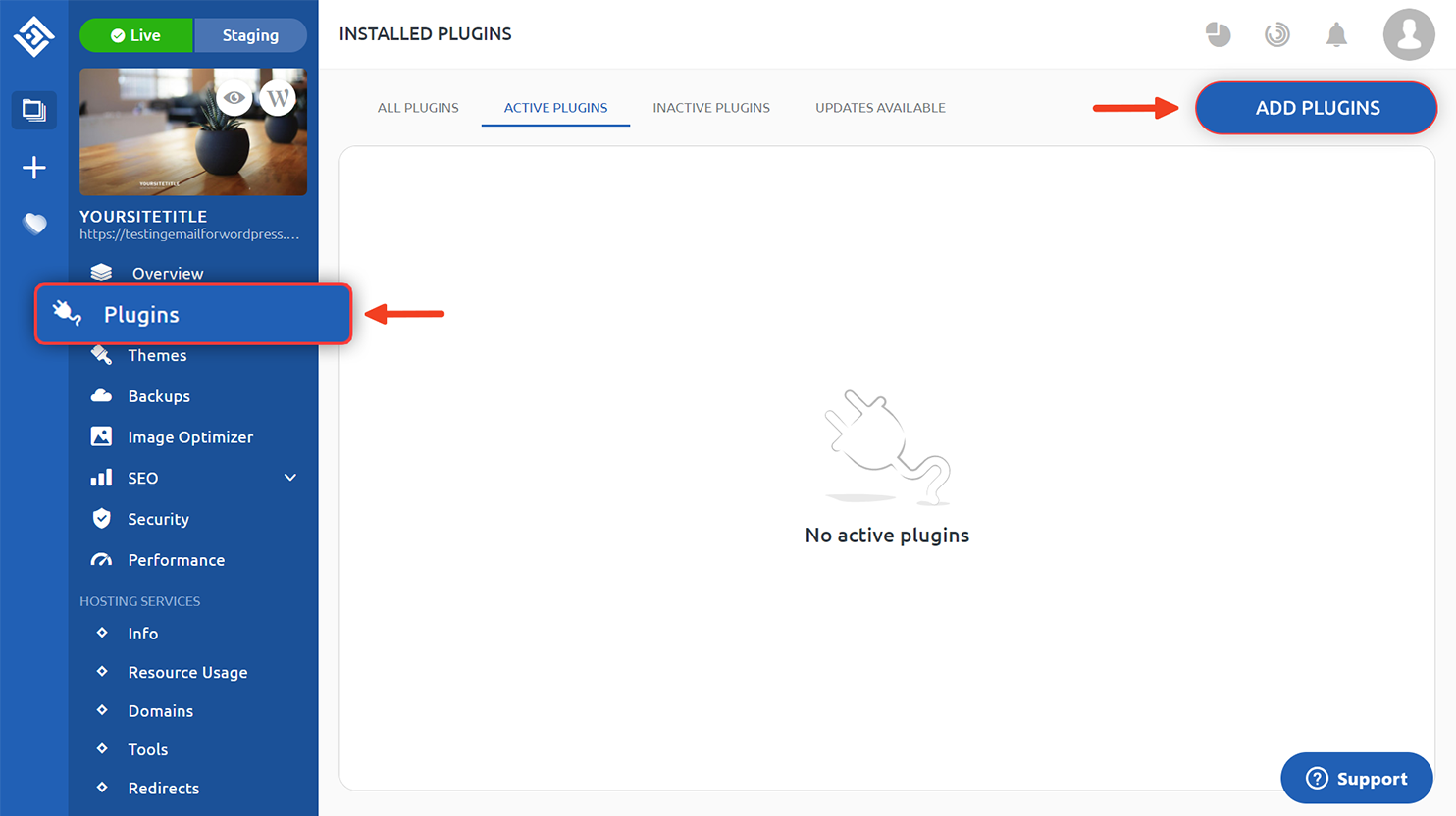 Then click "Add new," search for 10Web Builder, and click "Install."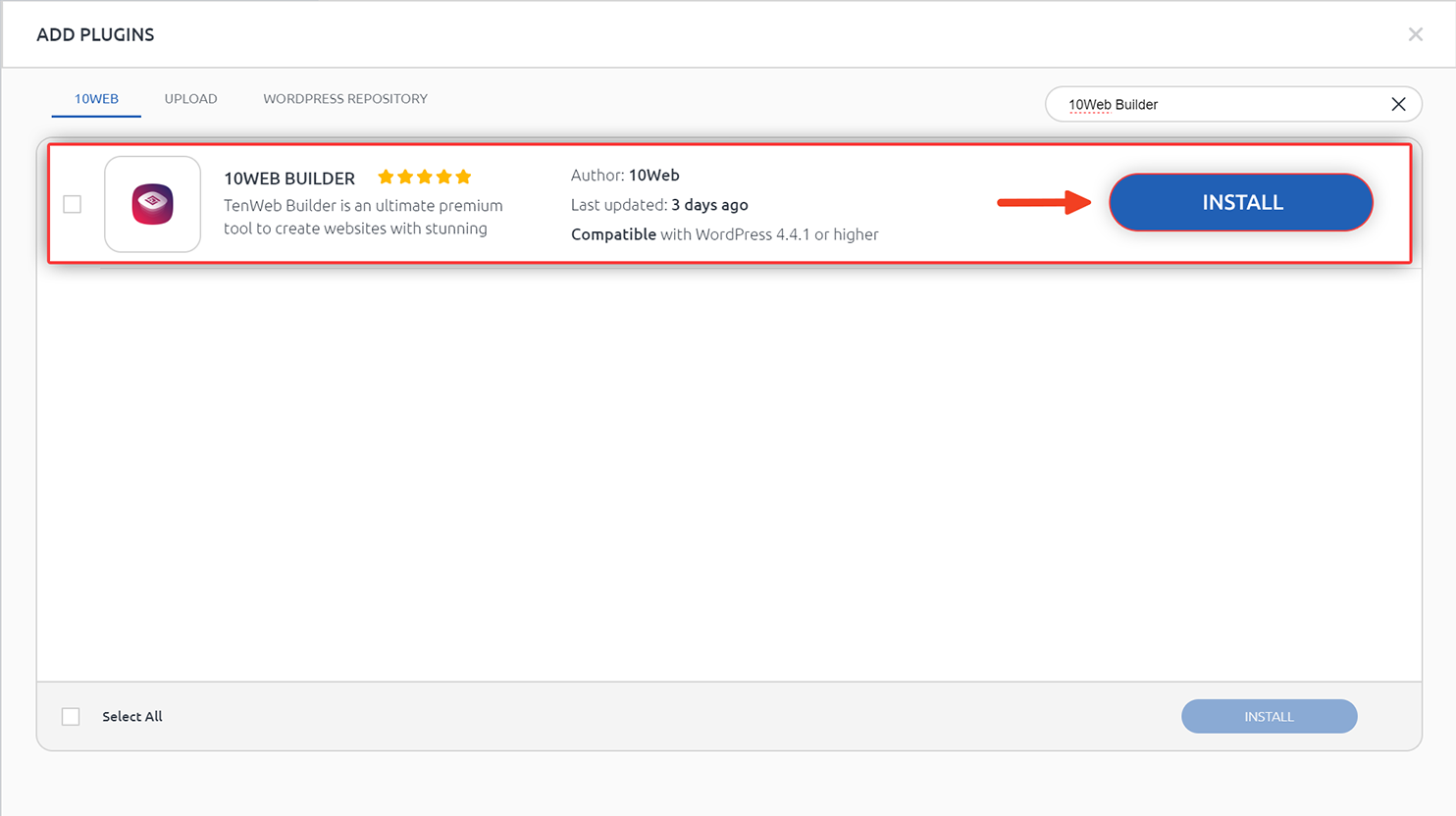 It'll be activated automatically. Since 10Web Builder needs the latest version of free Elementor plugin, you need to switch tabs to "WordPress repository," find and install Elementor.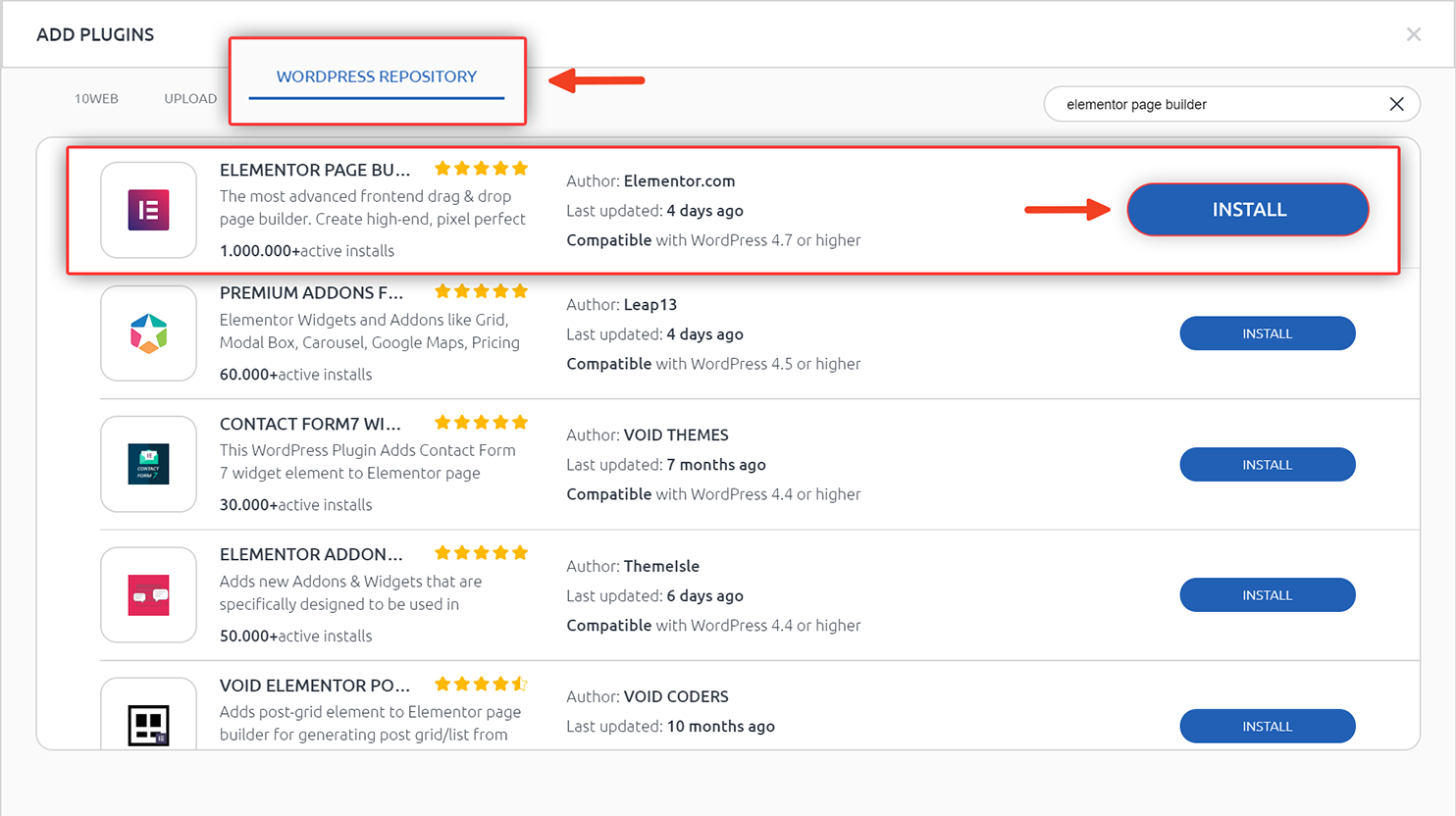 Now Elementor will appear in the Installed Plugins list: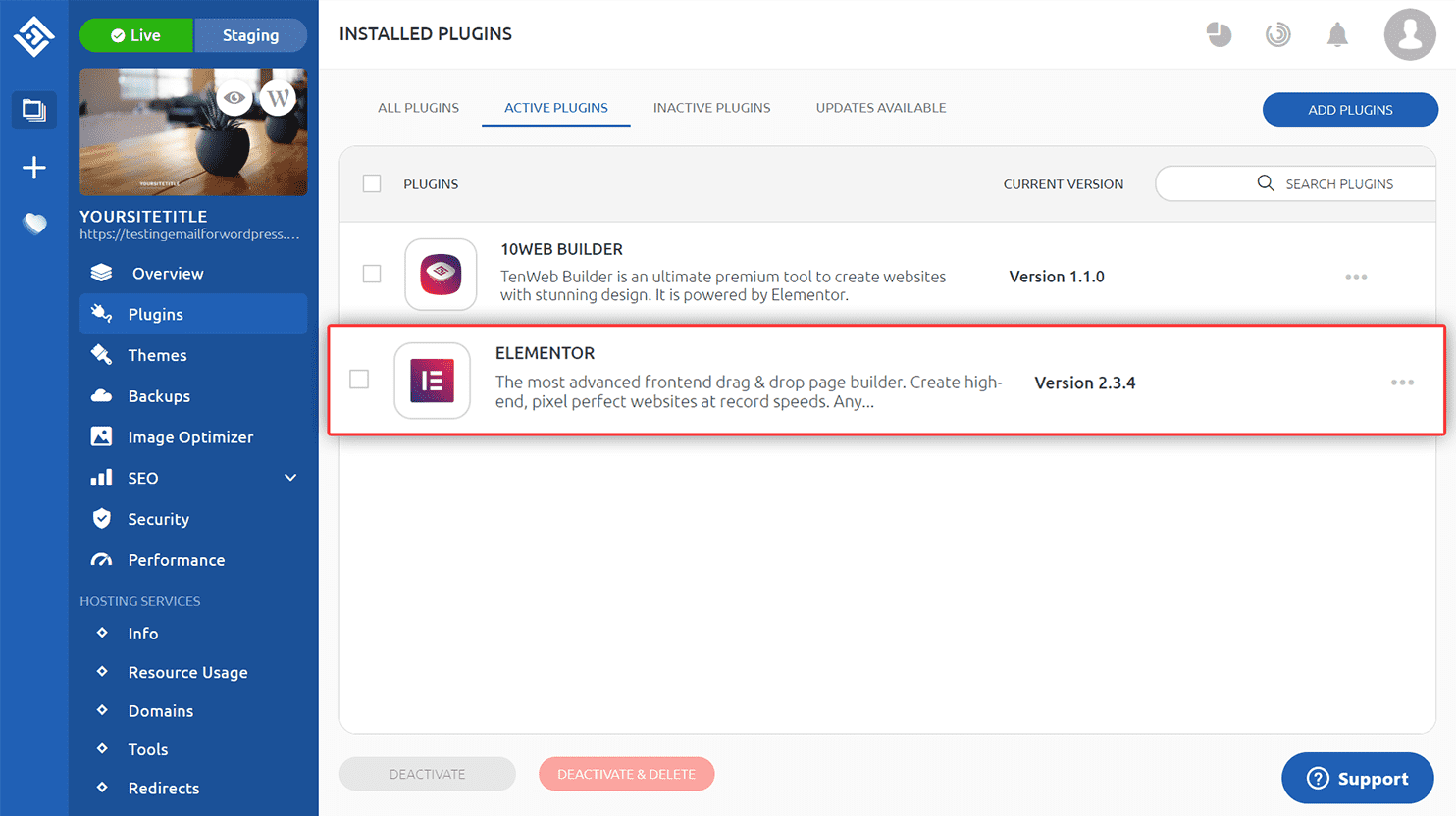 Let's go ahead and build a basic "About Me" page with Elementor so you'll understand the gist of the process. Go to "Pages–>Add new" on your WP dashboard: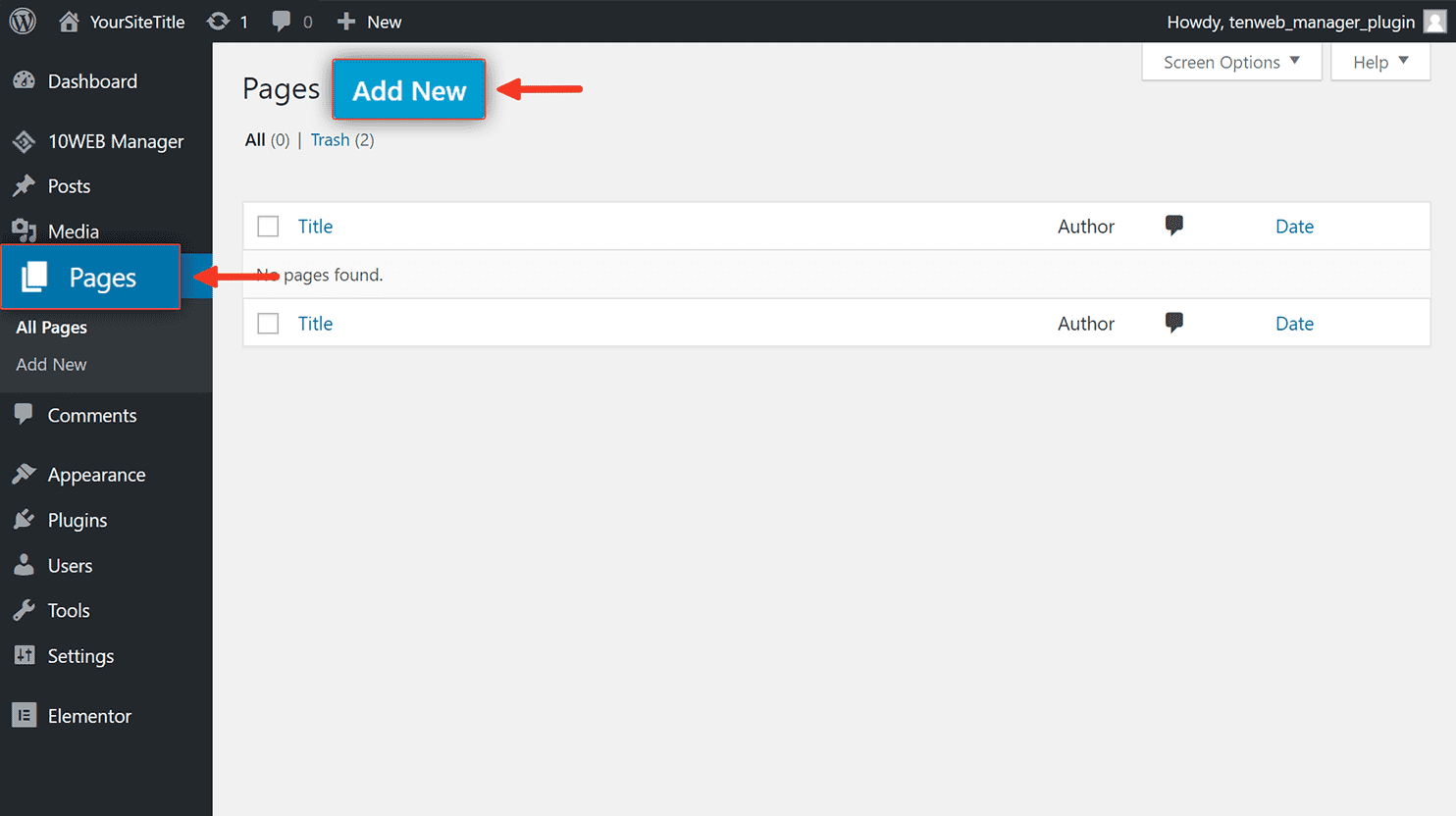 Press "Edit with Elementor."
Here are all the tools you'll need to create beautiful pages just by dragging and dropping the elements on the left. If you scroll down you'll see a whole section of 10Web widgets: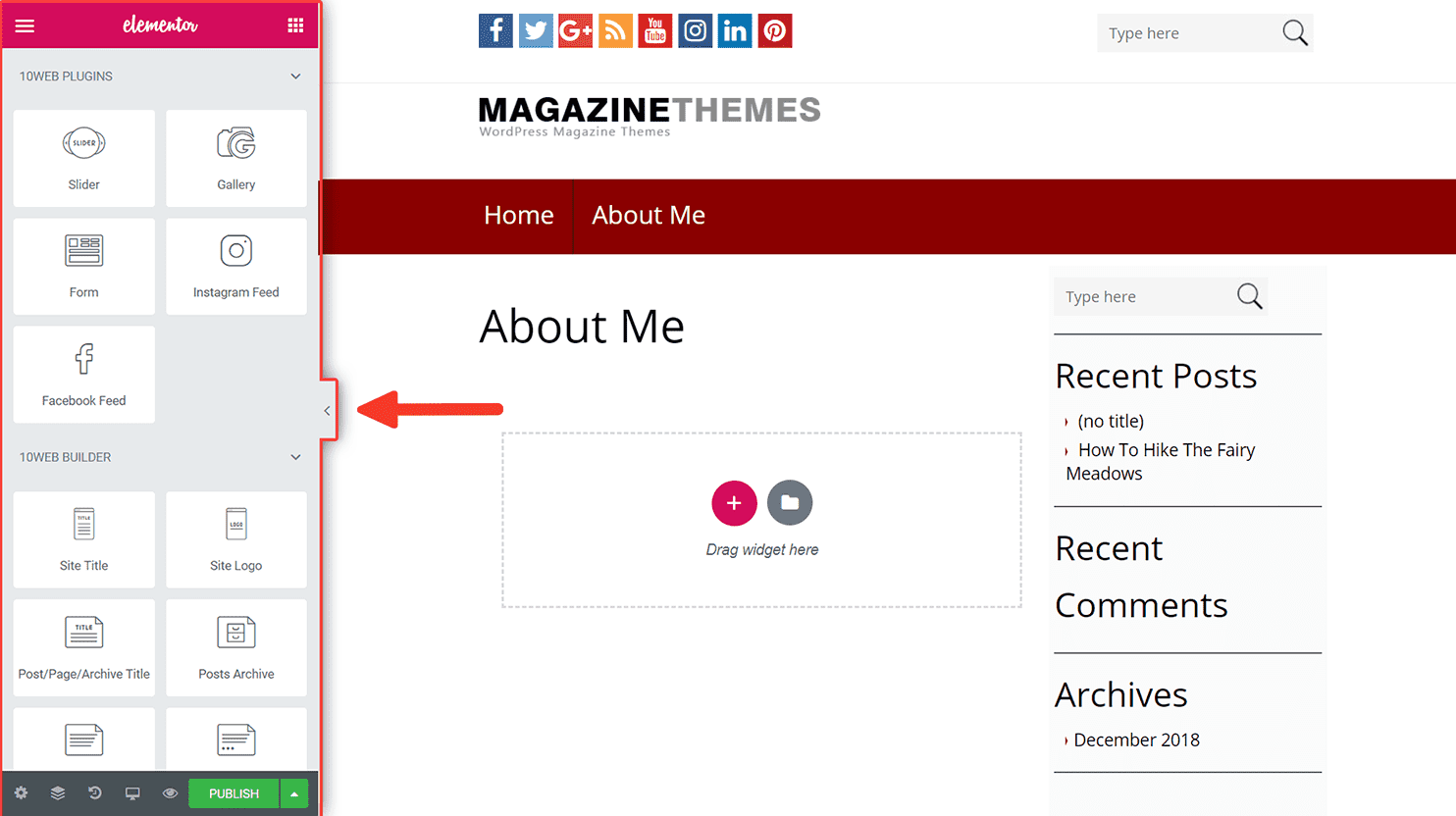 You'll see that the new page already has the default look of the theme you picked. Clicking on the plus sign in the middle will let you choose a page structure: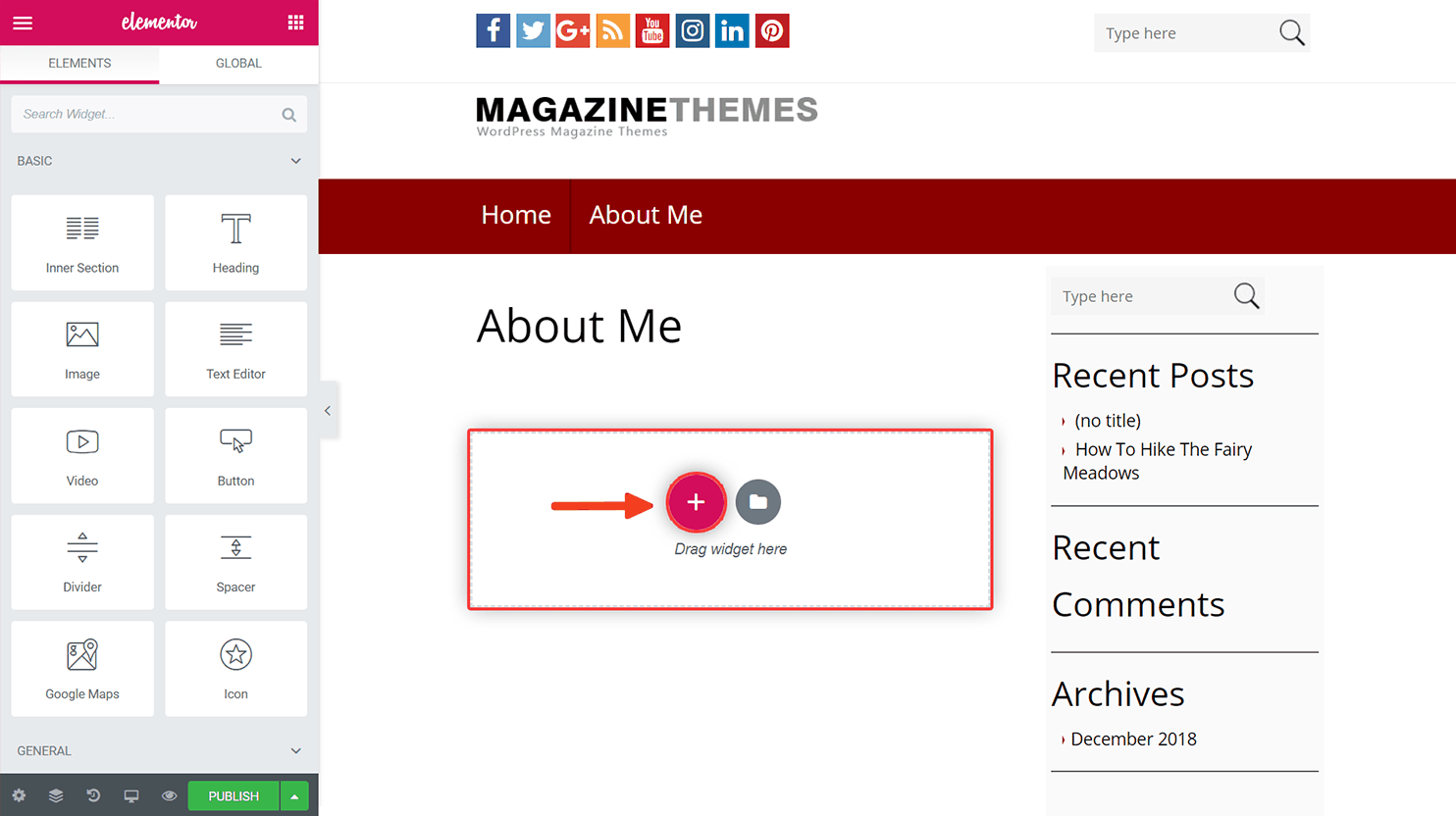 Pick the two column structure so you can play around with a bigger number of elements.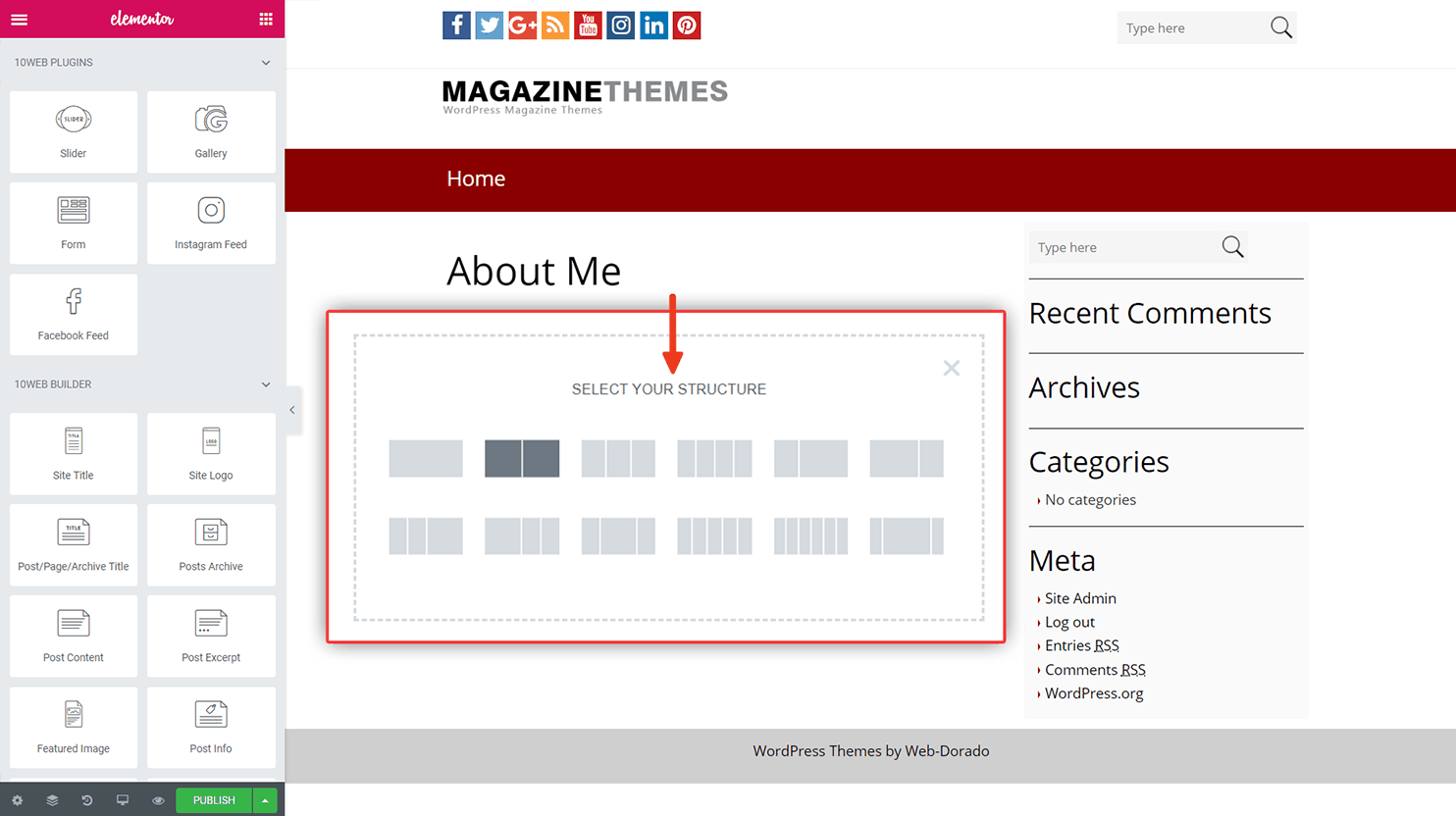 Drag Heading element to the left part of the structure and write in whatever self-descriptive heading you want: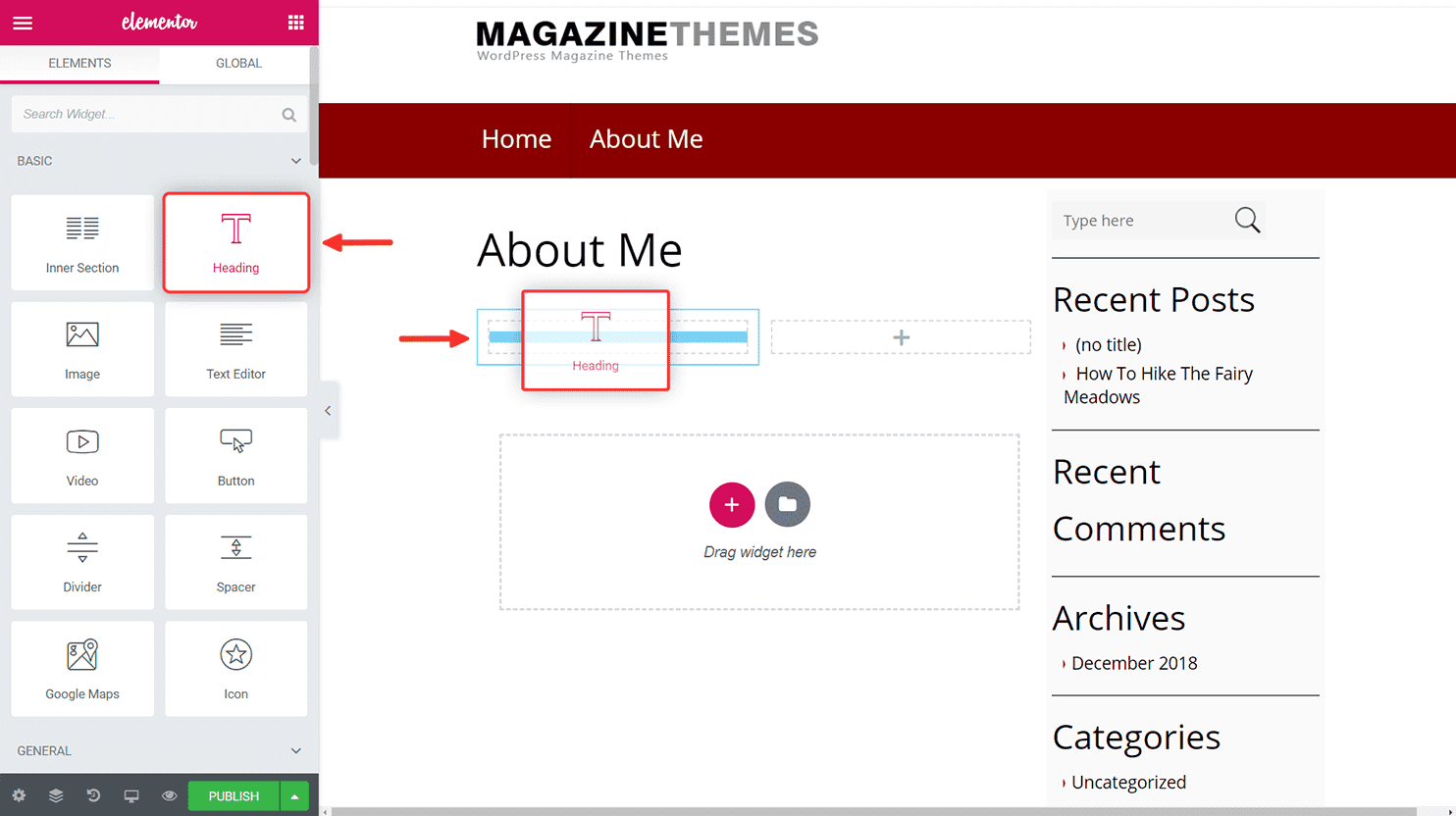 You can change up the particularities, such as size or color, you can do so from the "Style" menu section: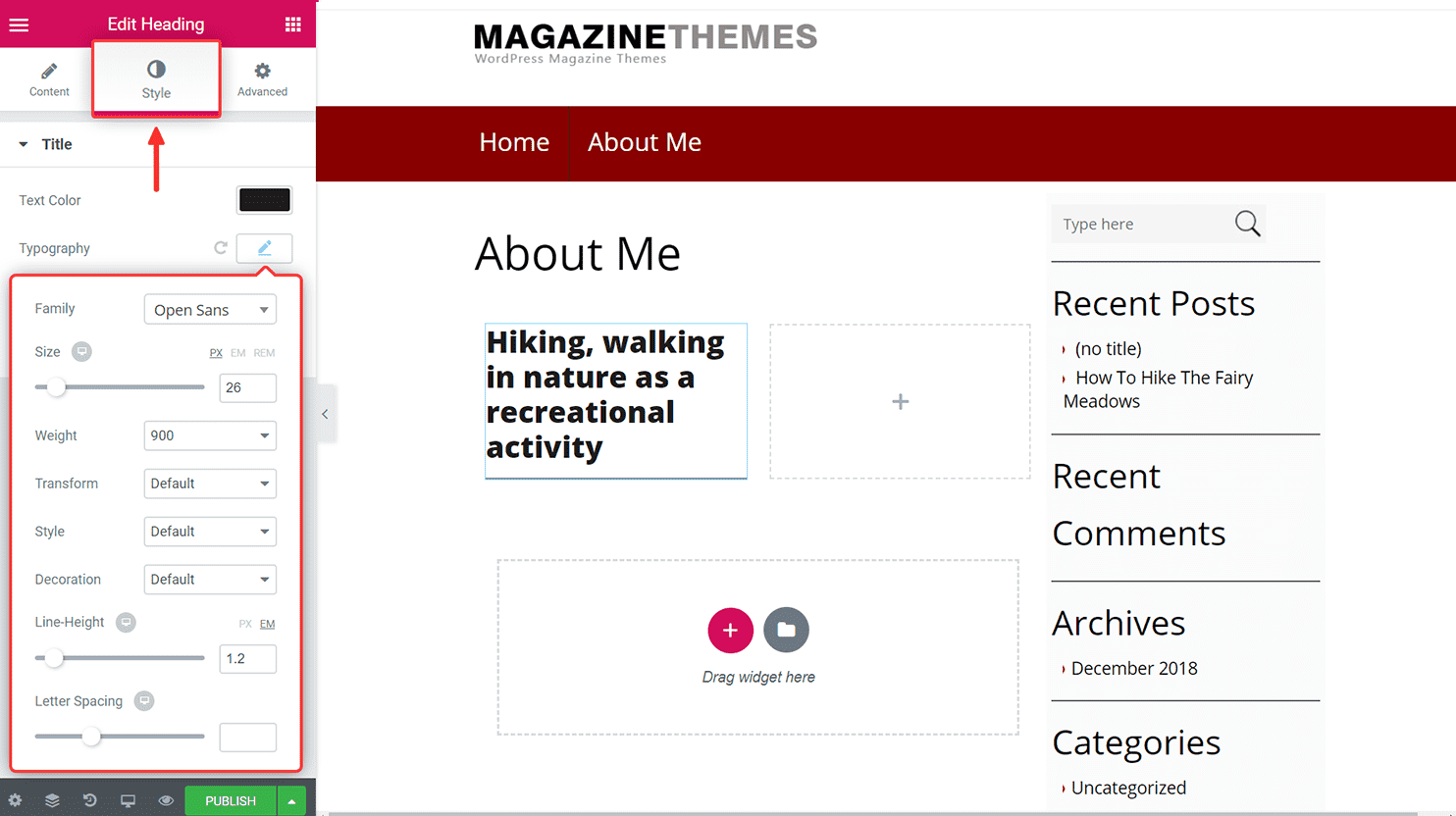 Once you're done with the heading, drag an Image element to the second box. This is where the "About Me"'s protagonist's portrait will be.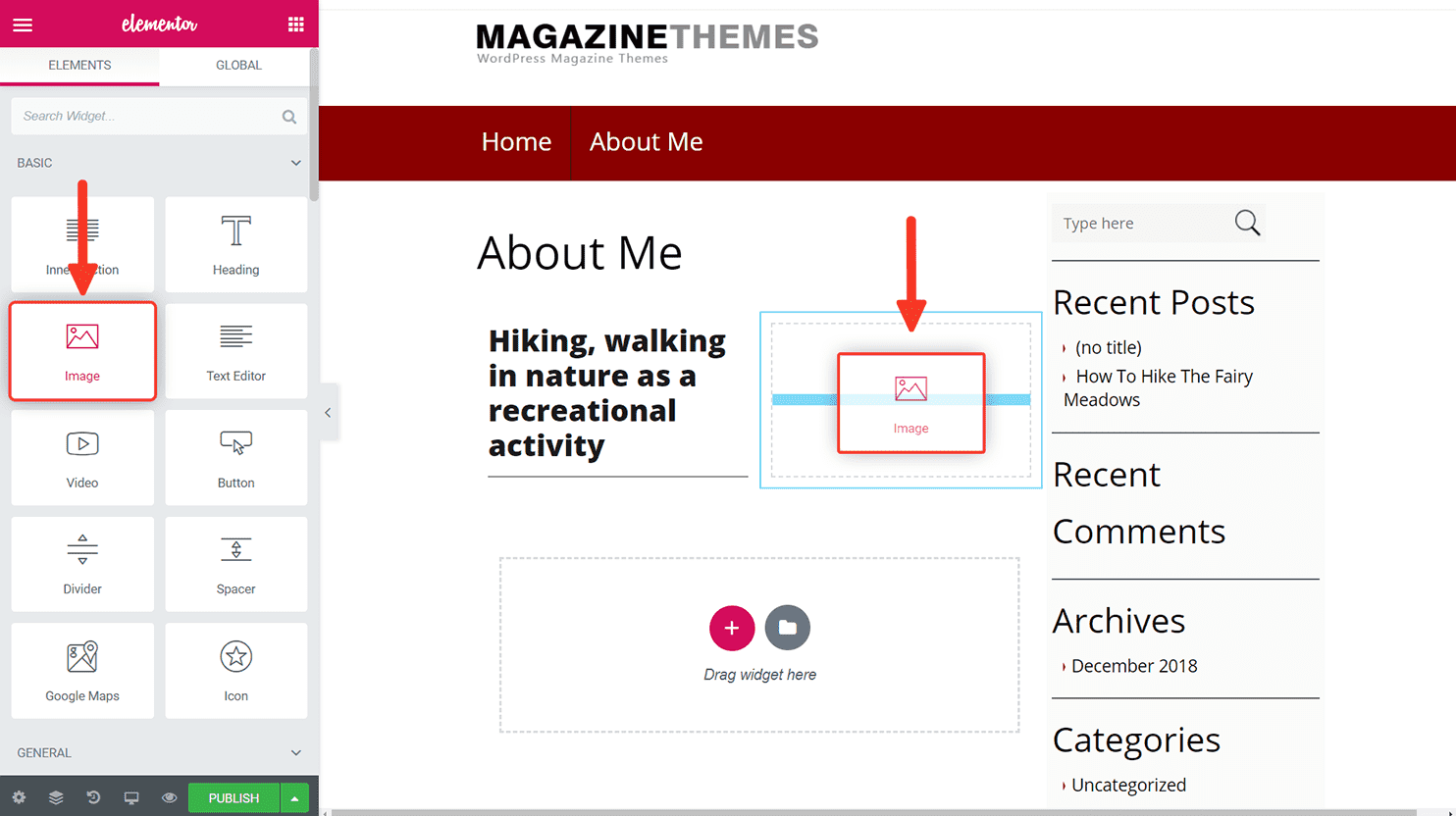 Click "Choose Image" and upload the media type.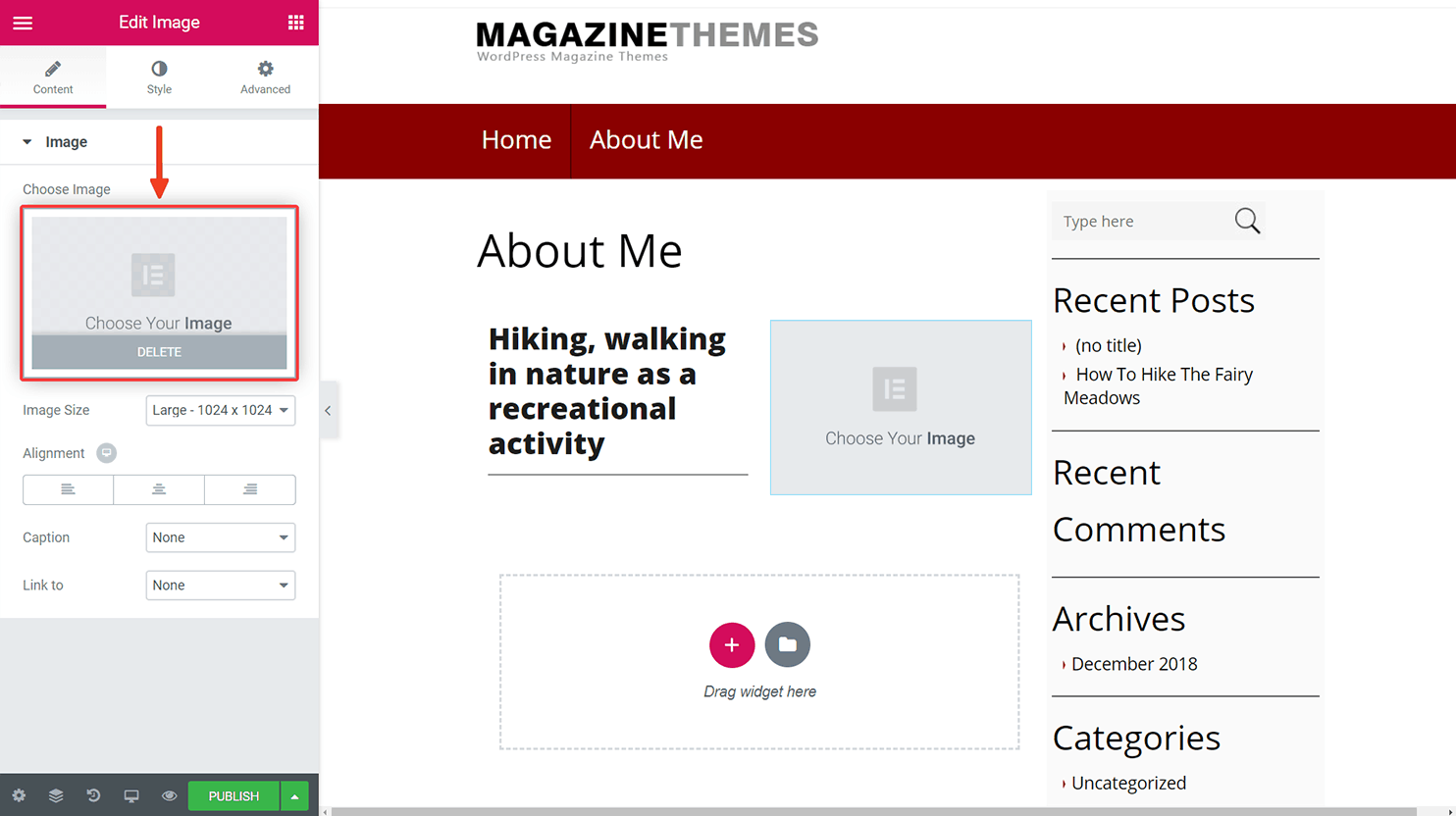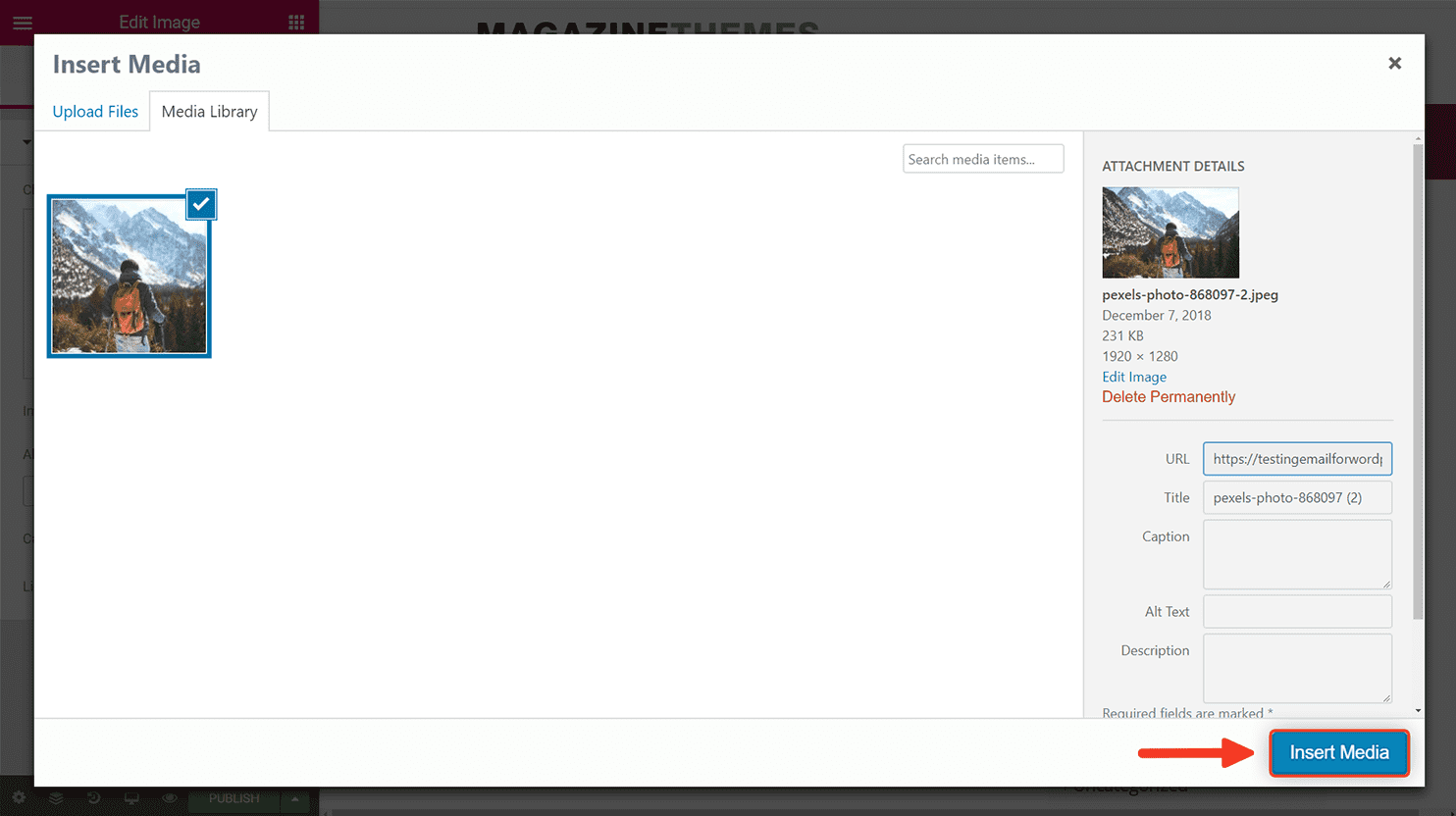 Again, you'll be able to customize the style from the respective menu sections.
Click on the plus sign again and drag a Text Editor element to the box: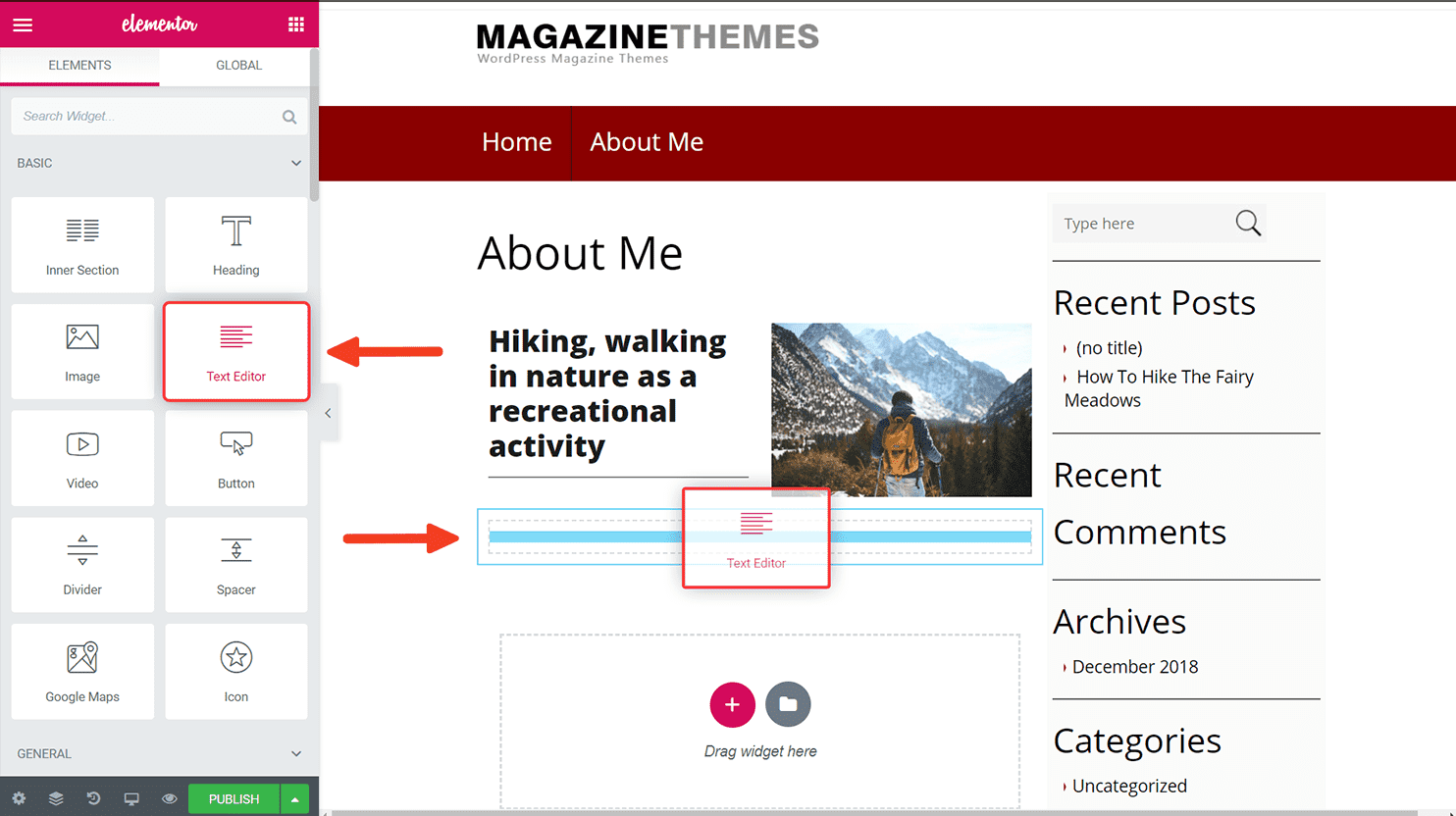 Write in whatever you want your visitors to know about you. Usually, they expect you to mention a few things about your experience, vision, and goals.
The next element depends on what else you want to include: If it's an introductory video, drag a Video element. If it's a photo portfolio, go with an Image Gallery or 10Web's Gallery, after preemptively installing the plugin.
Finally, you should add Social Icons.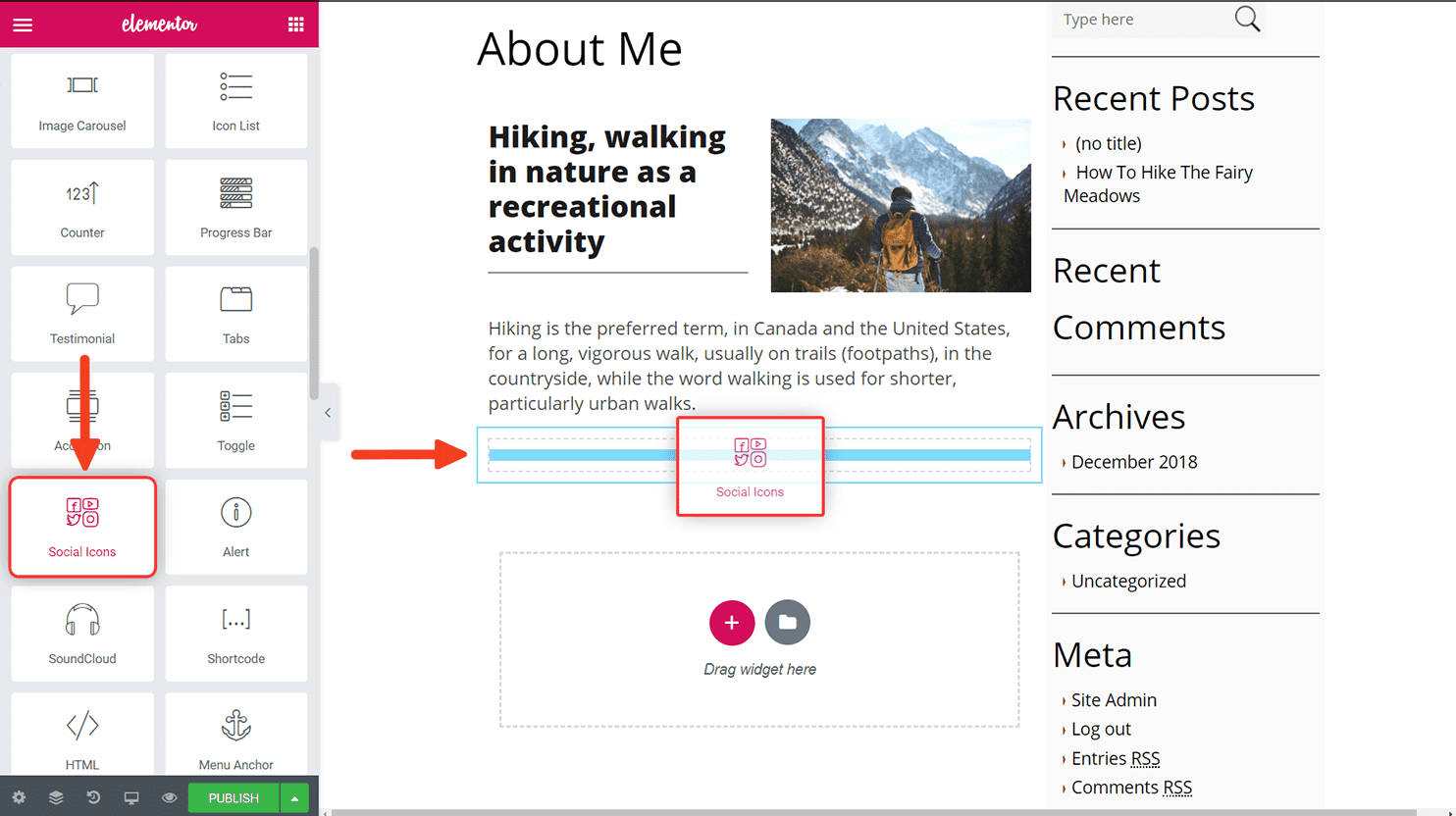 Embed them in the Link field on the left and you're good to go!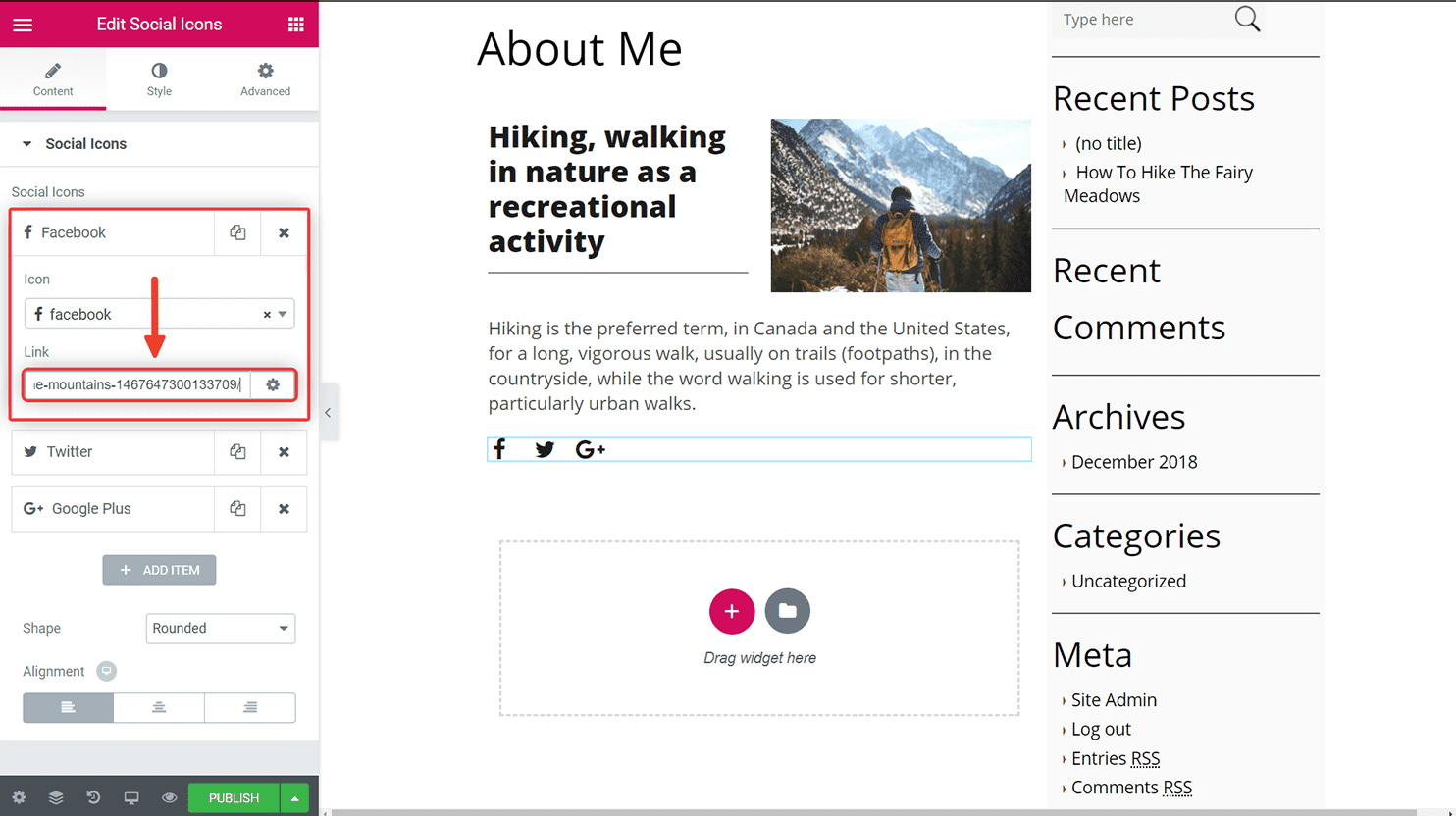 Publish the page from the left corner, rename it, and you have your website's first page ever. It's that easy.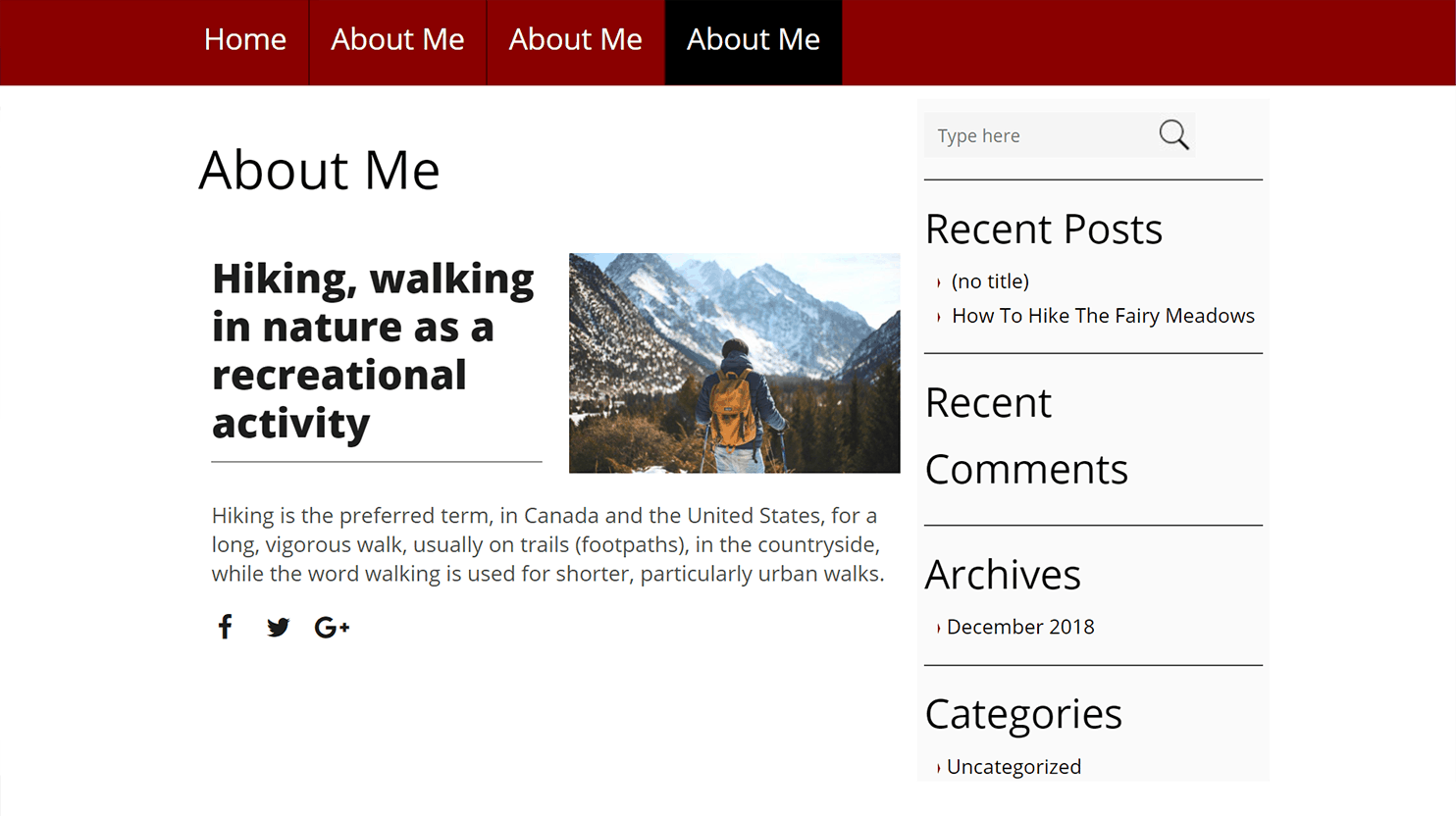 Setting up your website's services
One of the greatest things about 10Web dashboard is that you can skip pick and choosing plugins that may also have compatibility issues.
Instead, you opt out for all the essential dashboard services with a unified customer support service. If you take a look at the left menu, you'll see a number of services just waiting for you to enable them.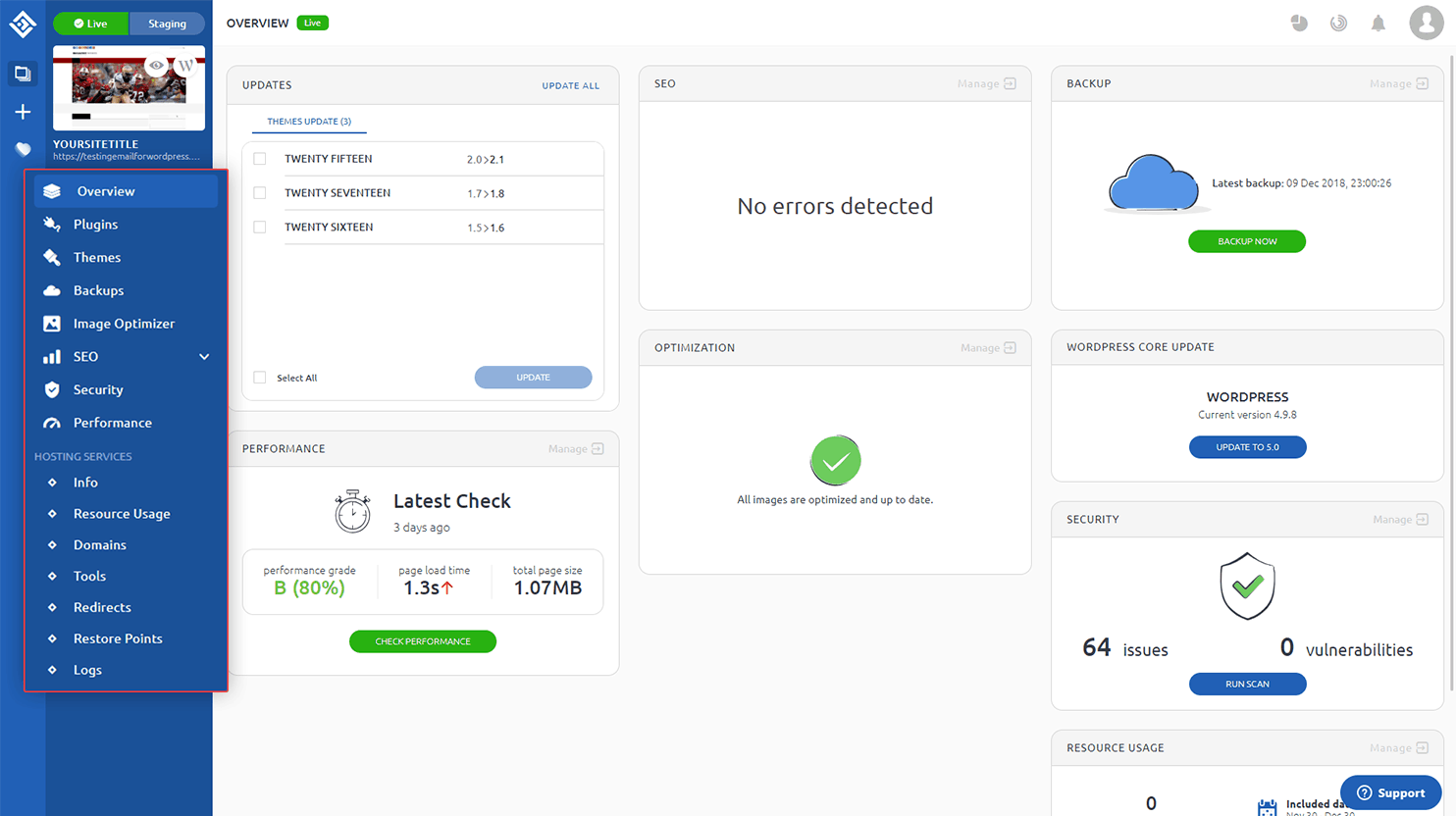 Enabling your site's backup service
Regular backups make sure your site's files remain intact even in the case of crashes or hacks or changes you want to reverse.
Click "Enable now" from the "Backups" section in the left menu: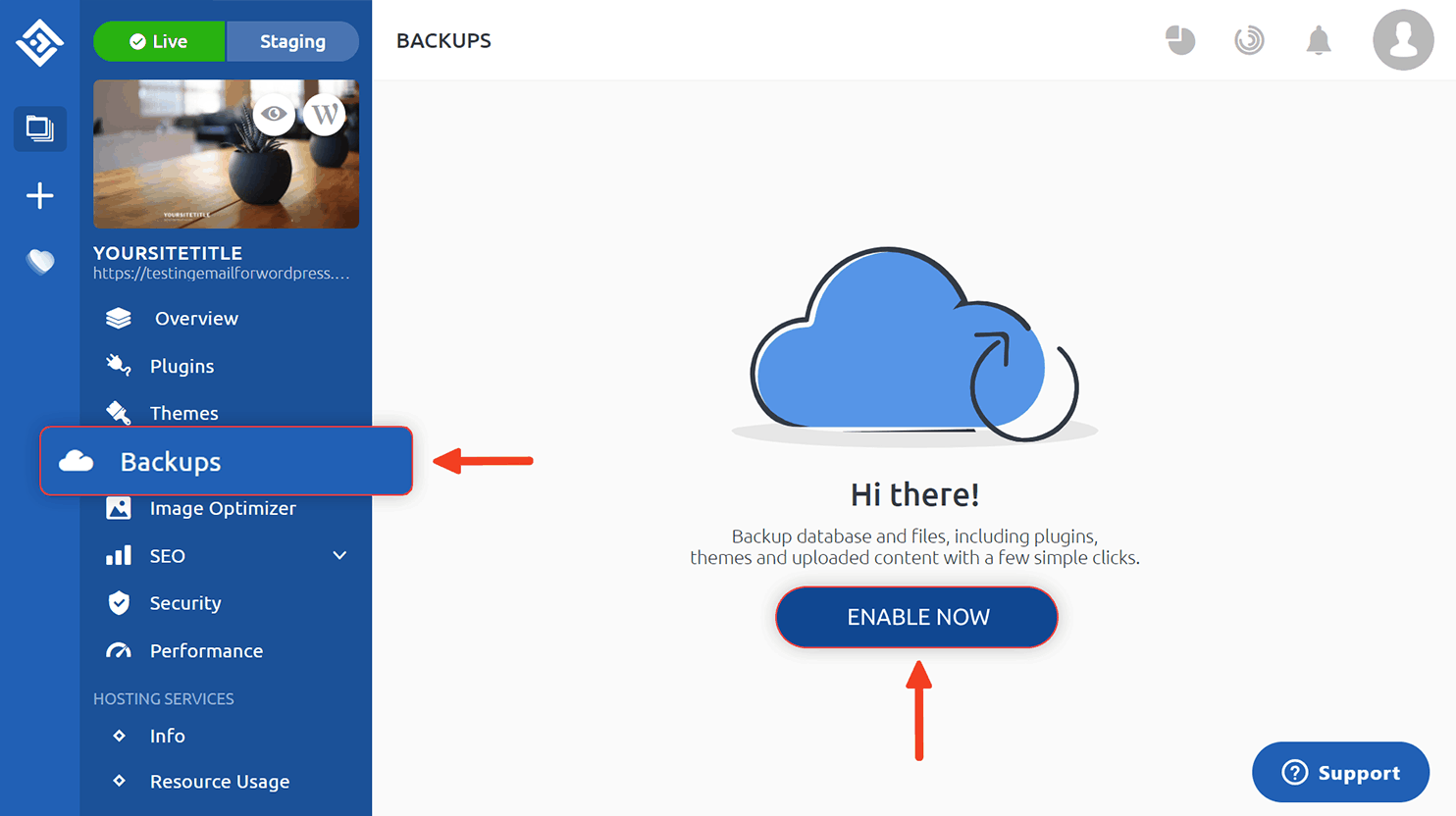 Click "Scheduling" and move the button to the right to turn it on: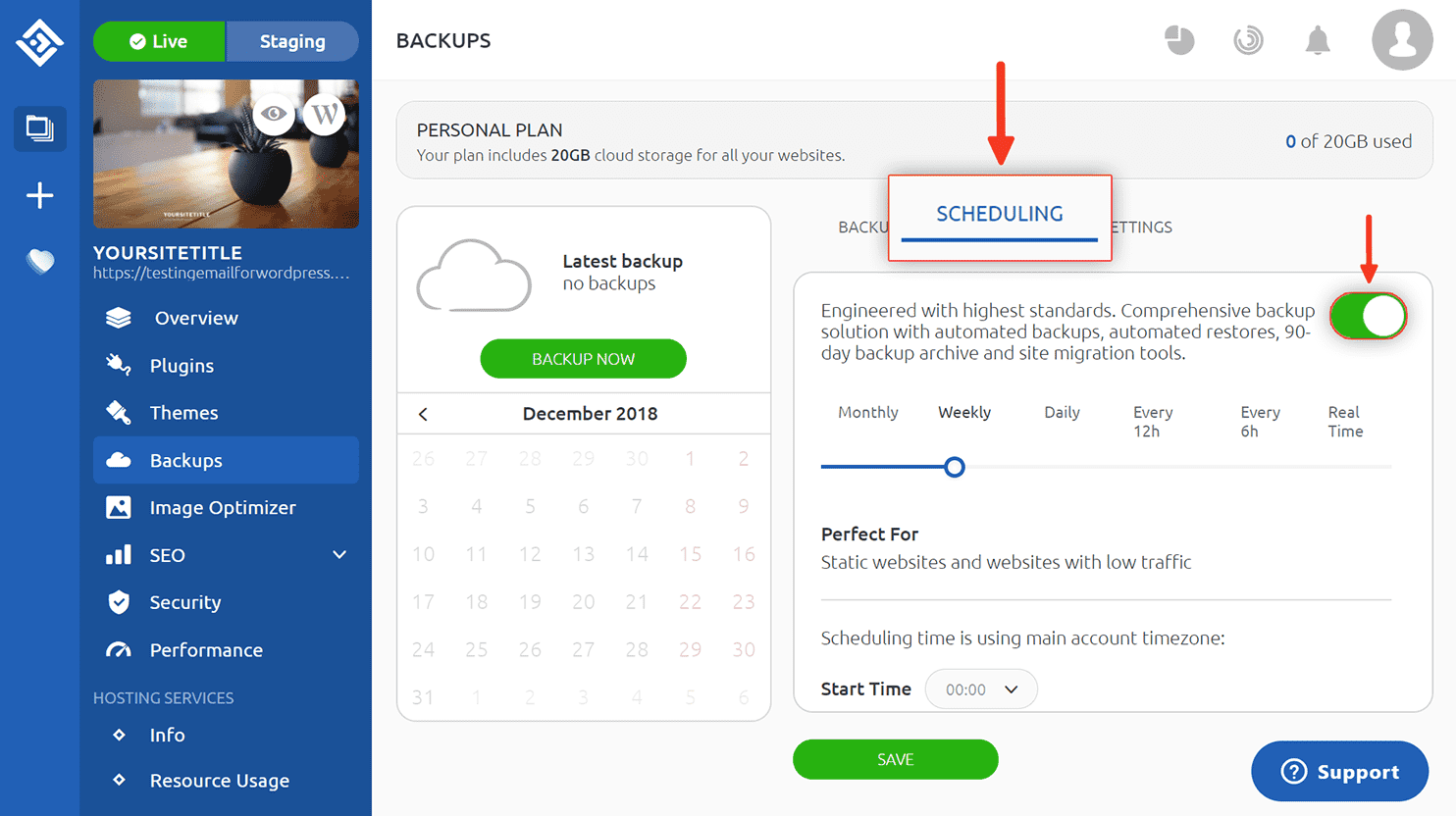 Sliding the round thing will let you choose a schedule. If you're unsure which frequency suits your site best, this article will help you out. In this case, I decided to go with daily, since the plan is to update this website every day.
Afterwards, you need to choose the exact time of said backups and click "Save:"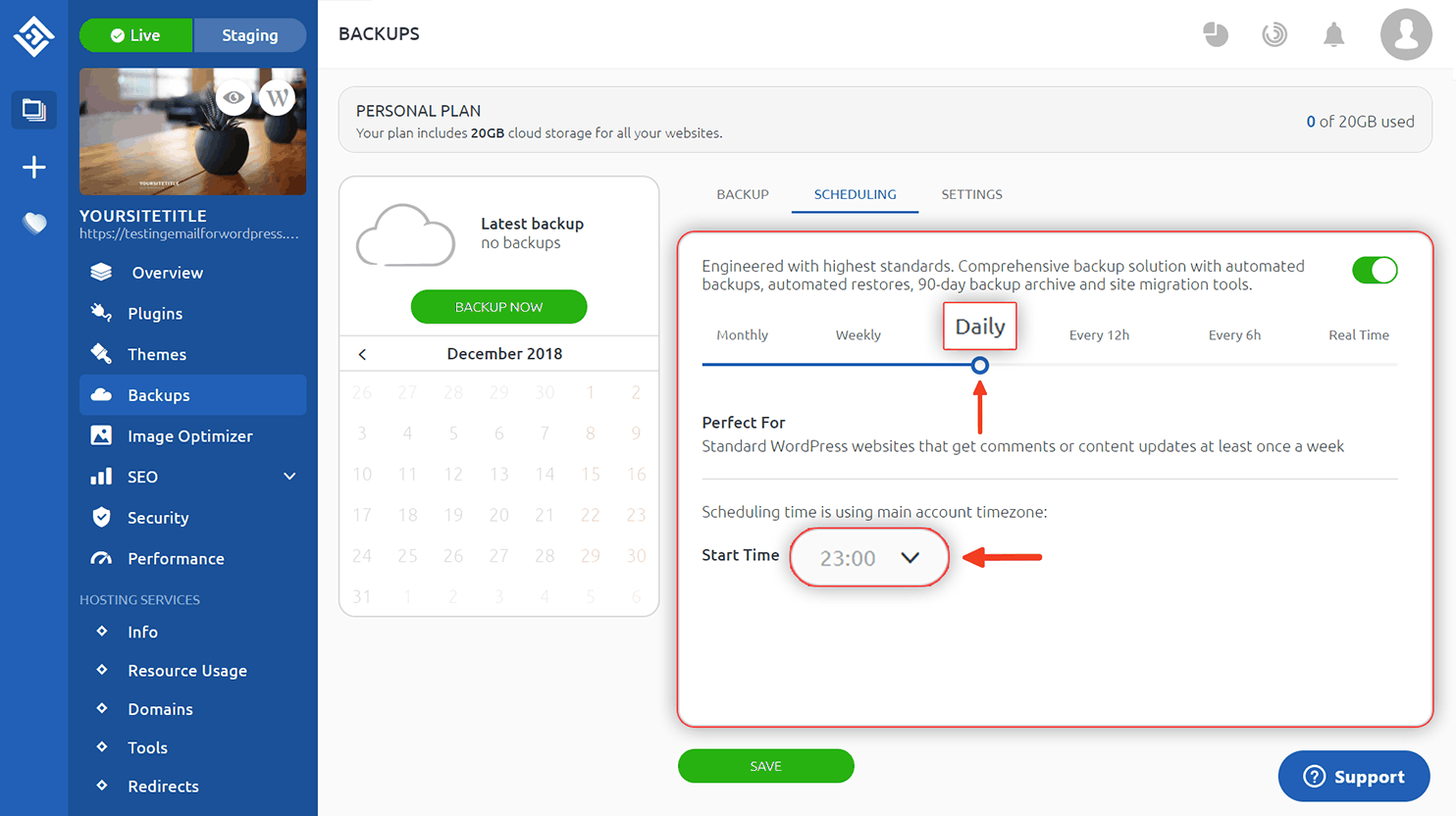 Just to test it out, click "Backup now" and after a few seconds you'll see the backup with the options to restore or download it to the right: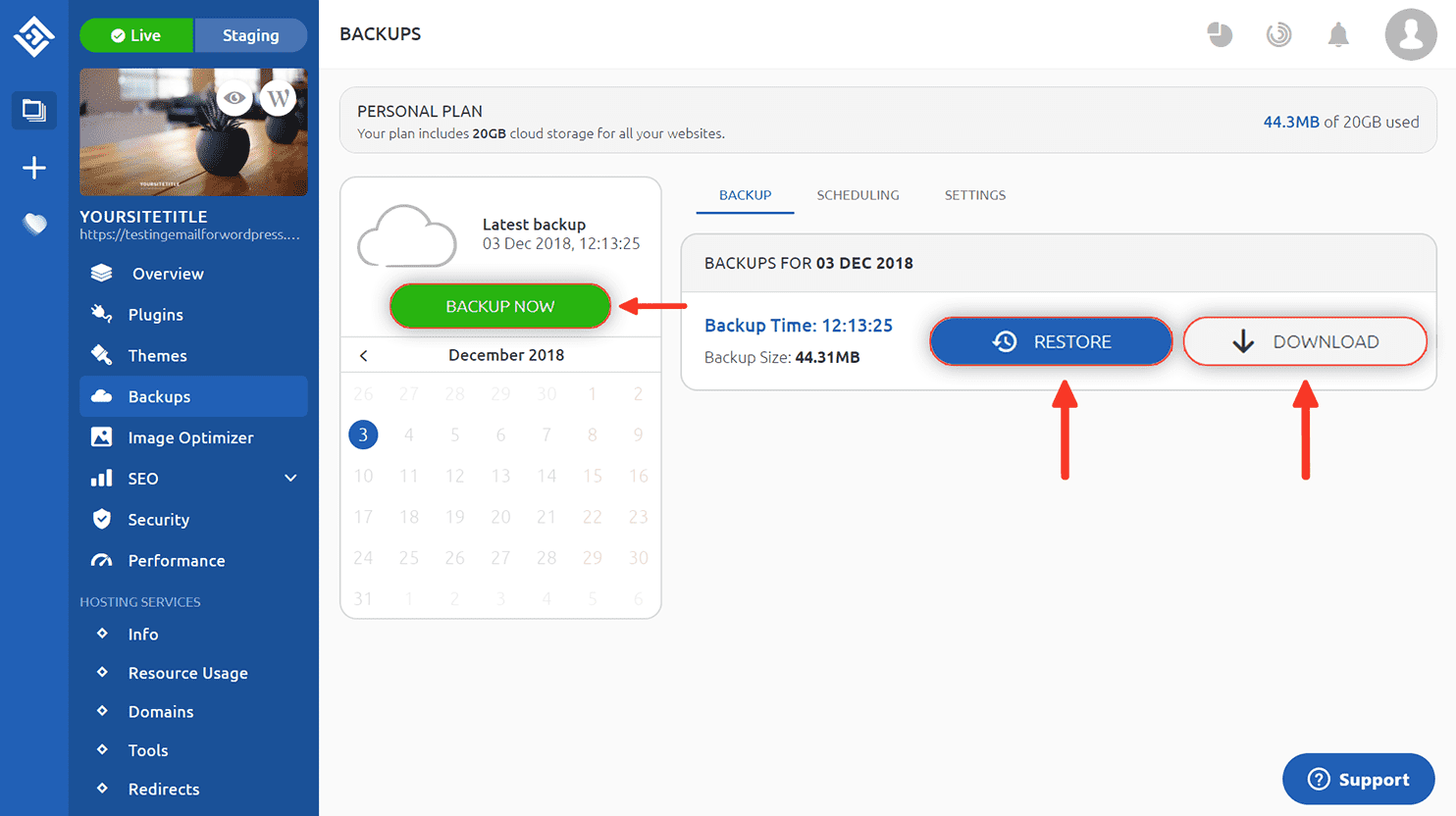 That's pretty much for setting up backups. Let's move on to the image optimization service!
Enabling your site's image optimization service
Optimizing images is key to speeding up your site and providing a better user experience. Again, click "Enable now" from the "Image Optimizer" section on the left: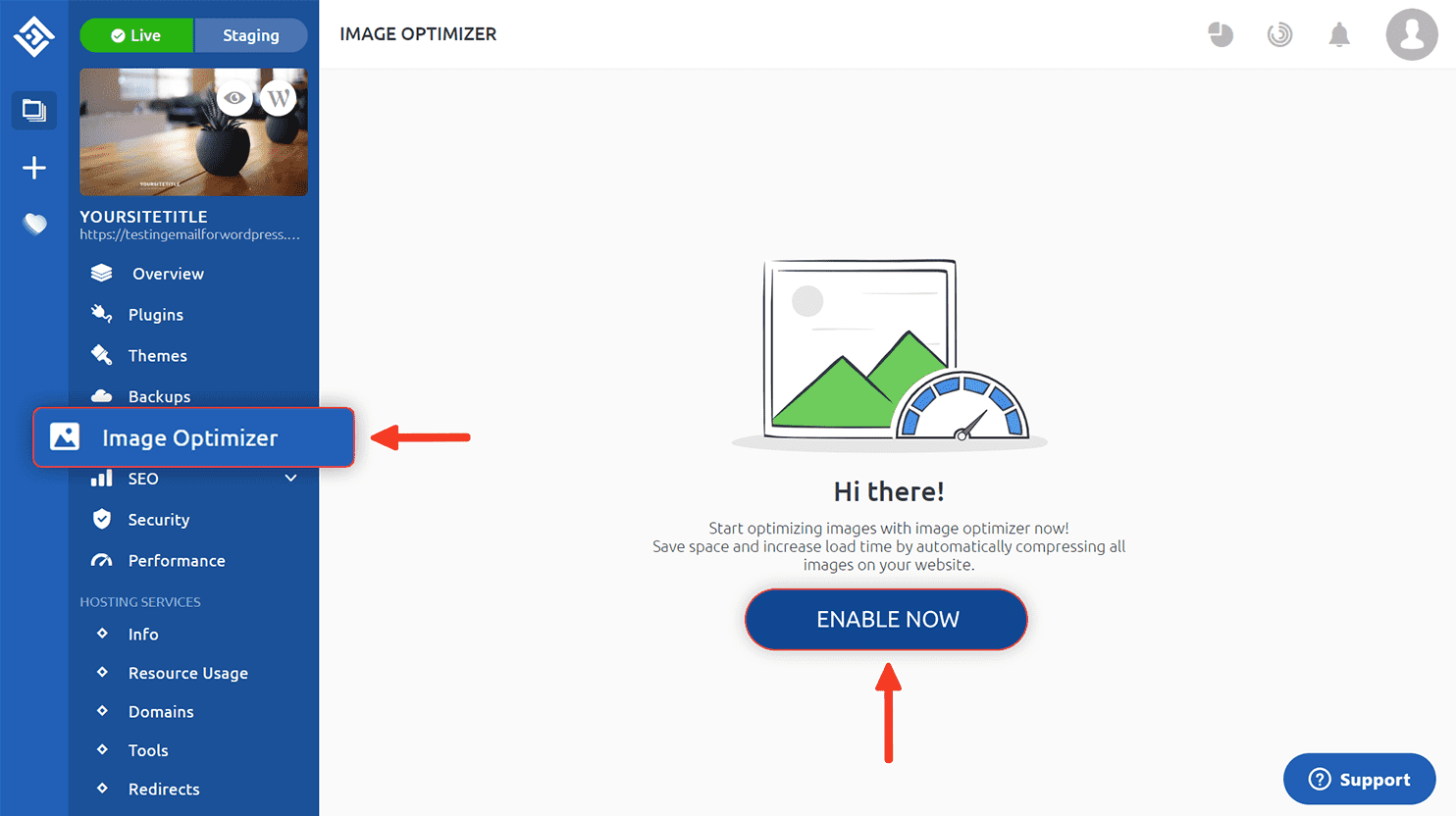 You can set your website to automatically optimize all uploaded images by moving the round thing to the right: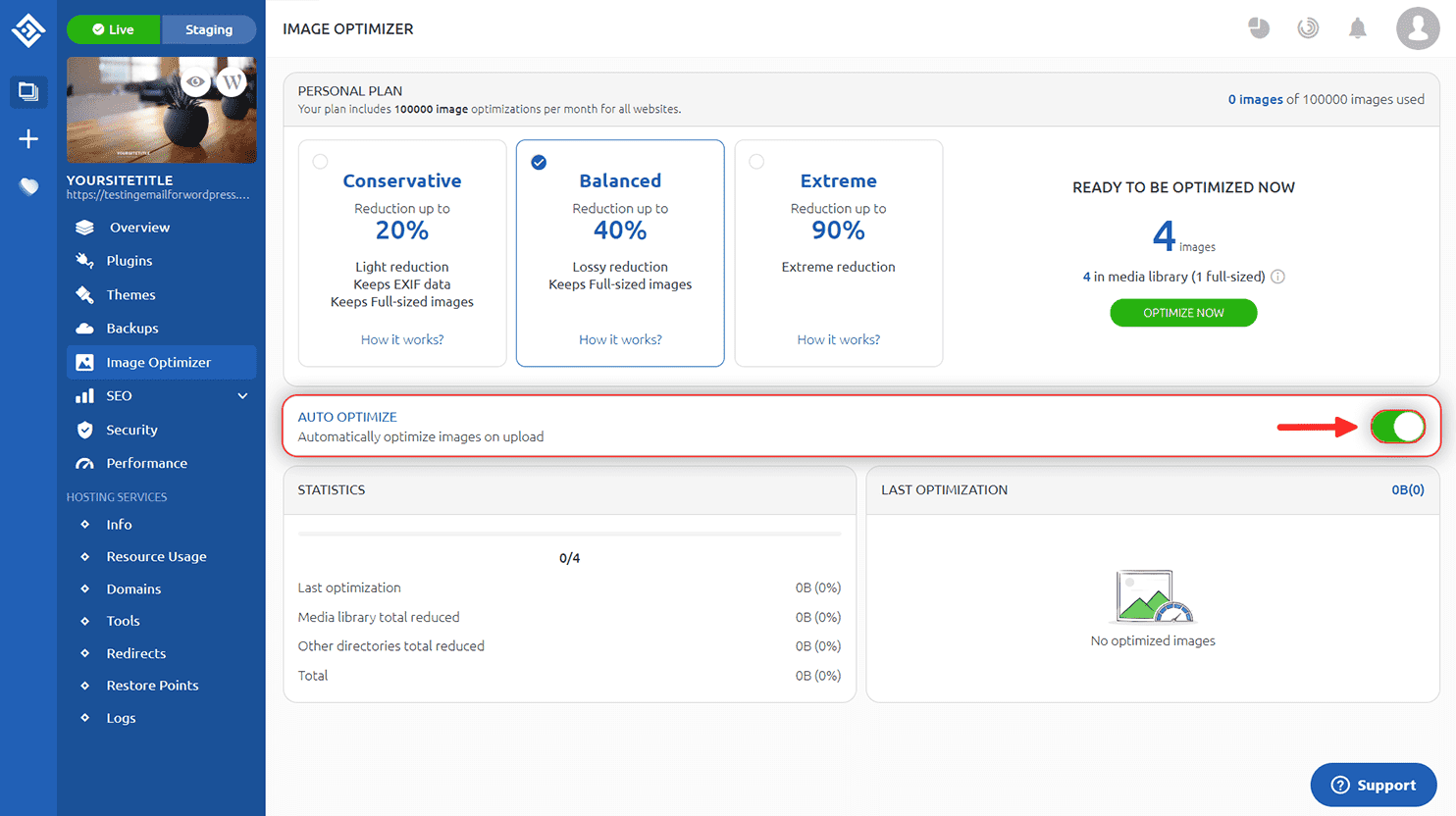 Let's see how it works by publishing a post with an image in it. Click on the WordPress "W" in the upper left corner to open your website's WP dashboard: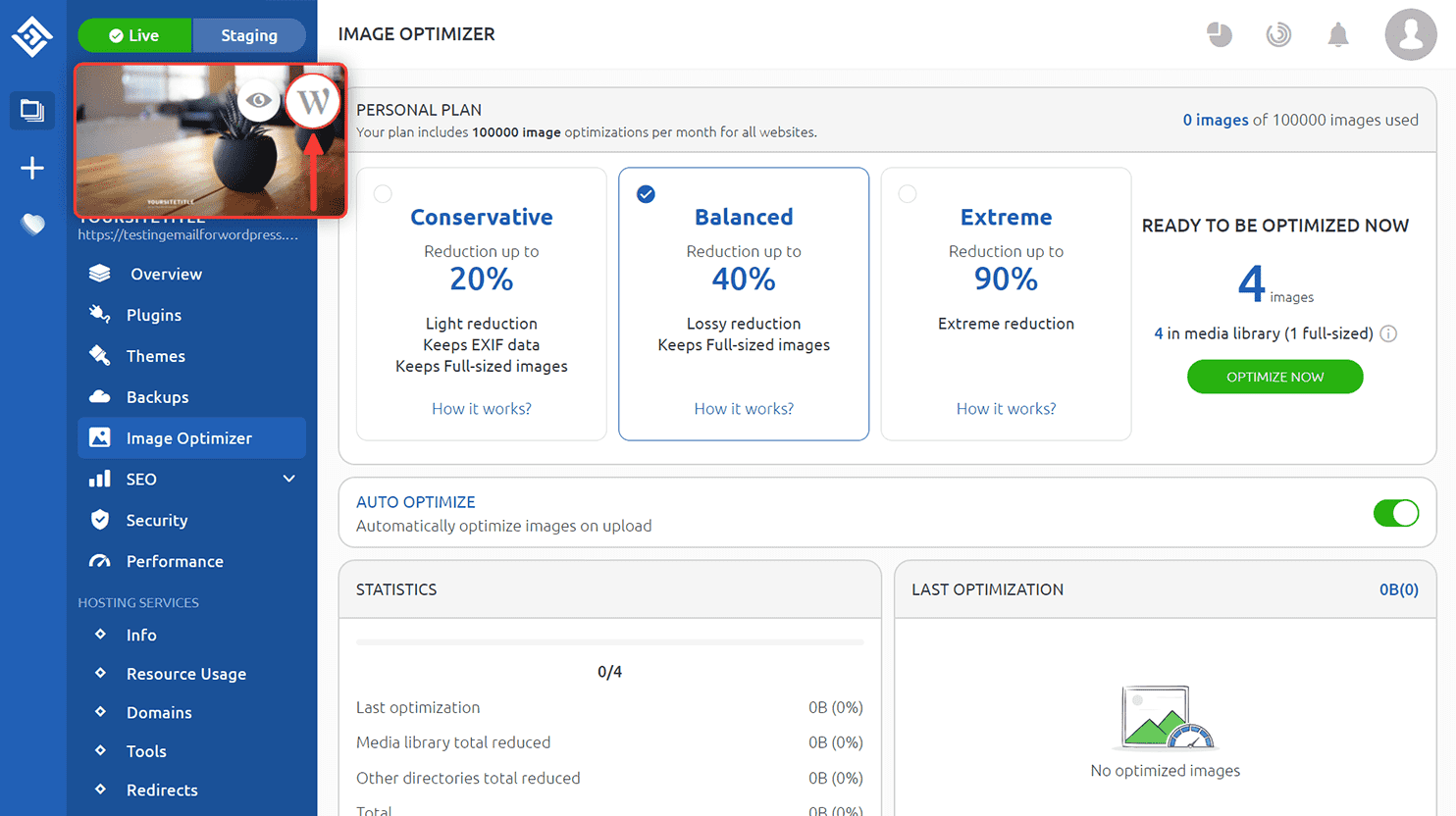 Add a new post, write in a title, click "Add Media," and choose an image: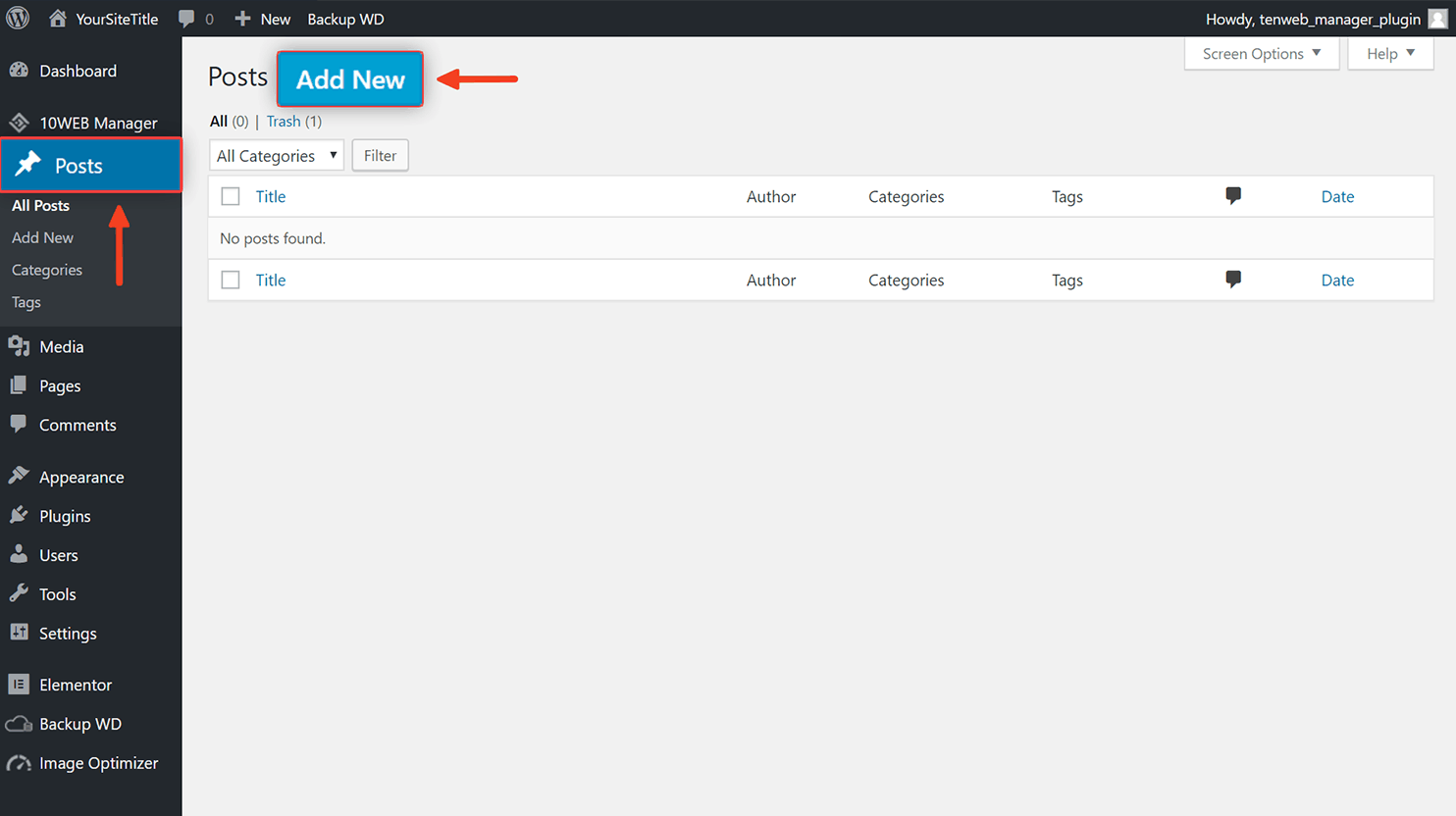 Click "Publish" and you have your website's first post. Amazing!
Back to 10Web dash's optimization sections, you'll see the image has been automatically optimized and there are stats on it available: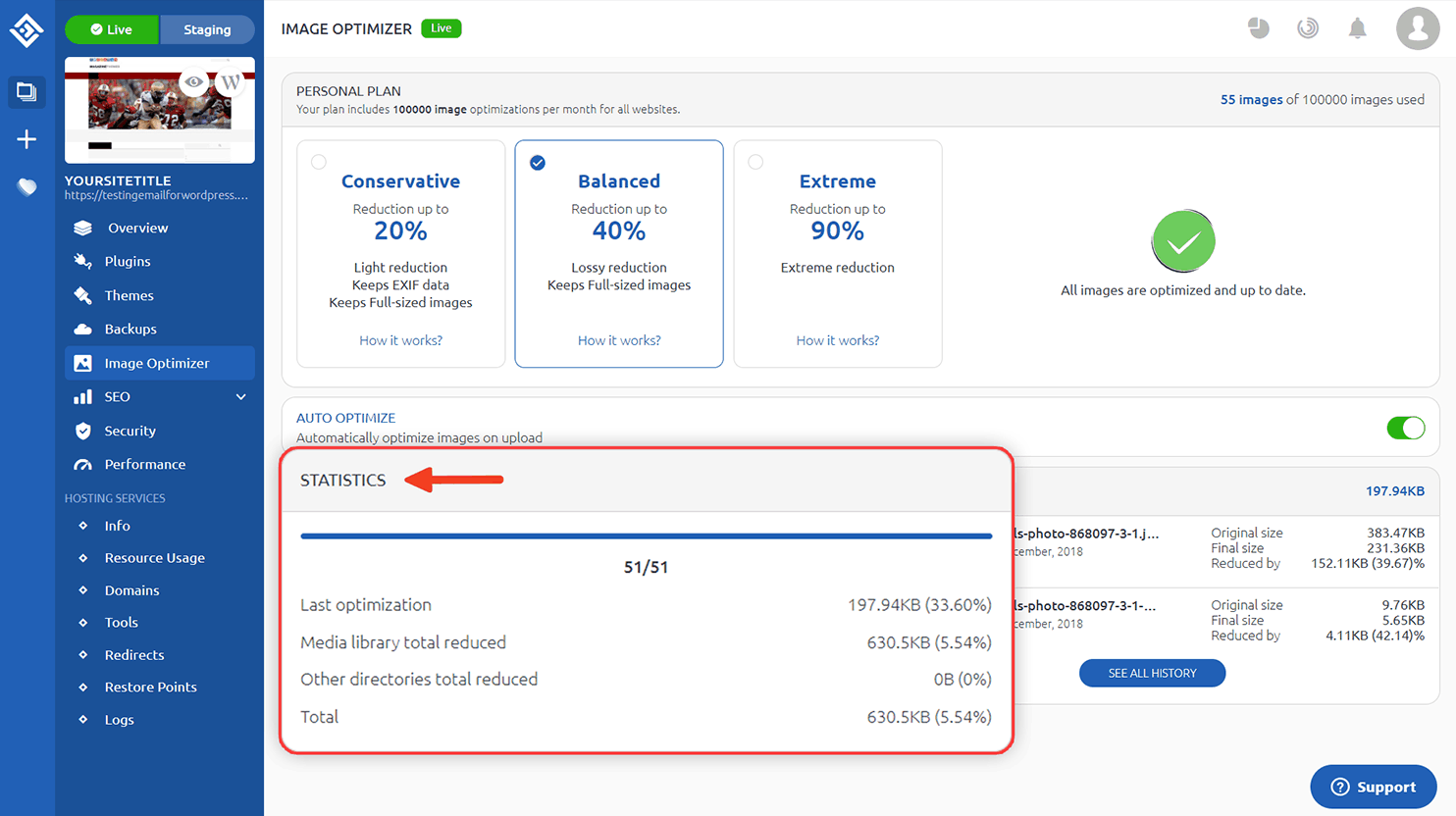 In the right corner, you'll see your last optimization and you can "See all history," too: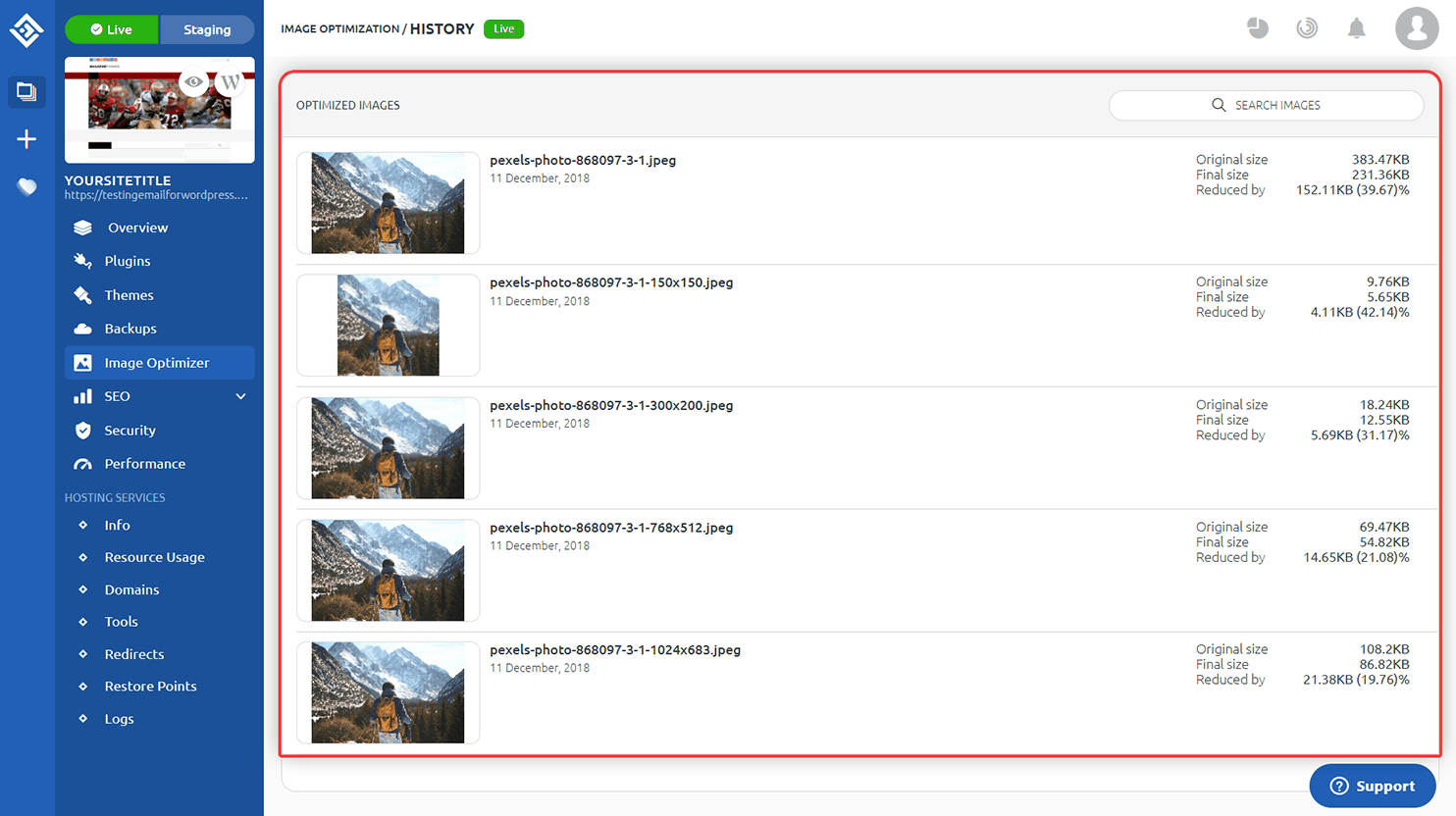 This is all you'll need to know about optimizing your site's images in the initial stages of site creation.
Enabling your website's SEO service
SEO is what makes your website rank high on search engines, bringing organic traffic and, hopefully, well-deserved applause. Since your site's visibility directly depends on how Google robots crawl it, it is crucial to enable your site's SEO service and Google authenticate it from your WP dash.
Here's how to go about it:
Click "Enable now" from the "SEO" menu section, just like in previous cases: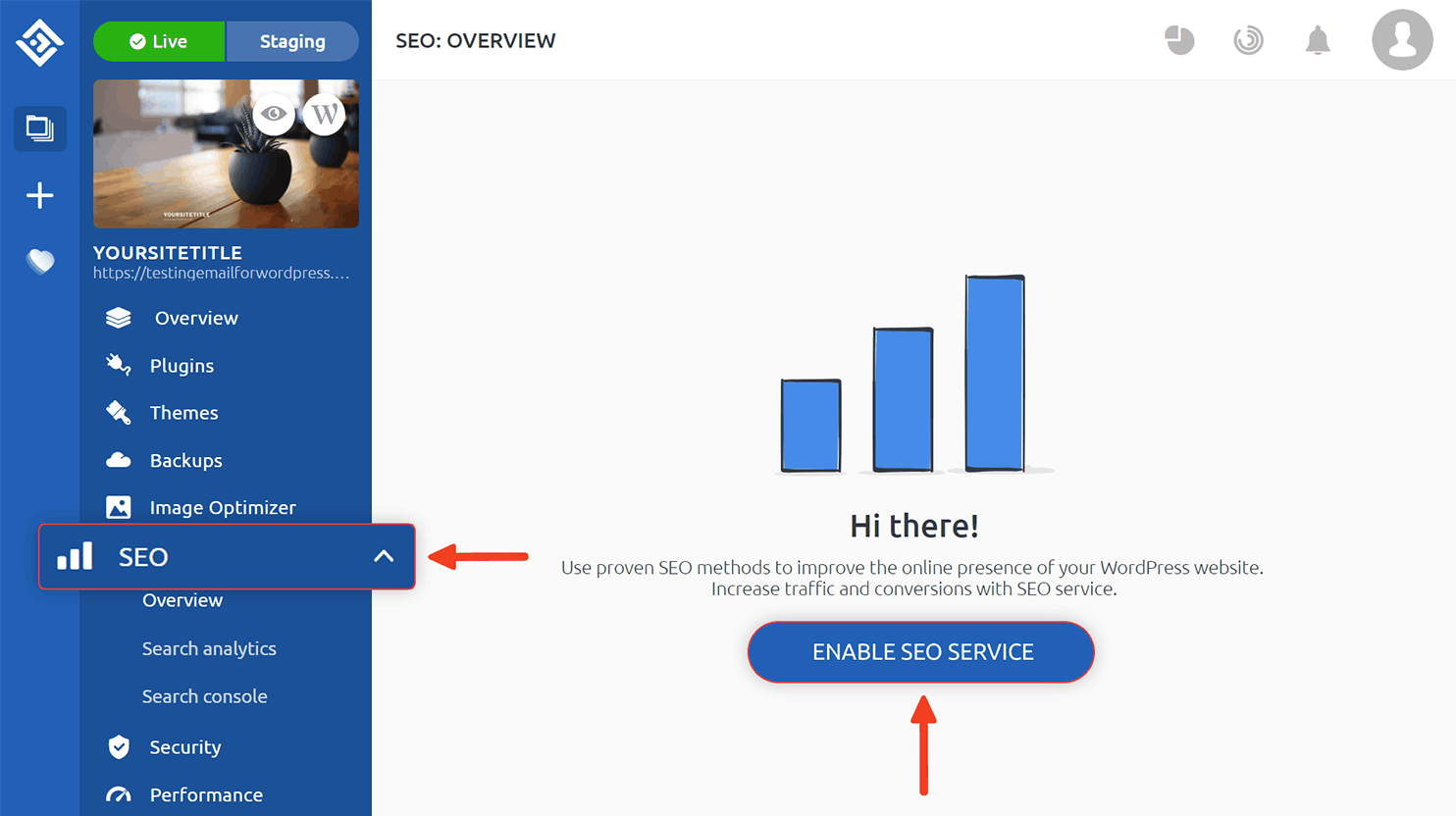 Then press "Authenticate:"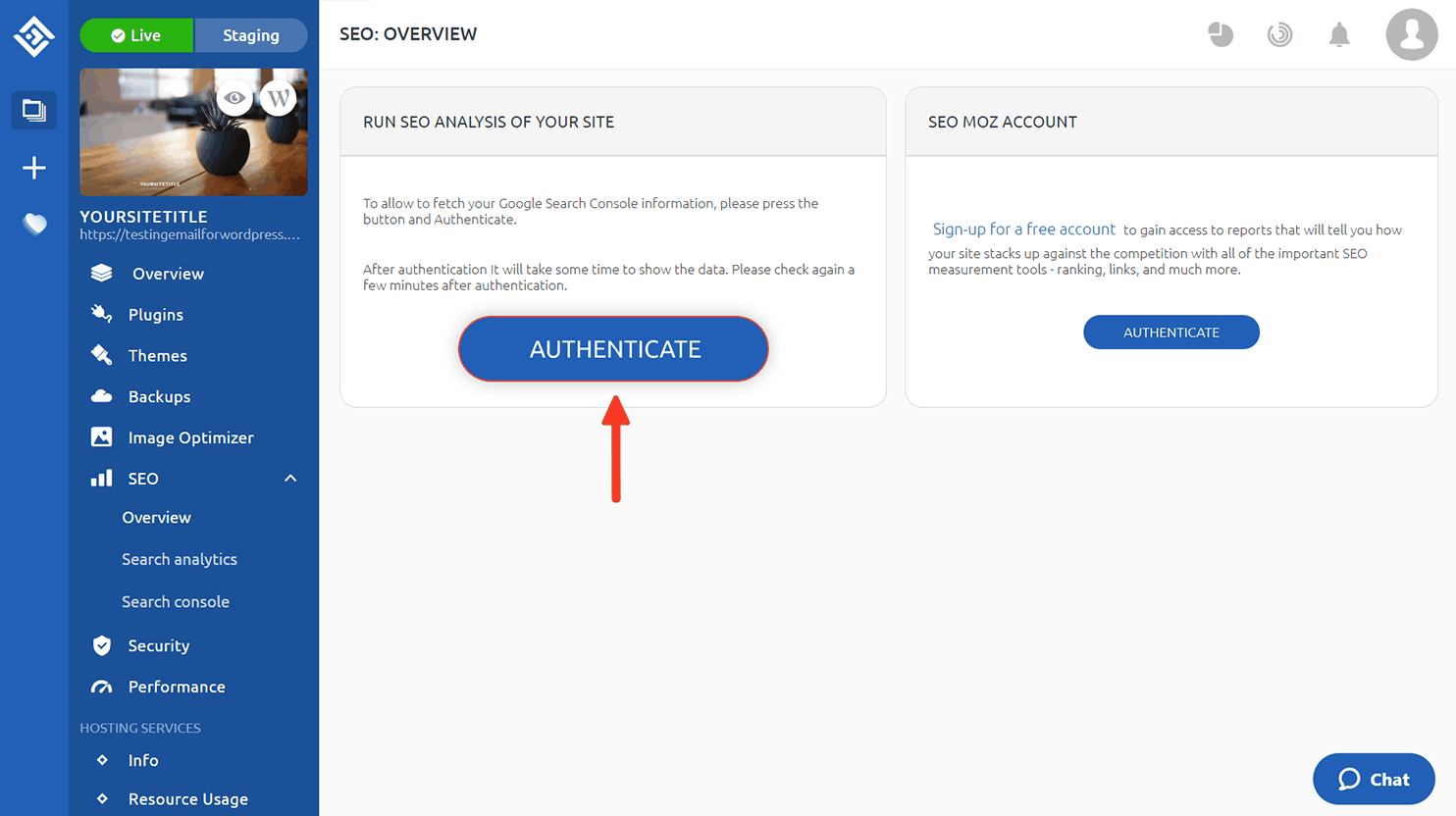 Now, on the WP page that opens up click "Get Google Authorization Code:"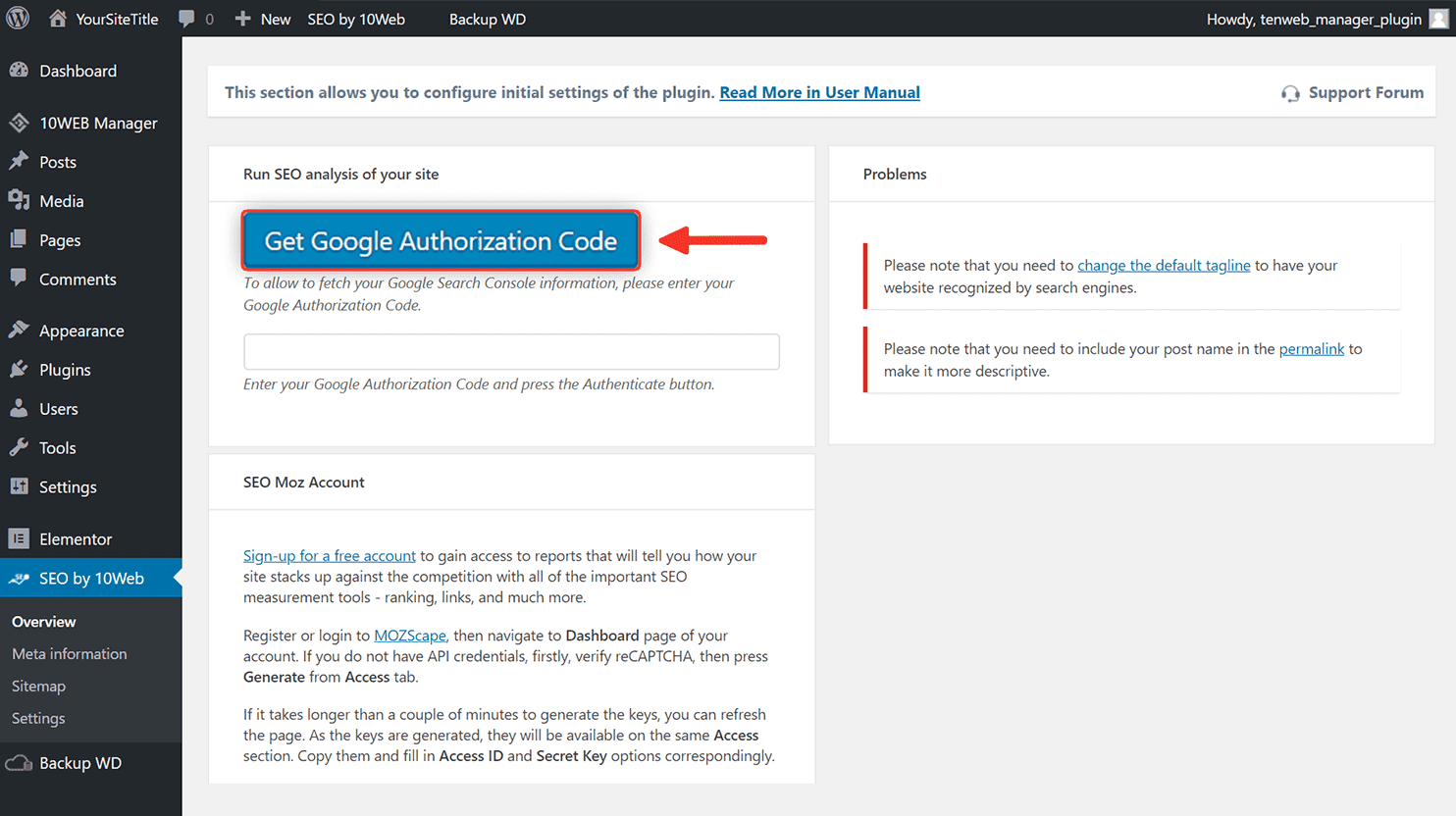 Enter your Gmail and click "Allow:"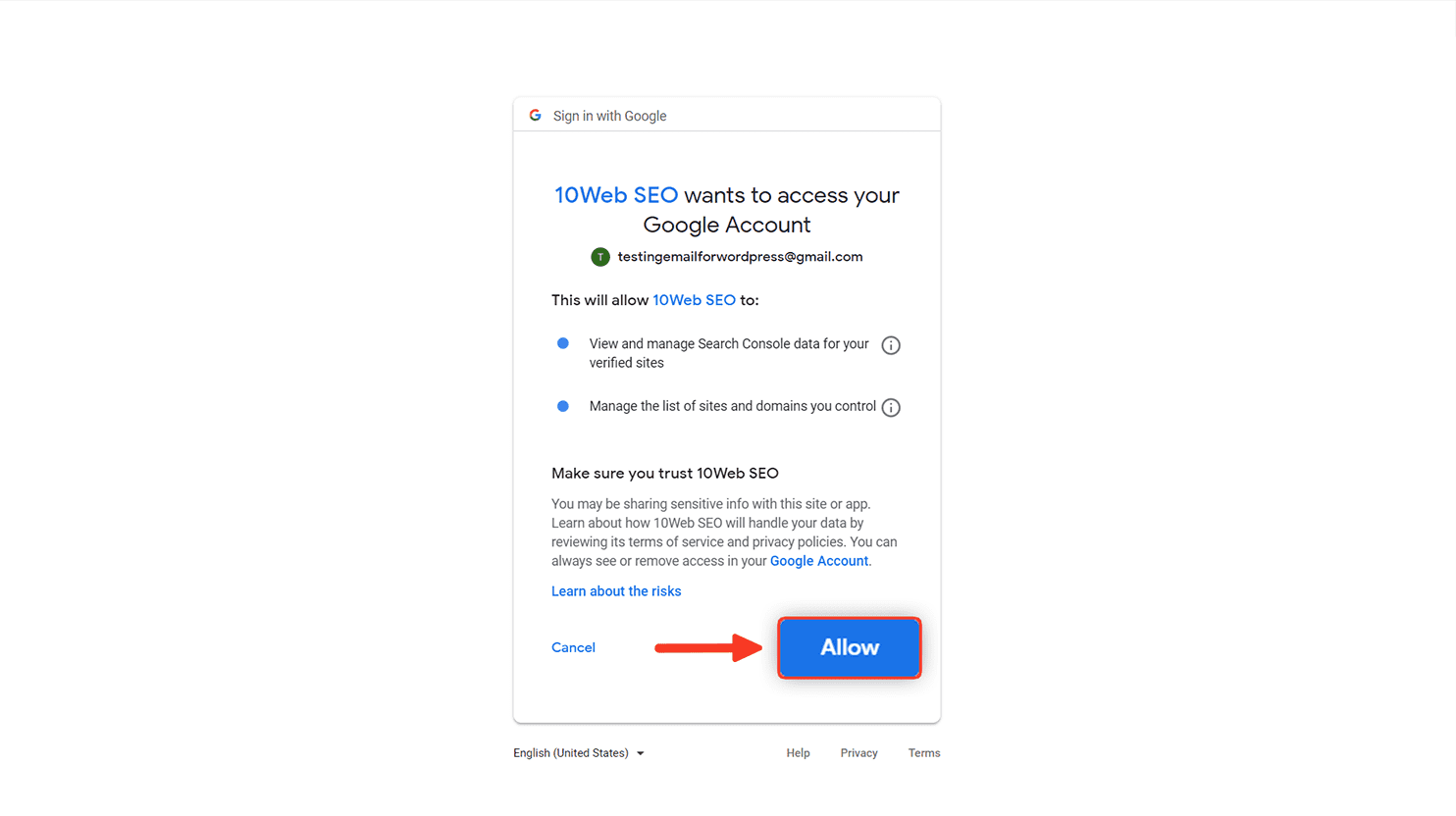 Copy the code that appears back into the WP page: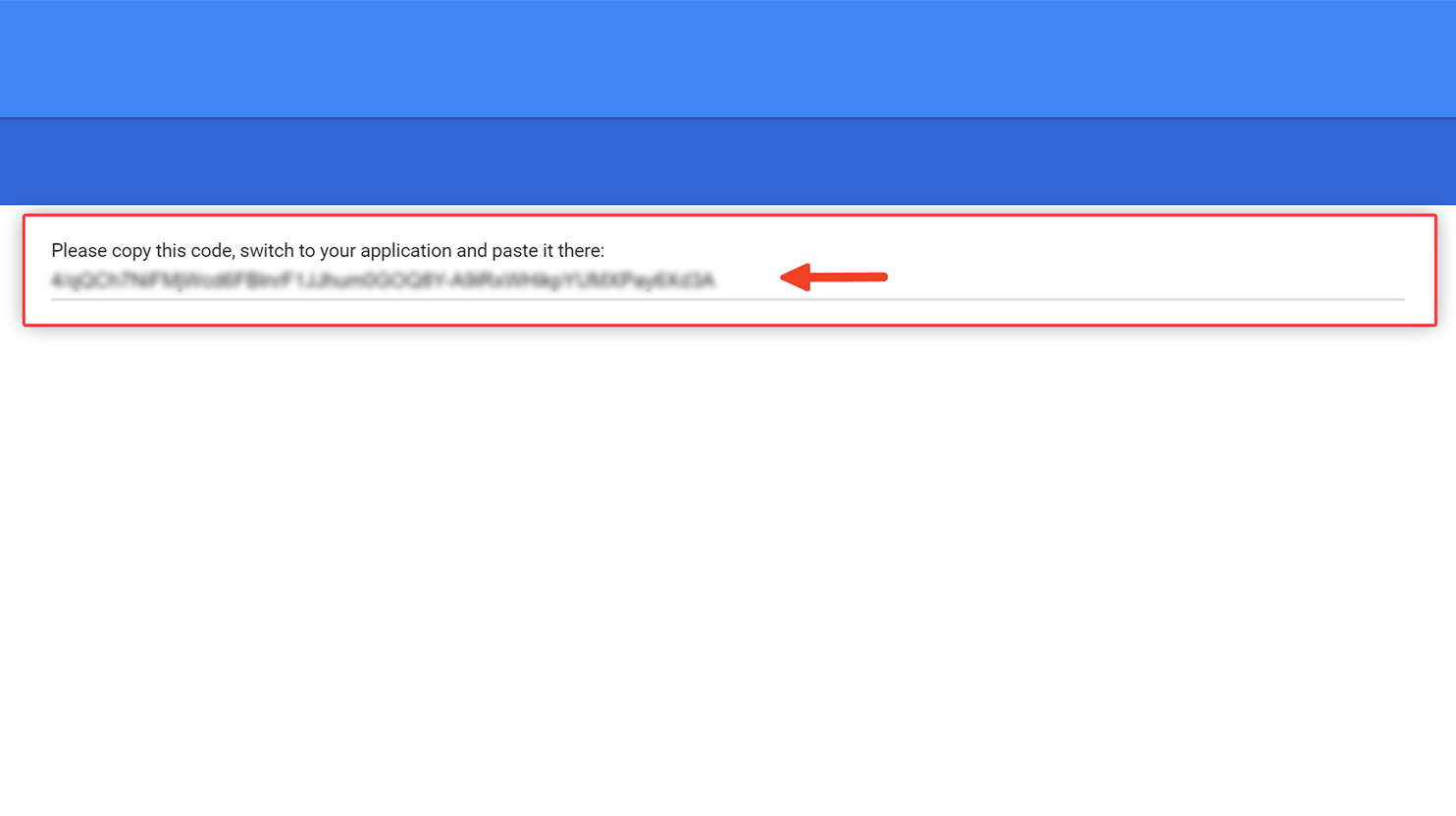 Click "Authenticate:"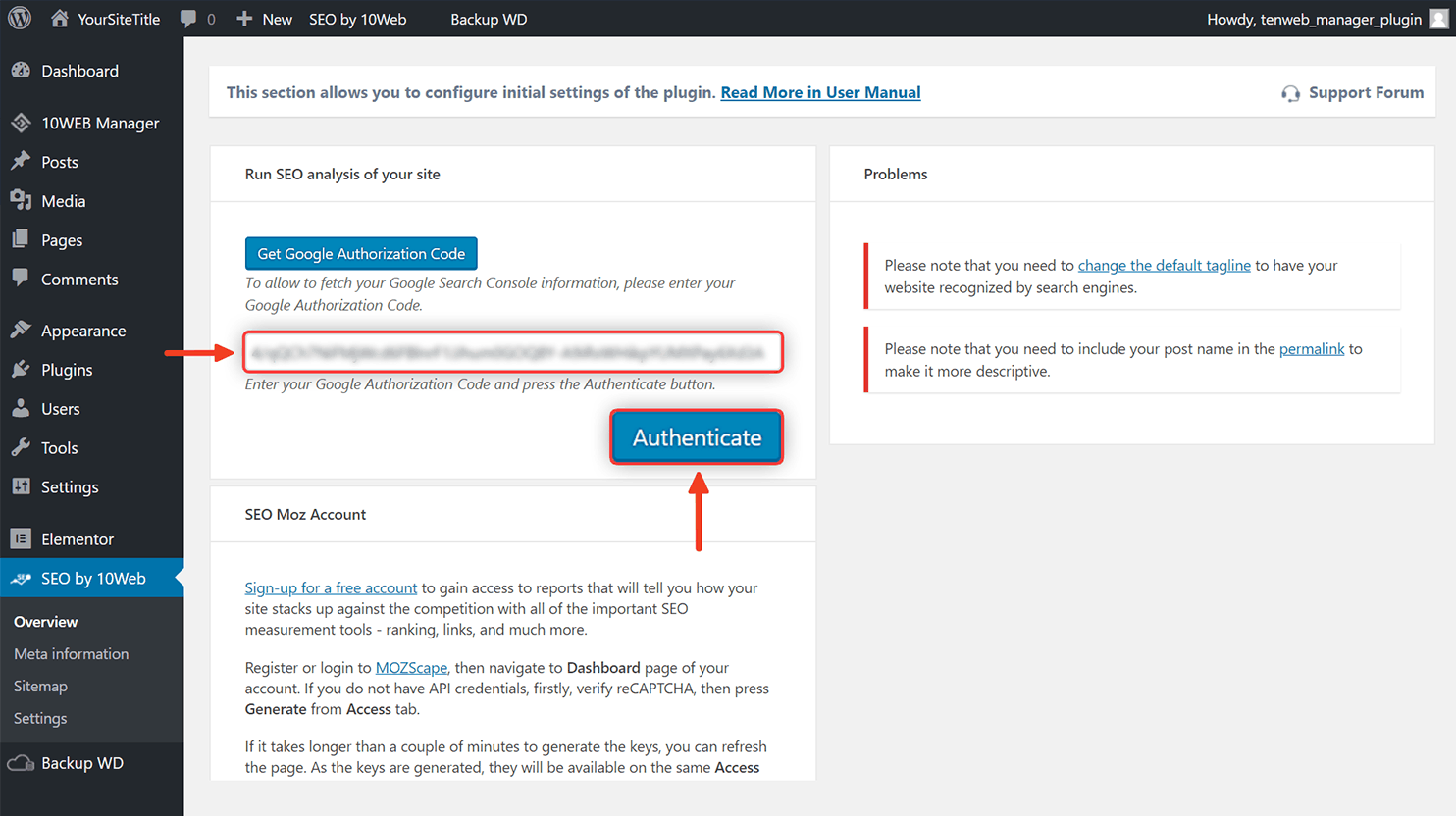 Authentication is complete! Your data – search terms that have lead to your website, SEO mistakes and omittances, etc. – will show up on 10Web dash in a few minutes.
Now when you try to add a post from your WP dashboard you will see an SEO metabox: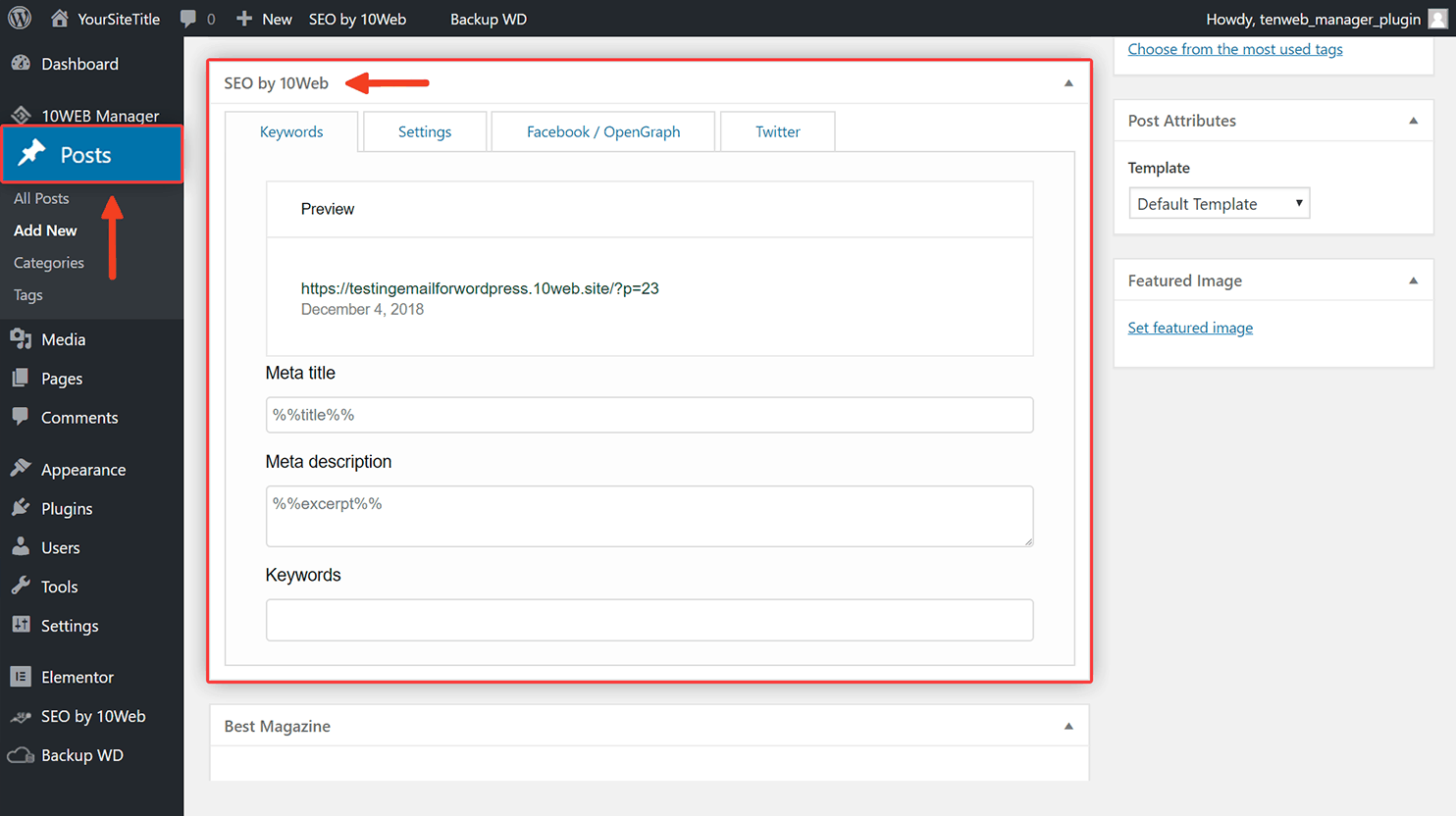 This is where you can add SEO-friendly titles, excerpts, and keywords to make your posts easier to crawl. You can do that for particular page categories in the "Meta information" part of your WP dashboard: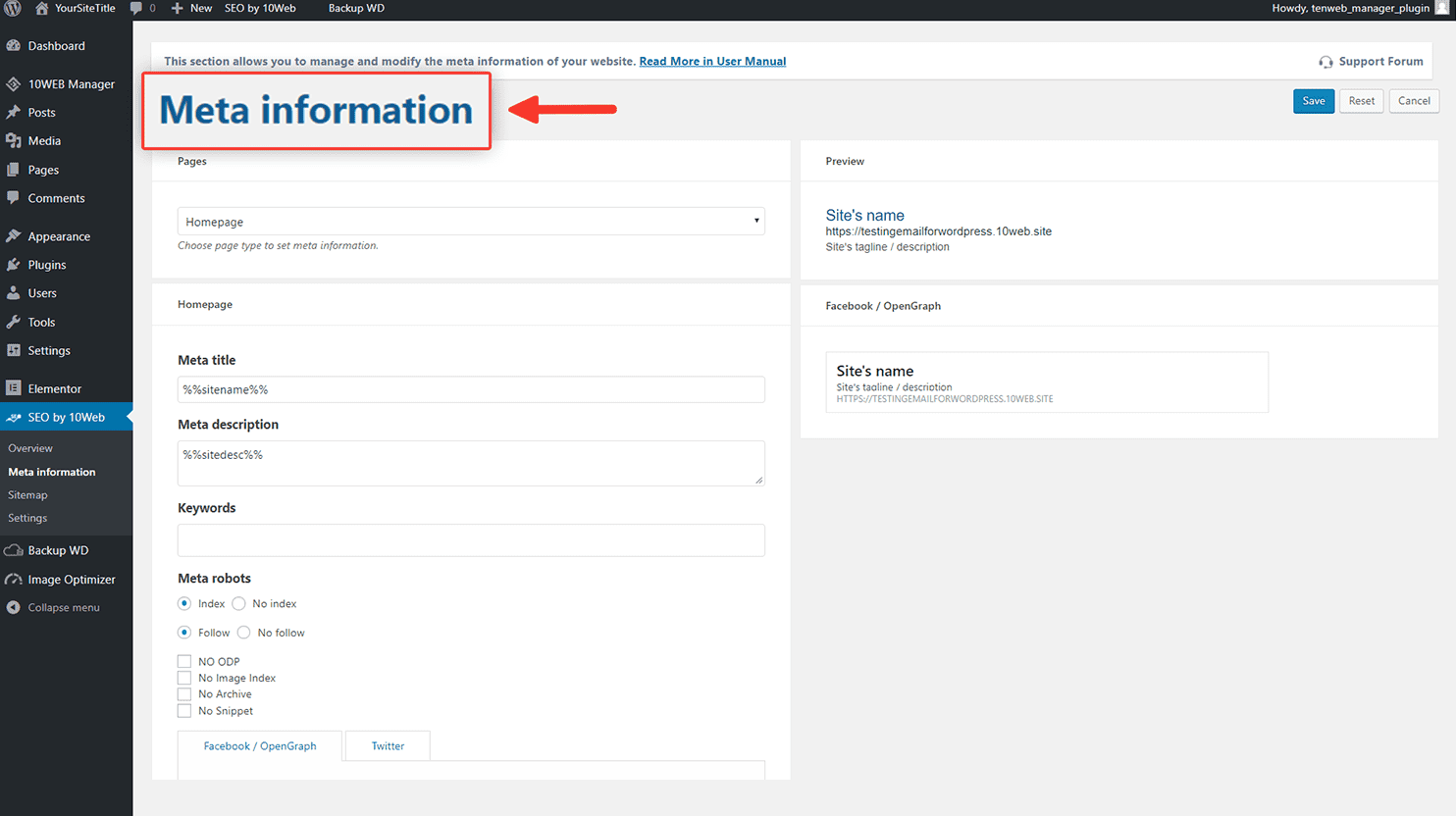 "Meta information" is arguably the most vital component of the SEO service. It regulates how Google "reads" your website content. Let's go ahead and set up the meta tags for the "About Me" page you created earlier.
Select "Pages" from the dropdown menu: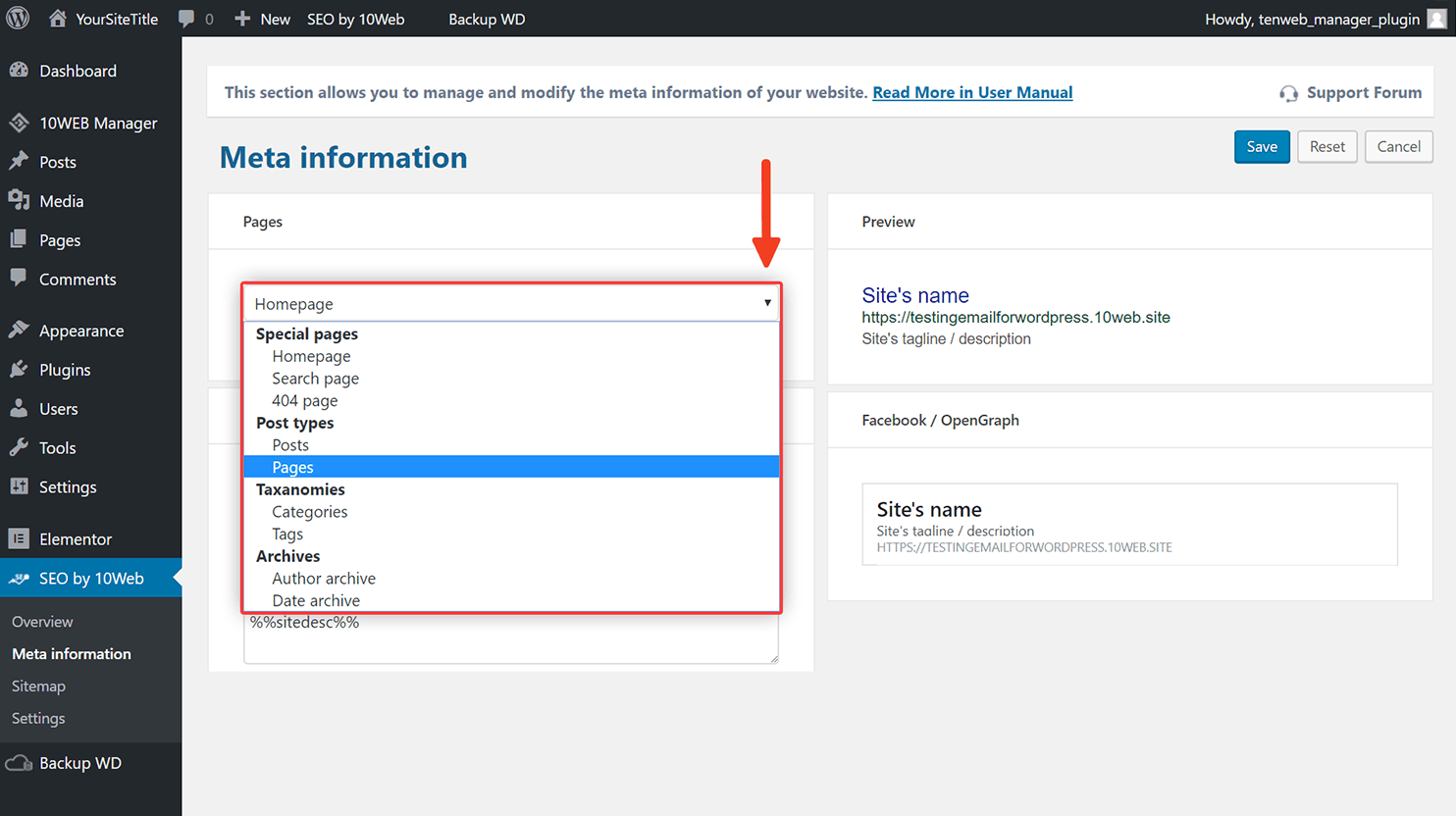 As you can see from the Preview on the right, it's gonna have the title of the page, namely "About me" on Google. If you click "Insert placeholder" you'll see all the info you can input, from current date to author's userid: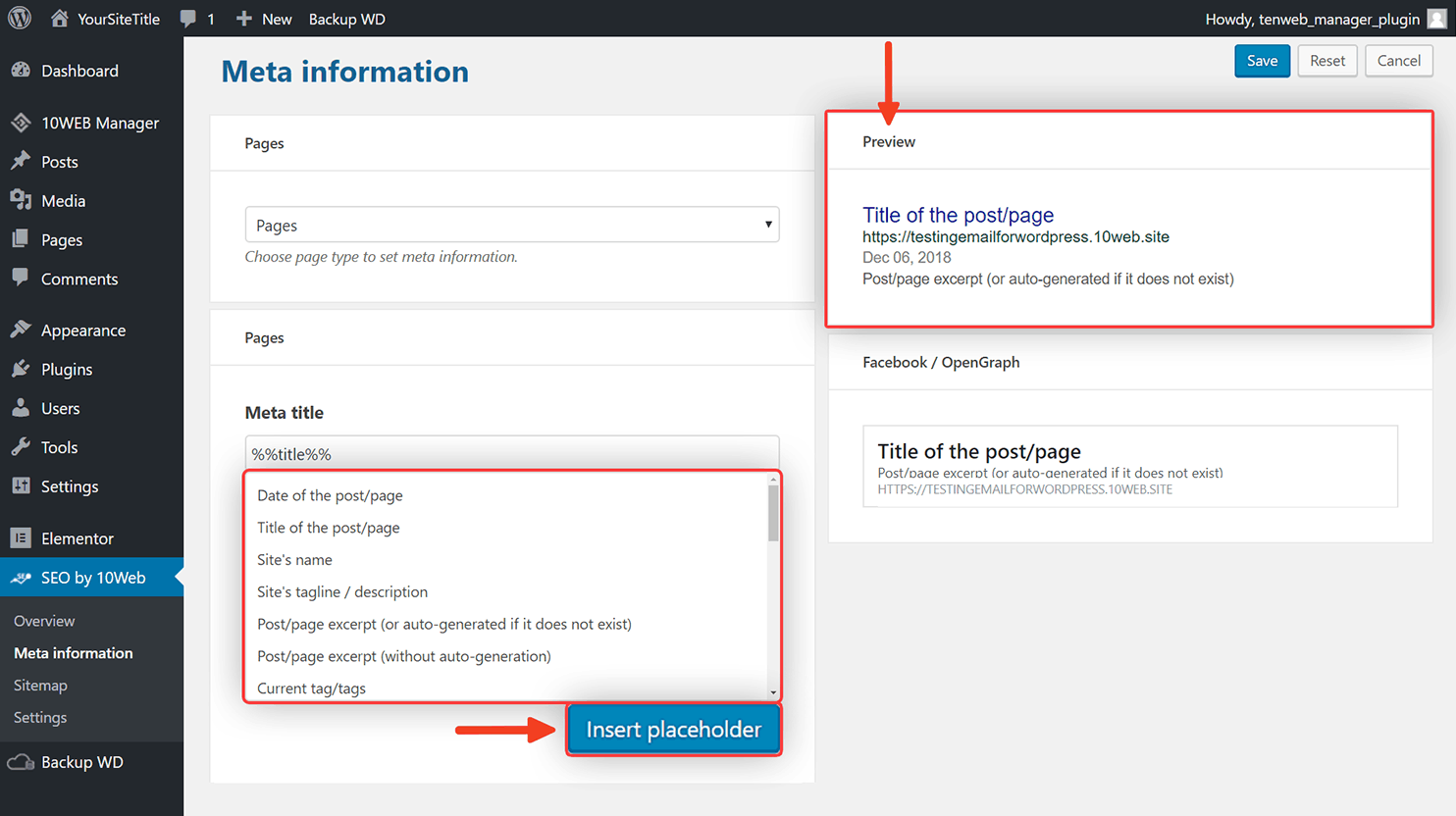 For example, if you want to have "Site's name – About Me," you need to insert the "Site's name" placeholder to have it look like this: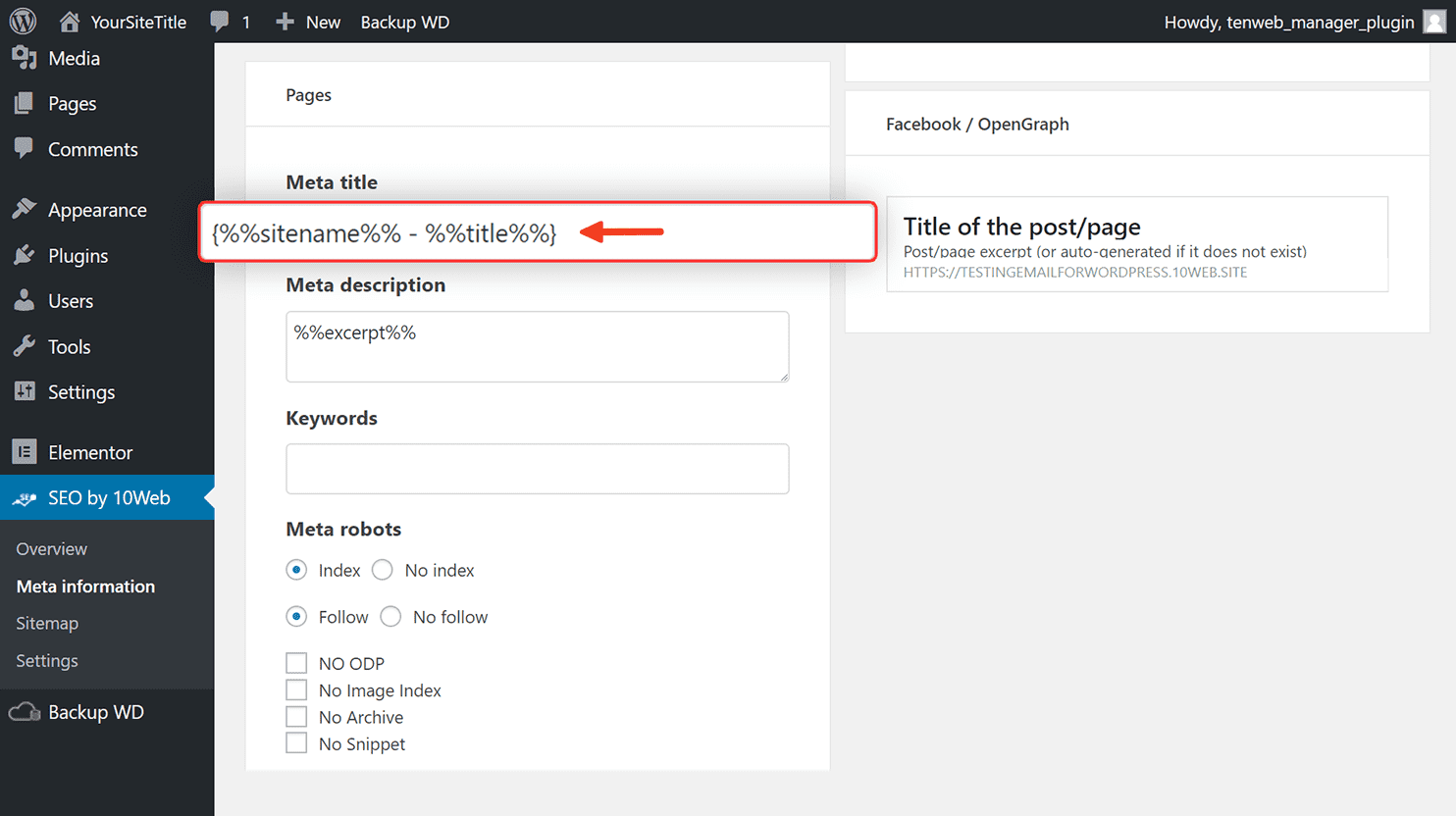 Likewise, you'll see the meta description below is currently just the excerpt that you can write in below each page/post.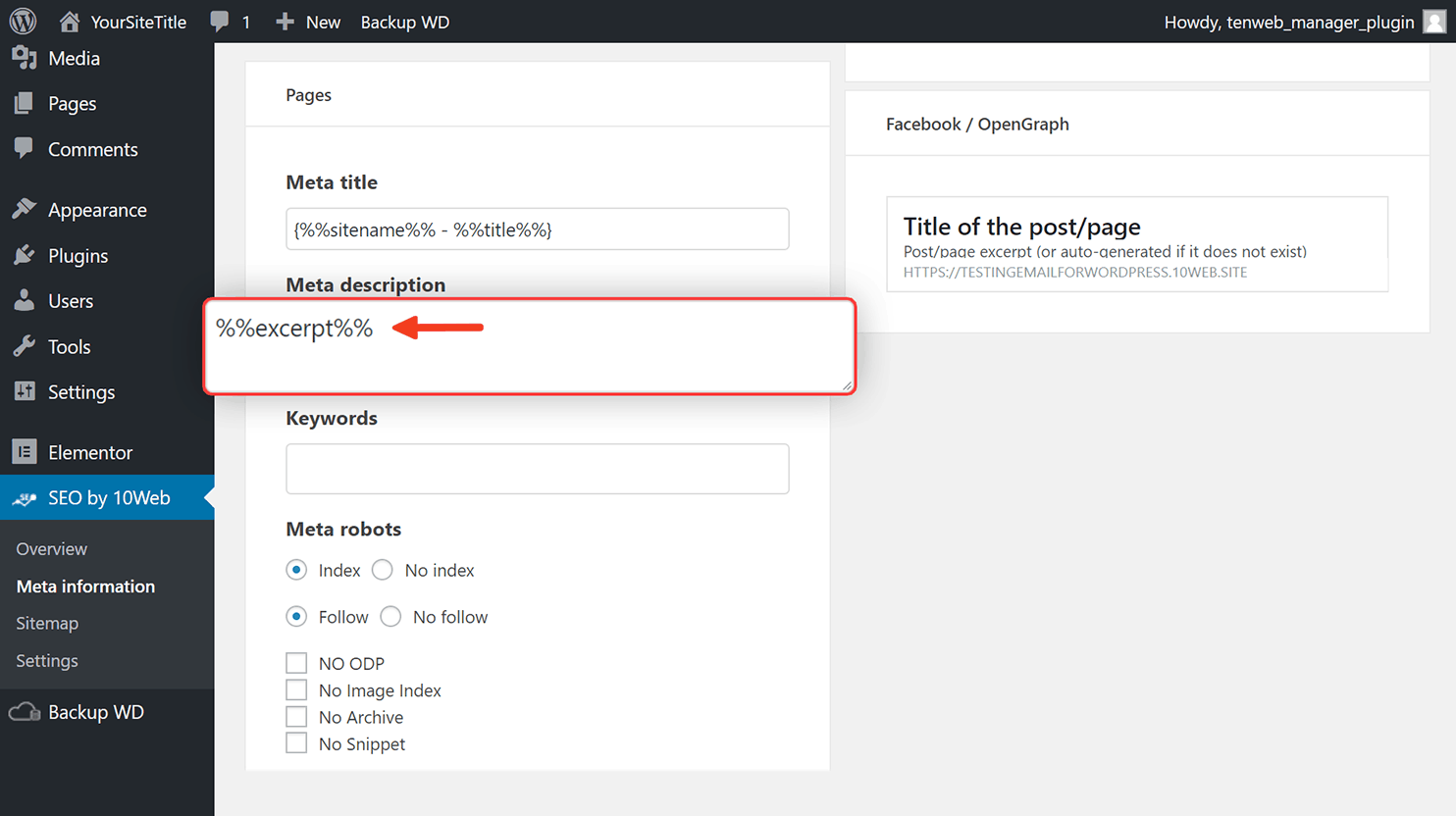 Below in the "Meta robots" sections you can instruct search engine bots not to index the site or not to follow any of its links, if you don't want the page to show up in search results or, for example, want to avoid the bots following the links in the comments.
Similarly, you can use "No Image Index" to avoid indexing images, "No Archive" to avoid showing a cached link, "No snippet" to avoid showing the page's meta description, Hide or Show the date, etc.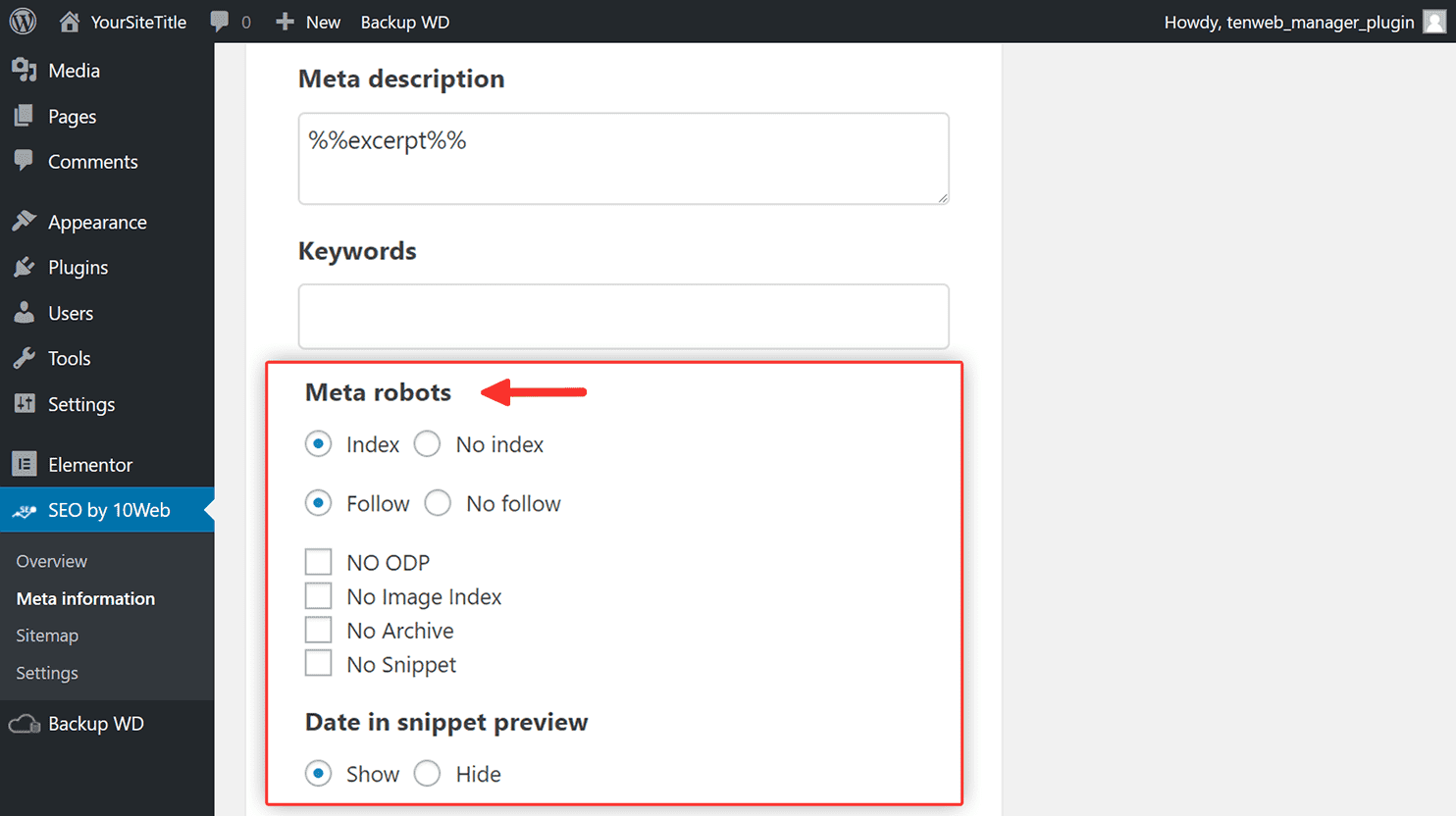 The last section of the page is for setting up meta tags for social media sharing. This works in the same way as the regular meta tagging, so we'll not really go into detail.
After enabling the SEO solution you'll also be able to access the results of your website's SEO analysis. For example, if you need to change the default tagline to have your site recognized by search engines, the service will notify you about it: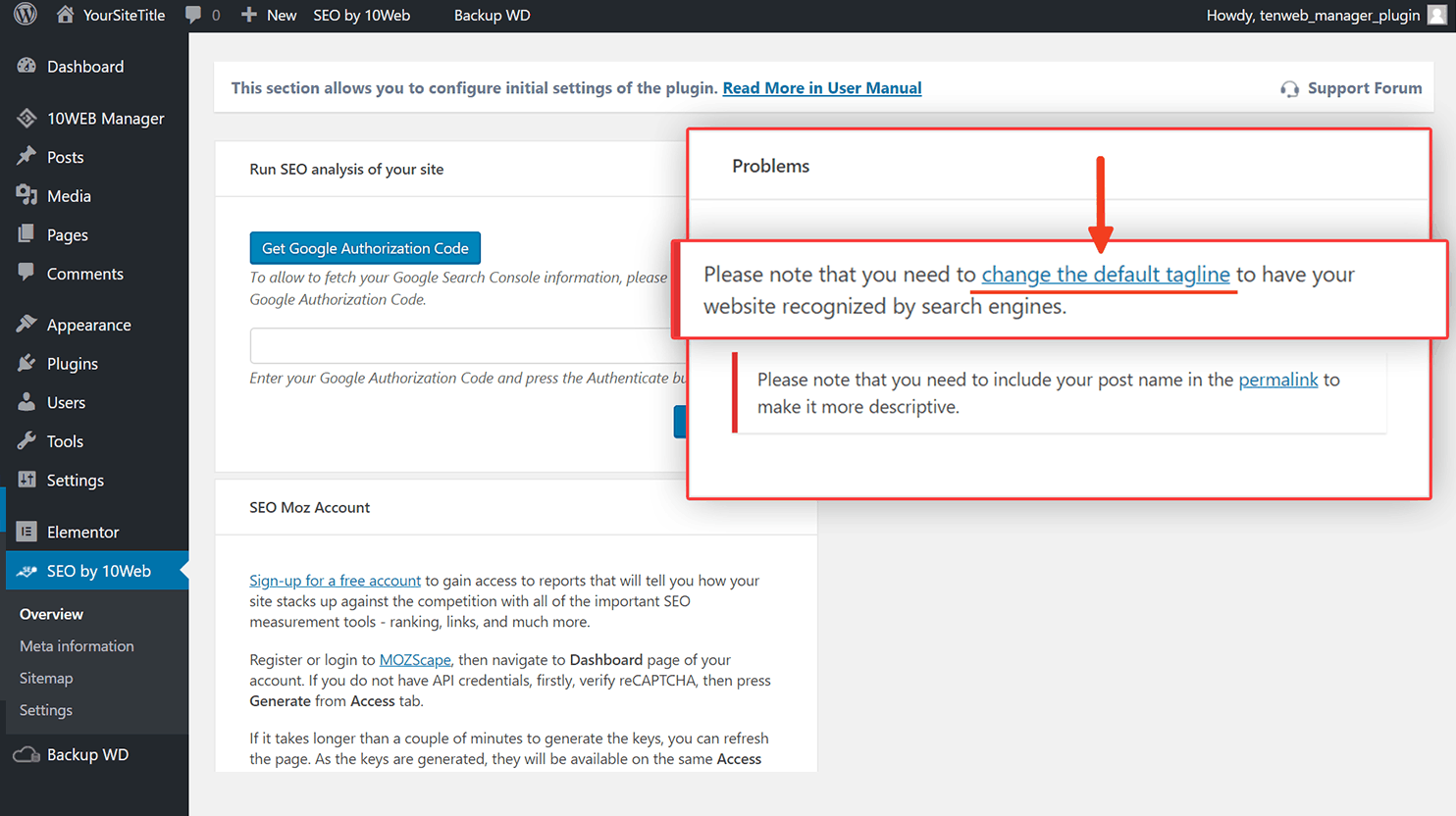 The "Search analytics" part of the menu will tell you which exact queries brought up your sites for users, their clicks and impressions, CTR, and position categorized by device type (desktop, mobile, tablet), so you can adjust your marketing strategy accordingly: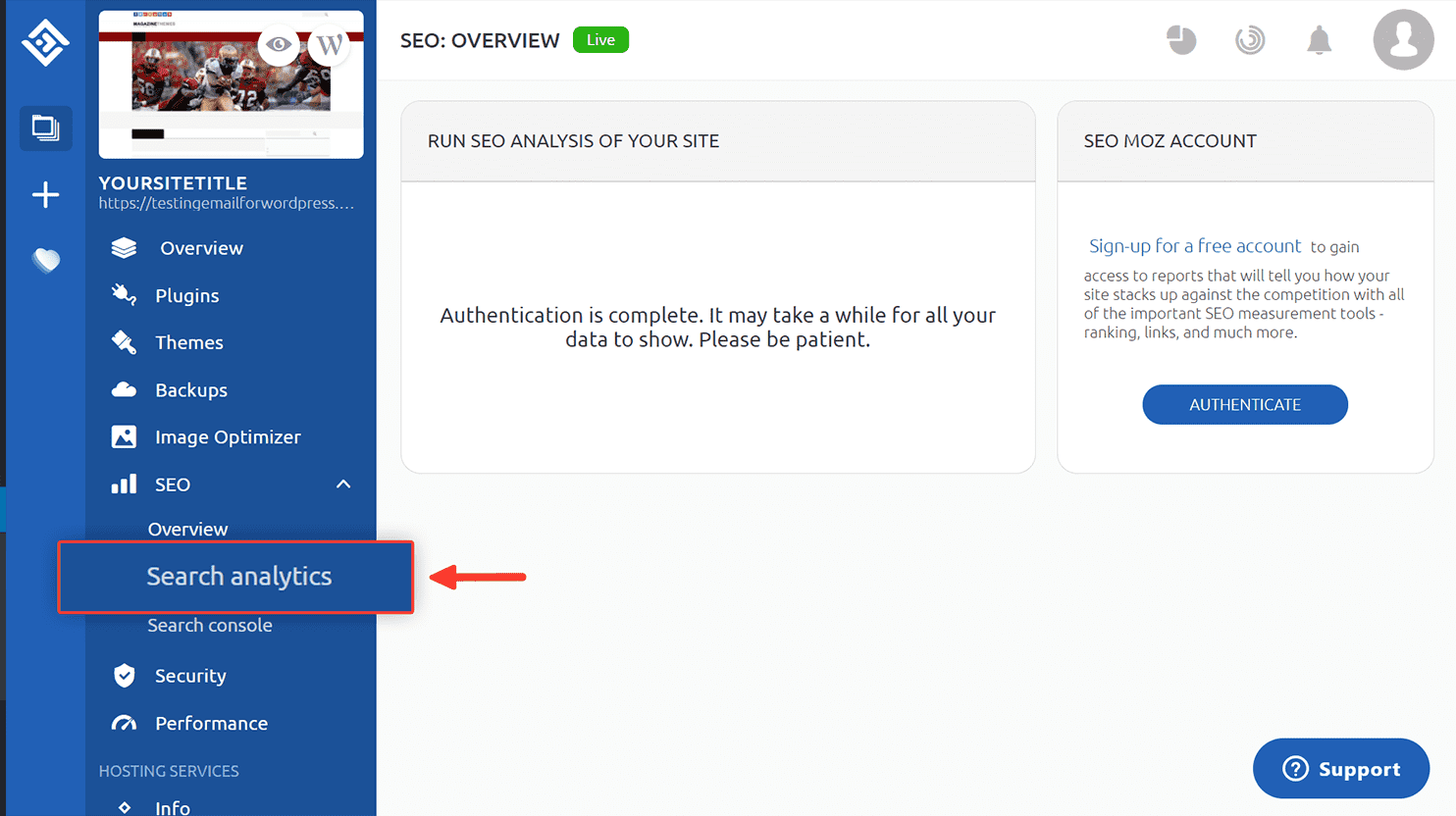 The third section "Search console" makes use of Google Search Console to notify you of any detected crawl errors, that is errors that damage your rating when Google bots crawl your website.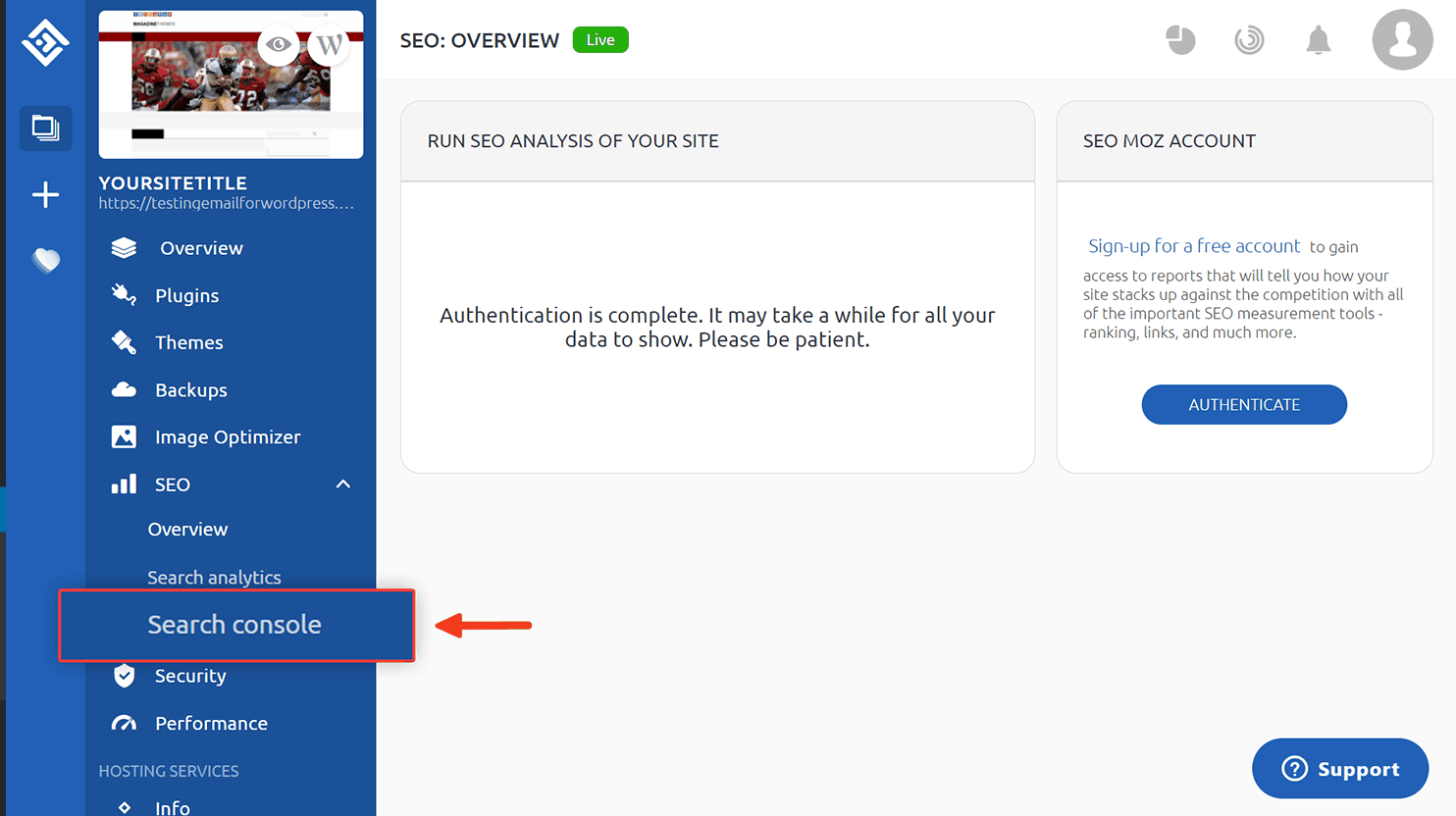 When SEO is all set up and ready, it's time to config your website security.
Enabling your website's security service
Click "Enable now" just like you did with other services: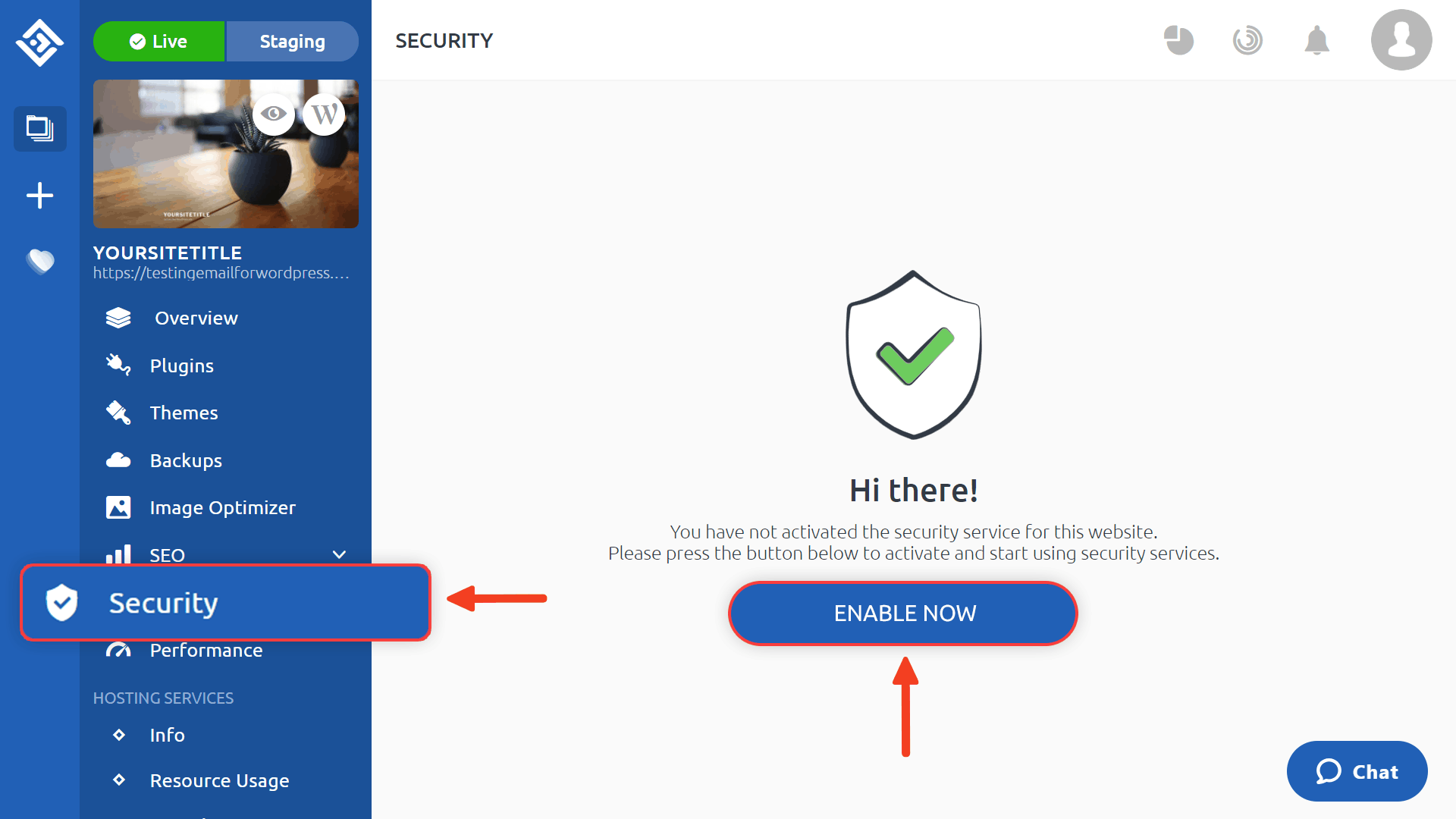 This mini screen with the number of issues and vulnerabilities will show up:
If you want to scan for vulnerabilities you can click "Run scan" from the Security section of the left menu.
If the scan reveals any vulnerabilities, you will see them in the "Vulnerabilities" tab: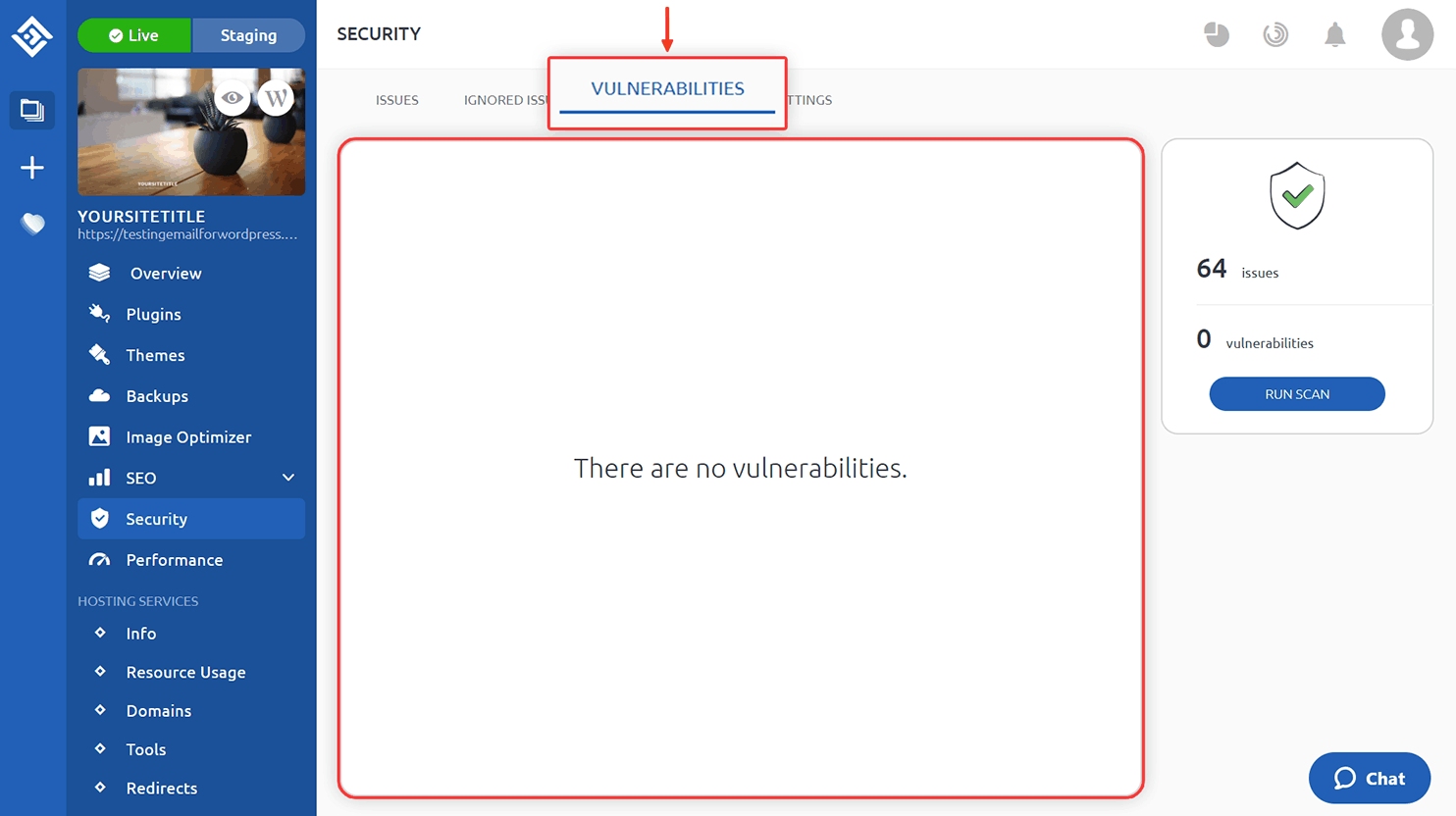 In the future if you ever want to, say, scan for plugin vulnerabilities and not WordPress ones, you can set that up from "Settings:"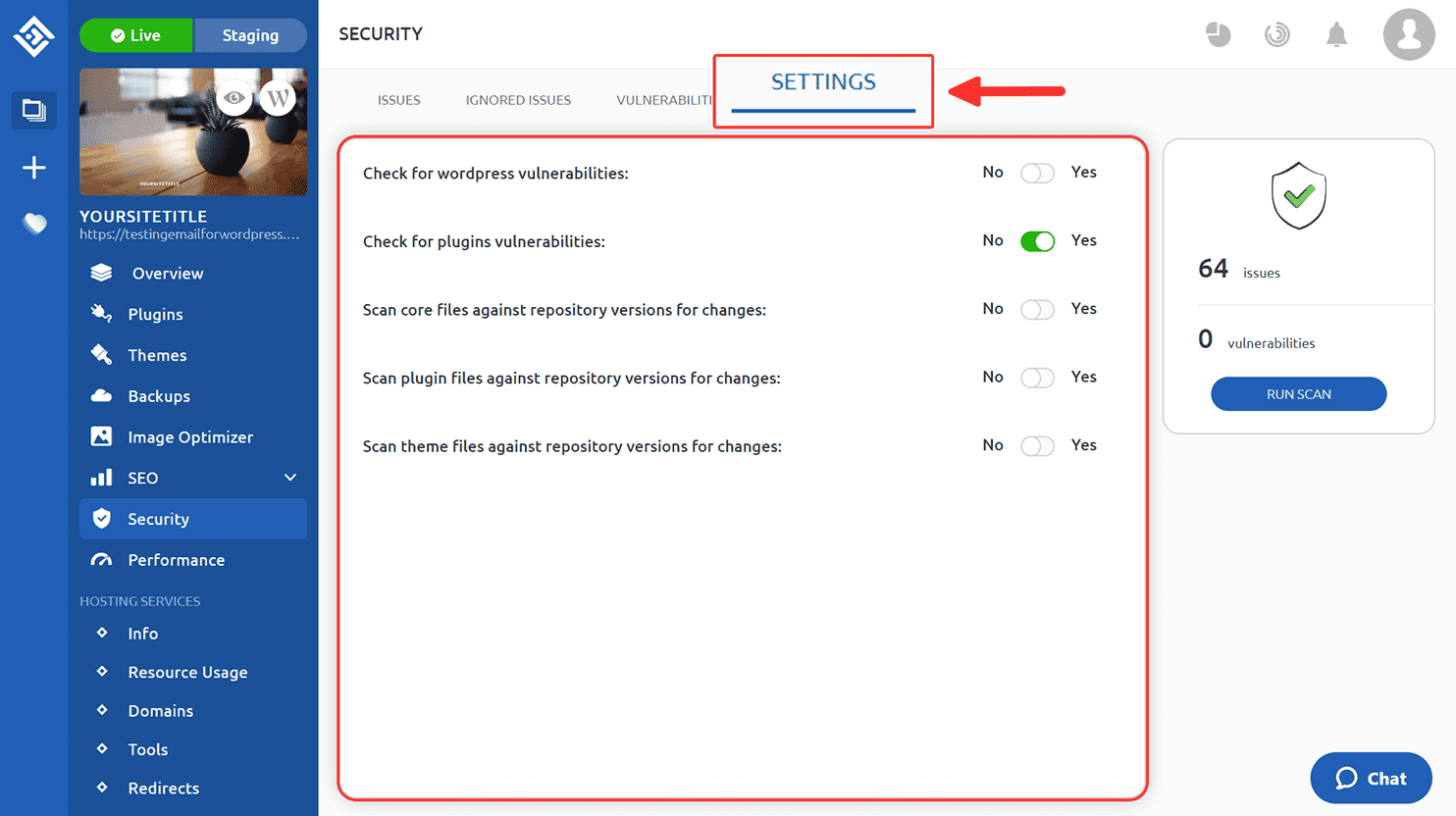 Done! 10Web security stands guard of your website's existence before it even has much to guard.
Enabling your website's performance service
As a beginner you probably don't know much about the particular criteria according to which WordPress websites are usually judged.
Enabling 10Web performance service just like you did in previous examples will let you access an assessment like this one: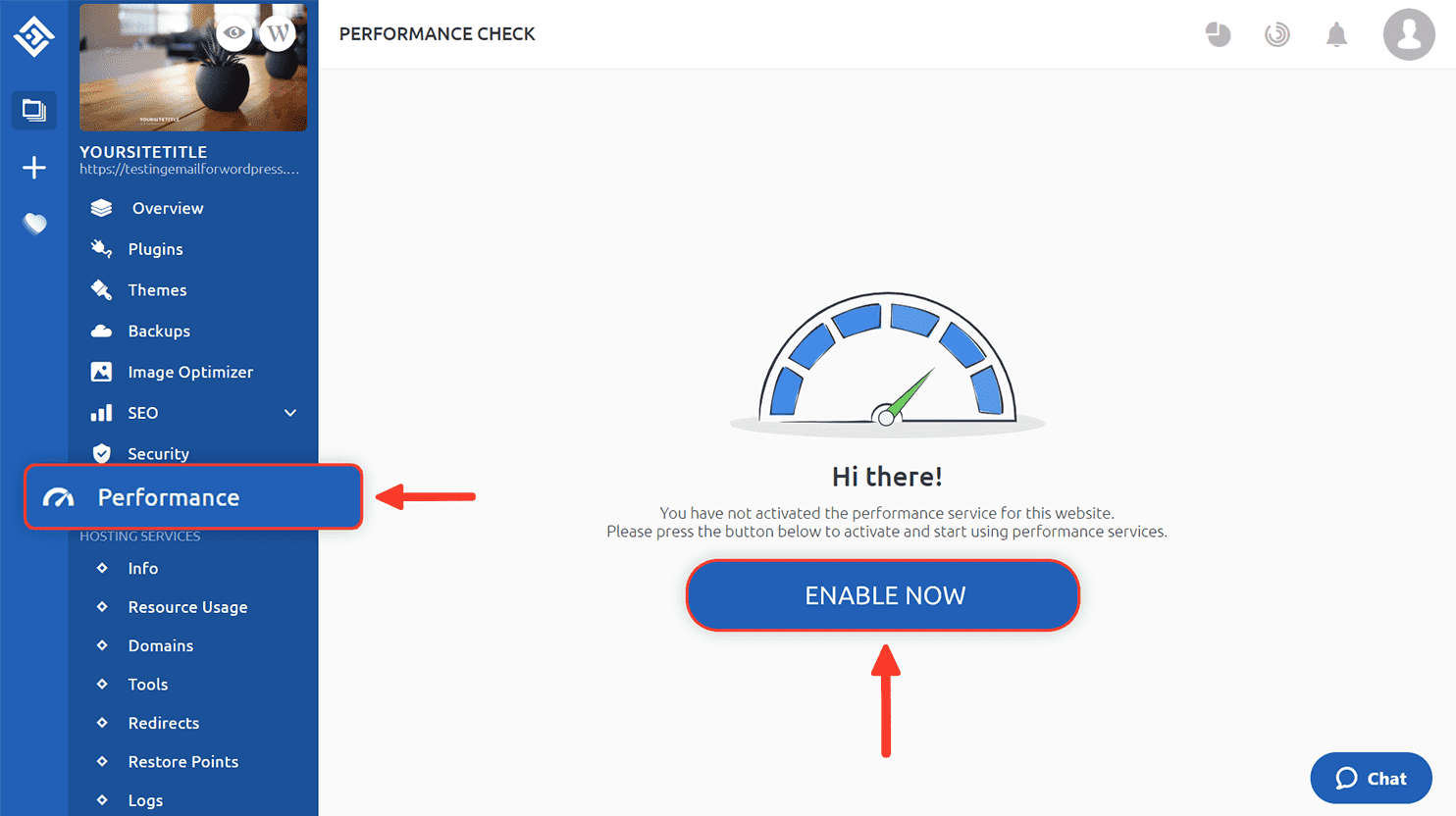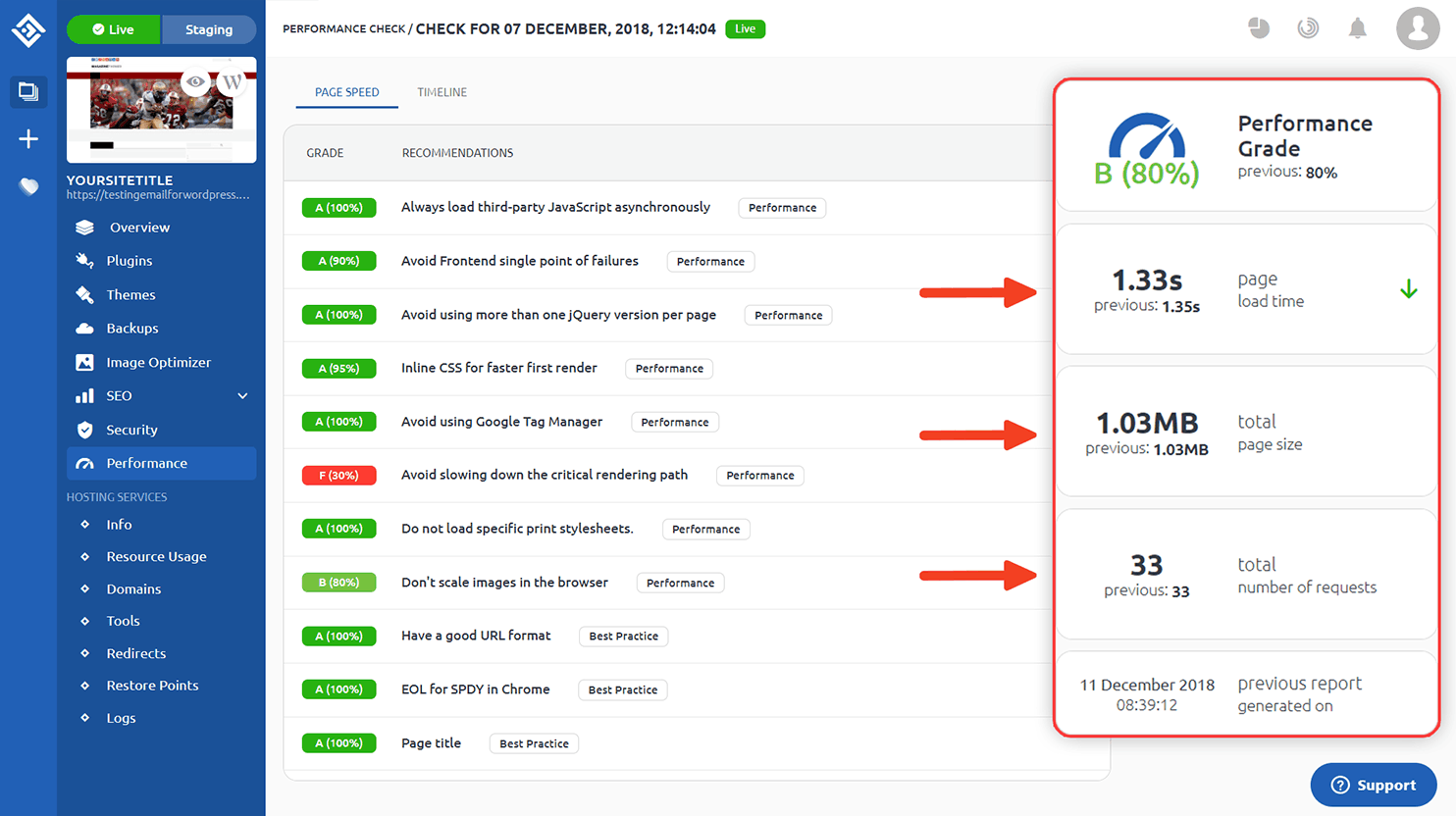 As you see, all data from load time to page size and number of requests is available, along with the recommendations that you should follow if you want better performance.
Adding or not adding a domain
Since your website it already live, it has a 10Web subdomain already: yoursubdomain.10web.site.
You can just keep using this one indefinitely if you like it but if you have some other domain name in mind, feel free to purchase it from GoDaddy or some other similar provider and "Add domain" from the Domains section of the menu on the left: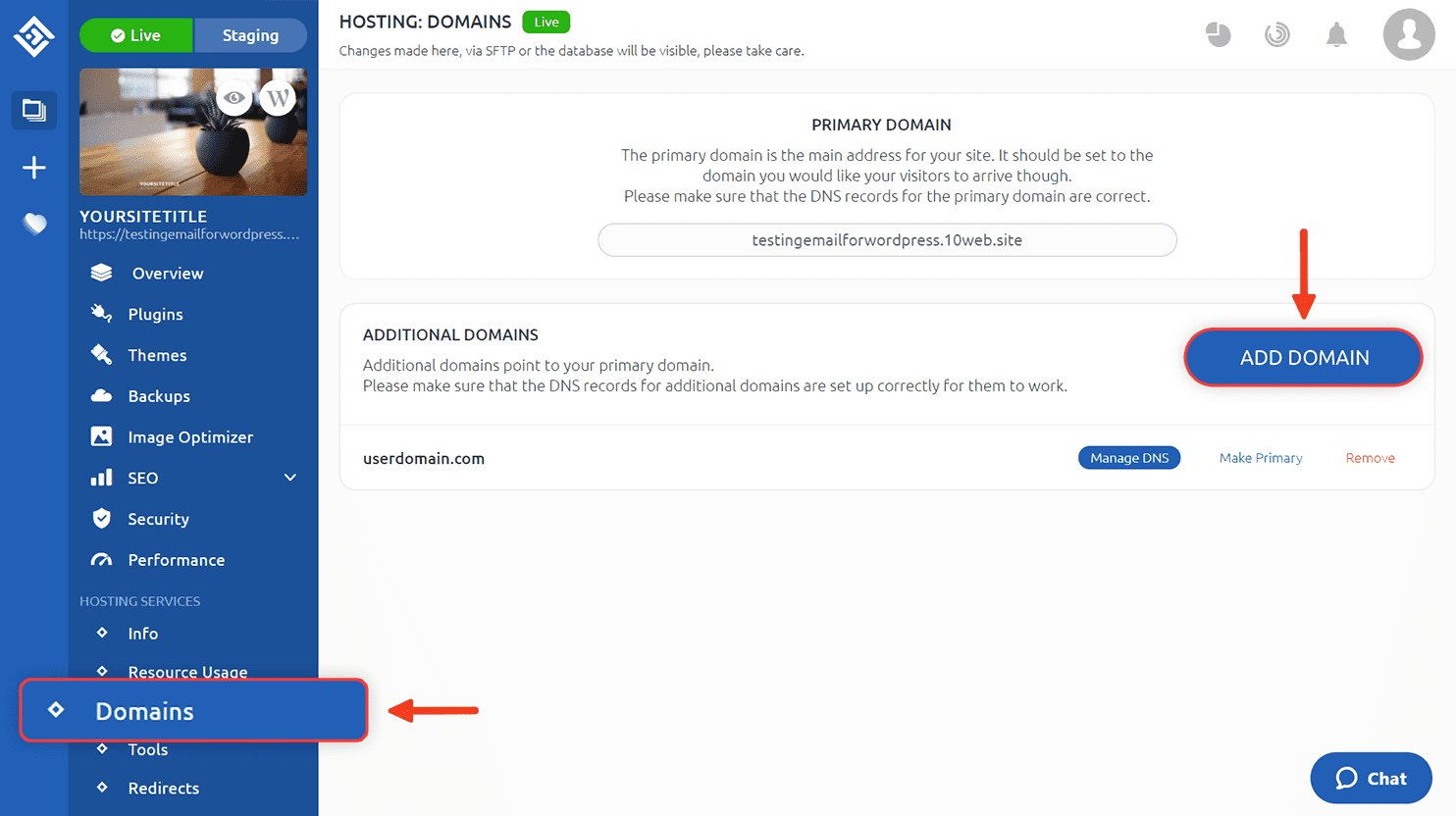 Write in the domain name and get the DNS addresses: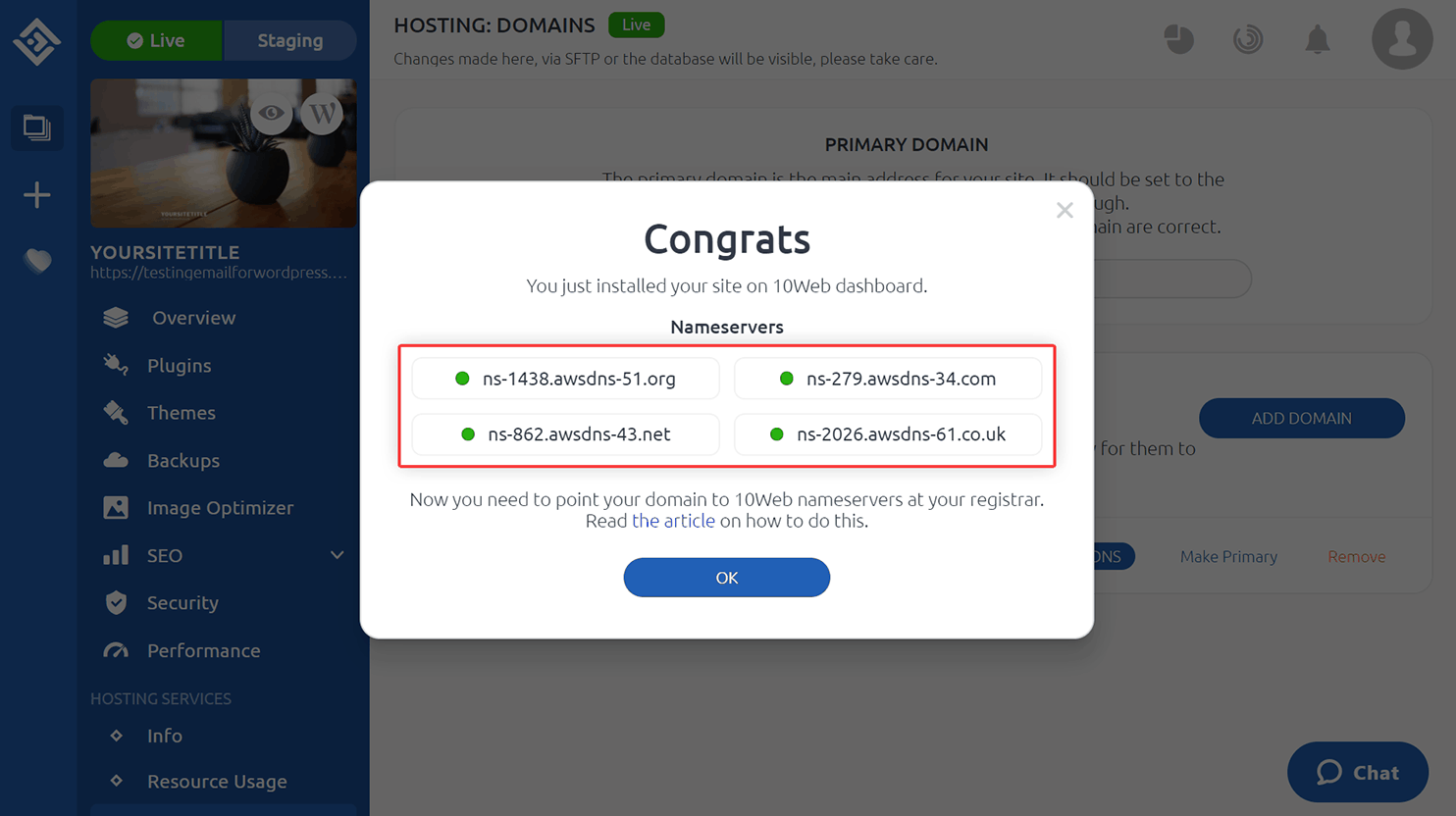 Then, depending on your domain registrar, the process of changing nameservers will proceed differently. This article has all the information on pointing your domain/DNS to 10Web, including a separate section for pointing to 10Web with A record.
Your website's care and support
One last thing! If you ever have issues at any point of your website creation process, just open the chatbox here on the left: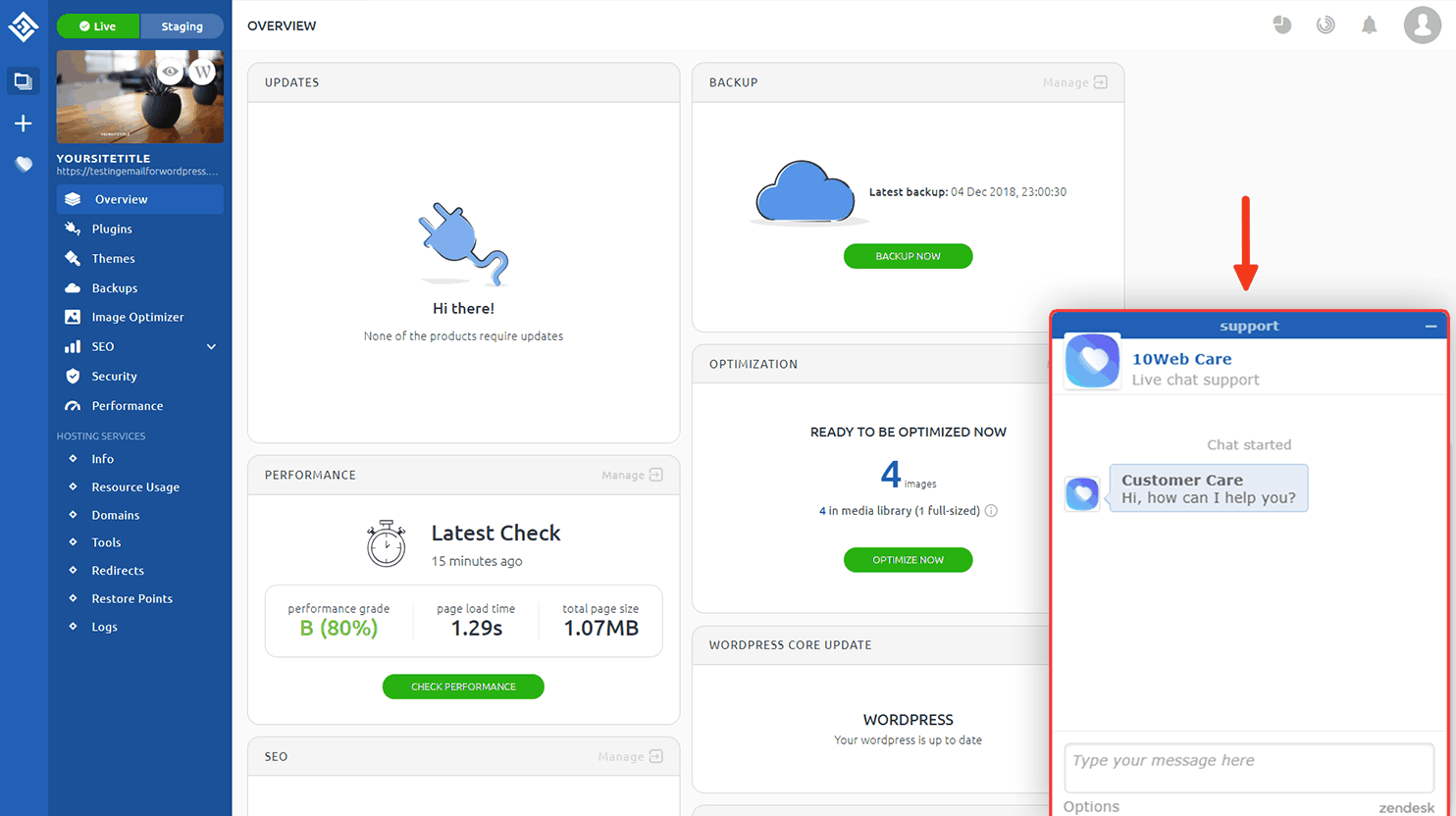 Our customer care team is extremely responsive and competent, so we'll solve your issue immediately if you just contact us.
But before you start choosing and installing your new plugins, read this article on how to buy and install a new host. Or, to make it easier, go back to 10Web.io and check out all the options for hosting an existing website or creating a new one.
This is just about everything you need for a smooth website launch and I bet going through these steps took you less than an hour. You're part of a momentous shift in WP site creation management – 10Web is a unique and revolutionary platform that has everything your website might need in one place. Having a live site has never been quicker or more intuitive. Have fun with your brand new website and tell us about your first website ever in the comments below!
Build a WordPress website with AI assistant
Move any website to WordPress or create unlimited templates within minutes.