How to Manage Form Submissions on WordPress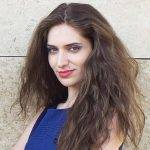 How To: Beginner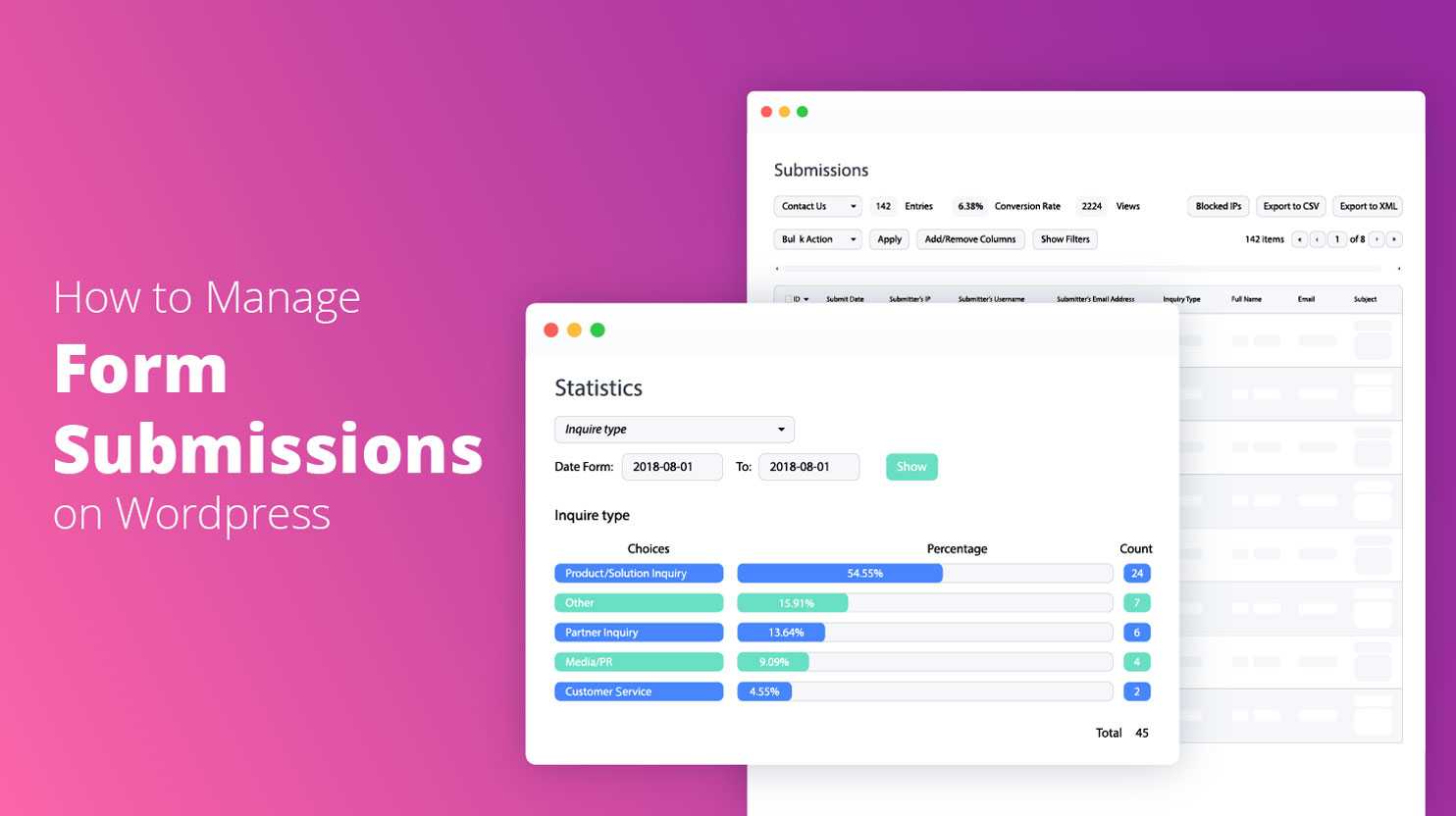 This is a tutorial on managing the form submissions you get through WordPress Form Maker plugin assuming you already have it installed. In case you don't know how to install it, here's a handy guide. In this article, here's what we'll discuss:
What is a form submission?
A form submission is the information a website visitor submitted to a form is stored. For example, if you added a form asking for people's emails, "[email protected]" can be one of the submissions.
You can check form submission statistics, filter the submissions by values, download submissions in CSV and XML files, publish submissions on the front-end, etc. Let's thoroughly discuss each of the features.
As users submit your forms, the data is saved in formmaker_submits MySQL database table of your website and is available in the plugin's Submissions section.
Though it is switched on by default, if you ever need to turn it back on you can do so by going to Form Options > General Options tab and enabling Save data(to database) setting.
If you disable this option, the information submitted through this form will not be saved in the database and will not be displayed on the Submissions page.
First, navigate to Form Maker > Submissions page.
Then, if you want to display submitted information of a certain form, choose it from Select a form drop-down box.
What does the Submissions dashboard let us do?
Submissions dashboard of WordPress Form Maker plugin allows you to:
View, manage, and edit the data submitted by the visitors;
Download all submissions as CSV or XML files;
View Statistics of Single and Multiple Choice field, as well as Select Boxes;
Filter form submissions by any field value;
Block certain IP addresses in case you keep receiving spam submissions from them.
Let's take a look at each feature separately.

Viewing, managing, and editing the data submitted by the visitors
At the bottom of the submission date, you can find View, Edit and Delete buttons.

Downloading submissions as CSV or XML files
Form Maker allows you to download submissions of each form in CSV or XML format by clicking on the corresponding buttons.

You can also export the submissions partially in CSV or XML files by filtering the submissions by date or by values provided by user.
For example, if you want to export the submissions as a CSV file for a certain period of time, press Show Filters button, pick a Date (From,To) then press the Export to CSV button.


Submission Statistics
If you have a form with a single or multiple-choice question or a select box, you can view the stats of it by scrolling down, choosing a dat range, and clicking Show.

Filtering form submissions by values
WordPress Form Maker plugin lets you filter form submissions by any field value, e.g. submitter's email address, name, last name, address, date, and others.
Press Show Filters button, enter the values you wish to search for, then click Search.
Click Reset to clear the filters.
For example, let's assume you wish to know how many users have filled the same form in a certain date range.
Click Show Filters, pick a date for the a certain period, and press Search.
Adding or removing columns
This button will help you customize the columns displayed in the submissions of the selected form.
Click Add/Remove Columns and mark/unmark the columns you wish to show/hide.
Blocking IP addresses
In case you keep receiving spam submissions from certain IP addresses, you can block them from the Submissions dashboard.
Check the spam entries, choose Block IPs option from Bulk Actions, and click Apply. You can unblock these IP addresses anytime.
After clicking Blocked IPs, you will be redirected to Blocked IPs page, where you will be able to block IP addresses by clicking Add IP.
Note: To prevent receiving spam submissions you can also add ReCaptcha or Captcha to your forms․ Read more about setting it up in the Form Maker user guide.

How to publish form submissions on the front-end
Form Maker plugin also lets you publish the Submissions on your site's front-end. This functionality is available only in the Premium version of the Form Maker plugin.
Firstly, add/edit the page or post, where you wish to publish the submissions of your form.
Then press Add Submission.
Upon pressing Add Submissions, a popup will appear where you can select the Form, submissions of which you want to show on your site's front-end. Select the Date Range.
You can also show/hide selected fields, the form's Title, Search, Ordering, Entries, Views, Conversion Rate, Pagination, Statistics.
In Form Options > General Options you can also define the user groups allowed to see the submissions. For example, the form submissions can be visible to the public or to registered users only.
By default, all fields are displayed. You can hide some of the columns in Form Options > General Options.
That's it! 
Hope this article taught you a thing or two about managing the data you get through WordPress submission forms. Here you can find a list of alternative online form builders or keep using 10Web's Form Maker.
Form Maker for WordPress
Create and manage advanced forms for your WordPress website
Form Maker for WordPress
Create and manage advanced forms for your WordPress website
Leave us a comment below if you run into any trouble or post in our WordPress Family Facebook Community. Next, you might want to learn about adding conditional fields to your WordPress site forms here.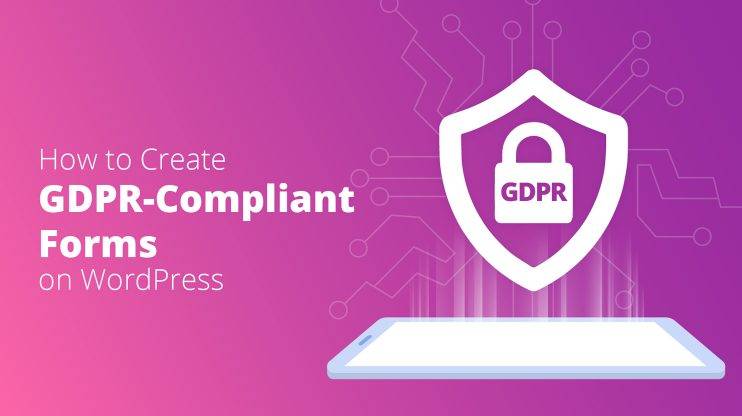 Want to create a GDPR compliant WordPress form 🤔? Here's how to create GDPR-Compliant forms on WP using 10Web WordPress Form Maker plugin 👌.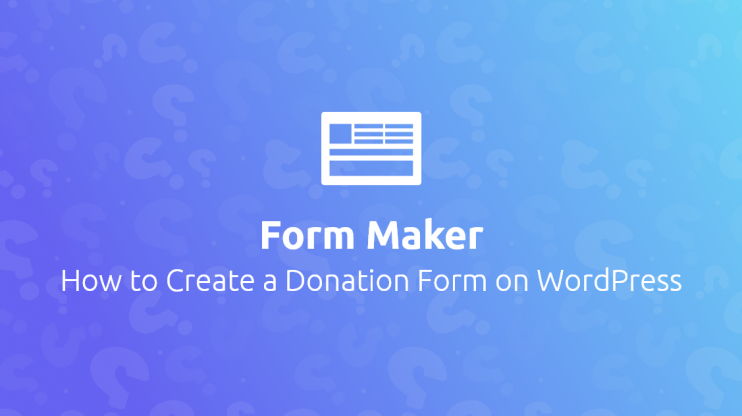 Are you looking to create a donation form for your website? WordPress Form Maker plugin is perfect for accepting donations on your site. You can view the submissions for each form, track overall statistics, edit the list of donors, filter submission data and export it in csv or xml formats. The plugin lets you set up Email Options to send submissions both to users and website owners. There is an option to add multiple recipients, as well as CC or BCC addresses. The users get an email notification initially when they donate a certain amount, and when the donation is complete. Let's delve into creating your first WordPress donation form. Creating your first donation form Firstly, you should install and activate Form Maker plugin. Here's a step-by-step guide on how to do it. Once it is activated, go to Form Maker > Forms, then click Add New. Give a title…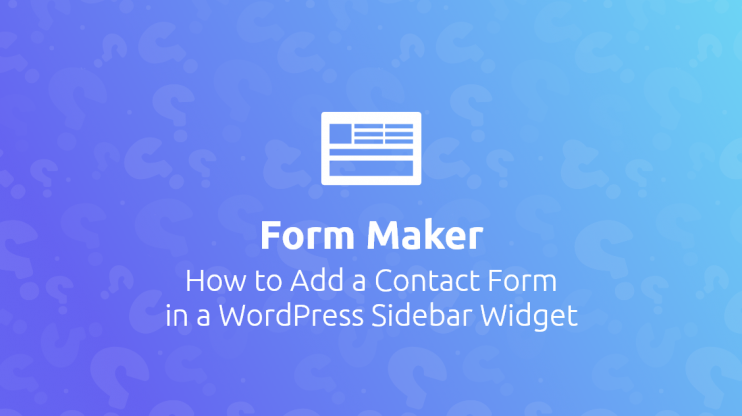 Do you want to add a contact form to your WordPress sidebar? This article will tell you exactly how to add a contact form widget to your WordPress sidebar with the help of WordPress Form Maker plugin. Why have a contact form on your WordPress sidebar? Seriously, why does one even need a contact form on a site sidebar? Having a contact form on your WordPress sidebar widget gives users the option to contact you about your products and services from any page on your website, so so the frustrated user doesn't have to get progressively more frustrated searching for the contact page. If she comes to have questions or needs help, she can simply contact you using the form on the sidebar. It's pretty convenient and effective in making the user feel heard. So, what's to be done? Firstly, you should install and activate Form Maker plugin. Here is a…