10 Best Landing Page Examples That Convert (2022)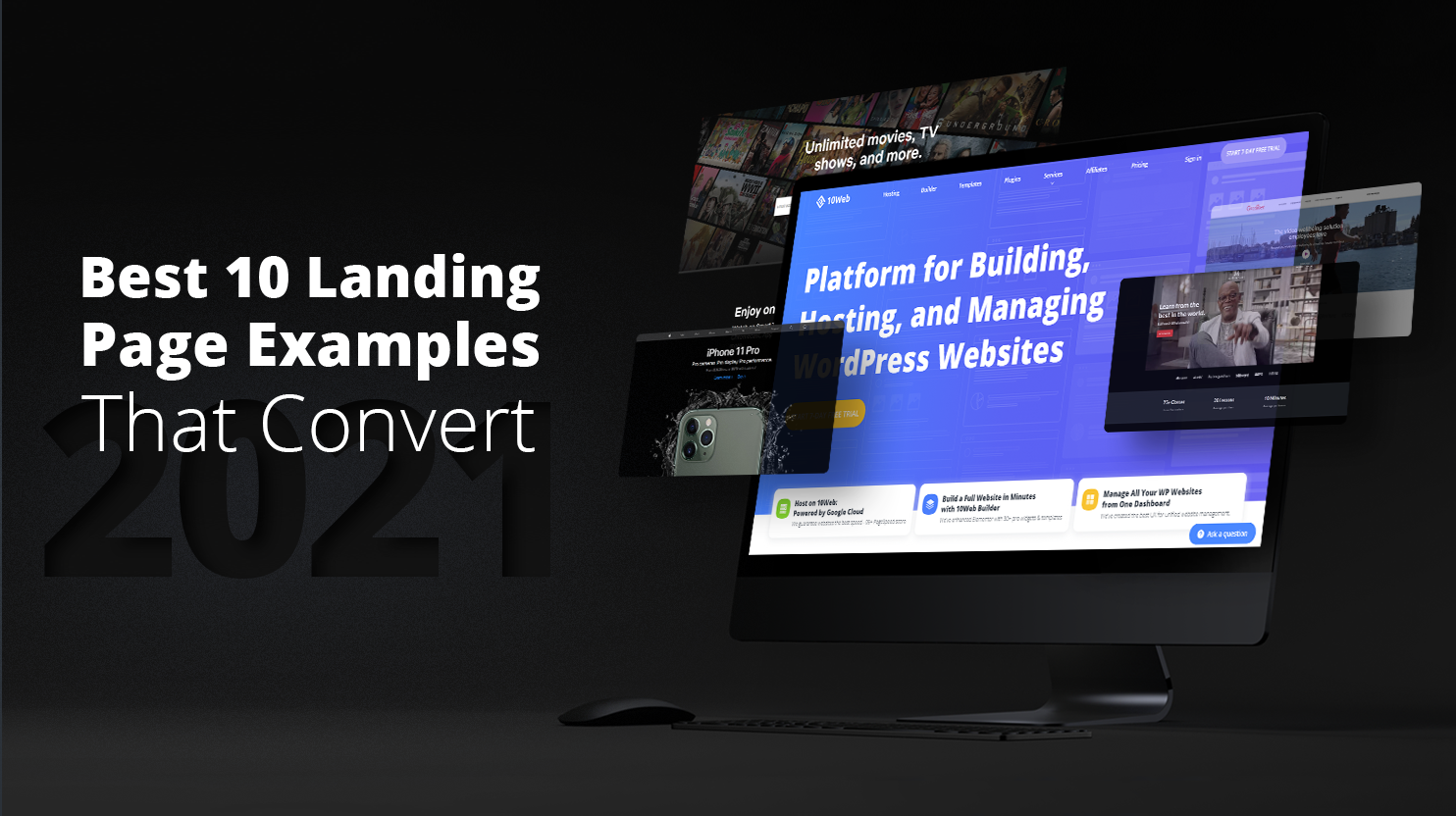 Let's start with the basics. What is a landing page? A landing page is the first impression. It is specifically designed to communicate a clear and precise message and achieve a high rate of conversions. There are landing pages that immediately turn a visitor off: Sometimes they're too overcrowded with links and information, sometimes they use too many colors or forget to mention the price. There are also some very successful landing pages, each teaching a specific lesson. Let's discuss 10 great landing page examples so you can avoid any mistakes when designing yours.
So,
What is the purpose of the landing page?
The purpose of the landing page is to prompt people who have taken interest in an ad and clicked it to perform a set action, be it a purchase, registration or subscription. The perfect landing page is minimalistic, it ideally contains only one link, the CTA (call-to-action) repeated a few times. This is especially important if you're running PPC ads to drive traffic.
What types of landing pages are there?
There are, according to Unbounce, the expert on landing pages, seven different types of landing pages.
The Click Through landing page is about super quickly providing you the details of the offer you clicked on and transferring you to the checkout where you can make a purchase. If you click on an ad and this is what you get, you may want to Google the company separately to find out more. This landing page is effective if the offer is straightforward and there are no serious customer anxieties to quell.
The Lead Capture landing pages are all about gathering some type of personal information from the visitor: emails, postal addresses, phone numbers, birthdays, etc. etc. The data is then used for marketing purposes. The visitor will typically be offered something in exchange for their data, such as a free ebook or online course or a deal.
Then there are Infomercial landing pages, the long pages that use elevated language and offer exclusive once-in-a-lifetime deals you can't help but want.
There are also Viral landing pages which usually contain a funny video, an engaging game or some other type of amusing shareable content. These landing pages rarely flash out the name of the company, putting the stakes on the content only.
Another type of landing page is the Microsite, a fully functioning small temporary site created in addition to the company's main website. Great examples of this are the sites created to promote an upcoming movie or event.
The next landing page type is the Product Detail page, which is a page in the main company website solely dedicated to informing about a certain product. The good thing about this type is that you don't need to set up a separate page. The downside is the number of distractions that comes with the page being integrated into the main website.
Finally, there's the Homepage as a Landing Page type, the type requiring the least amount of effort. Often marketers will create elaborate campaigns, only to redirect them to their company website's homepage. This may be fine if the company is small and offers only one product or service, but in most cases, a homepage is a whole cluster of information and links which makes visitors arriving through an online ad bounce.
What makes a great landing page
First and foremost, you want your landing page to have concise but precise and original messaging and a persuasive standout call-to-action repeated a couple of times. All this with super minimalistic design!
Secondly, you need to quickly earn a good reputation by appealing to an authority, citing a partnership or data or reviews.
Thirdly, try to use human faces in your imagery and include a video on your landing page if you can.
And finally, show that you care about your potential customers by addressing their concerns and anxieties about following the call to action.
Ticking all these boxes may just put your landing page in some other list of awesome landing page examples that convert!
How to create a landing page
There are many online tools for creating landing pages but it is universally acknowledged that Unbounce is the best one on the market. You get to choose a template or start with a blank page, set the mobile landing layout and then your landing page URL. Afterwards, all it takes is adding tracking and custom scripts, integrating with your marketing toolset, previewing, and publishing.
It's pretty easy, isn't it? Alternatively, if you can afford it, you can ask a designer to make a custom landing page for you.
What is landing page conversion?
A landing page is created with a set goal in mind, be it newsletter subscription, a purchase of a plan or generation of leads. Conversion is when the user lands on the landing page after clicking an ad and then performs the action the page was created for.
The percentage of visitors of the landing page that converted is hence the conversion rate.
What's a good conversion rate for a landing page?
The average rate across industries is about 2.4%, so a conversion rate of 5.3% is in the top 25%. But you should also check the specifics of your industry by assessing the conversion rates of the landing pages of your competitors.
Overall, you should know that the absolute best landing pages have conversion rates of about 10%, so that's probably the best your website can do.
10 landing page examples that convert
Here's the list: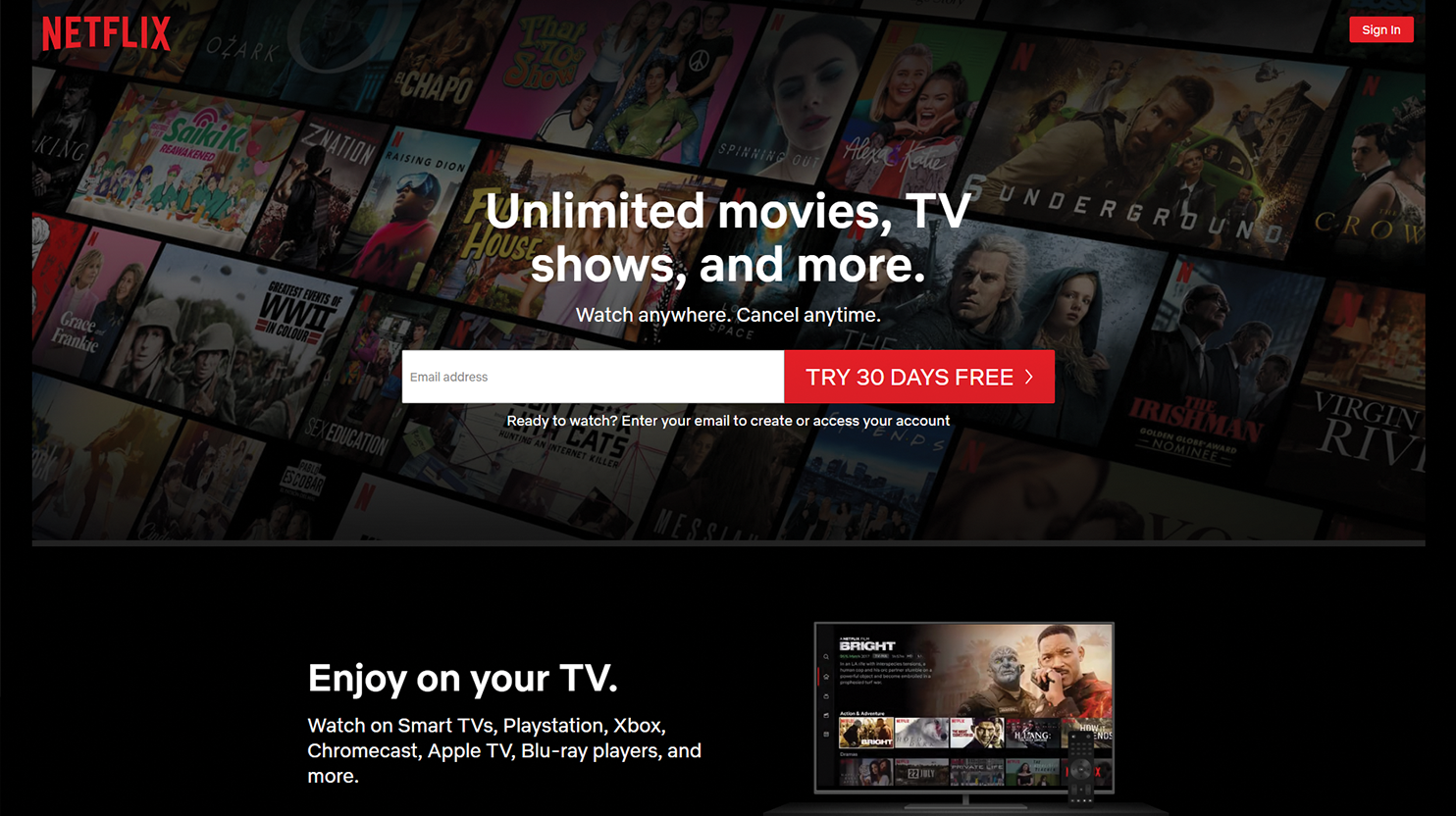 Netflix is already a household name and half of the most famous meme about modern dating, so it comes as no surprise that nowhere in their landing page do they explain what online TV streaming is or does or mention the price of their premium subscription (you have to scroll all the way to the FAQ section to find out the price of the cheapest plan). The latter will not work for most other landing pages: the price is the main "elephant in the room," it's what people want to know upfront.
Netflix has taken another UI/UX risk here: the call-to-action button is red, a color typically discarded as unfit for marketing purposes because of the sense of danger it communicates. However, on the other hand, red also communicates urgency and it may work for a 30-day trial offer. Now that we've glossed over some questionable choices Netflix has made, let's discuss why the landing page works after all.
What makes this a good landing page example?
Firstly, the page ticks all the boxes of a classically perfect landing page: it has a clear call-to-action and minimalistic sleek design overall.
Secondly, the form potential customers have to fill is as short as it can be: Initially, Netflix only asks for an email. If you've followed the evolution of Netflix landing pages, you have probably noticed that the forms keep getting shorter and shorter over time. That's something to learn from: subdivide your large form into a few smaller form pages and never ask for the information you don't need.
Thirdly, there isn't a lot of text and the text on the page serves a very precise function of answering every possible objection you might have to giving Netflix a try. "Watch anywhere. Cancel anytime." answers all your concerns in two short sentences – "Yes, you can watch on all devices, meaning everywhere." and "Yes, there is no tangible financial risk."
How does it help conversions?
The fact that the message is so clear and short means that anyone can quickly understand what the next step is. The simplicity of the form makes it easier for the visitor to take said step. After all, it's just an email.
And finally, all other text is aimed at responding to your possible concerns and objections to taking the next step. It's especially important in an industry that a lot of people mistrust, such as cable TV.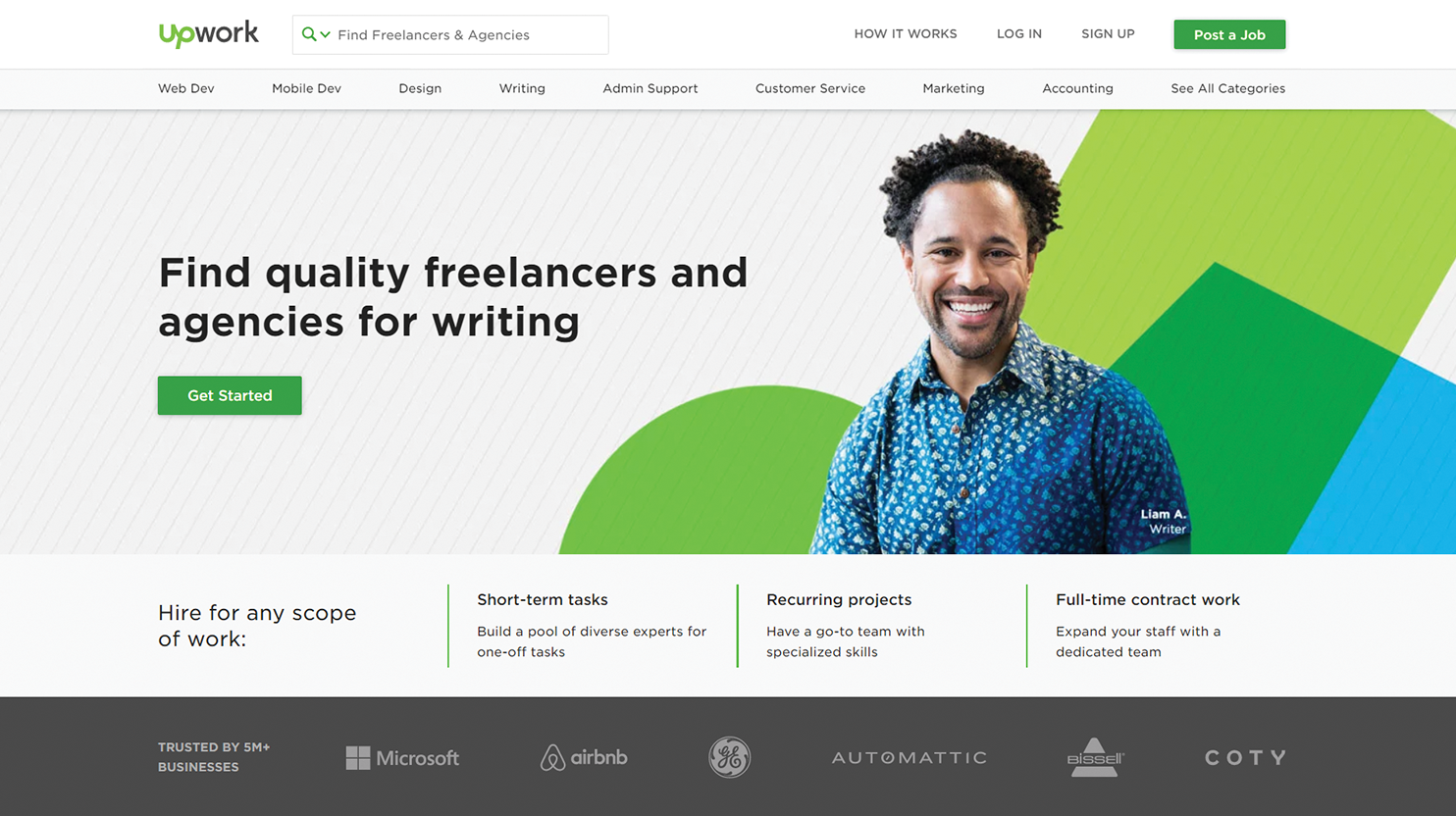 Upwork is a place where freelancers can find jobs and job-posters can find freelancers. The jobs themselves fit into a thousand categories and subcategories; For example, there's the "Legal" category with its "Paralegal Services" category. It is smart then that Upwork has created separate landing pages for every category and target market. Here, for example, we will analyze the landing page for writers targeted at potential job-posters.
What makes this a good landing page example?
There's a lot that this landing page gets right, especially in terms of structure. There's that initial precise value proposition, the unified "Get Started" CTA, and the photo of an actual Upwork writer Liam A. Then we get a list of businesses that trust Upwork with their writing tasks. Right below the job-poster sees a list of experienced writers and editors on Upwork, some charging $40/hour and some $150, so the visitor knows there's someone for whatever task he needs and at whatever price point. Finally, you get four-step instructions on how to proceed with hiring from Upwork and have to fill out a very basic three-field form to "Get Started." This is a pretty popular structure of a landing page and the reason is that it works.
How does it help conversions?
The landing page addresses a very particular target market, people looking to hire freelance writers online. Now, this target group commonly has the same three concerns: that the writer will overcharge, won't deliver work on time, or that the work will not be of sufficient quality. Upwork solves all these possible issues by presenting a selection of people who have a number of positive reviews addressing both the quality of their writing and their time-management skills and charge a set amount.
Upwork's landing page seems to speak directly to the person interested in hiring in a certain category. It establishes authority, showcases real and friendly people working there, and presents the visitor with an extremely simple form. Works like a charm!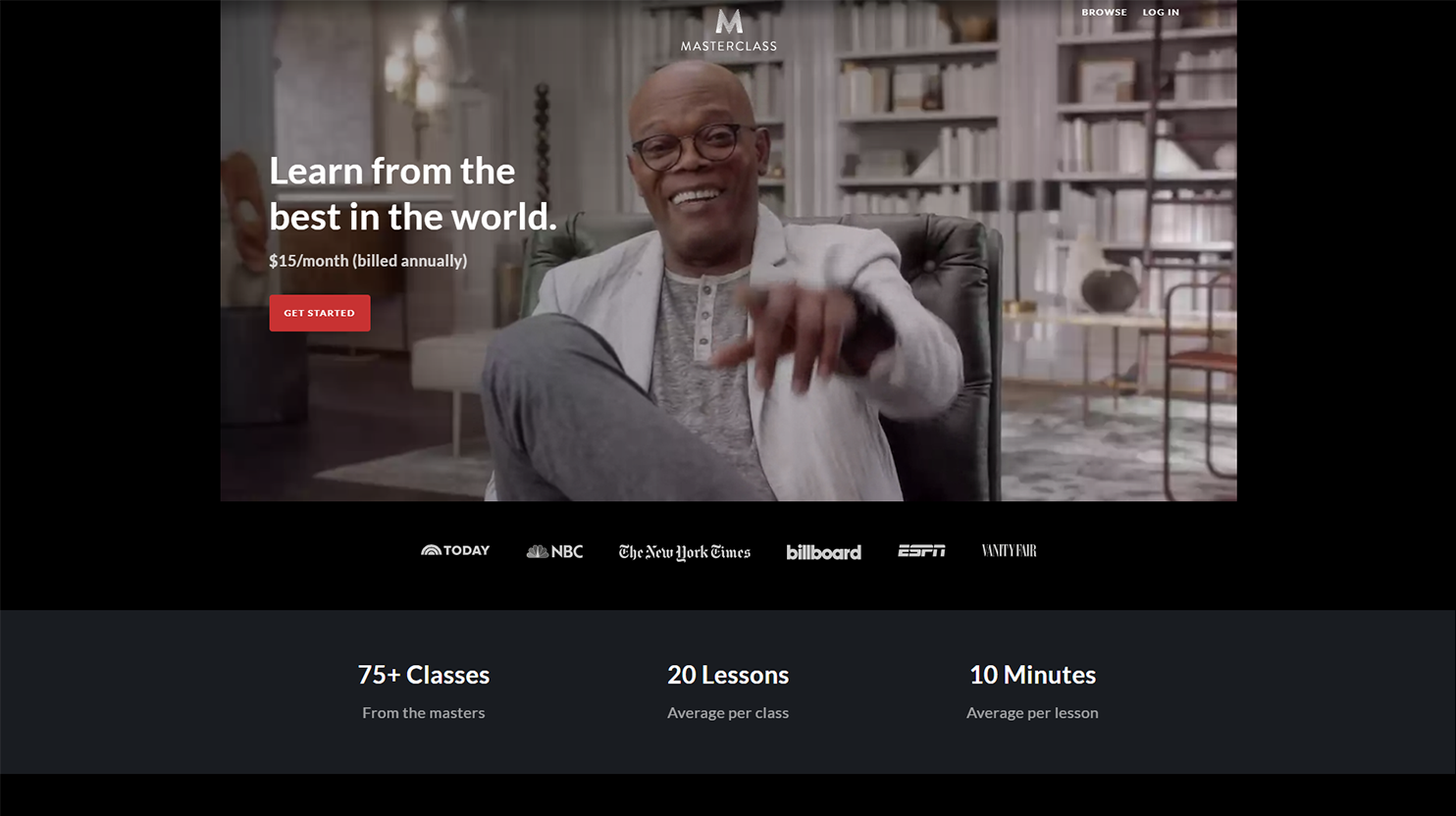 MasterClass is a platform where the most famous people in their respective fields – think Annie Leibovitz in photography, Malcolm Gladwell in writing, and Gordon Ramsay in cooking – teach online courses. The most peculiar thing about this landing page is how well MasterClass knows its target market. There are two CTA – usually a big no-no, but not in this case – one says "Gift" and the other says "Get Started." There is no form to fill, there's only the price: $15/month (billed annually). This landing page is exemplary, especially because the product is very specific. Let's read more into the whys and hows.
What makes this a good landing page example?
Let's get the two main points for any landing page out of the way: it is minimalistic and to-the-point, despite the two CTAs. And why do the two CTAs work? Because this product is clearly designed to be gifted half the time: Most people have at least one of the hobbies mentioned on the site and look up to at least one of the teachers, so what better gift than an online master class? And the landing page video makes the lessons very attractive through great film editing of the masterclasses. It's the type of inspiring motivational mumbo-jumbo we're used to hearing from our Moms, but probably never from Serena Williams.
How does it help conversions?
The visitor is immediately attracted by the offer: the video shows familiar experts of their fields promising to teach the viewer how to be great. And the price is strategically written as "15$/month," although it is billed annually: MasterClass doesn't want the user to see the sum of $180 and be scared off purchasing. In general, the emphasis of this landing page is the exclusive offer to get advice from gurus and become one yourself.
Also, if you've ever seen a MasterClass ad on Facebook or Instagram, you've likely noticed that the page these ads take you to exactly match the expectations created in the ads, so you're never disappointed in the landing page experience.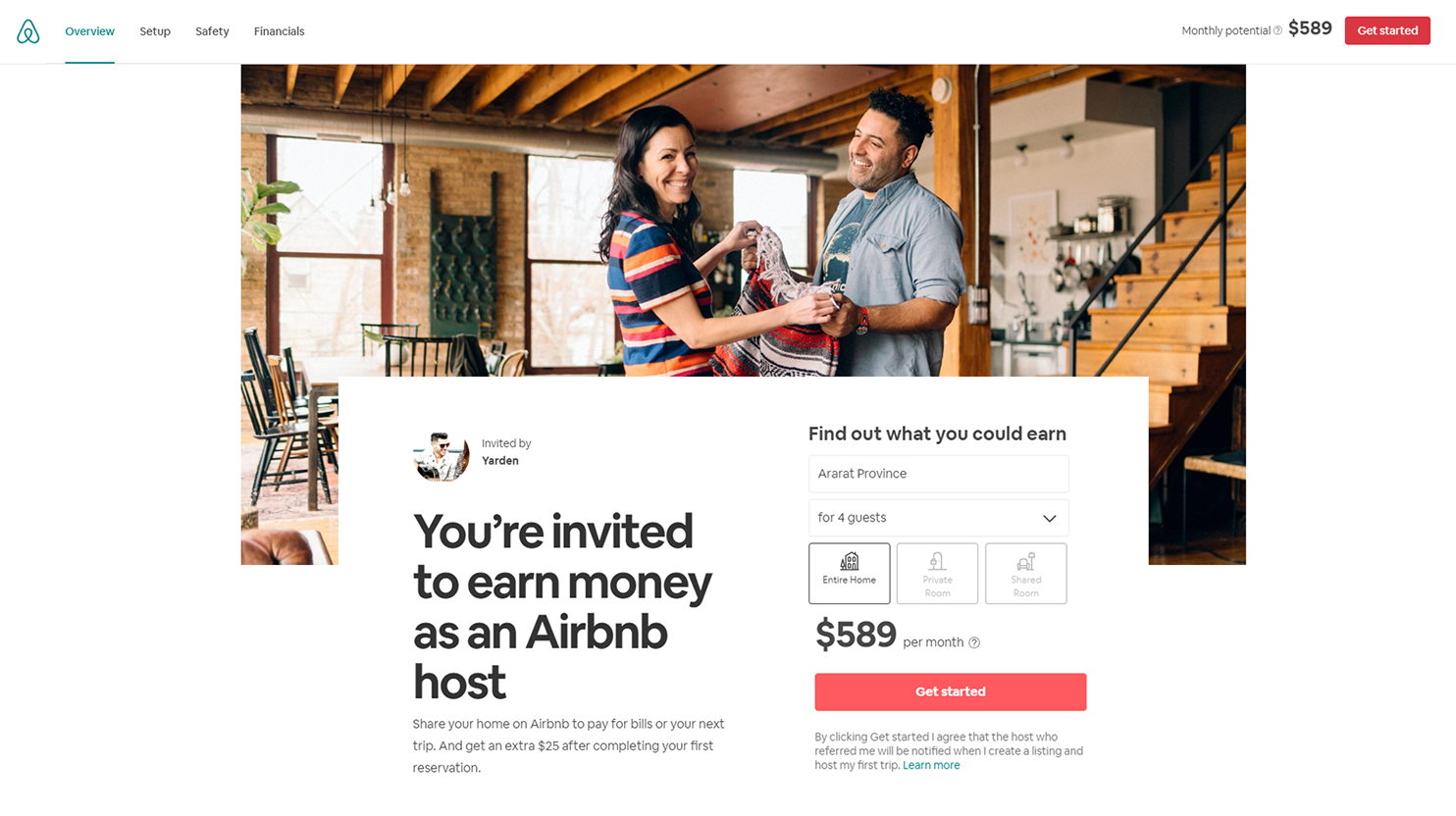 Airbnb uses numerous landing pages, each specifically tailored for a certain target audience and purpose. The example in the screenshot aims to get the visitor to become an Airbnb host. Although there's a lot the page does well, there is also the possibility that the visitor will get distracted by the fact that the page is in the main company site or click one of the links below to read a host's testimonial, instead of converting. But anyway:
What makes this a good landing page example?
The messaging of the landing page seemingly appeals to the visitor directly: There is this person Yarden who want you specifically to "earn money as an Airbnb host." And who doesn't want to earn a few extra bucks? There's also a calculator you can play around with to find out how much money you're missing out on. The rest of the page is dedicated to addressing the common concerns of potential hosts and suggesting ways to spend the extra cash, such as renovating your kitchen or traveling yourself. The CTA button is bright red and stands out among the white background.
How does it help conversions?
Visitors of the page are initially enticed by the possibility of extra income, but soon their thoughts bring up all the trouble and hassle having guests staying over can be. The testimonials and bright warm photographs are there to address those concerns and inspire the user to click that red "Get started" button.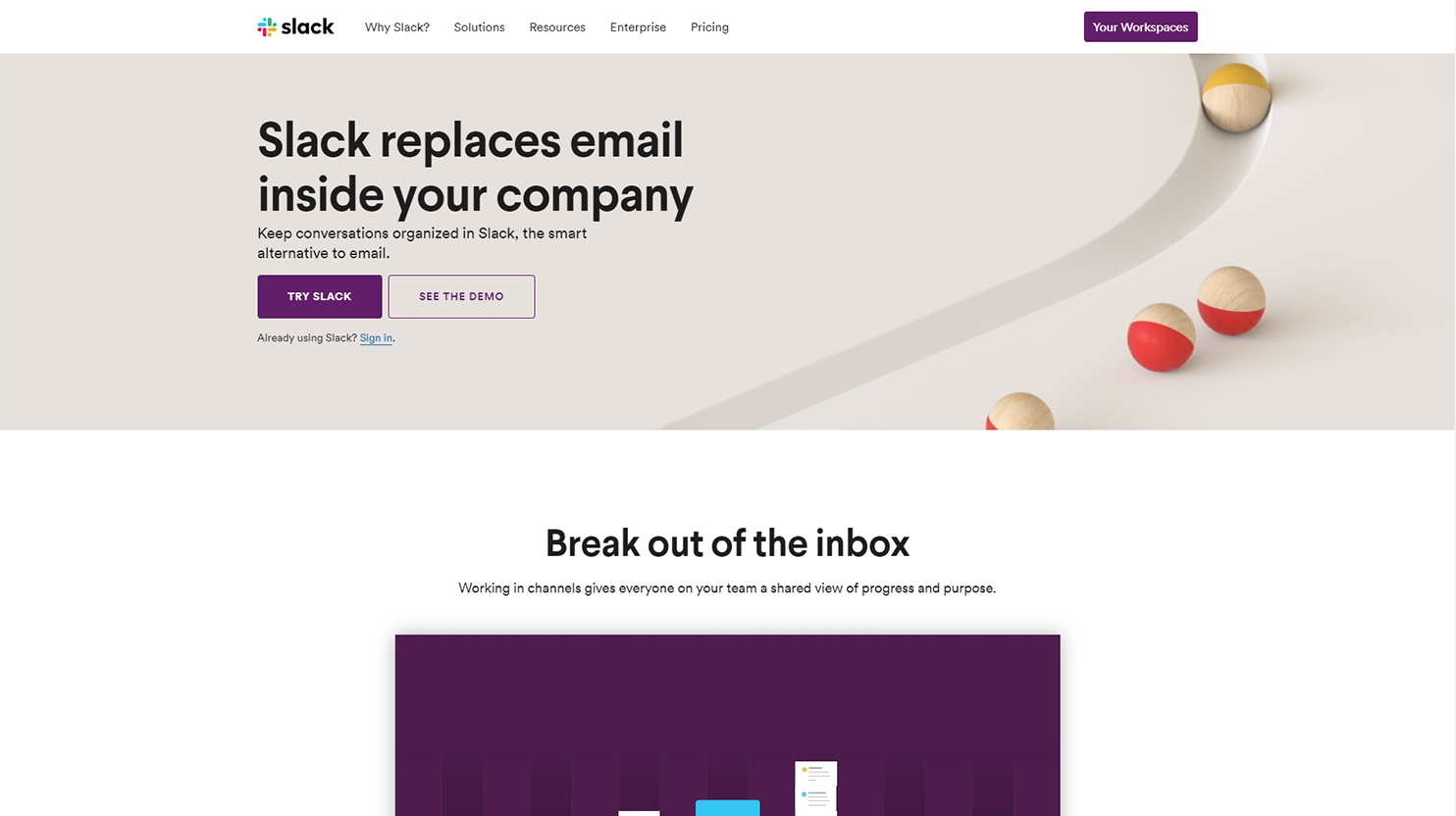 Slack, much like Airbnb, frequently uses various landing pages to achieve its goals. Their current value proposition is short and to-the-point. "Slack replaces email inside your company." Everyone who has used emails as a primary communication method within a company knows what a relief it is to change the format to a chat-based model.
What makes this a good landing page example?
The headline is simple and attractive. The CTA button pops in purple. There's a demo if you want to watch it. There is no form to fill out. You can find the list of companies using Slack and their reviews below, which builds trust. It's a classically well-designed landing page.
How does it help conversions?
The funnel of traffic arriving at the landing page has just one option: To try Slack and stop sending emails back and forth.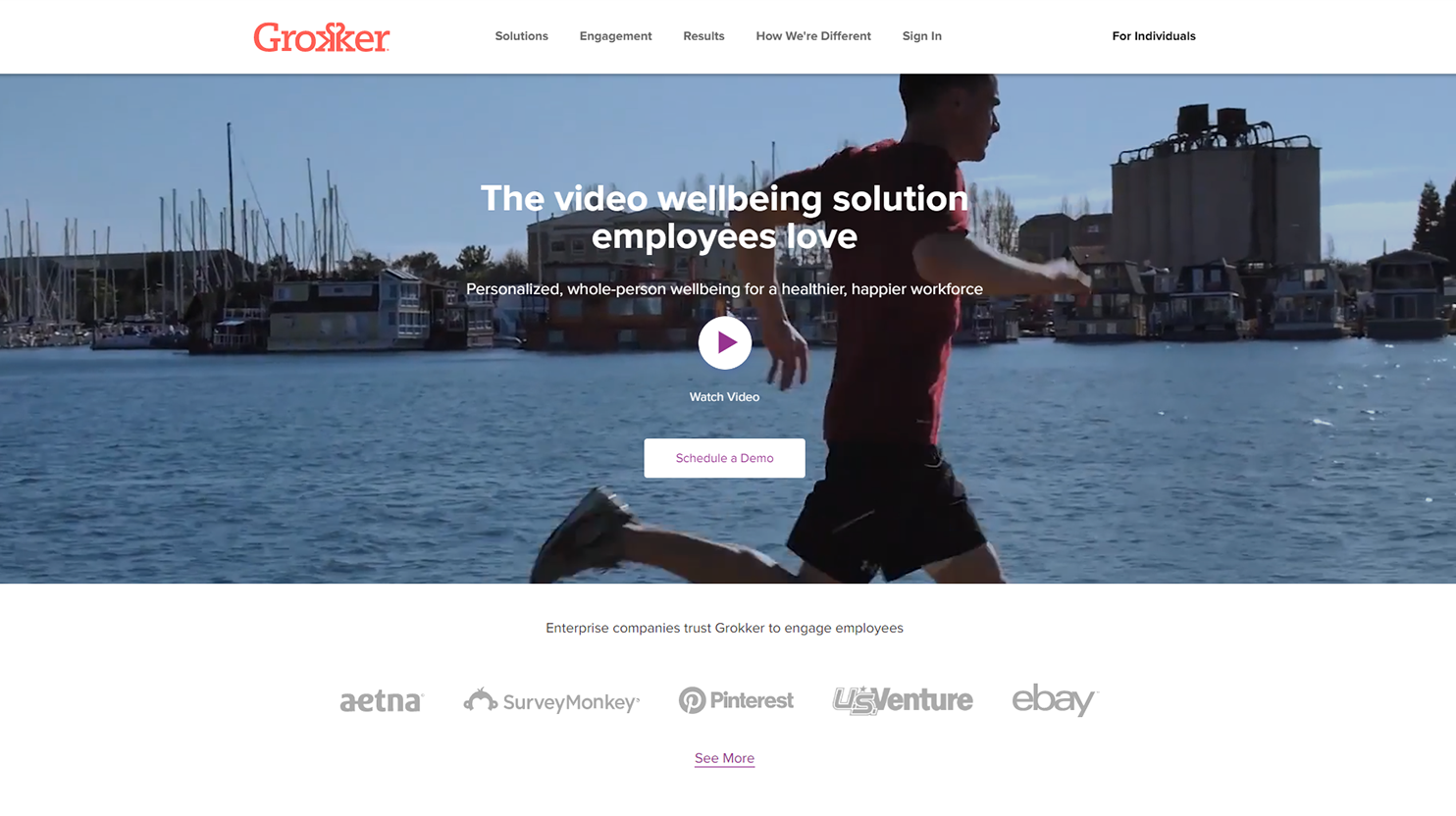 A lot of landing pages are trying to get free-trial signups. Grokker, a health and wellness solution for the workplace including thousands of videos related to nutrition, meditation, and working out, is no exception.
What makes this a good landing page example?
The landing page starts off with an engaging video on the subject that is sure to grab the visitor's attention. Plus, notice that the copy is targeted at the potential HR specialist or employer: the headline states that employees love the program and that it makes them happier, so the potential customer is enticed to get it for his or her office, too. There is no form to fill out. All one needs to do is click "Schedule a Demo" to try it out for free.
How does it help conversions?
Data and testimonials from employees and employers below headline video make the visitor trust the brand without detracting attention from the CTA. The design is sleek; Even if it seems packed with options, there are only two real links here and both lead to a conversion.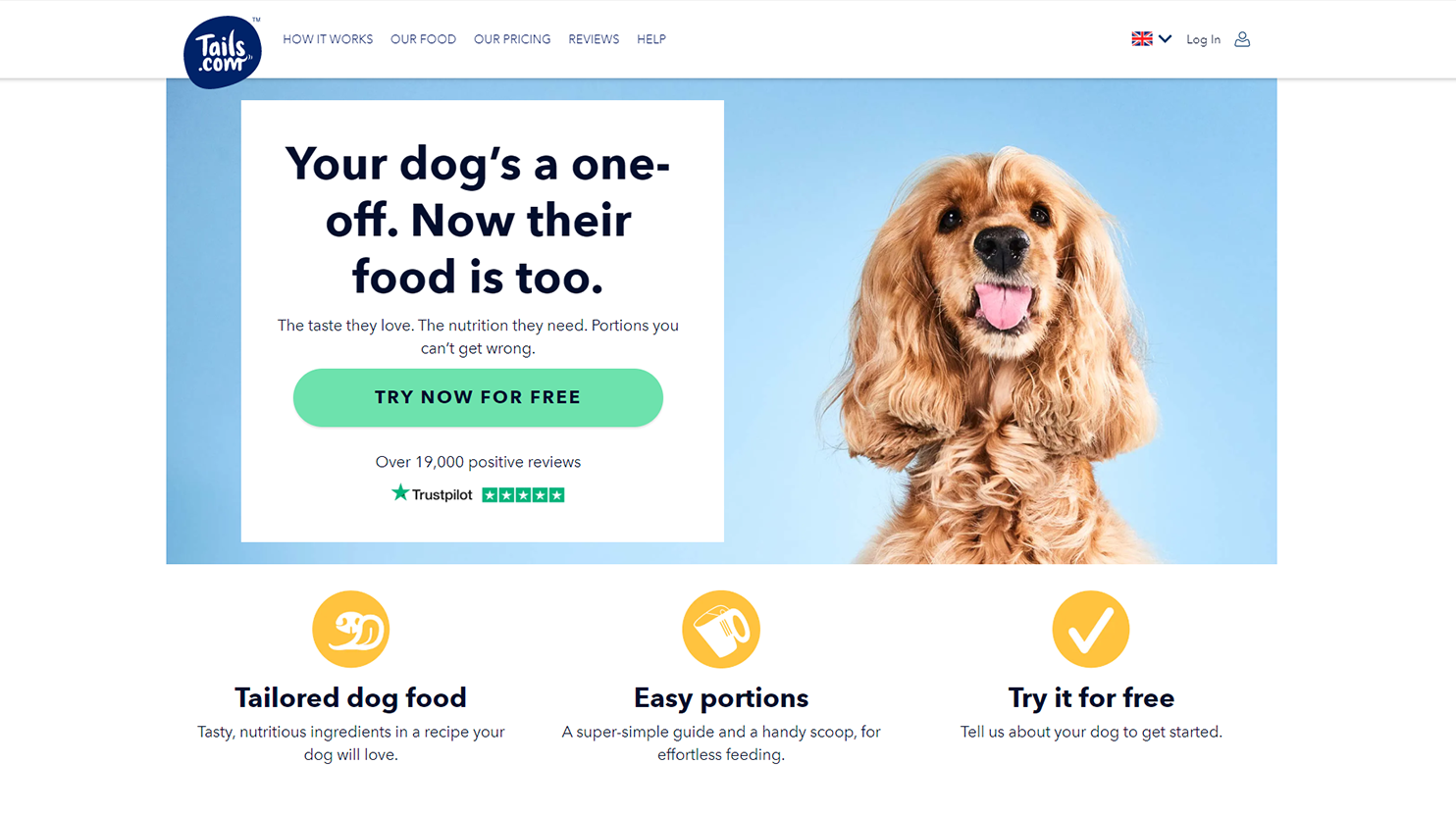 Tails is a service of monthly delivery of your-dog-specific food to your door. It's such a cute idea that it's not surprise the concept has a landing page to match.
What makes this a good landing page example?
The landing page has a clear headline made up of short sentences that make the offer very clear: your dog is unique so its food should be, too. There's a large CTA "Try Now For Free." Right below they boast over 19,000 positive reviews. Another nice touch is that you have to tell about your dog to get the free-trial food and what owner doesn't love to talk about her or his pet?
How does it help conversions?
Hey, it's free food tailored specifically for your dog! The proposition of the trial itself appeals to the majority of dog owners. Besides, everyone who scrolls down the landing page and sees all the happy-looking dogs next to their foods will be enticed to at least try it out.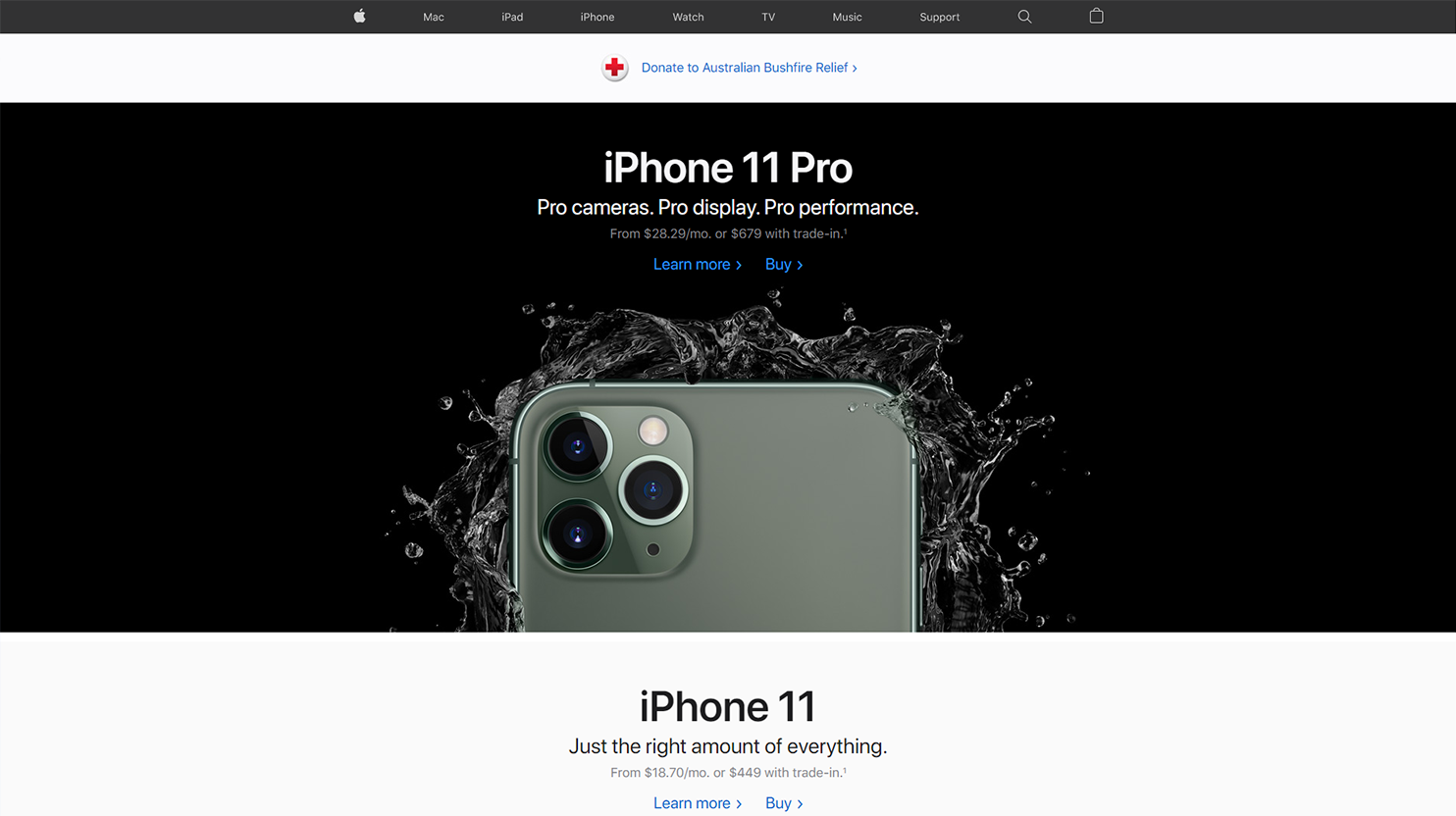 Apple's landing page is probably the second only to Netflix in simplicity. Although the message does get a bit convoluted if you scroll down, the top part of the page is right on the money. "We have this three-camera phone you've heard so much about. You can 'Learn more' or just 'Buy."
What makes this a good landing page example?
If you click "Learn more," the page that opens gives you a glimpse of what the technology feels like to use. The website is in line with the whole aesthetic the world has come to love. Even the CTA is just an underlined "Buy."
How does it help conversions?
It's as straightforward as it gets. You click, you see the latest projects and their artful pages, you "buy."
edX is an online learning platform packed with courses and each course has a landing page of its own. We'll discuss the landing page of "Basic Spanish" as an example.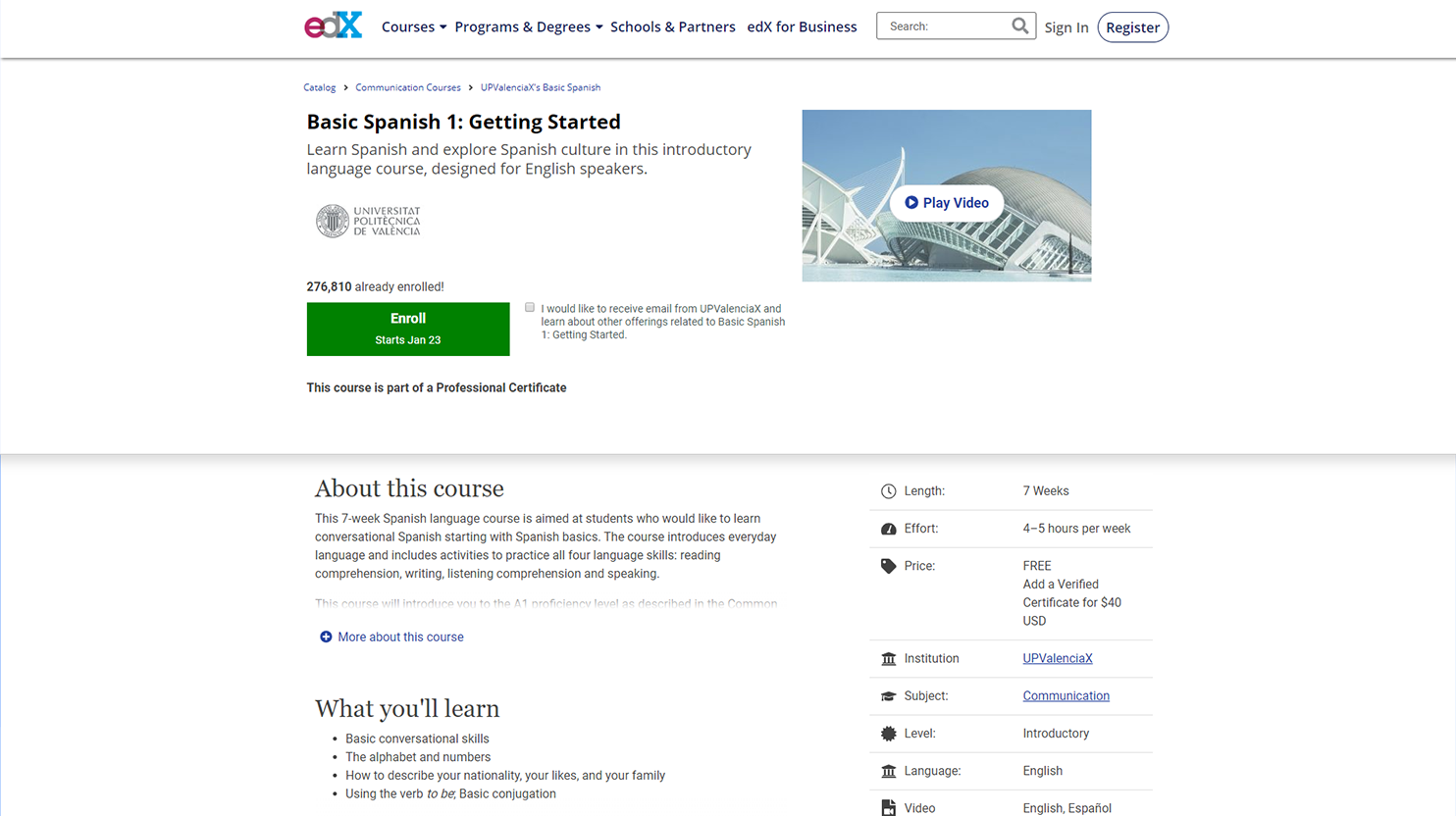 What makes this a good landing page example?
The CTA is loud and clear in green. The page itself has an academic feel: you see everything categorized into neat columns and presented with bullet points. The value proposition is clear and short and states who the target audience is.
How does it help conversions?
The academic "feel" of the page – the logo of the university, transparency about what the course will give its students, the beautiful video to the right of the headline – is sure to entice visitors to click that green "Enroll" button and get learning!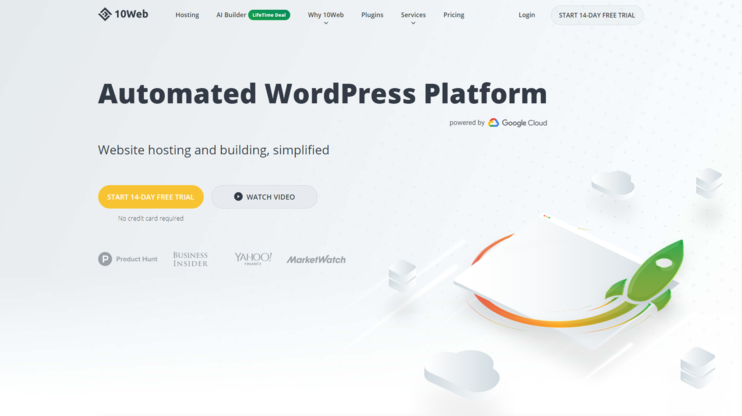 We've made our fair share of mistakes before arriving at a homepage that also acts as a landing page and has a good conversion rate. At first we thought that what people needed was a lot of information about every single product and service we had. So, we set out to write blocks and blocks of text about all the features, perks, and innovations. It took us maybe 6 months of failure to convert our visitors to pick up a book about structuring landing pages right. It has been a much better journey since that change!
What makes this a good landing page example?
It's a classical structure. Starting off with a clear concise message and the "Start 14-Day Free Trial" CTA button, the page then delineates all the target markets, earns authority by presenting stats and mentioning partnership with Google, then lists all the problems WP users typically have and offers their 10Web solutions. Near the end, you also get some reviews and testimonials; it is important for a disruptive newcomer to earn users' trust.
How does it help conversions?
A visitor's main doubt when it comes to 10Web is whether the company is reliable. It is a new player in the world of WP hosting, site building, and management, after all. That's why it's so important for our landing page to cite experience, partnerships, testimonials, and reviews. The free 14-day no-risk trial is another factor that encourages conversion: there is no real financial risk, even though it's a relatively new company.
Another important point is to avoid lengthy and detailed chunks of text and keep only the value proposition.
FAQs
What is a landing page experience?
Google Ads uses the factor of a "landing page experience" to assess how well your ad matches your landing page. That is, Google, using a combination of automated systems and human evaluation, makes a judgment on behalf of your potential ad-clickers: Is someone who clicked on this ad going to find the landing page that opens up helpful and relevant?
Your site's landing page experience can be "average" or "above average." This means your landing pages are doing fine. You should get worried if your landing page experience is rated "below average." That means you have to go over a few things.
Firstly, make sure your ad matches the landing page well. For example, if you're showing someone an ad about the art of portrait photography, make sure you link them to a portrait photography course specifically, instead of a general section of all the photography courses you offer. And vice versa: if you advertised a general selection of photography courses, don't take them to a landscape photography course.
Secondly, check if your landing page is easy to navigate. To improve ease of navigation, keep your landing page short and precise. Don't give your customers too many links are once. In fact, it is recommended you have just one clear call to action. That way your visitors will not get distracted and will understand what the logical next step is.
Thirdly, make sure your landing page is transparent with its visitors: Openly share information about what your business does and how one can contact you, give information about your products and services before asking users to sign up, and let the users know why you need the information you need and how you're going to use it.
Can I have a landing page without having a website?
Yes, you can totally build and host just that one page and there's a lot of online software to help you do just that. In fact, some recommend starting with a landing page and building a whole website later on in your business development. Typically, a standalone landing page will be aimed at lead collection: it will ask for a certain piece of information – email, postal address, phone number, etc. – in exchange for something useful, say an ebook or an online course or a free trial. Alternatively, a landing page has the precise goal of increasing the conversion rates for a select product.
Having a landing page has a number of advantages. Firstly, it is a highly optimized page that is very informative without getting confusing. In fact, a lot of people argue that many businesses just need landing pages, not websites, because the latter tend to contain a lot of useless information that is distracting for the customer.
Secondly, websites take a longer time to build, host, and launch. Before committing to a website, try out your business offer on a landing page. If the offer is sound and people convert, you may start considering getting a full-fledged website and using other promotion methods, such as content marketing.
But if your business is already at a more advanced stage, you might want to build a full website with internally linked pages containing SEO keywords to be more actively present in your niche online.
What is the difference between a website and a landing page?
Firstly, these two differ in structure and purpose. A website is a collection of interlinked webpages, each flashing out a specific aspect or advantage of your brand, informing and entertaining the visitor. A landing page is just one page designed to get the visitor to do one specific thing, subscribe or purchase or register. A website can have hundreds of landing pages, each made for a specific target audience or to sell a specific product or service, namely, each adapted for a specific ad that leads to that landing page.
What is an Unbounce landing page?
It's a landing page created by Unbounce, the most popular landing page builder and platform.
What is a responsive landing page?
A responsive landing page is a page that looks good on all screens and device types, be it smartphones, tablets or desktops. You have to take into account that people nowadays browse the net on mobile more often than ever, and design a version of the landing page for every device and screen resolution. No wonder mobile responsiveness is number one on our essential website design requirements list. 
What's a multi-step landing page?
A multi-step landing page doesn't ask the user to fill out a massive form he or she will likely be intimidated by, instead dividing the form up between two or three form pages. Stats show that the fewer forms the user sees on the first landing page, the more likely he or she is to proceed with the conversion.
How can I link a landing page to a website?
Even though it is recommended that a landing page limit its number of links, studies show that most landing pages actually link to their homepage, typically through a logo. So, it's fine to link your landing page to your website's homepage but don't overwhelm the page by linking to other sites.
How long does it take to design a landing page?
Of course, it depends on the complexity, but in general, if you have all the information about your target audience, have decided the messaging and color scheme of the page, and the data fields of the form, designing a landing page can take as little as 15 minutes if you use one of the general templates available online. If you have decided to have a unique design and trust a copywriter with the messaging, it may take about two weeks.
With 10Web's awesome site builder and templates, you can have a great landing page or even a whole new website up and running in an hour or so. Try it out for free today!

Build a WordPress website with AI assistant
Move any website to WordPress or create unlimited templates within minutes.
How can I A/B test a landing page?
In doubt about an aspect of your landing page? Don't think about it too much. Just create two versions – A and B – and see what the conversion rates tell you. Consider A/B testing the headline, the value proposition, the imagery, the CTAs. It's always better to have data to base your decision on. Keep in mind that you need a significant amount of traffic to come and go before you can make sound conclusions.
How can I optimize a landing page?
There are quite a few best practices you should follow to get the most from your landing page. Firstly, make your offer and CTA clear and concise and your page design as simple as possible. Secondly, add reviews and testimonials and address the potential concerns the visitors can have on your page. Thirdly, A/B test everything you have doubts about. It's better to get the data than make an educated guest.
Can the homepage also be the landing page?
Yes, in certain cases, where your website's goal is strictly defined and you can't think of other possible messages you could communicate on your homepage, your homepage can also be the landing page. For example, imagine I'm a website selling just one type of Christmas lights. In that case, I might want to direct all the traffic I get through ads to my homepage and make my homepage fit everything a landing page needs, such as precise messaging and a CTA. But if I am selling Christmas lights and Santa Claus costumes, I might want to make my homepage the amalgamation of all links and information and create separate landing pages for the lights and the costume respectively.
Can I change my landing page?
Of course, as soon as you have an idea that you think will increase the conversion rate, go ahead and A/B test the change. If it turns out that it does work better, definitely make the change. But also keep in mind that the quality of the customers is just as important as their conversion rate.
I hope you found the analysis of these awesome landing page examples useful to designing a great one yourself. Tell us in the comments below what strategy or structure you have used for your landing page and whether it has worked out well!