Meet the Most Reliable Backup Service For WordPress Websites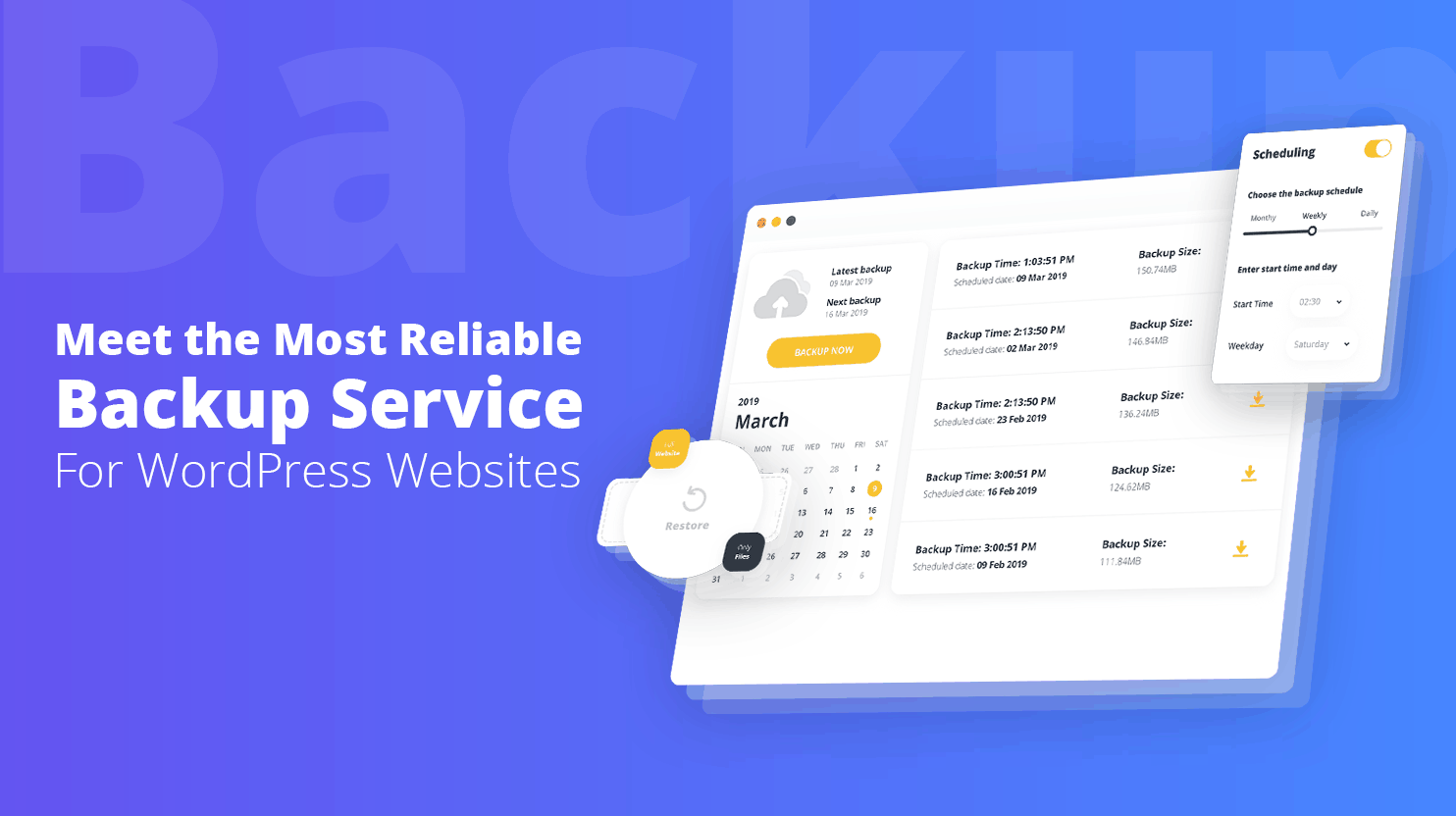 Backup. Simplified.
What is a backup of a WordPress website?
Why do I need to backup my website?
What's the best free WP backup plugin?
What's the differential backup method?
How do I backup my site with 10Web?
How often should I backup my WordPress site?
How many previous backups should I keep?
How do I restore my website from a backup?
Can I create a custom backup job?
Where should I keep my website backups?
How much storage do I need to backup my website?
WordPress website backup tutorial
Comprehensive overview of everything backup-related
I bet you've spent a lot of time building the website – categorizing for best user experience, improving design, gathering useful interesting content – but the safety of your data is just as, if not more important. The next thing your website needs is a great backup solution.
What's the definition of a great backup solution? There are four key points: functionality, reliability, storage matters, and automation.
A functional backup solution gets the job done: copies your website data and stores it safely on cloud. It's as simple as that.
A reliable backup solution can always restore your website using a data point and never misses a scheduled backup or leaves a backup incomplete.
A great backup plugin has enough space to store as many copies as you need. It also uses a method that minimizes use of storage space and gives you options when it comes to storage space and backup format.
Finally, a great backup solution includes the option to automate website backups and schedule them to be performed on a daily, weekly, monthly or real-time basis.
10Web backup solution ticks all the boxes. Read on for more information on all aspects of your WordPress website's backup process.
WordPress Website Backup Tutorial
If an image is worth a thousand words, a video is worth many thousands. Check out this tutorial we've created to help you understand how our backup service works before you make the decision to give it a try. Look how easy everything related to backup can become if you choose the most reliable backup service ever by 10Web!
What is a backup of a WordPress website?
Your WordPress website, as you probably know, is just a bunch of data stored on a server. That's why it's in danger of being deleted or otherwise compromised – WordPress is a popular target for hackers, updates can go wrong, plugins can make unauthorized changes. You're also not safe from making a change in your live website you regret later on.
A backup of your WordPress website is a copy of its data that is stored either online or, if you prefer, on your computer. This means that if you want to reverse any undesired changes made to your website or recover any data, you can always just refer back to the backup version.
Backups are very important, and every website owner who cares about his or her data should think about finding a good backup plugin well in advance of any danger of data loss. Better safe than sorry!
Why do I need to backup my website?
There are four main reasons why backups are important, which is basically the same as the reasons why you want your website to be reliable and accessible 24/7.
The first reason is that you probably don't want to disappoint your visitors. It doesn't matter how much traffic your website gets, it is always a drag to be unable to reach a website when you need or want to, and your visitor, even if he/she is the only one, doesn't deserve that.
The second reason is that if your website has any stakes associated with its functioning – for example, if it's a business website or an online newspaper of breaking news – all those stakes hinge on how quickly you'll be able to recover your website in case of data loss. Having a great backup solution guarding your data is a sure way to avoid losing customers' money or visitors' trust.
The third reason is that you need to respect the time and effort you and/or other people have invested in the creation of the website and its content. The best way to do that is always have a website copy in there somewhere.
The fourth and most important reason is to have your peace of mind regarding any important data you have on your website. After all, it's quite immature to compromise your business or data just because you didn't invest some time in choosing a good backup solution.
What's the best free WP backup plugin?

We've tried almost all of them and, biased as we may be, couldn't find a free backup plugin
that could compare with 10Web backup service.
Not only is it completely free in its full premium version, but it also has all the functions you may need in a backup service:
Backup scheduling
Schedule your backups and forget about the need to backup once and for all.
Differential backup method
Our backup services saves only the changes made since the previous backup, which saves you lots of storage space and time.
Storage space
We save your backups in Amazon S3 cloud, which is extremely secure and fast. If you prefer GDrive or Dropbox, we have those options, too.
Custom backups
You can choose to backup only certain files or databases. It's all up to you.
Format choice
Choose to store your data in Zip, Tar, Tar GZip or Tar BZip2 formats.
Detailed logs
You can download detailed logs of all your backups.
Effortless restoring of files
Restoring a backed up version of a website takes only a click.
For comparison, let's examine some other popular premium backup solutions for WordPress: VaultPress (with Jetpack), BackupBuddy, and UpdraftPlus. All of them include the services so important for a great backup solution, but they all cost a lot, too.
VaultPress is the security and backup plugin that's part of Jetpack by WordPress.com. If you want to have any advanced backup options – real time backups and unlimited archive – you'll have to go with the Professional plan, which is $29 a month.
BackupBuddy is the oldest backup solution with over half a million active users. The cheapest premium plan the plugin offers is $80 a year.
UpdraftPlus is one of the most popular WP backup solutions: It has over a million installations. The premium version of this plugin starts at $42 dollars a month.
You can read more about the best backup plugins and solutions in this article.
As you can see above, all these other premium backup solutions are quite pricey compared to what you're paying for 10Web's premium backup service, which is exactly nothing. 10Web is the only absolutely free premium backup option for WP users!
What's the differential backup method?
The differential backup method means copying only the data that has changed since the last backup. This method saves a lot of storage space, because you're not creating endless copies of the same files. It also significantly speeds up the backup process – except maybe when you backup your whole website for the very first time.
Let's talk numbers: If you have a 10GB website, which is hosted on an average server, backuping it daily will make your server overloaded for 30 minutes, which can also impact your website's loading time. Differential backup method will not overload your server and won't result in an increase in website load time – a very important metric for any website visitor.
How do I backup my site with 10Web?
If you want to backup your WordPress website manually, all it takes is a click from the unified 10Web dashboard. As long as your plan has storage space, "Backup Now" button is always an option!

Backup for WordPress
Set up differential backups with our easy WordPress backup tool
Can backups be automated?
Yes, of course! In this modern age of automation, backups are no exception. In fact, it is probably much better if you schedule your backups and never have to remember to backup your website manually.
As a website owner, you probably already have too much on your plate. Schedule your WP website's backups, and it's one less problem on your list. Not quite convinced? Read about manual and automatic backups in this helpful article!
How often should I backup my WordPress site?
It depends on your website and how often you update it. 10Web backup service has these scheduling options:
Monthly
Weekly
Daily
Every 12h
Every 6h
Real Time
It's a spectrum from the more static websites with lower stakes and light traffic that are best backed up on a monthly basis to websites with important hourly updates that you should backup in real time. The latter obviously requires more storage space and resources, so you better make sure real time backuping is really what your website needs. Luckily, thanks to 10Web's differential backup method, even real time backup is very affordable for any website.
That's really good news, considering that the most popular frequencies for website backups are 24 hours, 12 hours, and 15 minutes.
How many previous backups should I keep?
There is a rule of thumb commonly referred to as "the backup rule of three" on this subject. The rule suggests that you need to:
Have at least three copies of your data.
This includes your live sites. So, at any time, you should have two copies of your live site available in case something goes wrong. However, this is a relatively old rule: Nowadays cloud storage makes it possible to keep more copies with less trouble or costs. In most cases, having 10 data restore points is more than enough to be safe.
Use two different media types.
Have a copy on cloud? You better have another one on a hard drive or tape drive. This ensures that if you're ever extra unlucky and lose not just live data, but, say, the hard drive with the backup, you'll have another option.
Keep one copy offsite.
This is in case some natural disaster or another dire circumstance destroys all your onsite copies, you'll still have a copy of your website safely tucked online in a cloud.
This strategy is all about diversifying your backup strategy so that if something happens to one medium or copy, you'll still have the option to retrieve your backup.
How do I download a backup?
With 10Web backup service, all you have to do to download a backup is click the "Download" button from the list of your backups in 10Web dashboard.
Amazon S3 cloud storage, the online storage of 10Web backups, may be the safest storage space on planet Earth, but it is recommended that you download your backups and also keep them in other cloud storages, such as Google Drive or One Drive.

How do I restore my website from a backup?
10Web backup service makes restoring your website from a backup a breeze. All you need to do is click "Restore" in 10Web dashboard, and your site will be back to its previous glory in minutes.
How do I backup my databases?
You can backup your database if you select it from the backup customization options in 10Web dashboard. All you have to do is check it with a click and you can backup your databases only!
How do I backup my WP files?
If you select WP files from the backup customization options in 10Web dashboard, you can backup just your files and not the databases. It's as easy as checking a box – quite literally!
Can I create a custom backup job?
Definitely! You can customize every aspect of your backup process, from where it's stored to which particular files it includes.
All you have to do is create a new backup job in 10Web Backup Plugin in WordPress dashboard, and pick the options you prefer.
We've really done everything we could to make our backup service the ultimate tool you can use to achieve the most reliable and customizable results!
Where should I keep my website backups?
By default 10Web keeps your backups in Amazon S3, which keeps data very safe and fast to retrieve later on, but you can select other options, such as Gdrive, Dropbox, MS Azure, etc.
You can also download your backups in a click and upload them wherever.
How much storage do I need to backup my website?
It depends on the size of your website and the method of the website. 10Web backup solution's differential backup method is a definite advantage in terms of saving storage space. For example, if your website weighs around 10GBs and you want to keep 10 data restore points, you will need 100 GBs without the method and only about 12 GBs with 10Web!
Comprehensive Overview of Everything Backup-Related
Just in case this much information gets overwhelming, we've created a couple of handy infographics to help you understand everything related to backups, from storage space to frequency, in a glance.
Cloud storage is the safest and most modern backup storage space. The four main types of backup storage are private cloud storage, hybrid storage, public cloud storage, and community cloud storage.
Relying on luck to keep your data safe? Don't! There are a lot of ways your data can be compromised, most of which don't depend on the user. The most common reasons why WP users lose data include hardware or system malfunctions, computer viruses and malware, software corruption, and human error.
What can you do to protect your data?
Encrypt your data. All 10Web-hosted websites come with a free SSL certificate, which means all your data will be transferred via a secure https connection.
Use anti-malware protection. Read more about the free premium 10Web security solution here.
Backup your data. We can't stress this enough.
The most popular frequencies of backup are every 24 hours, 12 hours, and 15 minutes. That's why having the option to set a backup schedule to real time is so important.
The three types of files you should backup are databases, files, and folders – essentially the three file types your WP website consists of.
According to our backup usage stats, 60% of backups are incomplete and 50% of backup restores fail. This is often due to a poor choice of a backup solution: a lot of options on the market don't deliver on their promises.
20% of all small businesses get hacked at least once a year and 20% of SME suffer some major disaster that causes critical data loss every 5 years. These are mostly cases of very preventable attacks and data losses if you go for an efficient backup plugin.
31% of attacks are focused on businesses with less than 250 employees. So if you ever feel like your business is not big enough to warrant an attack, think again because a third of all hackers disagree.
Just about half of all SMEs never find out that they were hacked. That's a lot of sensitive and often customer-related data compromised without the business owners ever finding out they're being irresponsible.
Backup, backup, backup!!! You'll endlessly hear this word when it comes to website maintenance and that makes a lot of sense. In the end, when you build something, whether physical or virtual, you need to find means to making it last. Backup is the process of regularly creating copies of your website and its content to protect it. If you're a beginner, it'll be useful to check out some relevant information on backups first. Check this article out, if you wanna know what a backup is and exactly what you need to backup and when. Now let's cover the procedure of setting up your website backups with 10Web. Why 10Web? Simply because it's super fast, super easy, super secure and high quality – you'll see for yourself. The steps If you're completely new to 10Web and don't even have an account, you'll first need to get started and connect your website…