Product Update: New Pricing Scheme and Features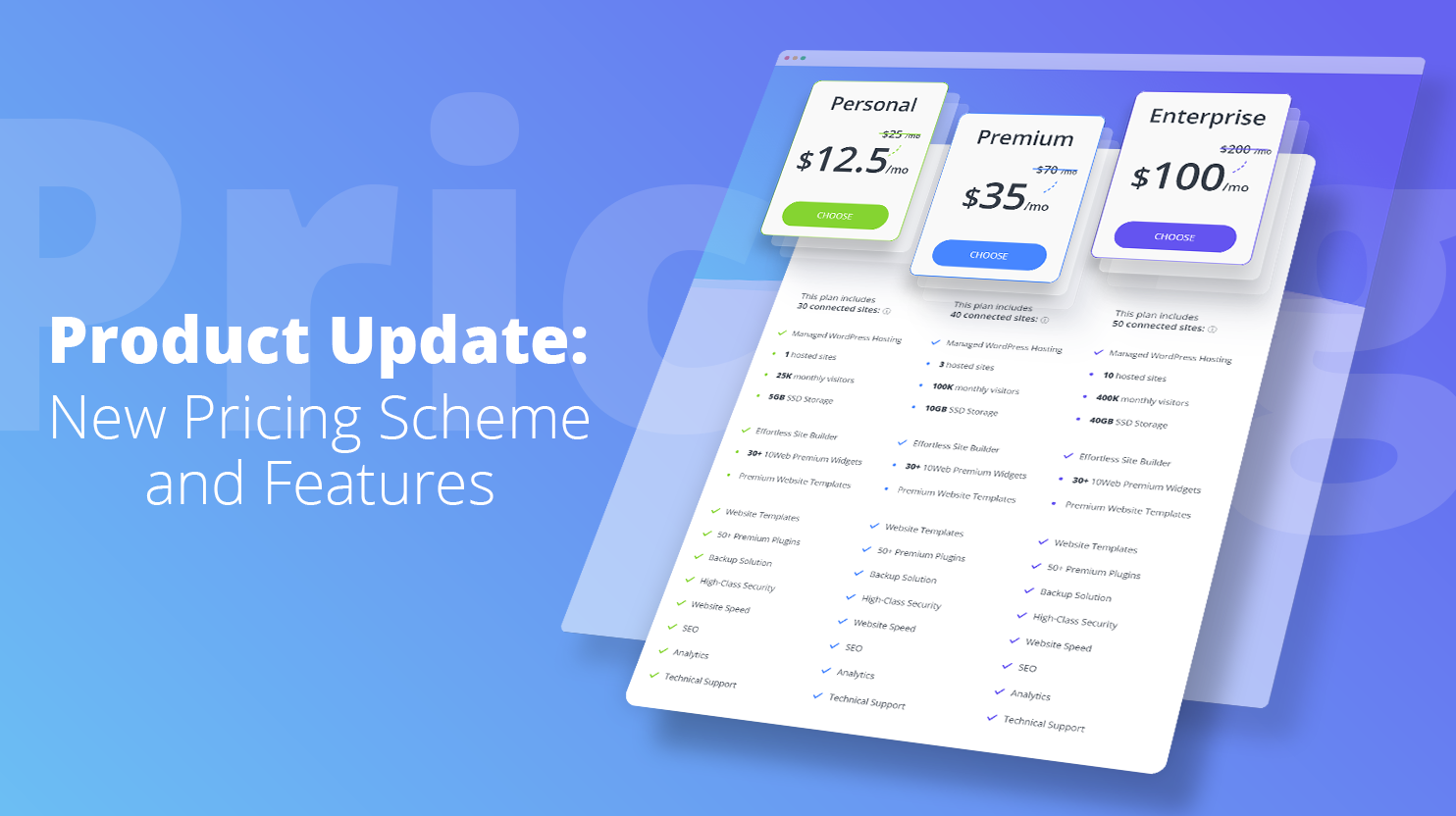 We have some major good news! A lot of stuff regarding pricing scheme and features has been updated. Let me walk you through the changes.
New 10Web Pricing Scheme
Since we offer most anything you could ask for in a website – hosting to website builder, plugins to backup service, SEO to high class security – we attract a great diversity of customers with their unique needs. Now our pricing scheme fits the mold, too, offering something for everyone. We have three main plans and all of them come with a free one-month trial! Let's discuss each one in more detail.


Personal
This plan is perfect for bloggers and small business owners and includes everything for a smooth and exciting start with website-making. After your trial ends, you'll be charged $10/month if you pay for a whole year in advance for one website hosted safely on Google Cloud, an advanced website builder full of beautiful templates, a monthly limit of 25k visitors and 100k optimized images, 20 GB of backup storage and 5 GB of SSD storage, as well as 50+ premium plugins, fantastic customer care 24/7, and all essential services for a great WordPress website.  
Premium
Premium is for relatively established website owners/managers with some experience who may need their sites to be able to handle more traffic. At $24/month, you get 3 websites hosted on Google Cloud, a one-of-a-kind website builder with dozens of great templates, a monthly limit of 100k visitors and 150k optimized images, 50 GB of backup storage and 10 GB SSD storage, not to mention 24/7 customer care, 50+ premium plugins and extensions, from Photo Gallery to Form Maker, and all the services – SEO, security, performance service, analytics, etc. – crucial for having a fast and reliable WP website attractive to visitors. 

Agency
The mightiest plan of the three, agency speaks for itself: 10 websites hosted on Google Cloud, 400k monthly visitor limit, 50 GB of SSD storage and 150 GB of backup storage, along with 50+ premium 10Web plugins (Photo Gallery, Form Maker, Instagram Feed, Event Calendar, etc.) with their extensions, top-notch customer care 24/7, and all the services you might need to keep your websites awesome, from security and SEO to performance and analytics, and more. Upon the end of your free trial, you'll be paying $60/month for the whole package.  
10Web Plugin Bundles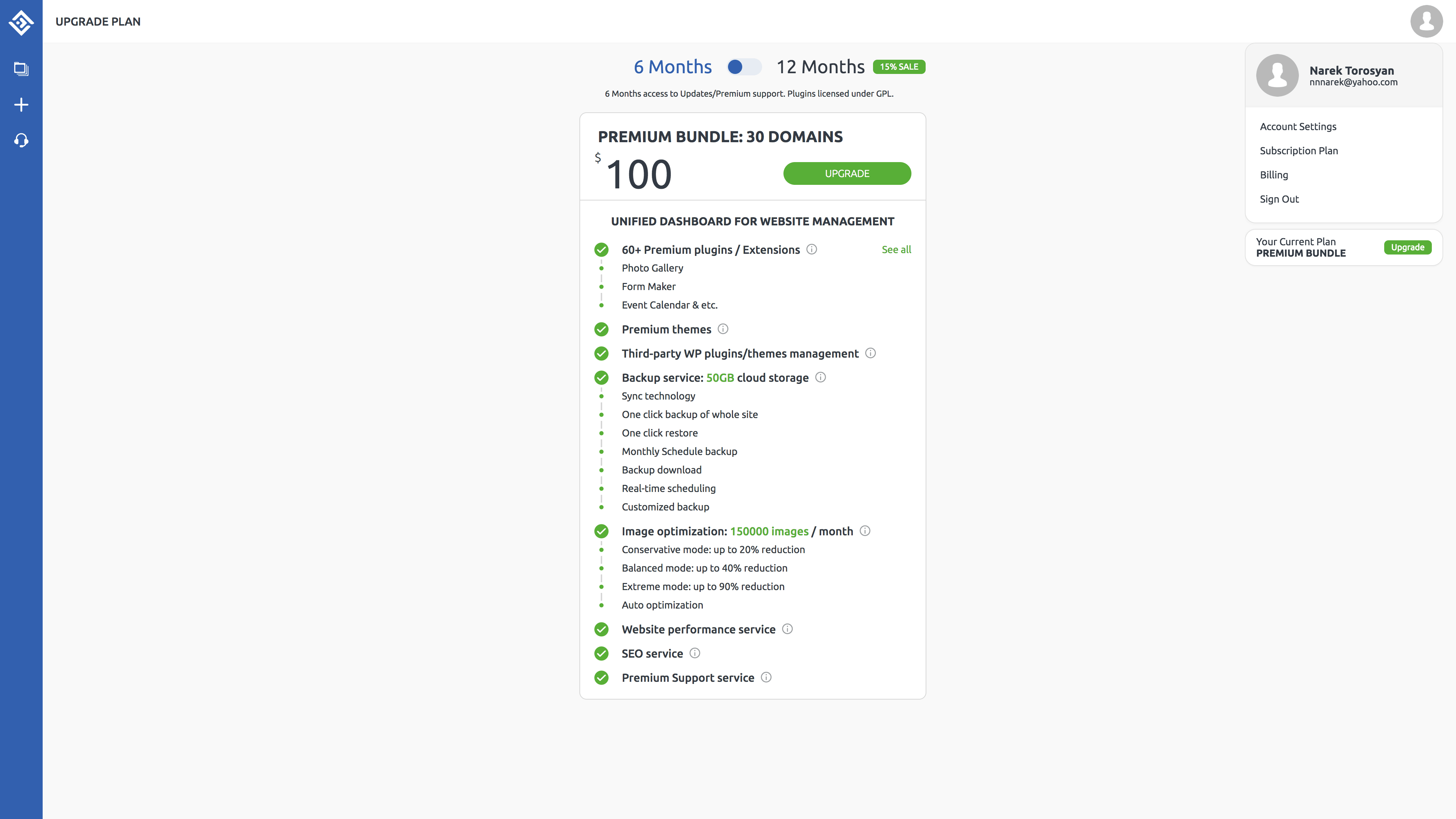 The Bundle is the 10Web carte blanche. It's the big time, the real deal. 60+ premium plugins and extensions, cool themes, efficient management tools and services – you name it, we got it. All our future services – including WP cloud hosting – will always be available to the Bundle users. They will be able to manage both 10Web and third-party plugins and themes through a single unified dashboard. They'll have backup storage starting from 3GB, and image optimization, starting from 10000 images per month for the one-domain plan.
Choosing the Bundle plan basically means everything about your website will be taken care of. It's for those who want to ensure their site' quality, speed, and longevity, before concerning themselves with more complex or exciting endeavors. On our part, we're committed to continually giving the most cutting edge answers to questions on website development.
Feature Updates
Plugin and theme management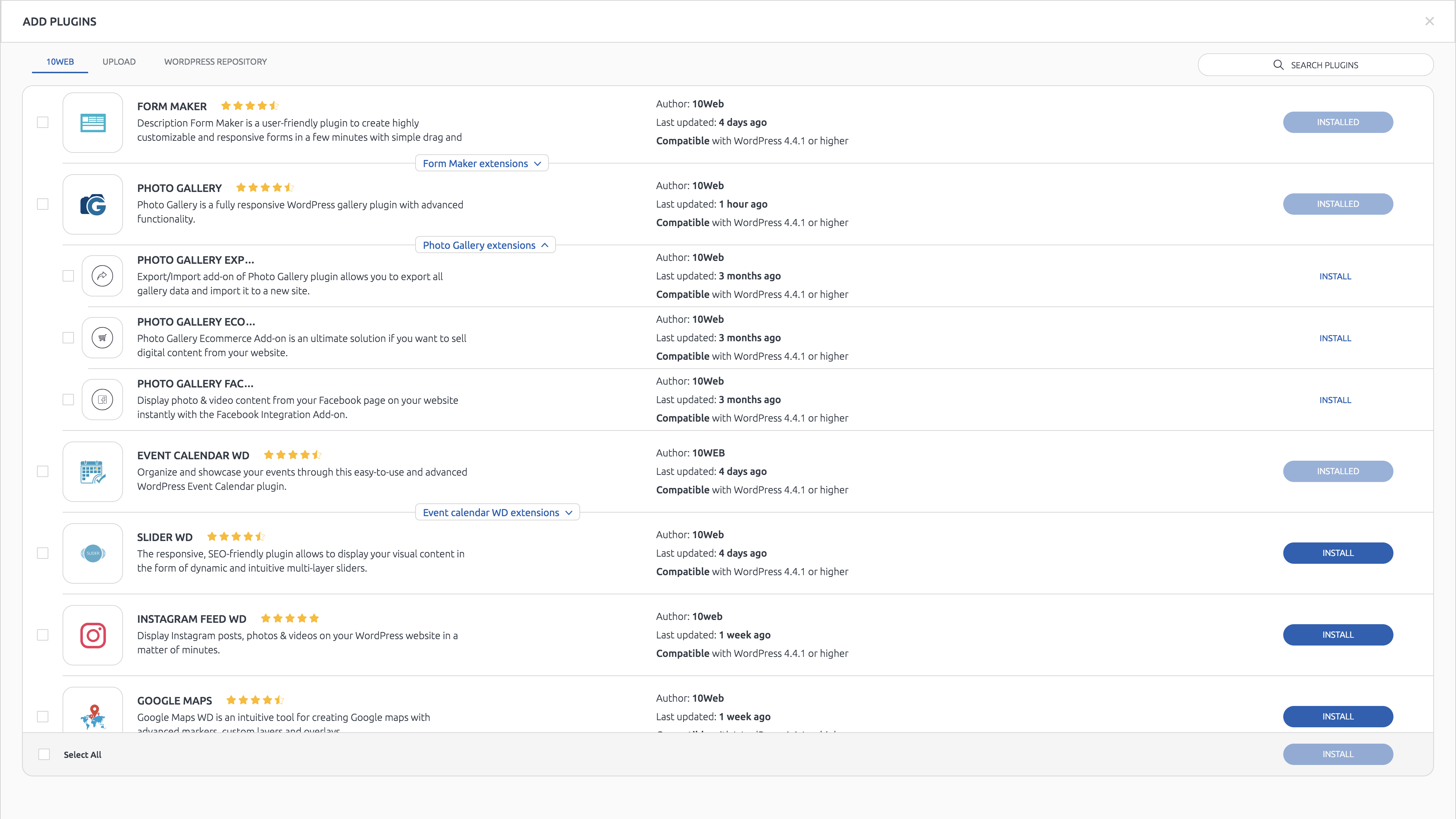 Welcome our new dashboard with a more intuitive user interface where you can access and manage both 10Web premium plugins and the whole of WP repository! Here's what's cool about it:
  

There are separate lists of active and inactive plugins and plugins with available updates.

  

All available updates appear automatically on the dash and can be performed directly through it.

  

WP repository plugins and custom ones are fair game to install and manage.

  There's a separate menu for managing plugin extensions.

Backup Service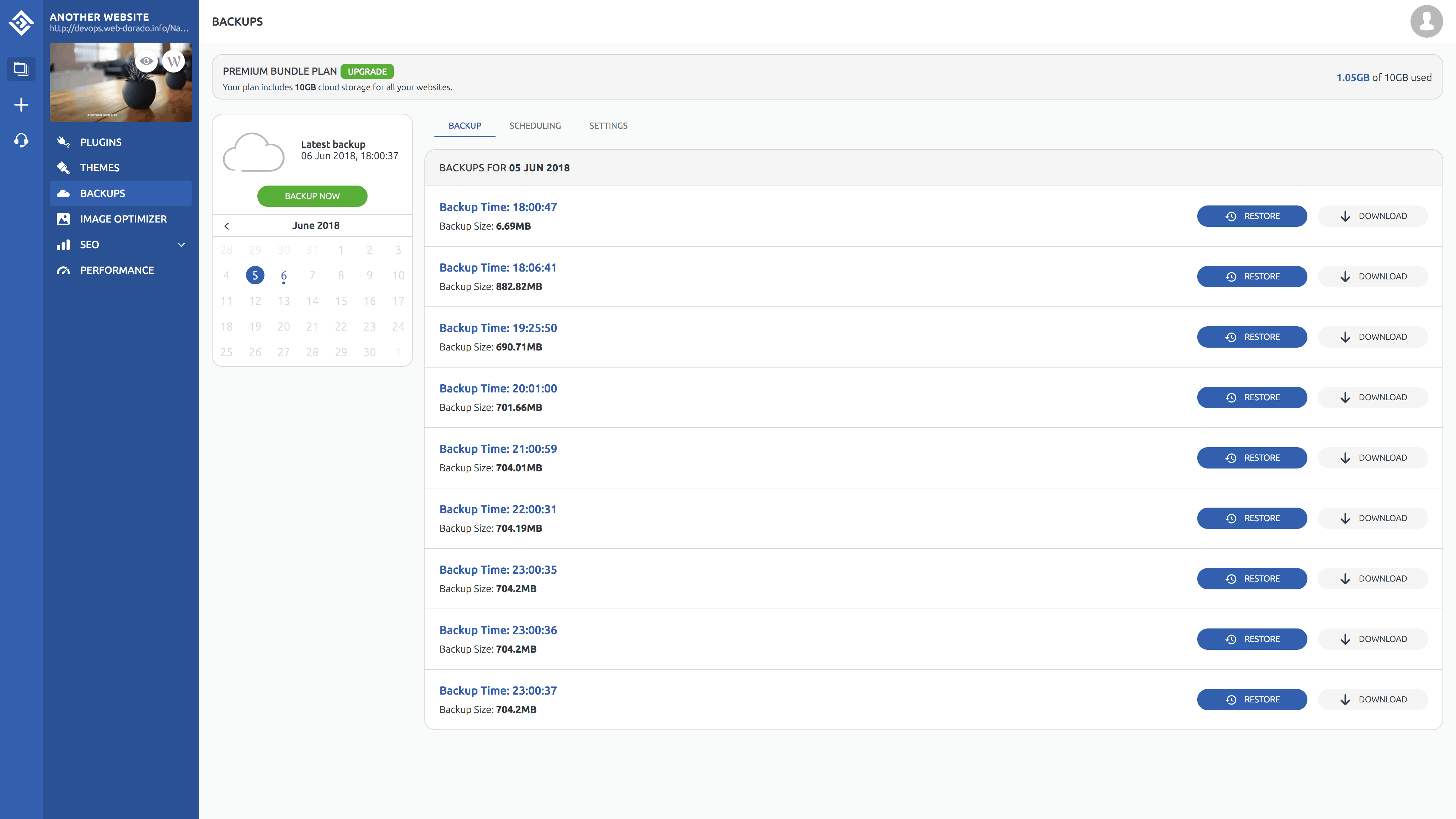 We've completely overhauled backup dashboard in this release. In the history of humankind, backing up a site has never been so easy. Just find the button "Backup now" on the main screen nested along with the calendar and the list of backups. Check out how smooth and fast our backups are, thanks to differential backup algorithm, which backs up only the changes made, instead of the whole website.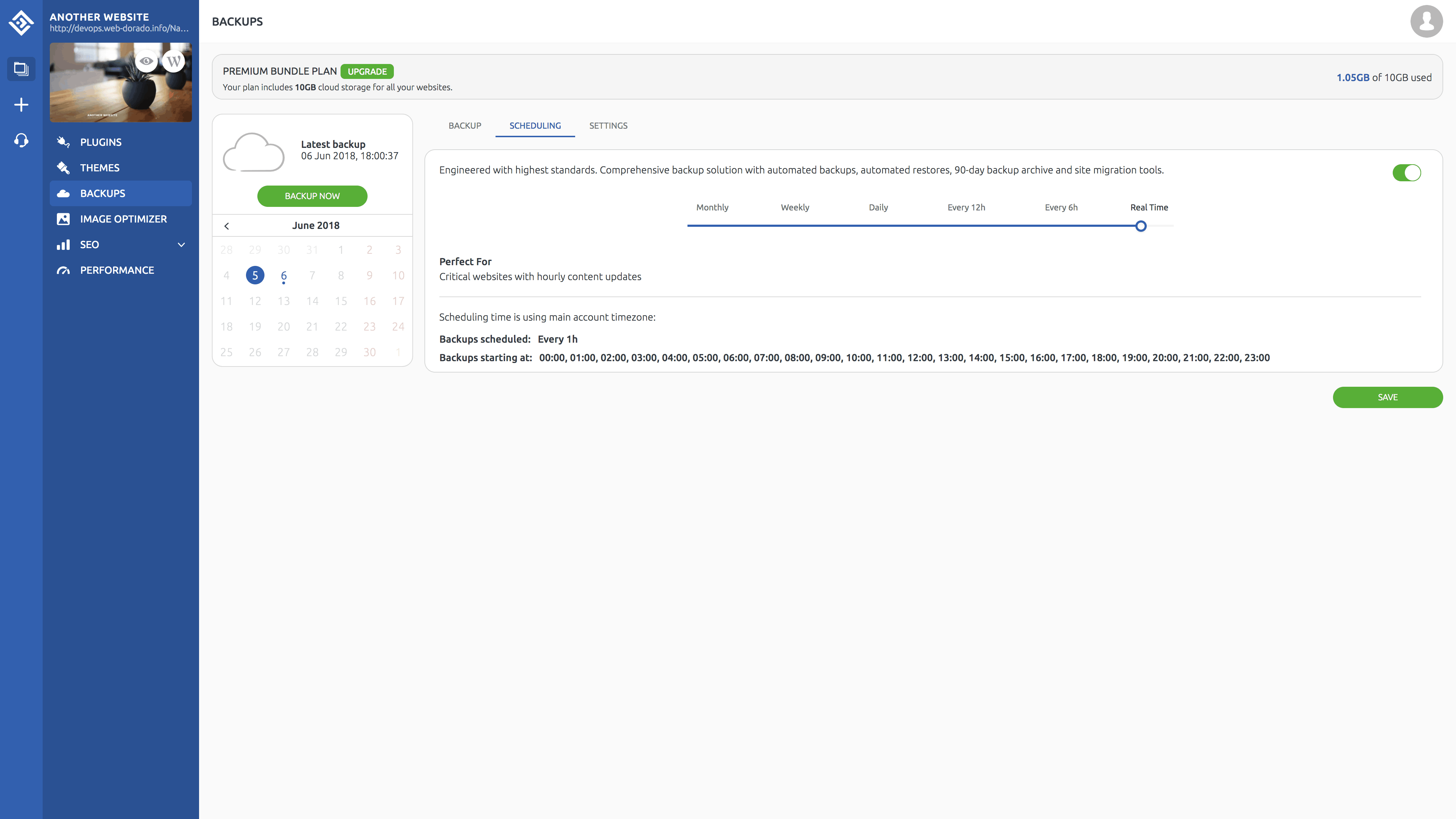 We've also added settings to customize the schedule and the type of data and provided a guide to choose the best backup schedule depending on your website circumstances.
Worries about having enough space? Well, first off in the Bundle plan you get 50 GBs of Amazon S3-powered cloud storage. But even if you only have, say, 1 GB of space and your site is 1 MB, our differential backup algorithm will let you backup not just 10, but probably like 100 times. If anything, you can always download differential or synced backups or restore your site to any checkpoint. Our backup plugin is always automatically kept up-to-date to provide the best experience and high security level.
Image Optimizer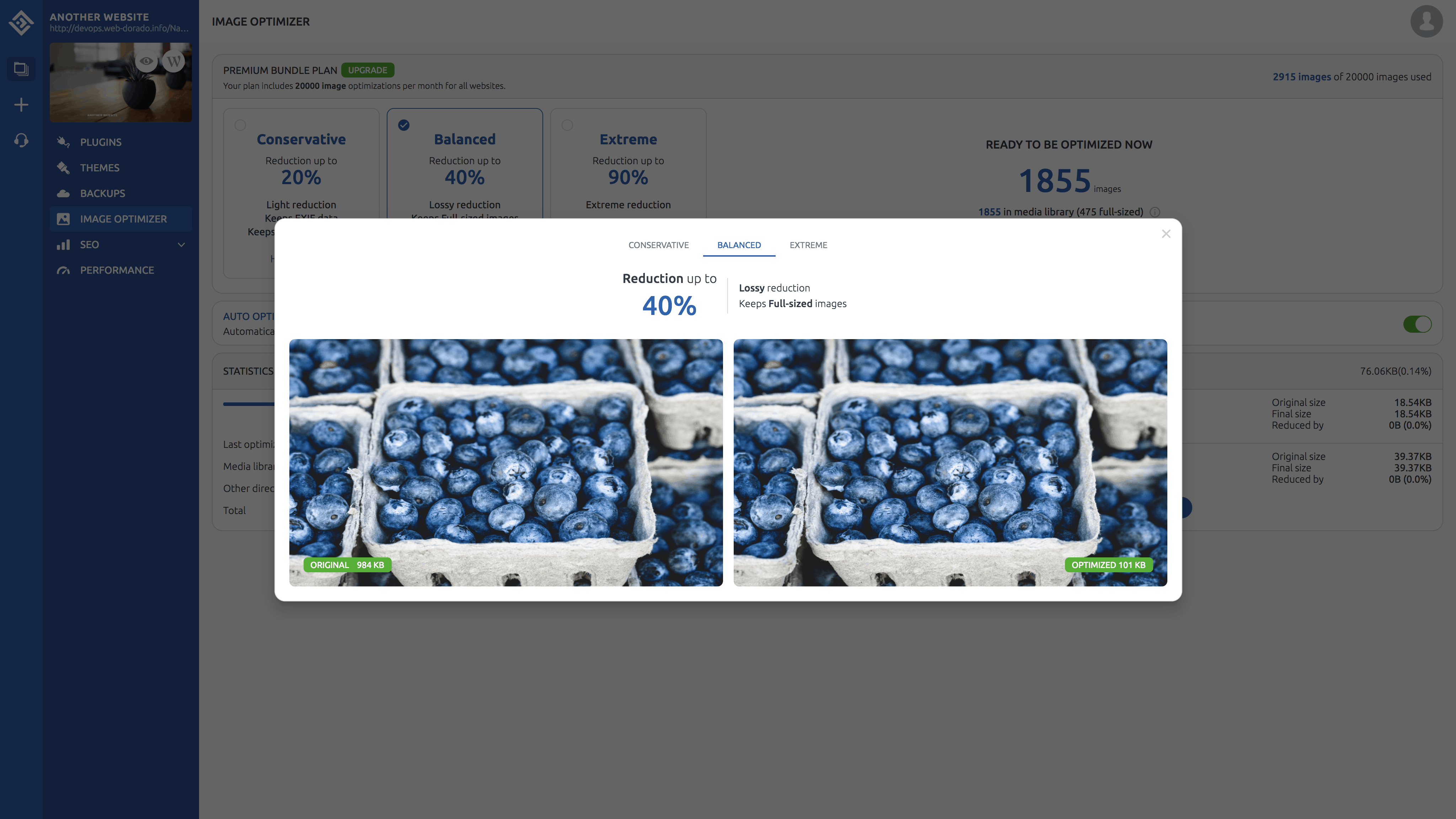 Image optimization is crucial for having a fast and hence better ranked website. We've totally revamped our image optimizer:
  

The new structure lets you choose from three different types of optimization

  

Or just put your site on the "autooptimize" mode to optimize all uploaded images automatically.

  

Keep tabs on stats and history of your optimizations.

  

The new design provides a better and more intuitive user experience.

   Don't bother with the updates; they always happen automatically.
Privacy Policy
GDPR, the recent regulation of data protection and policy, has made its way to every internet user's feed and mind. We've taken the hype into account and made it so much easier to comply with the regulation!
  

The plugins' WordPress.org description sections have an added section on this very issue.

  

Go to the "Privacy Policy" in "Settings" to get guidance on how to come up with an appropriate PP for your site.

  

We've changed the functionality in 10Web plugins and themes to give you an easy time observing GDPR.
This pretty much covers all the 10Web news for the moment! We can't wait to surprise you with more upcoming awesomeness on all fronts.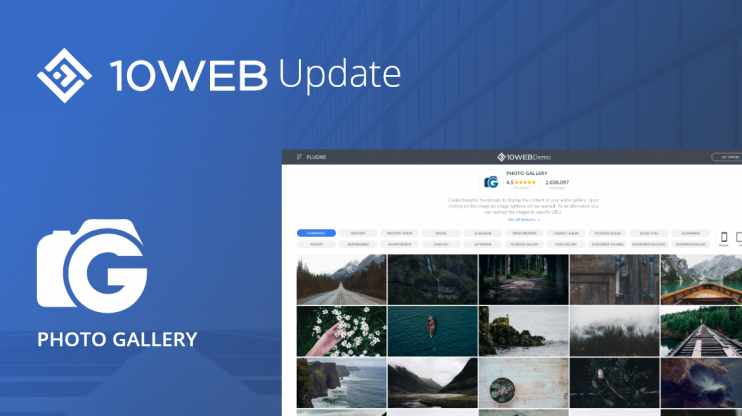 This is the opening post of the 10Web News rubric. The series will keep you posted regarding updates on the products and services we provide and other interesting stuff about all things WordPress. We're excited to announce the new demo site for Photo-Gallery, improvements on Form-Maker, and major updates of Instagram Feed WD plugin. New demo site for Photo Gallery plugin Our most popular product, Photo Gallery plugin, currently used by almost 400k users, has a new demo site! The previous demo site was 2 years old and we felt like it was time to update it. We worked hard and overhauled all the layouts, features, and views displayed on the Demo site. The new demo displays all the basic layouts of the Gallery, including thumbnails, masonry, mosaic, image browser, slideshow, carousel and blog style galleries. The site displays them the way they look with default options and styling. …