Shared WordPress Hosting: How to Choose the Best Host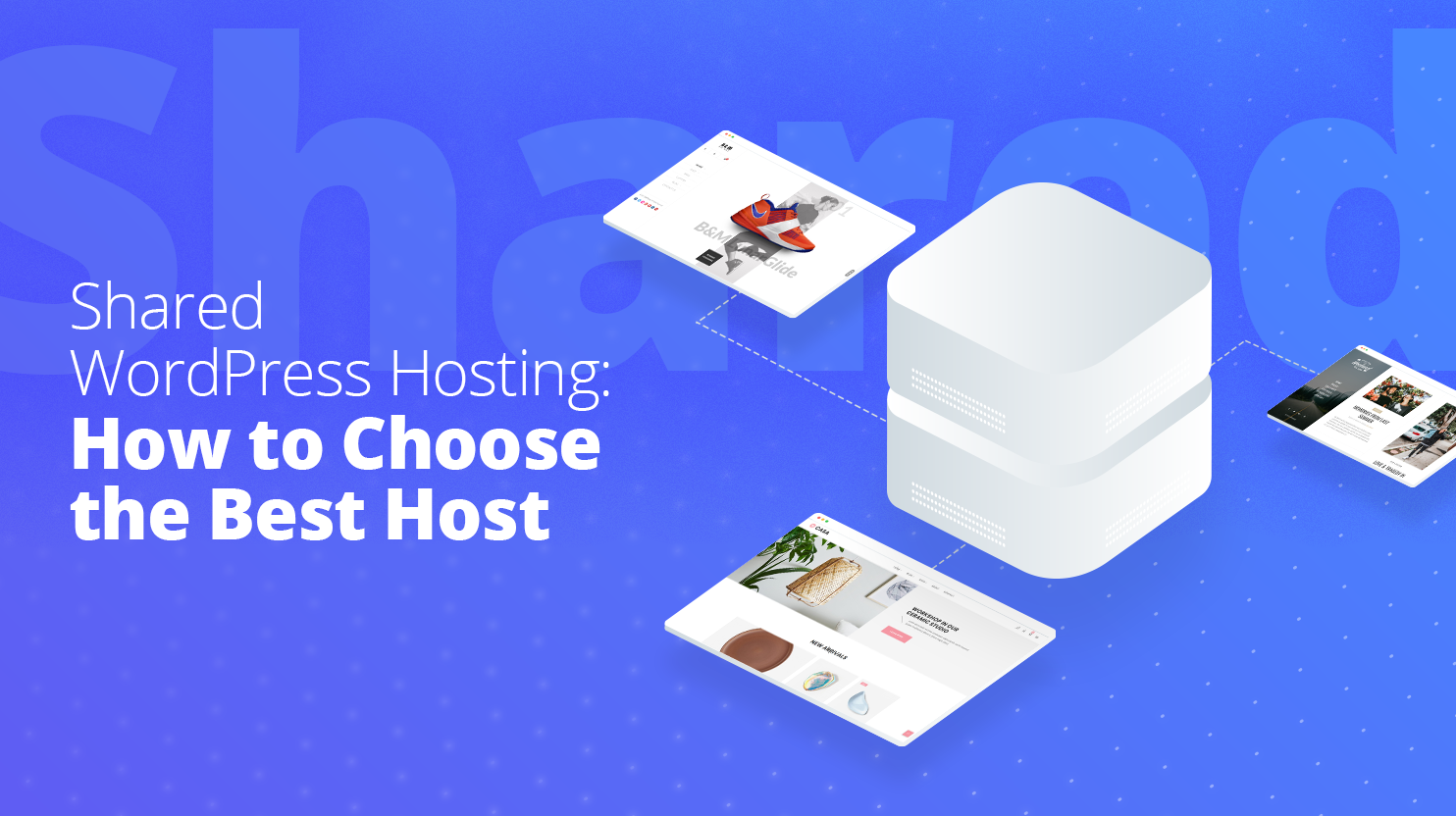 Anyone who has ever considered creating a website has probably come across shared WordPress hosting. But for those of you who are still in the early stages of their planning process, a short definition is in order:
Shared WordPress hosting, as the name suggests, means that you will be sharing your server as well as any other resources made available to you by your hosting provider with several other users.
You might be wondering, what would be the advantage of sharing the services you pay for with others. The answer is simple: saving costs. And that is all there is to shared hosting.
You agree to share everything, including the good and the bad, in order to also be able to share your expenses and save money.
That's why when people are in need of cheap hosting services, they automatically think of shared hosting. To this day, it is a widespread assumption that shared hosting is the most affordable option out there.
Do you want to know a secret, though? This information simply isn't true. It doesn't reflect the current market of hosting services. Nowadays, many hosting providers, us at 10Web included, offer their WordPress hosting plans for the same price you'd have to pay for shared hosting.
Continue reading and see for yourself.
Varieties of Hosting: What's the Difference?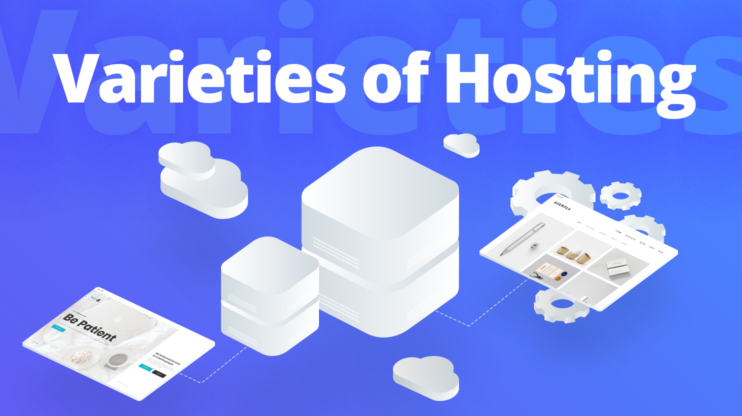 The world of hosting services is vast and very diverse, which is a good thing, especially for its users. As the saying goes, "variety is the spice of life," and so is competition. Having a competitive market environment ensures ongoing innovation and price elasticity.
To avoid overwhelming our readers with too much information, we'll stick to the basic, most common types of hosting and explain the differences between shared hosting and WordPress hosting, as well as shared WordPress hosting and managed WordPress hosting.
Shared Hosting vs WordPress Hosting
The main difference between these two types of hosting services is that shared hosting allows you to use any type of content management system (CMS), while WordPress hosting is tailored only for the use of the WordPress CMS.
To put it differently, shared hosting gives you the flexibility to pick the CMS of your choice. However, at the same time it fails to provide flexibility when it comes to other features, such as website templates, plugins, and visitor inflow capacity.
WordPress hosting, on the other hand, is quite the reverse. You won't have the freedom of choosing your preferred CMS; however, this is compensated by a wide range of services that grant you flexibility on other far more important dimensions (e.g. security, backups, templates, plugins, as well as search engine, speed and image optimization services). But more on that later.
Also keep in mind that WordPress' market share in the CMS field is at about 62%. In other words, WordPress hosting providers aren't trying to force something that doesn't already exist. On the contrary, they're simply anticipating the majority of website owners' needs.
Shared WordPress Hosting vs Managed WordPress Hosting
Having understood what the difference between WordPress-specific and other hosting services is all about, let's shift our focus to the differences between two types of WordPress-specific hostings, namely shared WordPress hosting and managed WordPress hosting.
Here, the main difference is perceived to be the cost-benefit relation. But we beg to differ.
Shared hosting:
Shared WordPress hosting provides you the absolute necessities for running a website, whereas managed WordPress hosting services go beyond that and offer you more leeway when it comes to the design, size and security of your website, and much more.
For instance, in shared hosting, because you share all the resources with other users, your traffic cannot exceed a certain level without having bad neighborhood effects on others. This is why if you unexpectedly exceed a certain amount of visitors per month you have to take into account that your website might lose speed or experience downtime.
Managed WordPress hosting:
With managed WordPress hosting, you have great scalability. Meaning, the hosting provider will scale the resources offered according to your needs. In doing so, you'll avoid any unnecessary complications, as well as any bad neighborhood effects.
Perhaps more important than this is the fact that with managed WordPress hosting the user is never left alone when facing some troubles regarding its website management.
First, the automation of the provided services make the process of running a website very user-friendly. So even if you're a complete beginner, you'll still be able to run your site in a professional manner.
But just in case you experience some difficulties, managed WordPress hosting offers 24/7 support. This and some other vital services, such as automated backups, is something that you don't have with shared WordPress hosting.
To have a better understanding of this, let's put WordPress hosting services under a loop and see what the requirements for a good hosting plan are.
WordPress Hosting Must-Haves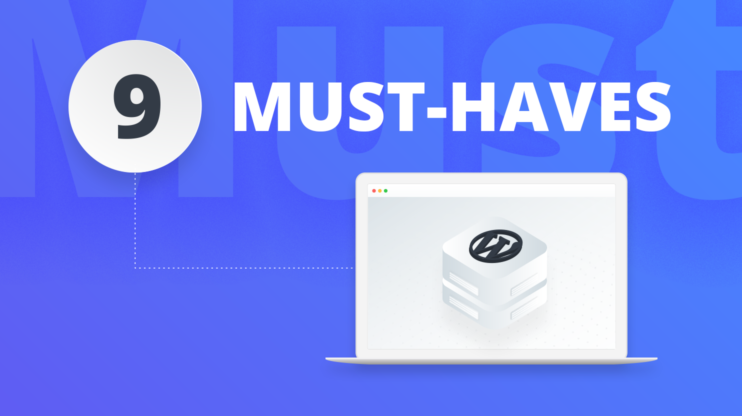 For you to be able to run your website as efficiently and as professionally as possible without having to always carry the weight of worrying about what might go wrong, you'll need the following components.
Naturally, every website is individual in its own right, which means that this list might be extended depending on your personal needs.
However, for now, we'll stick to the very basics that you should insist on having within your hosting package.
1. Security
Surely, in this day and age, you have to first and foremost make sure that your website is protected against any kind of cyber security threats.
We highly discourage our readers from regarding this aspect simply as a matter of efficiency. It's more than that, it's about your website's integrity.
We at 10Web believe that it's the responsibility of each and every website owner to maintain the integrity of their site primarily as a way of protecting its visitors from falling prey to hacking attempts.
Statistics have shown that hackers attack every 39 seconds. To avoid becoming a victim of such attacks, you'll have to make sure that the website host you're relying on provides high-class security services that include the following five elements:
(Unlimited) security scans
Free SSL certificates
Automated backup
Security plugins
Customer support
Keep in mind that these listed components are not included in your typical shared WordPress hosting package. So be mindful to look for them when choosing a new hosting provider.

2. Backups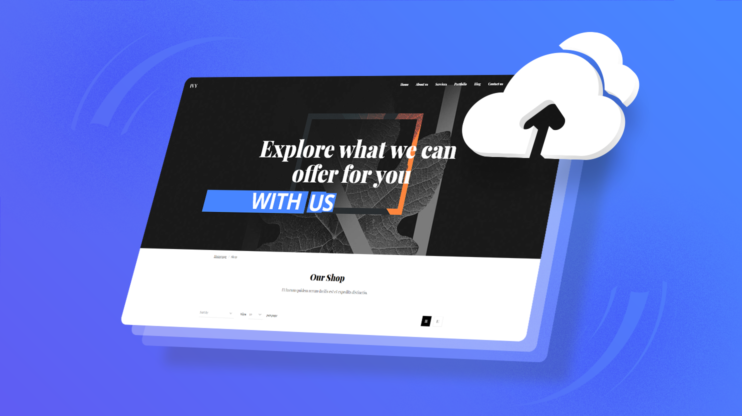 Going on from the worst case scenario that your website has been successfully hacked, you need to make sure that a comprehensive and quick restoration of your website content is possible. For this you'll need backup services.
Some people settle for the option of conducting occasional and manual backups. They do this thinking that the greatest security threat their websites face is when there are new updates
available.
Technically, they aren't wrong. With every update the vulnerabilities of the older version are revealed. This is why you need to make sure to always keep your CMS updated as well as your extensions.
However some people tend to think that securing their data only on the occasion that there's a new update is enough.
While manual backup is better than no backup at all, it doesn't suffice for you to ensure the backed up data is complete and up-to-date.
Against this background, we recommend that you choose a hosting provider that offers automated backups, preferably with the full set of options of backing up on a daily, monthly, and yearly basis.
Moreover, in order to be able to conduct backups without having to worry about the integrity of your website content, it's important to make sure that your host provides a sufficient amount of cloud storage space (Google Drive, Dropbox, Amazon S3) and the possibility to extend it as needed.

3. Scalability
Another aspect that is indispensable when it comes to choosing the right WordPress hosting provider is scalability. This is especially important because it allows you to lean back and not worry about potentially having to upgrade your hosting plan.
Having great scalability means that your hosting provider will be able to adjust the resources provided to you according to your needs. In other words, should you find yourself in a situation where your website traffic suddenly increases, your hosting provider will scale up the capacity of your resource intake.
But how does this really affect you? Well, with some hosting providers there usually is a predetermined limit to the resources available to you. Once you reach this limit, your host might cut off your supply, which might lead to a significant loss of efficiency.
However, if your host offers good scalability, you won't risk your site losing speed or experiencing downtime when for example there's a sudden surge in activities on your website. An upgrade of your plan should always be made as smooth as possible by your hosting provider.

4. Speed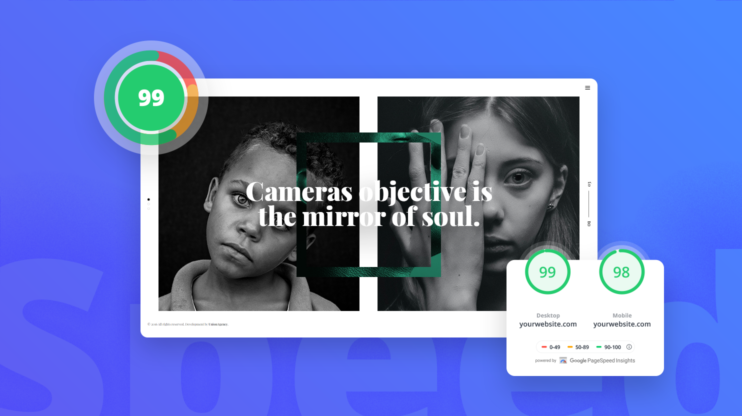 You probably heard this one before, but speed is important for your search engine ranking. How do we know? Google has announced that they, among other factors, use page speed to determine a website's ranking on their SERP. So make sure to not let this point escape your attention.
First and foremost, to be able to maintain a high level of page speed, you need to keep track of your website's speed score. This you can do very easily with 10Web's WordPress Speed Optimizer. All you have to do is enter your website's URL and, voila, you'll get your score.
If you find that your score is lower than average, you might want to take a closer look at what your hosting provider offers you to optimize your speed.
Here are the things to look for when it comes to speed optimization services:
Caching your content
Content Distribution Networks (CDNs)
SSD space and additional RAM
In addition to this, we at 10Web rely on cloud computing provided by Google Cloud Hosting. This significantly enhances our ability to help our customers achieve higher speed.
Google, being one of the tech giants, has a wide range of data network centers distributed around the globe. This means that our users will have a greater amount of choices when it comes to the location of their data centers.

5. Staging Environment
The possibility of staging environments might be optional for some website owners and hosting providers, but not for us at 10Web.
What is the function of the staging environment to begin with?
Basically, the ability to stage environments will provide you the opportunity to undertake preliminary changes to your website's content, then give those changes a test run. See if everything works out the way you want it to before deciding to go live with the new version of your site.
For those of you who are still skeptical about whether this function is really necessary, let me remind you that
sometimes things don't go the way you want them to. Whether you enter a faulty code or accidentally overwrite something. It doesn't really matter why. What matters is that you catch your mistake early on and preferably without anyone else noticing it.
sometimes the page looks different than how you initially visualized it.
sometimes things don't go as planned with the performance of your page.
It's good to catch these types of things beforehand, so that you have the opportunity to rectify them. Or, if you're not capable of resolving the issues on your own, contact the support team and ask them to help you out.
We at 10Web believe that having the option to test things out in the staging environment is an essential step towards guaranteeing a certain level of professionalism when it comes to running a website. It minimizes the chances that you publish something that has errors in it or simply does not work the way it's supposed to.

6. Variety of Themes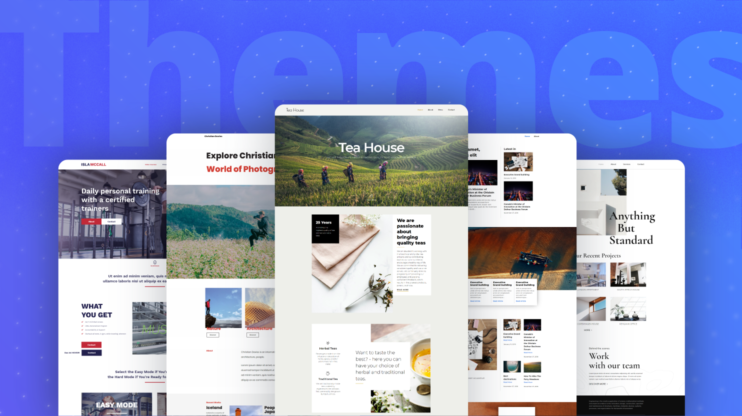 Another aspect that is oftentimes downplayed or simply overlooked is a website's design. But its importance cannot be overstated simply because your website is a reflection of your brand.
You need to be able to design your site in a way that's unique to your own brand.
It needs to reflect your website's content.
At the same time it needs to be easy to handle otherwise you run the risk of confusing your visitors and by default losing them.
And, finally, you need to make sure that your website's design doesn't confuse you. It should be easy to handle and customize.
For all of this you need a hosting provider that offers you a great variety of themes and templates to enhance your design possibilities. Ideally, those should cover the requirements of a considerable amount of website niches, from classical to modern, to professional and, well, not so professional.
Of course, none of this will be of use to you if it's complicated to implement. Which is why, we at 10Web for example, provide our users the opportunity to build and edit their sites with the most popular builder Elementor.
This ensures that you have as much flexibility as possible in creating your very own signature design.

7. Plugins and Addons
When it comes to the range of functions of plugins and addons, the sky's the limit, really. They cover almost all your needs.
Should you find yourself in need of assistance with your search engine optimization (SEO) process, website's security, social media applications, form creation, etc., you'll always find a plugin that will lend you support.
You don't know which plugin to use for which function? You can start by exploring these options:
Security plugins:

LastPass provides you a safe place to store all your passwords without having to worry about hackers finding them.
Velvet Blues Update URL enables you to change your URL name to make it harder for hackers to find your WordPress admin login URL.
You can use Google Authenticator to add a two-factor authentication on your login page to enhance your security level.

SEO Plugins:

Yoast SEO is one of the most popular plugins out there. It's a keyword optimization tool that helps you increase your search engine rankings by providing a bunch of useful services.
For complete beginners SEO Squirrly might be a good option. It provides a very simple, learn-as-you-go type of optimization services.
Autoptimize on the other hand will improve the loading time of your website.

Performance Plugins:

Broken Link Checker, as the name already indicates, will make sure that all external and internal links refer to the websites they are supposed to refer to.
Yet Another Stars Rating enables you to include a stars rating to your contributions.
Clearfy is a very useful plugin that will protect you from unnecessary burden that potentially slows down your site, e.g. Google Fonts, Google Maps.
It might be interesting for you to know that at 10Web our customers have access to 50+ plugins, meaning all of the mentioned functions and much more are made available to you without the necessity of additional payments.

8. Customer Support
As already mentioned, there are some hosting plans, such as shared hosting, that don't include customer support as part of the services they provide. If you happen to be a tech veteran then this might not be of great significance for you.
Although we would argue that no matter your level of expertise it can't hurt to have a go-to person that will take care of your problems anytime you need it. Think about all the time you'd be saving.
Now imagine how it would be like for a person who's new to the website hosting world to not have any helping hand when facing difficulties. This situation becomes especially grave when facing security issues that you cannot resolve on your own.
In general, we would argue that it is the responsibility of any kind of service provider, no matter which business niche they belong to, to provide its customers assistance when they need it. Customer service is a quality feature and as such reflects the level of standards of the respective service provider.

9. Affordability
Surely the potential expenses for hosting services will factor in your choice of a hosting provider. As we've established earlier, there's a widespread assumption that if you're in search of a cheap WordPress hosting plan then shared WordPress hosting is the right choice for you.
While this might've been true a few years ago, it simply doesn't reflect the current state of the website hosting market.
To prove that we're not just "all talk and no action," here's a list of cheap managed WordPress hosting providers that offer services that exceed the ones offered by shared WordPress hosting providers by far:
Four out of the five mentioned hosting plans will cost you $10 or less, so make sure to check them out before settling for shared WordPress hosting.
For instance, our automated WordPress hosting plan at 10Web (a more advanced alternative for managed hosting) starts at a monthly price of $10 and can go as low as $6, depending on the number of websites managed. On top of that, we offer a free trial without a credit card requirement.

See How 10Web Can Benefit You
Visit our homepage to learn more about the first-ever AI-powered WordPress platform.
So feel free to test run our services and see if they fulfill your requirements with no obligations whatsoever.
All things considered, this is our guideline for how to choose the best hosting provider. Do you agree with us or would you like to add something to the list? What kind of hosting do you rely on? If it's shared WordPress hosting,care to share with us the reasons you chose that option – besides the financial aspect that is?