WebDorado is Now 10Web
You can buy the same plugin from 10Web and get world class support
4.4
82 K+
Simple and Powerful WordPress eCommerce Plugin
Start your online business with eCommerce by 10Web
BUY NOW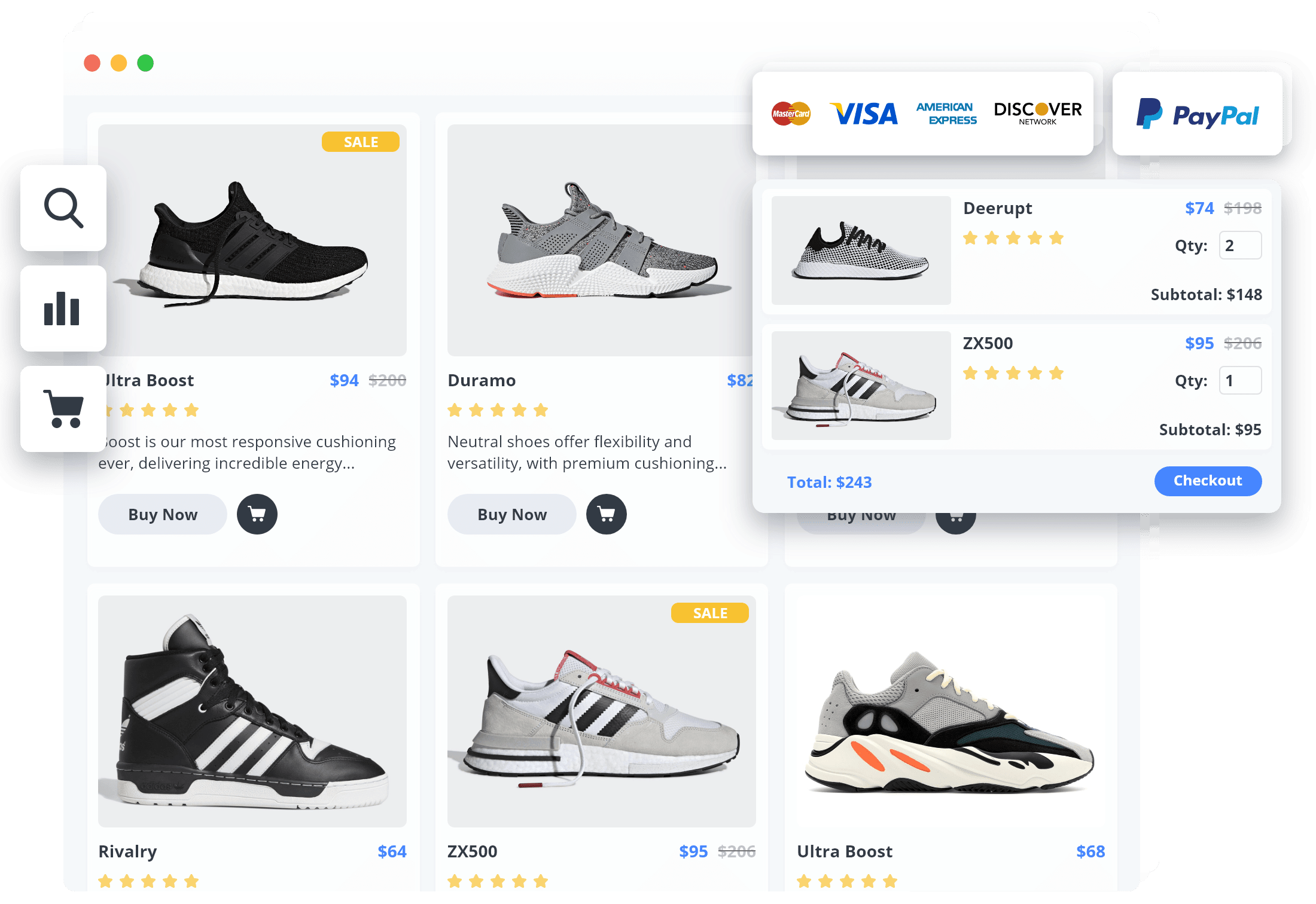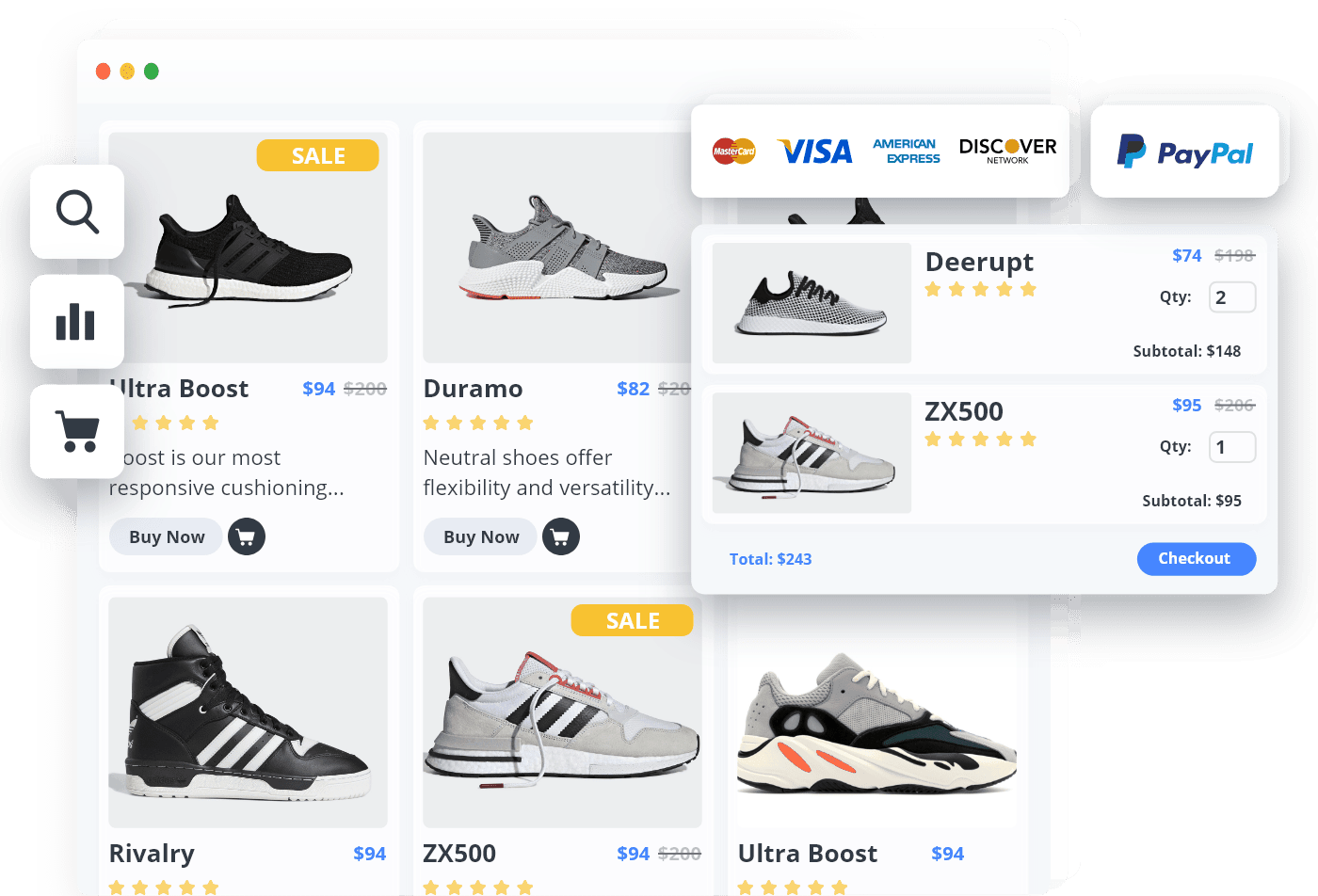 Can't find a powerful and easy-to-use eCommerce plugin?
Wasting hours managing products, payment and shipping methods?
Is it difficult displaying your products in a way that match your website?
Lacking an all-in-one eCommerce plugin that solves all your problems?
Features
Products
Add your products and provide details such as price, images, keywords and more.
Email Notifications
Create custom emails to send status updates about orders.
Payment Gateways
Add PayPal and Stripe payment methods.
Fascinating Themes
Change the styles/colors of the navigation bar, buttons, headers, and more.
Manufacturers and Labels
Add labels and pages for manufacturers.
Customizable Layout
Use your theme template or create your own layout.
Shipping Methods
Add shipping methods and tax rates depending on client location, product price or weight.
Multiple Views
Display products using one of 5 stunning views.
Advanced Reports
Monitor your business performance, track sales, and analyze the results.
Tune Up With Extensions
Extensions Available in Plugins Bundle
eCommerce Filters
Advanced product filter and browsing. Display multiple filters, to make it easier for customers to find relevant products.
eCommerce Minicart
Display shopping cart information including products and their details as a widget.
Latest Products
Display your latest products as a widget.
Top Rated Products
Display the top rated items of single or multiple categories.
Bestsellers
Display best-selling items, and products in demand in a featured position.
Stripe
Add Stripe as a payment method for purchasing items.
Customer Care
Fast response time
You'll never have to wait more than 5 minutes.
Quick issue resolution
Resolving an issue takes 24 hours max.
Ask any question anytime
We're ready to take on any WordPress question.
Our Customers Will Tell You The Rest
4.4 Based on 14 Real Users Reviews
Ecommerce is the best shop plugin I have ever used. Its functionality is outstanding,it is perfectly designed, 100% user-friendly, and I'm sure there's much more to come.I haven't done any coding in my life (not a developer), and this plugin is perfect for people like me.It's fully customizable, has all the features we might need.
Good product if you are just making your first steps in the market as a store guru.Easy shipping and taxing, product and manufacturer set up pages.I was able to create my entire product list within an hour.Just a time-saver.
How I love the fact that you can simply add one productand have rest of the features listed as product parameters!It saves lots of time so that I will not create separate productfor each color or size. Superb approach. Moreover the pricing canbe different for each size and color! Nothing more to ask for.
Setup Your Premium Store
Buy eCommerce Premium by 10Web
Add Your Products
Make Sales