What is managed WordPress hosting?
Managed WordPress hosting is a specialized type of web hosting that offers many built-in features and tools made specifically for WordPress sites. These types of web hosting plans usually remove some of the technical barriers associated with using WordPress in a typical hosting environment, such as:
Optimizing website speed

Proper server configuration for best performance

Keeping WordPress up to date

Ensuring website security

Integrated backup and recovery
Managed WordPress hosting is designed around the way real users interact with WordPress sites. You have access to the tools and features needed to work with your website hosting in an intuitive, uncomplicated format. Freed from the technical aspects of web servers, managed WordPress hosting users are then able to focus on creating content for websites.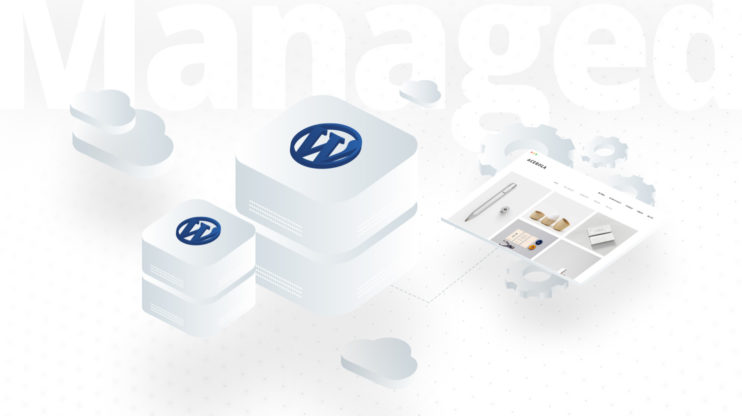 Managed WordPress hosting vs. traditional hosting
Managed WordPress hosting offers many advantages over traditional shared hosting and Virtual Private Servers. In a shared hosting environment, websites are limited to shared server resources that may not be optimized for WordPress sites. In addition, users must handle everything except the shared web server's configuration. WordPress must also be installed, configured, and maintained with regular backups and updates.
A Virtual Private Server (VPS) can be configured with any server software, so they are more flexible than shared hosting. However, that flexibility leads to more responsibility when administering a website and the server itself. To get a similar experience to managed WordPress hosting, most people would need a team of developers and systems administrators. Without managed WordPress hosting, a VPS must be properly configured and maintained from the ground up. There are no included or integrated tools for installing, managing, or maintaining WordPress sites.
Managed WordPress hosting plans
It can be challenging to compare all the different types of managed WordPress hosting plans, as the included products and services vary widely between providers. At 10Web, our AI-powered hosting solution goes a bit farther than a typical managed WordPress hosting plan. You may find some of our WordPress optimized platform's key features set the bar for the kinds of things you'd expect from a more hands-free, managed environment.
Cloud servers
Fast websites start with the best network infrastructure. Cloud hosting is the most reliable, highest-performance hosting available.
Speed optimization
Website speed is important for user experience and good SEO. WordPress isn't optimized for page loading speed out of the box. A high-quality managed WordPress hosting plan includes the tools needed to address this critical issue.
Automatic WordPress updates
Keeping WordPress and its plugins up to date is a never ending task. Managed WordPress hosting plans should include automatic core and plugin updates.
Backups and recovery
Without reliable, automatic backups, your website is at risk. Solid hosting plans include backup and recovery solutions.
Security
All reputable hosting providers take security measures seriously, but managed WordPress hosting providers often tailor their systems to ensure a high level of security, specifically for WordPress websites.
Easily create new websites
10Web's drag and drop page builder, custom website templates, and AI website builder all make it easy for users of any skill level to create websites without any coding knowledge. 

Who benefits from managed WordPress hosting?
Making the switch from traditional web hosting to managed WordPress hosting is an entirely different experience. Many are familiar with cPanel's jam-packed interface. This admin panel is included in many shared hosting plans but is conspicuously absent from managed WordPress hosting plans. With hosting made especially for WordPress sites, there is no need for many of cPanel tools and options. 
While most managed WordPress hosts allow some control over the server environment, such as changing to a specific version of PHP, most don't allow many options for managing the server's operating system (OS) and server environment. Depending on the provider, users are often limited to just WordPress as a Content Management System (CMS).
For users who need more control over their sites and web servers, managed WordPress hosting may not be the best choice. The tightly controlled environments designed for WordPress may not provide the best support for:
Certain plugins that may cause conflicts or security risks

Off-label WordPress projects like headless WordPress sites

Experimenting with new types of web development projects

Migrating your WordPress site away from the platform
While managed WordPress hosting may be the best choice for many, its higher cost is another factor to consider. For many small to medium businesses, managed hosting provides a good balance between cost and ease of use. However, traditional, unmanaged hosting plans may fit the bill if control over the server is important.