Drag & Drop Editor
for WordPress
Based on Elementor
Explore the website editor that
gives you
all the
features to create,
customize, and
manage your
WordPress websites the
way
you imagine.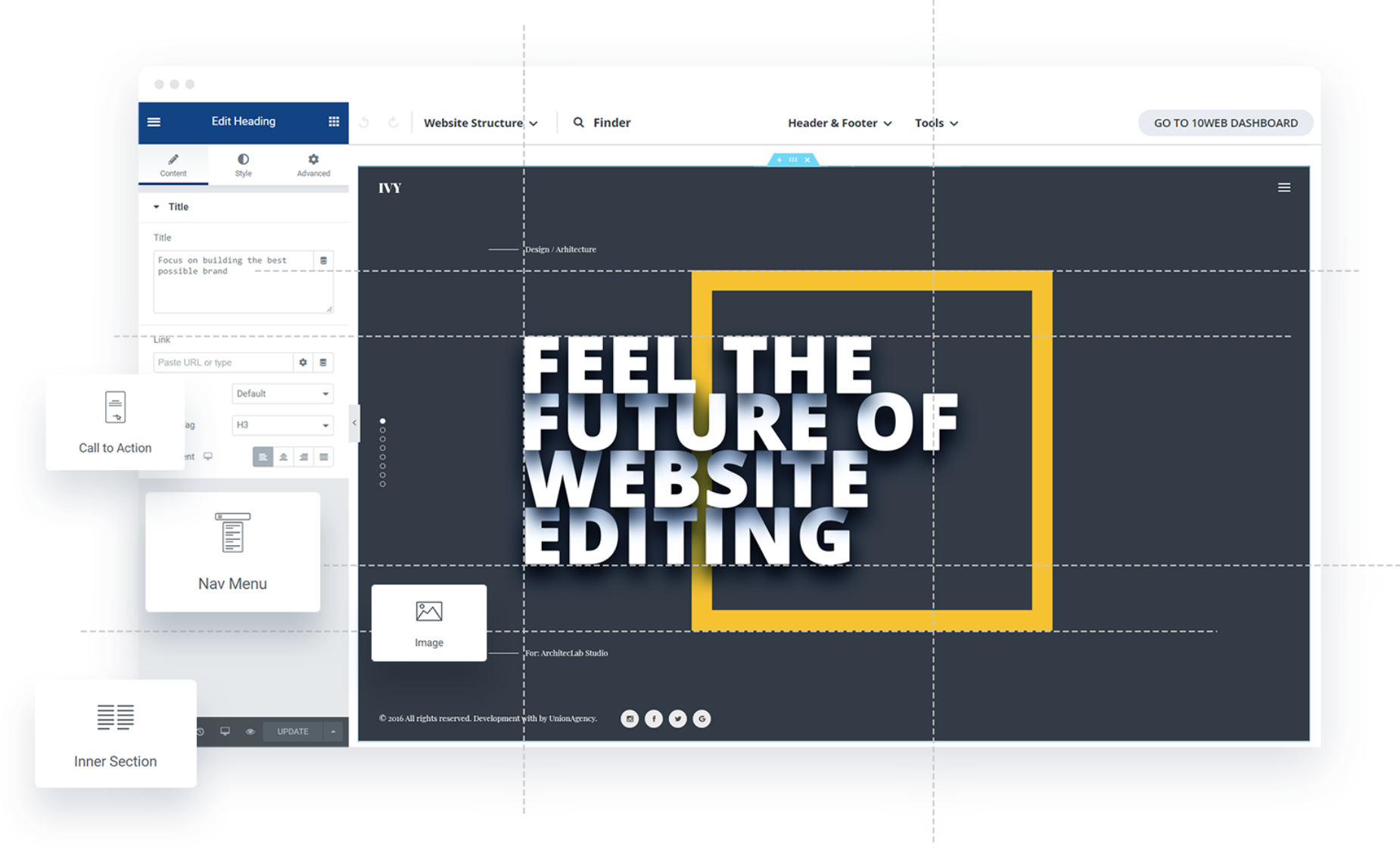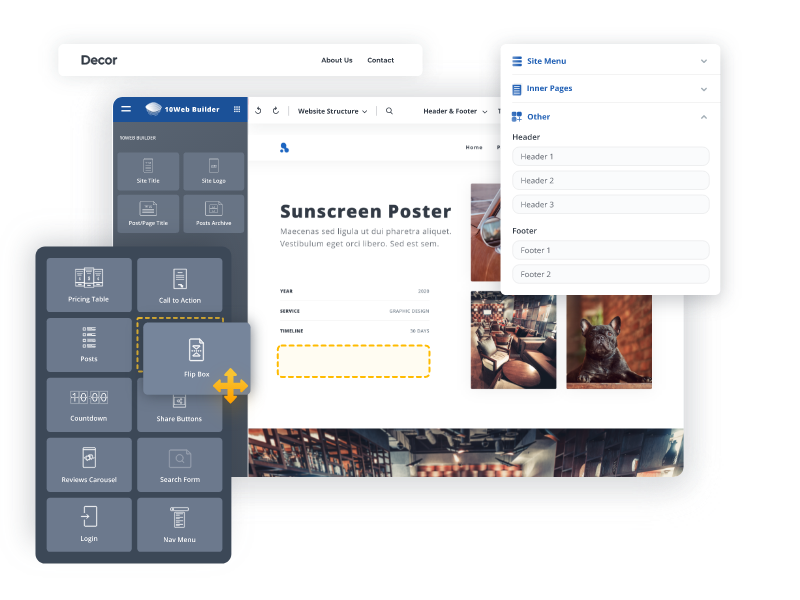 Level Up Your
Editing Process
Experience the beauty of website
editing from illustrations to video
backgrounds and fully designed
sections
Edit Directly on
Your
Website
Create, customize, and edit everything easily and directly on your website using 10Web Premium widgets based on Elementor
Fully Customize in
a Single Place
Design your entire website, including the header and footer with advanced frontend editor
Seamless
Navigation
Go from editing one web page or post to the other without leaving the editor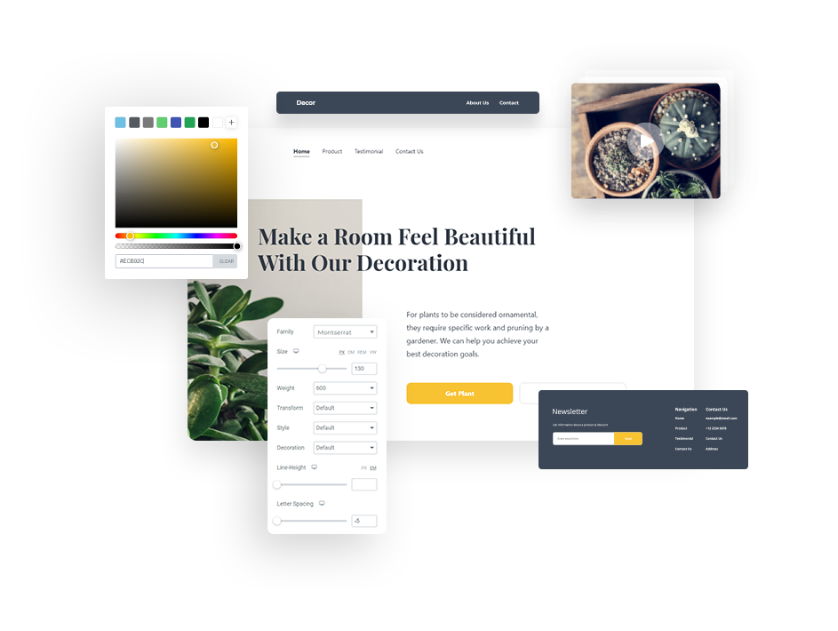 Build & Publish Your
Website In Minutes
Create production ready & innovative
websites without coding while having
absolute design control
Export & Import Between
Websites
Exporting and importing your design is as simple as it gets, allowing you to transfer it to JSON file in the end
100% Responsive &
Mobile-Friendly
Responsive and fast transformation of your website at all screen resolutions on different browsers and platforms. Accessible! Mobile-friendly!
Manage Design
Elements
Play around with different design structures, motion effects, colors, typography, and other style settings in one place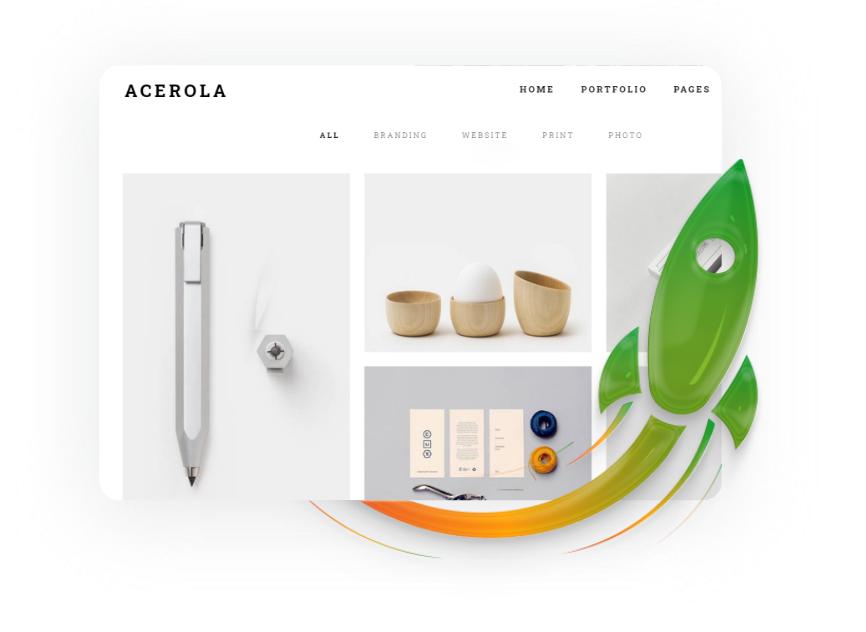 Manage & Grow Your Business Online
Increase your brand visibility with an optimized and super fast website
Perfect Your Brand
Trace back your revision history, undo changes with one click, and edit in draft mode while keeping a separate published version of your live site
Enhance Image Sizes And Quality
Automatically optimize your website images with up to 90% image compression without quality loss, resulting in 3 times faster website speed and 10 times lighter images
Automate Website SEO
Create Custom Metadata, XML Sitemap, Canonical URLs, Search Analytics, and Redirects, keeping your website rankings high
Absolutely Necessary Feature
To Fine Tune Your Website
Global Widgets
Keep your favorite widget settings
and reuse
the widget on any page
Custom Fonts
Use unique and high-quality custom
fonts similar to Elementor Pro
Custom CSS
Customize the appearance
of your
website with CSS
Save Content
Save elements you create and then reuse
them on other pages
Display Conditions
Determine where your
global templates
appear across your website
Sticky Header
Add a sticky header to any page
without the need of additional plugins
FAQ
Is it easy to build a website with 10Web Editor?
Absolutely! You can highly rely on WordPress Website builder with AI Assistant and Drag & Drop Editor. 10Web Editor is created for the sole purpose of making the process of website building and editing accessible to the less tech-savvy part of the population. And successfully so, because it doesn't get easier than building and customizing your site via drag and drop. And here's another fun fact for you: 10Web Editor is based on Elementor. For those of you not familiar with this product, it's a website builder that has gained a high reputation among over 5M website owners for its ease of use and extremely intuitive interface.
Can I create a website without knowing how to code?
Yes! A lot of websites out there along with their impeccably perfect design are done without using any codes. By automating the website building process and relying on AI assistance you can create and edit websites via drag and drop, without writing one single line of code. Basically, that's what 10Web Editor based on Elementor is for: to create websites with a minimal amount of effort.
How do I make my website mobile friendly?
Every website created using our AI builder or our website templates is optimized for the desktop and mobile version of your site.
Can I use 10Web Editor to create a landing page?
Yes. As a matter of fact, 10Web Editor is optimized and works best for creating landing pages.
Can I edit all my website pages with 10Web Editor?
Of course, you can edit any page of your website with the 10Web Editor.
Can I edit the header and/or footer of my website?
You can. The 10Web Editor allows you to edit the headers and footers of your landing pages or your entire website for that matter.
Does it work with other WordPress plugins?
Yes, it works with any popular plugin.
How is 10Web Editor different from Elementor Pro?
Both Elementor Pro and 10Web Editor are widget collections for Elementor Page Builder plugin. The prime difference is that 10Web Editor provides AI Assistant to create and launch high-quality websites in a matter of minutes. And, secondly, it is speed-optimized for mobile and desktop.
Do I need a theme to use 10Web Editor?
No. The 10Web Editor comes with a base theme, relieving you of the task of installing a separate theme. In fact, the 10Web editor enables you to edit any page (e.g. 404 pages, headers, footers, blog papers, blog post layouts, etc.), rendering theme options unnecessary.