AI Ecommerce
Website Builder
Build your Ecommerce business
with the help
of AI. Sell and grow
anywhere, everywhere.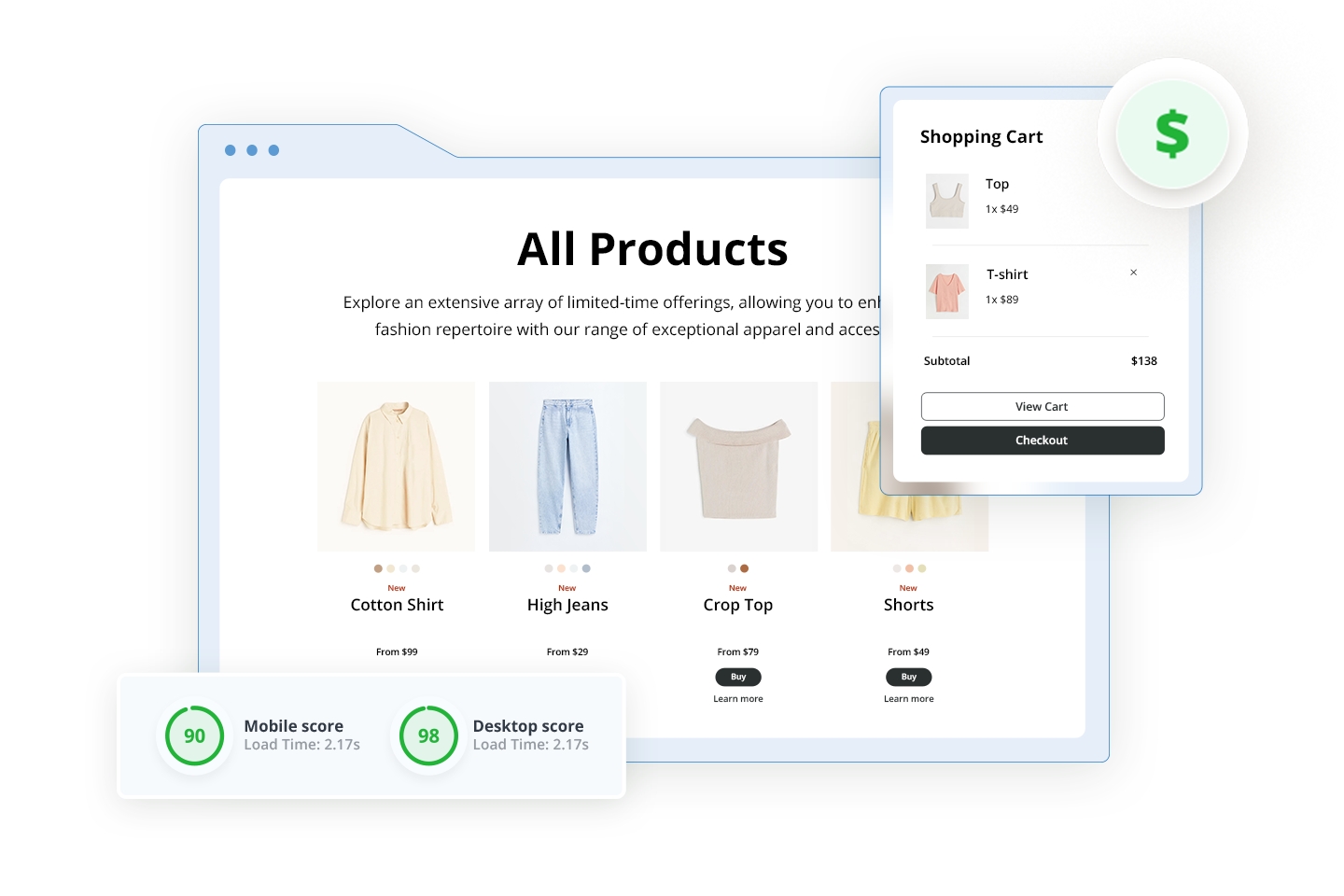 Build a website your business needs with the help of AI
Create an Ecommerce website with AI,10X faster than before.
Let AI easily customize or generate your website content.
AI Ecommerce Website Builder
AI features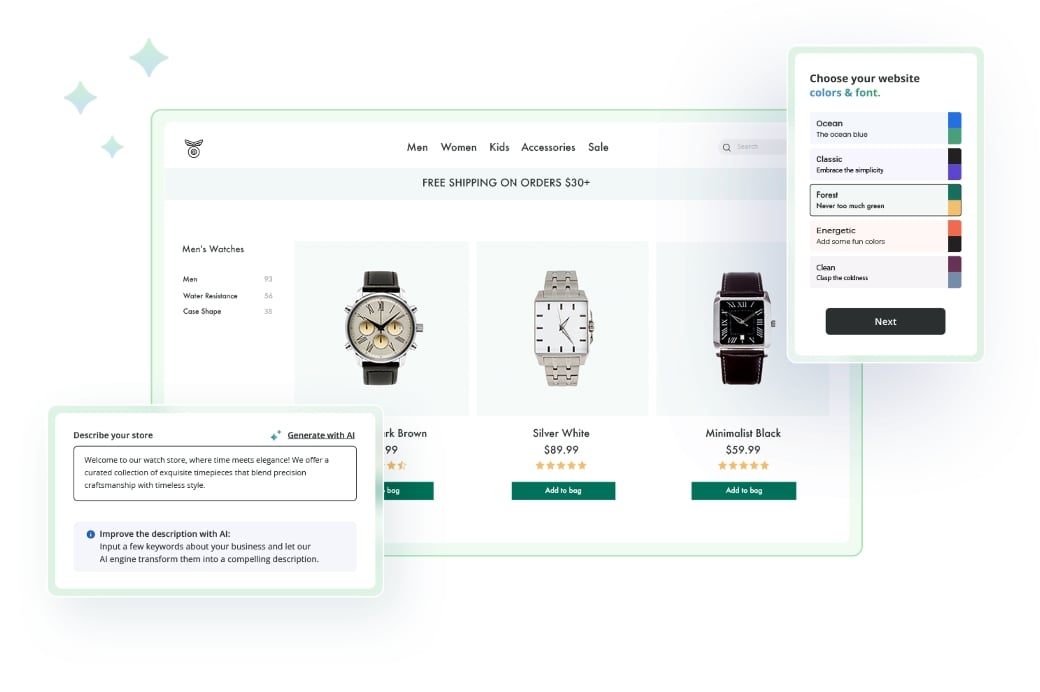 AI Ecommerce Website Builder
Create your custom
Ecommerce website in
minutes with AI-generated content and images.
Customize easily with our drag and drop editor.
Answer a few simple questions about your business
Let AI generate tailored
content and images based
on your answers
Customize your content
and images
Add more pages and complete your website
AI features
Elevate your website creation process with
cutting-edge AI features
that offer unparalleled
uniqueness and innovation.
AI Website Builder integration
Product description generation with AI
Product page customization with AI
Content editing, generation and customization with AI
Manage your
online store like
a pro
Manage orders, products, customers, taxes, shipping
and fulfillment,
payments
and more, from a single
intuitive dashboard.
Orders
Efficiently monitor product orders, payments, and refunds for streamlined tracking.
Products
Easily manage your products by
adding, deleting, or editing them.
Customers
Analyze customer behavior and
purchase preferences.
Analytics
Access comprehensive analytics
on
your revenue, including insights on
top-selling products and categories.
Marketing
Set up email marketing, create
campaigns, run ads, and explore
new acquisition channels.
Payment
Integrate a versatile payment system
with options like PayPal, Stripe, Google
Pay, Apple Pay, or direct bank
connectivity.
Shipping
Set up shipping zones and
customize shipping rates based
on different
regions.
Tax
Link your account to the taxation plugin
for seamless integration
and automatic implementation
of a taxation system.
Navigation
Customize your store menu effortlessly
by dragging and dropping each page to
create
a unique design.
Grow your online store
conversions with 10Web
Speed is a vital element in boosting website conversions,
and with 10Web, you can rest assured
that it's well taken care of. Automatically speed up
your website with PageSpeed Booster and super fast Google Cloud partner hosting.
Your website will load faster, engage visitors effortlessly, and drive better conversion rates.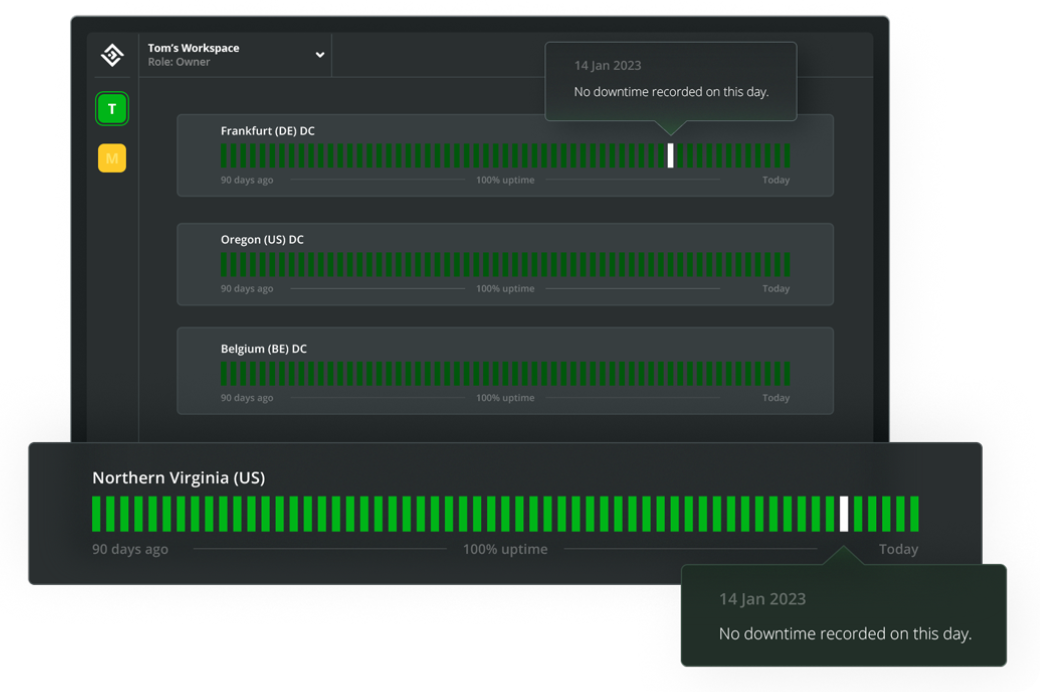 WooCommerce powered backend
Unlock the full potential
of your online store with
our robust
and flexible backend solution,
fueled
by the proven power
of WooCommerce.
Grow
Innovate
Diversify
Customize
Expand
Migrate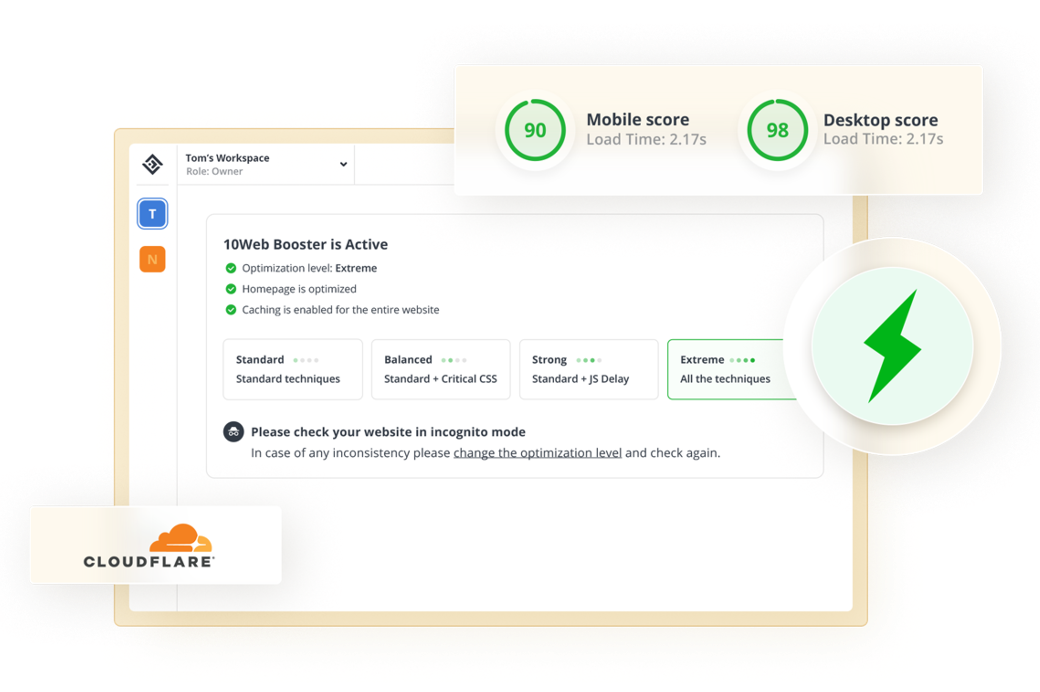 Empower your growth
WooCommerce empowers established merchants
to grow
with personalized customization, powerful
selling features, and
dedicated support.
Unleash your creativity
With WooCommerce's
open-source platform,
you
can build anything you desire
right within WordPress,
the world's most popular website builder.
Tailor-made shopping experiences
WooCommerce enables you to create your dream shopping experience for a wide range of offerings, including physical products, digital downloads,
services, accommodations, bookings, and subscriptions.
Freedom to customize
Using hooks, filters, and
REST API endpoints in WooCommerce allows you
to build your requirements precisely as you envision, tailored to your preferred development approach.
Scale up
WooCommerce provides excellent scalability
and cost- effectiveness, outperforming alternative Ecommerce platforms.
1-click migration
Save time on migrating
any website to 10Web and avoid dealing with technical issues. Immediately
get an optimized copy of your website hosted on
10Web with 90+ PageSpeed Score.
FAQ
What is 10Web AI Ecommerce Website Builder?
It is a cutting-edge product that uses AI to help you create, optimize and manage your online store. It offers advanced features
and automation capabilities to enhance your Ecommerce experience.
How to build an online store with AI?
Follow these steps to create an Ecommerce website with AI:
Answer a few simple questions about your business
Let AI generate tailored content and images based on your answers
Customize your content and images
Add more pages and complete your website
How does the AI component work in the Ecommerce Website Builder?
It leverages AI to instantly build a custom website that stands out. Other features include product description generation with AI, product page customization with AI, content editing, generation and customization with AI.
Can I customize the design of my Ecommerce website?
Absolutely! We offer a wide range of customizable templates, premium widgets and design options. You can personalize your website's appearance, layout, colors, fonts, and other visual elements to match your brand identity and preferences.
Will my online store be mobile responsive?
Yes, we ensure that your online store is fully responsive and optimized for mobile devices. It automatically adjusts the layout and design elements to provide a seamless browsing experience for your customers on smartphones and tablets.
Can I track and analyze the performance of my online store?
We provide robust analytics and reporting tools. You can track key metrics such as sales, conversion rates, customer behavior, and traffic sources via WooCommerce. This data enables you to make data-driven decisions and optimize your Ecommerce strategy.
How secure is the AI Ecommerce Website Builder?
We implement industry-standard security measures, including SSL encryption, secure payment gateways, and regular system updates, to ensure the protection of your online store and customer data.
Is there customer support available for the AI Ecommerce Website Builder?
Absolutely! We provide dedicated customer support to assist you with any questions or issues you may encounter. Our team is here to ensure a smooth and successful experience for you.
How much does AI Ecommerce Website Builder cost?
The cost depends on the plan you choose. We offer different pricing plans to suit the needs of different users. You can view our pricing plans and compare the features of each plan on our pricing page.