10 Best Managed WordPress Hosting Platforms (2022)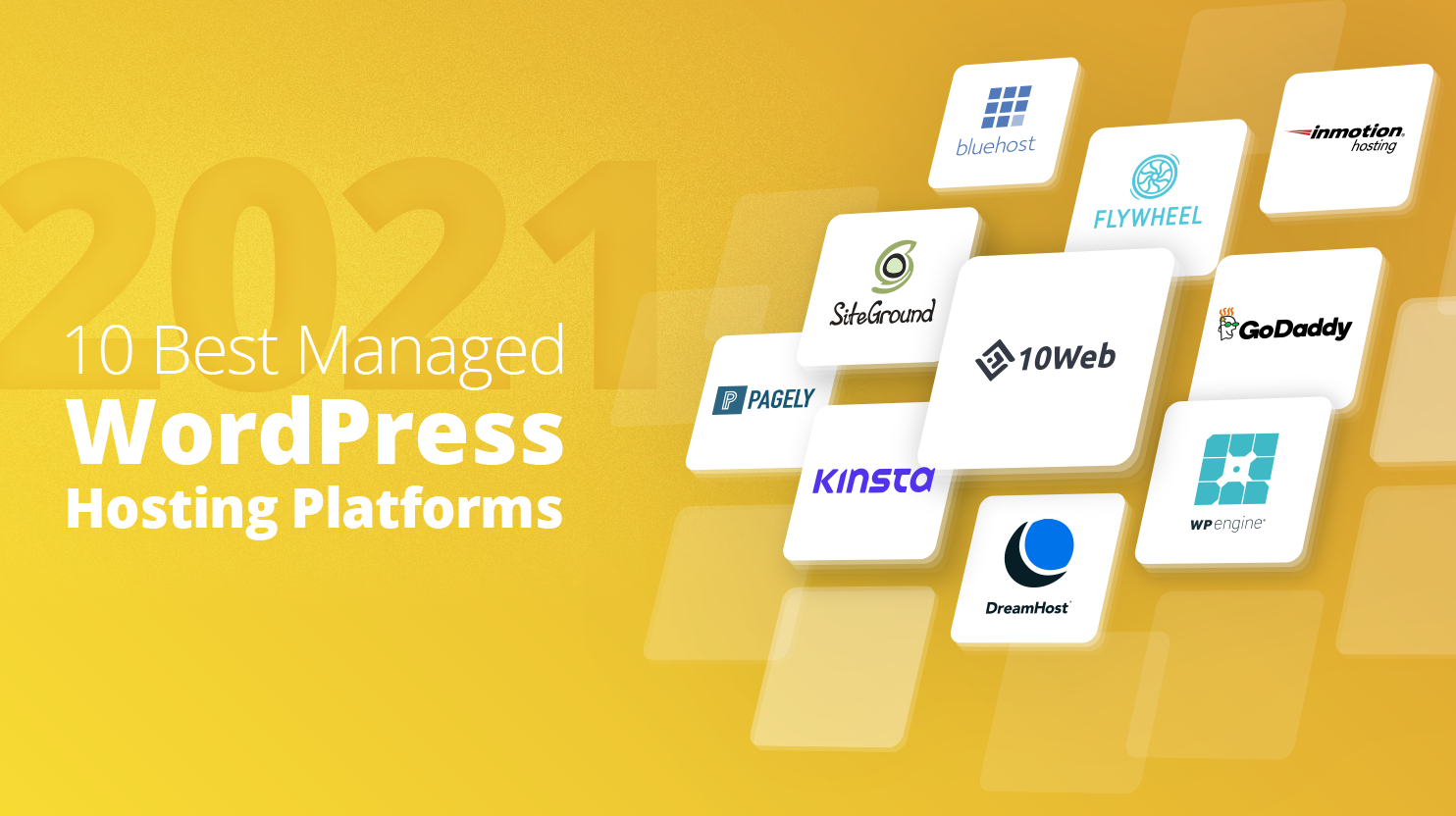 Before we get started, here's the list of hostings we'll be discussing:
If you're a developer and work with WordPress on a day-to-day basis, you might think that the time of managed hostings, that is hosting providers that set up servers and then take care of them for users, is nearing its end. After all, you might think, modern server providers have made it so that anyone can set up a server and then manage it. But continuous strong interest in managed WordPress hosting providers and in how they compare paints a very different picture. WordPress is fairly complex and can become a source of unnecessary headache for an average user who just wants to set up a simple website without going into the nitty-gritty of technical management. In fact, the efficient infrastructure and essential services, such as backups and security, that managed hosting typically provides, are enormously important to the majority of WordPress users. But then comes another big question: Which one should you choose? In this article, we start off by discussing what managed WP hosting is and whether it's worth it before delineating the advantages and disadvantages of the 10 top choices of managed hosting providers in 2022. Then you'll find a handy table for you to quickly compare said hostings if you have no time to go into more details. Finally, we'll answer all the questions users typically have about managed WordPress hosting. Oh, also a quick note; Though we at 10Web offer automated WP hosting, along with a whole bunch of other features and services, we've tried our best to keep this article objective and helpful to everyone who might need a good managed WP hosting. Let's get right to it!
What's managed WordPress hosting?
Hosting, as you probably know, is a service that lets you store your website's data and make it accessible for web users. Managed hosting is when your hosting service includes a package of services and features necessary or beneficial for running your website. When managed hosting is particularly well-suited for WordPress websites, it's called managed WordPress hosting. Now all hostings are managed to one degree to another: You'd be hard-pressed to find a user who knows how to fix a bug in the operating system or create an Nginx file. But a managed WP hosting provider will typically also include a whole bunch of features and services that have little to do with your low-level hosting environment and upkeep. For example, you'll usually get caching and backup services, staging environment creation, automatic WordPress updates, security scans, etc. Going with a hosting provider that's tailored around your particular CMS, in this case, WordPress, means the services you get will be developed taking into account all the strengths and weaknesses of that one system, resulting in optimal site performance and overall management.
Is managed WordPress hosting worth it?
Managed WP hosting, considering all the features and services you get, tends to cost a bit more: It's impossible to find managed hosting of decently high quality for a couple of bucks a month. That's why it's best you first consider a number of factors, such as expected traffic and budget, how many sites you have, whether they're test or development sites, and whether you have important non-WordPress components, before you decide on managed WordPress hosting. For example, you're on a really tight budget and shared hosting for a fiver is all you can afford right now, don't worry too much and go with a shared option: Start wherever you are and then maybe move your site to better hosting further down the line. The same goes if you're creating a personal website or online portfolio with relatively low expected traffic and some downtime or low speed wouldn't kill you. Similarly, if you're building test or development sites or many sites at the same time, uptime and speed are not an issue at least in the low-traffic cases, so shared hosting will do. And if your site has significant non-WP parts, you're better off going for a general host, instead of managed WP hosting. In all the abovementioned cases, managed WordPress hosting may not really be right for you. Now let's go through a few benefits you get if you do decide that it's the right hosting for your website.
Optimized for high performance
If you're not a complete beginner in the world of WP site building and management and have some stakes attached to your site, be it profit or visibility, you likely know how crucial website performance is. Site performance usually comes down to two things: speed and uptime. Optimizing website speed is essential to attracting and retaining website visitors: in fact, research shows that users close the page if it takes more than three seconds to load. Uptime, the second component of website performance, is referring to the percentage of time your website was online and accessible to visitors. Its importance is self-explanatory: you wouldn't want to lose a client just because there were a lot of other clients browsing your site and the server couldn't keep up, right? Both of these components depend at large on the quality of your hosting, so if you make the right choice and go with a reliable managed WP hosting provider, you can let go of a lot of responsibility in regards to site performance and focus on other aspects of your website. In addition, some managed hosting providers include performance assessment services, which will grade your site and tell you exactly what to do on your part to speed it up.
Strategically located data centers for global reach
Your website is just a bunch of data and it doesn't magically appear in a visitor's browser but travels to it from a data center. Now the majority of low-cost website hosting providers have only a couple of data centers around the world, which means if a user is trying to access your site from China, for example, it has to travel all the way from, say, San-Antonio, Texas. Needless to say, it takes a while and adds both to your website's load time and your potential client's level of frustration. Good managed WP hostings, on the other hand, have many strategically located data centers around the world, so the data doesn't have to travel far and improves speed contributing to a better user experience. In our increasingly globalized world, being able to reach people on an international level is super important not just for business but also for the feeling of connectedness and the successful spreading of ideas. There's a reason cloud giants AWS, Google Cloud, and Azure are constantly working to add more data centers and cover more regions.
Automatic backups (Never lose your data)
I'm sure you work hard on your website's content and know just how valuable it is not just for you but for your website's loyal visitors. But did you know that it could be gone in the blink of an eye you don't backup your website regularly? Things happen to all WP websites: a plugin can malfunction, an update can go wrong, a hacker may take advantage of a site vulnerability and just like that you'll find yourself in need to recover data from a backup you forgot to do. You see most self-managed WP sites require you to remember to click the "Backup" button of some free plugin, since the premium versions of those plugins that'd allow you to schedule those backups cost about as much as managed hosting does. Not the case with shared hosting providers! Usually, automatic backups are included in your managed WP hosting plan and guarantee that in case of emergency you'll be able to easily recover your website data. Your content creators, website visitors, and business stats will thank you.
Security is taken seriously
Security, though it's typically an afterthought concern, crucial to successful long-term website management and going with a managed hosting eliminates a huge chunk of potential security concerns. For one, in contrast to shared hosting, your data is stored on its own separate server, so there is no danger that compromised neighboring sites will affect yours. For another, most managed hosting providers take security extremely seriously: you get constant monitoring, support, and malware and vulnerability scans, which means you don't have to worry that one day you'll lose access to your own website or that someone will get ahold of sensitive user data. Besides, managed WP hosting providers are specialized in providing security services to WordPress users specifically, so they have and use a lot of information about the particularities of that system's vulnerabilities. There's no real need for you to spend a lot of time and effort becoming an expert at WordPress security if there are already a lot of companies that develop services specifically tailored to securing your site. Now let's go through the list of top 10 managed WP hostings and analyze the strengths and weaknesses of each. Prefer videos to text? We get it. Check out our managed hosting review below!
Comparison table
Below, you can read about all managed hosting providers mentioned in the video. Don't have enough time to read about each hosting provider? Here's a handy table that summarizes and compares WP managed hosting plans of all the mentioned providers. But of course, it is better to visit the sites of the providers that interest you most and read some reviews by current users before making a decision. For more options, including shared hosting providers, scroll a little further down.
Host
Bandwidth
Storage Space
Site Number
Pricing
Support

Kinsta

20.000,

40.000,

100.000,

…,

3.000.000 visits

10,

20,

30,

…,

250 GB

1,

2,

5,

…,

150

$30, $60, $100, $200, $300, $400, $600, $900, $1200, $1500 /mo

24/7 online support

10Web

25.000,

100.000,

400.000,

Unlimited visits

10,

15,

50,

Unlimited GB

1,

3,

10,

Unlimited

$10, $24, $60, $66

/mo

24/7 chat and email support

WPEngine

25.000,

100.000,

400.000,

Unlimited visits

10,

20,

30,

Unlimited GB

1, 

5, 

15, 

Unlimited

$29, $95, $241 /mo

24/7 online support and phone for pricier plans

Flywheel

25.000, 

100.000,

500.000 visits

5, 

20, 

50 GB

1, 

10, 

30

$25, $115, $290 /mo

24/7 online
Kinsta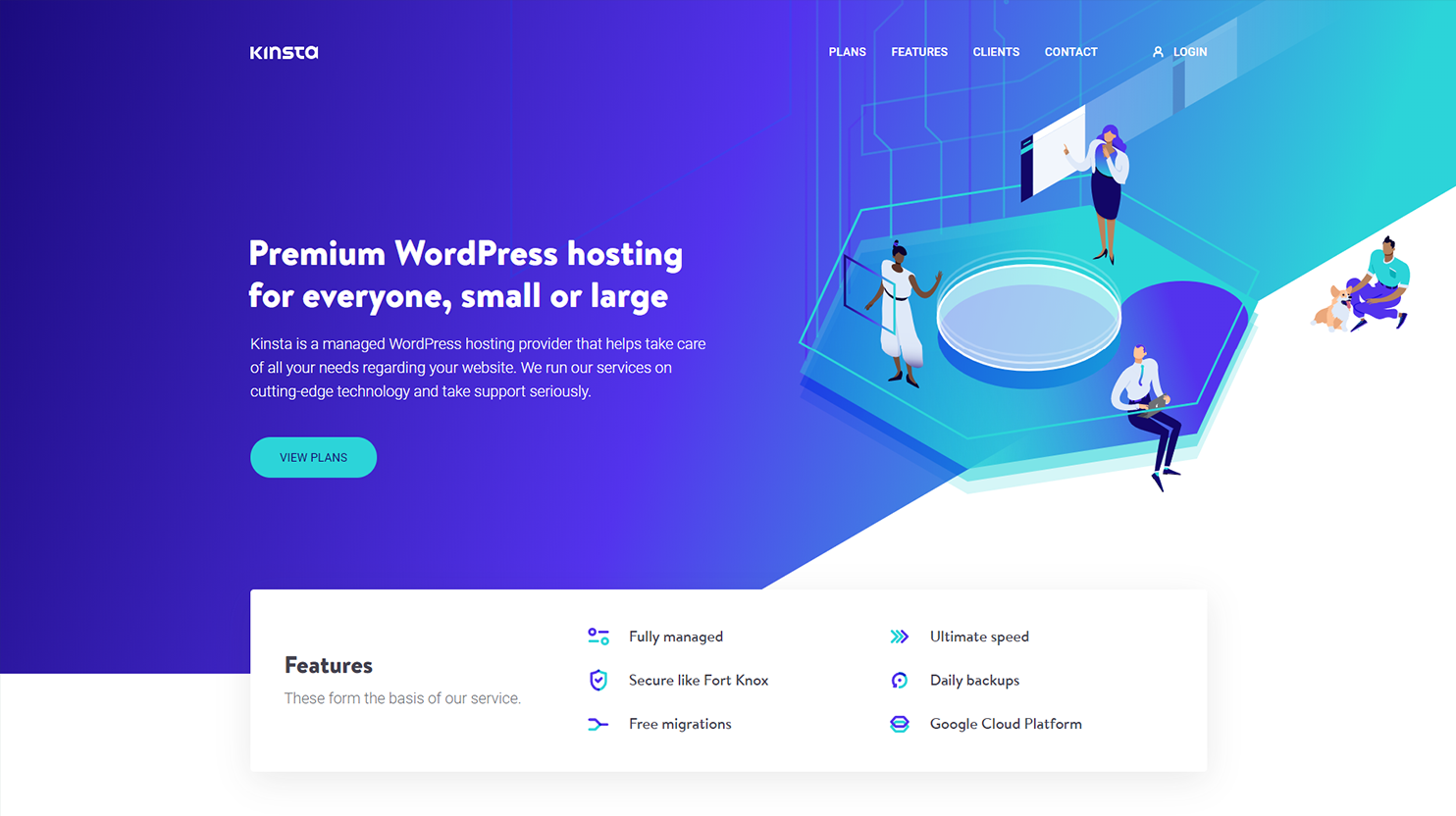 Kinsta is a relative newcomer to WordPress and "best managed WP hosting" lists, but it is still one of the best options for users who are serious about their websites' safety, speed, and security. The awesome thing about Kinsta is that its sole focus is WordPress, so the whole infrastructure is wired to serve your particular CMS. With plans starting at $30 a month, you get hosting on Google Cloud, good scalability, free CDN, a staging environment, migration services, Git integration, stellar uptime and great site speed, as well as daily backups and a 24/7 helpful online chat support system. Yet another important advantage is their solid security and free hack fixes. Kinsta's online reputation is also great: survey respondents recently marked it 4.8 out of 5 overall and 4.3 out of 5 in terms of "value for money." The whole system of handy tools is organized in a very user-friendly manner so anyone, even the least tech-savvy of us, can make the most of our managed WP hosting.
10Web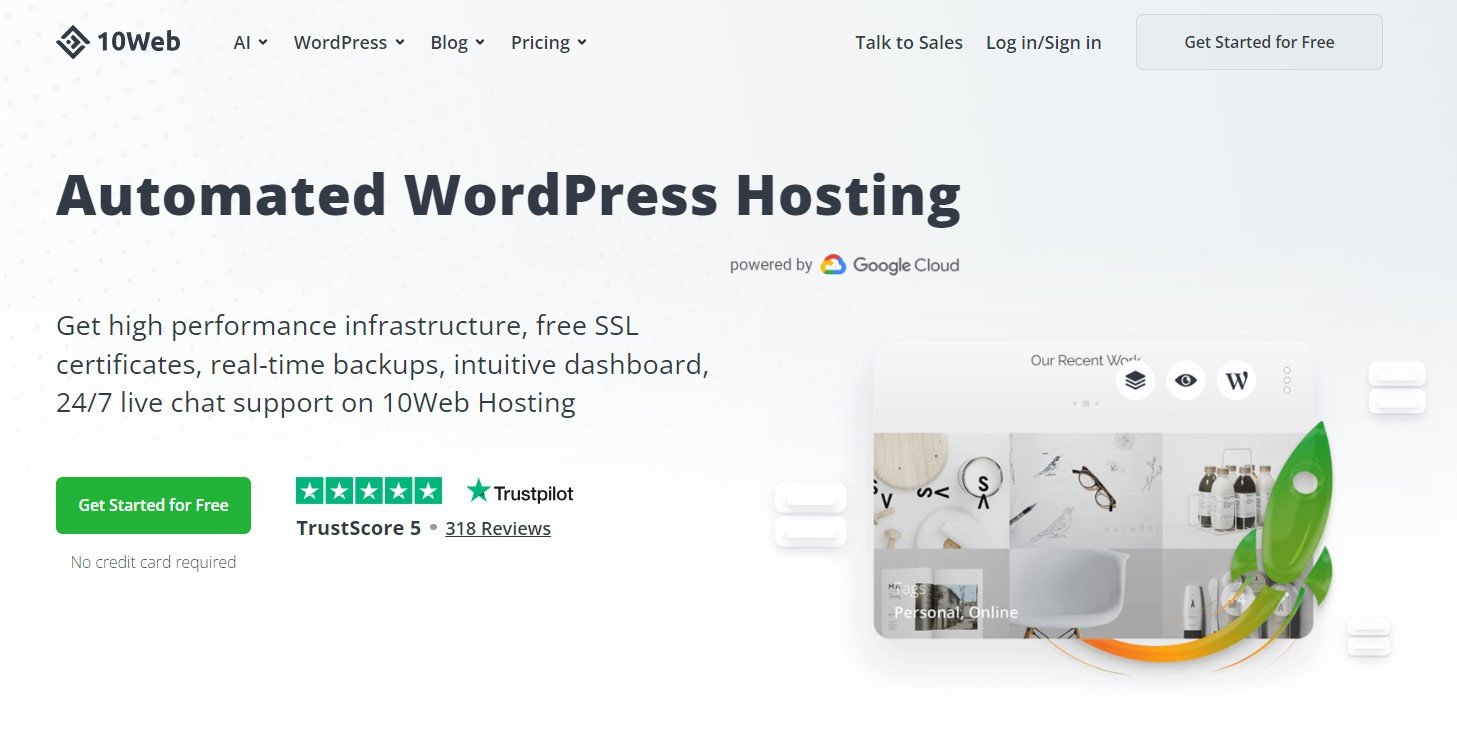 A disruptive newcomer to the world of WordPress managed hosting, 10Web puts Google Cloud technology to use to provide the best set of hosting features for its users.
The thing about 10Web is that it's different from regular managed hosting providers. What this means is that website building and hosting is made so simple that it's accessible for absolutely everyone. The automation of key web development processes such as migration, backup, speed and SEO optimization, website building, etc., makes it possible for even a 5th grader to create a stunning and fully functional website in a matter of minutes.
Basically, automated WordPress hosting takes managed hosting to the next level by making website building and hosting simpler and faster than ever before. So, business owners everywhere, rejoice! From now on your schedule will be emptied from insignificant manual tasks so that you have more time to spend on business growth and creativity.
With plans starting at $10 a month, you get daily backups, security, a free SSL certificate, a staging environment, an advanced caching service, image optimization, SEO and analytics services, as well as 24/7 support. In addition to all these hosting services, you get a bunch of designer-made website templates and can use a builder on top of Elementor to tweak them however you like. The company guarantees that a website built with one of the templates and hosted on 10Web will get a PageSpeed score of 90+. Moreover, they claim that every website would get faster if it was moved to 10Web. If you're feeling skeptical about this, you can test yours out without actually moving on their website. 10Web is a great option for small to medium-sized businesses and developers building websites for a living. There's also a free trial if you want to give it a go before making a decision.
WPEngine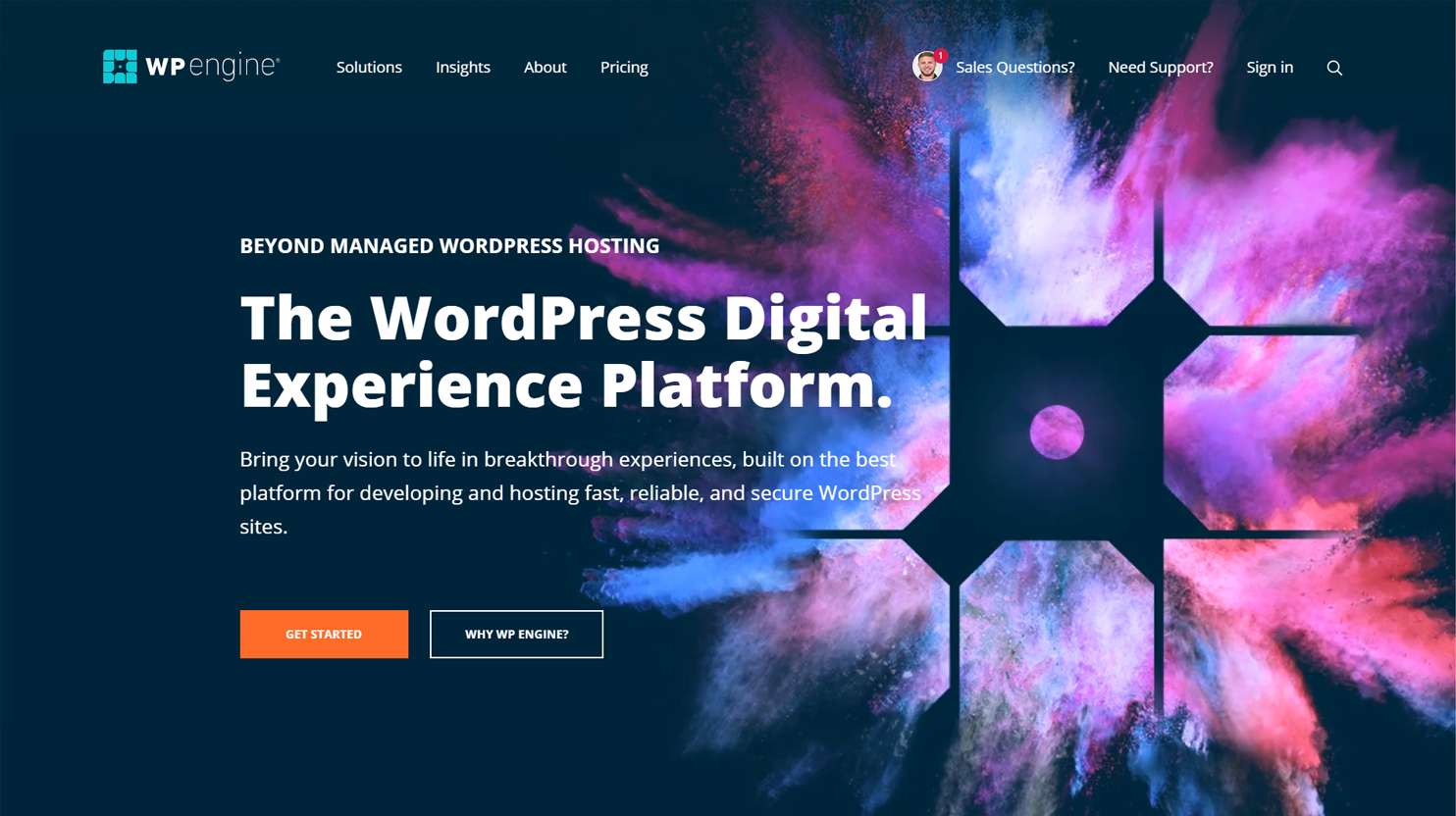 WPEngine is the veteran of managed WordPress hostings: it has been around for quite a long time and is one of the most popular managed hostings. Its market offer is a sort of "middle ground" between cheap and relatively unreliable hosting options and premier solutions boasting innovative solutions. Along the way the company did encounter some infrastructural issues, but recently it has been doing just fine. Its WordPress plans start at $29 a month and include fully managed hosting with a security service, daily backups, CDN included in all plans, free automatic migration, 24/7 customer support via chat and phone, and great scalability. Tests show that WPEngine provides near-perfect uptime and internationally consistent high speeds for its customers, so it comes as no surprise that 92% of users say they will extend their hosting subscription with WPEngine. On the downside, 24/7 support is available only for premium customers. Also, WPEngine has a full list of prohibited plugins, so you better go through it before purchasing a plan.
Flywheel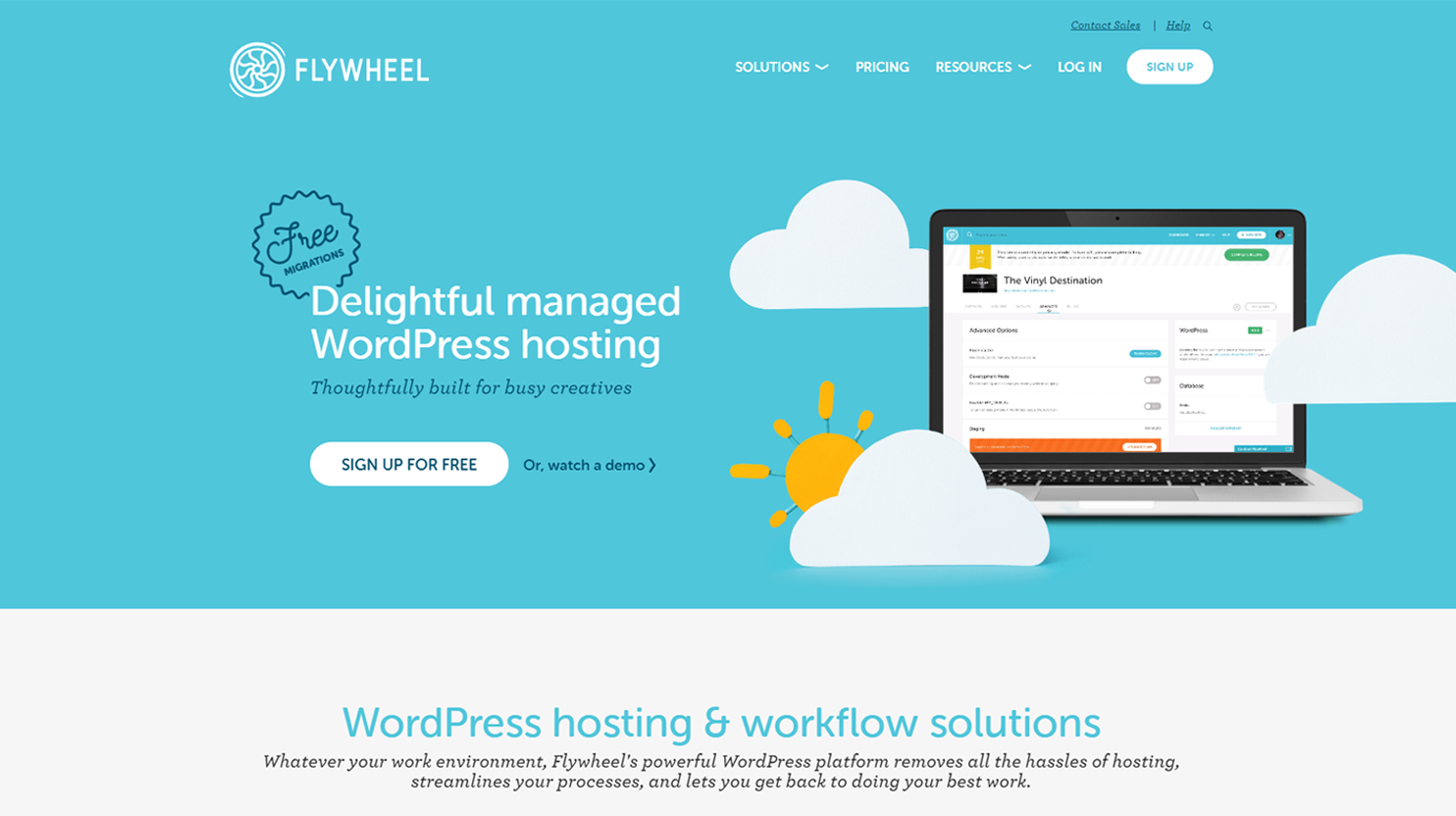 A great option for those who are looking for their first managed WordPress hosting but don't want to spend too much. With plans starting at $25 a month and a full package of WP services, from daily backups and staging to a free SSL certificate and multisite support, Flywheel provides good website performance at a good price point. Furthermore, since Flywheel hosts only WordPress websites, you can be sure of their professionalism with the CMS. With Flywheel, installing WordPress is easier than ever and their customer support is very responsive. Thanks to their servers running on Google Cloud, you get perfect uptime and high website speed. What's not to like? This is a wonderful choice for all non-techy people, be it bloggers or freelancers, small business owners or creatives of all kinds, since it is extremely easy to set up and use. The only issue may be the steep price for any additional server features, such as CDN and multisite. Besides the ones described in the video and in the list above, there are many more hosting providers worth considering, including shared ones. Here they go:
Host
Bandwidth
Storage Space
Site Number
Pricing
Support

SiteGround

10.000,

25.000,

100.000 visits

10,

20,

30 GB

1,

Unlimited,

Unlimited

$3.95, 

$5.95,

 $11.95 /mo

24/7 chat and phone support

GoDaddy

25.000, 

100.000, 

Unlimited visits

30, 

75, 

Unlimited, GB

1

$8.99, $12.99, $19.99, $24.99 /mo

24/7 support online, via chat and phone

Pagely

20, 

50, 

200, 

300,

500 GB

30,

30,

50,

50,

50 GB

5,

15,

35,

60,

30,

60

$199, $299, $499, $999, $1249, $2249 /mo

24/7 online

Bluehost

Unlimited

Unlimited

Unlimited

$19.95, $29.95, $49.95 /mo

24/7 support online, via chat and phone

InMotion

20.000,

50.000,

125.000,

300.000,

Unlimited visits

40,

80,

120,

160, 

Unlimited GB

1,

2,

3,

6,

Unlimited

$6.99, $9.99, $12.99, $19.99, $29.19, $105.69 /mo

24/7 support online, via chat and phone

DreamHost

100.000, 

300.000, 

1M+ visits

30, 

60, 

120 GB

1

$16.95, $24.95, $71.95

24/7 online
SiteGround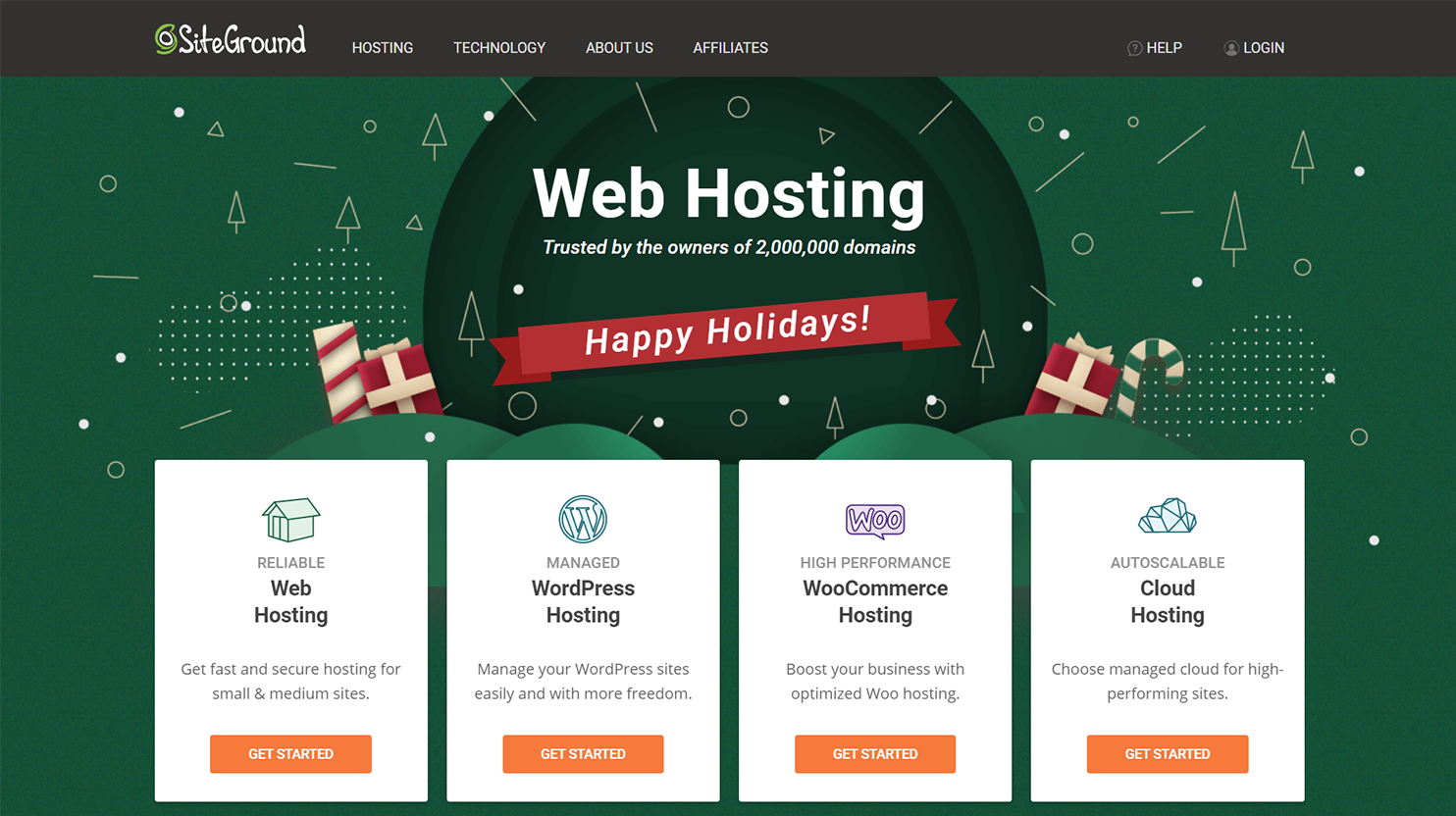 SiteGround offers the cheapest managed WordPress hosting on the market: there are plans for just $3.95, $5.95, and $11.95 a month. The latter two include a bit more advanced services, such as caching, 1-click staging, on-demand backups, free SSL encryption, free migration, and 24/7 support also available via phone. SiteGround is also officially recommended by WordPress.org and tests show high uptime and decent speed, so it may be a good option if you're on a budget and don't expect major traffic spikes. However, there's one important disadvantage: While SiteGround does claim to offer managed WP hosting, their WP infrastructure is basically the same as their shared and Joomla hosting services. This is not to say that SiteGround isn't a good hosting provider with stellar customer support. It's just that if you're looking for managed specialized WP hosting, you should consider other options. If you do decide to go with SiteGround, we recommend the $5.95 plan for most personal websites: you get up to 25 thousand visits monthly, 20 GBs of storage space, and can install any number of websites.
GoDaddy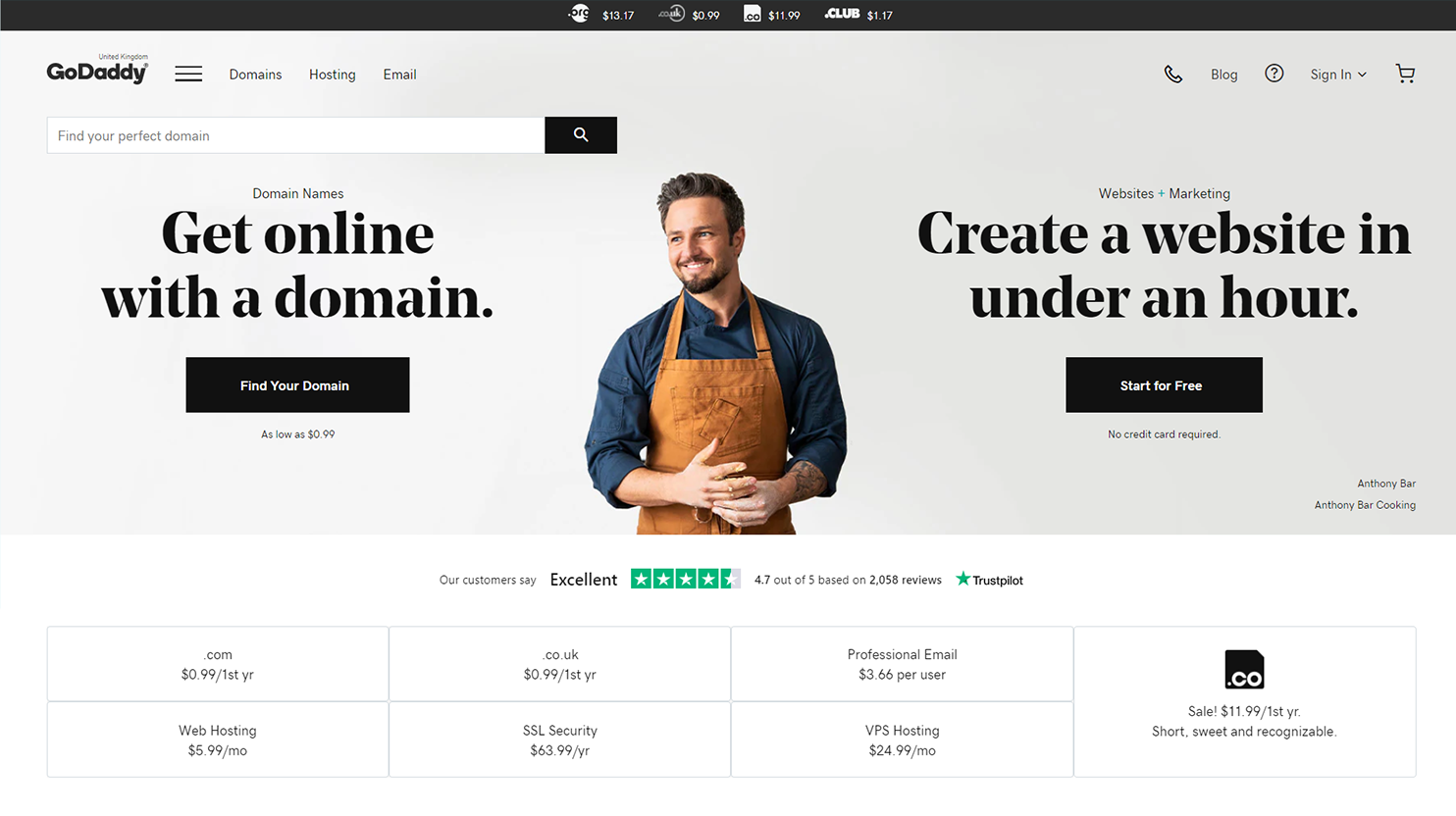 I bet you've heard of this company before. It does have the biggest market share for hosting after all. With plans starting at just $8.99 a month, GoDaddy is an attractive option for beginners and website managers with a modest budget. Recently, it seems like they have really been focusing on coming up with more WordPress-oriented products and provide one-click staging environment, a free SSL certificate for a year, and a security service. GoDaddy may be a fine option if you are looking to host 1-5 websites, but at such a low price point you can't expect high uptimes and response rates. According to our tests, the performance of sites hosted on GoDaddy can be quite erratic, with load times and uptimes varying greatly between months. Also, most managed hosting providers offer free SSL certificates indefinitely, whereas GoDaddy gives you only one-year access. If you do decide to choose this company for your WP website, be careful not to add a whole bunch of services you don't need to your shopping cart.
Pagely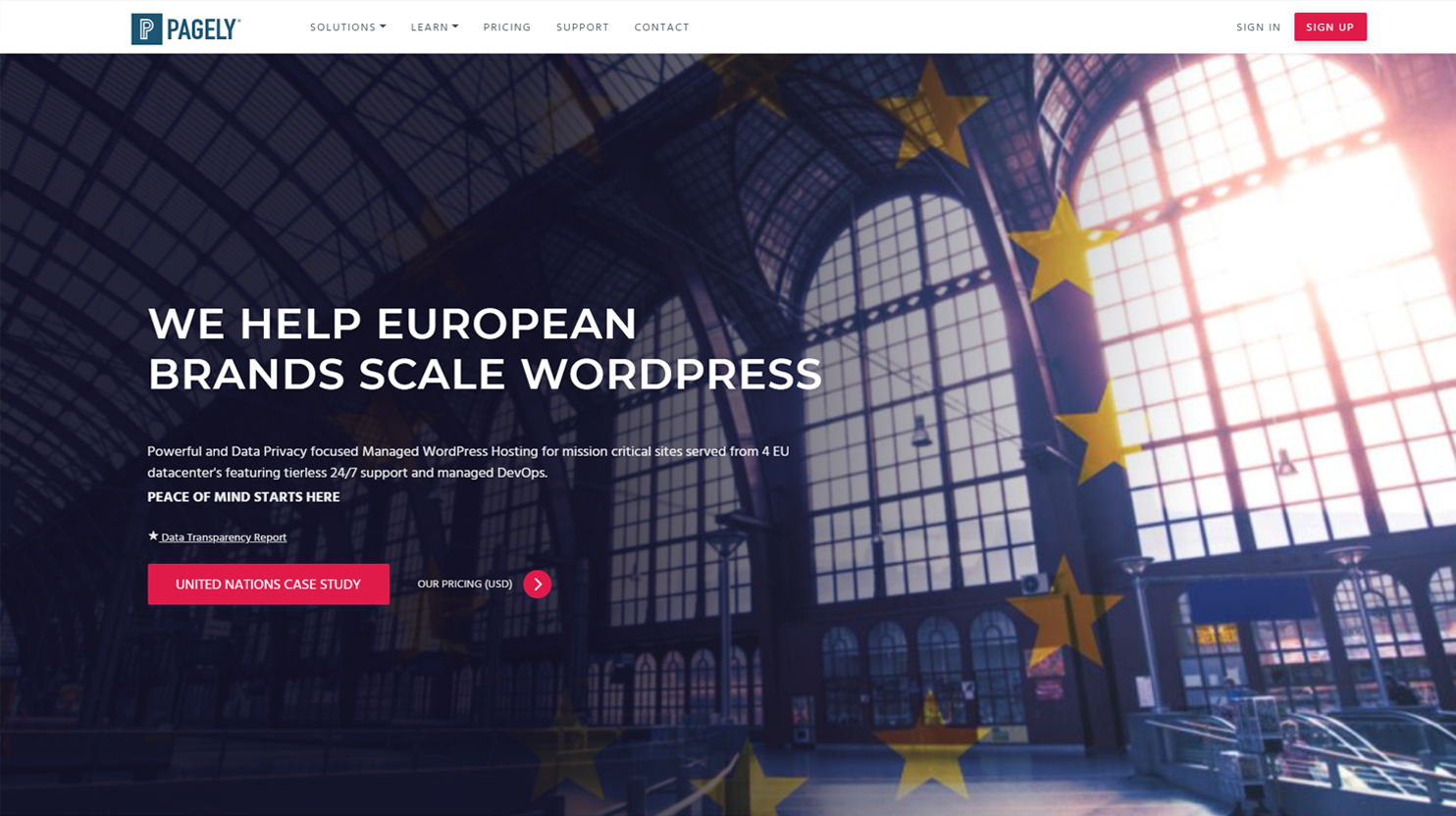 Let's get this evident point out of the way: Pagely is expensive. Really expensive. Their plans start at $199 a month and go up to $2249, so you have to be super serious about WordPress hosting to decide on this option. Admittedly, the situation with the target market is a bit different here: it's a solution oriented at developers and enterprises, rather than bloggers and small business owners. On the upside, you get a comprehensive list of WordPress services and features: constant malware monitoring, automatic daily backups, support of many websites, impressive scalability, staging environment, Git integration, and a whole range of other advanced Amazon stuff. If you're on the fence about Pagely, there's a 30-day free trial to help you decide. But although Pagely does power very very fast websites with very high uptimes, let's be upfront about it: No managed WordPress hosting is worth that much, unless you're a developer and aim to take full advantage of everything the hosting provider offers.
Bluehost
This is a super cheap shared WordPress hosting plan – their plans start from as little as $2.95/mo – but if you're looking for a "fully managed WordPress hosting" it starts at $19.95/mo. Unfortunately, there are no monthly plans and you have to pay for a whole year in advance. Bluehost offers some nice features – unlimited number of websites and no traffic limits, a staging website and unlimited web storage – but its support has some mixed reviews and tests show that hosted sites can sometimes take up to four or five seconds to load. The latter factor is very important for retaining and converting visitors, so if you have a strategically crucial site and a decent budget, you're better off choosing some other option. It may be a good idea to go with Bluehost if you are building a personal website or an online portfolio and are fine with a few of your visitors bouncing right away. In sum, although Bluehost is the first hosting platform ever recommended by WP.org, its users have ranked its reliability 3.4 out of 5 and one out of four Bluehost users are first-timers to hosting a site.
InMotion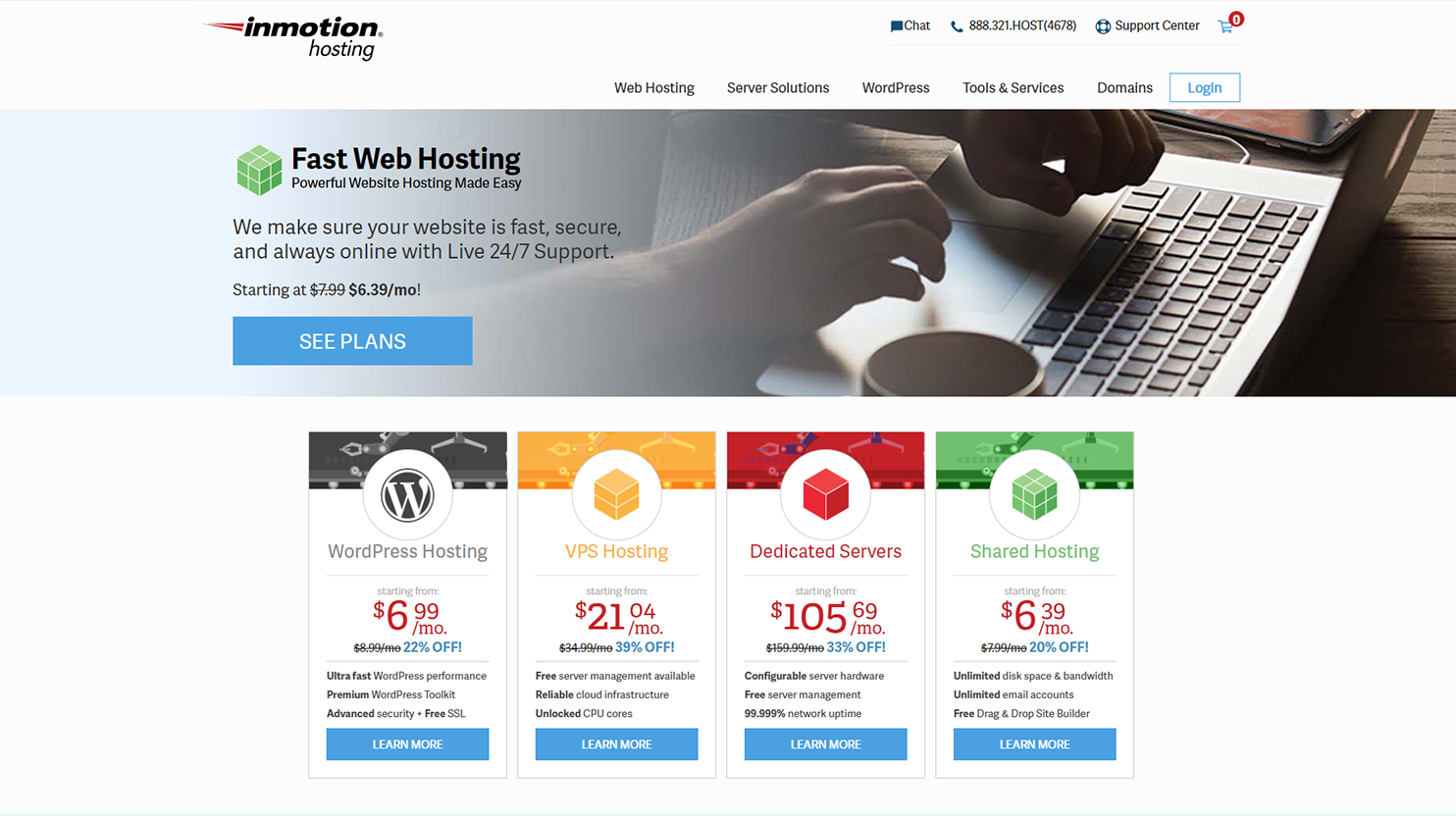 While InMotion is not a WordPress-specific hosting provider, it does offer some plans specifically designed with WP in mind, the most affordable of them costing $6.99 a month. An interesting perk of InMotion is the huge knowledge base full of tutorials, guides, and articles, where you can find information about website design, contacting WP developers or what to do after your website launches. The features you get include free migration and data backups, unlimited bandwidth and SSD disk space. You also get WordPress pre-installed when you sign up for a hosting package. With helpful support, advanced caching, low response times, and high uptime, InMotion is probably best suited for medium-sized businesses and more or less established bloggers. One disadvantage you may suffer if you pick InMotion is that they use max speed zones, which, efficient as they are, are still worse than GIT and data centers spread all across the world. Another possible drawback is the complicated checkout process.
DreamHost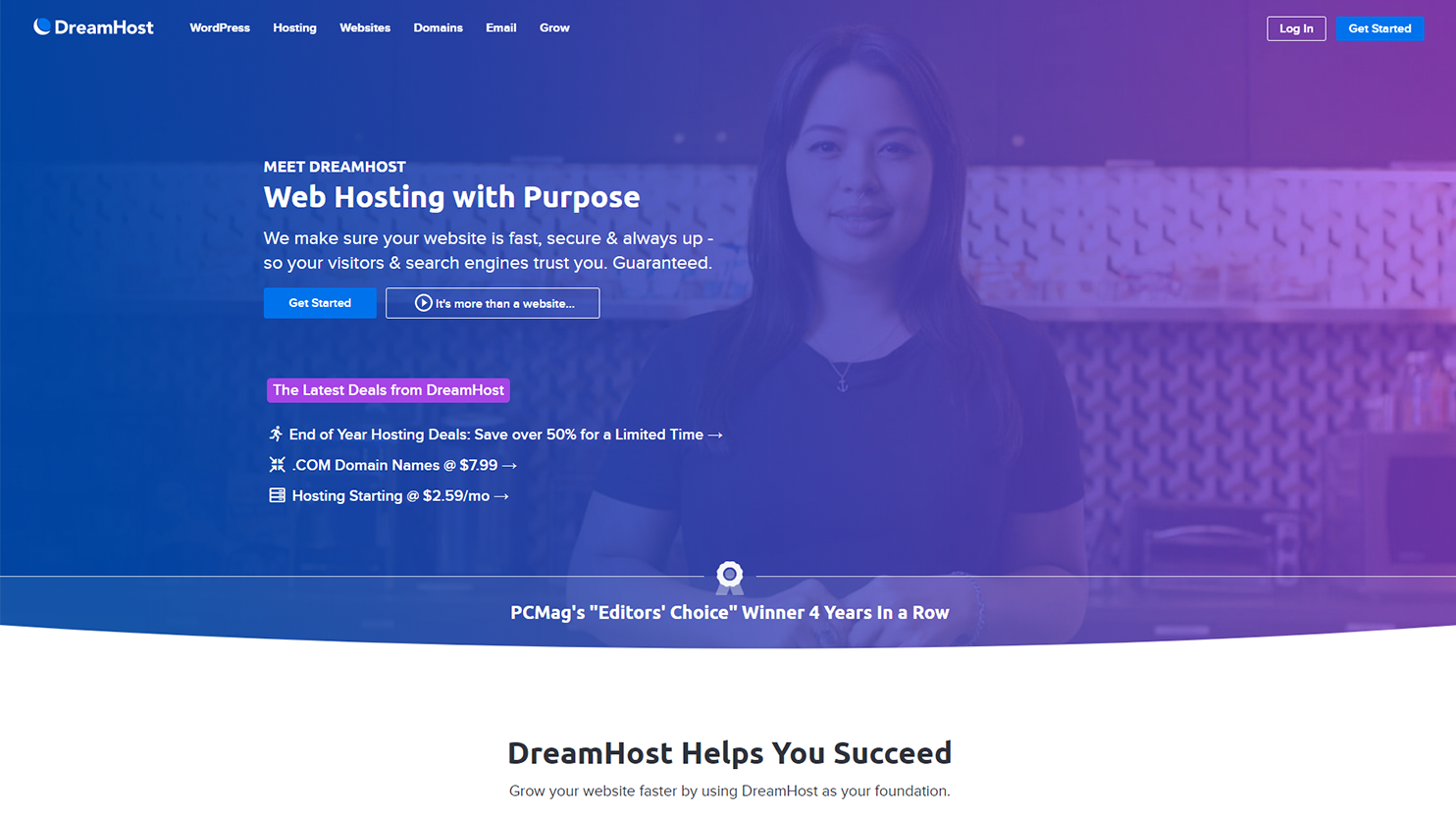 While the name of this hosting provider may sound dreamy, the hosting company is instead associated with stability and reliability. It has been around for around 18 years after all! They offer a great variety of hosting plans, some shared, some dedicated, and DreamPress, the WP-specific managed one, is quite a popular option. Starting at $16.95, the fully managed plans boast great speed performance under traffic for all geographic regions and include free SSL, one-click WordPress install and staging environment, and 24/7 customer support via tickets, chat, and phone. Their servers are famous for their high performance and regular automatic updates. In addition, if you sign up for an annual plan, you'll get a free domain for a year. Unfortunately, according to tests, DreamHost's uptime metrics have recently been pretty far from perfect. Hopefully, they'll work on resolving the issue soon. Overall, DreamHost is great for website owners and managers who are in search of a "middle ground" option, something not too fancy or expensive, but something that gets the job done.
FAQ
Can I change my WordPress managed hosting?
Yes! If you're unhappy with your managed hosting, you can move your website to another hosting that suits your needs better. Most managed WP hosting providers offer free migration services, meaning you can transfer all your website data to their servers with minimal downtime.
Migrating a website – moving data you've put so much time and effort into – is one of the most common fears of any beginning website owner or manager, so it's understandable if you decide to trust professionals with it, but if you're somewhat tech-savvy, you may even be able to move your site manually.
The most popular reasons why people move hosts include frequent and lengthy downtimes or internal errors, site suspension for minor insignificant reasons, low quality of support, and high load time.
It is recommended that you periodically check the situation in the market of WP hosting providers to know if you can move your site to better hosting at a lower price. It is especially important for your website's further advancement if you feel that your site has "outgrown its hosting," requiring better resources and management for a bigger stream of traffic and heavier, more advanced design.
What is self-managed WordPress hosting?
Self-managed WordPress hosting is when you set up a server yourself and then do everything that a hosting provider typically does to take care of the server yourself.
If you do decide to manage a server yourself and have the technical background to pull it off, keep in mind the factor of opportunity cost: While you're out there trying to battle technological mishaps and keep your website safe and up and running, a lot of time you could potentially spend devising strategies to develop your online business or project is lost.
Managed WP hosting may be a bit pricier than shared options, but if you or your company can afford it, there is no point learning server management if you can just trust WordPress-focused experts to take care of the technical aspects of your site.
Don't believe us? A quick Google search will show a number of personal stories by people who gave self-managed WordPress hosting a try but found it too arduous and pointless and switched to a managed option.
Why does WordPress need hosting?
Because WordPress is a CMS (Content Management System). As such, it provides you a way to manage your content – write posts, install themes and plugins, create buttons and forms and sliders and photo galleries – but doesn't give you a server, a place where you can store said website content for visitors to load from.
What is the difference between shared hosting and WordPress hosting?
There is no real difference. You can totally host your WordPress website on a shared server. The difference is between shared hosting, where a lot of websites share one host and managed hosting, where your website has its own server. What CMS your site uses – WordPress or Joomla or Drupal – is a different question.
However, when people pit shared hosting and WordPress hosting against each other, they typically take "shared hosting" to mean any generic cheap shared hosting and "WordPress hosting" to mean dedicated hosting specifically made for WordPress websites. The latter also includes a range of essential WP features and services, such as backup, optimization, security, etc.
The difference in this case is how much server space and attention your site gets. In the case of shared hosting, your website will likely suffer more frequent and lengthy downtimes, will take longer to load, and will be able to accommodate less traffic. In contrast, managed WP hosting will get you better quality hosting and all your essential WordPress needs will be taken care of.
Is cloud hosting better than shared hosting?
Definitely. Cloud hosting is the hosting of the future; it means your servers are several and virtualized, rendering better security, scalability, and performance. That being said, shared hosting, the traditional hosting method, costs a lot less and is perfect if you're expecting low traffic and are okay with more downtime and lower site speed. But if you can afford it, cloud hosting means a faster and more secure website, happier visitors, and more sales.
Can I use my domain name with any host?
Most definitely. You can link your domain name to any host through DNS.
Can I make a WordPress website without managed hosting?
Yes, of course, you can. If you can manage all the technical aspects of setting up and then taking care of a server, you can definitely have a self-managed WP site. However, if you're an average user, that'd require you to invest a lot of energy and time into learning what it means to manage a server. So, unless you're a developer with at least some experience with WordPress, you're better off choosing managed hosting.
Alternatively, you can go with shared hosting, meaning your website will share a server with a number of other websites. Although this is definitely the cheaper option, it also means your site's speed, security, and uptime will depend on other websites' speed, security, and uptime, which is not a great option if your website is set to get a lot of traffic and attract a lot of clients.
What is the difference between web hosting and WordPress hosting?
Web hosting is generic, you can use it with pretty much any CMS (Content Management System). WordPress hosting is hosting for WordPress websites only. While a WordPress website will run on ordinary web hosting no problem, in some cases it is worth it to go with a WordPress-specific hosting plan.
For example, if you're trying to hook up a CDN (Content Delivery Network) or use a staging site or an SSL, a WP hosting plan will provide pre-configured setups that will let you avoid the steps necessary for performing those same actions on a web hosting. When it comes to security, too, WordPress hosting has its major advantages: most security threats and vulnerabilities are WordPress specific, so it'll be easier to safeguard your site if your host's security service is focused on just WP.
And finally, you can never overestimate the value of WP-specific customer support, though users tend to underestimate it until they really need it.
So, in general, choosing WordPress hosting makes things quite a bit easier for an ordinary user but a technically advanced one may be fine with a few additional steps.
What is included in managed WordPress hosting services?
Typically managed WP hosting providers include caching, security, backups, staging, support, SSL certificate, and free migration. They are in part responsible for your website's speed, scalability, uptime, and updates.
See How 10Web Can Benefit You
Visit our homepage to learn more about the ultimate AI-powered website builder.
Hope you found the comprehensive overview of the top 10 WordPress hostings in 2022 helpful and can make a wise choice for your website. Which services and features are most important to you in a hosting provider? Have you had an interesting experience with WP hosting you'd like to share? Drop us a comment down below!