Announcing the Launch of Experts.10Web.io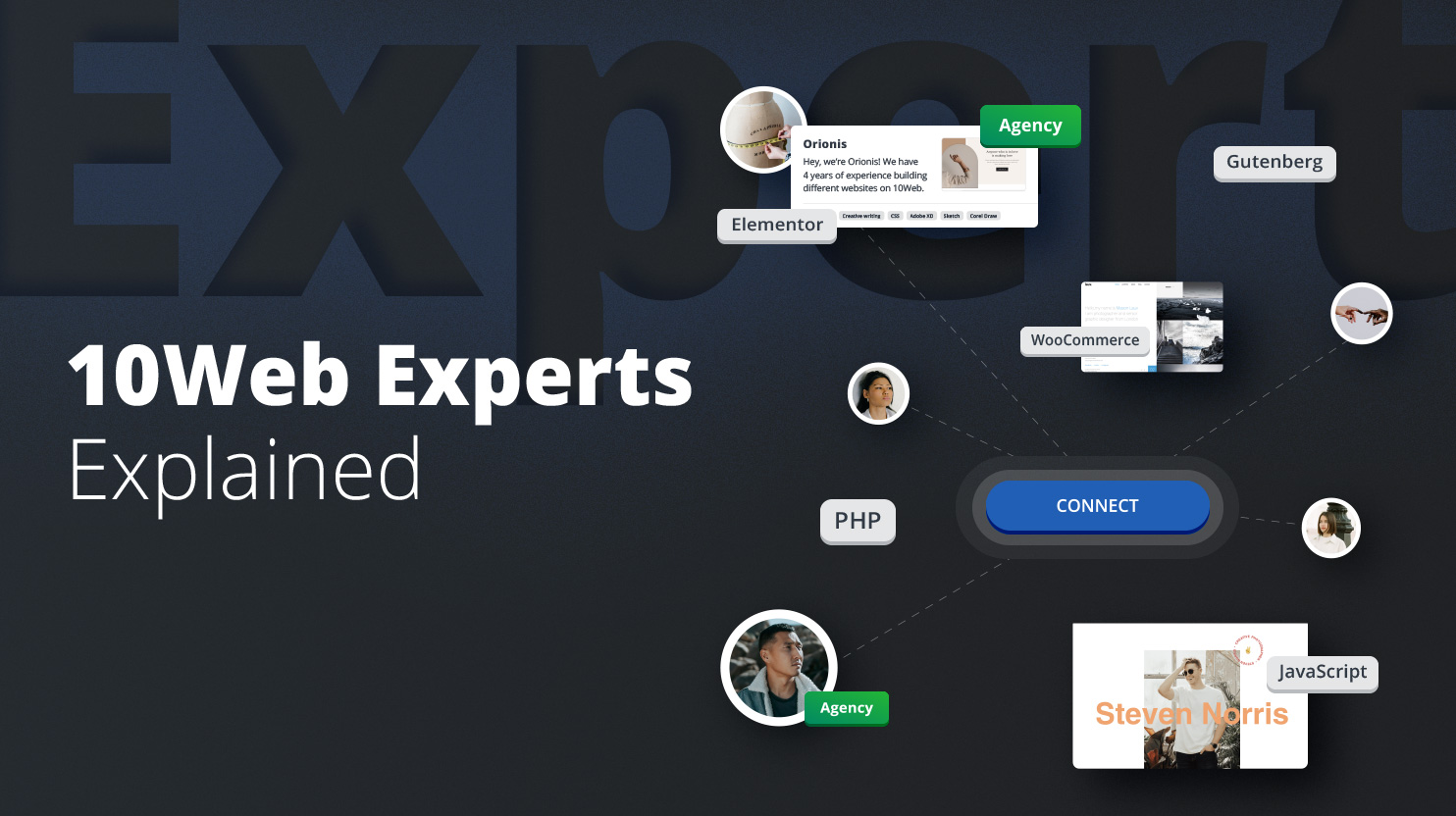 We have some exciting news for everyone who's a fan of amazing websites – Experts.10Web.io has now launched! What does this mean for small- and medium-sized businesses or freelance developers, designers, and agencies? And what does it mean for the website-building market in general? We'll be figuring it out in this article. Let's dive right in!
10Web Experts is a platform that acts as an intermediary between certified and 10Web-approved site-building experts and companies/enterprises looking to rock their online presence. We came up with the idea for this service when we realized the immense potential of the network of experts and clients that has formed around 10Web over the years. So, why not put two and two together? Especially, if the endeavor is sure to result in a myriad of beautiful and functional websites that are a pleasure to browse.
Since the platform is relatively new, I'm sure you have a lot of questions about it. Let's tackle them all one by one.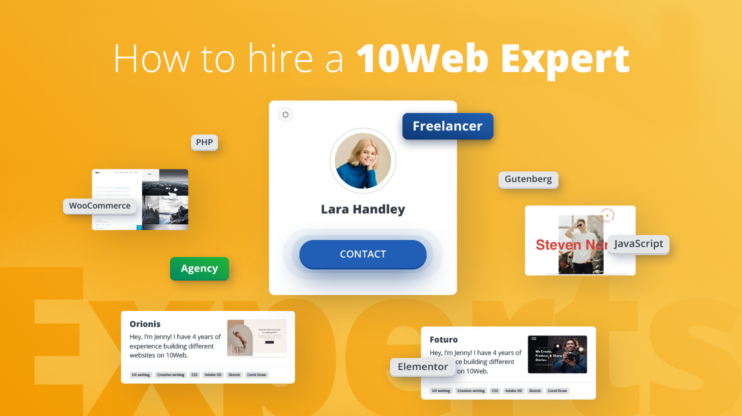 How can I hire a 10Web-approved expert?
Here's what you need to do to hire a 10Web-approved expert:
Go over our extensive database of experts
Contact us when you choose the one you'd want to work with
Complete the project requirements template
Wait for your 10Web account manager to contact you with an offer and the best-matching expert
Once there's an expert-client match, the collaboration can start immediately. For your convenience, all communication will happen on a dedicated Slack channel.
Throughout the process, you can count on your personal account manager to mediate the collaboration and ensure the efficiency of the process. Oh, and if the match is not the right fit, your account manager will help you find a new expert in no time!
All payments will go through 10Web, so they'll be secured with a multi-layered security protocol. You can choose between two different payment plans: You can either pay 50% of the total fee upfront and the other half upon the project's satisfactory completion. Or, you can pay 30% upfront and divide up the rest of the fee into monthly payments.

Get a head start on website creation with AI
Create a custom website tailored to your business needs 10X faster with 10Web AI Website Builder!
Get a head start on website creation with AI
Create a custom website tailored to your business needs 10X faster with 10Web AI Website Builder!
While we're confident you will love this service, if for any reason you're not 100% satisfied and want to cancel the whole thing, don't worry – 10Web has a 100% moneyback policy. No risks, no loopholes!
What can 10Web experts help me with?
In our database, we have a number of experts focused on almost all aspects of website-building, design, and marketing. They can help you out with design and branding, design systems' setup, enhancing accessibility, interactive animations, codeless app building, e-commerce website optimization, and so much more.
Have something in mind but are unsure if 10Web Experts covers it? It probably does, just fill out the requirements form for your project and let your personal account manager take it from there.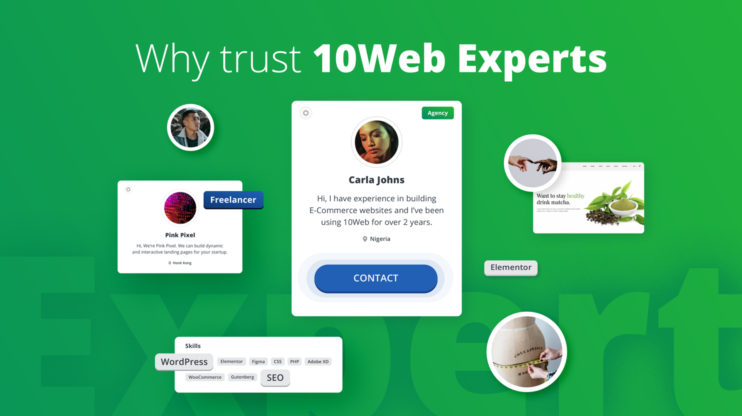 Why should I trust 10Web experts?
A good question! Here's why you should trust us with your website rehaul:
10Web has 10+ years of experience in the website-building field that has resulted in an extensive network of top-notch experts that definitely know what they're doing.
10Web experts undergo a lengthy screening process. We make sure the professionals we work with have amazing portfolios and many clients vouching for them.
Throughout the collaboration, you'll work with a personal account manager, whose sole responsibility will be making sure your experience is wonderful and all your needs are met. So, you can voice your doubts or concerns and make changes to the process at any point.
How do I become a 10Web-approved expert?
Are you a freelancer or agency looking to reach a new audience and work with new clients? Joining 10Web Experts is an excellent way to claim a spot among the top professionals of the website-building field.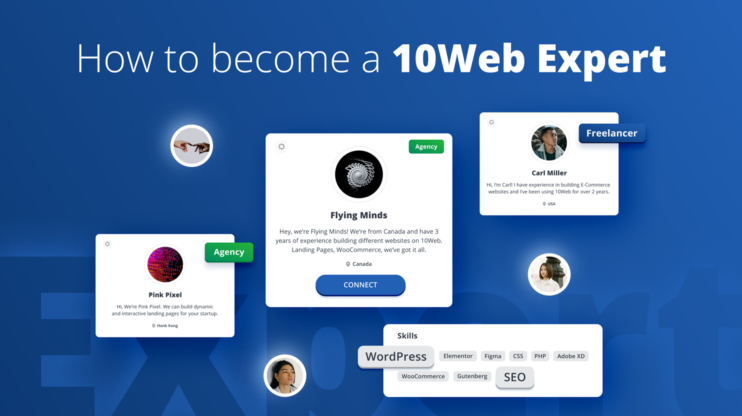 The process of becoming a 10Web-approved expert is as straightforward as possible:
1. Click here and create an expert profile.
2. Add your portfolio, a brief bio, and other credentials to your profile.
3. Wait for new gigs to start rolling in.
Collaboration on a project is managed through your dedicated Slack channel. All payments the client makes go through 10Web and we guarantee their security: No risks, no loopholes. There are two different payment schemes: In the first one, you'll get 50% of the total fee upfront and the other 50% upon the project's completion. And in the second one, you'll get 30% of the total fee upfront and receive the rest in monthly payments.
And don't worry if you ever have a difference of opinion with a client – 10Web's personal account manager will do everything in his or her power to make you reach a consensus. Plus, if you ever choose to discontinue working on a project, that is also perfectly fine.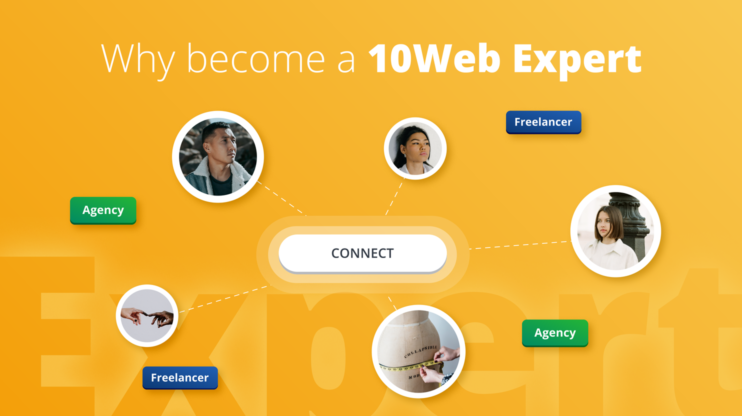 Why should I become a 10Web-approved expert?
If you're a successful agency or freelancer, you should apply to become a 10Web-approved expert…
To reach new clients and extend your network. No matter how comfortable we are in our professional bubble, there are always new opportunities to chase. In this case, the opportunities basically present themselves with little effort on your part.
To have a third party taking care of organizational and logistical matters. Guaranteeing a smooth and efficient collaboration, as you probably know, is no easy feat, and outsourcing it is a bit of relief.
To add an extra credential to your list. Who knows, maybe becoming a 10Web-approved expert is your golden ticket to success.
Concluding remarks
No matter if you're an SMB owner or manager looking to make improvements to your online presence, or a freelancer or agency seeking new opportunities and clients in your field, 10Web Experts is here for you.
The newly launched platform will surely give rise to many fruitful collaborations and make the internet that much more beautiful and functional – something we can all get behind!