How to Compete in a Saturated Market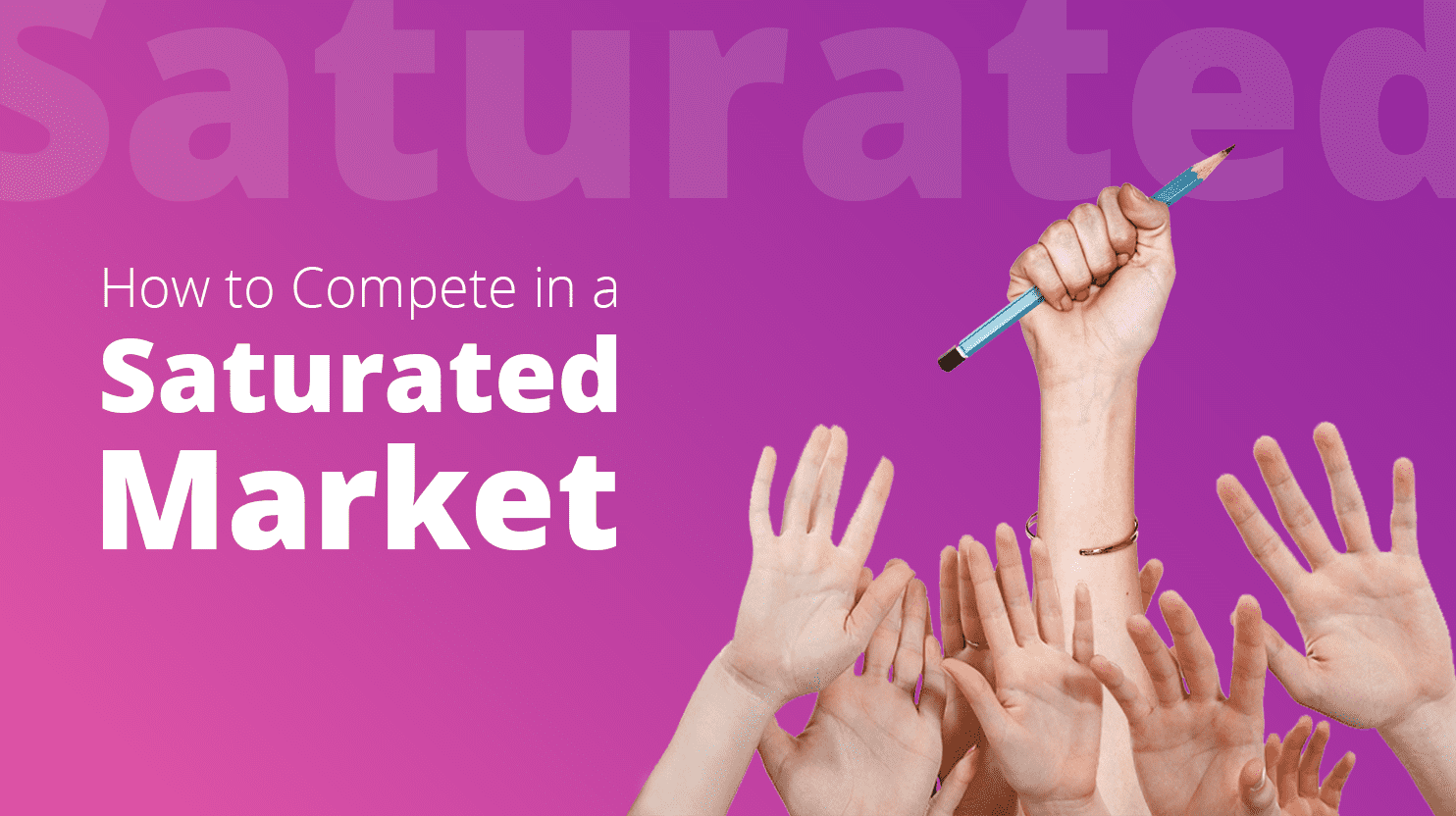 How many competitors does your business have? Dozens? Hundreds? Thousands? Why do people choose you over them?
There are endless ways to stand out, and striking advertising campaigns are only one of them.
Customers will notice you and will be more likely to pay you after you follow these 10 steps:
1. Unique selling proposition (USP)
Do you sell burgers? There must be dozens of other burger places in the area. You must have some kind of special sauce if customers keep coming back to you.
A special sauce is something every business needs: manufacturing, retail, services — everywhere. It can be your packaging design, delivery speed, a special ingredient or diverse team.
The classic printed ad for Rolls-Royce by David Ogilvy, known as "Father of Advertising," tells us how quiet the engines work (USP 1), meanwhile telling about details like an electric clock in the machine which was a sign of luxury back in 1959 (USP 2).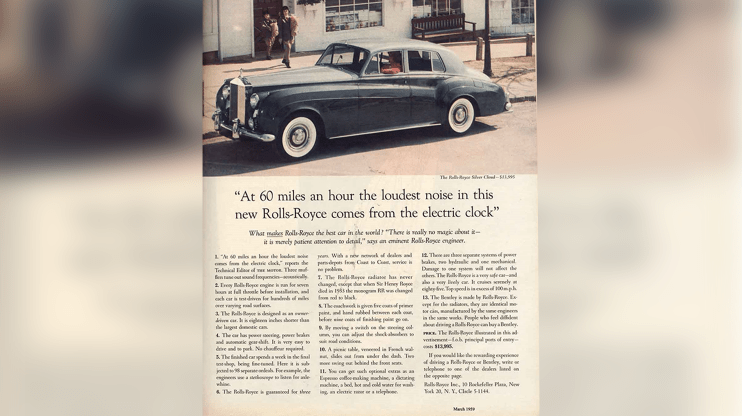 The entire copy lists the unique selling propositions of the car. You can pick only one and build your marketing communication around it.
Or you can create your USP by accenting one of your qualities. Think of it: ask a stranger to spend some time in your company and try the product. There's certainly something you don't notice that makes what you do special.

2. Focus on your niche
Mass markets are extremely appealing, we all know it. Who doesn't want to own a company like Coca Cola or Samsung?
Yet, a narrow target market can help your business make the first steps faster.
Let's say you're opening a daycare center and there are a lot of them in the neighborhood.
Think of a daycare who offers an extended range of services for children with special needs or one that offers services in the second language of your area.
There may be only 1000 people who need your services in your city. Yet, you already have a guaranteed interest of 1000 prospects.
When you doubt if working for a niche is worth it, remember that Amazon started off as a bookstore, Coca Cola used to be sold in pharmacies only, and Apple keeps releasing only flagman smartphones once a year.

3. Study the competition
Know your enemy and yourself.
You can't win the competition battle unless you know both the strong and the weak points of your competitors.
If low prices are their strong quality and you want to win by offering the lowest price, go ahead and check their offers every day.
If you realize you can't compete with the same feature, focus on another one. For example, if you can't afford any lower prices, offer better service.
For markets with impossible competition, there's a strategy called "underdog advertising."
It started with the famous Avis campaign by David&Goliath. Hertz had more than 60% share in the car rental market with no intention to lose that share when Avis launched their campaign with the tagline "When you're only No. 2, you try harder. Or else."
Within 3 years, the market share gap between Hertz and Avis went from 61%–29% to 49%–36%.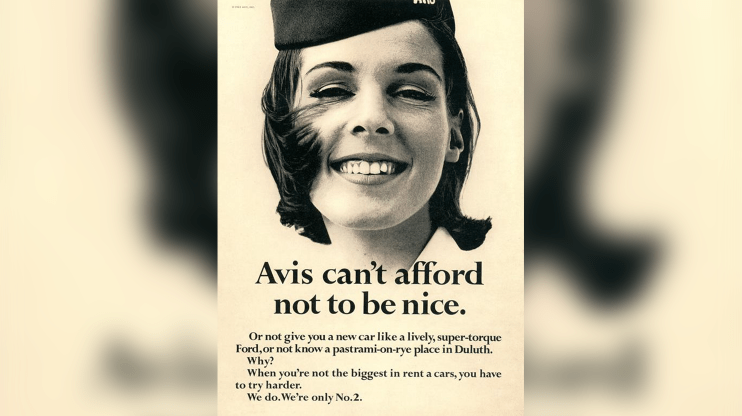 4. Focus on the user, not the product
Remember Apple with the "Think Different" campaign by TBWA Chiat/Day? They weren't selling a way of thinking, were they? But they knew that in the market, it's the customer's needs that matter.
The campaign was mainly a response to IBM's tagline "Think" but in a way that their target audience would relate.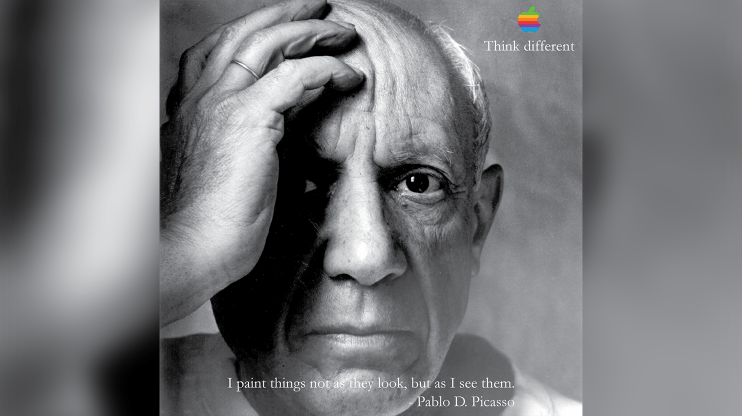 In 2012, Weiden+Kennedy shot a commercial for Chrysler to be aired during the halftime of the Superbowl.
Touching the problems that every American relates to and speaking about the brand only during the last seconds of the 2-minute commercial, "Halftime in America" has become a textbook example of storytelling in advertising.
Today, as digital marketing and useful content have become vital, storytelling techniques are developing around digital content.
The concept of StoryBrand explains in detail how to tell your story with the customer as the hero character and you as their guide.

5. Simplify the buying process
Ever wondered why Jeff Bezos, the founder of Amazon, is the richest man on the Earth? Just ask Google why people use Amazon.
Most of the responses include one feature: it's super easy to buy from there.
There are some rules for making the purchase simple for the customers:
Few steps — let the users click as few buttons as possible. If two steps can be combined in one page, do it. Put the "Buy now", "Add to cart" and "Go to cart" buttons at the most visible parts of the page.
Little information — only ask for the information that is essential for a safe transaction and successful delivery.
Create shortcuts — don't make the users fill in their address every time they order something and don't ask for the payment information if they feel comfortable to save it for automated payments.
Make sure to have all your policies spelled out on your website so that the users find answers quick.

6. Improve your pricing strategy
Those who are new to marketing might think that offering the lowest prices possible is the best pricing strategy. But it's only one of the many options.
There are various psychological tricks that can help you set the most desirable price. Here are some of them:
Premium pricing — when you keep the prices as high as possible to assure customers that your product is unique and worthy. Watch and learn from haute couture brands.
Decoy pricing — when you offer several products and the most expensive one seems worth its price due to the comparison to the more affordable but less attractive product.
High-low pricing — initially offering a high price, then giving discounts to reduce the price to what the competitors offer, keeping it attractive due to the limited discount.
Do your research and find the perfect pricing strategy for your target audience.

7. Provide the best customer service
How many times have you seen a review that says "never shopping here again" because of unsatisfactory customer service? It happens all the time. Employees that talk to your customers are the face of your company.
Remember that there's more to customer care than a smiling face and polite words. Users want to have their problems fixed.
You may have a small business with no dedicated customer care specialists. But it's not something a customer cares about.
Ludwig.guru is a platform for people who want to write in better English. It's automated and super simple.
Yet, sometimes questions or problems occur and the company's founder is known to respond to users fast and straight to the point. And when you receive the best treatment from the founder, you start to think that the entire company is operating at a high level.
8. Make users market the brand for you
Satisfied customers are your best advertising. Think of the many times you bought something after your friend tried and recommended it. So one of every business's basic needs is to satisfy the customers.
You can't make every one of them happy but you can at least try.
Besides friends' recommendations, people follow online reviews more and more often before deciding to make a purchase. You hear about a nice restaurant in the neighborhood, go to Google Maps to find the directions and while you're there, you take a look at the customers' reviews.
More than two customers say that the waiters were rude?
You start thinking about going to their competitor instead. Check this list for the top 22 websites where businesses should keep checking your reviews.
Ask your customers to leave their feedback online, then respond to those reviews.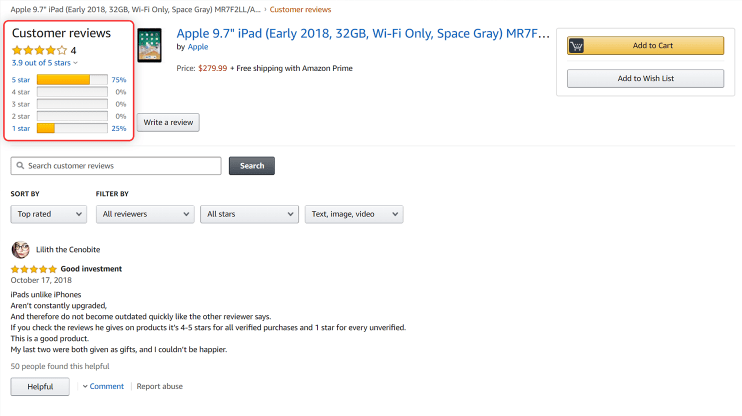 9. Learn how to handle criticism
When it comes to the question of how to react to criticism, there's one general answer: react with respect. The rest comes with studying others' experience, trying and constantly improving.
No matter what, you will always have unsatisfied customers. The worst thing that can happen is your disrespectful response.
Learn to recognize and accept constructive criticism. Thank users for it.
If a customer makes up a story to discredit you, you're expected to confront them by telling what really happened and keeping your professional tone of voice.
And in the rare cases when customers just don't like the ideas you promote, you have a lot to learn from Spark who handled the comment on their LGBT-supportive Facebook post perfectly: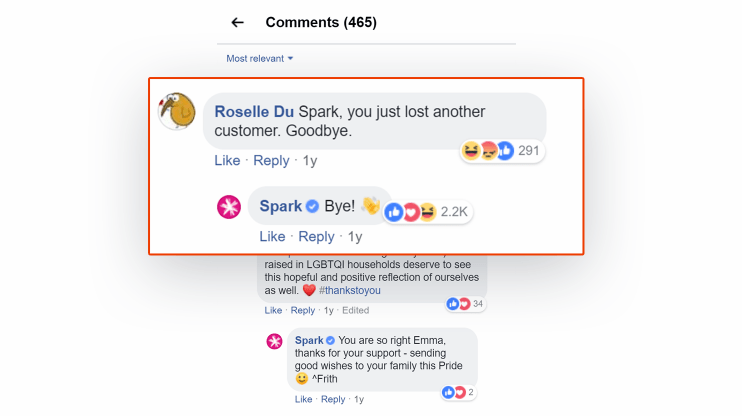 10. Keep testing new strategies
Is your marketing strategy working magic? If it is, it doesn't mean you can relax now. Many corporations were famous for starting large-scale ad campaigns only after the sales rates were starting to drop.
Never do this! Keep experimenting with new marketing strategies.
Remember Toys "R" Us's tragic story of bankruptcy? The same can happen to any beloved and popular company.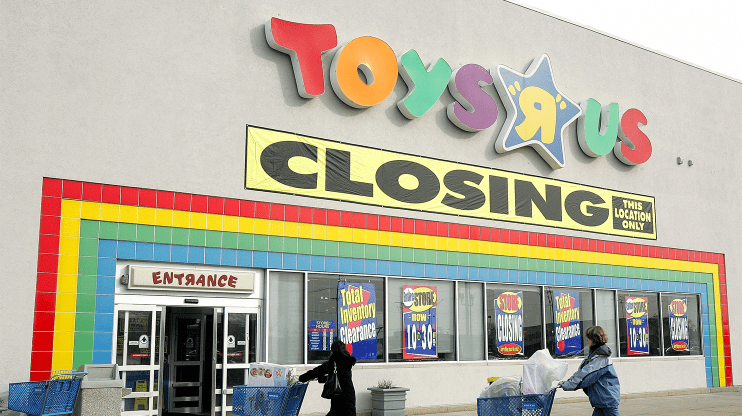 Embrace all your new marketing ideas. Your brand deserves it.