Top 5 Automation Plugins to Enhance Your Marketing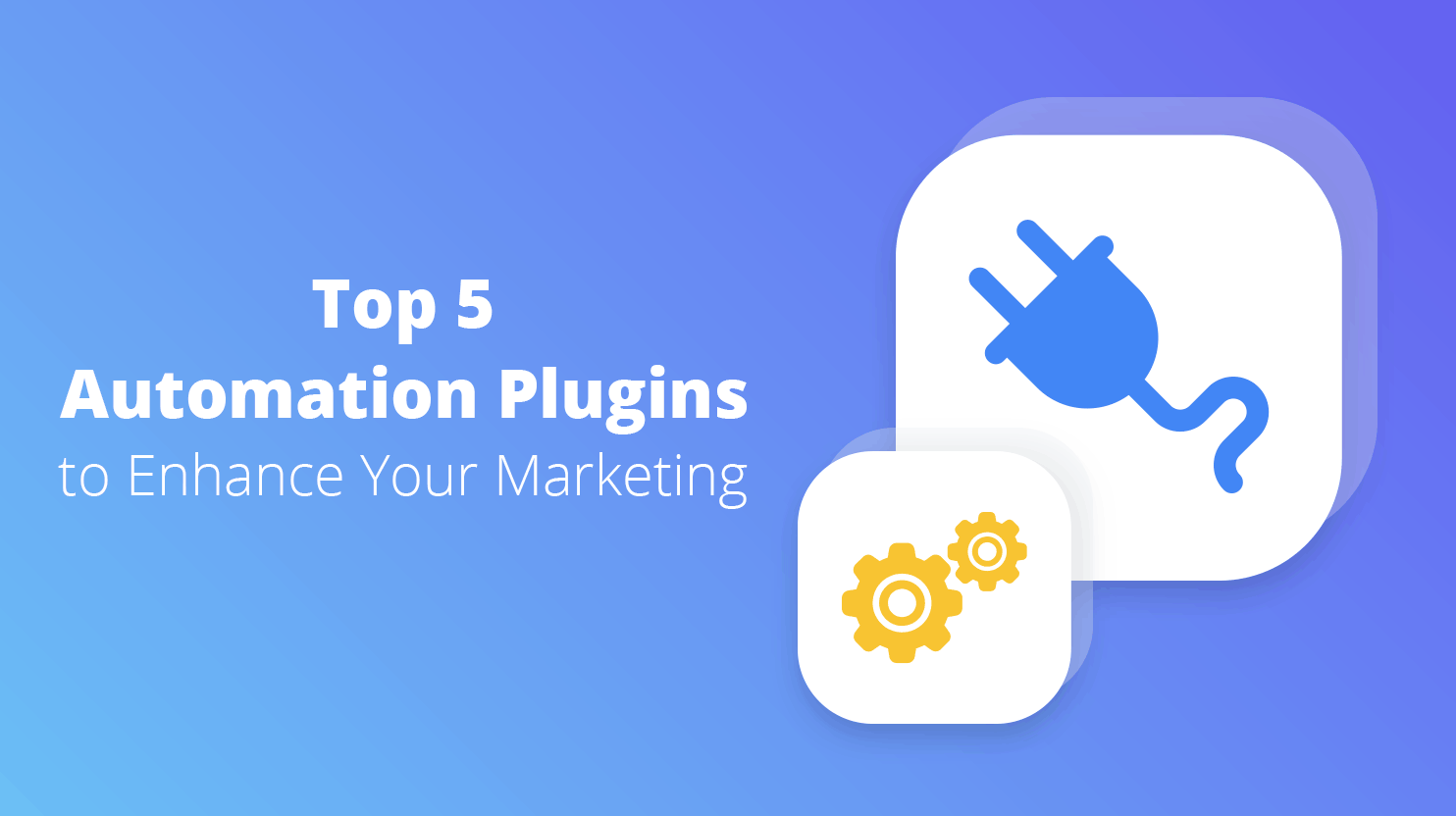 If you've ever used WordPress to set up your online business or to digitize your market online, then you've probably noticed a few weeks into your project, how some of the tasks immediately seem too repetitive and tedious, often bringing in bad results in the process.
In the digital world, the target audience of any given business has very large growth potential. To adjust your business to the constantly growing and evolving online world, you need to take certain steps to adapt your business, such as automating key functions of your marketing strategy.
But let's not get ahead of ourselves and take a quick look at what's to come in this article. First, we'll talk a little bit about what exactly marketing automation is, then touch upon the reasons why you need to implement those tools, and finish up with 5 best automation plugin that are sure to make your marketing efforts more efficient.
What is WordPress marketing automation?
Marketing automation is the process of automating the repetitive tasks undertook during a marketing campaign, especially a multi-channel one. Examples of marketing automation include utilizing software for tracking social media, emails, and websites and analyzing links to measure impact, target, and assess public perception better, scheduling email sequences to get leads to convert, as well as tools and resources for running internal marketing processes at a higher level, such as marketing calendars and budgeting tools, online collaboration applications, and templates for creating various digital assets easier and quicker.
In short, marketing automation is all about bringing the achievements of modern technology to the task of marketing your products and services better online (although, isn't most marketing online these days?). And WordPress marketing automation is if your marketing efforts are for your WordPress website. Most often than not WordPress marketing automation comes in the form of plugins, which are, as every WP user knows, applications or pieces of code you can install and activate to extend your site's functionality.

Now that you know what WordPress marketing automation is, let's move on to discussing why you need it in the first place.
Why do you need marketing automation?
Personalization and tailoring unique experiences for individual users is everything. Running a site with a consistently growing customer base could quickly get very difficult for manual management. While taking care of a growing customer base, there are a lot of repetitive tasks that need doing on a daily basis, such as, sending emails, gathering user data and preference, customizing the website based on user preference, etc. Considering the scope of these tasks and the potential increase in your customer base, customizing your site and providing a unique experience to your customers on a daily basis might be almost impossible.

Luckily for you, there's a lot of marketing automation software out there. And if you have a WordPress site, by installing just a handful of plugins, you can automate almost the entire marketing related functionality of your website.
Marketing automation plugins
In this list, you'll find automation plugins for multiple marketing needs, such as your site's E-commerce functionality, managing and connecting with your customer base, optimizing your content for better search engine rankings, etc.

No matter the nature of your website, by using one or a combination of these plugins, you'll be able to automate a lot of tasks that can get very tedious on a long-term daily basis.
While surfing through successful online stores you'll come across their personalized recommendation bar. Usually titled something like — Customers who viewed this item also viewed — or — Frequently bought together.
You can learn a lot, looking at how one of the world's largest retailers personalizes and utilizes their own recommendation tool.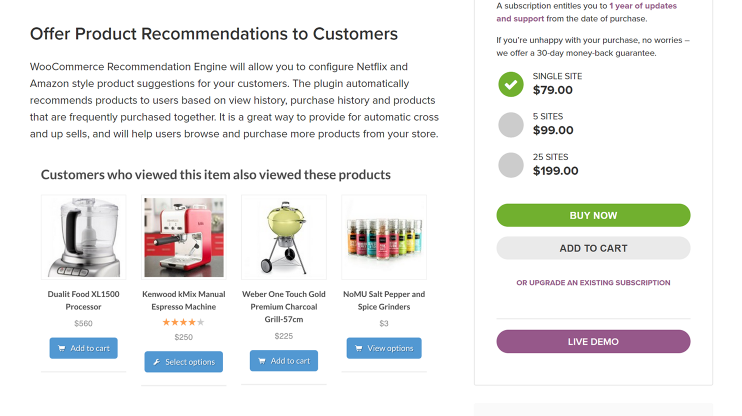 If you already have an established website, then setting up this plugin will boost your sales by a considerable margin with minimum effort on your end.

The plugin gathers the necessary data automatically and then you can choose to display items to your customers, based on similar products that other customers have viewed, similar products that your customers have purchased, or similar products that your customers have purchased together. You can easily choose one of these three types of recommendations and let the plugin handle the rest for you, automating the entire process, so you can focus on other aspects of your online business.
To maintain an online presence, and effectively manage a growing customer base, you need a well-organized mailing list and submission forms. Working towards building an effective mailing list would go a long way in establishing your website for automation.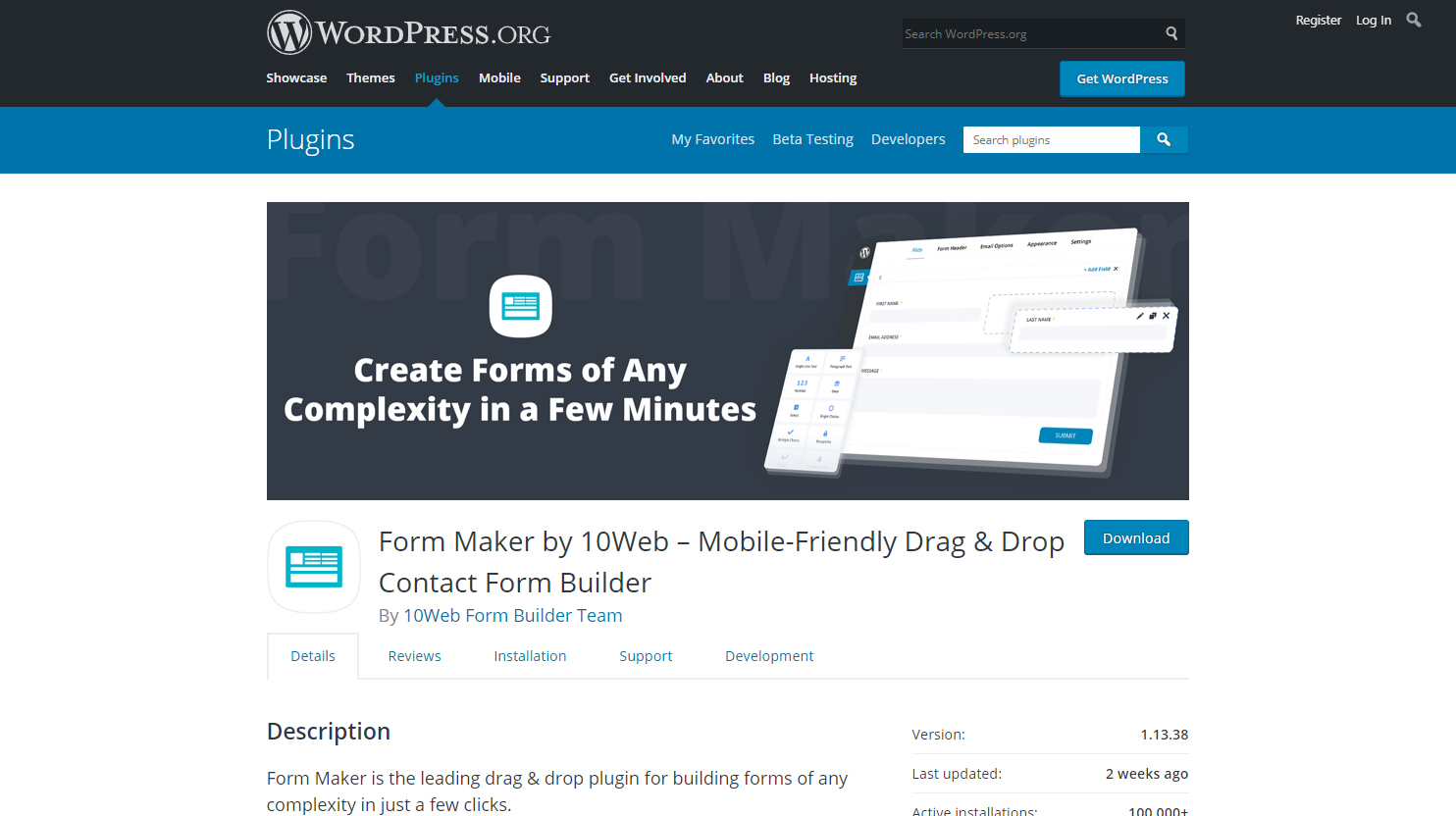 10Web's Form Maker plugin uses an easy drag&drop system to effortlessly create and manage various forms to streamline and automate your customer interaction.
The plugin comes with 40+ field types, so you can come up with any form that you think is necessary for your business and it has four display types:
Embedded: does exactly as it says, it allows you to embed your custom made forms straight into your posts and pages.
Popup: allows you to customize and set up exactly when you'd want your forms to pop up on your customer's screen.
Topbar: displays your forms at the very top of the screen, using the different settings you can customize how your form behaves when a user scrolls the page or decides to hide your form.
Scrollbox: allows your forms to pop in from either the right or left side after a customer scrolls through a specified point on your page.
These display options contain a lot of additional settings so you can easily manage their functionality on in your website. Coupling all that, with the addons/extensions that this plugin comes with such as conditional mailing, MailChimp integration, PayPal integration and many more, will allow you to automate a lot of day-to-day functions that is the staple of any successful website.

Once you've set up your forms, it doesn't take much till you begin managing form submissions and effectively automate your entire customer list management.
The greatest thing about Form Maker is that it is available entirely for free in its premium version if you sign up for our free 2-week trial of a 10-dollar a month platform that includes literally everything a WordPress website might need, from an advanced builder and automated hosting on Google Cloud to a whole bundle of premium plugins and extensions and ultimate speed optimization. Try it now, it's completely risk-free and doesn't even require credit card info.
Only need an efficient plugin for building and displaying forms and managing emails? Just click below to learn more about Form Maker:

Automated PageSpeed Boost With #1 WP Hosting
Get 90+ PageSpeed Score and boost Core Web Vitals by migrating your client websites to 10Web – all within minutes, all automatically.
Automated PageSpeed Boost With #1 WP Hosting
Get 90+ PageSpeed Score and boost Core Web Vitals by migrating your client websites to 10Web – all within minutes, all automatically.
This plugin puts together behavioral analytics, customer relationship management (CRM) functionality and live-chat, providing everything you need to automate the whole process of identifying and responding to your customers.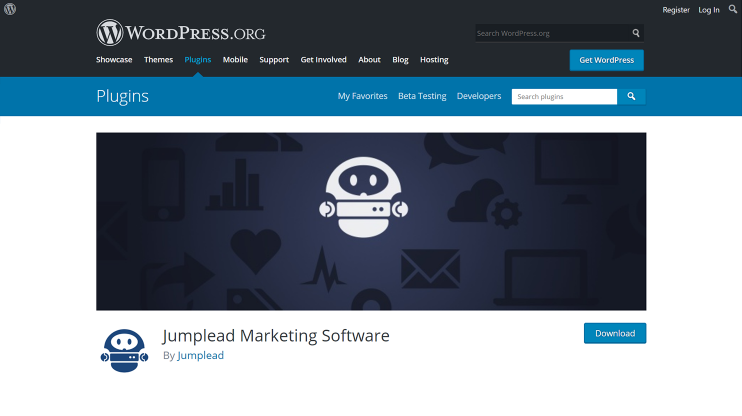 It automatically identifies which organizations your visiting and returning customers belong to, along with their viewed pages. It also allows you to directly connect with customers on your website, so you can immediately help them with any questions that they might have. The profile pages for your customers are updated automatically by the information gathered from web forms, email clicks, and analytics.
You can even integrate with your existing forms by selecting 'Integrations' from the plugin menu. For example, if you have created forms using Form Maker, you simply select the Form Maker plugin from the list of plugins in the 'Integrations' menu and connect it with Jumplead's contacts.

Automating a detailed contact list, sales team notifications — that notifies your sales team whenever customers are on your site — and having a well-prepared set of automatic responses to your customers will go a long way in having an organized and automated website.
SEO is a staple necessity of any website, it makes sure that your website is indexed properly and visible on various search engines, which does lead to more visitors and conversions.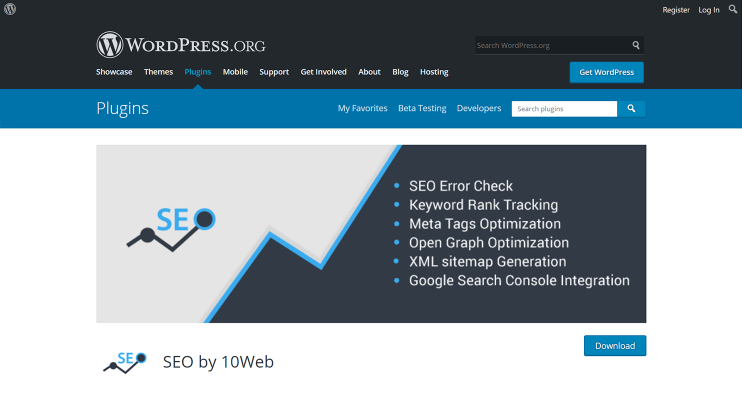 If you're running your own WordPress site, trying to guarantee customer satisfaction, product quality, and everything in between, the last thing you should worry about is manually tweaking and sorting everything to make sure your site is SEO-friendly. This plugin will automate that entire process for you. It's very straightforward to use and you can control everything through a single dashboard. All you have to do is authenticate your Google account and let the plugin do the rest.
SEO by 10Web will automatically check your website for all the SEO mistakes that it has and fixes all of them. It also provides you with important analytics and shows you what keywords your customers have searched for to find your website on their search engines. It shows separately all the search queries from desktop browsers, mobile devices, and tablets. It also displays your site's ranking/positioning on Google and also provides info on all the click-throughs and impressions too. It automatically builds an XML sitemap as well, so you can easily have your website indexed on different search engines.

This plugin will save you so much time automating all the small details that go into having your entire site become SEO friendly, so you can focus on all the other details that require your attention.
Last but not least, if you're running an online marketplace, chances are you've chosen WooCommerce as your E-commerce platform on WordPress. If so, then this plugin by Beeketing aims at integrating a complete marketing automation platform for your E-commerce site.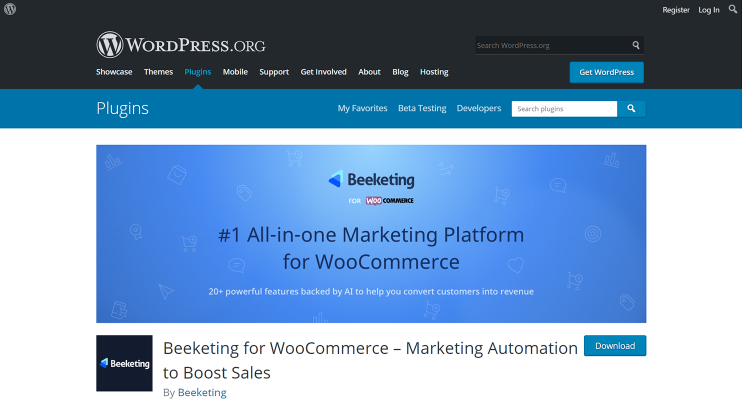 It contains many features aimed at increasing your conversion rates, boosting the average purchase value and preventing customers from abandoning their shopping carts. It adds many automated functionalities, such as popping up recent order notifications at a specified corner of your site, giving a sense of an actual busy real life marketplace for your customers. It shows how many people have clicked or bought specific products, providing social confirmation for your customers.
You can provide automated coupon popups to first-time visitors, to encourage first purchases. Bundle together products that users frequently purchase together and have the plugin automatically sell the bundle for a value discount, and many, many more.
Apart from sales techniques and methods, it also provides some functionality for CRM. Such as, adding Facebook Messenger functionality in your website without having the need to leave the page your customers are surfing. It can also send welcome emails to new visitors, follow up emails that are personalized based on your customer's preferences (split into segments).
The best part is, it has both free and subscription-based features. So you can easily install and test its functionalities and only activate the rest of its features if you're satisfied with the service.

Mautic WooCommerce Integration is a complete marketing automation kit for start-ups and businesses, that helps you connect your WooCommerce store with Mautic and sends your customer data in real-time. This Integration lets you track contacts, sync WooCommerce customers and their order's data, segment contacts, create targeted campaigns, send personalized marketing emails, and track your conversions simply.
Mautic WooCommerce Integration is specifically designed for WooCommerce store owners to automate all the repetitive marketing tasks on their WooCommerce sites. Save your time by creating highly effective marketing campaigns with pre-defined customer segments, less abandoned carts, just easy marketing, and smarter sales.
Sync WooCommerce Data Over Mautic Automatically: The most real-time data syncing between WooCommerce and Mautic CRM. Sync your data, orders, subscription information in one click.
Creates 65+ Best Practice Mautic Custom Fields: Capture customer and order information In Mautic Custom Fields.
Segment WooCommerce Customers With Predefined Segments: Create 19 predefined Mautic segments to divide your customers based on their WooCommerce properties.
Convert Abandoned Carts Into Sales: Capture and sync abandoned cart information via checkout form for registered as well as guest users.
Create Targeted and Converting Campaigns: Create highly adaptive and converting campaigns based on your customer's information.
Add Tags Based on User and Order Activities: Add tags to a contact based on their user activities like registration, and order activities like failed, pending orders, etc.
Concluding remarks
I bet you're thinking, "Are those all the essential WordPress marketing plugins I need?" Of course not! It's just a starter pack. As soon as you have taken care of SEO, created and displayed forms, set up product recommendations on the basis of purchases, automated the management of your WooCommerce store, and sent your first newsletter, it's time to start thinking what else you can do, what other more advanced marketing automation plugins you should install. The next few software apps on our marketing automation list include ActiveCampaign, an email marketing platform with a whole range of functionalities from setting up a Live Chat to enabling a site tracker, Title Experiments, a widget for coming up with the best possible titles for attracting the most views, and Linkwithin, a free user-friendly tool for boosting traffic by linking relevant posts or pages within other pages or posts.
You have a lot of room to enhance your marketing efforts with modern technology!
There we have it, the best plugins to automate as many functions of your marketing website as possible. The best thing about these lists is that everyone has a top 5 list of their own, so if you happen to know any other plugins that can perform other functions, feel free to comment them down below.