WordPress 5.6: New Features and Tips You Can't Miss Out On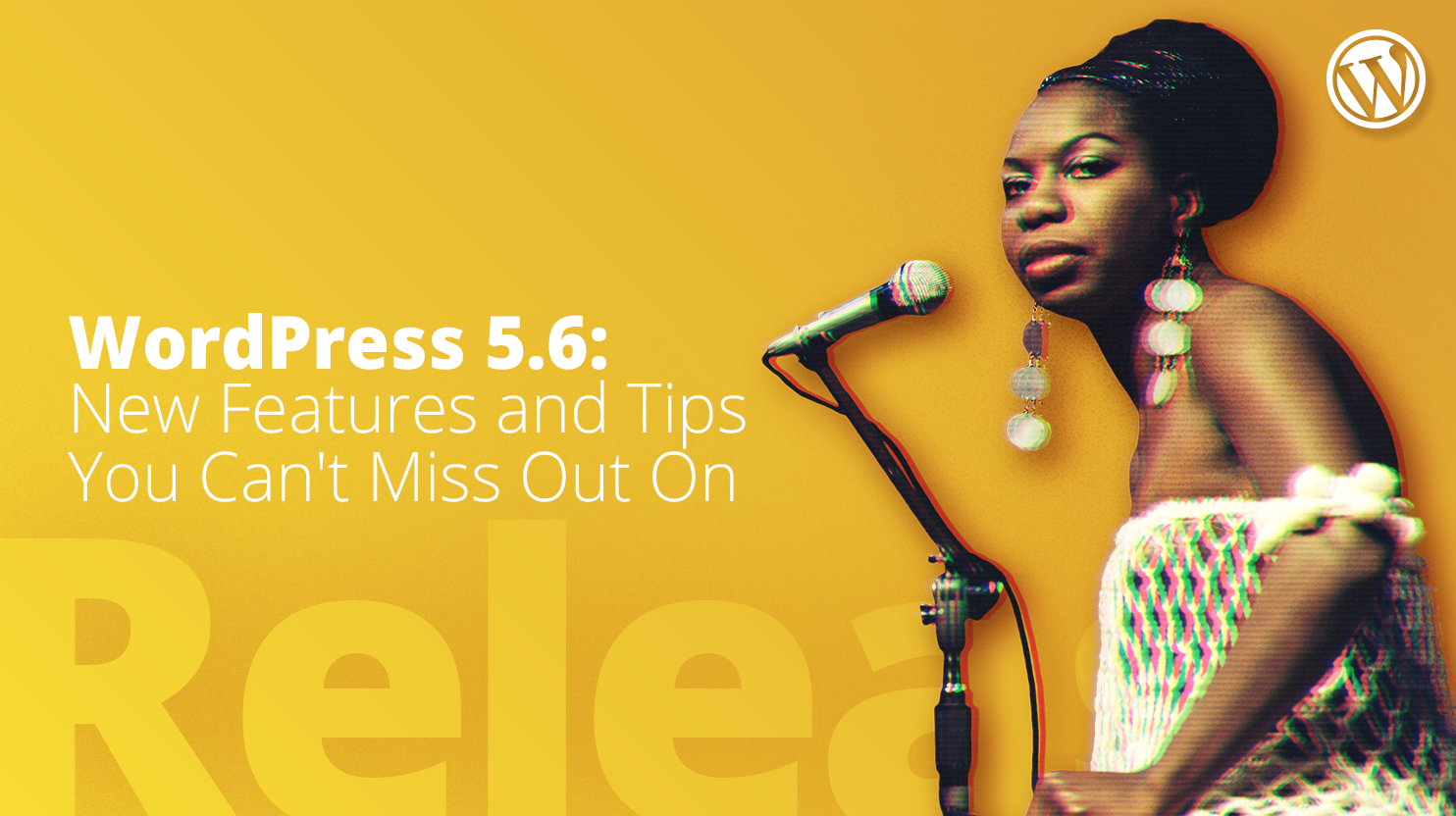 "It's a new dawn, it's a new day, it's a new life" for WordPress! No, we're not just giving you an earworm for no reason. This article is all about introducing WordPress 5.6 "Simone" (the successor of WordPress 5.4 "Adderley" and WordPress 5.5 "Eckstine"), and it just so happens that this update pays tribute to the mesmerizing jazz and blues icon Nina Simone.
Our inner fangirl is showing, huh? Good! And, rest assured, nothing will tamp down our enthusiasm for this update – and not just because of our eternal love for Nina Simone. This update includes block editor improvements, a brand new default theme, automatic WordPress core updates to increase security, and a bunch of other goodies.
Let's explore the most exciting new features and all that jazz together!
1. Block Editor Improvements
With this update, WordPress continues to improve its block editor, aka Gutenberg. Believe it or not, 7 of the latest versions of the Gutenberg plugin (from version 8.6 to version 9.3) are now merged into the WordPress core. This leaves significantly more room for creativity with blocks.
Let's go through the most compelling improvements this development has brought forth:
I. Video Position Control For the Cover Block & Subtitles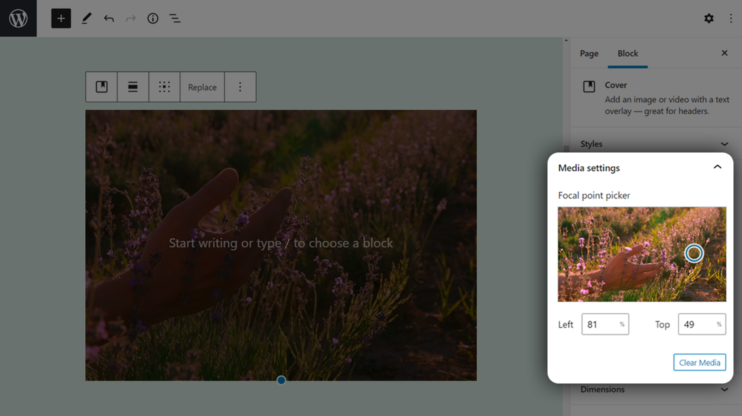 So, one thing that makes WordPress 5.6 such a welcome gift to developers is that it allows custom position controls for video backgrounds within the Cover block. This functionality used to be limited to image backgrounds only.
What this does is it lets you
Update position values with a simple click on the preview field,
Set these values by using your arrow (up, down, left, right) keyboard keys,
Jump your values by 10 (aka round them up to the nearest 10) by simply holding Shift,
Get a 9×9 grid for every value update.
Another thing that's really been a long time coming is the ability to add video subtitles or captions in Video Blocks. Being able to add video subtitles and captions in your block editor will save so much time and make you less hesitant about adding subtitles to your videos.
II. Patterns Organized in Categories
Now, here's something that'll make a block pattern way easier to handle: a dropdown menu for block pattern categories. Having your pattern finally organized in categories will bring order into the frenzy and ultimately improve the navigation of the block inserter.
Here's what that looks like: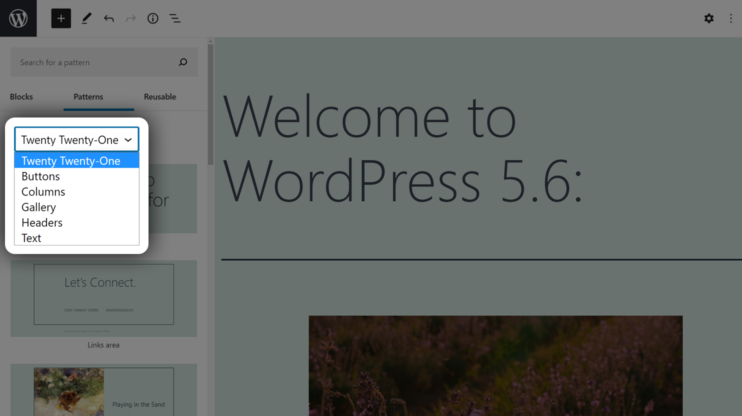 The Patterns tab now has a dropdown menu allowing you to filter your patterns by category. It's a small step for WordPress but a giant step for developers and designers!
III. Keyword Variations to Improve Block Search
You're swamped with work and need to find a block ASAP to get on with your tasks. What do you do? Use the block search feature, of course.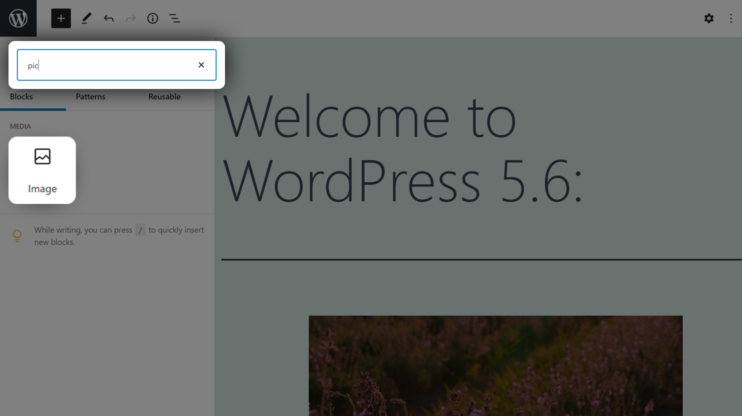 WordPress, understanding the importance of the search function, enhanced this feature even further by allowing developers to store keyword variations. You'll also be able to explore blocks added by block libraries or third-party plugins.
IV. Greater Layout flexibility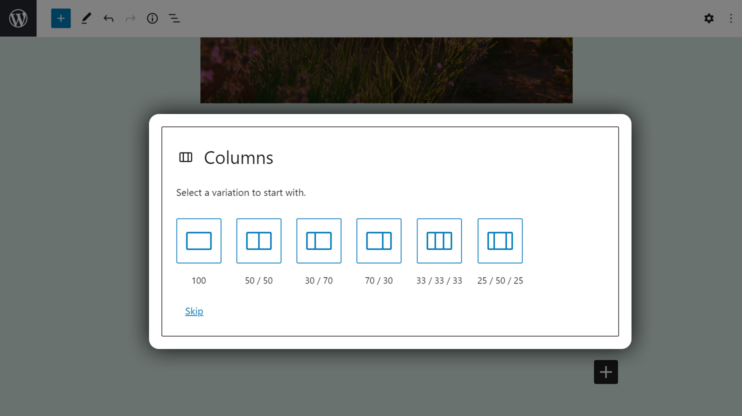 For starters, layout flexibility may refer to a bunch of things. But what it truly means is that coding is replaced by tools to help you edit layouts better and faster.
With WordPress 5.6, it doesn't matter how complex or simple a task is. Everything is equally simple. Whether you want to organize your columns, mix them, use mixed widths, or create full-width headers in your cover block, it's all the same. Now, isn't that the ultimate dream?
V. More Block Patterns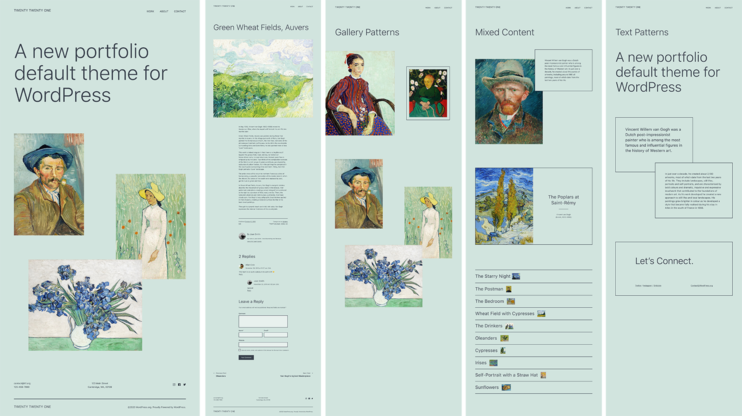 WordPress 5.6 also gives you the gift of more block patterns.
But what the frack (copyright: Liz Lemon from 30 Rock) are WordPress block patterns? Well, they are fixed and production-ready WordPress block layouts. Essentially they're a combination of WP blocks that let you design complex layouts as often as you want through a few simple clicks on a few buttons.
By allowing you to use different combinations of blocks at the same time, WordPress gives lots of design flexibility. WordPress 5.6 expanded this flexibility in more than one way. Let's have a look:
Large header and paragraph: update of layout, text, and color.
Two columns of text: the heading is now above the columns and not in the text box anymore.
Quote: there are dots separating the quote at the bottom and an image on top of the quote.
Heading and paragraph: puts extra space between chapter number and title.
2. The New Twenty Twenty-One Default Theme
Every release brings a new default theme with it that's named after the year of the release. So, keeping up with this tradition, WordPress 5.6 comes with a default theme. This one's mostly appreciated for its minimalist design that includes a single column layout and a footer sidebar.
This minimalistic approach is also reflected in the font and pastel-colored backgrounds. Twenty Twenty-One, this new theme, can be described as very light and elegant because it's not "trying too hard."
With the new default theme, you have a pastel green background and 2 shades of dark grey for text color. Of course, you have the opportunity to customize this. You can switch into the dark mode or you can choose one of the built-in beautiful pastel colors ready for use.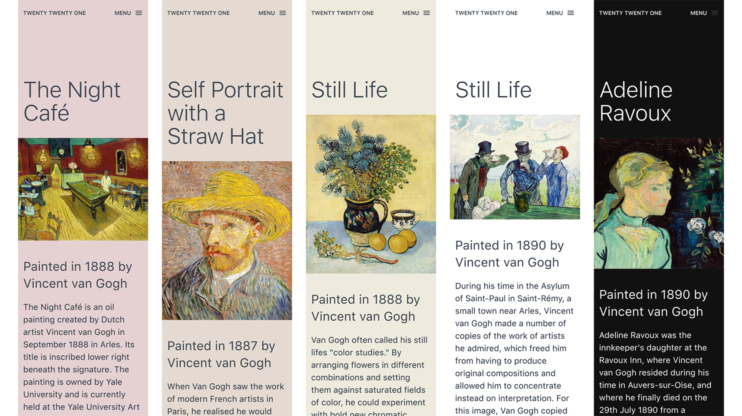 If these options don't do it for you, then simply pick your own colors, no one will force you to commit to a color that you don't like. Your text color will automatically adjust to your chosen background color.
When it comes to typography, WordPress 5.6 comes with default system fonts. Why should this make you happy? Simple, you will save a bunch of time you would otherwise spend uploading additional font files. You'll be able to build your child themes without any hassle now that they come with their own fonts.
3. Automatic WordPress Release Updates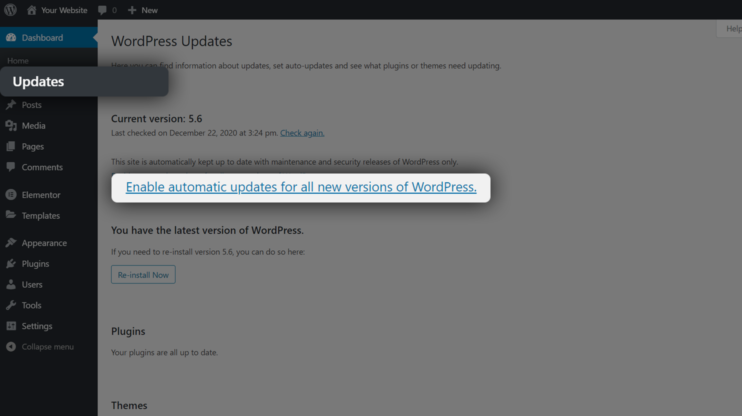 Up until now, WordPress gave its users the option to turn on automatic updates for smaller things, such as plugins, so people always knew when to update which plugin. With WordPress 5.6, this was taken to the next level by allowing users to turn on automatic updates for major WordPress releases.
On one hand, this is awesome because you can profit from the new features of major versions of WordPress and bug fixes immediately.
As you already know, whenever there's a major WP update, the security problems of the previous version are automatically revealed, making it way easier for hackers to attack those sites that weren't quick enough to update their version in time. With WordPress 5.6 you won't have this problem anymore.
Another piece of good news is that WordPress released PHP 8 and WordPress 5.6 very close to each other. That way their core team made sure that users won't face any compatibility issues. So, whenever you want to upgrade to the latest PHP version, don't worry, WordPress 5.6 supports that update.
But on the con side, there's a potential that there might be compatibility issues with some plugins. WordPress 5.6 might not support certain plugins.
This is especially important because it could break your site. In that case, depending on what kind of plugin you're using, we recommend you go through your plugins one by one and activate them once again to check which plugins aren't compatible with WordPress 5.6.
To enable automatic updates, head over to your WP dashboard, select Updates and then click Enable automatic updates for all new versions of WordPress.
So, to recap:
Pros: brings new features and bug fixes, performance improvement, support for the new version of PHP
Cons: Compatibility problems with plugins
4. Application Passwords for REST API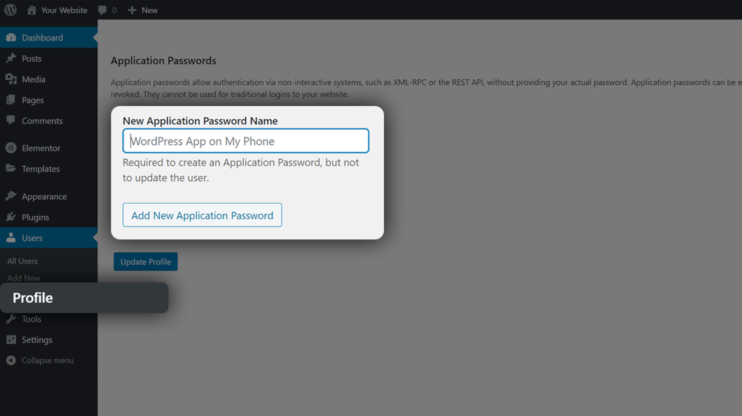 What REST API does is it enables developers to send and request data from a website outside the WordPress installation.
To be more specific, a REST API is the architectural model for an API (application program interface) and is based on representational state transfer (REST). This is a common way of communication in web services development.
An API is a code that enables the communication between two software programs via HTTP (hyper transfer protocol) requests. This means that you can use the data to GET (read), PUT (update), POST (create), and DELETE (remove) data types.
Now, this type of communication comes with a bunch of security threats (DDoS attacks, injection attacks, broken authentication, etc.). To protect users from these risks, WordPress used cookies and nonce keys to prevent unauthorized access to the API.
But since these methods weren't enough of a security layer, WordPress 5.6 now gives developers the ability to use application passwords.
What this means is that just like with Facebook or Google, WordPress users are now able to give apps access to their website and revoke this access if need be. You can manage your application passwords by heading over to the Users section and selecting Profile.

Automated PageSpeed Boost With #1 WP Hosting
Get 90+ PageSpeed Score and boost Core Web Vitals by migrating your client websites to 10Web – all within minutes, all automatically.
Automated PageSpeed Boost With #1 WP Hosting
Get 90+ PageSpeed Score and boost Core Web Vitals by migrating your client websites to 10Web – all within minutes, all automatically.
5. Other updates for developers
The update of the jQuery core tied to WordPress is a three-step process. With WordPress 5.6, WordPress is still in the second phase of the upgrade.
WordPress 5.5 introduced the first step of this plan, which meant discontinuing the jQuery Migrate version 1.x by default.
The second step includes the update of the bundled jQuery version to 3.5.1 and jQuery Migrate to version 3.3.2. For the lifespan of WordPress 5.6, developers will have the migrate script at their disposal. That way WordPress tries to anticipate the unpredicted application of deprecated features.
So, developers are left with 2 options.
Update jQuery.
If you can't update, use jQuery Migrate to migrate all jQuery based JavaScript from the old version to the 3.5.1 version. (Keep in mind that this isn't a permanent solution, but just a temporary fix.)
WordPress recommends that developers enable SCRIPT_DEBUG when examining changes. That way jQuery Migrate will load in the debug mode and produce stack traces in your JavaScript developer console.
It is further recommended that plugins and themes are carefully examined before an update to WordPress 5.6 to avoid any breakage.

6. FAQs
I. Are block-based widgets ready to land in WordPress 5.6?
To quote Justin Tadlock from the WordPress staff, "Yes, the block-based widget system will be ready for prime time when WordPress 5.6 lands. It is not there yet, but it is at a point where there is a clear finish line that is reachable in the next two months."

II. Which version of WordPress will be fully compatible with PHP 8?
WordPress 5.6. Even prior to its release, WordPress announced that its core team seeks to achieve compatibility with PHP 8.0 in the 5.6 version. This said it's still too early to answer this question with great certainty. PHP 8.0 is a major update and the "state of PHP 8 support within the broader ecosystem (plugins, themes, etc.) is impossible to know." Consequently, it's safe to say that WordPress 5.6 is "beta-compatible" with PHP 8.
So, now that you've consumed such a large chunk of brand new information, are you, as Nina Simone would say, feeling good about these updates? Or did you expect more? And what about the new default theme – yay or nay?