WordPress Chatbots: How to Use Them to Boost Your Business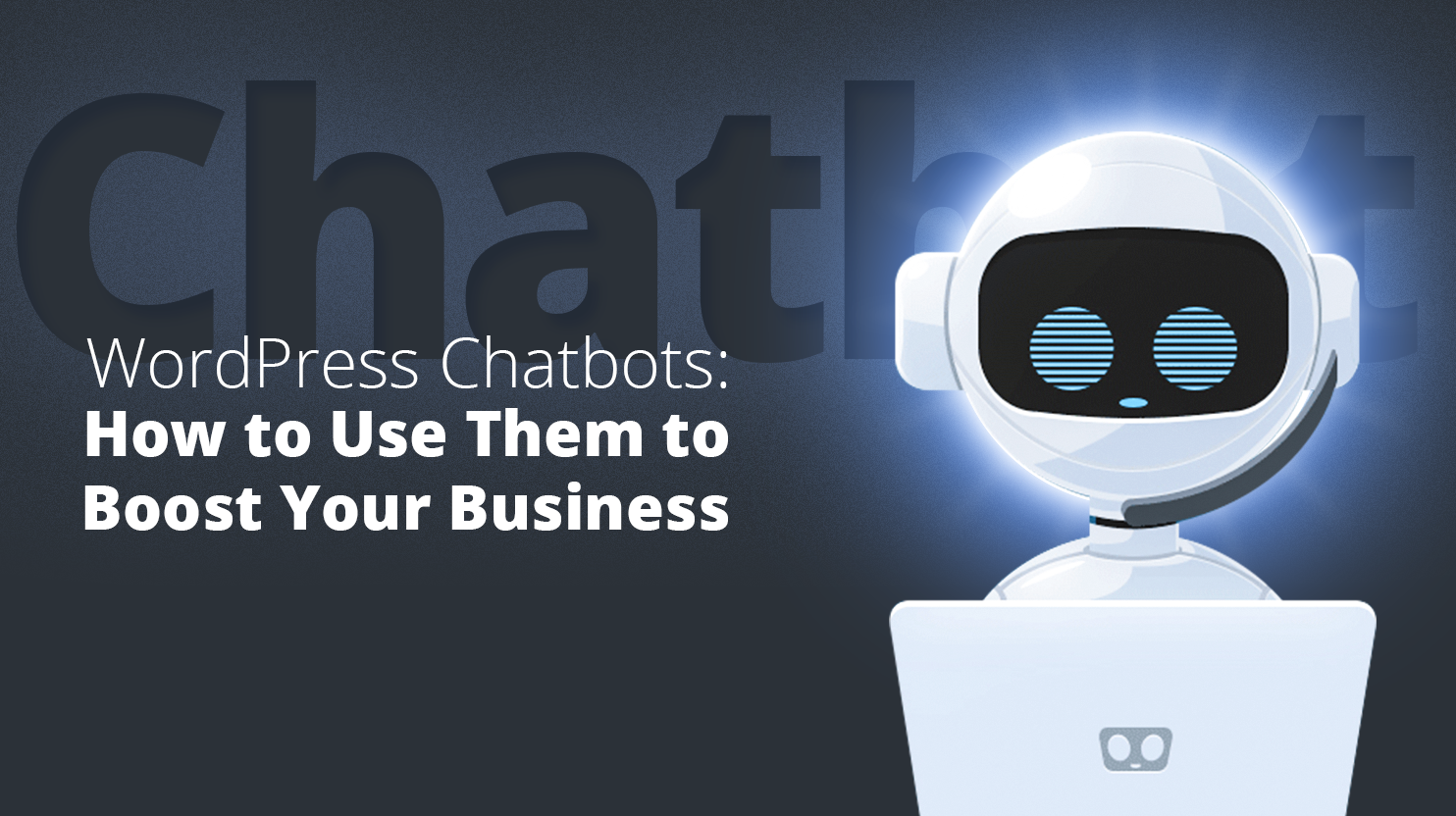 Alexa and Mitsuki, Duolingo and CodeMonkey…You've likely used a chatbot and maybe even use one on the regular without considering using one for your own business.
In the current age of automation, chatbots are an extremely useful and easy-to-create tool businesses use to achieve a whole range of different goals, from increasing the rate of customer satisfaction to inviting attention to a new product.
Let's discuss how you can use chatbots to grow your business in more detail.
What's a chatbot?
A chatbot is software that is able to interact with people either through text or audio. Oftentime chatbots are designed to imitate actual conversations with real people – that makes this mode of communication very easy and accessible for visitors.
While a chatbot can be included directly on your WordPress website, a lot of the times businesses go for various other platforms, such as Fb Messenger and WhatsApp, and have to adjust to their respective interfaces and provide a great UX.
You can easily create a free chatbot for your website in a visual builder and start experimenting, no programming skills required.
What's a chatbot good for?
Recent surveys have shown that these are the most frequent benefits reported by customers about their interactions with chatbots: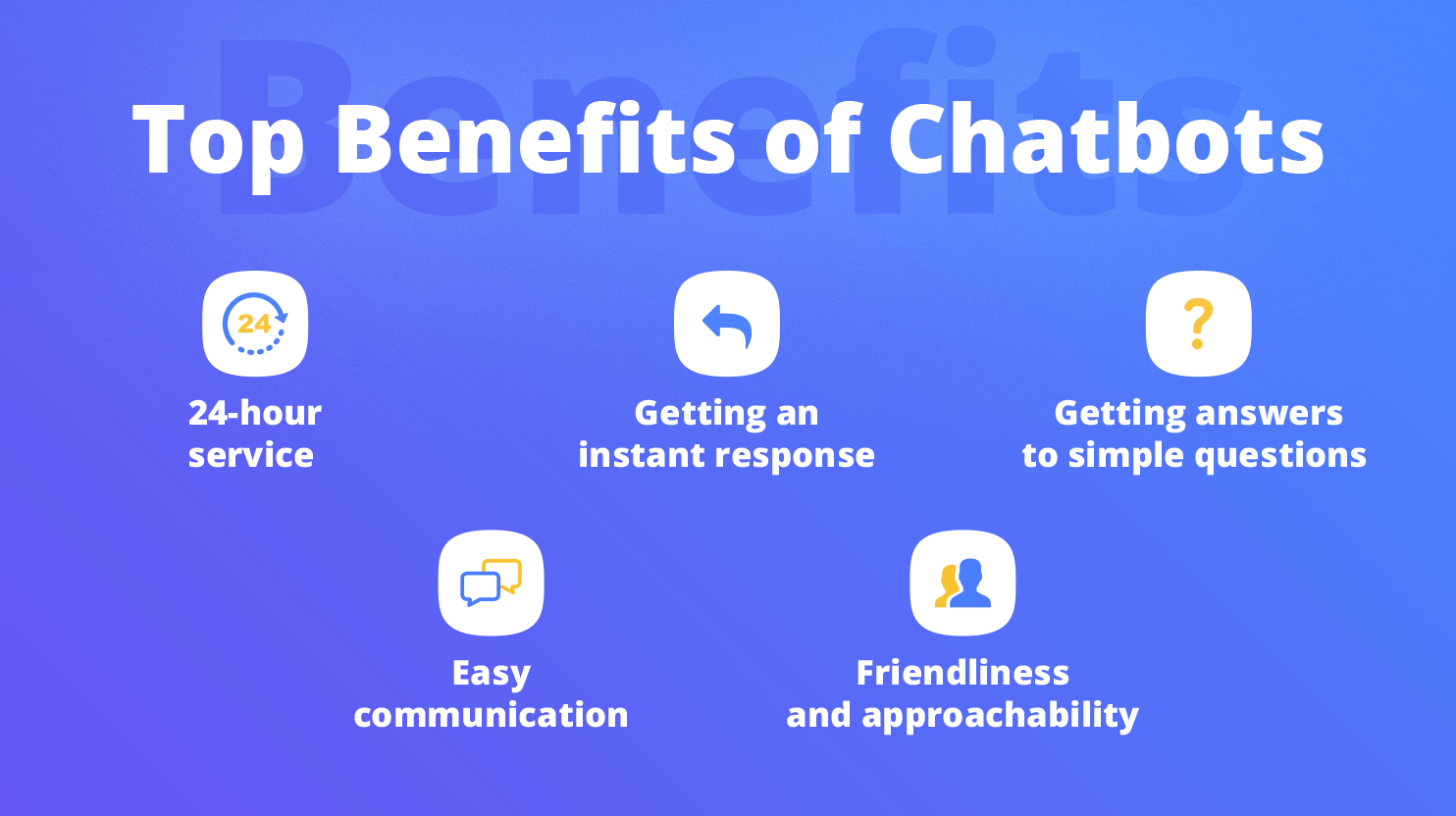 And of all the possible purposes a chatbot can serve, these are the most common:
Improving customer satisfaction
If there's one thing every customer service employee knows for sure is that people typically have the same questions and run into the same issues. Well, a chatbot can help with that. Not only is it available 24/7 with zero costs, it's also beneficial for customers who have social anxiety or just find customer support interactions tiresome.
In fact, research shows that more than 67% of customers used a chatbot for customer support in 2018 and around 85% of all interactions with customers will be handled without a human agent by 2021.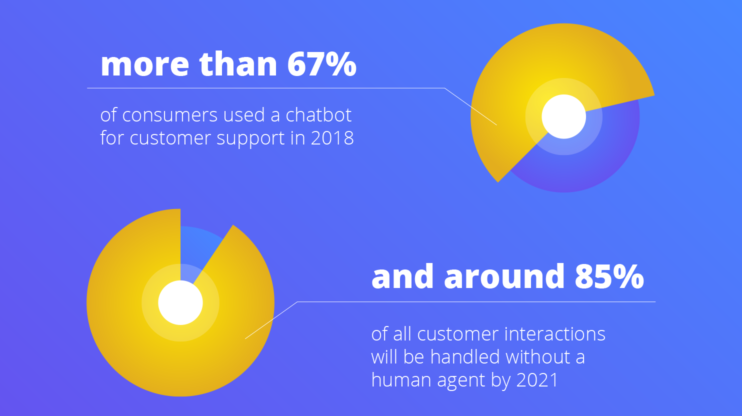 Now of course chatbots are not a complete replacement of customer support department – there are questions and issues that demand an individual approach but if you group together all the frequently asked questions and create a chatbot based on them, it'll greatly relieve your support team's workload. We at 10Web know from experience just how efficient and resultative customer support chatbots can be.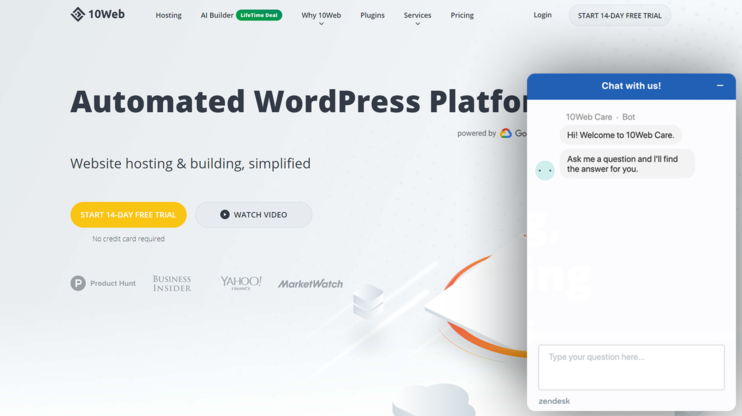 Collecting more leads
Generating leads is a significant part of almost all marketing campaigns. Well, a chatbot can help you with that for sure. Just code the chatbot to casually ask if the customer wants to subscribe to a blog if he or she liked a piece of information the chatbot quoted from it, for example.
Introducing new products and services
The casual conversational nature of chatbots makes them ideal for introducing new products and services to your customers. Just write in an interesting line about something new and exciting coming and suggest they click to learn more. Even better, if you can offer a deal or discount, so people don't get annoyed.
Helping customers make decisions
Oftentimes people find themselves lost when they have to make a decision and there's too much choice. A chatbot is a great help in those cases, especially in e-commerce businesses. Just program the bot to ask a few questions, find out the customer's priorities, preferences, and price range before making a shortlist of products and services that fit his or her demands.
Educating your clients
The clients you educate about something today are your perfect clients of tomorrow. Chatbots are great in this aspect, because people are no longer embarrassed about not knowing something or getting the same question wrong for the thousandth time. It's basically like hiring a tutor who doesn't have a life or mind of his own.
A great example of this is Duolingo, an app for learning new languages by talking to a chatbot. Besides the convenience of being able to manage your own study schedule, the chatbots takes away the embarrassment of making mistakes or wasting your resources on expensive language teachers.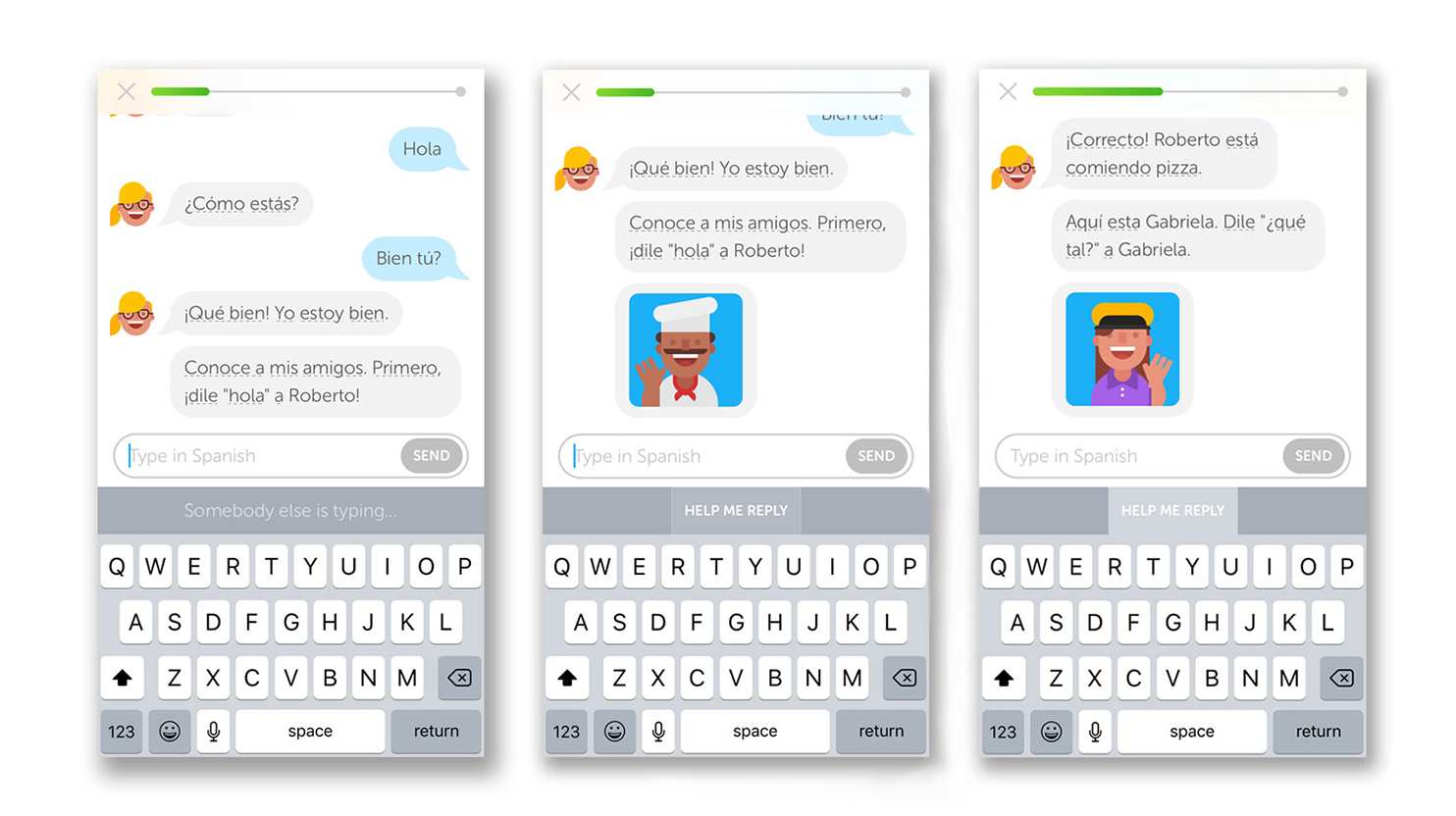 Entertaining your visitors
If you're trying to generate buzz around something or shape your brand's perception into something more fun, try creating a chatbot just for its entertainment value. The web is full of these kind of bots – Marvel created a Marvel Comics Chatbot for fans to be able to interact with the Marvel universe, and Disney came up with a Zootopia Facebook Messenger bot where kids could solve crimes with one of the film's characters.
Creating a bot for entertainment purposes is less about the actual medium of chatbots and more about finding creative approaches and surprising aspects in your very own business or service. Ask yourself what your target audience is interested it – besides purchasing your wonderful product, of course.
For example, Whole Foods, a chain of supermarkets focused on selling organic and healthy products, knows that their customer base also usually knows a thing or two about the pleasures of cooking healthy and delicious dishes. That's why it has come up with a chatbot that gives customers the opportunity to select the products they want to use, choose an occasion or a keyword, browse the different categories of recipes, and make the kitchen magic happen. It's a pretty fun Messenger app for a hipster Whole Foods hipster.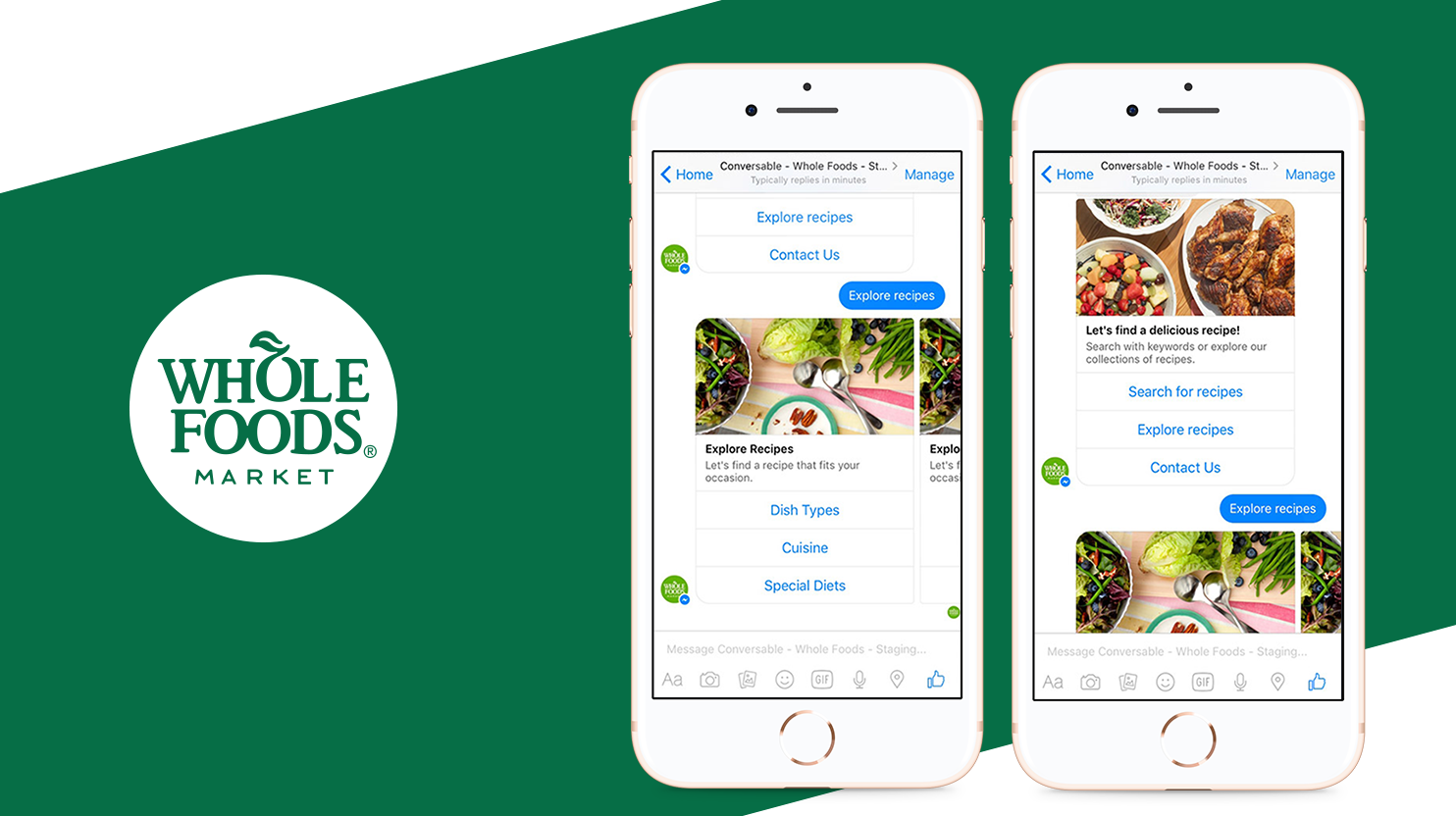 Building stronger relationships with your brand
A chatbot may not be the ideal spokesperson for your brand but it can surely help shape and deepen the existing relationship clients have with it. Pay special attention to the tone of the chatbot and try to make it consistent with your brand's voice. Design your chatbot in the same color scheme as your brand's signature colors. Even better if you create a token illustrated character to seem more approachable to customers.
Surveying your customer base
Chatbots are ideal for documenting your customers' most common questions and requests, as well as conducting small surveys. The most common one is asking the customer to rate the chatbot and the process they went through to arrive at a product, but there's a whole range of questions you can casually code into the chatbot to gather information on chatbot users: "Is this your first time chatting to me?" or "How did you get to my site?" or "Which state are you from?" are just a few examples.
Recruiting
Interestingly enough, chatbots can also be effectively used in recruiting. Why receive elaborate cover letters answering the questions you needed answered if you can just create a chatbot who's rule out candidates automatically. Now of course you may miss out on a few wonderful candidates this way, but if, say, absolute proficiency in Spanish is a must, a chatbot is more than fitted to ask the questions of your recruiting process's initial stages. Consider also creating an "ad bot" – inviting candidates who have the qualifications you need from the websites those professionals frequently visit.
Hope you found our overview of how you can use chatbots to boost your business helpful. Have you used a chatbot for any of these purposes? How did it go? Which chatbot online is your favorite or the one you use most frequently? Let us know in the comments!