10 Most Inspiring Agency Websites You Must Know About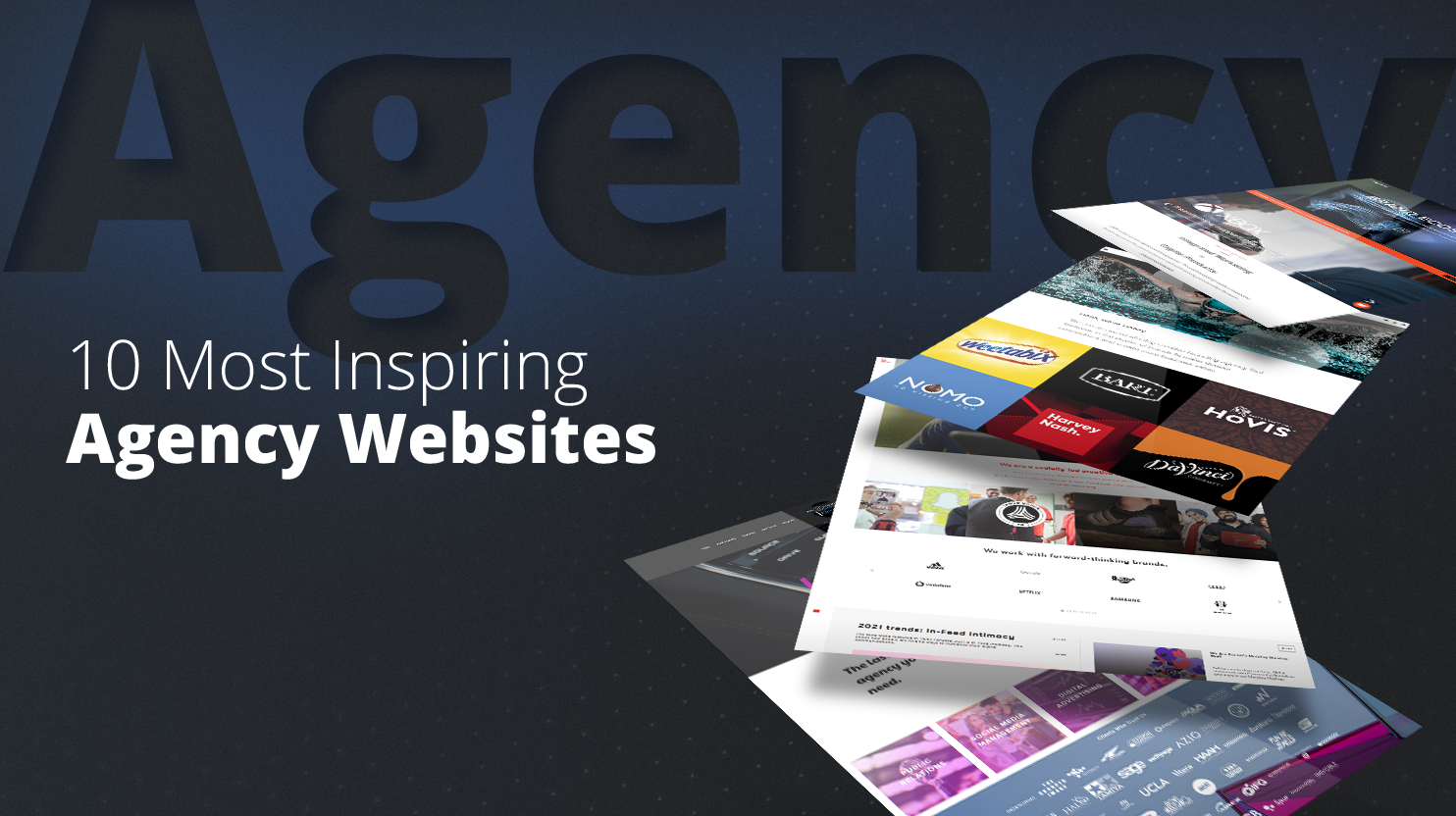 It's not what's outside but what is inside that matters. Inner beauty is long-lasting and it's what will eventually make people fall in love with you. Outer beauty by contrast is fickle – one day it's there, the next it leaves you without so much as a warning.
The same goes for agency websites – don't let the title fool you. You need a dazzling appearance to catch the attention of users. And the most efficient way to make your visitors fall for you, at first sight, is using outer beauty in the form of an irresistible website.
Later, you can win their hearts with high-quality services.
Here are some websites so irresistible that users have a hard time walking away.
Honey
Social Chain
Bastion Elevate
We Are Social
The Goat Agency
AMP Agency
Wpromote
Jellyfish
Go Fish Digital
Silverback Strategies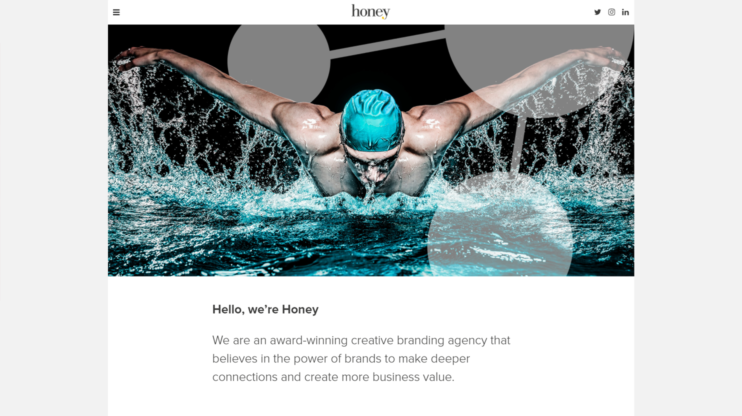 Honey. Whether you use this word as a term of endearment or to describe the yellowish fluid made by bees, it doesn't matter, because they're both equally sweet.
So, what do you do as a creative branding agency with such a simple brand name that evokes such nice sentiments? You create a website that reflects this effortless appeal. This is exactly why this website is on our list of best agency websites.
Once you land on the website, you'll see a high-resolution full-screen image of a man swimming the butterfly stroke. The headline is also kept pretty clean by only featuring the agency name in the middle. On the right, you'll find the social buttons and on the left the dropdown menu.
The rest of the website is in line with the homepage, navigation is direct and without fuss. Scrolling down you'll find a short and sweet description of the agency followed by a bunch of case studies. Last, you have the option to get redirected to their "Events" or to their "News & Views."
The agency takes its nonchalant attitude to the next level by not adding a CTA (call to action). Now, this move is pretty risky because it might cost you precious conversions. So, if you choose this path, make sure you're confident of your standing in your industry and that you can reach a high level of growth without these little helpers.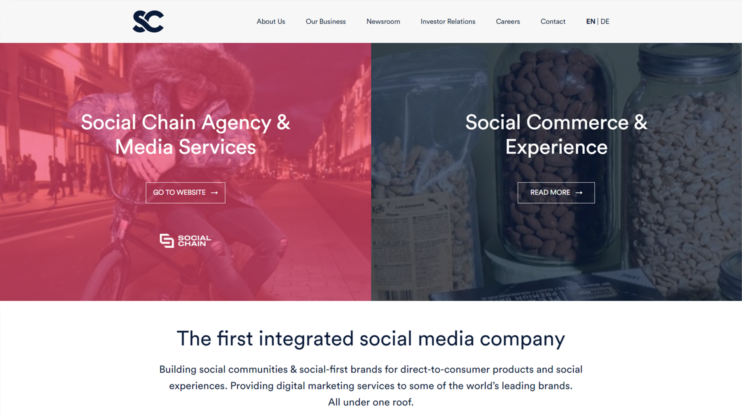 Another one of the best agency websites out there is brought to you straight from Berlin, Germany. The Social Chain agency is the "world's largest social-first publisher."
So, it shouldn't come as a surprise that this agency's website is one of a kind and very up-to-date with the current zeitgeist.
Upon entry, you'll find yourself in a chat room. On the left older chats are displayed with famous brands such as Coca-Cola. On the right side, you see the contact you're currently texting with, Social Chain, who is online. Under the brand name, you can check out "Offices," "Partners," and the "Social Chain AG" (the parent group).
In the middle, you'll find your current chat, where you receive a message from Social Chain saying "Welcome to Social Chain." Visitors get the option to "Enter." Once you enter, you'll be asked what information you need and be given some choices (About, Services, Work, Contact, Careers, Social Chain AG).
The header features the brand logo, gives visitors the option to switch into the dark mode, displays the brand mission ("Keeping brands at the forefront of what is possible"), and includes social buttons.
It's a very fun and interactive way to keep visitors engaged. We just kept clicking through some options just to see what happens.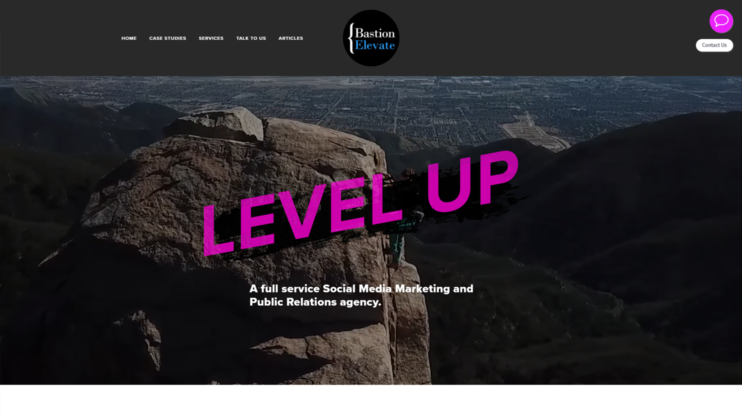 Next on our list of best agency websites is the social media marketing and public relations agency Bastion Elevate.
Now, this one's a notch different – a bit louder – than the previous website. For starters, the background full-screen image is an autoplay background video with a big text in pink saying "LEVEL UP." The video is a mashup of different sceneries showing people driving cars, doing some heavy lifting, climbing, etc. All in all very motivational and fitting to the brand name and slogan, both of which are looking to "elevate" or "level up" their clients' businesses.
The heading of the website is also a bit more crowded but still straightforward. In the middle, you'll find the brand name, surrounded by 5 links on the left side (Home, Case Studies, Services, Talk to Us, and Articles) and a CTA for a live chat on the right. What's awesome about this is that the CTA hovers over the website even when you scroll down. It's always there so that should the user have a question at any moment, he or she can get the necessary answer instantaneously via live chat.
The website goes on with an introduction to the agency followed by a display of services. Next, the user gets an overview of clients who have already worked with the agency that comes with a CTA to "view case studies." The user gets more trust signals via testimonials of clients and a presentation of awards won. This is all followed by the question "Ready To Level Up?" with a "Contact Us" CTA. Last but not least, the user is encouraged to leave their contact information and ask their burning questions.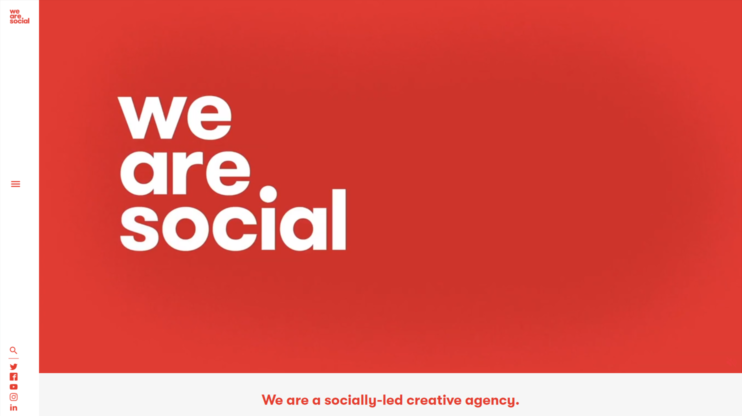 While we're against favoritism, we can't help but point out that among all the best agency websites listed, this one's especially attention-grabbing.
We Are Social is a socially-led creative agency with a very simple name and an extravagant website background video. The video covers the screen and includes very simple everyday stuff, like tv shows, pasta, online shops, social media, and much more. Basically, things that are dominating our day-to-day lives.
In contrast to what we're used to in your typical website, here you'll find the headline on the left side. On top is the brand name, there's a dropdown menu in the middle, and social buttons and a search option are at the bottom.
After this first impression, the user gets three short introductory sentences about the agency. Then comes a good bunch of case studies followed by a subtle name drop of high-caliber clients. And finally, you see the highlighted advantages of this agency.
What's really cool is that there's a section of the homepage dedicated to the agency's blog further cementing their expertise status before encouraging the users to "get in touch."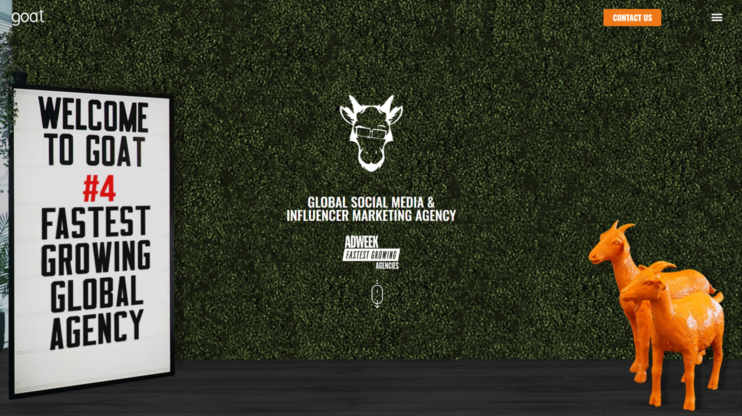 What does this agency with a funny name stand for and why is it considered one of the best agency websites out there? Let's solve this riddle.
The Goat Agency is a global social media and influencer marketing agency. They also happen to be on Adweek's top 100 fastest growing agencies. How do we know? Well, it's the first thing any visitor sees when stumbling upon the agency's site. You have an image of a wall fully covered by a climbing plant, and in front of there's a drawing of a goat wearing sunglasses. Underneath the goat, it says "global social media and influencer marketing agency" followed by a redirect to the Adweek article.
This tableau also includes two orange goats on the right and a sign that reads "Welcome to Goat, #4 fastest growing global agency." This is awesome because this agency doesn't wait for you to scroll all the way down to see some testimonials. It sends a trust signal right away and increases the chances of getting taken seriously by the visitor.
The header is pretty clean and simple. You have a dropdown menu on the right, next to it a "Contact Us" CTA. On the left, you find the brand name in small caps.
The website continues as follows: The visitor reads the statement "the world has changed" after which statistics are shown to demonstrate the rise of social media and highlight the backwardness of advertisers today. Then a puzzle is introduced, namely "What is the best way to engage consumers on social?" The answer to this follows immediately – "Influencer" – and it includes a definition and a list of its advantages. After this, another puzzle is introduced: "80% of influencers don't work… So, how do you know which ones do?" This paves the way for a lengthy introduction to The Goat Agency and their services.
If you're thinking that this website is too long for your taste, that's completely fine. People will always argue about taste. At the end of the day, it's all about personal preferences and experiences.


Related Articles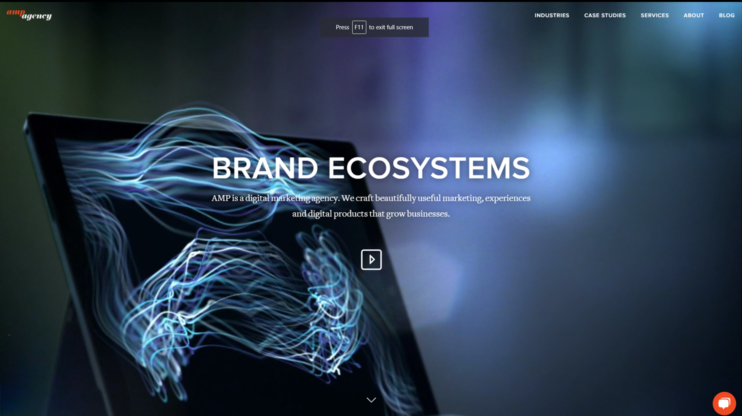 Do you remember the full-screen videos featuring everyday activities some of the previous agencies from our list of best agency websites had? Now this digital marketing agency has a full-screen video background with a fun twist as well:
This video features a play button right in the middle. When you click this button a smart casually dressed man will tell you that this isn't your regular agency background video with inauthentic footages. This video (and agency) is all about "us" referring to the agency-client relationship. The main goal is to make their client's brand everybody's brand and consequently everybody's favorite.
This bold statement is followed by case studies, the first of which is Microsoft's Xbox. After catching the visitor's attention with a catchy video and even catchier case studies, the agency introduces its services, model, field of specialty, and much more. Then comes a display of clients followed by an introduction to the team that adds an even more personal touch.
The header is pretty casual. You have the brand name on the left and links that redirect users to important sections. On the bottom right a sticky live chat is integrated that will hover over the website when scrolling.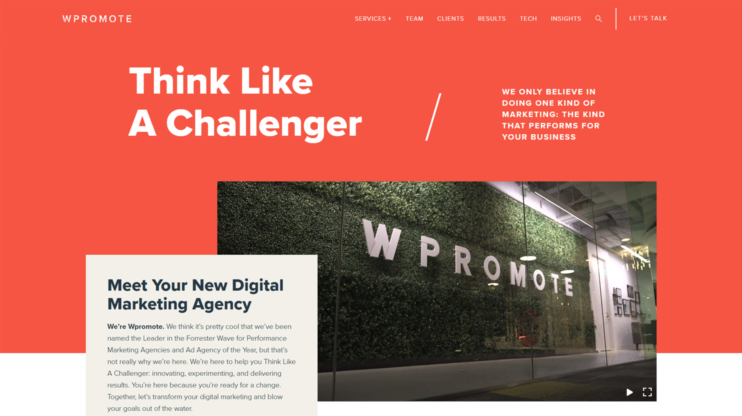 Next on our list of best agency websites is Wpromote.
This agency website has kept the balance between simple and flashy. By putting the brand message "Think Like A Challenger" in white in front of a vibrant red note used as the background color this website manages to grab the visitor's attention instantaneously. A video is also featured, only this time the video isn't just running in the background, it stands on its own and doesn't run the risk of getting lost in the shuffle.
The structure of this website starts with an introduction to the agency. A report to testify to their competence follows. After this, the visitor gets the full range of services that he or she can click through. Of course, a display of challengers is also included – Wpromote calls its clients "challengers." And finally, the website also features a list of case studies followed by client testimonials.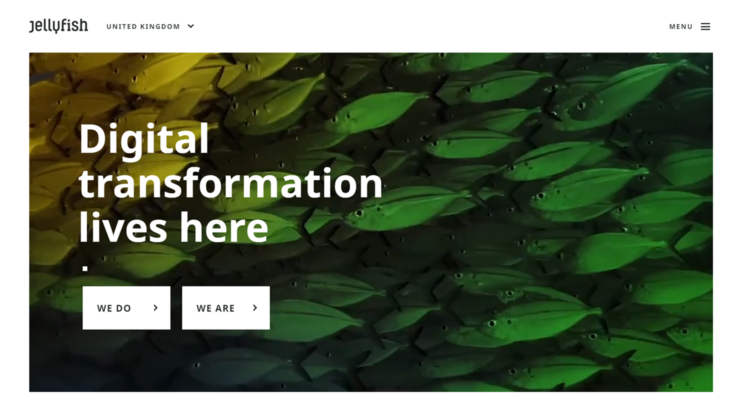 Here's a marketing agency on our list of best agency websites that kept it waaay shorter than others. Jellyfish has a full-screen autoplay video background in front of which it says "Digital transformation lives here." Underneath are two links, one reads "WE DO," and the other "WE ARE". At the bottom right of the website you also have links to socials making it easy for everyone to follow them on social media.
If you're a fan of simplicity, this one's the perfect source of inspiration.
Don't let the homepage fool you, though. Visitors get detailed information about the agency once they click one of the two buttons. So, don't make the mistake of conflating simplicity with less information.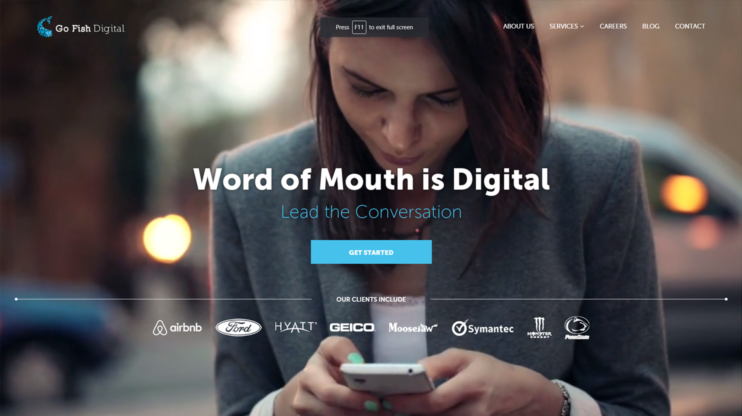 Go Fish Digital didn't just land on our list of best agency websites because of its cool name, it's the simple and elegant design of their website that made them so attractive.
Why do we say elegant? Because of the blazer-wearing modern-day woman who's typing on her smartphone in the background of the website.
Why do we say simple? Because the visitor is greeted by a simple statement: "Word of mouth is digital – lead the conversation" followed by a "Get Started" CTA that redirects to the agency's services. Directly underneath you have some very convincing name-dropping of clients that includes Airbnb and Ford. Impressive, no?
After this, the visitor gets some insights into what the agency does and who they are. This is then followed by case studies and a blog section. The end of the website has a contact us form encouraging readers to engage with the agency.
Simple and absolutely adorable, especially if you like the color blue as much as we do!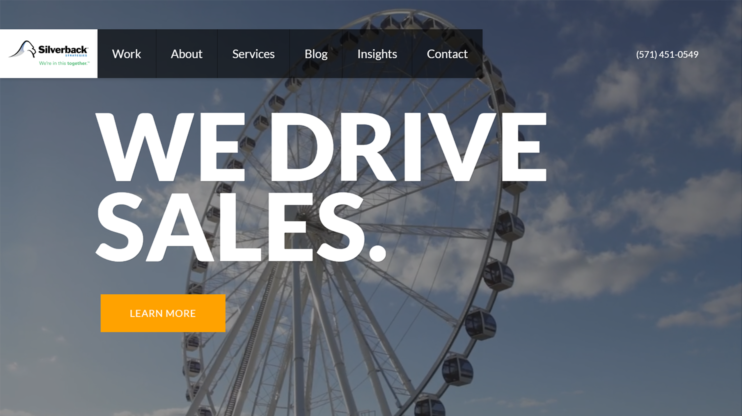 The website of Silverback Strategies struck a chord with us because of its message of "We're in this together." It's a very reassuring and pleasant thing to hear, don't you agree?
The first thing the visitor sees when entering this little gem in our list of best agency websites is the statement "WE DRIVE SALES." It's bold and leaves very little room to speculation as to what the agency excels at. This message comes with a "Learn More" CTA. And just in case you need it, a phone number is included on the right side of the header.
Scrolling down, you'll find out more about the agency's services and get a glimpse into its clientele (big names, such as LexisNexis and Moody's, fall into that group). Next, the visitor can browse through some success stories and read a few testimonials afterwards.
To further highlight their expertise, the agency also has a section called "Insights" that includes downloadable white papers sharing industry knowledge in online marketing. This is followed by a section featuring the agency's blog.
Last but not least, the visitor has the chance to get to know the agency's team prefaced with the statement "our team is your new team." Overall, a very welcoming and warm message.
So,
if you feel inspired by all of these examples and want to build an awesome website for your agency, make sure you have awesome hosting too. At 10Web, we have all the tools needed to host, build, and manage conversion-bringing websites without much effort required from your side.
Get a head start on website creation with AI
Create a custom website tailored to your business needs 10X faster with 10Web AI Website Builder!
Get a head start on website creation with AI
Create a custom website tailored to your business needs 10X faster with 10Web AI Website Builder!
We had a lot of fun picking out our personal best agency websites. But maybe we were so wrapped up in our enthusiasm that we forgot to include your favorites? Don't hesitate and let us know in the comments!