WordPress Default Theme: What It Is and How to Change It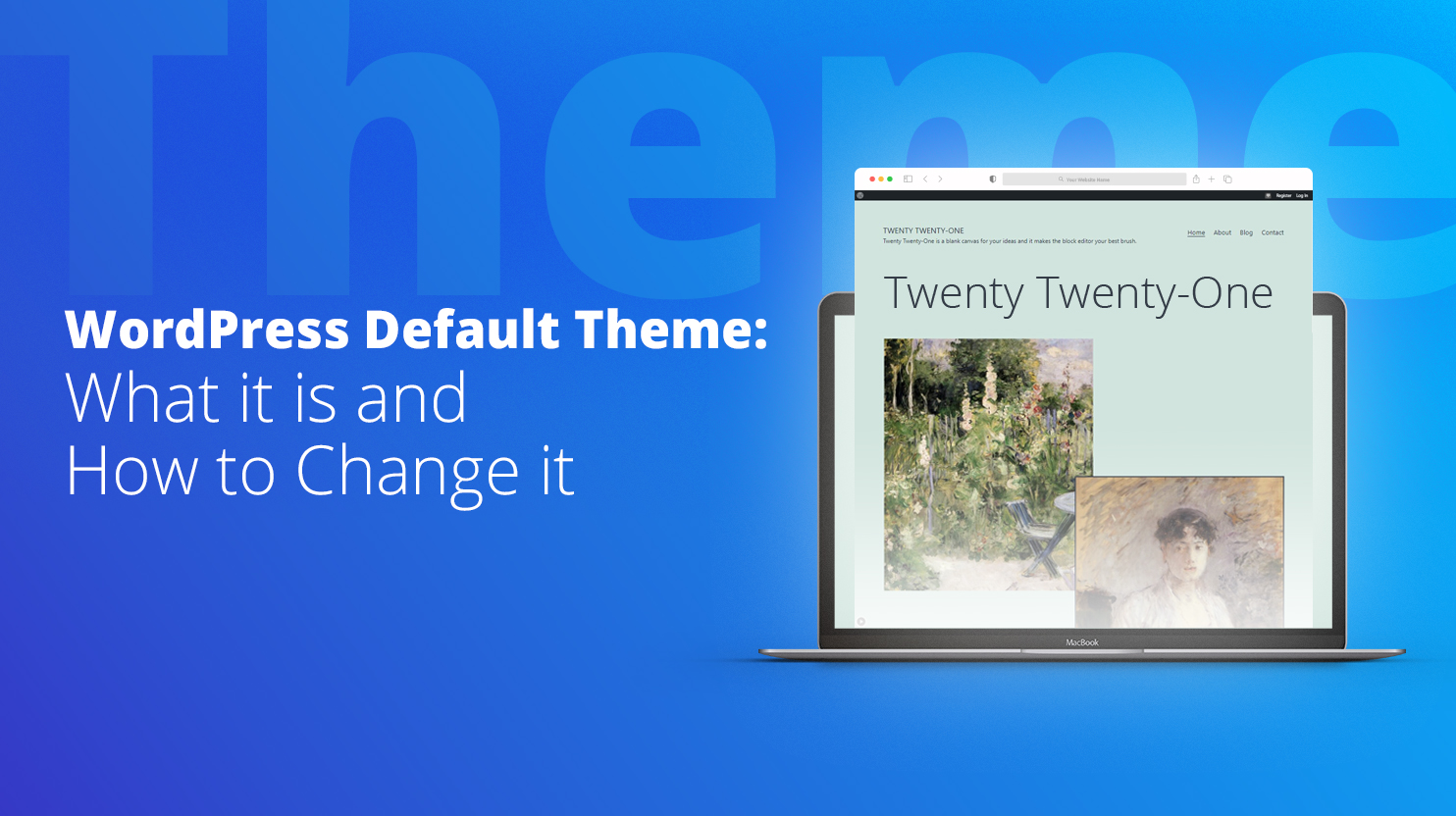 Every year, WordPress releases a new default theme that ships with every WordPress installation. The WordPress default theme typically shows off new features that have been added to the platform.
However, the WordPress default theme is often lacking in features that are crucial for a small business website. That's why it's so common for WordPress users to change the default theme of their websites.
If you're wondering what the default WordPress theme is and how to change it, you're in the right place. In this post, we'll explain everything you need to know about the WordPress default theme, how and why you should change it, and share how you can create a website without installing an advanced theme.
What is the WordPress default theme?
WordPress default theme is the theme that comes preinstalled when you first install WordPress on your site. As mentioned earlier, this theme is used to show off new WordPress features. It can be used to create a basic website.
The current version of WordPress comes with three themes: Twenty Nineteen, Twenty Twenty, and Twenty Twenty-One. The current WordPress default theme is Twenty Twenty-One. This will be the first theme you see after you login to your WordPress website. A few of its notable features include:
Custom header logos and elements such as a header with title or with a title and button
Two navigation menus, one in the header and one in the footer
Gradient presets for styling your blocks
Custom cover block which allows you to have text over image making it easy to visually separate different sections of your post
Multiple custom post formats that include galleries, links, quotes, and even chats
Built-in block patterns which are predefined block layouts that you can use to quickly build your page
In addition to that, the theme comes with its own set of block patterns which include links area, overlapping images, and contact information among others.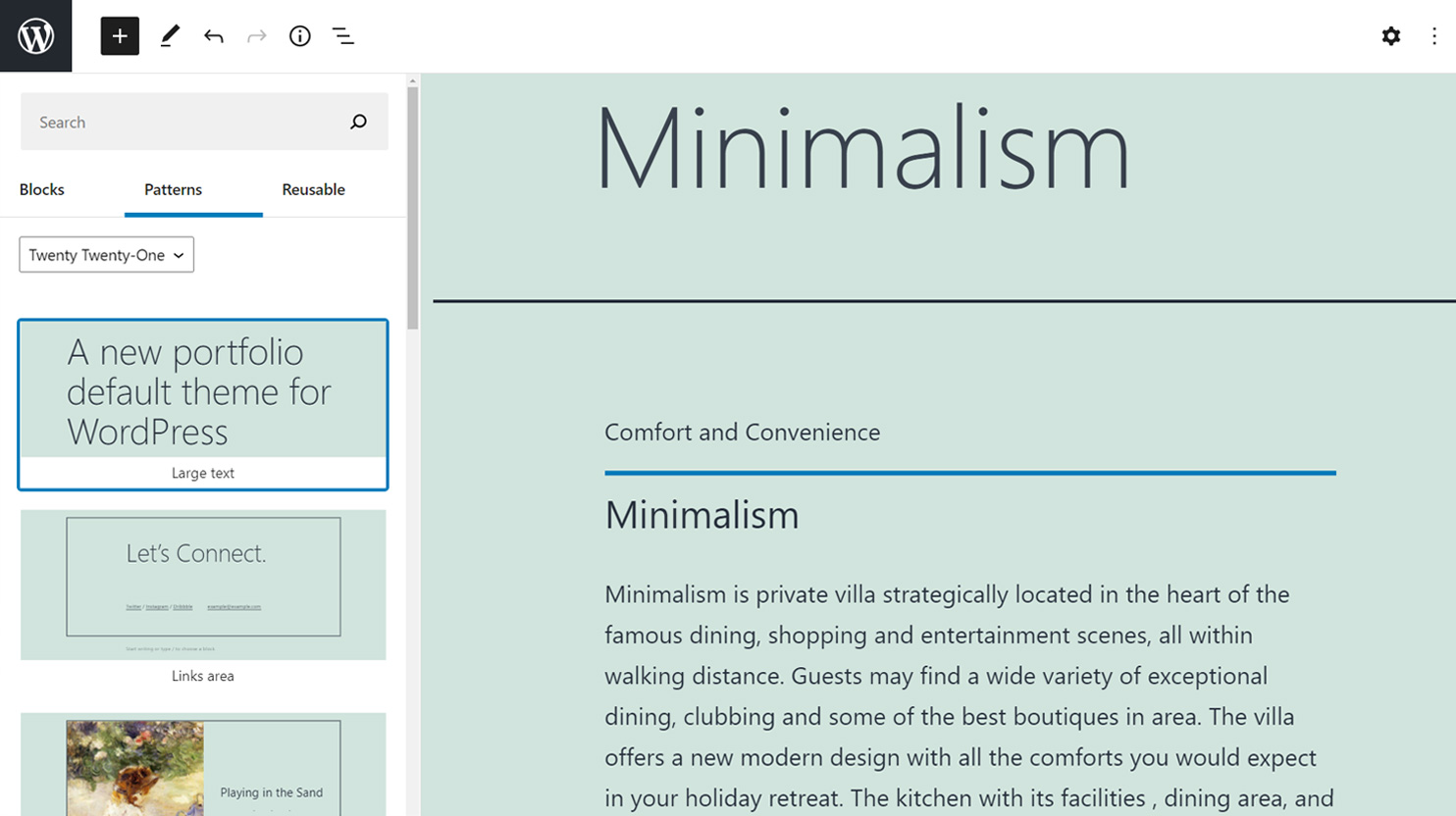 How can you optimize the default theme?
If you're using the default WordPress theme and you're noticing that your website is loading slowly, there are some things you can do to optimize your website:
Optimize the images used on your website by using an image compression plugin
Install a caching plugin
Use a Content Delivery Network (CDN) to serve images and static files like scripts and style sheets
Use a fast hosting provider
Or better enough get all the above mentioned (and not only) with our 10Web Booster – the best website optimization solution in the market. It promises a 90+ PageSpeed score and improved Core Web Vitals, increasing your website's Google ranking. The 10Web Booster speed optimization solution, with its comprehensive speed optimization features, will automatically boost your website speed without demanding any effort or manual work from you.
How can you change your WordPress default theme?
If you want to change the default theme that comes with WordPress, it's pretty easy to do. Go to Appearance > Themes > Add New. Then you can browse the official repository to find a different theme you like. Once you've found it, click Install and then Activate.
Alternatively, if you've downloaded a WordPress theme from a third-party website or marketplace, you can upload it by going to Appearance > Themes > Add New > Upload Theme.
Then locate the zip file of the theme, select it, and install it. After the theme has finished installing, click Activate.

Build a WordPress website with AI assistant
Move any website to WordPress or create unlimited templates within minutes.
Why should you change the WordPress default theme?
So now you know what the default theme is and what its main features are. You also know how to change the default theme. But why should you change it if it has all the latest features that were introduced in WordPress?
The main reason for changing the default theme is that it's not as feature-rich as some other WordPress themes.
What features (necessary for simple websites) are missing in the default theme?
Even though the theme relies on the block editor, the available block patterns and blocks do not give you complete freedom over the way your website looks.
There is no way to have full control over how and where you place the blocks, and the block patterns are limited in terms of available layouts.
Another limiting feature is the customization options. For example, you can change the background color but there are no settings for changing the color of the buttons, the fonts or the header layout. Similarly, there are no customization options for the header and footer of your website with the default theme.
In other words, if you decide to use the default theme building a decent website is pretty difficult unless you create a child theme.
An alternative would be to use a page builder plugin such as Elementor. It not only gives you more control over the layout of your pages but also offers more premium widgets. These include buttons, star ratings, dividers, icons, and more.
Why is a blank theme better than WP default theme for starting websites?
So you've decided that you don't want to use the default theme on your WordPress website. But you can't find a theme you like and advanced themes can be a little intimidating with the number of features they offer.
In that case, you can use a blank theme to start your website. A blank theme is a theme that has the most basic functionality included necessary to be recognized as a valid WordPress theme. A few examples include Hello Elementor, Astra, and GeneratePress.
A blank theme doesn't include any fancy styling and the major benefit of using it is that you can create the website exactly the way you want it. It gives you complete freedom over your site's design.
Another benefit of using a blank theme is that you can optimize your website to load fast and ensure it's optimized for search engines without having to rely on installing third-party plugins in terms of loading times and semantically valid code. However, you'll still need to install an SEO plugin to help you optimize the content of your blog posts, pages, and product descriptions.
Keep in mind that these blank themes have to be used with page builder plugins. This means that while you don't need to learn code to create your website, you will need to build out entire pages and templates (including header and footer) with a page builder plugin.
How to create a website of any complexity without installing advanced themes with 10Web AI Builder
If you find the above options tedious and daunting, let me present a solution that will surely catch your interest, the 10Web AI Builder.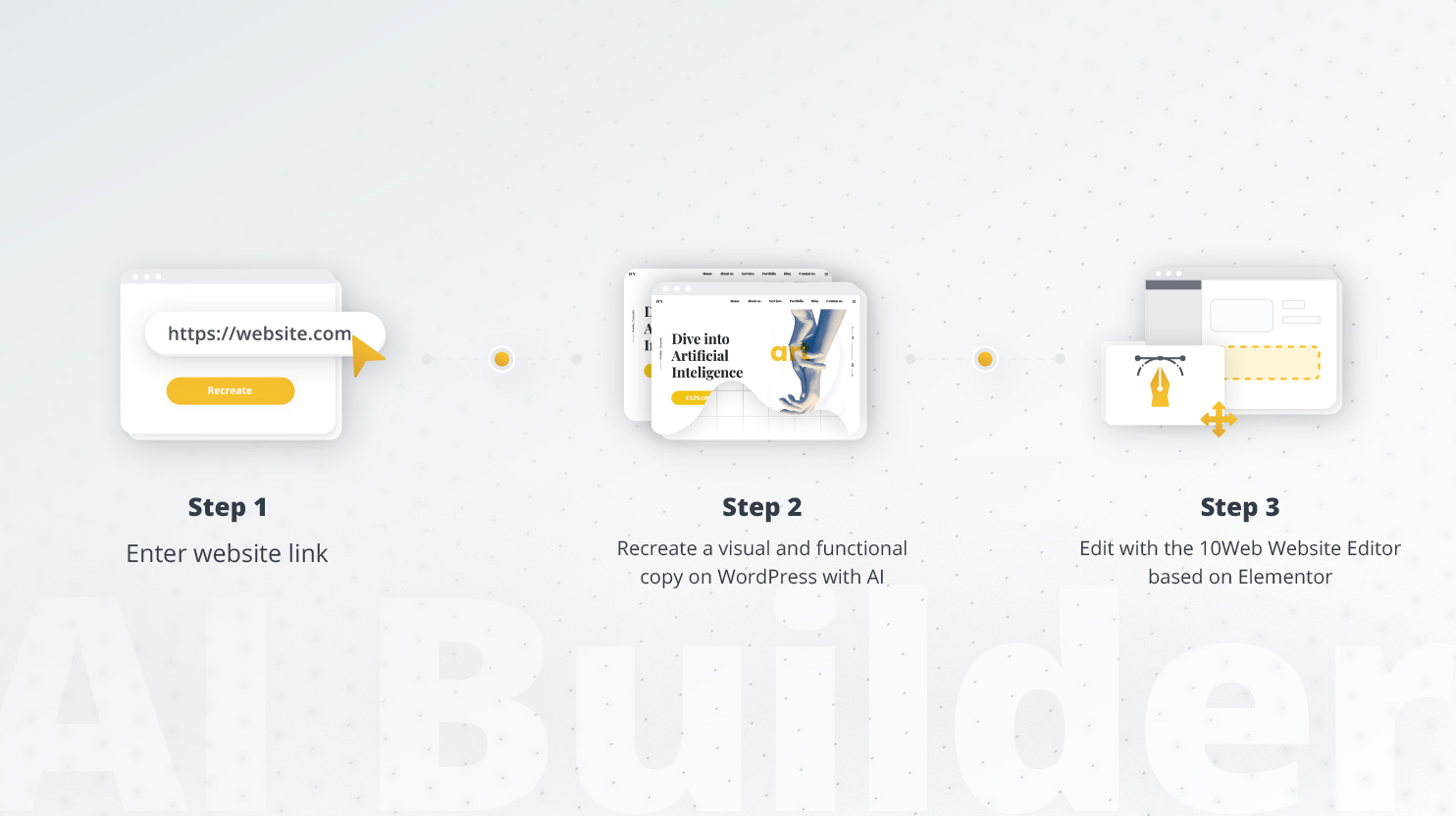 Created by a specialized team of software and machine-learning professionals, the 10Web AI Builder is the best AI website-building product in the market. In its simplest form, it is the best template-creating tool out there, while in its full potential, it is a website builder that enables the creation of powerful websites of any complexity, effortlessly.
The AI Builder employs artificial intelligence and machine learning to replace the manual aspect of website development with an automated process. The process can be thought of as automated website recreation. The AI Builder, once given the link to any web page, develops an exact visual and functional copy of that page. Through this process, you can create templates of any niche and complexity within minutes.
The constant and consistent enhancements of the AI Builder have developed it into a product that has no restrictions, specifically on the type of web pages and websites it can recreate. The only limitation is that the AI Builder can recreate one page at a time.
The process is simple, choose the page you like to recreate as a template, it can be the homepage, about section, product page, or any other page, paste the URL of the desired page into the AI Builder, and receive the copy of the page structure along with its design elements. The recreated elements include, but are not limited to, header and footers, image blocks and placements, fonts and text, color palettes, content sections and paddings, forms and sliders.
The AI Builder's wonders do not stop there. Unlimited pages can be recreated with the paid plan, and limited pages (up to 5) can be recreated with the free version. Moreover, any new pages recreated, developed, or chosen from 10Web's pre-made pages, will simply inherit the style and design elements of your website, propelling your website creation efforts, time, and resource savings to new heights.
Of course, any page recreated will need to be customized: text, colors, and visuals will need to be altered and added, making the web page or website unique and your own. You will have complete control over the recreated template of the web page and website.
The creativity of your designers will shine here without any limitations, but you can also take advantage of Elementor to edit design, structure, and content via drag and drop and without a single line of code if that's your preference. More than 40 designer-made and mobile-friendly WordPress templates, and Elementor and 10Web premium widgets will be accessible to you to enhance your website development and design experience.
Yes, it's that simple.
Let's look at the process of recreating a page or template more closely.
Go to 10Web.io. Select AI Builder under the Products tab.
Create an account by entering your email. Press on Get Started for Free. Answer the questions and complete the form to create a free account. At no point will we ask for your credit card information.
Once you have created an account, you will be taken to the What do you want to do page. Here, press Create with AI Builder.
Now copy the URL of the web page you like to recreate and paste it into the given area. Click Proceed and wait for the template or the recreated page to be developed by the AI Builder.
Once the recreation process is complete, proceed to Preview & Edit Your Website.
You are now presented with two screens. The screen on the left shows the preview of the recreated page. The screen on the right shows the global style settings of the page. Here, you can design and customize the recreated page as you wish and preview the style changes in real-time. Click Save & Proceed.
The customization does not end here. You can proceed to develop, edit, and customize your page with the 10Web builder and its amazing features and offers.
Congratulations, you have completed the recreation process for one page. To add or recreate additional pages, visit the 10Web Dashboard. Here you can choose to select the same process (step 4) to recreate another page through a URL link. You can also add pages by selecting any of 10Web's pre-made pages. Another wonderful feature here is that any added pages will automatically inherited the design elements of your website.
If you are not convinced of the wonders of the AI Builder, let's look at other, perhaps not-so-obvious benefits and opportunities created by the AI Builder.
Experiments in website creation.

Website creation is all about continual experimentation of the design, layout, content, and function of pages. Through the AI Builder, you can create a copy of the web page or website, and make alterations within minutes, enhancing the process of discussion, idea exchange, and change actualization effortlessly.

Template creation within minutes.

You or your client has seen the website of your dreams. It is a niche and custom-made website that demands hours of coding and testing, or does it? The AI Builder with the website's URL can give you the exact visual and functional copy of the website, within minutes. This is when you realize that you can create templates out of any website nearly instantaneously, which means you now have access to infinite supply of templates at your disposal.

AI Builder for landing pages.

If the AI Builder can recreate pages, it can also recreate landing pages. You can add landing pages to live websites in a manner of minutes. It is automated and effortless. The landing page will automatically inherit the style and header and footer of your existing website, all you'll have to do is work on the content.
The AI builder is a life-savor for anyone from freelancers to web developers to designers to agencies; anyone that seeks efficiency and quality work and product.
Now you see, you can create optimized landing pages, and website structures and designs without any line of code with AI Builder. Unlimited website templates of any niche can be within your reach along with customizable features with drag-and-drop, on top of all the WordPress-specific customizations, design elements, and advanced widgets, all under a unified dashboard. Take your website creation process to a new level with 10Web's AI Builder.
Conclusion
The WordPress default theme typically shows off all the cool new features available in WordPress. However, the default themes are not as flexible as some other WordPress themes on the market and don't have a lot of customization options. As such, if you want complete control over your website's look and style, consider switching to a different theme or take advantage of the AI Website Builder + blank theme + 10Web Page Builder combination to create the website of your dreams.
FAQs
Can I delete WordPress default themes?
Yes, you can click on each of the theme's thumbnails and then select the Delete option. However, it's recommended to leave at least one of them installed. The reason behind this is simple: if an error occurs with your active theme (for example, an update goes wrong or a coding error occurs), WordPress will switch to another installed theme. If you don't have a second theme, it will default to the WordPress white screen of death.
How do I change the default theme color in WordPress?
To change the default theme's colors in WordPress, go to Appearance > Customize > Colors & Dark Mode. Then select your preferred background color.
Can I change the theme later after creating the website?
Yes, you can. However, keep in mind that while your content will remain intact, the way your website looks will change when you install and activate a new theme. This means you will have to go through the customization settings to set your preferred colors and fonts. You might also have to adjust the layout of your pages. As such, it's better to find a theme you like first and then design your website.
Should I create a child theme of the WordPress default theme or choose another theme?
The choice is entirely yours. If you like the look of the WordPress default theme or don't need a lot of features, the default theme should serve you fine. But if you want more customization options or if you want to use a specific page builder plugin instead of relying on Gutenberg, you should choose a different theme. Keep in mind that if you plan on customizing your new theme a lot, it's a good idea to create a child theme to ensure your changes don't get overwritten with the next theme update.