Finally! The BEST WooCommerce Hosting for 2021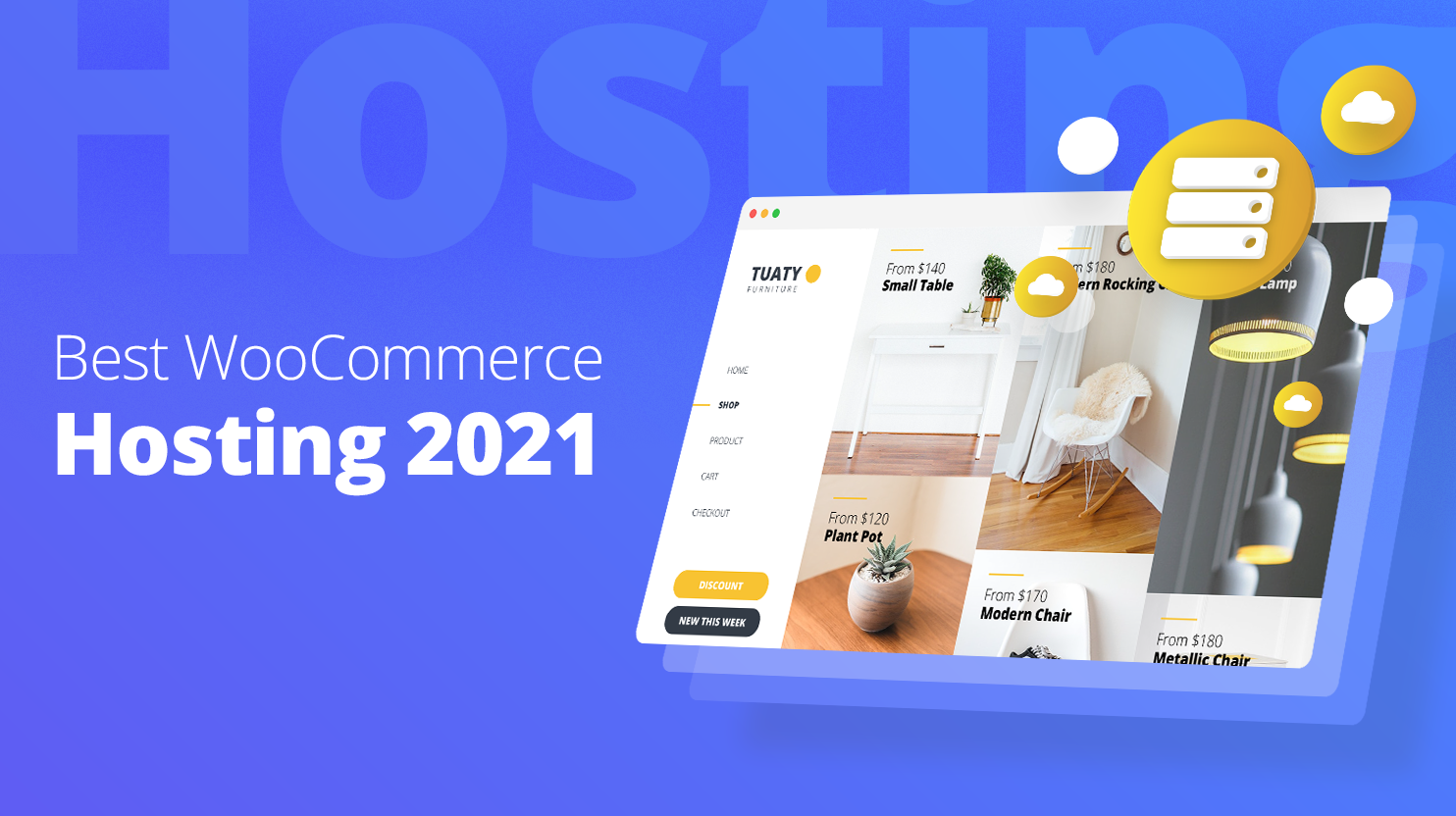 Have you ever dreamt of selling your handmade cookies? Or maybe you thought you could start your career by selling those DIY lampshades? Whatever it is, WoCommerce allows you to create your simple and pretty eCommerce shop and start earning money! But what exactly is WooCommerce and which WooCommerce hosting should you choose? In this article we'll guide you through:
What is WooCommerce and WooCommerce hosting?
Let's start from ground zero: What is WooCommerce?
WooCommerce is an open source eCommerce platform that functions on WordPress. At its base, it's a WordPress plugin that allows you to turn your website into an online shop. To ensure optimal functionality of this plugin, you need to have a good WordPress hosting platform. So, no matter how cool your WooCommerce plugin is, your WordPress hosting should be even cooler to unlock the plugin's full functionality.
Why do you need WooCommerce hosting?
Simple enough:
You need WooCommerce because it is simple and flexible. You need WooCommerce hosting, because without it, your WooCommerce simply cannot function. To push this even further, you need a good WooCommerce hosting because you want to make sure your eCommerce site looks good, loads fast, and is secure enough for you and your clients to shop carelessly. But not to jump ahead of ourselves, let's go through the advantages of WooCommerce hosting listed and explained one by one.
By the way:
If you are more of a visual person and prefer a visual explanation, check out our vlog about Best WooCommerce hosting. Here you can find info about all the important features along with a good comparison of 2021's WooCommerce hostings.
Useful Features of WooCommerce Hosting
Here are the features that a good WooCommerce hosting should have:
Speed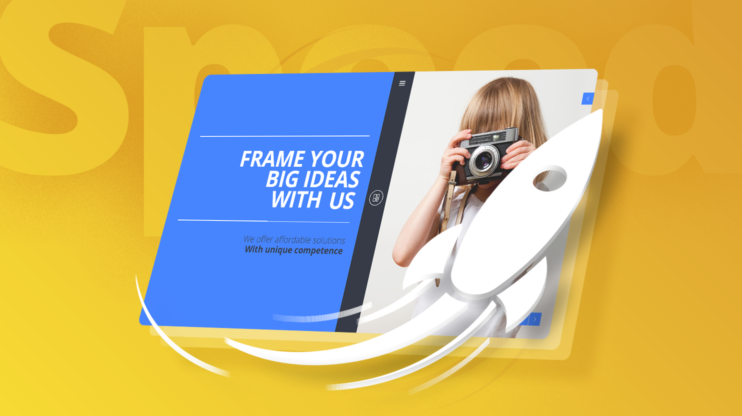 If you don't want to lose your customers simply because your website takes too much time to load, you should make sure that your hosting is fast enough.
Let's face it, no one wants to wait more than a couple of seconds staring at a blank page. If your website is too slow, then there will surely be other websites that will offer similar products at a faster speed. So, even if your eCommerce shop follows the latest trends and is visually appealing, it's of no use to you, if your customer doesn't wait to see it.
Your website speed directly influences your traffic and conversions, so in the case of an online shop it can even affect your income. A good WooCommerce hosting should guarantee you a good loading speed. This is a feature that doesn't depend on the WooCommerce plugin itself. Make sure that your hosting service is fast enough to handle all the cool functions of the plugin and bring you more customers.
By the way, if you're wondering how to check your website's speed (or are simply curious about how fast your competitors' websites are), you can do so with 10Web's Speed Optimization tool. If you rank 90 and above, you're doing pretty well, but anything below is a good reason to reconsider your hosting service provider.
Uptime
Even if your website is super fast and takes almost no time to load, it's worth nothing if it isn't available, right? So, the next thing you need to check with your hosting is uptime. According to Uptrends, a website's uptime "is the time that a website or web service is available to the users over a given period." Although, ideally, you want your website to be available 100 percent of the time, the 99.999% is also considered a high uptime.
Nowadays, however, uptime is not only about the website's availability, but also its functionality. So, if your visitor is not able to complete the necessary task on your website, then your website can be classified as experiencing downtime. In case of eCommerce, this could be the inability of the user to put the product into the shopping cart or to check out. Again, even minor issues during the shopping experience can lead to your clients turning away from your website and considering it less trustworthy.
Not to mention that this can exacerbate the problem if you're experiencing high traffic during a good season (like selling customized pumpkins during Halloween), which in turn would frustrate your customers even more. So, simply make sure that your WooCommerce hosting can provide you excellent uptime to avoid all of these problems.
Security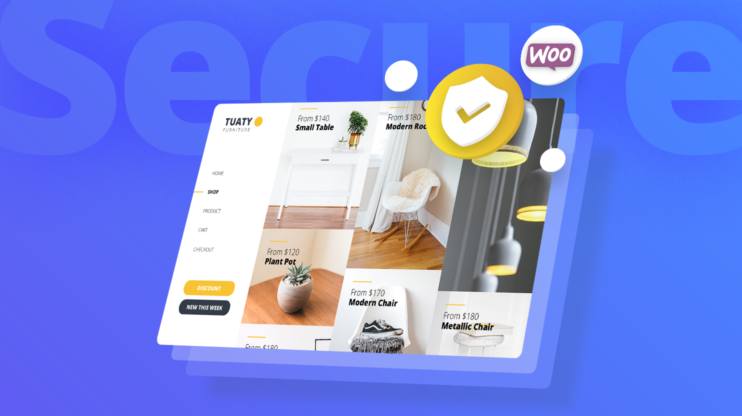 Even WooCommerce itself admits that its plugin's security depends on the host. If you make a poor choice with your hosting service, you can put your entire shop along with its customers at risk. Of course, security is important for all websites, but in case of eCommerce sites, this topic is even more sensitive.
Your customers trust you with their personal information and make financial transactions via your page. You want to make sure that this data does not leak. Of course, keeping your website secure can be quite a headache for you, especially if you are a WordPress beginner. That's exactly why you need to have a good WordPress eCommerce hosting that takes care of all the technical aspects for you.
But how can you tell if your WooCommerce hosting is safe enough? Well, you need to check whether the hosting service provides some (if not all) of these functionalities:
Is up-to-date: It is quite bothersome to always check whether your plugins or your theme in general need an update, but if you forget to do so, your website can be the target of malicious attacks. So, make sure your hosting keeps it up-to-date automatically.
Has an SSL certificate: You have to be sure that your customer's data arrives safely and securely at your website's server. For this, having an SSL certificate is mandatory, as it protects your financial information and secures your logins and signups.
Backs you up: Finally, you want to make sure that your hosting provider is always backing up your information so that, if something happens, you can restore your website through these backups.
Pricing
When choosing a hosting service for your online shop you should also consider how much it costs. Some WooCommerce hostings claim to give you a very good offer with a very affordable price, but once you begin to use their services you understand that it's not true. These "offers" usually don't mention that you have to pay a lot more, because you will be needing premium features and a lot of bonus tools that aren't included in your cheap package.
Also try to avoid the shared hosting plans, because although they might be alluring at first, you have to change them once your eCommerce page starts to get more traffic. Shared hostings are mainly popular because they offer cheaper prices, but today with many cheap managed hosting providers we can say with certainty that the era of shared hosting has come to an end. So, be sure not to fall into their trap.
Support
Let's put it clearly:
Although creating and maintaining an online shop can be very fun and profitable, it can also keep you up at night thinking about the unexpected technical issues that sometimes even a Google search can't solve properly. That is why you need to have something more professional than Google search, like a team of WordPress gurus. A good WooCommerce hosting should always provide you with a bunch of WordPress experts that are there to answer your questions 24/7.
This is not a "fancy" bonus, this is indeed absolutely mandatory for maintaining a well-functioning website. Of course, this could be unnecessary if you had a bunch of developers working for you, but if you don't want to spend too much money on website making, then at least be sure that your hosting service provides you premium support.
So, although it might be tempting to start your online shop with a random shared hosting, you can be sure that if your shop starts to grow, you will eventually regret it. You need a strong and caring WordPress eCommerce hosting that will walk you through all the steps of website management if needed and will eventually accommodate your resource demand when your traffic grows. A hosting provider that will answer your questions better than Google search.
Best WooCommerce Hosting Comparison
Now that we listed all of the important features that you should look for when choosing a WooCommerce hosting, we will make your job even easier by listing some of the best hosts out there.
10Web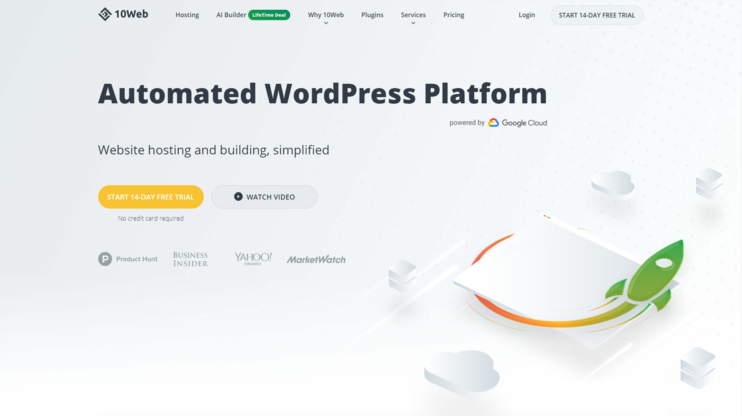 10Web is certainly one of the best WooCommerce hostings you can find out there. With only a few dollars a month (10, to be precise) you get access to all of the features we mentioned above along with many others. But how is 10Web different, you might wonder?
Well, first of all, let us introduce you to this new hosting provider. At its base, 10Web's website builder is based on Elementor and comes with 40+ templates. This way we ensure that your website looks elegant and stylish and is easy to design. To put the focus back on WooCommerce, it might interest you to know that we provide you with 13 premium WooCommerce building widgets that make the process of building your eCommerce easy and smooth. You can create eye-catching buttons, cool layouts for displaying your products, and increase your sales with the help of these widgets.
But more importantly, 10Web has all the important features that we already discussed:
90+ PageSpeed Score
10Web guarantees that your website will always be fast to load allowing you to score 90 and higher in your PageSpeed. As we mentioned, speed is one of the crucial factors for keeping your customers and gaining new ones. So, with 10Web hosting you can be sure that it will never be a problem for your online shop.
Premium Security
Not only is this WooCommerce hosting fast, but it is entirely secure. 10Web has built-in login limitations and is always scanning your website for vulnerabilities, making sure to repair the hacked sites. With its constant monitoring, DDoS protection, and high support you can be sure that your online shop is in the right hands.
Affordable Pricing
10Web is an Automated WordPress Platform. It's basically a better alternative for managed hosting because it relies on automation to further simplify and accelerate website hosting and building.
Now as you know, managed WordPress hosting usually tends to be a little more expensive as it provides you with more features and has high-quality support. Now, this is not the case for 10Web as it offers you all of this and way more for only 10 dollars a month. Of course, there is also the Premium (24$/mo) package, which allows you to host 3 websites and gives you 15GB SSD storage, but if you are just a beginner in the field you'll be fine with the starter package, it has everything you need.
Customer Care
10Web also has an amazing customer service that will be there for you anytime you need them. It provides you with a professional team of WordPressers that can always answer your questions and help you with technicalities. It has also developed an awesome community through social media groups that all consist of 10Webers and help each other throughout the website making and maintaining process. So here too, 10Web scores high, as it has a premium support that is a factor of primary importance when choosing a WooCommerce hosting.
In addition,
10Web provides you with SEO services, which means it helps you rank high on Google. This is very important as not all WordPress eCommerce hostings provide you with such an advantage. We all know that these days people rarely go to the second page of Google search (they rarely even go further than the second result) so if you want your shop to be found easily, you should surely take care of your SEO. By the way, you can check how to make your eCommerce more searchable by checking our blog on SEO basics for eCommerce.
Finally, if you already have your website or online shop, you can easily transfer it to 10Web with the 1-click automated migration tool. So, even if you were quick to make your decision and started with some cheap shared hosting, but don't want to lose your website, you can still switch to the WooCommerce automated hosting with only one click!
And 10Web also gives you a 14-day free trial (no credit card required!) so you can go and check out all services by yourself to see how they would work with your website.
Automated WordPress Hosting on Google Cloud
Get reliable hosting with 99.99% uptime, elastic scaling, and more!
Automated WordPress Hosting on Google Cloud
Get reliable hosting with 99.99% uptime, elastic scaling, and more!
Another great WooCommerce hosting is the WP Engine.
WP Engine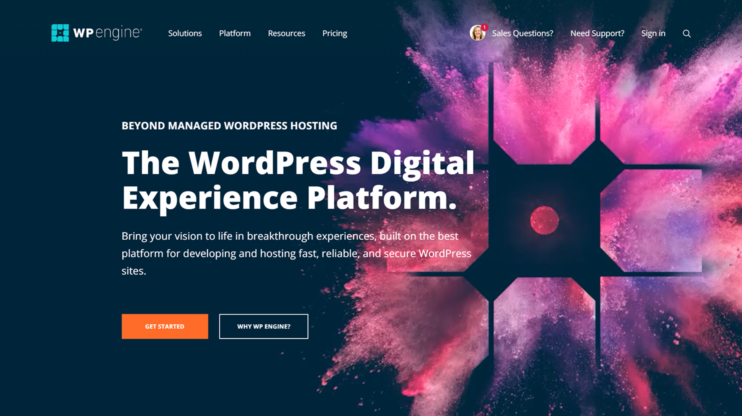 A short recap of its main features or as WP Engine names them "pillars":
Creative Agility. This refers to the WP Engine's site building and managing tools.
Ecosystem Integration. WP Engine has an open source flexibility, which includes tech partners, curated WordPress solutions, and APIs.
Enterprise Performance. This pillar provides you with security solutions, managed WordPress hosting, and cloud infrastructure ensuring your site's speed, security, and scalability.
Actionable Intelligence. Finally, WP Engine also offers site analytics such as page speed insights and performance monitoring.
Now, with all of the features mentioned above you can already see that WP Engine would be a good choice for your website, but let's quickly skim through the important WooCommerce hosting features and see how WP Engine is doing on those.
It's fast.
With its hosting infrastructure and performance management WP Engine ensures you a fast loading speed and a very high uptime.
It's easy to switch to.
Just like 10Web, WP Engine also provides you with an automated and quick migration tool that allows you to move your existing websites to their hosting. However, to do that you need to install and activate a special plugin which could become a hassle for you if you are new to WordPress.
It's safe.
WP Engine is pretty good at ensuring your safety with its file transferring encryptions, security backups, and real-time threat detection. It also gives you a free CDN and SSL certificate which is a good bonus as it makes your website even more secure.
It has a great support team.
Again, with a WooCommerce managed hosting you can be sure that all your questions will be answered. This is also true for WP Engine. The company's support has an online chat, is quick to respond to your emails, and can even be contacted via phone. Moreover, if you don't want to communicate with the support team they also have the resources and the FAQs available on their website which you can access anytime.
However, with all of its advantages we need to mention that unfortunately,
it's not that cheap.
WP Engine provides you its WooCommerce hosting services for 30 dollars a month (which is three times more than 10Web's package) and this can be too much if you are completely new to the industry. Moreover, some of WP Engine's plans even use shared hosting which you can get for only 3 dollars a month, so you should really be careful when choosing your plan.
SiteGround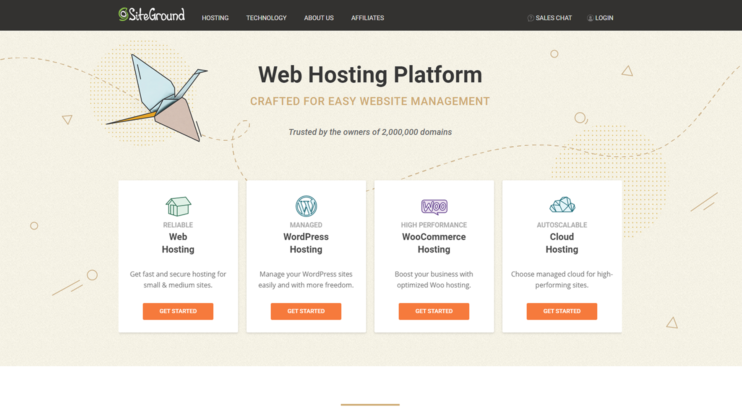 If you've ever searched for a good WooCommerce hosting on Google, you've probably come across SiteGround which is a rather popular option. It hosts more than 2,000,000 domains and many of its customers are pretty happy with the provider. So, let's see if SiteGround is the right hosting provider for your eCommerce website.
Pricing
SiteGround offers pretty affordable prices for its managed WooCommerce hosting: It's only 11.95 dollars a month. Although SiteGround does not offer you a free trial, it does have a 30-day money-back guarantee, in case something goes wrong during your first month and you don't want to stay with them. So, just like 10Web, SiteGround offers you a rather cheap service to help you start off your business.
Speed
All of the WooCommerce hostings that we included here rank very high on their speed and uptime and SiteGround is not an exception. You don't need to worry about your website's loading speed or performance quality with SiteGround's services, as they make sure you have a fast and efficiently functioning website.
Security
When it comes to security, you should be careful with which hosting service you go for, because although you can get great security with their managed hostings, it certainly isn't true for the shared ones. But then, who doesn't know that shared hostings are not safe enough? And then, even with their shared hosting packages, we should mention that SiteGround still provides better account isolation than its competitors.
Migration
Just like with WP Engine, you can move your website to SiteGround, but to do so you need to install a special plugin. Again, this is doable, but it's not the easiest way to change your hosting either.
Support
Finally, just like other hostings on our list, SiteGround provides you with 24/7 support via online chats, emails, and phone calls. So, you can be sure that no matter what issue comes up with your WooCommerce, SiteGround will be fast to solve it.
In short,
Creating an online shop with WooCommerce can be easy and fun, but you need to make sure that your hosting service has all the necessary features to guarantee a safe and hassle-free website managing experience.
FAQs
How to change your WooCommerce hosting ?
As we mentioned earlier, some websites provide you a special plugin that allows you to switch your existing page to their hosting (like WP Engine or SiteGround). With 10Web, the process is even easier as you just need to click a button to automatically transfer your website to 10Web's hosting. But if your chosen hosting does not provide you with any of these features, you unfortunately have to move your page manually, which might take some time and effort.
Do I need WooCommerce hosting to run an online shop?
Yes and no. If you choose to create your online shop with WooCommerce then definitely yes, because you cannot install WooCommerce plugin without hosting. But of course, there are other options for your eCommerce site (the most popular alternative is Shopify) which do not require hosting, or rather automatically provide you with one.
How much traffic can my WooCommerce hosting handle?
Again, this depends on your hosting service. 10Web's Automated WordPress Platform, for instance, and other managed hosting providers mentioned in this article offer high scalability and ensure your site's excellent performance, while in the case of shared hosting the only thing you can be sure of is that if your website's traffic grows, your page will not handle it.
Is WooCommerce a good option for an online store ?
It depends on which stage you are at and what you value most at the moment. The two main platforms for eCommerce are WooCommerce and Shopify and they both have their advantages. WooCommerce is extremely flexible and has a lot of themes and plugins available, but it is a self-hosted platform. Shopify, on the other hand, is already hosted so it is more of a beginner-friendly solution. However, it does not have the variety and elasticity that WooCommerce provides, so you are more limited with it.
And again, although WooCommerce is self-hosted, if you choose a good hosting it will not be a problem for you, so in the end, yes, WooCommerce is the most convenient option for your online store.
So when choosing your WooCommerce host, check how it's doing on speed, uptime, security and support, and make sure the services are reasonably priced. Our best recommendations for your WooCommerce hosting are 10Web, WP Engine and Siteground. Do you have any experience hosting a WooCommerce store? Let us know in the comments below!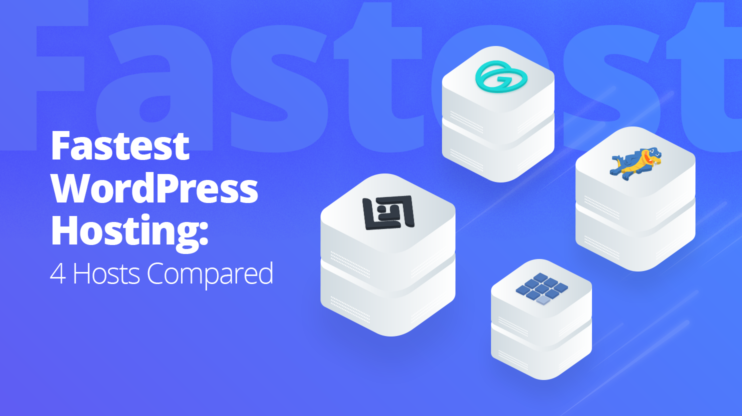 In the digital age, website speed has become more important than ever. This makes people who are on the lookout for the fastest WordPress hosting right on track with the hosting industry's best practice trends. As a matter of fact the tech giant Google no less has officially declared that page speed is one of its top ranking factors. While the majority of website owners are aware of this, fewer people pay attention to the fact that Google further specifies that this concerns not only the desktop versions of your website but the mobile version as well. What's more is that studies have shown that "2.37% of visitors bounce when your site takes five seconds to load." In the same vein, you risk a 7% drop in your conversion rates if your site displays a delay for even one second. But not to paint too gloomy a picture, here's something…