A Complete Guide to WordPress eCommerce Websites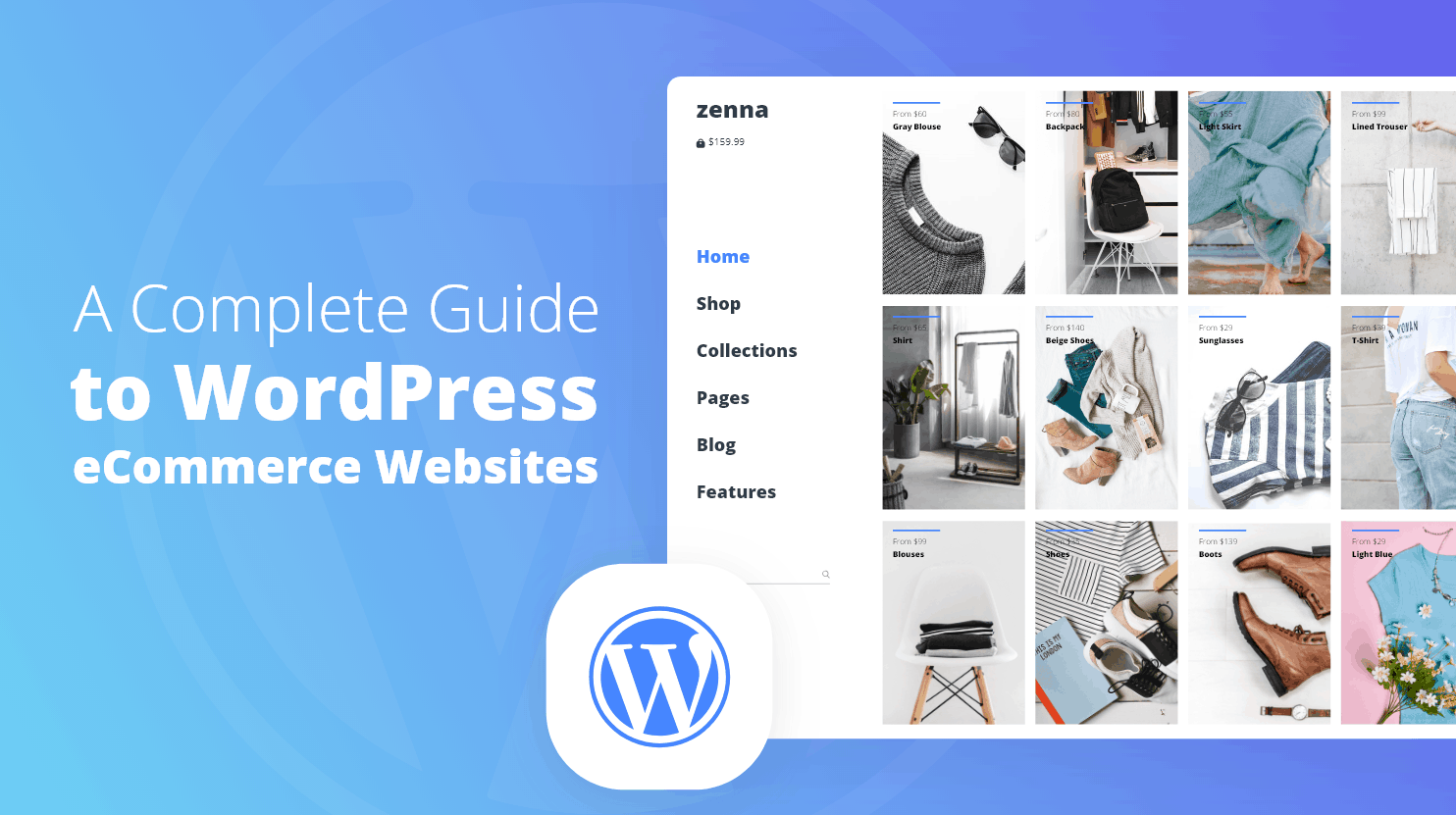 WordPress is the world's leading CMS platform, as it now powers 33% of websites on the internet. The platform achieved this status, by providing both customizability and freedom to its users with its open source nature.
Though when it comes to eCommerce, WordPress might not be the very first name that comes across. That mainly falls down to WordPress's reputation as being primarily a blogging platform. Meaning, its functionality as an eCommerce platform falls down on plugins.
Using WordPress strictly for eCommerce comes with its own share of positives and negatives, in this article we'll shed some light on some of those to help you make up your mind.
Advantages of using WordPress for eCommerce:
1. Free
This is a major advantage that WordPress has going for it. The platform itself costs nothing. It is open source as a platform, which means that it will stay free forever.
Freeing you up to shift more resources towards better hosting options, and upgrading your most used plugins.
2. Frequent updates (minimal security risk)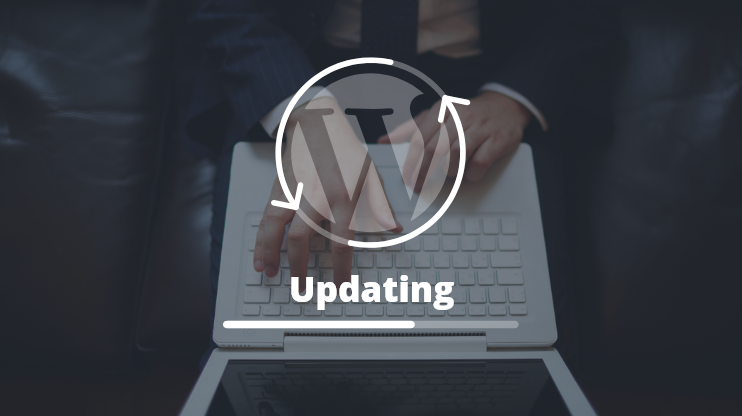 A website becomes more vulnerable to security attacks the older it gets. WordPress, on the other hand, is updated on a regular basis, fixing any known issues and flaws in its security.
The same goes for its associated eCommerce plugins such as WooCommerce and eCommerce by 10Web which you'll be using for your eCommerce needs.
3. Easy and unlimited customization
There are more than 54,000 plugins available to download for your WordPress website and themes make it so that you can change your website's entire look with a single click.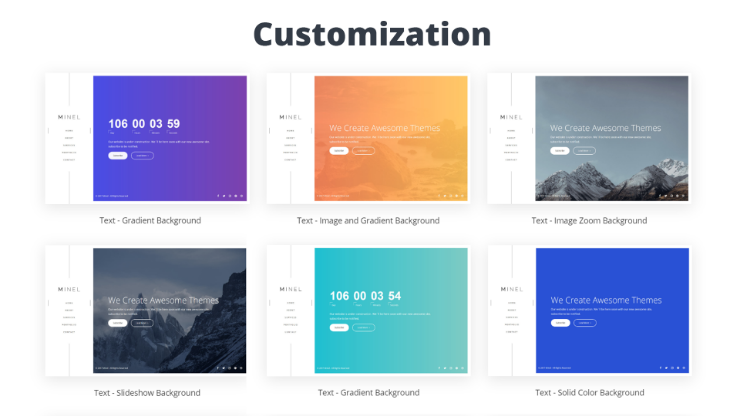 Advanced WordPress platforms such as 10Web come with their own solutions to easy website building and customization. Using the 10Web Builder you can use pre-made website templates to build an entire website from scratch with a single button.
With the simplicity and functionality that plugins and themes provide, you can fully customize your eCommerce website in minutes to perfectly suit your needs.

Get a head start on website creation with AI
Create a custom website tailored to your business needs 10X faster with 10Web AI Website Builder!
Get a head start on website creation with AI
Create a custom website tailored to your business needs 10X faster with 10Web AI Website Builder!
This customizability goes not just for your website's eCommerce functionality, but to any function that you can imagine your website performing, you can rest assured that there's a plugin out there that fulfills that function.
On top of that signing up on 10Web gets you more than 50 premium plugins to add to your website's functionality, including eCommerce and Google Analytics which are essential for your eCommerce website on WordPress.
4. Geolocation support
Unlike other website platforms, opening up your eCommerce store on WordPress using either WooCommerce or ECommerce by 10Web, your store won't be geographically limited in terms of the service that it can provide to its customers.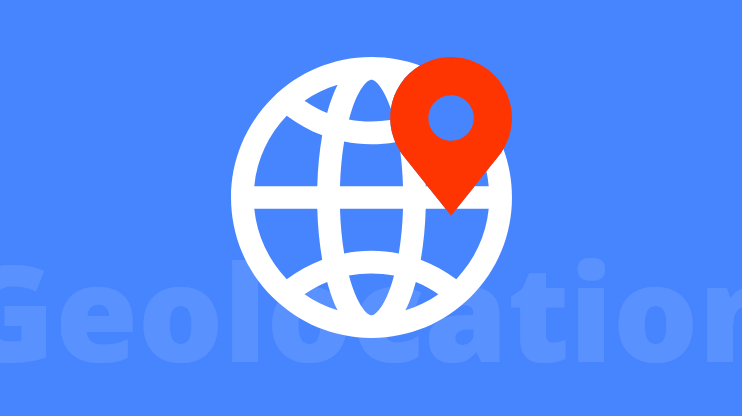 You'll be able to set up multiple payment gateways, add mobile phone payments to your website, automatically update your store's products, currency type, and tax rates based on your customer's location.
By having your eCommerce site on WordPress you'll be able to easily take your online store to a global scale.
5. Built-in Analytics
It's very important for online stores to keep a close eye on their traffic and website data.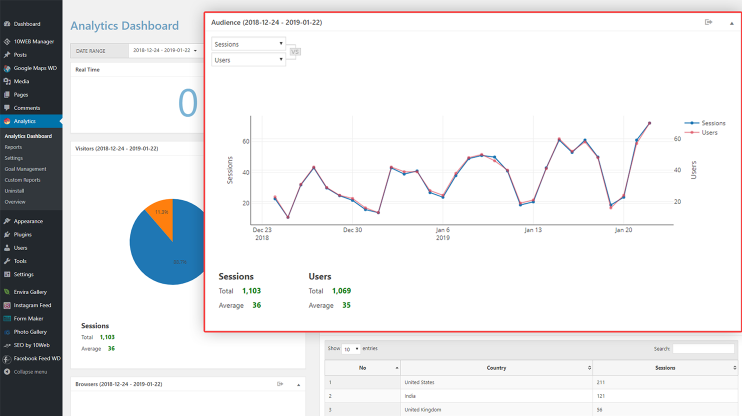 Most website platforms don't support their own analytics tools. WooCommerce and eCommerce by 10Web provide their built-in tools to keeping track of all the metrics that matter regarding your website's traffic and sales.
6. More functionality using extensions
If WordPress's functionality through 54,000 plugins isn't enough, you can take them even a step further through their extensions by upgrading them to premium.
A plugin such as eCommerce can provide even more functionality beyond its already robust base functions through its extensions. This system applies to many of WordPress's plugins and services.
There are even more functionalities that WordPress provides that go beyond this list. The deep level of customizability, functionality, and ease of access is what sets WordPress apart as a platform for all your eCommerce needs.
That said, the platform isn't without its flaws. There are a few reasons why one might think twice about setting up shop on WordPress.
Limitations of using WordPress eCommerce websites
1. Extensions being behind a paywall
Our final advantage of using WordPress for eCommerce is also our first disadvantage.
While extensions do provide incredible functionality and deep levels of customizability, the fact remains that you do have to pay for them.
This is offset by the fact that WordPress itself as a platform is free, so at the end of the day you'll still end up paying specifically for the extended functions and settings that you find your website to be lacking.
2. Reliable hosting
While your entire website is built on WordPress, ultimately WordPress is still only a CMS (content management system). Meaning, you need to purchase a reliable hosting service to host your website on.
Your hosting service needs to be fast, it needs to have the capacity to provide you with almost 100% uptime. It would also be a great plus if your hosting service provides easy migration, so if you already have a website on a different platform you could easily bring it over to WordPress.
This might seem like too much of a hassle, and it is if you don't know where to look, but luckily, fixing this problem is as easy as a simple click. With 10Web's Automated WordPress Platform you can rest assured that your website's hosting service is as good as it gets.
3. Difficult for non-developers
WordPress has a bit of a bad reputation when it comes to its difficulty as a platform. The general consensus is usually that WordPress is the most customizable platform out there, but it's only good in the hands of capable developers.
While that statement does have a ring of truth to it, those days are far over.
Nowadays, there are many no-code website builders out there such as, our own website builder that are designed to provide simplicity that even complete amateurs can effectively use them with great results.
In conclusion, using WordPress to setup an eCommerce store has a lot of advantages to it, such as its deep customizability, functionality, and cost.
At the same time, it has a few negatives as well. But, considering that those negative points do come with very simple solutions on how to fix them, I'd say that the benefits far outweigh the negatives in this case.
Opening up an online store using WooCommerce or eCommerce by 10Web is without a doubt worth the effort of setting up on WordPress.
The amount of control, freedom, and ownership that WordPress's open source nature provides is unmatched by any other competing platform out there.