6 Best WordPress Drag and Drop Builders Compared (2022)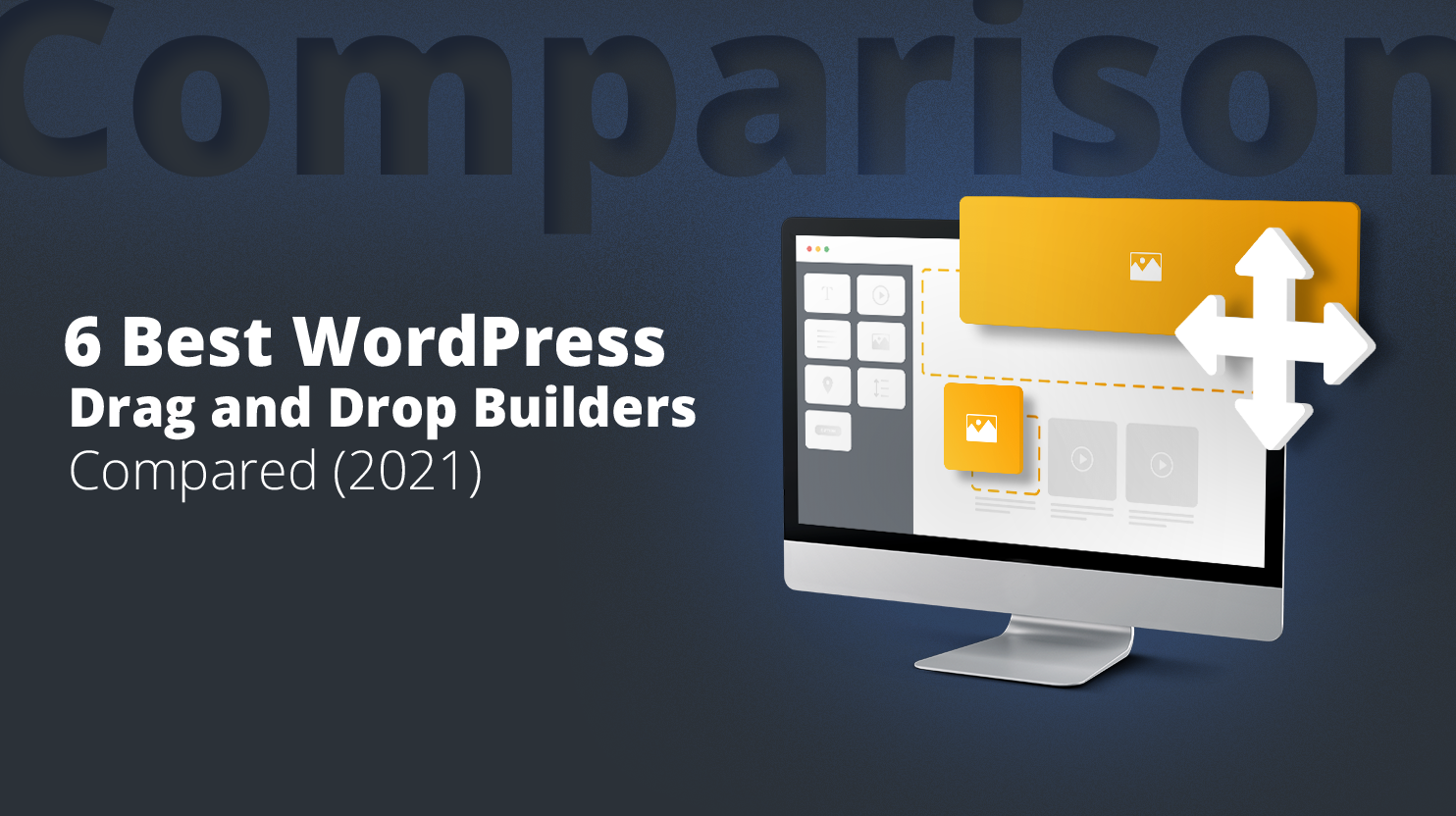 Let's do some name dropping. This article is here to introduce you to 6 WordPress drag-and-drop website builders that'll make sure your agency provides the most awesome websites out there to your clients. Why does your agency need a drag-and-drop builder, to begin with?
Besides the higher functionality, it'll bring to your website, our list of drag-and-drop website builders ensures user- and SEO-friendliness, mobile responsiveness, and offers a bunch of themes and templates that cater to all of the above-mentioned criteria.
But don't all website builders offer these attributes, you may be wondering. Maybe they do, maybe they don't. That's beside the point. The most significant reason why every agency needs a WordPress drag-and-drop website builder is the fact that it saves you from the tedious task of coding.
All you have to do is choose a website template and then simply manage your websites via drag and drop. You won't need any coding skills or professional help to build a fully functioning and visually appealing website. Ultimately, you'll save a lot of money and energy that you can direct into other parts of your projects.
Let's dive right into the nitty-gritty.
What to Look For When Choosing a Page Builder For WordPress
6 Best WordPress Drag and Drop Builders
What to Look For When Choosing a Page Builder For WordPress
Before deciding on which WordPress drag-and-drop website builder to use, it's important to understand why you need one in the first place. Here's a list of criteria that a drag-and-drop builder should fulfill for it to be a smart choice.
For those of you who lack the motivation to read the entire article, lean back, and enjoy this video, which will summarize the most important aspects of it.
1. Functionality
A good drag-and-drop builder will ensure great functionality. In other words, you have to make sure that the builder provider of your choice offers a wide range of widgets and tools that come with the builder. Only this way you can build a website that features the exact qualities and functions you want it to. Even if you think to yourself that some functionalities (such as form builders, email subscriptions, etc.) are too much for your website and that you most likely won't need them, you can't deny their importance and the fact that you might be needing them one day.

2. User-friendliness
Next, you can't have a WordPress drag-and-drop website builder that's promising to be easier to handle than regular website builders and not have it be user-friendly.
Going off the assumption that your clients need a drag-and-drop builder because they aren't tech-savvy and lack coding skills, you need to provide them a user interface that's highly intuitive in order to make sure that they'll be in full control of the website building process.
Tasks such as finding the correct type of widget, its placement into the page, working with templates, import and export, editing layouts, rows, and columns are all very essential to website building and need to be made as easy-to-handle as possible.

3. Responsiveness
This is another no-brainer. In this day and age, the world wide web isn't a phenomenon only confined to computers. We've long entered the era of smartphones, where over 50% of website traffic comes from our mobile devices.
That's why it's one thing to choose a website builder that's easy to handle, quite another to make sure that the websites created by this builder are also mobile-optimized.
Because if one thing is sure it's that once your website visitors can't reach you via their smartphones, they surely won't take the time to later look you up on their laptops. So make sure your WordPress drag-and-drop website builder has highly responsive templates and features to avoid losing traffic.
On the other side, it's important that the process of building a mobile-friendly website is easily manageable. For that you'll need a builder that offers the opportunity to preview the mobile-version of your site. You'll also have to make sure that the builder of your choice has enough mobile settings that allow you to customize your mobile layout to your liking.
Finally, one last thing that's essential for a highly responsive website is optimized images. So, if you want to make sure that you have a blazing-fast mobile version of your site that'll also be able to rank well on Google, then you need to make sure that the builder you choose optimizes images in mobile layouts.

4. SEO-friendliness
Here's the deal with SEO: Some agencies out there are too obsessed with it and disproportionately focus on their website content being SEO rather than user-friendly. Then, there's the other side that resents the use of algorithms and AI for measuring the validity and integrity of website content.
Now, whether you belong to the former group or the latter, your website still won't be found by users if it doesn't abide by at least the most basic SEO rules. And, after all, what's the point of having a website if it has no traffic?
But what's the role of your WordPress drag-and-drop website builder in all of this? Easy, SEO optimization is mostly done via plugins. So, don't forget to make sure your builder is compatible with SEO plugins.

5. Included Templates
This criterion is a must-have for every WordPress drag-and-drop website builder. Every website builder comes with themes and templates that you can use and customize to your liking.
Now, we know what you think. You or your clients won't need standard and pre-designed templates. Instead, you're going to create an individual design with individual content and so on, right? While we completely understand that website building is a creative process and requires room for individuality, we'd like to urge you to take a look at several different websites from different fields. Do you notice that while the content is always different, the overall layout of the website is pretty similar? That's because most of the websites have their specific purpose and will eventually be similar to those who have similar purposes.
The templates included in your WordPress drag-and-drop website builder have exactly this in mind and usually cover the most popular website designs, which you can use as a basis for your website to save a lot of time.

6 Best WordPress Drag and Drop Builders
Now that you're fully briefed on the essentials of WordPress drag-and-drop builders, let's take a look at some of the creme de la creme builders out there that offer just that.
One little spoiler upfront: One of our contenders isn't just a regular drag-and-drop builder. It's a fully automated builder that uses artificial intelligence to help you replicate a webpage just by entering a URL.
In fact, let's not keep you in suspense and share with you the details of the revolutionary new invention that is the AI website builder by 10Web. You won't find anything like it anywhere else!

1. 10Web Builder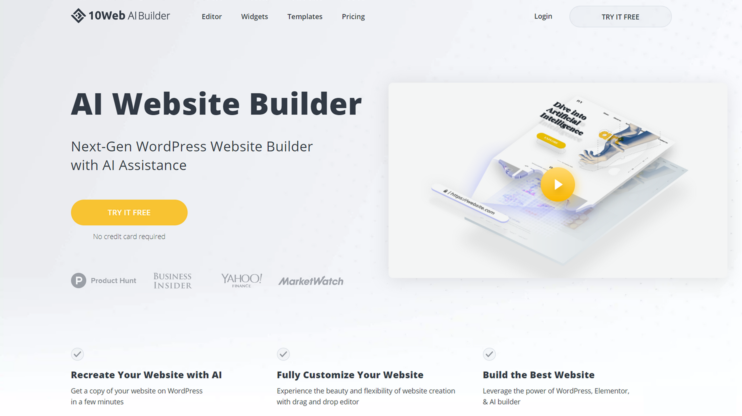 This year – nay, this month – 10Web did something no one else has done before. After 2 years of hard work, we managed to create an actual AI website builder. So, now next to providing our customers the regular 10Web drag-and-drop builder, we upped the stakes even more by offering them a builder with AI assistance.
What does that really mean? Well, it means that the AI builder, as the name indicates, uses the power of artificial intelligence to recreate any website structure or design with just one click.
The major difference between our regular drag-and-drop builder and this new invention based on AI is that the latter allows you to recreate a webpage by simply copy-pasting its URL. You'll get an exact replica of the structure and design of your desired webpage within just a few minutes.
This type of automatic replication of a website without manual involvement, except for copy-pasting the URL, isn't possible with a regular drag-and-drop-builder. Rather, the regular builder allows you to edit the webpage that you recreated via the AI builder. You can change the content, structure, images and much more via our regular 10Web drag-and-drop builder.
The AI builder is great for recreating optimized landing pages. So, agencies and freelancers, this is going to be a real life-saver for you. Think of the number of websites you have to manage simultaneously and now imagine all the time and energy you'll be saving if you can just recreate a website's structure and design with just a few clicks.
If you're currently relying on another hosting provider, using a different content management system (CMS) or a website builder other than Elementor, don't worry. The incredible thing about this feature is that it also allows you to convert your website to WordPress and then edit it with our builder. It provides maximum freedom and individuality.
Let's see how it works.
First, you need to sign up on 10Web. You'll find our AI website builder under "Overview."
Now all you have to do is enter the URL of the website page you want to recreate then click "Recreate and Import." You can do this with up to 5 pages at a time. And voila! New copies of the selected pages will be created in a matter of minutes. The duration of the recreation process depends on the number and complexity of the selected pages. But don't just take our word for it. You can use our free and non-binding 3-day trial with no credit card required to check out the AI builder by yourself.
Build a WordPress website with AI assistant
Move any website to WordPress or create unlimited templates within minutes.
Once the copies are done, you can head to our dashboard, where you'll have the opportunity to customize the pages according to your preferences. For this, we provide our regular WordPress drag-and-drop website builder based on Elementor, which will allow you to edit your site via drag-and-drop, no coding necessary.
The great thing about our Elementor-based regular builder is that it offers features similar to Elementor Pro, allowing for easy and flexible theme customization, the integration of premium widgets, and the ability to build your online shop with WooCommerce builder.
These features are accompanied by little gems that will increase the quality of your website design and add a myriad of functions to fulfill your every need:
40+ designer-made and mobile-friendly WordPress templates,
40+ premium widgets, consisting of Elementor and premium 10Web widgets, and
50+ premium plugins, including a Form Maker and Photo Gallery plugin.
As for the pricing of this AI builder, you have two options:
Option #1
You host your website(s) on 10Web by signing up to our automated WordPress hosting services which start at $10 per month and can get as low as $6 per website for 10+ hosted websites. Being a part of 10Web's hosting package without any additional payments required, our AI website builder is technically free.
Option #2
You purchase our AI builder separately without the hosting package. The Plus version for beginners can be purchased for a lifetime deal of $80, while the Agency package requires a one-time payment of $400.
More importantly, if you consider that our 10Web automated hosting services are as cheap as shared hosting services, you'll agree that it's a fair deal – moreover, actually, it's an unmatched deal. And this goes even if you don't count in the addition of our newest invention.
10Web's hosting services powered by Google Cloud include speed optimization services which will ensure that every website hosted on 10Web automatically gets a 90+ PageSpeed score, thereby improving your SEO performance and conversion rates. Also part of the package is high-class security services, real-time backups, caching, staging, an SSL certificate, and much more.
Our hosting services, as they are, have time and time again proven to be able to outperform those of others. If you want to learn more about that, here's a great example.
And should you be in need of assistance regarding any issue, our caring support team is available to you 24/7.

2. Oxygen Builder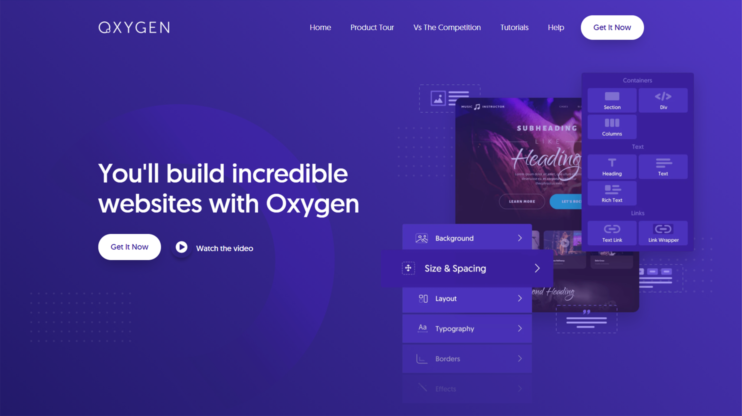 Next on our list of best WordPress drag-and-drop website builders is the Oxygen builder which offers a bunch of features that'll allow you to build and edit highly unique and complex websites without any coding.
The downside to this particular WordPress drag and drop website builder is that it's not the easiest to handle. So, if you're not a technologically gifted person, this one will be a challenge for you.
But if you're patient and willing to learn, then you'll be rewarded with beautiful and unique websites containing very clean and concise code. As most of you know, having clean code is essential to maintaining a high website speed and making sure that your website content is SEO-friendly.
In a nutshell, the Oxygen builder is for developers who have the technical skills and the willingness to manage the entire website building process in its entire complexity but without having to code that much.
Another feature that's included in this WordPress drag-and-drop website builder is that it has a library full of responsive design sets that you can use for your clients' websites. Just keep in mind that not all of these designs are compatible with every website theme out there. So, make sure to check the compatibility between design and theme beforehand to avoid unnecessary disappointment.
When it comes to pricing, Oxygen, relative to its competitors, is very expensive and has no free version. The cheapest options, the Basic package, starts at $99, while the most expensive version lies at $169 for lifetime use.

3. SiteOrigin
A good alternative to Oxygen's WordPress drag-and-drop website builder is SiteOrigin's builder. It's absolutely free and doesn't require coding.
The upside with this builder is that it's compatible with all themes. You also don't need to worry about your website being mobile-friendly, because it allows you to create mobile responsive websites.
Another benefit is that it equips you with a wide variety of tools and templates designed to offer excellent website layouts and an easy website building process. By offering lightweight themes, Site Origin's builder also makes sure that your clients' websites are automatically SEO-optimized.
The free version of this builder includes all features necessary for building a great website. The only weakness of this option is that it's not exactly holding up to the quality offered by the competition, which offers slightly better visuals.
This said, SiteOrigin is a great option for those who are trying to build a website for themselves or for their companies. But if you want to opt for something with a bigger range of styles and effects, we recommend you take a look at the other builders we're presenting in this article.

4. Visual Composer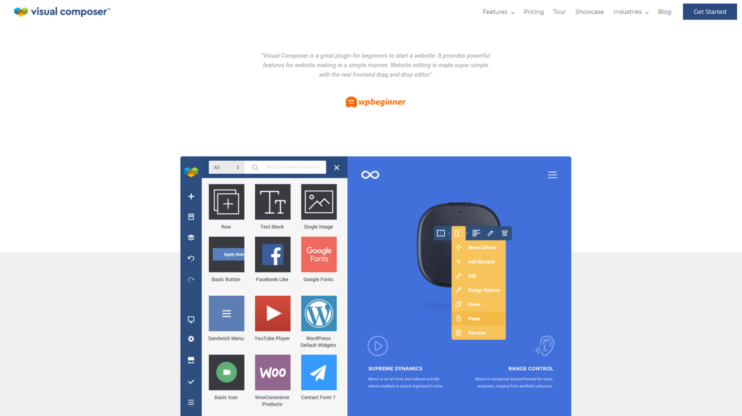 For those of you who are complete beginners when it comes to website building, here's a good option for you. Visual Composer's builder offers an effortless front-end page design experience.
Just like SiteOrigin's builder, this one is compatible with all themes. An added bonus is that it has a great number of integrations with a bunch of popular WordPress tools, such as Google Fonts and Yoast SEO.
With this builder, you also get a bundle of templates that you can customize to your liking. The builder allows you to add carousels, slideshows, backgrounds, and many more features.
As for the pricing, the costs for this builder start at $59 for a single website, which isn't too expensive but also not the cheapest option out there.
Basically, Visual Composer's builder is a good way to start learning the ropes around website building but unfortunately, its user interface with its rather antiquated style leaves much to be desired.

5. Beaver Builder
Beaver is one WordPress drag-and-drop building provider that keeps improving and expanding its features. It's very developer-friendly and offers clean code. This makes it easier for Google's algorithm to detect your website and ensures that your website runs on high speed which will ultimately also improve your SEO performance.
With Beaver builder, you also get high-quality support, so whenever you face any technical issues you can rest assured that you're in safe hands. By being diligent about their regular updates, you also don't have to worry about missing out on an update and risking the security of your website.
This said, there's one major downside to the Beaver builder, namely its price-performance ratio, especially when it comes to design. The prices start at $99 for the Standard package and reach up to $399 for the agency plan. The agency plan includes white labeling, premium themes, and modules. Of course, we support the mentality that if something has an exceptional quality it's worth the price you pay for it. But in this case, the high cost seems rather unjustified given that other providers have better offers when it comes to the quality of their premium themes, for example.

6. Divi Builder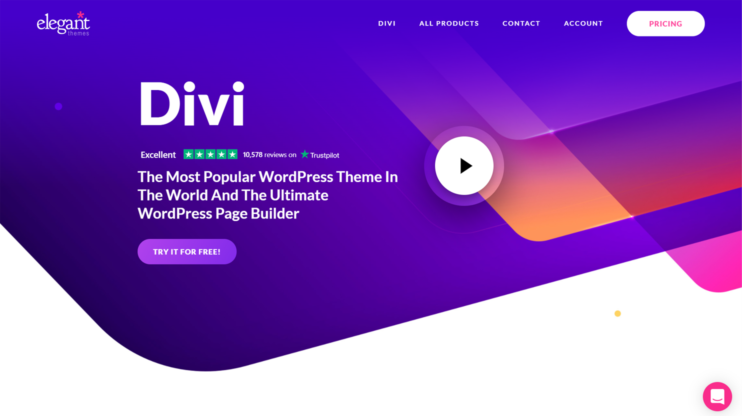 Finally, the last WordPress drag-and-drop website builder on our list is the Divi builder by Elegant Themes. Divi provides a unique website building experience by offering an interface featuring floaty buttons and cool pop-ups.
The one major con to this creative drag-and-drop page builder is that due to its out-of-the-box thinking, it's hard to figure out how to properly use it. It's so different from other builders and will definitely take you some time to get used to it.
Be that as it may, Divi equips you with a colorful range of templates covering your every website design need. You'll have access to 316 pre-built templates, to be exact, which come in 40 different layout packs. Your clients will very much appreciate the wide range of design options this builder provides them.
Additionally, there are some bonus features, such as A/B testing of your Divi themes and the opportunity to create your very own theme.
But, here again, a possible thorn in the side might be the pricing of this WordPress drag-and-drop website builder. With Divi builder, you have two options: Either you purchase the builder for $89 per year for yearly access or you go ahead and get the builder for lifetime access for a one-time payment of $249.
On top of this, there's the downside that this builder is shortcode-based. In other words, whenever you decide to delete it you have to expect that some shortcode remnants will stay and it's up to you to delete them one by one.
To sum up, Divi is an excellent and unique WordPress drag-and-drop website builder but is more suitable to cover the needs of single website owners rather than those of agencies that require a wider selection of services and features for a more affordable price.
What's the takeaway?
We'd like to wrap up this article by highlighting that if you're an agency in need of a wide palette of services and not just a single WordPress drag-and-drop website building tool, then 10Web is the best option out there. Especially if you're juggling a large number of clients and need to be able to replicate websites in a matter of minutes, you'll need our AI website builder to deliver results you won't get elsewhere. Plus, it's hands down the cheapest option out there, allowing you not only to save time and effort but also a lot of money.
Alternatively, if you're looking to create a website that's more unique and complex and at the same time are willing to splash out, then you should give Oxygen, Beaver or Divi a try.
For those of you who just want to have basic features and layout, we suggest you consider Visual Composer or SiteOrigin, which won't fail to deliver on the basics of WordPress drag-and-drop website building.
Now, let's get candid. Which one of our suggestions did you like best? Do you happen to have a first-hand experience with one of them? And what about our brand new invention, the AI builder? Hot or not? Drop a comment below!