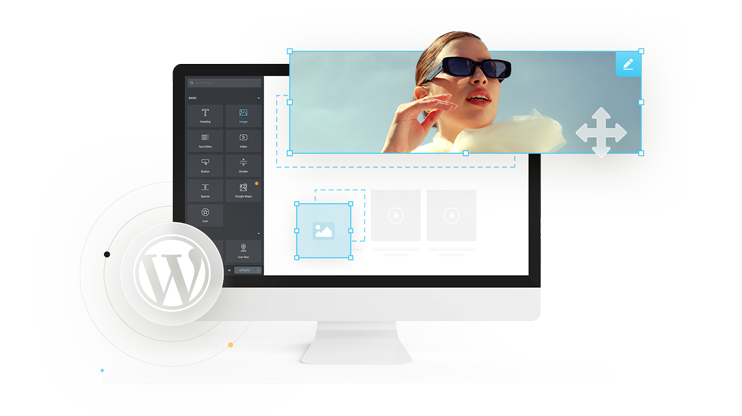 With the development of technology, website building has become easier and more intuitive than ever. Drag and drop website builders offer a streamlined way for users to create their websites with minimal technical knowledge. They provide users with a library of pre-made templates that can be customized to fit any need. This article will discuss the key things to look for in WordPress drag and drop website builders and outline the six best WordPress page builders to choose from.
Let's do some name-dropping. This article is here to introduce you to 6 WordPress drag-and-drop website builders that'll make sure your agency provides the most awesome websites out there to your clients. Why does your agency need a drag-and-drop builder, to begin with?
Besides the higher functionality, it'll bring to your website, our list of drag-and-drop website builders ensures user – and SEO-friendliness, and mobile responsiveness, and offers a bunch of themes and templates that cater to all of the above-mentioned criteria.
But don't all website builders offer these attributes, you may be wondering? Maybe they do, maybe they don't. That's beside the point. The most significant reason every agency needs a WordPress drag-and-drop website builder is that it saves you from the tedious task of coding. All you have to do is choose a website template and then simply manage your websites via drag and drop. Ultimately, you'll save a lot of money and energy that you can direct into other parts of your projects.
This article will discuss the key things to look for in WordPress drag-and-drop website builders and outline the six best WordPress page builders to choose from.

What to Look For When Choosing a Page Builder For WordPress
Before deciding on which WordPress drag-and-drop website builder to use, it's important to understand why you need one in the first place. Here's a list of criteria that a drag-and-drop builder should fulfill for it to be a smart choice.
1. Functionality
A good drag-and-drop builder is functional – it constructs visually appealing websites with little to no coding requirements. In other words, you have to make sure that the builder provider of your choice offers a wide range of widgets and tools. Only then can you build a website with the exact qualities and functions you desire?  Even if you think to yourself that some functionalities (such as form builders, email subscriptions, etc.) are too much for your website and that you most likely won't need them, you can't deny their importance and the fact that you might be needing them one day. A wide range of integrations means more flexibility.
2. User-friendliness
The user-friendliness of WordPress drag-and-drop builders is what makes them a preferred option by non-techies. If a page builder is to be used, it has to provide an intuitive and mobile user interface for easy navigation. Tasks such as finding the correct type of widget, its placement on the page, working with templates, importing and exporting, and editing layouts, rows, and columns are all very essential to website building and need to be made as easy to handle as possible.
3. Responsiveness
This is a no-brainer. In this day and age, the world wide web isn't a phenomenon only confined to computers. We've long entered the era of smartphones, where over 50% of website traffic comes from our mobile devices. The more reason to ensure the output of a drag-and-drop WordPress theme is mobile responsive. Good WordPress page builders provide mobile to desktop screen previews of design implementations for incremental fine-tuning.
In addition to mobile responsiveness, the optimization of the graphic content (especially images) used by these WordPress builders and other frontend optimization is critical. To ensure that your website is search result worthy, it has to follow the rules. The best WordPress page builders handle this automatically alongside other necessary SEO optimization (see next). 
4. SEO-friendliness
Here's the deal with SEO: Some agencies out there are too obsessed with it and disproportionately focus on their website content being SEO rather than user-friendly. Then, there's the other side that resents the use of algorithms and AI for measuring the validity and integrity of website content.
Whether you belong to the former or the latter, your website still won't be found by users if it doesn't abide by at least the most basic SEO rules. After all, what's the point of having a website if it has no traffic?
But what's the role of your WordPress drag-and-drop website builder in all of this? Once again, the best WordPress page builders optimize website pages and content for SEO. Subsequently, plugins can be used to improve SEO. So, compatibility with SEO plugins is also paramount.
5. Included templates
Every website builder comes with themes and templates that you can use and customize. Now, we know what you think. You or your clients won't need standard and pre-designed templates. Instead, you're going to create an individual design with individual content and so on, right? While we completely understand that website building is a creative process and requires room for individuality, cohesiveness is important. 
Most professional websites have their specific purpose and will eventually be similar to those with similar purposes. The templates included in your WordPress drag-and-drop website builder have precisely this in mind and usually cover the most popular website designs, which you can use as a basis for your website to save a lot of time.
6. Community and support
More popular WordPress page builders have tons of users that have encountered a series of problems with the page builder. This community of users ensures that no new user is helpless by providing support either via existing resolved issues or from their experience. There is no going wrong with a page builder with a solid and/or growing community. This primarily helps in resolving issues that will come up in your journey with the tool.
7. Scalability and pricing
It's more of a cliche term on the internet, scalability. But, it's important. As the number of visitors to a website grows, the slower it can become. A scalable drag-and-drop website builder will efficiently handle the page rendering to avoid lag in website speed. Sometimes, this can come in price packages.
Correspondingly, the pricing of a WordPress drag-and-drop website builder must provide maximum benefit before it is chosen. This might require a compromise by going for more affordable WordPress builders and combining them with plugins to improve performance.
6 Best WordPress Drag and Drop Builders
Now that you're fully briefed on the essentials of WordPress drag-and-drop builders, let's take a look at some of the best builders out there that offer just that.
One little spoiler upfront: One of our contenders isn't just a regular drag-and-drop builder – it's a fully automated builder that uses artificial intelligence to help you create a website with unique images and content in minutes.

1. 10Web AI Website Builder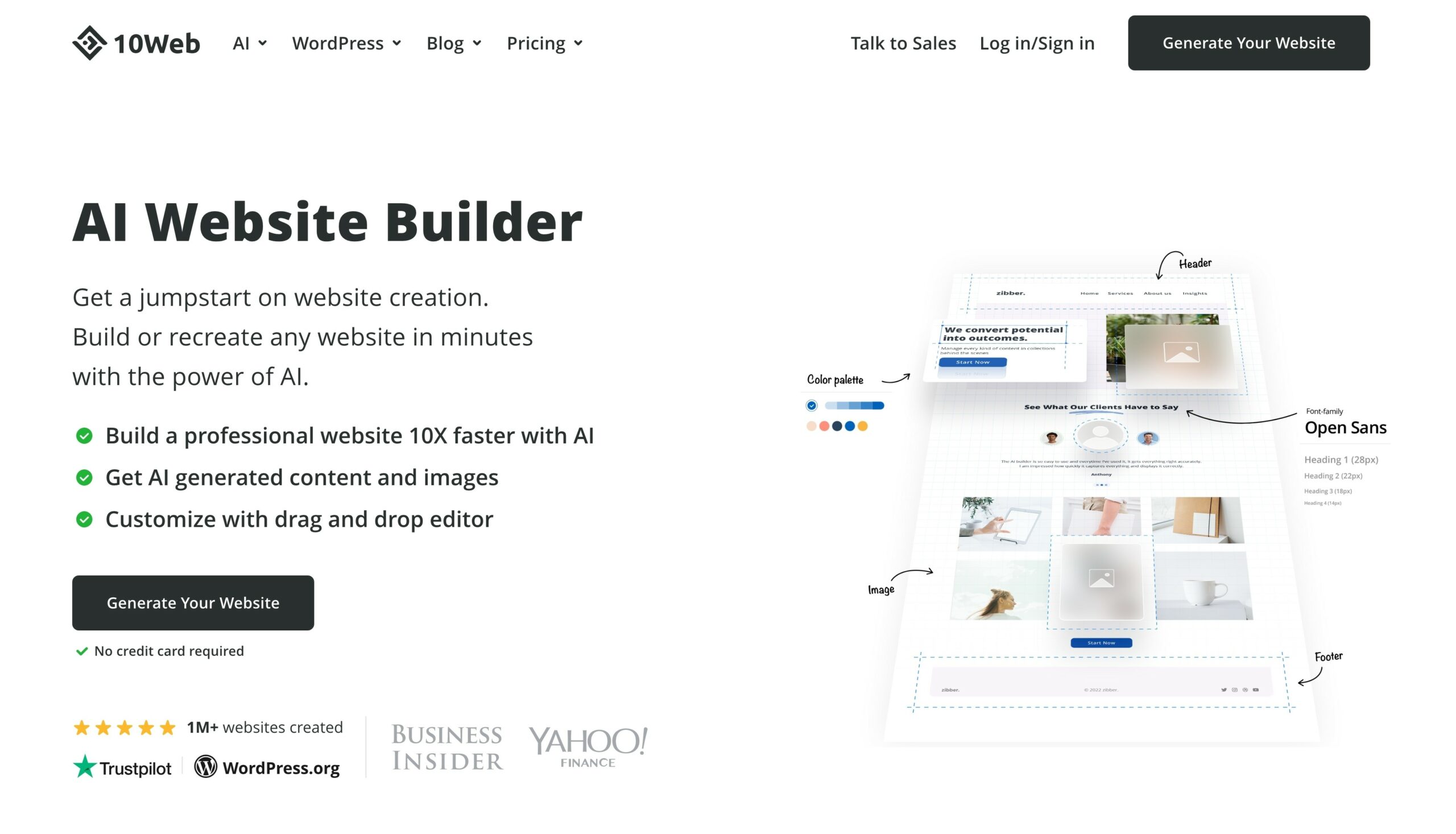 10Web's excellent team of engineers has created and perfected the best AI Builder for WordPress websites. The AI Website Builder offers a next-gen no-code solution to automated website creation. Using Neural Networks AI technology, the AI Builder generates fully responsive and customizable WordPress websites and web templates with user specifications.
How does this happen?
First, we have to create a free account. Visit 10Web.io.  

Enter your email and press "Get Started for Free".

Complete the provided form and answer some general questions. We will not ask for credit card information at any stage during the free account registration.

Now, you should see the "What do you want to do" page. 

Choose "Create with AI Builder".

Click on "Generate with AI".

First, you need to choose your business type. You will be asked to provide your company name and description.

Include the services/features you provide.

You may also provide your contact information especially if you will need a "Contact Us" page, otherwise, this information is not mandatory.

What is mandatory is to select the tone of your website content. Choose from formal or informal tones.

Click "Finalize".
The next steps entail customization, alterations, and additional page creation. To add additional pages to your website, you can use one of the three methods. The first is through the AI recreation tool: all you have to do is enter the URL of the web page you want to replicate and the AI will provide you with an exact copy of the site. 10Web also has pre-made pages available, which entail selecting from our library of ready-made layouts. Or you can resolve to create the page from scratch by using our blank pages, using code or drag-and-drop technology.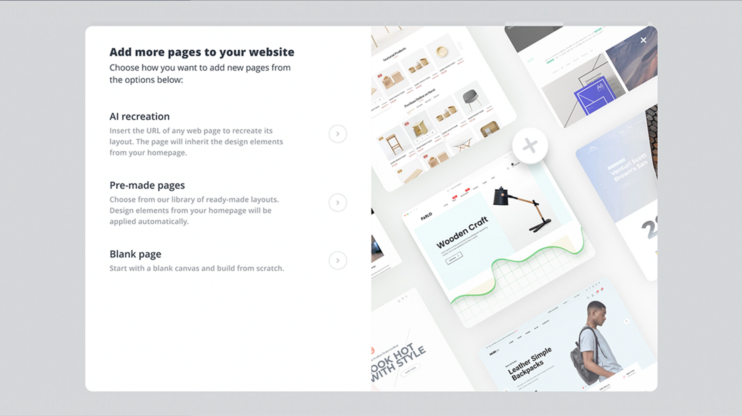 Features
10X faster website development with AI-generated images and content.

AI recreation tool to replicate pages by specifying the URL.

Customizable pre-made pages and templates (Menu, Gallery, Contact Us, About, etc.). 

Pre-made widgets from 10Web and Elementor.

Affordable pricing (starts at $10/month).

Free hosting provider.

Mobile responsive.

SEO-friendly templates with a guaranteed 90+ PageSpeed score.

Real-time collaboration with multiple users.

Fast-growing community of users.

99.9% uptime through 10Web hosting and CDN.

24/7 customer support.
Get a head start on website creation with AI
Create a custom website tailored to your business needs 10X faster with 10Web AI Website Builder!
Get a head start on website creation with AI
Create a custom website tailored to your business needs 10X faster with 10Web AI Website Builder!
Pricing
10Web AI Website Builder has three pricing plans billed annually to save 50% – personal, premium, and agency.
 Personal – $10 per month for one website.

Premium – $24 per month for three websites.

Agency – $60 per month for ten websites.
2. Oxygen Builder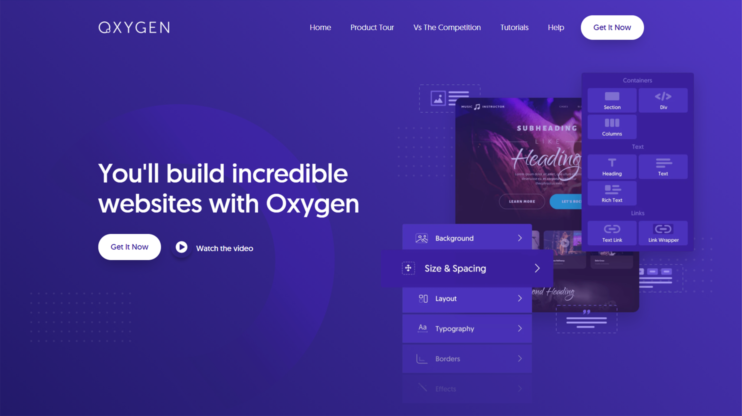 Next on our list of best WordPress drag-and-drop website builders is the Oxygen builder which offers a bunch of features that'll allow you to build and edit highly unique and complex websites without any coding.
The downside to this particular WordPress drag-and-drop website builder is that it's not the easiest to handle. So, if you're not tech-savvy, this can be challenging. But it's for the best. The developer-friendly interface allows you to write PHP, CSS, and JS live during development while maintaining a high website speed and making sure that your website content is SEO-friendly.
In a nutshell, the Oxygen Builder is for developers who have the technical skills and the willingness to manage the entire website building process in its entire complexity but without having to code that much. 
Features
A library of responsive templates.

WooCommerce integration for non-basic users.

Developer-friendly interface for customization.

Lifetime support.

Not widely used among non-techies, so less community growth.

Mobile responsive templates and designs.

SEO-friendly templates.
Pricing
Basic at $129 one-time payment.

WooCo at $149 one-time payment.

Ultimate at $179 one-time payment.
3. SiteOrigin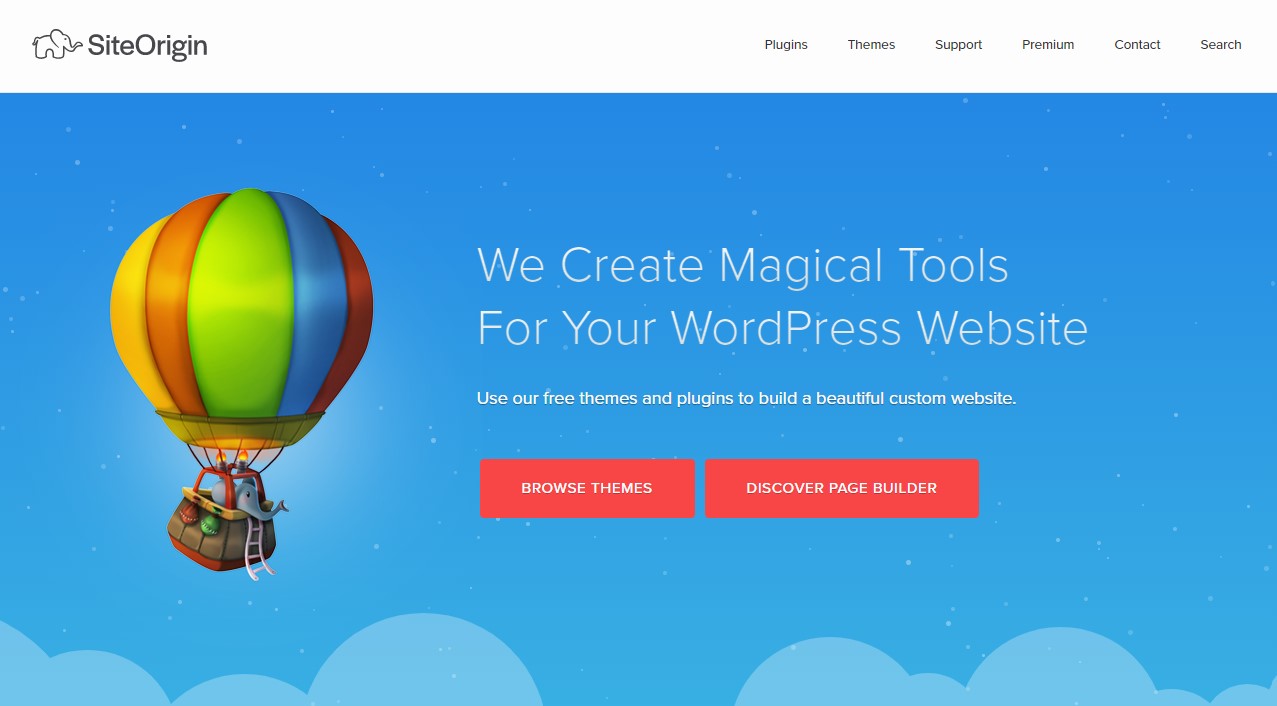 A good alternative to Oxygen's WordPress drag-and-drop website builder is SiteOrigin's builder. It's absolutely free and doesn't require coding. The upside of this builder is that it's compatible with all themes. You also don't need to worry about mobile-friendliness, because it allows you to create mobile-responsive websites.
The free version of this builder includes all features necessary for building a great website. The only weakness of this option is that it's not exactly holding up to the quality offered by the competition, which offers slightly better visuals.
That said, SiteOrigin is a great option for those who are trying to build a website for themselves or for their companies. But if you want to opt for something with a bigger range of styles and effects, we recommend you take a look at the other builders we're presenting in this article.
Features
In-house plugins for page building and widget integrations.

Library of premium add-ons.

Multilingual support with 32 languages.

Compatible with a wide variety of themes.

Mobile responsive templates and designs.

SEO-friendly templates.
Another benefit is that it equips you with a wide variety of tools and templates designed to offer excellent website layouts and an easy website-building process. By offering lightweight themes, Site Origin's builder also makes sure that your client's websites are automatically SEO-optimized.
Pricing
Single at $29 for one site.

Business at $49 on up to five sites.

Developer at $99 for unlimited sites.
4. Visual Composer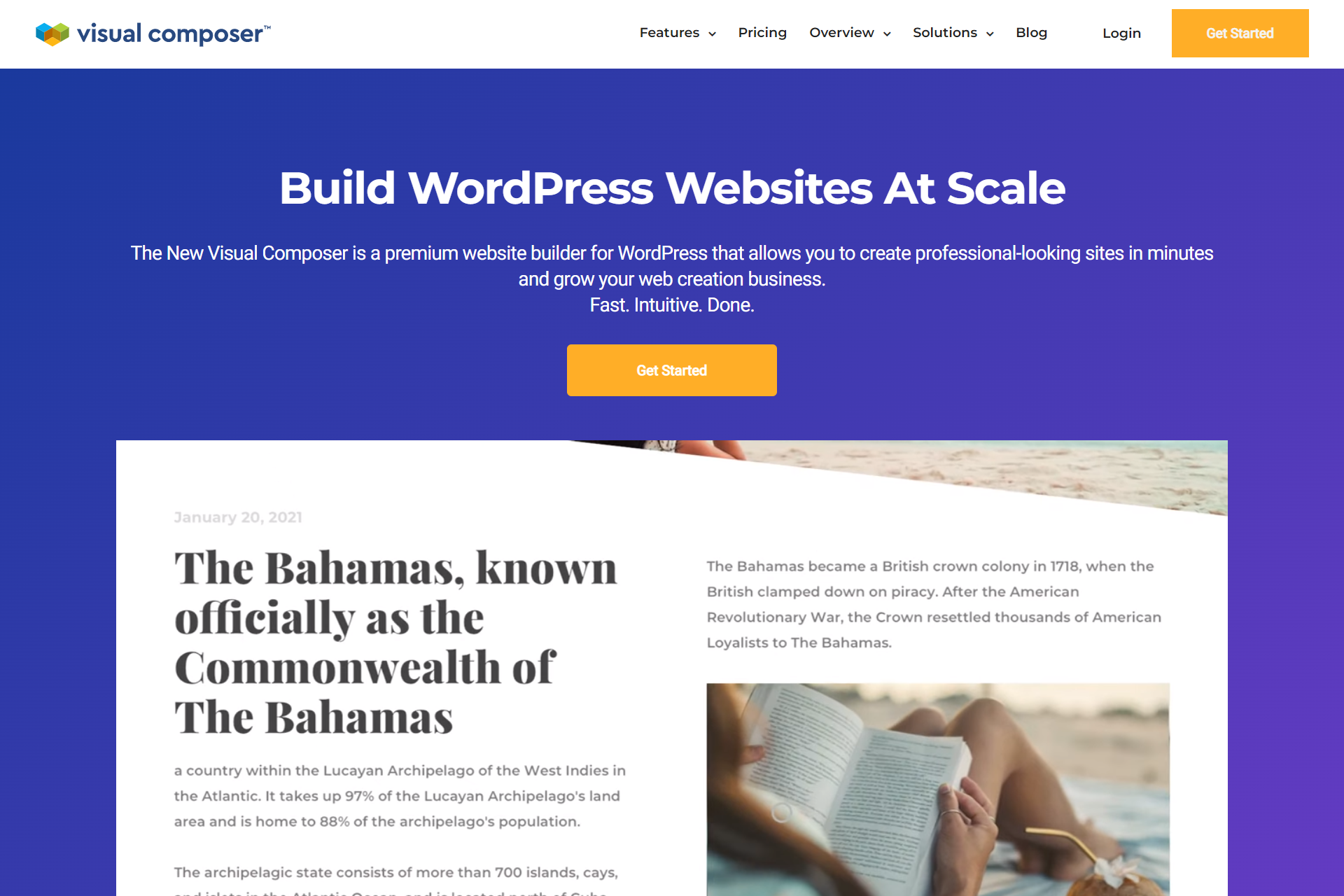 For those who are complete beginners when it comes to website building, here's a good option for you. Visual Composer's builder offers a beginner-friendly website design experience with powerful integrations. Top brands like TEDx trust this tool to power their website.
Features
Compatible with all themes.

Provides a free cloud marketplace, Visual Composer Hub for downloading free stock images, GIF animations with Giphy, and add-ons.

Provides a bundle of 300+ customizable professional templates.

Provides 300+ unique content elements.

Supports integration with other WordPress tools (for example, Yoast SEO, Google fonts).

Mobile responsive design.

SEO-friendly templates.

Provides an API for developers to create content elements for custom projects and clients.

Developer-friendly interface with support for custom JavaScript and CSS for interactivity and styling respectively.

Lazy loading for media content.
Concerning community and support Visual Composer. And it's definitely only worth your money if you have other reasons beyond commercial reasoning.
Pricing
Single at $49 for one website.

Plus at $99 for five websites.

Accelerate at $149 for 20 websites.

Agency at $349 for 1000 websites.
5. Beaver Builder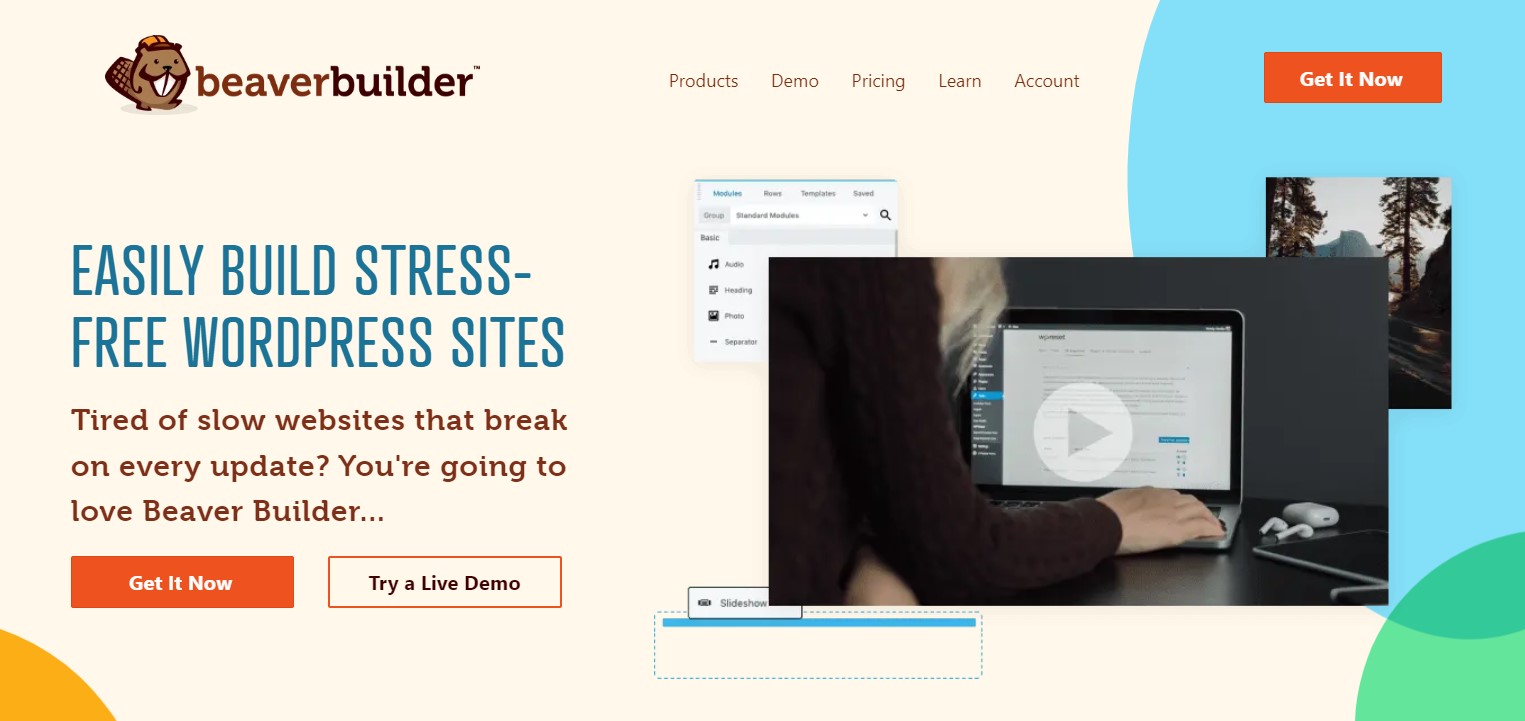 Beaver Builder is one WordPress drag-and-drop builders that keeps improving and expanding its features. It's very developer-friendly and offers clean code. This makes it easier for Google's algorithm to detect your website and ensures that your website runs on high speed which will ultimately also improve your SEO performance.
With Beaver Builder, you get high-quality support, so whenever you face any technical issues you can rest assured that you're in safe hands. By being diligent about their regular updates, you also don't have to worry about missing out on an update and risking the security of your website.
Features
Developer-friendly interface for customization of HTML, CSS, JS, and PHP.

SEO-friendly templates.

Customizable page templates for landing pages and content pages.

Custom fonts.

Revision management during development.

One-year support from the standard plan at $80.

Unlimited sites.

Provides Assistant Pro plugin for pro users for managing design templates for development.
Pricing
Standard at $80 per year.

Pro at $160 per year.

Agency at $320 per year.

Ultimate at $437 per year.
6. Divi Builder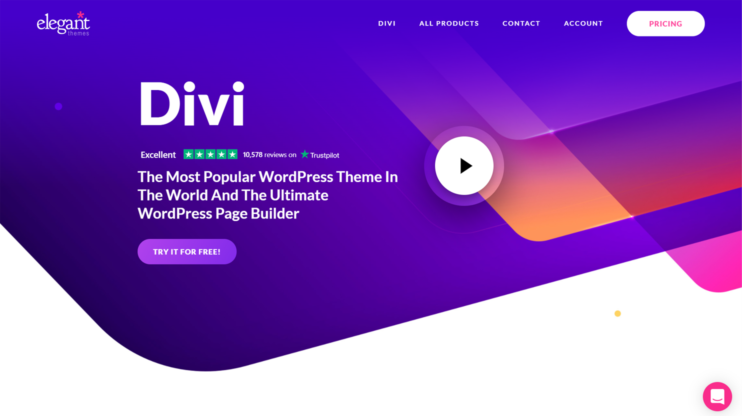 Finally, the last WordPress drag-and-drop website builder on our list is the Divi Builder by Elegant Themes. Divi provides a unique website-building experience by offering an interface featuring floaty buttons and cool pop-ups.
The one major con to this creative drag-and-drop page builder is that due to its out-of-the-box thinking, it's hard to figure out how to properly use it. It's so different from other builders and will definitely take you some time to get used to it. Say, it's not so beginner-friendly.
Features
316 pre-built templates for faster development.

40 different layout packs for broader design options.

Mobile responsive templates and designs.

SEO-friendly templates

A/B testing of your Divi themes and the opportunity to create your very own theme.

Massive user base with active community engagement.
Pricing
Yearly access at $89 per year

Lifetime access at $249.
On top of this, there's the downside that this builder is shortcode-based. In other words, whenever you decide to delete it you have to expect that some shortcode remnants will stay and it's up to you to delete them one by one.
To sum up, Divi is an excellent and unique WordPress drag-and-drop website builder but is more suitable to cover the needs of single website owners rather than those of agencies that require a wider selection of services and features for a more affordable price.

3 Best Drag and Drop WordPress Themes
Hello Elementor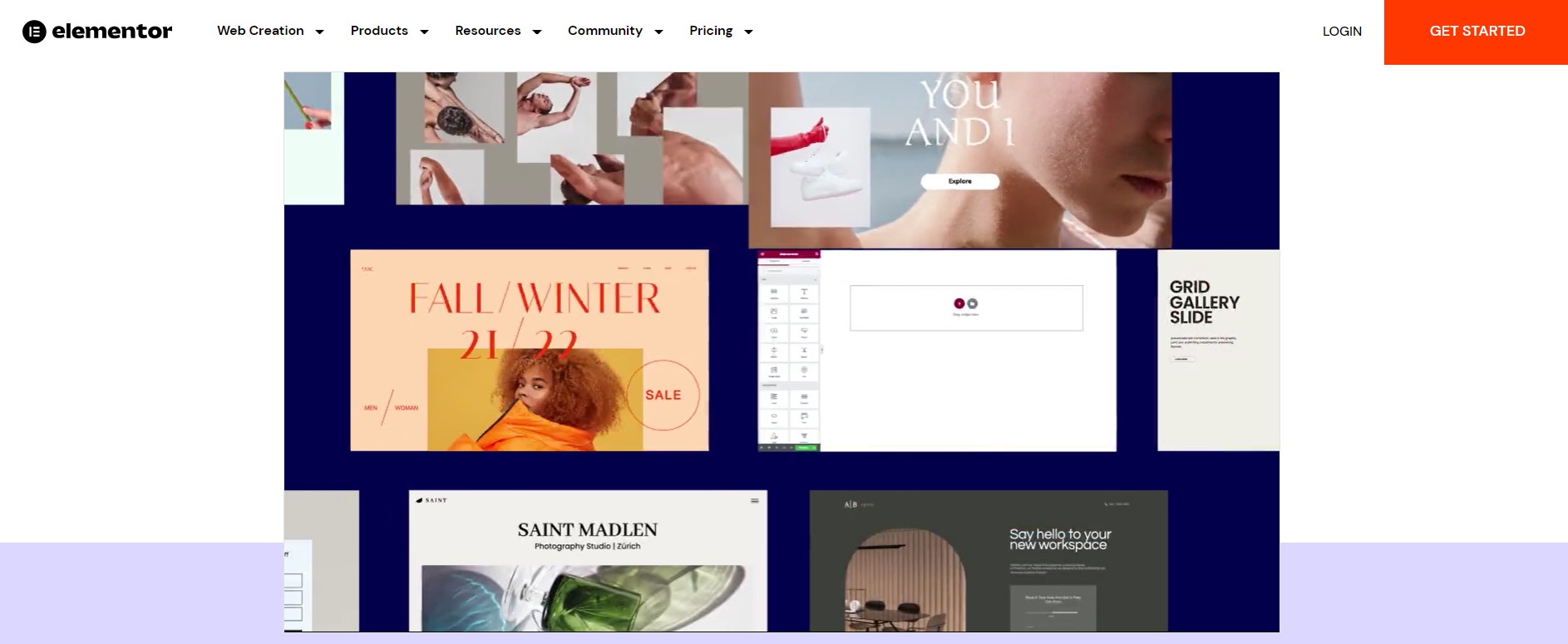 Hello Elementor is a lightweight and free WordPress theme designed specifically for the Elementor page builder plugin. It offers a minimalist design that is both responsive and fast-loading, making it ideal for creating a variety of website types, including portfolios, blogs, and small business websites. Additionally, the theme is optimized for SEO, translation-ready, and fully compatible with popular WordPress plugins. Overall, Hello Elementor provides a user-friendly and flexible option for those seeking to build a website with Elementor.


Related Article
Divi
Divi is a highly customizable drag-and-drop theme that comes with a visual page builder. It offers over 40 customizable modules that can be dragged and dropped onto your pages, making it easy to create custom layouts. Divi also offers pre-made responsive templates and SEO-friendly features like a built-in XML sitemap, canonical URLs, and built-in support for data and schema markup.
Overall, these three drag and drop themes for WordPress offer a user-friendly experience for those who want to build websites without coding. They all provide visual page builders, pre-designed templates, and responsive editing to help users create custom layouts that look great on all devices. Ultimately, the best theme for you will depend on your specific needs and preferences, so it's worth trying out a few before making a decision.

Astra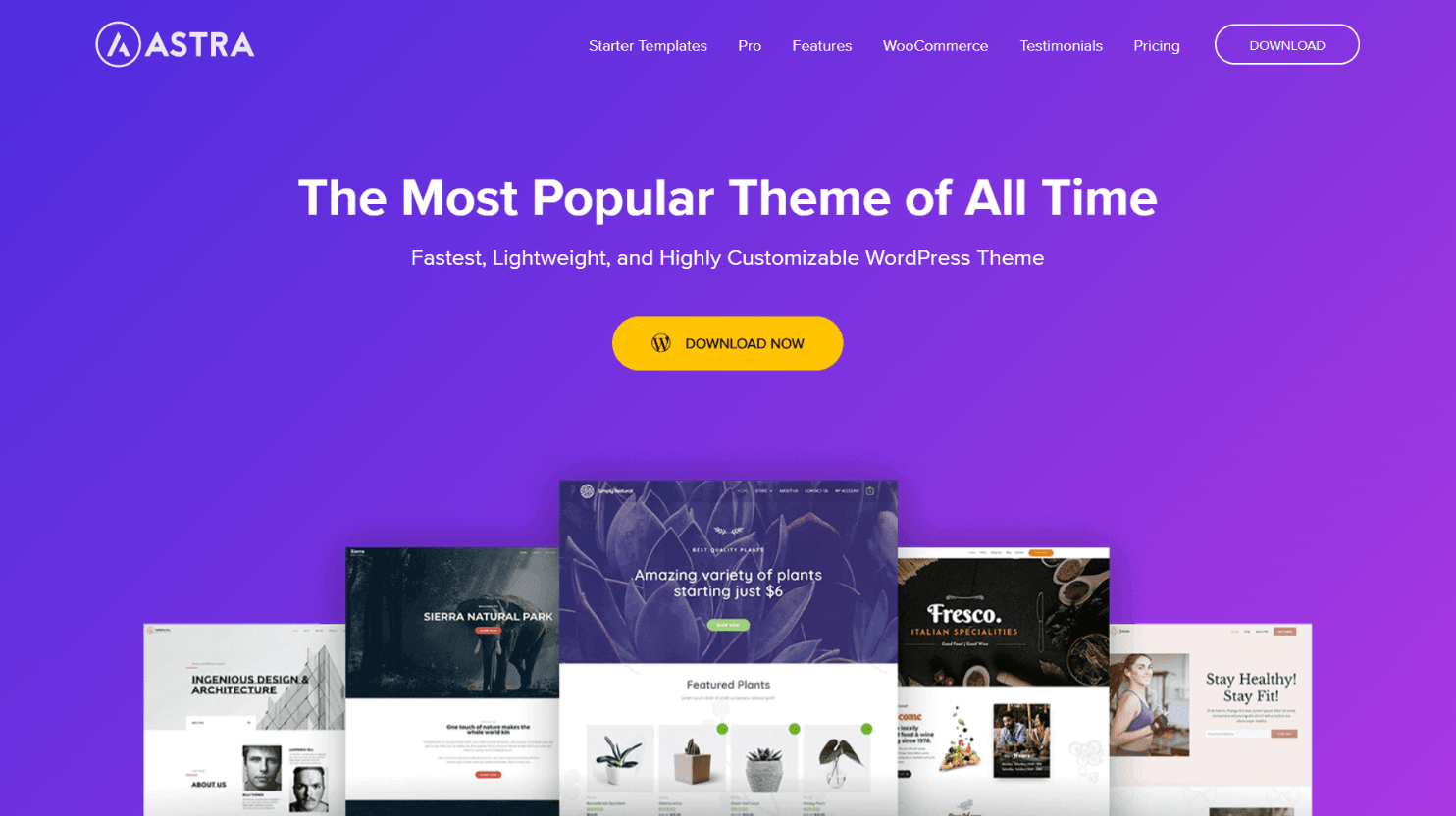 The Astra theme is a popular and highly customizable WordPress theme that is also designed to be lightweight and fast-loading. It offers a variety of pre-built website templates and a user-friendly interface for customization. The theme is optimized for SEO and compatible with popular page builders like Elementor and Beaver Builder. Astra also offers a range of premium add-ons for additional functionality. Overall, the Astra theme is a great choice for those looking for a flexible and easy-to-use WordPress theme.
WordPress drag-and-drop themes are popular among users who want to build websites without coding knowledge. These themes allow users to create custom layouts by dragging and dropping elements, such as images, text, and widgets, onto a page. 

Conclusion
In conclusion, your choice of WordPress drag-and-drop page builder will depend on your budget and skill level. Especially if you're juggling a large number of clients and need to be able to create or recreate websites quickly, you need something reliable and affordable.
This article has discussed the factors to consider when choosing WordPress page builders and the six best picks in the market. Of all these tools, our recommended tool is 10Web AI Builder. 
Get a head start on website creation with AI
Create a custom website tailored to your business needs 10X faster with 10Web AI Website Builder!
Get a head start on website creation with AI
Create a custom website tailored to your business needs 10X faster with 10Web AI Website Builder!
Now, let's get candid. Which one of our suggestions did you like best? Do you happen to have a first-hand experience with one of them? And what about our brand new invention, the AI builder? Hot or not? Drop a comment below! 

FAQ
Do drag-and-drop builders add any additional code or slow down the website?
Drag and drop builders only add the code needed to power a website design. Whether or not they slow down a website is dependent on the quality of the builder.
Are drag-and-drop builders limited to pre-designed templates?
No. Some page builders allow blank page designs with the custom elements they provide.
How easy is it to migrate a website built with a drag-and-drop builder to another platform or builder in the future?
This is usually tedious with most website builders. But, the 10Web ecosystem supports website migration without hassle.
How long does it take to build a page with drag and drop builder for a beginner?
This is dependent on dedication and skill level as well as whether you use AI or not. Without the use of AI, Two weeks to three months is a good range.
Are there easier and faster solutions than drag-and-drop builders?
The fastest ones are AI-powered website builders like 10Web AI Builder.