10 Marketing Principles Vital for Any Blog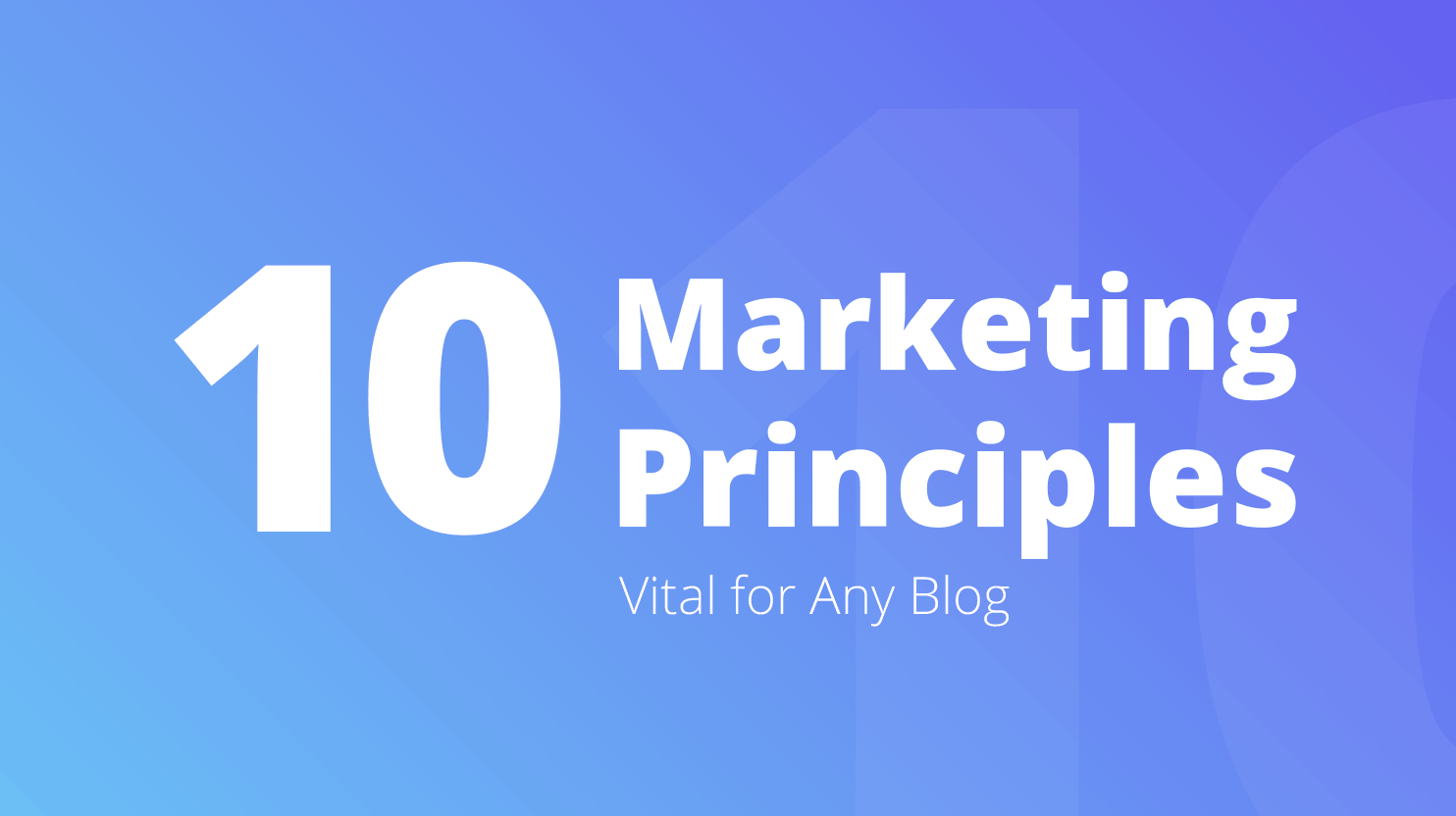 How many readers does it take to consider your blog successful? As many as possible is a common answer. But you would need more precise goals.
Building and growing the audience is a lifetime job for a blogger. You have to market your blog for the best results.
There are many marketing principles that can help you get the audience you want. And with that audience, you raise the awareness on the issues your blog touches and constantly increase your profit if you run ads or paid subscriptions.
No matter what your blog is about and what its goals are, these principles will keep your readers coming back and bringing their friends with them.
1. Know your target audience (and love them)
Let's discuss the "love" part first. Why do you need to love the audience?
Well, it works like cooking. You need great cooking skills, of course. But when you cook for the ones you love, you put an extra effort to find out what exactly they like and try to meet their needs more than anyone else's.
It works the same way when you blog: you're in a conversation with your reader, and want it or not, your work reveals how you feel about them.
You can start from one of the two ends: either pick the target audience you want to attract and blog for them or select the blog type and see which audience is interested. In the first case, use this marketing concept called "buyer persona".
Create profiles of your user type(s) and make your blog meet their needs.
Typically, you'll need two or more user personas; a target of one is too narrow and doesn't often work.
If you've been running the blog for a while, read all your Google Analytics reports thoroughly. There'll be enough data about readers' demographics and interests.
If you're just starting the blog, look at competitors' data and see their audience: many of them will share it to attract advertisers.
And then, when you know who you're talking to, start your conversation. Demonstrate your appreciation for the reader's personality and interests, and they will keep coming back to you.
2. Constantly test and improve your content
You've found 100 interesting ideas that your target audience will appreciate. That's great, but how do you put them on the "paper"? What tone of voice do you choose? What kind of images do you attach?  And what if the topics you've selected are not the ones your readers want?
There's an easy way to find out: test.
Start with split tests. It's when you publish almost the same thing twice with slight changes and see which option performs better. Write on the same topic with two different headlines, see which one gets more clicks.
Does it include numbers? Is it longer or shorter? Keep writing more headlines with the winning features. Be careful not to get duplicate content; it will damage your ranking.
Try SEO split tests to be safe.
Then look at the articles users spend more time reading. What makes them special? Formatting? Jokes? Charts?
Test until you have enough data to find patterns. Google Analytics can be a great help here, too.
Find the best-performing pages and see what they have in common. Do the same for the worst-performing pages. Gradually, you'll collect a list of elements your readers like and another list of ones they don't. Keep editing that list as long as you run the blog. Users change, after all, and their interests change as well.
3. Make everything visually attractive
Build the entire user interface of the blog in a way that makes you want to stare at it. Get rid of distractions, so that the users concentrate on the message you want to pass on. Try and create a harmony of layouts, images, colors, and fonts.
Highlight the statistics you use with infographics.
Make your text readable — as much as possible; here are some popular legible fonts.
Use colors wisely. There are numerous theories about the colors in psychology and marketing. And though the perception of colors depends on more factors than marketers used to believe 20 years ago, there are some perception patterns that can help you find a perfect color scheme for your content and your audience.
Even if you can't afford professional designer's help, there are online services that provide your blog with a stunning design with just a few clicks.
4. Be consistent
Whether we're talking about the tone of voice, content type, design elements (fonts, sizes, colors, button shapes) or anything else on your blog, having guidelines and consistently following them is essential. It reminds returning readers where they are and prevents your blog from looking messy.
While reaching out to new readers is a constant goal, building a loyal audience out of these readers is just as important.
Once they start trusting you, they will come back for more content and share it with their friends. They will have certain expectations, and it's your job to meet those expectations.
Create guidelines for yourself and have a checklist to make sure you meet those guidelines every single time you post something new.
After a while, readers will have the impression that it's the same person talking to them. And this is where your relationship with the user starts. Appreciate this relationship and nurture it.
5. Build a subscription base
To keep the conversation with the users going, you'll have to remind them about your blog and send updates every once in a while.
Email subscription is the typical relationship status between a long-time reader and a blogger. What do you need for building a subscription base? Well, first of all, have the users subscribe to your updates.
Create a subscription form and insert it into your posts. If you have different target groups among readers, create a separate form for each and insert them in the respective post categories that the specific groups like the most.
Creating forms in WordPress is easy, especially with 10Web's Form Maker plugin.
After you have some base of contacts, decide how you distribute the emails. You can send out all your top updates.
Or if you publish updates more frequently than once a week, consider weekly newsletters/digests.
The Form Maker plugin allows Mailchimp integration which makes mailing even easier.
Always customize the emails to keep the conversation authentic.
6. Don't forget about search engines (ever)
When search engine optimization (SEO) first became popular, people started to bend their websites in all possible ways to get better ranks on Google.
Keyword stuffing, writing all posts at the exact same length and many other manipulations were all over the internet.
Now search engines try their best to keep high-quality unique content on the top. But this doesn't mean that you shouldn't care about SEO at all.
We have a brief SEO guide for you to make your pages visible to Google without the risk of ruining the actual content.
When it comes to technically applying those tips, you will need an SEO plugin or service like this one.
7. Be active on social media
Social media: this is where the users find fresh and useful content. Those, who don't want to share their email addresses with you, might feel better about following you on their favorite social network.
Find out where your users are most active: Facebook, Instagram, Twitter, LinkedIn or somewhere else?
Have social media subscription buttons next to your posts and add sharing buttons to make it easy for readers to tell their friends/followers about you.
Monitor users' feedback as frequently as possible. Make sure they know that their opinion matters.
8. Interact with users
Any kind of online communication can go both ways and that is a great privilege for you as a blogger. The readers' insights often grow into ideas for new content.
Their positive feedback inspires and their criticism helps you make your blog a better place.
Use all three main channels of communication:
Email
On-page comments
Social media
Do you use all of them? Make sure to answer the readers' questions and thank them for feedback, whether positive or negative.
9. Stand out
Whatever you blog about, there are thousands of others who write about the same thing. Why should the user choose you? What is it that makes you so special?
Ideally, that would be your useful and unique content, stunning design, the catchy tone of voice and the perfection in all details. But let's be honest, however hard we try, none of us is perfect, and neither is a blog.
Yet, you need something to stand out. You can have memorable satiric headlines, original photos, or maybe relatable stories full of personal experience.
What also makes your blog special is who creates the content. You — the author — are unique as a person; when you know how to point it out, your thoughts look unique as well.
One of the most popular marketing and sales blogs — HubSpot — has this culture of introducing its authors to the readers. The authors run individual twitter channels connected to the blog.
This way, even if some users don't want to follow the entire HubSpot blog, they can follow the authors they like and come back to the blog with their links. And everyone benefits here: the blog, the individual author and the reader.
10. Keep optimizing your website performance
One of the key objectives of marketing is not only trying to sell the product, but also helping to make it better.
Nothing should keep your users from accessing your blog. And it's not surprising that website speed affects its traffic and conversions in so many ways.
To prevent your users from wanting to leave your website while it loads, always optimize the website speed and use lightweight files. It's often hard to find what exactly slows your site down, especially as most of it is technical.
There are WordPress plugins and services that can help here. Try the Performance Checking service and Image Optimizer.
The Optimization Checking service scans your site and makes suggestions for you to optimize the speed, and the Image Optimizer resizes and compresses your photos with the minimal loss.
Result? Your readers don't waste their time waiting for your website to load. They don't get frustrated and are likely to browse as many of your pages as they are interested in.
Follow all these basic steps and you'll soon see how your audience grows. Then you'll know it was an effort worth making.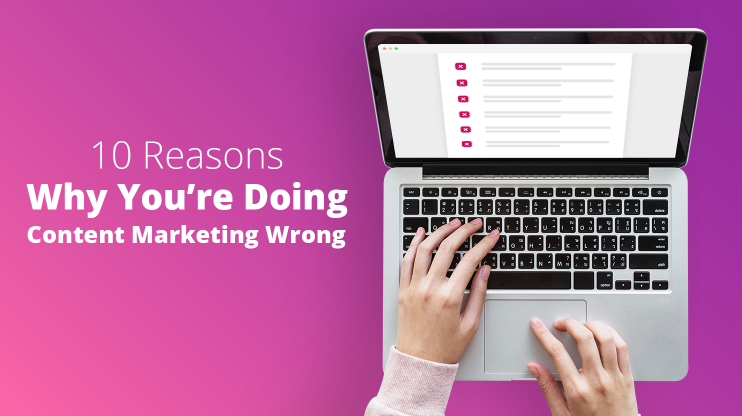 Find out just what common mistakes to avoid on your way to effective content marketing. Find out the 10 reasons why you're doing content marketing wrong 😕.