The Definitive Guide to Affiliate Marketing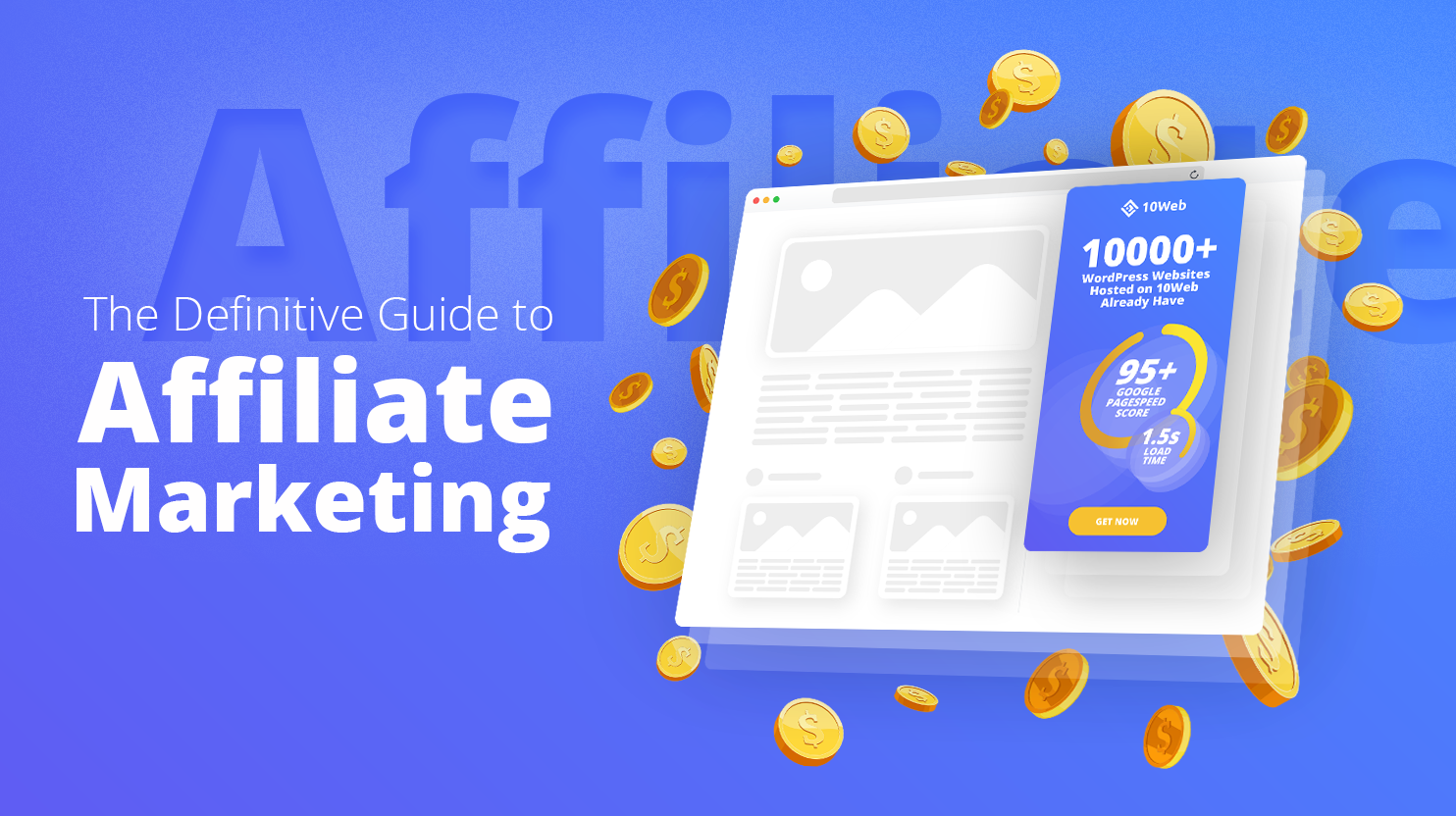 We first launched our affiliate program at 10Web over a year ago, and after a lot of testing, it finally started working in the recent couple of months. Our affiliate revenue is growing by the day (thanks, marketing team, and especially Armenuhi), so we now have a lot of mistakes behind our backs and a lot of experience to share.
We also have partners and colleagues who have gone through the same before making this system work.
That's why we decided to share with you what we've been taught so far and what we've learned on our own about affiliate marketing.
In this guide, I'll tell you about both the merchants' and affiliates' sides — for those who produce and those who distribute and sell.
Here's how it goes:
What Is Affiliate Marketing?
Popular Misconceptions around Affiliate Marketing
Top Affiliate Tools and Software
Who Can Become an Affiliate Marketer
How to Find Clients
How to Promote Your Affiliate Product
What Payment Method Works Best for Affiliates?
Would Affiliate Marketing Work for My Business?
How to Help, Guide and Motivate Affiliates to Increase Sales?
What Payment Model Works Best for Sellers?
What Is Affiliate Marketing?
Affiliate marketing is a performance-based marketing model where a business pays its affiliates every time a user makes an action through the affiliate's website (click, purchase, etc.)
There are either three or four participants in this chain:
The Seller (AKA merchant, retailer, brand)
The Network (AKA affiliates chains — optional)
The Affiliates (AKA publishers)
The Customer/Lead/Visitor (depends on the payment model)
As affiliate marketing is performance-based, all the payment methods are based on some kind of an action.
Here are the most popular methods:
Pay per sale
Pay per lead
Pay per click
Pay per sale is the ideal option. It's great for the seller as they only pay small parts of their income, and it's fair to the affiliates, as they focus on real results.
But in some cases, especially when the product has free options or the sales funnel takes longer to close, the other options come in handy.
Today, we'll discuss the payment models from both perspectives:
Popular Misconceptions about Affiliate Marketing
There are lots of things that you may have heard about affiliate marketing, and you'll learn eventually that most of them are simply not true. I've asked my colleagues about the most common misconceptions, and here are the top picks.
Affiliate Marketing = Easy Money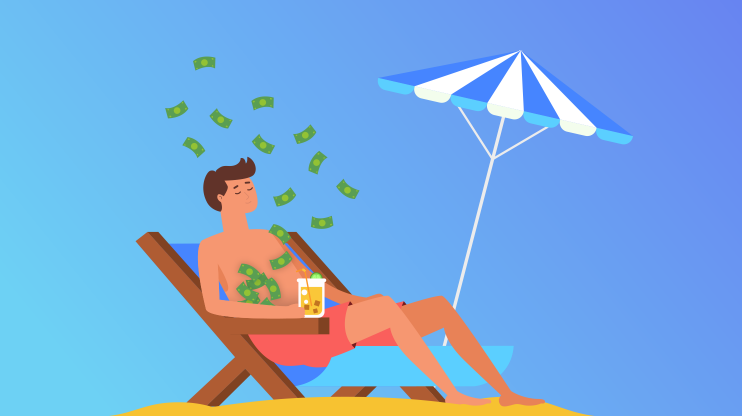 With only a simple Google search of "easy money affiliate marketing," I get hundreds of articles, guides, and all sorts of materials telling and teaching about the wonders of affiliate marketing.
As you read them, seems like you can lay on your back all day long, and the cash will pile itself in your pockets. I wish it was true! But the reality is, you have to work hard to make it work. It's far beyond creating relevant content; you've got to promote it in creative ways all the time.
And it's also hard for the brands to earn through affiliate marketing as well. Yes, they don't always need to pay for marketing in advance, but our experience has shown that's not it.
Vishal Srivastava from Trainedge is a marketing consultant and works with technology companies to generate online leads and sales. He can tell you first-hand how much effort it takes to set up the affiliate program and make it work.
"One common misconception about affiliate marketing is that it's easy to set up and run. I see many SaaS companies jump headlong into creating an affiliate program thinking it will bring in a large number of customers without much effort.
In reality, setting up an affiliate program takes a lot of work and may even need a dedicated person to run it well. Creating collateral for affiliates to use to recruiting, training and motivating affiliates takes a lot of effort. It's much harder for smaller companies to attract affiliates and get them to promote your product.
An unknown product," Vishal says, "is harder to promote and usually has a lower conversion rate compared to an established brand. But most SaaS startups don't realize that and end up wasting their time and resources."
Matthew Ross, the co-owner and CEO of The Slumber Yard, and again speaks from the seller's side. He gets how complicated affiliate marketing can be.
"The question about popular misconceptions caught my eye because my business is heavily dependent on affiliate marketing. It's the largest portion of our revenue mix.
It seems like most people assume that by simply incorporating affiliate links into their content, they'll start earning thousands of dollars overnight. However, that's not the case. Even if your website attracts hundreds of thousands of users each month, that doesn't necessarily mean you'll start generating huge commissions.
Sure, traffic is obviously a big component of the equation but there are other factors that determine your level of success with affiliate marketing.
For example, the design of your website and the placement of links are huge. You have to optimize when and where you display affiliate links. A well-placed link could generate a 30%+ click rate.
However, a lazy, buried link may get closer to a 2-3% click rate. Other factors include the actual quality of your content. Regardless of where links are placed, if your content stinks, users will likely hit the back button and move on to another website with more useful information."
Sam Rexford is the Chief Blogger at CHILLREPTILE. He confirms that there's no free and easy money for the affiliates either:
"A huge misconception about affiliate marketing is that it's easy to get started and you can start making money online right away. Affiliate marketing is almost never easy for the beginner and most people quit without ever making a single dollar.
While it's simple in concept (refer new customers to products and get paid on successful referrals), actually getting traction and earning a living from affiliate marketing takes hard work, dedication, lots of trial and error, and a ton of patience.
This misconception has arisen because so many gurus online sell affiliate marketing as a get rich quick-type scheme, and by turning it into a business opportunity, and selling it as something anyone can do from the luxury of their home and laptop, they've created a glut of content that misleads new arrivals to the industry.
The reality is that affiliate marketing is a business, and like all businesses, it takes a lot of effort and a replicable system that actually works for you to see success."
So no easy money here. Let's see what else misleading information people hear a lot.
Affiliate Links = Bad SEO
James Nuttall, the Content and Outreach Manager at Healing Holidays, explains where this one comes from.
"One of the largest misconceptions about affiliate marketing is that any affiliate links are bad for SEO. This is based on a myth that all websites will be penalized if the pay for a link from another site. This is true in part, but only in certain contexts; if you have a website that is pretty new, has very little original content and is filled with advertisement links to other websites, it is pretty much certain that this site will be penalized.
On the other hand, if your site is filled with fresh and well-written content and has a solid organic link profile, it will hardly be reliant upon ads in the first place. Affiliate websites need to be maintained and marketed in the same way as any other quality site. Affiliate URLs should be 'no-follow' links and implement a 302 redirect to the site, preventing your site from being penalized."
Alistair Dodds is the Marketing Director and Co-Founder of a London-based Digital Marketing Agency, EIC Marketing. With over 20 years of experience, Alistair shared this same misconception with us.
"It's a common misconception in my field that affiliate links are somehow bad for SEO. This is patently not true if you are building a genuine website with quality content.
Google does not have an issue with you monetizing your website. They do have an issue with low-quality websites plastered with ads, keyword-stuffed text, and all the other black hat SEO tricks. So don't conflate the two issues.
I think this comes back to the way that one branch of affiliate marketing has always been synonymous with black hat SEO. Going all the way back to the late nineties/early 2000s, there was always a set of affiliate marketers who pursued the spammy route (and still do).
But that does not mean that the practice of affiliate marketing is inherently dodgy. It's just that one group of marketers have followed that black hat track whereas the rest have followed the white hat. In the end, it really just comes down to the route you choose to take.
If you go the white hat route and build a website with quality content that is written with people in mind then there will be no SEO related issues."
Traffic = Revenue
You do need a lot of traffic to make affiliate marketing work, especially if you're doing the pay-per-click model. But it's very far from enough.
Allison Hott, a Content Marketer at TrustPulse shares this experience of his:
"One common misconception about affiliate marketing is that lots of traffic equals lots of profit. This is incorrect. Just because you have a lot of website visitors doesn't mean they'll necessarily buy products via your links.
It's the affiliate marketer's job to convert those visitors into buyers by making the product appealing and relevant to your audience.
You can also optimize your affiliate website for conversions by adding social proof, like displaying how many email subscribers you have, and creating urgency by displaying messages like limited time offer."
It's one thing to get users interested in what you're promoting. But the end goal is to sell. Are you ready for it?
Now let's see the last misconception we've often heard.
Affiliate Marketing = Amazon
Amazon is one of the biggest players in the affiliate marketing game. And with its huge share in the retail market, that's not even surprising. But of course, there are tons of other offers for an affiliate marketer. And if you have a different audience, affiliate marketing will still work for you.
Alex Kaschuta, the Marketing & Growth Manager at Fundsquire, doesn't agree with this belief as well.
"Many people assume that Amazon is the only game in town in terms of affiliate marketing and that people won't buy something if it's not on Amazon.
Some won't, maybe you won't, but the majority still will. The problem with only playing with the perceived monopoly player is that the leverage they have is huge and the advantage to the marketer is decreasing. Amazon doesn't need you and will not bat an eye in wiping you out for perceived ToS infringements.
A good strategy is to build traffic with an Amazon site and then build relationships with smaller, more specialized and incentivized eCommerce players that will increase your margins."
After all, may I add, Amazon seems to have an alternative to anything on the world wide web. It has its own stores, its film production (which I'm a big fan of), even SEO on Amazon looks like some parallel-universe SEO. So I'd just say that Affiliate marketing seems to be divided into two halves: the one Amazon and the one with the rest of the world.
Now that we know what we shouldn't believe when reading all about affiliate marketing, let's see what tools we can use for our best results.
Top Affiliate Tools and Software
When you're working in affiliate marketing, there are tons of tools you'll be needing. Those tools will help you find potential partners and track all your traffic, conversions, and income.
You can use WordPress plugins as well as separate platforms. Here's our top affiliate marketing tools list:
Everflow
Spy Push
Voluum
BeMob
GeniusLink
You can also build your online multivendor marketplace with a tool like Dokan, so the vendors will come and use your platform to sell their products.
Now let's divide the guide into two parts: for merchants who want to sell their products/services through affiliate marketing, and the affiliates.
Affiliate Marketing for Affiliates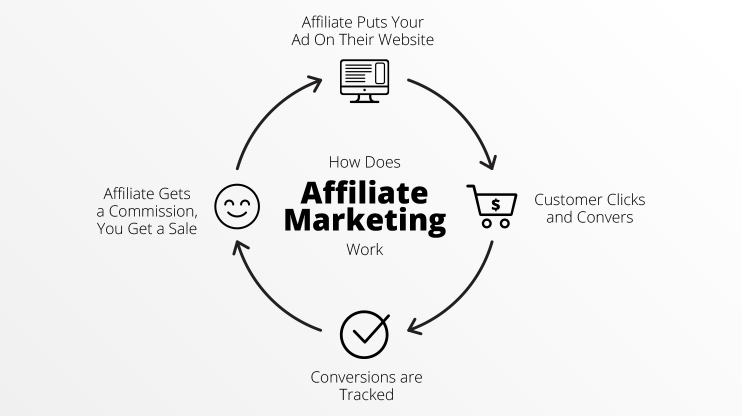 Working with multiple businesses, you might have to use multiple tools and services, get used to various approaches. And that's a great thing truly.
If you're considering becoming an affiliate marketer, now is the time. But it takes a lot of time and dedication, so be ready!
Who Can Become an Affiliate Marketer
Basically, anyone. Experience and skills in marketing and especially in content creation are very important, but there's nothing here that you can't learn fast. And it's learned best through experience, through trying, failing, and optimizing. So the sooner you begin, the better.
Anyway, the ideal candidates are:
Bloggers
YouTubers
Mystery marketers who send out newsletters, run custom ads or manage to make direct sales. It's those who just give the results and charge for them without letting us see and track the whole flow. As a client though, we really appreciate it, even if it wouldn't hurt us to see how they make that magic.
How to Find Affiliate Clients
When you start to generate valuable content with high traffic, it will be the clients looking to work with you, not vice versa. But until then, you'll have to be the one looking for them.
First and foremost, determine your exact niche. Then do some deep research of competitors who produce the same type of content to see if they're promoting a product that your audience can be interested in.
If they are, go to the promoted product's website and check if there's a link to their affiliate program. Found the link? There you go! Learn the details and join the program.
How to Promote Your Affiliate Product
You need quality content first of all. The form doesn't matter — a blog, a newsletter, a YouTube channel, or some sort of reviews. The thing that matters is how engaging your content is and how relevant it is to the product you're promoting. And you need a solid audience. Followers, likes, page visits — they all count. So put some extra effort into building your audience before reaching out to your potential clients.
Then, after you have the best content, make sure to add the links in the most engaging way.
Test and find the best visuals, CTAs, and anchor texts.
What Payment Model Works Best for Affiliates?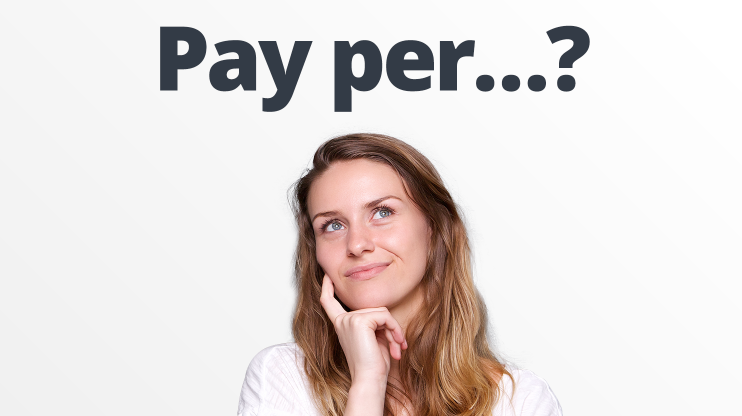 We've already mentioned the three most common payment methods: PPC (per click), PPL (per lead) or PPS (per sale).
Pay per sale is the ideal one. Generally. But there's some nuance to it. When you're the affiliate, you're can't be 100% responsible for the flow the user goes through before making the purchase. So you can have the most converting content and links, but users can still get stuck in the complicated website you're referring them to. Which means, you're losing income when doing your job perfectly.
To avoid such cases, some affiliates demand other payment models. But both pay per click and pay per lead are a tiny minority in the affiliate market.
Evan Porter who has a lot of experience in blogging and affiliate marketing, says that about 95% of clients only pay per sale. But he'd like to have a bigger choice.
"As an affiliate, I hardly work with any brands that pay per click or per lead, but I think more would be wise to consider it.
Paying per lead, in particular, would totally change the way affiliates optimize their content. With the right strategies in place, brands could capture way more people into their funnels and convert them into customers over the long haul with smart content marketing, retargeting, etc..
It would also encourage affiliates to be less pushy and aggressive when it comes to making the sale. We'd be more likely to gently nudge users over to informational pages that help them get the information they need, which would likely reflect more positively on the brand overall."
There's another reason why PPC and PPL often work better for affiliates: returning customers.
R.J. Weiss, the founder of the personal finance site The Ways to Wealth, has come across this problem.
"As an affiliate," Weiss says, "the payment model that works best for us is PPC. As someone who drives both paid and organic traffic, making the conversion point as short as possible is very important for us to grow. In the finance space, many offers may take 30 or more days to go from click to conversion, making these offers all but impossible to accurately gauge EPC."
Affiliate software providers do their best to help track returning customers, but it's not always possible. People return when it's too late, cookies are erased, accounts are switched, or they're simply using another device and another IP address.
So before choosing the payment model, research both the tracking software and the average sales funnel in your industry. If you think it's too easy to lose track of the customer, try to get a deal with a different payment method than pay per sale. It won't always work though; the industry is still all about PPS.
At 10Web, however, we have most of these problems solved:
free users still count as referrals if they upgrade later on;
affiliates get paid if a user makes the purchase within 60 days of visiting our website.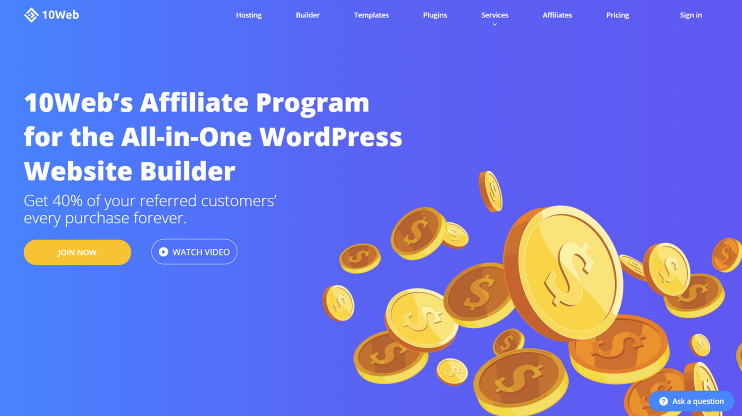 Affiliate Marketing for Merchants
For a lot of businesses, affiliate marketing is the #1 income source. For others like 10Web, it's not that big, but is still a very significant marketing channel.
Would Affiliate Marketing Work for My Business?
If you're asking the question, it most probably would. Affiliate marketing is most popular among business types such as:
eCommerce stores: Amazon is the best (at least, the most popular) example;
Subscription-based businesses: check out 10Web and our competitors; we offer some pretty good deals.
You can use affiliate marketing for any business that accepts online purchases, and sometimes, when it doesn't, you can still use it but on a pay-per-click or pay-per-lead payment model.
Uber is one of them. It has an affiliate program for recruiting partners (drivers). So of course, they don't get paid to hire new partners, but they sure pay the affiliates per recruit.
According to MediaKix, as of 2016, 81% of all brands use affiliate marketing. With the constantly growing market of eCommerce and subscription-based brands, no wonder, the affiliate industry is growing as well. It's seen a 10% growth every year since 2015, and Business Insider has evaluated that it will continue at least until 2021.
How to Help, Guide and Motivate Affiliates to Increase Sales?
After a year of struggle, our affiliate revenue and conversions are growing by the week. That's how we made sure that a huge part of affiliate marketing is still on us. And here are the ways to help the affiliates help you.
1. Treat the affiliates as your in-house marketing team, but with a lot of privileges.
Whenever you have a new deal, an update or any other news, make sure to let the affiliates know first.
2. Provide them with as many materials as possible: catalogs, guides, review samples, CTA button samples, banner samples, etc.
I know it's the affiliate's job to create all the engaging materials and design it in a way that customer just wants to make the purchase. But believe me, many of them just need guidance and assistance. They already have the traffic that you need, and only half of the job is left: converting the traffic. Who can help them convert the traffic better than the person who owns/manages the product? Yes, that's you. So do your best.
3. Motivate them financially.
That's why people sign up to become affiliates in the first place! Here's what we offer at 10Web that many marketers can't say no to:
A high commission rate of 40% per purchase
Recurring commissions (most customers pay every month or every year)
A 60-day payment window for referred customers who return later to make the purchase.
4. Be responsive and responsible
Make your payments on time and make sure to answer every question an affiliate asks. Otherwise, you're not just losing partners, but also damaging your reputation, as their feedback will definitely be seen and heard in the community.
What Payment Model Works Best for Sellers?
As I mentioned above, the pay-per-sale model is ideal. Especially for the sellers. So unless your sales take too long to close and as long as you accept the payments online, try to stick to this model.
Eric Even Haim from EasyCall.io is all for Pay per sale.
"100% PPS. In my experience, every time I tried going with PPC or PPL I ended up with endless non-relevant, non-converting traffic or useless irrelevant leads from some African and South Asian countries that aren't our target.
Eventually, what you're looking for are the sales so why don't just pay for those? This way you have no risks of losing any money, and your affiliate has all the motivation to get your those sales."
PPS is also the model that we're using at 10Web. We've been happy with it so far, and so have our affiliates.
10Web's Affiliate Program
Get 40% of your referred customers' every purchase forever.
10Web's Affiliate Program
Get 40% of your referred customers' every purchase forever.
Have you decided yet if you're entering the affiliate world or not? Ask us any question if you're hesitating. We'll be more than happy to help you out! Just leave a comment below: 👇👇👇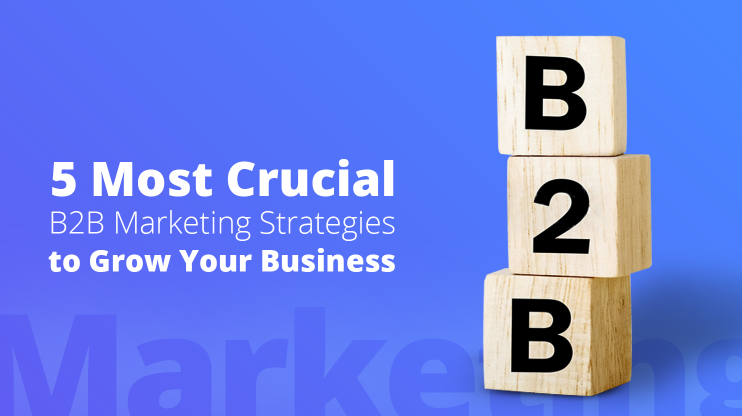 The digitalization of the world has changed the way we do B2B marketing forever. There are several reasons for this: Firstly, about half of all B2B buyers are millennials and they increasingly prefer online shopping to cold calls and face-to-face business. Secondly, B2B buyers now more than ever dedicate more time to consider their options, read reviews, and do in-depth online research. A typical B2B buying group is now comprised of more people than before, which means your product or service needs to please different types of people to convince them to purchase. Finally, the modern B2B buyers go back and forth through the sales funnel a few times before making a buying decision. So, to please this modern diverse thoughtful group of buyers, you need to use these 5 most crucial B2B marketing strategies for the digital world. Just follow our advice and see your business grow! 1.Building a…