3 Best WordPress Cloud Hosting Providers in 2022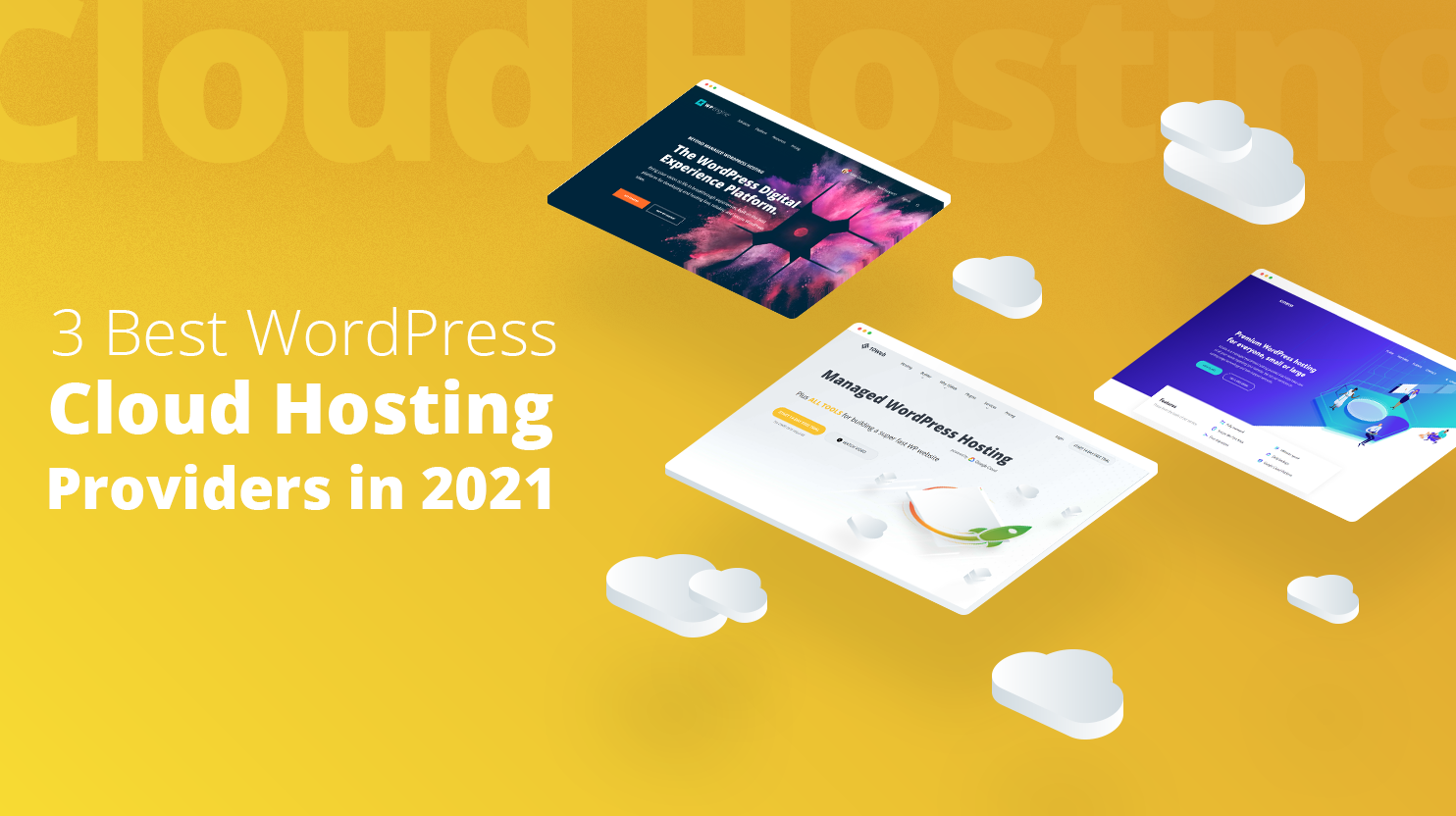 While most people are acquainted with hosting types such as shared, VPS or dedicated hosting, others are increasingly raising the question of what WordPress cloud hosting is.
Cloud hosting, in general, is an IaaS, a form of cloud computing that offers IT infrastructure over the internet instead of through your hard drive.
But what exactly does it mean to have your hosting provider rely on this particular platform?
Cloud hosting can be compared to shared hosting minus the downsides. In cloud hosting, the hardware, storage and other computing capacities of an infrastructure are virtualized and can be used to host several cloud servers. This means there's no need to rent a physical server anymore, the users can rely on those virtual servers for hosting.
In this article, we'll focus on managed WordPress hosting, discuss its advantages and disadvantages to then introduce to you some of the most popular hosting providers this industry has to offer.
But, of course, we also have a video version for those who don't feel like reading right now or ever:
https://www.youtube.com/watch?v=KcqtEgT6tXQ
What is WordPress cloud hosting?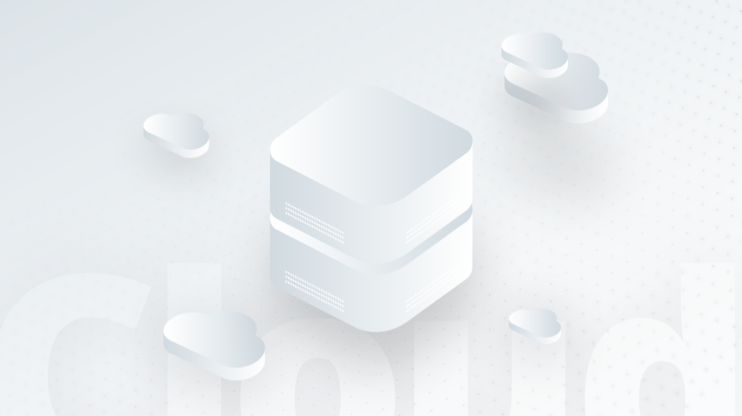 For starters, WordPress hosting means that the hosting services are WordPress-specific. In other words, they are tailored for people who rely on WordPress as their content management system. Since WordPress is the most frequently used content management system to date, this comes in handy for most website owners.
But the term "cloud hosting" can have different meanings. So for the purpose of clarity, it's important to distinguish between the following two types of cloud hosting:
There's cloud hosting that provides you your very own VPS that is linked to a cluster of servers. This option is especially suitable for tech-savvy people who know the ropes around managing a virtual server or at least have IT experts that take care of such technicalities for them.
Then there's cloud hosting in the form of managed WordPress hosting. With this type of cloud hosting, your website is hosted on a cloud, but you don't have your own VPS. If you're worrying about losing administrative flexibility and independence, don't: that's what containerization is for! Perhaps even more attractive is the fact that, thanks to AI and automation, you don't have to worry about the technicalities of managing your website, yet still benefit from all the positive aspects that the virtualization of servers provides. It's also the cheaper alternative to the first cloud hosting type.
Who is WordPress cloud hosting best for?
Before delving into the details, let's first see if it's the hosting type for you.
As with anything else in life, to understand whether WordPress cloud hosting is for you is to understand what your ultimate goals for your website project are.
Essentially, managed WordPress hosting is an ideal option for freelancers, agencies, and a great variety of other website owners, for that matter. Here's why:
High speed performance,
High-quality security,
Excellent scalability,
Attractive price-performance ratio.
This is but a small fraction of the services that managed WordPress hosting providers offer. In a nutshell, if you're looking for a combination of a wide-range of high-quality services in combination with affordable prices, then we recommend you use WordPress cloud hosting.

Pros and Cons of WordPress Cloud Hosting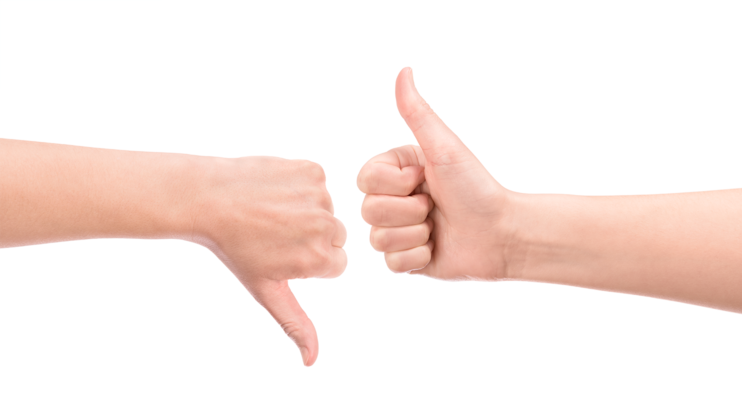 To decide whether WordPress cloud hosting is suited for your needs, you should be aware of its advantages and disadvantages before anything else. It's the only way you can make an informed decision.
Speed
One very popular advantage that cloud hosting offers is a high level of website performance. For one, since cloud hosting derives its resources from a network of several servers and isn't just connected to one physical server, server load balancing becomes possible.
1. Load balancing
What it does is it spreads your traffic load across multiple VM instances, enabling you to avoid overloading your server. In other words, your site will be able to cope with high traffic without the risk of losing speed.
Of course, since you probably won't have the time to practice load-balancing manually on a daily basis, you have an auto-scaling option. When choosing this option, VM instances will automatically be added or deleted depending on the resource capacity needed by the customer.
But at the same time other functions such as storage, databases, backups and so on are kept separated in specialized servers.
That way you can profit from load balancing without fearing that other, crucial elements are shared and consequently can negatively impact your website's performance.
2. Scalability
Scalability refers to the cloud hosting service's capacity to scale the resources provided according to the resources needed. Load-balancing ensures just that.
So should you ever find yourself in a situation where you fear that your traffic flow might exceed the anticipated level and slow down your site, worry no more. Most managed WordPress hosting providers make sure that your resource demand is always met so that your website's speed and latency aren't compromised.
And rest assured that this doesn't mean that every time you experience an unexpected surge in traffic your hosting plan will be automatically upgraded without your consultation. Instead it only means that you'll have some extra costs for one billing cycle, but your hosting plan will remain the same. The added costs vary from one hosting provider to another.
3. Data center network
Another factor that will significantly impact your speed performance is the connectivity between your server and your user base. For this you'll need data centers close to your targeted audience. That's where you can profit from cloud hosting.
Most cloud hosting providers offer a network of data center locations distributed around the world, allowing you to have a link to different regions. For one, this will enhance your reach and consequently your audience. Secondly, having a data center that is located close to your visitors will speed up your data transfer significantly.
Security
Attractive prices and a high-level speed performance mean nothing without security. But as luck would have it, WordPress cloud hosting satisfies this need for safety as well.
But how so?
For one, your data isn't stored in the traditional sense, i.e. in one physical hardware location. Instead it's distributed over several virtual server locations connected to physical servers. This significantly reduces your data's susceptibility to attacks and increases resilience against hardware issues.
Along the same line, should your physical server fall victim to an attack, you don't have to worry about facing downtime. Your website content will be generated from a different virtual server and shielded against the attack.
This brings us to our next point: You don't have to fear falling victim to bad neighborhood effects. Unlike with shared hosting, your neighbors are separated from you, meaning that you won't be affected by their security issues.
Flexible Pricing
The cost efficiency of WordPress cloud hosting is due to its shared nature. So, instead of providing each user with a separate physical server, several users share a few physical servers and consequently the costs.
Put differently, by relying on just a few physical servers for the hosting needs of a bigger number of users, the maintenance and operation costs of the hardware system are kept low and shared between the users.
The main difference from shared hosting is this: Because the users share the same physical servers but have their own LXC software container, there's more room for individuality. By the same token, there's less likelihood for bad neighborhood effects.
Additionally, the virtualization method helps keep hosting costs to a minimum. It reduces operating costs, space requirements and server energy consumption, which inevitably makes it an environmentally friendly option.
Overall, this allows a cutback on additional expenditure, meaning that the users only pay for the resources they actually use.

Best WordPress Cloud Hosting Providers
Now that we've shared the pros and cons of cloud hosting, we'll introduce you to the creme de la creme of the WordPress cloud hosting landscape.
1. 10Web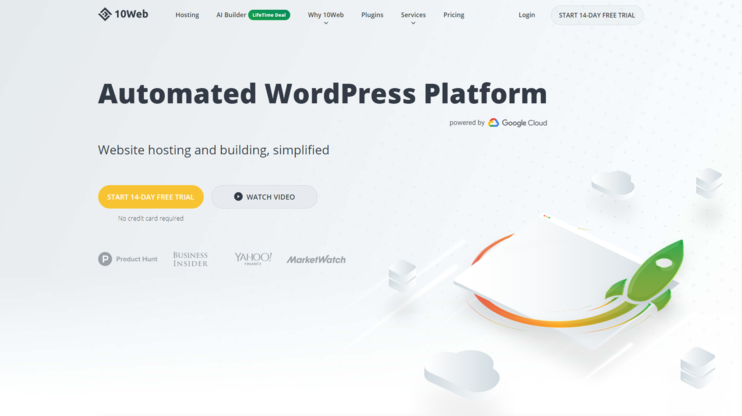 Let's start with yours truly, 10Web. Here are some fun facts about our services:
First things first, 10Web differentiates itself from managed hosting providers because it's an Automated WordPress Platform offering automated hosting services. The goal is to make website creation and hosting so simple that everybody can build beautiful and fully functional websites within just a few minutes.
Here's what that includes: We provide a 1-click automatic migration for free. Once your site is successfully transferred, we guarantee that every website hosted on 10Web automatically gets a PageSpeed score of 90+.
This high-level speed performance is ensured by our state-of-the-art infrastructure that
is powered by Google Cloud and benefits from Google Cloud platform's "premium tier" network;
has an optimal hardware configuration and
8 data centers distributed across 4 continents;
guarantees 99.99% uptime
and a high-capacity SSD storage;
allows for containerization, caching and elastic resource management which in turn ensures great scalability.
Of course, you won't be able to benefit from any of these services if your site doesn't have sufficient protection against security attacks, which brings us to our next feature:
Highly qualified and WordPress-specific security services
Thanks to our fully isolated LXD containers we prevent bad neighborhood effects and offer an additional level of security to our users.
Through constant monitoring, qualified support, malware and vulnerability scans, built-in login limitation, and DDoS protection we take preventive measures to avoid the occurrence of security threats to begin with.
Additionally, quick and comprehensive restoration of hacked websites makes sure that your website's availability isn't compromised.
A fast recovery thanks to our real-time differential backup service:
Our reliable backup service allows you to schedule your backups on an hourly, daily, weekly, or monthly basis.
To avoid wasting storage space unnecessarily, only the most recent changes are saved. What's more is it allows you to restore data from the last 1000 backup points, and offers storage space in AWS S3.
It goes without saying, that our customer care team is at your disposal 24/7 and happy to provide highly qualified, WordPress-centered, and fast solutions.
As for our pricing scheme, you might have noticed that we provide automated WordPress hosting services for the price of shared hosting. Our prices start from $10 per month for 1 website and $6 if you're managing 10+ websites.
Our starter plan includes all of the abovementioned services and is living proof that high quality doesn't have to come at a higher price.
You're very welcome to use our free trial without any credit card requirement and see if we deliver on our promises. Make sure to explore other services that we offer but didn't mention here for brevity reasons, such as our
website builder based on Elementor,
50+ premium plugins,
30+ 10Web premium widgets,
Image Optimizer,
Analytics and reports,
Free (imported) SSL certificate,
Staging environment.
Fully Automated WordPress Hosting
Test 10Web for free, and enjoy all the benefits of a secure Google Cloud Partner hosting.
Fully Automated WordPress Hosting
Test 10Web for free, and enjoy all the benefits of a secure Google Cloud Partner hosting.
2. Kinsta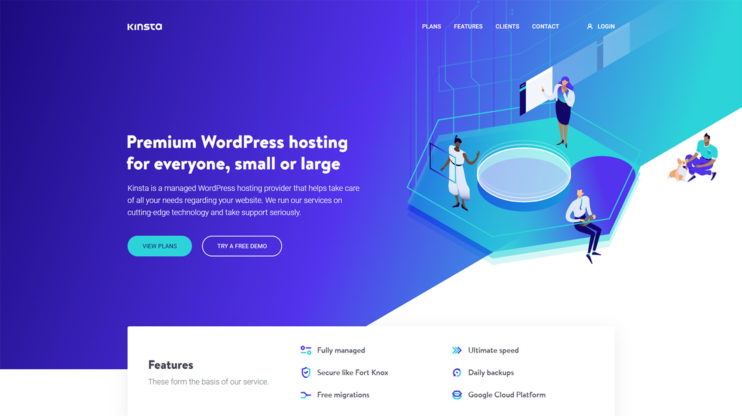 The second on our list of hosting providers is Kinsta.
Hosting infrastructure:
Kinsta's hosting infrastructure is also powered by Google Cloud, and benefits from Google Cloud Platform's "premium tier" network. It provides for sufficient SSD storage, 99.99% uptime, as well as CPU and RAM, which ensures great scalability. One major benefit of Kinsta is that it has 23 data center locations for the purpose of enhancing speed and latency.
While all of this sounds very impressive, Kinsta lacks website speed optimization services that are designed specifically for optimizing and enhancing the speed level of every website that migrates to their platform.
Migration
When it comes to migration, Kinsta offers one free migration, which is handled manually by their staff. On the flip side, this means that you won't have to take care of this process yourself.
But the downside is that the migration process lacks automation and is more time consuming than at 10Web. Another crucial information is that Kinsta's starter plan only offers free migration if you pay annually. Otherwise this service is chargeable.
Security
In terms of website security, Kinsta offers DDoS protection, daily malware/spyware scanning, 24/7 monitoring and fast restoration.
You'll also have a backup service that allows you to store your data on a daily basis and implement system-generated backups for all sites on your account. You have the possibility to make 5 manual backups, including one downloadable backup per week.
But be aware that for weekly to hourly backups there'll be additional costs. For every site you have to pay an extra $2.
Like most managed WordPress hosts, Kinsta offers WordPress-centered chat support on a 24/7 basis.
When it comes to pricing, hosting 1 website on Kinsta costs three times the price 10Web offers. The plans start at $30 per month and can go as high as $200.
As you may have noticed yourself, this means that with Kinsta you get the same quality you'd get with 10Web, or even less, for a much higher price.
3. WP Engine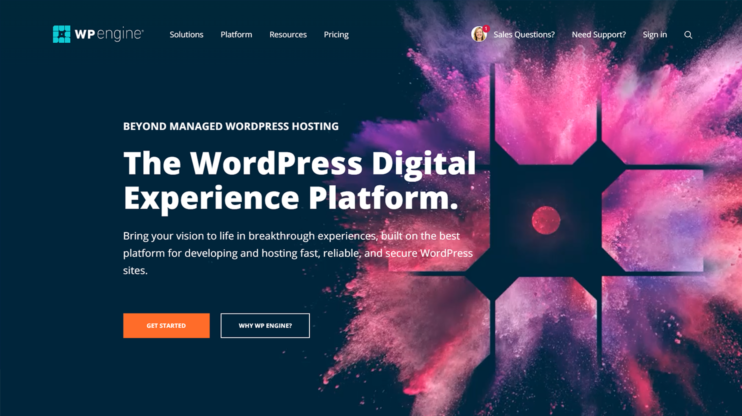 Last in line is WP Engine, the leading hosting provider in the managed WordPress hosting market that many business owners use. WP Engine is known for its all-in-one infrastructure that combines security, analytics and support.
Hosting infrastructure
The hosting provider is the first WordPress Digital Experience Platform (DXP) that relies on the latest hardware from Google Cloud Platform. More specifically, it's the adoption of Google Cloud platform's newest infrastructure, namely the Compute-Optimized Virtual Machines (C2), that is supposed to increase the quality of performance and the level of website speed.
Another way WP Engine aims to ensure high speed is through a proprietary caching system, a fully-managed content delivery network and scalable architecture.
Migration
For migrating your website to WP Engine, the hosting provider offers a WP Engine Automated Migration plugin that's supposed to facilitate this process for users. So, compared to Kinsta, WP Engine's migration process is more efficient because it's automated.
But when compared to 10Web, WP Engine is less impressive, because at 10Web the migration process is simpler and doesn't require a plugin. Most notably, though, is the fact that WP Engine's migration service isn't free.
Security
WP Engine's security measures on the other hand are more convincing. They include
threat detection and blocking,
traffic encryption via free SSL certificates,
code reviews and security audits, as well as
DDoS and Brute Force Attack protection.
As for the backup service, by providing
automatic daily website backups for all plans,
manual website backups at any given time,
backups for the last 40 days,
storage space in AWS3
WP Engine manages to outshine Kinsta's services.
The same can't be said of 10Web. If it slipped your attention, never mind, we're more than happy to refresh your memory:
10Web offers an essential feature that is missing in this list, namely real-time backup. An hourly backup service is especially crucial for dynamic website content.
The prices for WP Engine's hosting plans start from $25 per month. This means that the hosting provider is a cheaper alternative to Kinsta.
But compared to 10Web, WP Engine can't compete.
Takeaway
You may have noticed that quality-wise the 3 WordPress cloud hosting providers are very similar, even though in some places 10Web outperforms the other two. So, perhaps you'll agree with us when we say that with Kinsta and WP Engine you're not getting your money's worth.

FAQs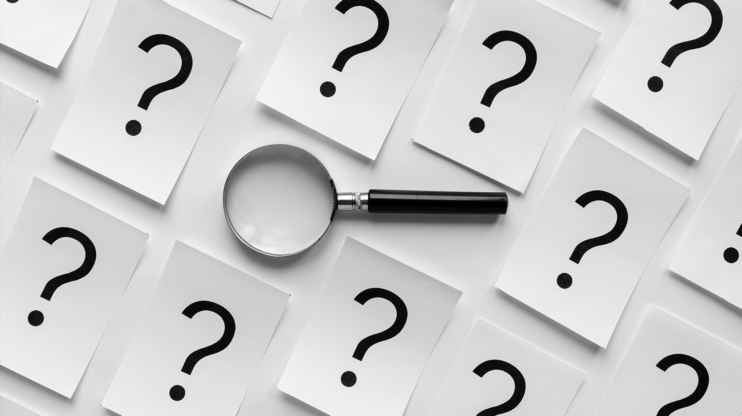 Which hosting is best for WordPress?
Based on our years of experience with WordPress and our exceptional results with cloud hosting, we at 10Web argue that managed WordPress hosting built on cloud infrastructure is the best option out there. Here's a short recap why:
Shared hosting: In shared hosting, the users share one physical server, have limited resources available to them, risk being impacted by bad neighborhood effects, and don't have great scalability.
VPS hosting: VPS hosting is the improved version of shared hosting. By relying on cloud computing technology, users still share one physical server but have virtual servers available to them. This grants them more flexibility and independence. But keep in mind that at the end of the day your resources are, like in shared hosting, limited to one physical server.
Dedicated hosting: With dedicated hosting, you'll have one server all to yourself. No sharing required. You'll have a high traffic capacity, high-class security as well as a high-speed website performance. On the downside, this level of services requires a large sum of financial resources and a highly-qualified IT staff equipped to handle the complex technicalities of server maintenance and operation.
Managed WordPress hosting powered by cloud computing: Cloud hosting is very similar to VPS hosting, with the exception that your website will be managed and optimized for you thanks to automation and AI technologies. The cherry on top is that it's the cheapest of all options, yet doesn't sacrifice quality. Some might also argue that managed WordPress hosting provides all the advantages of dedicated hosting at the price of shared hosting.
Is cloud hosting faster than shared hosting?
Absolutely – no ifs, ands or buts about it! The most characteristic feature of shared hosting is, as the name gives away, its shared nature. And while sharing is socially accepted and viewed as a good quality, the exact opposite is the case when it comes to hosting services.
It means that you'll have to share a physical server and consequently the resources provided to you with other users. In that sense, when a neighbor uses up his or her traffic capacity it means that they're using up your traffic flow capacity as well. This in turn can result in a loss of website speed or even downtime.
As you can see, with shared hosting, your website speed isn't always under your control but is highly dependent on external circumstances.
Unlike cloud hosting, you don't have the benefits of virtual servers, i.e. no load balancing, data center networks, or automated scalability. All of this will make itself felt in the form of unsatisfactory speed performance.

What is the difference between web hosting and cloud hosting?
Web hosting is a general term that describes where and how your website's files are stored.
Cloud hosting, on the other hand, describes a specific type of server environment, in which physical servers have virtual machines that are connected to them, but at the same time have isolated software containers that ensure greater flexibility, performance and security of the website.

Is there a WordPress hosting solution that's affordable?
Sure! We, at 10Web, will make you an offer you can't refuse – and special brownie points to anyone who guesses the movie reference.
As listed above, our automated WordPress hosting services include a great deal of high-quality features at a very competitive price. The starter plan comes at a monthly cost of $10 and can go as low as $6, depending on how many websites you manage on 10Web.
As we've showcased in this article, regular managed WordPress hosting services provide the same, or even less services than we do, yet come at a higher price.
With shared hosting, it's the other way around: shared hosting platforms can compete with us in terms of price, but never in terms of quality and quantity of services.
Now that the FAQ session is completed, we lean back and give you some Qs to answer:
What brought your attention to WordPress cloud hosting? Was it the fact that you're already using it or was it because you're playing with the idea of switching hosting types?
Don't forget to let us know which cloud hosting provider you found the most convincing and why!