Creating the Ideal Homepage for a Construction Company Website
Working in the construction industry, you know the value of balanced form and function better than anyone else.
You want a website that looks great, communicates your brand message perfectly, and most importantly, sells your construction services.
You'll find plenty of articles that guide you through the creation of your ideal website. They'll sure mention vital features like responsive design and page speed.
But these are universal rules that apply for almost any website and any page of it. We're here to help you find the right features specifically for your construction company website homepage.
Designing numerous WordPress themes, we've studied hundreds of construction websites and here we'll tell you what makes them work.
When you get to the design of your homepage, follow these rules to convert your visitors into customers faster than ever before.
Then we'll look at some examples and answer some common questions:
Put your work up front
When you ask yourself what your website should look like, you don't have to go too far for an answer. As simple as it seems, it must look like you're selling construction services.
If you're a process-oriented perfectionist that wants to demonstrate how neat the company works, go ahead and show the construction process right on top of the homepage.
If you're more result-oriented, show examples of your work.
Who does this?
Weitz and McCarthy have handled it perfectly with a video clip of their working process used as background for the site header. Scrolling down, you'll also see the outstanding examples of their work.
If you want to express your pride in all your unique solutions, start your homepage with the best of your recent works. This is what McCownGordon and StoneyCrete have done.
Square Footage is a renovations contractor whose website is all about their portfolio and it's beautiful. Each case shows exactly what the customer needed and how it turned out. This way, visitors are assured that they'll get quality services tailored to their taste.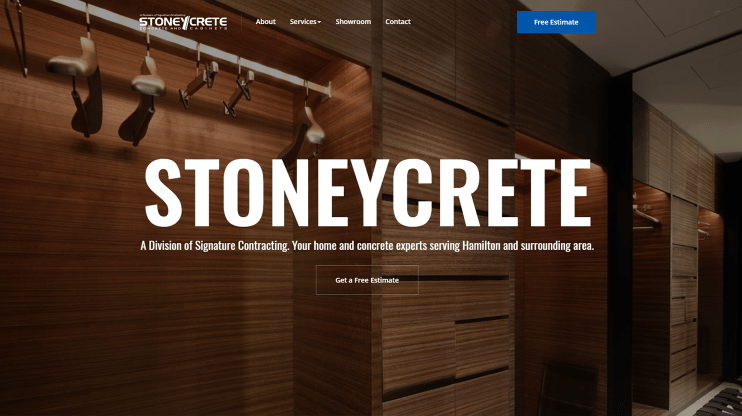 Why should I do it?
First of all, visual information is perceived faster than any of its other forms. HubSpot has a long list of facts showing how visual content is winning the Internet.
Marketers see the future in video content, with global internet traffic from videos expected to make up 82% of all consumer internet traffic by 2021.
Second of all, the vast majority of customers trust contractors who already have proven experience in the field.
Starting with examples, your prospects are more likely to proceed and check out your portfolio. And that's where the quality of your work speaks for itself.
How do I do it?
Don't hesitate to hire a professional photographer. Your first impression needs to be perfect.

Whatever examples you choose to display first, make sure to use large and clear visuals. Don't worry about the file sizes: we'll tell you how to optimize images and videos for a fast WordPress website.
Tell your customers a story
When given the slightest chance, everyone tells how great they are. Are you sure you want to be one of the thousands telling the same thing over and over again?
Today's top content writers help their clients stand out in the saturated market by telling the story to the customers.
There are two main approaches to storytelling:
telling a story about your brand
telling a story about your customer.
Telling a story where the customer is the hero is a relatively new trend in digital marketing.
StoryBrand teaches business owners, marketers and content creators to build a storyline that starts with the customer's problem and to show how your company is there to give the best solution to the problem.
This works exceptionally well for B2C construction companies specialized in home and renovations.
Let's see how Hinkle Hardscapes, specialized in building backyards for enjoyable leisure, starts with the customer's need (Your Perfect Entertaining Space) as their headline and goes on to tell the customers how to get what they want.
BL Harbert is one of the larger construction companies that talk about the customers' needs prior to their company's advantages (not in the structure that StoryBrand offers though).
Safety is emphasized several times on the homepage, and accessible accommodations for people with disabilities are mentioned.
Majority of large B2B companies, like Clark, hesitate about telling a story where the customer is the hero and mostly tell about themselves instead.
The reason is, most people ordering services of such a large scale like building government offices or schools already know precisely what they need beforehand.

Presenting the company's competitive advantages and previous works saves a lot of time for those who already know what their problem is and what solution they want.
Prioritize the information and only keep the key points
Over recent years, a lot of debate was going on to find out whether you need a long homepage introducing every aspect of your work or a neat one-scroll-long page is enough.
MOZ has a case study showing how turning to longer homepages has increased the conversion dramatically for many websites in various fields. Long pages have the advantage of being able to tell stories.
However. there are exceptions to any rule and sometimes super short pages outperform longer ones.
If you're going for the longer option, make sure the page is not getting too long. An infinite scroll or a short preview of every single page of yours is a no-no for homepages.
And make sure you don't overload every section with information. Your homepage is not the place for small print worthy info.
For example, Portland Construction Solutions has 9 sections in their homepage, which is fine, but 2 of them are "about" texts long enough to be on a separate page.
And on the bottom, they present their entire team of 35, including the dog. This is nice and funny but overloads the homepage where visitors hope to see the most basic information only.
It's more optimal to include taglines, key points and in rare cases short paragraphs of 5 lines maximum in your homepage text.
Tell your story but make sure it's not growing into a novel.

Highlight your specialization(s)
Users need to see what you're doing exactly.
If you're building hotels and entertainment centers only, people looking for new homes shouldn't waste their time on your website. And those looking for partners building a neighborhood should know you're not a match if you do small renovations only.
On the other hand, if you provide a wide variety of services, highlighting only one or to will make visitors think you're not qualified in the other field they are looking for.
Square Footage, for instance, is specialized in home renovation and the website tells you this from the very first second.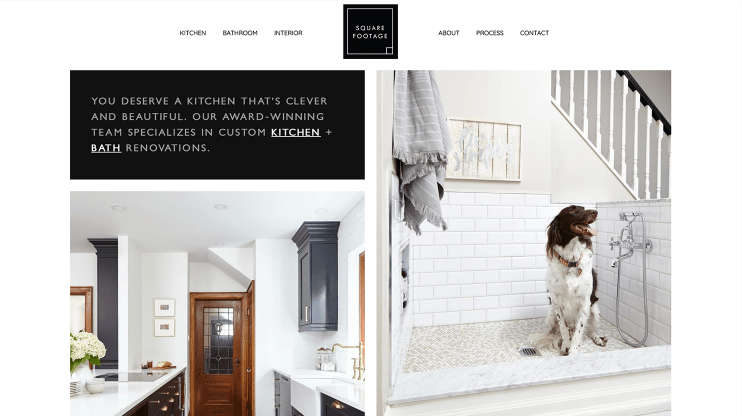 If you work in a variety of fields, make sure to mention it both in your Services section and in your Portfolio (AECOM is a great example here with its selection of filters in all sections).

Speaking of the website menu, let's talk about navigation.
Design intuitive navigation
A huge number of your website visitors start the navigation from your homepage. It's your job to make sure they find the page they need intuitively.
Andersen Construction offers a textbook example of well-organized navigation. The header menu is divided into 4 major parts that lead you to subsections: Company, Services, Projects, and Contact.
All of the homepage sections are linked to relevant pages. 4 locations have separate pages and can be accessed both through the header menu and the dedicated homepage section.
Besides the Projects section in the menu, 4 of their works are featured. A contact form is embedded and there are also contact details for each of their offices in the locations pages. Social media profiles are linked to the homepage but not highlighted.

On each of the inner pages, there's a breadcrumb so you can always see in which part/section of the website you are.
Update the website regularly
Have you finally built your dream website? Bad news for you. You have to rebuild it once every few years. See, the design trends are changing all the time and the priorities change, too.
Visitors are getting used to seeing a specific kind of website, and not meeting their expectations may leave the wrong impression.
Turner Construction has a beautiful and informative website with great navigation but because of the old-fashioned design, the site looks like a blog or a news outlet.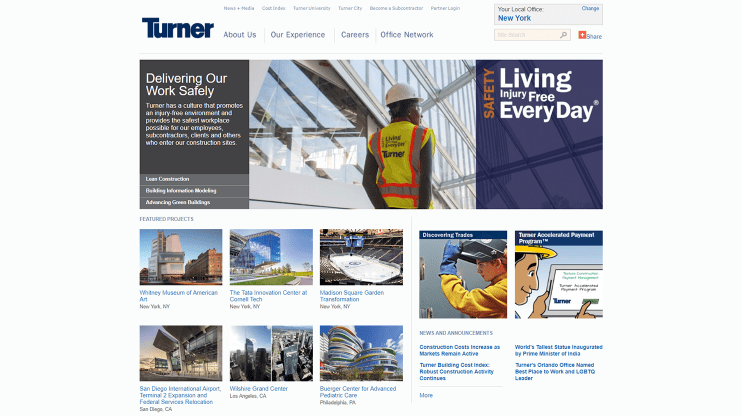 Moreover, there were trends earlier in the 2000s that used to help websites stand out but also heavily affected their loading time or other core features.
Bremik Construction's homepage starts with a beautiful map of their work in Portland. The map, however, is quite heavy and while it loads, users just see a blurred image.
In 2021, website optimization is an absolute priority because users refuse to spend even seconds waiting for a page to load. Make sure your website performs as well as possible.
10Web has a speed optimization service that recommends what you can do to decrease the load time. In fact, you can get a PageSpeed score of 90+ by just hosting your construction website on 10Web and using one of our beautiful website templates.

Build a WordPress website with AI assistant
Move any website to WordPress or create unlimited templates within minutes.
Now that we went through everything you need to do to create the ideal homepage for your construction company website, let's discuss some website design examples that get it right:
The best construction website designs for 2021
1. WMS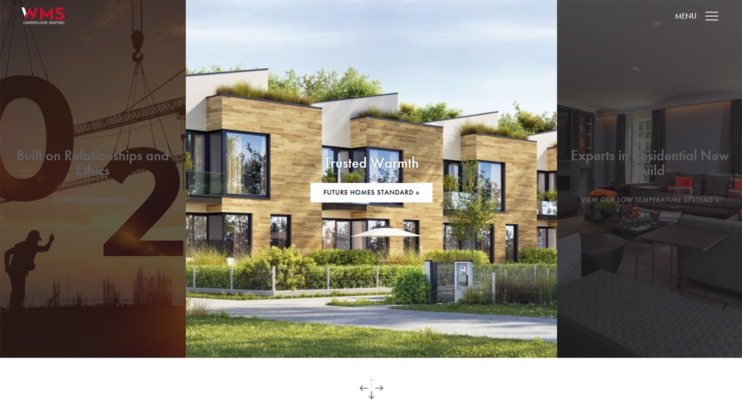 WMS is a family-run business that specializes in underfloor heating systems and the website immediately makes both of these points clear. There's a nice animation when you hover above the two main images, one of which showcases WMS's experience in a portfolio of projects. The description below tells the company's story, its values: the people. The promise is that you get an ambitious company that is also focused on keeping its customers and employees happy. A bit further down you see stats to verify that promise. This website design ticks all the boxes we talked about in this article!
2. Adco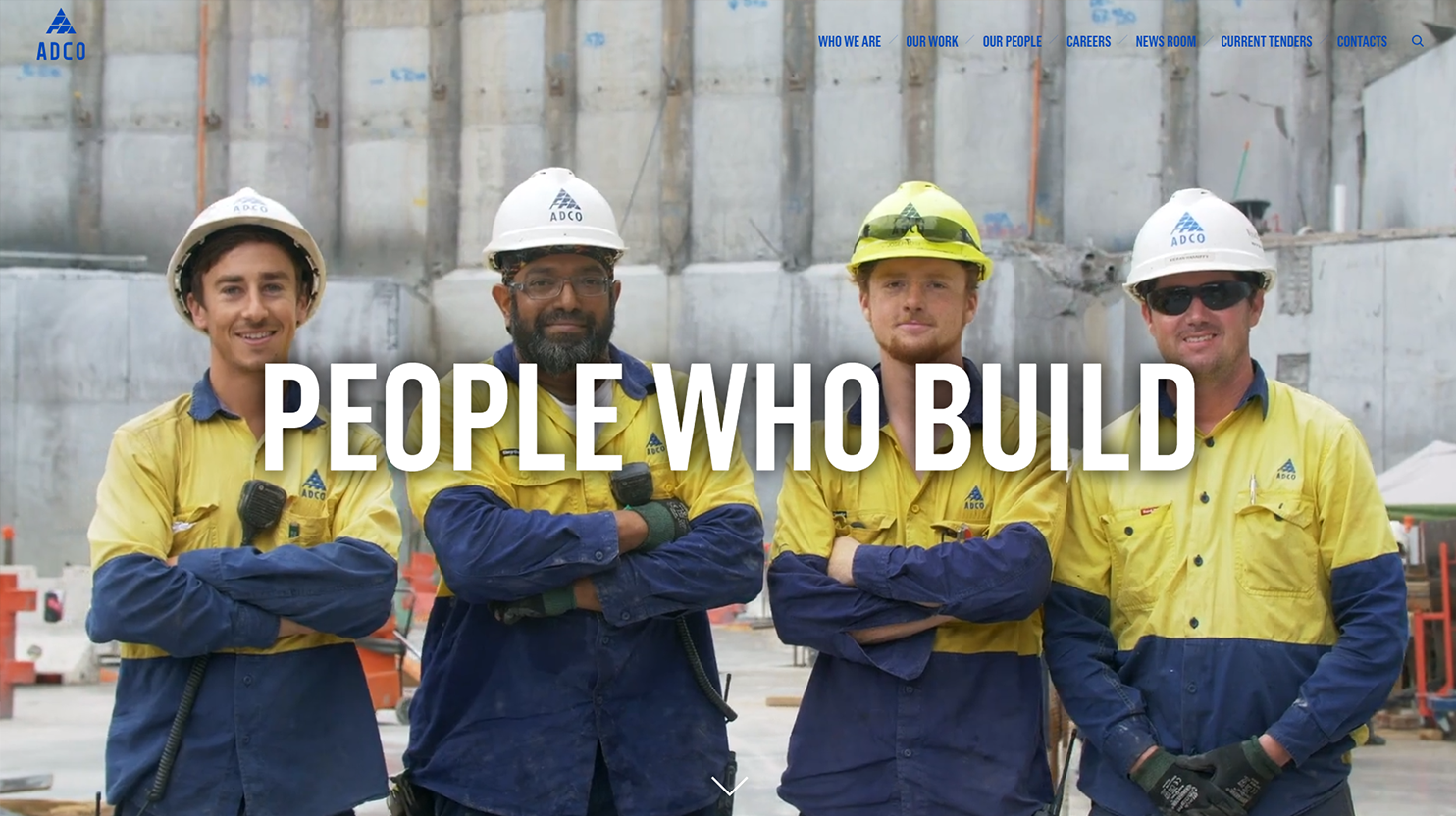 Plastering the video all over this homepage really works. It's cinematic, personalizes the brand, and shows that Adco has really put in the effort. The text is grandiose but clear, solid, and action-oriented: "People who Build." That sounds super reliable to me. If you scroll down a bit, there's a short text about 50 years of experience and a link to "Our Story." Below that there's a link to Adco's "Newsroom," a collection of company-related articles and press releases, which is bound to impress most site visitors. Overall, the website is modern, really easy to navigate, and very stylish. What else does a customer need?
3. Bechtel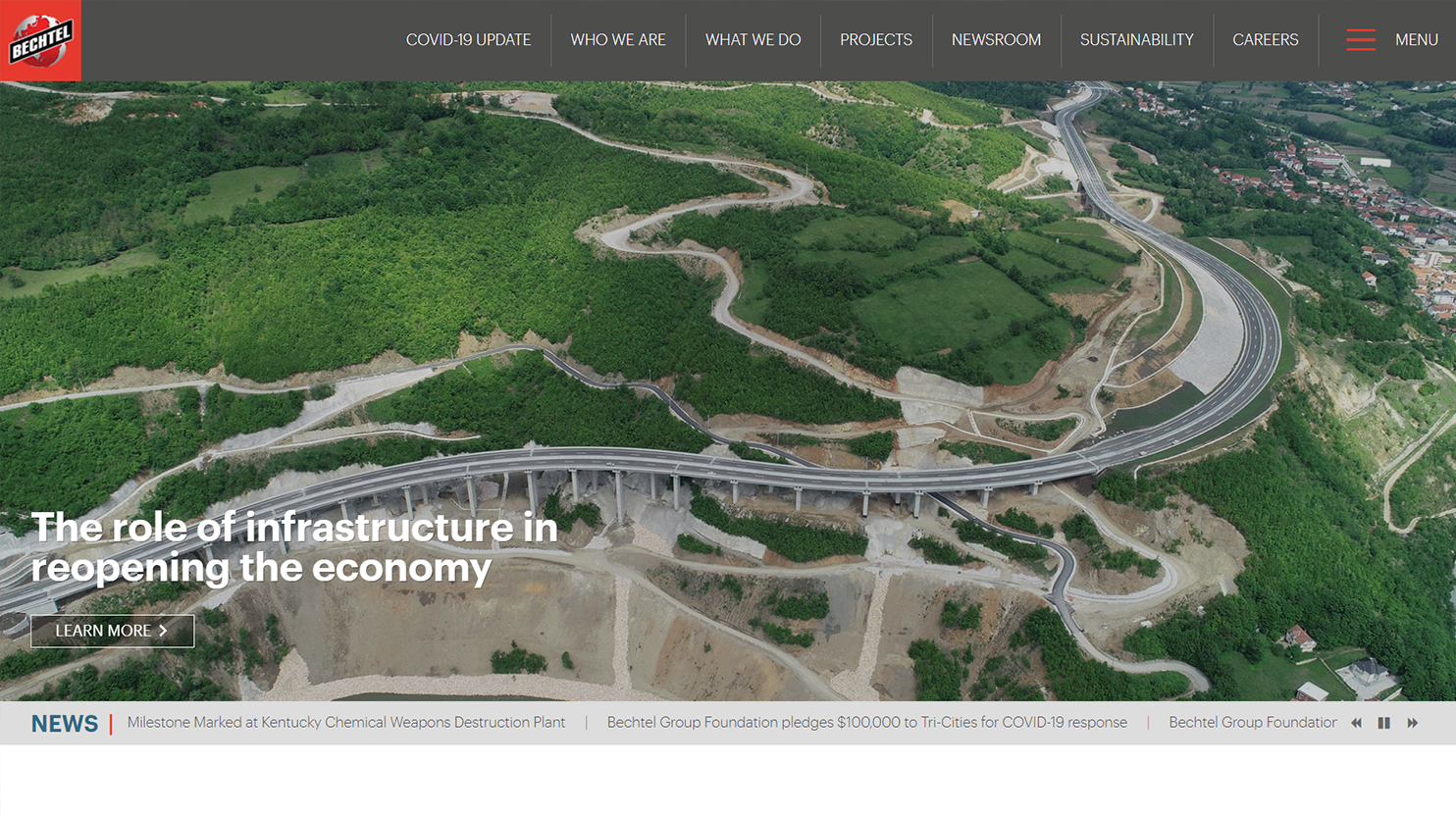 The greatest thing about Bechtel's website is that it managed to organize and compartmentalize a lot of important information in a way that doesn't make the website look cramped and messy. Since Bechtel is the biggest US construction company, it sure has a lot of information to convey on its website, so it was quite a challenge. There is a lot of visible effort here: the photography is superb, there is a blog and also a newsroom telling and retelling the company's story, and a whole separate section is devoted to sustainability, an extremely important topic for companies of this caliber.

FAQ
Let's find out the answers to common questions on the topic.
Should I go with a template or have my site custom designed?
Honestly, a construction company website is not the most difficult site to design, especially if your business is small or medium-sized. There are so many wonderful readymade templates that you can start with and they all have those classic sections: "About Us," "Our Projects," and "Contact Us."
In fact, if you try out 10Web for free, you'll see that you can use one of our templates to build a beautiful website hosted on Google Cloud that fits all the requirements of this article. Design — especially construction company web design — is simple nowadays. You only need to spend a couple of hours.
What are the most important parts of having an effective website?
An effective website:
Clearly communicates your products or services. What can you do for the client? What's the value proposition? What's the process going to look like?
Tells the story of your company, makes the brand human and relatable.
Uses real high-quality photos of your team.
Builds up your construction company website's credibility through testimonials, reviews, and logos of clients.
Showcases your projects and clearly states the kind of experience the company has.
Lists your company's social media profiles, email, phone number, and physical location of the office.
How to build a construction company website?
Here's how:
1. Sign up for the free trial.
2. Choose a website template you like.
3. Add in your construction company's information and upload related images.
That's literally it. Everything else, from restore points to site speed and upkeep, is taken care of!
We hope you found this article on creating the ideal homepage for a construction company website helpful. What has been your experience with building construction company sites? Share it in the comments below.