Best Enterprise WordPress Hosting (2022)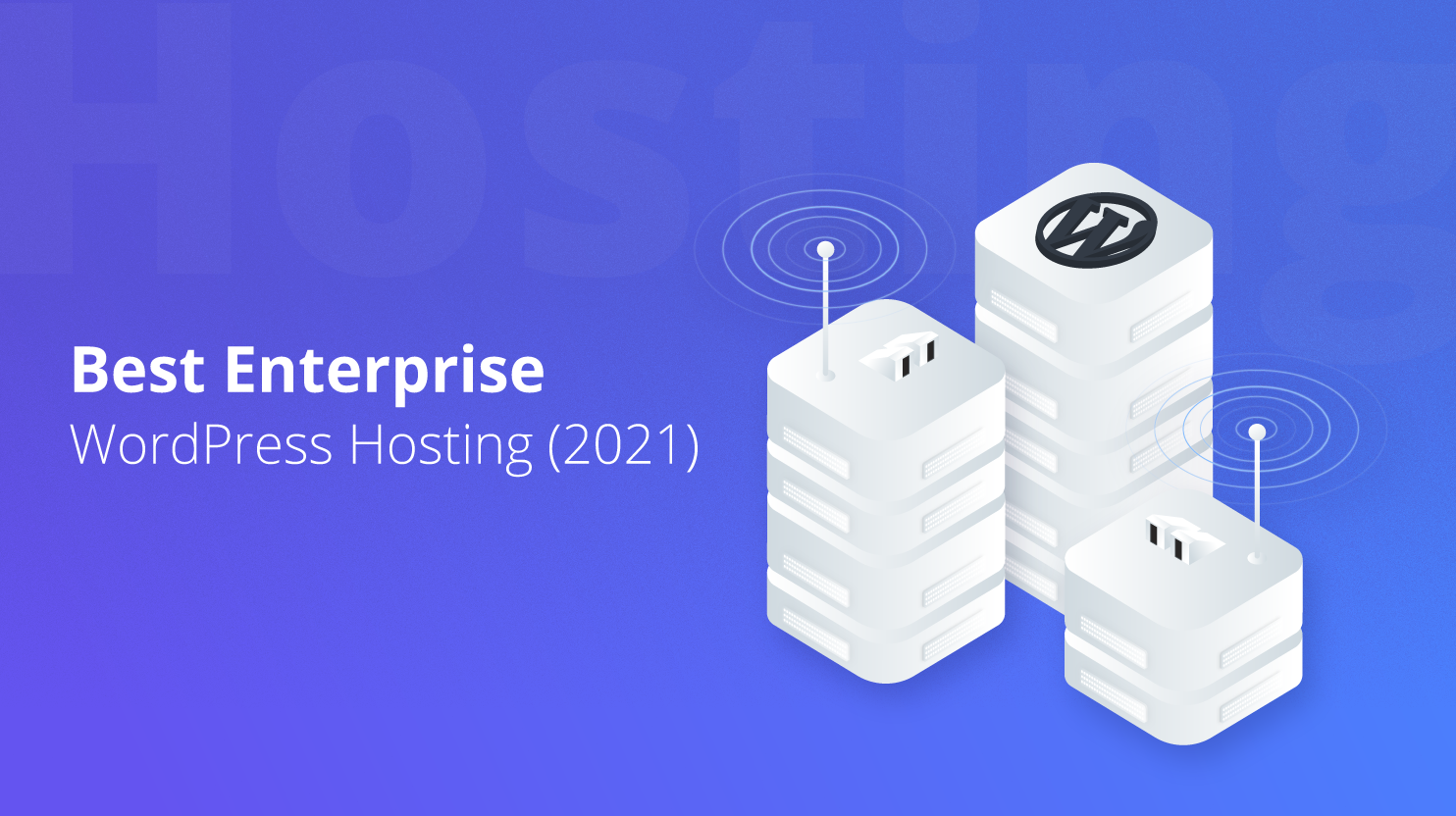 Which hosting to switch to when your traffic starts to grow to millions of users per day? What to do if you own a big business and need more than just a couple of websites? The answer is short and simple: In these special cases, go with enterprise WordPress hosting.
What is Enterprise-Level WordPress Hosting?
When we say "enterprise," we usually mean those large corporations that have thousands of employees. These large-scale businesses are more difficult to manage, and as their revenue is accordingly high, they seek the best products on the market to ensure the highest quality.
Same goes for their websites' hosting. If your business is successful and expanding, you obviously can't put your trust in shared hosting.
In a similar way, many businesses have to create more than one page. They often need to have separate pages for each of their products, or as they have customers in different countries, they want to create local sites with multilingual content for each region.
But even if your business just needs one website, if you expect your traffic to be high, you need to choose the top quality hosting which will guarantee a high performance and utmost reliability.
Enterprise WordPress hosting is a good solution in these cases as it provides stellar security, versatile and high-quality developer tools, a good server infrastructure, and automatic scalability.
Now let's discuss enterprise-level WP hosting in more detail! But before we dive into it, check out our YouTube video that covers everything you'll need to choose a good enterprise-level WordPress hosting.
Who is Enterprise WordPress Hosting for?
This type of hosting usually works best for the large agencies and growing businesses that have a lot of traffic. Also, enterprise WordPress hosting is a good option for freelance web developers who need to create and maintain multiple websites for their clients and want to do it from one platform. In short, if you're going big, you need enterprise WordPress hosting.
So, let's say you've decided that you are the exact target customer for this type of hosting, how can you choose the one which will perfectly suit your website needs? Well, first you need to understand what features to look for in an enterprise WordPress hosting. Here are some:
As enterprise WordPress hosting implies large-scale requirements, you need a host that is ready to handle them. This means that your host's infrastructure should be on a high level which in turn automatically excludes shared hostings where you'd have to share your server with thousands of other users. Typically, enterprises either go with dedicated hosting, where you have the entire server all to yourself, optimized VPS setups, where your part of the server is isolated or a hosting with a high-level cloud infrastructure, such as Google Cloud or AWS, where there's a whole network of servers used according to demand.
Your hosting's data center location is another important aspect to consider when choosing your enterprise WordPress hosting. The reason why it's so important where your server's data center is physically located is that it can directly influence your page's speed and performance. Ideally, you want your data center to be very close to your users, because the further it is, the more time it takes for your server to transport the information and data to them.
Now, many hosting providers have data centers located only in one place which means their clients' visitors should be from nearby too. For example, if your hosting has data centers only in the US, it will not be a problem as long as all of your customers are strictly from the US and you're publishing content specifically designed for Americans. However, if your website is more international, and you target Europe, Asia, and other continents too, you're going to encounter problems with your page's load speed and latency.
Since in the case of enterprise hosting, you likely expect to get a lot of website traffic and probably want the visitors from all over the world to access your website without problems, you better check that your hosting provider has different data centers located in different countries.
Having a scalable WordPress hosting is also a must for your website. Enterprise WordPress hosting plans are mostly designed for fast-growing businesses, which means that your customers can grow by hundreds of thousands in a couple of months. This also implies that you can experience a sudden surge of traffic on your page, which your website should be able to handle.
For instance, if you post a special offer or a 50% sale on your website, you should expect to have many more customers on your page than you had before. But you won't need to worry about it if your hosting provider offers good scalability. Instead, your customers will enjoy a great experience, without even knowing that there are thousands of other users on the same webpage at the same time.
An expensive hosting might not be a problem for the big companies that have a lot of revenue, but if you own a small or medium-sized business and need enterprise WordPress hosting because you believe in it and expect it to grow pretty fast, then you might not have too much money to spend on hosting at first. This means that you'll need a hosting provider that will have all the important features to guarantee a good user experience, while at the same time being affordable enough for your tight budget. Although most enterprise WordPress hostings are expensive enough, in our list below we will also name a few really good hostings that your small or medium-sized business can afford.
Having a responsive and reliable support team always ready to help you is always a plus, but in case of enterprise WordPress hostings, it's a must. Because your website network is so big, you can surely expect it to cause some problems with its management from time to time. And enterprise hosting providers know and account for that.
That is why most of them offer plenty of one-on-one support to their customers, meaning they assign a personal account manager whose job is to help you to set up your account and get your website live. But even if you don't get a personal assistant, you have to make sure you have a great team of WordPress-savvy professionals who'll solve all the technical issues you'll encounter along the way.
A undoubtedly important criterion for your WordPress enterprise hosting is its security. You are going to acquire your customers' personal information and credit card data, and so you need to make sure that your website keeps all that data safe and encrypted. That's why you need a secure enterprise WordPress hosting to guarantee real-time security and help you build a trustworthy platform for your customers.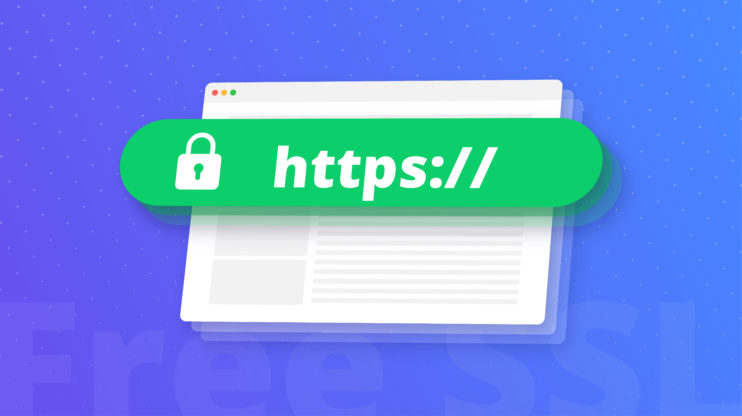 A considerable part of your website security is its SSL certificate. You might have noticed that most of the URLs you visit have a small lock sign on the upper left corner. It shows that the page has an SSL certificate, which means that the connection is secure and data transfer is encrypted for the users. Today almost all trustworthy websites have an SSL certificate, and people don't tend to trust those which don't. Plus, having an SSL certificate is also important for your website's SEO, as large search engines, such as Google, will not rank your page highly without it.
Even if your hosting is pretty secure, you still need to prepare yourself for the worst case scenario. That is, if hackers somehow get access to your page and make it crash, you should be able to get your website up and running again, which you can only do if you have a good automatic backup system. The best solution is to go for an enterprise WP hosting that provides real-time automatic backup, saving all your changes as you make them.
Your WordPress enterprise hosting should also give you a place where you can test the changes you've made to your website before actually making them live. If you had only a few customers, having minor issues with your changes would not be a problem as very few would notice them, but in case of large websites which need enterprise hosting, you cannot afford even small malfunctions. That is why your WordPress enterprise hosting should make sure that you can test everything you need thousands of times, before you actually let those changes go live.
Last but not least, definitely check whether your hosting provider has an easy migration process. This is especially important if you already have a well-designed and highly functional website on another platform, and just want to move it to a better host to be able to handle more traffic, without changing its design and functionality.
Usually, this is easier said than done. Most of the time, migrating your website requires a lot of manual effort which can be very hard and frustrating especially for the beginners. To avoid that, look for a host which provides automatic free migrations, taking care of all the hard work for you.
Now that you know what exactly you should expect from an enterprise-level hosting provider, we'll tell you which three, in our opinion, are the best and most trustworthy enterprise WordPress hostings on the market.
Top 3 Enterprise WordPress Hosting Platforms
10Web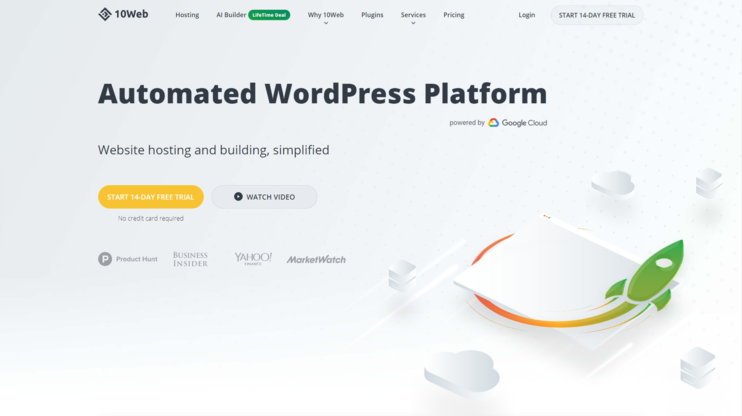 And the first option on our list is 10Web. 10Web is an innovative newcomer to the world of enterprise-level hosting. Basically, it offers everything your high-stakes fast-growing website or websites need for a very affordable price.
10Web offers two options for your enterprise WordPress hosting: the "Agency" plan and the "Custom" plan. The agency plan will let you host 10 websites for 60 dollars a month. You'll get 400 thousand visitors per month, 50 GB storage space, real-time backups, and 250 GB backup storage.
Remember we mentioned that your data centers should be located in different places for your website to be able to function well for all its users? Well, 10Web certainly meets this requirement, as it has nine data centers that are located on four different continents. This means that your customers can pretty much be from all over the world.
Another great thing about 10Web is that it is focused only on WordPress, meaning that the staff is already expertised in all WordPress related issues. Hence, its support team has a lot of expertise in the subject and is ready to answer all the intricate and very specific WordPress questions 24/7. 10Web provides support via chat and email and it is ready to solve all your technical issues and guide you through the process of website development, if you need it.
The "Agency" plan is also great for developers looking to white-label the full package of services provided by 10Web which includes literally everything from automatic speed optimization that gives you a 90+ PageSpeed score to a website builder with 40+ designer-made website templates. 10Web also includes backup, security, SEO, image optimization services, a free SSL certificate and staging environment, caching service, 40+ premium plugins and extensions, and 1-click automatic migration. With all of these tools and features, you'll be well-equipped to beat all your competitors.
But let's tackle another question: What if you need more websites than just ten? That's where the "Custom" plan comes in and lets you increase the number of websites up to 1000 for just $6 per website a month.
You can also be sure that 10Web is the right choice if you're looking for a scalable WordPress hosting. Your website resources will adjust indefinitely, no matter how big of a traffic spike you're experiencing and in the end you'll only be charged 2 dollars extra for every additional 10k visits.
Thanks to elastic scaling and Google Cloud hosting infrastructure with perfect uptime, your visitors will never experience the frustration of not being able to reach your site or having to wait forever for it to load. And this will certainly be a big advantage, no matter what type of business you own.
In short, 10Web really is the enterprise-level hosting provider that will give you more for less. And it's all thanks to next-gen hosting infrastructure and plans designed specifically for enterprise or agency needs!
Automated PageSpeed Boost With #1 WP Hosting
Get 90+ PageSpeed Score and boost Core Web Vitals by migrating your client websites to 10Web – all within minutes, all automatically.
Automated PageSpeed Boost With #1 WP Hosting
Get 90+ PageSpeed Score and boost Core Web Vitals by migrating your client websites to 10Web – all within minutes, all automatically.
Pagely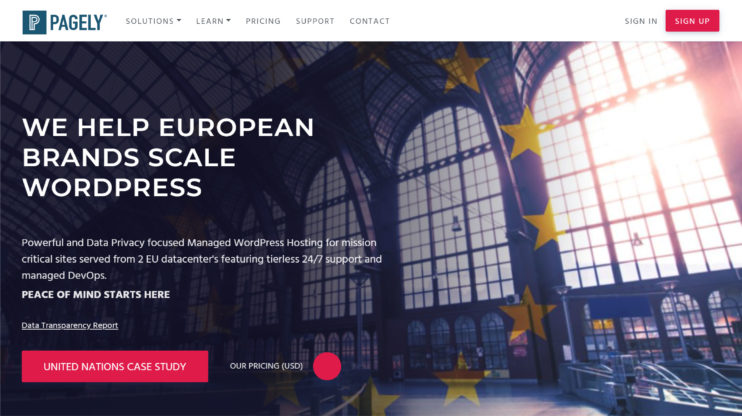 Pagely has been around since 2006, and has such huge clients as Disney, eBay, and Visa. It is the premium WordPress hosting for an enterprise – If those large companies have chosen it, so can any other fast-growing business. But let's first understand what exactly Pagely does.
Pagely is a provider solely focused on providing enterprise-level hosting infrastructure, mostly for the B2B market. They offer great hosting infrastructure based on Amazon Web Services, have 11 data centers, include CDN, caching, staging, and provide high-class security, scalability, and website performance.
You will also get automatic daily backups, which you can easily download or restore your website. Furthermore, you also get developer-friendly tools such as SSH + GIT + Staging + WP-CLI, which are available on the upper tier plans. Plus, you get a good support team which consists of experts who use WordPress everyday and know it from head to toe.
And what are the disadvantages? Well, their "lowest" enterprise-level plan costs $2500 a month. Of course this might not be a problem for eBay, but if you're just a small or medium-sized growing business, it's a little too much.
Keep in mind though that with this plan you get a dedicated database, unlimited visits, 150GB of disk space, 2TB of bandwidth (CDN included), and up to 400 WordPress websites. So, if the money is not a problem for you, this plan is actually worth it, especially considering that Pagely has more than a decade of experience providing enterprise-level hosting.
Kinsta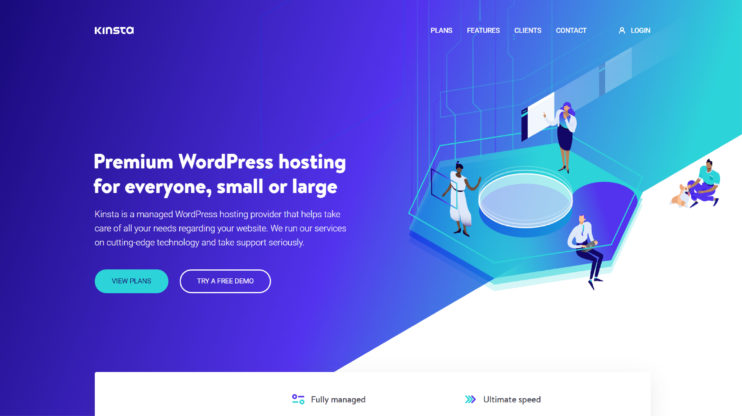 Finally, the last provider on our list of enterprise web hostings is Kinsta, another Google Cloud champion. Kinsta is a relative newcomer to the enterprise-level hosting world, but it has come quite a long way and is now a pretty popular option.Their hosting promises to provide automatic scalability, high-level security, top-notch performance, and, of course, 24/7 support. The features listed on their page include speed-obsessive architecture, high security network, next generation infrastructure, Google Cloud platform, and developer features. In short, pretty much everything you need.
Its lowest enterprise-level plan will get you 60 hosted WordPress sites, 1 million views, 100 GBs of disk space, and unlimited bandwidth. Kinsta ensures great website performance, scalability, and uptime, all of which are extremely important for large enterprises. However, it costs 600$ a month, which is almost twice as expensive as the same plan at 10Web, which provides the exact same features and services. Still, its pricing is surely way more affordable than that of Pagely and it also has famous clients such as Ubisoft or Ricoh, so you too can give it a shot.
In short, if you own a big business or even a small or medium-sized one which you expect to grow fast, you'll need an enterprise WordPress hosting which can handle your traffic spikes on a daily basis. Enterprise-level hostings are also good solutions for WordPress developers who work with various clients and have to manage a big number of websites. Having an all-in-one platform will facilitate your work in both cases. So, if you decide to go with the enterprise-level hosting, make sure it has all the important features, such as advanced infrastructure, elastic scalability, customer support, real-time security, staging area, free SSL certificate, automatic backups, and an easy migration process. We recommend 10Web, Pagely, and Kinsta. What's your experience with WordPress hosting providers so far? Leave a comment down below!