Introducing the 10Web WordPress Hosting: Fastest Hosting That's Fully Automated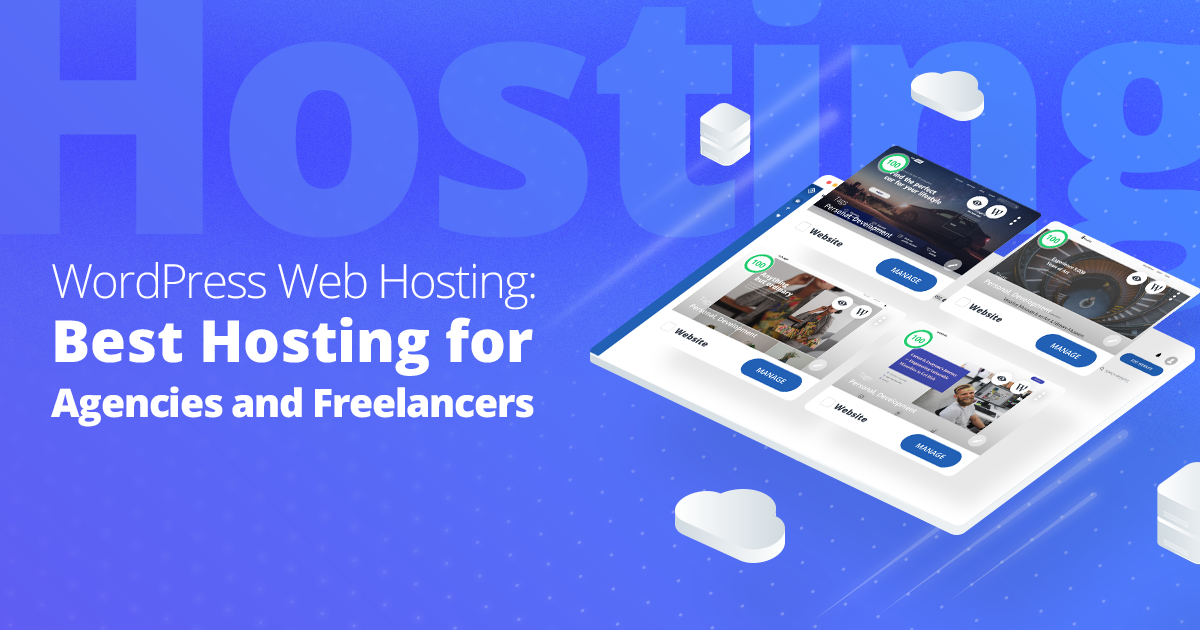 Your WordPress hosting can make or break your venture. It is the foundation of your website, and without a strong foundation, you cannot build a stable and successful website or business. Choosing a hosting is no easy feat. The hosting you select will have a huge impact on your website performance and user experience. 
10Web is a powerful, reliable, and secure hosting. 10Web's entire infrastructure is housed on the Google Cloud Platform. It takes advantage of Linux containers to serve completely isolated and elastic environments for all websites hosted. It offers great website speed and performance, and most importantly, is affordable. 10Web also provides automated solutions and services such as migration, backup, speed optimization, and SEO.
Let's take a closer look at 10Web hosting and explore why it's the fastest automated hosting provider in the market. 
Speed: Fastest WordPress Hosting
We cannot stress enough, neither can Google and its page speed measuring tool – PageSpeed Insights, that speed directly influences user experience. A fast-loading website derives fast results. On the PageSpeed Insights scale, the desired score is from 90 to 100, which is the score you will automatically reach with 10Web hosting.
With 10Web, you will receive an optimized version of your website without any manual effort. That's right, we will optimize your website speed automatically to a PageSpeed score of 90 or higher.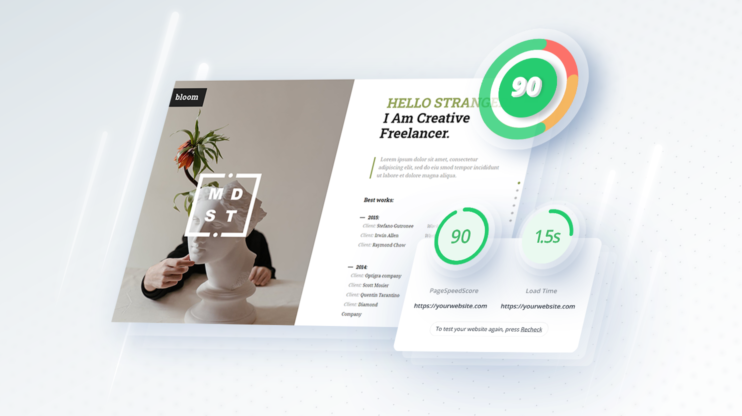 How can this be done? 10Web hosting uses the latest generation of servers as well as high-capacity SSD storage to assist in speed improvements. We also employ Google Cloud Platform's "premium tier" network which distributes traffic without any impact on speed even during times of traffic spikes through load balancing.
Our hosting infrastructure of containerization, elastic resource management, and speed optimization solutions manage traffic and enhance website speed and performance.
10Web has the best speed optimization solution in the market with complete optimization features and host-level tools that go beyond those of any other product in the market. Most importantly, 10Web promises high speed without breaking websites.
Best Caching solution
Caching enables the temporary storage of long-running task results, and their fast retrieval and reuse at a later point in time. This process displays cached content much faster when compared with resources loaded directly from the server.
Caching can take place at various stages of website operation and application. Each stage of caching or cache layer can significantly enhance website speed and performance. 
10Web hosting utilizes 4-layer caching, frontend and backend, to cache all that is possible, from pages to feeds to 301-redirects on subdomains, and does so by using NGINX FastCGI Cache, the fastest page cache solution in the market that ensures resource retrieval at the highest possible speed.
It takes dynamic WordPress web pages and generates and stores them as static pages. Once a visitor re-enters your site, it retrieves and displays these static pages from the cache immediately.
10Web offers customized caching; it allows the selection of pages to cache, enabling or disabling caching of your website, and provides clearing of all cache. All your cache needs are taken care of by 10Web. 
12 data centers spread out across the globe
When a visitor enters your website, your website data is sent on a journey from your data center  to your visitor's browser. The further the data center from your visitor, the longer this journey, and the longer it takes to load your page. This is the reason behind our 12 data centers, strategically distributed across the globe.
With 10Web, you can rest assured knowing that your website data won't have to travel far to reach your website visitors. This means fast website speed and enhanced overall user experience. 
Here are 10Web's 12 data centers  and their locations around the world:
Moncks Corner, South Carolina, USA

St. Ghislain, Belgium

The Dalles, Oregon, USA

Changhua County, Taiwan

Ashburn, Northern Virginia, USA

Council Bluffs, Iowa, USA

Frankfurt, Germany

Los Angeles, California, USA

London, England

Mumbai, India

Eemshaven, Netherlands

Sydney, Australia
Provides the highest desktop score
First, let's explore how Google categorizes PageSpeed scores: 
Slow: a score of 1- 49 (4 seconds) 

Average: 50-89 (2.5 to 4 seconds) 

Fast: 90-100 (under 2.5 seconds) 
10Web guarantees that websites hosted on 10Web will automatically have a PageSpeed Score of 90 or higher.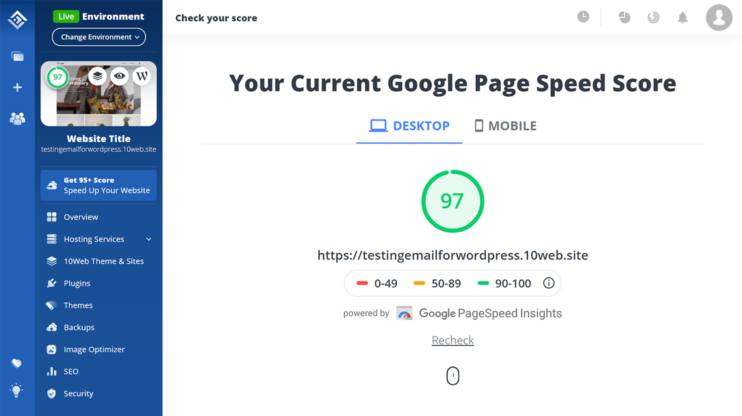 Provides the highest mobile score
Mobile website performance is just as critical as desktop website performance when perusing through websites. 10Web hosting provides a smooth and swift operation and experience for mobile visitors and promises a PageSpeed Score of 90 or higher, without any manual work. 
Elasticity/Scalability
10Web hosting distributes website traffic load within its Google Cloud Premium Tier Network. This process ensures that your site is equipped to manage traffic flow without any downtime or loss of speed, even during traffic spikes. If you do experience unexpectedly heavy traffic and activities beyond the range of your resources, 10Web hosting provides excellent elasticity or scalability services and therefore adjusts the website resources to match the resources required. 
Elasticity or scalability is the capacity to increase the number of resources provided to users by the hosting provider to ensure smooth website operation.
Scalability is vital especially when your website traffic flow unexpectedly skyrockets. If scalability isn't provided, your website will be ill-equipped to tackle the unanticipated surge in traffic and activity. What should have been welcomed news now becomes a concern as your website speed slows down or causes errors, negatively impacting the user experience and your reputation. 
10Web offers exceptional elasticity and flexibility in both resources allocated and services provided.
10Web provides automatic scalability in such events, ensuring that your website does not lose performance while alleviating the need to manually update your hosting plan, which may take time and effort. 10Web also offers elastic scaling, meaning there are no hard limitation restrictions.
10Web charges a small extra fee at the end of the billing month for the additional resources allocated. 
Here are the numbers: 
For every 10,000 additional visitors, 10Web will charge an extra $2 at the end of the billing month.

Your SSD storage is limited (from 5GB to 50GB) and depends on your plan. 10Web will charge an extra $2 a month for every additional 5GB SSD storage. 

Free backup storage is provided. With 10Web you will receive free cloud storage in Amazon S3 and an additional 20GB for backups. 10Web will charge an extra $2 a month for every additional 20GB of backup storage.
PHP configuration 
10Web hosting employs the latest version of PHP, the WordPress server programming language. The PHP version matters for the security and speed of your website. 10Web offers the latest versions of PHP (and older versions, if needed), which can be activated by default. Changing the PHP version is a single-click experience, if needed.
The following PHP configurations are offered: 
The default

post_max_size

is 128MB.

The default memory limit is 256M.

The default size limit for uploading files is 128MB.

The default

max_execution_time

is 300 seconds.
The best hardware resources (RAM, SSD)
Your hosting provider's hardware resources are critical for your website performance and speed, especially if you use a content management system. SSD and RAM are two of the most important resources to consider. SSD storage enhances your website load capacity and increases the rate of data transfer. RAM stores data for a period of time and transfers instructions to the CPU. The higher the quality of your RAM, the faster the transfer and execution speed.
10Web provides 1GB RAM with an additional swap file storage. Additional hardware resources such as RAM and CPU can be devoted automatically on an as-needed basis. 
Depending on the 10Web hosting plan you will receive SSD storage and additional 20GB of storage for backups, free of charge. 
Here are the hosting plans with their SSD capacity: 
The Personal Plan provides 10GB SSD storage 

The Premium Plan provides 15GB SSD storage

The Agency Plan provides 50GB SSD storage
The Essential Hosting Security
Security is of utmost importance at 10Web. 10Web offers qualified and resilient cyber security measures for your website, from data protection of personal information to bank account information.
10Web hosting utilizes cloud hosting with Linux container technology, which provides every individual user an isolated container, protecting data and resources from bad neighbor effects, and preserving user information privacy.
10Web also has an SSL certificate for added security and defense. It uses a cryptographic technique to encrypt the data transfer between the website owner and the server, and between the server and visitors' browsers.
Our security measures are also developed around the WordPress content management system (CMS) to ensure that your website receives the most effective security approach. 
10Web hosting plan also provides unlimited malware and vulnerability scans, and consistent monitoring and vigilance, for any security breaches that might happen.
Free automated or manual website check-ups, audits, and scans are also available. 10Web offers built-in login limitations, scans for vulnerabilities and file changes, DDoS protection, as well as the restoration of already hacked websites to provide you with ease of mind. 
In case of any concerns, 10Web's system administration team is available 24/7 for all your security needs. 
Enjoy the highest security with 10Web hosting: 
Constant monitoring and support 

A free SSL certificate

Built-in login number limitations

Vulnerabilities and file change scans

DDoS attack protection

Full and fast restoration of hacked sites
Real-time Backup
Hosting with automated backup is essential for any professional and reliable website owner. Automated backups are one of the few ways to ensure full and fast restoration of your data. As website content is constantly altered and updated, to maintain these changes and modifications, consistent and routine updates and storage of the most current files are critical to avoid losing valuable content, time, and resources.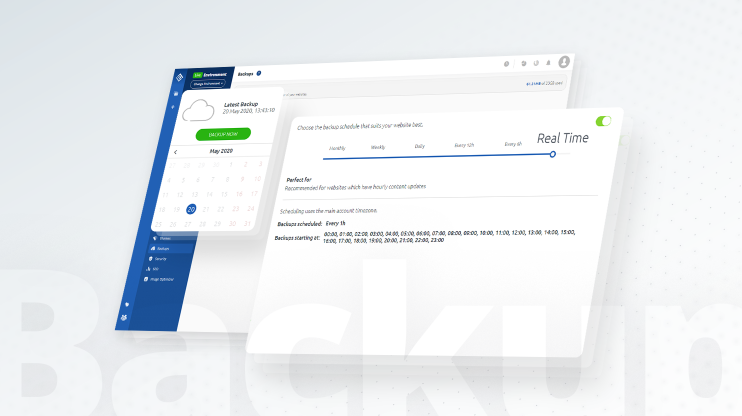 10Web allows scheduling of automatic backups starting from Monthly backups to Real-Time backups.
With 10Web's real-time differential backups, you can choose to schedule backups on an hourly basis, in other terms "real-time" changes to your content will be automatically saved and retained. You can also select whether you need a full backup or a backup of only the database and files. 
Through a technique called differential backup, only alterations that have taken place after the last backup are saved. This technique offers the most efficient and swift method of data backup and storage and most importantly does not have any negative influence on your website speed or performance. Storage is an important component of any backup solution.
10Web utilizes cloud storage in Amazon S3 and provides separate backup storage of up to 20GB free of charge. 
In backup services, four components are essential: functionality, reliability, storage, and automation. 
Let's explore them.
Functionality. Ensure that the backup service you choose can securely and properly create a copy of your website data and store it safely on the cloud. 

Reliability: You must be confident that in case of need, your website can be quickly and easily restored with the most updated version of your site. Your backup solution must always store the latest version of your website. Scheduled backup can never fail. 

Storage: Website alterations are ever-present. Your backup solution must provide enough storage space for the myriad of copies of your site. A technique that is efficient and effective in minimizing the use of storage format and space must also be present. 

Automation: You must have the option to schedule automated backups on a real-time, daily, weekly, or monthly basis.
10Web securely stores copies of your website data on its cloud for fast retrieval of the most updated version of your site upon request. Its reliable algorithms ensure that backups are never missed and are stored in the most efficient format and manner on its backup storage disk with ample space. All these processes are conducted automatically without any manual intervention from you. 
We cannot stress enough that 10Web's backup solution is an integrated service and is automatically optimized to perform in unison with the 10Web platform, ensuring high speed and optimal performance of your website.
All-in-One Dashboard and Multisite Support
10Web hosting is designed with everyone's needs in mind. Whether you are a prospering agency with unlimited clients or a developer juggling multiple projects, 10Web's all-in-one dashboard and multisite support will provide the features you need to ease your work and management process.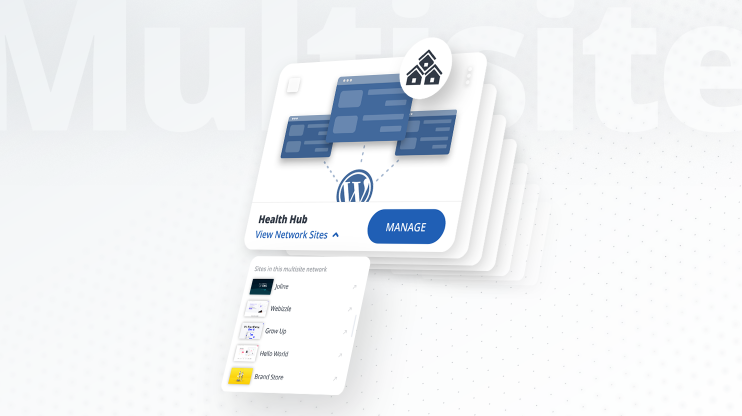 10Web dashboard offers numerous features for single or multisite projects. Managing numerous individual websites has never been easier. Forget about altering settings individually for each website. Our dashboard is designed for fast and easy access to essential website elements, and the use of shared plugins, themes, and users for multiple websites.
Furthermore, WordPress updates, installations, and management of plugins and themes can be done through the dashboard with a single click. The most widely used and essential services such as backups, SEO, and security can be found and easily accessed from the dashboard. 
Staging Environment
A staging environment is simply an identical copy of your website. On this copy, you can test out changes, updates, and optimization algorithms ensuring that nothing can break your website. A staging environment can even support you with visualizing experimental elements of your website to better communicate your vision, and quickly conduct edits and changes, all while maintaining your original website as is, without sacrificing its quality, reliability, and security. 
10Web hosting utilizes a staging environment to ensure the reliability and proper performance of your website. It enables you to test your website and its changes before it goes live. This way you can avoid any content errors, faulty features, malfunctioning visual elements, or technical failures. You can test your website performance fully in our staging environment, ensure failproof functionality and only then serve your website live. 
10Web allows for effortless syncing of the staging environment and the live site. Easily push changes made in your staging environment and make them live with a single click. 10Web also enables syncing or pushing into production selected files or databases. 
White Labeling
10Web hosting services and products come with white labeling features to provide you with the ability to "resell" 10Web hosting services under your brand. Yes, it's similar to rebranding 10Web's services and products and presenting these offers to your clients under your brand name.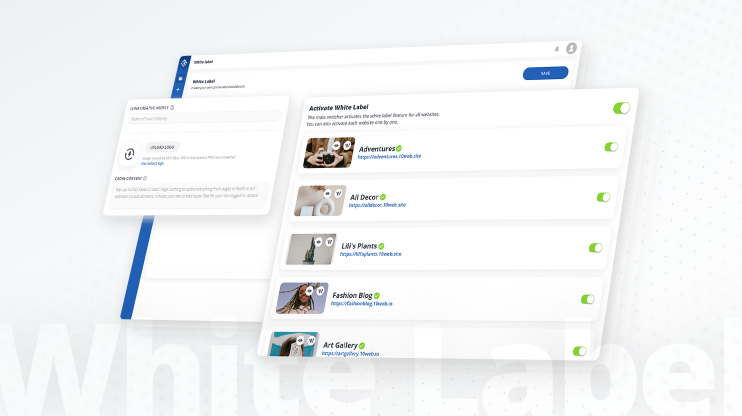 With the Agency Plan, you can gain access to all our core tools from WordPress admin and dashboards to 10Web Manager, AI builder, and others, and can include your brand name and logo as you offer these products to your clients. 
SEO
Search Engine Optimization must be a top priority for any website owner. Google's obsession with website traffic and its impact on rankings cannot be ignored as long as you care about the success of your website.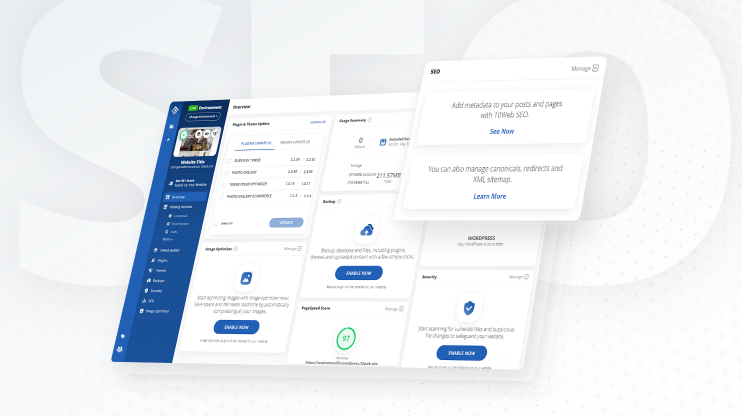 10Web WordPress hosting offers SEO services, which include custom metadata, an XML sitemap, canonical URLs, search analytics, redirects, and more.
10Web SEO services aid to analyze past performance, identify shortcomings and room for improvements, and based on this analysis, provide a guide on optimization of your website.
Support
Customer care and support is an essential component of any hosting. 10Web takes customer service very seriously. We provide effective and fast solutions to any hosting problem. You can rest assured that you have a professional team of excellent experts at your disposal in case of any issues, concerns, or questions.
At 10Web, it is the responsibility of every employee to provide solutions to customer needs. Yes, you will receive solutions directly from our experts and engineers.
Our customer care services are available 24/7 through our live chat, no matter if you are a free or paid tier customer. 
10Web also has a myriad of resources, including glossaries, documentation, tutorials and demos, pop-up panels, and blogs to help further your understanding of our products, including hosting. 
10Web is also proud of its community and network of experts and clients. Take advantage of our Facebook communities and connect with like-minded individuals and experts to discuss WordPress-related news, innovations, updates, and issues. Ask questions, receive the latest updates, share tips, and be the first to know about community roundtable discussions and webinars.
Receive VIP customer support with the 10Web Agency plan. Client care is available 24 hours a day, 7 days a week, and 365 days a year. We also provide a Slack channel allocated for the specific needs of agencies. Our outstanding experts and management team will alleviate and provide answers to any issue or concern. 
Pricing
We strive to provide high quality for an affordable price. You will no longer have to resort to shared hosting and deal with its shortcomings, like lack of security and reliability, slow page speed, and inconsistent support, because of your financial restrictions. 
10Web offers powerful hosting and its automated WordPress Platform on an affordable plan. You can host one website for only $10 a month. The fee for hosting multiple websites is even more affordable. For 10 websites or more, you can obtain hosting for a monthly fee of $6 per website. 
Choose 10Web Hosting!
With 10Web hosting you will automatically achieve a 90+ PageSpeed score, pass Core Web Vitals, and improve a website's Google ranking. What these metrics really mean is greater user satisfaction, lower bounce rate, and higher conversion; a successful website venture. 
10Web hosting has all the essential and superior features and management services of a powerful host. It also has services and products, such as its AI-powered website builder, white labeling, staging environment, all-in-one dashboard and multisite support, highest quality hardware and software, and excellent customer care support to take your website and business to the next level. With automation processes, including security, backups, speed, SEO optimization, and elasticity, your website will be unstoppable. 
WordPress hosting that's fully automated
Host on 10Web's high performance infrastructure and enjoy all the benefits of a secure Google Cloud Partner hosting.