Over the past decade, the fashion industry has changed significantly to cater to a diverse global customer base. This has made it increasingly challenging to identify and recognize individual customers. On the other hand, advancements in communication allow users to easily participate in fashion trends, follow news, and make online purchases. 
Blogging has emerged as a popular form of online journalism, offering a personalized and interactive approach that differs from traditional media. Fashion blogs are considered a vital part of the fashion world, providing authenticity and insight into how the general public embraces fashion.
This article focuses on the 35 most influential fashion blog examples, exploring their strategies for attracting a large audience and the key characteristics that make a blog effective.
Example 1: Color Me Courtney
– Colorful lifestyle and style guide
Color Me Courtney is an exemplary addition to fashion blog examples. Color Me Courtney is a fashion and lifestyle journal authored by Courtney Quinn, a fashion enthusiast who is passionate about unconventional dressing and encouraging others to embrace their unique style.
The blog covers various topics, including skincare recommendations, destination reviews, and personal anecdotes. Below are some of the dynamic features that make this blog a visual treat:
Vibrant color scheme mirrors the blogger's joyful, eccentric, and lively personality.

Eye-catching images on the carousel, each linked to a relevant article.

Interactive 'Keep Reading' icons to facilitate user navigation to articles.
If you want to infuse your fashion blog with color and creativity, 10Web AI Website Builder can help you accomplish your goal. You can develop a blog that effortlessly mirrors your vibrant personality and showcases your unique fashion sense. With 10Web AI Website Builder, you can build entire websites 10x faster, leveraging the power of Artificial Intelligence, giving you more time to focus on curating captivating fashion content.

Get a head start on website creation with AI
Create a custom website tailored to your business needs 10X faster with 10Web AI Website Builder!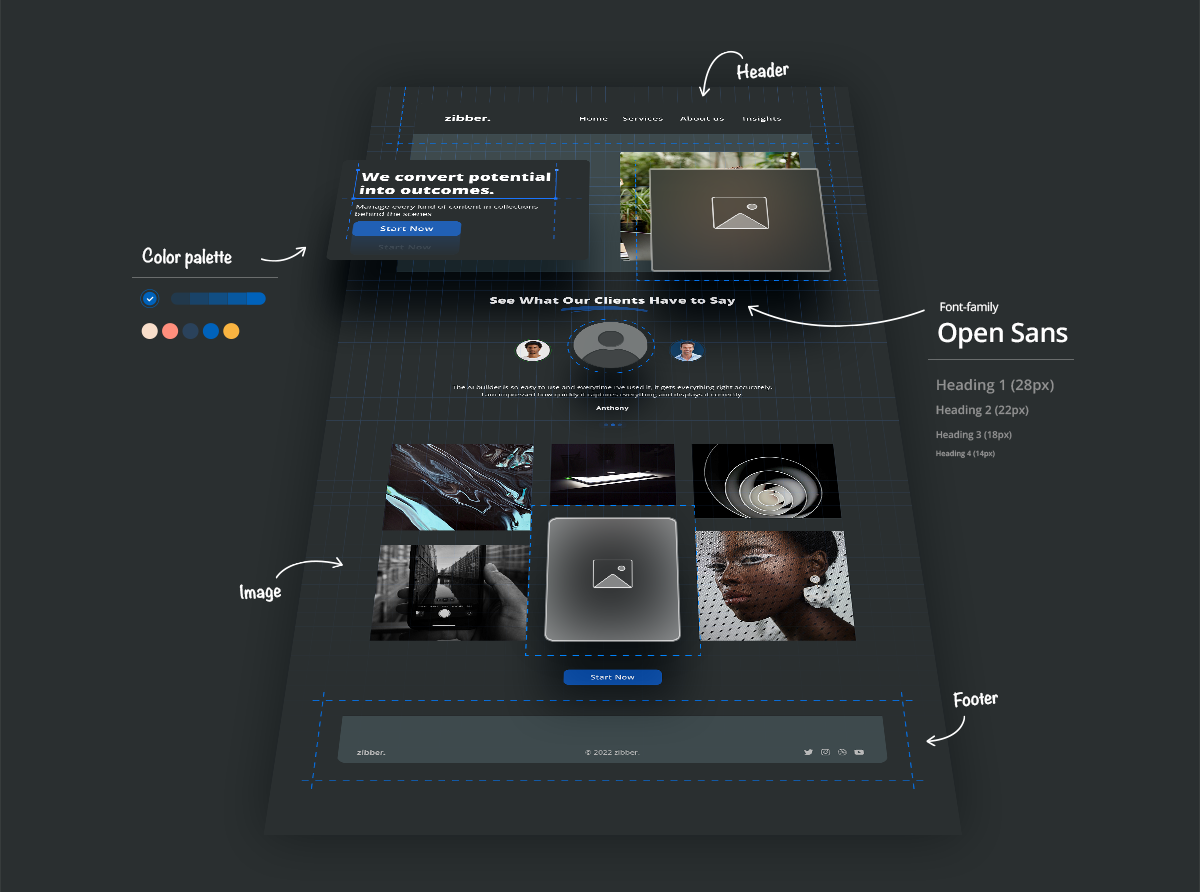 Example 2: Fashion Jackson –
Stylishly curated, user-friendly journey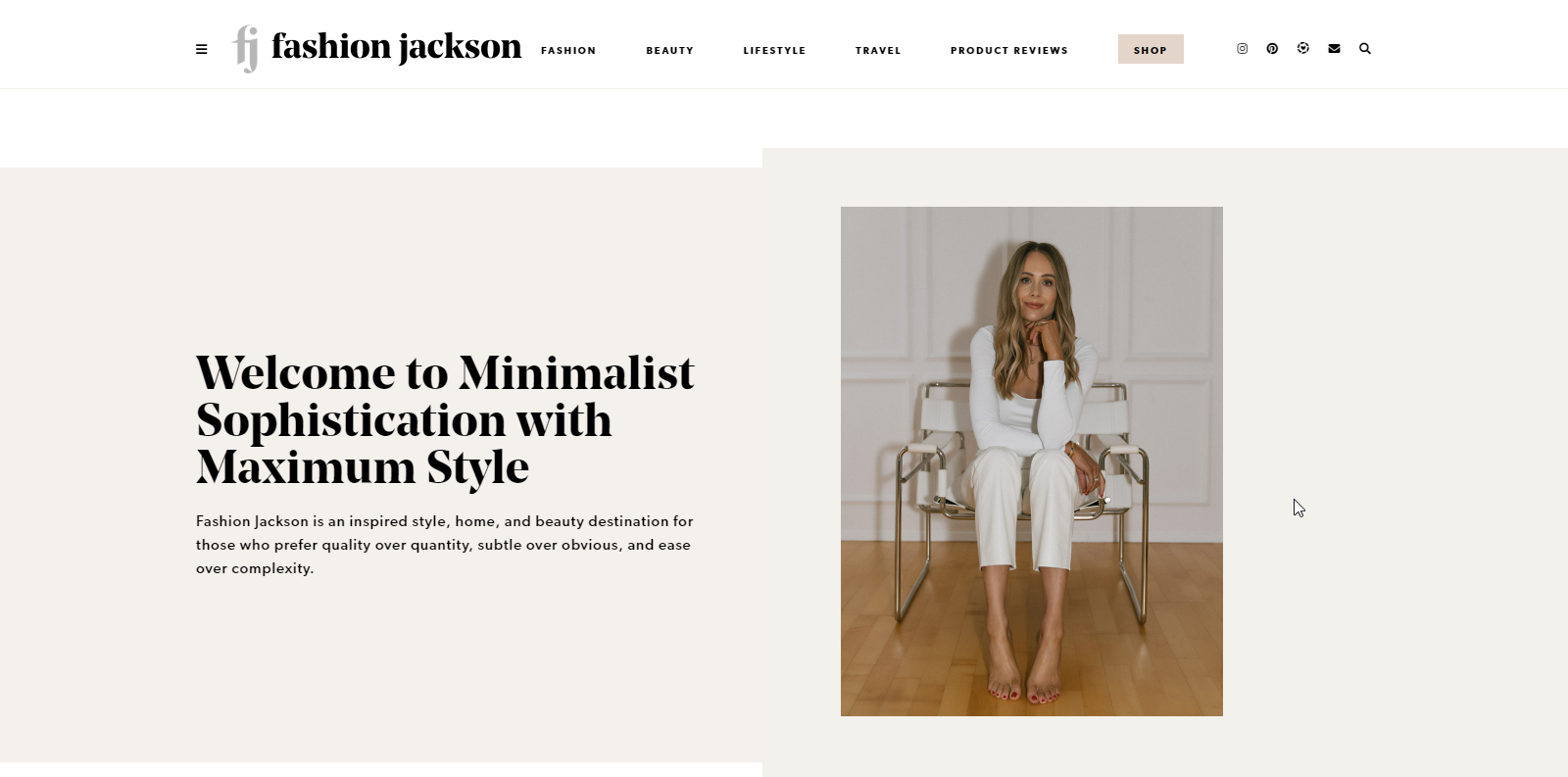 Amy Jackson, a renowned fashion blogger, shares her minimalist and stylish approach to fashion on Fashion Jackson, one of the top fashion blogs. Those who follow her blog receive daily outfit suggestions, product reviews, and travel packing tips for various locations.
Here are some standout features that make it an engaging and interactive experience:
The unique 'Dailies' carousel provides peeks into the blogger's daily life, outfit choices, and even home decor.

Immediate redirection to a brief blog post upon clicking on an image.

A carousel of product images within each blog post, each offering direct links to the related products in the online store.
Example 3: Sincerely Jules
– Visually rich, clickable style guide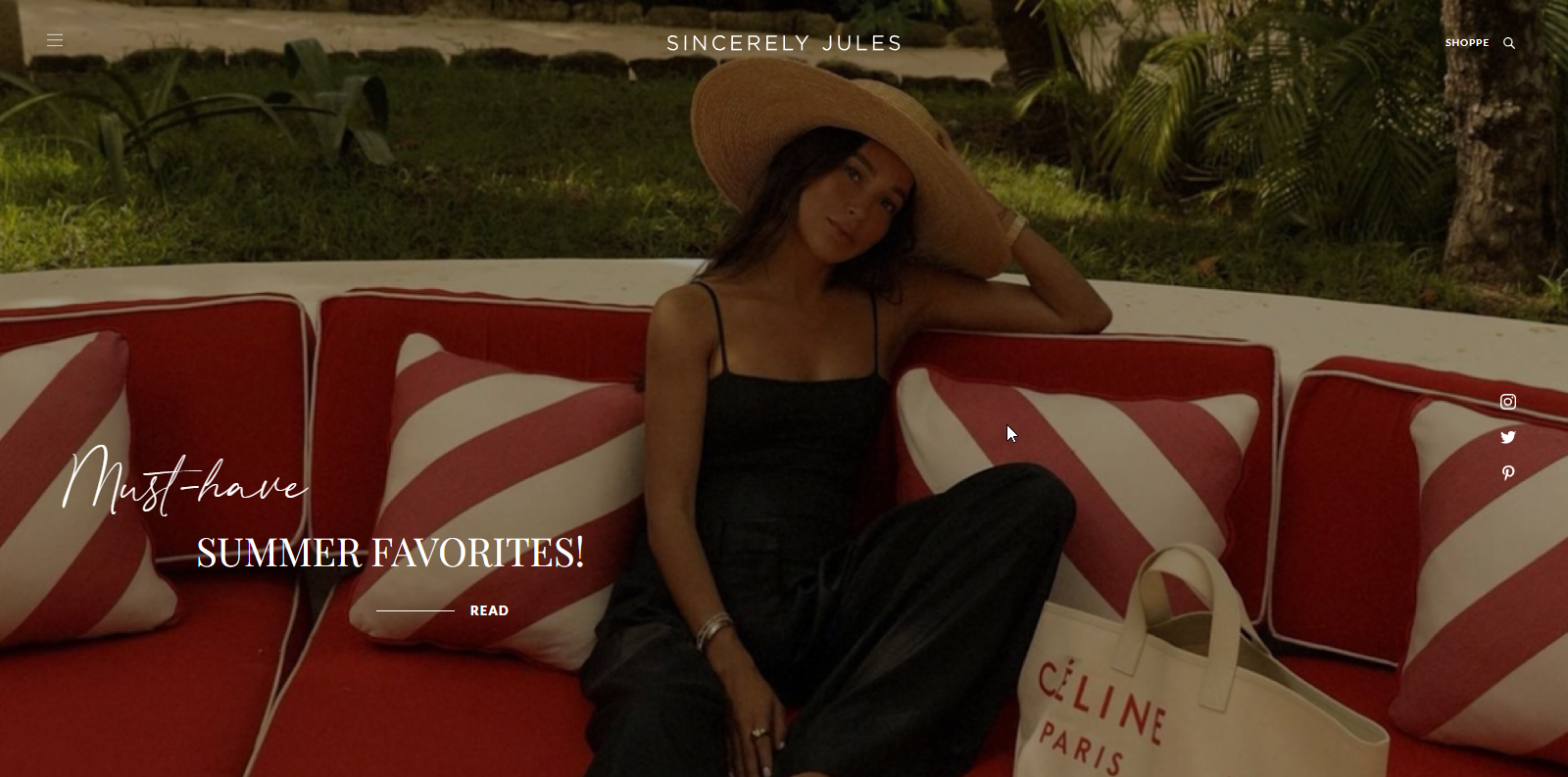 A prime example of captivating fashion blog examples is Sincerely Jules's trendy content and inviting visual appeal. This dynamic platform offers a wealth of inspiration, guidance, and reviews related to fashion and beauty. 
When discussing stellar fashion blog designs, here's a peek into the standout features of the blog that elevates the user's browsing journey:
Engaging full-screen image that captivates visitors immediately upon arrival.

Convenient sliders that showcase the blogger's outfits.

Interactive feature to click on a specific outfit item.

Easy redirection to an online store for a hassle-free shopping experience.
Example 4: The Blonde Salad – Iconic fashion, intuitive shopping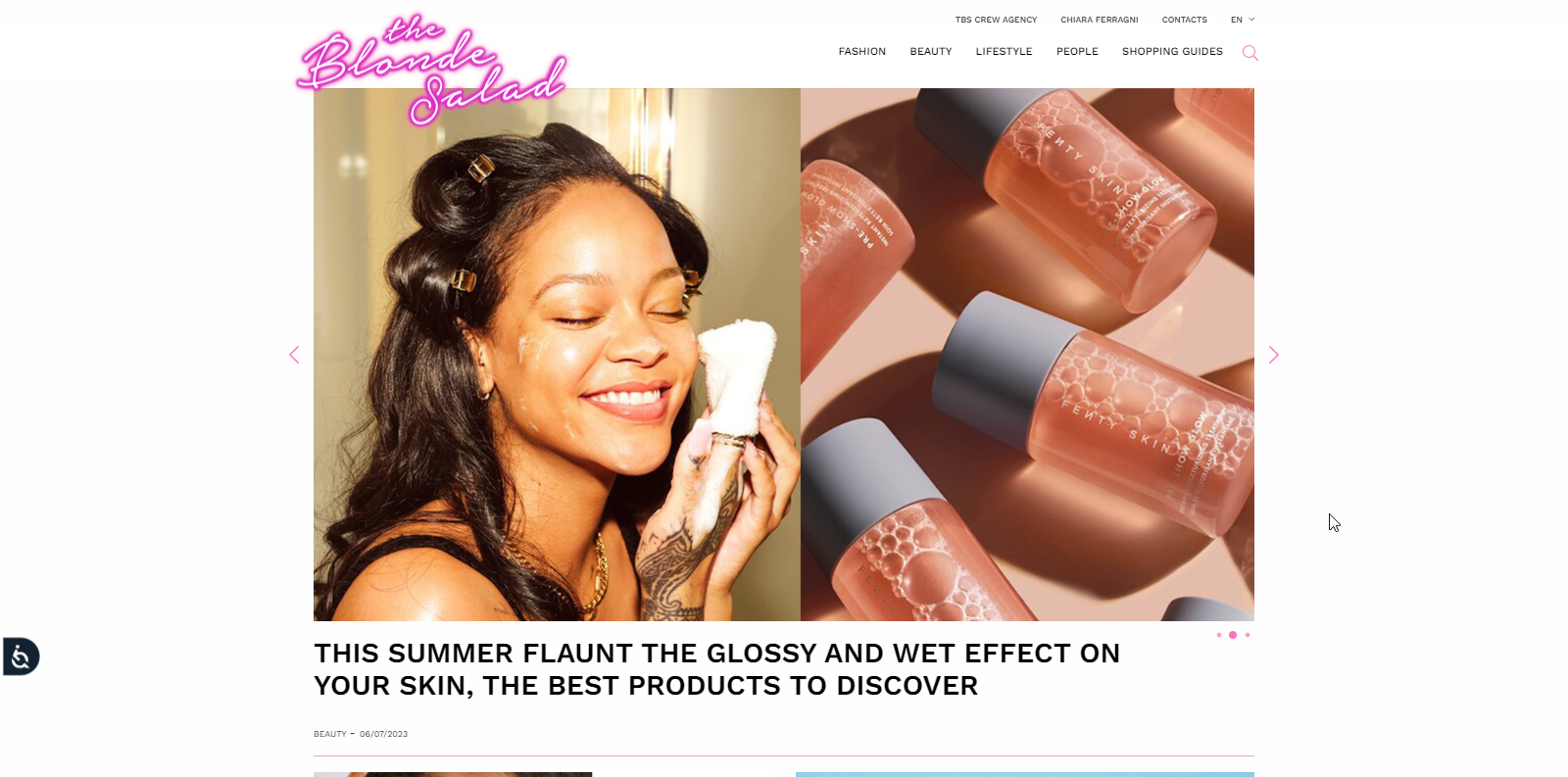 Chiara Ferragni, the world's most influential digital entrepreneur, is known for starting The Blonde Salad, one of Italy's pioneering fashion blogs. In 2013, she expanded her brand by introducing the Chiara Ferragni Collection, offering a wide range of fashionable apparel, accessories, and footwear.
Here are some standout features that make this site an engaging and interactive experience for its visitors:
Modern, attractive logo and stylish font.

Integrated product catalog for easy shopping.

Easily accessible contact information and language preferences.

Visually striking first-page slider with scrolling images.
Example 5: Zagufashion
– Trend-focused user-friendly fashion hub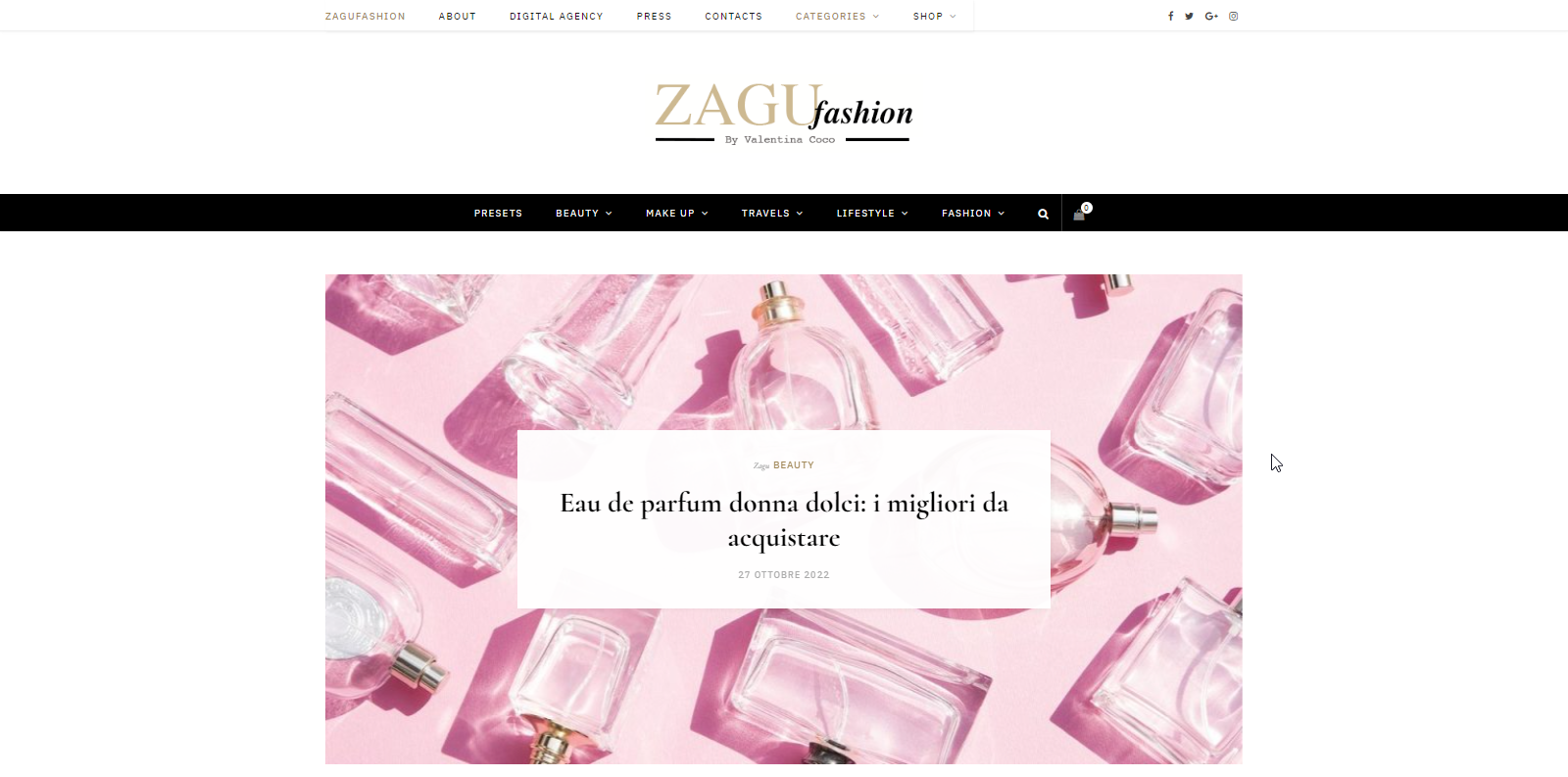 Zagufashion is one of the brilliant fashion blog examples focusing on fashion trends, style, and travel. Her expertise extends to evaluating cosmetics brands and offering product recommendations.
Here are some standout features that make Zagufashion's website an engaging and interactive platform for its visitors:
Streamlined layout with dedicated tabs for various categories.

Integration of content from popular brands for diverse product exploration.
Example 6: He Spoke Style – Dapper design, interactive men's hub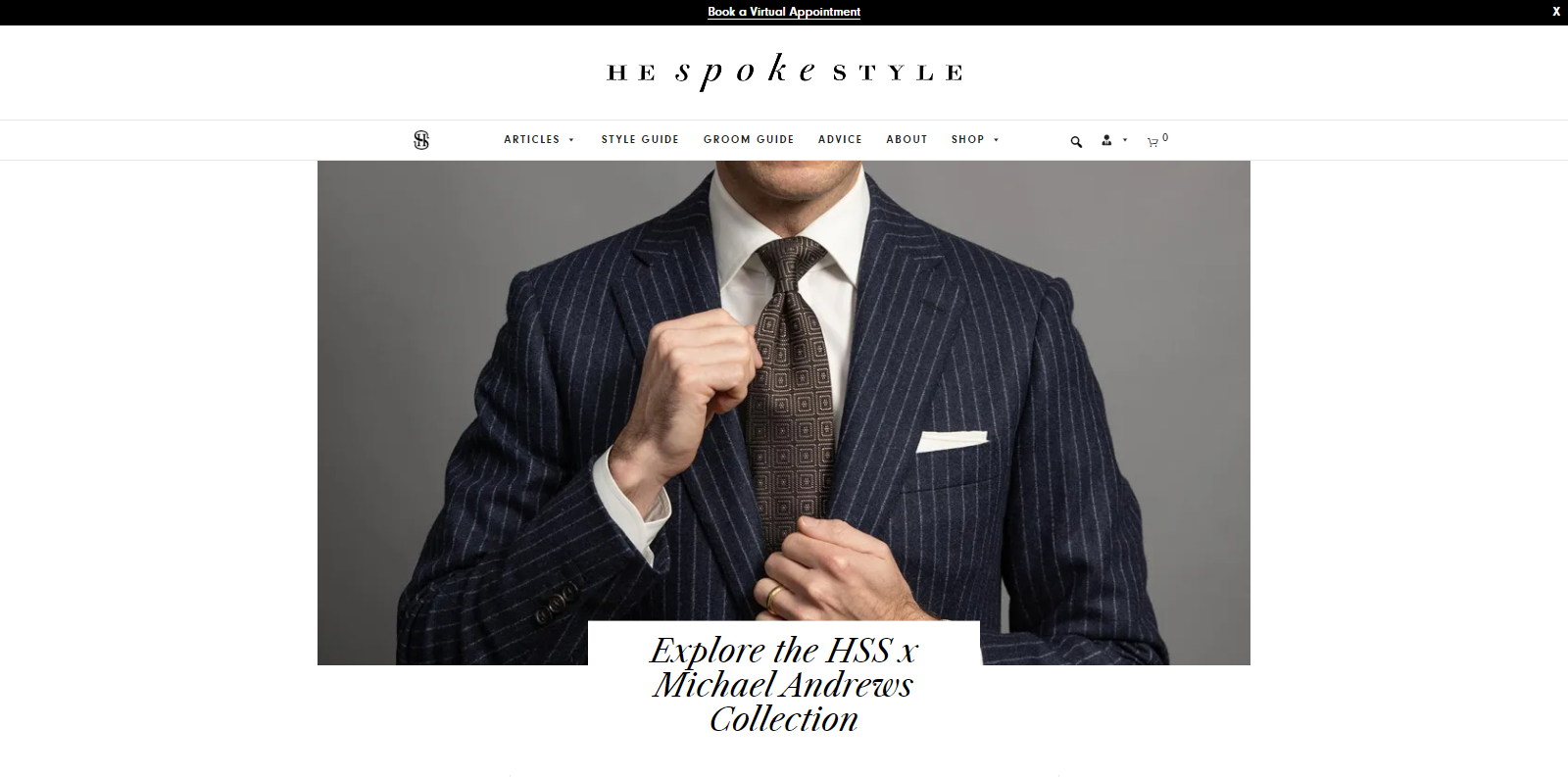 He Spoke Style is one of the notable fashion blogs dedicated to men's fashion. Alongside articles on men's style guides and fashion trends, the blog covers lifestyle-related topics such as alcohol and cigars.  
It captivates readers with its unique features that include:
Luxurious serif font for the title, highlighting style inspiration.

A grand image featuring a suit brand collaboration.

A strategic design to boost clicks on the featured post and enhance readership.
Whether you're a dapper gentleman or a fashion-forward blogger, 10Web AI Website Builder can help you build a stylish and refined fashion website that resonates with your audience and makes a statement in the fashion world. Moreover, you can utilize the AI Assistant to generate SEO-optimized content.

Example 7: Guy Overboard – Body-positive fashion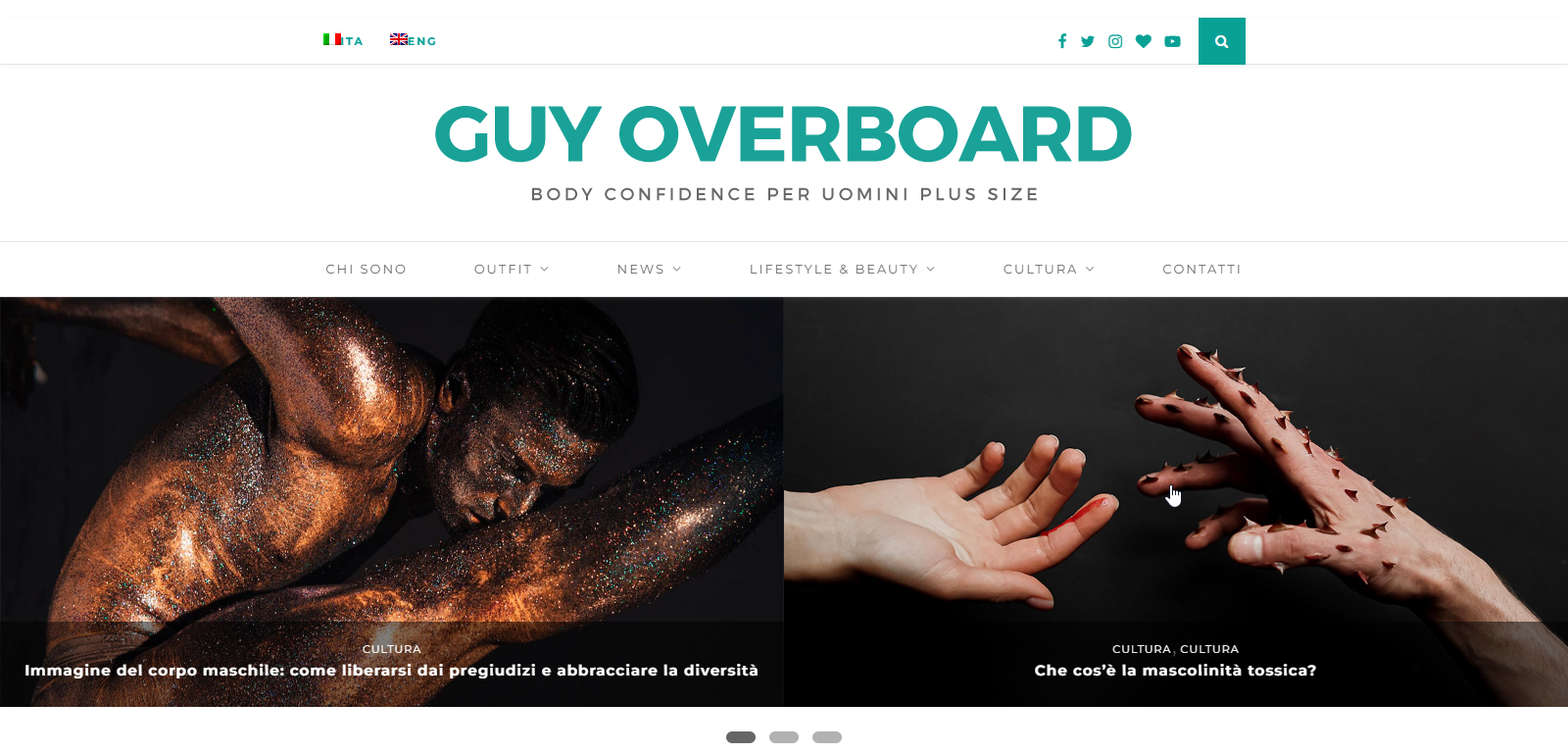 Guy Overboard, an exciting fashion journal for plus-size males, is revolutionizing the industry by promoting body positivity. Riccardo Onorato created this journal to showcase the latest fashion trends.
Here are some standout features that contribute to an engaging browsing experience on the Guy Overboard blog:
Unique 'Culture' section providing insights into art, events, and trends.

High-quality, attention-grabbing images that enhance the visual appeal.

Integration of social media channels for increased reader connectivity.
Example 8: Vogue – Sleek layout, seamless navigation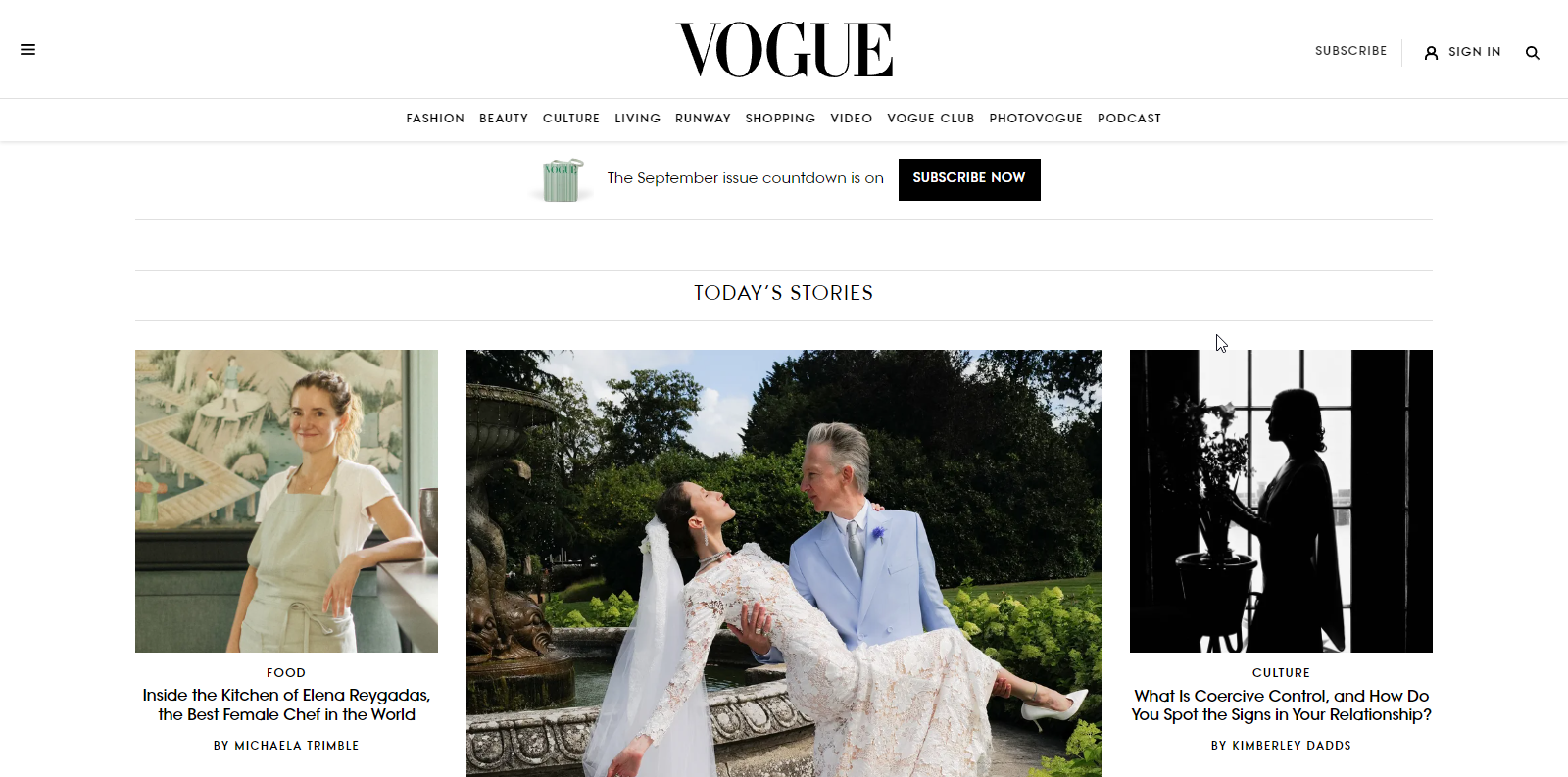 As a pinnacle in fashion blog examples, British Vogue outshines many with its impeccably structured layout and explicit calls to action. Aside from fashion and beauty, Vogue Blog covers art, music, lifestyle, runway, shopping, news, and videos. In addition, there are sections dedicated to the Vogue Shop and the Vogue Club.
Here are some standout features that make the website an engaging and easy-to-navigate experience for users:
Efficient display of top stories for dynamic fashion insights.

Event calendars for easy tracking and ticket purchasing.

Regular updates of Vogue's monthly cover, highlighting style trends.

Carefully laid out segments with news specific to each section.
Example 9: Elle – Emerging trends, industry news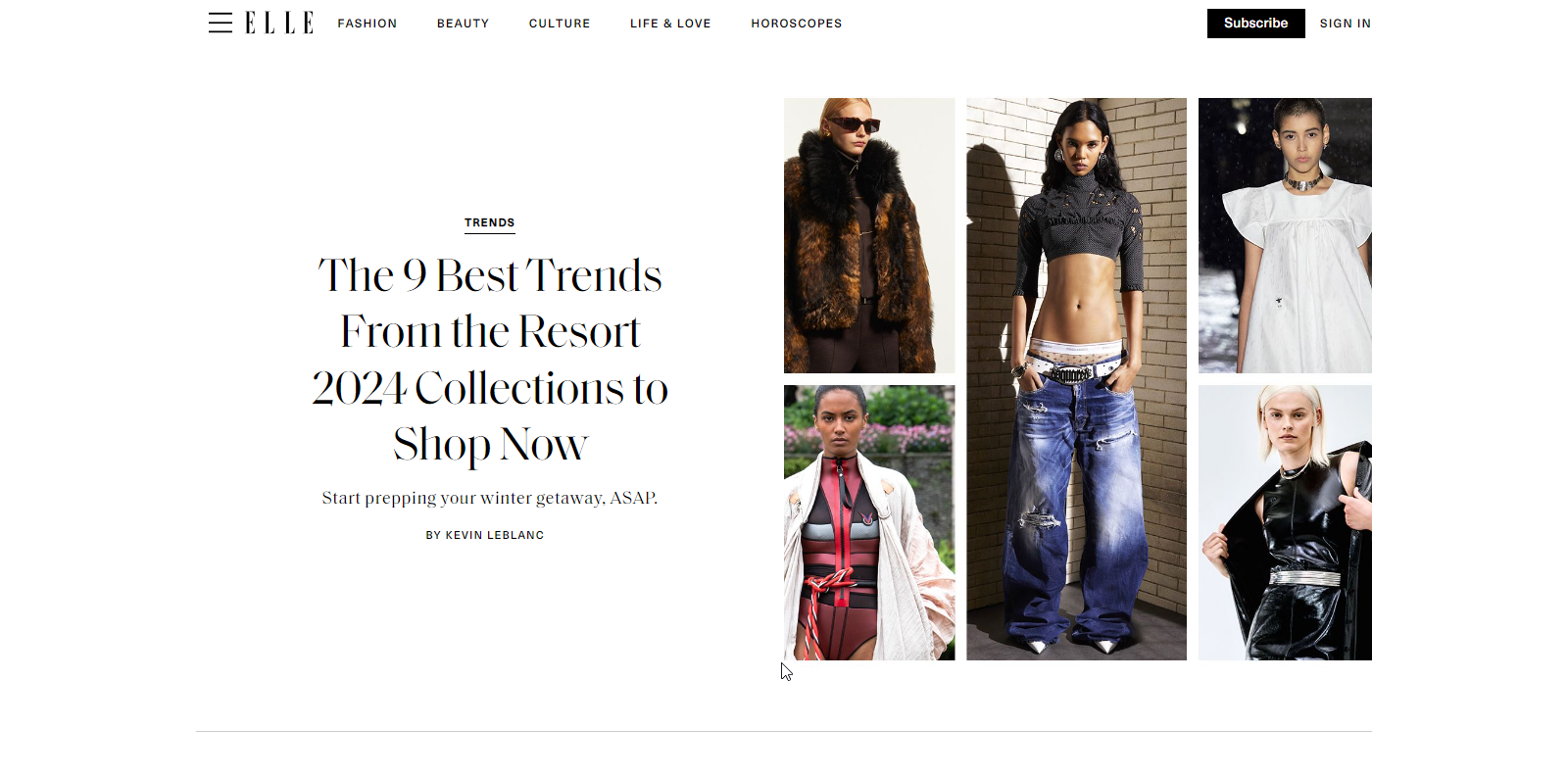 The Elle website stands as one of the outstanding fashion blogs in the industry, known for its exceptional coverage of emerging trends and industry news.
Here are some standout features that make Elle's website an engaging and user-friendly experience:
Clear content hierarchy and an uncluttered layout for improved readability.

Seamless integration of videos into blog posts for a dynamic media mix.
Example 10: Manuella Vitulli – Creative logo, interactive maps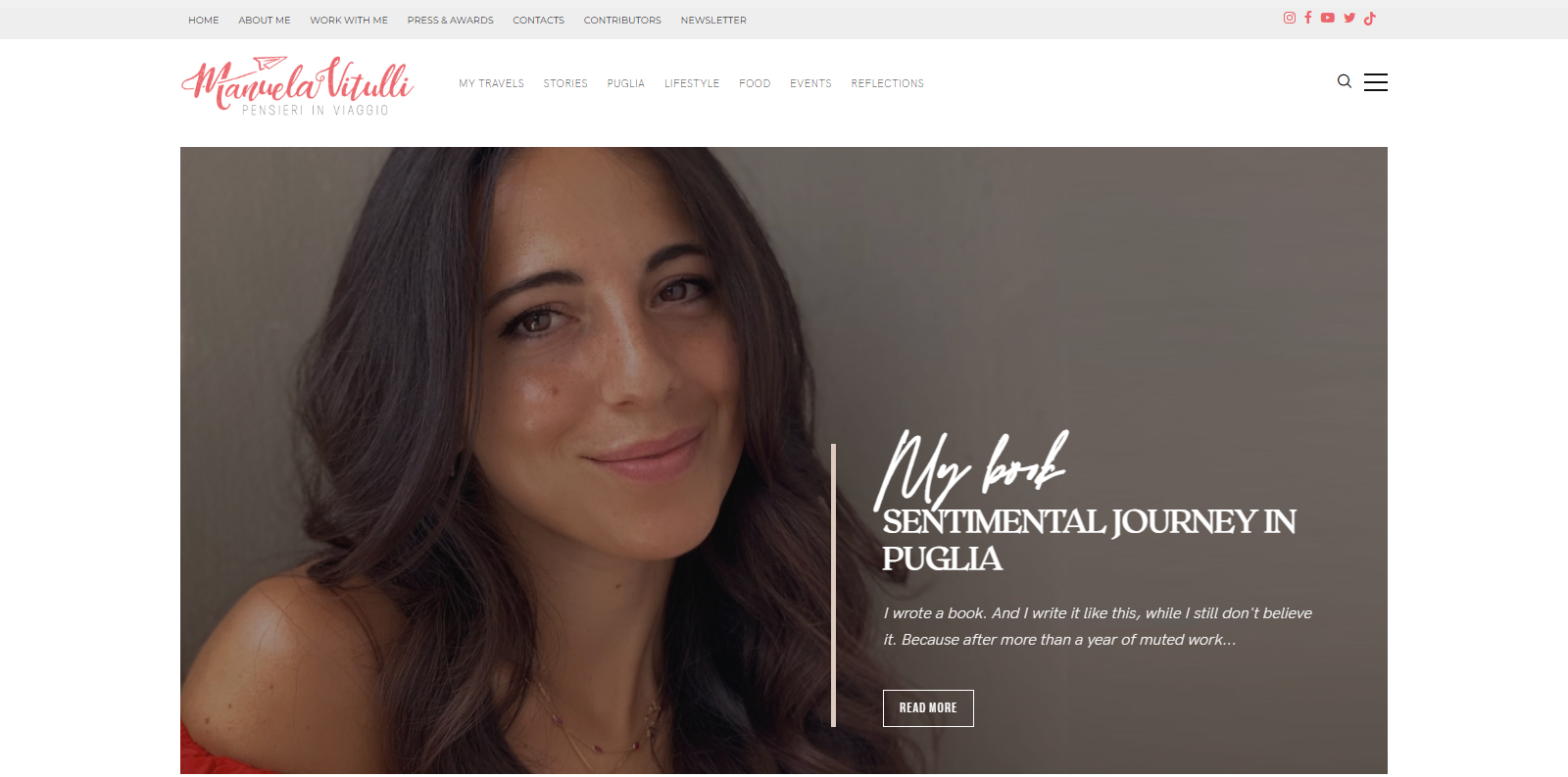 Manuella Vitulli Pensieri in Viaggio is an engaging blog catering to travel and fashion enthusiasts. This blog covers various topics, including travel, lifestyle, fashion, and cuisine.
Here are some standout features that make the website an engaging and interactive experience:
Well-structured layout with a clear application of User Interface (UI) principles.

Creative logo with fashion-inspired fonts and travel-related symbols.

Integration of interactive maps marking the blogger's travel locations

Related Articles
Example 11: Inthefrow – Dynamic display, engaging images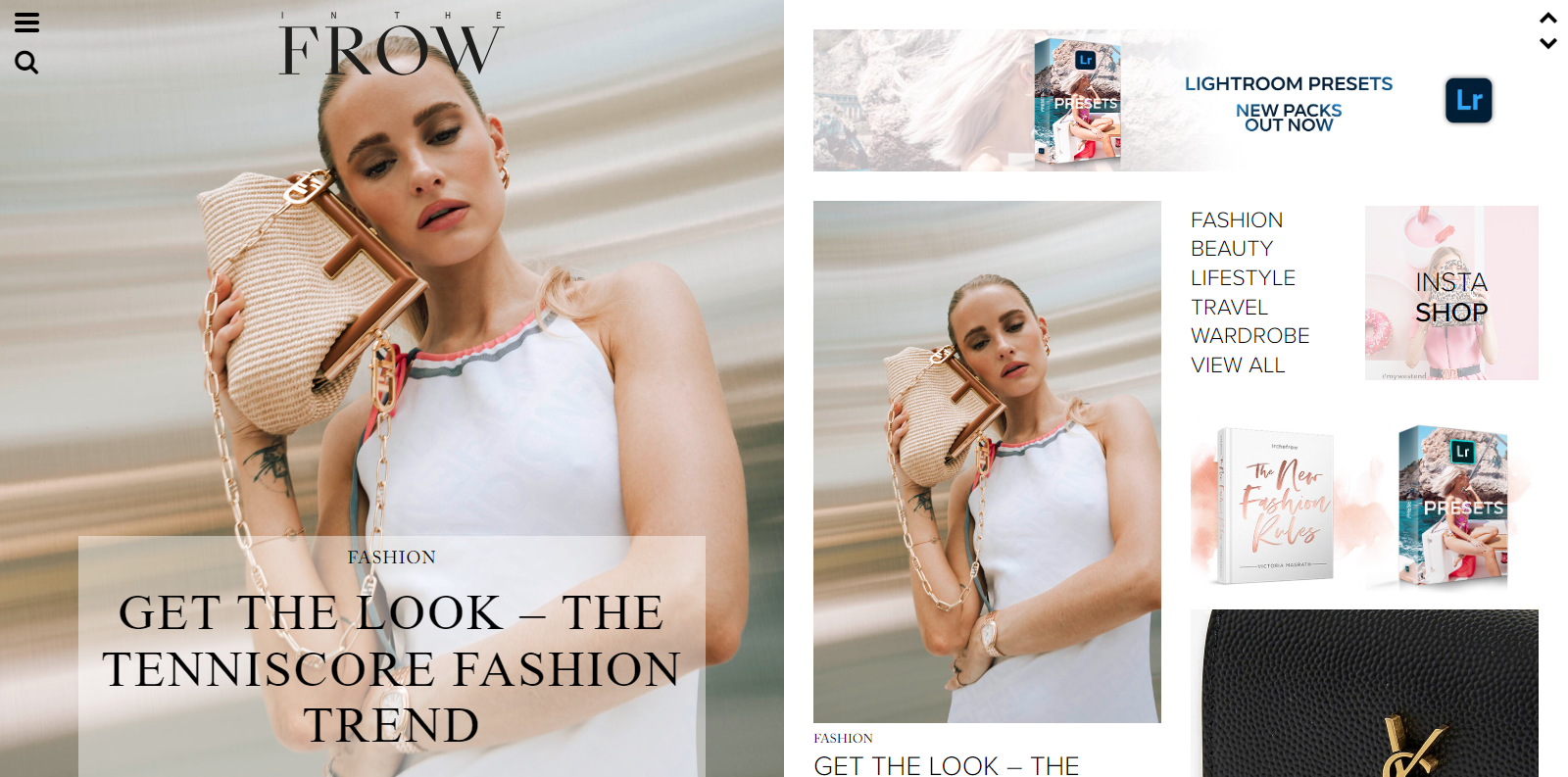 Inthefrow, a fashion blog curated by Victoria Magrath, an accomplished fashion Ph.D. holder, has thrived since its launch in 2021. As one of the more versatile fashion blog examples, this blog goes beyond high-end fashion, covering everyday styles and cosmetic trends as well.
Here are some standout features that make Inthefrow's website an engaging and interactive experience:
Captivating layout with an immersive scrolling experience and dynamic display of blog images.

Strategic use of high-quality photographs to enhance visual appeal.

Personal branding with the blog owner's images using various products to build credibility and trust.

Comprehensive list of social media links in the footer for easy connection on different platforms.
Example 12: DisneyRollerGirl – Visual appeal, intuitive navigation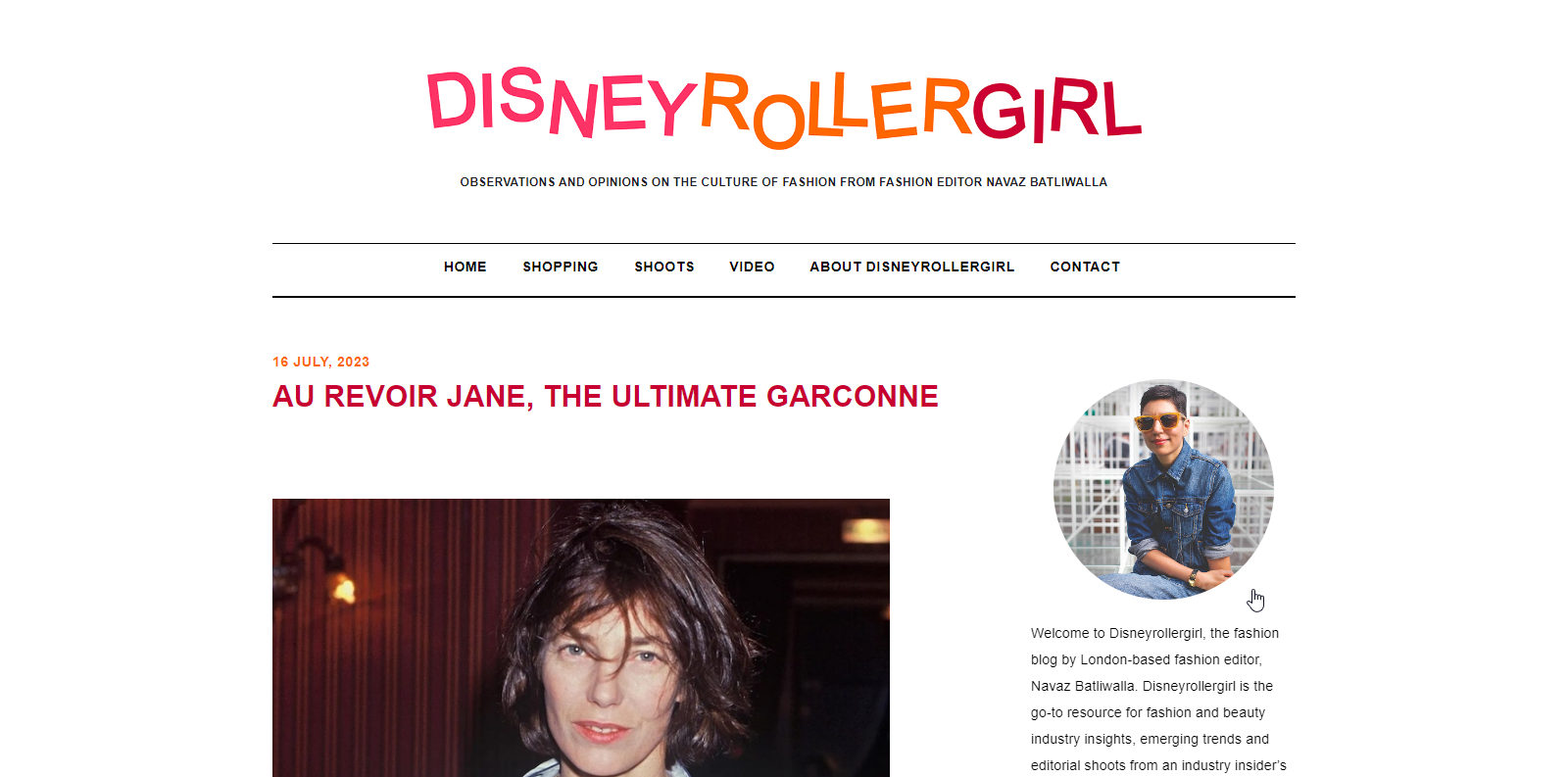 DisneyRollerGirl is a highly recommended fashion blog by prominent publications such as the "Financial Times" and featured in "The Times: Top 40 Bloggers Who Really Count." Behind this influential blog is Navaz Batliwalla, a fashion editor and author based in London. She launched DisneyRollerGirl in 2007, providing valuable fashion and beauty advice ever since.
Here are some standout features that make DisneyRollerGirl's website an engaging and interactive experience:
Unique and visually pleasing logo reflecting the site's aesthetic appeal.

Exceptional reading experience with high-quality images and a well-organized portfolio.

User-friendly navigation through the top menu, allowing easy exploration of diverse content.

Seamless integration of a shopping catalog within blog posts for convenient product discovery and purchase.
Example 13: That's Not My Age – In-depth coverage, unique perspective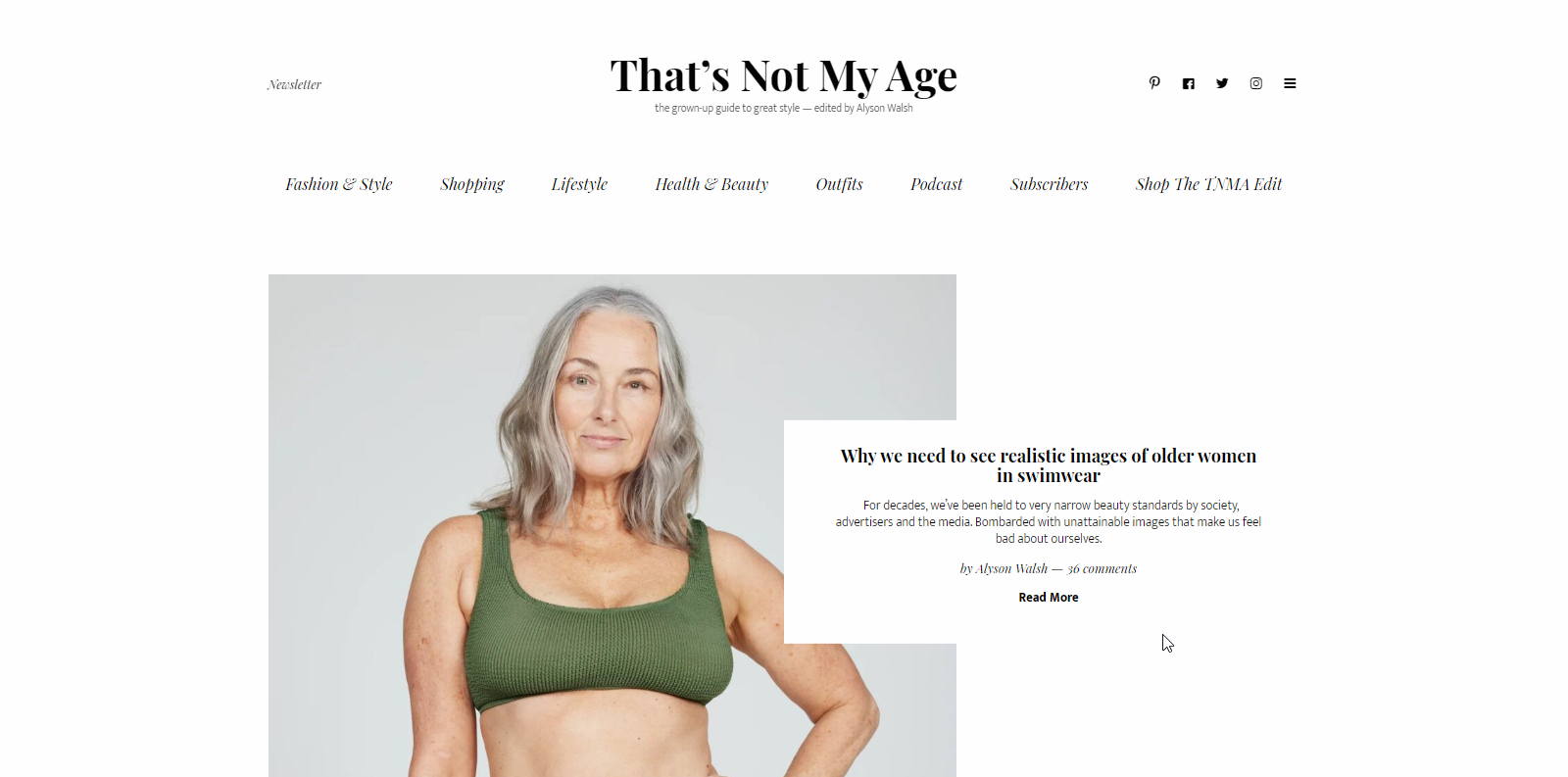 Alyson Walsh's blog, That's Not My Age is one of the most prominent blogs in the fashion industry. Since 2008, this fashion blogger has offered expert advice on timeless fashion. Alyson also shares her experiences regarding women's health on her blog.
Here are some features that make Alyson's blog an engaging and interactive experience:
Provides in-depth coverage of fashion, lifestyle, health, and beauty topics.

Featuring older individuals enhances the blog's uniqueness.

Effective use of whitespace for enhanced readability and aesthetic appeal.

Stylish font style contributes to the blog's overall visual attractiveness.

Simplified and consistent blog post overviews, complemented by relevant imagery.

Easy access to social media profiles with links conveniently located on the top right-hand side of the website.
Example 14: Ape to Gentleman – High-quality content, inspiring recommendations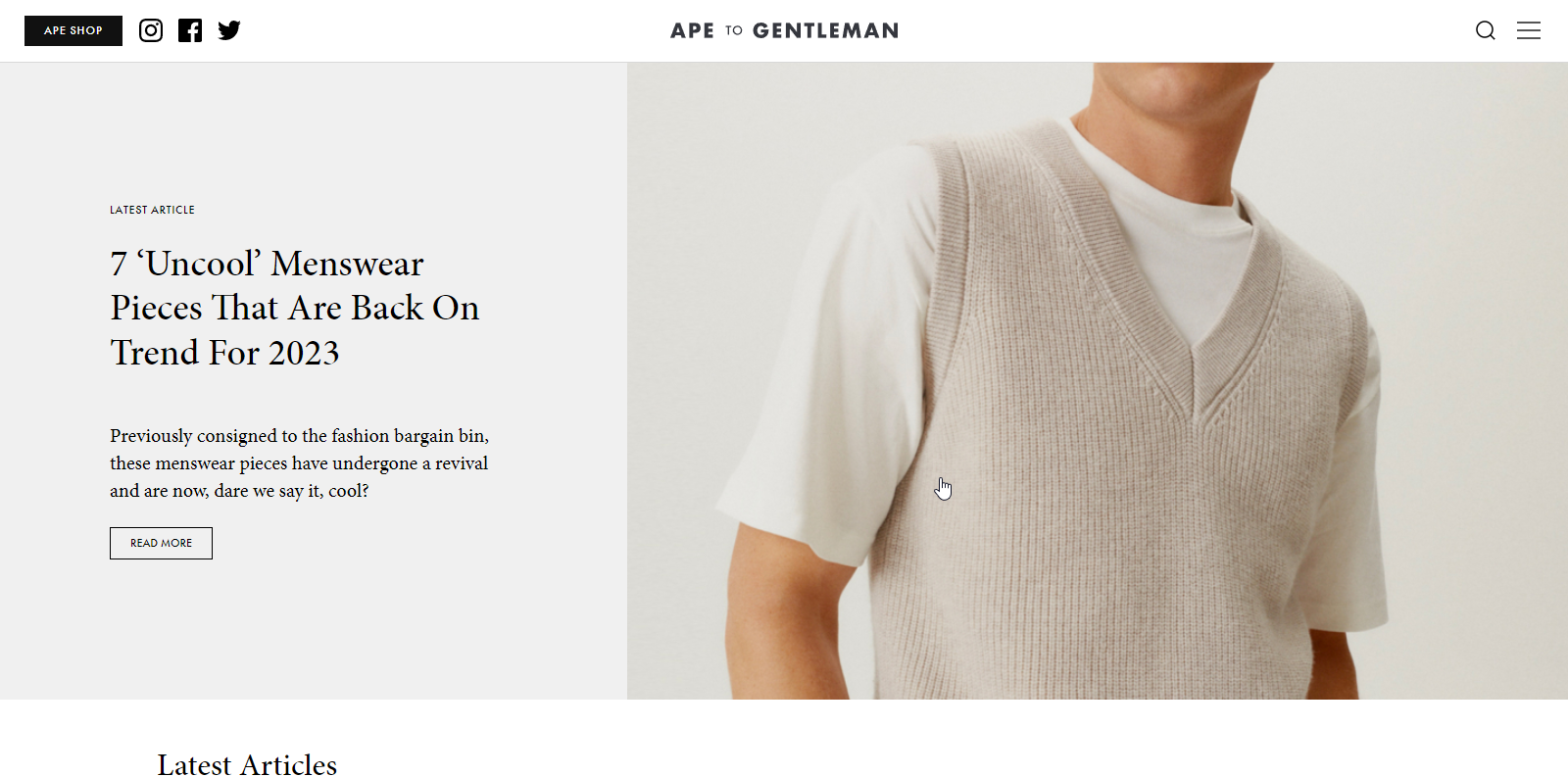 Ape to Gentleman, founded by Chris Beastall in 2009, is dedicated to bringing timeless style to modern fashion and lifestyle. This influential fashion blog offers valuable advice on men's fashion trends and grooming techniques. Along with providing watch reviews and car recommendations, Ape to Gentleman covers a wide range of content, including men's style, grooming, lifestyle, cars, and watches. 
Here are some standout features that make Ape to Gentleman's website an engaging and interactive experience:
A landing page that prominently features the latest article.

Encourages newsletter subscription via a compelling call to action.

Easily accessible links to social media profiles are displayed at the top of the page.

High-quality, aesthetically appealing images that enhance the overall visual experience.
If you want to start your own fashion blog, then 10Web AI Website Builder is what you need. You can easily replicate the design and layout of your preferred website by simply providing the URL or create a new website from scratch by answering several questions about your business.
Get a head start on website creation with AI
Create a custom website tailored to your business needs 10X faster with 10Web AI Website Builder!
Get a head start on website creation with AI
Create a custom website tailored to your business needs 10X faster with 10Web AI Website Builder!
Example 15: The Zoe Report
–
Artistic scrapbook feel, unique navigation
One of the top fashion blog examples we will discuss is Zoe Report. The Zoe Report covers various topics, including fashion trends, style guides, cosmetics, home decor, celebrity fashion, and lifestyle. 
When it comes to this fashion blog design, the homepage features a visually appealing mix of images and headlines, creatively arranged to create an artistic scrapbook feel. Here are the key features that make the user experience stand out:
Unique navigation menu design.

Incorporates infinite browsing to maintain visitor engagement.

Encourages longer site visits due to the infinite browsing feature.
Example 16: Zoella – Personal style, user-friendly design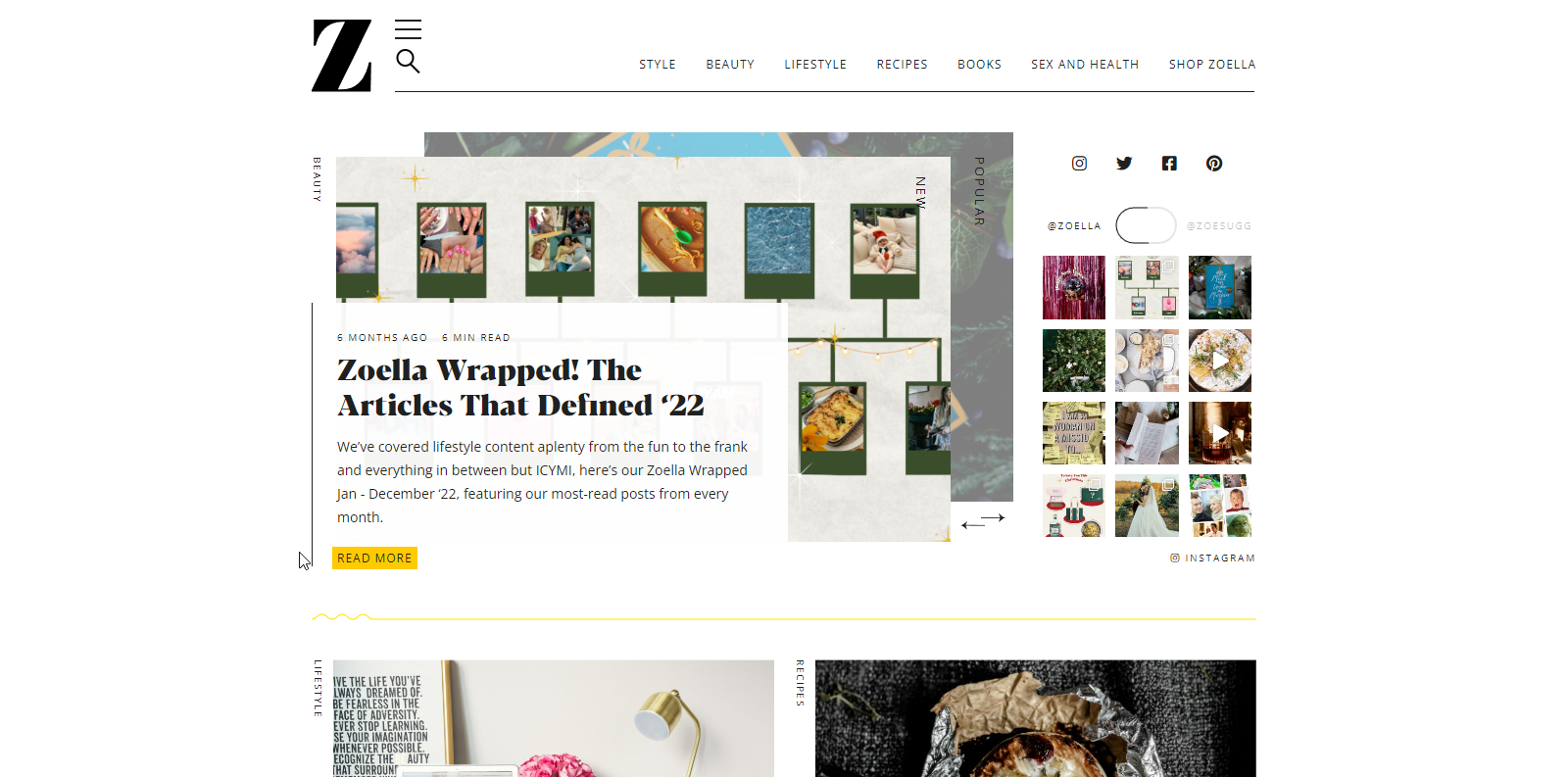 Zoella, the brainchild of fashion blogger Zoe Sugg, was launched in 2009 and has since evolved into a thriving website. From its humble beginnings as a hobby, Zoella now has its own office and a dedicated team that works tirelessly to deliver the latest news, captivating interviews, and captivating content on fashion, beauty, lifestyle, and cuisine.
Let's dive into some key attributes that enhance the user experience on Zoella's website:
Sports a clean, user-friendly design complemented by an organized top menu.

The landing page offers a roundup of the most recent blogs, keeping users current with trends.

Each blog post is elevated by unique and appealing thumbnails, making the content more visually enticing.
Example 17: Monikh – Stylish images, personal branding
Monikh Dale successfully transformed her personal fashion blog into a thriving full-time career. As a renowned freelance stylist and contributor to Who What Wear, she shares her expertise by offering detailed descriptions and expert recommendations for finding the most stunning clothing pieces to complete each of her looks.
Here are some distinct elements that lend an engaging and personalized feel to Monikh's blog
Effectively utilizes personal branding by featuring images of Monikh in different styles.

Maintains a clean and simple design for a visually pleasing experience.

High-quality images of Monikh boost the website's aesthetics.

Short summary descriptions accompany each blog post, offering a quick overview for visitors.
Example 18: Powder Rooms – Boutique vibes, fashionable prints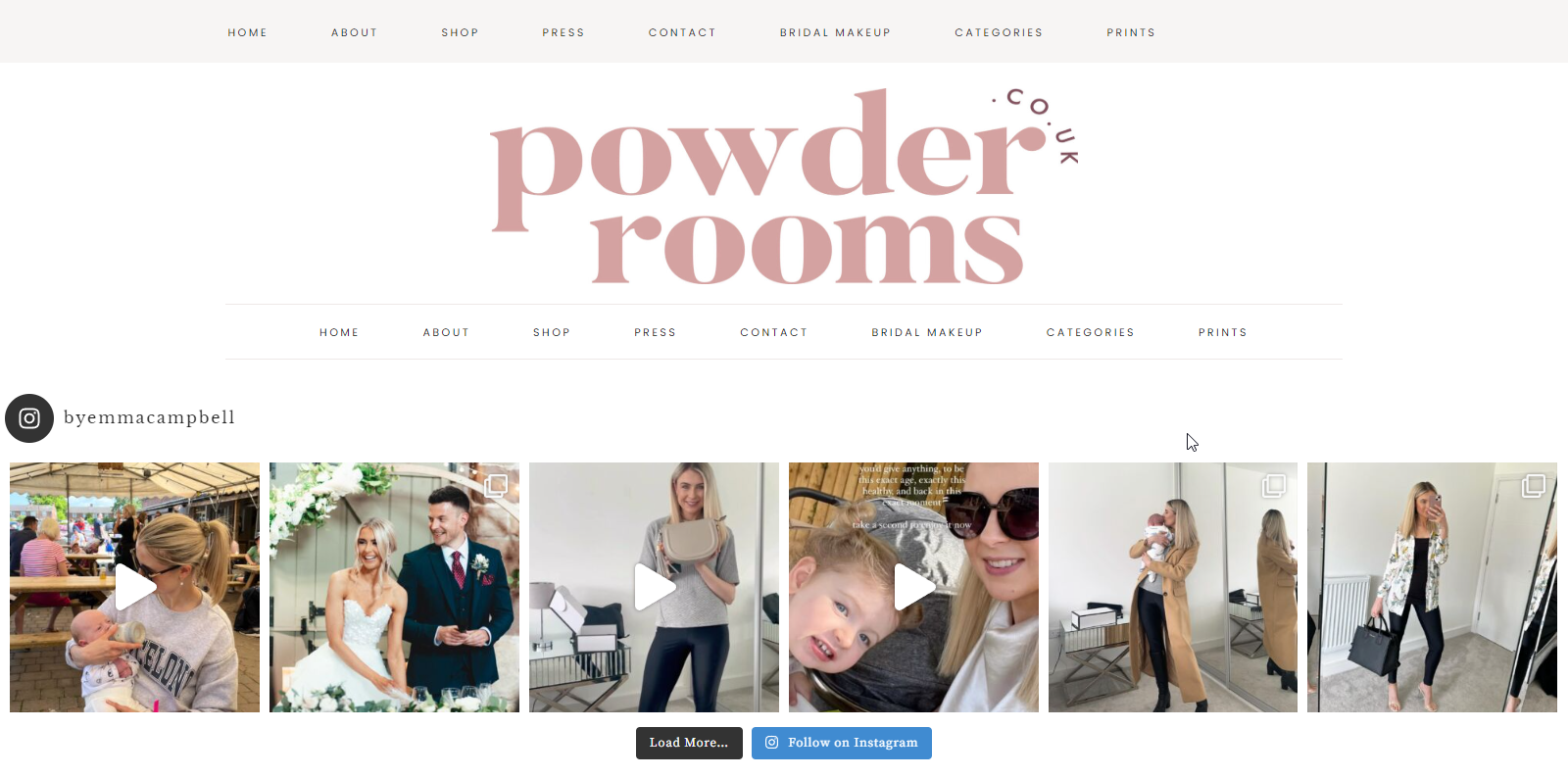 Powder Rooms, a popular fashion and cosmetics journal authored by Emma Campbell, offers a delightful combination of fashion advice, beauty tips, and travel inspiration. With a charming boutique section, readers can purchase Emma's own captivating prints for added inspiration.
Here are the key features that make Powder Rooms a must-visit fashion destination:
A distinctive pink logo lends a feminine and youthful charm to the blog.

Integrated Instagram posts ensure readers are connected with the latest trends.

Personal branding is effectively leveraged to showcase Emma's unique perspective and expertise.

Offers comprehensive content that extends beyond clothing to include perfumes, horoscopes, and a variety of insightful blogs.
Example 19: Curiously Conscious – Personal touch, stylish fonts
Besma's fashion blog Curiously Conscious is worth a look if you're interested in low-impact, environmentally-friendly clothing. Alongside eco-friendly fashion options, Besma covers cosmetic regimens, lifestyle tips, and travel advice. Plus, she has created handy purchase guides to help you find sustainable clothing.
Here are the features that define this blog as an engaging and easy-to-navigate platform:
Employs a sleek and futuristic font style for clear and easy navigation across categories like beauty, fashion, food, lifestyle, and travel.

The landing page exhibits a seamless transition between images and blog posts, providing a smooth user experience.

Personal information about the blogger, Besma, is provided, offering a more personal and relatable touch.
Example 20: Liv Judd – Simplicity and visual allure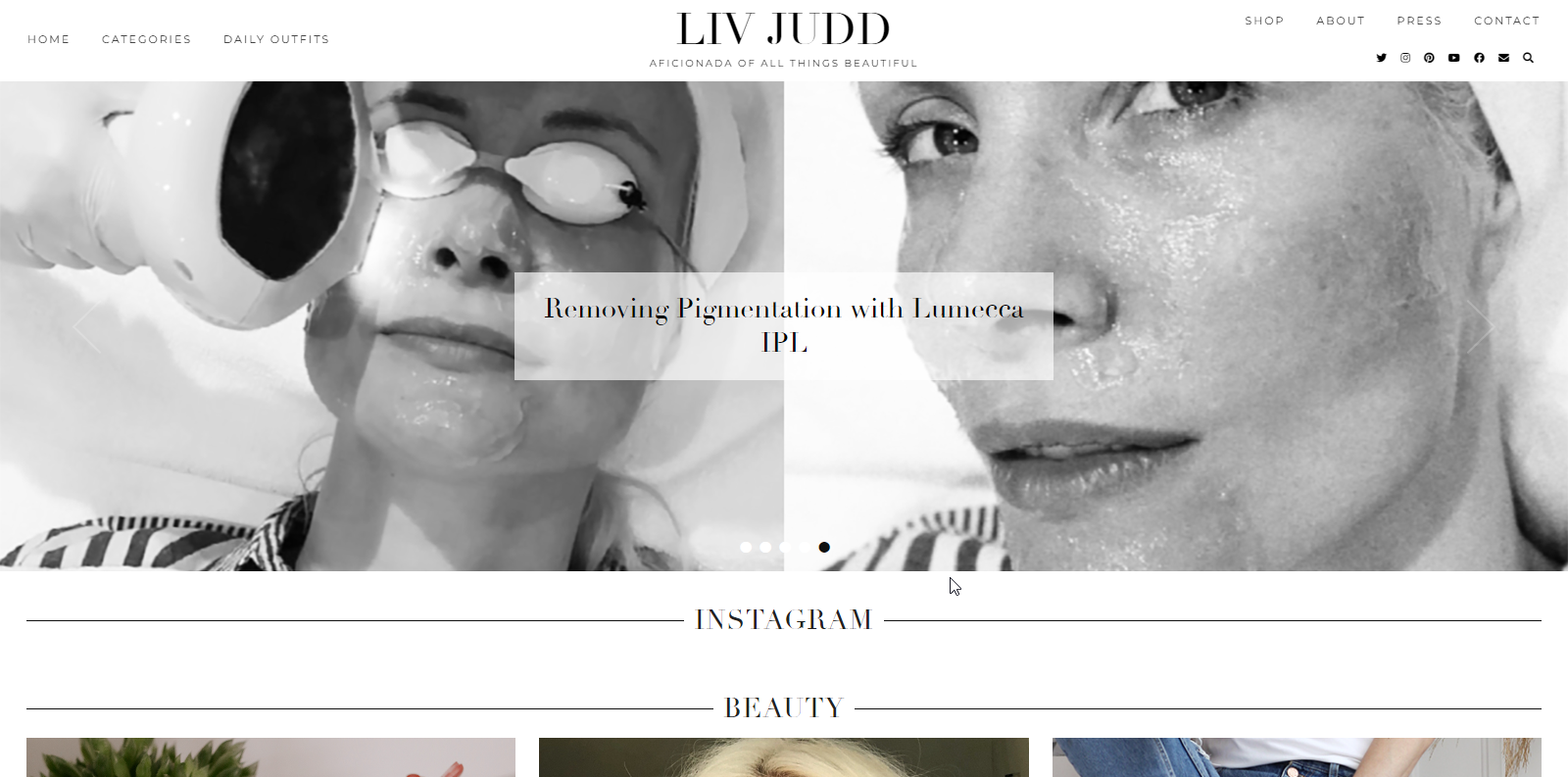 Liv Judd, a highly influential figure in the fashion industry, boasts an impressive portfolio of collaborations with top brands such as Clinique, Estee Lauder, Shiseido, Vichy, Amazon, and Michael Kors. In addition to fashion tips and beauty tips, Liv also shares captivating travel tales on her blog.
Here are the standout features that make Liv Judd's blog an immersive and engaging experience:
Exhibits a sleek, organized layout that successfully captures and retains reader interest.

A dynamic display of the latest blog posts appears on the landing page.

Seamless integration of Instagram and YouTube accounts for easy access to additional exclusive content.

A dedicated section for daily outfit inspirations, assisting readers in elevating their personal style.

A comprehensive resource for fashion trends, beauty recommendations, and exciting travel stories.
Example 21: ImpulseMag – Captivating content, engaging UI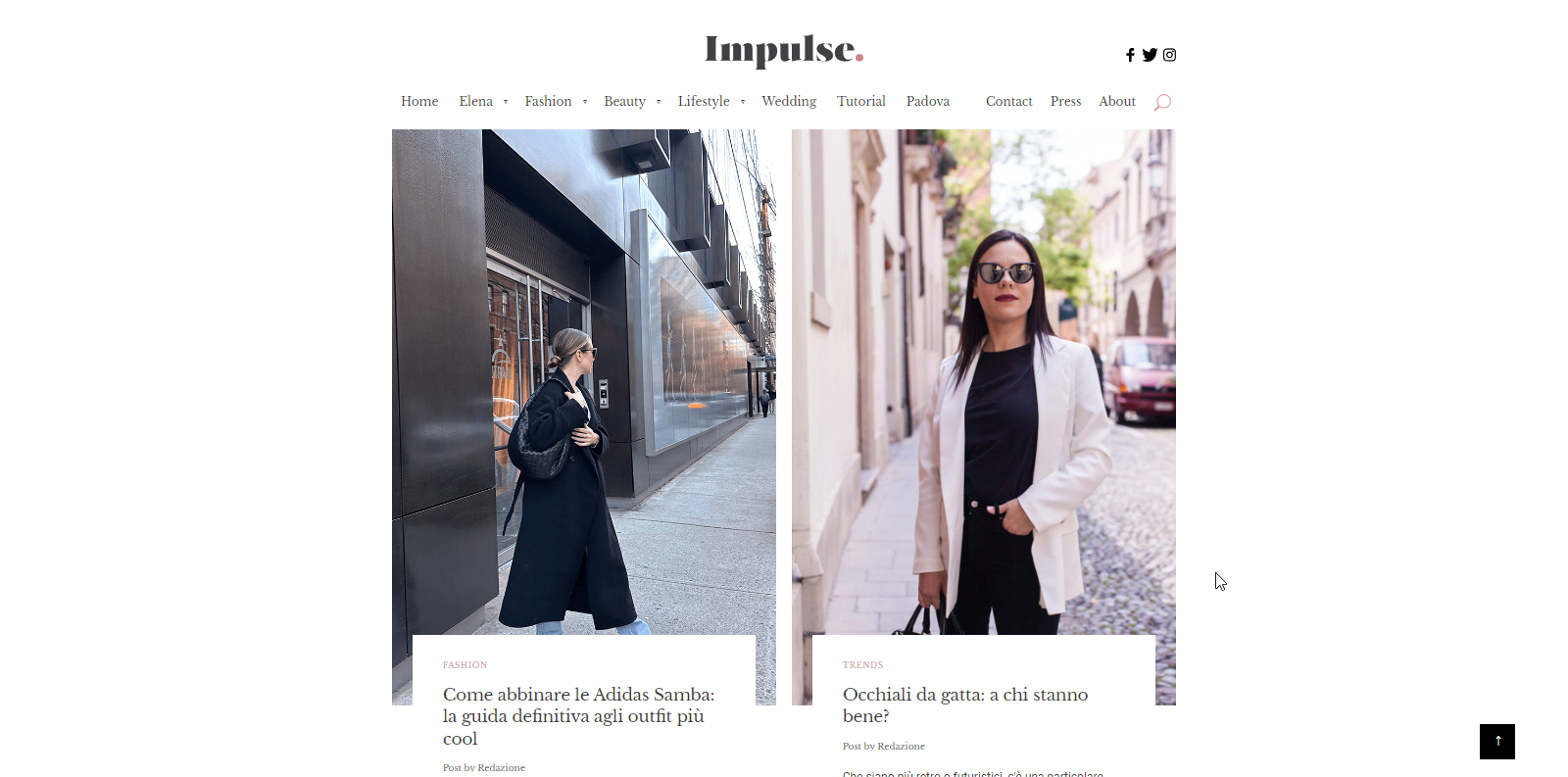 Elena Schiavon, a renowned Italian blogger, recently launched her influential fashion blog/magazine, ImpulseMag, in 2021. ImpulseMag has gained significant recognition in the fashion industry through successful collaborations with esteemed publications such as "Corriere," "Grazia," and "Cosmopolitan."
Alongside fashion inspiration, Schiavon provides valuable insights into skincare routines and home decor ideas on her blog. Here are the standout features that make ImpulseMag a comprehensive and engaging platform:
Offers a diverse range of content covering various fashion categories.

Caters to all fashion enthusiasts with sections on trends, beauty tips, lifestyle advice, wedding inspiration, and tutorials.

Features interactive elements on its website for user engagement and a more immersive experience.
Example 22: Simply Mr. T – Engaging content, personal touch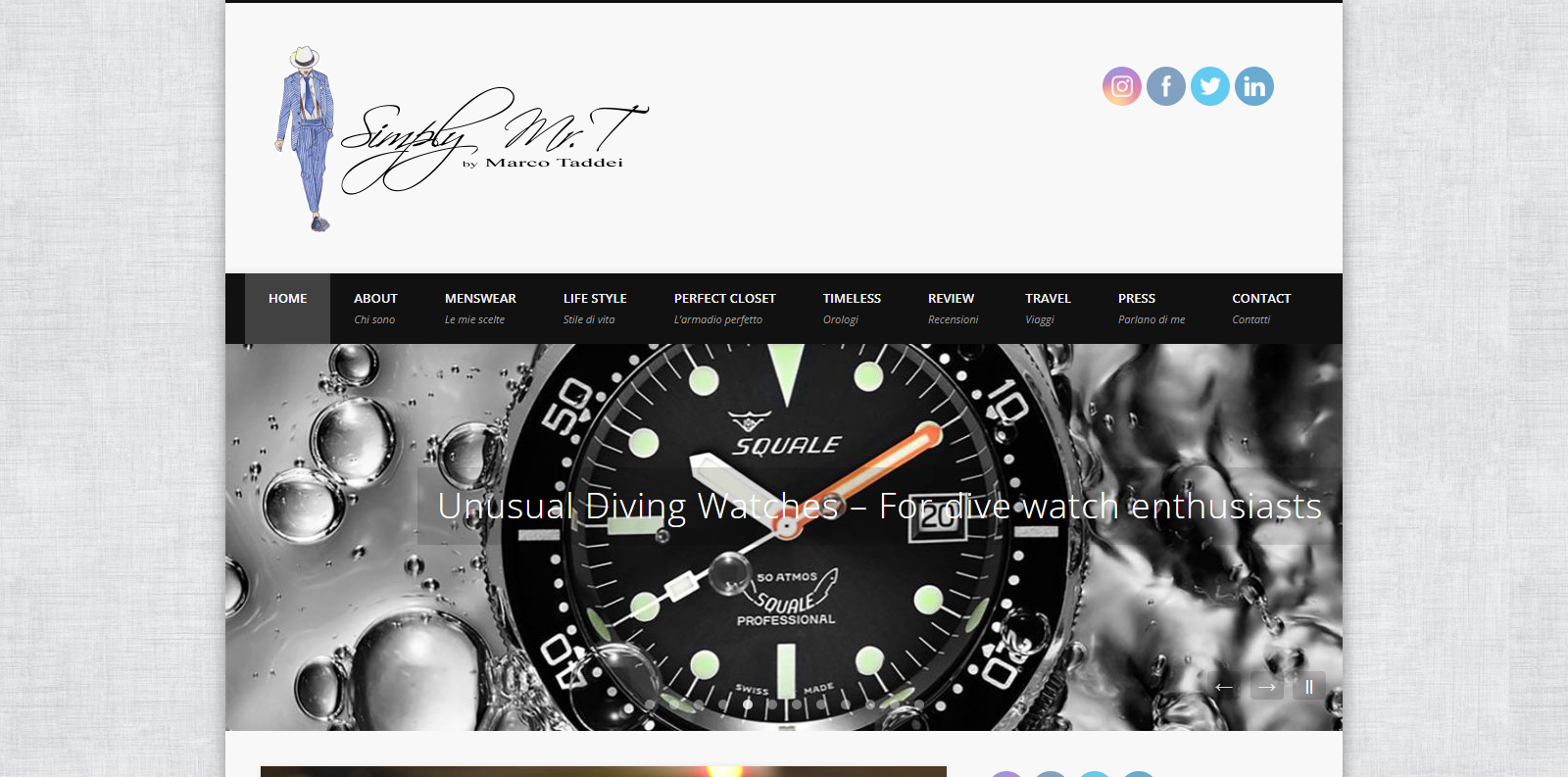 Marco Taddei is a true example of Italy's passion for fashion. His blog, Simply Mr. T, highlights menswear and promotes timeless style. The website also features a section dedicated to the finest watches available.
Here are the standout features that make this website a unique and engaging platform:
Unique vintage style theme, mixing old styles and products with a modern approach.

Simple, yet consistent design ensures seamless browsing.

Sliding images of products on the landing page add dynamic visual appeal.

Clever use of colors and contrast captures attention and directs focus to the central content.
Example 23: Rock'n'Fiocc – Visually striking, captivating imagery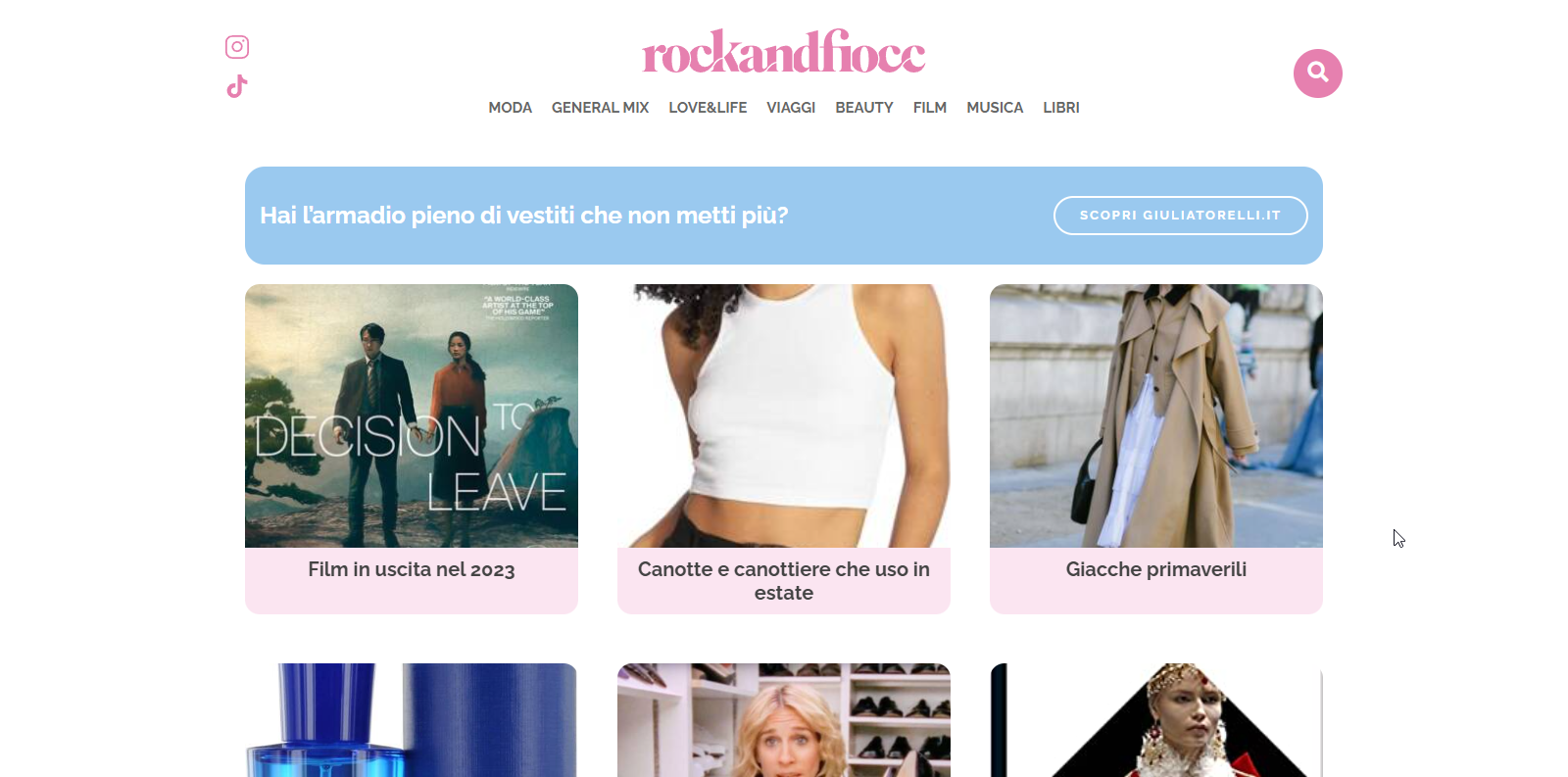 Rock'n'Fiocc is a dynamic fashion blog operated by Giulia, a digital fashion specialist with a background in Grazia magazine. This engaging platform offers a glimpse into Giulia's fashion experiences, personal style, and creative fashion ideas. Besides fashion trends, Rock'n'Fiocc also features movies, music, and books.
Here are the key elements that make Rock'n'Fiocc a user-friendly and engaging platform:
Runs on WordPress, providing a seamless user experience.

Easy navigation through categories such as fashion, beauty, lifestyle, and travel.

Unique logo encapsulates the blog's spirit.
With thousands of passionate fashion followers, Fashion and Cookies is one of the best-known fashion blogs. As a creative outlet and personal chronicle, Valentina's blog provides valuable insight into fashion trends, outfits, and beauty products. Among its key themes are Western fashion, elegance, and style.
Here's a summary of the standout features of this website that amplify the user experience:
Utilizes strategic whitespace for an enhanced user interface.

Displays an artistic logo and accompanying imagery for aesthetic appeal.

Features a clear layout in the top menu for easy navigation.

Personalizes content with high-quality images of herself.
Example 25: Carolines Mode – Swedish-style journey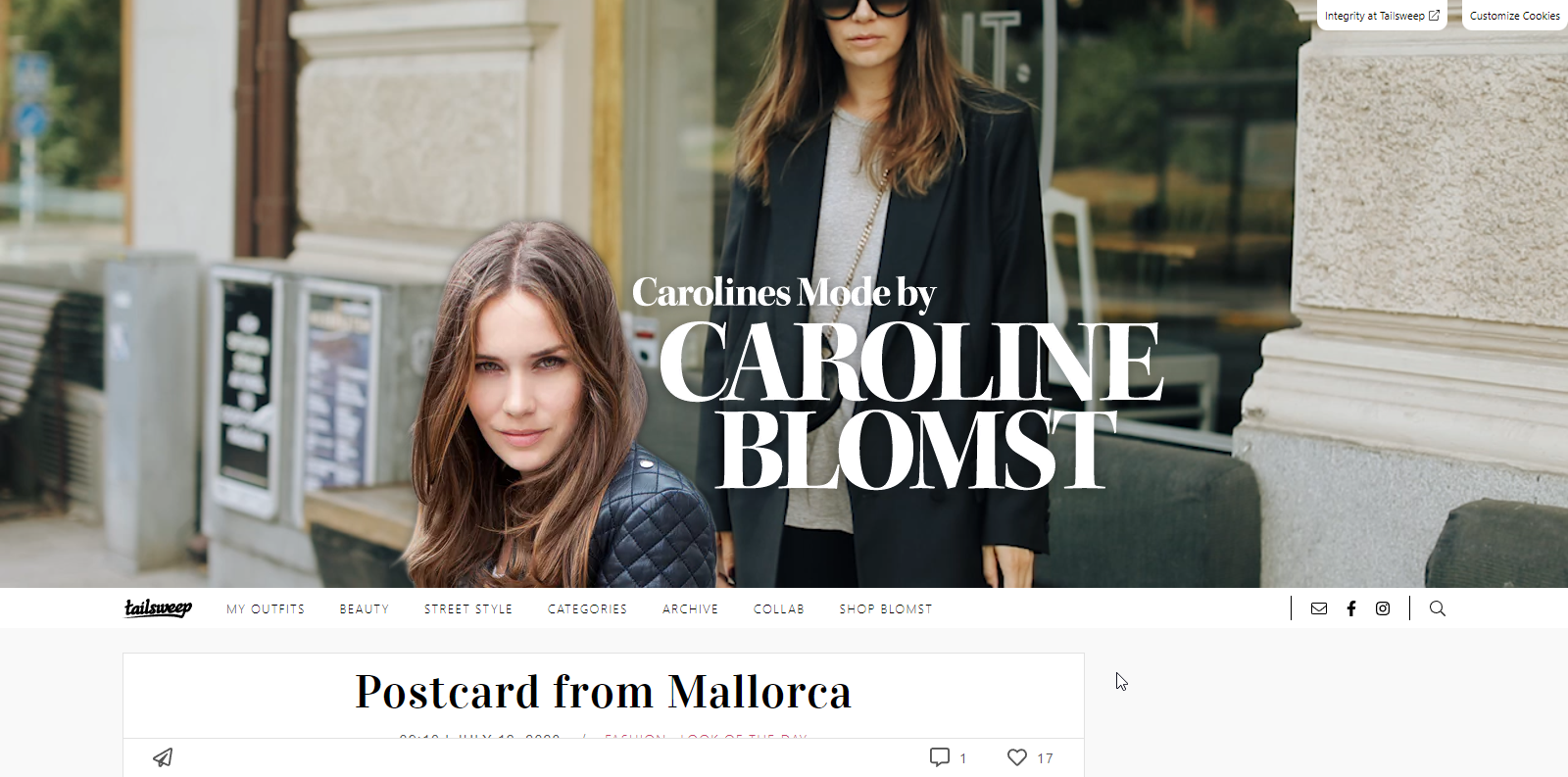 Caroline Blomst, a renowned Swedish fashion influencer, is the creative force behind Caroline's Mode, a highly regarded fashion journal. With a unique blend of styles that is both distinctive and approachable, Caroline inspires many to follow in her fashionable footsteps. Through her blog, readers are able to access expert fashion advice from one of Sweden's best-dressed individuals.
Here are some highlights of Caroline's Mode website that create an engaging user experience:
A high-quality animated video on the landing page instantly grabs visitors' attention.

A distinctive logo featuring Caroline's face symbolizes the unique identity of the blog.

The inclusion of high-quality images enhances the visual appeal of the site.

Seamless integration of Caroline's Instagram feeds throughout the website, offering readers a peek into her daily style and a way to engage with her beyond the blog.
Whether you're a seasoned fashion blogger or an industry insider, 10Web AI Website Builder enables you to develop a fashion blog and showcase your fashion talents in style. 
If you come across a website layout that truly resonates with you, simply share its URL with our AI-powered builder, and it will skillfully recreate a similar website for you, tailored to your preferences. With this seamless process, you can effortlessly explore and replicate designs that capture your imagination, ensuring a professional and visually stunning outcome for your fashion blog. 
Get a head start on website creation with AI
Create a custom website tailored to your business needs 10X faster with 10Web AI Website Builder!
Get a head start on website creation with AI
Create a custom website tailored to your business needs 10X faster with 10Web AI Website Builder!
Example 26: Inspiring Wit – Effortless style, engaging UI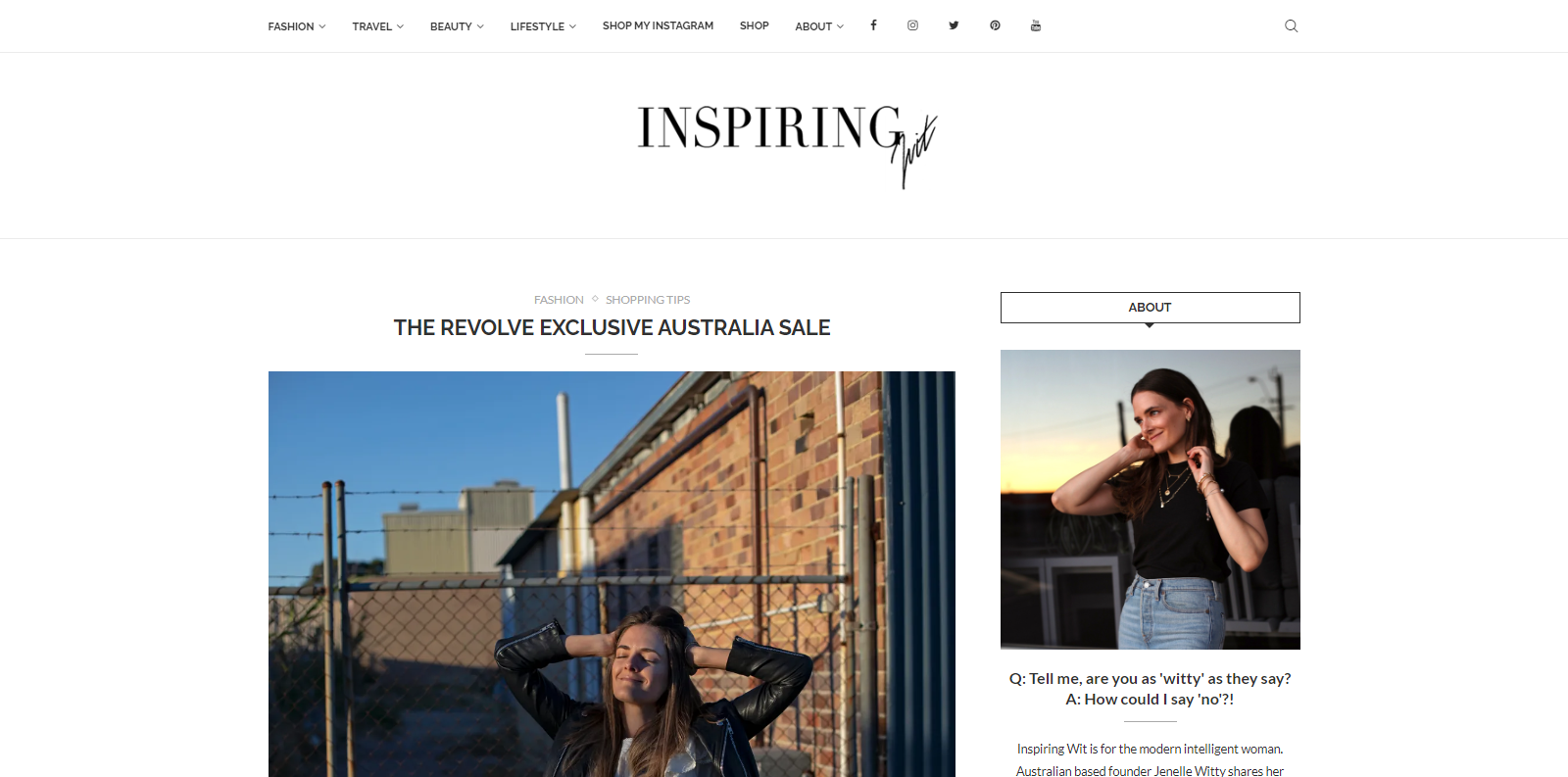 An Australia-based blogger, Jenelle Witty shares stylish outfits and travel advice on her blog, Inspiring Wit. Her blogs focus on fashion, makeup, and the latest trends, offering readers inspiration and advice to create a look that is unique to them. 
Key attributes of Jenella's WordPress-based blog contributing to an engaging user experience include
A clean and visually appealing layout, complemented by high-quality images.

An 'About' section on the right side of the website emphasizes Jenella's personal brand.

Convenient links to her social media profiles, foster a more personal connection.

Integration of a shopping catalog, facilitating easy access to featured products.
Example 27: Kate Waterhouse – Elegant design, engaging content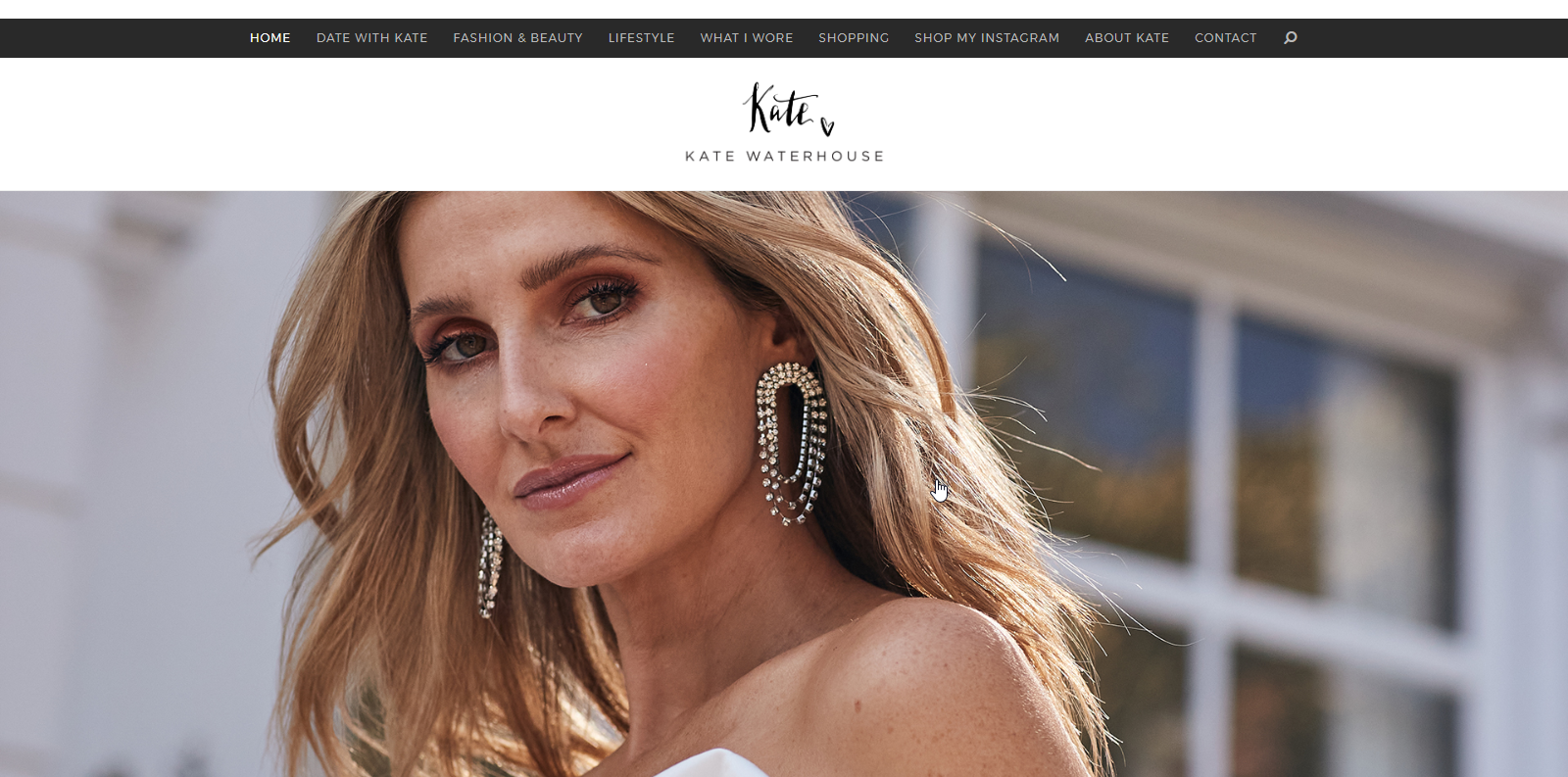 Kate Waterhouse, hailing from a family deeply rooted in Australian horse racing, diverged from tradition and pursued a career in fashion instead of following her father's path as a thoroughbred trainer. In 2013, she established her own blog under her name, where she passionately shares her insights on fashion, cosmetics, and her personal lifestyle.
Here are some highlights of Kate Waterhouse's website that create an engaging user experience:
Powered by WordPress, ensuring a user-friendly experience.

A simplistic layout and intuitive top menu facilitate easy navigation.

A dedicated section, "Dates with Kate," provides personal insights into her experiences.

The landing page underscores Kate's personal style and brand.

Regular Instagram feed updates keep the audience engaged.

A shopping catalog for the convenience of followers.
Example 28: What Would Karl Do – Timeless style, whimsical vibe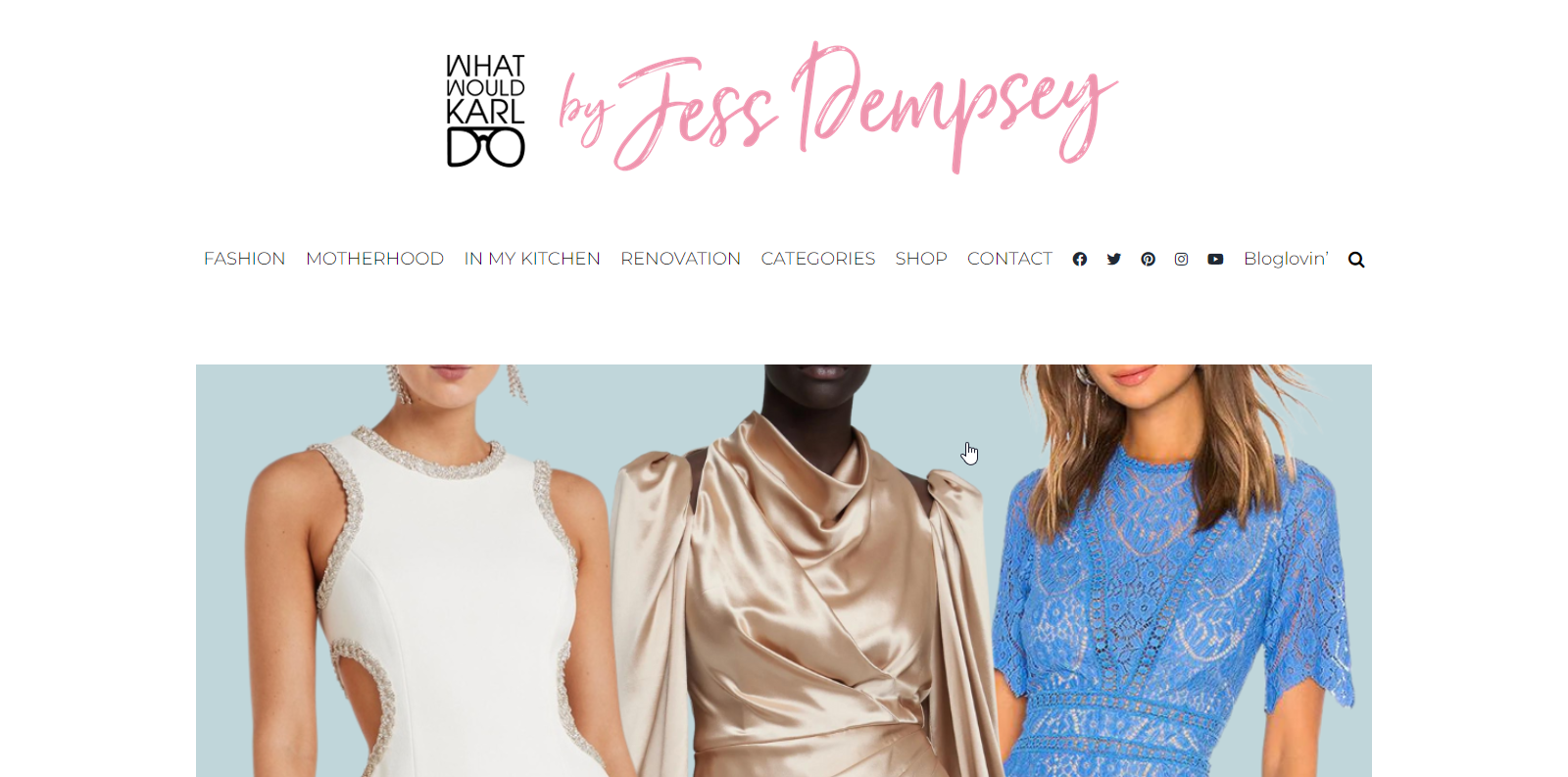 In 2010, stylist Jess Dempsey left her position to create the influential blog 'What Would Carl Do'. Among other topics, she discusses motherhood, travel, cuisine, and style while also exploring high fashion and street style.
Below are the salient features of the blog that create a unique and visually appealing user experience:
Incorporation of a stylish logo and distinctive vibe that set the website apart

Use of high-quality, large images that are visually impactful

Presentation of concise text that supports, rather than overshadows, the visual content.
Example 29: Megan Ellaby – Simplicity and visual allure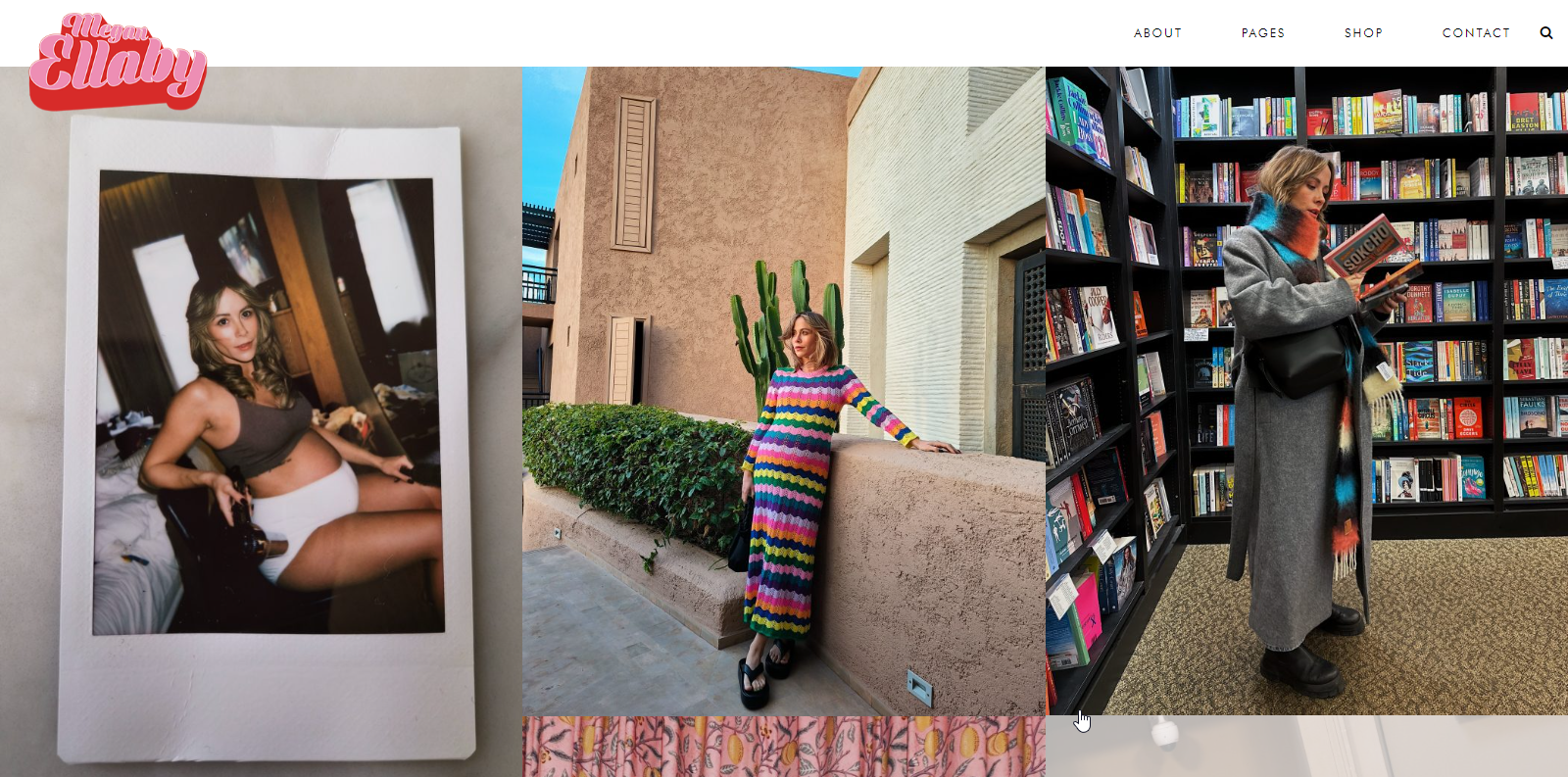 Megan Ellaby, previously known as Pages by Megan, is a renowned fashion and lifestyle blogger with a distinct and humorous style. Once an ASOS stylist, Megan now shares her expertise and passion for fashion, lifestyle, cosmetics, and interior design on her website. 
Megan's blog captivates users with its simplicity and visual allure, offering a variety of engaging features:
Simple and visually appealing website layout.

Variety of content, including unique clothing styles and interior design ideas.

Direct purchase option for the latest fashion trends.

Easy access to key sections via the website's top bar.
Example 30: Oracle Fox – Fashion beyond clothing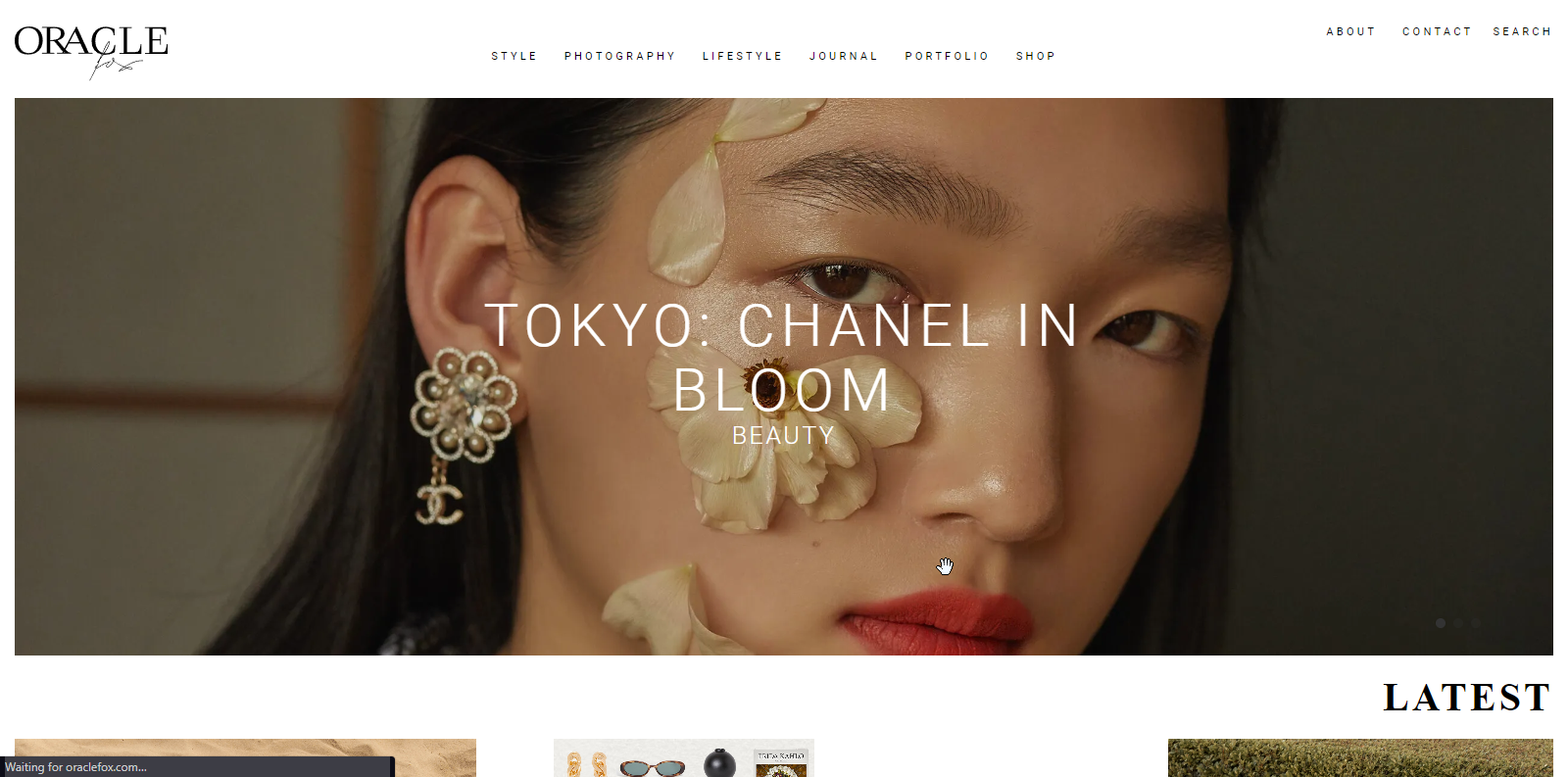 Amanda Shatforth, the founder of Australia's renowned fashion blog, Oracle Fox, embodies street style. Her fashion sense has caught the attention of fashion enthusiasts in major cities like Paris, Milan, and New York.
Here are some of the notable aspects of the Oracle Fox website that make for a compelling and aesthetically driven user experience:
Covers wide-ranging topics like fashion, photography, and lifestyle.

Features animated and sliding images for a captivating visual experience.

Provides a clear top menu for easy navigation.

Expands the scope of fashion beyond just clothing.
Whether you're revolutionizing fashion or embarking on your personal style journey 10Web AI Website Builder empowers you to build your own website. All you need to do is simply answer a few questions about your business and website preferences, and our AI Website Builder will design a website tailored to your business with high-quality images and SEO-optimized content.
Example 31: What Olivia Did – Classic and vintage styles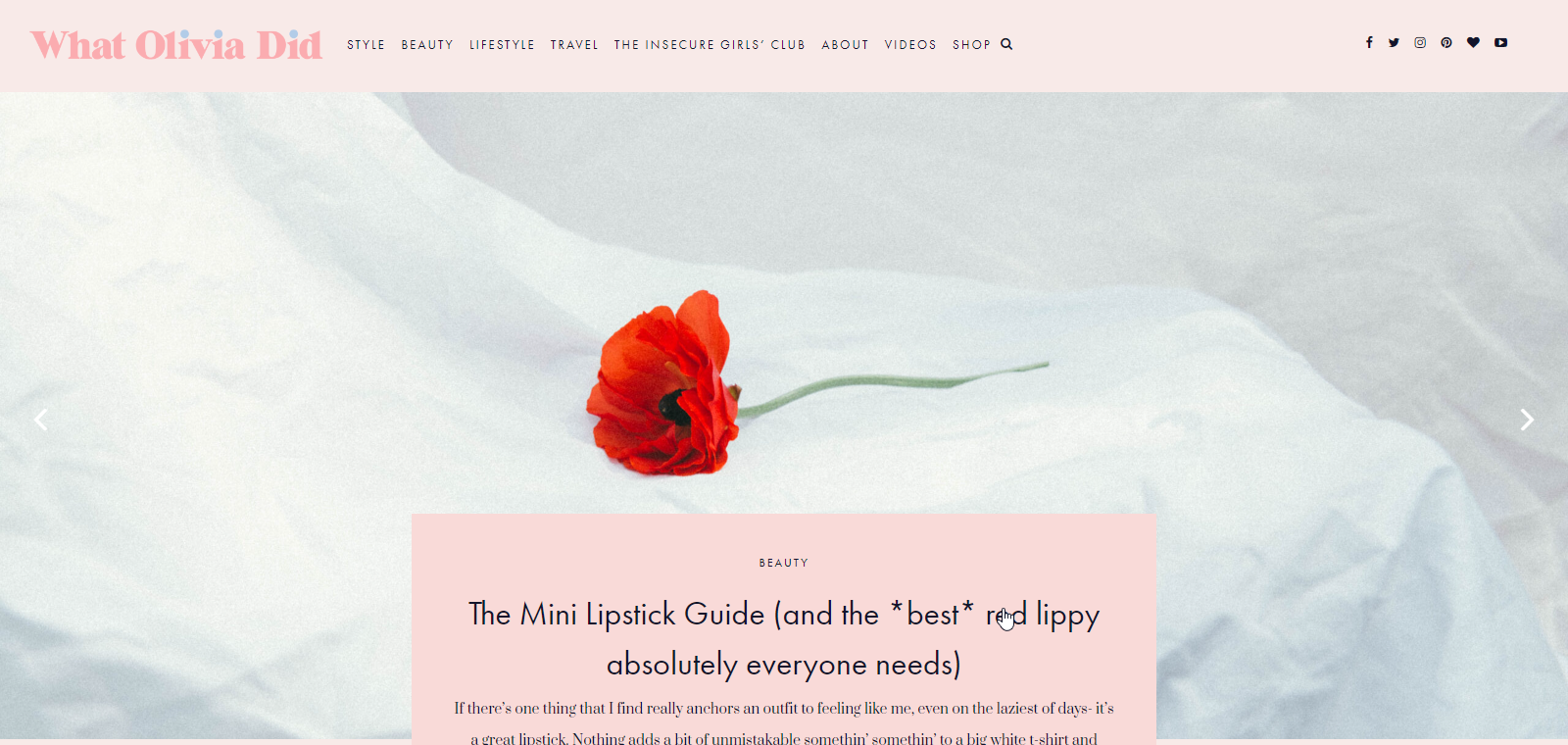 If you're looking for a fashion chronicle that seamlessly combines classic and vintage styles, take a look at Olivia Purvis's acclaimed blog, What Olivia Did. In her highly acclaimed journal, Olivia explores her favorite vintage stores, her favorite cosmetic brands, and her personal fashion choices. 
Here are some of the key features of the blog:
Adopts a retro-inspired aesthetic with peach and baby pink hues.

Covers a wide variety of topics, including fashion, cosmetics, lifestyle, travel, etc.

Features easily accessible social media icons on the top bar.

Includes an archive section showcasing past content, enabling readers to explore historical posts.
Example 32: Permanent Style – Timeless fashion with a user-friendly layout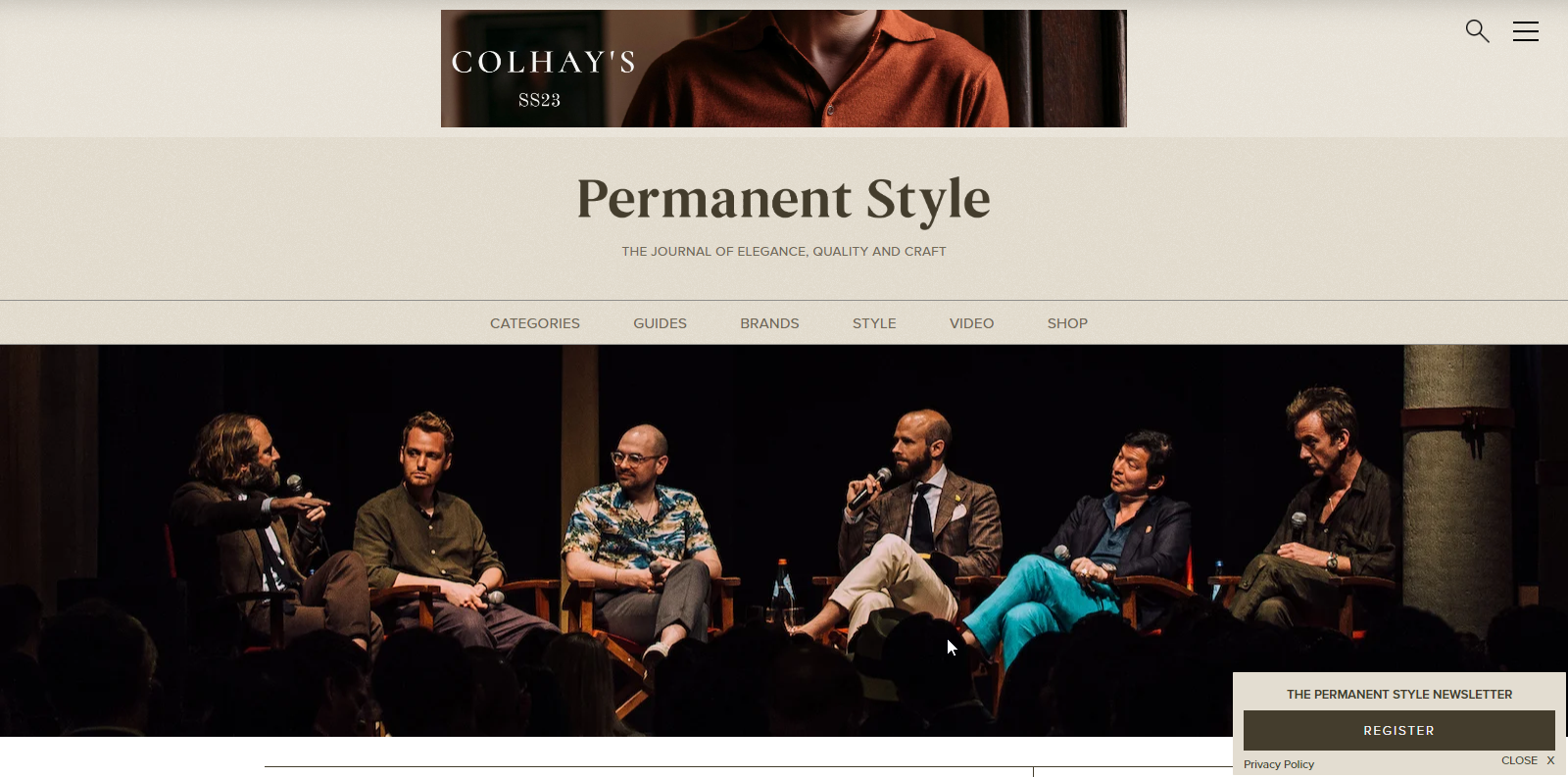 The Permanent Style magazine is one of the most respected men's fashion magazines in the United Kingdom, renowned for its sophisticated and timeless styles. With a readership of 500,000, this blog has established itself as a trusted source in the industry. Simon Crompton, a journalist, and editor, is the mastermind behind Permanent Style, which has garnered praise from publications like "Esquire," "GQ," "The Times " and "The New York Times." 
Here are some of the key features of the blog:
Covers a broad spectrum of men's fashion topics.

Offers a clear layout and dedicated sections for brands and guides.

Showcases high-quality images and a comprehensive product catalog.

Features a search bar and neatly organized top menu for easy navigation.

Constantly updates with active threads and evolving content, keeping readers engaged.
Example 33: The Glam & Glitter – Impeccable style, unique navigation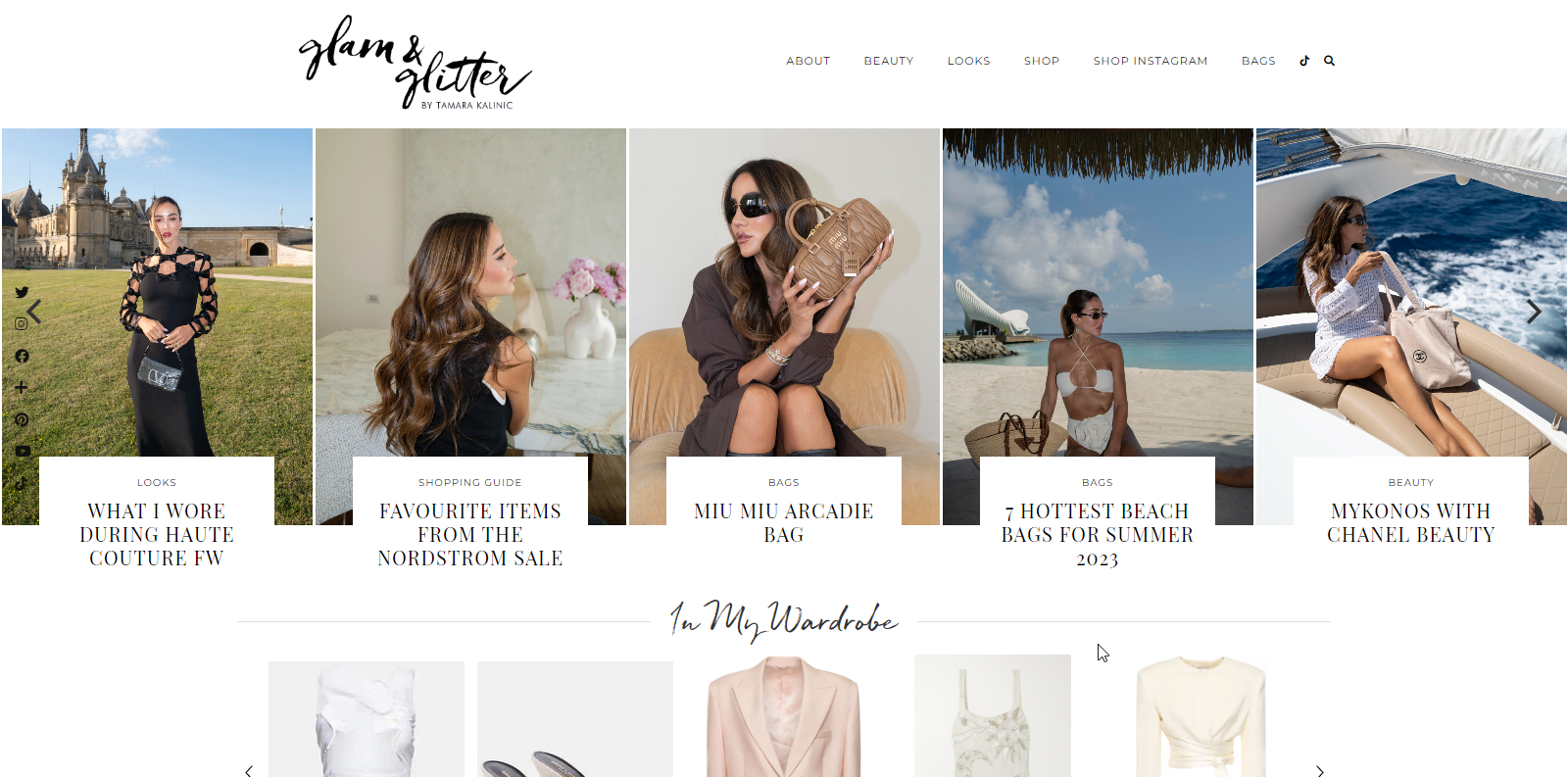 Tamara Kalinic has an undeniable passion for fashion. She shares her impeccable style through her Glam & Glitter blog, showcasing everything from everyday outfits to high-end couture and glamorous red-carpet looks. What sets this fashion blog example apart is its online boutique, where readers can easily shop for the featured clothing and accessories.
Tamara's website, powered by WordPress, stands out with an array of engaging features:
Presents visually stunning sliding images on landing pages.

Features a standout logo and unique fonts, enhancing the site's distinctiveness.

Integrates Instagram posts to boost user engagement and provide updated fashion inspiration.

Provides short blog descriptions to pique reader interest and drive further content exploration.

Includes the "In my wardrobe" section for a more personalized browsing experience, catering to those who aspire to replicate Tamara's style.
Example 34: Jordan Bunker – Simplistic logo, elegant touch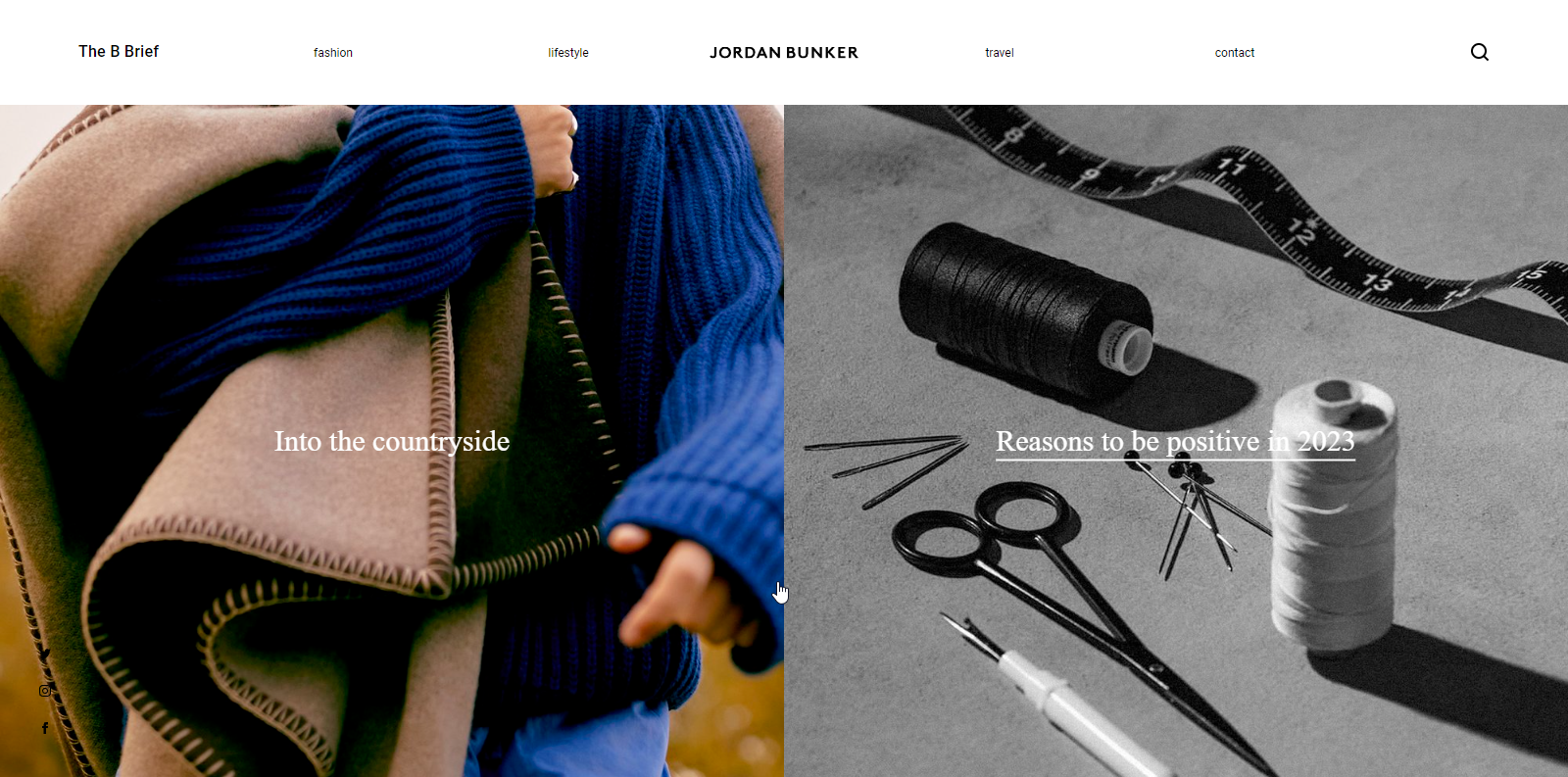 Jordan Bunkers' blog, which bears his name, is a must-read for men seeking to achieve a minimalistic look. Covering topics such as fashion, lifestyle, and travel specifically catered to male audiences. Jordan's blog provides insights into his style and offers concepts for a wide range of men's clothing options. 
Jordan's blog, built on Squarespace, offers a visually engaging and user-friendly experience through these features:
Facilitates easy navigation and presents an aesthetically pleasing clothing layout.

Showcases captivating storytelling and engaging headlines to retain reader interest.

Boasts a simplistic logo, adding an elegant touch to the overall user experience.
Example 35: Clothes Make the Man – Men's fashion, lifestyle tips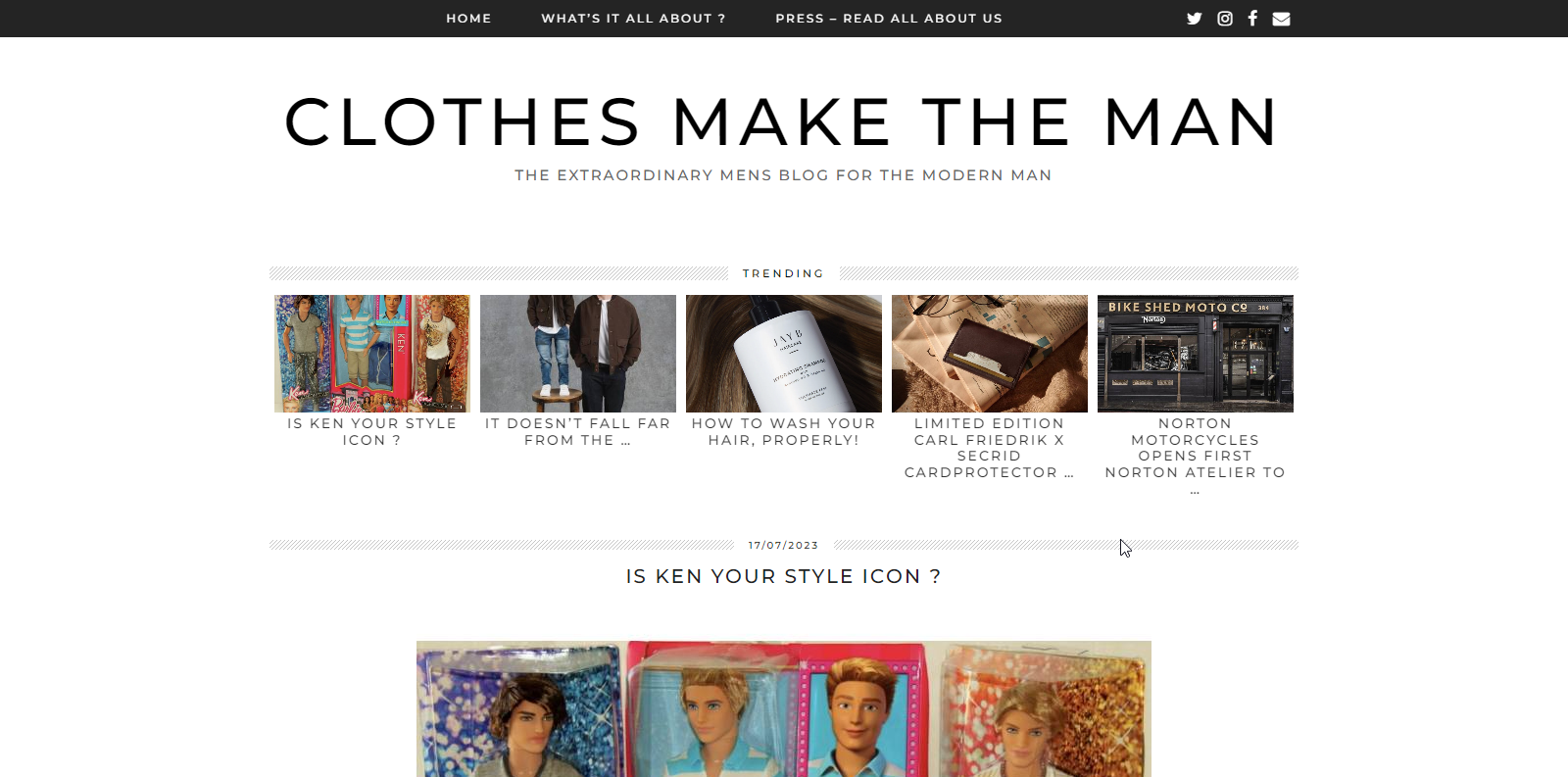 Clothes Make the Man is a fashion blog that many people turn to for advice and inspiration, in menswear and fashion. Led by Anthony McGrath this blog is committed to offering insights and recommendations to fashion enthusiasts who are passionate about their style and lifestyle.
Through its clean design and focus on trending content, the website delivers a seamless user experience.
Clean, user-friendly design that simplifies navigation.

Showcases trending content immediately upon landing.

Features a dedicated blog section for an in-depth exploration of men's fashion, lifestyle tips, and health advice.
Conclusion
The world of fashion blogging is incredibly diverse and ever-changing, showcasing various styles, aesthetics, and voices. In this article, we've analyzed 35 fashion blog examples in 2023. They truly exemplify the breadth and creativity found in this space. These blogs offer a wealth of inspiration, insights, and valuable resources for fashion enthusiasts and aspiring bloggers alike. It's fascinating to see how these influencers will continue to shape the conversation around style in the era.
If you are a fashion blogger looking to boost your online presence or an influencer starting your digital journey, 10Web AI Website Builder provides an opportunity for you. With its intuitive features and seamless AI integration, 10Web empowers bloggers to develop their own fashion websites and showcase their unique style, enabling them to stand out in the competitive fashion blogging landscape.
Get a head start on website creation with AI
Create a custom website tailored to your business needs 10X faster with 10Web AI Website Builder!