In 2023, the graphic design industry was worth $45 billion and is still growing. That means your portfolio needs to be exceptional to stand out as a designer or artist. If it's not, it's time for a fresh look!
That's why we compiled a list of 17 inspiring graphic design websites. You'll discover innovative graphic designer website examples and remarkable creativity to jumpstart your portfolio development. Last but not least, we'll provide some tools and tips to create a knockout online presence.

Graphic web design in motion.
Scroll Me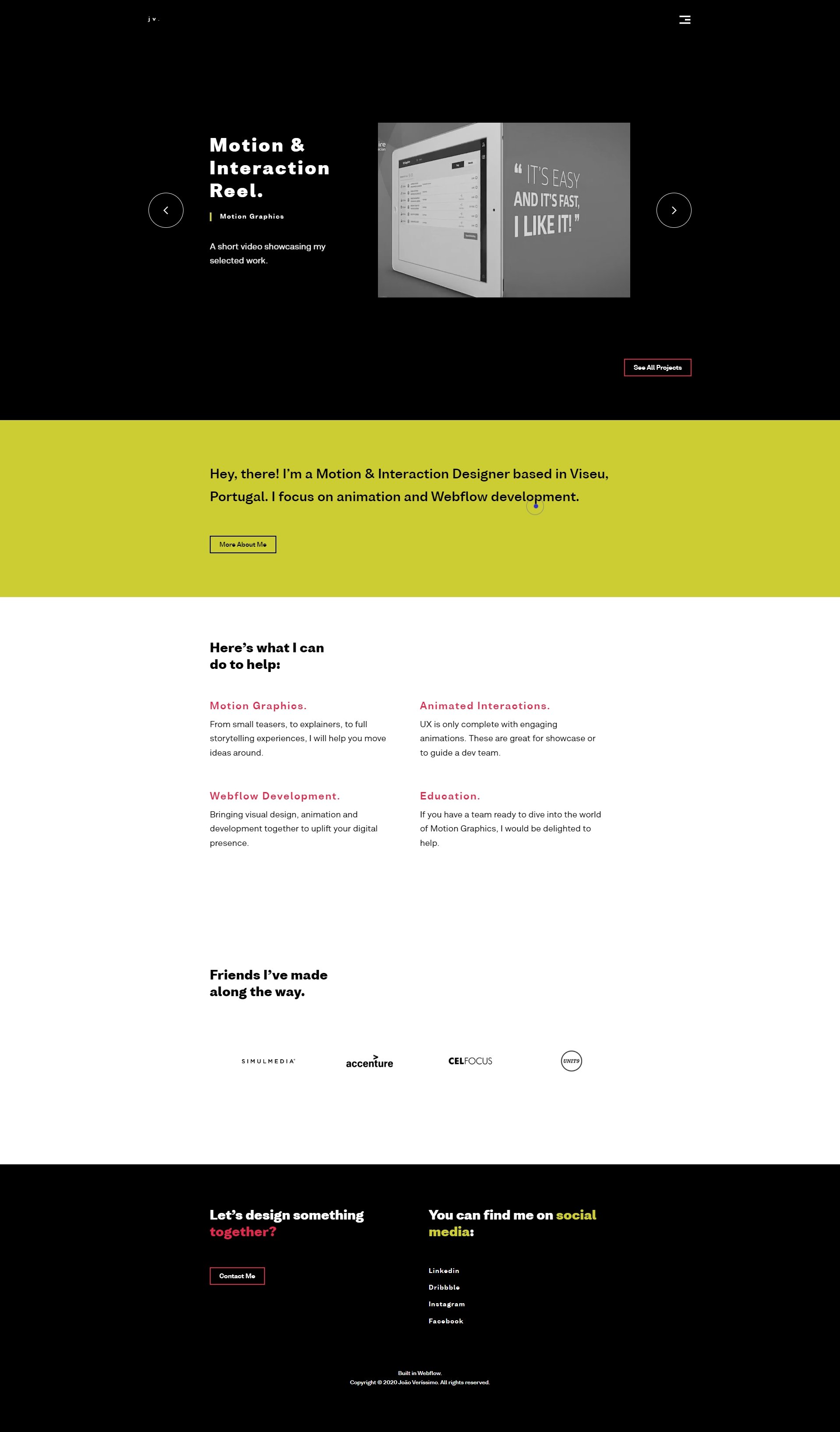 What we liked most about this site:
Slider with animated showpiece project and promotional videos.

Minimalist navigation and links pop on dark backgrounds above the fold.

Restrained use of colors and subtle changes look polished.
---
Joao Verissimo is a motion and interaction designer who loves animation, webflow development, and games. His portfolio website, designed using a graphic design website template, has been developed with features and aesthetics that are representative of his art and profession.
The home page slider presents a showpiece project with a little animation to hint about what's to come on the project's portfolio page. If that's not tempting enough, the slider's promotional video and video portfolio provide quick insight into what working with this designer might look like.
When you navigate through this graphic design website example, page content feels alive with motion and bold but restrained splashes of color. Images, text, and page elements shift, zoom, transition, and undergo various hover effects and color changes, giving this graphic design portfolio site an impressive, polished look. 
If you are interested in graphic design websites like this example and want to recreate the layout of the above design, simply provide the URL to 10Web AI Website Builder, and our tool will do the rest for you. Moreover, you can also customize the layout based on your preferences using the drag-and-drop editor.

Bold design for underrepresented voices.

Scroll Me

What we liked most about this site:
An animated play on words nestled among Yeshi's distinctive aesthetic greets guests.

Colorful page design and full-width layout frame the designer's bold artwork.

Integrated social media content and blogs lend a personal touch.
---
A great way to stay updated with the latest design trends is to review graphic design websites from industry leaders regularly. One such industry leader is Sophia Yeshi, queer Black & South Asian illustrator and graphic designer based in Brooklyn, NY. Her work focuses on Black women and folks in the LGBTQIA+ community. 
At first, visitors to this graphic design website are treated to a clever play on words. Does Yeshi design, illustrate, and create? Yes, she certainly does, and her website shows off her distinctive work on colorful portfolio pages, blog posts, and social media-generated content.
In her portfolio, big names coexist among her personal work, showing off her personality and allowing prospective clients to learn more about the designer's past collaborations with a wide assortment of brands and companies.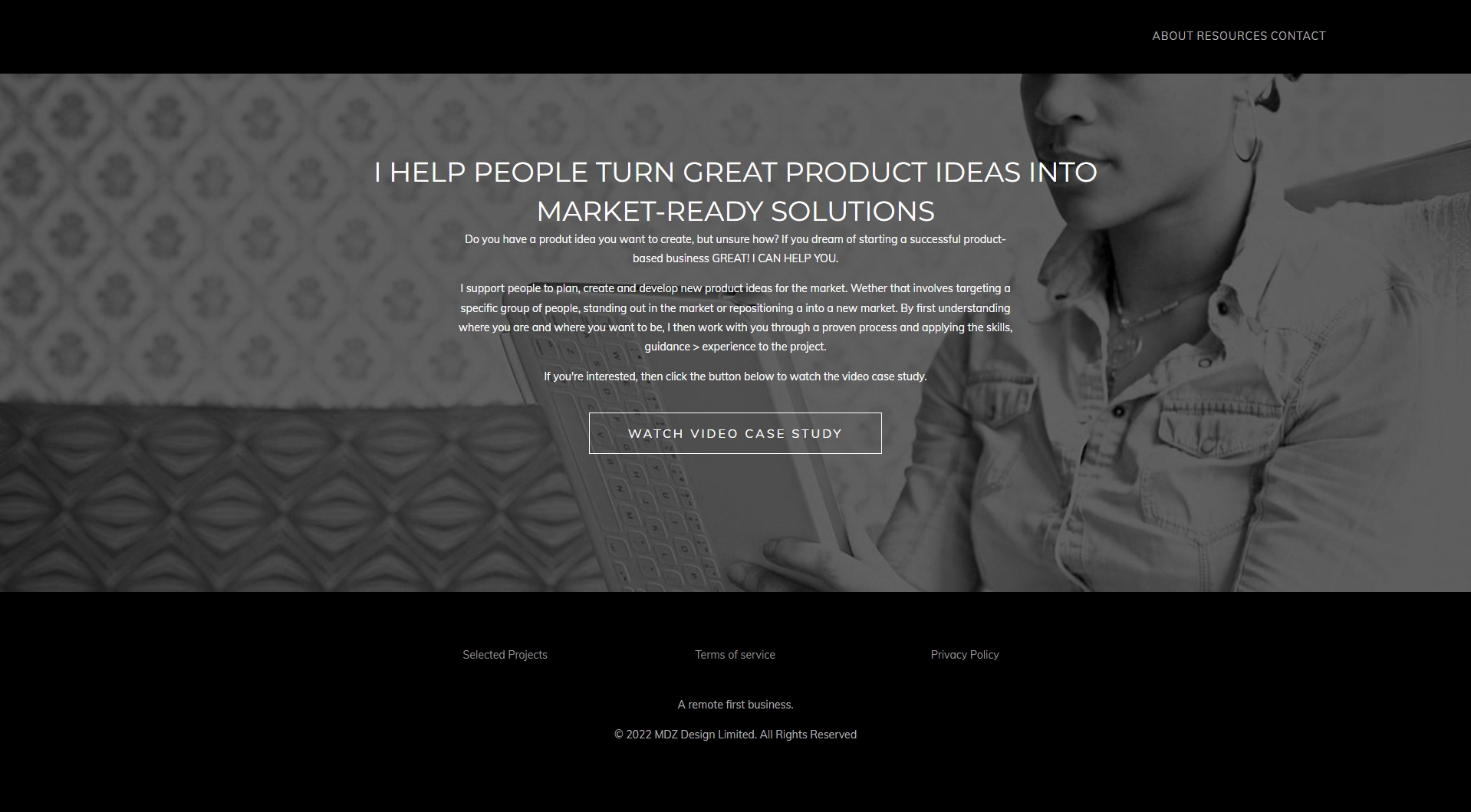 Value-based product design & commercialization.
What we liked most about this site:
The uncomplicated home page delivers a personal message and persuasive video.

Visual, grid-based portfolio pages are filled with eye-catching photos and designs.

Each page feels trusty with a personal message or story of work with big brands.
---
Stacey Mendez, better known online as MDZ Design, is a designer working with startups and people to create great products. She has been commercializing and adding value to consumer-focused products for over ten years. 
The website feels like a warm handshake with a personal message to prospective clients and a case study video to build trust. Clicking through to the designer's portfolio feels like stepping through a portal to a highly visual collection of past projects. The grid-based portfolio layout appears again near the bottom of each project page, with tempting images and photographs to grab the attention.
Each project in her graphic design website template demonstrates the designer's approach to problem-solving skills with specific solutions to the challenge and highlights how her process leads to improved client results. Plenty of large, crisp images fill each project page. The story behind each project and the designer feel genuine, lending trustworthiness to graphic design websites and encouraging visitors to reach out for more information.
The Resources section seems tailored to foster engagement and establish authority with free resources, including design thinking groups, video & audio podcasts, designable newsletters, and some paid resources, including product ideas, guides designed for business owners, and a number of tools.

Beautiful hand-lettering and multi-disciplinary artistry.

Scroll Me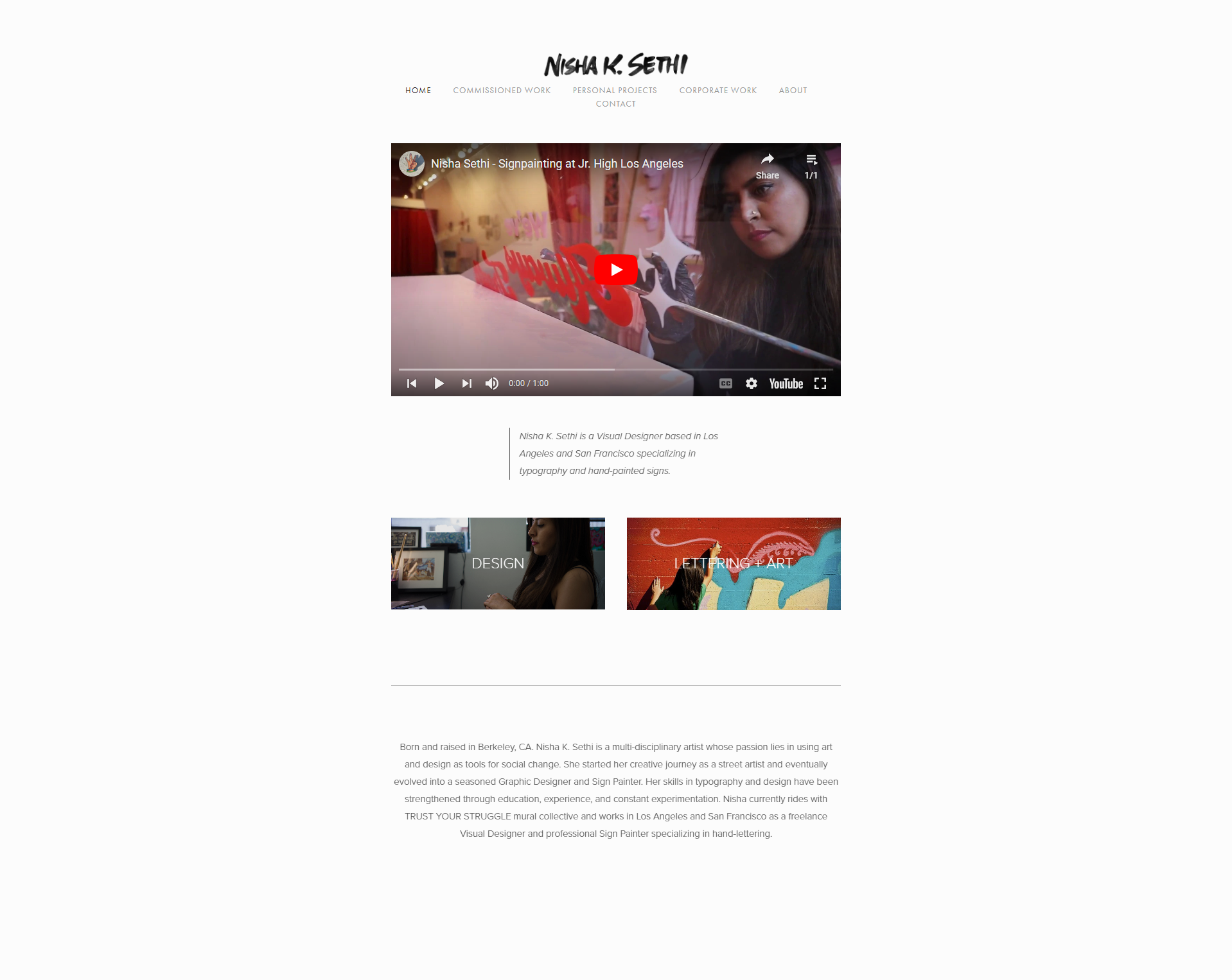 What we liked most about this site:
The home page's jazzy video introduces the artist's hand-lettering skills.

Simple, clean design puts the focus on past projects and multi-disciplinary art.

Portfolio pages feature concise descriptions with photos of the artist at work.
---
Nisha K. Sethi is an artist and designer based in San Francisco and Los Angeles. The website effectively showcases Nisha's typography and skills as a multi-disciplinary artist, starting at the top of the minimalistic home page. Visitors get an immediate taste of this designer's hand-lettering skills through the auto-played video.
The site's clean and uncluttered portfolio design shows off Nisha's past work alongside a concise description of the project. Many portfolio pages feature photos of the artist herself at work, showing her versatility firsthand.
The straightforward About page lends a personal touch, conveying her journey of becoming an artist and her passion for artistry as a medium for social change.

High-impact images, videos, and illustrations.

Scroll Me

What we liked most about this site:
The straightforward structure and gallery format make it easy for visitors to navigate and explore the works.

Captivate potential clients with a dynamic display of animated art complemented by static designs and graphics.

A grid-based layout fills the screen to full length with brightly colored images and video.

Ultra-minimalistic single project pages feel cool and clean after the visual home page.
---
David Milan is a 3D artist and designer working across multiple disciplines, including typography and illustrations. Street art-inspired texture and typography dominate this easy-to-navigate example of graphic design websites. 
With a straightforward, grid-based structure, this site stands out among graphic design website examples, drawing visitors to focus on his colorful designs through animated and static art. The gallery of works is displayed across the screen's width and extends full-length down the page, providing a visually engaging experience. Each piece's page is a simple pop-up modal featuring the artwork and title.
If these graphic design websites appeal to you, learn how 10Web AI Website Builder can revolutionize your website creation experience without any coding experience.

Fun illustrations and artwork in a colorful package.

Scroll Me

What we liked most about this site:
Innovative use of colors, shapes, and quirky hover effects.

Memorable graphic design website with casual, personable visuals.

Unique illustrations are used to create a unique and distinctive brand identity.
---
Roos Beeldt is an illustrator and a graphic designer. Her portfolio is among great graphic design websites that reflect the artist's creative approach with memorable designs and illustrations. The portfolio further highlights Roos's ability to develop a consistent brand identity, as evidenced by attention to detail on web design visual cues, which is admirable and inspirational. Furthermore, the Shop section lets you buy her amazing artistic and illustrative work directly from the designer.

Showstopping project pages.

Scroll Me
What we liked most about this site:
The creative use of shapes, textures, and movement elevates the overall design.

Modern and elegant design with dynamic hover effects.

Images of digital and print design dominate project pages in a macro mosaic layout. 
---
Sierra is an award-winning Graphic Designer with a BFA in Graphic Design and a BS in Communications, focusing on Digital Media. Her graphic design website example showcases her skills as a graphic designer, specifically in branding and digital and print designs. 
Textured geometric shapes follow the cursor, adding a playful and dynamic element to her portfolio. Hover effects applied to various elements in her website enhance the user interface, making it engaging and intriguing.
Sierra's masonry-like portfolio, with its transitions and overlays, gives way to project pages featuring plenty of images to get to know her style. Layered images of print and digital design give the project pages a depth and weighty feel that is often missing from image galleries. 

Minimalistic layout with subtle effects.

Scroll Me

What we liked most about this site:
Focus on artwork and illustrations with a minimalist design.

Interactive features to enhance user engagement.

Showreel video brings art installations and processes to life.
---
Craig Black is a Scottish Visual Artist best known for his "Acrylic Fusion" technique and specialization in bespoke artwork, installations, and live performance art. Like the best graphic design websites, Craigs puts the projects front and center with subtle design elements that don't detract from the page content. The home page displays wall-to-wall colorful, crisp images of his hand-poured acrylic projects. 
Each project page loads with smooth transitions and treats visitors to numerous images of the artwork and the artist himself at work. These photos let guests learn more about the artist's poured paint techniques. A Showreel page offers similar information in a snappy video with plenty of artwork examples and further insight into the artist's process.
If you aim for an online presence like these graphic design websites, consider using 10Web AI Website Builder to achieve fast and accurate results.
Get a head start on website creation with AI
Create a custom website tailored to your business needs 10X faster with 10Web AI Website Builder!
Get a head start on website creation with AI
Create a custom website tailored to your business needs 10X faster with 10Web AI Website Builder!
Typography meets live art design portfolio.

Scroll Me

What we liked most about this site:
It has an attractive, uncluttered, and easy-to-navigate layout.

The minimalistic design approach emphasizes the artwork.

Clear categorization of projects.
---
Aries Moross is a creative director, illustrator, and designer with a career beginning in 2007. Later, they expanded the practice, built a team, and laid the foundation of Studio Moross in 2012. The Aries Moross design portfolio is one of the best graphic design website examples demonstrating amazing design skills.
A typographical feast for the eyes awaits visitors to this graphic design website. Stacked project names slowly rotate across the page in big, bold letters. Clicking one of these takes you to the project's page, where photos glide, slide, and fade in, forming a large gallery while scrolling down. Additional portfolio projects grace the end of each project's page, keeping visitors engaged.
The focus of a minimalistic design is solely on the artwork. Each project is categorized by medium and project type, making it easier for potential clients to navigate and comprehend Aries Moross' skills and experience. In addition, a link to Studio Moross is filled with case studies, deeper information on projects, and a link to the designer's shop. 

Understated details for a graphic design showcase.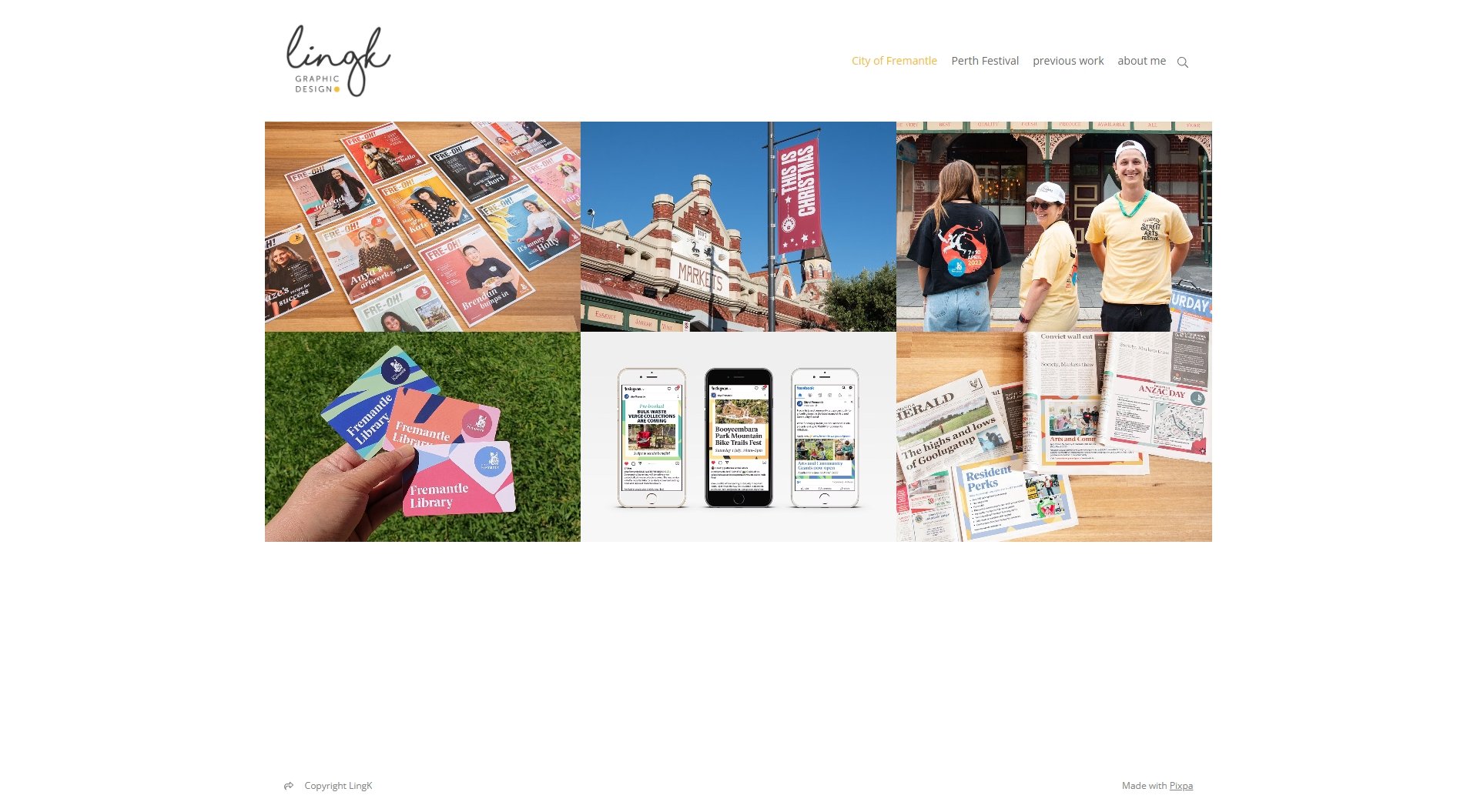 What we liked most about this site:
Transparent depiction of projects for elaborate campaigns and events.

Skillfully showcased portfolio exemplifying the designer's unique expertise in each project.

Unique logo design with a blend of simplicity and elegance.
---
Ling K's portfolio website highlights the most recent projects while showcasing previous work with clear and concise descriptions of the services provided. The unassuming user interface of this graphic designer website template provides potential clients with an easy way to assess the designer's work and get a feel for her style.
The home page's clean design shows off a grid of images leading to different project categories. Project pages feature a variety of illustrations, mockups, and photographs of artwork appearing in the real world.
The versatility of graphic design websites like this one makes it ideal for demonstrating the integration of promotional materials for multifaceted events like festivals and conferences.

Sophisticated, portfolio-first graphic design website. 

Scroll Me

What we liked most about this site:
Sophisticated, dark design feels like a meet and greet.

Effective mixture of calls to action and portfolio projects.

Portfolio-forward site prominently displaying detailed projects.
---
Tobias van Schneider is a designer, co-founder at Semplice™, speaker, mentor, and maker. Tobias's portfolio website, known as HOVS (House of van Schneider), inspires entrepreneurial designers so much that millions of people use and love his creations.
The graphic designer's website starts off with the real nitty gritty. The no-nonsense home page offers project images along with in-depth information on each. Information about HOVS is interspersed throughout, inviting visitors to reach out to the designer.
The primary navigation bar features various sections, including Blog, About, Instagram, Mixtapes, and Sign Up. In the blog, you can explore and learn about design-related topics, self-improvement, portfolio tips, freelance life, UX writing, and more. Like some of the best graphic designer websites, Tobias's site also offers a DESK Reading Club for exclusive content and an Artistic "Mixtapes" section for designers and creative minds.

Minimal design with a focus on the portfolio.

Scroll Me

What we liked most about this site:
High-quality pictures enhance the overall presentation.

Grid design enhances work visibility and maintains professional UI.

The home page cuts to the chase with many vibrant illustrations and branding materials.
---
Steve Wolf Designs is a graphic design studio with Steve Wolf as its creative director, who uses his design experience to support brands. Steve Wolf's graphic design website template stands out due to its incredibly sharp graphics and elegant grid style. The home page is unadorned except for multitudes of images, mockups, and photographs of branding materials doing their thing in various real-world places.
The whitespace-heavy theme continues on the project pages, with pertinent information at the page's top and numerous illustrations and designs showcased in an orderly gallery below.
The About page provides information regarding partners, workshops, and interviews. Furthermore, visitors can check out the designer's shop to purchase posters to brighten any environment, including your room and office.

Straightforward and easy to navigate.

Scroll Me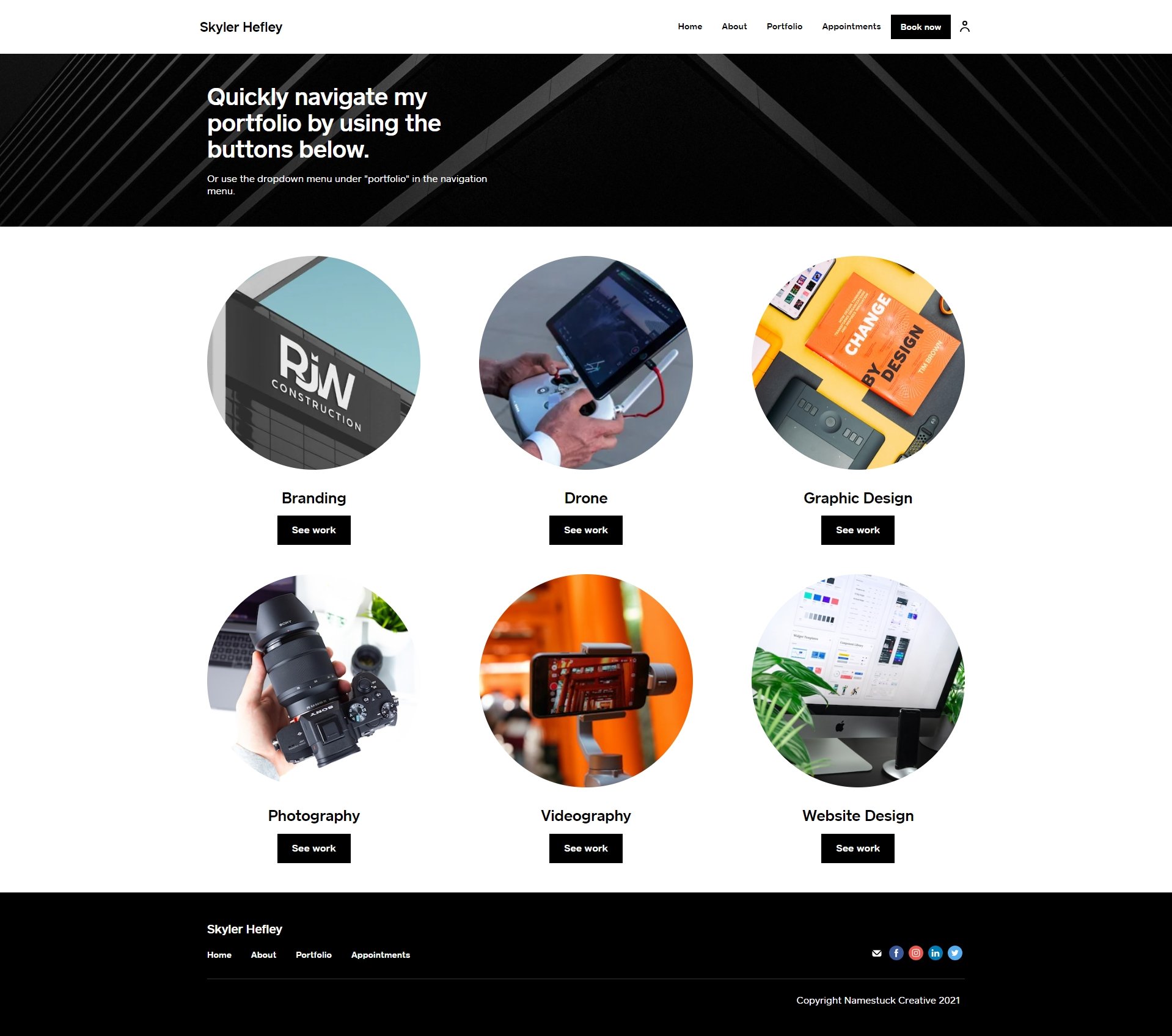 What we liked most about this site:
Case studies and prototypes show off capabilities and skills.

Visually appealing and informative design.

Seamless scheduling with an informative 'Book Now' feature.
---
Skyler is a strategic brand builder, consultant, drone pilot, designer, photographer, and videographer. Skyler Hefley's website is considered one of the best graphic design websites that takes a different approach to showcase branding, graphic designing, web designing, and much more by packing each with information in an individual package. The Hefley portfolio is an excellent example of showcasing their work and demonstrating their ability to potential clients by including case studies. 
The home page is delightfully easy to navigate, with a friendly tip on finding what you're looking for at the top. Projects are categorized into user-friendly groups of services and design mediums. Each category's page showcases remarkable visuals, including photos, mockups, illustrations, and examples of the work displayed in the real world.
The "Book Now" feature offers a streamlined and effective platform for appointment scheduling, allowing clients to easily book their preferred time slots for professional services for creative solutions. Clicking the link provides some pricing information and sets expectations for future communications.
If you value responsive and friendly designs like these graphic design websites, choose 10Web AI Website Builder to start creating your graphic designer website templates with AI for a seamless user experience.

Minimalist, functional, and visually appealing.

Scroll Me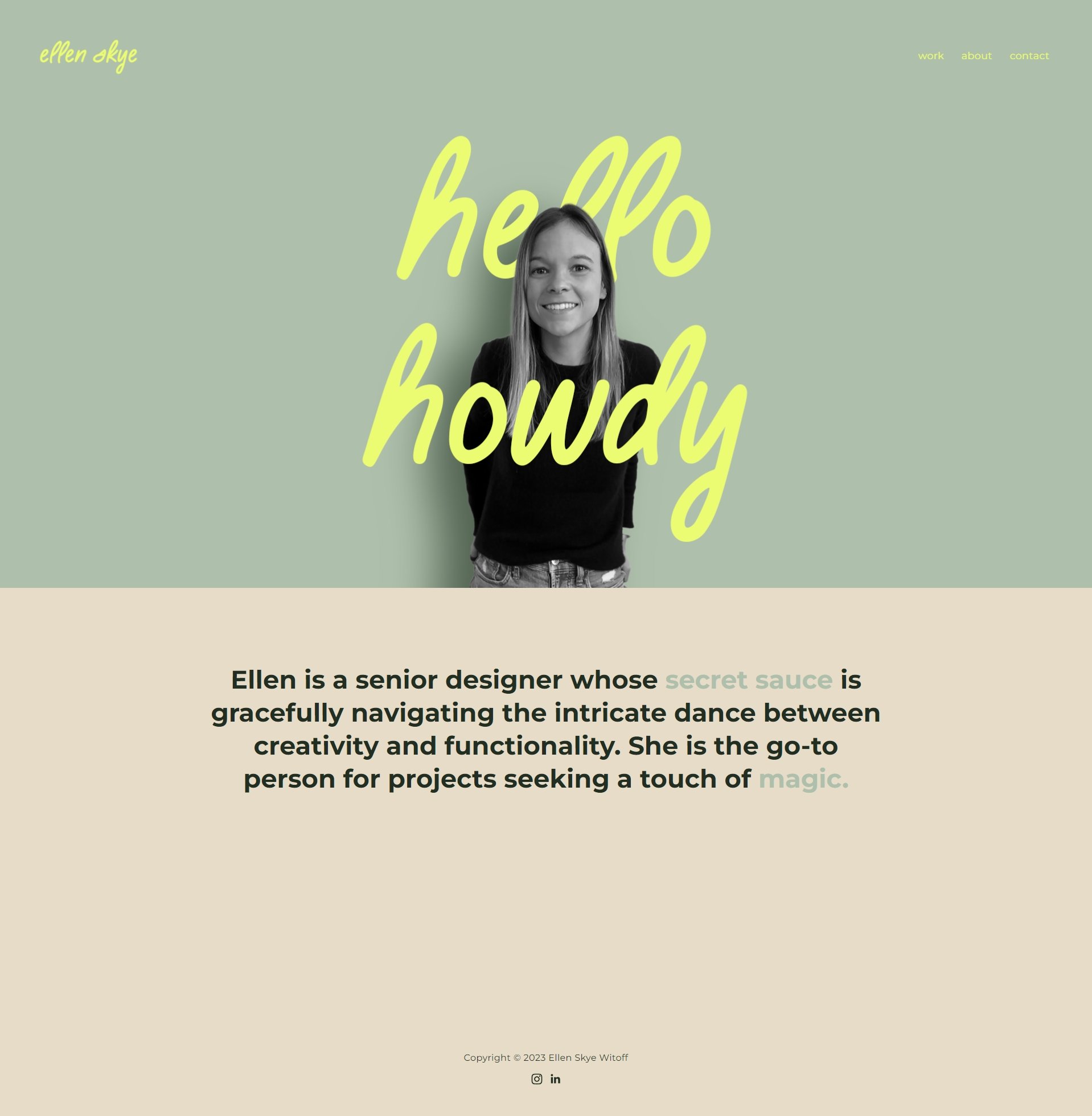 What we liked most about this site:
User Interface with a subtle color and style.

Visually appealing with a focus on typography.

Simple and easy-to-read content conveying each project's story.
---
Ellen Skye is a high-caliber brand designer and visual storyteller at Salesforce. The design portfolio presented on Ellen Skye's website serves as an outstanding demonstration of quality graphic designer website examples, effectively highlighting her skill as an illustrator and visual storyteller. 
The low-key website is easy on the eyes, with dashes of color sprinkled throughout. The portfolio is easy to take in at a glance but is full of detail the more you look. Each project's page is an art gallery-style walkthrough of the project's materials, painting a picture of this designer's style and flair. 
Other pages include simple yet polished About and Contact pages that carry through with this subtly colorful and engaging example of graphic design websites.

Strategically creative with a sleek design.

Scroll Me
What we liked most about this site:
Unique animations and creative presentation of key portfolio projects

Scrolling reveals a walkthrough of case studies, introducing the team's work.

A memorable design portfolio with cohesive branding, layout, and content.
---
MB Creative is a close-knit family of creative and curious facilitators and strategists based in beautiful Toronto, Canada. MBC is not only an expert in refreshing award-winning websites but also in search engine optimization (SEO) to help increase traffic to your website, and that's why it stands out as one of the best graphic design websites. Their website showcases their beautiful websites created through strategy-driven design. 
Visitors immediately get a feel for MB Creative's work with an animated walkthrough of several key projects that demonstrate their versatility. Scrolling reveals details and links to case studies for various types of projects. Case study pages are highly visual and informative, offering behind-the-scenes information on the project's process.

Artistically bold with unique typography.

Scroll Me

What we liked most about this site:
Symphony of colors, typography, and visuals from top to bottom.

Graduated scrolling effects add interest to the portfolio images.

Unique and dynamic layout.
---
When it comes to creating a visually engaging online portfolio, one can never go wrong by referring to some top-notch 3D graphic design websites. A good example is Alex Trochut's portfolio. A digital craftsman from Barcelona, Spain, with proficiency in design, 3D illustration, and typography. Alex Trochut's graphic design website template is an effective and efficient portfolio that showcases graphic design, product design, animations, music, and NFTs.
This graphic designer website employs a dynamic and interactive layout. As you scroll through the home page, the way project thumbnails move and appear on the screen is engaging and puts the focus on the artist's portfolio. 
The minimalist navigation allows the artwork to take center stage. It's intuitive yet unobtrusive, ensuring that visitors can easily find their way around without being distracted from the artwork
The About page shows off Alex Trochut's signature style of bold and artistic typography, delving into engaging biography, prestigious awards, captivating online classes, and more.

Captivating & animated portfolio

Scroll Me
What we liked most about this site:
Exudes a warm and personable feel.

An interactive and visually rich portfolio highlighting diverse projects.

Minimalist design and user-friendly interface 
---
Wendy is a product designer with a Bachelor's degree in Communications Design and is pursuing a Master's degree in Human-Computer Interaction. The interest lies in crafting valuable experiences that bridge humanized technology and social wellness. Wendy Ju's graphic design portfolio website is captivating with its minimalistic appearance and delicate animations to highlight the capabilities of branding, web design, app design, and much more. 
This graphic designer website template has earned recognitions, including D&AD New Blood Portfolio Winner, Wix Blog – 15 Outstanding Wix Website Examples, and Forbes – Best Designed Websites of 2023. 
The homepage animation invites clients into her realm, providing a sense of curiosity. A playful cursor interaction adds engagement and a splash of color to the softly neutral palette. The combination of basic design and precise animations complements her artistic capabilities.
Now that you've gained insights into the most inspirational 2024 graphic design websites let's look at some tips on creating exceptional and inspirational websites to showcase your work effectively and efficiently.
10 tips to create a graphic designer portfolio website that stands out
With a multitude of graphic design website examples available online, it's easier than ever to discover styles that resonate with you and incorporate them into your own designs. However, Building an exceptional graphic design portfolio and website requires careful curation and effective presentation. The following tips will help you create a standout portfolio that showcases your skills and attracts potential clients.

1. Showcase versatility
When selecting projects for your portfolio, prioritize quality over quantity. It's better to have a handful of exceptional projects that truly showcase your skills and creativity than a multitude of mediocre ones. Each project you choose should highlight a different aspect of your abilities, whether it's your knack for typography, your eye for color, your understanding of layout, or your ability to create compelling visual narratives. Make your highest-value projects the focal point of your portfolio website. These are the projects that best represent your skills and your unique design style.

2. Choose the right platform
Invest in a high-quality website with a personalized domain URL to display professionalism to potential clients. Choose a hosting service that effectively organizes your portfolio and contains areas like Projects, About Me, and Contact Me. Take into consideration the use of website builders that are developed expressly for portfolio websites.
If you want to exude professionalism and showcase your portfolio with a personalized domain URL, consider investing in 10Web AI Website Builder today. With 10Web, you can easily build, showcase, and personalize your portfolio and establish your unique presence with just a few clicks.
Get a head start on website creation with AI
Create a custom website tailored to your business needs 10X faster with 10Web AI Website Builder!
Get a head start on website creation with AI
Create a custom website tailored to your business needs 10X faster with 10Web AI Website Builder!
3. Indulge case studies and client recommendations
Create in-depth case studies to give your projects meaningful context. Describe the context, the issue, the procedure, and any deliverables associated with each project. Case studies allow prospective customers to comprehend your one-of-a-kind approach and problem-solving skills better. In addition, consider incorporating testimonials from previous customers to demonstrate both your professional approach and the value you deliver to your customers.

4. Make it clean and easy to navigate
Your portfolio website should be a testament to your skills as a graphic designer, embodying a sleek, visually appealing, and user-friendly design. Avoid overwhelming visitors with excessive design elements; opt for a clean, minimalist design that highlights your projects. Your work should be the star, and the design of your portfolio should serve to enhance and highlight your projects, not overshadow them. Use descriptive headers and subheadings to guide visitors through your portfolio. Include key sections like 'Home', 'About', 'Portfolio', and 'Contact'.

5. Prominently display contact information
Ensure your contact information is easily accessible on your portfolio website. Facilitate communication with potential clients by prominently featuring links to your email address and a contact form on your website. Consider adding a "Book an Appointment" button for a more direct approach to discussing project ideas or sharing product concepts. Regularly monitor your contact channels to respond promptly to all inquiries, demonstrating your professionalism and commitment to potential clients.

6. Showcase your unique personality
Your portfolio should be a mirror reflecting your unique personality and creative vision. It's not just about showcasing your work; it's also about presenting who you are as a designer. The design elements you choose, the color palettes you favor, and the typography you use, all contribute to this narrative. Incorporate elements that resonate with your style and make your portfolio distinct. This could be anything from a unique logo, a signature color scheme, or a typeface you love. Your portfolio should be an extension of yourself, giving potential clients a glimpse into your design style and what it might be like to work with you. 

7. Describe your creative process
Your portfolio should display the final product and narrate the creative journey you undertook to reach that endpoint. Consider including case studies or dedicated sections that detail your thought process and the steps you took to arrive at each design solution. Start with the initial brainstorming phase, discuss the challenges you faced, the ideas you explored, and how you refined your concepts through iterations. This transparency allows potential clients to gain insight into your problem-solving skills, approach to design challenges, and working methodology.

8. Show non-client work and personal projects
If you're just starting out or wish to showcase a broader skill set, don't hesitate to include non-client work or personal projects in your portfolio. These projects can exhibit your initiative, creativity, and ability to juggle multiple tasks. While maintaining a professional tone for client work, highlight the unique aspects of these personal projects. They can serve as a testament to your passion for design and your ability to innovate beyond client specifications.

9. Stay updated and continuously improve
A graphic design portfolio is a dynamic entity, never truly finished. It's crucial to stay abreast of the latest design trends, technological advancements, and best practices in the marketplace. Regularly refine your portfolio by adding new projects, updating case studies, and enhancing your presentation. Solicit feedback from peers, mentors, or potential clients to ensure your portfolio remains relevant, engaging, and reflective of your evolving skills and style.

10. Develop a personal brand
Beyond assembling a collection of your work, invest time crafting a personal brand that encapsulates your aesthetic preferences and core values. Design a unique logo, create business cards, and establish a consistent visual identity across your website and social media platforms. A strong personal brand helps you differentiate yourself in a crowded market and leaves a lasting impression on potential clients, reinforcing your professional image and commitment to design excellence.

Conclusion
To summarize, developing an outstanding portfolio of graphic design work demands a combination of showcasing your best work, providing an effective presentation, and adding a touch of personal branding. You can create a standout portfolio that attracts potential clients and helps you establish your presence in the competitive world of graphic design by curating your portfolio, selecting the appropriate platform, integrating case studies, exhibiting your one-of-a-kind personality, and building a portfolio that stands out from the crowd. As you work on developing your portfolio, explore graphic design website examples and gain insights into how varying color schemes, layouts, and typography choices affect the overall appearance and feel of the site.
If you're a graphic designer aspiring to create an outstanding online portfolio and want to save time and resources, leverage 10Web AI Website Builder for efficient website creation. It streamlines website creation for everyone, regardless of technical expertise, and can help you build an outstanding portfolio regardless of your domain in graphic design.
Get a head start on website creation with AI
Create a custom website tailored to your business needs 10X faster with 10Web AI Website Builder!