As an artist, gaining visibility from your audience is crucial. A personal website is an excellent way to connect with people from all over the world, breaking geographical, cultural, and language barriers. In this article, we have explored various examples of artist websites that can inspire you to create a compelling web design of your own.
Whether you're a painter, photographer, musician, sculptor, or any other type of artist, having an artist website provides a way to connect with a global audience across various borders, languages, and cultures. While the quality of your art is crucial, it is equally important to consider how you present it. A poor presentation can diminish the impact and value of your work, while a well-designed presentation can enhance its impact.
According to Forbes Advisor, almost 47% of users won't wait more than those brief two seconds. This underscores the critical importance of quick website loading times, as slow performance can result in website owners losing potential clients within mere moments. Therefore, artists must not underestimate the significance of user experience and design when creating their portfolios. 
In this article, we will introduce you to different artist website examples and illustrate what works well on their websites so that you may use them as inspiration for your own web design.
Example 1:
Ketakuma
– Entertaining web design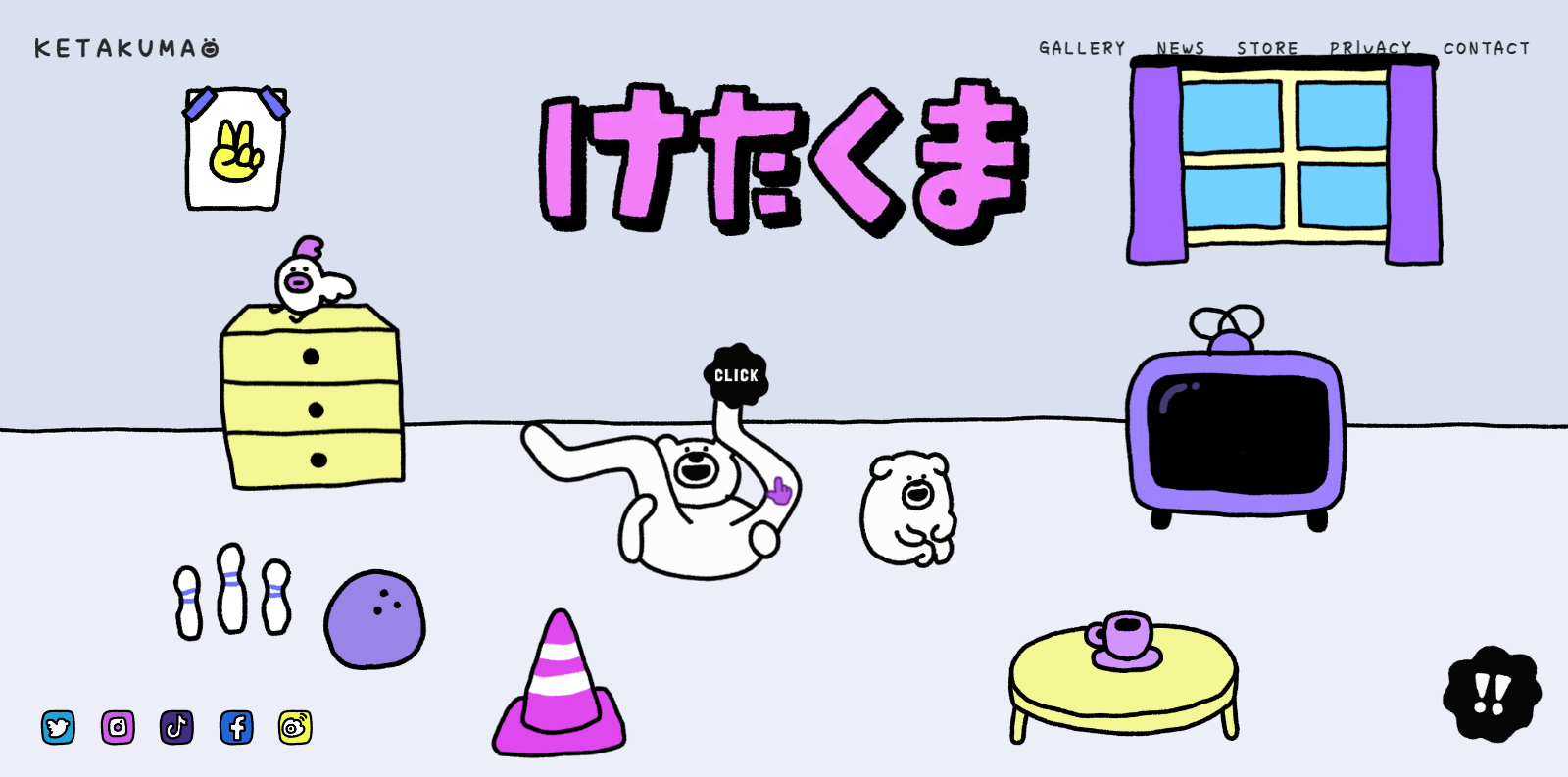 Ketakuma is an Asian-based artist who creates LINE stickers, animations, and illustrations. His website is one of artist website examples for a fun and cheerful platform.
‍‍What's done well on the website:
The vibrant color palette immediately captures attention and creates a playful atmosphere.

Animated images of the brand's mascot, Takadabear, add a unique and entertaining element to the user experience.

An integrated shop where visitors can purchase Ketakuma merchandise.
Websites of this nature require more than just layout aesthetics and artistic insight. If you have a vision for a website but are struggling with how to initiate the layout, consider exploring 10Web AI Website Builder.
Get a head start on website creation with AI
Create a custom website tailored to your business needs 10X faster with 10Web AI Website Builder!
Example 2:
Shantell Martin
– Interactive doodle navigation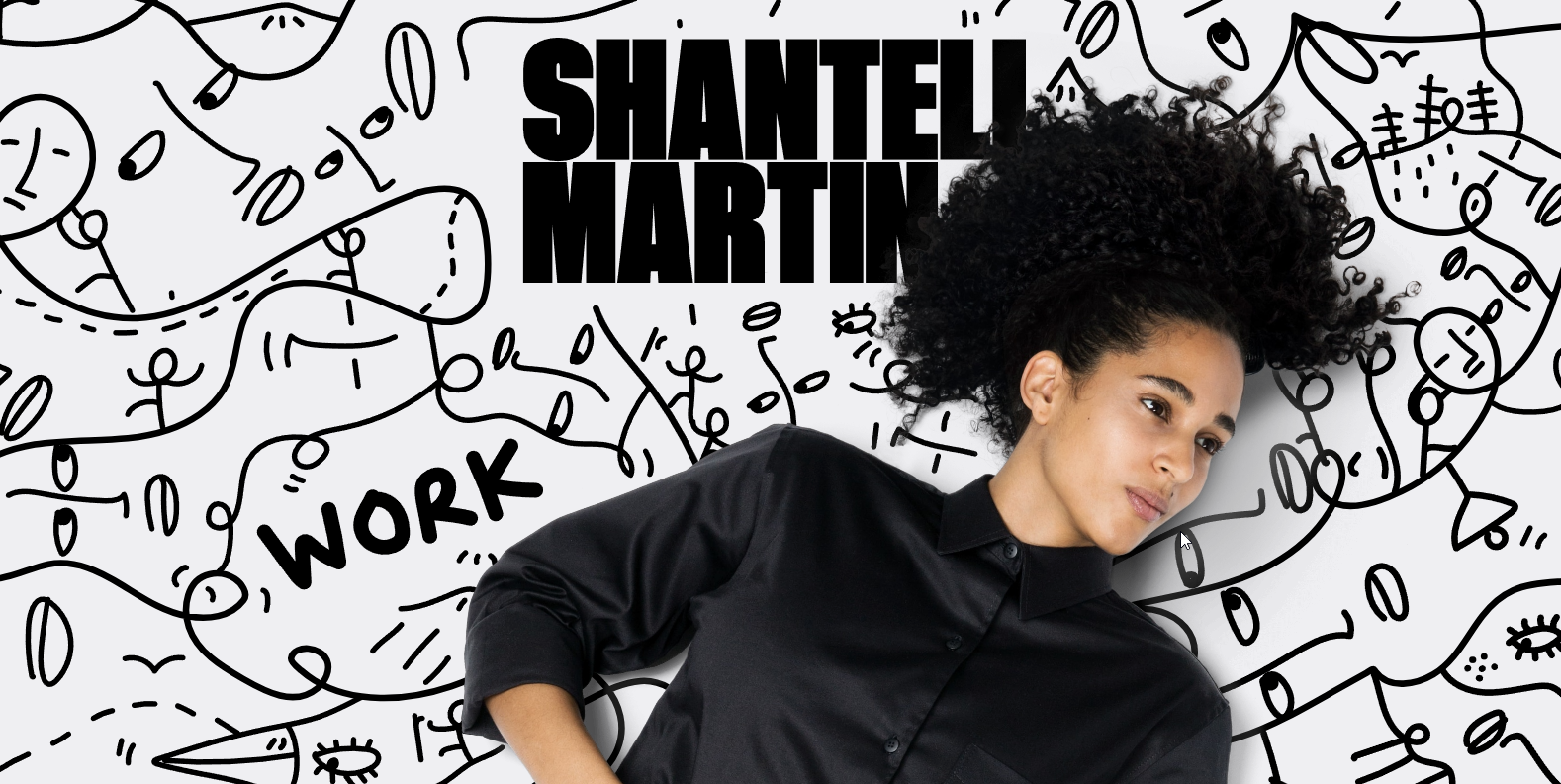 The multidisciplinary artist Shantell Martin is a public speaker, curator, philosopher, cultural facilitator, teacher, choreographer, songwriter, performer, and much more. With various artist website templates on offer, this stands out as one of the creative artist website examples for doodle art enthusiasts.
‍‍What's done well on the website:
The homepage features a high-resolution image of the artist surrounded by her doodles.

Black and white background with scrolling doodles and links.

Playful doodles with varying speeds and patterns.
Example 3:
Brooke Cormier
– Organized artwork gallery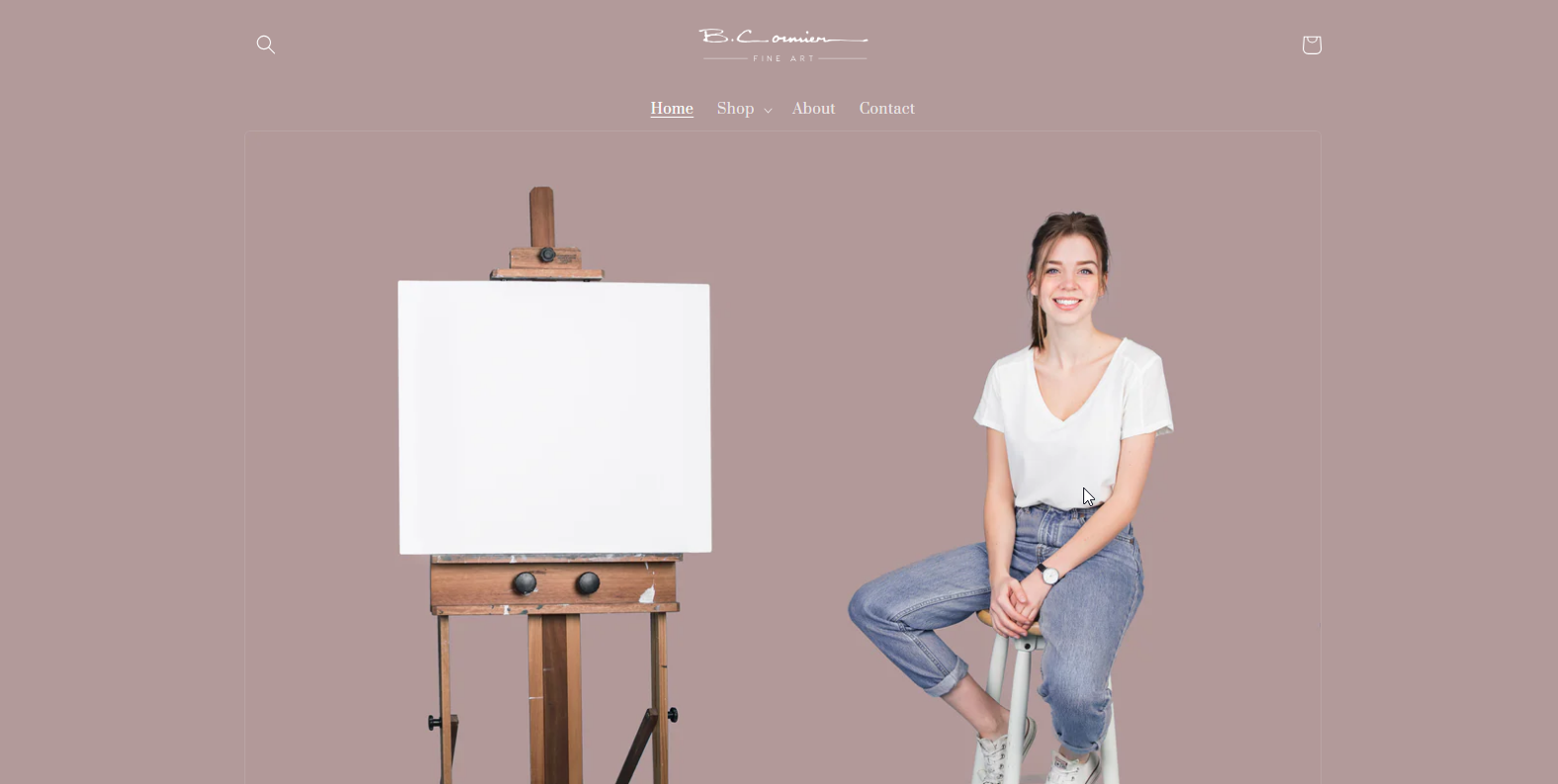 ‍‍Canadian artist Brooke Cormier creates realistic, naturalistic oil paintings but tries out new themes, mediums, and approaches. This is one of the artist website templates for someone looking for a simple theme with an artistic design.
‍What's done well on the website:
Interactive buttons and outstanding visual design.

Systematically categorized all her artwork for easy navigation.

Integrated storefront to purchase her creations directly.

Using a signature as a logo to give a creative touch
Example 4:
Alex Fisher
– Design consistency and diversity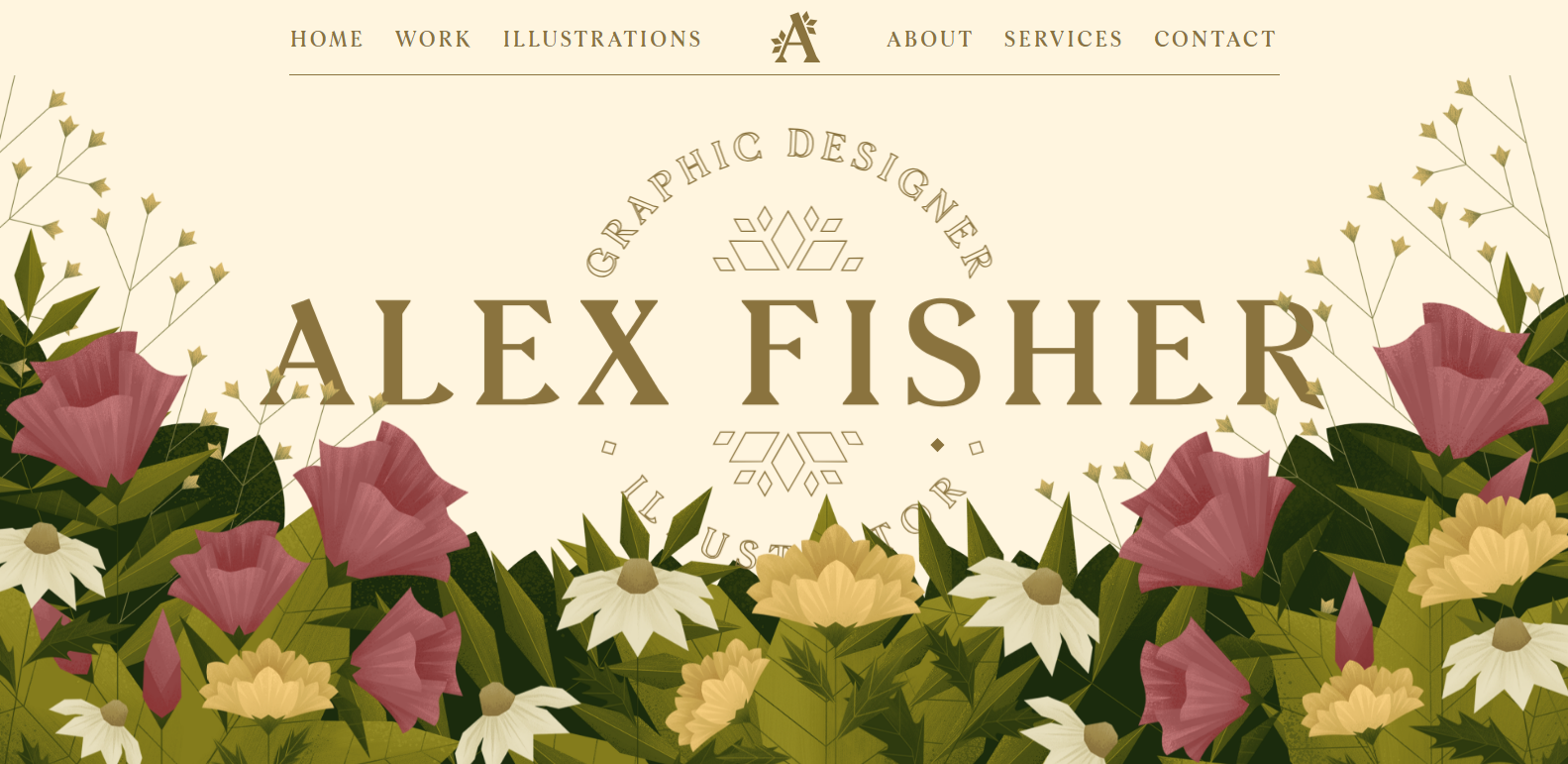 Alex Fisher is a freelance illustrator and graphic designer in Winnipeg, Canada. She has worked at agencies for almost six years, mostly on branding, identity, and illustration projects.
‍What's done well on the website:
Unified theme

with a tasteful color blend, reflecting her style consistency.

Diamond-shaped mouse pointer adds a creative and unique touch to the user experience.

Highlighted works to showcase Alex's standout artwork as visitors scroll.
Example 5:
James White
– Dark background grid display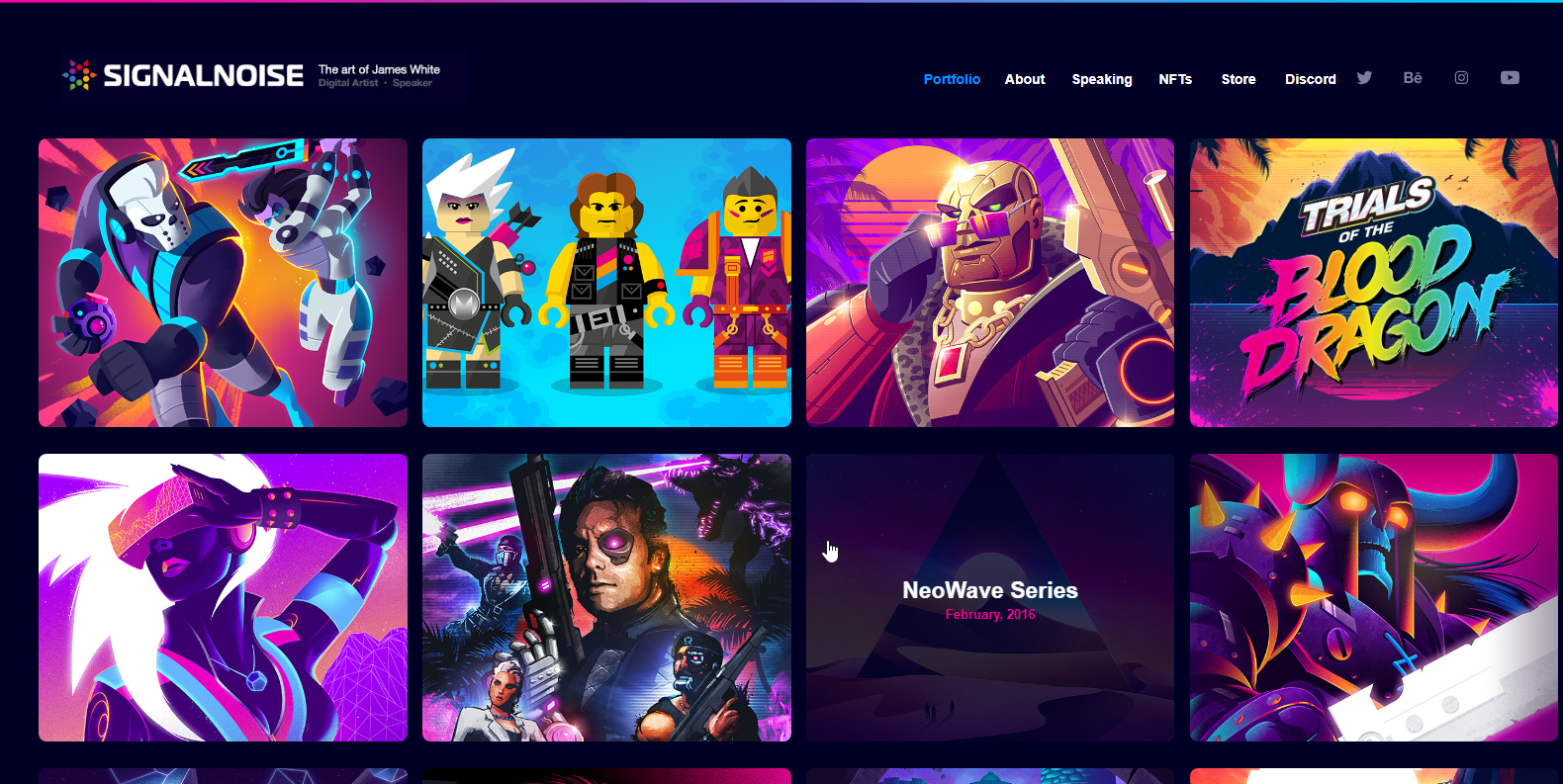 James White, a renowned graphic designer, is known for using bold, vibrant aesthetics. Since his collection of paintings is so vibrant, a portfolio layout that complements them is necessary. This template is one of the best artist website templates for dark themes.
‍What's done well on the website:
Dark backdrop to highlight vibrant artwork colors.

The grid-based display showcases James's artistic range and provides insight into creation.

Multiple Collections of diverse art styles, highlighting versatility.
If you're aiming to create a website with a unique, dark-themed look, consider using the 10Web AI Website Builder. With 10Web AI Website Builder, you can customize your site and display your work in a visually stunning way.
Example 6:
Phillip Pop Off
– Animated art and portfolio presentation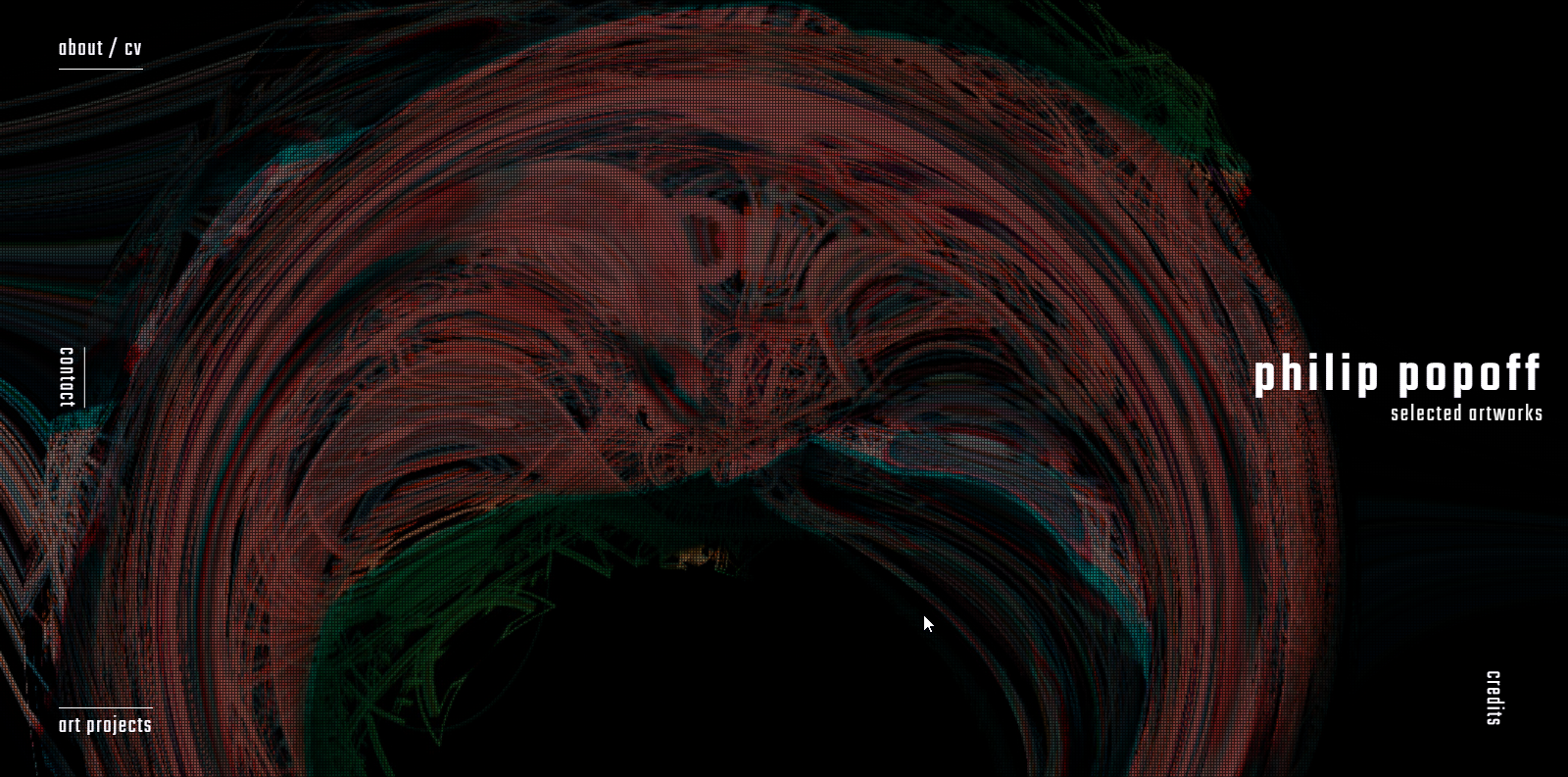 Bulgarian artist Phillip Popoff is a highly skilled digital animator. If you're looking to showcase your animated art, Phillip's website offers the ideal artist website template featuring animated artwork.
‍What's done well on the website:
Captivating GSAP-based hero animation accompanied by a uniquely designed menu.

Detailed CV and Portfolio to Showcase the artist's background and featured projects.
Example 7:
Mathieu Levesque
– Stylish artistic platform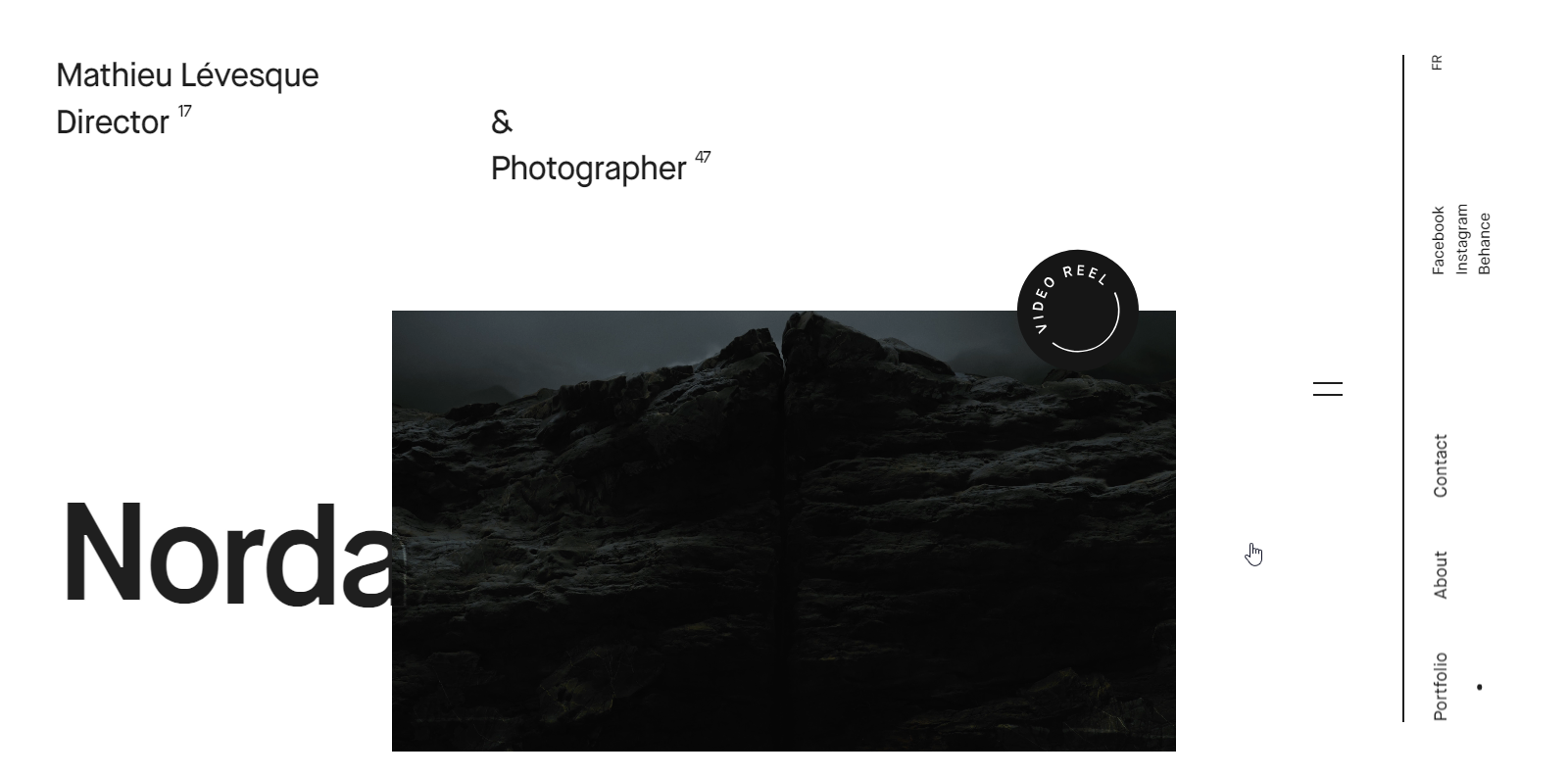 Mathieu Levesque is one of the best artist website examples that feature different galleries featuring innovative work. It provides a unique layout to help photographers in creating their portfolio websites.
‍What's done well on the website:
Unique design with appealing font, elegant content presentation, and smooth scrolling for a polished user experience.

Comprehensive artwork insights and an off-canvas menu for seamless navigation.

Social icons for easy sharing and a dynamic video reel showcasing the artist's work.
Example 8:
Alicia Haberman
– Organized creative portfolio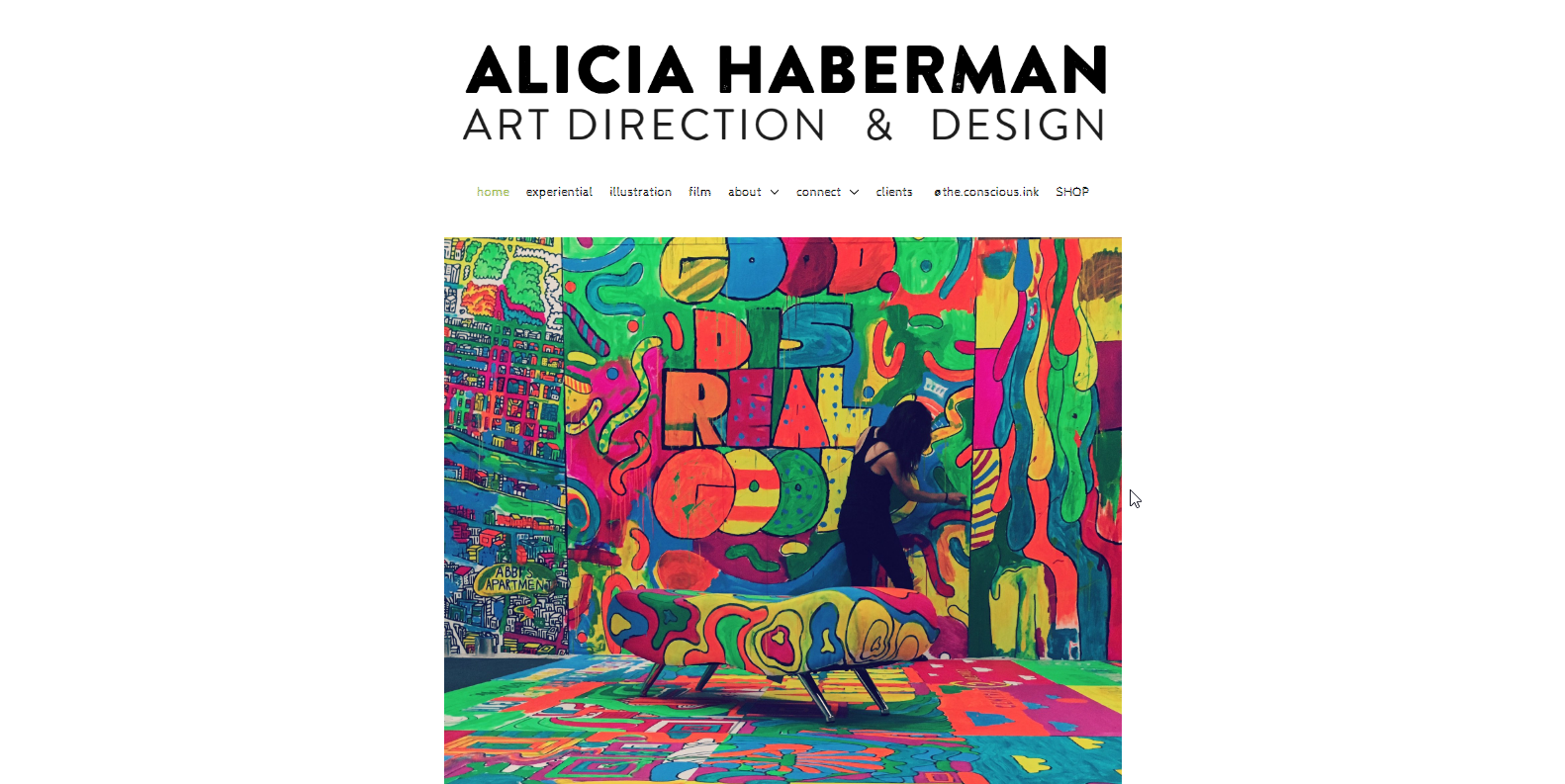 Alicia Haberman is currently a production designer for a prestigious marketing and audio company. She has designed album covers for artists like 50Cent and Kanye West.
‍What's done well on the website:
Showcases partnerships with artists, vocalists, and composers.

Displays wide-ranging artistic skills and client base.

Distinct sections for film, home, experiential, and illustration work.
Example 9:
Grand Deluxe
– Vibrant illustration art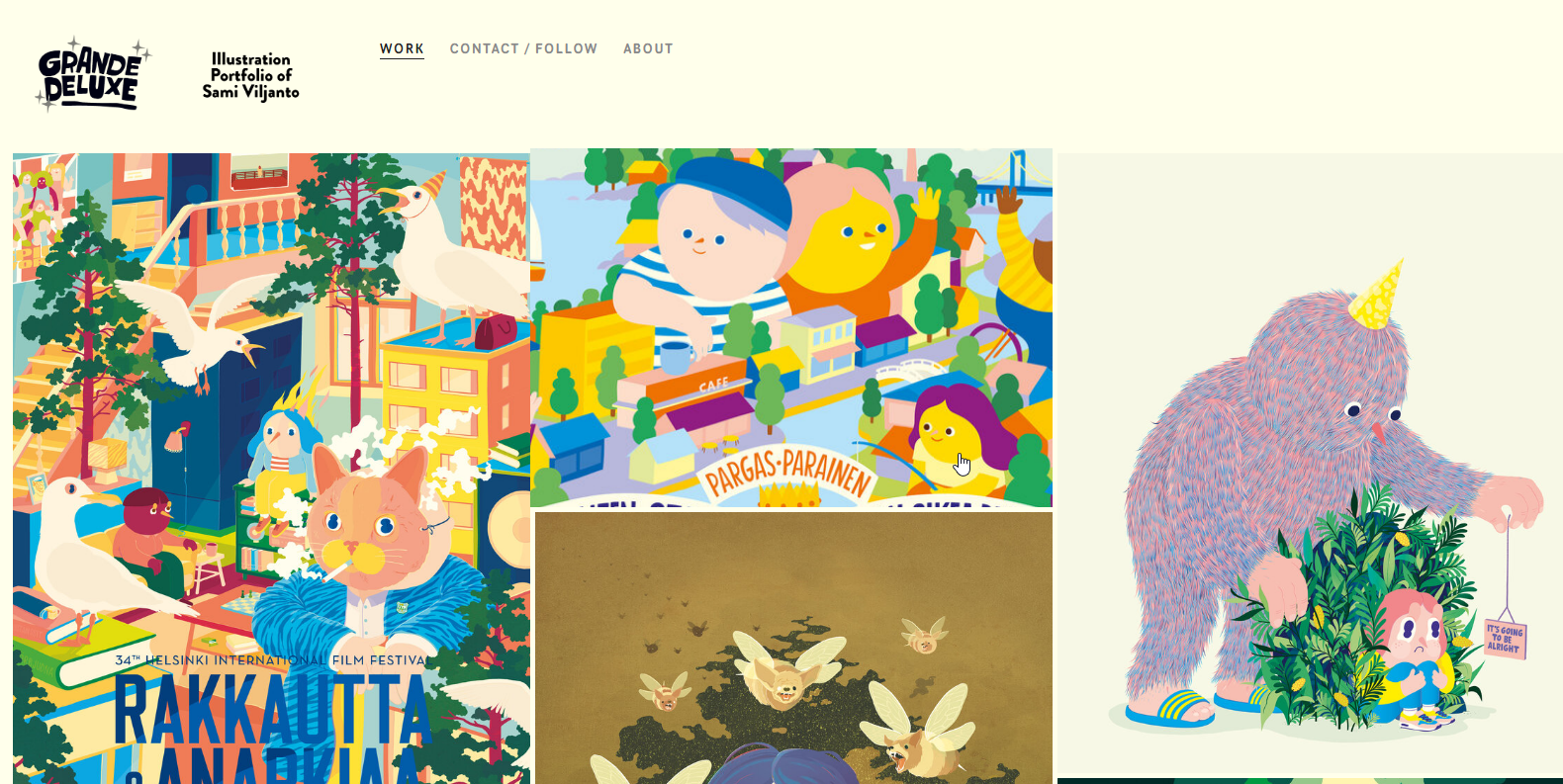 When it comes to artist website examples, Sami Viljanto's illustration portfolio knows how to captivate an audience through his vibrant color palettes and vivid illustrations. This can be a website template for artists who want to display their work in an illustrative manner.
‍‍What's done well on the website:
Each illustration links to a detailed description.

A streamlined three-section layout for a focused user experience.

Smooth section transitions via the navigation bar and easy access to social media accounts through the 'contact' or 'follow' page.
Example 10:
Mathias Ball
– Emotional and colorful art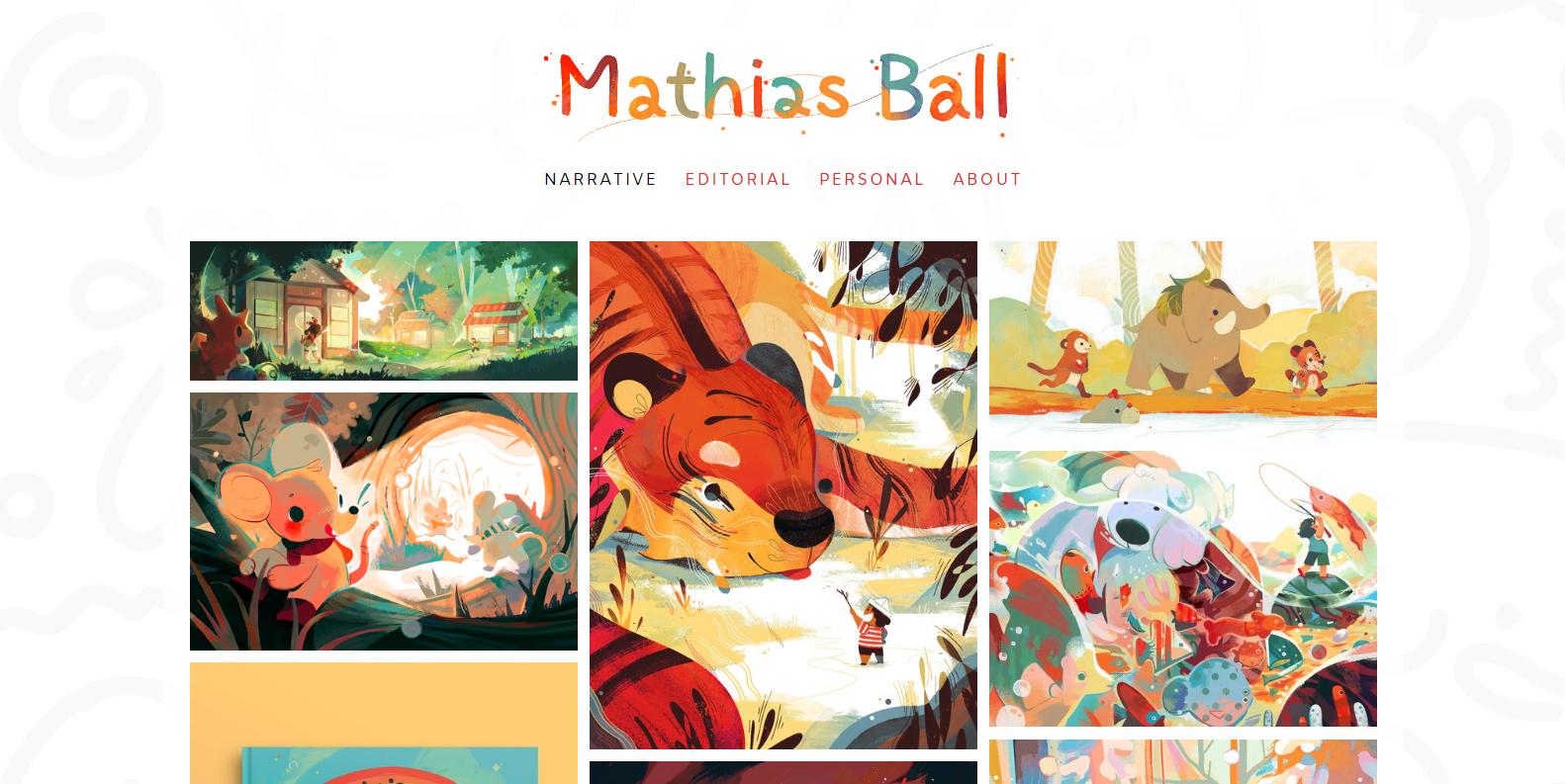 Mathias Ball is an illustrator from a small Canadian town. He specialized in crafting vibrant illustrations infused with emotions, animals, and warm hues. 
‍‍What's done well on the website:
Mathias' vibrant hand-drawn logo adds a unique touch to the site.

White spaces perfectly highlight each piece.

Footer icons directly link to her email and social media profiles.
Example 11:
Joana Neves
– Striking digital artwork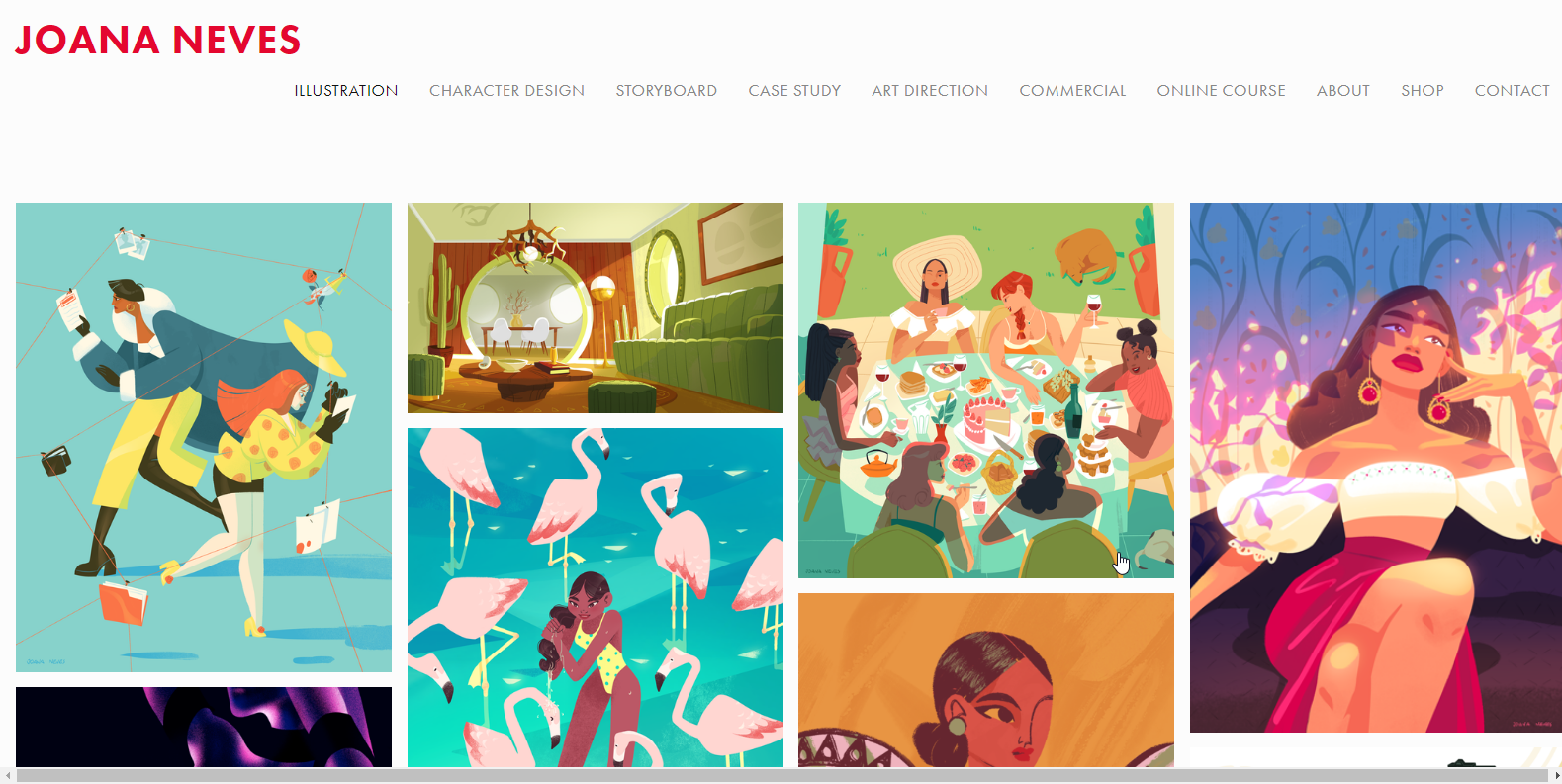 Joana Neves is a Portuguese artist who focuses on illustration character design. She expresses her passion for fashion and storytelling through beautiful digital artwork.
‍‍What's done well on the website:
Vibrant visuals and a sleek layout define Joana Neves' portfolio.

Segmented into "Illustrations" and "Character Design" for easy browsing. Sections like "Art Direction," "Commercial," and "Online Course" offer insights.

Engaging case studies with clear subsections.
Example 12:
Philippa Rice
– Comic-inspired art display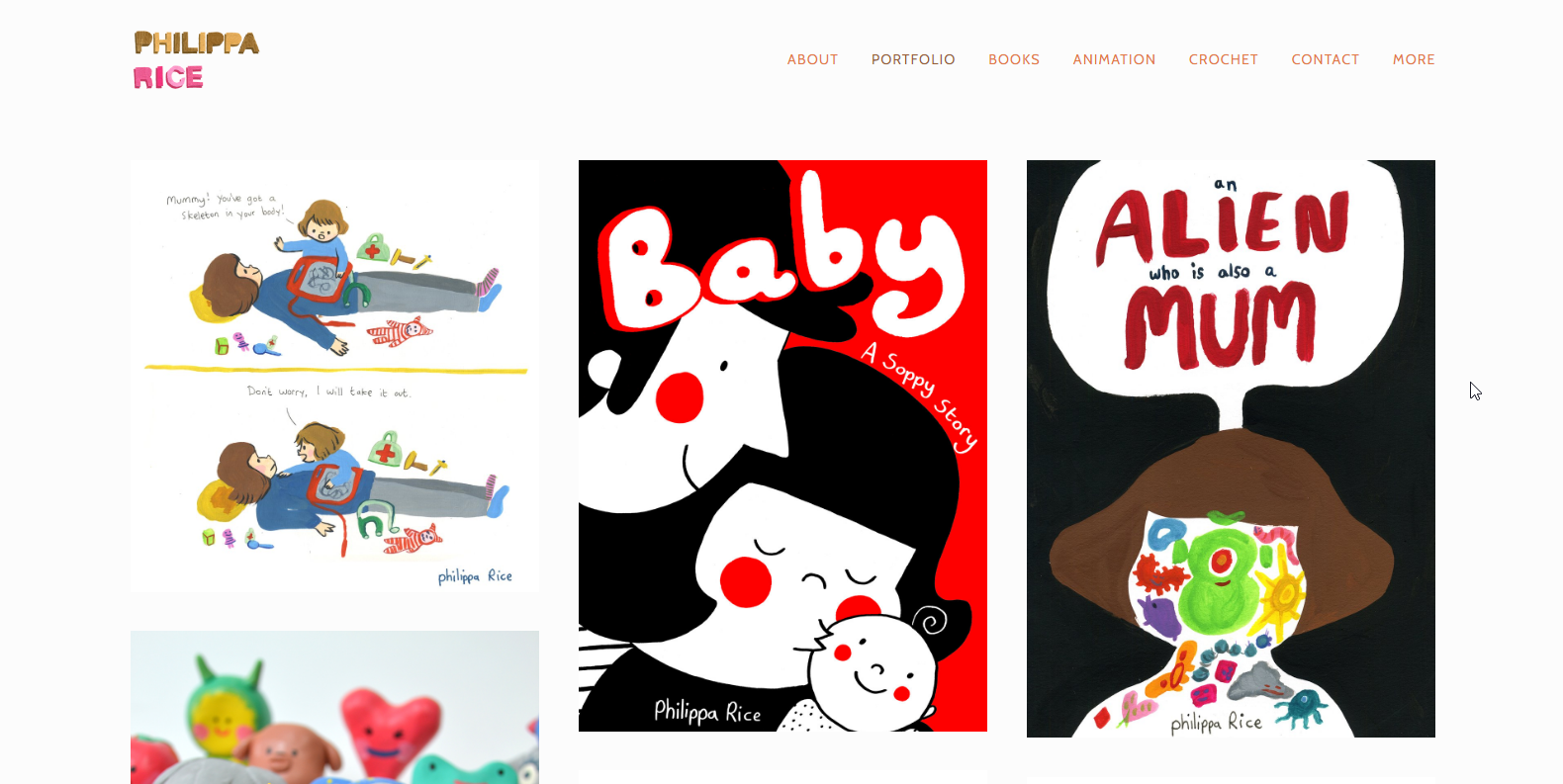 Phillippa Rice is a gifted artist who enjoys creating comics, illustrations, animations, and crochet.  She brings life to her creations in Nottingham, often drawing inspiration from everyday life. With a background in Animation, she adds a dynamic touch to her art. 
‍‍What's done well on the website:
An asymmetric grid layout with comic images and videos to showcase design projects.

Unique comic book aesthetics and vibrant color palettes offer inspiration for children-oriented design.
Example 13:
Gusté Design
– Customizable playful design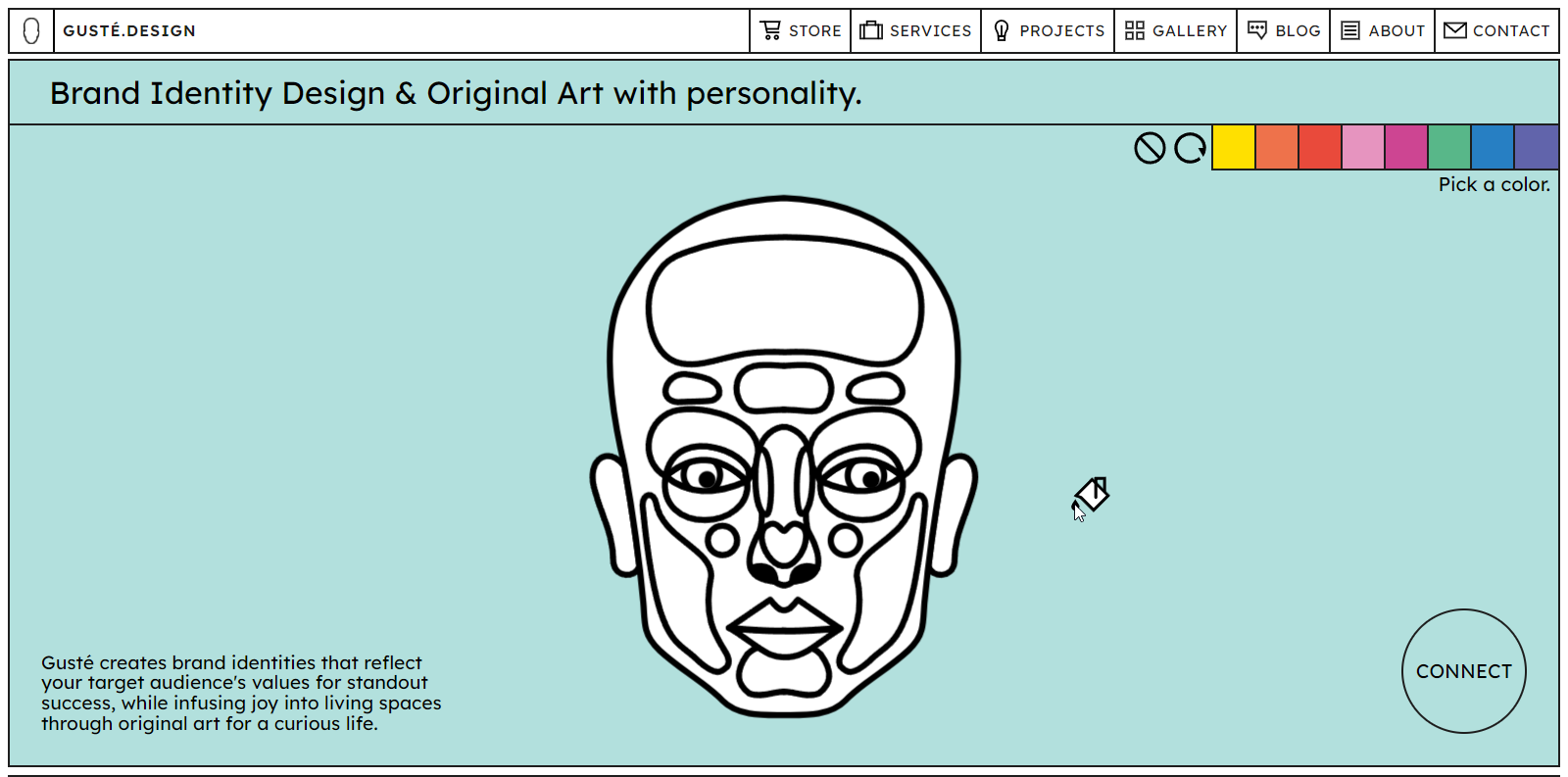 Lithuanian artist Gusté Vasiliauskaité has a decade-long career in creative fields. Her website is an interactive platform that allows visitors to engage with the artwork.
‍‍What's done well on the website:
Customization via interactive design.

A simple cyan background allows the artwork to take center stage.

Integrated shop for purchasing artwork.
If you're drawn to interactive, playful designs that engage your audience, consider crafting your own website using 10Web AI Website Builder.
Get a head start on website creation with AI
Create a custom website tailored to your business needs 10X faster with 10Web AI Website Builder!
Get a head start on website creation with AI
Create a custom website tailored to your business needs 10X faster with 10Web AI Website Builder!
Example 14:
Nathalie Lete
– Handcrafted web aesthetics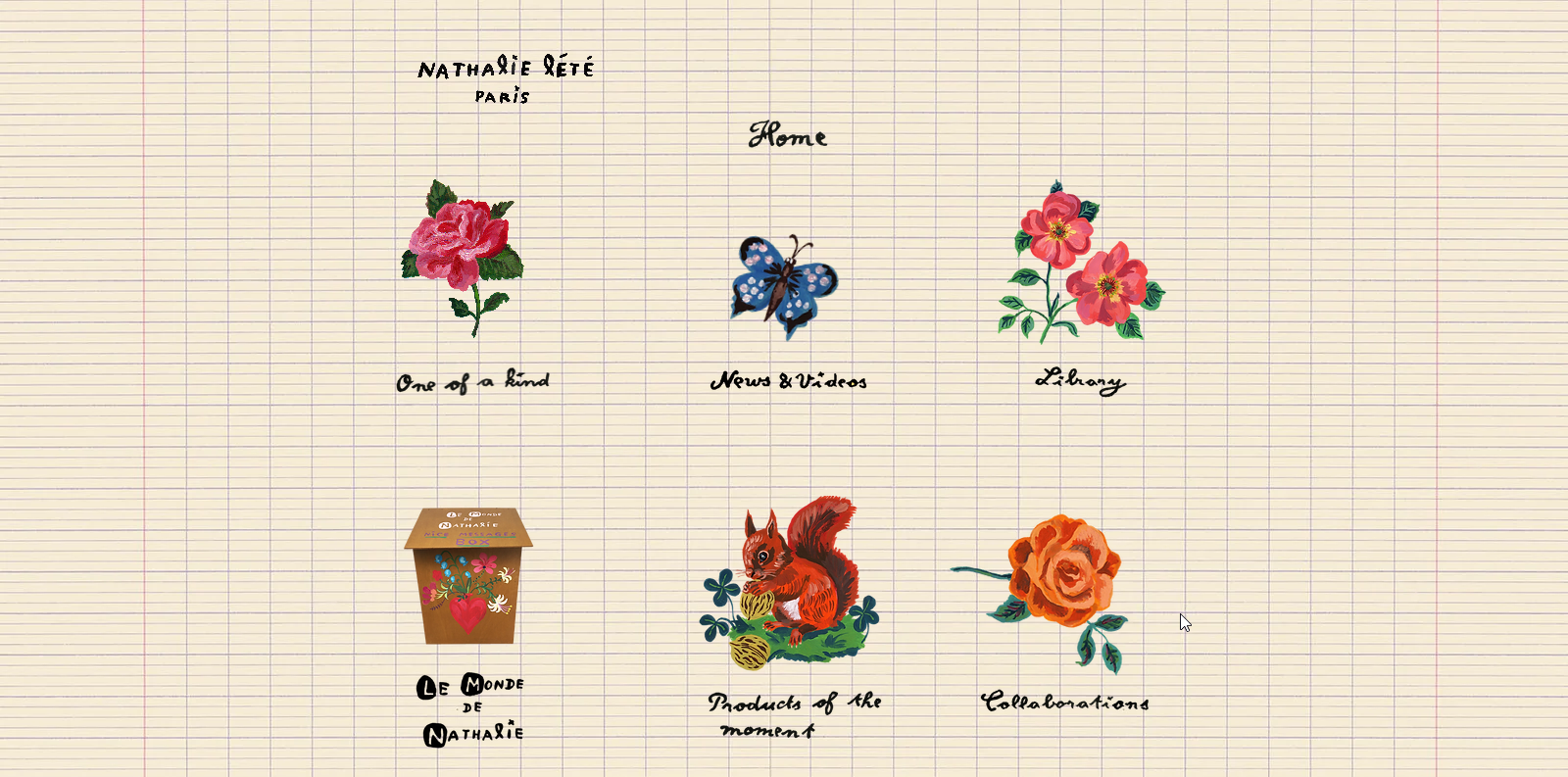 Nathalie Lete, is a versatile artist known for her unique mix of mediums, from illustration to ceramics. Her work draws inspiration from vintage toys and historic floral and animal engravings, blending color, innocence, and poetry.
‍‍What's done well on the website:
Journal-style design with a grid backdrop for an artistic structure.

Thematic hand-drawn fonts:

to enhance the website's theme.

In-depth project descriptions contribute to the site's unique style.
Example 15:
Michele Carlos
– The artful storyteller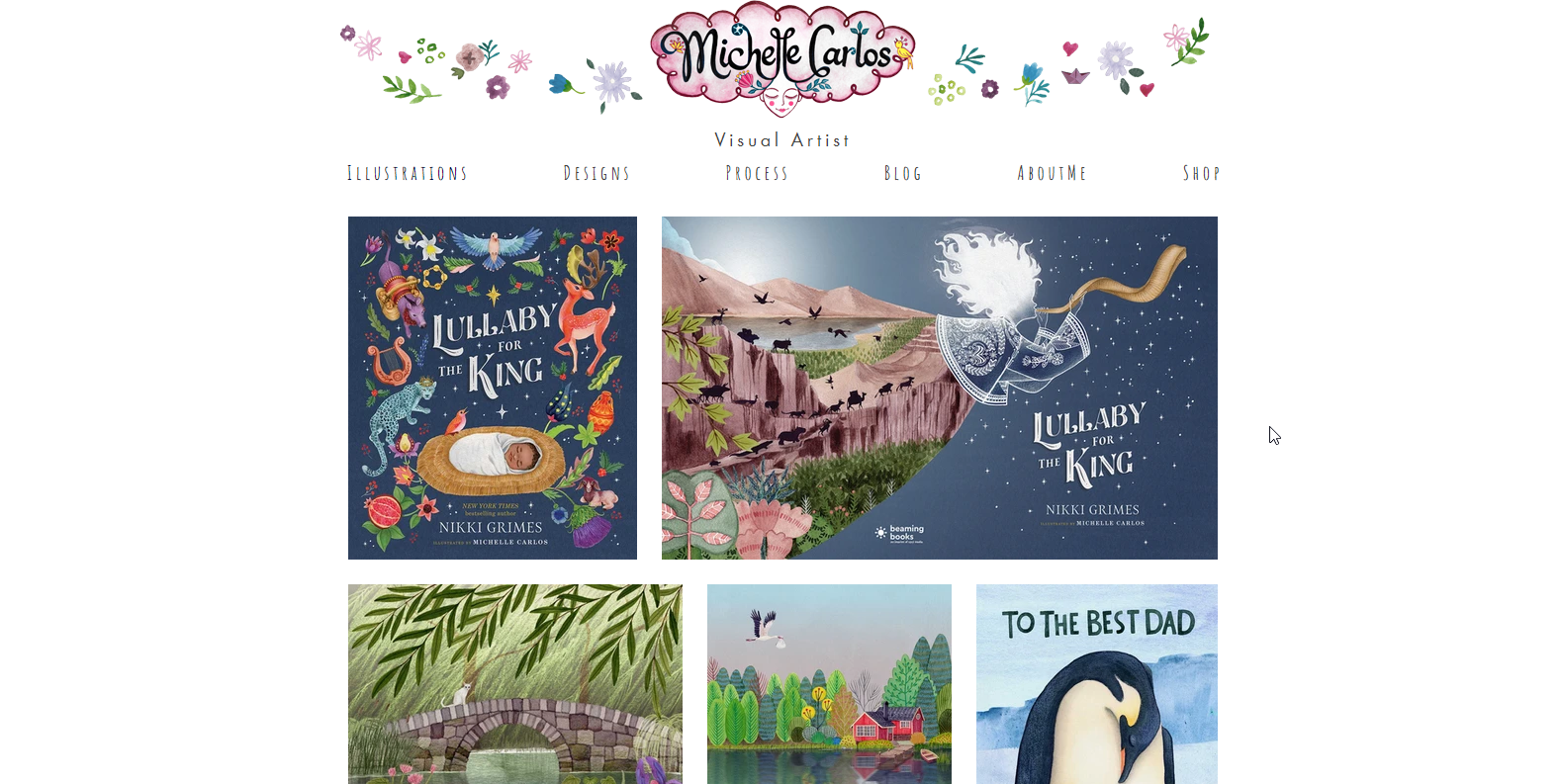 Michelle Carlos is a gifted artist and illustrator from the Philippines with a rich Fine Arts and filmmaking background. Her style is beautifully reflected in the children's books she writes and illustrates.
‍‍What's done well on the website:
Features a unique hand-drawn design.

Michelle's travel and experience-inspired illustration pieces.

Unique hand-drawn fonts to boost the site's appeal.

Engaging blog to offer insight into Michelle's inspirations.
Example 16:
Jon Burgerman
– Interactive art showcase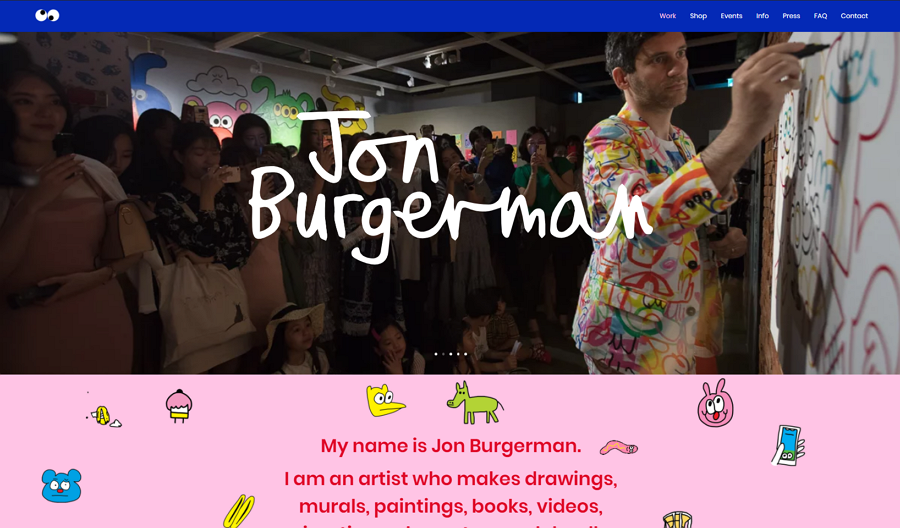 Jon Burgerman is a renowned artist whose hyper-realistic drawings, cartoons, characters, and murals display astounding skill. His work is part of important collections like the Victoria and Albert Museum in London, and his digital art is now in Austria's OÖ-Kultur Museum.
‍‍What's done well on the website:
Full-screen image carousel to provide an immersive display of Jon's artistic breadth.

Use of parallax scrolling to enhance the depth and interactivity of the site.

Fun animations to demonstrate Jon's versatility and engage users.

Vibrant colors to attract attention, stimulate interest, and match Jon's style.
Example 17:
Pedro Campos
– Photorealistic oil paintings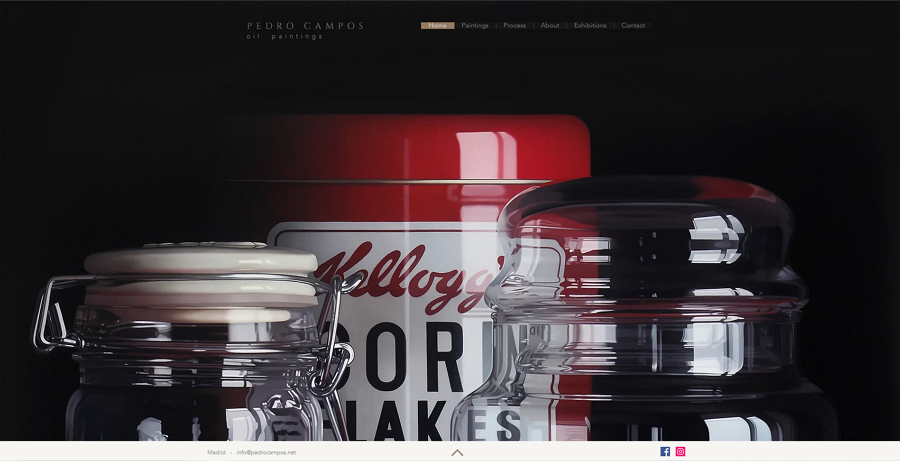 Pedro Campos, a Madrid-based hyperrealist, designs paintings renowned for their photorealistic aspect. His art captures the perfection of materials from aluminum Coke cans to blown glass marbles.
‍‍What's done well on the website:
Use of prominent images to showcase the artist's masterpieces prominently.

Single-page design to

ensure user-friendly navigation.

Smooth transition effects to enhance the browsing experience between pages.
Example 18:
Levon Biss
– Macro-level artwork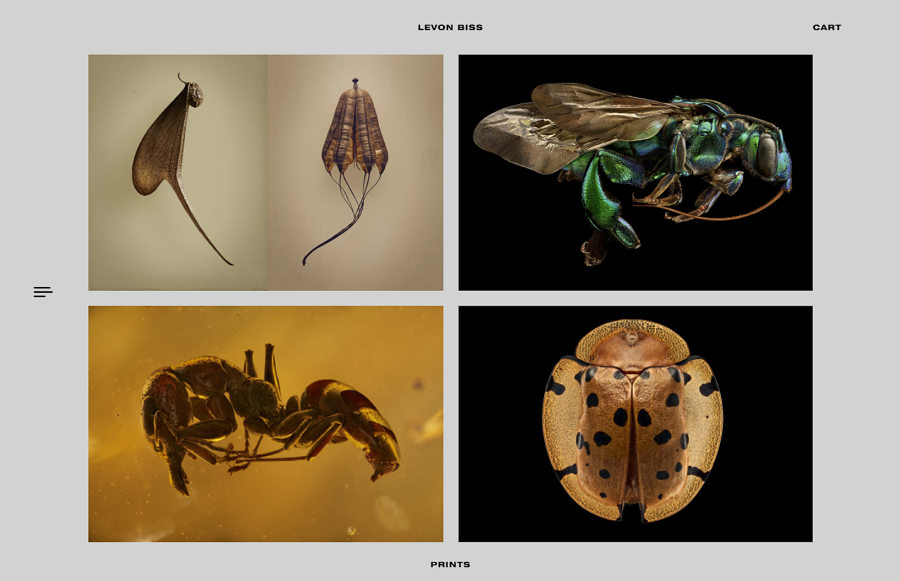 Levon Biss is a photographer with a vivid imagination that allows him to present his work originally and spectacularly. Around the world, his large-scale photographs are exhibited in museums and private collections.
‍‍What's done well on the website:
Minimalist design to optimize screen space for showcasing design works.

Collapsible navigation to improve user navigation and seamless page movement.
Example 19:
Alice X Zhang
– User-friendly interface with a dark theme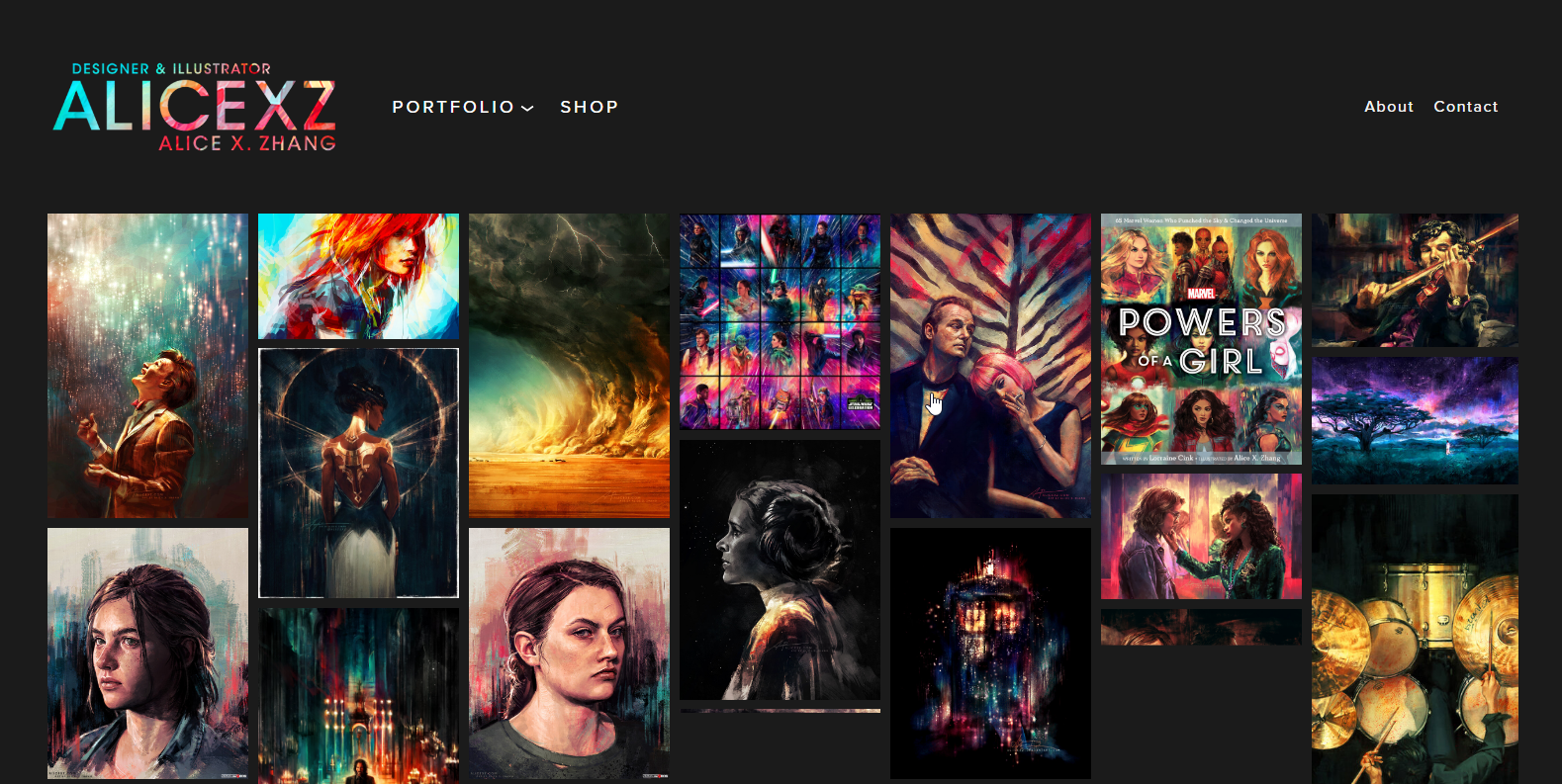 Alice X Zhang is a well-known illustrator and artist for her symbolic portraits. Since graduating from the Rhode Island School of Design, she has freelanced in film, comics, and gaming, working for big names such as Marvel and Lucasfilm. Her art is showcased in Doctor Who, Sherlock, Star Wars, and a number of other famous series.
‍‍What's done well on the website:
Unique logo to highlight her name prominently.

Use of dark background to draw visitors, resulting in vibrant, emotionally charged art.

Online store to sell fine and artist prints.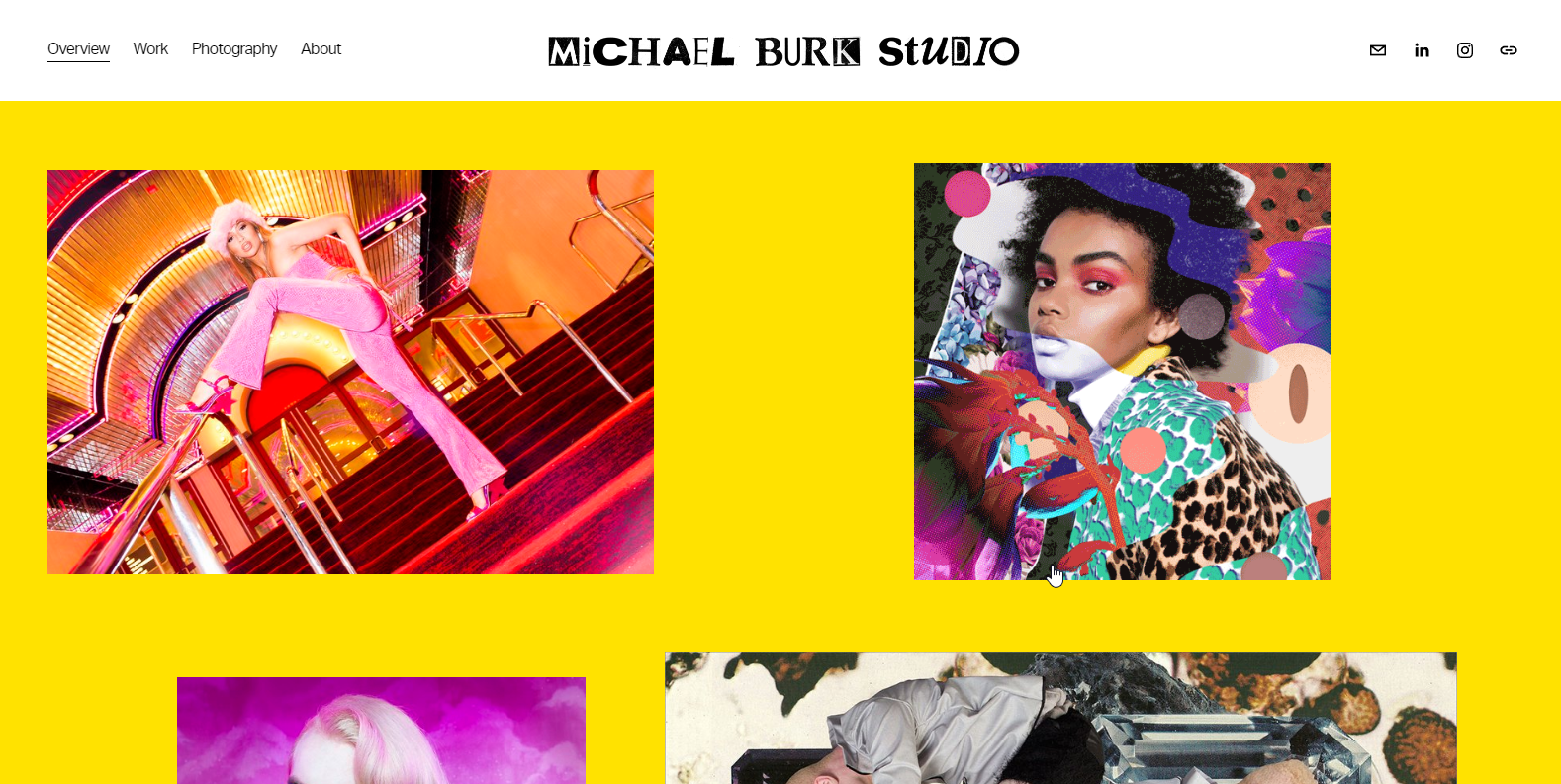 Originally from Los Angeles, Michael Burk is a multidisciplinary director, designer, and maker. Michael has collaborated with agencies such as 1st Avenue Machine, Media.Monks, and partners including Adidas, E! Network, Macy's, and Michael Kors.
‍‍What's done well on the website:
Yellow background to boost the design's visual appeal.

Eye-catching logo to promote brand recognition.

Clear navigation sections for work and photography to simplify navigation.

Integrated social media connections to foster accessibility and engagement.
Example 21:
Mike Perry Studio
– Horizontal art presentation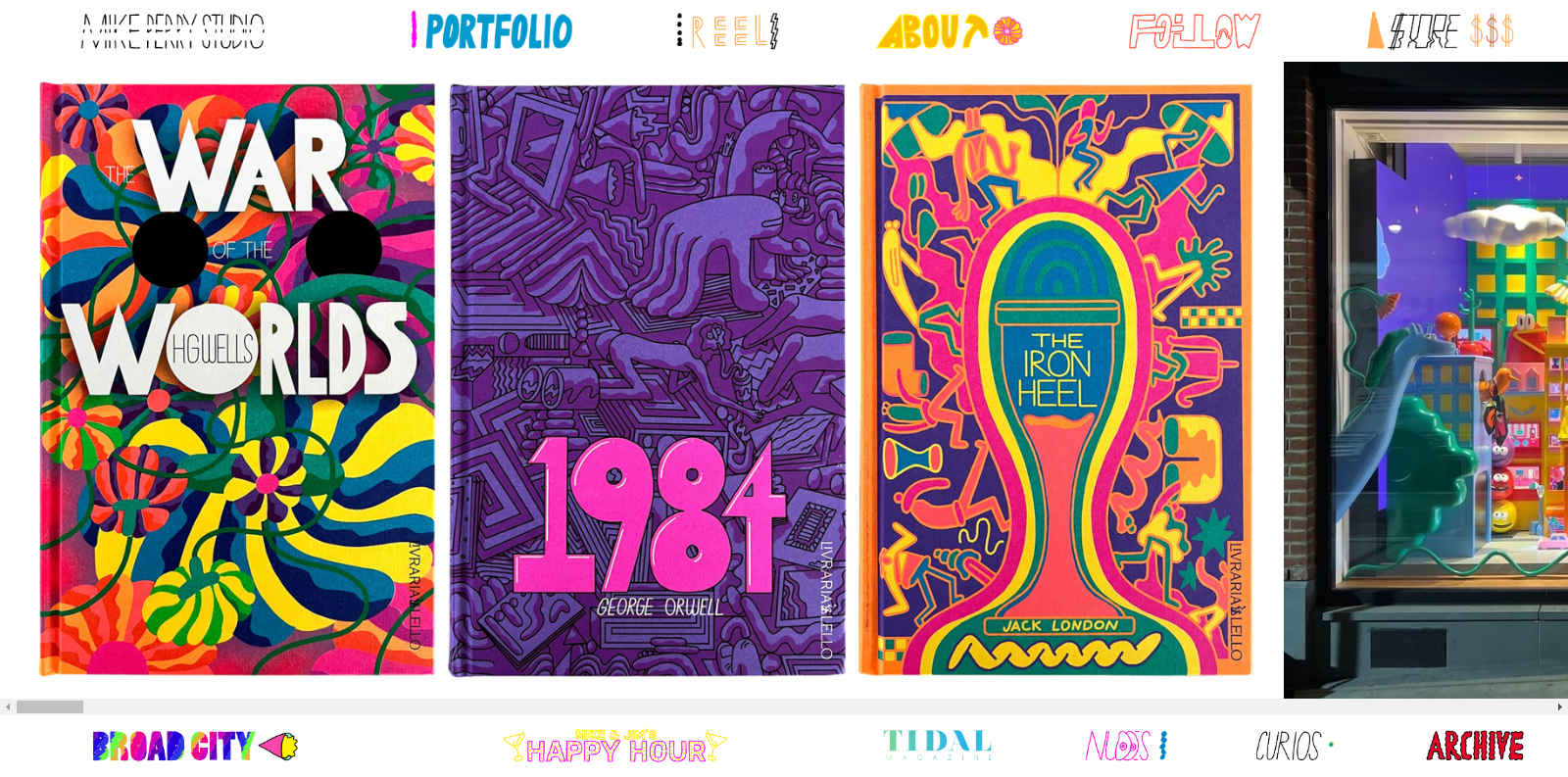 Emmy-winning artist Mike Perry creates paintings, animation, sculptures, books, public art installations, monographs, exhibitions, drawings, and silkscreens, among other things. His website is among the best artist website examples out there, providing an in-depth look into her creative process.
‍‍What's done well on the website:
Features a horizontal scrolling photo gallery for seamless browsing.

Animated navigation adds an artistic touch.

Colorful artwork to showcase vibrant artwork in various hues.

Footer art sections to showcase additional studio work.
If you're captivated by vibrant, animated navigation layouts, you can design a similar-style website using 10Web AI Website Builder. This tool allows you to craft a website that resonates with your aesthetic preferences and offers an engaging, dynamic user experience.
Example 22:
Brad Albright
– Comic-inspired art gallery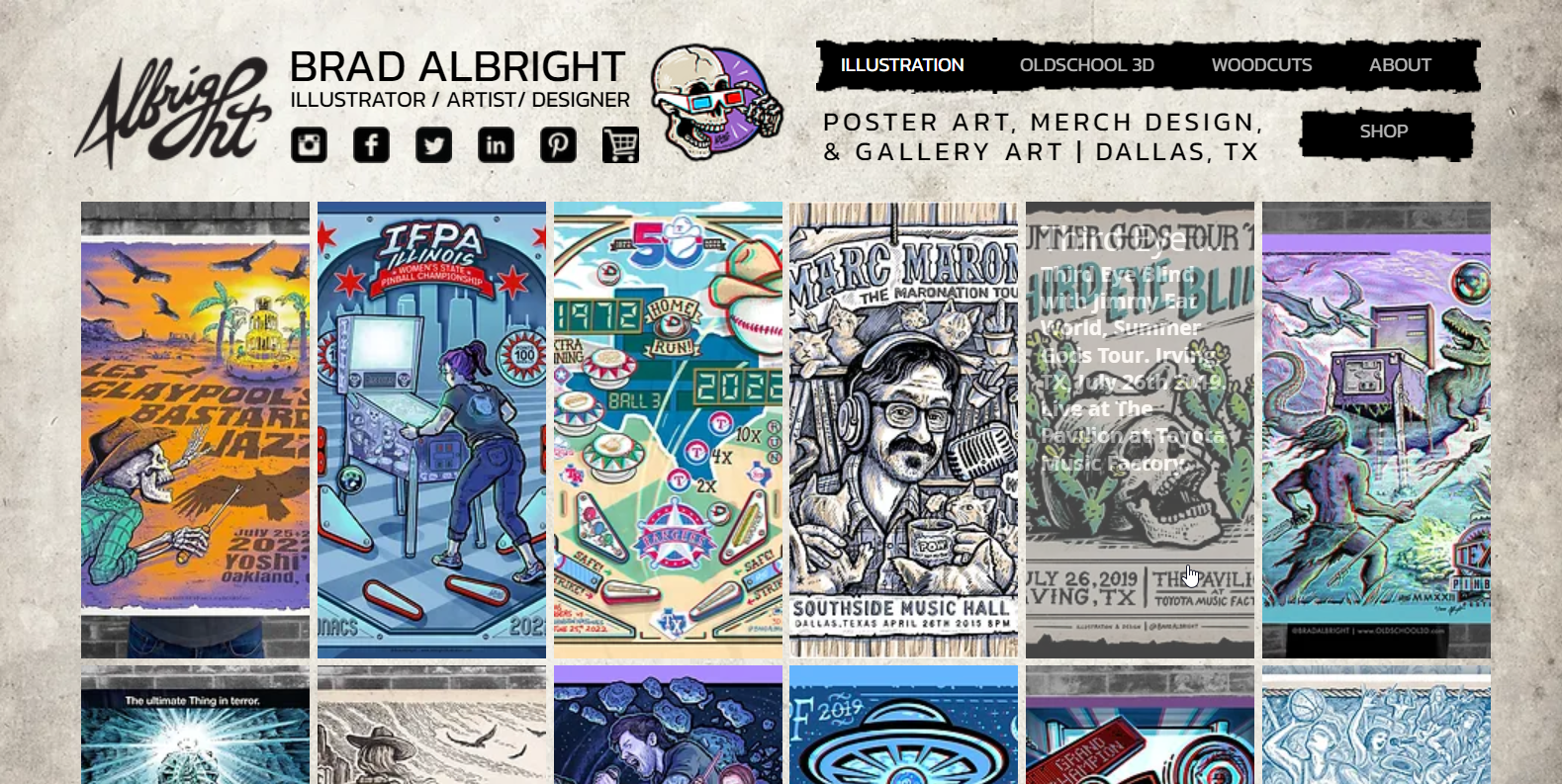 Currently based in Dallas, Brad Albright works as a gallery artist, poster designer, and freelance illustrator. He is most famous for his modern take on 'OldSchool 3D' anaglyphic posters.
‍‍What's done well on the website:
Showcase of unique comic-inspired art influenced by pop culture, Wild West, and live music.

Textured background to complement Brad Albright's art.

Poster presentation displayed on click.

Integration of newsletter signup and social network links.
Example 23:
Elena Iv Skaya
– Colorful art collection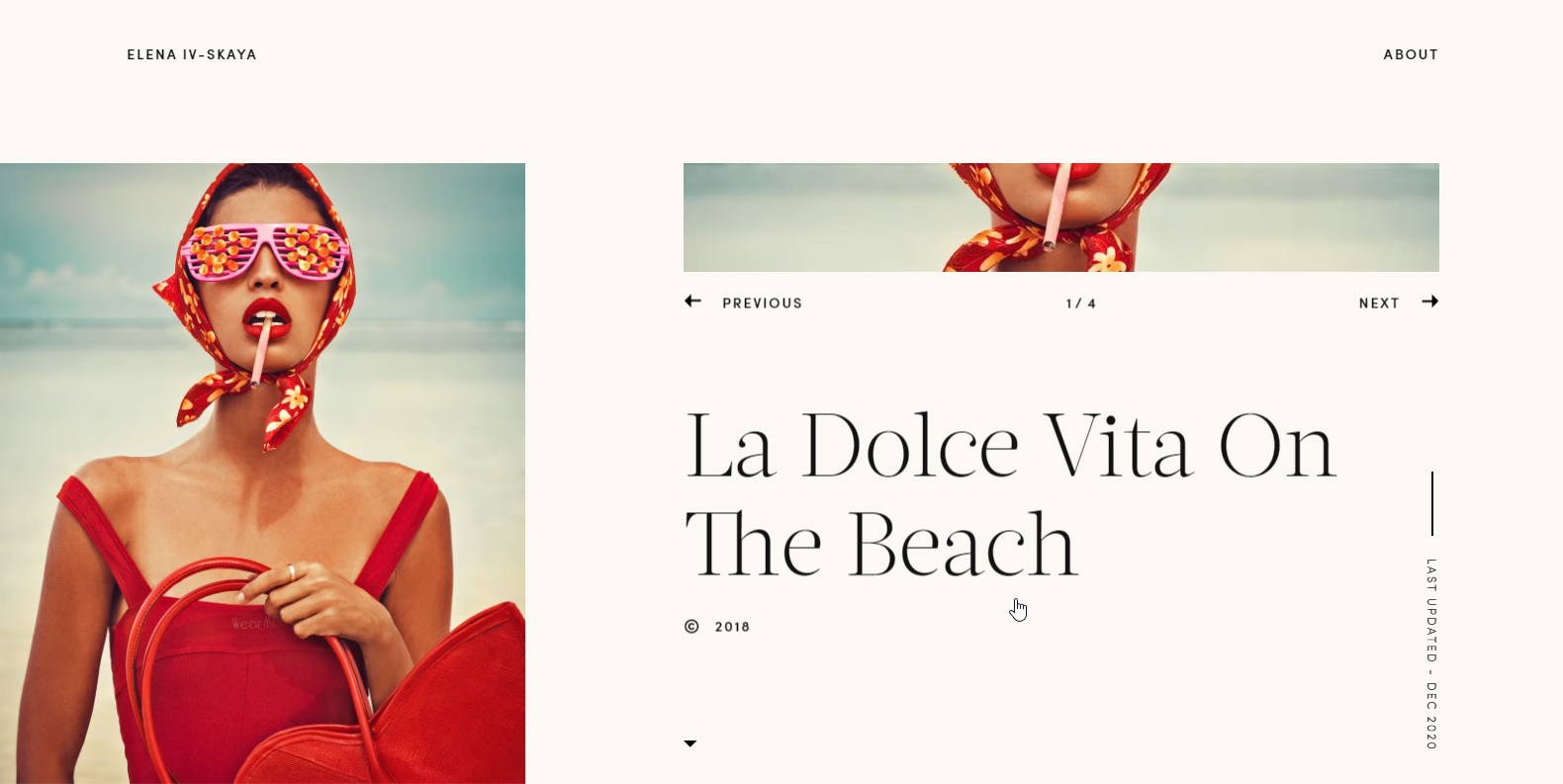 Elena Iv Skaya is a gifted photographer who uses bright brushstrokes and color schemes to turn her photographs into stunning works of art that resemble paintings. Elna Iv Skaya transitioned from modeling to expressing her own creative vision behind the camera.  Elena's photography resonates with gorgeously expressive and lucid imagery. 
‍What's done well on the website:
Art collection to display captivating, high-quality contrasting art.

Unconventional hero shot to draw the viewer's attention

Prominent Artwork on simple pages to maximize focus and visibility.
Example 24:
May-Linn Aaslie
– Sliding art showcase
May-Linn Aaslie is a Norwegian artist with a specialization in painting and graphic design. She creates and sells artworks using mediums like oil, watercolor, graphics, and photography. Hailing from Northern Norway, May-Linn draws inspiration from her surroundings, infusing her art with the essence of the region.
‍‍What's done well on the website:
User-friendly Navigation to display art with ease.

Features light images and a unique logo with the artist's signature.

Highlights art pieces through sliding images.

Use of grid layout to present details about the artist and the work.
Example 25:
Wenting Li
–  Vibrant art showcase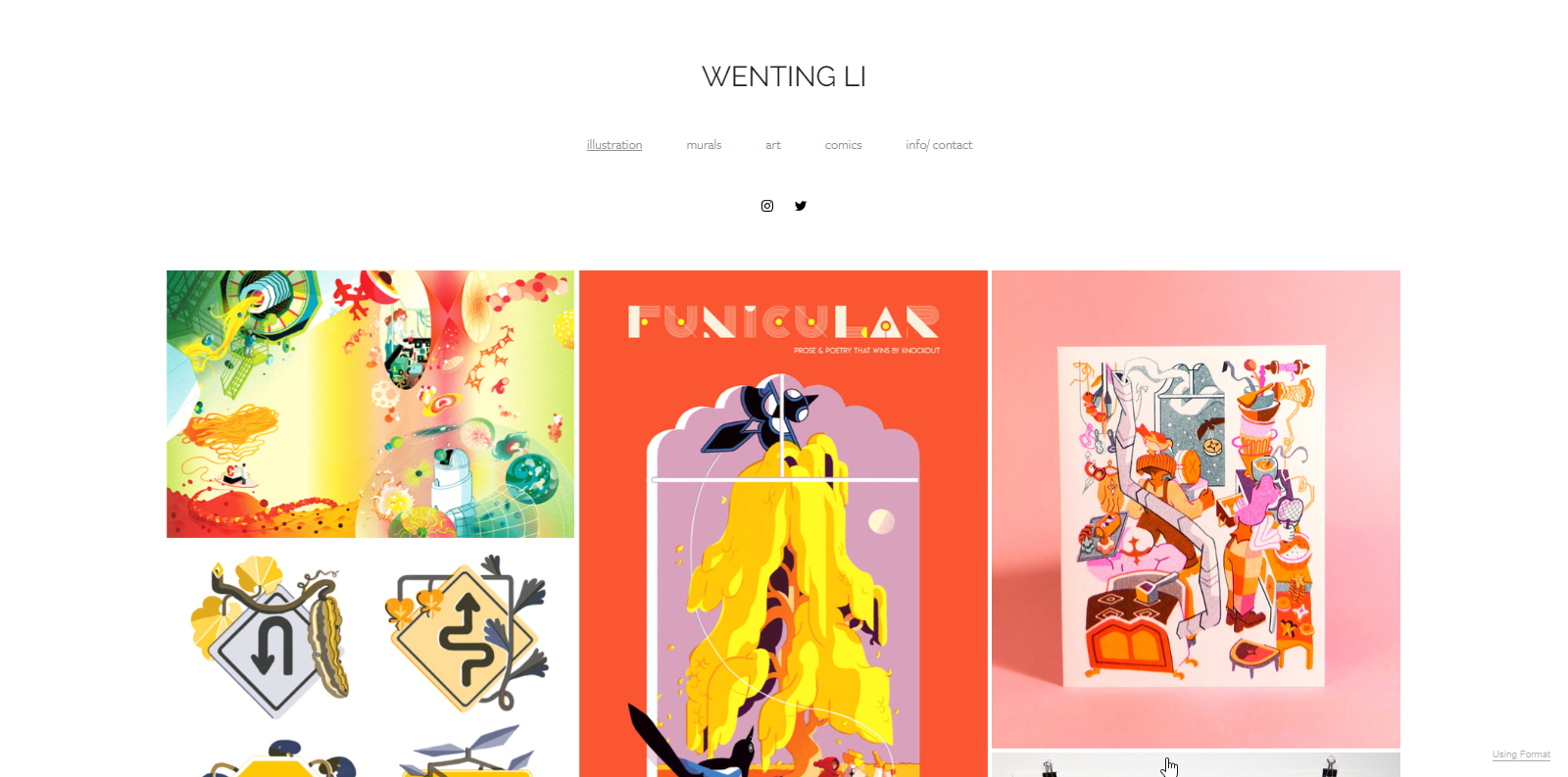 Wenting Li is a Toronto-based artist. She specializes in comic books, painting, and general illustration design. Her work is vibrant, colorful, and brimming with shapes that captivate attention.
‍‍What's done well on the website:
The elegant, simple logo features the artist's name for recognition.

Strategic whitespace usage boosts readability and appeal.

Colorful art display using vibrant colors

Categorized Sections for illustrations, murals, art, and comics for easy navigation.
Example 26:
Edzera Gallery
– Traditional sculpture art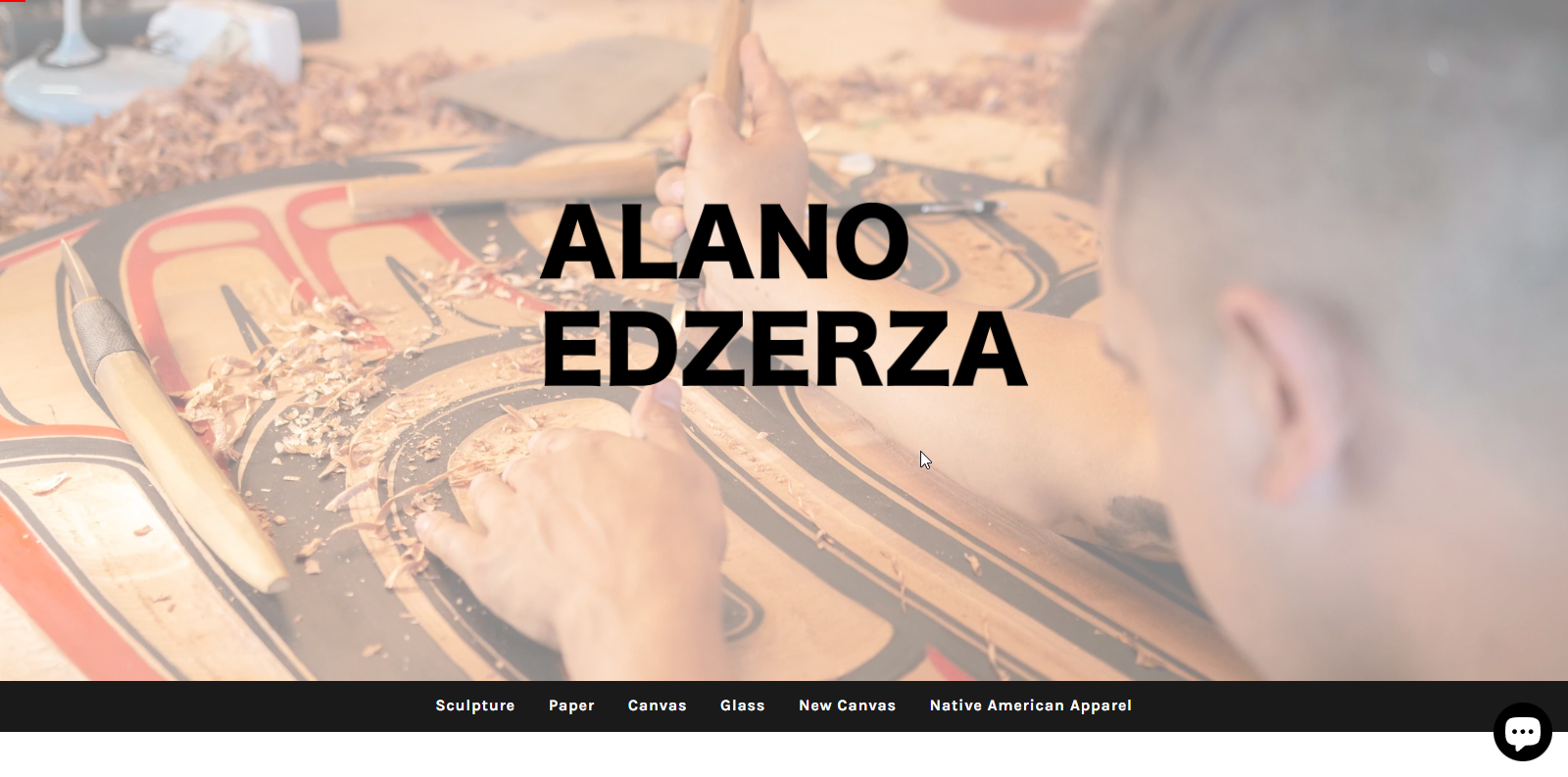 Edzerza Gallery is a Canadian online art gallery specializing in Inuit art. An artist website example like his is ideal for showcasing a range of art sections.
‍‍What's done well on the website:
Showcases diverse Inuit art including carvings, sculptures, and modern paintings.

Diverse Art Categories for various art forms like sculpture, paper, canvas, and glass.

Integrates live chat and helpful FAQ section.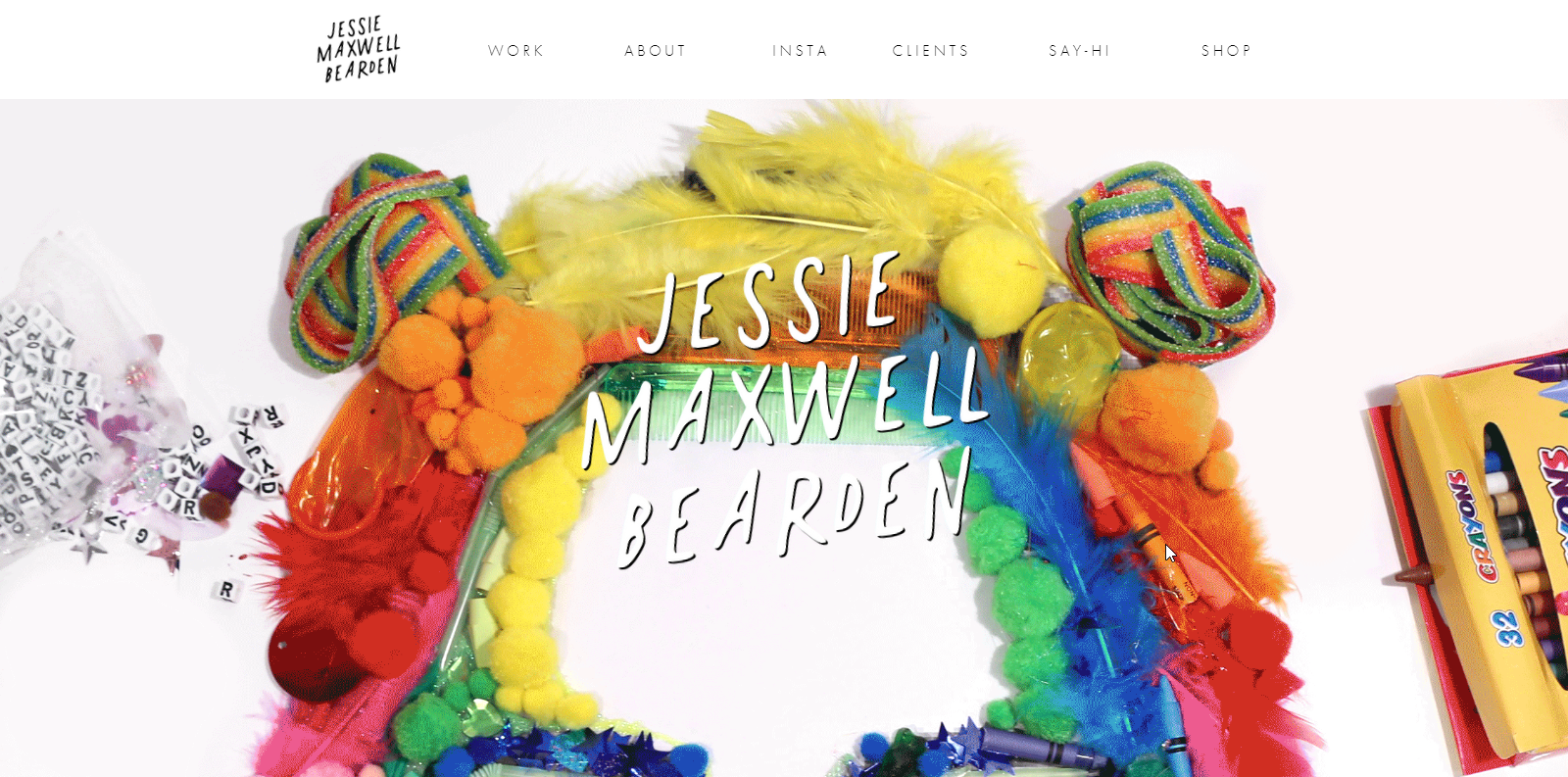 Jesse Bearden is a versatile multidisciplinary artist, creative director, and skilled problem solver currently based in Los Angeles. Leveraging her advertising background, she's strategically collaborated with major brands like ESPN, McDonald's, and American Express. 
‍‍What's done well on the website:
The dynamic and colorful background image on the homepage

Clear, easy-to-use menus guide visitors.

Work page to display a variety of images and videos.

Comprehensive client page to feature previous clients, boosting credibility.
Example 28:
The Art of Irina
– Structured portfolio layout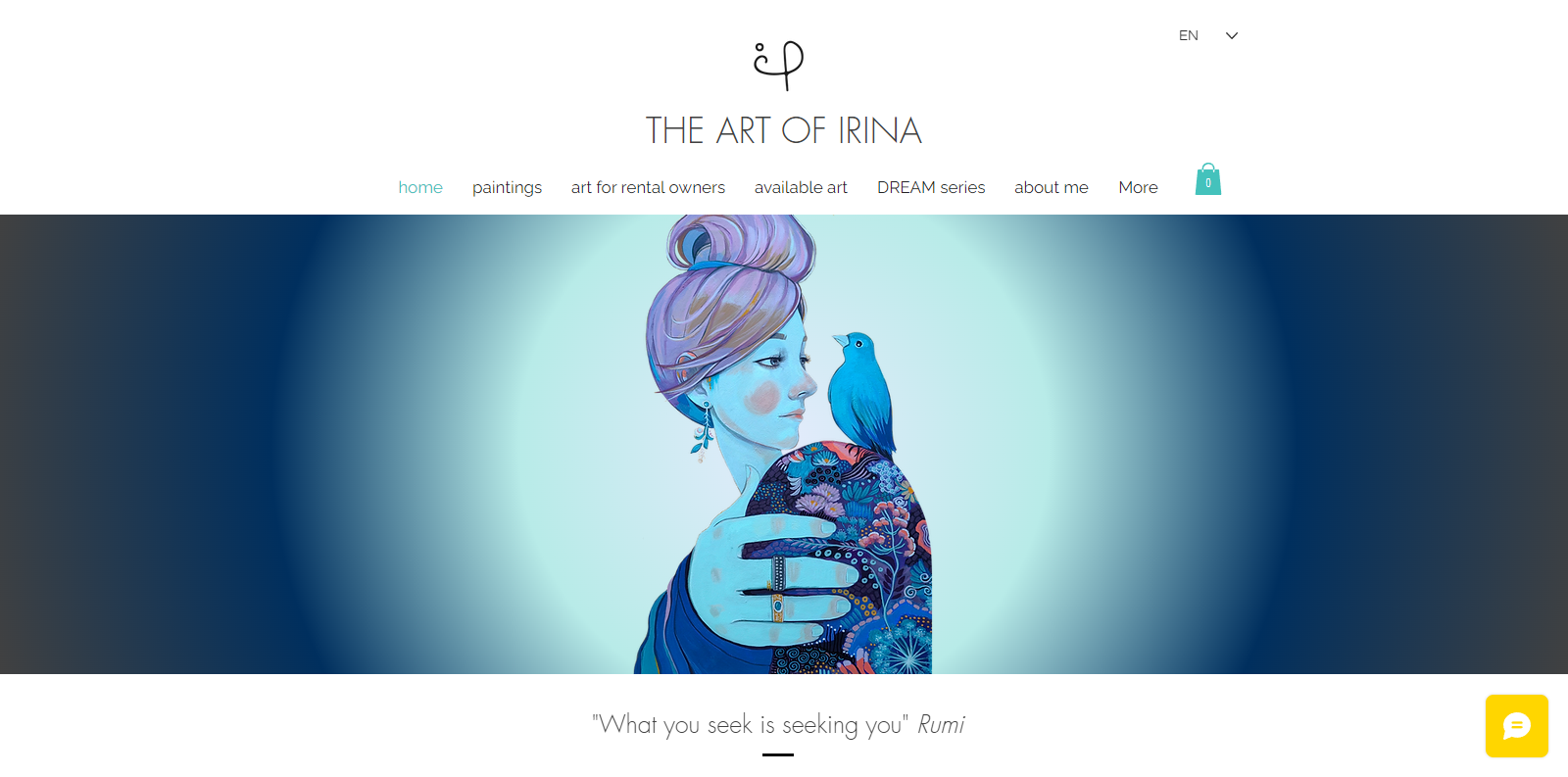 The Art of Irina highlights her artistic talent with a large painting featured on the homepage. Drawing inspiration from her orthodox icon painter ancestors, Irina charts her artistic path by reimagining iconography uniquely.
‍‍What's done well on the website:
Colorful traditional art on the homepage

Organized Portfolio

in three categories: paintings, available art, and DREAM series.

Live chat feature for direct artist chat.
Example 29:
Magnolia Visual Arts
– Engaging slideshow interface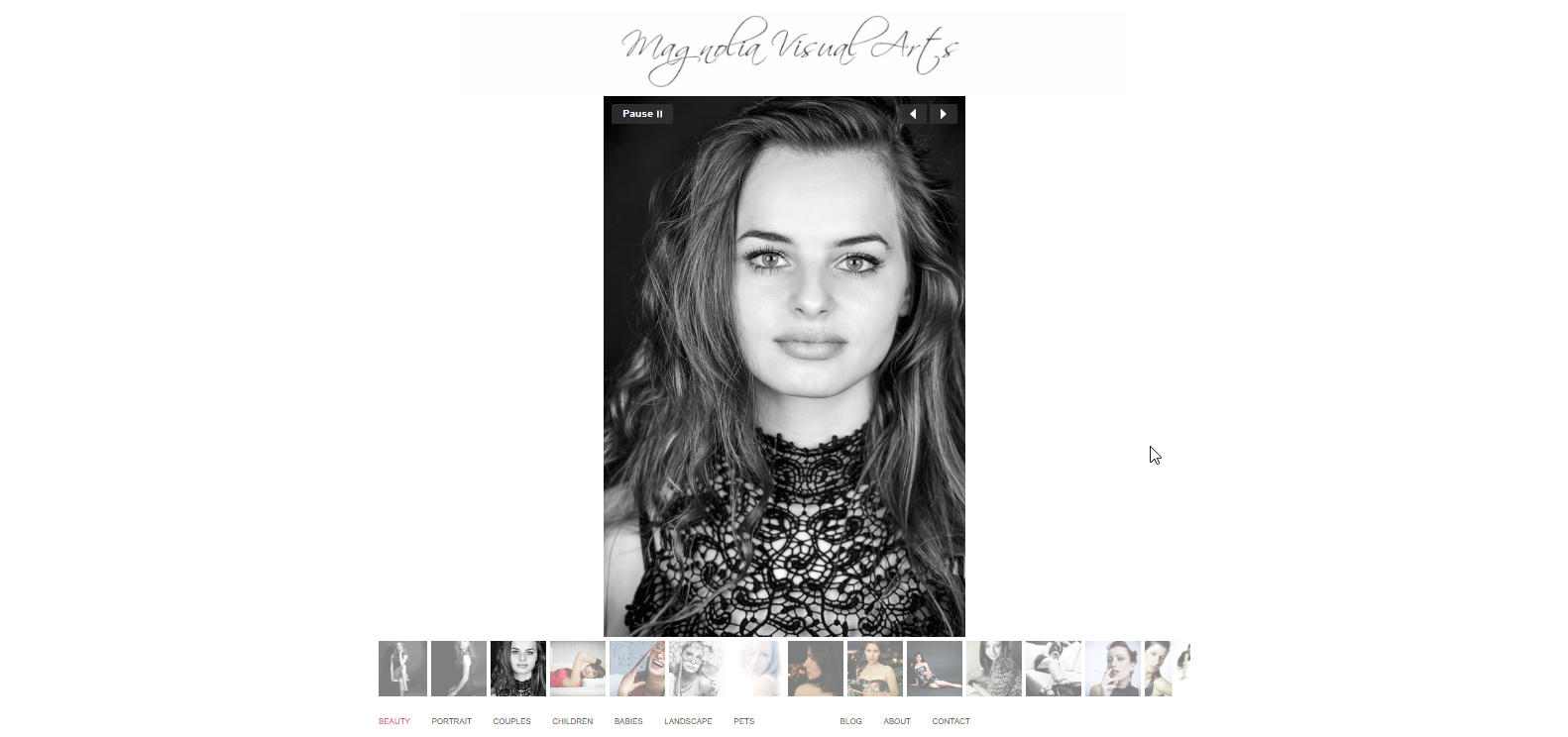 Magnolia Visual Art is a fine art photography website and one-of-a-kind website templates for artist featuring a unique homepage with a slideshow of recent photography projects.
‍‍What's done well on the website:
Interactive Slideshow to feature the most recent album photography.

Bottom navigation bar placement for different user impressions.

Chronological Blog Section for easier navigation.
Example 30:
Zaria Forman
– Artistic process showcase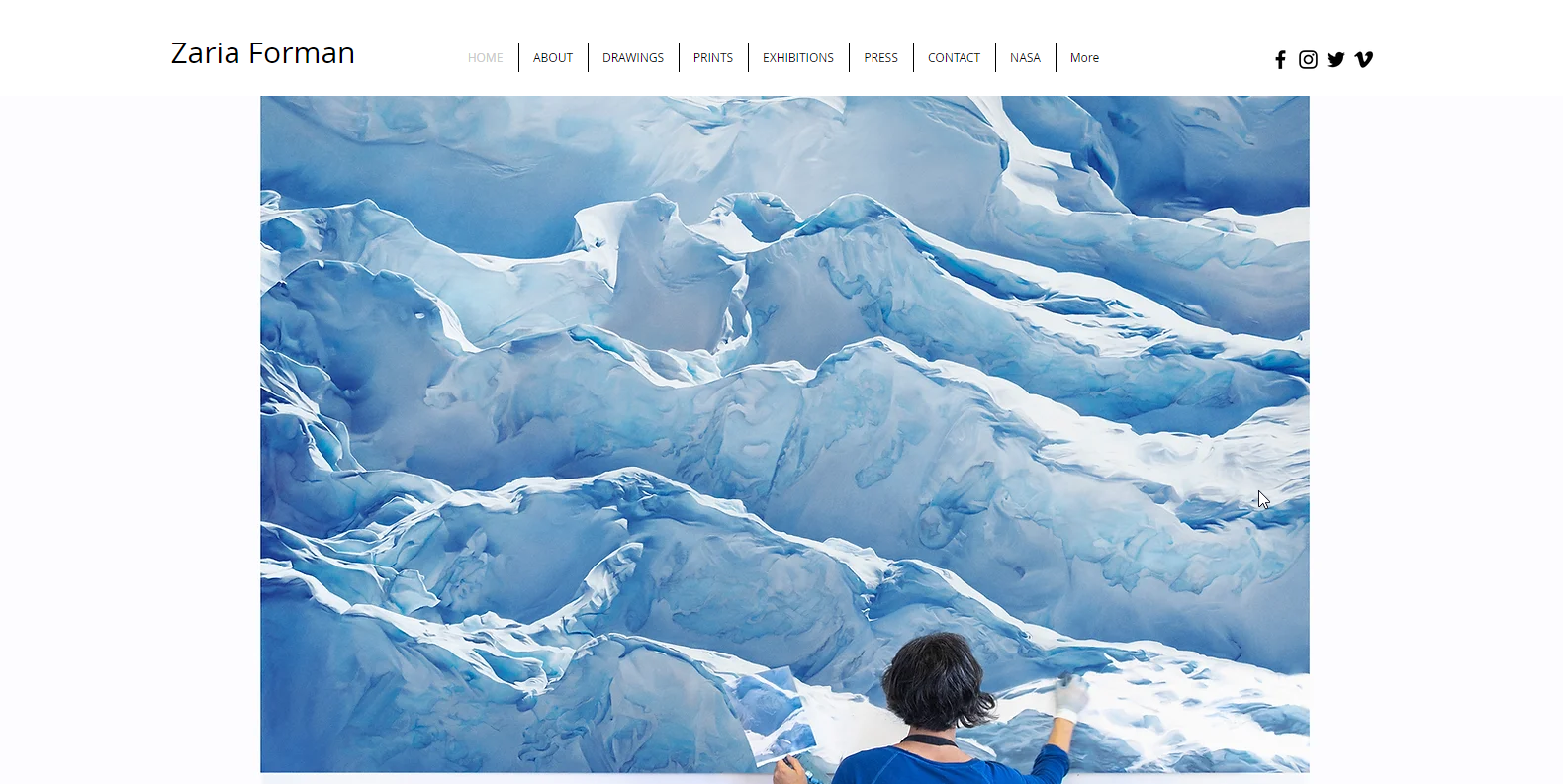 Zaria Forman is an artist who captures climate change through pastel drawings. She embarks on journeys to remote corners of the world to gather imagery and inspiration, and her work gains global recognition through exhibitions. Zaria Forman's art website stands out as a website template for artists due to its front-page display of the artist working on a powerful half-finished piece. 
‍‍What's done well on the website:
Extensive Portfolio with specific project categories.

A simple logo with social media icons on the right side of the page.

Provides detailed information on various art exhibits and extensive press coverage of Zaria and her works.
Example 31:
J.K. Rowling
– Age-specific content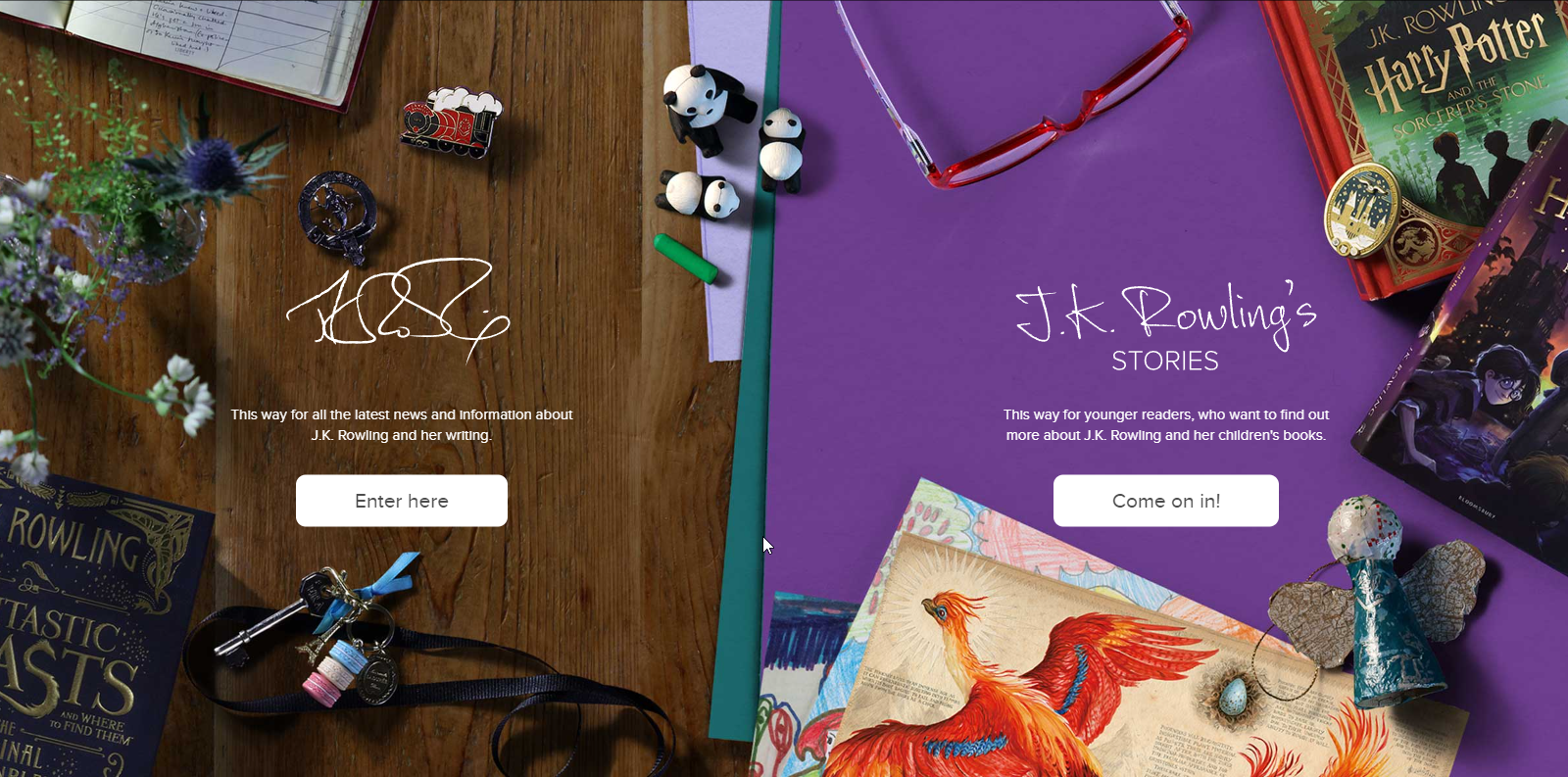 Joanne Rowling is a famous British author and philanthropist known primarily as a Harry Potter series author. J.K. Rowling's website is one of few artist website examples that employ a unique technique, providing content based on the visitor's age.
‍‍What's done well on the website:
Age-based content to divert visitors into separate sections.

Playful design with an amazing background.

Using visual illusions to divide sections.
Example 32:
Anton and Irene
– Unique parallax scrolling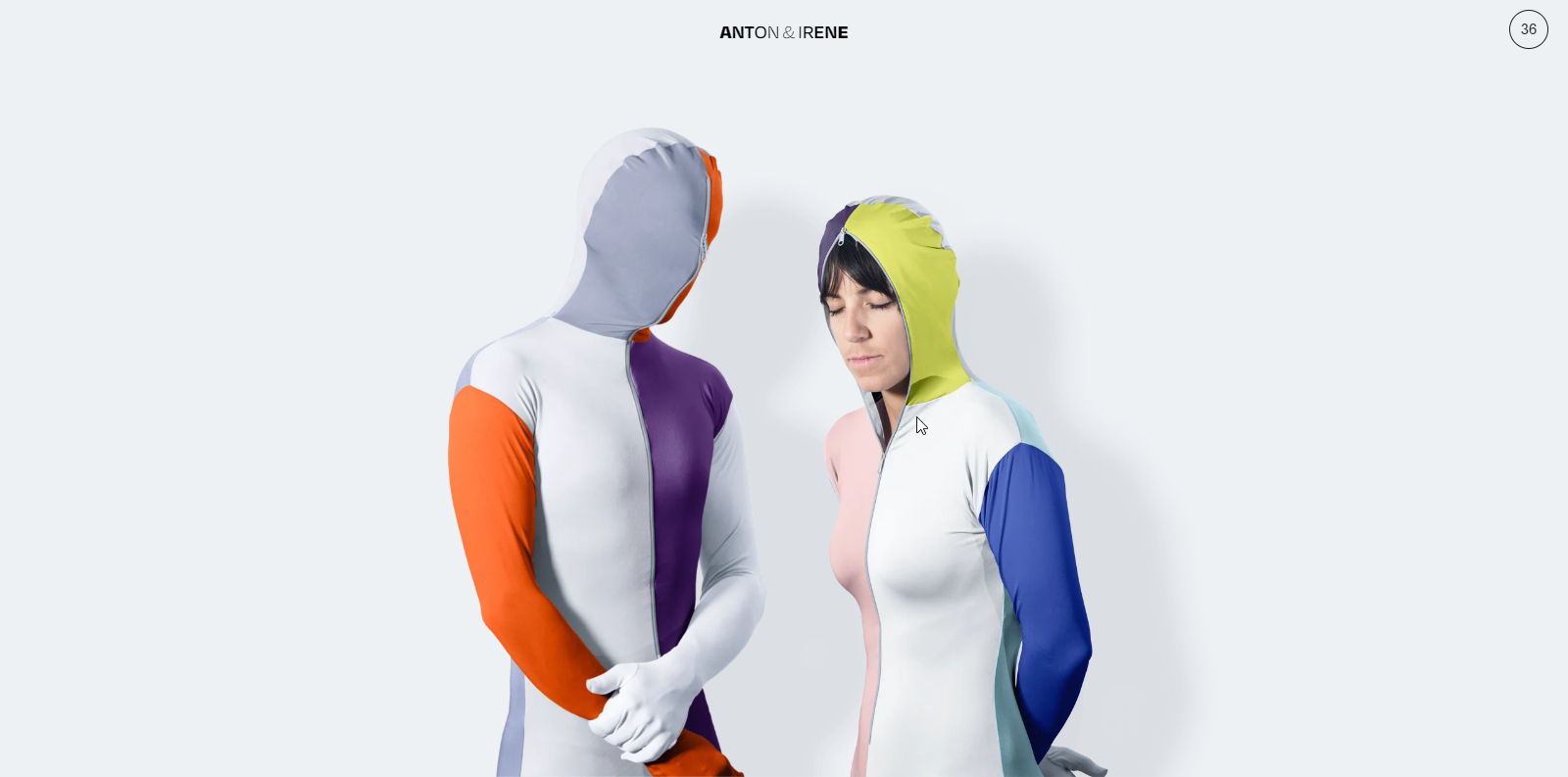 Anton & Irene is a Manhattan-based design agency with a distinctive web presence. This website stands out among artist portfolio website examples that are extremely interactive, and each element contributes to the website's function.
‍‍What's done well on the website:
Parallax scrolling to illustrate a unique experience and artistic appeal.

Snowy effects, bold colors, and quirky visuals create a truly captivating experience.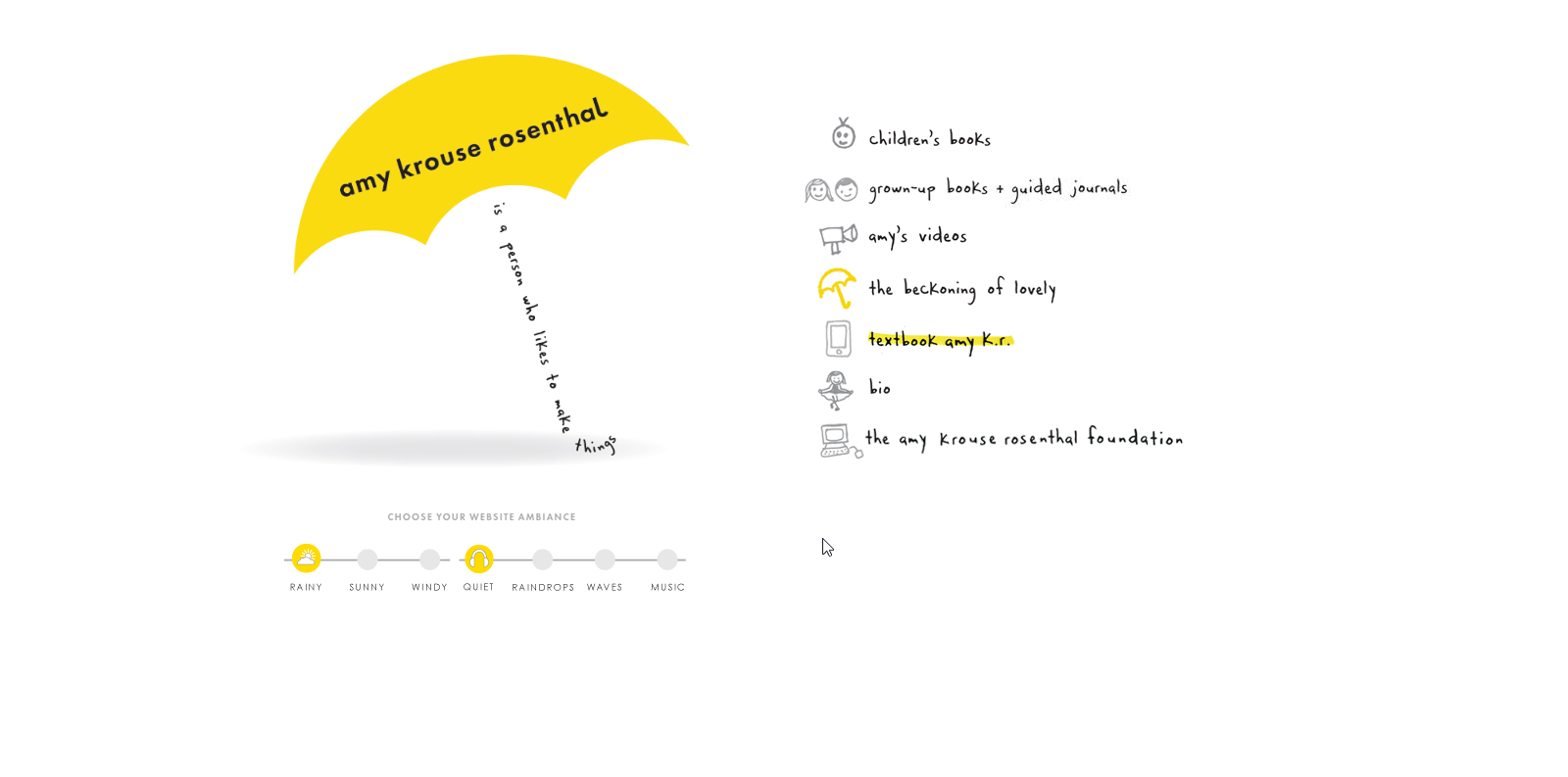 Amy Krouse was a prolific author known for her children's books, a pioneer in interactive memoirs, and creating engaging guided journals.  Amy Krouse Rosenthal's website is a perfect website template for artist who wants to illustrate creativity and a playful interface using different elements and font styling.
‍‍What's done well on the website:
Customized website ambiance to engage visitors into trying out different ambiances.

Use of a soothing audio track on the website that changes with customizing ambiances.

Fun design with playful typography.
If you're seeking to develop a fun and engaging portfolio design that fosters direct connections with your audience, consider exploring the capabilities of 10Web AI Website Builder.
Get a head start on website creation with AI
Create a custom website tailored to your business needs 10X faster with 10Web AI Website Builder!
Get a head start on website creation with AI
Create a custom website tailored to your business needs 10X faster with 10Web AI Website Builder!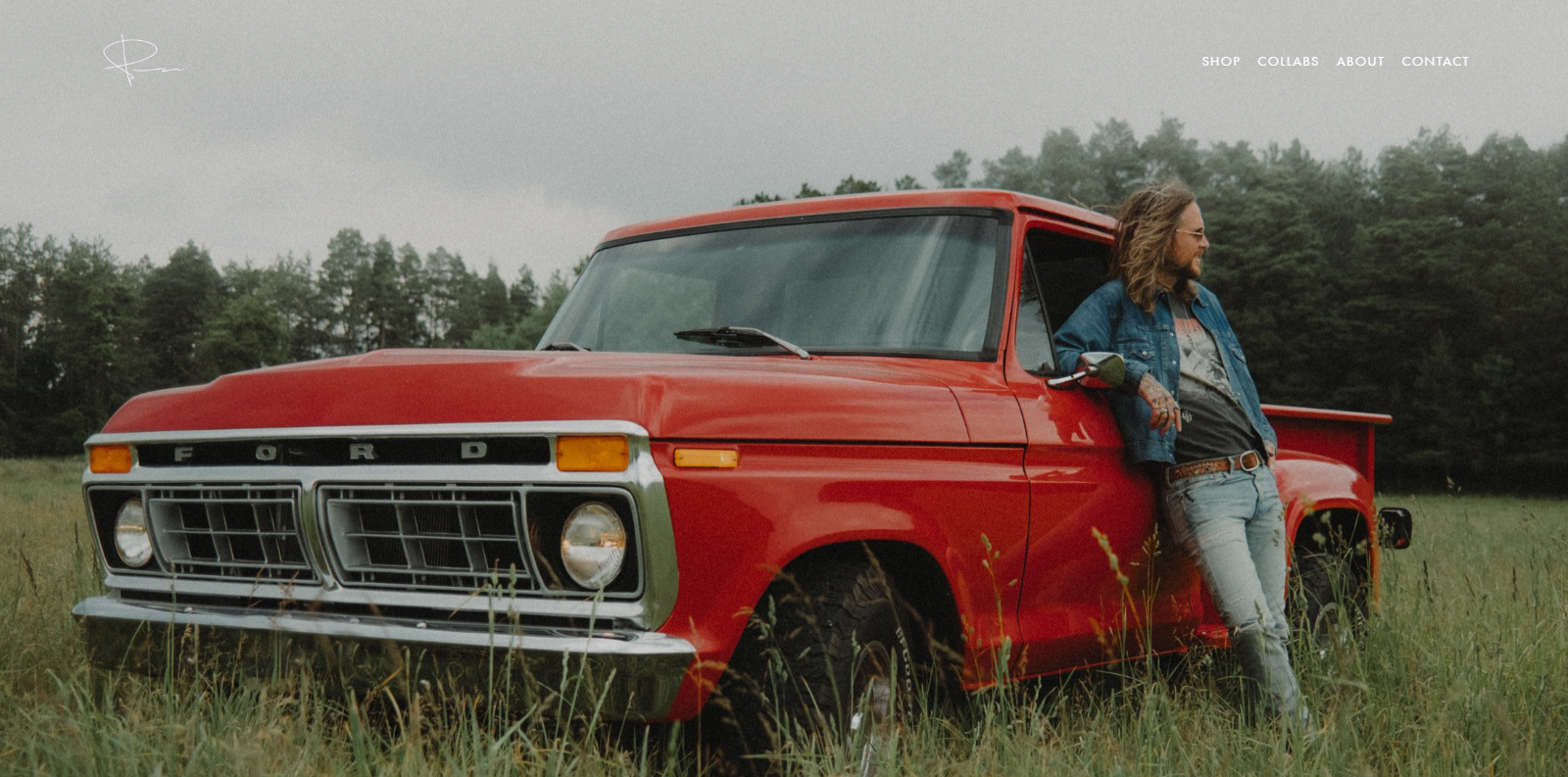 Based in Toronto, Canada, Peter McKinnon is a globally recognized photographer, filmmaker, YouTube influencer, and entrepreneur. He leverages his platforms to inspire and support enthusiasts' creative ventures behind the camera. There are a number of artist website templates; however, its user experience makes it visually pleasing and responsive.
‍‍What's done well on the website:
Effective font usage to grab attention.

Full-size, high-quality images without any redundant whitespaces.

Integration of shop to promote art sales.

Adding charm while remaining informative with the use of Personalized Elements.
Example 35:
Woohyon
– Contrasting visual design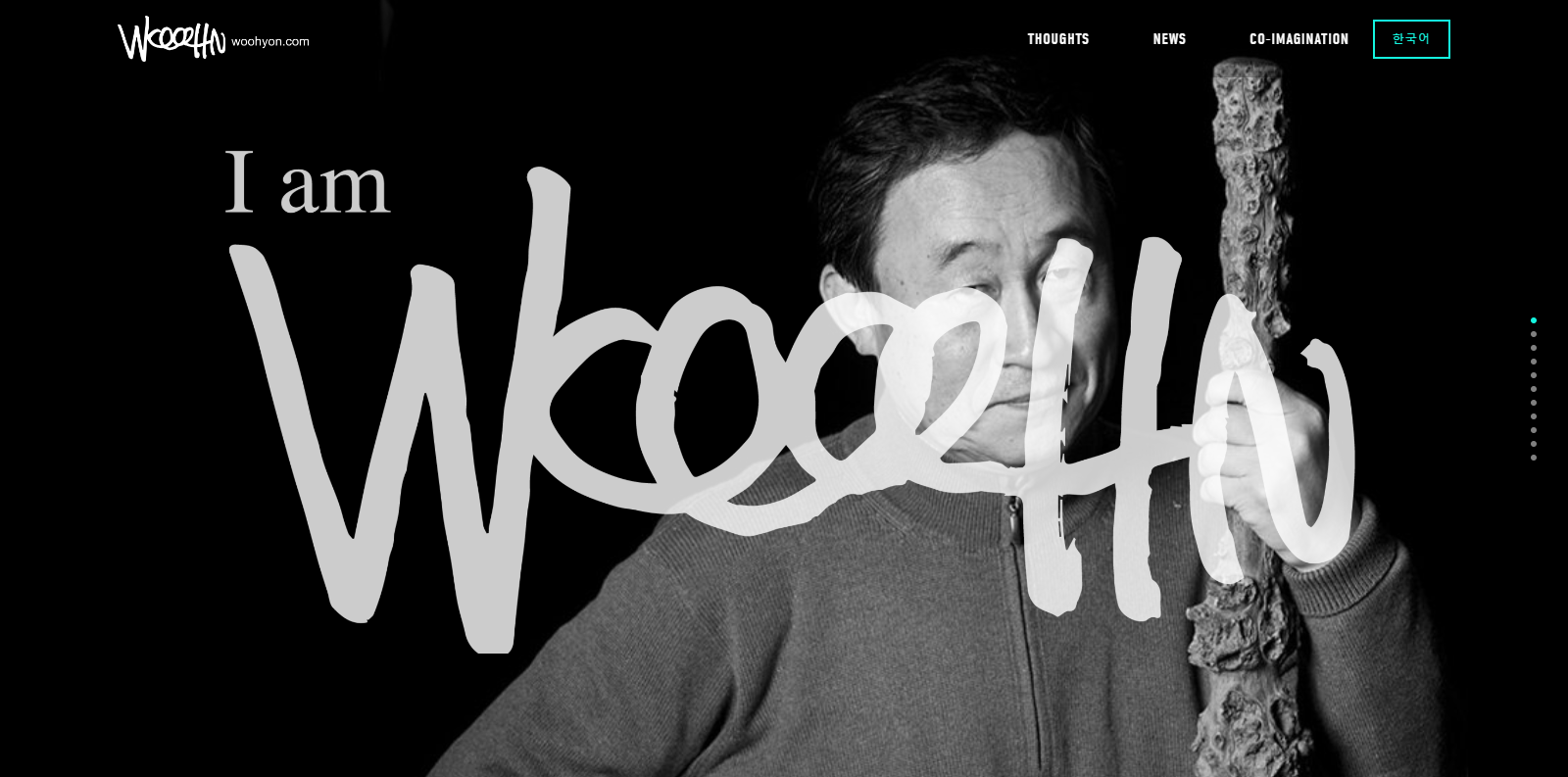 A Korea-based paper artist, Woohyon specializes in creating highly detailed pieces of paper. Woohyon's website greets visitors with the smile of the artist, uniquely showcasing his biography.
‍‍What's done well on the website:
Aesthetic Design with a classy write-up

A well-written story that spans the whole website and highlights the accomplishments of the Woohyon.

Using videos to compel visitors to see his artwork and his story

Use of dark background to complement the graphic components of the website.
Example 36:
Nicole Lapin
– Engaging personal imagery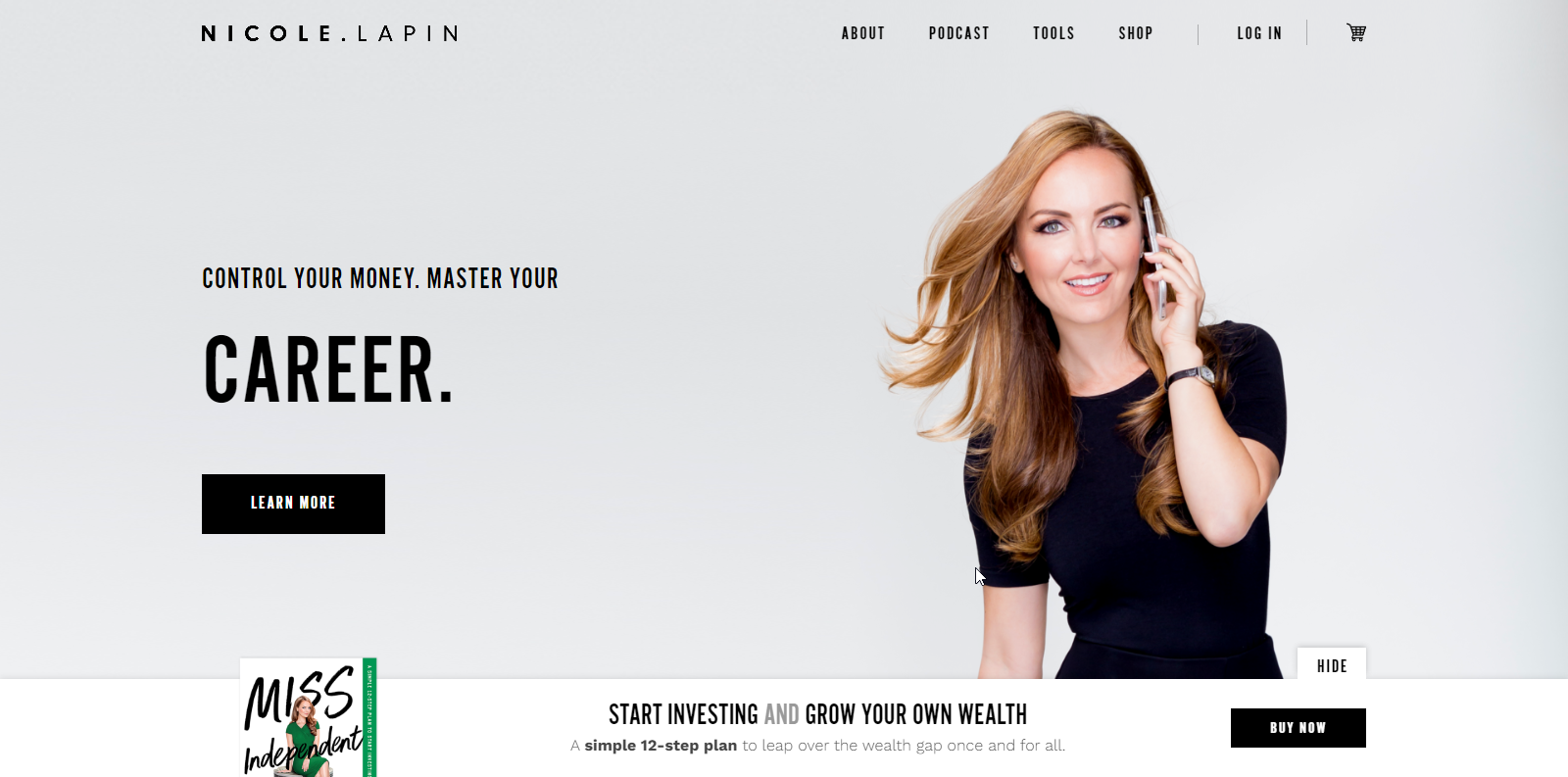 Nicole Lapin is a leading financial expert, and author who simplifies money matters with her accessible approach. Nicole Lapin's website stands out among artist portfolio website examples that welcome visitors with a bright, professional photograph of the author.
‍‍What's done well on the website:
High-quality personal pictures to draw visitor connection.

Professional Web Writeup on Lapin's work and achievements.

Integrated Shop for purchasing Lapin's books and products.
Example 37:
Pierrick Calvez
– Unique art showcase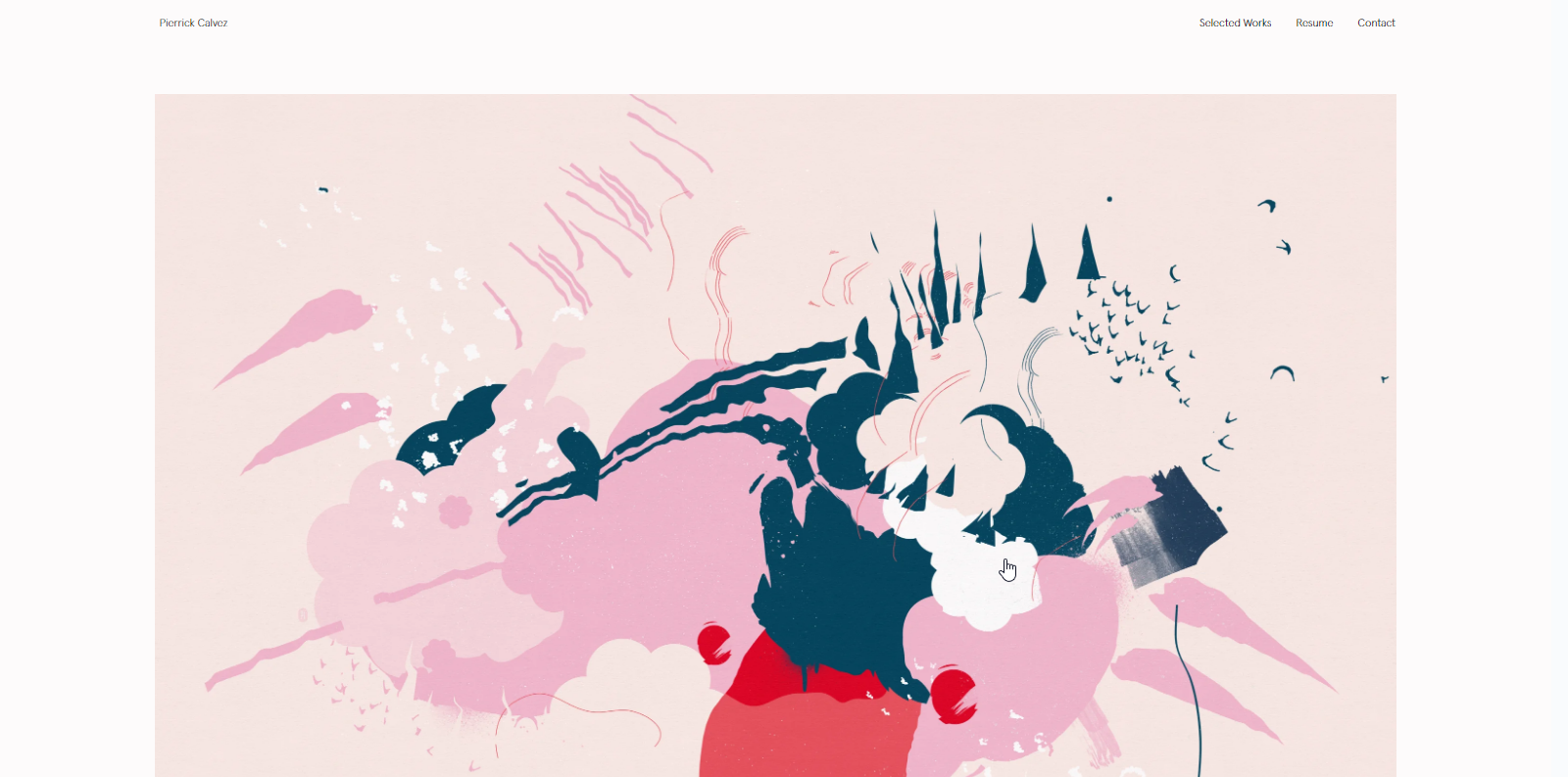 When it comes to browsing artist website examples, Pierrick Calvez's portfolio stands out for its striking minimalist design. Pierrick Calvez is a renowned artist now residing and working in Huizhou, China.
‍‍What's done well on the website:
Modern layout with large fonts for immediate attention.

Vivid artwork and engaging art that seems realistic.

Diverse offerings to include a variety of art for sale and unique projects.

Studio insights

by listing Pierrick's publications, appearances, and past clients to enhance trust.
If you want to create a website like Pierrick's, check out 10Web AI Website Builder. It allows you to mimic the layout of any webpage based on its URL. Moreover, you can also select from ready-made layouts which you can easily customize based on your preferences.
Example 38:
Wayne Pearce
– Minimal design layout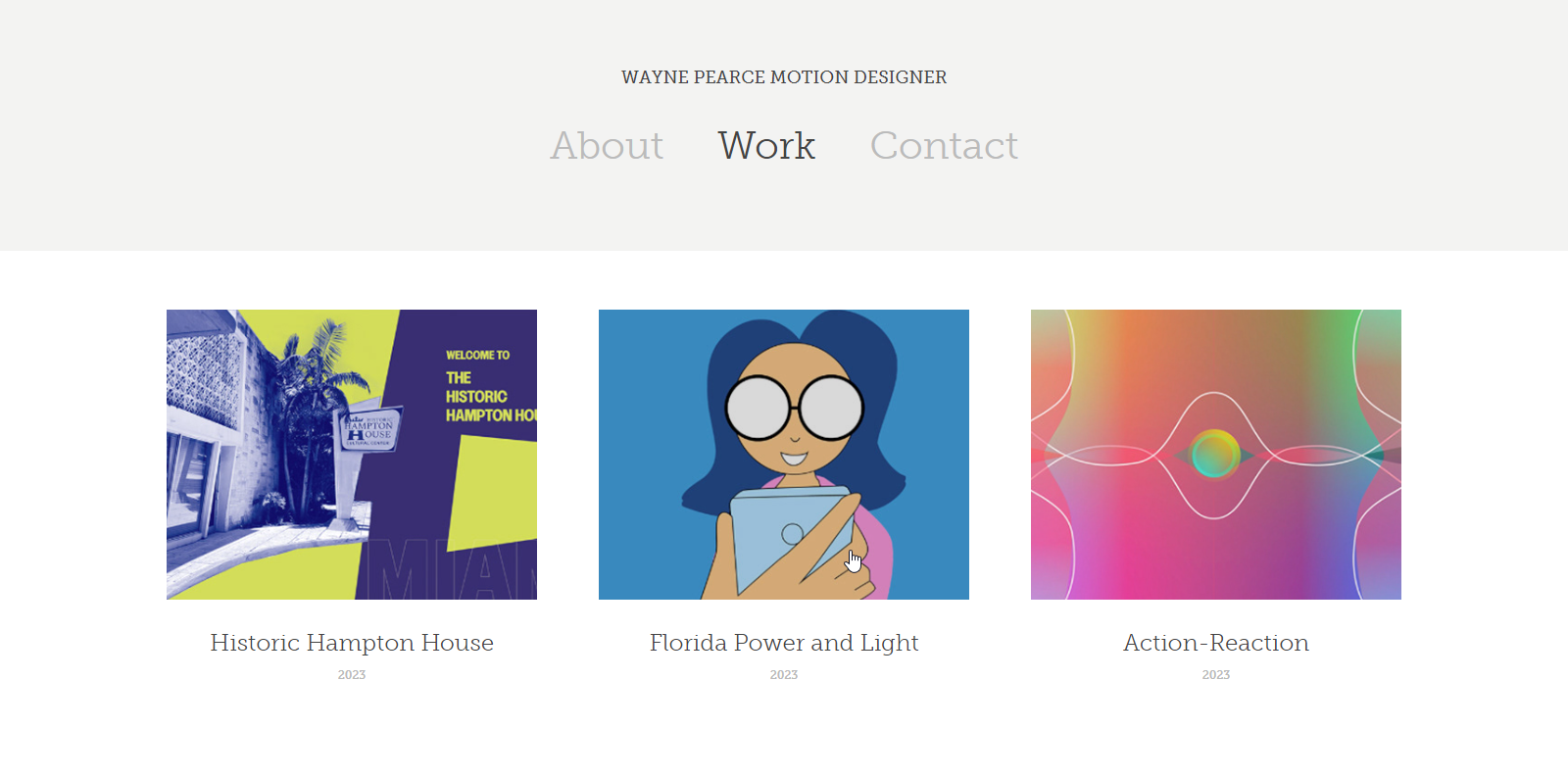 Wayne Pearce is a talented motion designer from Ft. Myers, Florida. Wayne works as a freelance artist specializing in captivating visual narratives. Wayne Pearce's website showcases his unique, zombie-inspired art pieces visually strikingly. 
‍‍What's done well on the website:
The use of a light background allows the colorful artwork to pop, drawing the visitor's attention.

Captivating User Interface to encourage users to explore further.

Smooth scrolling for an enjoyable user experience.
Example 39:
Guilbo
– Professional grade photography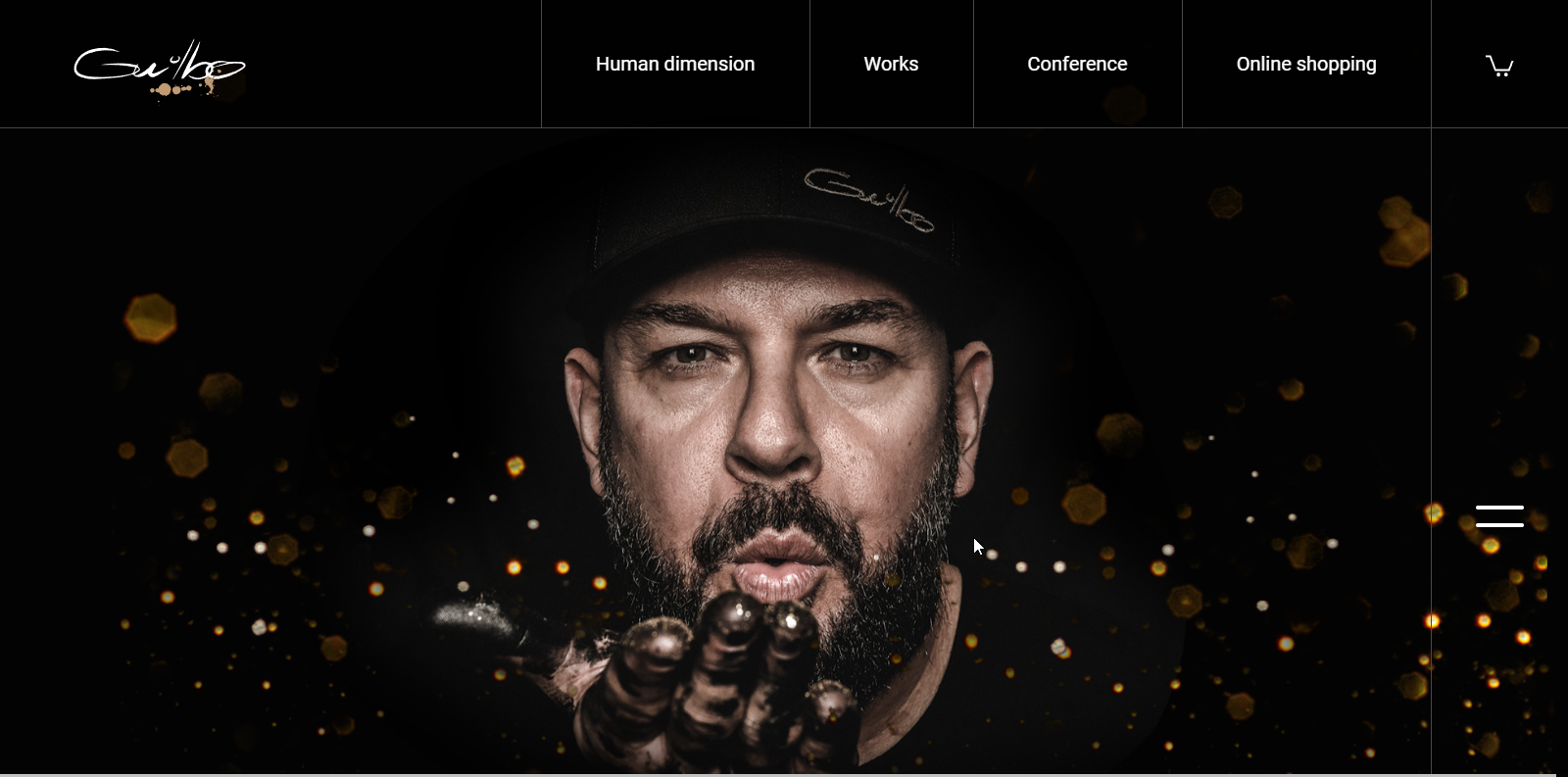 Quebec's painter Guilbo shines with extraordinary accomplishments due to his bespoke creations and captivating live painting sessions. While various artist website templates are available, this particular one shines due to its creative display of projects.
‍‍What's done well on the website:
Features high-quality, professional photographs of Guilbo's paintings.

The visually pleasing design effectively showcases the artist's work.

The use of a black background adds depth to the site and allows the paintings to stand out.
Example 40:
Maegan Guerette
– Horizontal gallery display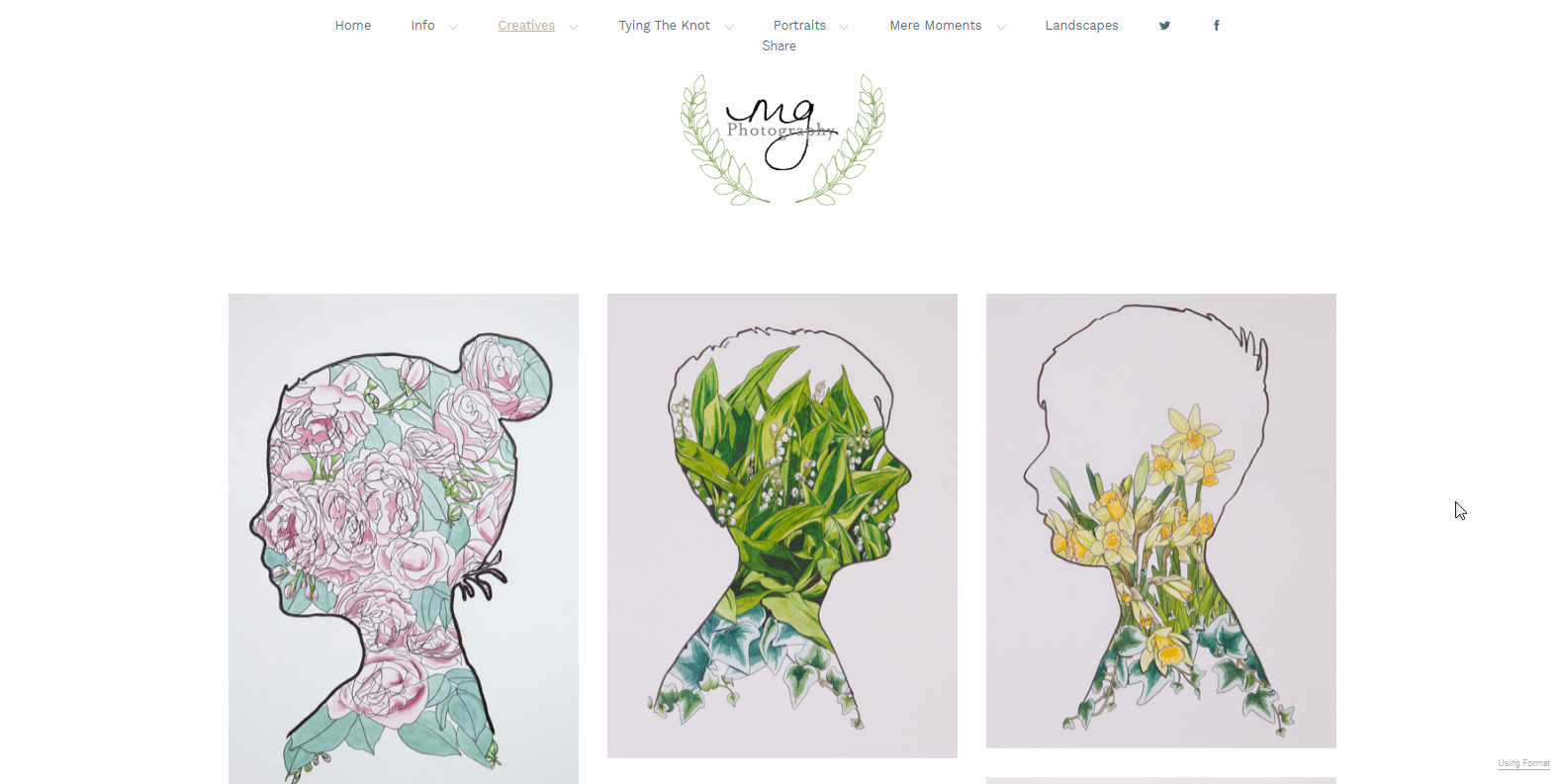 Maegan Guerette is a freelance photographer who provides services for weddings, families, engagements, and other events. She has dedicated herself to marketing her photo-based paintings influenced by botanicals and her ink and watercolor creations. 
‍‍What's done well on the website:
Use of a horizontally scrolling gallery to showcase outstanding works uniquely.

Features a well-designed navigation bar, ensuring easy access to various sections.
Example 41:
Emily Mercedes
– Creative logo design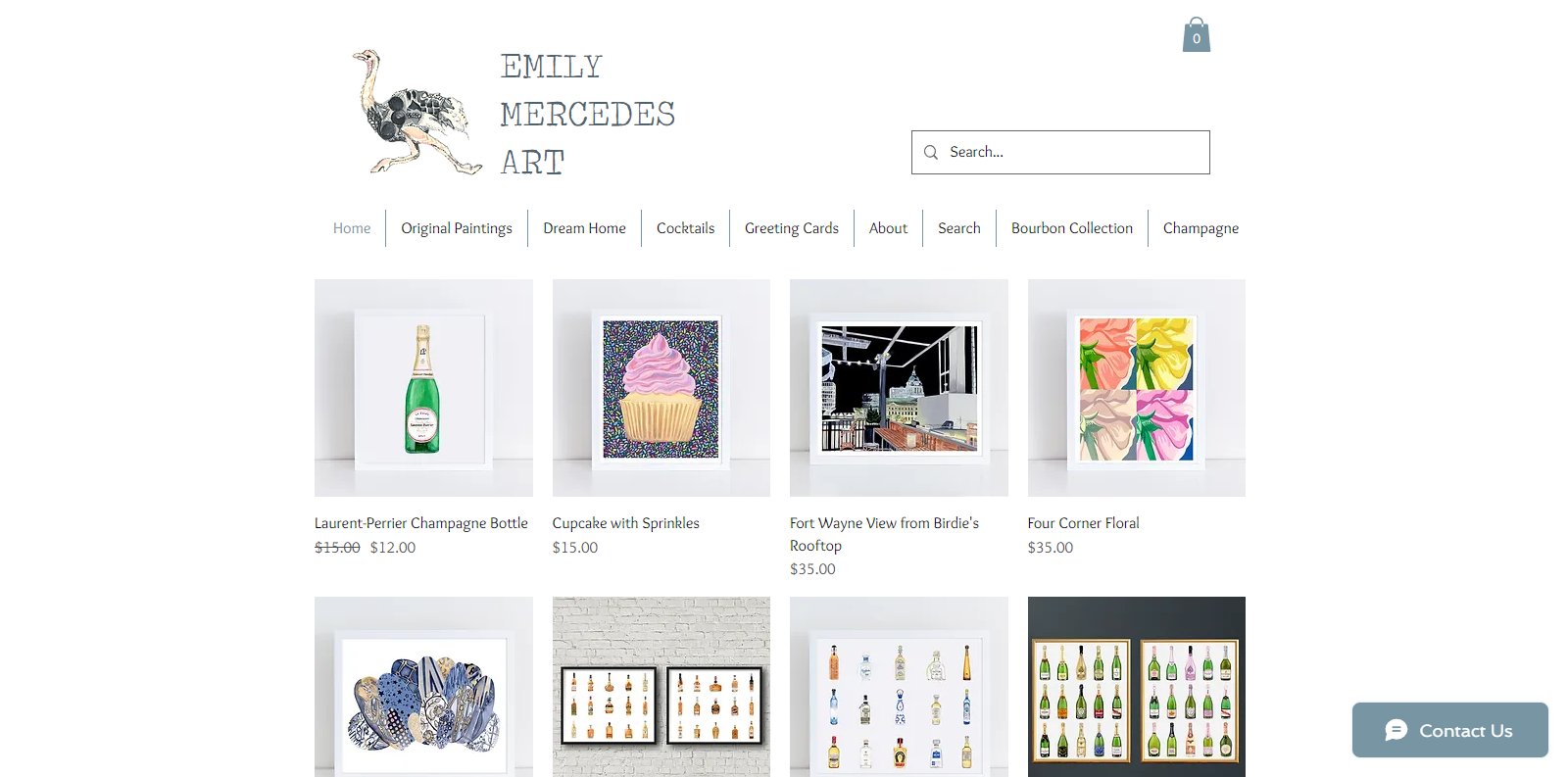 Emily Mercedes, an Indiana-based artist, has an art website that functions as an online store to showcase her stunning paintings. It serves as one of artist website examples for artists interested in focusing on selling their art.
‍‍What's done well on the website:
Website used as an effective online store.

Navigation menus for quick artwork finding.

Instant answers via live chat boost user experience.

The unique ostrich logo adds a creative site touch.
Example 42:
Alison Lyons
– Minimalistic design focus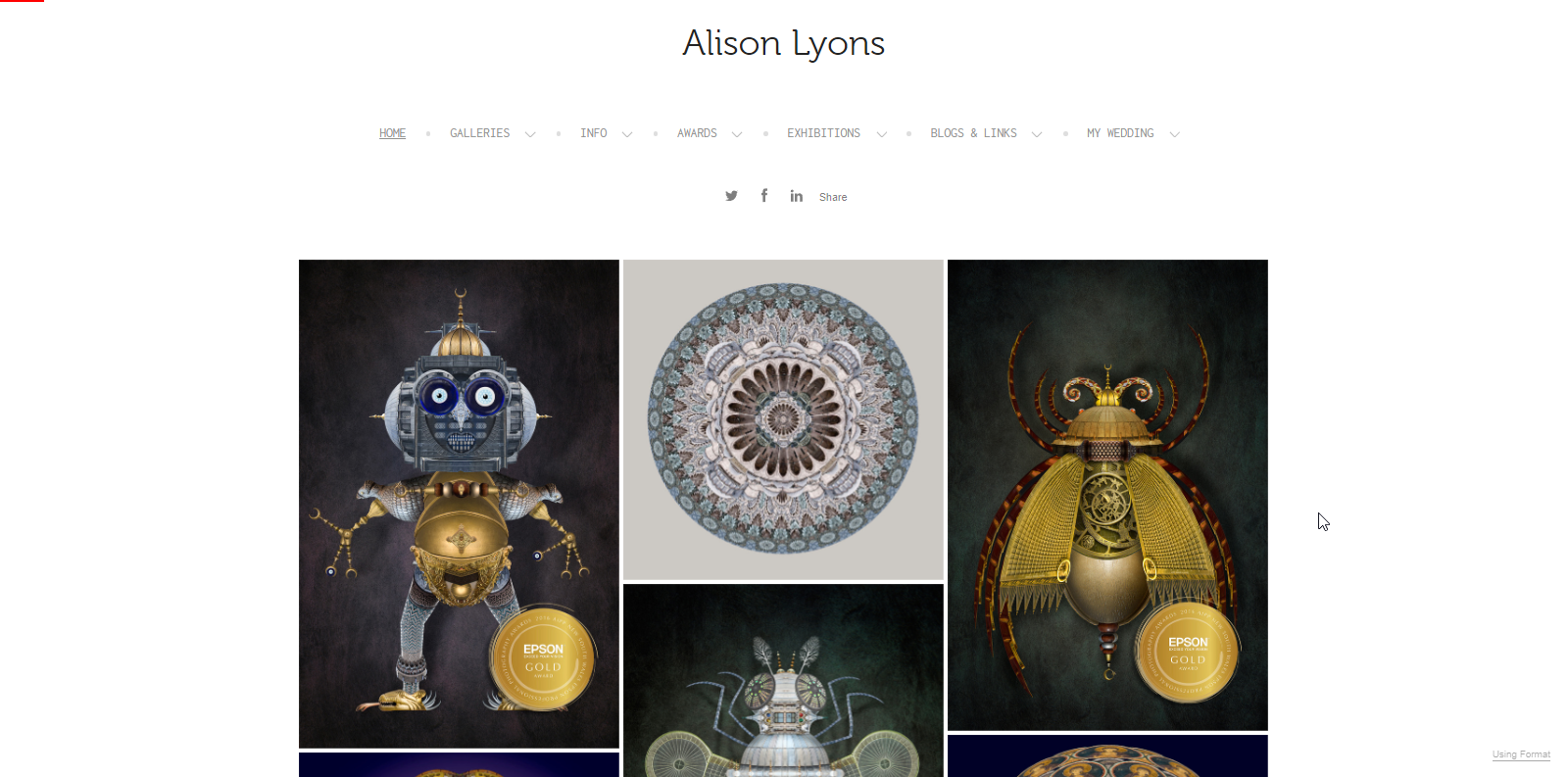 Alison Lyons is a talented photographer based in Sydney. She balances her photography career with her role as Creative Director for an advertising agency, showcasing her diverse skill set.
‍‍What's done well on the website:
Showcases versatility with various photography types.

Features clean, minimalist design highlighting photographs.

Simple site navigation for easy exploration of Alison's work.
Example 43:
Jason Arkles
– Vintage sculpture art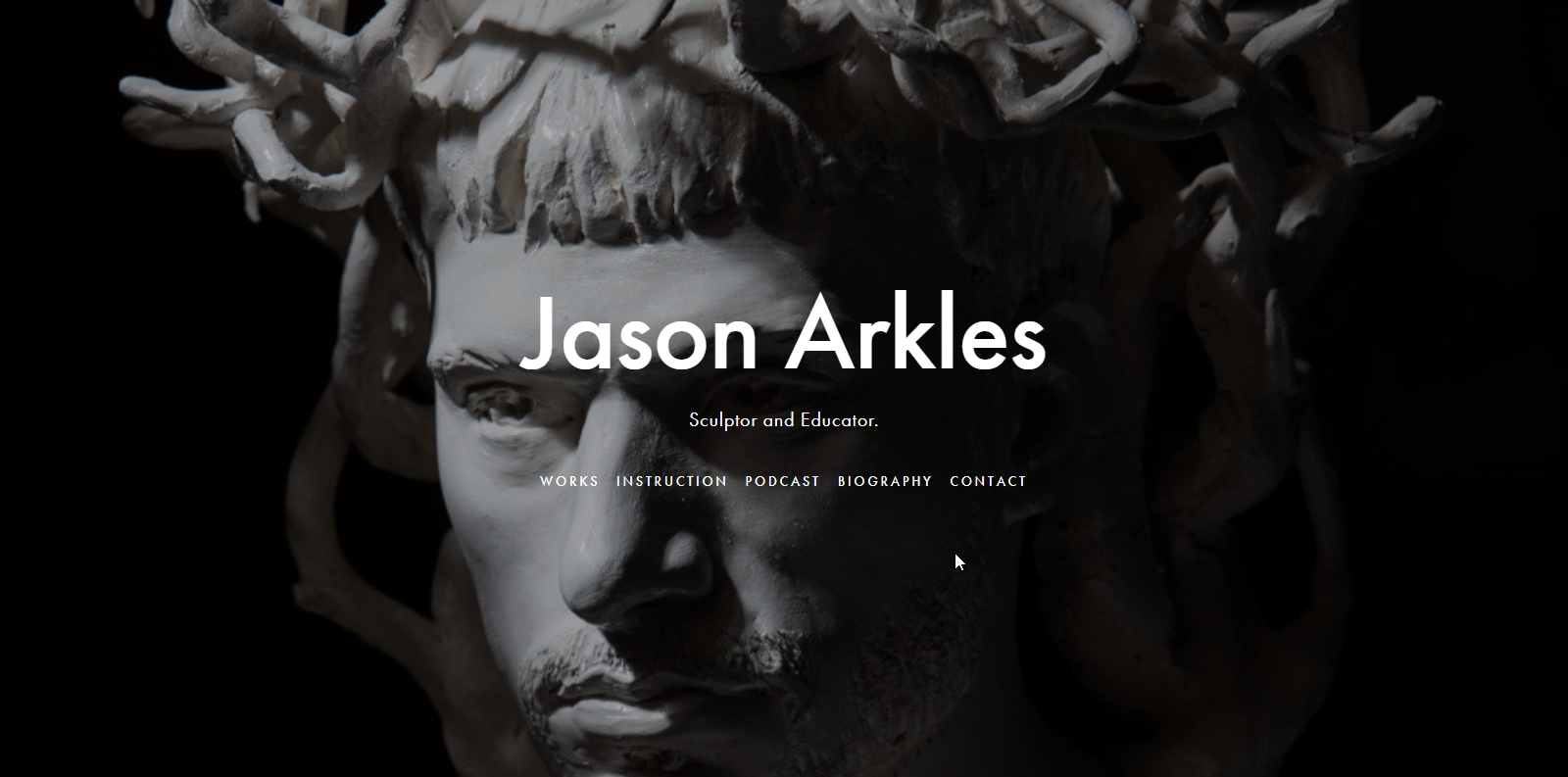 The brilliant artist Jason Arkles conveys his desire to combine a historical style with a more contemporary and forward-thinking approach on his art website. It an an excellent website template for artist who want a basic and minimalist design.
‍‍What's done well on the website:
Dark background & white fonts to implement contrasting colors effectively.

Artwork presentation in an engaging manner and echo the charm of 19th-century art.
Example 44:
Julio Salgado
– Unique geometric elements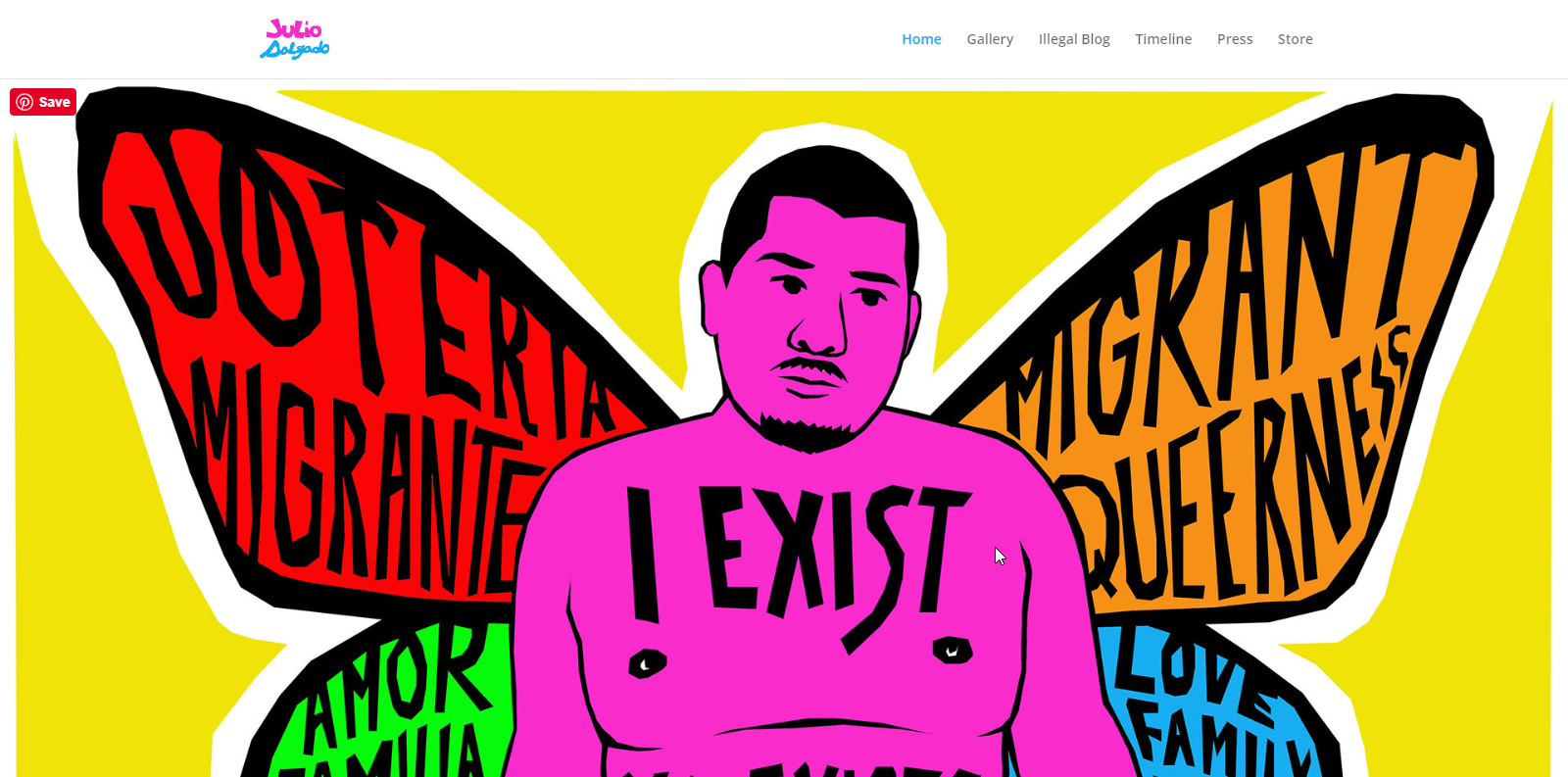 An artist, Julio Salgado, is a queer activist who uses visual arts to express his content. Julio Salgado's website is one of artist website examples for the powerful use of bold colors and compelling images to capture visitors' attention. 
‍‍What's done well on the website:
Uses bold, eye-catching images throughout its design.

Clean Design makes it easy for visitors to navigate.

Interesting shapes add a unique element to the site's design.
Conclusion
As an artist, gaining visibility from your audience is crucial. However, many artists overlook the significance of their website portfolio and fail to recognize what it lacks. Considering that potential clients form their first impression of an artist's work through their website, infusing it with an artistic vibe and personal style is essential.
Factors such as usability, color scheme, navigation, style, font, and readability contribute to a website's overall feel and uniqueness. In this article, we have examined 44 artist website examples from which you can draw inspiration to create your website. If you're hunting for artist portfolio website examples, these options spotlight creative designs and artistic layouts.
To streamline the website creation process, there are AI website builders available that make your work easier and give you complete control over the appearance of your website. For example, 10Web, utilizes Artificial Intelligence to design websites. By responding to straightforward questions about your business, you can leverage AI to craft customized content and images. This unique approach ensures that your website perfectly aligns with your needs. In essence, 10Web AI Website Builder empowers artists to create portfolios tailored precisely to their requirements.
Get a head start on website creation with AI
Create a custom website tailored to your business needs 10X faster with 10Web AI Website Builder!