Nowadays, musicians rely on websites to expand their online presence, connect with more fans, and maintain control over their music representation. In this article, we have compiled a list of the top music website examples that can serve as a source of inspiration, whether you are an established artist or just starting out in your music career.
In this new digital media age, the internet has become a global marketplace and stage for music. Now more than ever, we have access to a variety of music collections that transcend different eras, genres, and cultures through streaming platforms such as YouTube, Spotify, Apple Music, and more. Whilst these streaming platforms offer unparalleled convenience, there are many compelling reasons why you should still consider creating a music website. 
A good music website allows you to reach a wider audience, connect directly with your fanbase, share your story, offer a plethora of resources that go beyond just streaming music, and explore other ways you can monetize your music. 
Whether you are an established artist or just getting started with your music career, designing a good music website can be an overwhelming experience. We have curated a list of some of the best music website examples you can draw inspiration from as you put your music website together. 
You don't need to learn to code to create your music website. With 10Web AI Website Builder, simply answer a few questions about your music website, and the AI builder will generate a compelling website with unique images and content.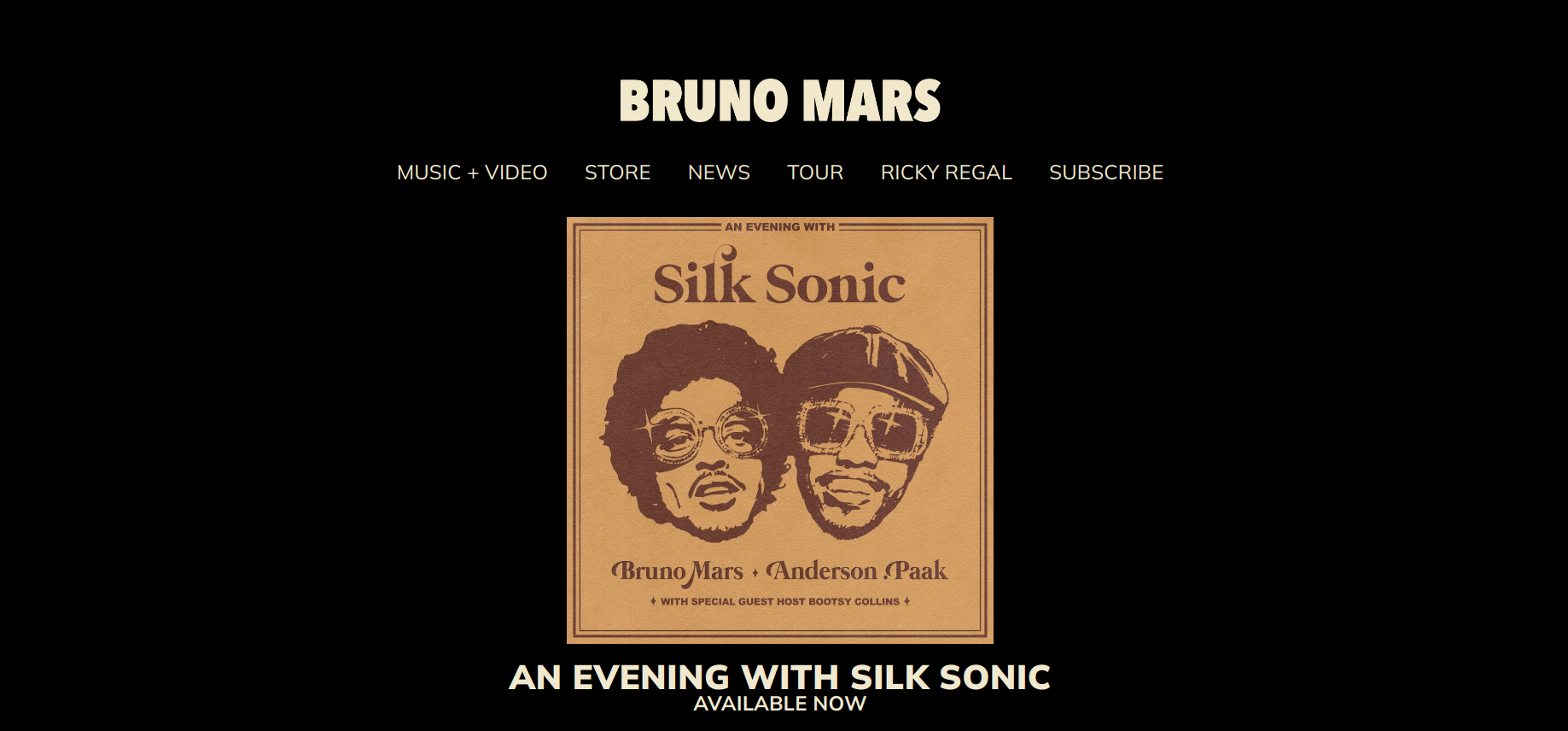 Our first pick in the list of the best music website examples is Bruno Mars, a famous singer, composer, and choreographer. This music website adopts a visually striking contrast for the text and images against a sleek, unicolored black background. This excellent choice of colors creates a visually appealing atmosphere and effectively showcases important elements, such as music and videos, branded merchandise, news, and events.
Other outstanding features on the site include:  
A simple navigation menu provides access to music videos and news, among other important pages.

The music and videos page allows you to access music on your favorite streaming platform.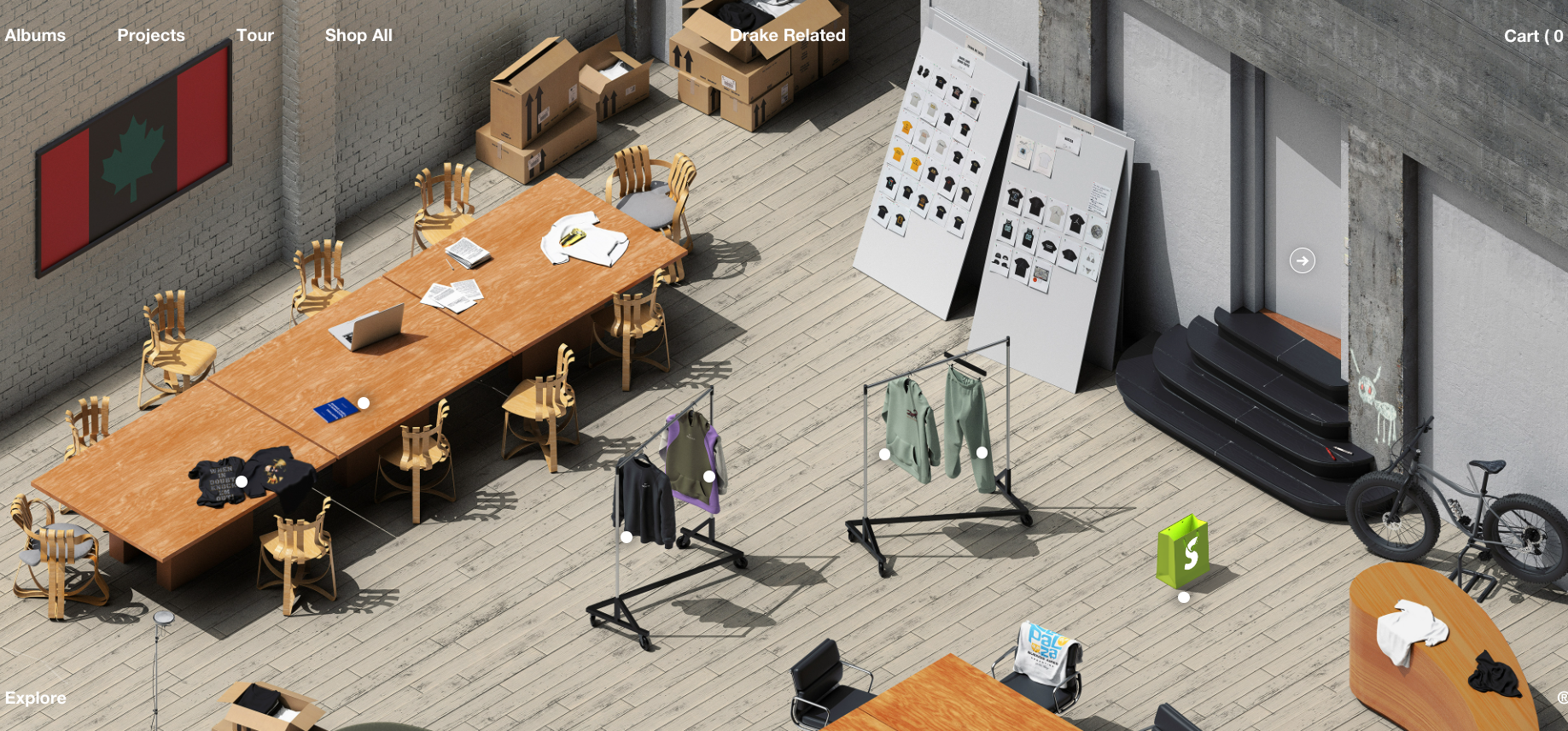 Drake Related is the official music website of the famous hip-hop star Drake. In our selection of top musician website examples, Drake Related stands out due to its unconventional and unique design. However, this website is more than just a musician site. 
In a typical departure from the conventional grid layout of e-commerce sites, Drake Related gives users a chance to explore his $100m mansion virtually. Each room of this mansion is adorned with various items that are available for purchase through Shopify.
Other unique features on this musician's website include:
Besides the unique shopping experience, users can explore all things related to Drake's music through a simplistic navigation menu.

The visually stimulating nature of the website makes the browsing experience memorable.
You can now effortlessly create a musical website with integrated e-commerce capabilities using the 10Web AI Ecommerce Website Builder. With 10Web AI Ecommerce Website Builder, you can not only create a custom e-commerce website in minutes with the power of AI, but also manage orders, products, customers, taxes, shipping and fulfillment, payments, and more from a single intuitive dashboard.

Build your ecommerce business with the help of AI
Create your custom ecommerce website in minutes with AI-generated content and images and customize it easily with our drag and drop editor.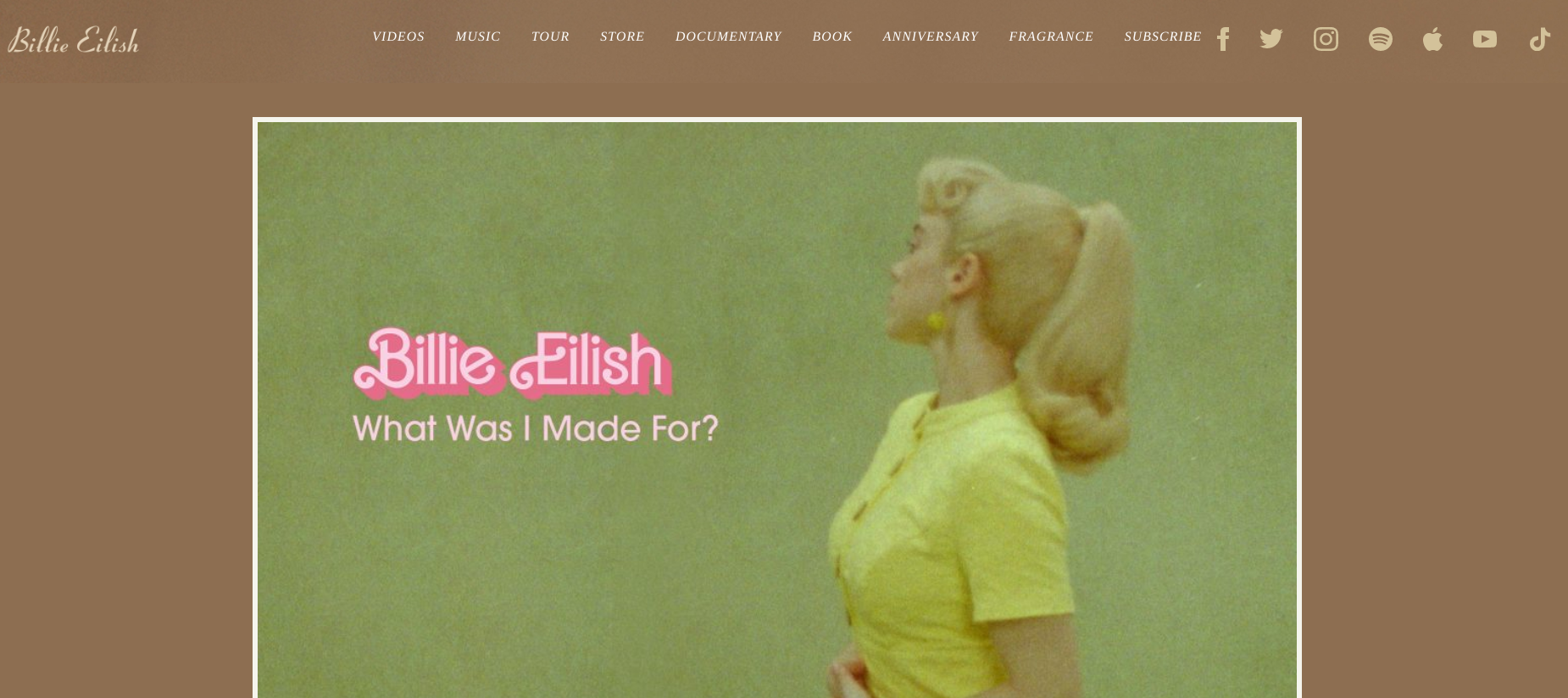 Billie Eilish's music website earns its place among the best musician website examples, presenting visitors with the cover of her latest album in a design epitomizing cleanliness and tenderness. This website embraces the concept of simplicity and a unique combination of hues that seamlessly blend to give the users a warm and inviting browsing experience. 
Without needing to navigate away from the website users can listen to and watch the artist's music using YouTube's embedded player. Fans interested in attending concerts can also find dates and venues of when and where she will be performing next.
Other great features on this website include: 
A store section where users can order merchandise branded by the artist.

An email subscription service allows you to get the latest updates from the artist.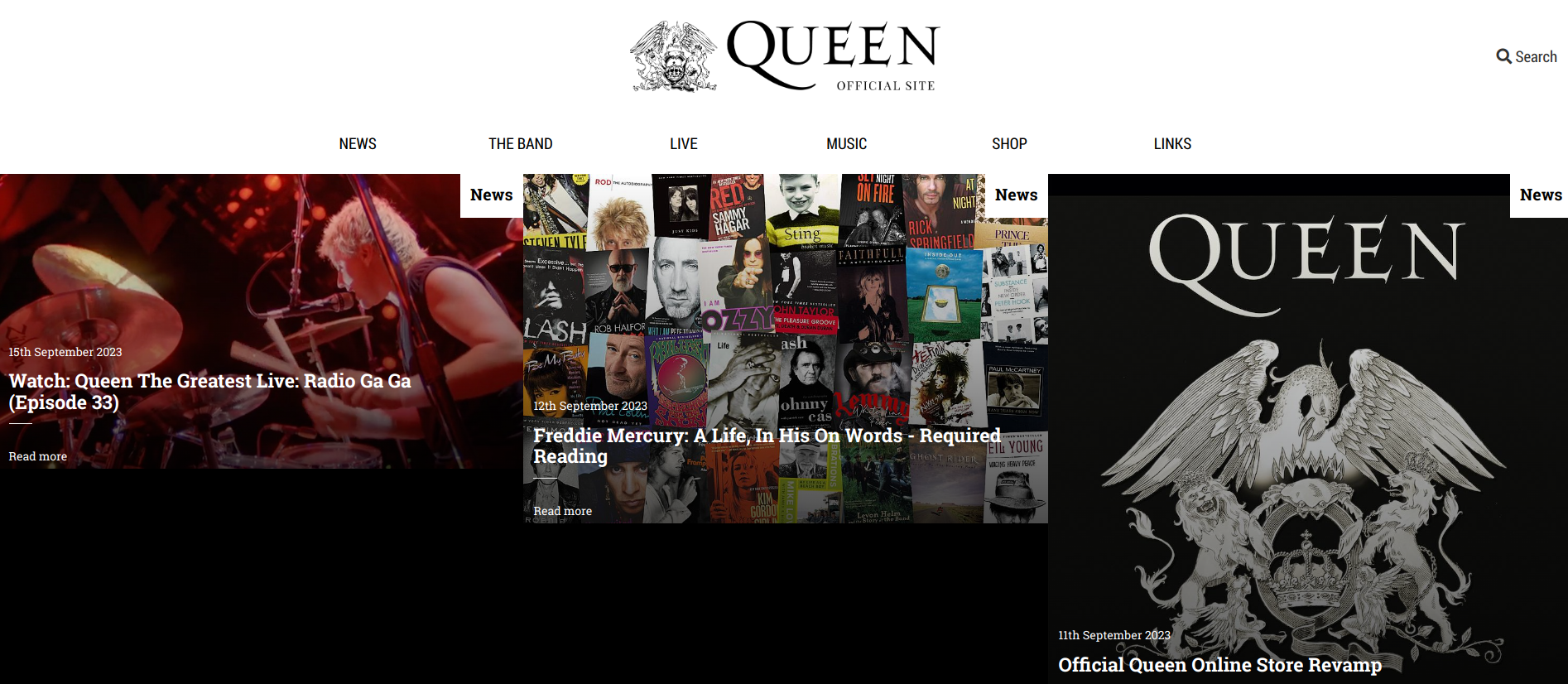 The Queen is a British band whose fusion of heavy metal, glam rock, and camp theatrics made it one of the most popular groups of the 1970s. Queen is a notable presence among the musician website examples we selected, greeting users with a captivating slideshow of imagery accompanying important information about the band-related events and news.
The rest of this music website feels like a nostalgic journey down memory lane, keeping users glued to images capturing cherished moments, allowing visitors to relive the band's timeless classics.
Other notable features on this website include:
Clear navigation menu that makes it easy to access different sections.

An "About Queen" section detailing the life of each band member, including their background, influences, and achievements.
With some inspiration and the right tools, you can create an impressive musician website like Queen's. Tools such as the 10Web AI Website Builder enable you to build or recreate any website in minutes with the power of AI.

Example 5:

Adele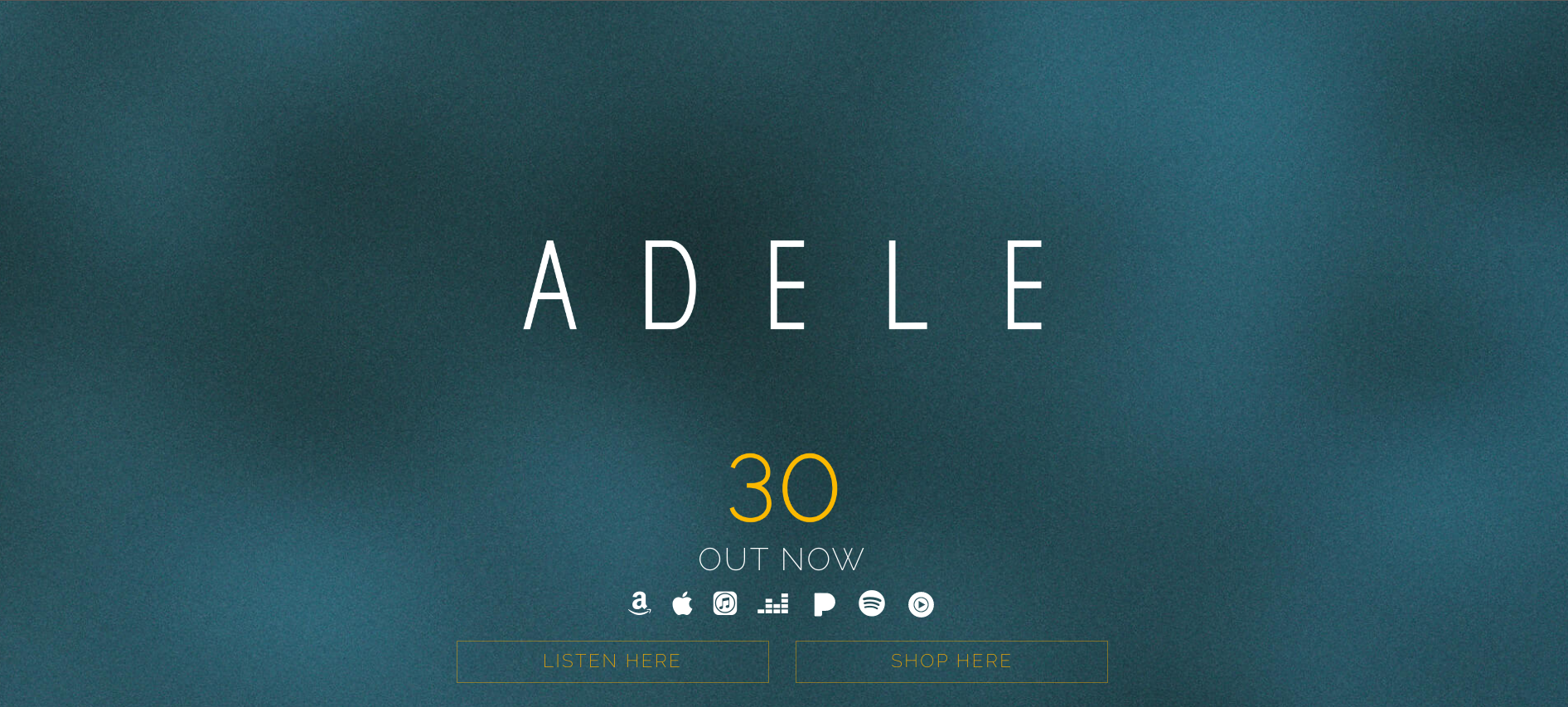 Adele is a British songwriter and singer known for her powerful mezzo-soprano vocals and songwriting. Among the standout musician website examples, Adele's website instantly captures visitors with a teal background color accented by subtle fonts in golden and yellow hues that exude regal elegance and the artist's style of music and sophistication. 
Other great features include:
The site prominently features her latest album.

Preview of her music videos allows visitors to watch music directly on her site.

A fan community allows fans to find information on all things Adele.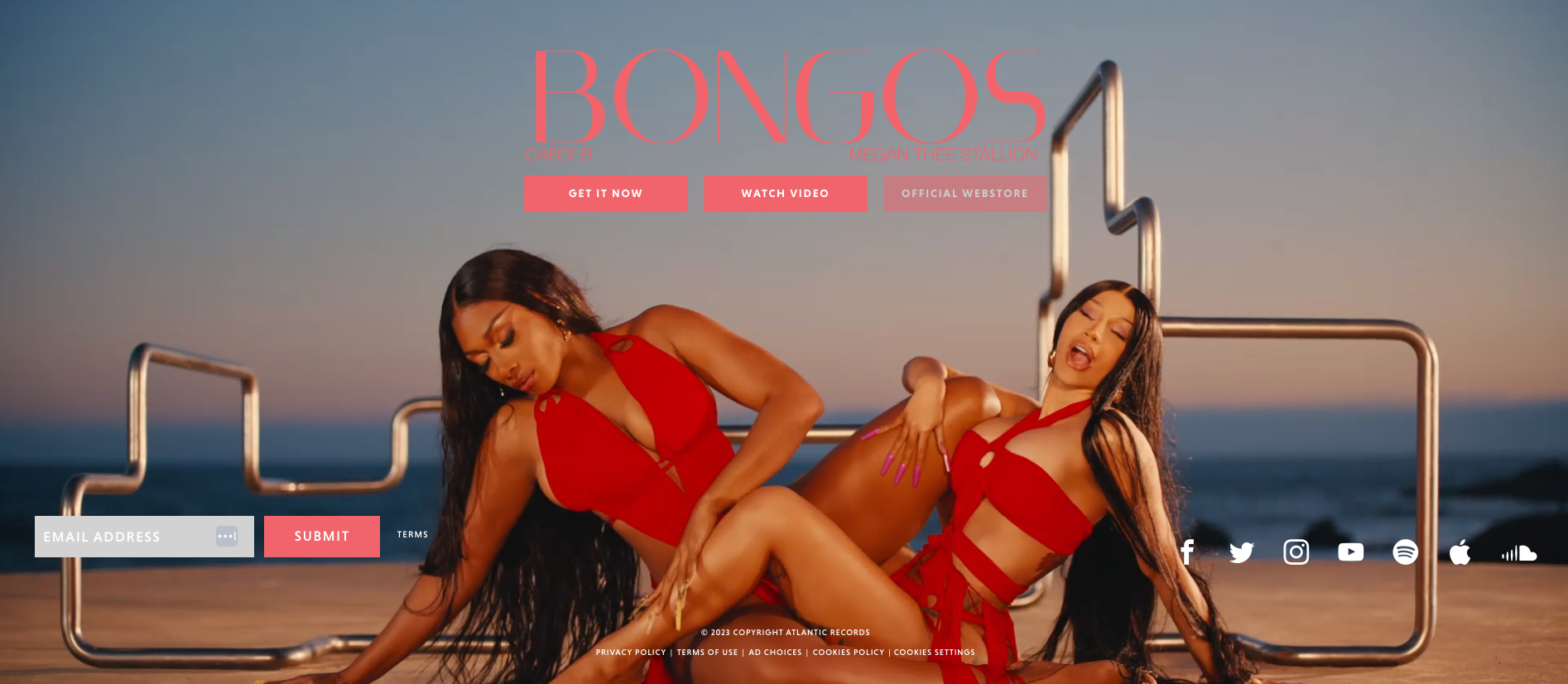 Cardi B is an American rapper known for her distinct, aggressive flow and outspoken lyrics. Among our top musician website examples, her website showcases a contemporary and polished design featuring high-quality background video and photography that immediately catches the eye of visitors. Another standout feature of this musician's website is the impressive use of contrasting elements and hues to create a memorable user experience. 
Although the site has diverse contrasting elements, it succeeds in keeping the presentation concise and well-organized, remaining effective even for new visitors.
Other notable features on this musician's website include:
A mobile-friendly design that enhances accessibility.

Fast load times that provide a seamless browsing experience.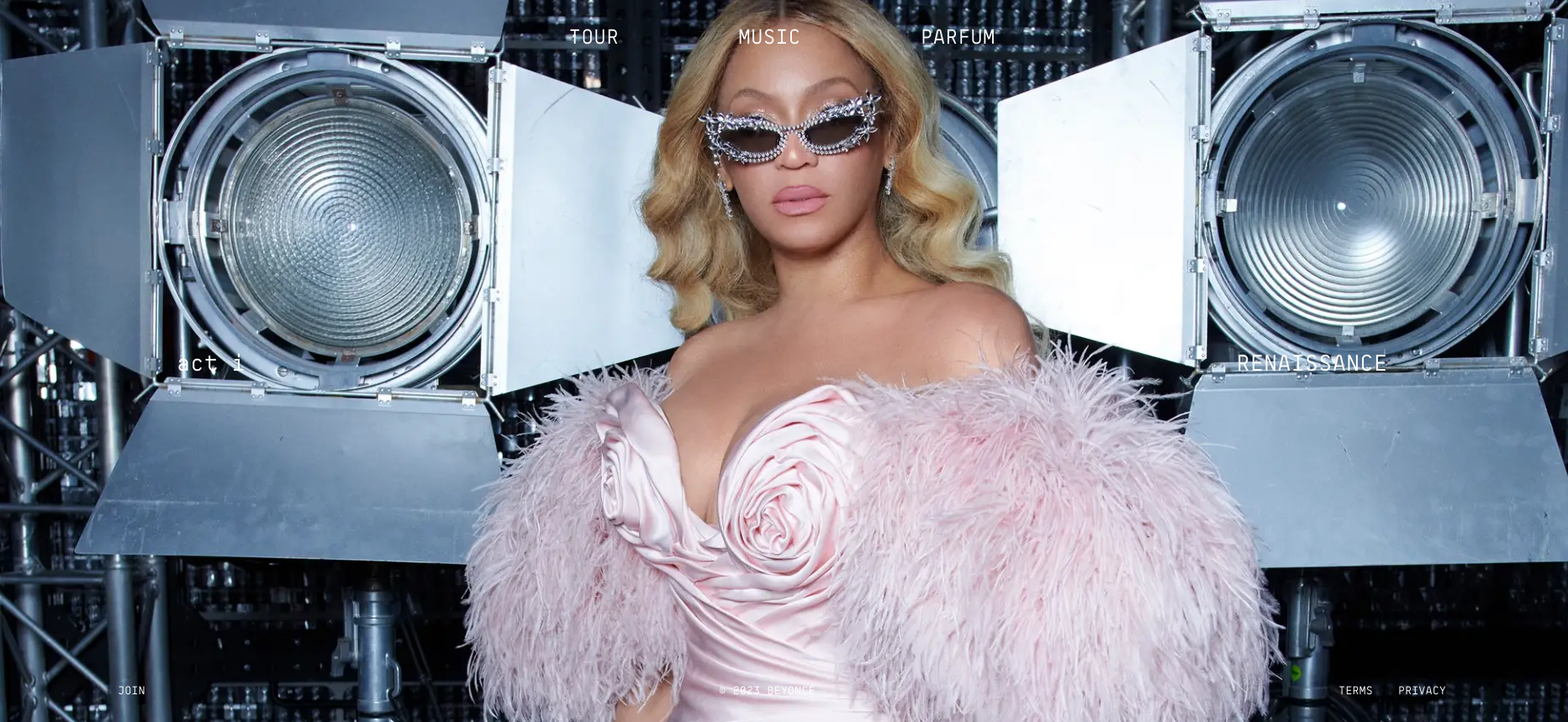 Beyonce is an American singer-songwriter famed for her artistry, vocal abilities, performances, and visual presentations have led her to become a pop culture figure. This musician's website is no doubt a visual masterpiece and an outstanding example for those seeking musician website examples to draw inspiration from. The website's stunning photography featuring her icon performances in various arenas emphasizes her artistry. 
The homepage features minimal text about her current tour and a link to view details of her Renaissance tour and shop exclusive merch online. High-quality photographs capturing moments from her shows are the centerpiece of this musician's website.
Other great features on this website include:
A sticky navigation menu that remains visible as the user scrolls down the website.

The "Join" call to action button allows users to stay up-to-date with the latest news and releases.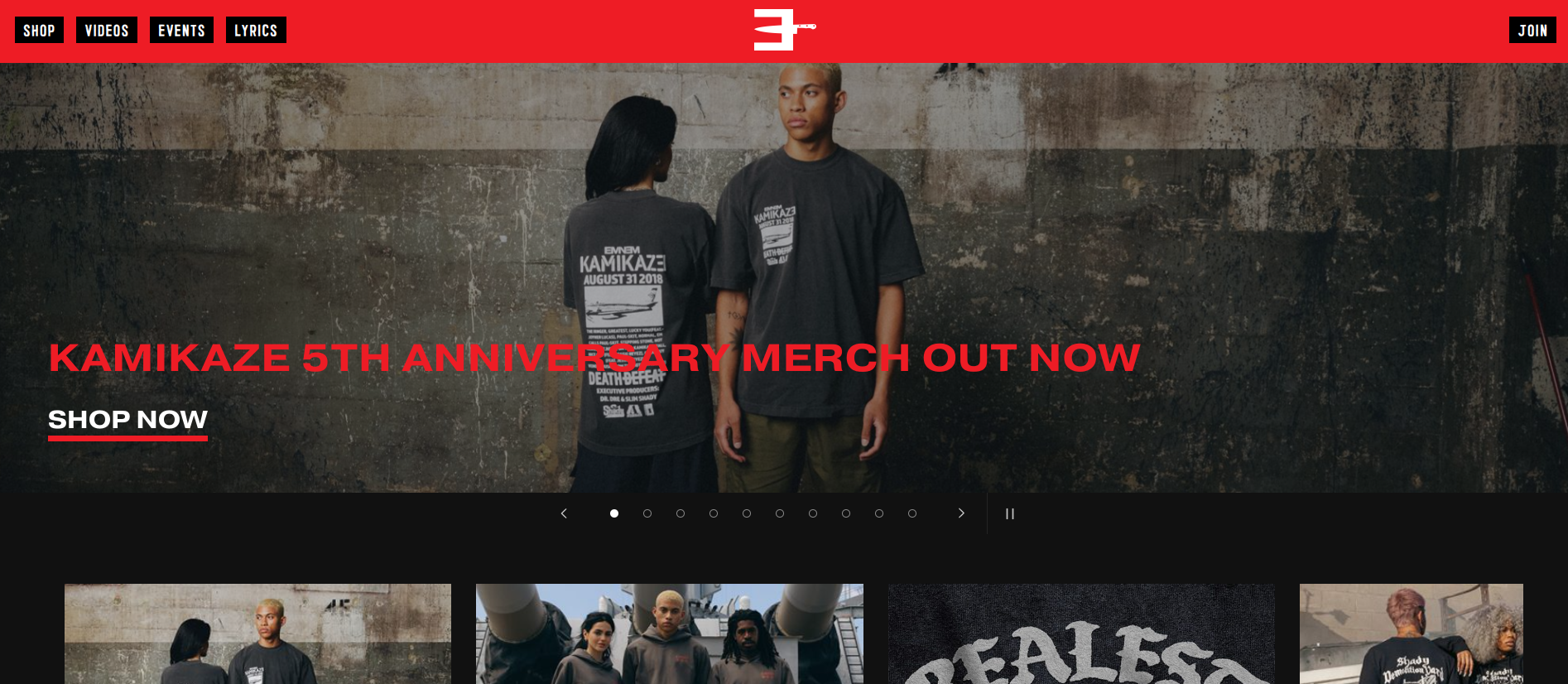 Eminem is an American rapper, songwriter, and record producer. Amidst this collection of the best musician website examples, Eminem's website masterfully weaves an aura of anticipation among its audience, providing an intuitive gateway to delve into the rapper's latest creative music. The website also makes heavy use of crimson and black colors, creating a sense of drama and intensity.
Using black as the dominant color adds a touch of sophistication to the site, while crimson, often associated with passion and power, aligns perfectly with the rapper's expressive style.
Other notable features include:
Interactive lyrics section that showcases the artist's prowess.

Bold typography on the homepage and other pages of the site.

The slideshow on the homepage keeps the site dynamic, fresh, and interesting.
Celine Dion is a French and Canadian pop singer known for her vocal prowess and passionate showmanship. Celine's website is undoubtedly among the top examples of musician websites. Overall, this musician's website adopts a simple, neat design with captivating photography that invites visitors to fully immerse themselves into her artistic personality, delve into her perceptions of art, culture, and aesthetics, and discover her multifaceted creative journey.
The site features a simple grid layout with stunning photography, providing visitors with a visual journey that mirrors the depth of her talent and personality.
Other standout features on this musician's website include:
User-friendly navigation through a togglable sidebar menu.

A dynamic presentation of images on the homepage enhances the website's visual appeal.
Maroon 5 is an American pop-rock band from Los Angeles, California. As one of the more dynamic musician website examples, this website goes beyond normal functionality, allowing visitors to enjoy different interfaces depending on their choice of language. 
The English version of this website starts with a homepage with a slideshow featuring captivating visuals, album artwork, and tour posters. The overall design strikes a simple, minimalistic, and professional tone. In addition to the captivating homepage, the site also prominently highlights dates, venues, and tickets for upcoming tours.
Other engaging features include:
Captivating pictures integrated from the band's Instagram page in a grid layout.

Pages dedicated to their music and videos are easily accessible via the navigation bar.
Feeling inspired by this design? 10Web AI Website Builder can help create a similar website. Simply provide the URL of the website you like and the AI builder will recreate the layout and design elements for you in minutes.  

Get a head start on website creation with AI
Create a custom website tailored to your business needs 10X faster with 10Web AI Website Builder!
Get a head start on website creation with AI
Create a custom website tailored to your business needs 10X faster with 10Web AI Website Builder!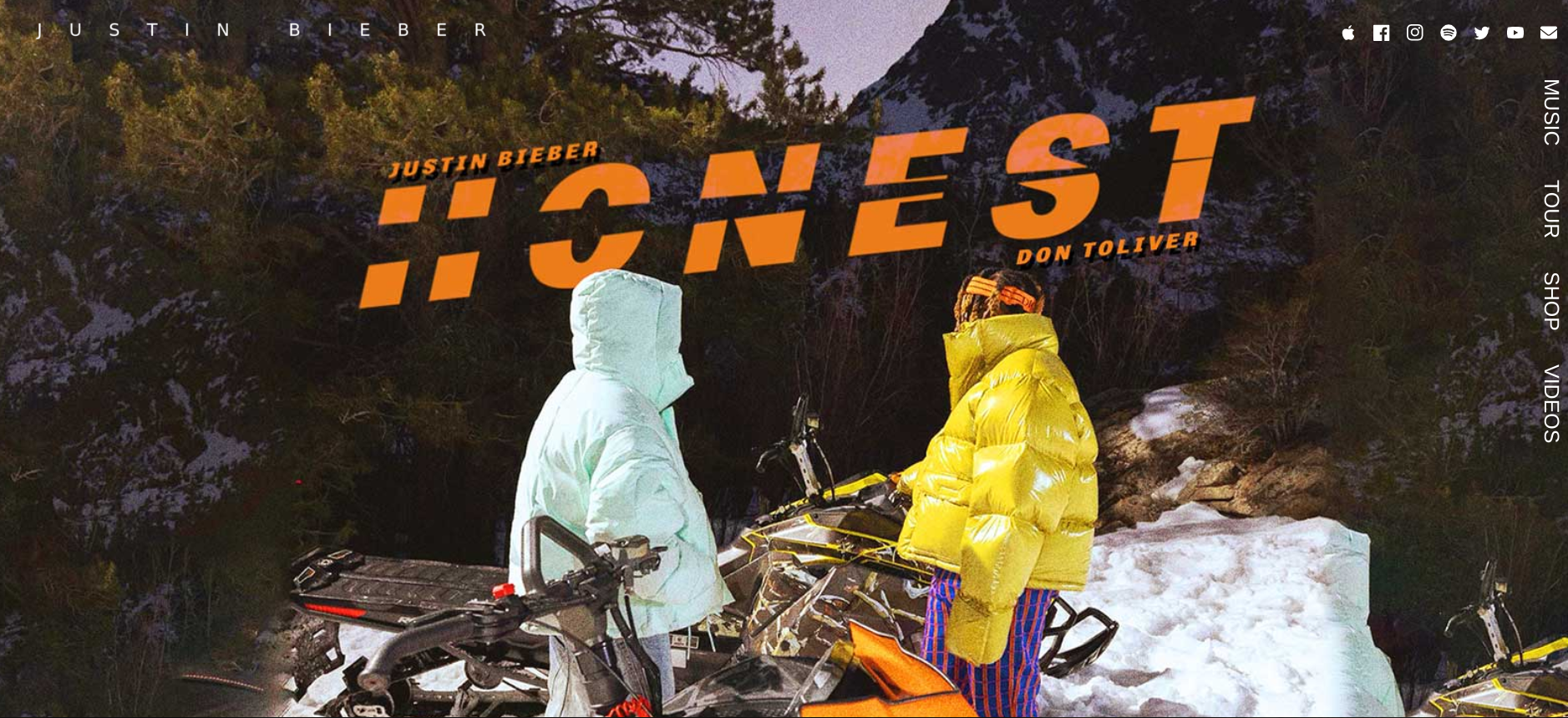 Justin Bieber is an award-winning Canadian artist and songwriter who achieved success in the pop music industry at a very young age. This musician's website is largely characterized by a modern, polished design with very minimal usage of vibrant colors. The homepage immediately draws visitors to a captivating hero image showcasing the artist's latest release.
Just below the hero image is a delightful carousel and interactive slider featuring a selection of the artist's music and albums. For those fans eager to listen and watch the latest song, you'll come across a  prominently placed link that seamlessly integrates an embedded YouTube player, allowing you to listen to the song without leaving the site.
Other distinct features include:
A unique navigation menu on the right side of the page.

A comprehensive list of links to social media and other platforms where one can find the artist's music.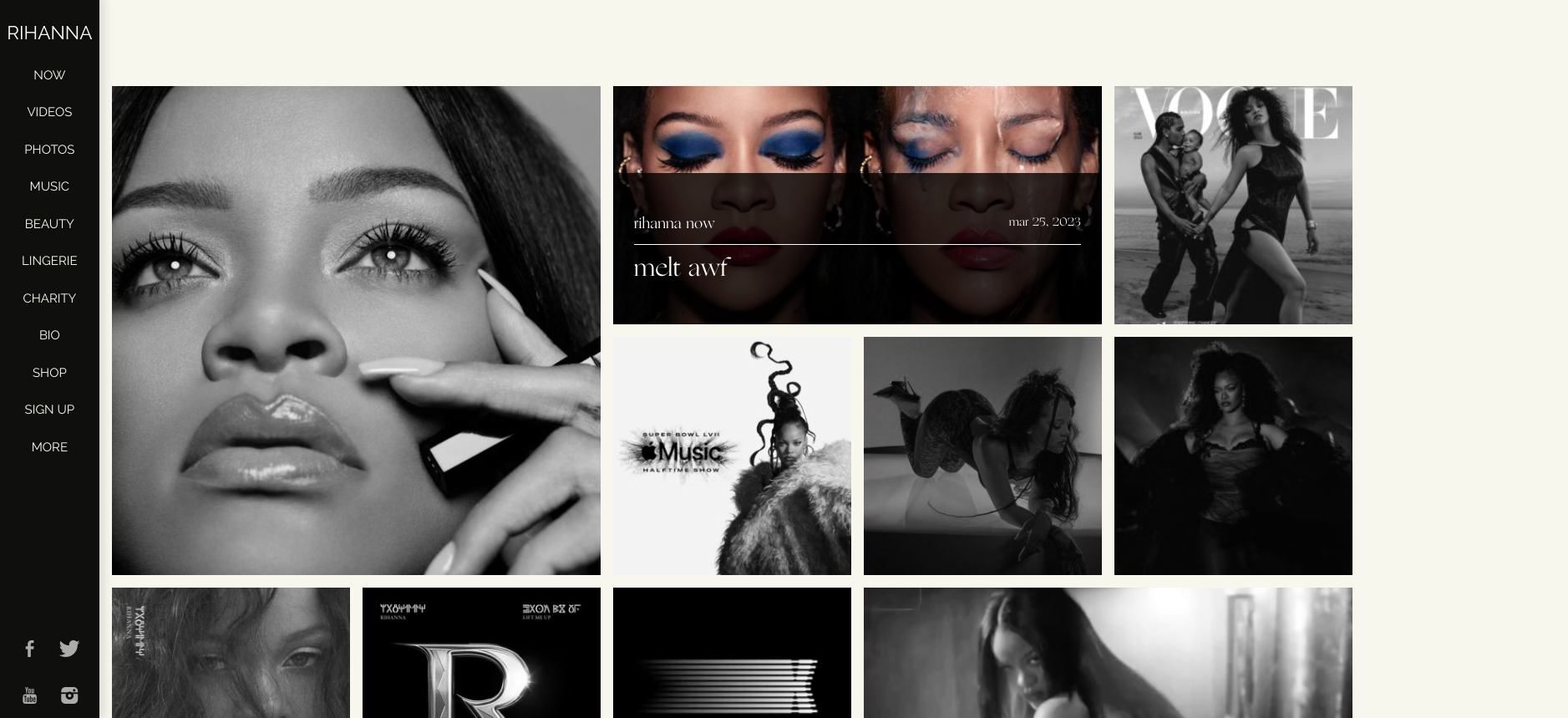 Rihanna is a Barbadian singer, songwriter, businesswoman, and actress. As with a couple of other musician website examples in this article, this musician's website features a sidebar menu providing quick access to different sections of the website. The homepage is entirely made up of a grid of images highlighting various recent events, projects, and music from the artist. Users can click on any image to view more details.
Other key features that enhance this website include:
The musician's website includes comprehensive content about the artist's work beyond her music and videos.

High-quality imagery that boosts the aesthetics of the website.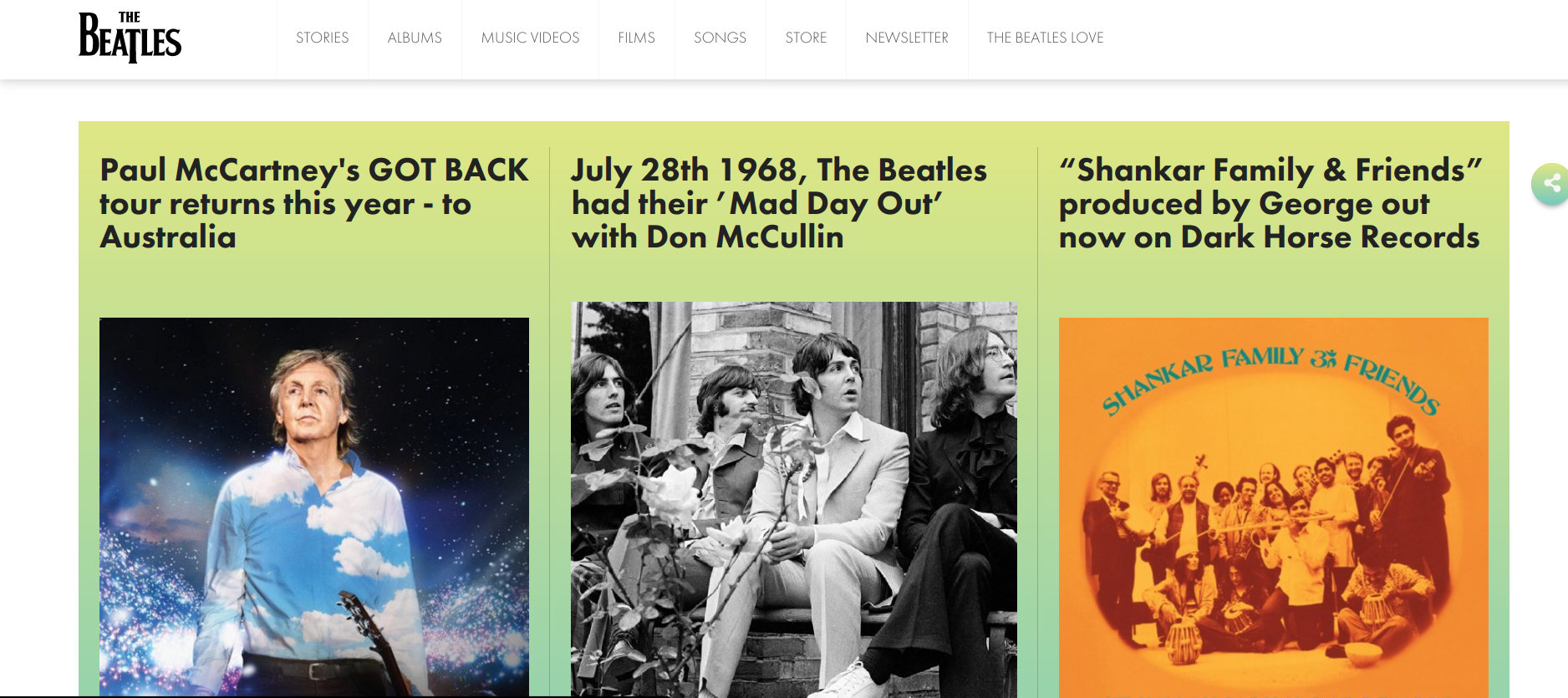 The Beatles were an English rock band formed in Liverpool in 1960, comprising Paul McCartney, George Harrison, John Lennon, and Ringo Starr. Their website exemplifies the essence of a minimalistic design, one which can be achieved by leveraging free musician website templates available on the internet. The site uses a predominantly white backdrop contrasting with bold black text and occasional pops of vibrant green accents to infuse a touch of energy and intrigue.
Other features that define this band's website include:
The arrangement of songs alphabetically and chronologically improves the overall orderliness.

A sleek, organized layout improves the overall user experience.
Sinclair is a family-run, vibrant business established in 1998 in London, UK. Driven by a passion for music, their business provides music coordination services for special events.
If you're looking for inspiration on how you can use musician website templates to start your own music website, Sinclair is the perfect example.
Despite its simplicity, the website's straightforward design and clever combination of different palettes and fonts that blend harmoniously set it apart from the rest. The exceptional copywriting throughout different sections of the website adds to its appeal.
Other features on this site include:
Clearly defined sections with concise text.

A testimonial section and videos from events they've coordinated established their credibility.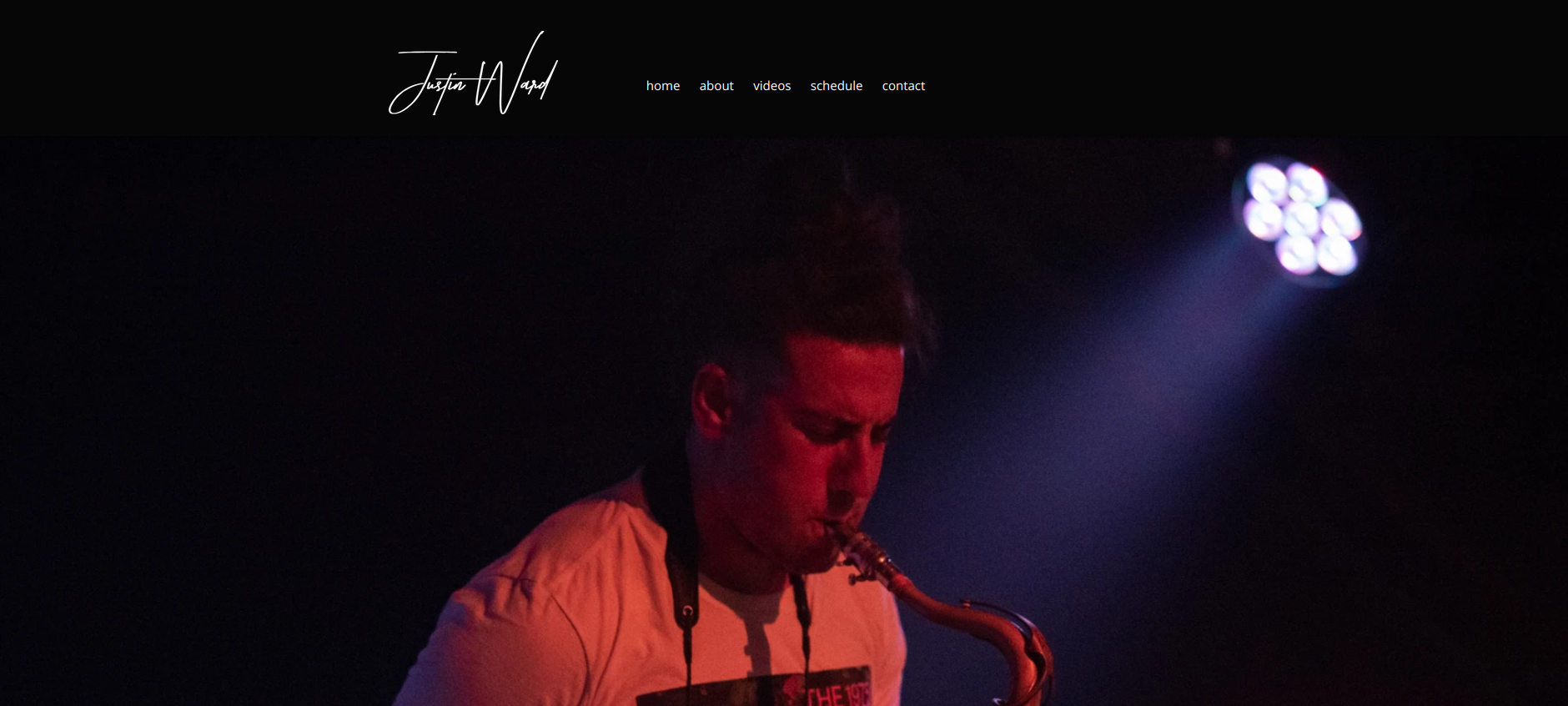 Justin Ward has gained fame with his street performances throughout the world and his covers on YouTube. His website is yet another example of a beautifully put-together website that uses the magic of free musician website templates from the internet. 
The homepage showcases the artist as the hero, conveying their passion through a captivating image. The website uses a striking visual contrast with a deep black background serving as the canvas while the contrast with white text graces the screen, ensuring clarity and readability while maintaining an air of refinement.
Other standout features on this website include:
High-quality, breathtaking images capture Justin's charisma, personality, and musical prowess.

An intuitive navigation bar guarantees a seamless browsing experience.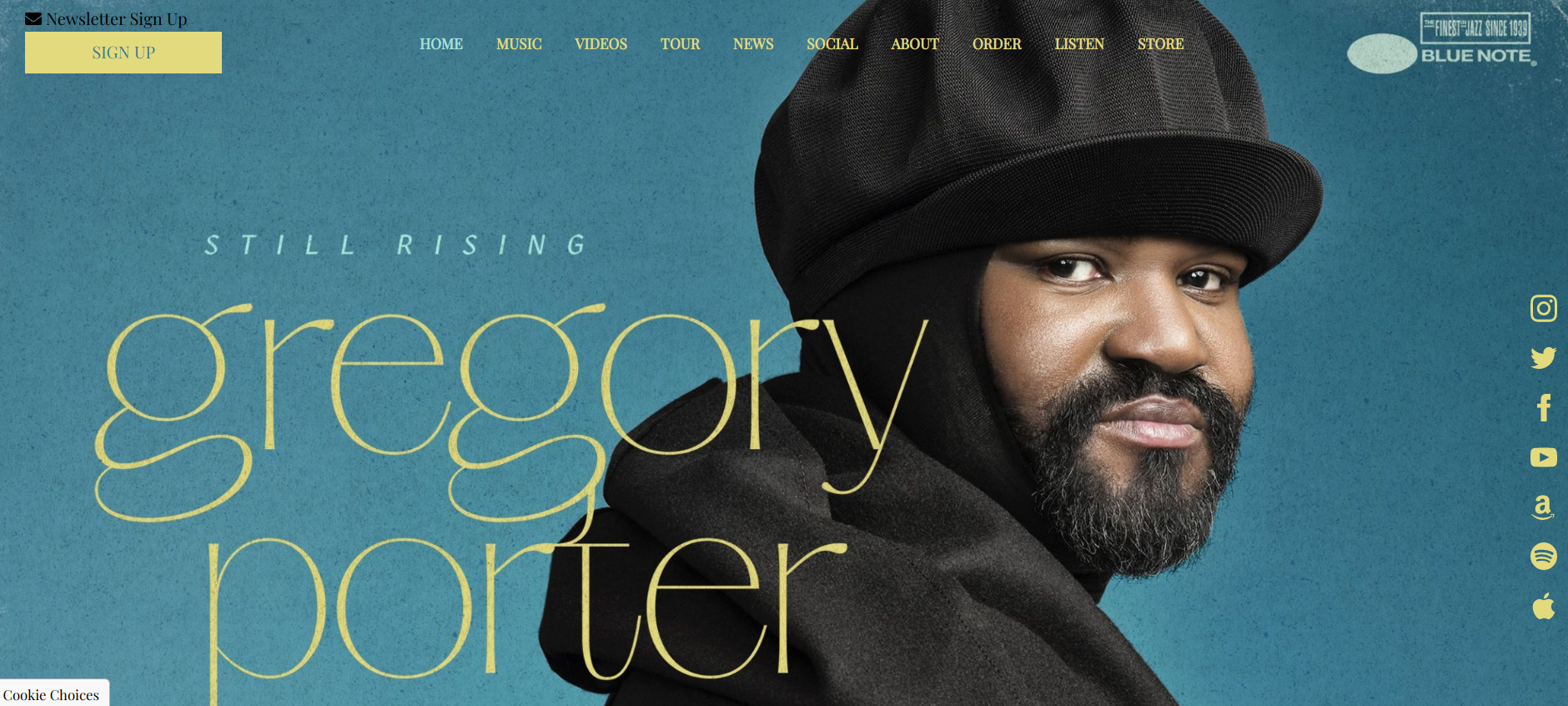 Gregory Porter is an American singer, songwriter, and actor. He has twice won the Grammy Award for Best Jazz Vocal Album. The homepage is a visual masterpiece bathed in the rich and evocative hue of teal in the background, setting the stage for a musical experience that resonates with the soul. The artist's latest collection, "Still Rising," features on the homepage with the artist's image at the forefront.
Other outstanding features on this website include:
You can find all the music and albums from the artist on his website.

The About section covers the artist's story and musical journey, establishing an intimate connection with the audience.
If you're embarking on creating a similar musician website but don't know where to start, the 10Web AI Website Builder can be a great tool. Simply copy and paste the homepage URL of the site above, and 10Web AI Website Builder will recreate a similar site in minutes.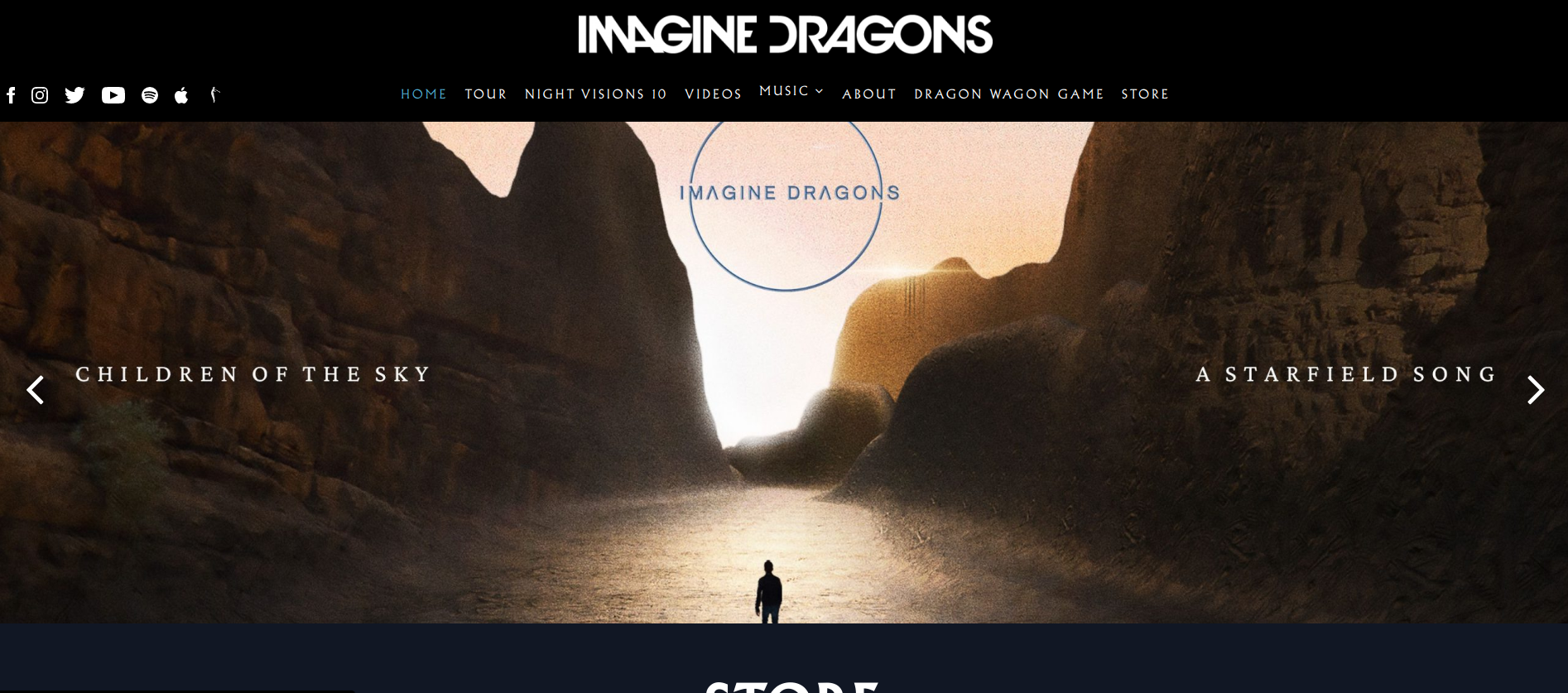 Imagine Dragons is an American rock band that gained widespread popularity with hits like "Radioactive," "Demons," "Believer," and "Thunder." When visitors land on the homepage, they are immediately drawn to the elegant slider with a smooth transition showcasing the band's upcoming concert dates while teasing us with their latest music releases. Scrolling down, you'll discover a store section with various branded merchandise, from stylish t-shirts to collectible vinyl records. 
Other distinctive features on this website include:
Dedicated pages to showcase music, videos, deep cuts, and lyrics.

An embedded YouTube player allows visitors to watch videos conveniently.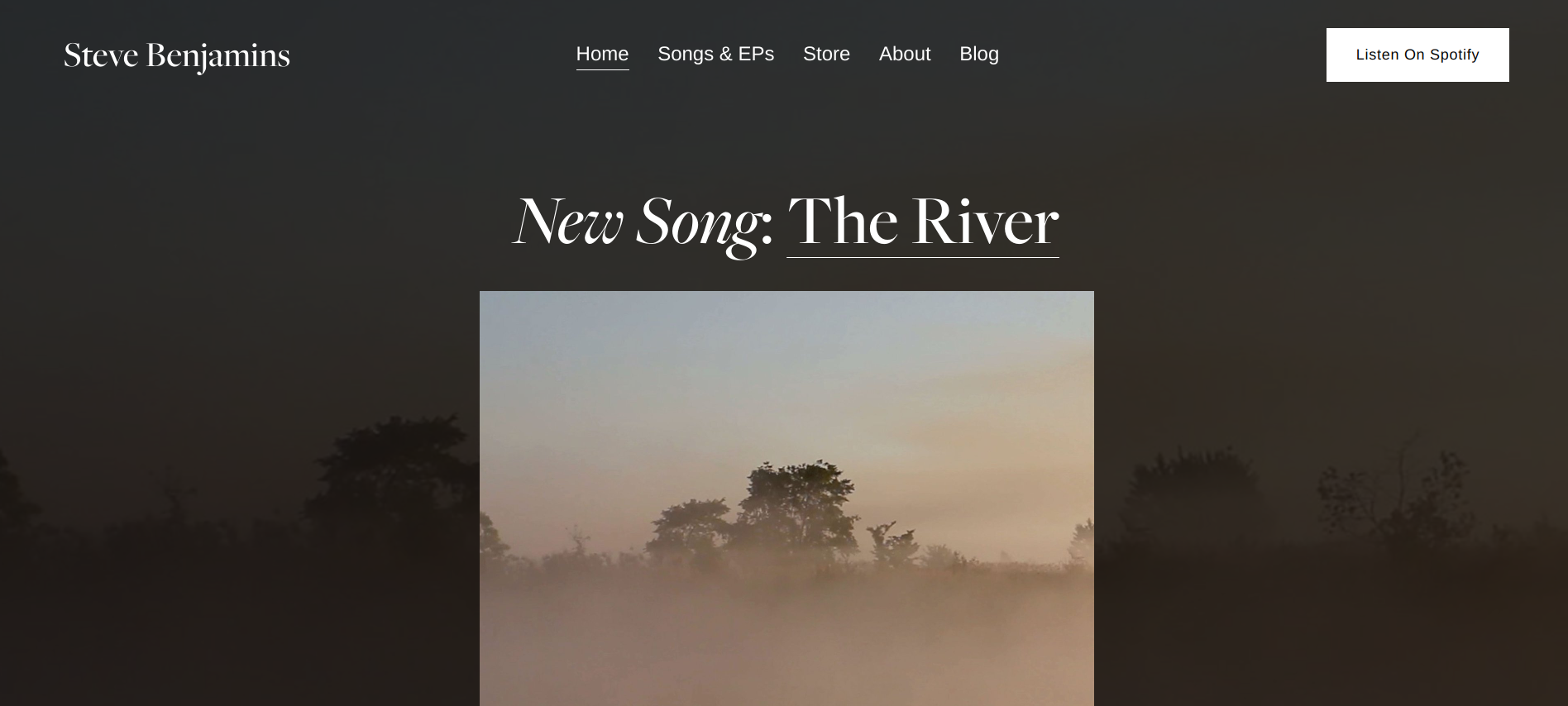 There is no better example to draw inspiration from on creating a music website than Steve Benjamins. Besides being a good musician, Benjamin is an experienced web developer with experience spanning over two decades. His music website is designed with elegance and simplicity in mind, putting the spotlight firmly on Steve's newest song. 
At first glance, you'll notice a seamlessly integrated, transparent header that exudes a clean and modern aesthetic.
Other standout features include:
A captivating Call to Action (CTA) button that connects you to Benjamin's Spotify profile.

A blog section where he shares tips on making music and earning from Spotify.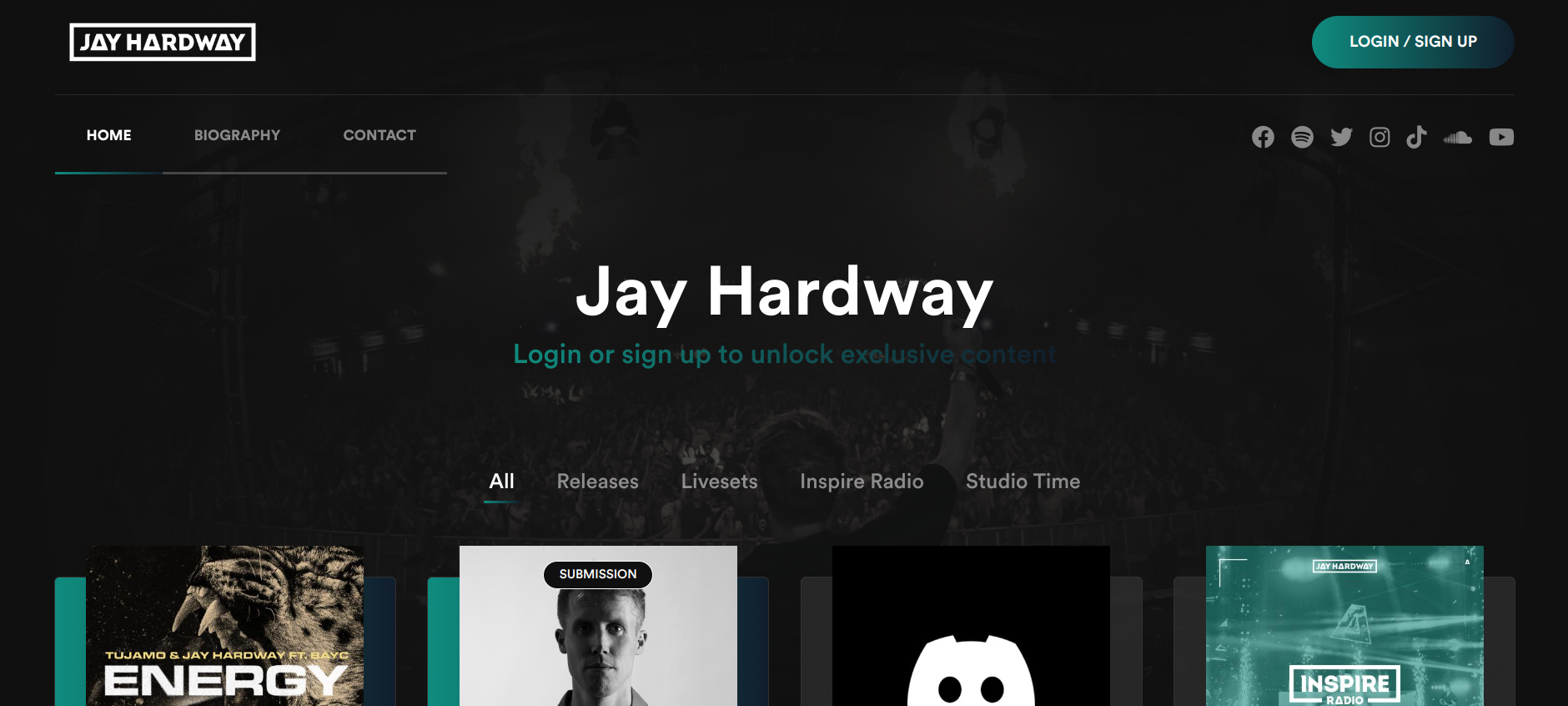 Jay Hardway is a globally adored dance music sensation and well-known in the electronic music scene. We think Jay's website deserves a spot among the best musician website examples due to the unique dual nature of his website, where some sections are accessible to the public, and others are reserved exclusively for signed-up members. 
The homepage greets you with a captivating four-column grid thoughtfully designed to simplify your exploration. With intuitive tags for easy filtering, you can effortlessly tailor your browsing experience to focus solely on the content that piques your interest.
Other amazing features on this site include:
A floating header that is accessible throughout your browsing journey.

A discord community allows you to meet other fans of Jay's music.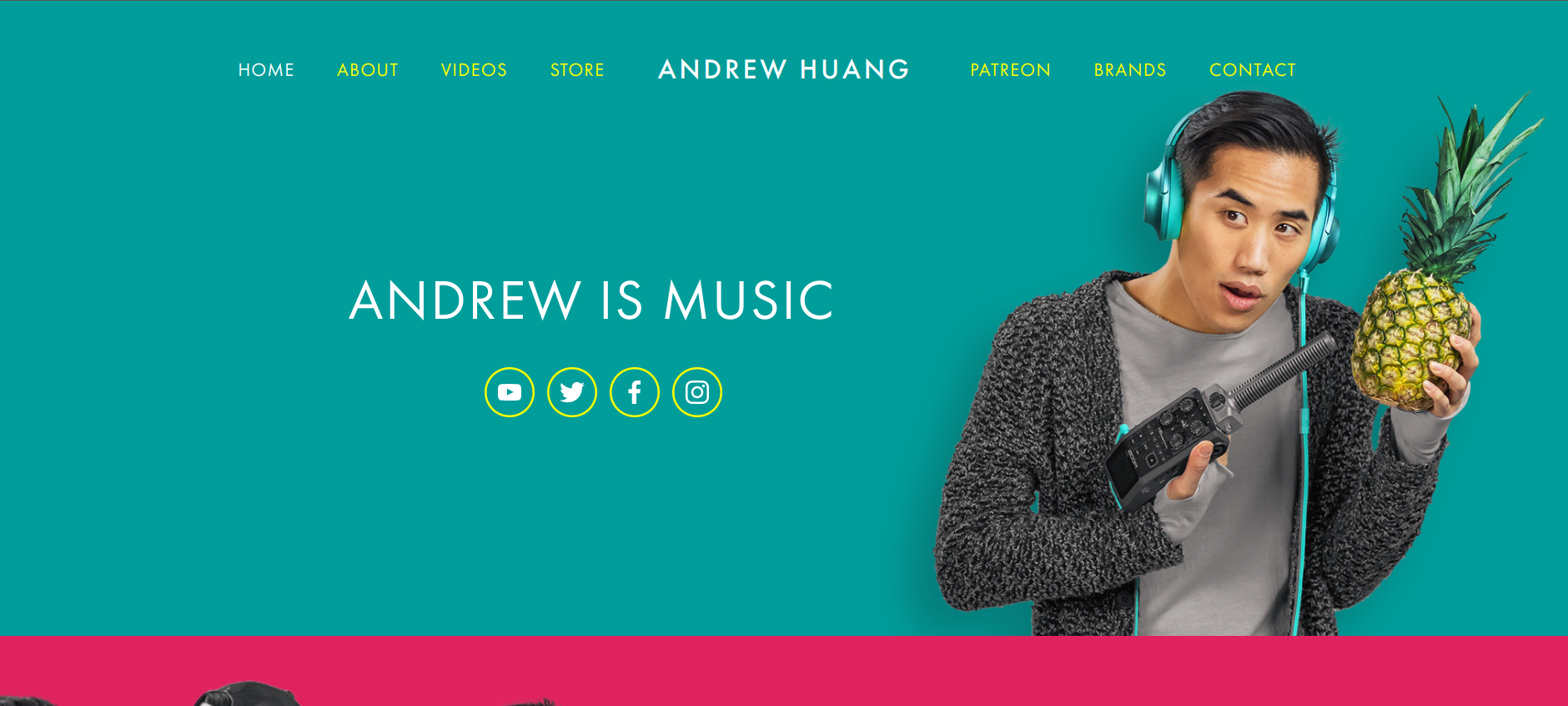 Andrew Huang is a Canadian YouTube personality, musician, and video producer. Unlike most musicians, Andrew is versatile, and his music covers different genres. So whether you're a music enthusiast, a budding artist, or a dedicated follower, you'll find a wealth of content that resonates with your passion. 
The homepage immediately grabs visitors' attention with a unique hero image of the artist coupled with a vivid and engaging color palette throughout the website.
Other features on this website include:
Quick links to social media platforms where you can connect with his music journey.

Floating header ensures that the navigation menu is always accessible.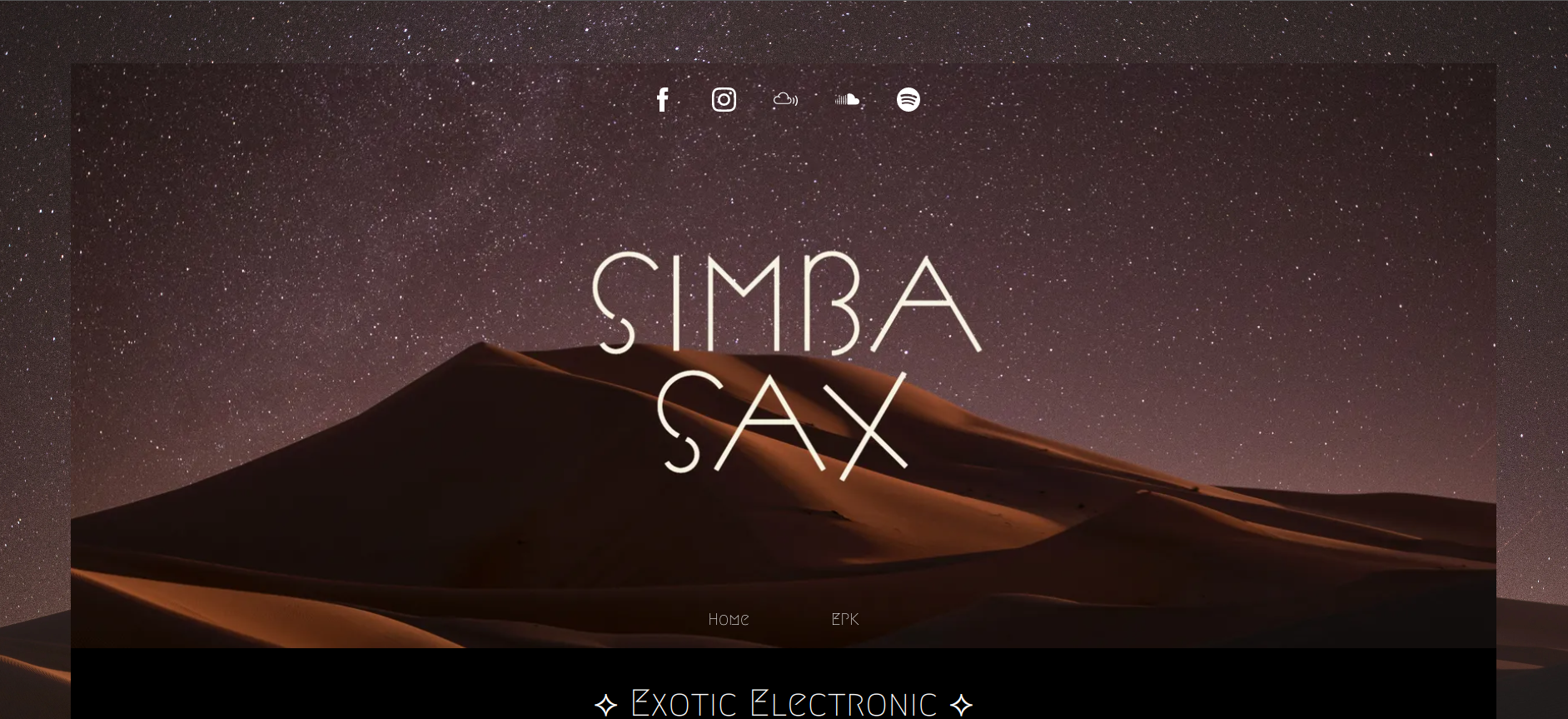 Simba Sax is the moniker of DJ/producer and multi-instrumentalist based out of Salt Lake City, UT. This website is a testament to how one can leverage the creative freedom that comes with using musician website templates to craft a remarkable website. The homepage uses abstract imagery mirrored between the header area and the fixed background to create a great backdrop for text and images.
Other remarkable features on the site include:
Clear content hierarchy and design to improve readability

The use of uncommon fonts makes the site unique.
Conclusion
As we wind up this collection of some of the best musician website examples, we have witnessed how musicians use websites to expand their digital presence and forge connections with an even wider audience while retaining control over how they present their music. While this is not a conclusive list of all the musician website examples, they are enough to inspire you as you set out to create your own. 
We understand you may not have the requisite skills and knowledge to create your website from scratch. With 10Web AI Website Builder, you can build or recreate any website and customize it with 10Web editor based on Elementor. Simply answer a few questions about what you want your music website to be about, or just insert the homepage URL of the website you'd like to recreate, and 10Web AI Website Builder will do the rest.
With 10Web AI Ecommerce Website Builder you can also build an ecommerce business with the help of AI, allowing you to sell and grow your music anywhere, everywhere. 
Get a head start on website creation with AI
Create a custom website tailored to your business needs 10X faster with 10Web AI Website Builder!