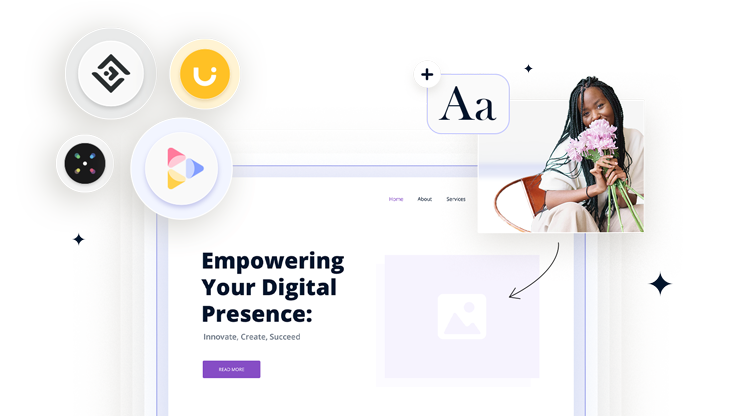 AI-powered web design tools have revolutionized the industry, providing benefits such as improved user experiences and streamlined processes. In this article, we will explore the best AI web design tools that can help designers to accomplish more in less time and even enhance the quality of their work, as well as discover the latest trends shaping the future of web design.
AI web design is a booming industry that is changing how designers work forever. While you might be excited by the prospect of using AI to improve and accelerate your design work, you may not know where to begin. When looking at AI for website design, the sheer number of tools to consider is staggering. To help you out, we have curated a list of some of the best tools website designers can leverage today, from graphic design tools to color palette pickers to full-blown generative website tools.
The role of AI in web design: benefits and challenges
AI web design tools have become a game-changer when it comes to helping web designers work more efficiently. However, it's important to realize that AI technologies offer both benefits and challenges to the field. Being aware of both will help you leverage AI to its maximum potential:
Benefits:
Enhanced user experience:

AI-driven web design enables personalized user experiences, tailoring content and layouts based on individual preferences, leading to increased engagement and satisfaction.

Streamlined design processes:

Automation streamlines repetitive tasks, such as prototyping and code generation, reducing human effort and expediting the design-to-launch timeline.

Data-driven insights:

AI can analyze vast amounts of user data, offering valuable insights into user behavior, preferences, and pain points, enabling designers to make data-backed decisions.
Challenges:
Lack of human touch:

AI may lack the human touch and creativity that some projects require, potentially leading to generic or impersonal designs.

Ethical considerations: AI-powered personalization must be handled carefully to ensure user data privacy and avoid potential algorithmic biases and discrimination.
Learning curve:

Using AI for website design demands expertise, and designers must familiarize themselves with AI tools to get the most out of them.
11 best AI web design tools to maximize your efficiency and creativity
10Web AI Website Builder is easily one of the most powerful tools of its kind. It allows anyone to leverage the power of AI to generate unique, professional, and attractive websites that adhere to modern web design standards. This AI web design tool can help designers build high-quality websites up to 10x faster.
You can use 10Web AI Website Builder as a text-to-website tool by answering a few questions, and it will generate a suitable website for you. However, 10Web goes further than other AI website design generators. 
The design wizard allows you to hone in on the ideal design for your website. You can choose the color scheme, layout, and tone of voice. By just providing a few other details about your company and brand, 10Web has all it needs to generate a unique website tailored to your needs. Your site will even come with custom content and images out of the box.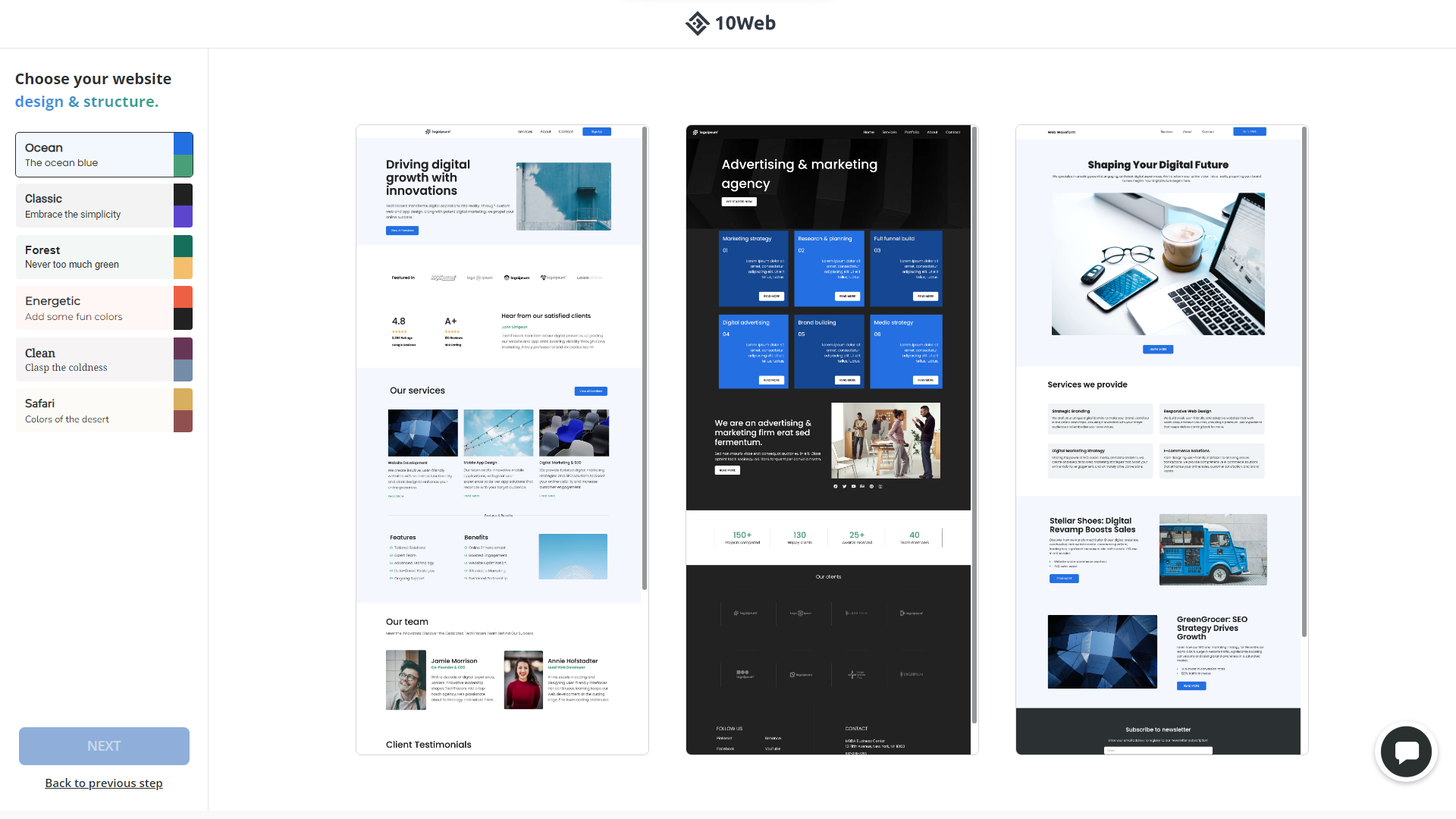 Once you've created your website, you can continue to fine-tune the design. The AI designer can be used to create new pages or alter existing ones. You can even manually customize your pages using the built-in website editor.
10Web's AI-powered platform also helps you optimize your website for success in other key ways. The AI Assistant helps you create SEO-ready content for all your pages and posts. On the other hand, the PageSpeed Booster helps you optimize website performance to achieve 90+ PageSpeed scores.
Pricing
10Web's AI platform has a free trial and the pricing starts at $10/month (billed annually), including hosting, speed optimization, and more. You can see the full pricing here.
Get a head start on website creation with AI
Create a custom website tailored to your business needs 10X faster with 10Web AI Website Builder!
2.
Wix ADI
– Pro web design for beginners
Wix launched Wix ADI, its own AI web design tool, in 2016. Short for "artificial design intelligence", ADI is arguably the first commercial AI for website design. Tailored for users seeking a convenient and time-efficient solution, Wix ADI simplifies the complexities of website creation for those without technical experience.
Wix ADI can create web pages, landing pages, and online stores based on users' responses to simple questions. The platform's outputs are customizable, allowing users to add a personalized human touch to generated AI designs.
After answering some basic questions, you can choose from three design suggestions for your site: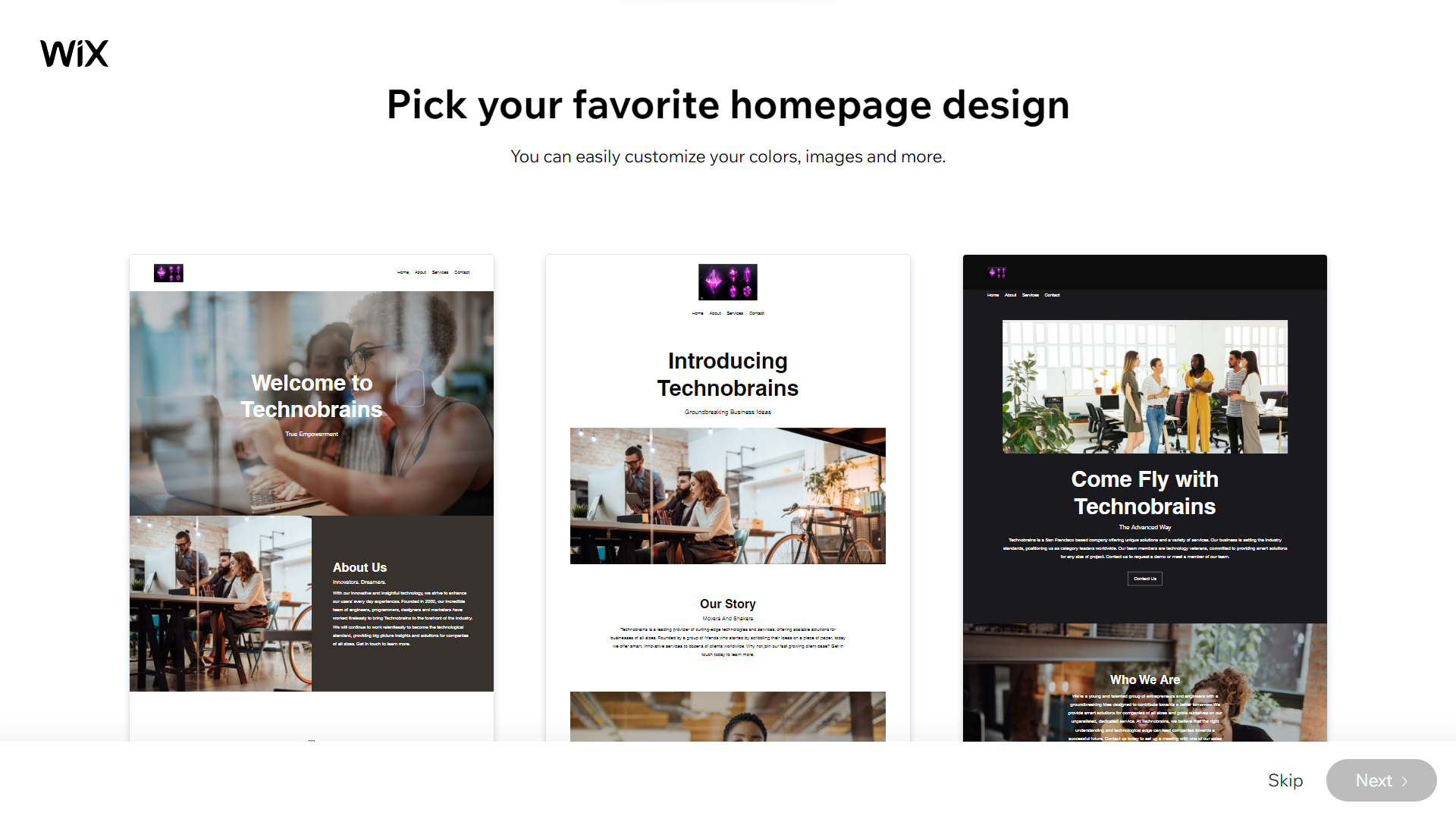 Pricing:
You can build and launch a website using Wix ADI with a limited free plan.

Wix Premium plans range from $4.5/month to $35/month
3.
Colormind
– Discover beautiful web color palettes
Colormind, an AI-powered color palette generator. It's a simple but super convenient tool, that helps designers with one of the most challenging tasks in AI website design – creating harmonious color schemes. Using principles of color psychology for web design, Colormind can help you develop visually appealing and brand-aligned color palettes.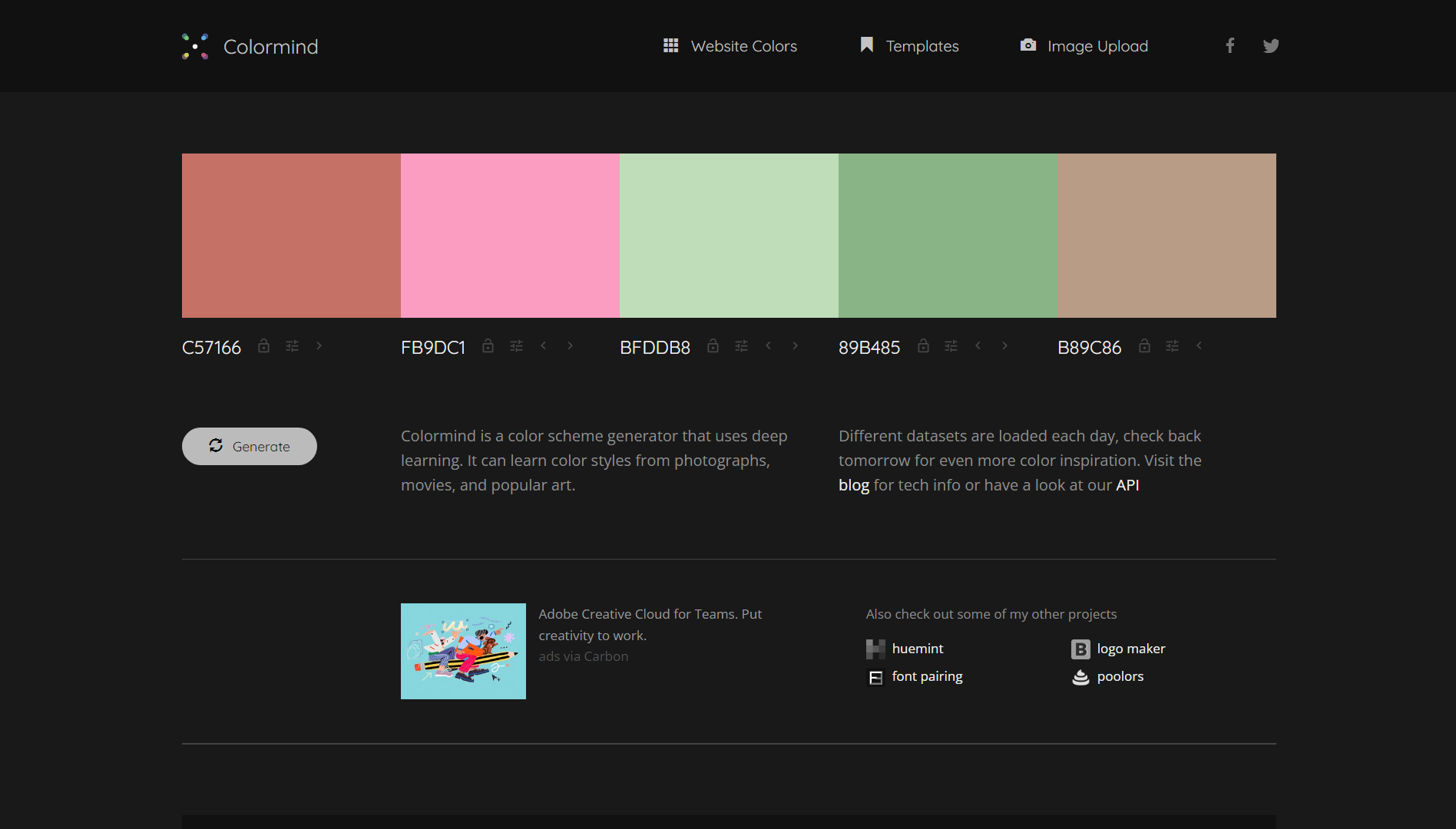 At first, Colormind will provide you with a coherent starter palette. Another option is to upload an image, and Colormind will extract a suitable palette for you. You can individually "lock in" the colors you want to keep. You can perfect the palette by adjusting individual colors using a color picker or swapping colors around. It's then possible to "preview" colors on a sample website UI page.
Colormind has been around for years and has been refined and improved thanks to its active community. Drawing inspiration from a vast database of color palettes generated from photographs, movies, and popular art uploaded daily, Colormind offers designers a diverse range of options.
Pricing
Colormind is totally free with no premium pricing plans.
4.

Uizard
– All-in-one design ecosystem for websites and apps
Uizard is a comprehensive suite of AI-driven tools for AI web design, appealing to both novices and seasoned designers. Its AI-powered Design Assistant streamlines the creation of UIs, apps, and websites, making it possible for anyone to create modern and attractive digital experiences.
What sets Uizard apart is its balanced focus on both functionality and design. Whether you start with hand-drawn concepts or need inspiration from the platform's pre-existing templates, Uizard can assist you. It efficiently transforms sketches into digital versions and offers customizable UX design styles that align with your company's identity.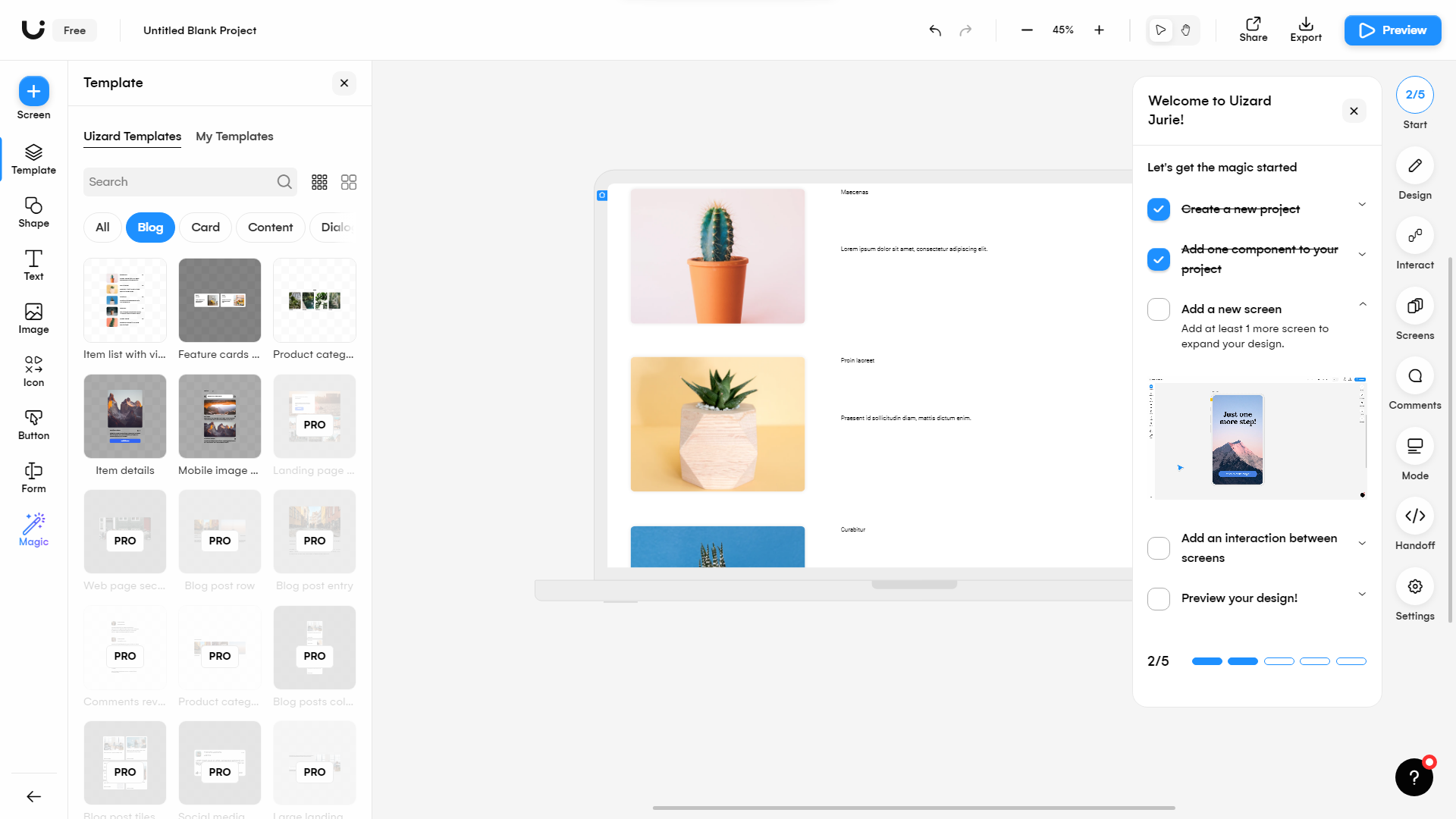 What stands out is Uizard's generative AI design tools. It can transform hand-drawn sketches into digital wireframes. It also recently launched its AI-powered Autodesigner, which is a text-to-design tool. UIzard can even generate themes from existing designs, to help you apply consistent design principles.
Pricing
The free plan limits you to two projects and 10 templates.

Premium plans start at $12/creator/month with full template access.
5.

LetsEnhance
– Perfect web images in just a few clicks
As web designers, we all know how important picture-perfect images and photos are for an attractive, professional, and effective web design. Few things can be so frustrating or time-consuming as images that are too small, overly cropped, or contain elements that you can't show.
Unlike generative AI tools, like Stable Diffusion, LetsEnhance focuses on improving existing images in practical ways. Using the power of AI, LetsEnhance can upscale, downscale, or enhance image visuals in various ways. For example, it can fix pixelation, color correct, or remove blur in existing images. LetsEnhance works equally well with photography, vector graphics, or AI-generated images (it also features its own AI image generator).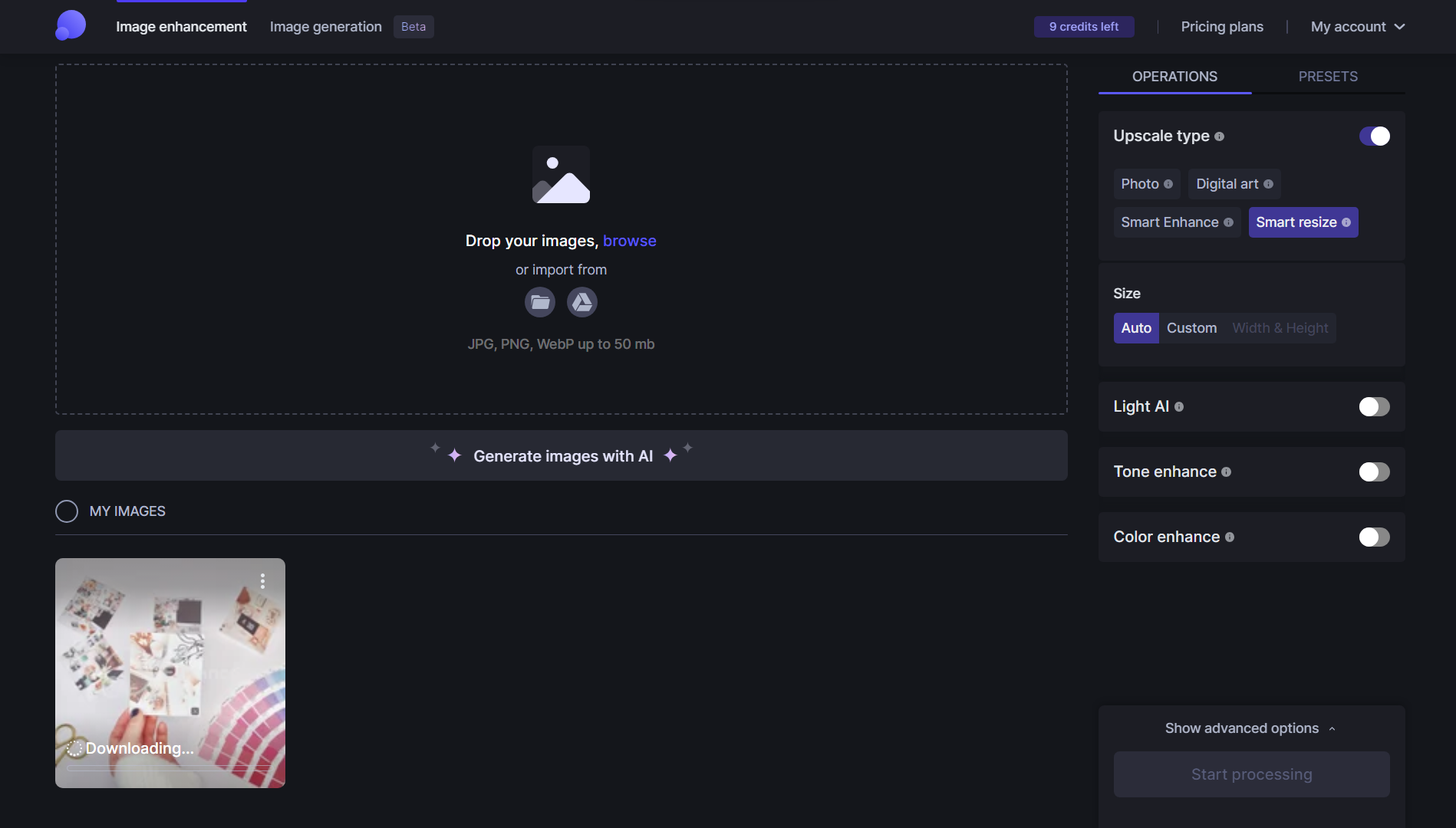 Via its API, LetsEnhance is particularly useful for e-commerce stores. It allows you to automate enhancing product images at scale, which is key for boosting conversions. Pricing is based on credits, where 1 credit = 1 image processing with a watermark.
Pricing
Free for up to 10 credits per month.

Paid plans range from $9/month (100 credits) to $34/month (500 credits).
6.

Fontjoy
– Test and perfect font combinations
Fontjoy is another unmissable AI web design tool that simplifies font pairing with its deep learning capabilities. Generating visually captivating font combinations has never been easier, making it a favorite among designers that want to save time and effort.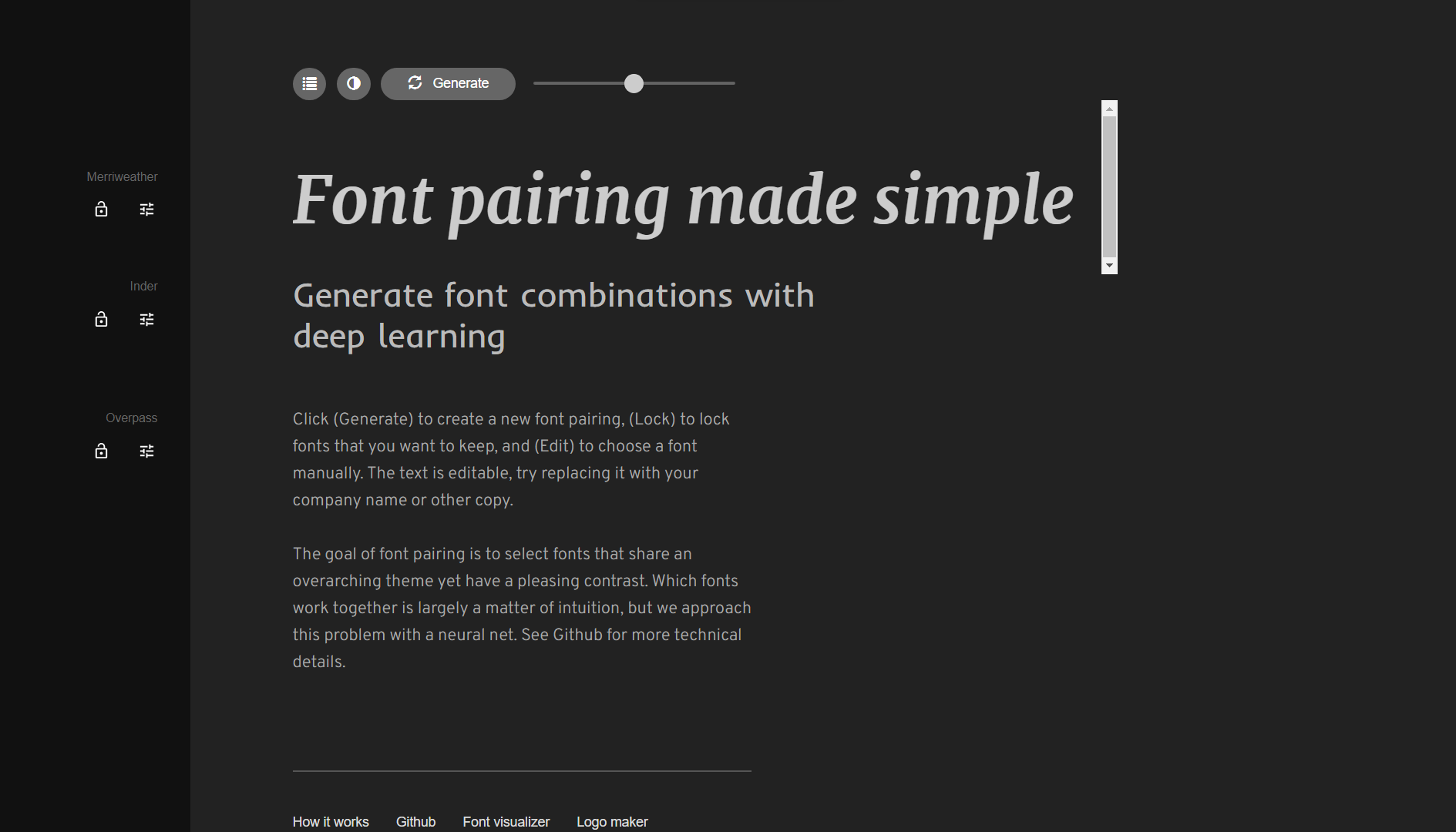 Using Fontjoy is a breeze. Simply click 'generate' to discover new font pairings. Once you find a font you like, lock it or use the edit button to manually select and preview fonts together. You can edit the text to see how your business name or slogan looks in the previewed fonts.
Another handy function is the ability to toggle between high and low contrast, which is important for web accessibility. Fontjoy is equally useful, whether you're starting from scratch or looking for new fonts that complement your existing ones.
Pricing
Fontjoy is completely free to use
Continuously sourcing unique images for your AI web designs can be a real headache. While text-to-image AI generators have become a popular solution to this problem, Stable Diffusion stands out for its user-friendly tools.
Stable Diffusion is a collaborative effort by Stability AI, CompVis LMU, and Runway with support from EleutherAI and LAION. With the power of latent text-to-image diffusion, Stable Diffusion generates photo-realistic images based on text prompts. Some of its capabilities include:
Generate unique and complex images based on text prompts.

Include or exclude specific elements from an image.

Re-draw existing images by incorporating new elements from user descriptions.

Image-to-image translations.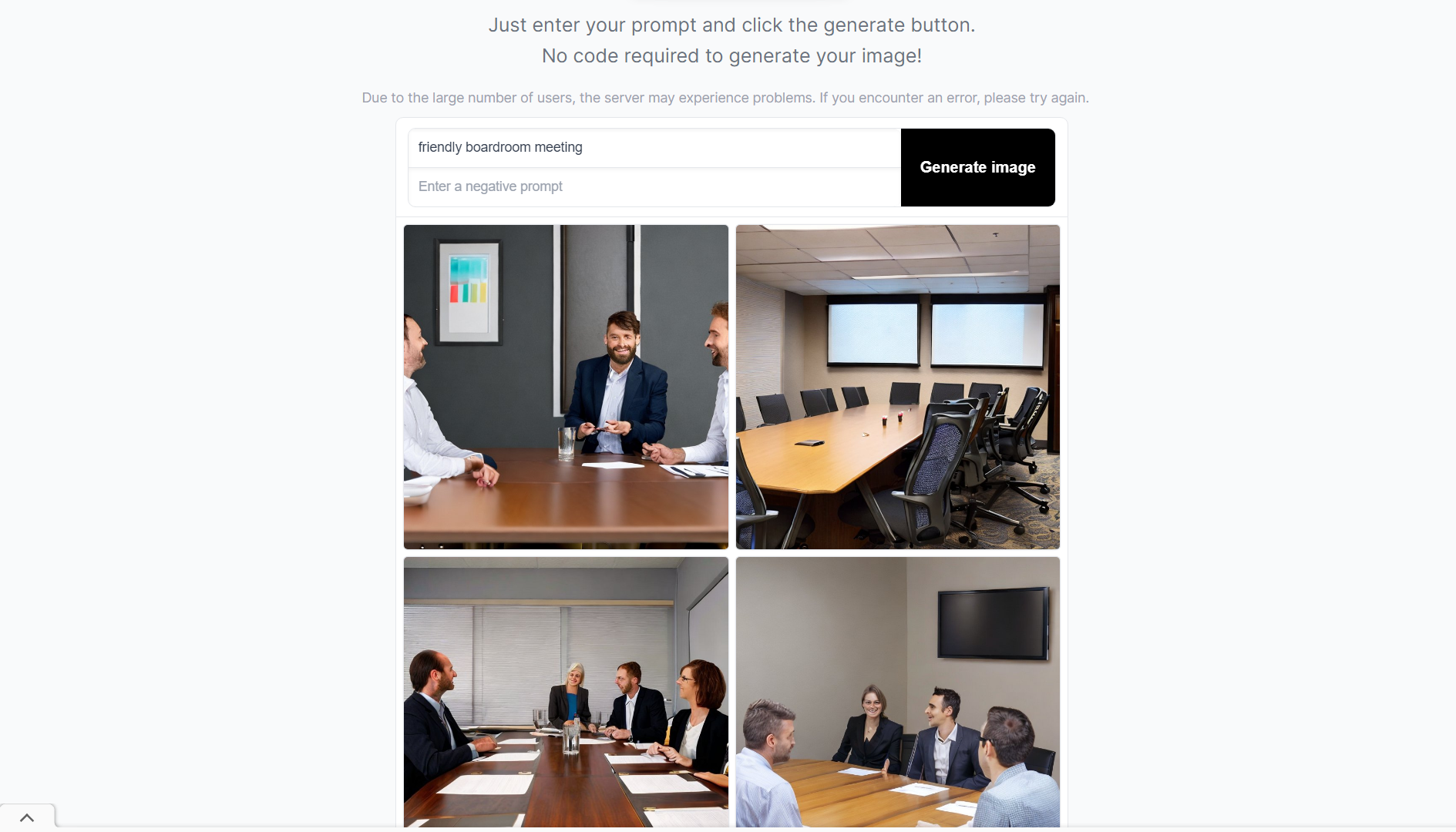 If you're struggling to produce the results you expect, Stable Diffusion Online even offers a helpful "prompt generator." This tool will help you improve your prompts to get the best results from the Stable Diffusion engine.
Pricing
Stable Diffusion Online is completely free to use.
8.

Sketch2Code
– Instantly convert wireframes to digital prototypes
Sketch2Code is a cutting-edge AI-powered application developed by Microsoft. By harnessing the power of Computer Vision and Custom Vision services, Sketch2Code can accurately convert hand-written drawings and whiteboard illustrations into digital HTML prototypes.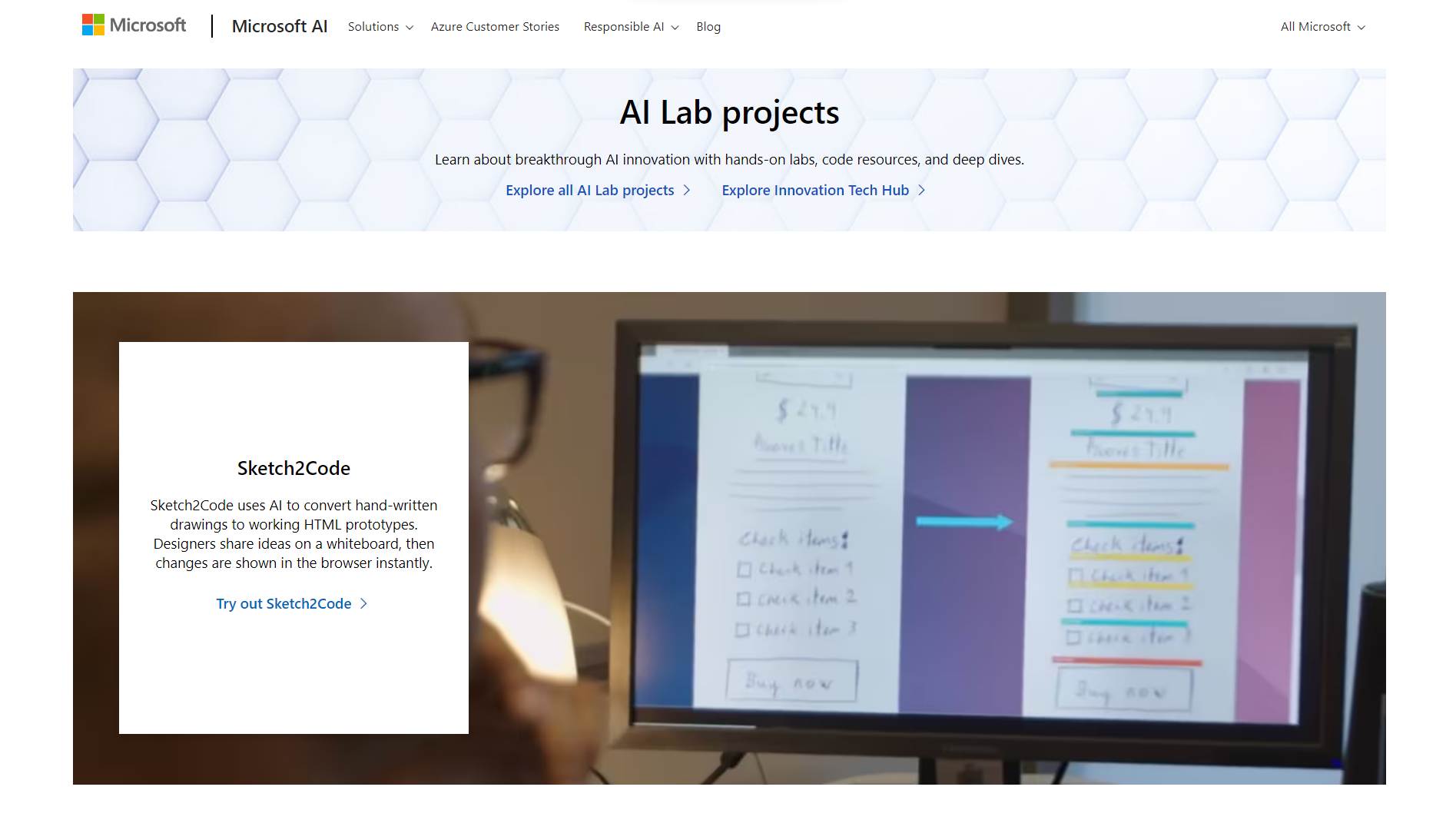 The technology behind Sketch2Code is truly impressive, as it has been trained on millions of images, resulting in polished and accurate recognition of hand-drawn web design elements like textboxes and buttons. Web designers can transform their UI wireframes into functional prototypes within seconds without requiring any technical programming skills.
With Sketch2Code, the once time-consuming and manual process of translating hand-drawn designs into HTML code is now a thing of the past. This revolutionary AI tool empowers designers to bring their web page ideas to life efficiently and effortlessly.
Pricing
Sketch2Code is completely free to use.
9.

Predict by Neurons
– Make usability testing quick and simple
Testing a website for usability can be so challenging and time-consuming that many designers are forced to skip it and hope for the best. Predict by Neurons is a game-changing AI tool for web designers that streamlines the testing process and provides invaluable user insights. Predict allows designers to simulate eye-tracking studies and preference tests using AI-powered attention maps and clarity scores. It claims that its predictive technology is 95% accurate.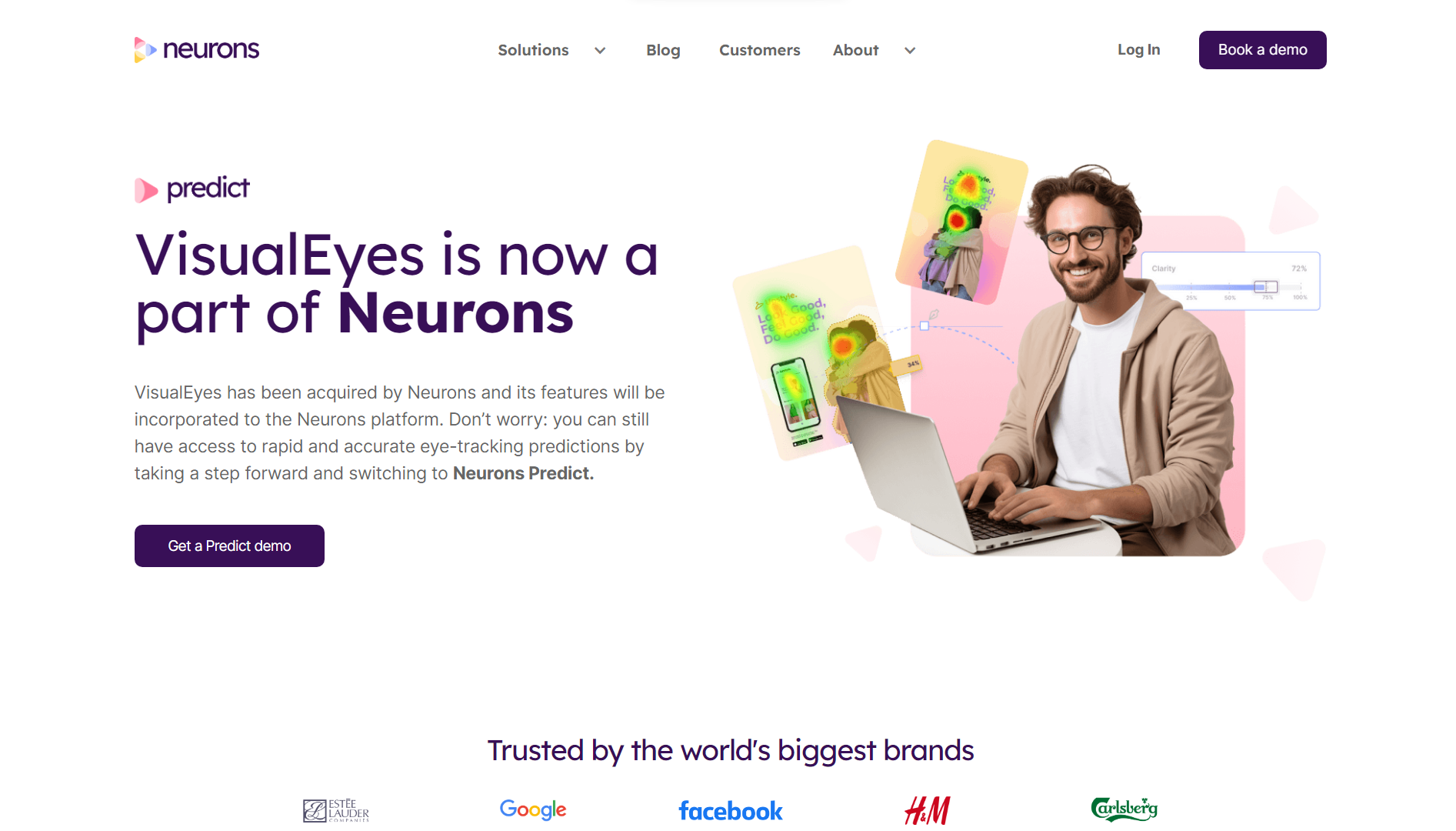 This powerful tool seamlessly integrates with many favorite design tools, like Sketch, Figma, and Adobe XD. Through heatmaps, UX designers can understand user behavior, optimize visual hierarchy, and reduce clutter in their designs. If you work in a team, it's even useful for product managers to make sure projects are making goal-oriented progress and for marketers to fine-tune campaigns.
Freelancers, digital agencies, and entrepreneurs can all leverage Predict to validate their assumptions and create products that users love.
Pricing
Predict's pricing is quoted on a case-by-case basis.
10.

Designs.ai
– One-stop shop for design teams
Design.ai is a powerful all-in-one AI solution that caters to both design novices and professionals seeking to create stunning website assets in no time. It offers a range of AI-powered tools, including logo creation, video editing, design generation, and text-to-speech conversion, empowering users to present their brand online effectively.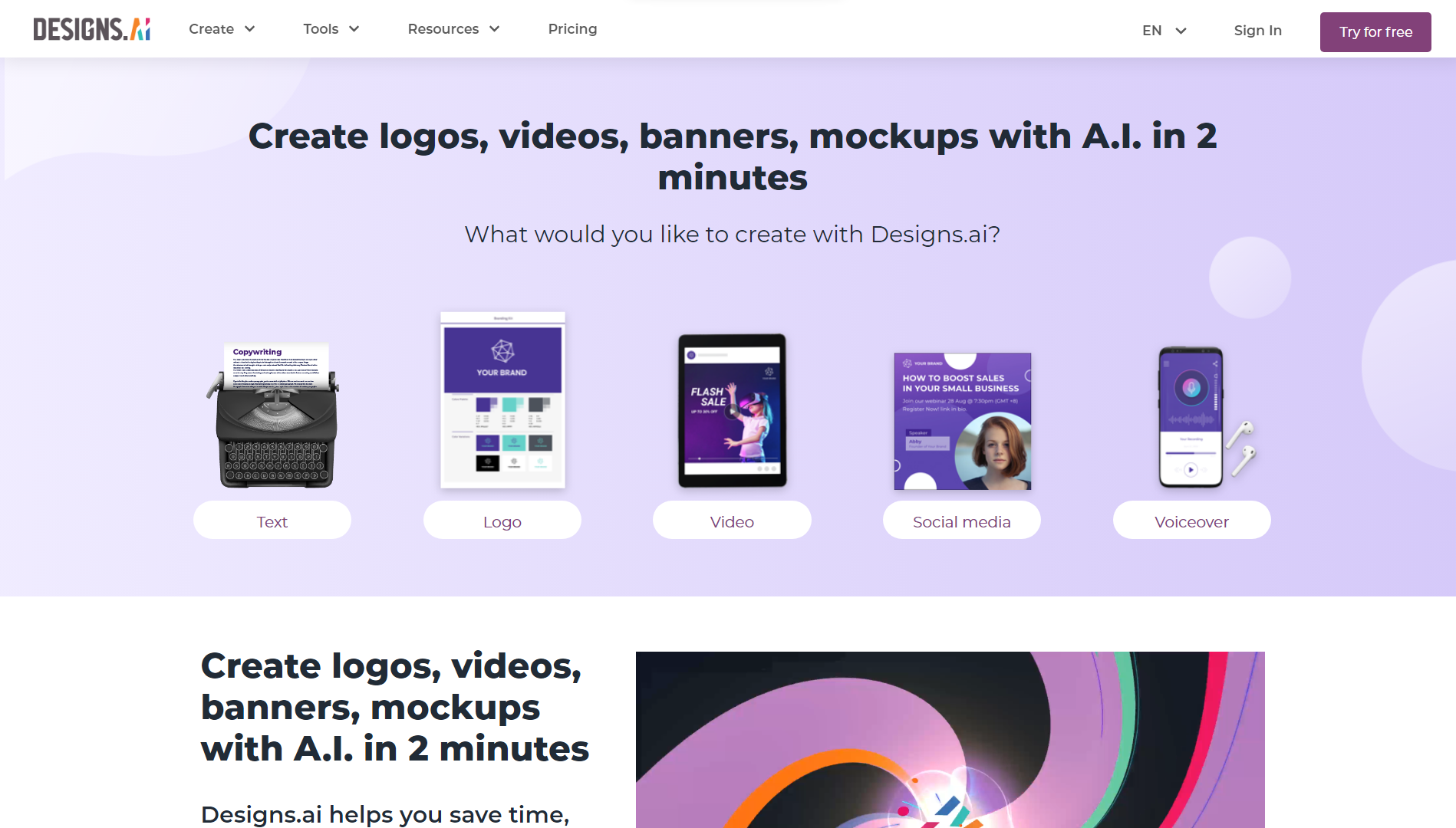 With a graphic maker, color matcher, and font pairing, Designs.ai can help you ensure web designs meet current design standards, best practices, and requirements. The banner designer allows you to create effective web page ads, while the videomaker transforms text content into fully-edited videos in over 20 languages. Users can also create voiceovers with multiple language support using the speechmaker.
The design maker, featuring 20,000+ editable templates, provides an intuitive playground for designing all kinds of digital marketing graphics. It's one of the best platforms out there to ensure that your website is outfitted with modern, attractive, and professional-looking media, whether it's text, image, or audio.
Pricing
Design.ai's pricing starts at $19/month with a 30-day free trial.
11.

Adobe Sensei
– Manage media assets smarter
Adobe Sensei is a powerhouse AI platform seamlessly integrated with Adobe software, revolutionizing web design workflows. Its main aim is to help boost productivity and make it effortless to craft captivating customer experiences. It acts as a one-stop storage and maintenance hub for all your website assets, with a variety of AI support tools.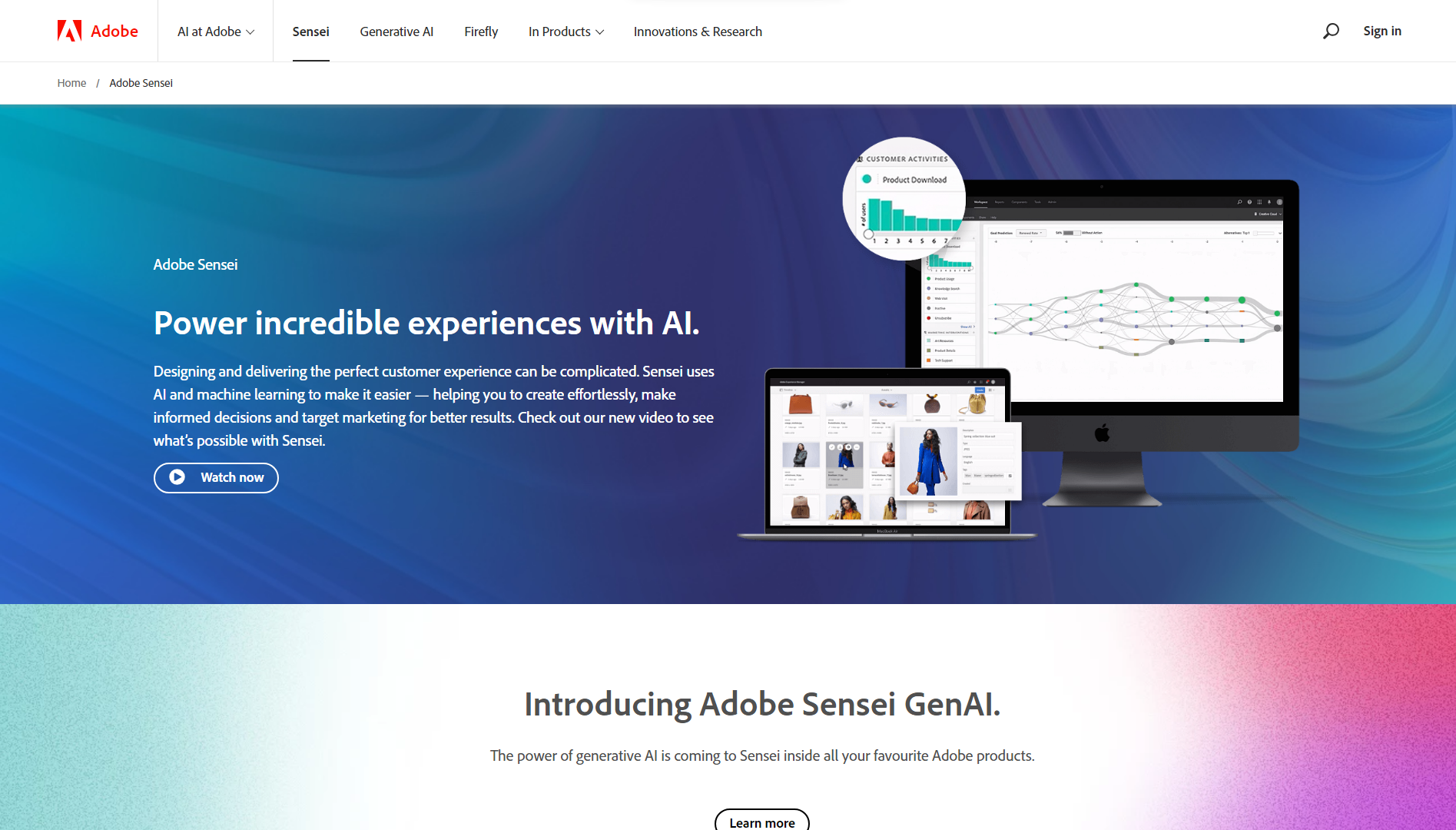 With smart search, you can quickly locate assets quickly from Adobe Stock and Adobe Photoshop Lightroom. AI-powered features in Adobe Photoshop and Adobe InDesign minimize time-consuming tasks, while intelligent plugins enable stunning photo manipulations and effects. 
It also offers intelligent tools for more efficient content creation and personalizing assets at scale. For example, built-in object recognition and image tagging make sorting and creating descriptive captions for images a breeze. Adobe Sensei is also rolling out generative AI, which will streamline your website asset management process even further.
Pricing
Predict's pricing is quoted on a case-by-case basis.
What to expect next? The future of AI web design
While we have come a long way, the future of AI design software promises even greater advancements and potential disruptions. 
AI algorithms will become more sophisticated, enabling deeper personalization and intuitive user experiences. For example, Natural Language Processing (NLP) will enhance AI-powered chatbots, offering seamless interactions with users and human-sounding web copy. 
Designers can expect AI to automate complex design tasks, generate hyper-realistic images, and offer immersive visual experiences with less and less human labor. 
Hopefully, we'll learn to steer AI to address ethical concerns with increased transparency and fairness in algorithm development. As AI continues to evolve, designers will have access to smarter, more versatile tools that augment their creativity and efficiency. 
Starting to embrace AI responsibly now will be crucial so that you don't fall behind your peers in the web design field. Learning how these tools work now will put you in a better position to take advantage of future advancements and understand the promise and shortcomings of AI. 
As designers continue to collaborate with AI systems, they'll find new ways to create web experiences that captivate, engage, and resonate with users in novel and groundbreaking ways.

Conclusion
AI web design tools have truly transformed the industry, offering benefits like enhanced user experiences and streamlined processes. Armed with the right tools, web designers can do more in less time and even leverage AI to improve the quality of their work. From AI tools for UX design to full-blown website generators, the possibilities are endless.
While AI design tools are relatively new, they will only get more and more sophisticated. Web designers shouldn't worry about AI taking their jobs just yet, but it's imperative that you learn to leverage AI tools to up your game and make your work more efficient. Whether you are a freelancer, digital agency, small business, or solo entrepreneur, AI web design tools are a game-changer.

Get a head start on website creation with AI
Create a custom website tailored to your business needs 10X faster with 10Web AI Website Builder!
Get a head start on website creation with AI
Create a custom website tailored to your business needs 10X faster with 10Web AI Website Builder!
FAQ
How can AI be used to personalize the design and improve conversion rates on a website??
By analyzing user data and behavior, AI algorithms can dynamically tailor the website's layout, content, and overall user experience to match individual preferences. This includes personalized product recommendations, customized visuals, and interactive elements that engage visitors. AI can even optimize conversion rates by analyzing user interactions, identifying patterns, and making data-driven design decisions.
Do web designers need to acquire new skills to keep up with AI practices?
Yes, web designers can benefit from acquiring new skills to keep up with new AI technologies and trends. They should familiarize themselves with AI web design tools that use technologies such as machine learning algorithms, data analysis, and natural language processing. These tools can greatly boost the productivity of designers and allow them to widen their skillset to fields that typically aren't their specialty, such as drafting effective web copy.
The good news is that most AI tools are designed to be as easy to use as possible. You don't need extensive training to learn how to prompt generative AI tools, and most of your existing design experience and skills still apply. AI design tools aren't meant to completely replace designers but as productivity tools that can also improve your work if used correctly.
How can web designers ensure that the AI they use in their work is ethical and unbiased?
When using AI web design tools, designers must be careful not to compromise ethics as it can have real-life business impacts. Designers should monitor and evaluate the AI's performance to identify and rectify any biases or ethical concerns.
Web designers typically don't have control over the AI training process. However, web designers should carefully select AI tools and platforms that prioritize transparency and fairness in their algorithms. This usually involves incorporating diverse data sets, employing multidisciplinary teams, and including ethicists and social scientists to develop AI models.