The world has witnessed a lot of text generation magic using AI LLM (Large language model) tools such as ChatGPT and Google Bard. But that is just the tip of the AI iceberg, as AI is spreading rapidly across different niches, domains, and formats.  
Finding a professional video editor quickly can be challenging. Without the necessary skills, creating engaging video content becomes a struggle, delaying progress and hindering success in the digital era. This is where AI video editors come in. 
What is AI video editing?
Using artificial intelligence to automate editing tasks in video editing is called AI video editing. 
 A few examples of video editing tasks may include:
Scene detection:

AI can automatically identify scenes within a video, simplifying the process of organizing and editing the recorded content.

Color correction:

AI can automatically modify the color of a video to align with a particular aesthetic or visual style, a process commonly known as color correction.

Stabilization:

AI can be utilized to stabilize unsteady footage, resulting in a smoother and more polished appearance, enhancing its overall professionalism.

Object tracking:

By utilizing AI, it becomes feasible to track objects within a video, creating captivating special effects like motion blur or slow motion.

Audio editing:

AI can automatically edit audio, performing tasks such as eliminating background noise or improving sound quality, providing enhanced audio editing capabilities.



As time progresses, AI is expected to rapidly revolutionize the video editing industry, with more and more magic features being embedded into existing and future AI video editing tools. Some popular AI-powered video editing tools include but are not limited to Adobe Premier Pro, Synthesia, and Lumen5.
AI video editing tools can be used for creating videos for YouTube, creating music videos, animated videos, videos from text, or videos from photos. This is just the beginning and as AI continues to become more powerful and flexible, we will observe more and more flexibility in the way we provide inputs to these wonderful AI-packed video makers.

Why use AI video makers/editors?
There are multiple solid reasons why you should be using AI video makers/editors. Let's discuss a few of them below:
1. Time-saving
They help you create or edit professional videos quickly without any professional video creation or editing skills.
2. Cost-saving
AI video makers/editors are cost-effective compared to traditional software and hiring professionals. They accelerate the process without replacing skilled video creators/editors.
3. Ease of use
AI video makers are user-friendly, enabling beginners to create decent videos by following simple steps.
4. Enhanced quality
The usage of advanced algorithms helps to improve the quality of your videos, stabilization, color correction, upscaling, etc.
5. Creative toolkit 
They provide plenty of creative options, including templates, filters, and transitions, to help you achieve unique and creative video results, which otherwise might not have been possible without professional video editing skills.
6. Scalable
These AI tools are ready to manage videos of any complexity or length so you can create short as well as long videos quite easily.
7. Upgradable
AI video tools continuously evolve with new features, ensuring your videos always look their best. They offer versatility, improved engagement, and enhanced brand awareness.

What can you do with AI video editors?
You can typically do anything with these AI video editors that you might be doing using traditional video editing tools but, of course, in a much shorter time span, without any professional video editing knowledge, and achieve better creativity. 
Some of the amazing things you might be able to do with these AI video editors include:
1. Automate video editing processes
These magical tools automate many of the tasks involved in video making or editing. For example, they can automate the tasks of creating titles, adding transitions, and exporting videos which helps you save a lot of time and effort.
2. Enhance video quality with AI tools
Using machine learning algorithms, these tools are able to identify and fix flaws in your videos, such as removing noise, sharpening the image, and correcting the color balance.
3. Create videos from scratch
It doesn't matter if you have any prior video editing skills or not because these AI tools empower you to create stunning videos from scratch by providing amazing pre-built templates which are highly customizable and a bunch of different editing feature options to choose from. 
4. Edit existing videos
These tools not only help with new videos but also with existing videos. You can trim any existing video, add text and graphics, adjust its color and sound, and whatnot.
5. Add special effects
Using these AI video editors, you can add some amazing effects to your videos, such as motion tracking, object removal, and color grading, which helps you create more aesthetically appealing and engaging videos.
6. Collaborate with people
These tools make the collaboration with others process super easy by sharing videos, providing feedback, and working on projects together. This helps promote getting feedback on your videos from others and collaboratively working with others on any exciting video project.
7. Learn about video editing
These magical AI video editors offer some great tutorials and tips so that you can learn about the video editing process using their software, and as a result, create better videos.

Top 11 video editors you should integrate into your workflow
There's a whole ocean of amazing AI video editing tools that have been launched recently. However, we've picked up the top 11 amongst them and will be giving you a summarized overview of each of them, including their key features, what makes each one of them stand out from the rest, and their pricing.

This magical AI-powered video editing tool that helps you automate the complete video editing process, from scratch till the end has won the hearts of its customers and is particularly seen to dominate the AI video editing market, and that is why it is categorized as the top AI video editor till now.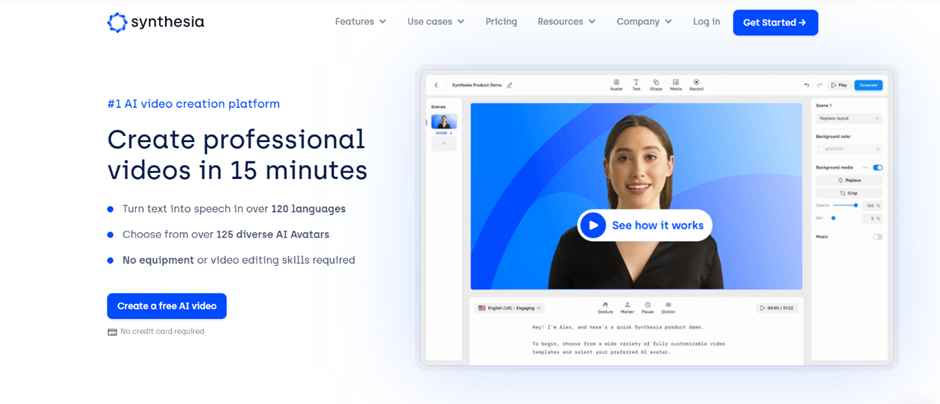 Some of its key features include:

Ocean of AI avatars

– Synthesia offers a huge variety of realistic avatars to choose from which you can add to your videos to make them look more appealing.

Ocean of video templates

– The tool comes packed with a huge library of amazing images and templates that you can use to speed up the process of video creation for you.

Multi-language support

– Want to create a video in English? Spanish? French? Or any other language? Just sit back and relax because this tool comes with multi-language support.

AI voices

– The addition of AI voices helps you create stellar voiceovers in your videos. 

Add multi-type content

– Doesn't matter if you want to add some text, video, or music in your video because Synthesia got you covered and allows you to add content of any type. Want to know the interesting side? You can even add your branding assets to the video, such as the brand's logos, fonts, color schemes, etc.

Export videos in high quality

– The tool allows you to export videos in high quality so you can relax and feel not worried about the video quality being compromised.
Pricing plans:

Personal

– $30/month

Customized

– Available upon request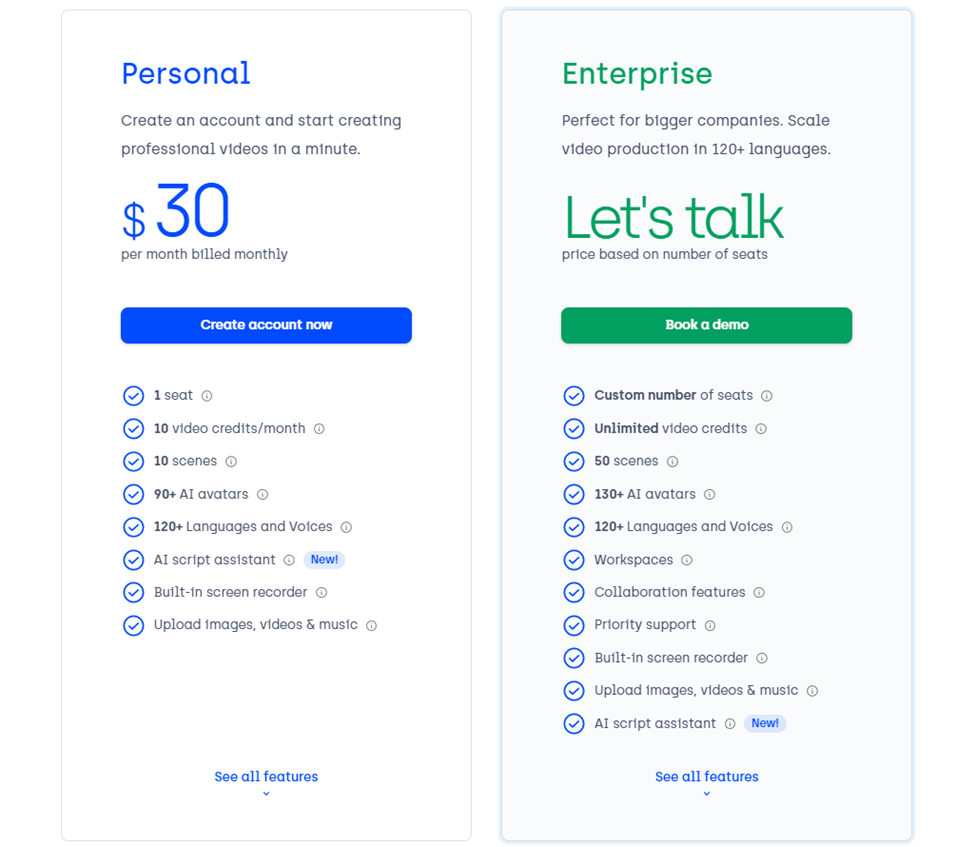 Adobe Premiere Pro, a robust desktop video editing software, is widely regarded as one of the most potent tools available for video editing in the industry.

Key features include:

Wide range of editing tools

– It comes with plenty of editing tools including color correction and object tracking.

Morph cut feature

– You can effortlessly handle jump cuts and enhance the visual flow of your videos, making it especially valuable for talking heads or interview footage, as it ensures better visual continuity.

Integration with Adobe products

– You can easily integrate it with any other suitable Adobe products.

Auto reframe

– Auto Reframe utilizes artificial intelligence to automatically adjust aspect ratios, making it convenient for adapting videos to various social media platforms.

Automatic scene editing detection

– It is a time-saving feature that can spare you hours of work. Using AI, it effortlessly identifies areas in the video that require editing, eliminating the tedious task of manually reviewing the entire footage.

Speech to text

– It converts your speech to text.

Multi-file format support

– It supports a wide range of file formats.
Pricing plans:

Only Adobe Premiere Pro

– $20.99/month 

Creative Cloud Apps (Combined)

– $54.99/month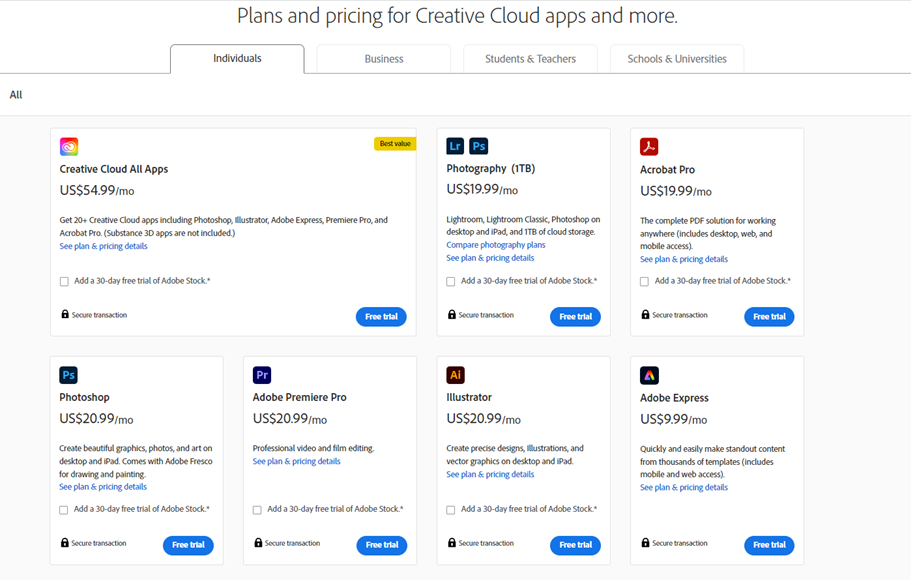 Note: You can opt-in for a free 30 days trial with any of the above.

Lumen5 is an easy-to-use AI video editor that transforms content into professional videos, with customizable designs, royalty-free resources, and the ability to convert Zoom recordings.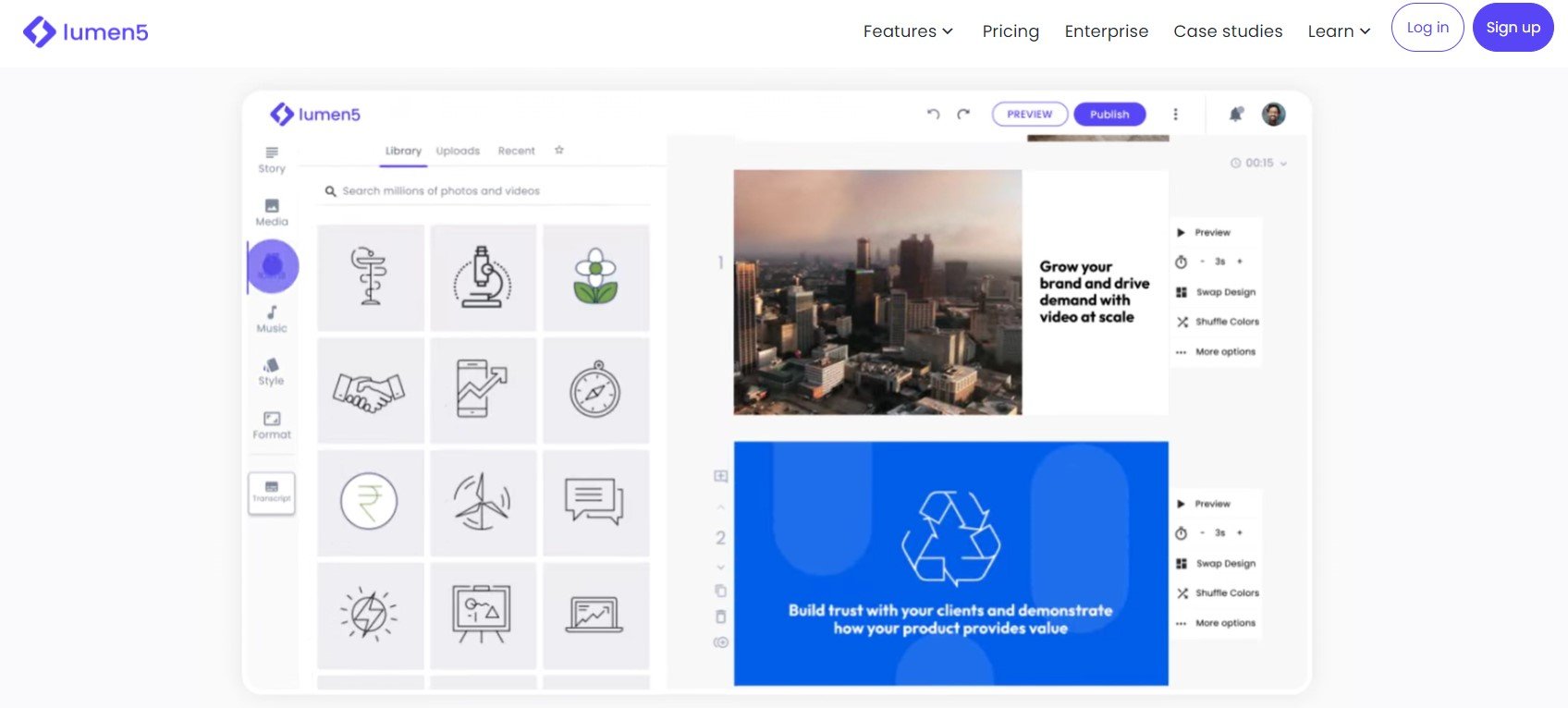 Key features:

Rich templates library

– It comes packed with a wide range of video and music templates.

User-friendly interface for beginners

– The drag-and-drop interface is perfect for absolute beginners. They can simply paste a link to a blog and let the tool handle the rest.

Integration with social media

– You can easily share the tool's content on various social media.

Tailored videos

– Using machine learning algorithms, Lumen5 tailors to your preferences, crafting videos that genuinely capture your vision and ideas.

AI-driven video enhancement

– Leveraging the power of Lumen5's AI, your videos can be refined and enhanced to eliminate flaws, resulting in compelling and informative content.
Pricing plans:

Community

– $0

Basic

– $19

Starter

– $59

Professional

– $149

Enterprise

– Custom pricing according to your tailored needs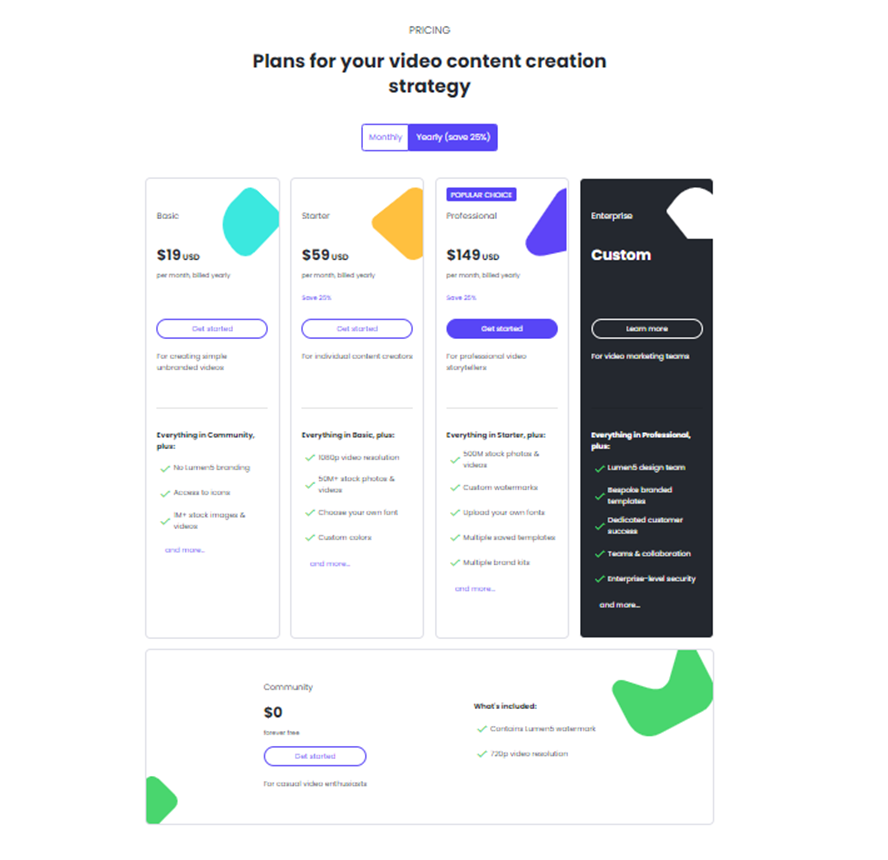 It is an AI-powered video editor ideal for creating animated videos that effectively convey brand messages, enhance marketing efforts, and simplify the creation of explainer and presentation videos with its drag-and-drop interface.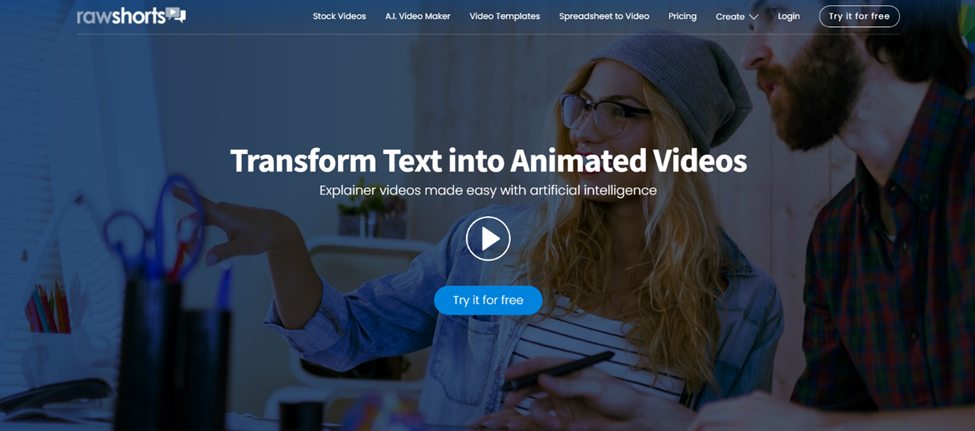 Key features:

Intuitive interface

– Raw Shorts stands out as a user-friendly platform, allowing even beginners in video editing to effortlessly craft impressive videos within minutes.

Text-to-video conversion

– It harnesses the power of AI technology to instantly transform text into captivating animated videos.

Blog post to video conversion

– It converts any blog post to a video if you paste its link. 

AI-powered analysis of video scripts

– Its AI conducts a thorough analysis of video scripts, gaining a deep understanding of the context and concept, and subsequently creates videos that align perfectly with your objectives.

Licensed stock videos

– A great advantage is that Raw Shorts licensed Stock videos can be utilized in all of your commercial video projects, which adds a pleasant bonus.
Pricing plans (billed annually):

Business

– $30/month

Essential

– $20/month

Free

– Comes with limited features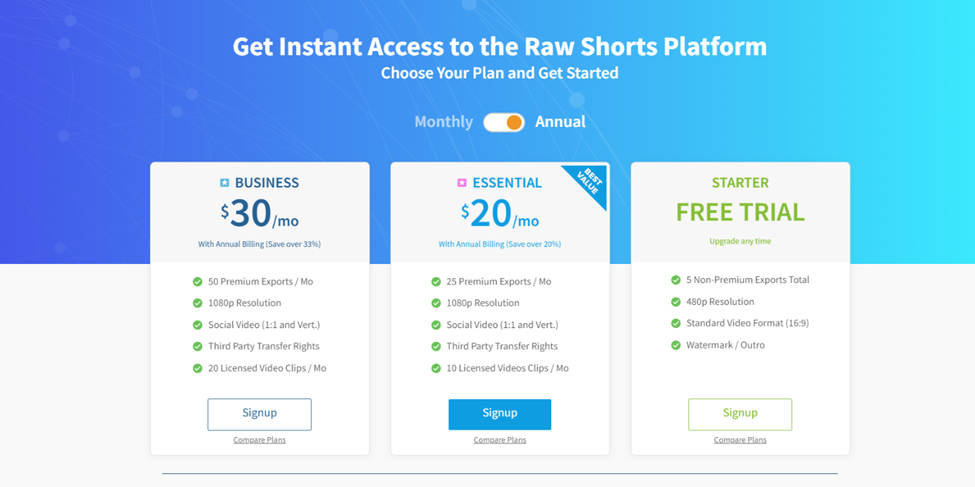 Flexclip is a user-friendly AI-powered video editor with robust features for creating professional on-brand videos, including text animations and various media options.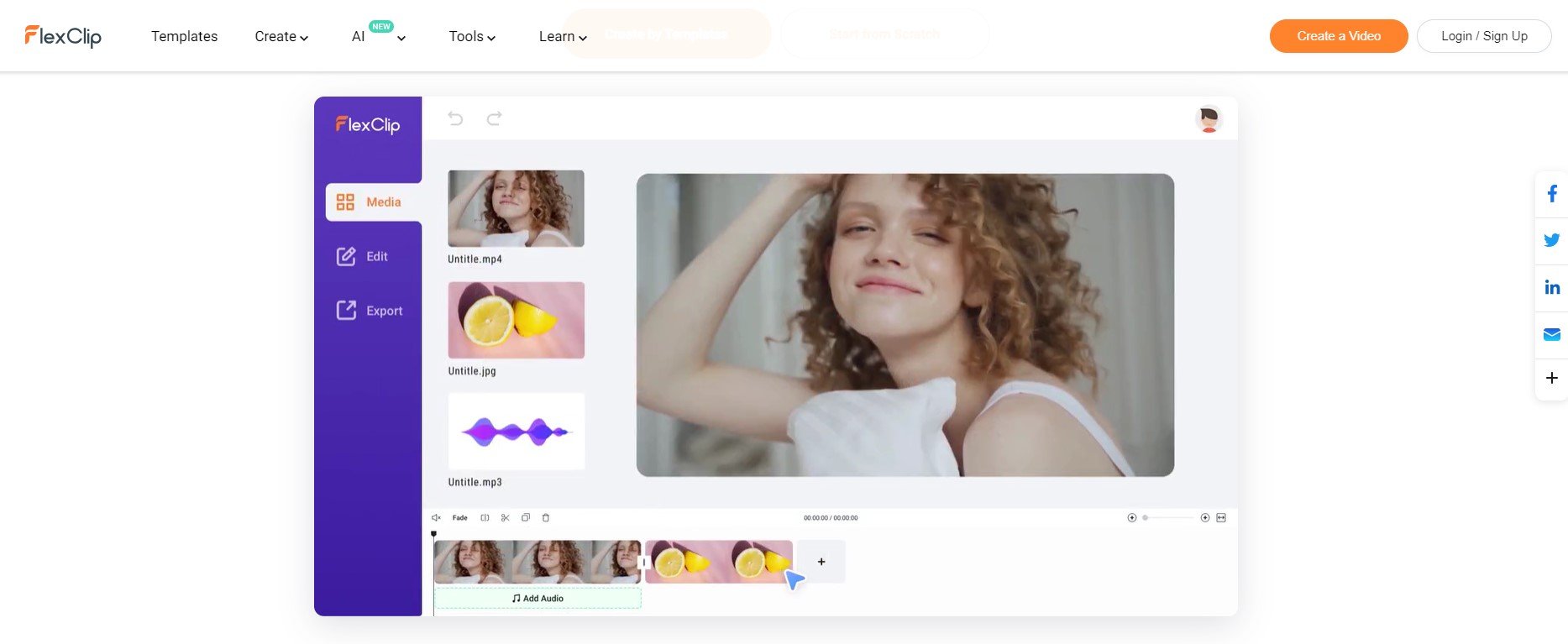 Key features:

Effortless video sharing

– Flexclip enables effortless video sharing within your team, facilitating the seamless integration of ideas into your creative projects.

Slideshow maker

– An ideal solution for crafting captivating short video clips to enhance your blog or website.

Royalty-free images

– This provides you with a huge database of 4 million royalty-free images so that you can create amazing, hassle-free videos without any sort of copyright issues.

Movie maker

– Helps you create movies and short films with the help of some great movie trailers and movie intro templates. 

Screen recorder

– Enjoy seamless screen sharing to record meetings, games, video tutorials, and whatnot with just one click.

Pricing plans:
Free

– with limited features

Plus

– $9.99/month

Business

– $19.99/month
Wisecut is an AI video editor that quickly transforms long videos into short ones, removing pauses, adding background music and subtitles, and adjusting the music based on the audio.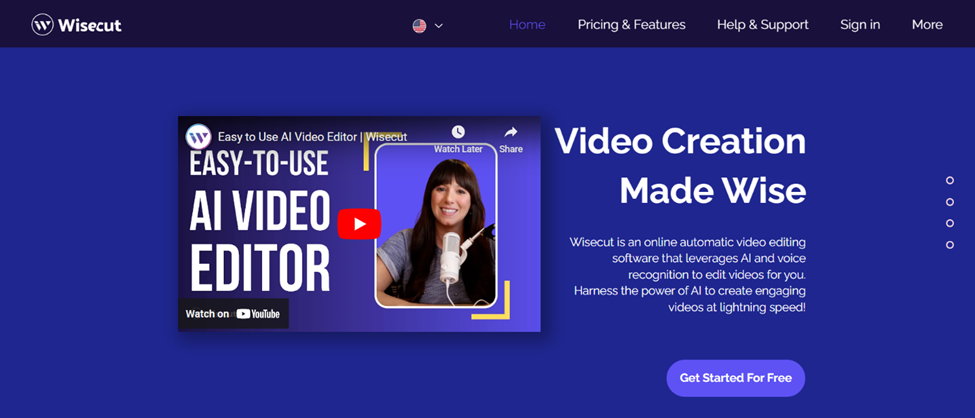 Key features:
Leverage short videos

– Convert any detailed, long video into a short interesting video within a few minutes.

Auto cut silences

– Automatically removes long pauses in videos, creating seamless cuts with AI and facial recognition.

Auto subtitles and translations

– Enhance engagement and reach by generating subtitles, editing them easily, and enabling auto-translation in Wisecut.

Smart background music

– Wisecut simplifies adding background music to your videos by automatically selecting and syncing tracks for you.

Automatic audio ducking

– Its AI balances audio by lowering music during speech and increasing it when there's no speech.
Pricing plans:
Free

– Up to 30 mins of free video content every month

Starter

– $15/month

Professional

– $57/month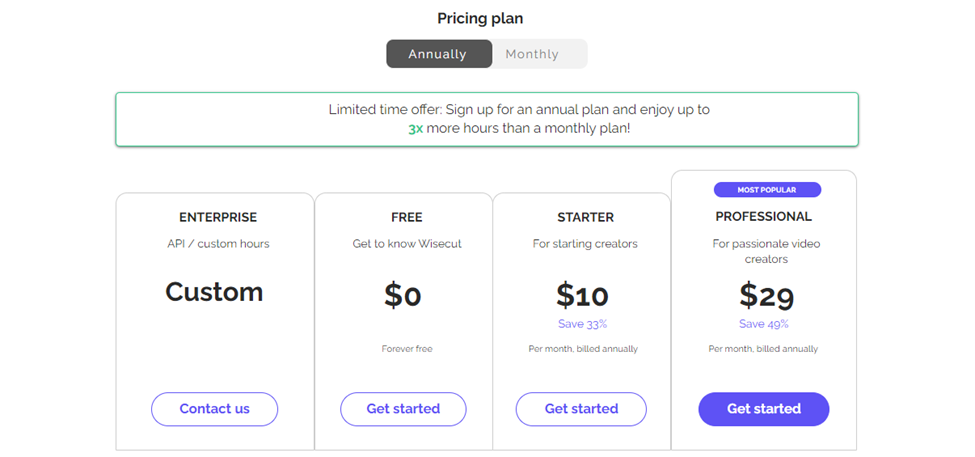 Runaway is an AI-powered video editor with automation features for professional-looking, multitrack editing.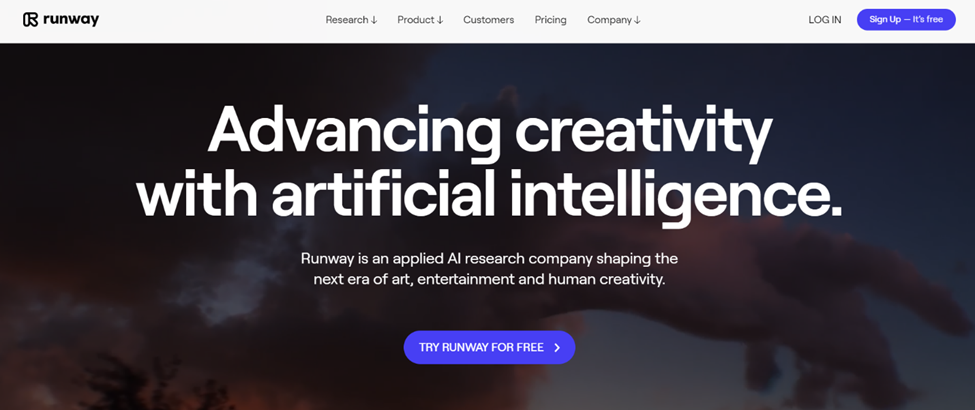 Key features:

Erase things from videos

– With the help of a simple brush stroke, remove any unwanted object from your video.

Slow-mo any video

– Enjoy super slow-mo videos without worrying about the frame rate.

Automatic noise reduction

– Runway's robust AI algorithms automatically eliminate audio noise and enhance its quality.

Paint Overs

– Runway AI allows an effortless object or background painting in your videos.

Automatic subtitle addition

– Runway AI automatically detects the language and adds subtitles.

Automatic beat detection

– Ensures seamless video by matching clips with audio beats.

Video template library

– Runway offers a wide range of stock media and video templates for professional video creation.



Pricing plans:

Basic

– Free but with limited features

Standard

– $12/month

Pro

– $28/month

Enterprise

– Custom plans available upon request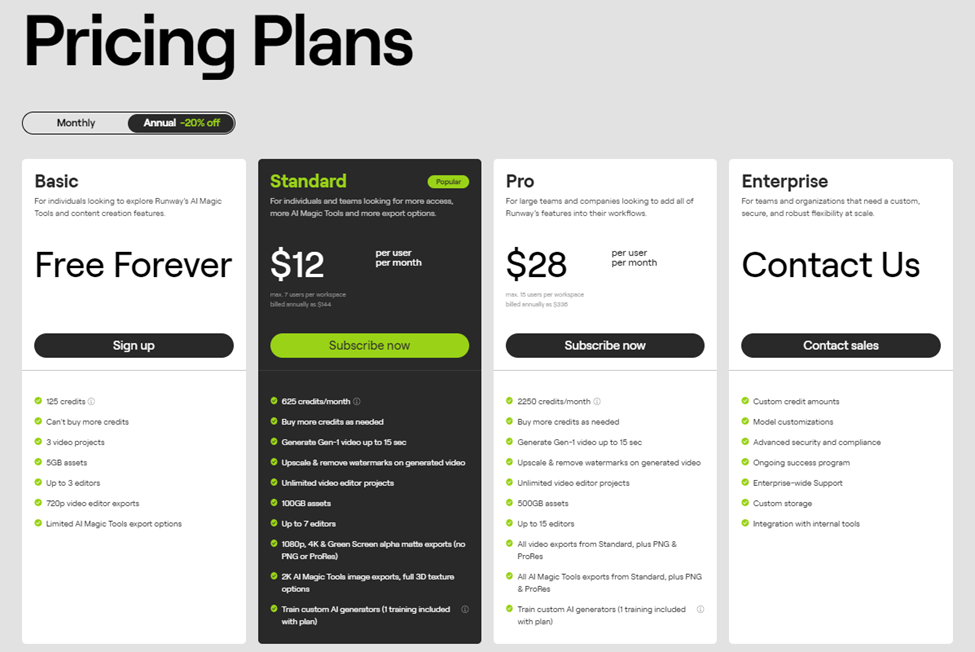 Designs.ai offers an AI-powered video editor with intuitive features, including text-to-video capability, and provides versatile editing options for social media campaigns.


Key features:

Text to video

– Convert any text content to video.

Keyword-driven content recommendations

– Recommends content based on keywords.

Faster rendition

– Designs.ai video maker leverages strong AI algorithms to create visually stunning videos within minutes.

Collaborate with peers

– Enables effortless sharing of work with unlimited drafts and adjustable privacy settings with your peers.
Pricing plans:
Basic

– $29/month

Pro

– $69/month

Enterprise

– Customized plans available upon request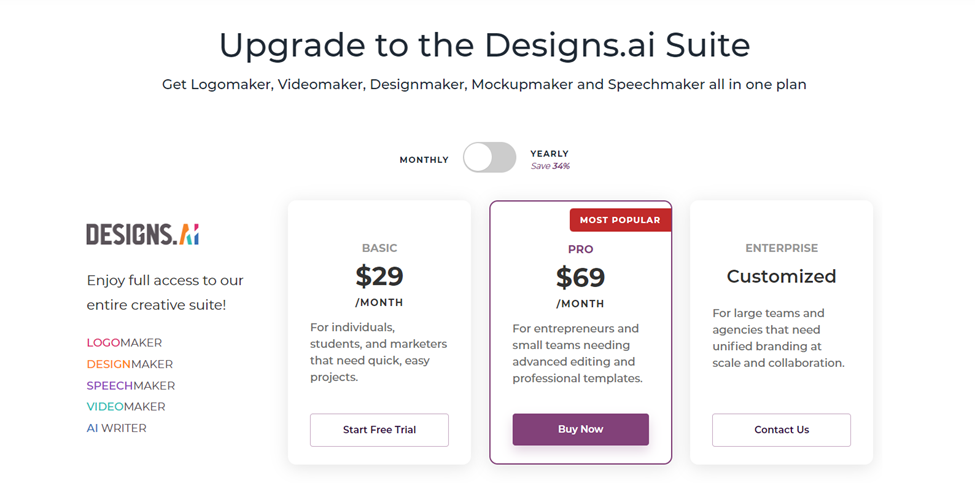 It is a powerful AI video editor for creating multiple videos, including videos that help to boost conversion rates and offer automatic translation.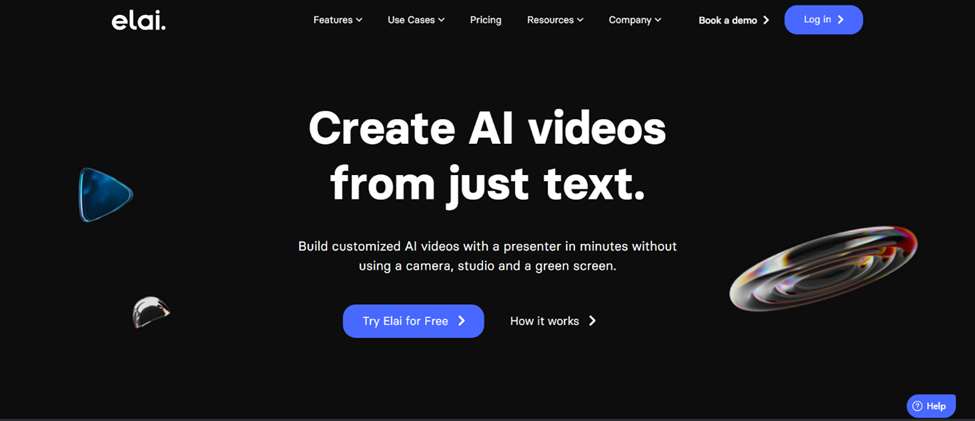 Key features:

Text to video

– Create a stunning video by adding textual prompt descriptions.

Elai builder

– Produces high-quality videos in bulk

Avatar maker

– To fine-tune and personalize videos for your brand's identity.

Dedicated account manager

– To provide ample support in creating impressive videos.



Pricing plans:

Free

– 1-minute free credit 

Basic

– $23/month for 15 videos

Advanced

– 80/month for 50 videos

Custom

– Available upon request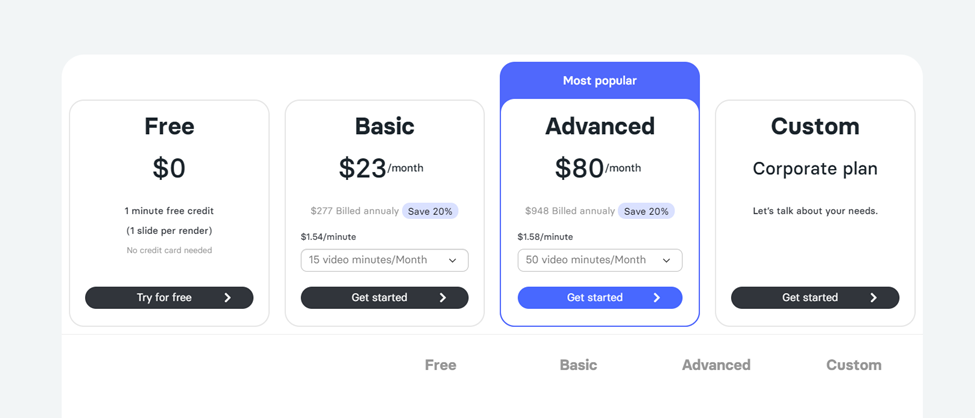 Note: The pricing in these plans increases if you want more videos within the same plan. Visit their site for better insights.


It is a leading AI platform with tools for AI audio, video, and avatars, allowing easy conversion of text into virtual videos and enhancing existing content.


Key features:

Unique humatars

– Select from 74 diverse Humatars as spokespersons for your videos.

Vast template library

– A huge video template library is available for your use.

AI-powered video generator API

– Integrate human studio API for brand videos with AI video generator.

Editing tools

– Easily personalize videos with your brand logo, graphics, and subtitles.
Pricing plans:

Audio

– $27/month

Human Studio

– $36/month

Audio and Human Studio Combined

– $52/month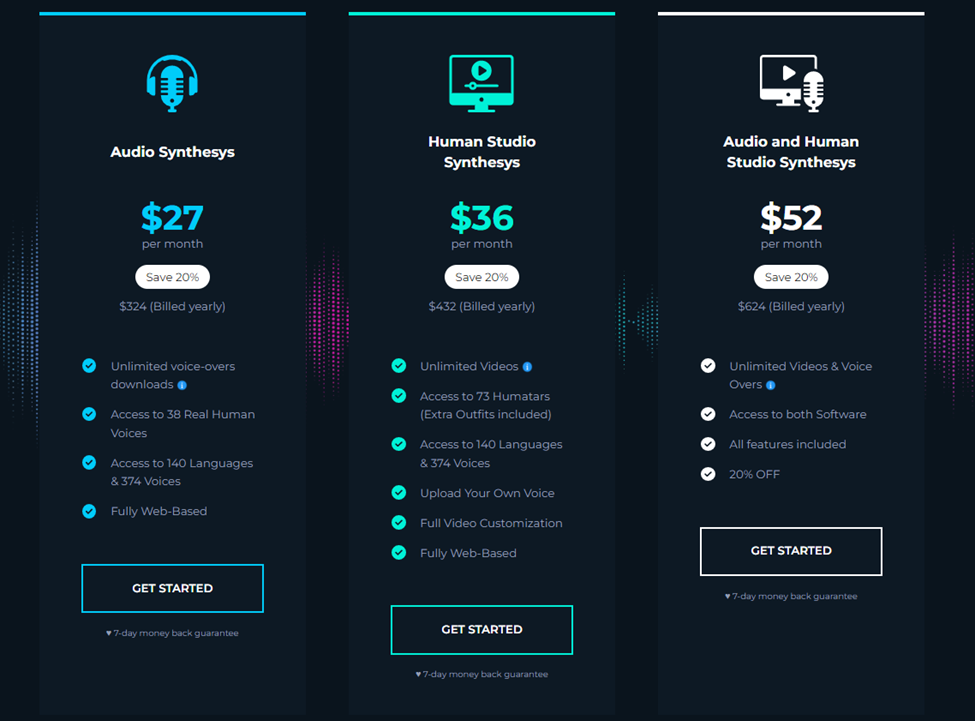 Descript is an intuitive video editor powered by AI, ideal for YouTube, podcasts, and businesses leveraging video for various purposes.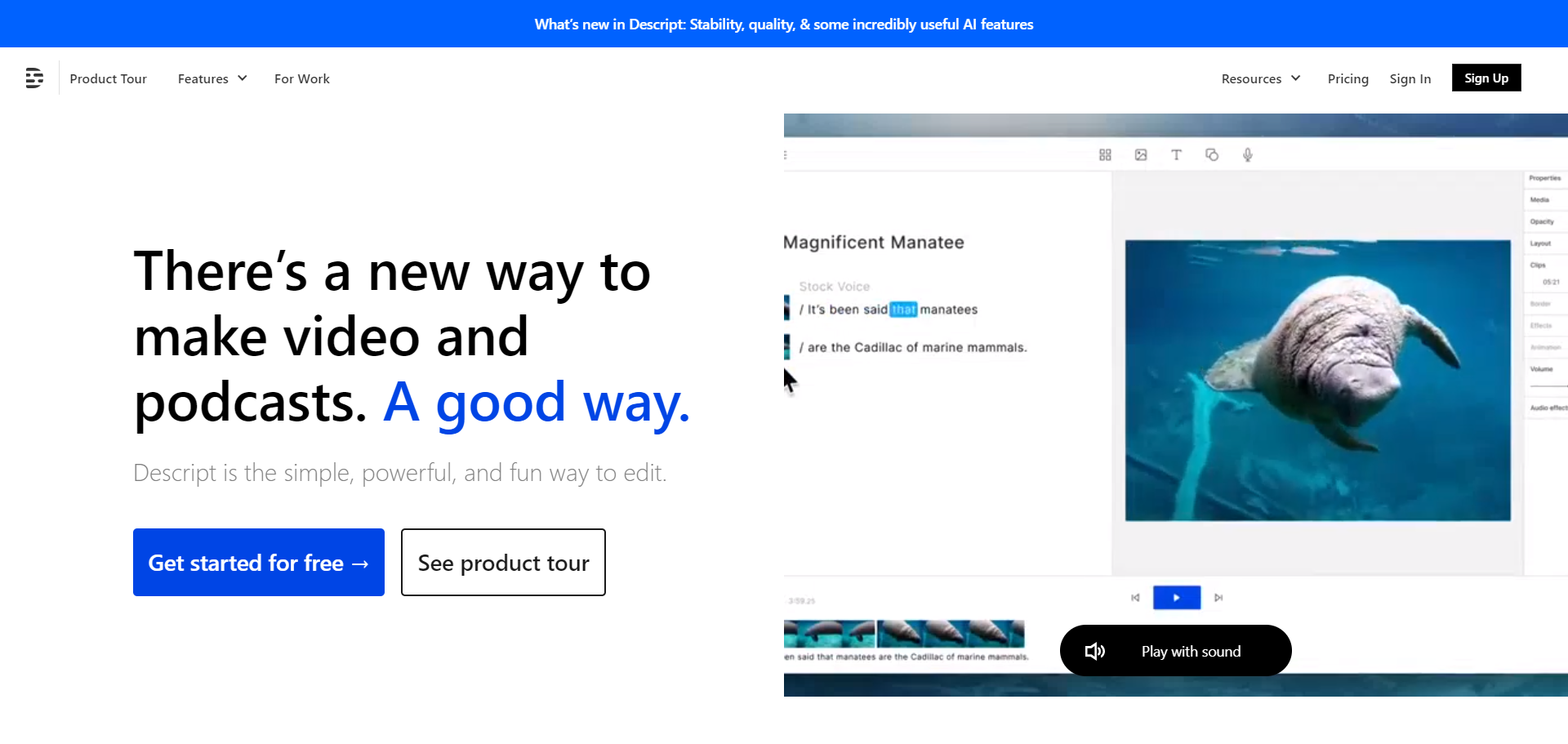 Key features:

Edit by script and scene

– Descript makes editing recordings as easy as editing a document with automatic transcription and visual arrangement.

Studio sound

– Instantly enhance recordings into studio quality with a single click.

Filler word removal

– Effortlessly eliminate filler words and repetitions from recordings with a single click.

AI-powered green screen

– Easily remove and replace your background with any desired setting with a click.
Pricing plans:

Free

– Comes with limited features

Creator

– $12/month

Pro

– $24/month

Enterprise

– Available upon custom request

Limitations and challenges of AI video editing
We've witnessed the powerful side of these great AI video editing tools but these tools come with some limitations and challenges as well. Let's discuss a few of them below.
Limitations:
Lack of creativity

– AI video editing tools lack creativity and can't generate original ideas, relying on instructions for editing.

Subjectivity and aesthetics

– AI video editing systems struggle to match human editors' subjective judgment, making it difficult to consistently achieve desired results.

Technical expertise

– Some technical knowledge is needed to utilize certain AI video editing tools, which may hinder some users.

Contextual understanding

– AI video editing systems struggle to understand scene context, intent, emotional impact, narrative structure, and thematic elements like human editors.



Challenges:
Accuracy

– AI video editing tools are prone to errors, like incorrect cuts or effects, on occasion.

Scalability

– Scaling AI video editing tools for extensive projects can be challenging.

Privacy

– Privacy concerns arise as AI video editing tools may gather and store personal user data.

Real-time performance

– AI video editing systems face challenges in processing edits swiftly and providing real-time responsiveness, particularly with large files and complex effects.
Conclusion
Choosing the best AI video editor can be a tricky task, but if you compare the features, pros, and cons and your business's specific video needs smartly, you can easily choose a suitable best AI video editor for yourself. These AI video editors are bringing a great tech-enabled smart revolution to the video-making/editing world. However, this does not replace any professional video editor but equips them with even stronger tools that save a lot of time and effort.

After getting these amazing videos generated, you may think about more and more platforms to post them on and nothing can beat having an online presence through your own website and posting these stellar videos there.

To help you out with website creation, market-leading AI platforms such as 10Web.io are doing wonders using AI-providing tools such as the 10Web AI Website Builder, which helps you with website creation within minutes so that you can post these amazing videos on your website. Furthermore, if you need to generate some script or text to use in the AI video editors as an input prompt to produce stunning AI videos, then 10Web AI Writing Assistant empowers your writing with the help of AI-generated content. Please check out our various AI products as we keep on adding them.
Get a head start on website creation with AI
Create a custom website tailored to your business needs 10X faster with 10Web AI Website Builder!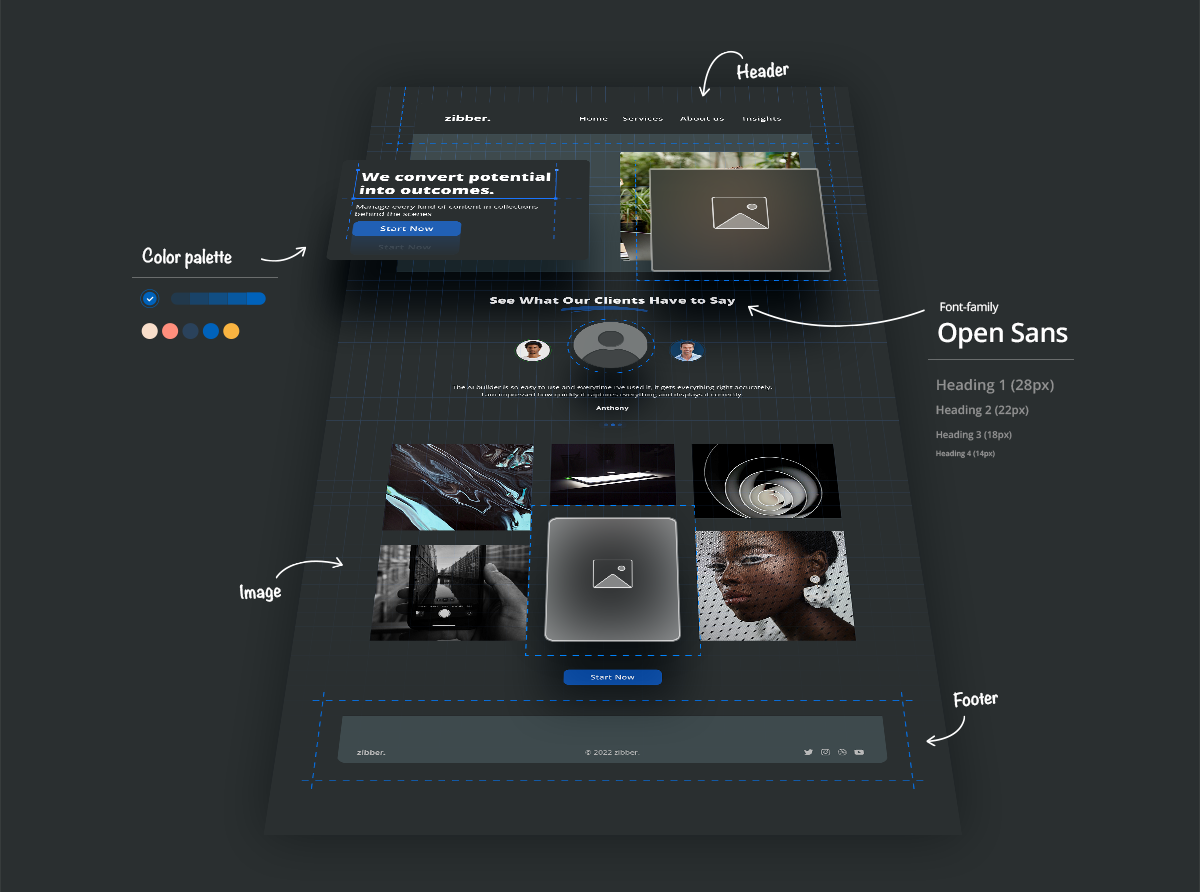 Get a head start on website creation with AI
Create a custom website tailored to your business needs 10X faster with 10Web AI Website Builder!
FAQ
Can AI video editors substitute entire video editing teams?
No, AI video editors cannot replace entire editing teams yet, they lack the creativity and expertise of human editors.
Can there be copyright issues or other ethical concerns when using AI video makers?
Yes, using AI video makers may raise copyright and ethical concerns.
What's the future of AI video editing?
Advancements in AI video editing will democratize professional-looking video creation for everyone.