In today's fast-paced digital landscape, users are now more than ever selective about how they spend their time on the internet. In order to attract, engage, and retain an audience, businesses have to turn to content marketing to promote their brands, establish expertise and drive sales in a more organic, authentic way. 
However, consistently creating quality content in order to stand out can take time and effort, even for an established business. This is where artificial intelligence in content marketing comes in. AI content marketing is no longer a futuristic concept now that businesses have embraced it to create more personalized, engaging, and targeted content marketing campaigns at scale. 
In this article, we will discuss how businesses use AI for content marketing, the risks involved, and some of the best practices.

Differentiating AI Content Marketing From AI Content Generation
AI content marketing and content creation are two related but distinct concepts that are often mistaken.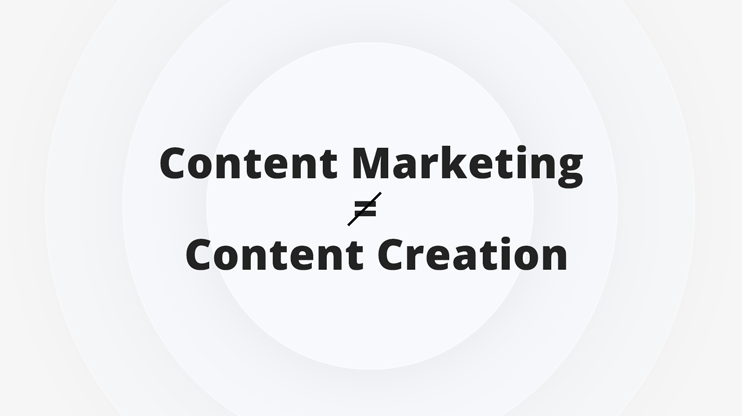 AI content marketing refers to a marketing strategy that uses artificial intelligence tools to optimize various aspects of the content marketing process. For instance, some aspects include using analytics tools to better understand customer behavior and patterns, autogenerate content, personalize content to suit your audience better, and optimize delivery. Incorporating AI in content marketing allows marketers to streamline the content marketing process and leverage data to get ahead of the competition and better their marketing strategies.
AI content marketing refers to a marketing strategy that uses artificial intelligence tools to optimize various aspects of the content marketing process.
AI content generation, on the other hand, refers to the use of AI generative tools to generate content for articles, blog posts, e-books, and whitepapers with little to no human intervention.  With AI tools like ChatGPT that use language-based models, users can enter prompts and parameters such as tone and style and generate content based on that. AI content generation goes beyond text and includes other forms of media, such as images, video, and audio. 
AI content generation refers to the use of AI generative tools to generate content for articles, blog posts, e-books, and whitepapers with little to no human intervention.
AI in content marketing goes beyond content generation and can include automation and optimization. In this article, we will discuss the application of AI in content marketing as opposed to solely using it in content generation.
Benefits and Risks of Using AI in Content Marketing
As artificial intelligence continues to grow and its usability extends even further. A well-implemented AI content marketing strategy can save businesses resources in terms of time and money. While the benefits outweigh the risks, it is imperative that any business takes cognizance of the risks involved.
Some of the benefits include:
Creating more personalized and targeted content:

By analyzing huge amounts of personal data such as customer browsing data, social media activity, and search queries, AI content marketing tools allow marketers to create content that resonates well with the audience.

Content optimization:

You can use AI to optimize content by identifying gaps, analyzing keyword usage and content structure, and identifying issues affecting ranking on SERPs.

Content creation efficiency:

AI tools are good at generating content ideas, briefs, outlines, headlines, and even entire articles based on your target audience. 

Enhancing user experience:

Virtual assistants and ai-powered chatbots use natural language processing to offer human-like support to your customers. AI can also be used to recommend appropriate content to your audience.

Analytics and data-driven insights:

AI tools allow you to collect and analyze data to obtain insights about your audience. You can use these insights to inform your content marketing strategies. 
Risks of AI in content marketing:
Limited creativity:

Unlike human writers and editors, AI tools lack human-level intuition and creativity. 

Ethical concerns:

There have been concerns about privacy, bias, and the possible automation of jobs previously done by humans.

Lack of context:

Most

AI tools lack context on current trends and patterns and may also fail to recognize audience preferences or cultural context.

AI tools can make factual errors:

  Language models such as GPT-3 have demonstrated that while they can be right, most of the time, they can also outrightly generate disinformation and require oversight.

Risk of data privacy violations:

AI tools are trained on huge amounts of data, mostly drawn from the internet. This then raises the question of data rights infringement. Businesses should endeavor to be transparent about how they collect and use data.

Risk of Google penalties:

According to Google's Search essentials, formerly Google Webmaster guidelines, generating content with the primary purpose of manipulating ranking in search results is a violation of our spam policies and risks your site getting blacklisted.

Risk of unintentional plagiarism:

AI tools are essentially machine learning algorithms trained on preexisting datasets. Sometimes, these tools can generate content that closely matches the original text without the author's acknowledgment. Human writers should carefully review AI-generated content to avoid copyright infringement.
The table below presents the summary of benefits and risks of using AI in content marketing.
Benefits
Risks

Creating more personalized and targeted content
Content optimization
Content creation efficiency
Enhancing user experience
Analytics and data-driven insights

Limited creativity
Ethical concerns
Lack of context
AI tools can make factual errors
Data privacy violations
Google penalties
Unintentional plagiarism
The Application and Examples of AI in Content Marketing 
Let's look at some applications of AI in content marketing:
Curation and automated content creation:

Using various generative tools for images, videos, and text, marketing teams can generate high-quality content for blogs, social media posts, and product descriptions based on certain keywords.

Enhance creativity:

While AI content marketing tools can be used to create content, they cannot match human-level creativity and may need help with nuanced aspects of content creation, like voice and intonation.

Content optimization:

AI tools can provide detailed suggestions on improving keyword usage, heading, and meta tags. With these AI tools, marketers can also discover frequently searched terms allowing them to curate their content to rank better.



Improving user experience through personalization:

Users often have different needs, preferences, and behaviors that should be considered. Using AI tools for content marketing, marketers can recommend content based on users' browsing history and any data that implies certain preferences. 



Predictive analysis:

Using AI tools, marketers can generate insights such as user behaviors and patterns by analyzing aggregated data. Using these insights, marketers can adjust their content marketing strategies.  Predictive analytics can also be helpful in lead scoring.

Automation

: Besides content generation, AI-powered tools such as chatbots, either text-based or voice-based, can be used to provide instant customer support, personalized content recommendations, customer order completion, and even generate leads. 
Below are some examples of AI in content marketing in the real world:
Netflix is a well-known entertainment company that uses AI for content marketing. By analyzing user data, such as viewing history and preferences, they make personalized recommendations for movies and shows.
Grammarly is an AI writing assistant that uses Natural Language Processing to analyze text and provide suggestions for improving the content's grammar, style, and tone.
Marketing Hun by Hubspot is an AI-powered tool that provides suggestions for optimizing content, such as keywords, titles, and tags, to improve SEO and engagement.
Sephora Virtual Artist is an AI-powered chatbot by Sephora that can help customers find the right product, make recommendations, and even try different makeup looks.
Adobe Sensei by Adobe is an AI-powered tool that uses machine learning and analytics to analyze the audience's behavior and predict their future actions; this can help suggest targeted content and products.
Some of the best practices when using AI in content marketing include: 
Adherence to ethical issues such as data privacy.

Transparency to customers on the use of their data.

Focusing on customer needs instead of tools.

Human oversight to ensure AI content marketing tools are always used the right way.
6 AI Tools to Use in Your Content Marketing Efforts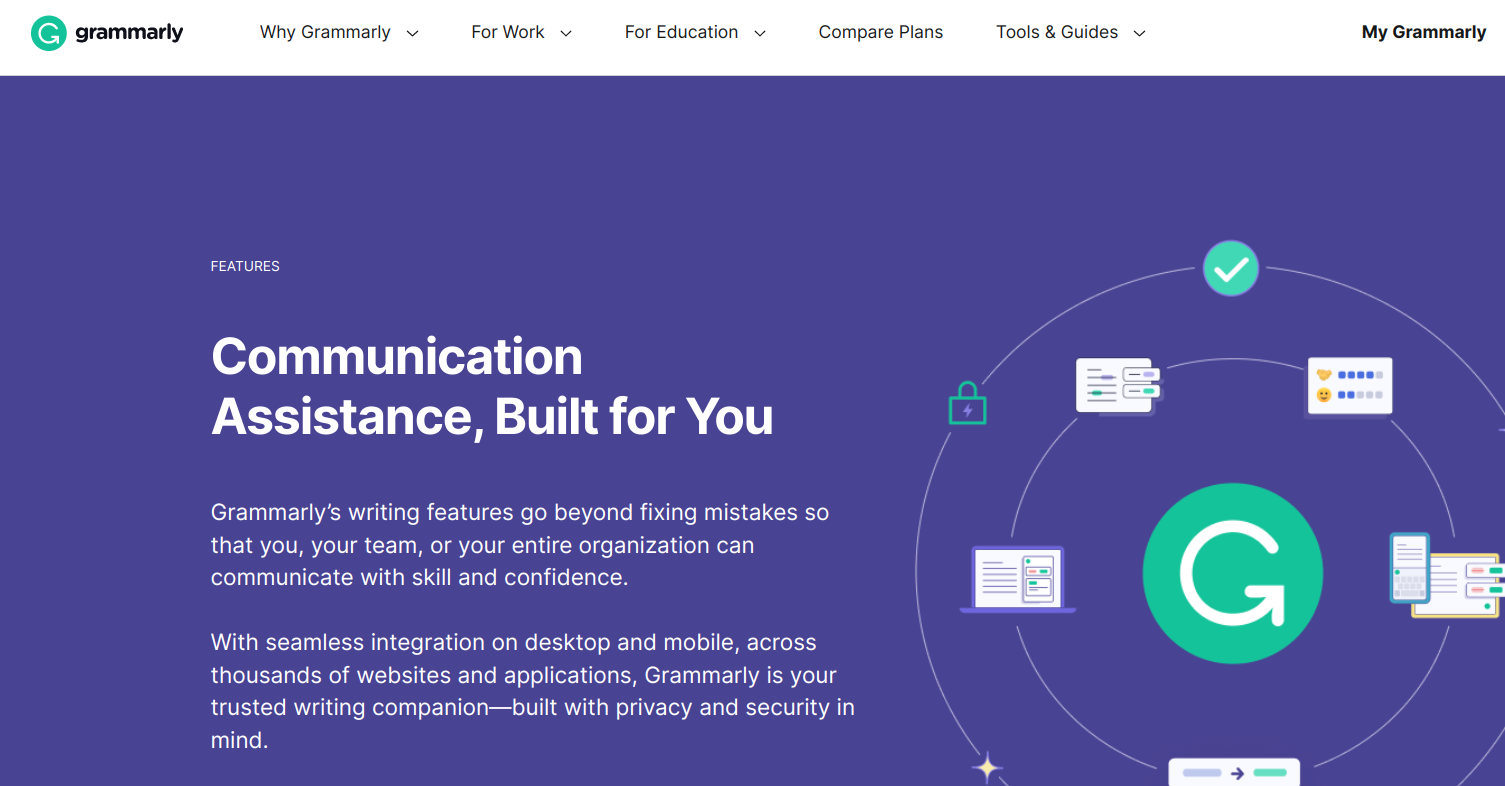 Grammarly is a powerful AI content marketing tool that can help you improve the quality of your writing by automatically flagging spelling, grammar, punctuation, and tone mistakes in real-time. This online writing assistant is an AI-powered tool that uses technologies like natural language processing to analyze written text and suggest improvements. 
With Grammarly as your writing assistant, you can make your writing in articles, emails, and newsletters more readable, engaging, and compelling. Grammarly has a Chrome extension that is usable across a  range of office applications such as Slack, Gmail, google docs, social media, and more.
Key Features:
Real-time suggestions: Suggestions that help you catch grammar, spelling, and punctuation mistakes as you make them and correct them in time.

Tone, clarity, and style suggestions help you adjust your writing and make it more coherent and captivating.

Browser extension that works with popular browsers such as Chrome, safari, edge, and Firefox.

Grammary provides suggestions to improve your writing and explanations for every suggestion to help you learn from your mistakes. 

Grammarly helps you write with clarity by suggesting full-sentence rewrites that allow you to clean tangles and hard-to-read sentences.

Using Grammarly's custom style guide, you can help your team capture your company's unique voice and style.

Analytics tools to help your business track various aspects of your writing and improve.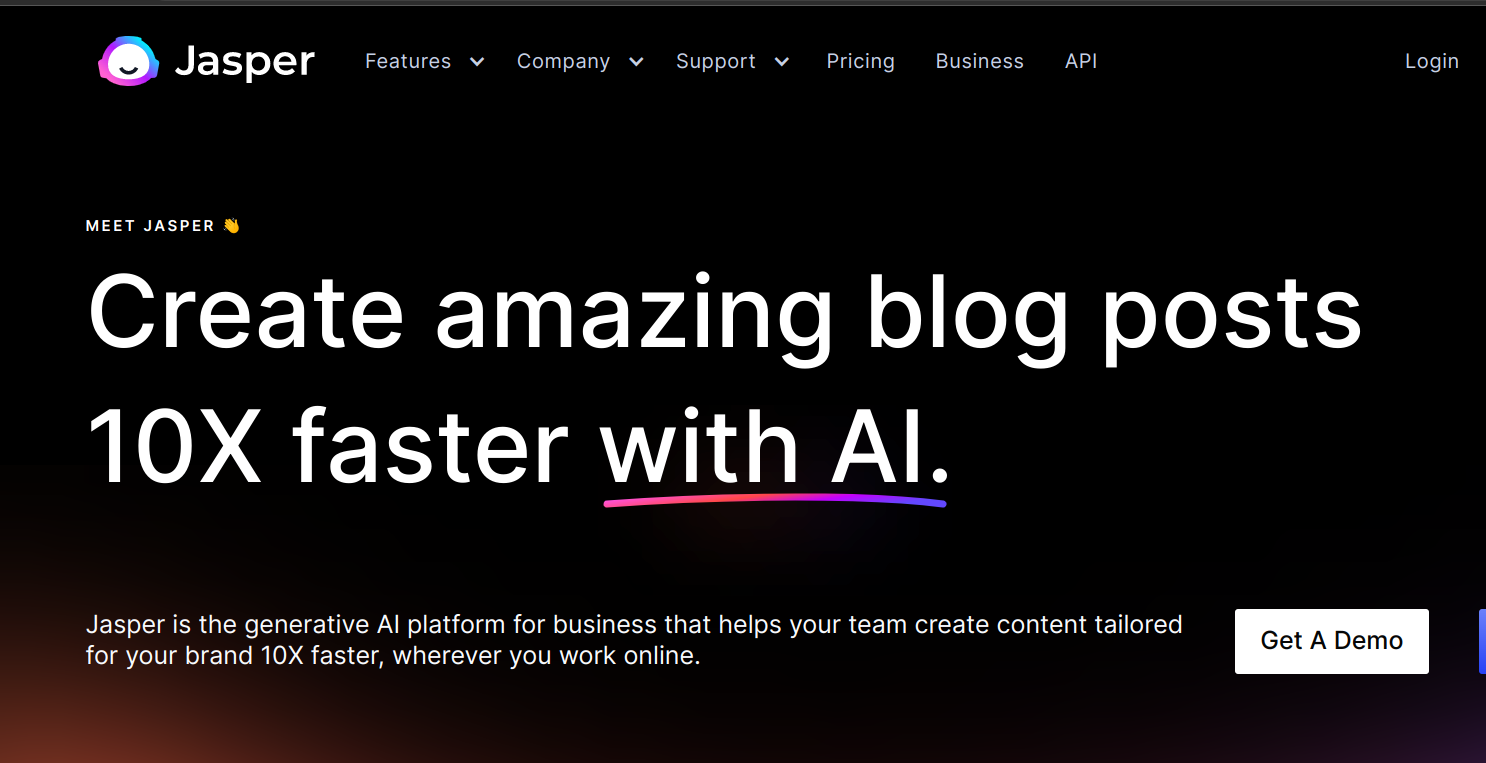 Japer AI is an all-in-one AI content marketing tool with over 52 writing templates that allow you to create content for just about any use case. Whether you're writing email subject lines, ads, an Instagram caption, product descriptions, or a blog article, Jasper AI can help you do just that in a fraction of the time.
Using Jasper AI generative platform, businesses can create content much faster. These tools require no training. With just a few prompts, you can generate short and long-form content.
Key Features:
Chrome extension: With this plugin, you can use Jasper AI in your content marketing workflow whenever using your favorite tools such as Google docs, Notion, WordPress, Facebook, and more.

Jasper Chat: Using Jasper chat, you can have a conversation with AI and get help answering questions in a surprisingly human-like response,  generate content ideas or unique content, and even reference a storyline from an earlier chat.

Boos Mode: Upgrading to boss mode allows you to access the full power of Jasper AI. Generate higher quality and SEO-optimized content with content and access to Grammarly to help fix mistakes.

Integration with SurferSEO, a modern SEO tool that allows you to find the best keywords and optimize your content to rank on Google's first page.

Jasper art: Using Jasper art, you can describe an image as envisioned in your mind and select styles, and Jasper will generate copyright-free images in a matter of seconds.

Jasper can read and write in over 25 languages.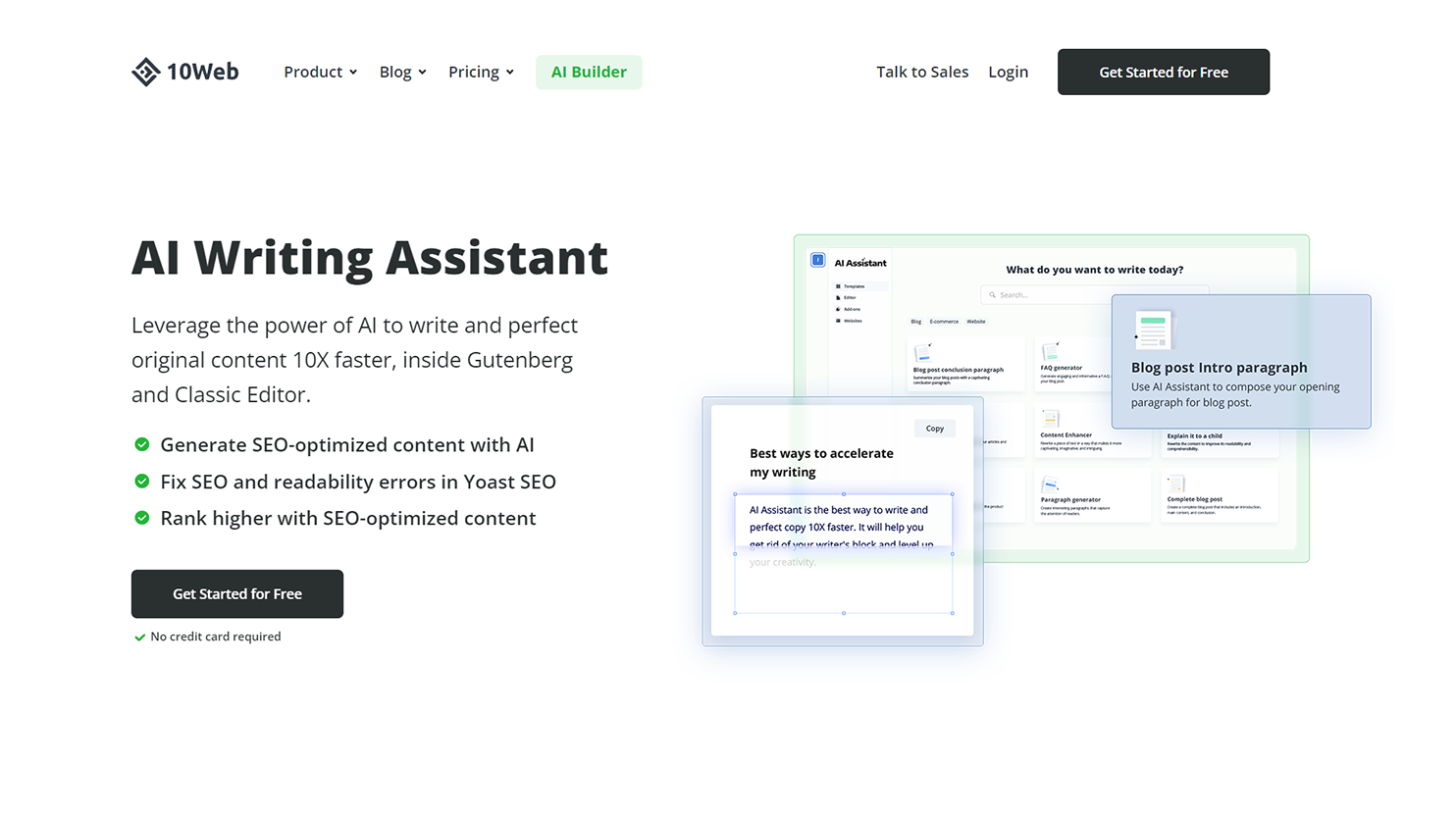 With 10Web AI Writing Assistant, you can create highly engaging and SEO-optimized content inside your WordPress environment. 10Web AI Writing Assistant has built-in SEO-checking and editing features to help identify and quickly fix both SEO and readability mistakes. For instance, with the 10Web AI Assistant SEO Pack, you can:
Automatically fix SEO and readability issues in Yoast SEO. 

Fix keyphrase and passive voice errors.

Fix subheading and distribution issues.

Fix sentence and paragraph length errors.
If you're using Gutenberg or the classic editor, you can generate content, paragraphs, outlines, copies, paraphrased text, product descriptions, introductions, conclusions, and more right in your editor. 
Optimize your content SEO with AI!
Write and perfect original content and fix all SEO and readability errors 10X faster with 10Web AI Writing Assistant.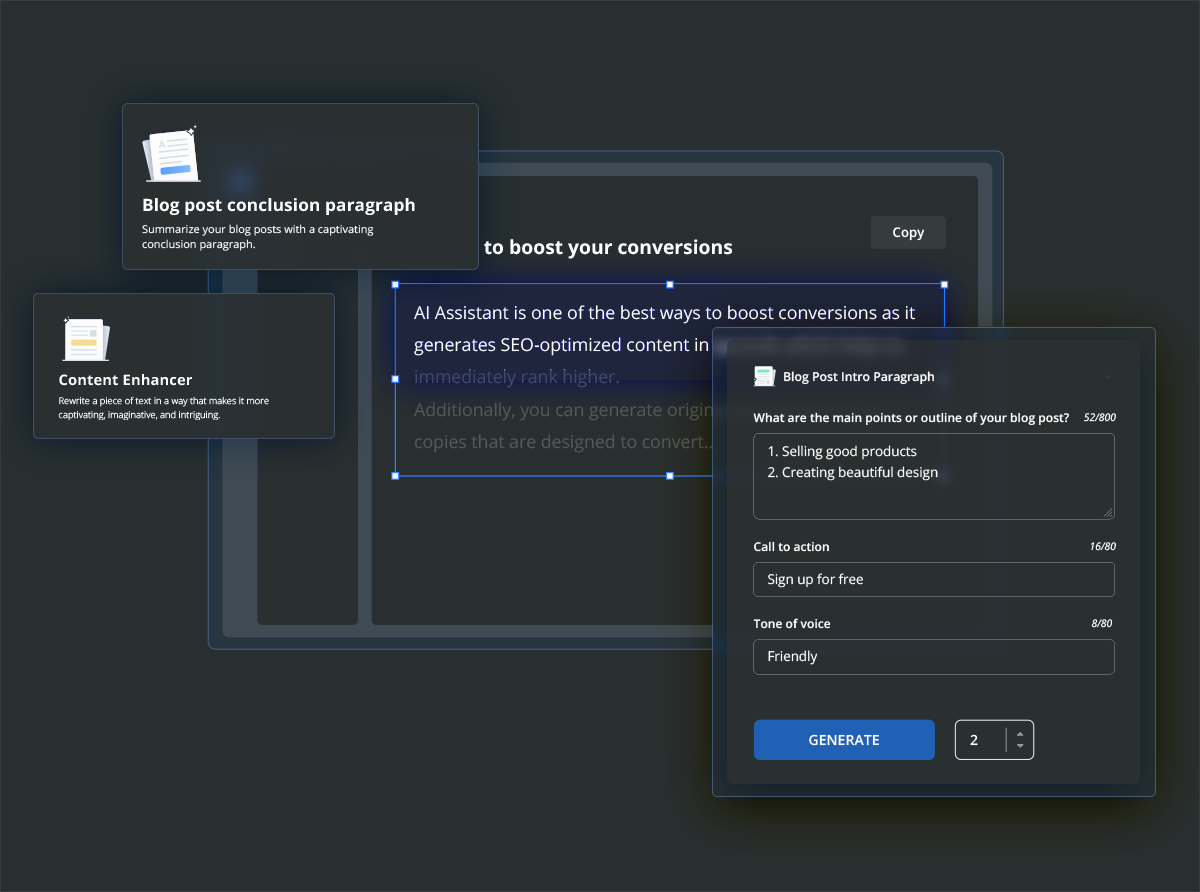 Key Features:
Content optimizer: You can optimize your content for SEO, as well as fix all the SEO and readability issues directly in Yoast 10x faster.

Outline generator: You can generate outlines for articles, blogs, descriptions, ads, landing pages, and more within seconds.

Paragraph generator: overcome writer's block by generating unique, creative, and SEO-optimised content.

Introduction and conclusion generator: Save valuable time by generating relevant and captivating introductions and conclusions for your articles.

Paraphrasing: Create plagiarism-free copies for your product descriptions, blog content, articles, ads, landing pages, and more.

Content templates: Choose from a variety of content templates for complete blogs, outlines, list articles, product descriptions, FAQs, and more.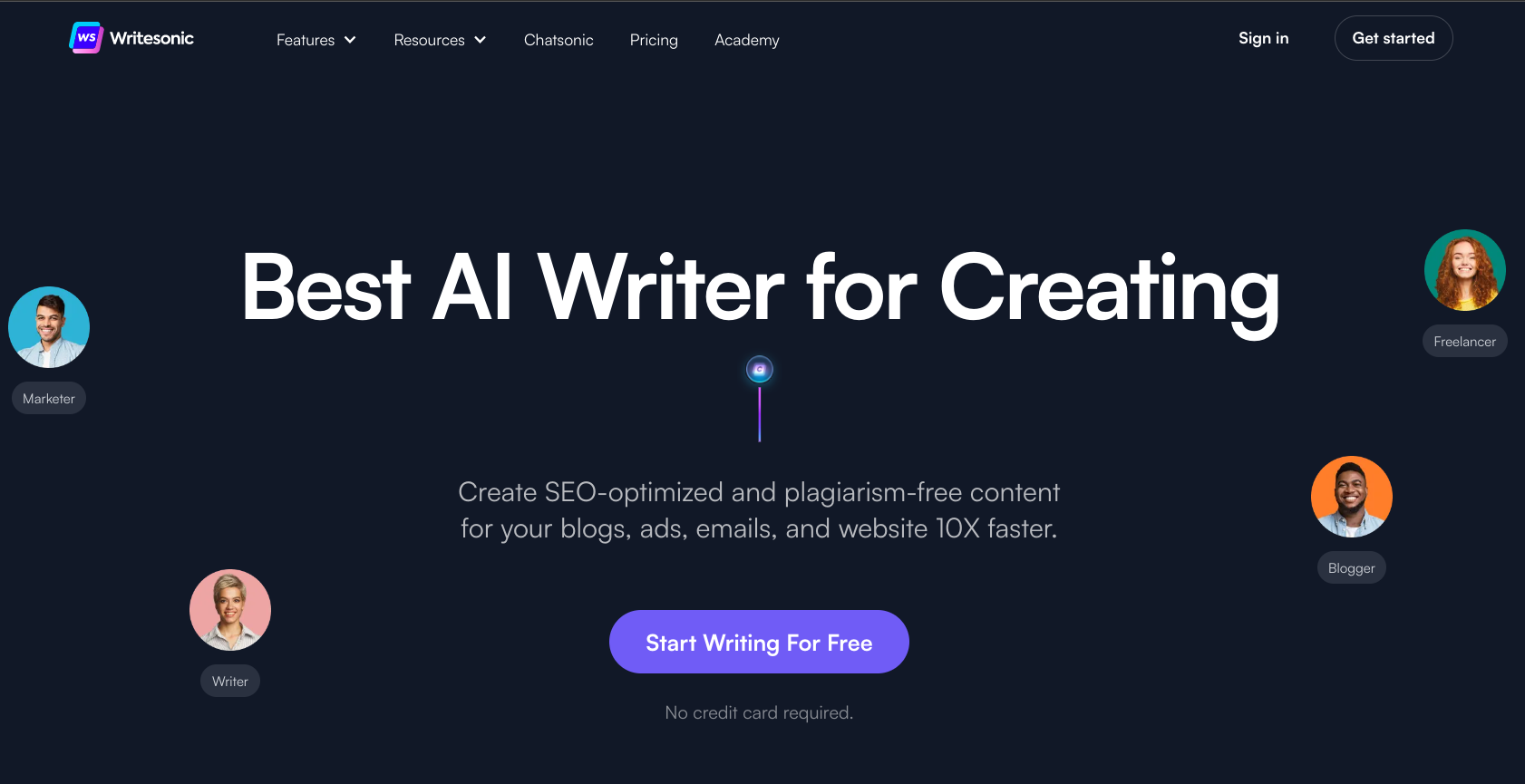 Writesonic is one of the best AI writers with incredible features that can take your copywriting game to the next level without spending a heft amount of cash. Writesonic is an incredible AI marketing tool packed with features that allow you to write  SEO optimized marketing copy for blogs, essays, Facebook ads, Google Ads, and sales emails to increase clicks, conversions, and sales.
Key Features:
Writersonic allows you to generate up to 1500 words SEO optimized content. 

You can also generate content alongside semantically relevant images inserted within the text.

Surfer and Semrush integrations allow you to access features such as keyword suggestions to improve SEO.

Paraphrasing tool that enables you to rewrite paragraphs, essays, or entire articles better than the original text.

Text summarizers allow you to quickly generate a well-written summary of the original text.

Generate high-quality and compelling product descriptions in 25+ languages.

Facebook ad generator allows you to generate high-converting Facebook ads.

Landing page generator to generate professional and  high-quality landing pages with just a few clicks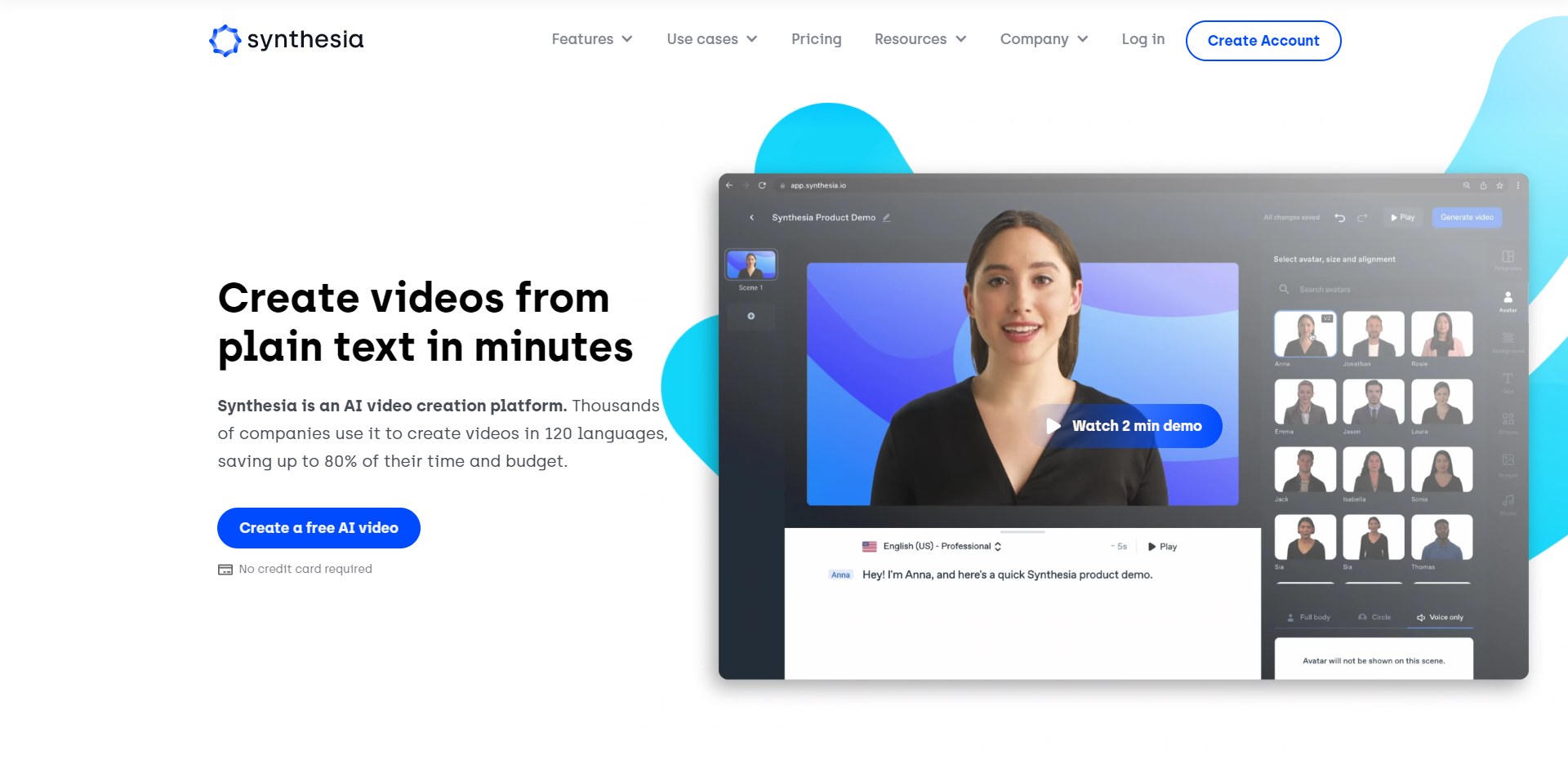 Synthesia is an AI-powered video creation platform that allows you to create videos with avatars in over 120 languages. Trusted by thousands of companies worldwide, Synthesia is a great AI content marketing tool for marketing teams since they create different video content such as explainer videos, testimonials, product demos, and more. 
With Synthesia, your marketing team does not have to worry about hiring professional actors, paying studio time, hiring equipment, finding a perfect location for shooting, or hiring a video editor. Using Synthesia, your team can create high-quality videos using a simple, intuitive interface in a matter of minutes.
Key Features:
Access to over 85 diverse AI avatars. 

You can create your custom avatars and access exclusive avatars for your brand.

Access to professional voiceovers without the need for hiring voice actors or expensive equipment. 

Access over 55 pre-designed video templates that are fully customizable according to your brand.

You can create videos in over 120 languages and accents by simply typing a text.

Access to a free media library and royalty-free assets from Unsplash and Shutterstock.

Get access to royalty-free background music, or upload your soundtrack.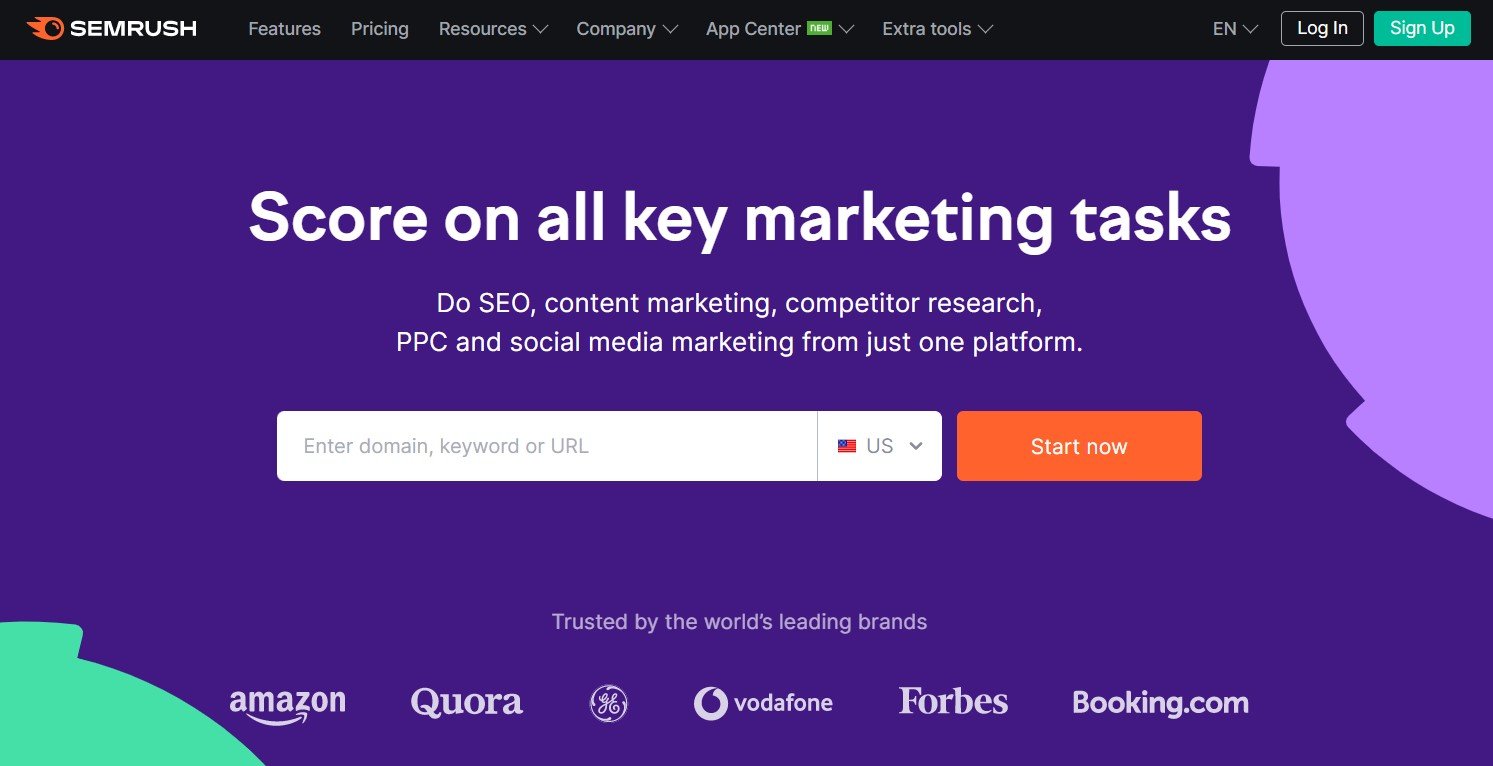 SEMrush is a powerful and comprehensive SEO tool that content marketers can use to improve their marketing strategy and SEO efforts. Regarding AI content marketing, SEMrush includes over 55 AI powered tools to help marketers plan, execute and measure their content marketing campaigns.  
Key Features:
Keyword overview: This makes your keyword research easier. You'll access metrics such as keyword difficulty, search volume, trends, intent, and more by just typing a keyword on the search bar.

Content audit: Analyzes existing content and provides suggestions on improving it.

Topic research: By simply entering a keyword on the keyword overview tool, you'll get high-quality content ideas on what is most searched on Google.

Writing assistant: An AI writing tool that assists you to write faster by providing writing recommendations and also rating your content in terms of readability, SEO, tone, and originality to help you improve it. 

Competitor analysis: Tools such as traffic analytics and organic research allow you to find out about your competitors' online presence.

Other AI content marketing tools by SEMrush include a marketing calendar and post tracking, backlink analysis, social media management, and brand monitoring.
Conclusion
AI as a technology continues to evolve and advance. We will likely see even more impressive tools come up and revolutionize the content marketing industry as we know it even further. As more businesses turn to content marketing to build audiences and promote brands, AI content marketing tools will likely become even more popular and useful. However, it is important to remember that AI marketing tools are just tools, and human intuition and oversight are required to ensure that they are bias-free and that data privacy concerns are addressed.
Optimize your content SEO with AI!
Write and perfect original content and fix all SEO and readability errors 10X faster with 10Web AI Writing Assistant✨
FAQ
Does AI replace content marketers?
No. While AI marketing tools are good at mundane tasks and content creation, they lack human-level intuition, emotional intelligence, and creativity.
What is overusing AI in Content Marketing, and how to avoid it?
Overusing AI tools for content marketing is solely relying on AI to generate generic and unengaging content. To avoid this, AI content marketing tools should be used to support human creativity rather than trying to automate it.
Is AI Content Marketing expensive?
The cost of AI content marketing is relative and depends on the tools used. Some tools have high-end features and prices with an impressive ROI, while some are free and can suit small businesses needs. A cost-benefit analysis should be done beforehand.
Get a head start on website creation with AI
Create a custom website tailored to your business needs 10X faster with 10Web AI Website Builder!