In the contemporary fast-paced world, AI assistants have become a valuable tool in helping us manage our daily tasks. These tools offer many features and benefits, from setting reminders and making appointments to helping us stay organized. But with so many AI assistants available, finding the one that's right for you can be challenging. 
In this article, we will explore the top 25 AI assistants. By understanding what each tool offers, you can find the one that best suits your needs and preferences while setting realistic expectations for what AI assistants can do.
Finding out what assistance you need
When it comes to selecting an AI assistant, it's important first to understand what kind of assistance you need. AI assistants have different capabilities, each designed to perform specific tasks. Here are a few things to consider:
The main motive of the AI assistant:

The first step in selecting an AI assistant is identifying the tool's main purpose. Determine what you want the AI assistant to do. For instance, do you need it to help you manage your schedule, organize your inbox, conduct research, or perform other specific tasks?

Type of tasks:

After identifying the main purpose of the AI assistant, consider the specific tasks that you want it to perform. Some

AI assistants

 are designed to answer customer inquiries, while others can help with administrative tasks such as data entry or expense reporting.

Some AI assistants may also be designed to provide specialized services, such as legal or medical assistance. Selecting an AI assistant that can handle the specific tasks you need it to perform can help you streamline your workflow and increase your efficiency.
Level of automation:

Determine how much automation you want from the AI assistant. Some

AI assistants are fully automated, meaning they can perform tasks without human intervention.
Level of customization:

Consider how much customization you require from the AI assistant. Some AI assistants offer personalized recommendations, while others provide a more generic service. 

Integration capabilities:

Consider whether you need the AI assistant to integrate with other tools or services. Selecting good

AI assistants

that integrate your existing tools and services can increase your efficiency and productivity. 

User interface:

Evaluate the user interface of the AI assistant. Is it easy to use and provides a good user experience? An AI assistant with a user-friendly interface can help you easily navigate its features and streamline your workflow. A complex or confusing interface can lead to frustration and decreased productivity.

Budget:

Determine your budget for an AI assistant. A lot of different

AI assistants

come in different price ranges, which is why it is so crucial to have a solution that sits right with your budget.
Setting realistic expectations from AI assistants 
AI assistants are designed to help us accomplish tasks more efficiently, but it's important to set realistic expectations about what they can do. Here are some ways to set expectations from AI assistants realistically:
Understand the limitations:

AI assistants have limitations regarding their capabilities, and it's important to recognize them. Despite the continuous evolution and advancement of AI technology, the algorithms and data that current

AI assistants

are trained on still impose limitations on their capabilities.

It's crucial to understand the specific tasks an AI assistant is designed to perform and not expect it to do things beyond its capabilities. For example, while some AI assistants can answer basic customer inquiries, they may not be able to provide complex technical support.
Account for errors

: AI assistants are not perfect, and they may make mistakes. It's important to recognize the possibility of errors when using an AI assistant and to factor this into your expectations.

AI assistants

can make mistakes for various reasons, such as errors in the underlying algorithms, incorrect or insufficient data, or unexpected user input. 

Recognize the need for human intervention:

While

AI assistants can automate many tasks, they may still require human intervention. It's important to be realistic about when human intervention is required and to provide it when necessary.

Invest in quality AI assistants:

The quality of the AI assistant can significantly impact its performance. Investing in high-quality

AI assistants

can help you achieve better results and minimize errors.

  Quality AI assistants are often designed with more robust algorithms and trained on larger, more diverse datasets. While higher-quality AI assistants may come at a higher cost, the investment can often pay off in increased efficiency and better outcomes.
6 best AI personal assistants
AI personal assistants have become ubiquitous in today's tech landscape as they are designed to make our lives easier by answering questions and providing information. Let's look at our top 6 picks!

Amazon's Alexa has become one of the most popular AI-powered virtual assistants available, offering a range of features across various devices. 
These features include:
Voice interaction

NLP

Voice queries

Create to-do lists

Set up alarms

Stream podcasts
Pricing:
Alexa voice assistant is free to use, which means that you won't have to pay a monthly subscription or equipment fees. There is only a one-time charge for your Amazon Echo device, which varies depending on the model. The Echo Dot (speaker) costs between $40-$100, the Echo Studio (speaker) costs $200, and the Echo Show (display + speaker) costs between $40-$330.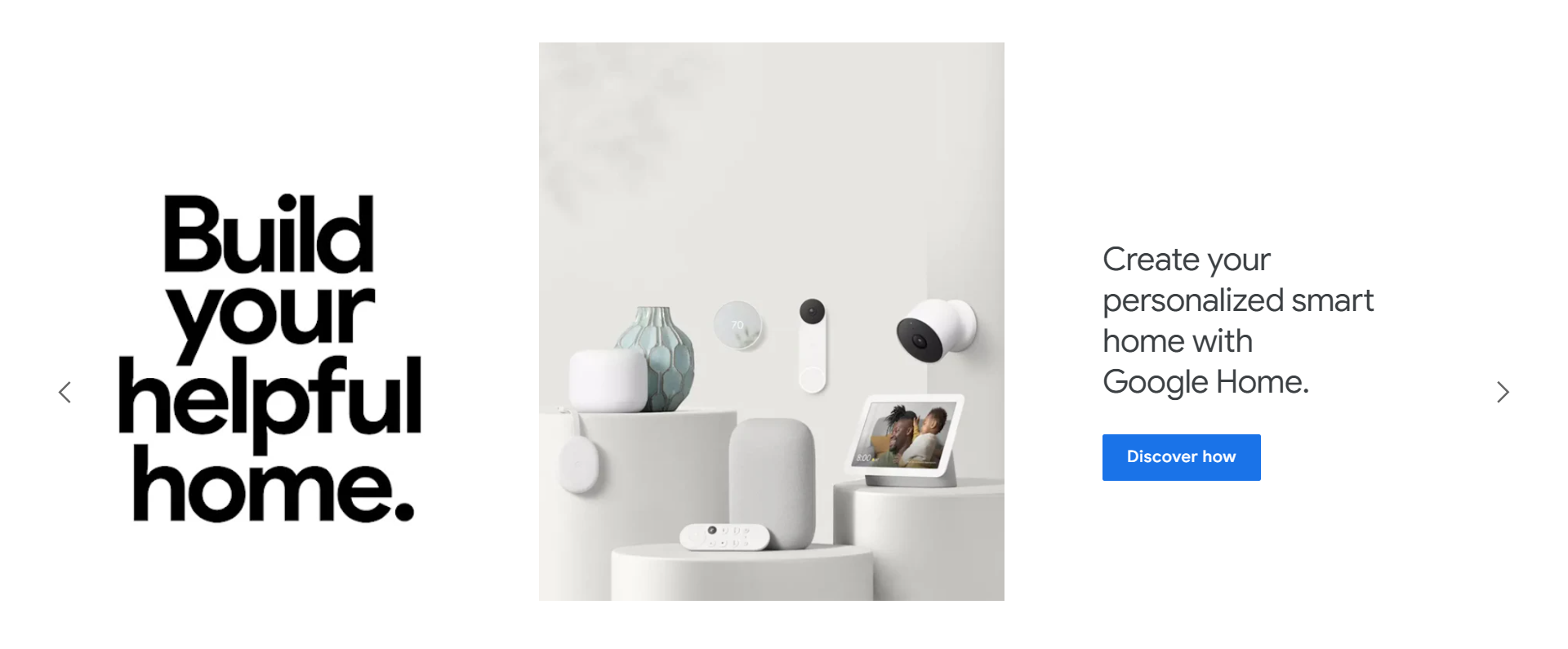 Google Assistant is another popular name in our list of the best AI personal assistants. It is a virtual assistant capable of performing a wide range of tasks. It is available on Android and iOS devices, as well as on Google Home and other smart speakers.
Features: 
Voice-activated speaker

Smart home control

Hands-free calling

Music streaming
Pricing:
It is completely FREE to use. You will only pay for the devices in case you don't owe one.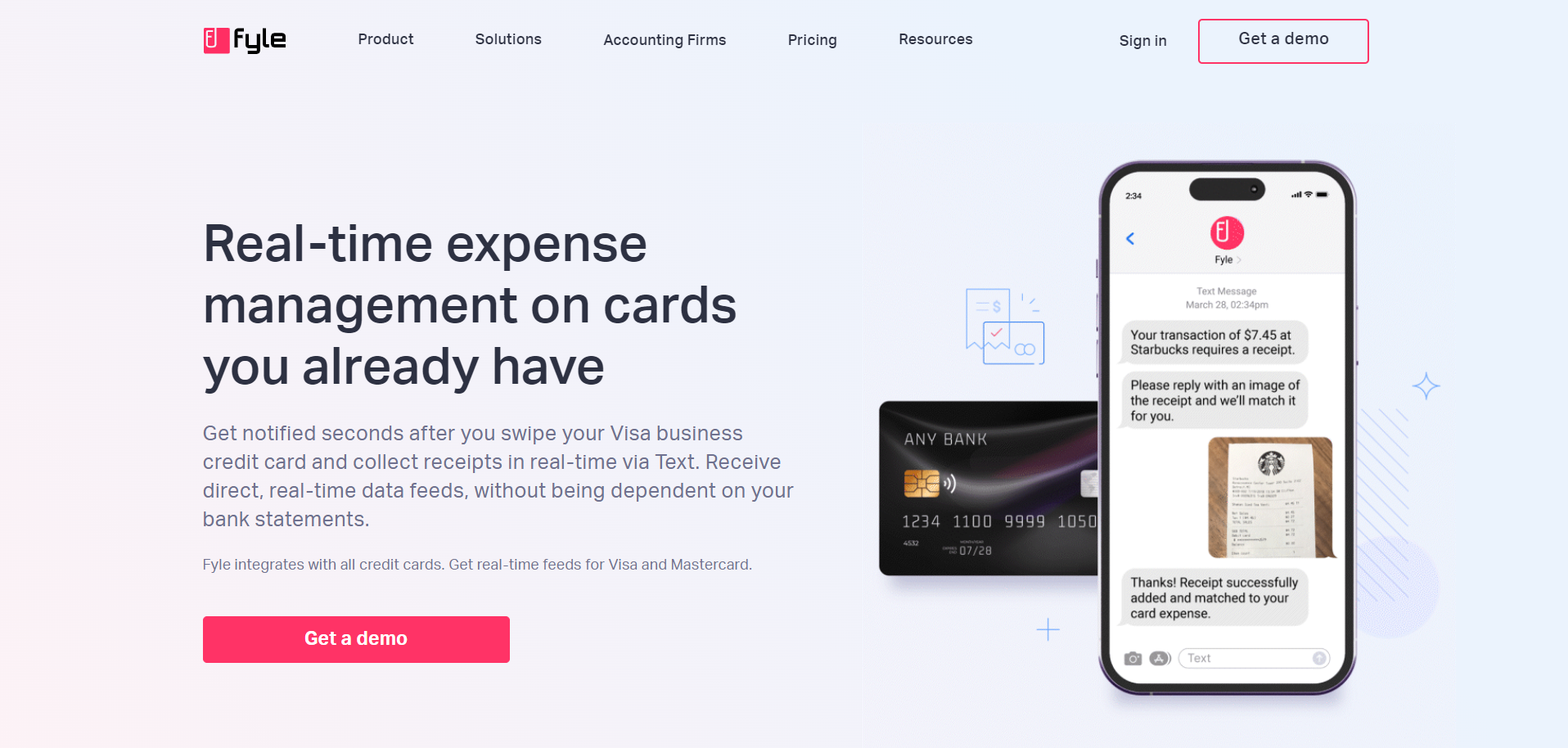 Fyle is one of the topmost AI assistants recommended if you're looking for an AI-driven expense management application. This versatile AI assistant is compatible with iOS, Android, and desktop devices and is considered one of the leading solutions for intelligent expense management. 
Features: 
Automatic data extraction engine 

Custom Approval Hierarchy

Expense Audit trail
Pricing: 
Standard Plan: $6.99 per active user/month

Business Plan: $11.99 per active user/month

Enterprise Plan: Custom Pricing
Kore.ai is an exceptional AI personal assistant that supports a broad spectrum of channels and necessitates minimal coding. This platform offers a complete solution for creating and implementing virtual assistants, process assistants, and conversational digital applications that incorporate artificial intelligence across over 30 digital and voice channels.
Features:
Code-free development

Multi-language

Live chat
Pricing:
Price depends on the product you choose.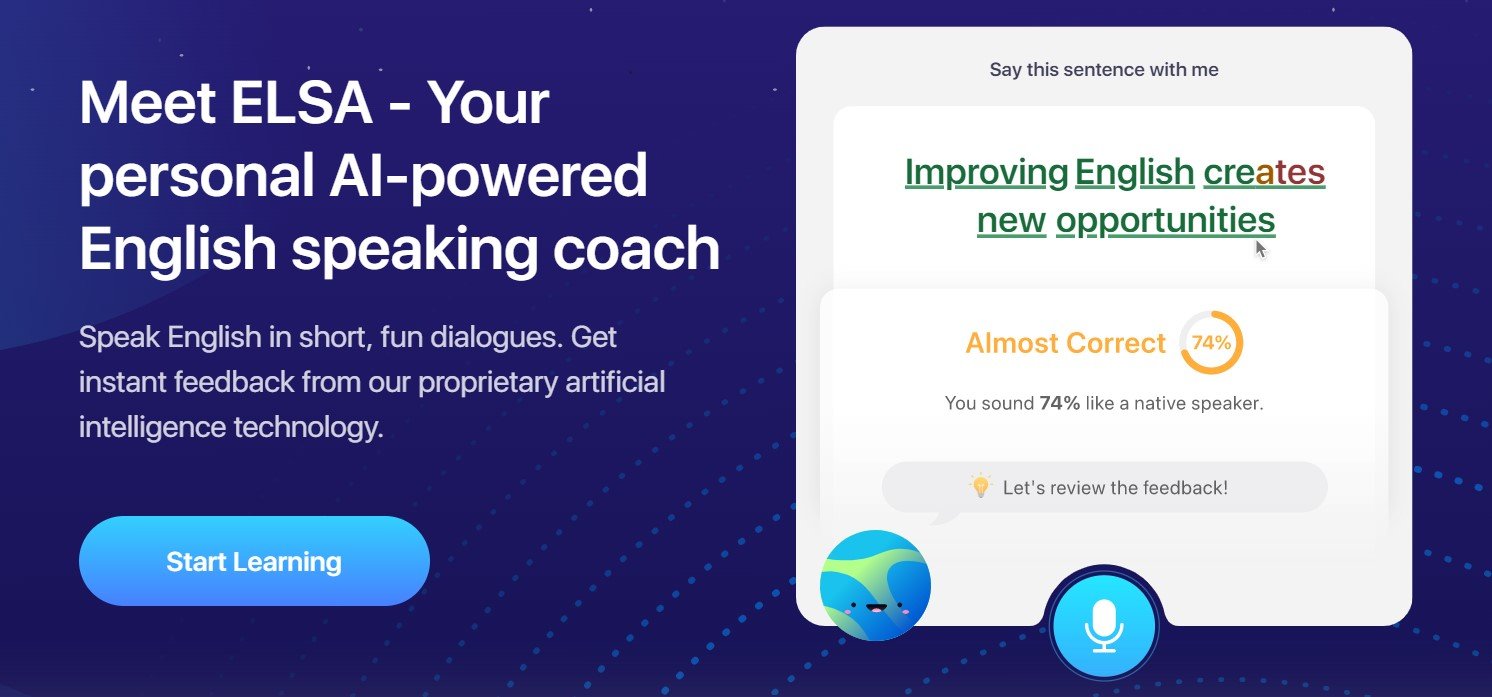 ELSA Speak is another extremely impressive addition to our list of AI personal assistants. It is an English pronunciation app that employs AI technology to aid in improving one's English pronunciation. It utilizes voice data from individuals with diverse accents who speak English, allowing the app to detect the speech patterns of non-native speakers.
Features:
Relevant English vocabulary

Wide variety of exercises

Voice dictionary
Pricing:
Personal ELSA has both free and pro versions. ELSA for business and school plans have the following pricing:
Lite  (5-50 users) – $103.50/user/year

Medium (51-100 users)  – $100.30/user/year

Premium (101+ users) – Custom
Aido is a voice-enabled tool in our list of the top AI personal assistants that are smart, customizable, and user-friendly. This technology is designed to assist and entertain its users in exceptional ways.
Features:
Interactive multimedia projector with 2" woofers and 10-watt speakers

Advanced speech recognition

Face detection
Pricing:
Aido robot was available for preorder at $549 on Indiegogo. However, the current price of the Aido robot is not available on the official website.

6 best AI voice assistants
The way we interact with our devices has been transformed by AI voice assistants. With a mere voice command, we can obtain data about anything, manage smart home devices, and even perform daily basic tasks. Below are our top six picks!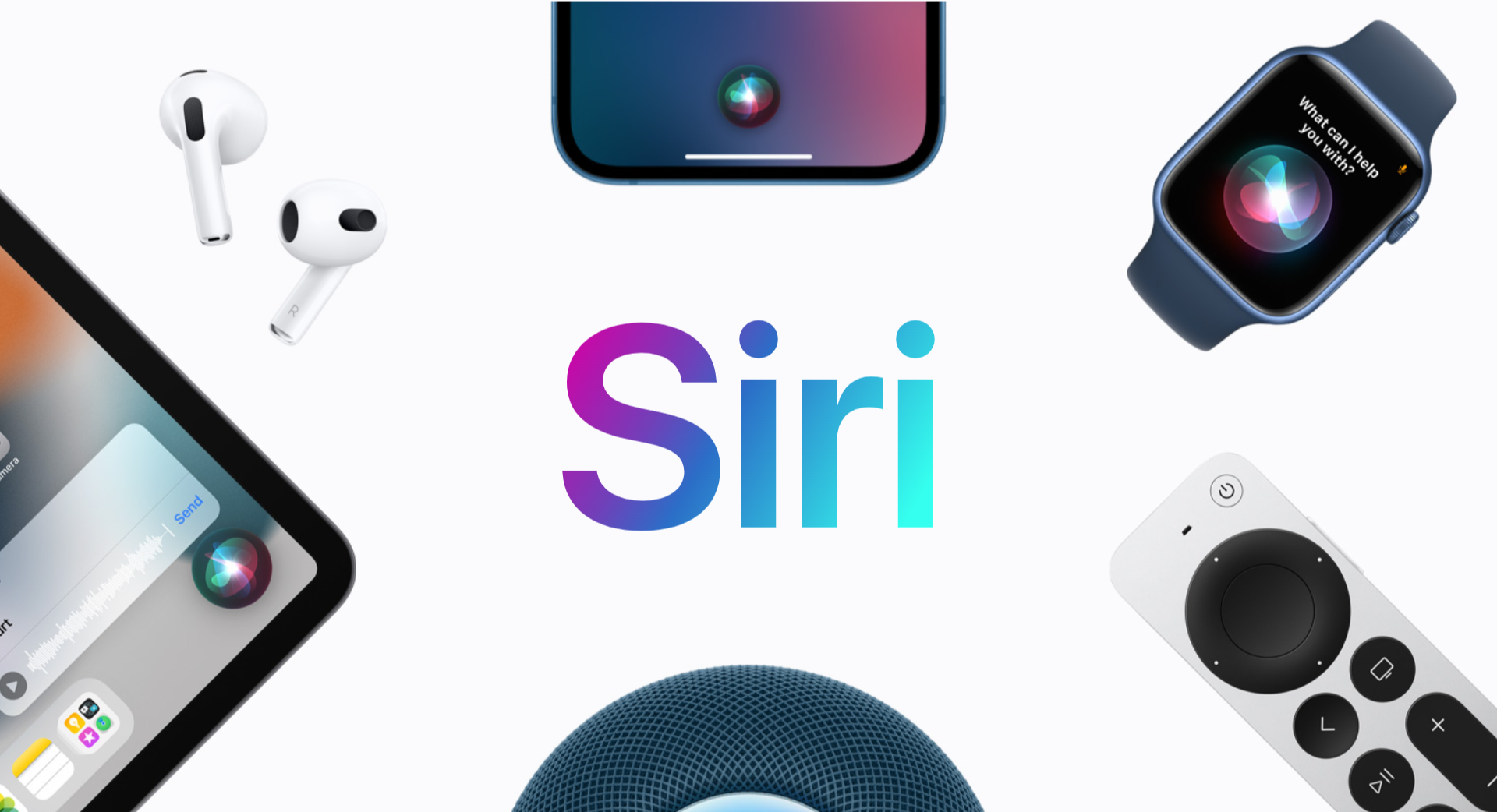 Siri is a voice-enabled virtual assistant developed by Apple Inc. for its iOS, iPadOS, watchOS, macOS, and tvOS operating systems. It uses natural language processing and machine learning algorithms to interpret voice commands and carry out tasks such as setting reminders, making phone calls, sending messages, and providing information on a wide range of topics.
Features:
Send messages

Make calls

Set reminders

Schedule meetings

Check the weather

Get Directions

Play Music

Set alarms
Pricing:
Siri is not a paid service. It comes pre-installed on Apple devices and is available for free to use.
Cortana is another addition to our countdown of the top AI voice assistants that is created by Microsoft for various platforms such as Windows 10, Windows 10 Mobile, Windows Phone 8.1, Xbox One, iOS, Android, and others. By utilizing natural language processing, it can answer inquiries, set reminders, place phone calls, send messages, and provide information on a range of topics. 
Features:
Set reminders

Check the weather

Get Directions

Send emails
Pricing:
Cortana is a free service that is pre-installed on Windows 10 and 11 devices. It is available for free to use.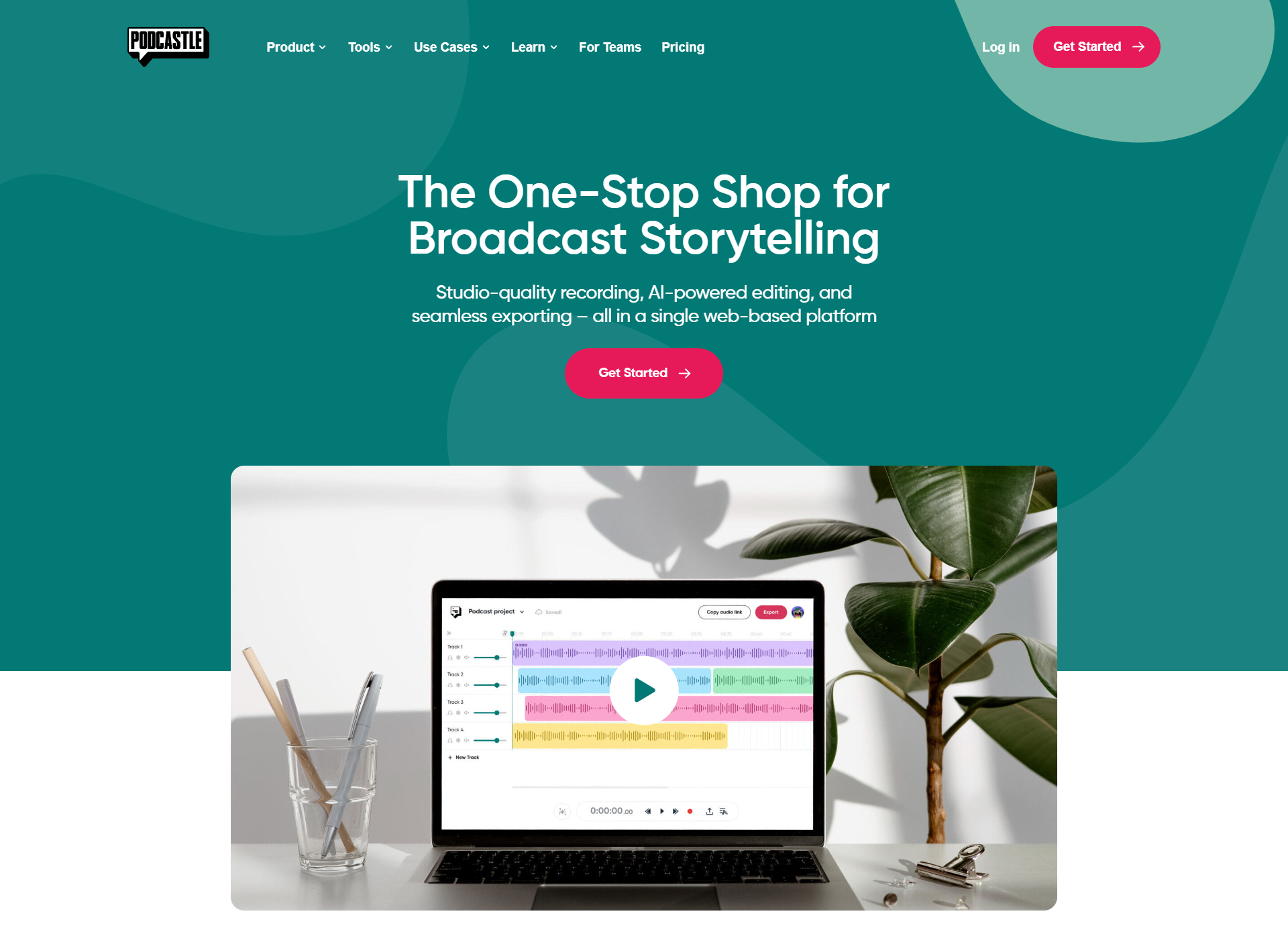 It's another great addition to our list of the best AI voice assistants. Podcastle is an AI-powered podcast generation tool allowing users to record, edit, and enhance their audio from a single web-based platform. With features such as studio-quality recording and AI-powered editing, Podcastle makes it simple for novice and expert podcasters to produce professional podcasts without the need for costly equipment or advanced audio editing abilities. Podcastle's voice cloner, which enables users to produce a digital duplicate of their voice that can be used to generate podcast episodes, audiobooks, and other audio material, is one of its most notable features.
Features:
Studio-quality recording

AI-powered editing

Magic dust and revoicing

Text to speech, audio to text, video to text

Silence removal
Pricing:
Basic – $0

Storyteller – $11.99/month (billed yearly)
Pro – $23.99/month (billed yearly)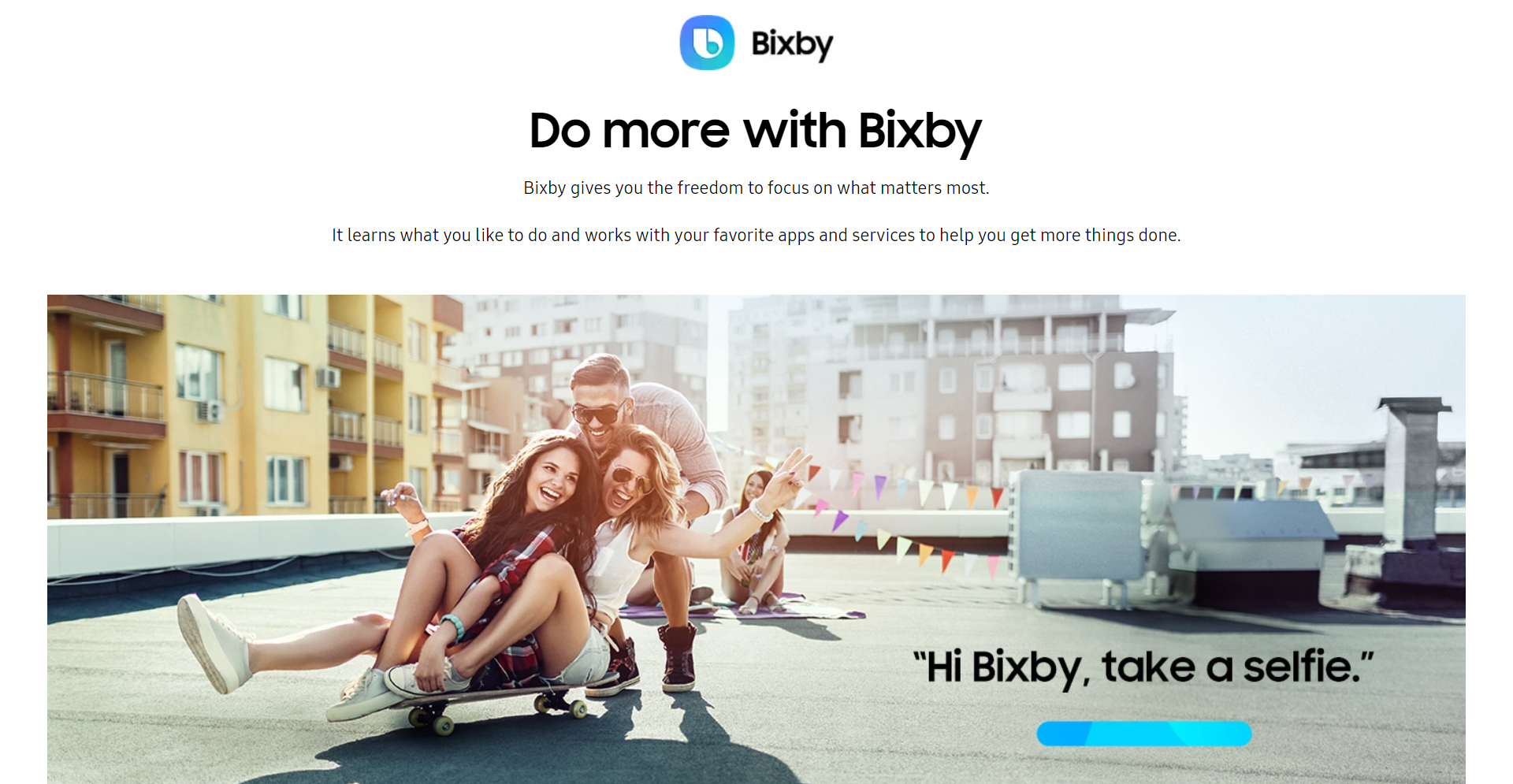 Samsung has developed Bixby, a virtual assistant that is intended to function across various Samsung products. In addition, Bixby is integrated into a variety of other devices, such as Samsung's Family Hub fridges and TVs. It is a voice assistant, meaning you interface with it using voice commands.
Features: 
Send text messages

Check scores for sports

Adjust screen brightness

Keep an eye on the calendar
Pricing:
Bixby is not a paid service. It comes pre-installed on Samsung devices and is available for free.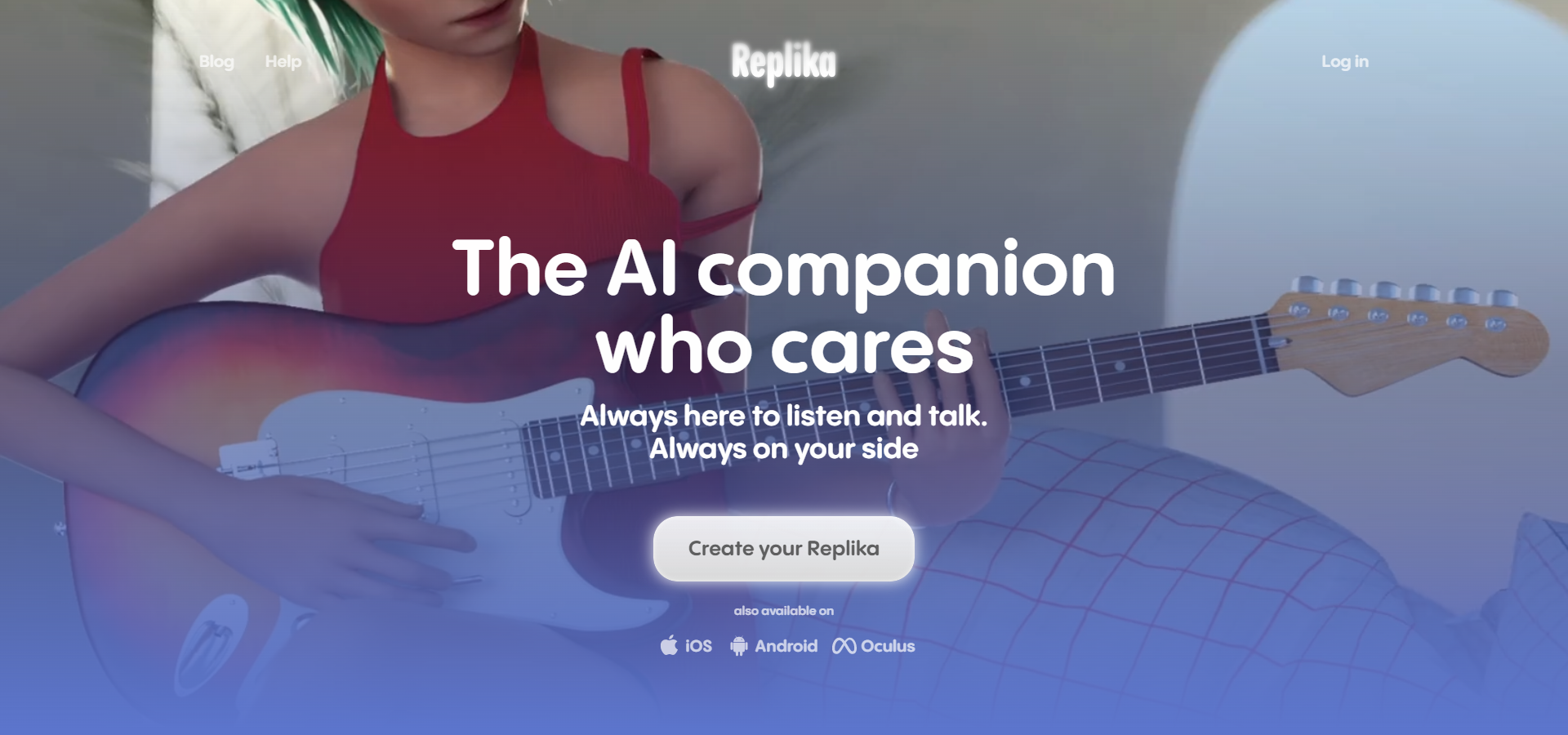 Replika is one of the best AI assistants that learns from your conversations and mimics your personality. It is designed as a virtual companion to assist or accommodate you in your work and personal life. Replika gives users a virtual best friend with whom they can talk and share their feelings anytime. 
Features: 
Learns from your conversations and mimics your personality

Automatically replies to your questions

Generates its own unique responses
Pricing:
It is not a paid service. The app is available for free on both the App Store and Google Play Store.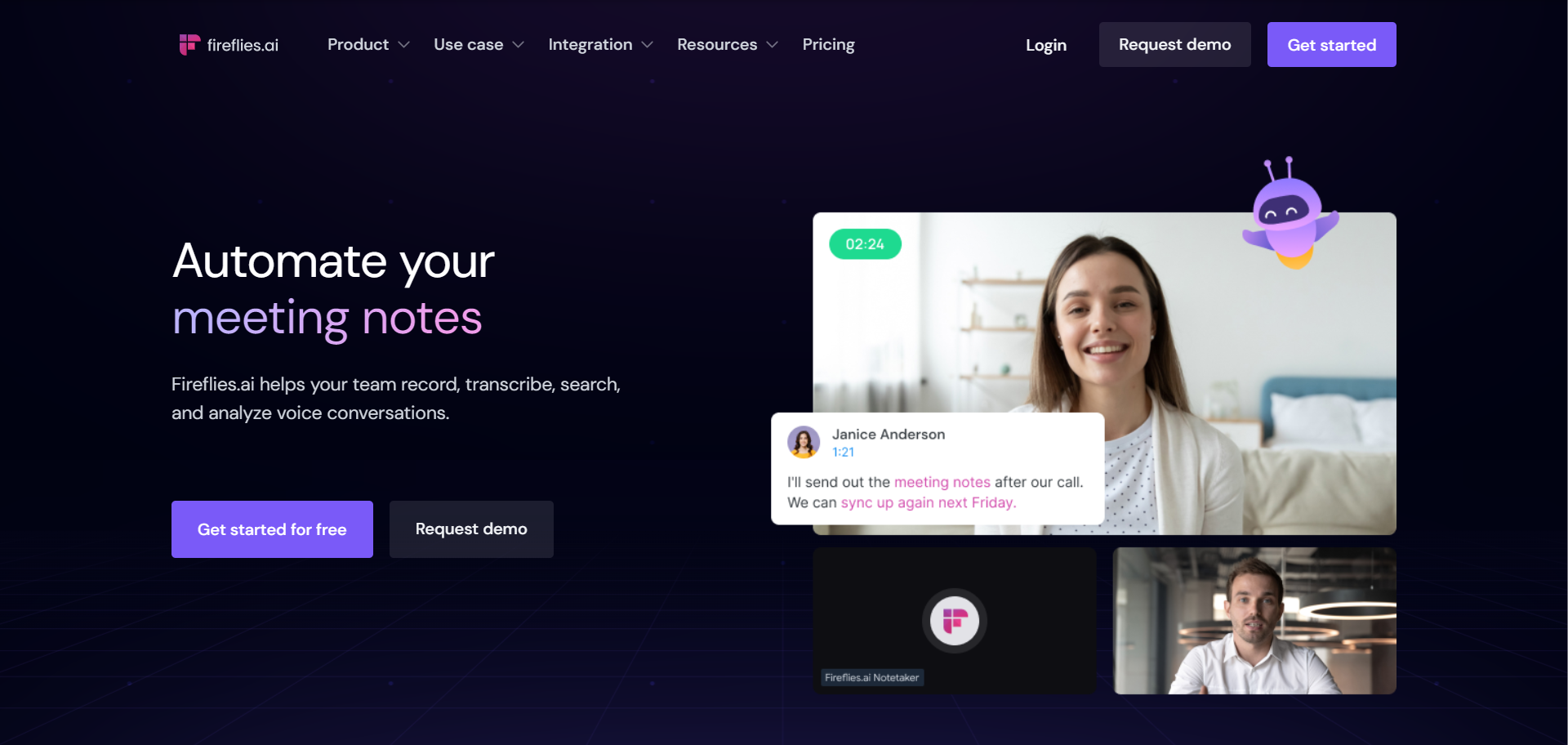 Fireflies.ai is an AI-powered voice assistant that can assist with transcribing, taking notes, and executing tasks during meetings.
Features:
Recording

Transcription

Captures video and audio and generates transcripts in minutes
Pricing:
Free – $0

Pro – $10 per user per month

Business – $19 per user per month

Enterprise – Customizable
7 best AI writing assistants
Writing is an essential skill in today's digital age, and AI-powered writing assistants have made the process easier and more efficient than ever before. This section will introduce you to the 7 best AI writing assistants available today and what makes them stand out!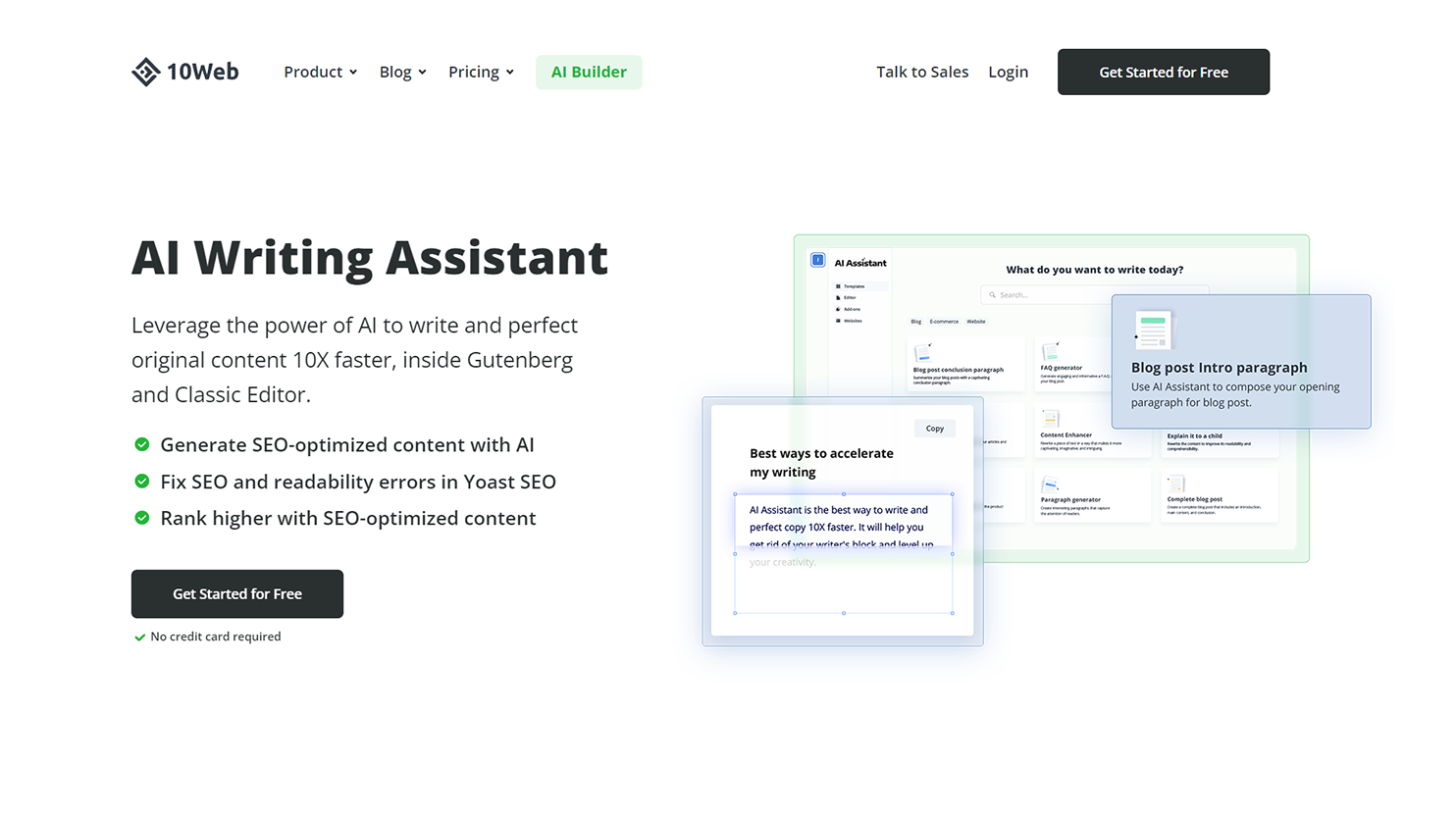 10Web AI Writing Assistant is a great addition to our top AI writing assistants list. This innovative tool is designed to assist users in creating engaging, informative, and error-free content. One of the best features of this tool is that apart from generating the content, it also fixes SEO issues directly in Yoast, such as generating or paraphrasing meta descriptions and titles, fixing paragraph/sentence length errors, and more. Overall, it is a one-stop, end-to-end solution for all your writing assistance needs.  
Features:
Generate SEO-optimized content with AI

Fix SEO and readability errors in Yoast SEO

AI Assistant for Gutenberg and Classic Editor

Paragraph Generator

Paraphrase
Optimize your content SEO with AI!
Write and perfect original content and fix all SEO and readability errors 10X faster with 10Web AI Writing Assistant.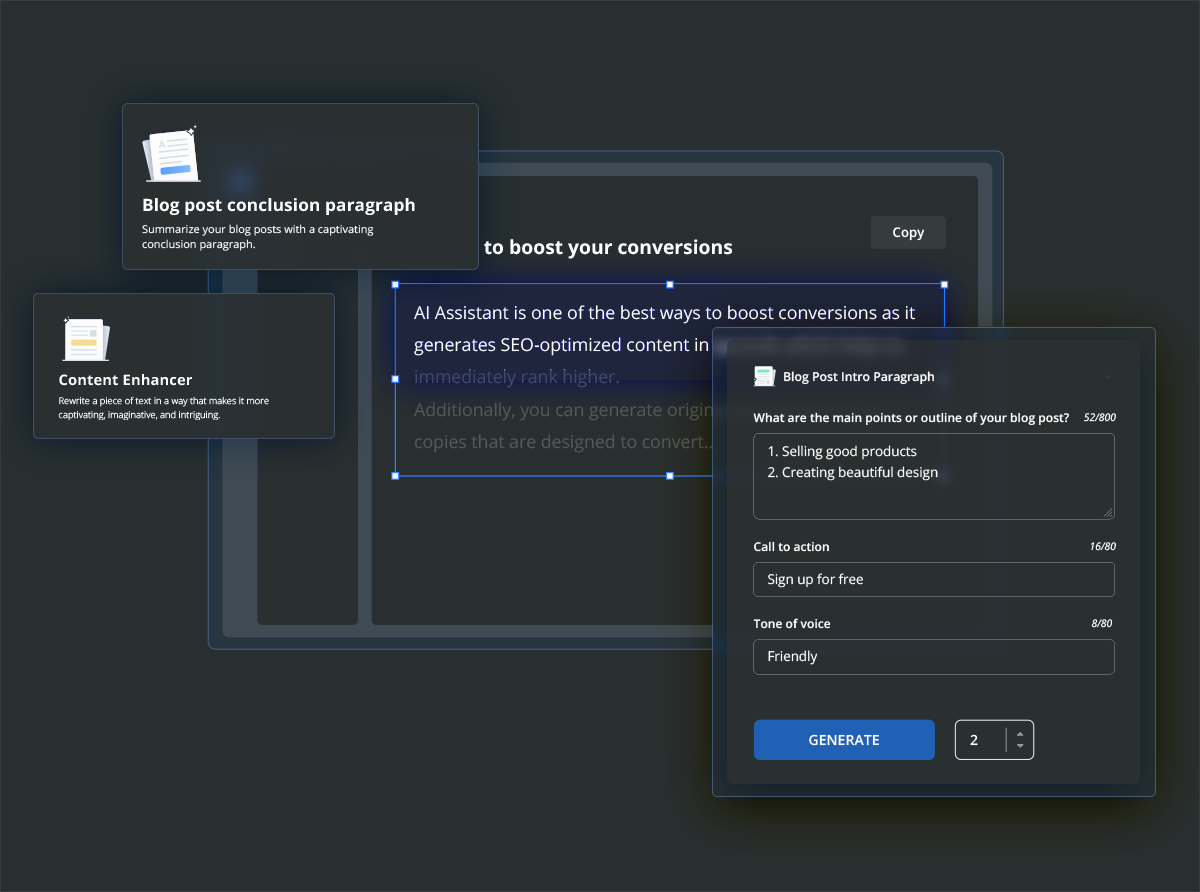 Pricing:
Personal plan (10.000 words) – $10/month

Premium plan (30.000 words) – $30/month

Agency plan (100.000 words) – $100/month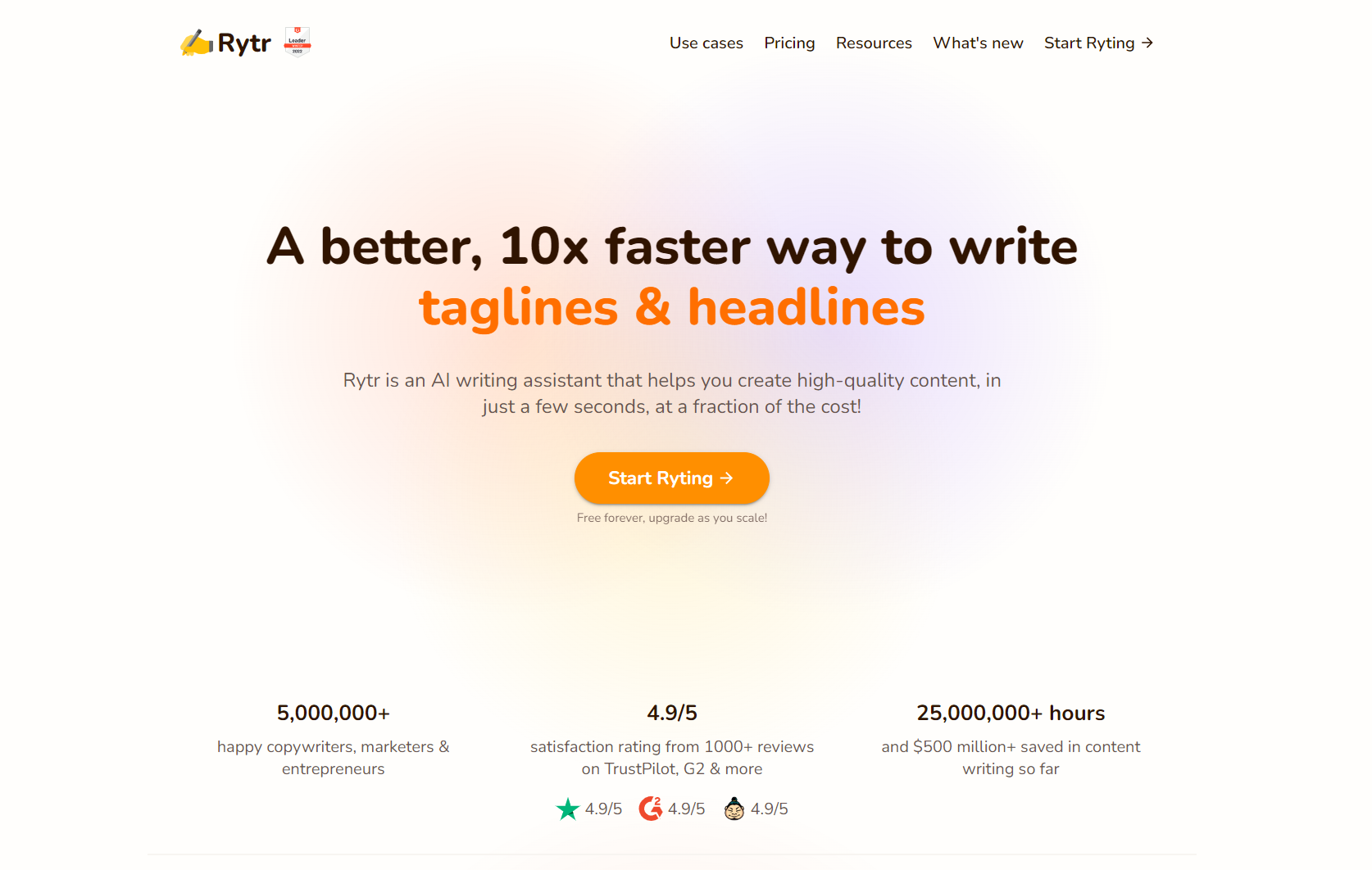 Rytr is an AI-powered writing assistant that enables users of all writing proficiency levels to make written content in moments. This makes it easy to write descriptions and commands about the desired tone. 
Features:
Sentence Rephraser

Sentence formatting

Tone checker

Grammar corrections

Autocorrect
Pricing:
Free plan – $0

Saver plan – $9/month

Unlimited plan – $29/month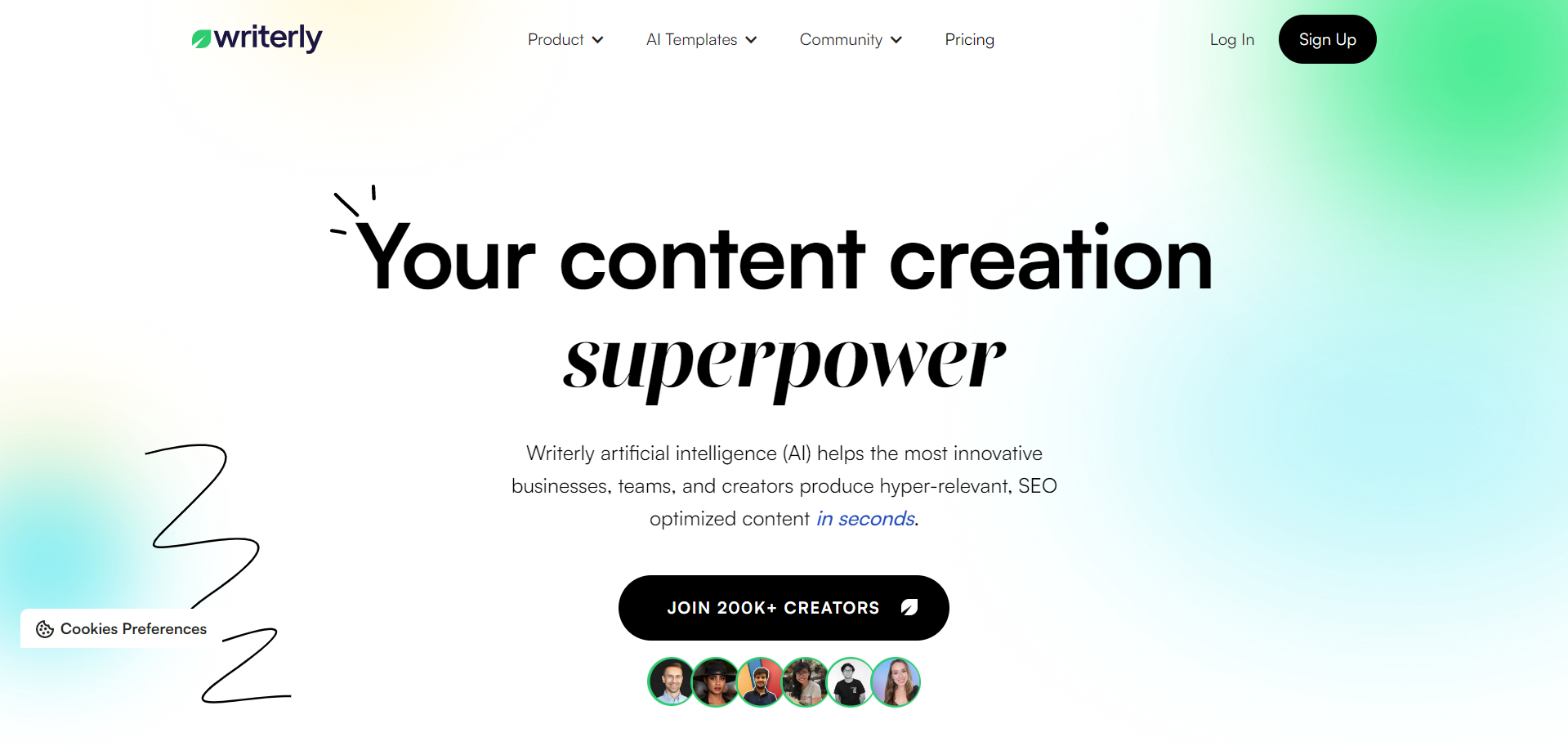 Writerly.ai is one of the most recognized AI writing assistants known for that aids users in generating unique and excellent content in significantly less time than manual writing would take.
Features:
Customizable templates

SEO optimization

Dual-wielding feature to integrate two templates at the same time

Supports more than 25 languages
Pricing:
Free plan – $0

Starter plan – $9

Creator plan – $19
Professional plan – $39
Team plan – $99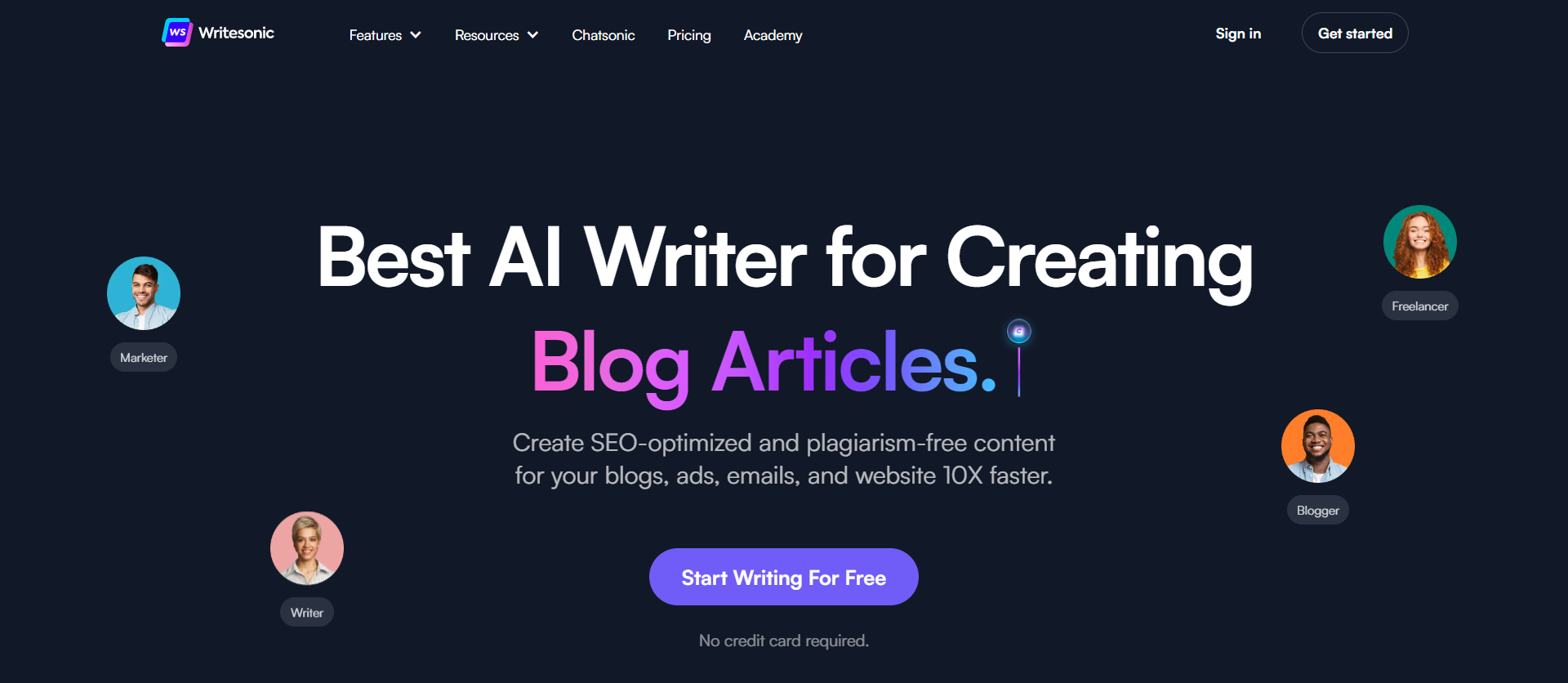 Writesonic serves as a writing tool that enables users to create high-quality, original content in significantly less time than manual writing would require. It has a wide range of templates available to choose from, including websites, product descriptions, SEO, email, blogs, business, advertising, education, marketing, and social media.
Features:
Supports more than 25 languages

Expand keywords into the different styles of text

Bulk upload for up to 1000s of content pieces
Pricing:
Long form plan starting at $12.67/month

Custom plan for teams and businesses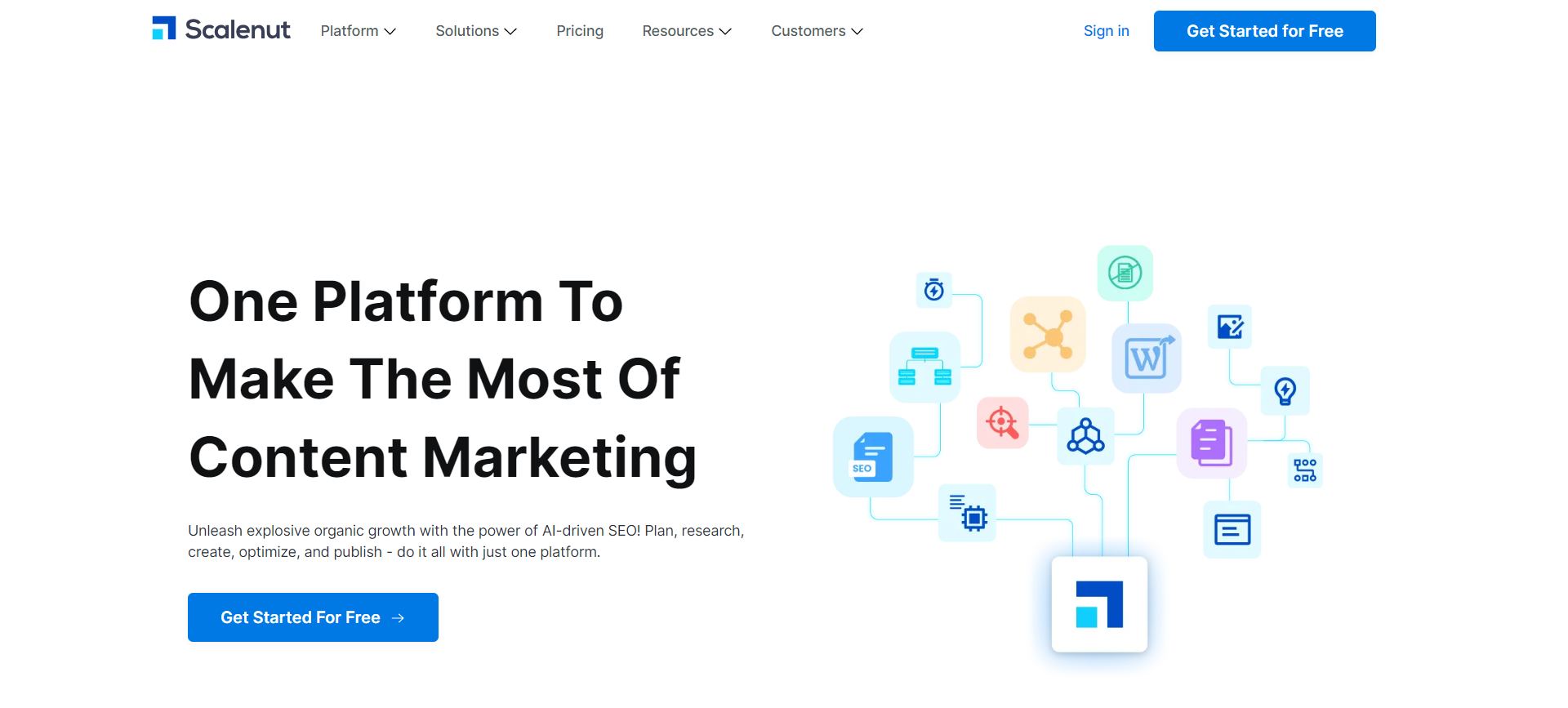 Scalenut is also one of the leading AI writing assistants that are known for assisting users in producing unique, high-quality content in a considerably shorter time than manual writing. You can write SEO-friendly content like blogs, web content, infographics, product descriptions, landing pages, emails, and more using 40+ templates. 
Features :
Streamline the entire process of creating an article 

NLP Analysis

SEO Hub to optimize your content for search engines
Pricing :
Essential plan – $23/month

Growth plan – $47/month

Pro – $89/month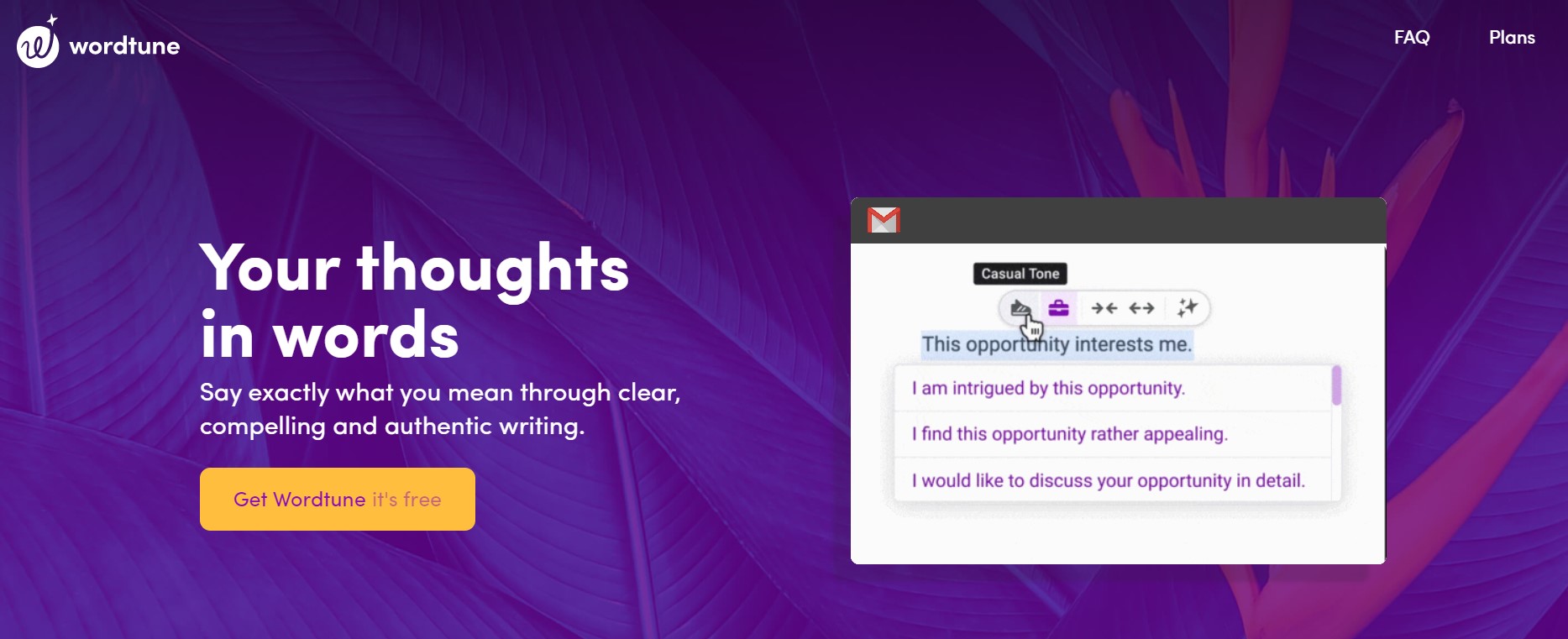 Wordtune is an absolute helping hand for the best AI writing assistants. It provides you with feedback on your writing style, grammar, and spelling. Unlike other AI writing assistants, Wordtune is built with deep-AI technology that allows it to understand the context of your writing and provide you with more accurate feedback. 
Features:
Sentence Rephraser

Tone Checker

Style Editor
Pricing:
Free plan

Premium plan – $9.99/month

Premium for teams – Custom

TextCortex is one of the AI writing assistants that can generate unique and natural-sounding content on any topic. It is because it utilizes deep learning models that are trained on millions of best practices.
Features:
Sentence Rephraser

Engagement Metrics

Plagiarism check
Pricing:
Free

Pro – $19.99/month

Business – $49.99/month
6 AI virtual assistants to increase your productivity
AI virtual assistants can help you streamline your daily tasks and increase productivity. From scheduling appointments to managing your inbox, these assistants can take on many mundane tasks that take up your time. Let's look at the best ones on our list!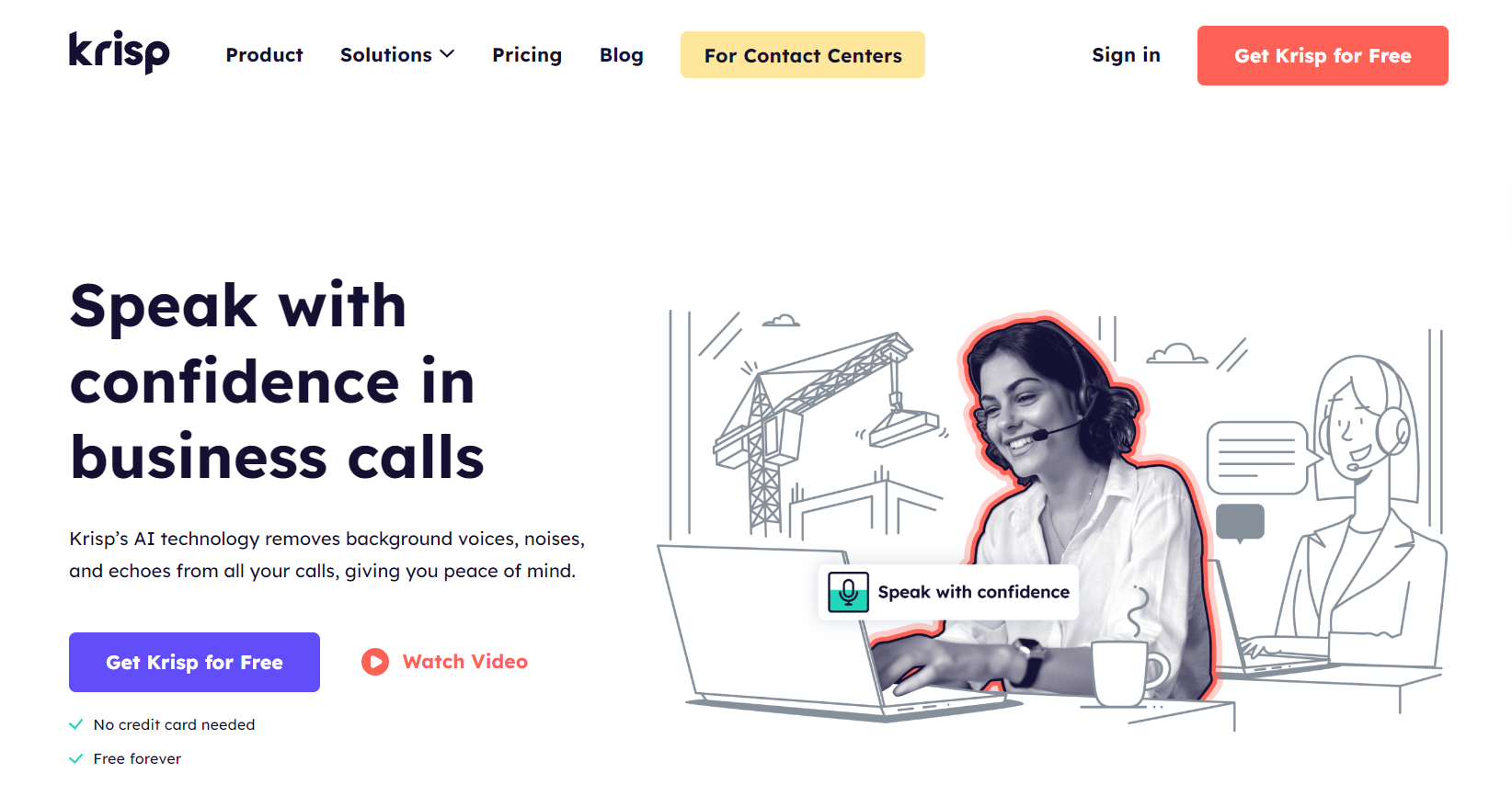 Krisp is another powerful name among the top AI virtual assistants that help in increasing your productivity by eliminating background noise during calls and meetings. You can try out the magic of Krisp by toggling it on and off to see the difference in the call quality. 
Features:
Noise Cancellation

Echo Cancellation

Call Insights

Widget
Pricing:
Free

Pro – $ 8 per month/per seat

Enterprise – Custom pricing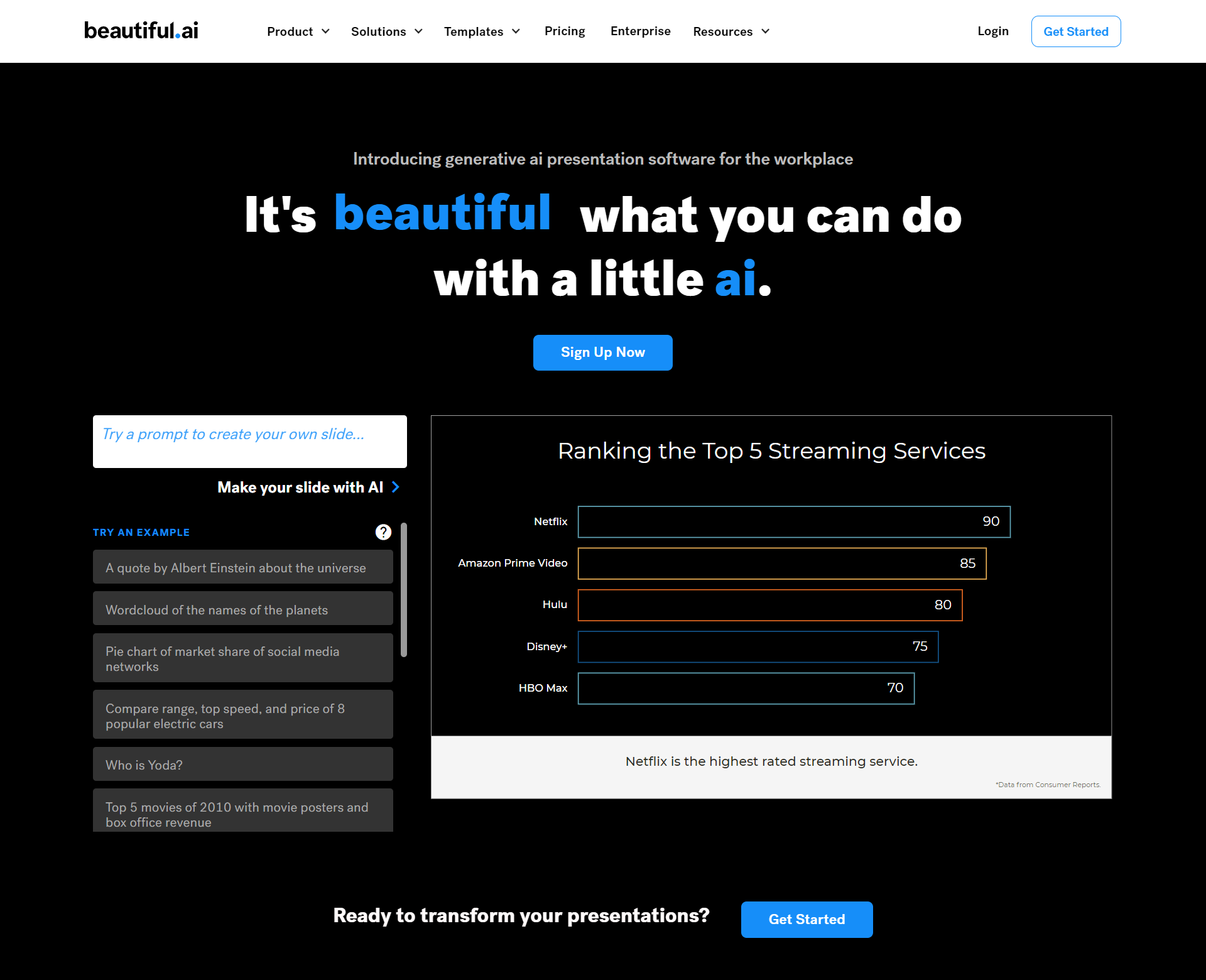 Beautiful.ai is a cloud-based presentation software that leverages the power of artificial intelligence to assist users in creating visually stunning and professional-looking presentations. Its intelligent templates and automatic formatting features make creating, engaging and persuasive presentations faster and simpler for users of all skill levels.
Features:
65+ Smart Slide templates with a pre-designed slide gallery

Automatic slide animations

Advanced slide analytics to track performance
Pricing:
Pro – $12/ month

Team – $40/ month

Enterprise – Custom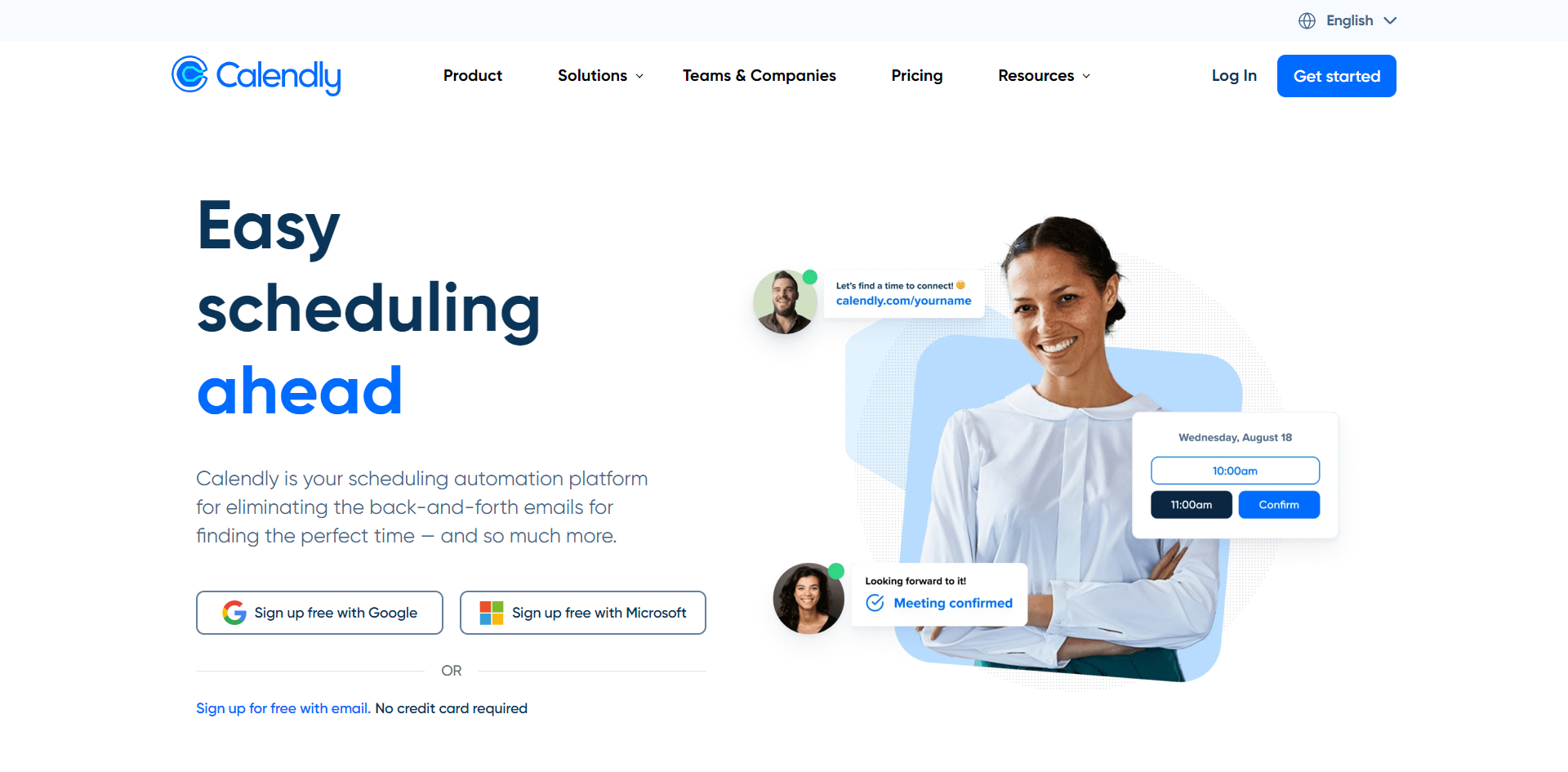 Calendly is a scheduling tool that simplifies scheduling meetings and appointments. It allows users to create customized event types, share availability with others, and automate the scheduling process through integration with popular calendar platforms. All in all, it is one of the AI virtual assistants designed to save you time, improve customer service, and increase sales.
Features:
Profile customization

Access Calendly with web, iOS, and Android apps

Creating and customizing unlimited event types 
Pricing:
Essential – $ 8/seat/month

Professional – $ 12/seat/month

Teams –  $ 16/seat/month

Enterprise – Custom pricing
StayFocusd is a productivity extension available for the Google Chrome web browser. It allows users to set limits on the amount of time spent on specific websites, thereby helping to reduce distractions and improve focus. StayFocusd offers several features, such as a "nuclear option" that temporarily blocks access to all websites, and a "require challenge" feature that asks users to solve a math problem before accessing restricted sites.
Features:
Restricts the amount of time you can spend on time-wasting websites

Can be easily tailored to suit specific needs
Pricing:
StayFocusd is a free productivity extension available as a browser extension for Google Chrome and Microsoft Edge.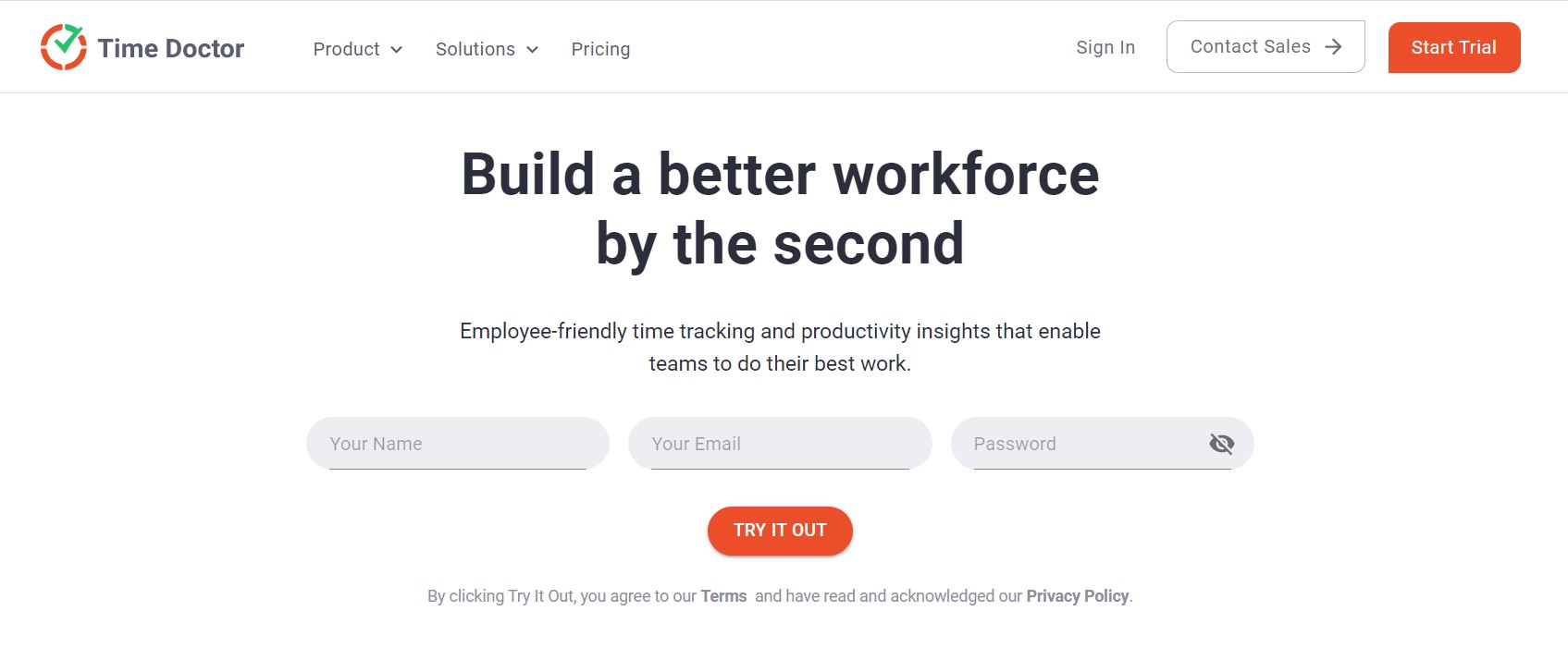 It is a time-tracking and productivity tool that helps you and your team get much more done daily. It is designed to help you stay focused on your work and avoid distractions, which makes it a great tool for remote teams. 
Features:
Time tracking

Productivity tracking

Project management

Payroll management

Employee monitoring
Pricing:
Basic – $70/year

Standard – $100/year

Premium – $200/ year
SaneBox is a powerful email management tool that offers many benefits to its users. One of the key benefits is that it prioritizes your inbox by filtering out unimportant messages. This means that you can focus on the emails that matter most and not waste time on ones that are not relevant to you. 
Features:
Filters unimportant messages from your inbox

Organizes emails into folders

Helps you stay focused on important tasks
Pricing:
Snack – $7/month

Lunch – $ 12/month

Dinner – $ 36/month
Conclusion
AI assistants have transformed the way we live and work, providing us with unprecedented levels of assistance and support. While AI assistants can automate many tasks and make our lives easier, it's important to remember that they are imperfect and have limitations. Therefore, it is crucial to set realistic expectations and understand their capabilities to make the most out of them. With the right one, you can increase your productivity, stay organized, and achieve your goals while taking advantage of their unique features and benefits.

Optimize your content SEO with AI!
Write and perfect original content and fix all SEO and readability errors 10X faster with 10Web AI Writing Assistant✨
Get a head start on website creation with AI
Create a custom website tailored to your business needs 10X faster with 10Web AI Website Builder!