An AI chatbot for eCommerce businesses operates as an automated AI assistant that helps businesses interface with customers by providing human-like interactions and suggestions. These interactions can be by answering questions, suggesting products, providing information, or automating customer requests with prompts.
Over the years, chatbots have been employed in the customer service sector of different industries and have provided automated and reliable 24/7 customer support. Ecommerce is one such industry to employ conversational AI chatbot solutions.
This article will discuss extensively conversational AI chatbot solutions for eCommerce businesses, the features to look out for when choosing one, and the best conversational AI chatbot solutions for eCommerce.
AI chatbots for eCommerce
Before discussing the features to look out for in eCommerce AI chatbots, let's have a background study on AI chatbots and their importance in eCommerce.
As established earlier, eCommerce AI chatbots are used to ensure 24/7 customer service by companies. However, before using an AI chatbot for eCommerce, it's important to understand the types of chatbots that exist – rule-based and AI chatbots, and chiefly; the features to look out for in an AI chatbot solution for eCommerce.
Side note: Natural Language Processing (NLP) is a branch of AI that helps computers (chatbots in this case) understand, generate, and manipulate human language. Machine Learning (ML) is an AI technique that helps computers learn from existing data generated from usage.
In short, rule-based chatbots limit a user's input to a set of preprogrammed inputs and they don't learn from previous user interactions, that is, they don't use Machine Learning. AI chatbots (or conversational AI chatbots for eCommerce for this context), accepts all forms of users' questions and interpret them with a designed Natural Language Processing (NLP) technique to determine the intent of their query, and learns from the user inputs using Machine Learning.
Chiefly, eCommerce AI chatbots operate based on interactions with previous website visitors and are trained based on those conversations. These conversations serve as a knowledge base for good customer service, but responses from customers must be continually audited to ensure that it remains a quality customer service AI chatbot solution for eCommerce.

6 features to look for in choosing a conversational AI bot for your online store 
1. Emotional intelligence
Chatbots help in saving the cost of customer engagement, the supposed human interface for your business would provide emotional intelligence when dealing with customers. Therefore, your customer should enjoy a near-perfect experience of human-like interaction.
In essence, a customer service AI chatbot solution for eCommerce should be able to detect the emotions in written text and respond appropriately, and build a relationship between an eCommerce business and a customer by detecting emotions.

2. Real-time analytics
The underlying value of customer interactions even by a physical customer service agent is the data deduced based on the interactions with a customer. Is the customer complaining? What is the complaint about? How many more users have this same complaint? The statistics will serve as actionable insights that will point out improvement areas and impact business decisions.
Therefore, an AI chatbot should be able to report meaningful statistics based on user interactions. And, this should be without extensive data analysis with a business intelligence tool by the business owner.

3. Real-time monitoring
An eCommerce AI chatbot doesn't know your business like a trained customer service agent. Certain customers can ask very specific questions that a human needs to answer satisfyingly. With that in mind, real-time data delivery comes into the picture. If a business can see customer interactions with chatbots in real time, they can know when trained personnel should come in for optimal customer experience.
This feature also suggests that multiple agents can oversee the chatbot interactions, thus, tracking customer service agents' availability and chat statuses becomes easier. Improving customer service workflow and experience.

4. Multilingual support
English is a language with a very wide reach, no doubt; however, some customers might prefer communication in a native language. To breach the language barrier, an eCommerce AI chatbot must possess multi-language support for the elementary kind of requests at least.

5. Extensive integration support
Integration is an important factor to consider before getting any tool for your eCommerce business. For an AI chatbot for eCommerce, integrations with marketing tools, CRM software, payment software, and sometimes purchase software are important.
A practical need will be real-time data export between different departments. Support for extensive integration really saves time and reduces communication friction.

6. Continuous AI training
Cutting-edge AI technology thrives on getting smarter with more user input. The ability of a chatbot to become better, smarter, and more intuitive in handling individual interactions helps in covering more use cases and is an excellent application of AI personalization. ChatGPT and its alternatives can help expand a chatbot's knowledge base by training it on the company's data from Frequently Asked Questions (FAQs) by other customers.
This feature is worth having to cover more use cases and broaden the knowledge base of a chatbot.

The comparison of the 7 best eCommerce AI chatbots
| | | | | |
| --- | --- | --- | --- | --- |
| Chatbot | Rating | Free plan | Best use case | Beginner-friendly |
| Tidio | 4.8 | Yes | Small and Medium-scale businesses | Yes |
| Giosg | 4.5 | No | Small and Medium-scale businesses | Yes |
| Netomi | 4.8 | No | Large-scale enterprises | No |
| Ada | 4.6 | No | Large-scale enterprises | No |
| Chatfuel | 4.5 | Yes | Small and Medium-scale businesses | Yes |
| Snatchbot | 4.7 | Yes | Small and Medium-scale businesses | Yes |
| Pandorabot | 5.0 | Yes | Small and Medium-scale businesses | Yes |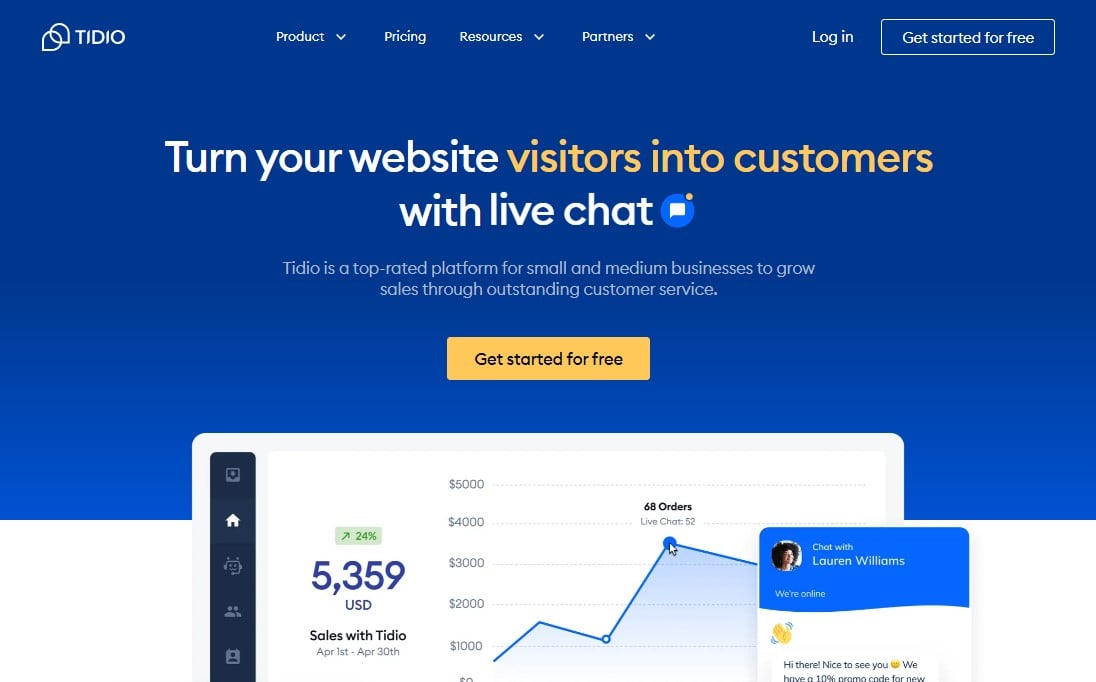 Tidio's AI chatbot is designed to make automated replies conversational and provide clear answers to questions. As an AI chatbot for eCommerce businesses, Tidio AI chatbot automates 73% of customer questions by analyzing questions and grouping them into categories, creating responses for each question per category, and providing responses to customer inquiries based on the segmented categories.
Apart from question category building, Tidio chatbots provide an easy-to-use interface for creating conversation flows with custom actions and conditions and preparing answers to the categorized questions. All of these are without the technicalities of writing code, thus increasing customer support team efficiency and providing actionable insights with chatbot analytics.
Features
Visual builder interface.

Every installation is a plugin or a snippet.

Free eCommerce chatbot templates that can be adjusted to suit business needs.

Integration with CRMs, eCommerce platforms (Wix, Shopify, WooCommerce), and social media(Facebook, Instagram).

Message transfer to Live chat operators.

Mobile and desktop apps.

16 triggers to create workflows for optimal user experience.
Integrations
Shopify, WordPress, Squarespace, Wix, Drupal, Shift4Shop, Site123, Webido, Jimdo, Joomla, OpenCart, WooCommerce, Weebly, Ecwid by Lightspeed, PrestaShop, BigCommerce, Magento, Shopware, and other application integrations.
Pricing
All plans come with unlimited tickets and social integrations
Free

Maximum of three support agents

50 live chat conversations

100 Chatbot triggers

Basic analytics

Starter at $29 per month

Maximum of three support agents

100 live chat conversations

500 chatbot triggers

Basic analytics

Communicator at $19 per month per seat

Unlimited live chat conversations

100 chatbot triggers

Analytics and details about conversations, agent statistics, response times, and more

Native Shopify actions integration
Limitations
Tidio is built for small to medium enterprises to get started. It's not robust enough for complex enterprise-grade use cases.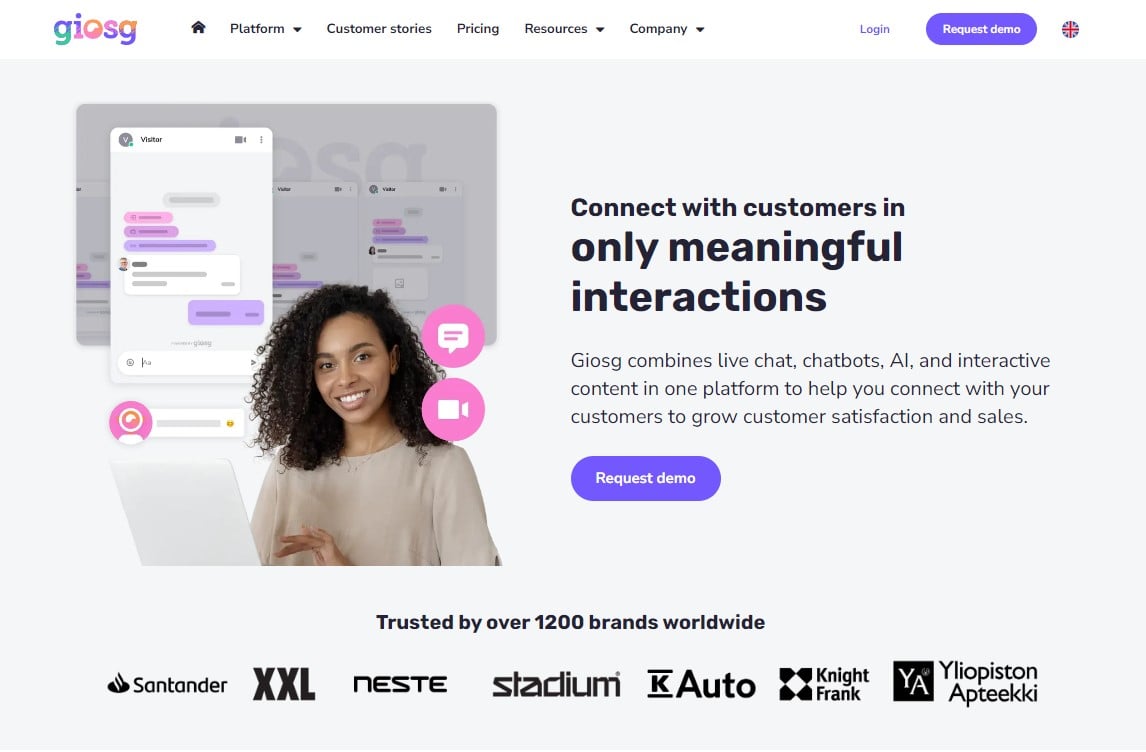 Giosg is a platform for creating worthwhile interactions with customers. In that spirit, it also serves as a chatbot development platform for businesses. It provides an easy-to-use interface to create an AI chatbot for eCommerce without writing code. Other products offered by Giosg include live chat and popup integrations to be used in customer service, lead generation, live shopping, and HCP engagement.
Giosg AI chatbot for eCommerce uses Natural Language Processing(NLP) to match customer questions to requests in its knowledge base. Enter Giosg AI enables you to build knowledge bases with your chat logs and live conversation history.
In addition to the technicals, it provides real-time analytics about chatbot performance in customer conversations. The unbiased analytics from chatbot performance makes it easier to measure the AI chatbot brings for your eCommerce business and make data-driven decisions.
Features
No-code chatbot building.

Customizable chatbot templates.

30+ triggers to kick start conversation with visitors.

Extensive chatbot data reporting with visuals.

Extensive integration with CRM and marketing tools.

In-built A/B testing for chatbots. This helps with discovering which version of a bot performs best.

Integration with live chat.

Media file uploads and product promotion with video bots.
Integrations
Salesforce, Hubspot, GeneSys, Shopify, MailChimp, Zapier, WhatsApp, Messenger, Suomi.fi, Microsoft Dynamic 365, Zendesk, Signicat, BankID, OpenID.
Pricing
Giosg pricing is based on business-unique factors. Visit their pricing page for more. However, all Giosg plans always come with real-time data reporting, 24/7 customer support, and industry-standard security (GDPR, ISO 27001, EU data storage).
Limitations
Giosg doesn't offer A/B testing for the basic plan.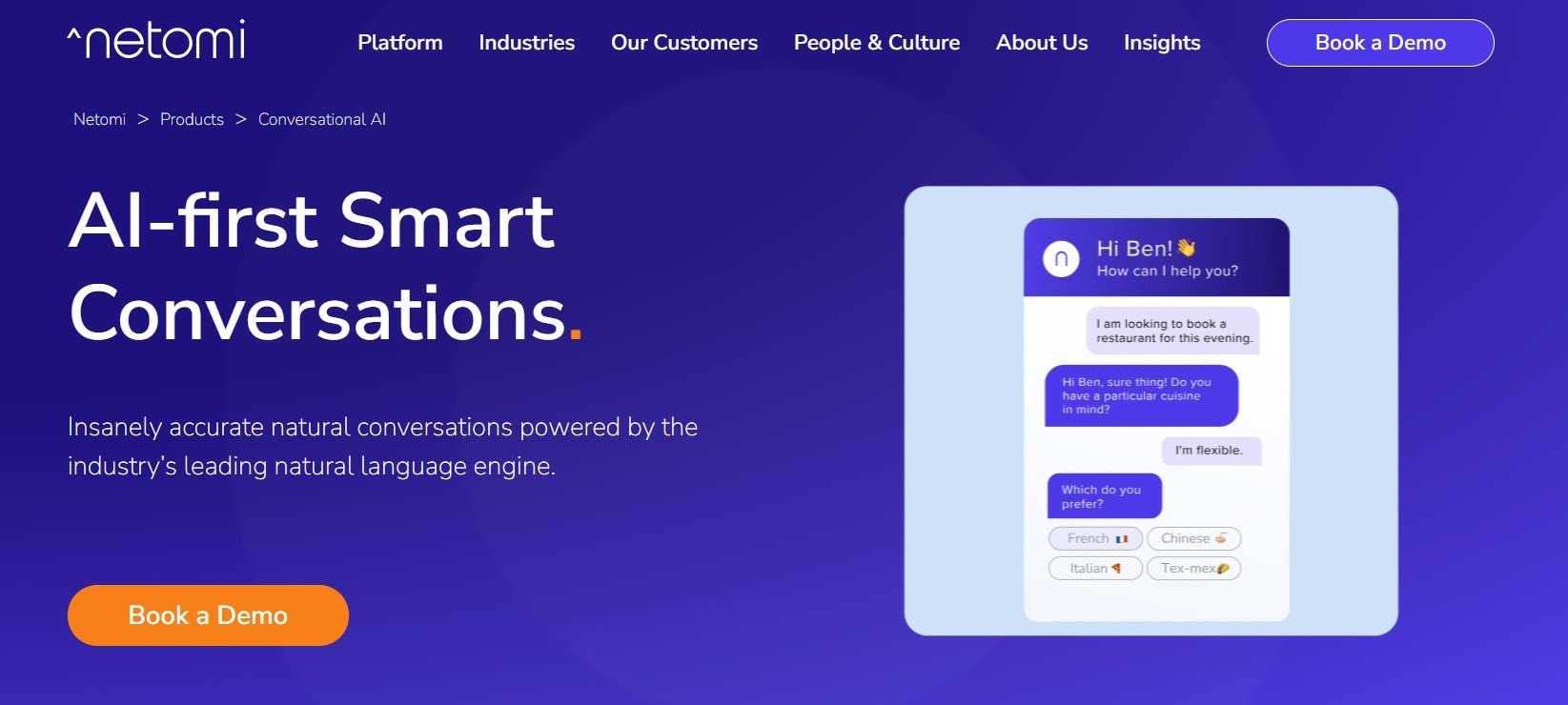 Netomi is a platform for AI-first customer experience with generative and conversation AI using its in-house language engine. As an eCommerce AI chatbot platform, Netomi helps companies handle customer service operations on email, chat, messaging, and voice platforms. It also provides other services centered around improving customer experience with AI-driven technology.
Netomi's AI chatbot uses advanced Natural Language Understanding to supercharge customer query resolution without human intervention. It generates Q&A from an existing knowledge base and written sources and uses reinforcement learning to improve its responses.
Another interesting workflow in Netomi's customer service AI chatbot solution for eCommerce is its human escalation via a pool of integrated agent desks and its intuitive analytics and real-time reporting for making informed decisions.
Features
Available on all channels – email, socials, voice, and chat.

Advanced Natural Language Understanding (NLU) for near-human conversations and

AI personalization

.

Extensive and intuitive data reporting and analytics.

Backend systems integrations with CRM-like tools for personalized implementations.

Multilingual with 100+ languages supported.

Autogenerated Q&A for existing knowledge bases.

Ongoing optimization by learning from previous interactions(reinforcement learning).

Dynamic welcome menus and suggestions for personalized experiences.

Extensive integration with 150+ platforms across CRMs, order management systems, and ticketing systems.

Preemptive conversation starting with customers based on previous interactions.
Integrations
SalesForce, Freshdesk, Zoho, Sprinklr, Zendesk, Shopify, Gladly, Khoros.
Pricing
Netomi's pricing is custom. You have to book a demo for it.
Limitations
Netomi is an AI chatbot for eCommerce with a powerful conversational AI engine. There's almost nothing with respect to building an AI chatbot for eCommerce that it doesn't cover.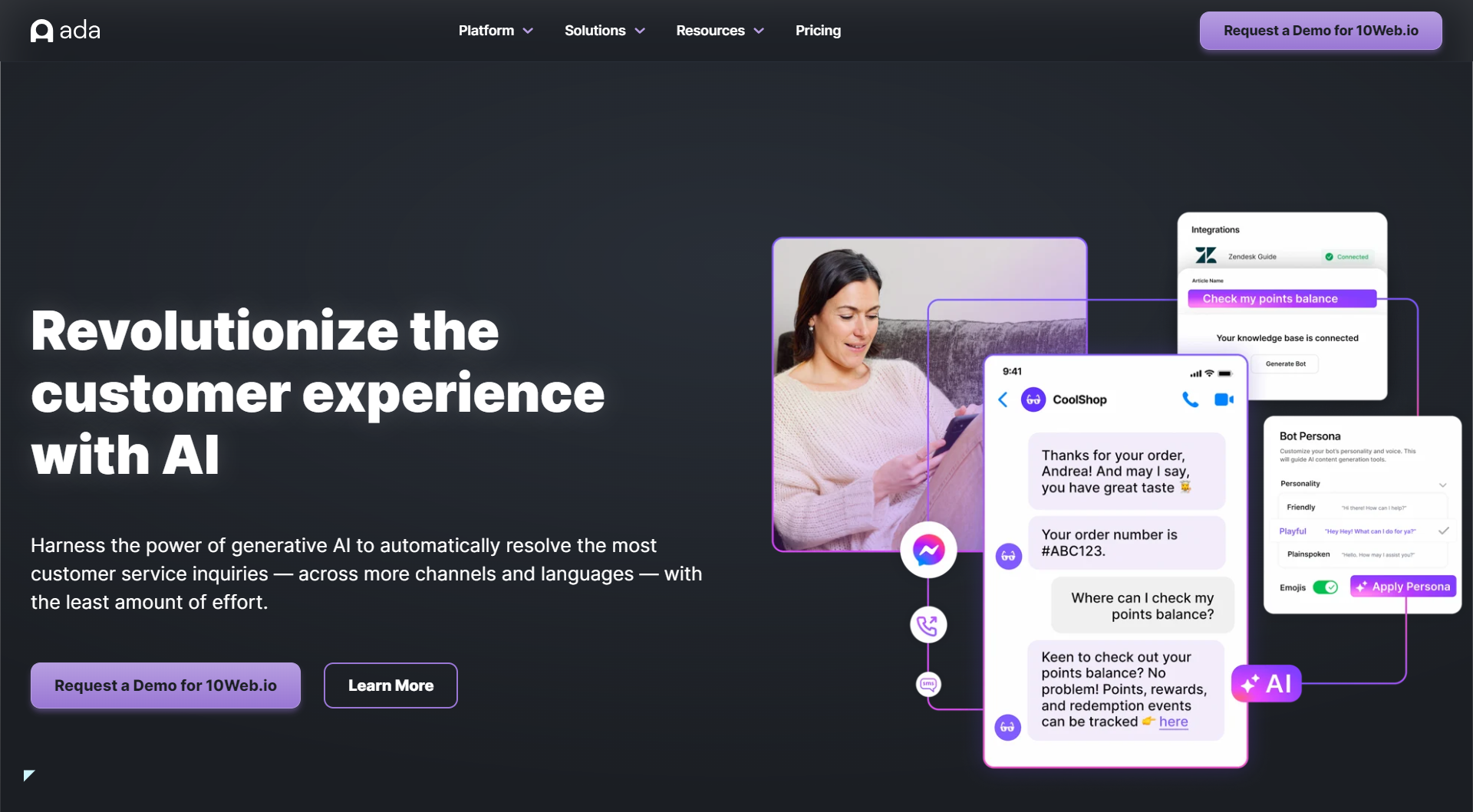 Ada is a customer experience automation platform that uses generative AI and conversational AI to power customer service AI chatbot solutions to resolve customer inquiries across multiple channels and in multiple languages. As a customer experience platform, Ada uses powerful AI automation to empower users to create a personalized AI chatbot for eCommerce businesses with a no-code automation builder. In addition to the ease of use in launching an automated AI chatbot, Ada's in-house engine uses continuous improvement to optimize chatbots with AI-driven insights.
Another interesting feature of this platform is the resolution engine. Built on LLMs fine-tuned for customer service, the resolution enginers use Natural Language Understanding(NLU) to speed up time-to-resolution by assisting in content generation with AI-assisted writing, training suggestions, and generative replies across seven industry verticals including eCommerce, FinTech, SaaS, Telecom, Travel, Media, and Gaming.
Features
Easy-to-use no-code automation builder.

Extensive learning materials including a self-paced interactive learning environment(Ada Academy) to learn the nitty-gritty of the platform.

Access control to chatbot and admin settings.

Integration with existing systems, agent desks, and communication software from a vast pool of integrations.

Multilingual support with 50+ languages.

Ongoing optimization on knowledge bases.

Data collection based on customer inquiries to improve the knowledge base.

Enterprise-grade security and privacy standards.
Integrations
Salesforce, Shopify, Zendesk, Messenger, Instagram, Twitter, WhatsApp, Oracle, Gladly, Talkdesk, Intercom, Kustomer, Gorgias, and API integration into any system or website. See the full list of integrations.
Pricing
All Ada prices are custom, but their features are specified upfront.
Core

No-code builder

Conversational AI

Email and chat handoff

Ticket case creation

Proprietary NLU model

Training suggestions

Training insights

Real-time analytics on bot KPIs and conversation topics

Integration with utilities, chat handoffs, ticket case creations, date picker, and customer satisfaction score tools

Data export API

Additional Bots

Advanced

All features in the Core plan

Segmentation

Predictive suggestion

Smart detect

Multilingual support

Advanced out-of-the-box integrations

All integrations in the Core plan plus knowledge base and content, scheduling, order tracking, security, and communication tools

Access control

Two HTTP request blocks

Pro

All features in the Advanced plan

All real-time analytics in the Advanced plan with events, goals, and A/B testing

Four HTTP request blocks

All integrations in the Advanced plan plus CRMs and data enrichment integrations

Lead creation
Limitations
Ada doesn't have a free pricing plan and the most useful sophisticated features come in the Advanced and Pro plan.

Chatfuel is a popular chatbot platform that allows businesses and individuals to create and deploy chatbots on various messaging platforms, such as Facebook Messenger, Telegram, and WhatsApp. It offers a user-friendly interface and a range of features that make it easy to build, customize, and manage an AI chatbot for eCommerce businesses without any coding knowledge.
Chatfuel's user-friendly interface makes it suitable for beginners with little to no technical expertise to create chatbots. Leveraging its Natural Language Processing capabilities, it delivers personalized responses to cater to users' specific needs fostering a sense of individual attention and satisfaction. Chiefly, Chatfuel's versatility to offer tailored solutions based on specific industry requirements and its pricing plan make it a suitable AI chatbot for any enterprise.
Features
 User-friendly interface.

 Uses Natural Language Processing (NLP) to send personalized messages for abandoned carts, feedback, re-engagement with previous customers, and upselling and cross-selling.

A/B testing to test message variations, analyze their performance, and make data-driven marketing decisions.

Ready-made templates across industry verticals including eCommerce, real estate, restaurants, and healthcare.
Integrations
Primary integrations include Facebook, WhatsApp, Messenger, and Website. However, Chatfuel API can be integrated into any platform of your choice.
Pricing
Chatfuel's pricing is categorized into two – Facebook and Instagram and WhatsApp.
Facebook and Instagram plan
Trial (free)

50 conversations per month

Entrepreneur from $14.99

500 conversations per month

Extra conversations are charged at $0.02

Startup from $24.99

1000 conversations per month

Extra conversations are charged at $0.02

Small business from $59.99

3000 conversations per month

Extra conversations are charged at $0.02

Growing business from $119.99

10000 conversations per month

Extra conversations are charged at $0.02

Enterprise
WhatsApp plan
Business from $49 –

For businesses and startups starting to implement WhatsApp chatbots

1000 conversations per month

Extra conversations are charged at $0.02

Enterprise from $300 –

For businesses of all sizes looking for a custom plan. You can book a consultation on their pricing page
Limitations
Customization complexity: While Chatfuel provides a user-friendly interface, extensive customization might require some technical knowledge or assistance.
Dependency on messaging platforms: Chatfuel relies on messaging platforms like Facebook Messenger and WhatsApp, any limitations or changes on these platforms may affect its functionality.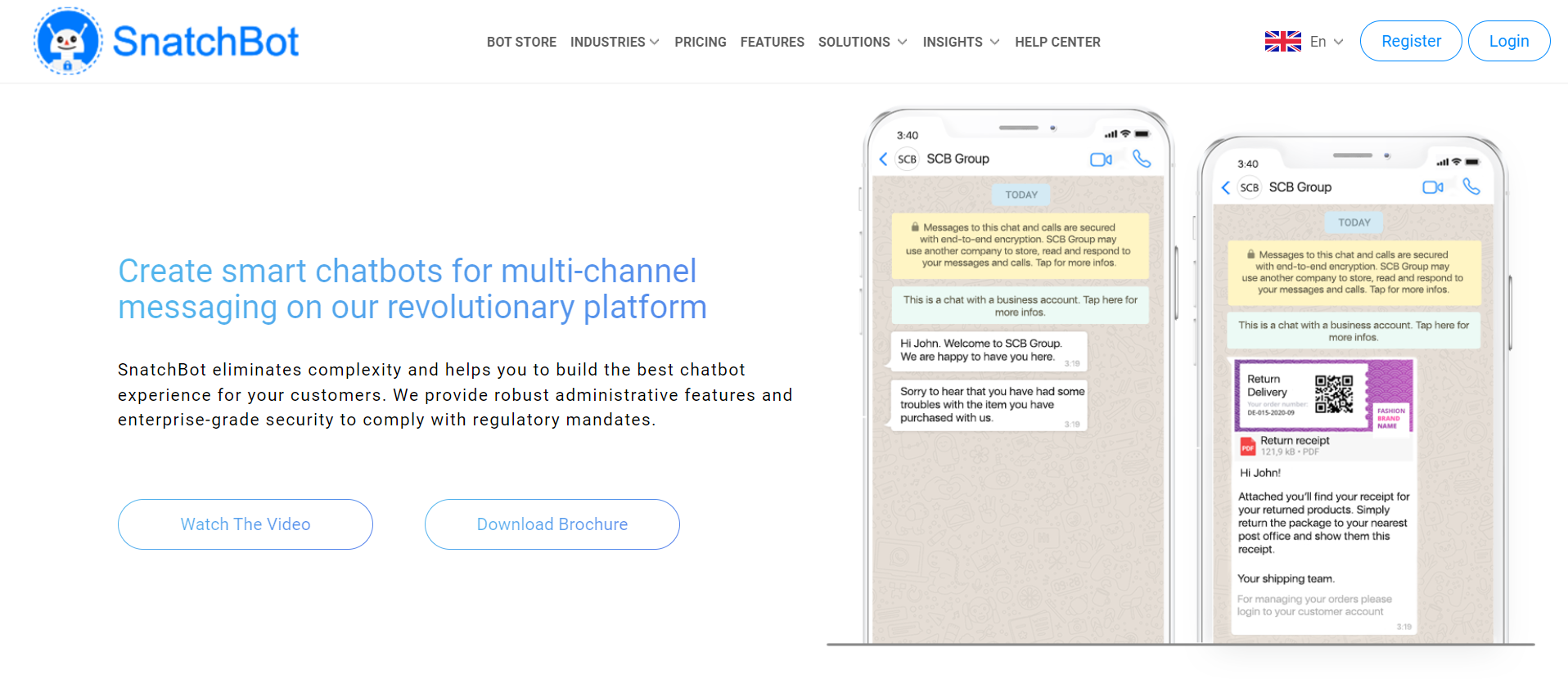 Snatchbot is an advanced AI-powered chatbot designed to provide efficient and personalized conversational experiences across various platforms. Developed by SnatchApp, it has gained popularity for its versatile capabilities and user-friendly interface. Snatchbot's tools enable every stage of a bot's lifecycle, including development, testing, deployment, publishing, hosting, tracking, and monitoring. 
The platform, suitable for both technical and non-technical users, offers strong administrative tools, scalable security, and adherence to all legal requirements. It also offers a library of pre-built chatbot templates that cover various use cases, such as customer support, eCommerce, hospitality, healthcare, finance, and more, to use on multiple channels; widening business reach and increasing customer engagement.
Features
Visual bot builder.

 Multichannel support – Facebook, Slack, Twilio, Skype, Email, Telegram, etc.

Text-to-speech and speech-to-text with state-of-the-art Natural Language Processing.

Seamless transfer of conversations from the chatbot to human agents whenever necessary. This feature ensures that complex or sensitive queries can be handled by human support staff, improving customer satisfaction.

Comprehensive analytics and reporting tools to track and analyze chatbot performance. Users can gain insights into user interactions, conversation flows, conversion rates, and other metrics to optimize and improve their chatbot strategies.
Integrations
Web Channel, WhatsApp Business, Facebook Messenger, Slack, Twilio, Skype, Line, WordPress plugin, Email, Telegram, Zendesk, direct API integration into other platforms.
Pricing
Free plan –

Snatchbot provides a free plan that allows users to create and deploy chatbots with basic features. This plan usually comes with limitations on usage, such as the number of interactions or active users:

Limit of messages: 2000 per account

Access to all basic features

Broadcast

NLP (Custom & Pretrained models)

TTS/STT

Live chat

Export chat

Detailed reports (export in XLS, JSON)

All channels

SnatchBot store

SnatchBot branding

Access to community help center

Pro plan –

The pro plan starts at $99 and is typically designed for businesses with higher requirements. It usually includes: 

Customize Bot design

Remove SnatchBot branding

Premium customer support

Advanced analytics

Premium plugins

Premium interaction features

Translation interaction

Maps interaction

Share/request location
Limitations
Customization complexity: While Snatchbot offers customization options, advanced modifications may require some coding knowledge, limiting the flexibility for highly complex chatbot scenarios.
Limited AI capabilities: Although Snatchbot provides NLP capabilities, it may not match the sophistication of more advanced AI models. Complex language understanding or context-based responses may require additional development or integration.
Pricing tiers: The pricing structure of Snatchbot may be a limitation for users with budget constraints, as certain advanced features and higher usage limits are only available in higher-priced plans.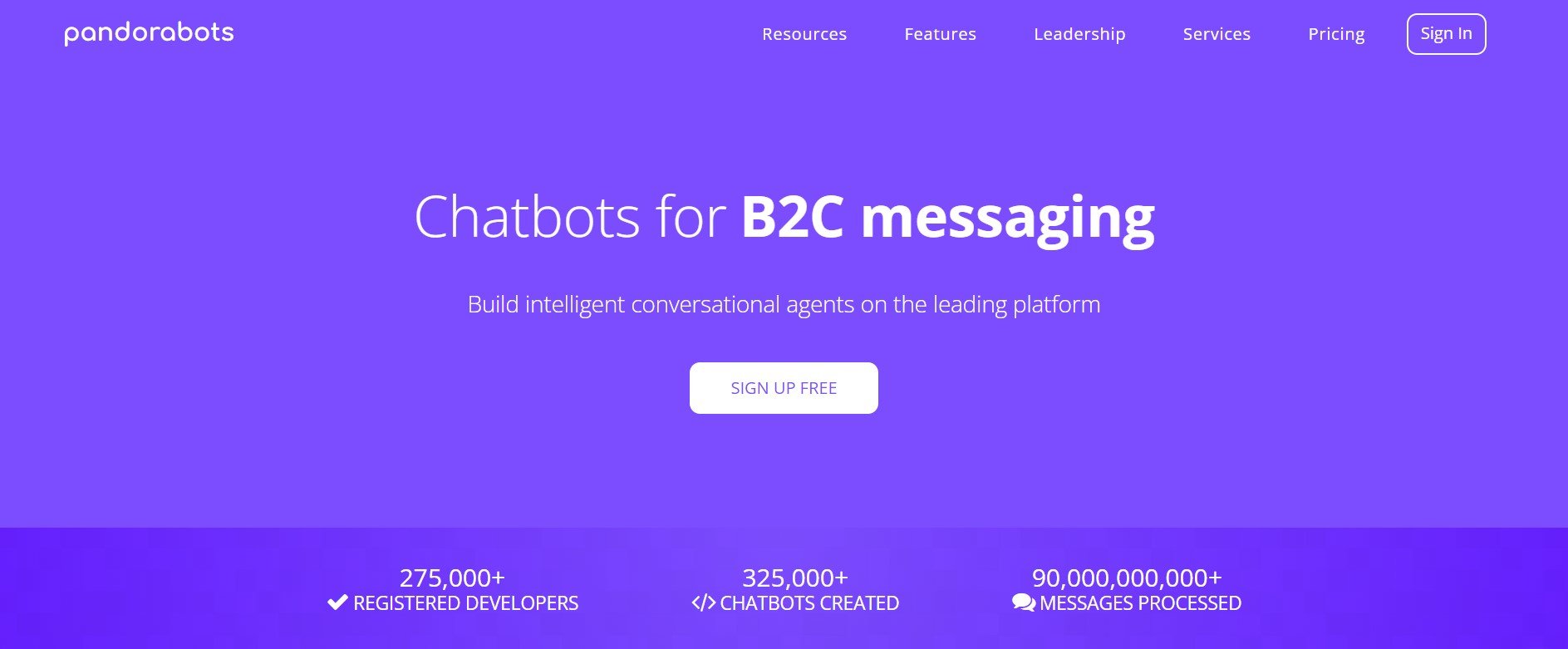 Pandorabots is an AI chatbot platform that allows users to create, deploy, and manage intelligent conversational agents anywhere. It provides a framework for building interactive chatbots that can engage in natural language conversations with users. 
Pandorabots is targeted at developers and customer experience(CX) designers, at that, it is not beginner-friendly. In order to make the developer experience great, Pandorabots provides a free Udemy course to learn the basics and best practices of building complex conversational agents using the Artificial Intelligence Markup Language (AIML) open standard. Additionally, the platform offers integrations with various messaging channels, such as websites, social media platforms, and messaging apps, enabling chatbot deployment across multiple platforms. Users can manage and organize the chatbot's content, including responses, templates, and conversational flows, using an intuitive web-based interface.
Features
Cross-channel deployment to messaging and voice channels.

Contextual understanding.

Multilingual support with AIML scripts in natural language.

Restful API integration into custom apps and systems.

Speech-to-text and text-to-speech support.

Rapid development iteration with CI/CD, version control, and chatlogs.

Open-source chitchat libraries to build on to accelerate the development process.
Integrations
Telegram, Twitter, WeChat, Line, and Messenger. More integrations are available for enterprise-tier customers.
Pricing
Sandbox plan (free)

Access to open-source chat libraries

Customer support services during office hours

Unlimited Sandbox messages

Access to Sandbox development

Developer plan at $19 per month

Access to Sandbox development

Unlimited Sandbox messages

API access

Third-party channel at $9 per channel

Customer support services via email

Chat widget and landing page

Additional channel messages at $3 per 1000 messages

 Up to 10,000 channel messages per month 

Rapport avatar compatibility 

Pro plan at $199 per month

Includes all features in the developer plan

Up to 100,000 channel messages per month

Third-party channels for free

Live training/Bot training

Additional channel messages at $2.5 per 1000 messages

Customer support services via email, chat, and phone 

Enterprise plan

Includes all features in the pro plan

Custom-developed chat libraries

SLA and premium support

More channel messages per month 
Limitations
The primary limitation of Pandorabot is its limited integrations.

Conclusion
Choosing an AI chatbot for eCommerce businesses is not a trivial decision. Some businesses work without it, however, any business that is willing to grow in this AI-driven revolution in the business world needs one. 
This article has distilled the workings of eCommerce AI chatbots and the features to look out for when picking one for your business venture. Chiefly, seven different AI chatbots for eCommerce businesses have been examined and evaluated for their efficiency as conversational AI chatbot solutions for eCommerce businesses. 
All eCommerce stores on WordPress need the best hosting for smooth performance and we offer just that. 10Web WooCommerce hosting ensures your website has a 90+ page speed score and a high-performance cart powered with Cloudflare Enterprise CDN. Click here to secure a smooth performance for your WooCommerce website.

Build your Ecommerce business with the help of AI
Create your custom Ecommerce website in minutes with AI-generated content and images and customize it easily with our drag and drop editor.
Get a head start on website creation with AI
Create a custom website tailored to your business needs 10X faster with 10Web AI Website Builder!
FAQ
Is it possible to train and customize the eCommerce AI chatbots?
Yes. Some eCommerce AI chatbot platforms allow customers to train the chatbots on provided data and customize their functionality. One such is Netomi.
Can AI chatbots handle complex customer inquiries and provide accurate responses?
This depends on the type of data the AI chatbot has in its knowledge. If the data is sufficient to deduce an accurate response to the inquiry, it will. If there's not enough data, a properly implemented AI chatbot should escalate the inquiry to a customer service agent automatically.
Can I create my own AI chatbot?
Yes. Although, this requires adequate technical knowledge of chatbot development. Chatbot development platforms exist to bridge this gap.