Did you know that businesses that prioritize their website design and user experience have a 400% higher chance of converting visitors into customers?
The internet has changed how businesses operate. Having a solid product or service is not enough – you need to ensure your brand stands out online. Building a great website can help attract new customers and set yourself apart from competitors.
Especially if you're a small business, a great website design can showcase the quality you can deliver and help you compete against larger businesses. 
If you're looking for design inspiration before creating your own website, this list of stunning small business website designs will help you towards a guiding path on how you need to approach your design. 
Here are 17 top-notch small business websites examples from across industries to help motivate you to reach your goals this year!
Example 1:
Velasca
– Italian leather shoes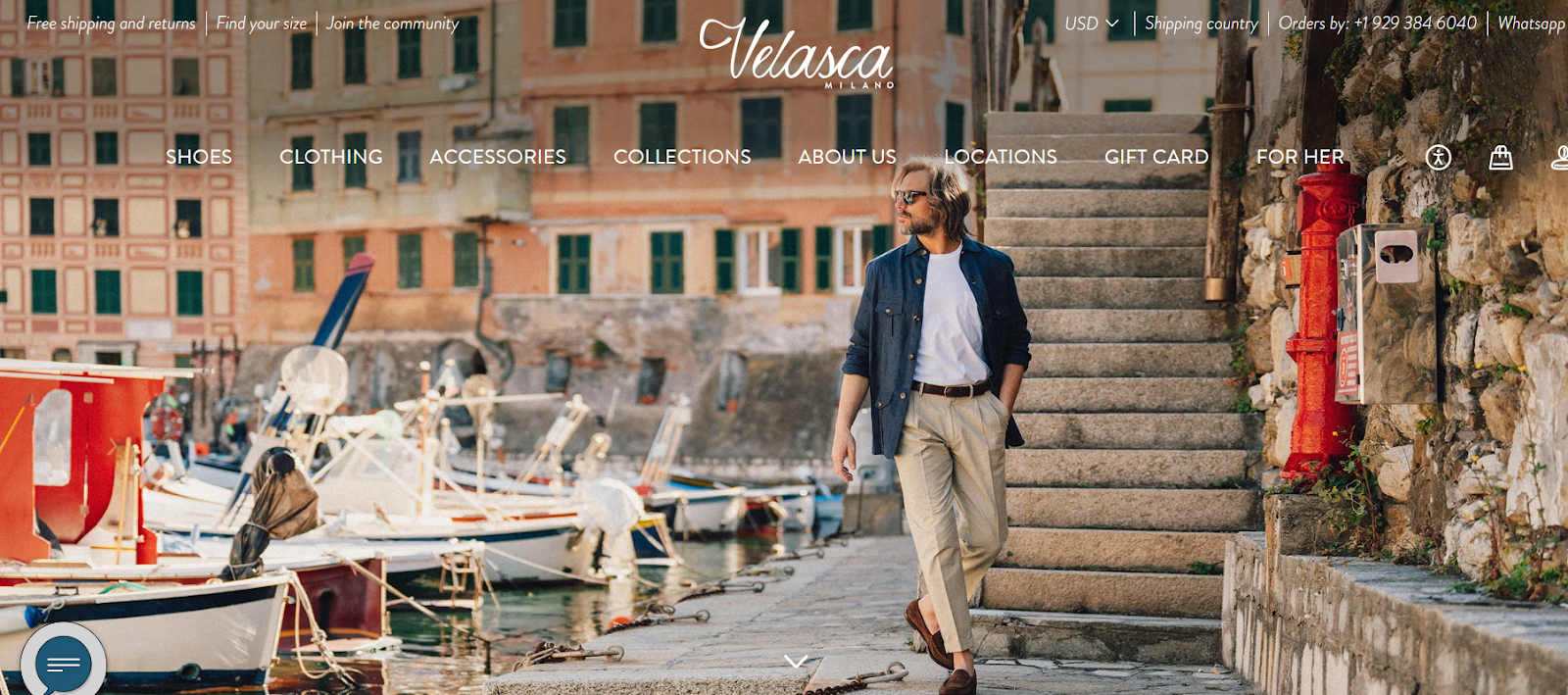 Website niche: High-quality Italian footwear
Inspiring design features: Minimalist layout, elegant product photography 
First on our list of small business websites is Velasca, a leading brand specializing in high-quality Italian footwear and accessories. Velasca's website stands out with its impeccable design features, minimalist layout, elegant product photography, and custom web development.
As you explore Velasca's website, you'll quickly notice its clean and simple design, which perfectly complements the brand's distinctive Italian vibe. The carefully chosen fonts exude a sense of sophistication and craftsmanship, mirroring the attention to detail that goes into each pair of handmade shoes and accessories.

Example 2:
I Love Mole
– Delicious Mexican food products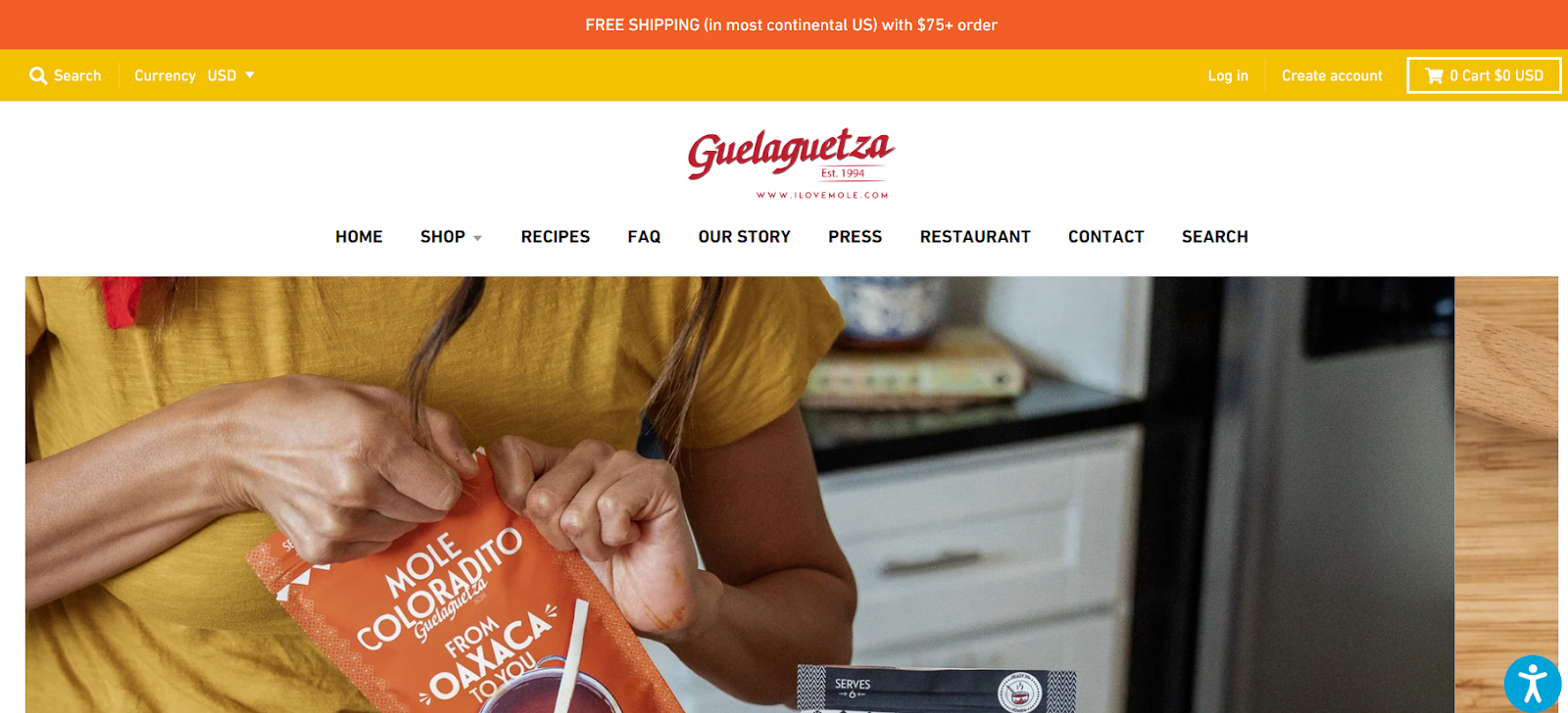 Website niche: Food products
Inspiring design features: Bold and enticing visuals, seamless shopping experience
A major pain point for online food businesses is figuring out the right color palettes, imagery, brand messaging, and so on to entice people's appetites when they land on their site.
On that note, I Love Mole is here to prove that food and a beautifully designed website can go hand in hand. Against a clean white backdrop, the colorful array of mouthwatering food products takes center stage, enticing you to explore their rich flavors and irresistible aromas. Every image is carefully curated to showcase the vibrant ingredients and authentic taste I Love Mole is renowned for.
The website's design is a feast for the eyes, with striking orange and yellow accents that evoke the warmth and vibrance of Mexican culture. These vibrant hues add a pop of excitement and reflect the passion and zest that goes into every product.

Example 3:
Livso
– Luxury haircare products

Website niche: Hair care products for diverse hair types
Inspiring design features: Clean typography, vibrant product image
In our list of small business websites, Livso's sets an exemplary standard for success in 2023. This small business website design showcases its products with crisp typography and colorful product images that catch the eye. 
The website has a sleek, modern layout, gentle background, and a minimalistic menu bar. The careful selection of fonts and their modern and professional look demonstrates the designers' master mind in ensuring that important information is easily digestible and accessible to visitors.
The homepage features a slideshow of the products, their benefits, and glowing reviews from happy customers.  
The website also has a helpful blog section where visitors can find tips and advice on caring for their curly hair.
Feel inspired? Try 10Web's AI Website Builder, and create a similar beautiful website in minutes with zero code involved.
Get a head start on website creation with AI
Create a custom website tailored to your business needs 10X faster with 10Web AI Website Builder!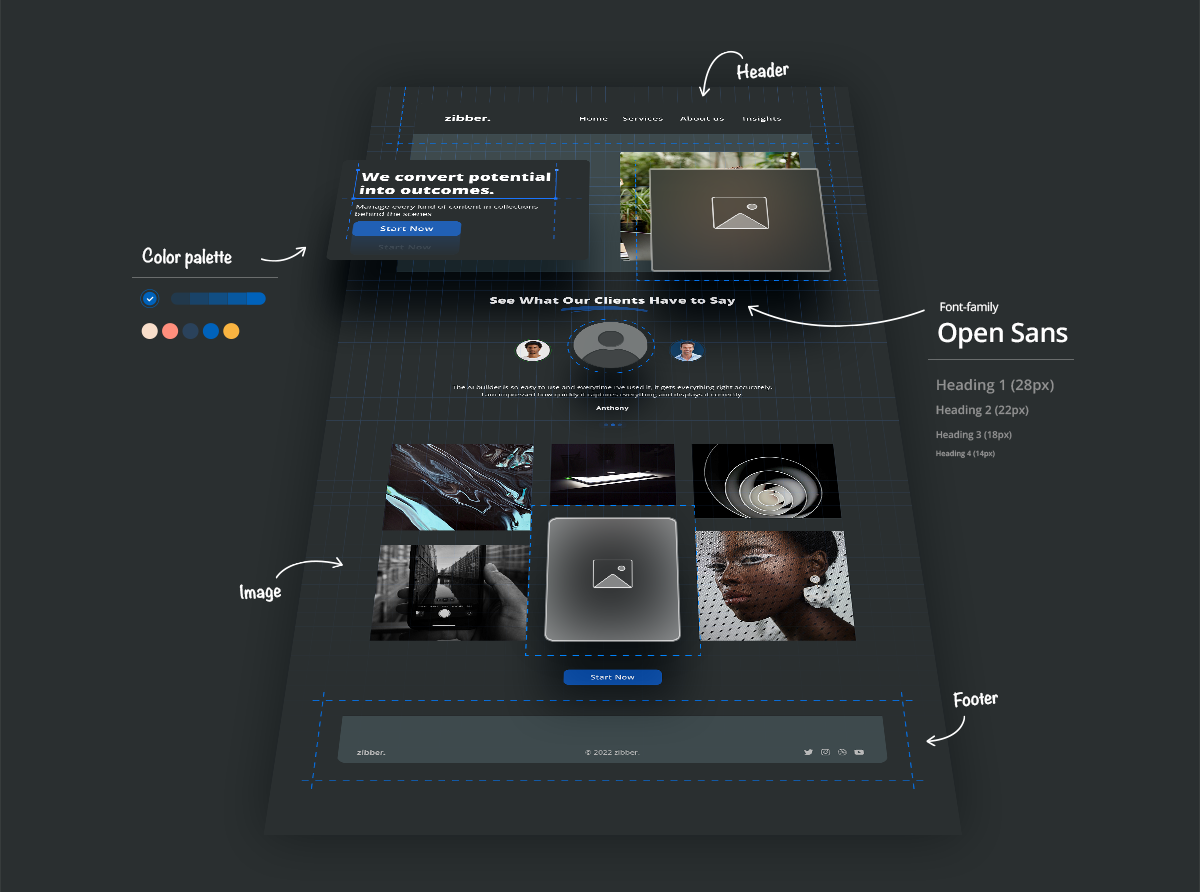 Example 4:
Tattly
– Beautiful world of tattoos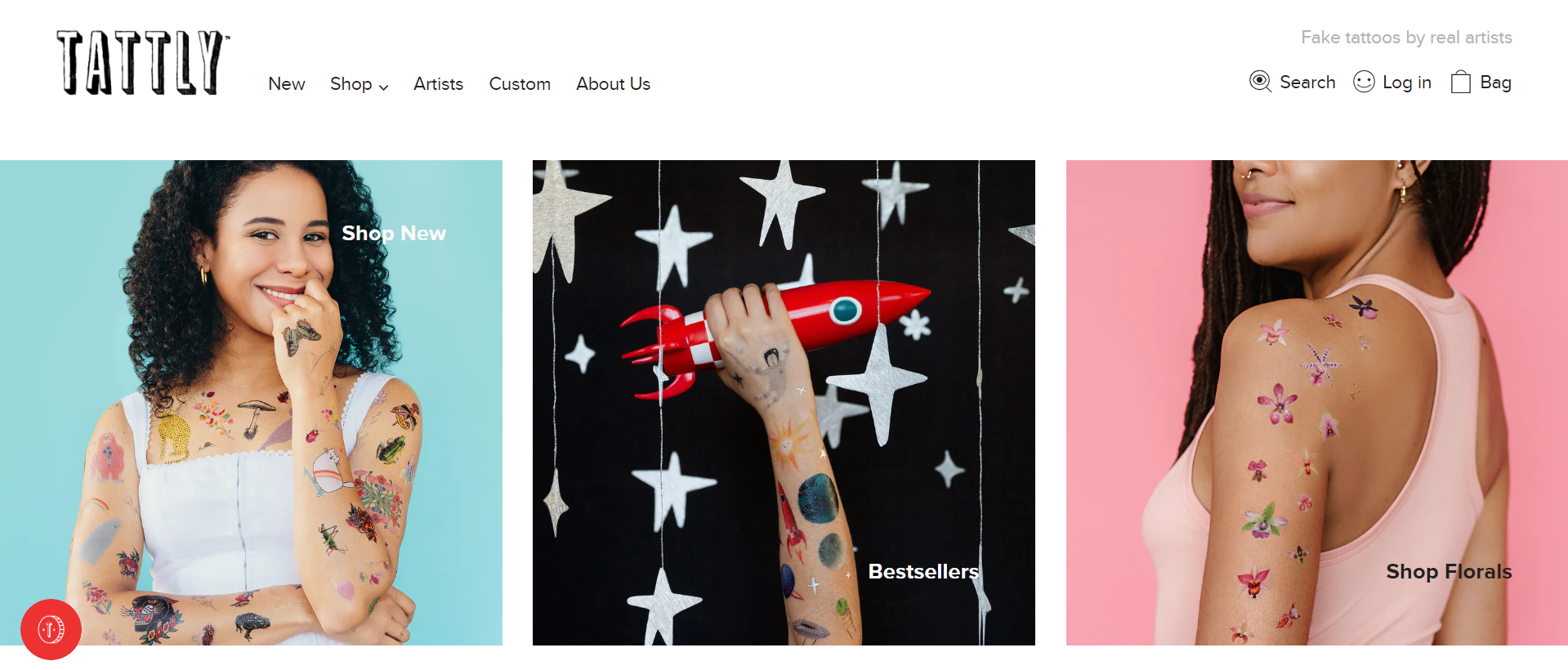 Website niche: Temporary tattoos and artful designs
Inspiring design features: Playful and vibrant aesthetic, whimsical illustrations
Tattly's niche revolves around the captivating world of temporary tattoos, where their talented artists craft enchanting designs that will leave you amazed. The website is a vibrant canvas that reflects the brand's commitment to injecting fun and color into everyday life.
One cannot help but be drawn to the website's bold and vibrant aesthetic. The playful color palette captures the essence of Tattly's spirit, encouraging you to embrace your individuality and express yourself fearlessly. Whimsical illustrations and calls to action further add spice to the visual experience, transporting you to a world where creativity knows no bounds.

Example 5:
Altrock
– Sustainable surfaces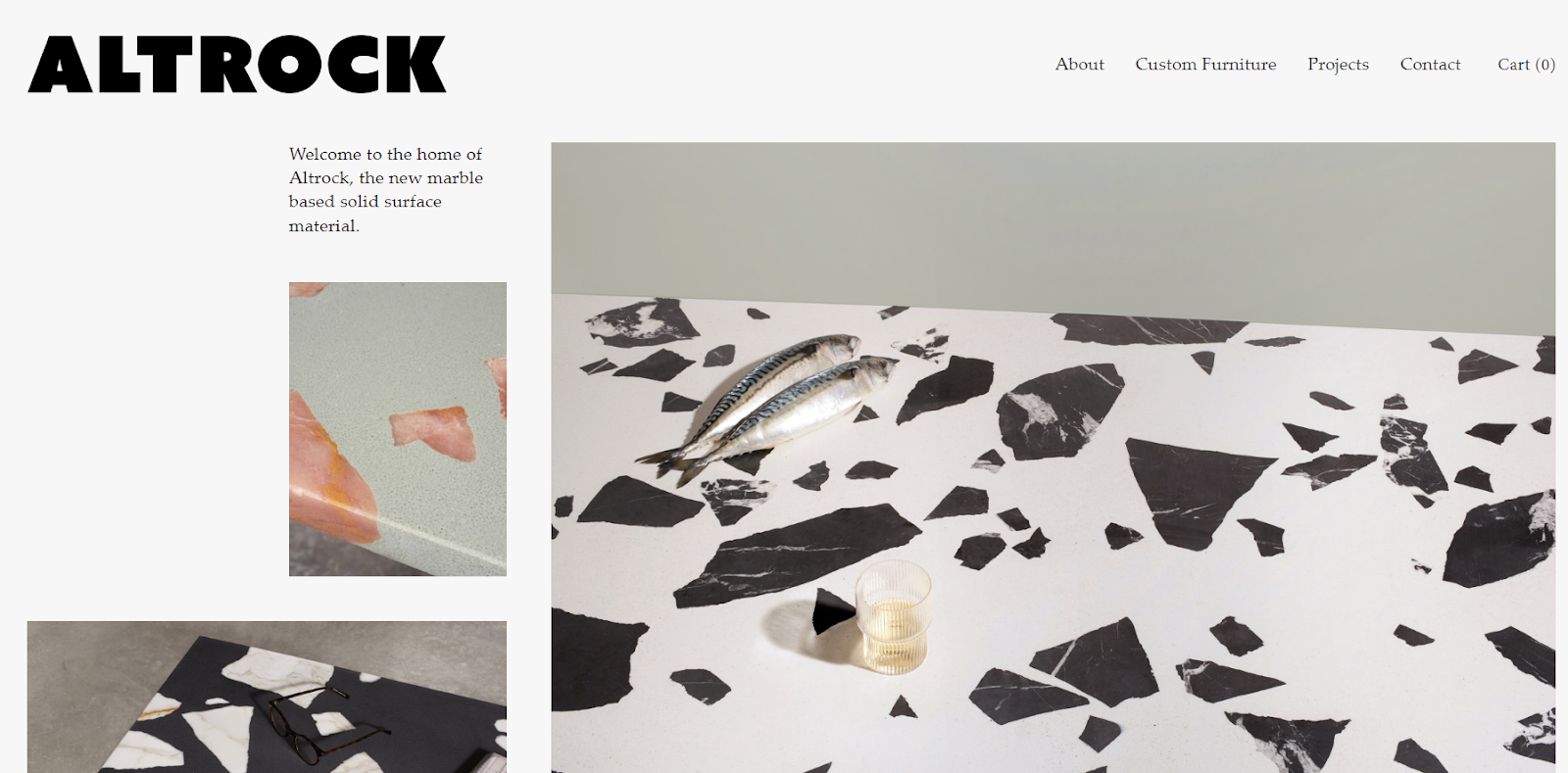 Website niche: Sustainable stone surfaces
Inspiring design features: Bold and contrasting color scheme, interactive product showcase
The moment you arrive on Altrock's website, the striking simplicity and attention to detail leave no doubt about its well-deserved inclusion in our list of small business website examples. Based in London, this small but mighty brand creates contemporary terrazzo, a material made from recycled marble and resin that can be used for furniture, kitchen or bathroom surfaces, and much more.
The website's light-colored background provides a clean and inviting canvas for Altrock's offerings. The brand's logo, displayed prominently in bold letters, immediately captures the eye and sets the stage for a minimalist yet impactful browsing experience.
The use of a sans-serif font to describe its products on the home page further reinforces the notion that less is indeed more. 

Example 6:
Millk
– Australian clothing brand for babies and children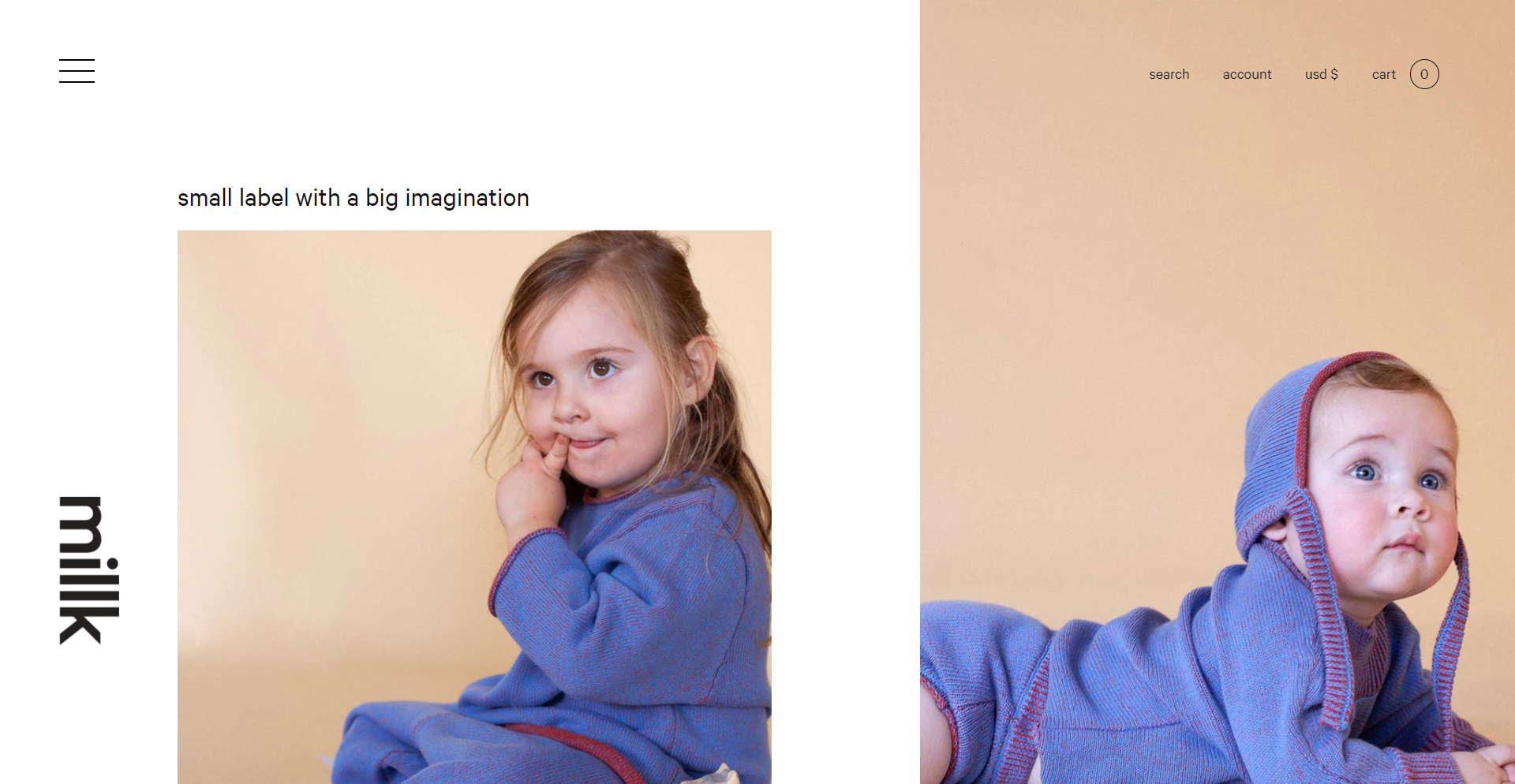 Website niche: Clothing for kids
Inspiring design features: soft and muted colors, straightforward menu
Next on our list is Millk, the go-to destination for exquisite clothing designed exclusively for kids. 
From gentle pastels to earthy tones, each hue on the website speaks the language of tranquility, enticing you to explore further.
With a menu that follows the principles of simplicity and ease, Millk's website sets the stage for effortless navigation. The straightforward menu structure lets you effortlessly browse through different clothing categories, collections, and curated ensembles. Within a few clicks, you'll immerse yourself in a world of delightful fashion choices for your little ones.
The website is built with a mobile-responsive design, ensuring an enjoyable user experience on various devices. Whether browsing from a desktop computer, tablet, or smartphone, the website adapts fluidly to different screen sizes, allowing customers to shop conveniently on the go.
Wondering how to recreate this stunning website design? With 10Web AI Website Builder, simply paste this site URL and let AI work its magic to build a similar website for you. Our tool takes care of the entire process and recreates a live site in minutes.

Example 7:
Casa Mami
– Eco-friendly serenity in a desert oasis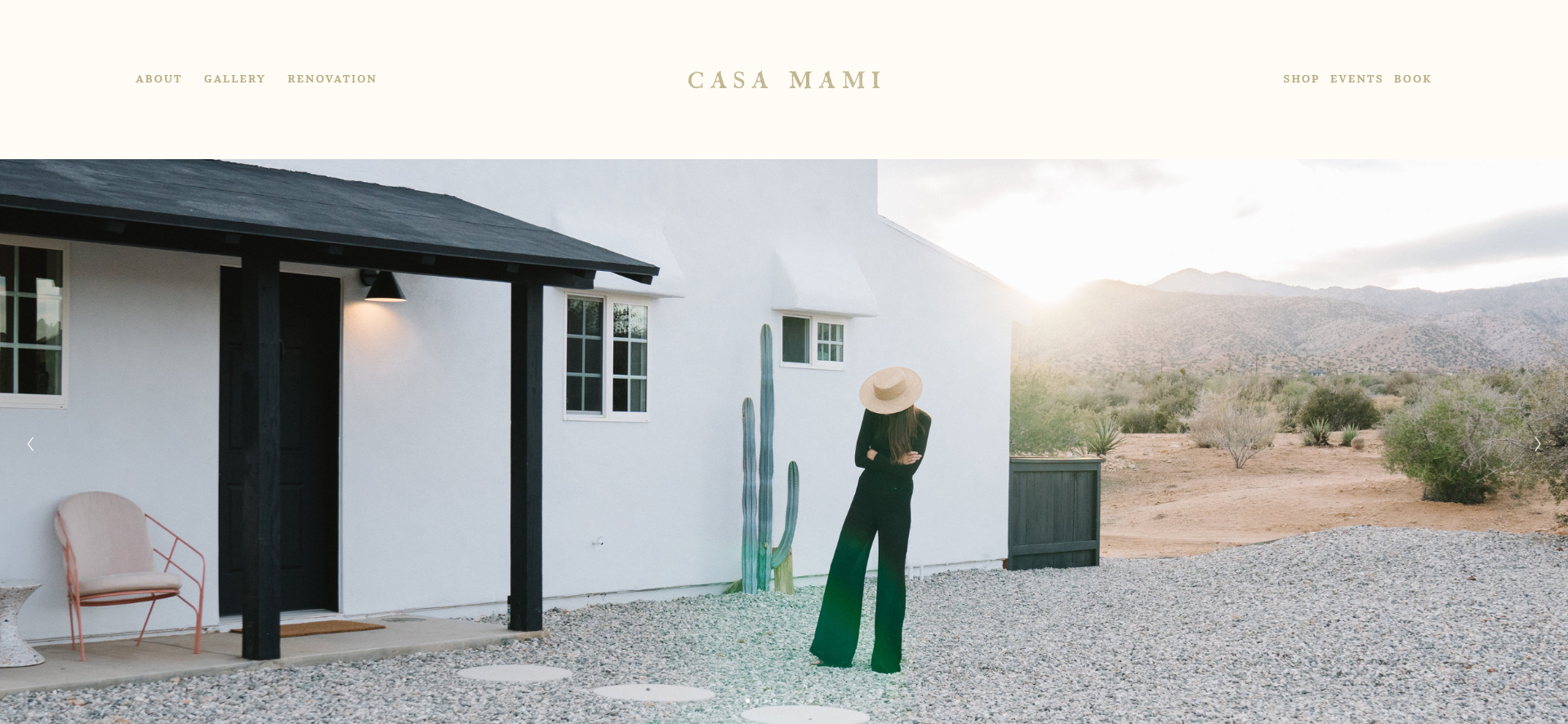 Website niche: Eco-friendly overnight design retreat
Inspiring design features: Black and white tones, stunning landscape imagery, minimalist layout
Casa Mami, an eco-friendly overnight design retreat, invites visitors to experience the beauty and tranquility of their desert oasis through a visually captivating website. Upon landing on the website, a striking image slider dominates the screen, showcasing the breathtaking location of Casa Mami in the desert.
The absence of overlayed text or CTAs allows the stunning landscape imagery to speak for itself, evoking a sense of serenity and wonder.
Scrolling down Casa Mami's website, you'll discover a captivating description of this eco-friendly overnight design retreat. 
Continuing, you'll encounter the "Book Now" option, beckoning you to take the next step towards experiencing Casa Mami firsthand. This strategically placed call-to-action captures the visitor's attention and guides them toward making a reservation via Airbnb.

Example 8:
Newton Supply Co.
– Handcrafted bags and accessories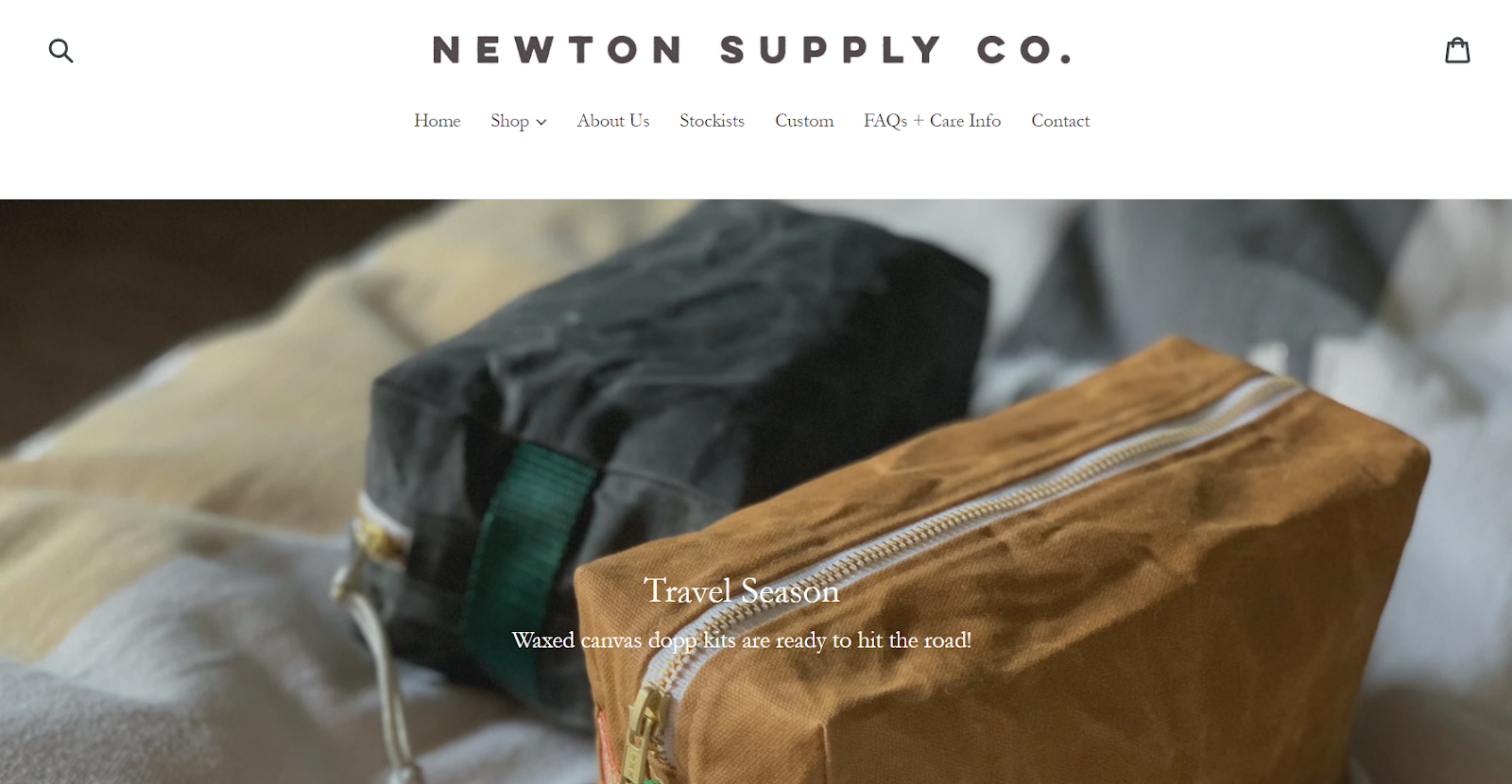 Website niche: Sustainable bags and accessories
Inspiring design features: Earthy color palette, intuitive navigation
Newton Supply Co. ethically made bags and accessories, offering hand-waxed products that combine style and quality. Their website design incorporates inspiring features that captivate visitors and enhance their browsing experience. The use of a neutral color palette sets the tone, reflecting the brand's commitment to simplicity and elegance.
One of the standout aspects of Newton Supply Co.'s website is its intuitive navigation. Newton Supply Co. visitors can scroll horizontally through different categories of products. The website shows medium-sized images of the products from different angles and brief descriptions of their features and materials. 
It uses a splash page to introduce its manufacturing partner and process. Visitors can enter the site or join the mailing list from the splash page. This choice highlights the brand's logo and slogan, creating a lasting impression with potential customers.

Example 9:
Motivated Mornings
– Personal development and motivation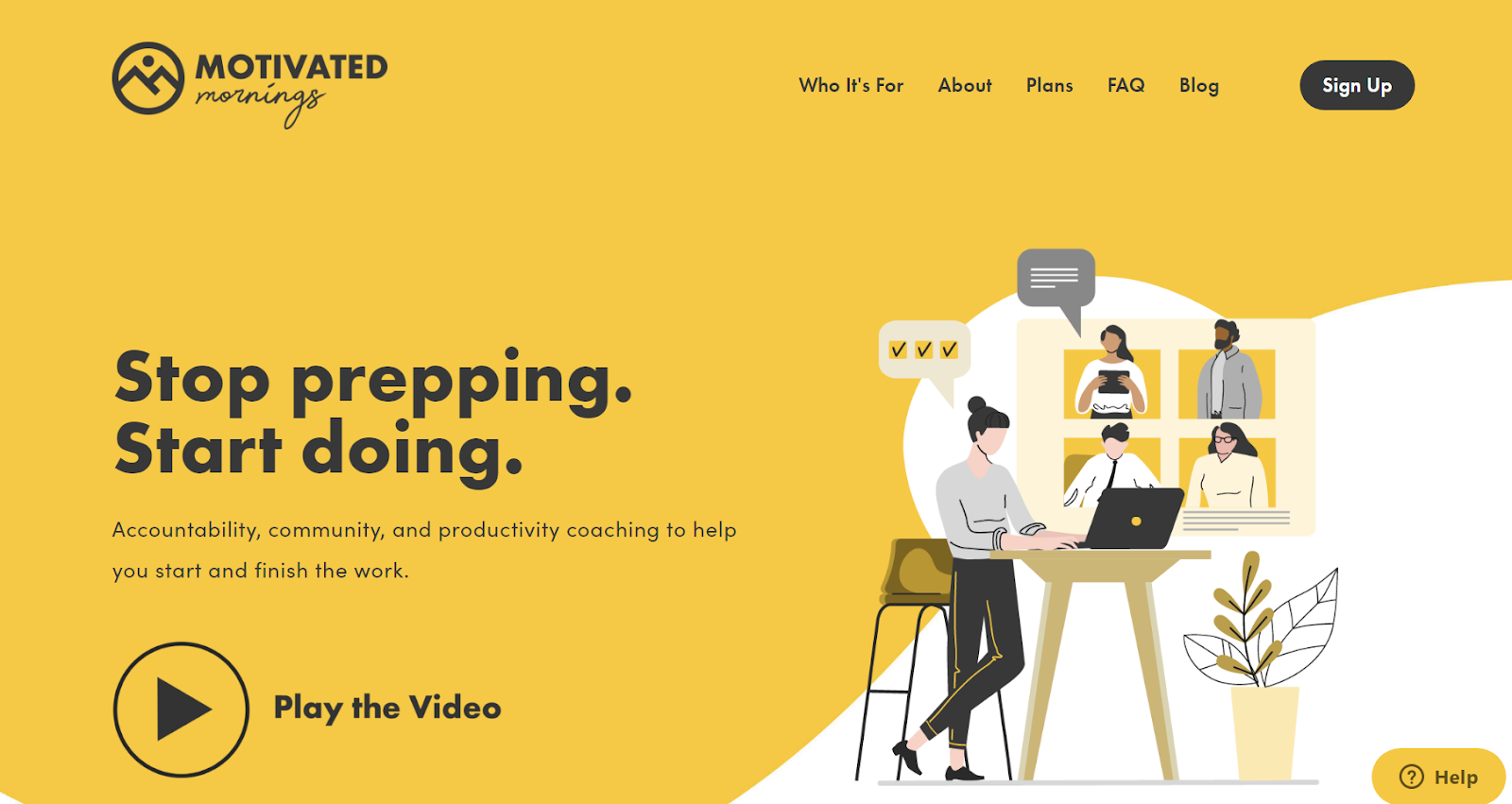 Website niche: Virtual coworking community
Inspiring design features: Bright colors and motivational quote
If you want to create a positive and energetic vibe, you can never go wrong with Motivated Mornings' website design. It is a virtual coworking community that helps people do their work by providing motivation and accountability. The website offers a service that allows people to join morning kick-off calls, accountability groups, and productivity coaching sessions. 
The combination of bright colors, motivational quotes, and the user-friendly Squarespace platform creates an inviting and inspiring online environment where members can find the support and motivation they need to excel in their professional pursuits.

Example 10:
Shwood Eyewear
– Handcrafted wooden sunglasses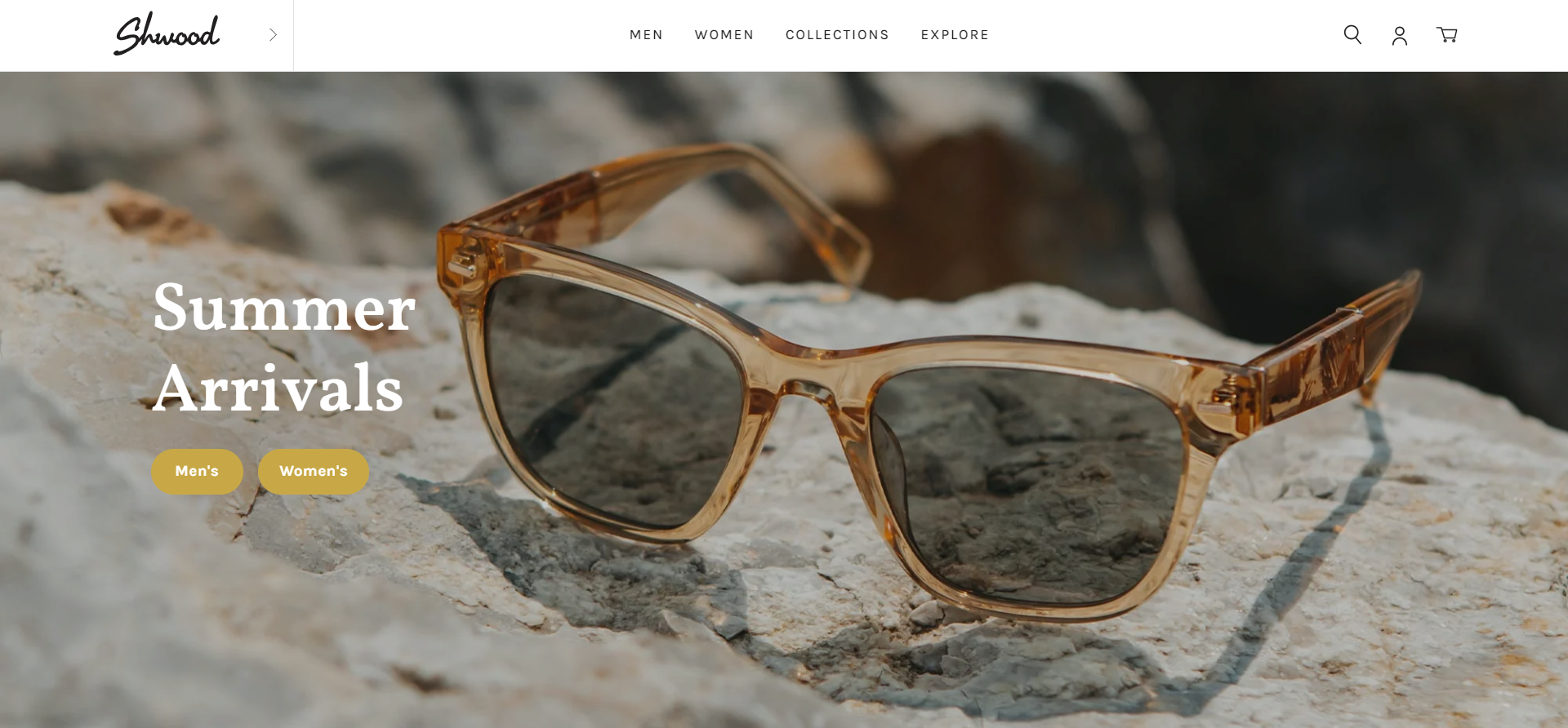 Website niche: Handcrafted wooden eyewear
Inspiring design features: Natural and earthy color palette, minimalist layout
Going into the world of Shwood Eyewear is a visual treat, as the website's inspiring design features effortlessly blend sophistication and nature-inspired aesthetics.
The website's design is a perfect blend of minimalism and impactful visuals. As you explore their pages, you'll be treated to many high-quality video clips and captivating images showcasing their exquisite eyewear collection.
The website effortlessly guides you through its product offerings, allowing you to admire each pair of sunglasses up close. It's an interactive and engaging experience that leaves you craving the touch of wooden frames against your skin.

Example 11:
Madsen
– Cargo bikes and accessories for urban living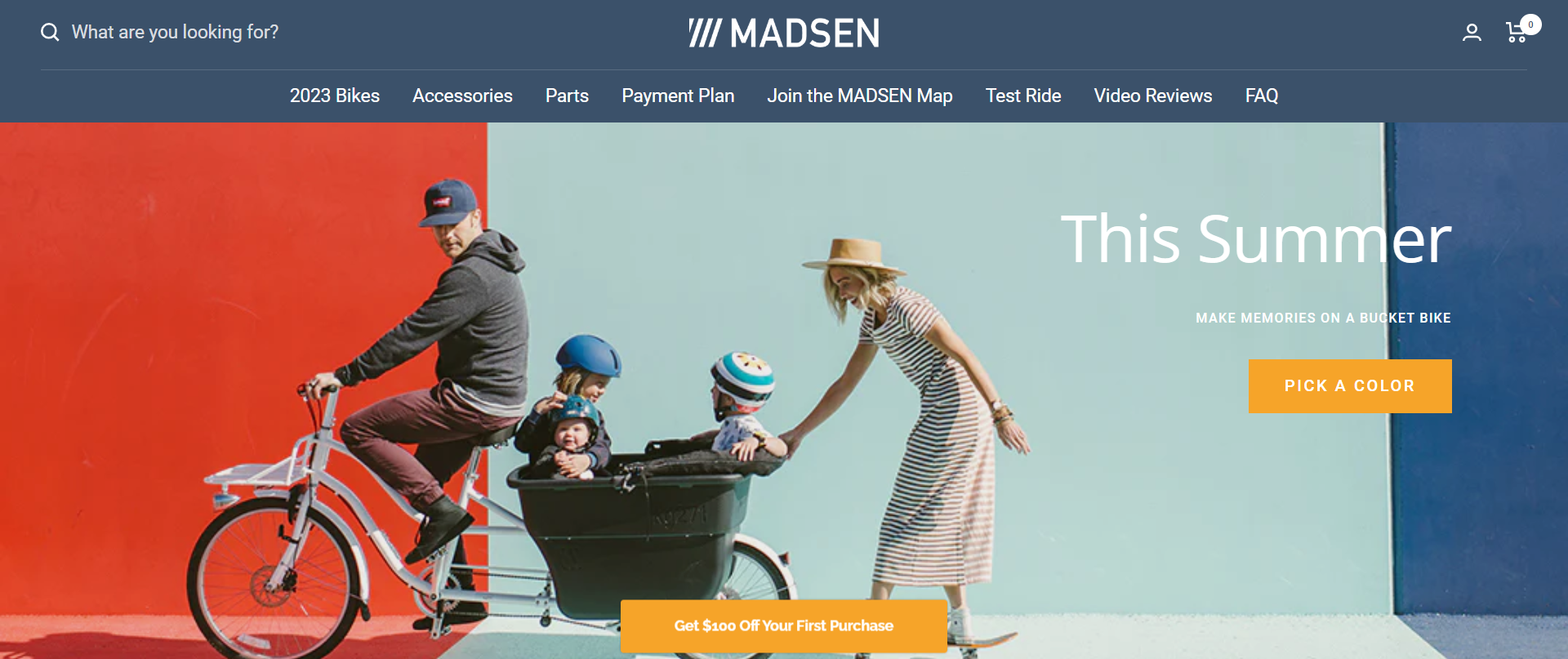 Website niche: Cargo bikes and accessories
Inspiring design features: Playful and vibrant color palette, engaging lifestyle imagery
Madsen's website goes beyond showcasing its products; it paints a vivid picture of the lifestyle and possibilities of its cargo bikes. Through engaging lifestyle imagery, you'll envision yourself embarking on exciting journeys, effortlessly carrying cargo while enjoying the freedom of two wheels. 
The design of the Madsen website is a breath of fresh air. Its stunning color palette bursting with life and energy immediately grabs your attention and evokes a sense of adventure.

Example 12:
Silk And Willow
– Romantic wedding decor boutique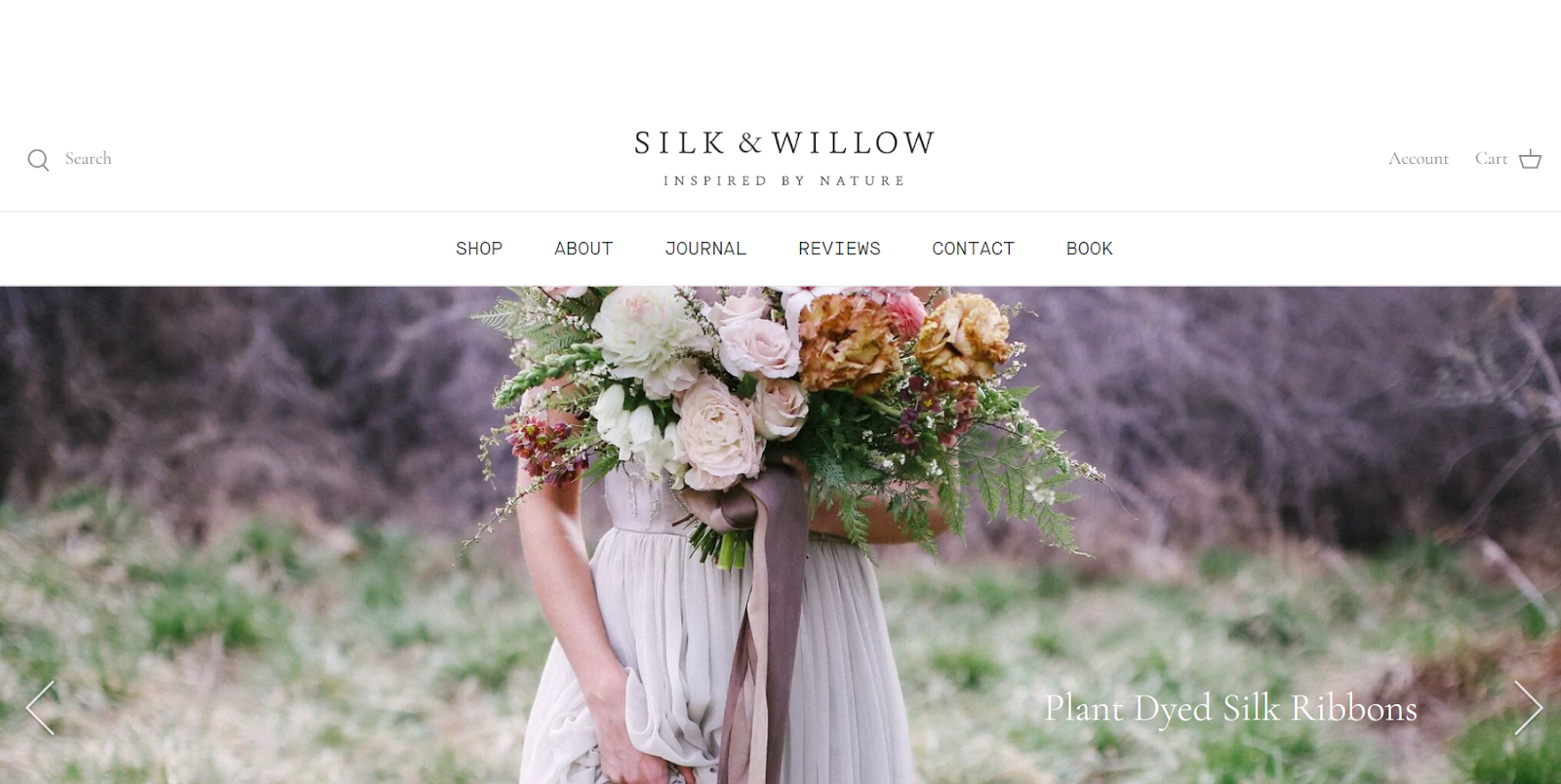 Website niche: Weddings
Inspiring design features: Elegant and romantic design, beautiful imagery
This small business website design caters to the niche of wedding decor, offering a curated collection of sustainable and environmentally-friendly products. The elegant and romantic aesthetic sets the perfect backdrop for couples seeking to create their dream wedding. The designer brings it to a new level, using soft grey and white hues to create a serene and sophisticated atmosphere, allowing the brand's products to take center stage.
Also, the serif and typewriter fonts evoke a rustic charm, adding a touch of warmth and nostalgia to the overall experience.

Example 13:
Sophie Ratner
– Fine jewelry for self-expression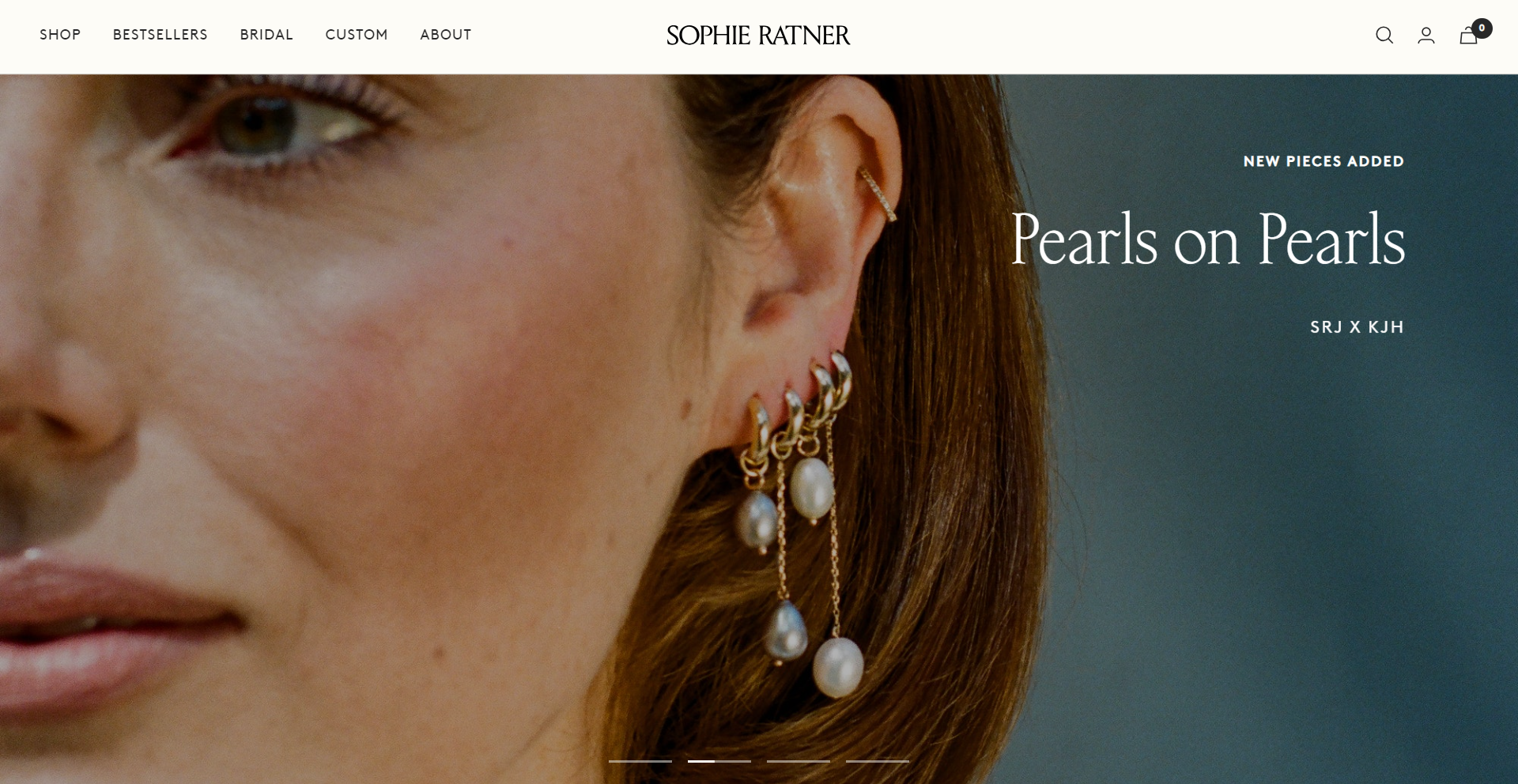 Website niche: Fine jewelry
Inspiring design features: Clean and elegant layout, emphasis on product details
Sophie Ratner's website achieves uniqueness and sophistication, aligning perfectly with the brand's fine jewelry offerings. The website inspires women to confidently express their distinct styles by seamlessly blending style, quality, and personalization. 
The slideshow on the homepage adds an element of visual intrigue and excitement, guiding visitors through the diverse categories and tempting them to delve deeper into the world of fine jewelry the brand offers. 
Feel inspired? 10Web's AI Website Builder can help you duplicate this design, and present a live site in minutes, with zero-code and minimal effort involved. Simply enter this site URL, and our powerful AI tool will build it for you. 
Get a head start on website creation with AI
Create a custom website tailored to your business needs 10X faster with 10Web AI Website Builder!
Get a head start on website creation with AI
Create a custom website tailored to your business needs 10X faster with 10Web AI Website Builder!
Example 14:
Rhone
– Activewear for men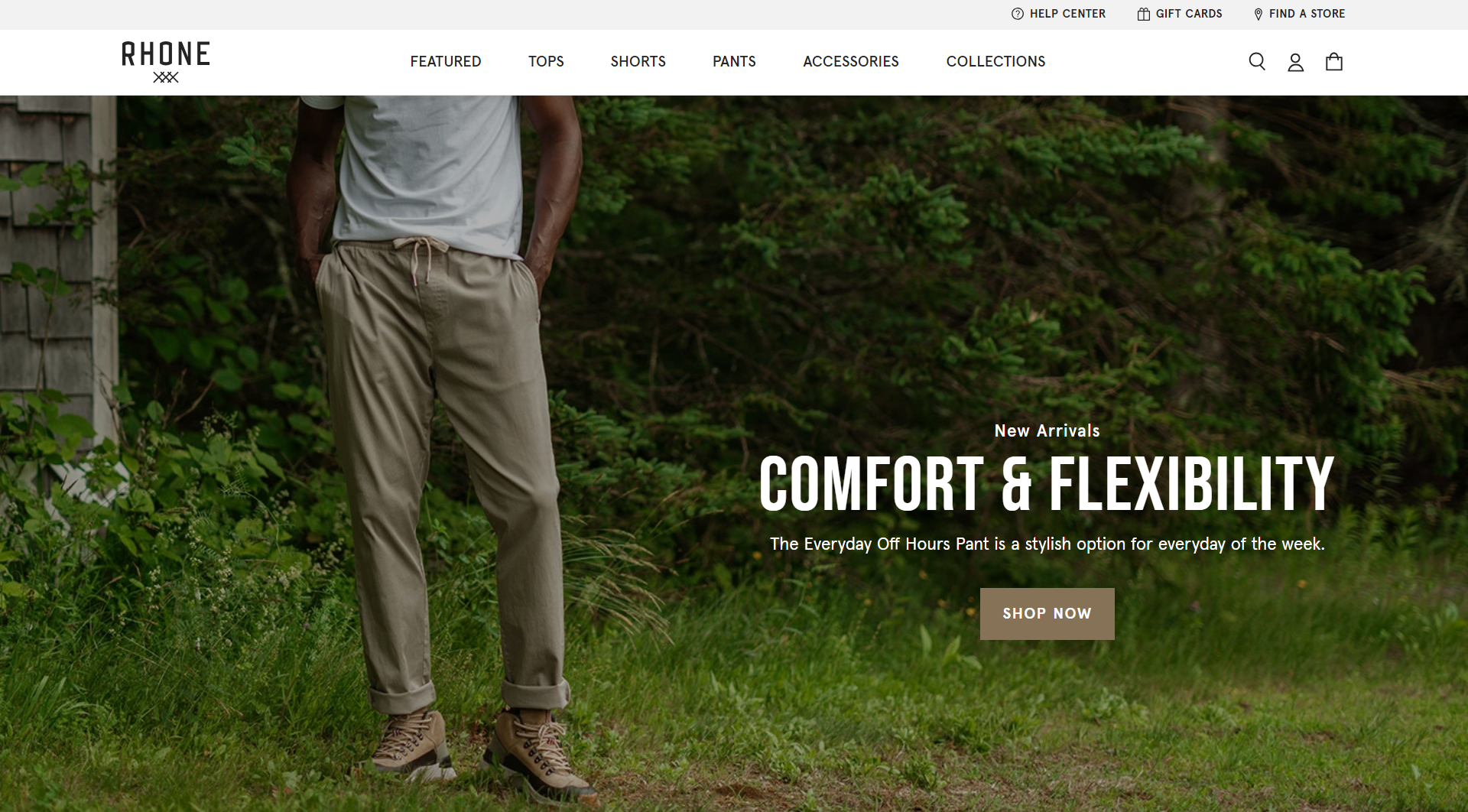 Website niche: Premium activewear for men
Inspiring design features: Modern and clean design, high-quality product imagery
At Rhone, fashion meets function. This small business website design does a great job with its clean and modern design, instantly conveying a sense of high-quality craftsmanship. The carefully curated product imagery showcases Rhone's commitment to excellence, leaving you with no doubt about the exceptional standards they uphold.
Navigating through their collections is a frictionless experience, thanks to the user-friendly interface and intuitive layout. Whether searching for performance-driven workout apparel or stylish athleisure pieces, the website ensures that every detail is beautifully presented.

Example 15:
Super Team Deluxe
– Artistic accessories inspired by internet pop culture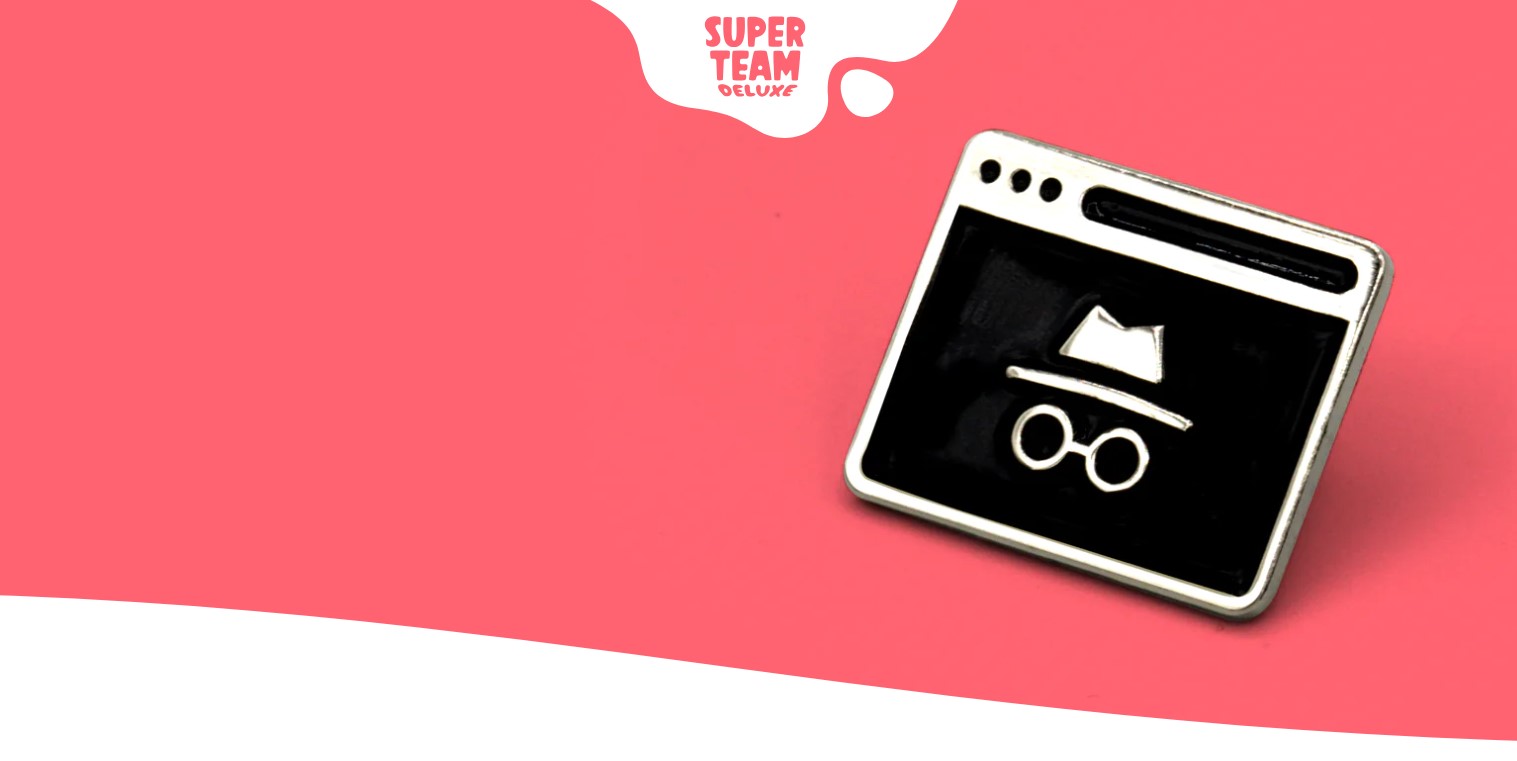 Website niche: Artistic apparel and accessories 
Inspiring design features: Quirky and playful design elements, animated illustrations
Whether you're a fan of digital pop culture or love to express yourself through artistic apparel and accessories, Super Team Deluxe has something special in store for you.
The design elements are remarkable, with bold colors and wacky fonts that instantly spark curiosity and excitement. Each page is a canvas where imagination comes to life, and every interaction with the site is an adventure.
What truly sets Super Team Deluxe's website apart is its animated illustrations, which infuse dynamic energy into every pixel.
With every move on the website, colorful animations dance before your eyes, elevating your browsing experience to new heights of delight and interactivity.
As you explore further, a standout feature awaits you at the bottom of the home page—the illustrious "Wall of Humility." It showcases the brand's creations in all their glory. As you scroll through this captivating wall, you'll witness Super Team Deluxe strutting its stuff, proudly displaying its array of artistic apparel and accessories. 

Example 16:
Zee.Dog
– Stylish and innovative pet products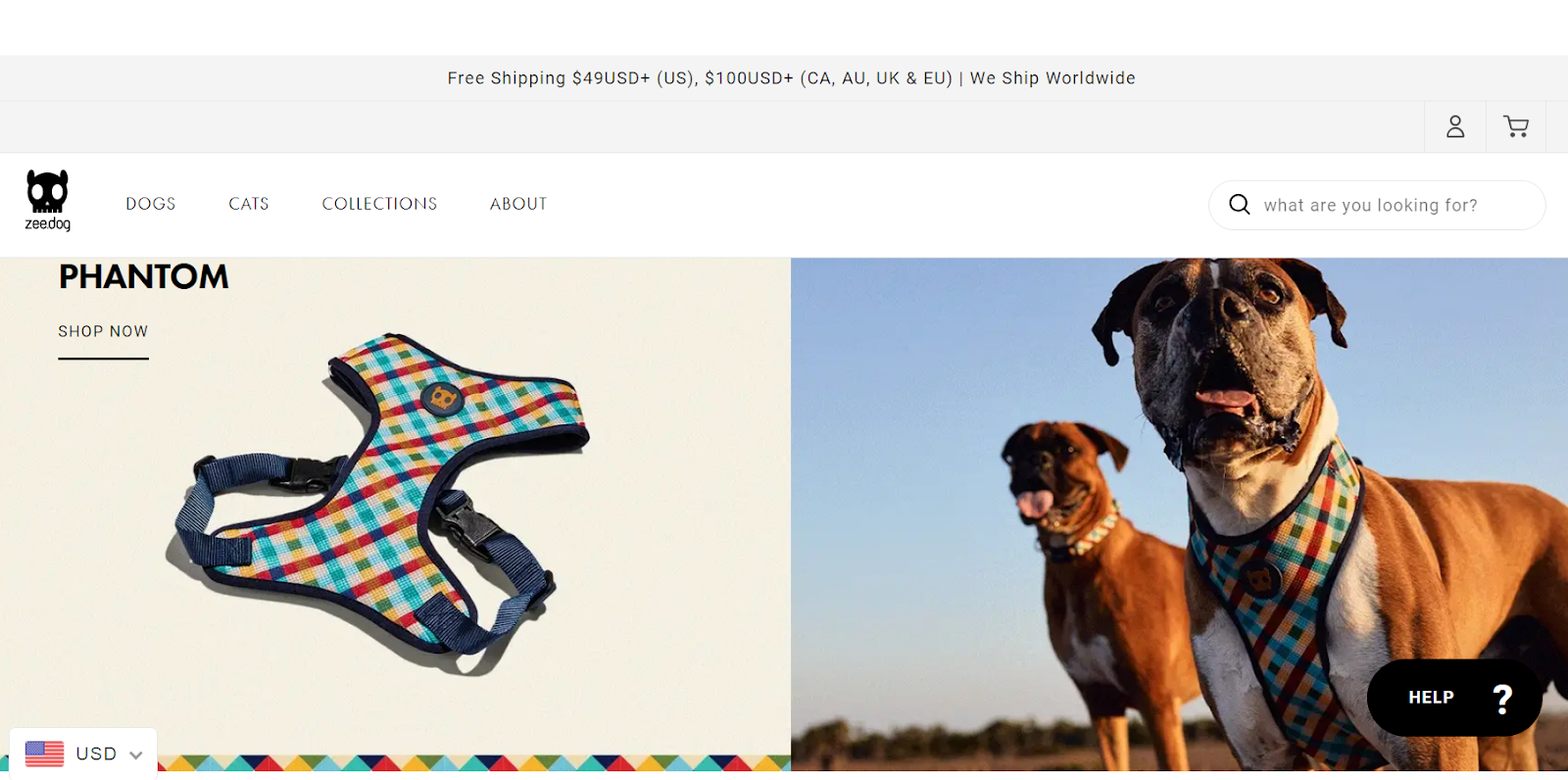 Website niche: Pet products 
Inspiring design features: Vibrant and playful aesthetic, user-friendly navigation 
With a focus on innovative and stylish products for cats and dogs, Zee.Dog has created a website that perfectly reflects its vibrant and playful aesthetic. 
As you enter their virtual domain, the bold and colorful product images leap off the screen, showcasing the quality and craftsmanship of each item.
But it's not just the design that captivates. The website's exceptional copywriting adds a touch of personality and wit, perfectly aligning with the brand's distinctive voice. Every word on the page reflects Zee.Dog's commitment to providing pet owners with unique, stylish, and innovative products that go beyond the ordinary.

Example 17:
Press London
– Nutritious cold-pressed juices

Website niche: Nutrition 
Inspiring design features: Clean and modern layout, emphasis on health and wellness
Our final gem on the list of small business websites is none other than the captivating website of Press London. Here you'll discover a treasure trove of revitalizing cold-pressed juices, healthy groceries, and rejuvenating detox packages.
A clean and uncluttered top bar at the top of the page presents different primary categories, each accompanied by informative drop-down menus. To maintain its sleek and minimalistic style, the website incorporates icons for essential links, such as the shopping cart and search functionality.
What if we told you that you could recreate this design, with zero code and effort involved on your end, and have a stunning website live and ready to use in minutes? 
Sounds too good to be true? With 10Web's AI Website Builder, simply paste this website URL and let our powerful AI tool work its magic and create a website with the same design in minutes!


Related Articles
The dynamic role of small business websites in 2023
Small business websites are crucial for companies in the increasingly digital economy of 2023, serving as the digital face and virtual storefront for businesses of all sizes. Here are some key roles that small business websites fulfill:
Brand visibility:

Websites allow businesses to establish an online presence, making them discoverable to a global audience.

Credibility and trust:

A well-designed website builds trust and credibility among potential customers, showcasing professionalism and legitimacy.
Customer engagement and communication
Information hub:

Websites provide a centralized platform to share detailed information about products, services, contact details, and business hours.

Customer support:

Websites often offer customer support channels such as live chat, contact forms, or FAQs, enhancing communication and customer journey.

Knowledge base:

Businesses selling both products and services can showcase a digital knowledge base to help educate their customers about what they're selling. 
Showcasing products and services
Product displays:

Websites allow businesses to showcase their offerings with high-quality images, detailed descriptions, and interactive elements, encouraging customers to make informed purchasing decisions.

Service information:

Service-based businesses can highlight their expertise, service packages, pricing, and customer testimonials to showcase their value proposition.
Online sales and eCommerce
 Online transactions:

E-commerce functionality enables businesses to sell products or services directly through their websites, expanding their reach beyond physical locations.

Secure payment processing:

Small business websites integrate secure payment gateways, instilling confidence in customers to complete online transactions.
Marketing and promotion
Digital marketing integration:

Websites serve as a hub for digital marketing efforts, integrating strategies like SEO,

content marketing

, social media, and email campaigns to drive traffic and generate leads.

Promotional campaigns:

Websites facilitate the promotion of special offers, discounts, events, or new product launches, attracting customers and encouraging conversions.
Analytics and insights
Performance tracking:

Websites provide analytics tools to measure website traffic, customer behavior, and conversion rates, allowing businesses to gain valuable insights and make data-driven decisions for continuous improvement.
Creating an engaging small business website: key tips and considerations
Creating an effective small business website requires attention to various aspects that contribute to its success. After all, your website serves as a digital storefront, representing your brand, products, and services to potential customers. Here are some key subheadings and tips to consider:
Mobile-friendly design
 Catering to mobile users:

Ensure your website is responsive and

optimized for mobile devices

.

Seamless user experience:

Prioritize easy navigation, quick response times, and intuitive design elements for mobile users.
User-friendly navigation
Clear and intuitive menu:

Organize your website's content into well-structured categories and use a user-friendly menu.

Search functionality:

Implement a search bar to allow visitors to find specific information or products quickly.
Informative content
Clear and concise messaging:

Communicate your brand's value proposition and key messages clearly and succinctly.

Compelling product descriptions:

Highlight your products or services' unique features and benefits to capture customers' attention.

Engaging about page:

Share your brand's story, mission, and values to establish a connection with visitors.
Showcasing unique selling points (USPs)
Highlight your competitive edge:

Identify and emphasize what sets your business apart.

Eye-catching visuals:

Incorporate high-quality images, videos, and graphics that showcase your products, services, or portfolio.
Special offers and deals
Prominent call-to-action (CTA):

Encourage visitors to take action by featuring prominent CTAs for special offers, discounts, or limited-time deals.

Clear promotion details:

Clearly communicate any promotional offers' terms, conditions, and expiry dates.
Browse our gallery of website builders and choose the template that suits your business needs. We offer templates for many types of businesses, such as real estate, clothing, restaurants, food delivery, events, educational, cleaning, agency, medical, and more.
Conclusion
In a nutshell, these 17 small business websites stand as shining examples of creativity, innovation, and success in the digital landscape of 2023. Each website showcases unique design elements, user-friendly interfaces, and compelling content that captivate visitors and drive business growth. 
10Web AI Website Builder empowers you to create a professional website inspired by these designs in seconds without the need for any coding skills.
With our AI-powered website builder, creating a stunning website can be cut down to seconds. By simply providing some basic information about your business, our advanced AI tool takes care of the rest, automatically building a fully functional website for you.
Get a head start on website creation with AI
Create a custom website tailored to your business needs 10X faster with 10Web AI Website Builder!