In today's digital world, having a website and being present online is essential for businesses. But building a website can seem like an intimidating task. Fortunately, there are easy-to-use tools that make website creation accessible to everyone. This article will provide an overview of the simplest and most efficient way to build a website quickly and with minimal effort. We will cover the necessary steps, from selecting a domain name to publishing your website.
Most people want to make a website easily. So, what is the easiest way to build a website? It used to be that you needed to know, at the very least, how to code and understand technologies such as HTML, CSS, and Javascript. If you wanted to create a website yourself, you needed months, if not years, of cumulative training.
Things have changed since then. Creating a website has gotten easier and, at the same time, somehow a lot more complicated. 
The biggest impact of this is that technology has gotten better. You can now create a website without any of the previously required knowledge by using DIY builders, and it is considered the best way to build your website.
In this article, we will look at how long it usually takes to build a proper website, explore some of the best Do-It-Yourself builders, from Drag and Drop and WYSIWYG (What You See is What You Get) editors to advanced AI builders such as the AI Website Builder from 10Web, and walk through the steps from scratch to a ready-to-publish website.
How Long Will It Take To Create a Proper Website on Your Own?
The question of how long it will take to create a website on your own is a loaded one. Many factors and questions will come up during the process.
How long it will take will depend on the size, scope, and complexity of the website you want to build.
A simple site with a few pages might take 2-4 weeks, while a more in-depth website might take 2-6 months or longer, depending on how complex you are looking to make it.
No matter the size of the site, there are a few steps that every website goes through in its life cycle.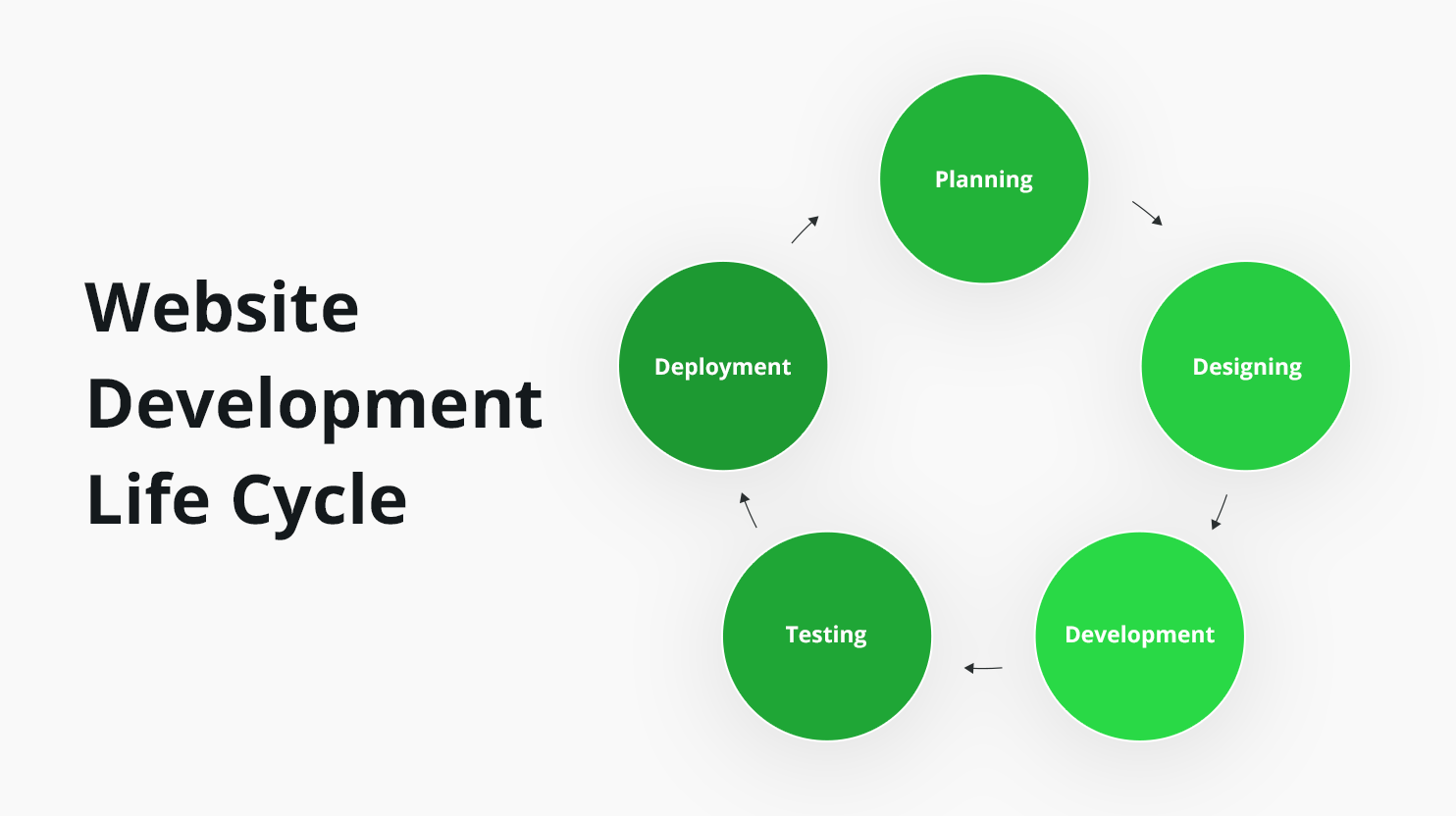 Planning: In the planning phase, you decide on your site's content. You should decide on the core pages, i.e., contact, about us, and any other pages relevant to your business. At this point, you might also be planning initial content for a blog or resource articles to drive visitors to your site. For more information read our article about the new website planning.
Designing: In the designing phase, you could choose to create the page design from scratch or go with a pre-made theme to make things a little easier. You can decide on the colors, fonts, and imagery you want to use.
In this phase, understanding some HTML, CSS, and javascript can really help get your design right. 
Development: Developing a site can take a significant amount of the time you have available for building your site. In this phase, the site's functionality starts to come together. Is there an image carousel on the front page? Will there be a search function? How will users interact with the site?
At this point, you may also be thinking about where to host your website.
Testing: A site should be tested before going live. This might not always happen, but in an ideal world, there will be time to test the site before it goes live.
At this stage, you should test your site in desktop and mobile browsers to ensure it displays correctly on both. To go further, you could test on multiple browsers on multiple screens from different parts of the world. The opportunities for testing are endless.
Deployment: This is the last stage in the process, but it does not mean it's the end. The site will continue to flow between the phases as it grows and evolves.
As you can probably imagine, even a medium site with some content and some user functionality could easily take between 3 weeks to 6 or more months.
If you choose to take on building your own website, it can take a long time to get it all together. 
The Easiest-to-Use Website Builders in 2023
This section will look at the best and easiest website builders that you can use to create a website on your own.
The D.I.Y. website builders can be referred to as  WYSIWYG editors., which stands for What You See Is What You Get, or as Drag and Drop editors.  They allow anyone to create a website without knowing or knowing very little code.
There are a lot of website builders out there. We will look at some of the best website builders that ensure the easiest and fastest experience.
We noticed that most editors have similar features when it comes to editing the site's layout and design. What has one editor standing apart from others are the toolsets.
For example, 10Web generates a website with AI which ensures the fastest and most effortless experience. It also provides the creator with all the necessary tools in one place. While Shopify is on making it easy to add products to your site, or the dev mode in Wix which allows you more control over your Javascript code. 
For General Websites (Business, Blogging, Portfolio, etc.)
The first category we will look at is a website builder for general-purpose websites. We refer to a general-purpose website as one whose primary focus is to inform the visitor about something. 
| | |
| --- | --- |
| Type of General Purpose Website | What They Provide |
| Small business websites | Small business websites can act as online business cards. These sites often provide general information such as location, hours, and a way to contact someone at the business. These sites tend not to change very often. Here are some examples.  |
| Personal or Professional Blog | There are plenty of blogging platforms out there, but building your site for a blog gives you more control over the whole process and your audience as a whole. A blog can so serve to drive traffic to other parts of your website. Here are some examples.  |
| Portfolio/CV/Resume  | Having your portfolio, CV, or resume online is a great way for people to see any kind of relevant work you have done in the past. These sites also often only have a few pages and mostly serve as a gallery. Here are some examples. |
For all these types of sites, 10Web AI Website Builder is the easiest and fastest way to build a website. After signing up with 10Web, it took us less than 30 minutes to complete a website with all of our site data. 
After the initial site generation, it is easy and intuitive to make edits to the created content.
This section will highlight the features that make using 10Web AI Website Builder the best tool to create a website easily. 
Let's start with the interface.
Access the 10Web AI Builder
From my.10web.io, locate your website, and click on "Manage". This will bring the next screen where you can click on AI Builder. 
From this screen, you can see the pages that have been generated using the 10Web AI Builder. 

Interface highlights from left to right:
Left panel AI Builder link

Indicator the page was built using the AI Web Builder

The page URL

Status of the page, published or draft 

The Edit button
10Web AI Builder Tools
Clicking the edit button on any of the pages brings up the WYSIWYG editor.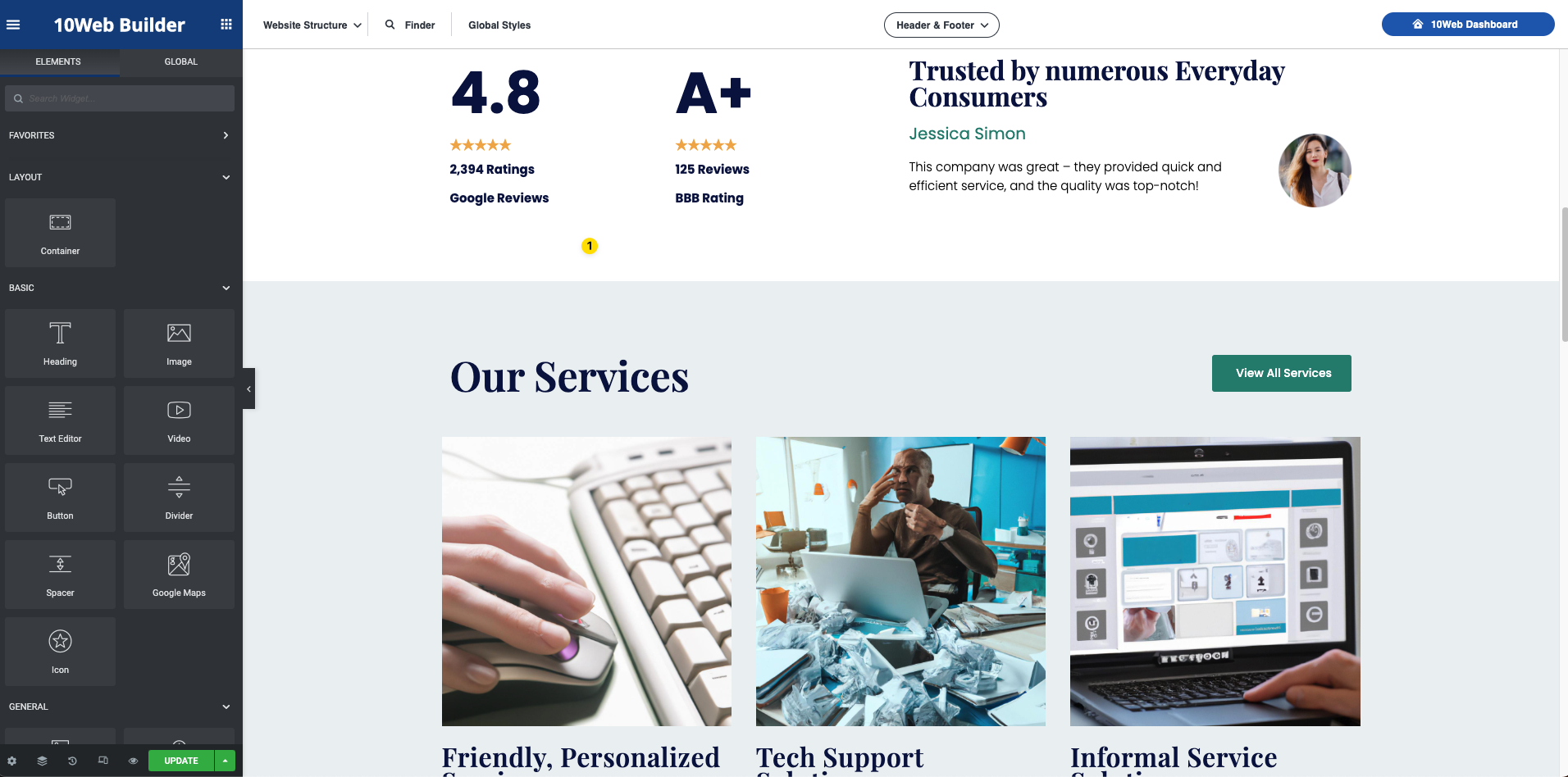 The left-hand panel has over 75 different components to choose from to help you structurally lay out your website.
Do not worry if that sounds like a lot. They are broken down into the following categories.
| | |
| --- | --- |
| Category | Description |
| Layout | For adding general container elements |
| Basic | Widgets such as Text, Images, Buttons, Google Maps, and content spacers. |
| General | More advanced widgets such as Image boxes, tabs, sidebars, and text paths |
| Premium widgets by 10web | Widgets created by 10Web such as a pricing table, a call to action, image sprites, forms, galleries, and a widget to highlight code easily. |
| WordPress | These include widgets used to add links to standard WordPress components such as Pages, Recent Posts Tag Cloud, and one to add custom HTML. |
To use a widget, simply drag it from the left-hand panel. Once the widget is placed, you can edit or duplicate the widget as well as modify its style.
The page navigator allows the content to be re-arranged with ease.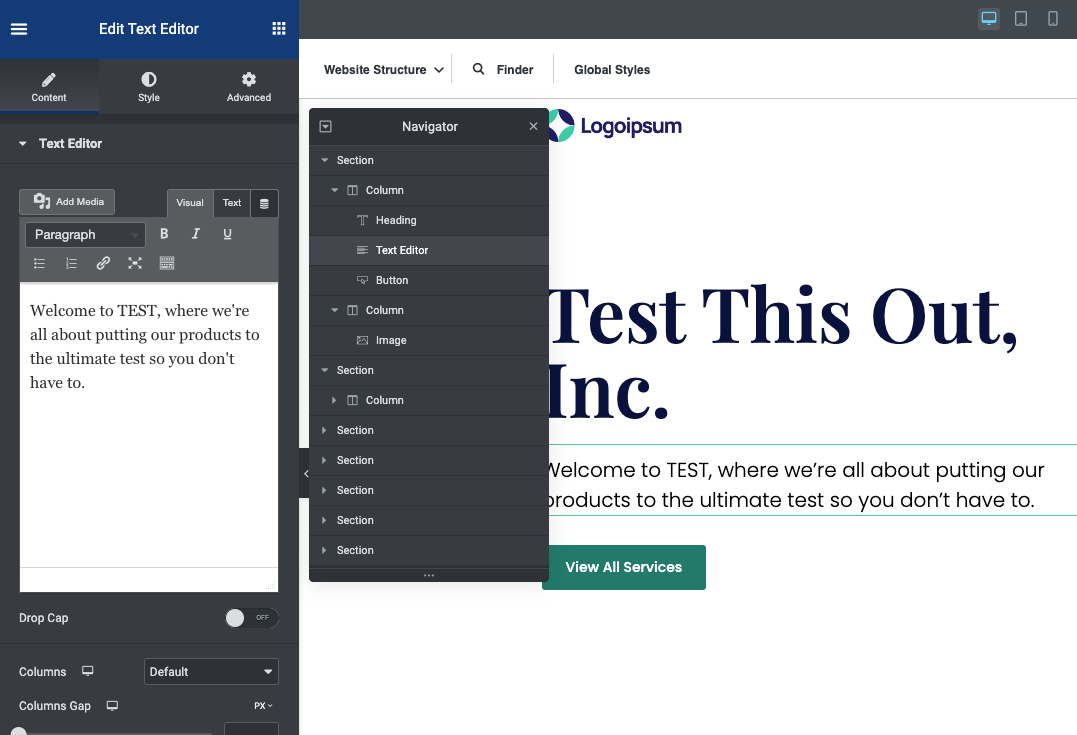 The 10Web AI Builder is the easiest way to build a WordPress website for your blog or business.
Get a head start on website creation with AI
Create a custom website tailored to your business needs 10X faster with 10Web AI Website Builder!
Get a head start on website creation with AI
Create a custom website tailored to your business needs 10X faster with 10Web AI Website Builder!
For E-Commerce Websites
E-Commerce websites are an undertaking of all their own. In addition to creating business information pages, e-commerce websites integrate shopping cart software that handles the products and the ability to make purchases online.
Two very popular platforms with their own DIY website builders are Shopify and Wix. Both platforms make it easy to build an e-commerce website using their platform-specific builder.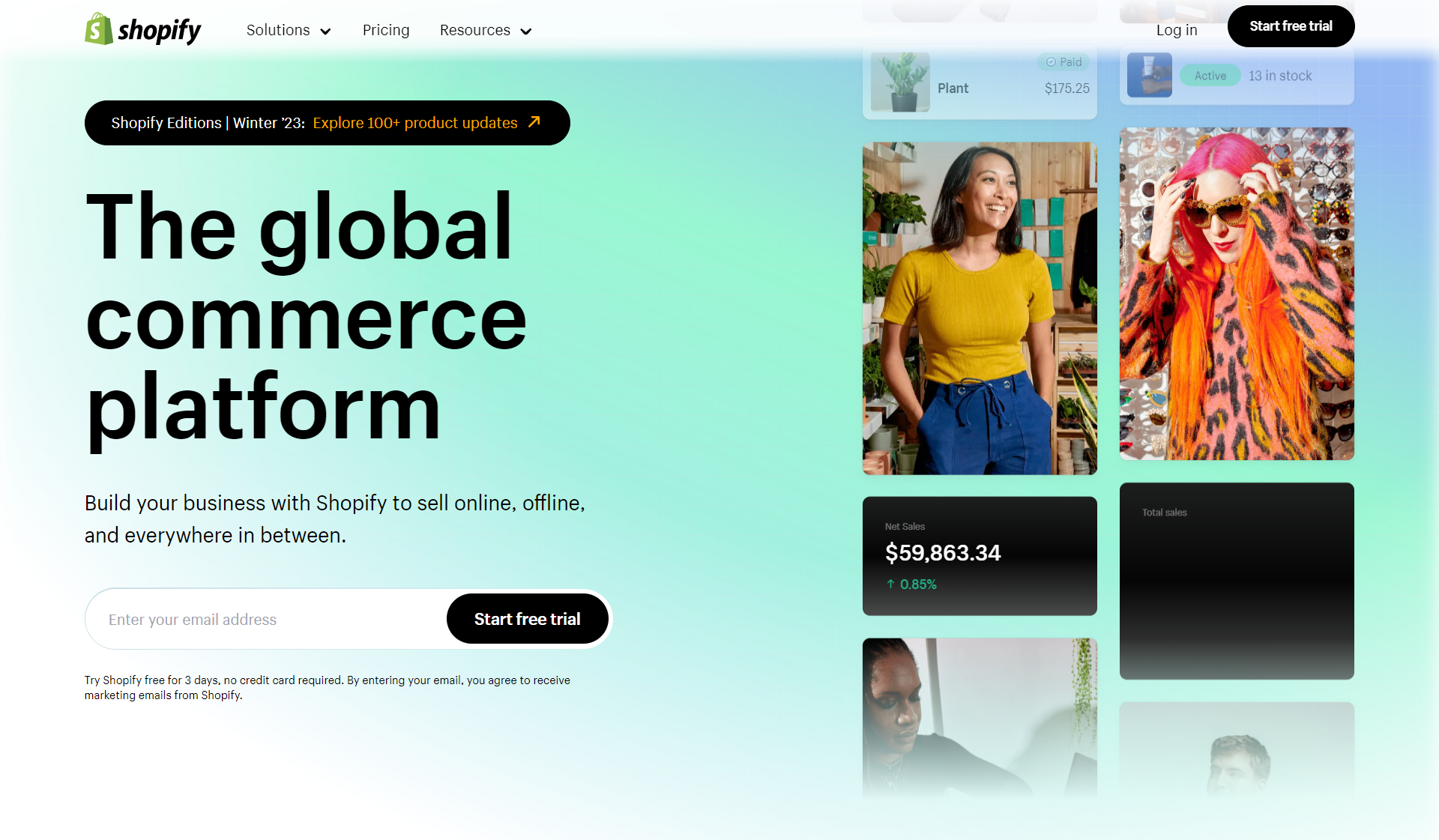 Shopify is one of the leaders in creating an e-commerce website quickly. You can get started without knowing any code or knowledge of how shopping cart software works.
You will need an idea of what you want your site to look like and basic information such as location, offerings, and what products you want to sell.
After signing up for Shopify and answering a few questions, you will have a website ready to edit.
During the initial setup, you can choose a theme from either one of the many free options to the paid, premium themes available in the theme store.
Shopify excels at creating a website that is focused on selling online. 
Navigation is easy to follow.  If you are looking for the DIY builder, you will find it under the Sales Channels followed by Online Store.
Here you can find the options to modify your theme, add blog posts and content pages, and adjust your site's navigation.
Click on Blog posts or pages will allow you to create a new page and bring you to their online editor.
What we immediately noticed was that there are significantly fewer options for modifying the site's content. The page editor is lacking in options compared to some other editors. It is focused mostly on the text content.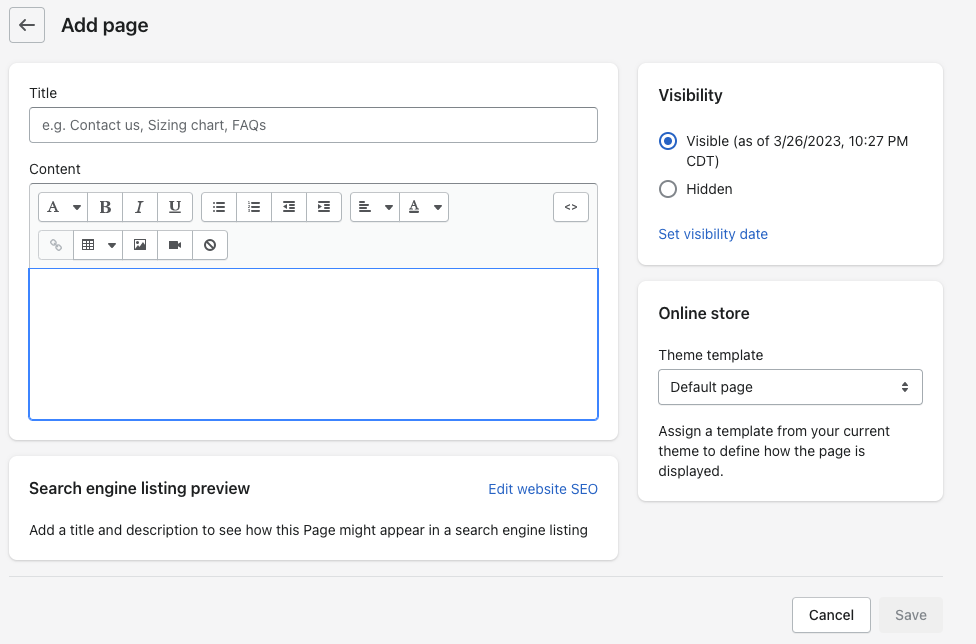 If you want to change the overall look and feel of your website, you can do so under themes and then customize.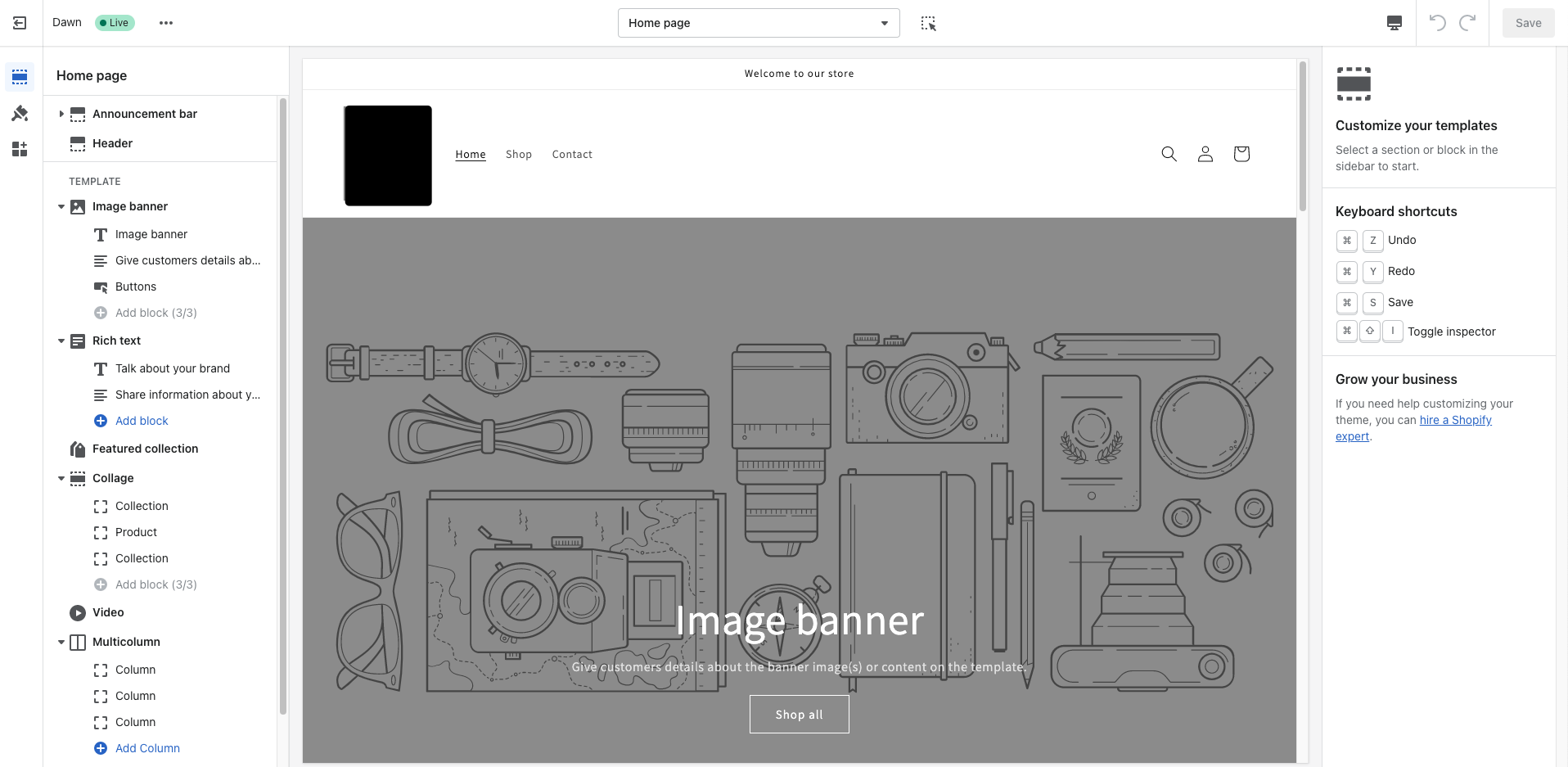 Pros:
The editor is straightforward to understand.

If you have never built a site, it is easy to get started.

Plenty of pros available if you need help

Many themes and integrated apps to choose from
Cons:
Limited compared to other editors

Vendor lock-in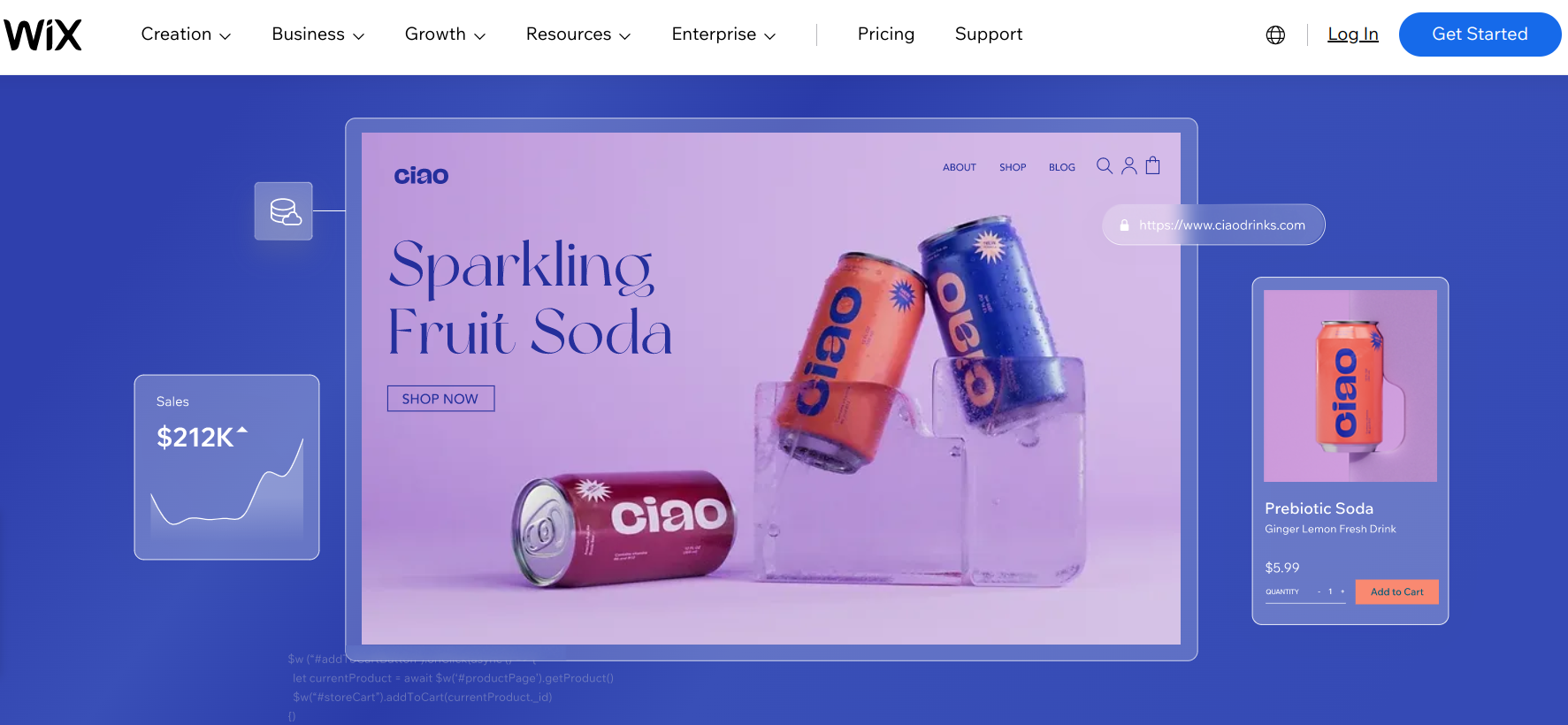 Wix's online builder has many interesting features in addition to having many of the standard features, such as the ability to add elements or media and re-arrange the page.
One of the best features is the ability to control your site's desktop and mobile versions jointly or separately. 

While this editor does not require you to have knowledge of development or any coding skills, if you do, you can turn out dev mode, allowing you to take more control of your website.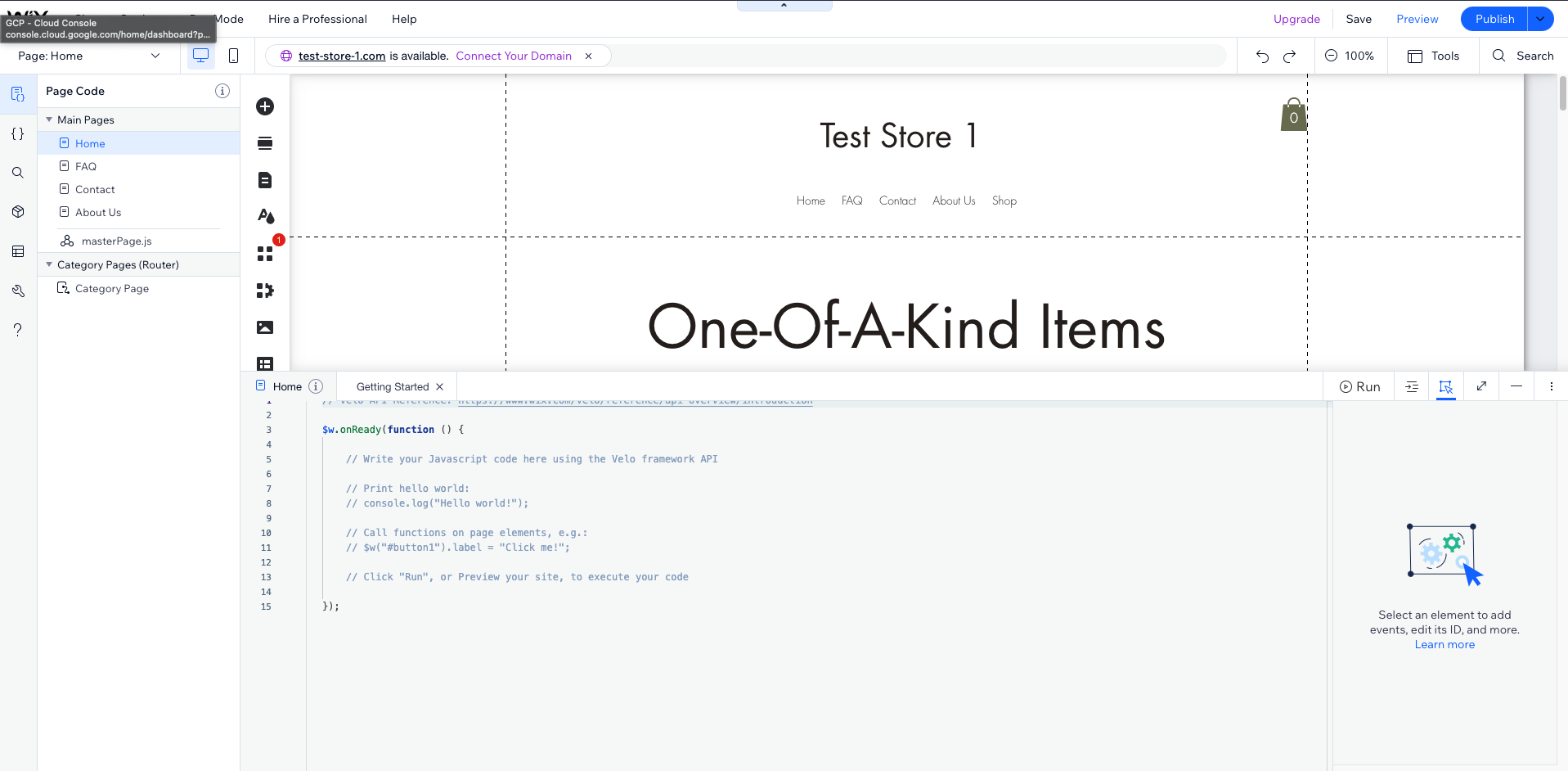 Pros:
Developer-friendly tools such as dev mode and branded app mode.

Many themes and integrated apps to choose from.
Cons:
Once you choose your theme and your site goes live, you will not be able to change the theme. 

You cannot export your website when built with Wix.
Wrapping up editors
Overall the 10Web AI Builder is a standout. It is the best way to go if you want to create a website quickly.
The e-commerce stores such as Shopify and Wix have many tools built in that are geared toward getting your e-commerce business online. 
In the next section, we will look at the 6 easy steps to create your website from choosing a domain name to publishing your site.
6 Steps to Quickly Create a Website From Scratch

Using 10Web AI Builder is the easiest way to build a website. In this section, let us go over the steps to build a website, from choosing a domain name to having it go into production.
Step 1 – Decide and Purchase a Domain Name
If you want to use your domain name, the first thing you need to do is decide on what your domain name is going to be. Once you decide what your domain name is going to be, you can choose one of the many domain name registrars to register your domain name.
For a long time, you only had the options of .com, .org, or .net, but in more recent years, the number of top-level domains (TLDs), as of March 2021, there are 1502 top-level domains. 
There is something for almost anybody who wants to have an online presence. 
Do not worry if you are not fully ready to commit to a domain name; with 10Web AI Builder, you can choose a temporary name before configuring your domain name.
Some popular domain registrars are:
Step 2 – Purchase a Plan From 10Web
The next step is to decide which 10Web plan fits your needs. There are several plans to choose from. Each plan comes with the 10Web AI Builder.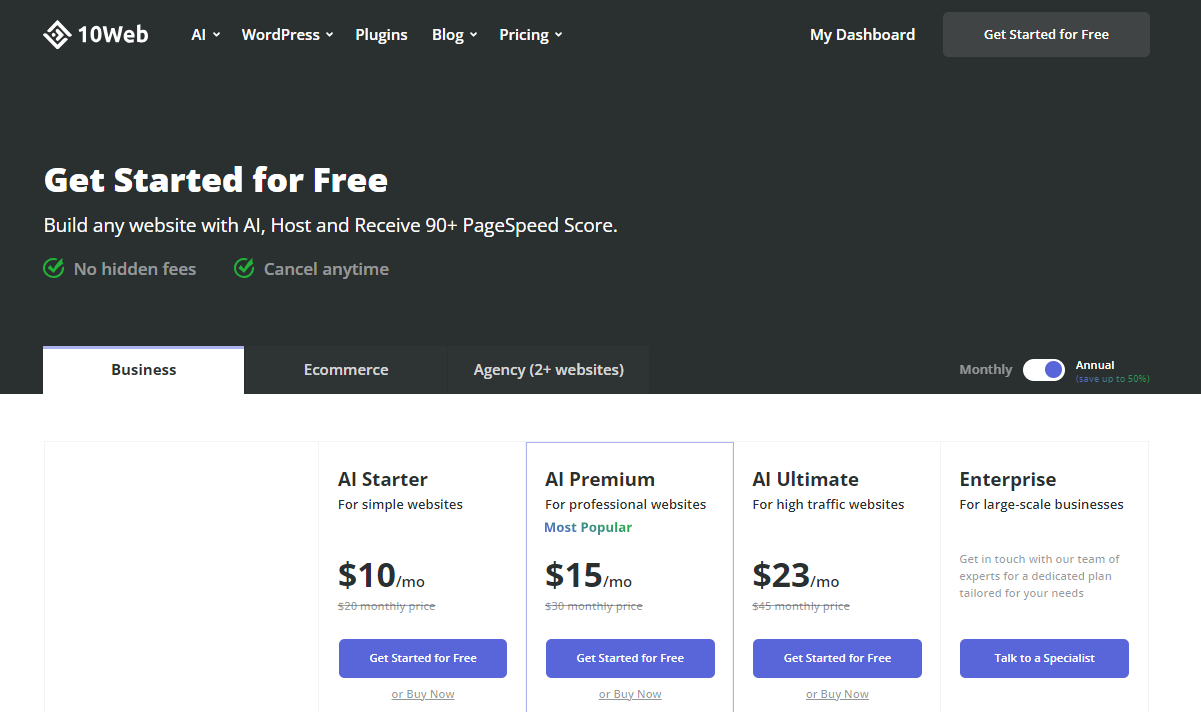 Step 3 – Generate the Initial Website
After you choose a domain name and choose a 10Web Pro plan, you can get started creating your website.
3.1 – From within the my.10web.io portal, click "Create a Website".  The next few steps will guide you through easily creating a website.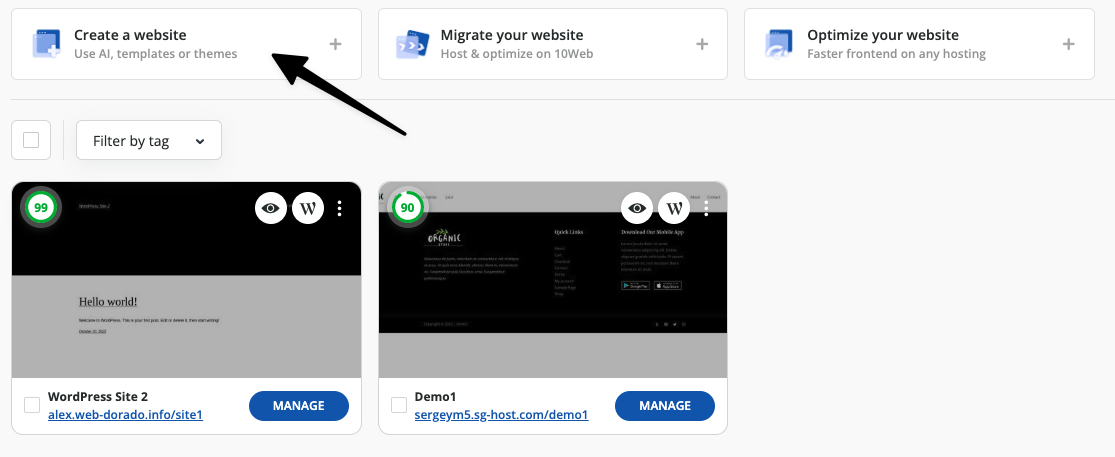 Note: The option to clone a website is a fun one. 10Web AI Builder can clone a website based on a URL.
3.2 – Fill out the window for a Single WP Website
Select a Single WP Website.

Decide on the title of your site.

Choose a data center. In general, you'll want to pick a location close to you or the

majority of your audience.

For our example, we can either select "I have a domain" and add a domain, or we can use the default.

You can select a WordPress admin and password.

Finally, click on Create.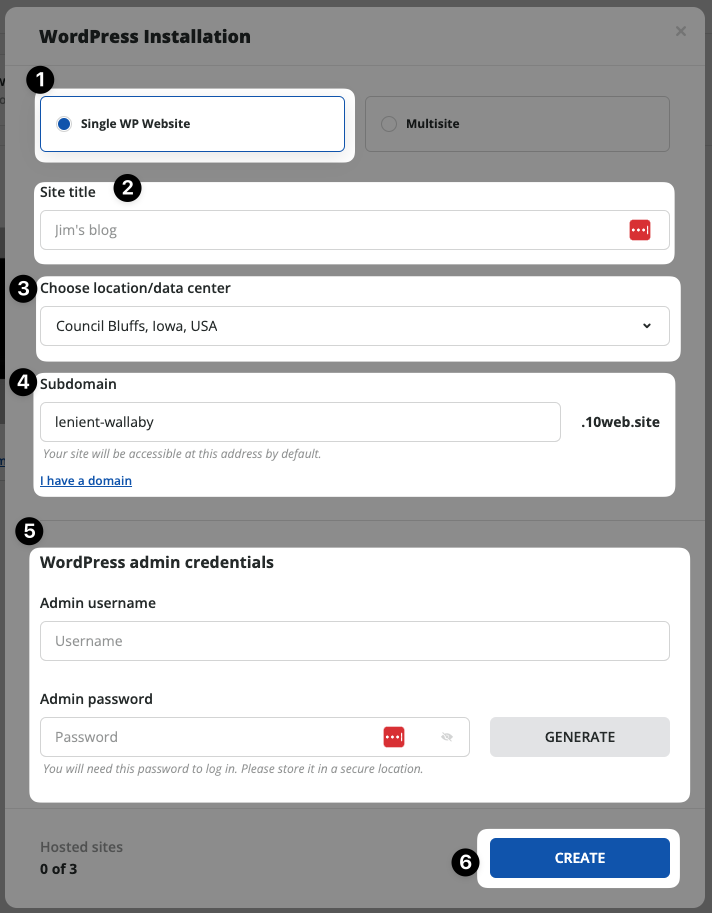 3.3 – After clicking on create, your site will be automatically generated
It takes a few minutes to set up hosting, install WordPress, and finalize all of the settings.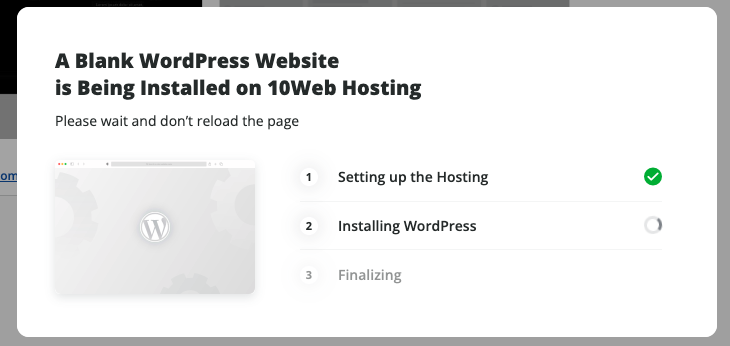 3.4 – Once the site is generated, you will see an initial PageSpeed score. You can revisit and re-run this page score test at any time.
10Web guarantees a 90+ PageSpeed score when using the 10Web Booster plugin.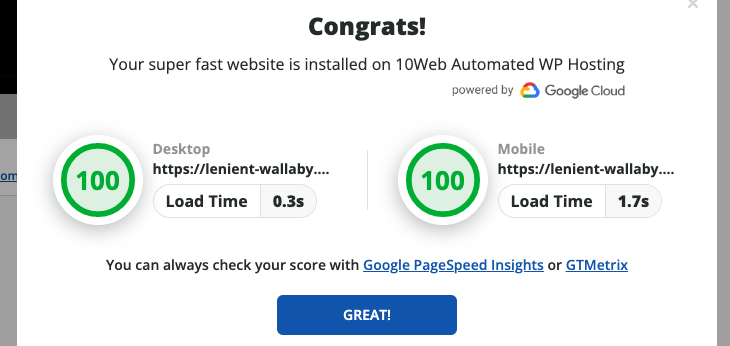 3.5 – Currently, hosting is set up, but no pages have been generated. On the next screen, click on Generate. Your site will be automatically generated based on a series of questions that will influence the theme and content of your website.
This is how you can create a website easily with 10Web AI Builder.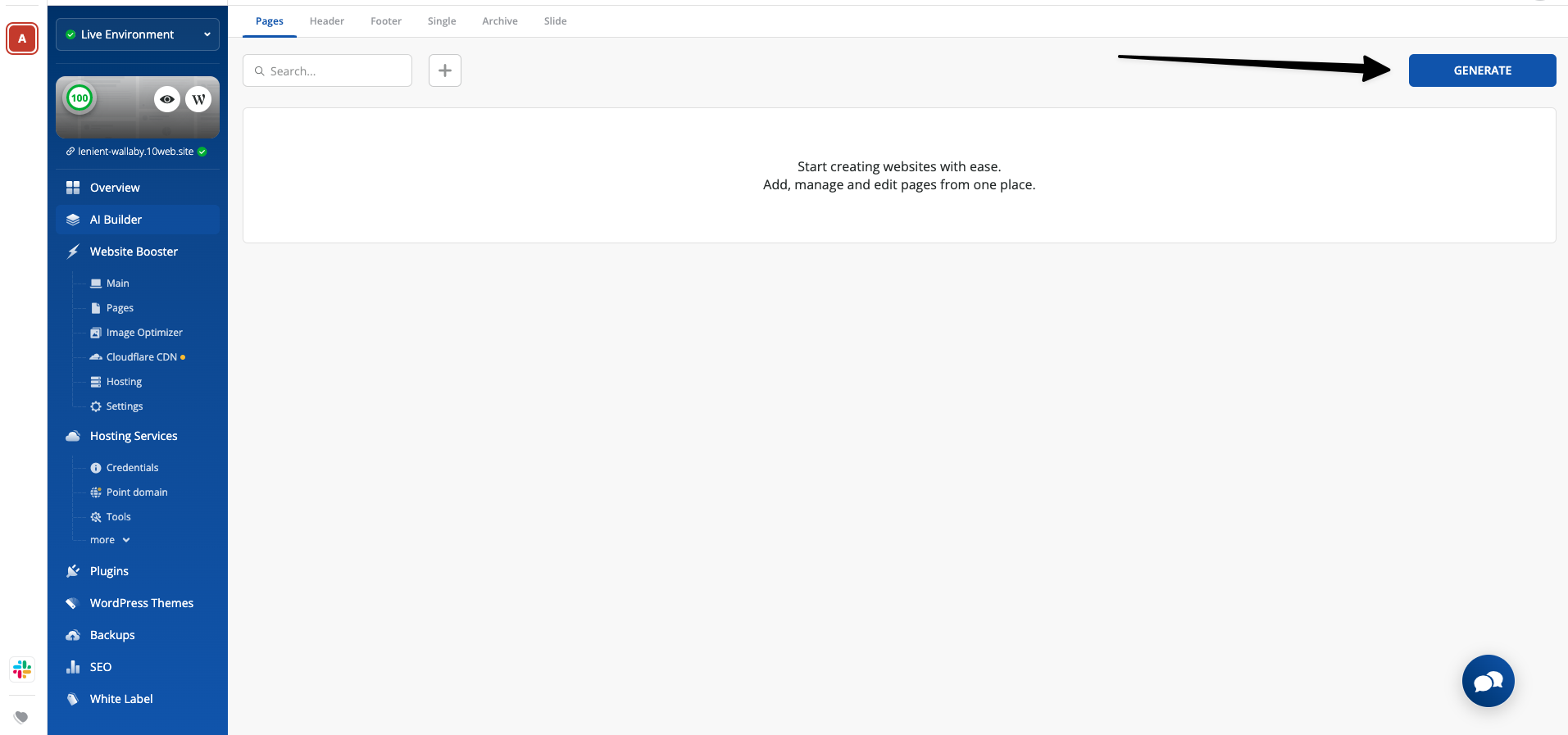 Step 4 – Generate the Website's Content
The next step in this process is creating the website's content through the 10Web AI Builder. The AI builder guides you through four steps that will influence your site's look feel and content.
The first step is choosing your business type from a dropdown menu. If you are building this for personal reasons and not a company, you can choose Blog as the company type and click Next.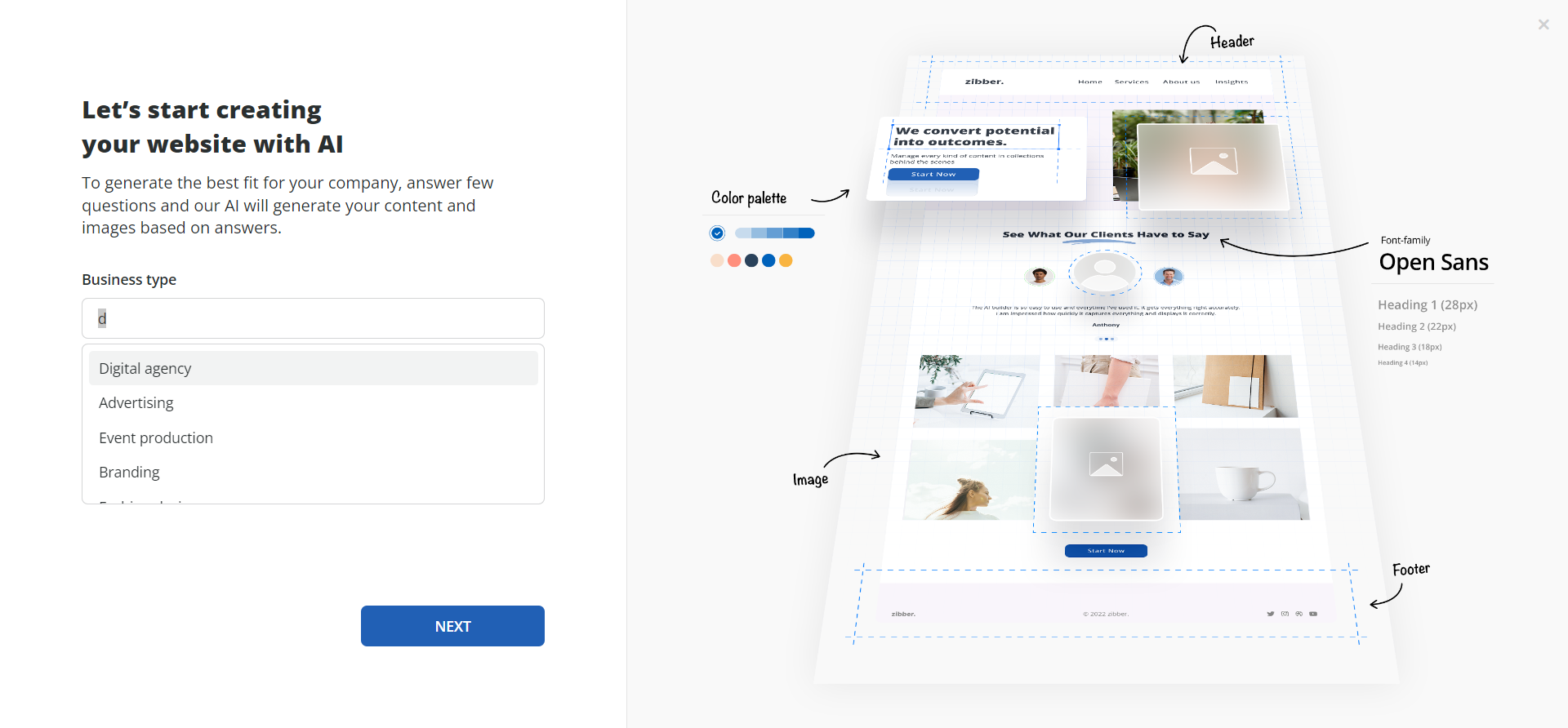 Next, you input your company's name and describe your company. To get better results you should mention your target audience, industry, and how are you unique. You may have this information already decided on and this can be a copy and paste. If you are writing a description for the first time, a tool like the Hemingway Editor can help you hone your words. The Hemingway Editor is a free online editor that will give suggestions on spelling, grammar, and readability.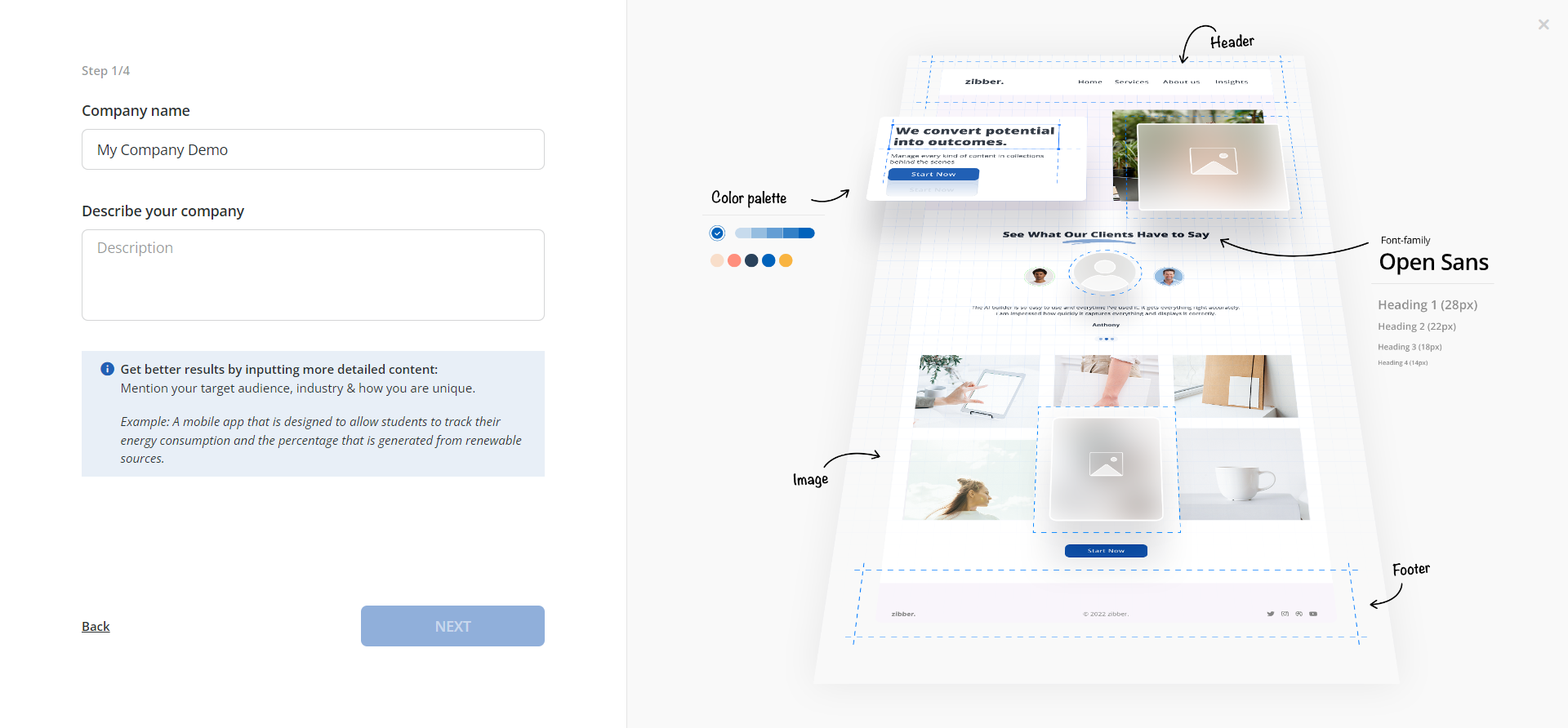 In step 2 of 4, you can choose three services/features of your website. If you are creating a website for your business, these could be the various service levels or offerings you provide. 
For example, if you were a photographer, you might put in Weddings, Professional Headshots, and Art Photography.  If this website was for a new app the features might be how much more efficient you could be, that the product costs less than the competition, or how it will change the way you live your life.
This information is used to create support pages that highlight the services and features. The 10Web AI Builder will create the pages and fill them in with the initial content.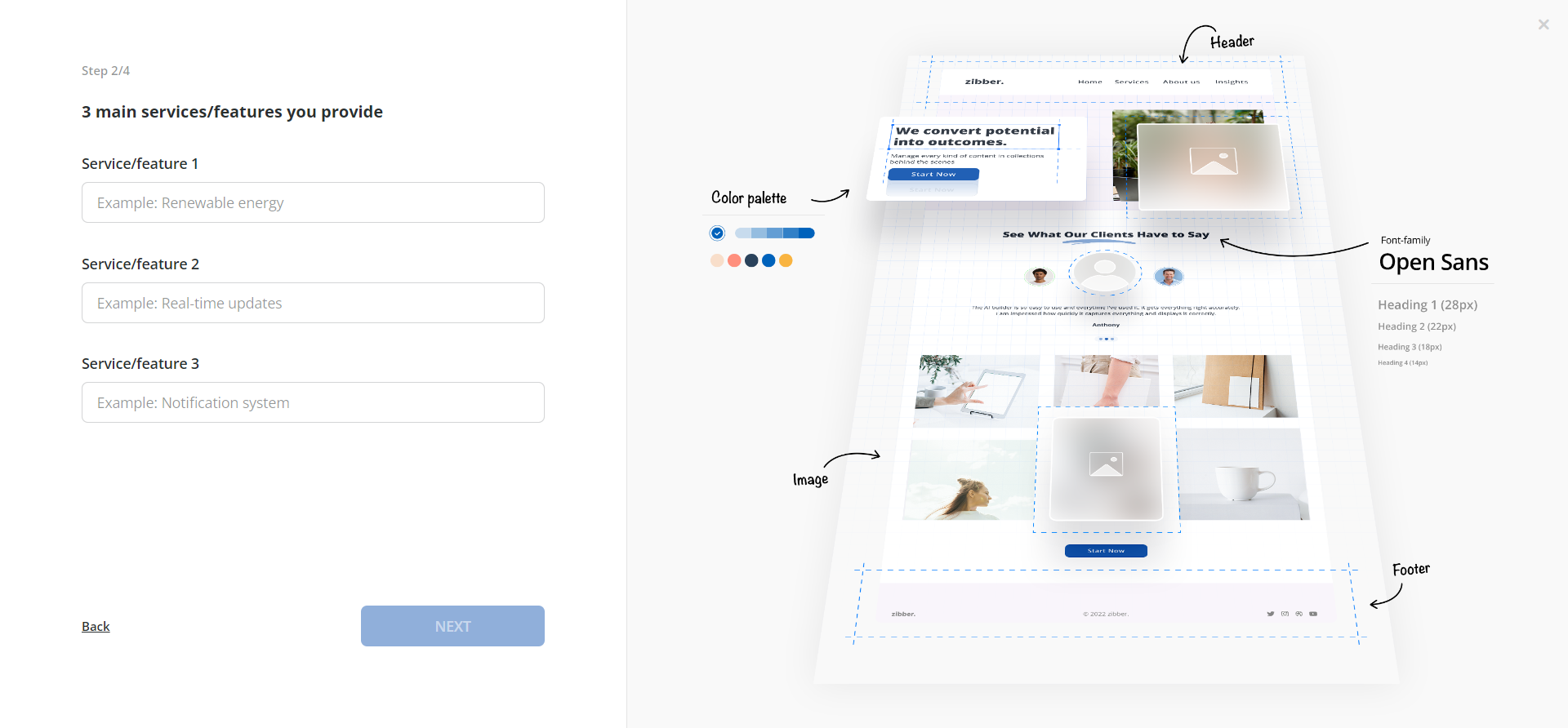 You can always adjust this content to be exactly what you want. AI just makes this the easiest way to build a website. Learn about the importance of content planning in our related article.
In step 3 of 4, you have the option to add an email address, phone number, and physical address. You can fill these in if they make sense or if you are primarily operating online these fields can be skipped.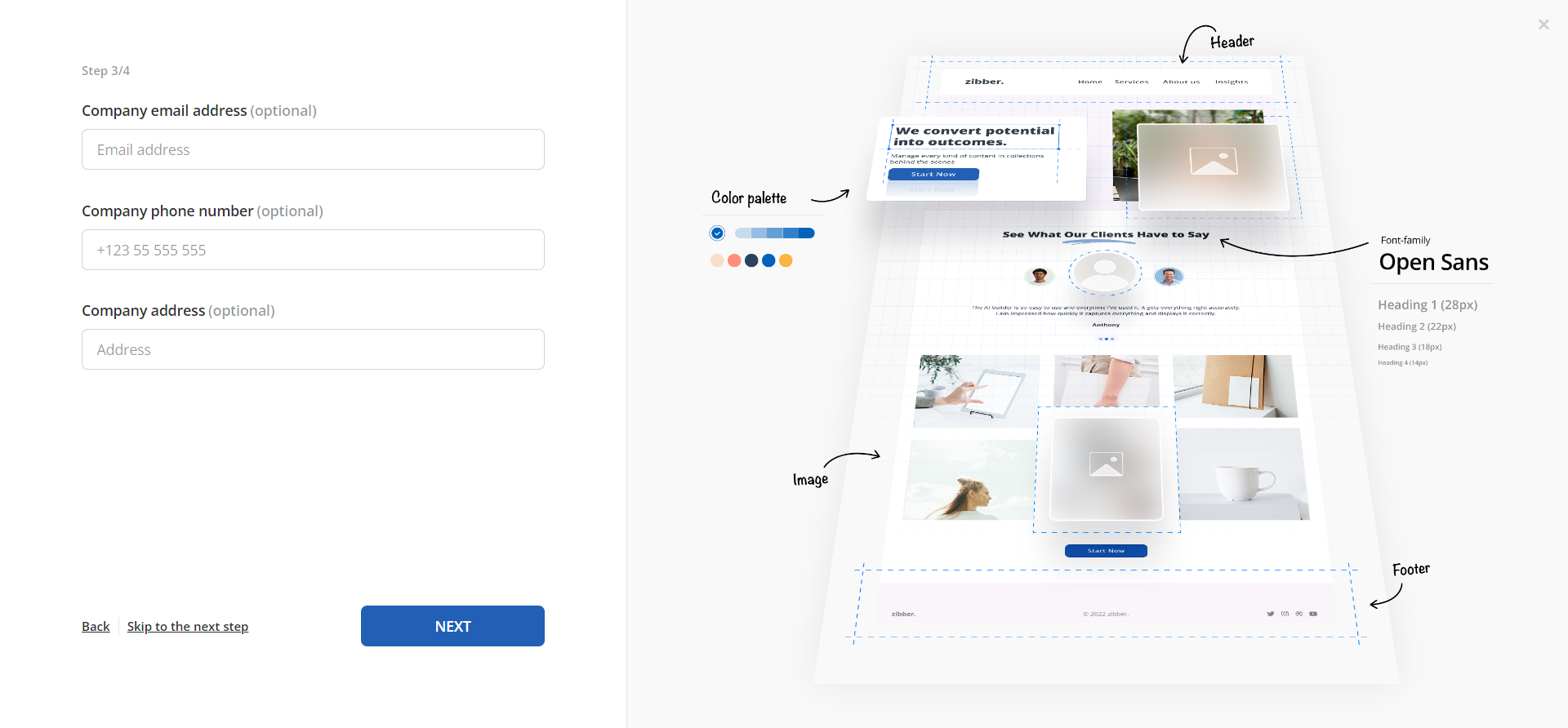 In the last step, you can choose the tone of your site. Choose between informal or formal depending on your audience. 
You will know the right option for you.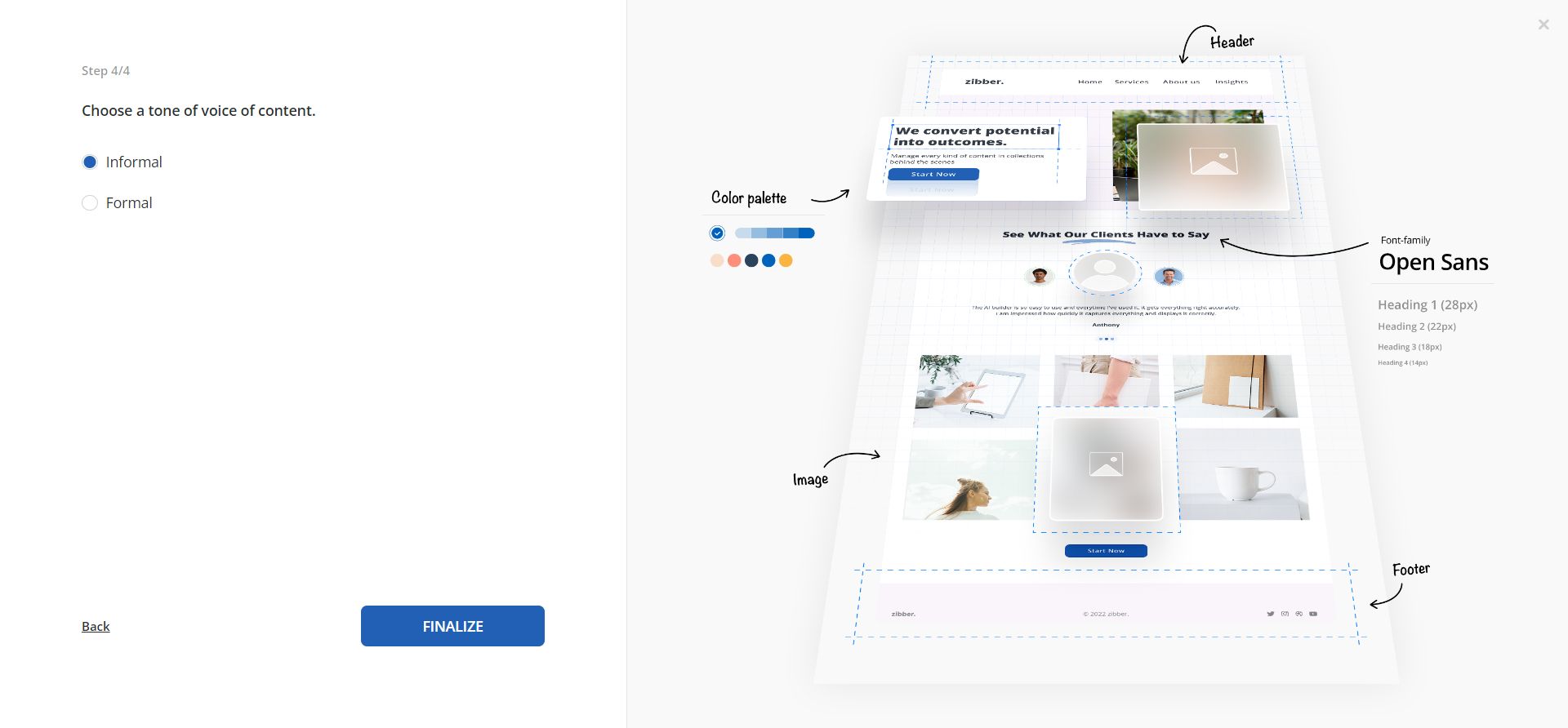 Step 5 – Edit the Website's Content
Once your site's content has been generated, your next step is to edit your content to your exact needs.
The 10Web AI Builder will create and populate several pages depending on the theme you choose.
You can expect to see pages such as:
Home page

About page

Contact page

Various other pages depending on your services and features.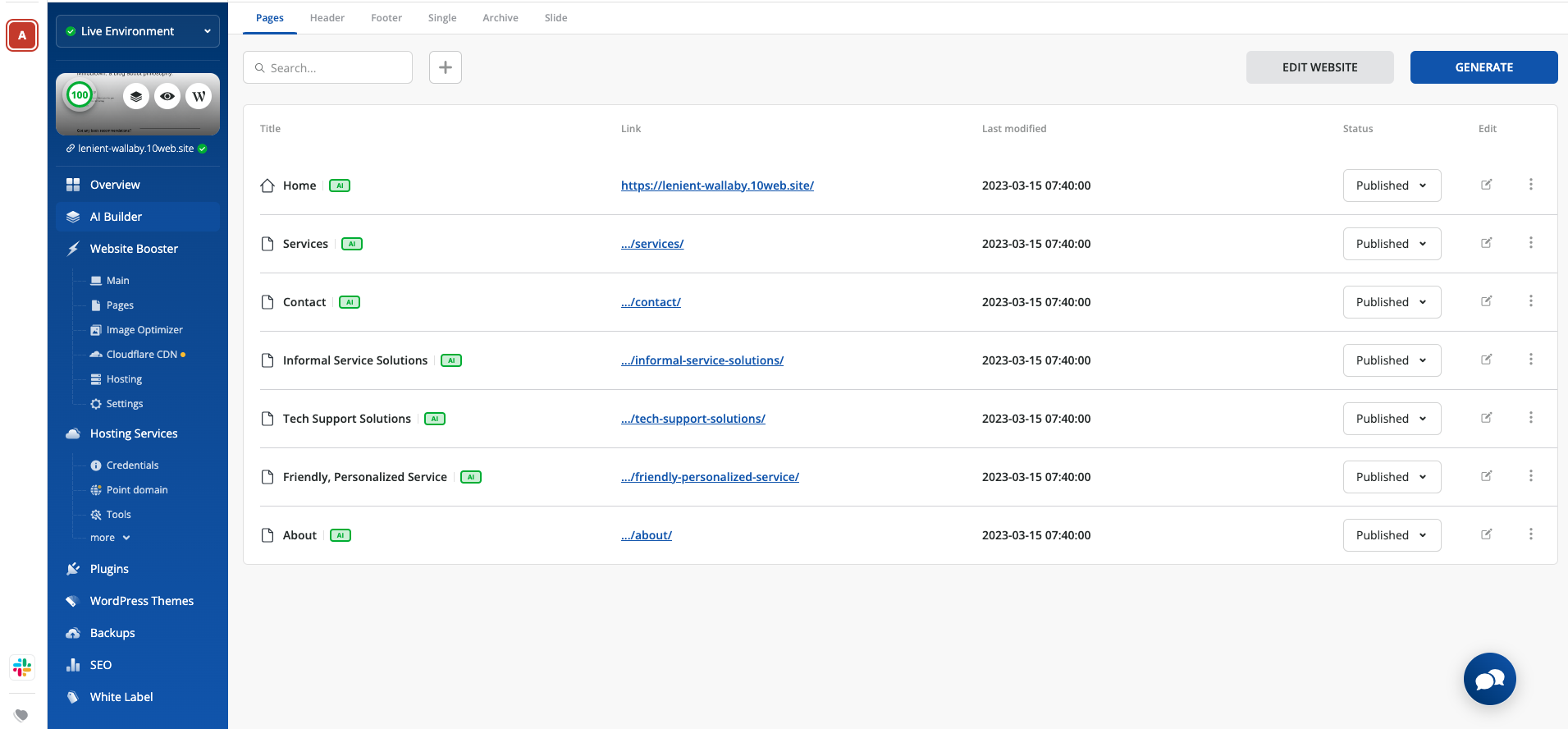 In addition to the generated pages of content, you can also add more pages using one of the 3 options available: AI recreation, pre-made pages, or blank page.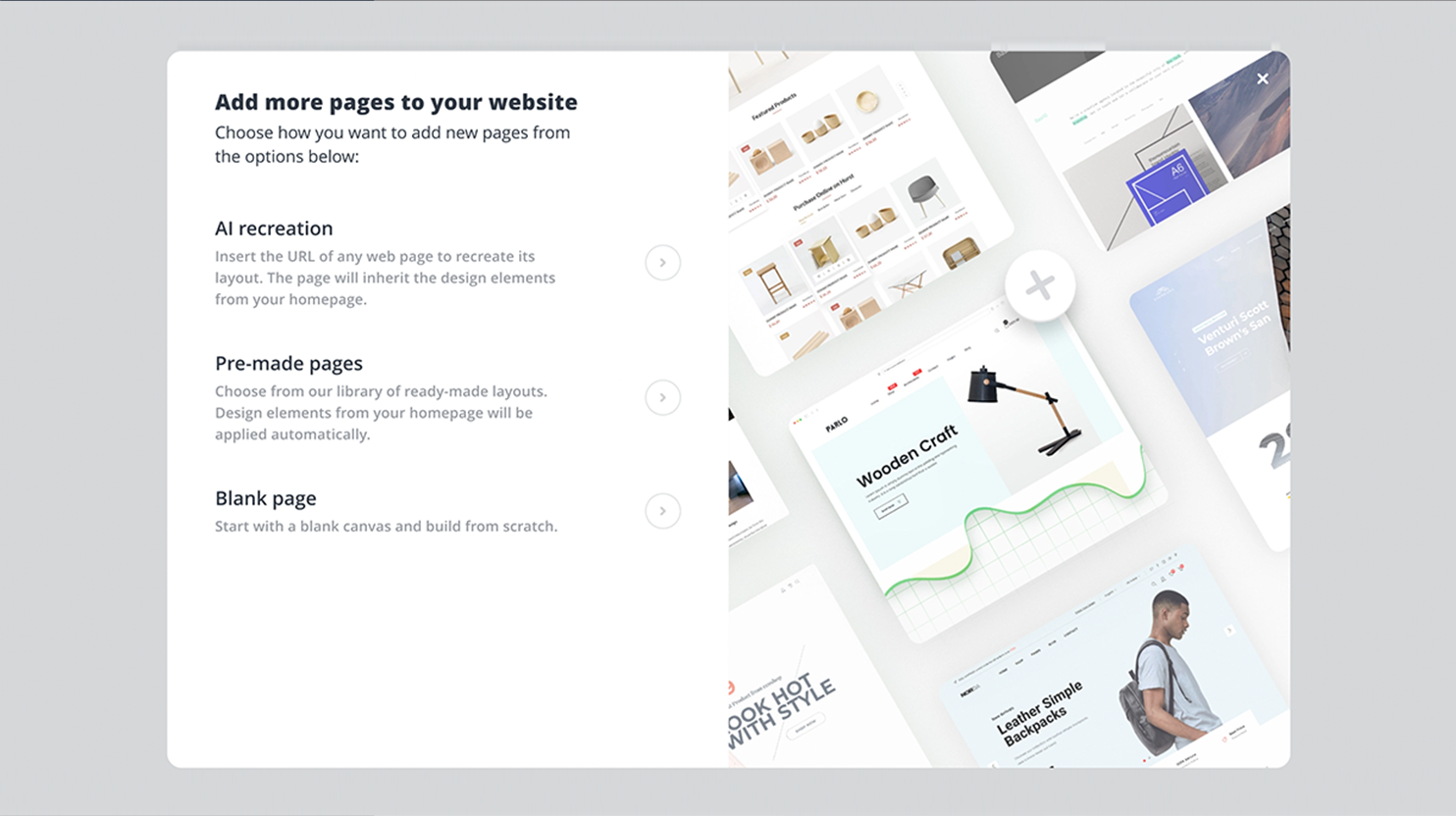 Moreover, you will also have a header and footer so you can customize what the top and bottom of each page look like.
There are a few templates that also get created. These will save you a lot of time and effort when adding content to your website.
The header is the place where you might add your logo and a navigation menu. 
The footer is where you might add physical locations, hours of operation, or if you mostly have a virtual presence, links to social media.
Under the 'Single' tab, a template has been created for single post pages, a service page, and a 404 page.
The single and service page are page types that can be used to add content such as new services and features or a single one-off post perhaps as part of a blog.
The 404 page is what is displayed when a page is not found. A page not found could be from a broken link or moved content. It is important to have a concise message on this page and options for where to go next.
Before you put your site online, it would be helpful to run your site through a dead link checker such as the one found at https://www.brokenlinkcheck.com/. Using a tool like this will give you the chance to fix anything before it is more widely seen.
Speaking of widely seen, this brings us to our last step. The next step is step 6, publishing!
Step 6 – Publish
The last step to getting your website online is publishing your pages. By default, after the 10Web AI Builder generates the content, the status of the pages will be marked Published'. 
When your site is in testing mode, it is best to keep the status of the page as 'Draft'.
Once you are ready, it is as simple as selecting 'Publish from the drop-down menu,' and clicking "Confirm".
Just like that, your website is published. It really is the easiest way to build a website.
Get a head start on website creation with AI
Create a custom website tailored to your business needs 10X faster with 10Web AI Website Builder!
Get a head start on website creation with AI
Create a custom website tailored to your business needs 10X faster with 10Web AI Website Builder!
Conclusion
Building a website can be an undertaking, or it can be an easy process. Using 10Web AI Builder is the easiest way to build a website when you are building it on your own.
This article looked at some options for the fastest way to build a website. The ability to build a website on your own is still out there, and using the assistance of a DIY website builder like 10Web AI Builder is the right tool to help you easily create a website from scratch.
FAQ
Is it realistic to build a website on my own with no development and design skills?
It is possible to build a website without any development or design skills. Using a DIY website builder like 10Web AI Builder is the easiest way to do this.
Knowing a little bit about design will help you have more control over the overall appearance of the site. If you are starting from square one, understanding a little bit of HTML and CSS will go a long way.
What is the easiest way to build a website for beginners?
10Web AI Builder is the easiest way to build a website for beginners. Once you have an idea you can turn it into a full website in a matter of minutes.
What are the different costs associated with building a website?
Getting your website online comes with a few associated costs. If you are building the site yourself, the major costs will be the domain and the hosting.
As an example, a .com domain can cost between $10 to $15 depending on where you register the site. Vanity domain names can cost upwards of $50. This is a per-year cost and you will have to renew the domain name every year.
The second major cost associated is hosting. Hosting is a service that server space so that your website can be accessed online.
There two major types of hosting are shared and dedicated. The difference is in cost, usually shared hosting is less expensive, and in the amount of control, you have over your hosting scenario.
How much does it cost to hire someone to design a website?
The cost of hiring a designer can vary depending on your needs. In general, you can expect to pay anywhere between $500 and $5,000 and this should include all of the visual design and interactive components of your website. This cost usually does not include the domain name or the hosting, but that can vary from service provider to service provider.