In today's digital era, it's crucial for all industries, including the food business, to have an online presence. In this article, we explore the top examples of food websites that excel in design, function, and visual appeal. Whether you're a chef, a food blogger, or a restaurant owner, these sites offer inspiration with their captivating images and user-friendly layouts.
In this digital dining era, restaurants and food providers have been forced to adapt their business models, operations, and offerings to keep customers happy. One of the predominant trends with this new digital transformation is the growing importance of a website that serves as the first point of contact with customers. 
With just a few clicks, a good food website allows customers to discover and locate your food business, browse available options, read reviews, view the menu, make inquiries, and even make reservations or purchases. As delivery and takeout channels continue to grow in the food business, a good food website also allows customers to order delivery and make payments online. 
This article covers some of the best food website examples, from fine dining, contemporary casual restaurants, cookware shops, organic products distributors, and everything in between. 
If inspired by any website designs below, you can create similar food website examples for your business using 10Web AI Website Builder. Simply answer a few questions about your business, and it will generate your site based on your provided answers.
Example 1:

Supernatural Kitchen
– Exploring plant-based flavors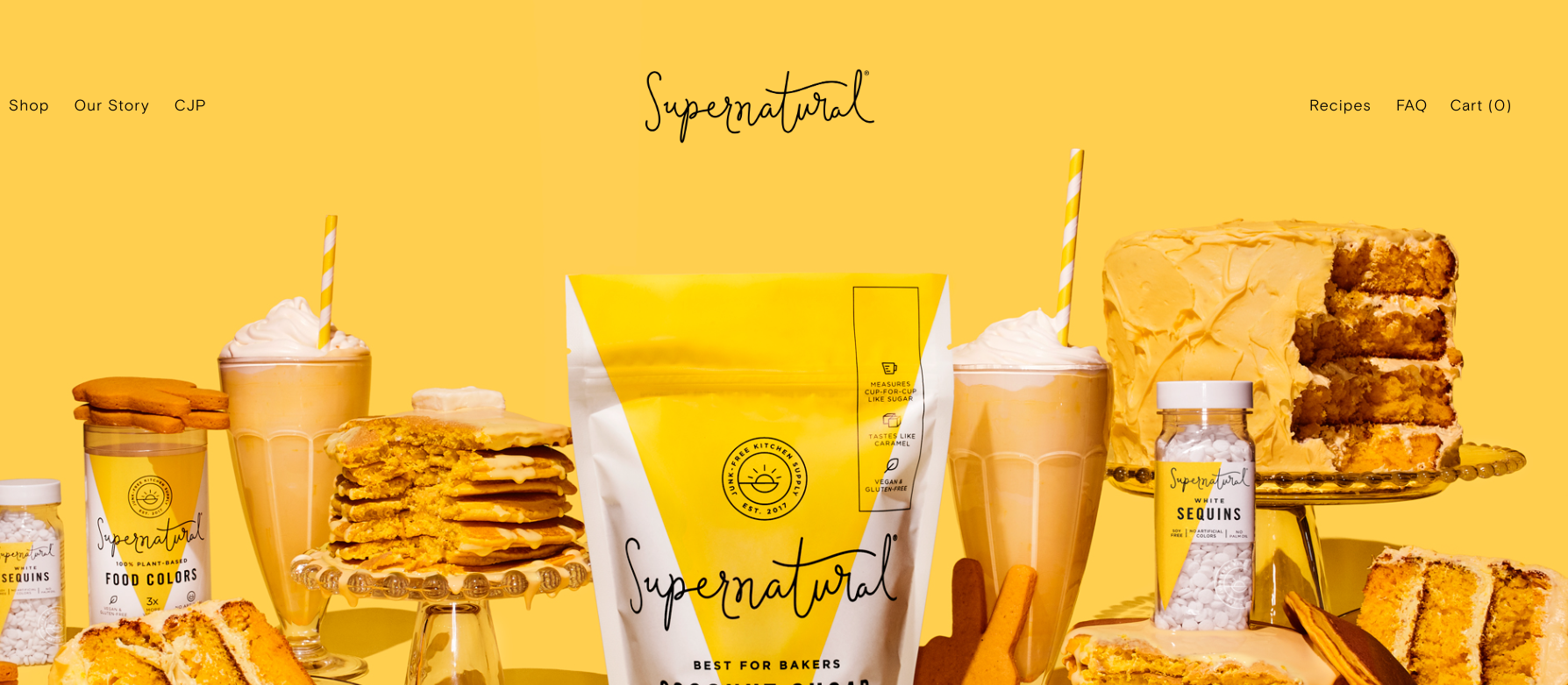 First, we have Supernatural Kitchen, a food website example where you can source colorful plant-based ingredients to help your culinary creativity shine. Supernatural Kitchen is everything you'd expect from food websites advocating for kitchen creativity and reimagining the colorful ingredients that help chefs shine. The homepage has a backdrop image of an assortment of baked foods such as cakes, pastries, and cookies. 
Throughout the website, you can find prominent displays of their products alongside brief descriptions of each product.
Other great features on the site include:
Links alongside each product display, which allows you to order conveniently.

Colorful display of images showcasing the brand's commitment to making food colorful and enjoyable.

Links to Instagram, where you can find more product pictures.
If you like this food website, you can leverage 10Web AI Website Builder to create a similar site. Simply insert the home URL, and the AI will copy the layout, design elements, and content.

Get a head start on website creation with AI
Create a custom website tailored to your business needs 10X faster with 10Web AI Website Builder!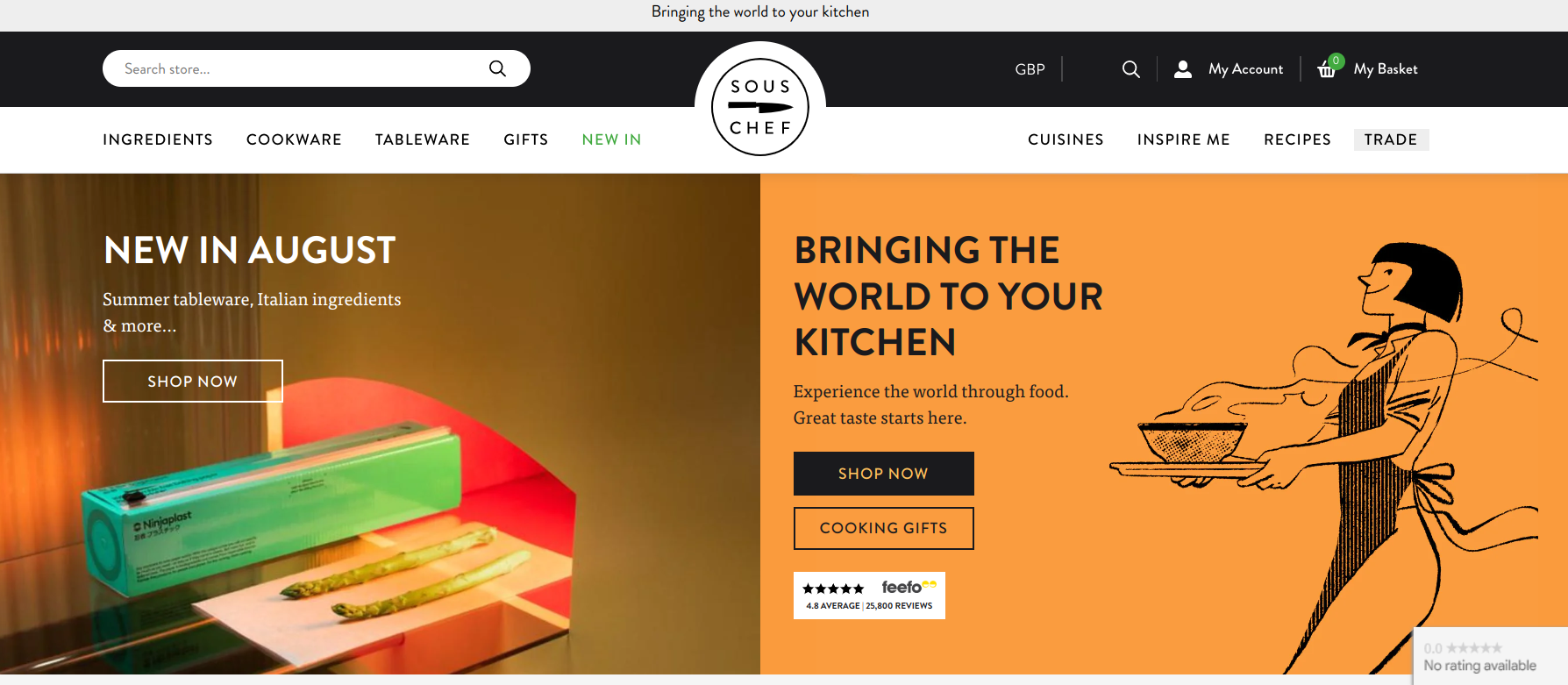 Sous Chef cooking shop is more than just a food website. Sous is one of the go-to food websites to find everything you need to prepare your meals, from ingredients to cookware and tableware. The homepage welcomes users with a hero banner that sets the theme for the whole site, enabling both home and professional cooks with tools to prepare great meals.  The header is filled with different categories allowing users to browse different types of products.
Other outstanding features on the site include:
The clear and user-friendly navigation bar makes browsing easy.

"New Arrivals" section that encourages both new and returning customers to explore new product offerings.

Contact information and ‌customer service options such as next-day and free delivery enhance customer shopping experience.
Example 3:

Ben & Jerry's
– Leading ice cream brand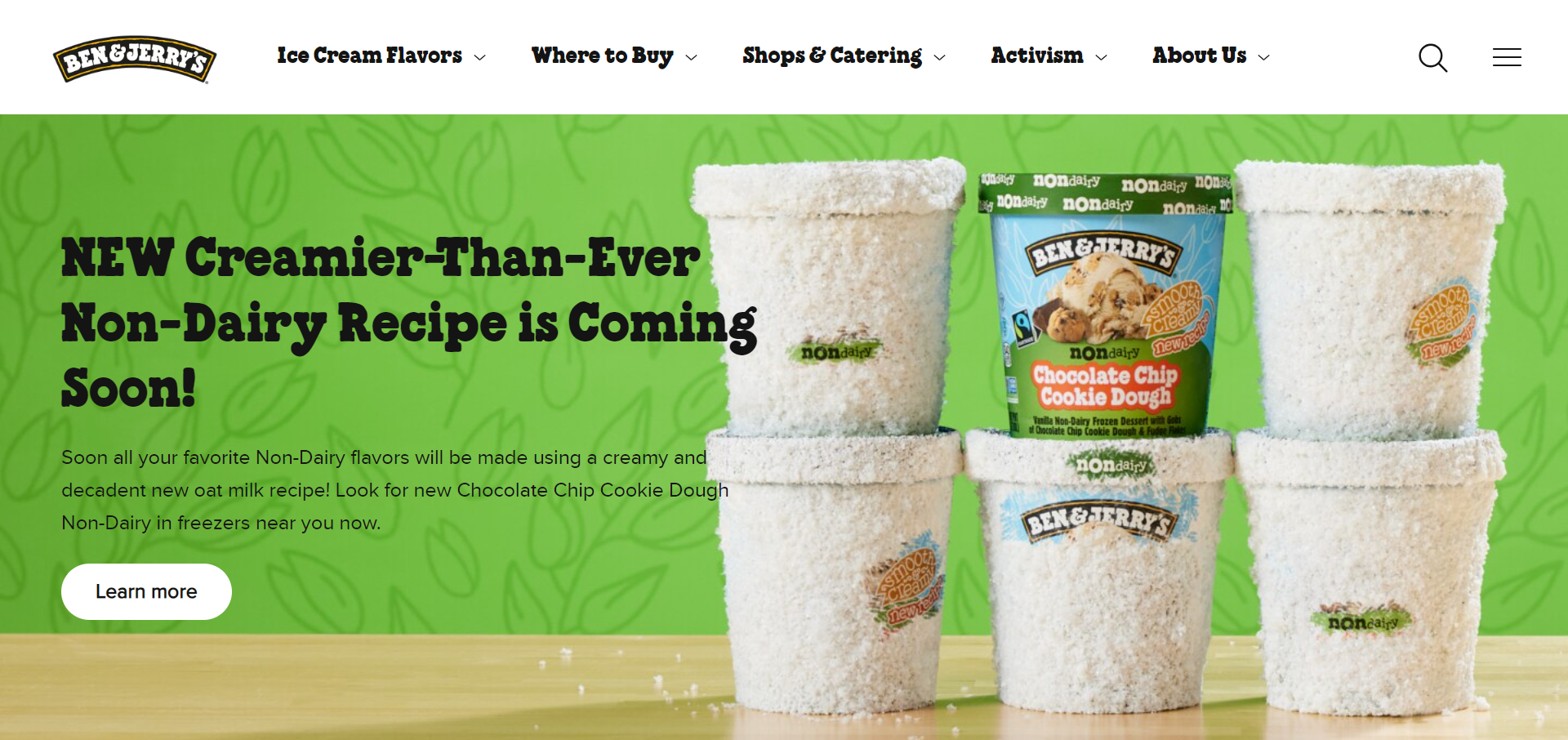 Ben and Jerry's is a legendary brand popular for their ice creams since their inception in the 70s. Besides their great ice cream flavors, their website is among the food websites you should check out if you'd like to venture into a similar business. Although Ben and Jerry's is a well-known brand, their site adopts a thoughtful, user-friendly layout with a simple navigation menu at the top. The homepage includes a colorful tube introducing a new recipe setting an exciting vibe for the whole site. 
Other great features on this food website example include:
A "Where-to-buy" section makes it easier for customers to locate different stores and retailers to purchase their favorite flavors. 

An "Activism" section where visitors can read about the brands, and environmental and social efforts and get involved.

A "Catering and shop" section where you can order takeouts, free cone day, menus, and shops near your location.
Example 4:

Sakara
– Nutritional program options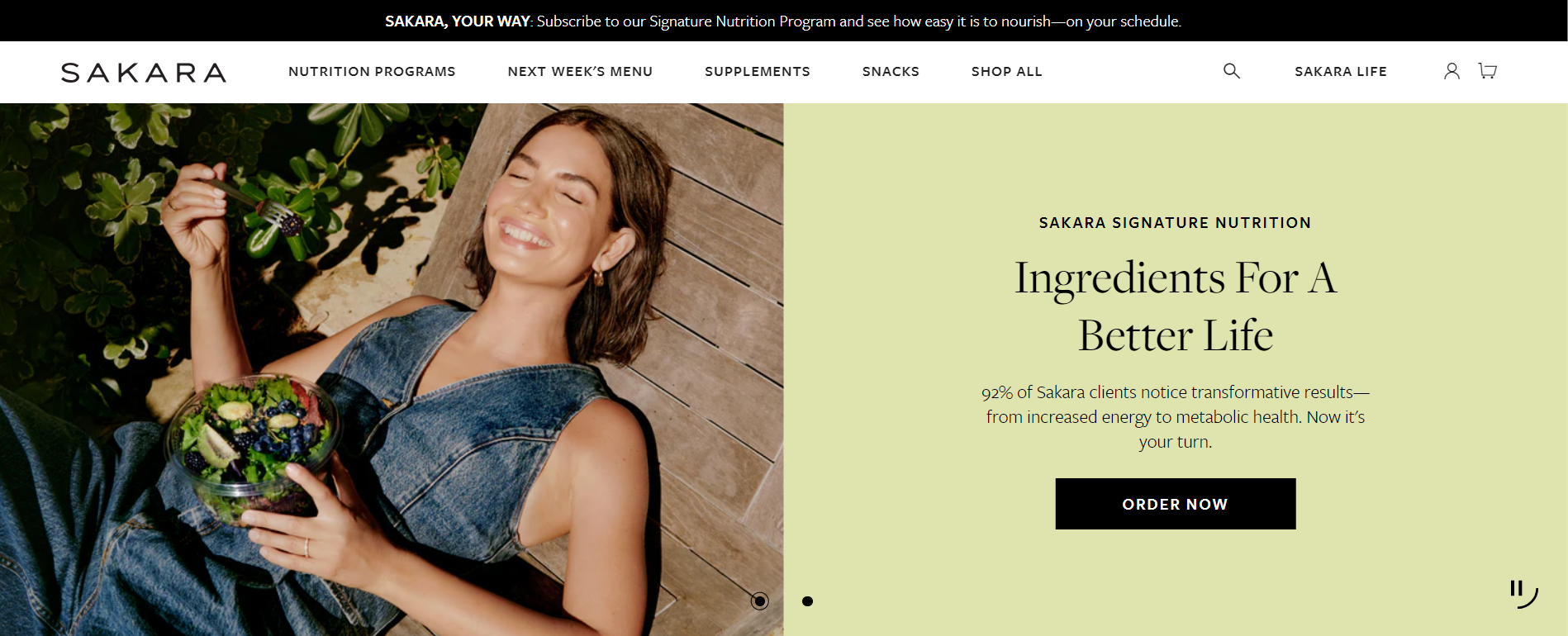 Sakara is the go-to site if you're looking for inspiration on leveraging food website templates to craft beautiful food websites. Sakara is a platform that offers its users unique nutrition programs, plant-based organic meals, supplements, and skincare products to help improve their health and general well-being.
The rest of the site is filled with images of bowls and plates filled with green vegetables, seeds, and fruits, reinforcing the plant-rich and science-backed nutrition approach. 
Other great features of this platform include:
Plenty of white space and bold black font that allows users to focus on their products.

A "Shop All" storefront section where you can filter new arrivals, best sellers, accessories, and nutrition programs.

Dropdown navigation menu allowing you to access Sakara's nutrition programs, supplements, and skincare products.
If you're looking to create a similar food website but don't know where to start, the 10Web AI Website Builder can be of great help. Copy and paste the homepage URL of the site you want to adopt, and 10Web AI will recreate a similar site in minutes. 
Example 5:

Curry Place
– Exploring traditional culinary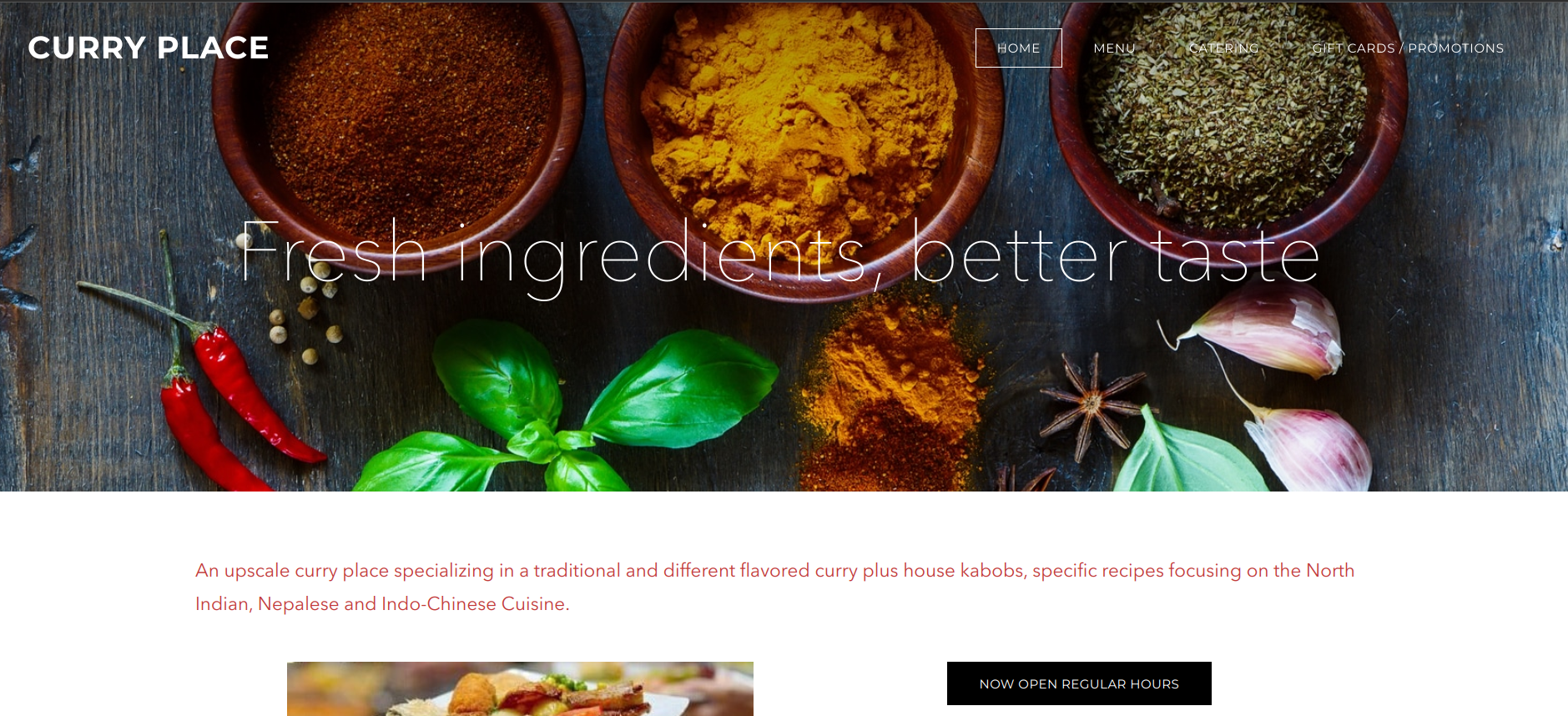 Curry Place specializes in ‌traditional and differently flavored curry plus house kabobs, specific recipes focusing on North Indian, Nepalese, and Indo-Chinese Cuisine. The homepage welcomes visitors with full-width images of spices and ingredients, drawing them into the world of Indian cuisine. 
You will also find a poster on the homepage detailing opening hours and the restaurant's location. The contact form also offers an easy way for customers to get in touch.
Other features that make this food website stand out:
Straightforward navigation menu with categories such as home, menu, and catering, making navigation easy for users.

Column images showcasing different unique dishes and neatly displayed opening hours.

Ample white spaces between images enforce a strong sense of symmetry and clarity.
Example 6:

Xi'an Famous Foods
– Chinese culinary treasures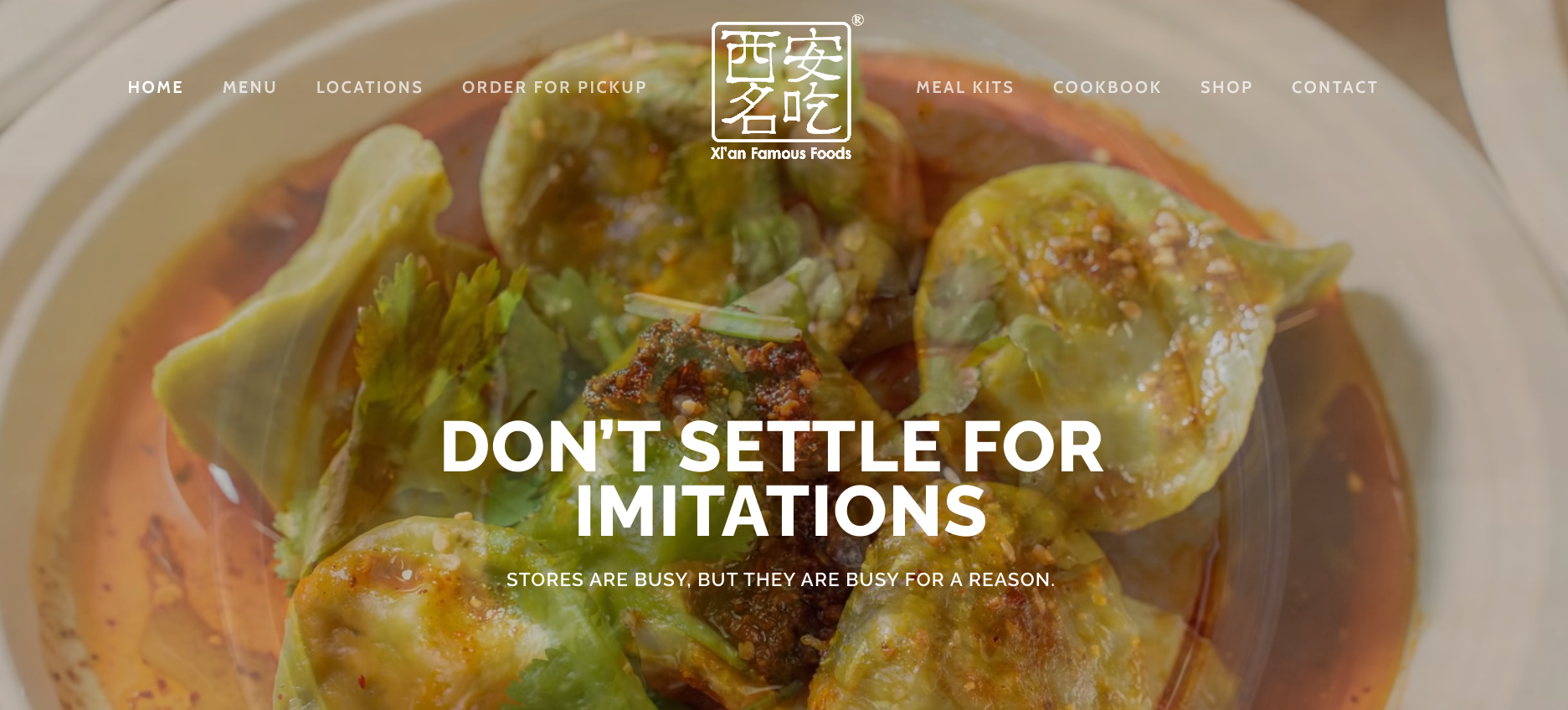 Xi'an Food is a Chinese food restaurant based in New York that accepts orders if you're anywhere in the contiguous US. Unlike most food website examples that appear very colorful, this food website only leverages the stark contrast between black and white to convey its message to visitors. 
Scrolling further down the homepage, visitors can find information about the menu and pricing. The menu is portrayed in a gallery format allowing visitors to compare different dishes. You can also find information about their ‌locations other than New York and the opening hours for each location.
Other great features on the site include:
The slider and grid display of the menu enables visitors to note similarities and differences between different dishes.

Clickable images allow you to view dishes in an expanded display.

If you're a food lover or cook, Xi'an has a best-selling cookbook that can help you learn how to prepare your favorite Chinese dishes.
Example 7:

Big Tree Farms
– Healthy culinary options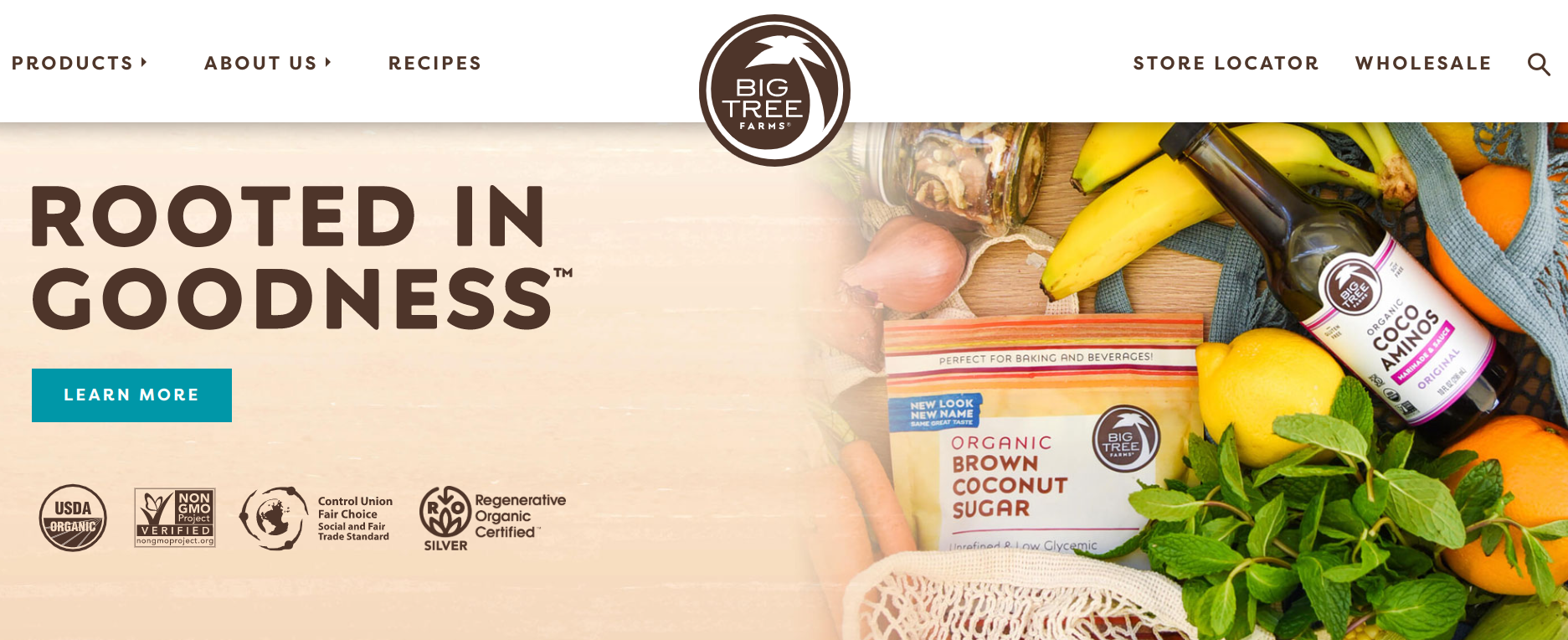 Big Tree Farms is one of the largest distributors of sustainable coconut products. Big Tree is also one of the largest food websites and brands specializing in sourcing an array of organic and ethically sourced coconut-based products. With a mix of blue and brown shades, the homepage sets the design of the whole page. 
The homepage also contains a brief text emphasizing the brand's commitment to delivering healthier alternative products. You can also conveniently find information on their primary products, including concise information about the products and their different use cases.
Other outstanding features on this food website include:
Various recipes with dietary considerations, like Vegan, and Paleo, allow visitors to explore through an intuitive carousel.

A section where you can read more about Nira, the key ingredient, and the magic inside all of Big Tree Farms products.

A "Rooted-in Impact" section emphasizing BigTree farm's purpose in bringing change through regenerative agriculture and organic foods.
If you want to create a food delivery website that conveys your brand accurately, the 10Web AI Website Builder has you covered. Just answer a few questions about your business, and 10Web AI will design and generate a website with content and images for you. 

Get a head start on website creation with AI
Create a custom website tailored to your business needs 10X faster with 10Web AI Website Builder!
Get a head start on website creation with AI
Create a custom website tailored to your business needs 10X faster with 10Web AI Website Builder!
Example 8:

Jo Cooks
– Downloadable culinary resources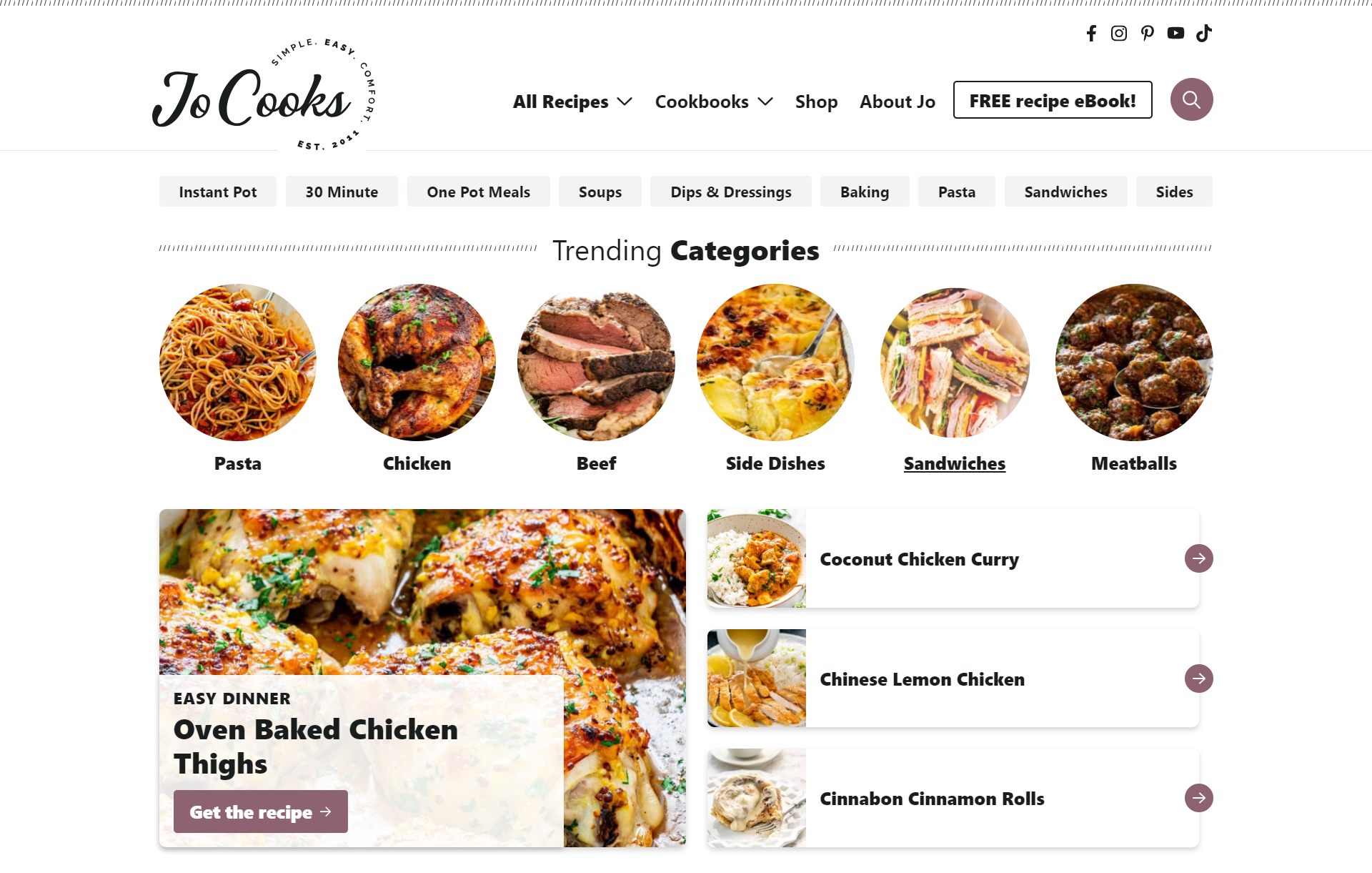 Powered by one of WordPress's food website templates, Jo Cooks is one of the best food websites where food lovers and professional chefs can explore and try new recipes. Joanna, the founder of this food website, has adopted a simple yet bold design with striking visuals that capture the essence of all her recipes. 
Using her background in programming, love for writing, photography, and food, Joanna has put together one of the best food websites where you can find a variety of recipes. 
Other impressive features include:
A user-friendly layout that makes it easy for visitors to navigate the website.

A variety of recipe categories makes it convenient to explore recipes for different types of foods, seasons, and cuisines.

Visitors can access and download recipes in print, videos, and a newsletter for the latest releases.
Example 9:

Milk Bar
– The baking heaven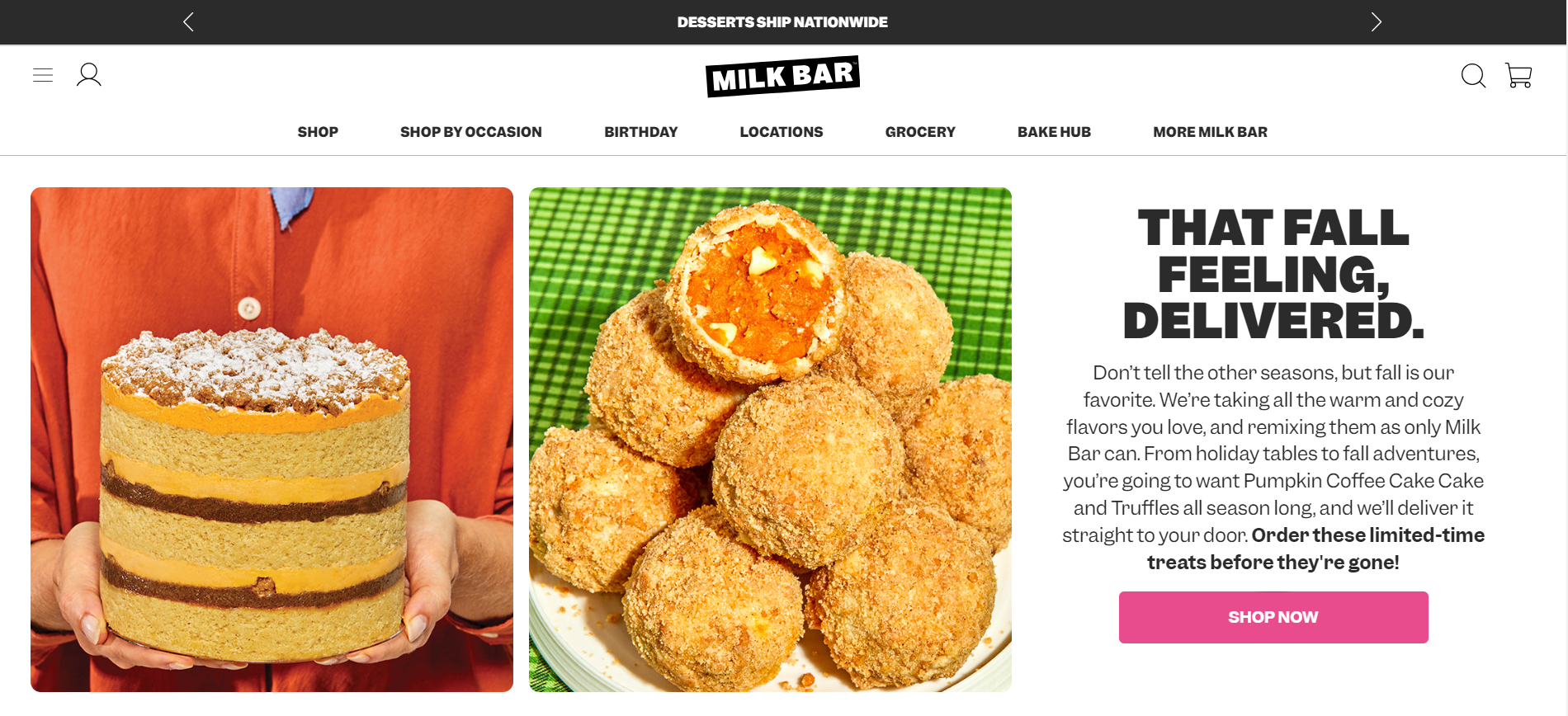 Straight off the bat, the Milk Bar website stands out among the best food websites you'll come across. The site adopts a unique and fun design that blends well with the brand's offerings. The homepage is adorned with quality visuals of new seasonal sensations, the Pumpkin Coffee Cake Cake and Cake Truffles. The images in the rest of the sections on the homepage are displayed in cards accompanied by compelling descriptions about different flavors. 
Other admirable features on the site:
High-quality visuals that showcase the intricate details of different baked products.

Consistent use of typography and whitespace complements the high-quality visuals.

A live banner at the top of the homepage catches visitors' attention with discounts and offers.
Example 10:

Yantra
– Savoring desi delights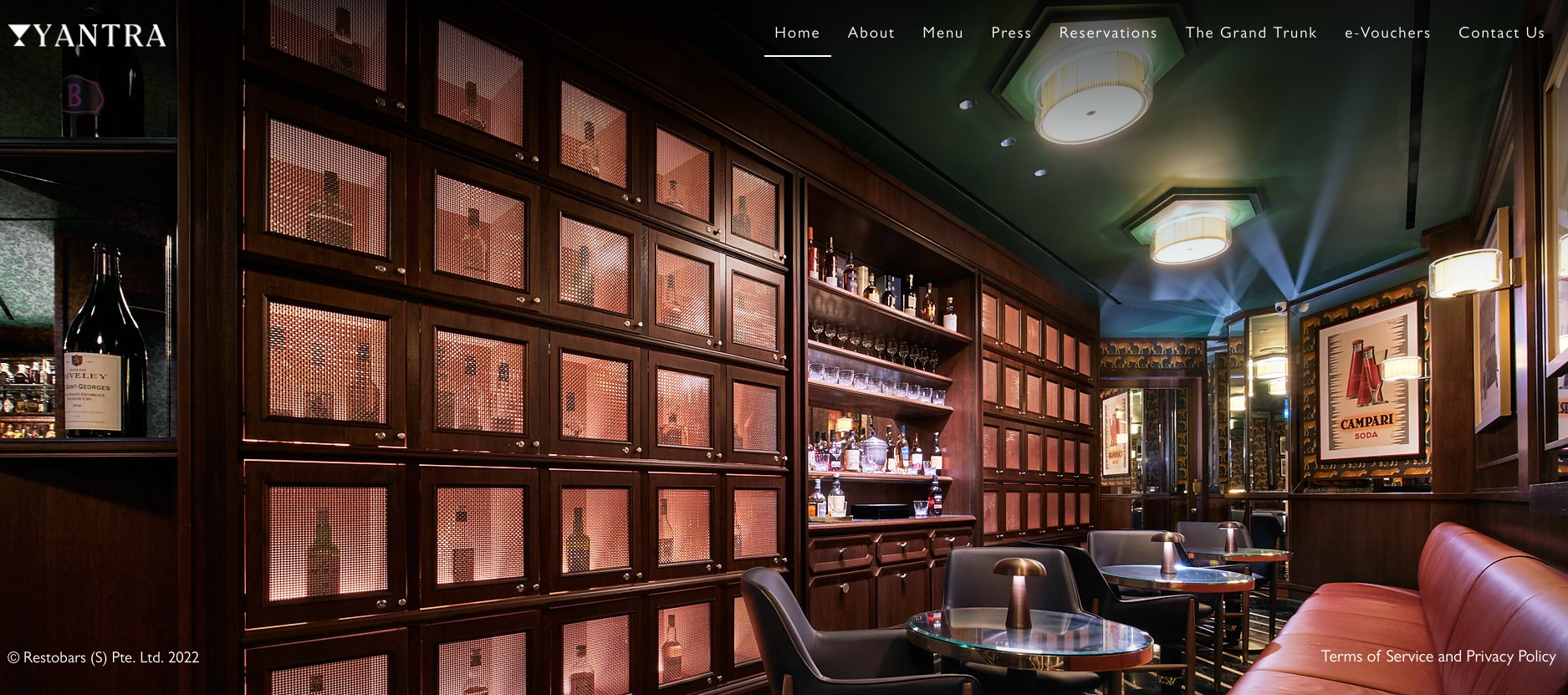 Yantra is among the leading Indian cuisine and food websites in Singapore. Their menu features exceptional offerings of both vegetarian and non-vegetarian dishes that pay tribute to India's rich legacy. Apart from their food, Yantra also adopts ‌Indian culture in every aspect, from silk wallpapers to our stately, fort-inspired doors and artfully composed Indian spaces. 
Each visit to Yantra promises a new adventure. This is evident from the homepage, filled with full-width images of Yantra's interior decor. 
Other unparalleled features on this site include:
Intuitive navigation bar with quick links to different pages of the site.

Niche ingredients sourced ‌across the Subcontinent and South East Asia make the menu interesting. 

Excellent color palette underlining the restaurant's classy nature.
If you want to create a stunning restaurant website similar to Yantra with much less hassle, then the 10Web AI Website Builder is the go-to solution. Simply insert the website URL you wish to recreate, and 10Web's AI will copy the layout, design elements, and content.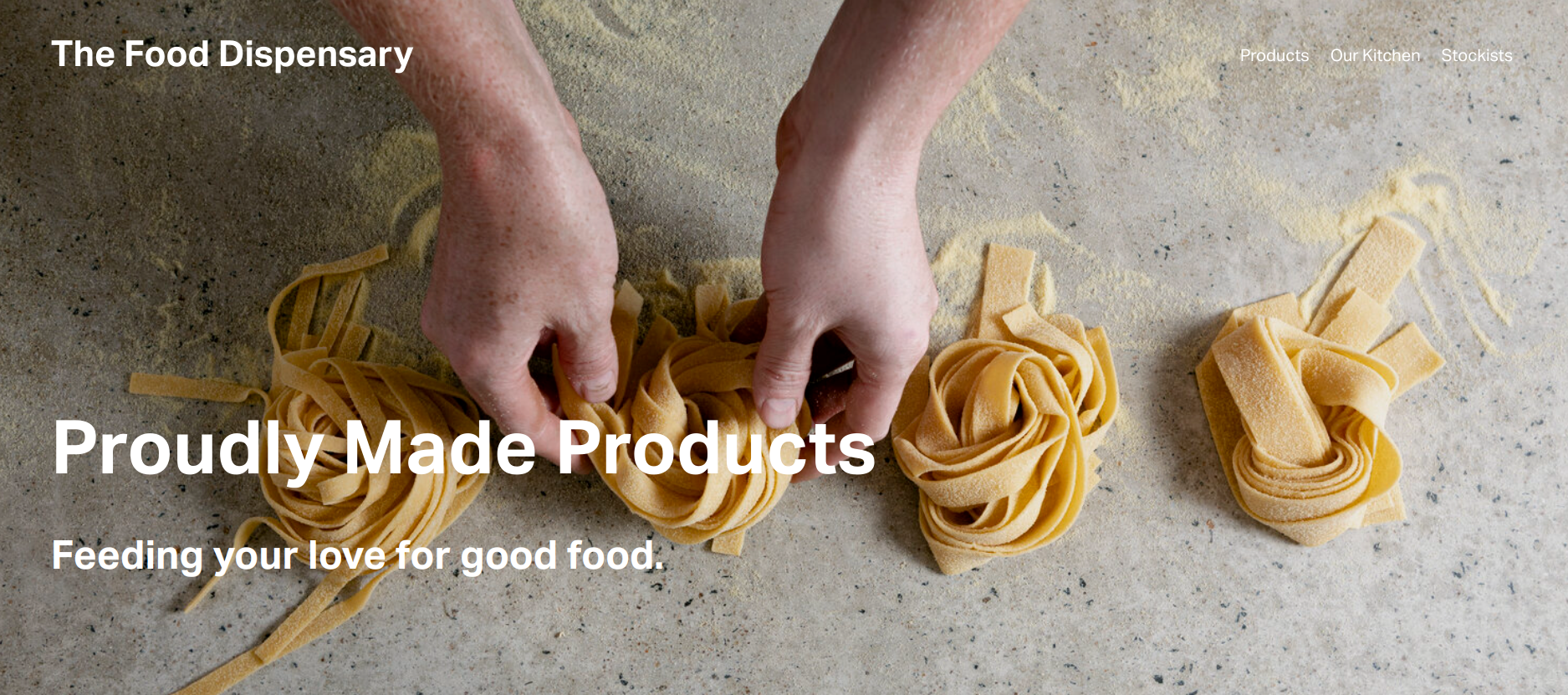 Anyone who appreciates simple, well-made, delicious food would rate this among the best food websites. The site adopts a clean, professional design allowing visitors to focus on the products they offer, including slow-cooked sauces, fresh ‌pasta, and ready meals. The site also uses high-quality imagery and compelling descriptions that convey the brand's commitment to quality and handmade craftsmanship. 
Other admirable features of this food website include:
Excellent copywriting conveying that brand's message.

Detailed product section with a prominently displayed product name, price, and an enticing product description. 

Visible contact details reinforce accessibility and customer engagement.
Example 12:

Perfect Plate
– Bring the best chefs online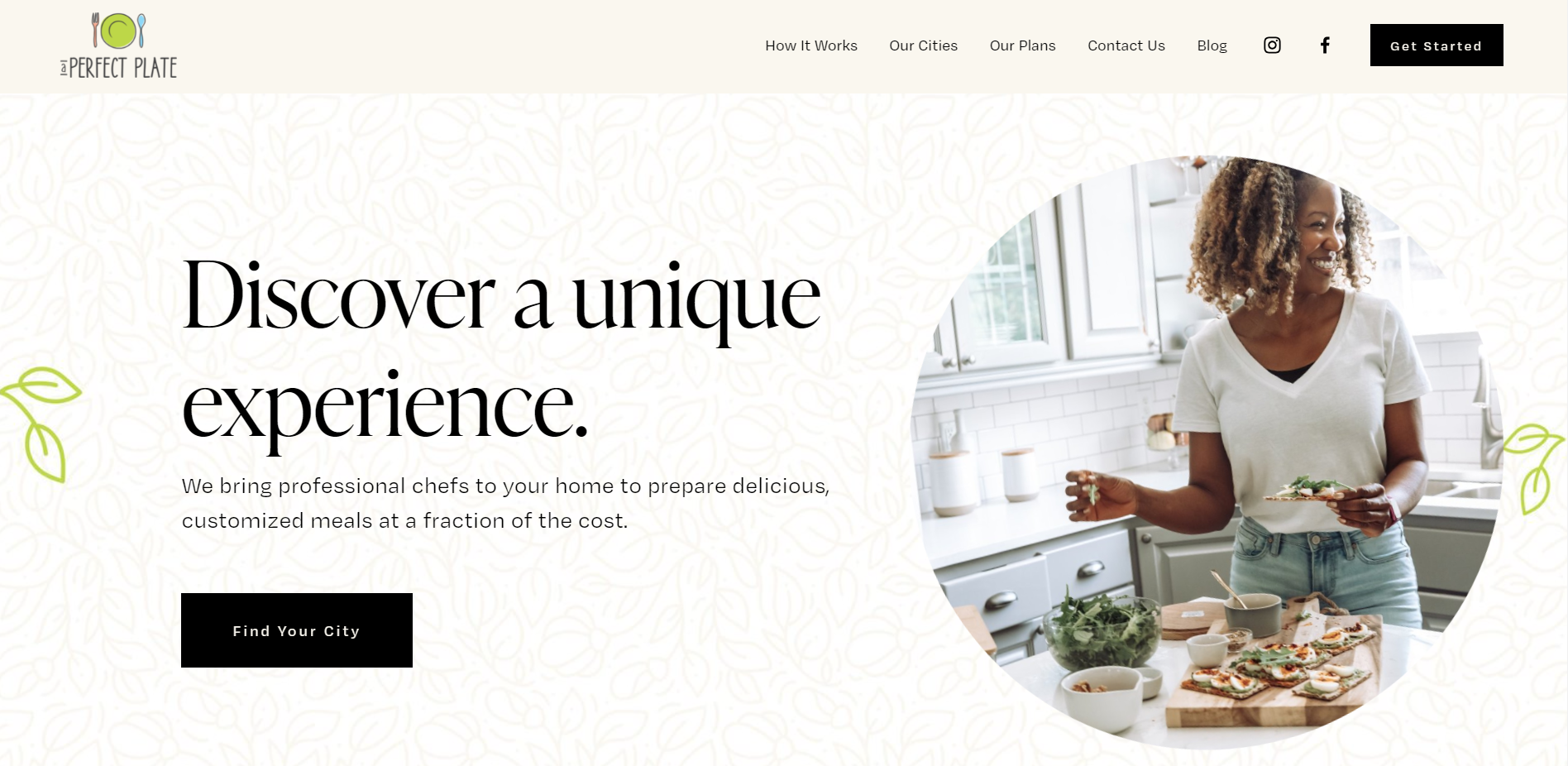 Perfect Plate is an exception site in the realm of food websites with the aim of making meal preparation less stressful and more delightful. With Perfect Plate, users can find and bring local professional chefs to their homes to curate a unique dining experience in the comfort of their homes after understanding their unique needs. The site incorporates a clean, fresh design and a flowery background that invokes a friendly theme.
Other impressive features on this site include:
A list of cities where their services are currently available allows users to find relevant information quickly.

A simple, elegant design that focuses on the brand and its services.

A step-by-step explanation of how Perfect Plate works makes it easier for visitors to understand their services.
Example 13:

Field & Flower
– Meat-lover's heaven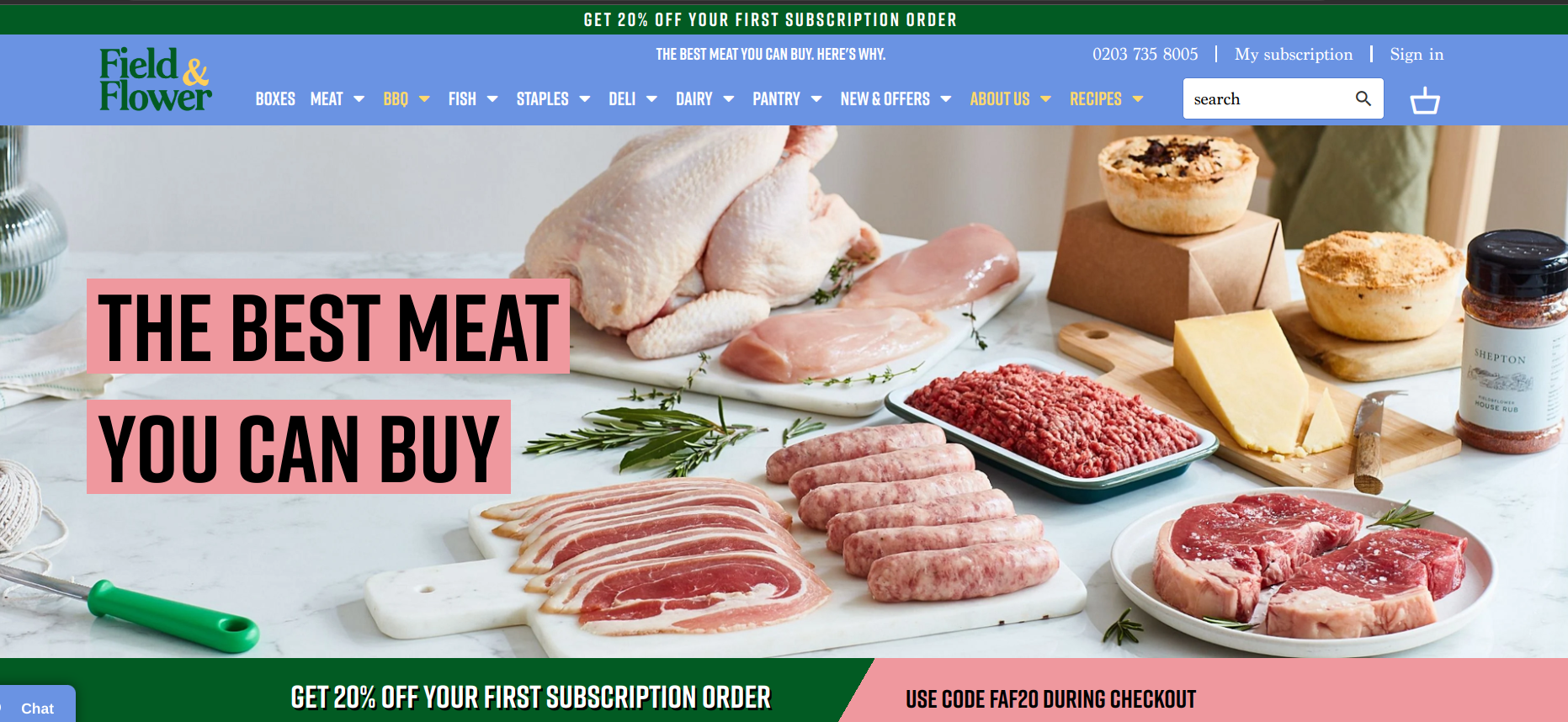 Field and Flower specializes in sourcing high-quality meat for cooks and food lovers, primarily sourced from West Country farmers in the UK. On the homepage, visitors are greeted with a background image of different types of meat arranged artfully on display that showcases the diversity of meats that they offer. Under the "Meat and More" section, you can find a grid display of different categories where users can click on each category and find different purchase options.
Other superb options on this site:
A rich navigation bar with a wide variety of categories of options allows visitors to find what they want.

Culinary resources are filled with different types of recipes for different types of meat. 

A reviews section showcasing customers' positive experiences with Field and Flower products builds trust. 
Remember that if you're embarking on creating a similar website for your business, you can use the 10Web AI Website Builder. You can experience the magic of AI by answering a few questions about your business, and 10Web AI will create the site in minutes. 

Get a head start on website creation with AI
Create a custom website tailored to your business needs 10X faster with 10Web AI Website Builder!
Get a head start on website creation with AI
Create a custom website tailored to your business needs 10X faster with 10Web AI Website Builder!
Example 14:

Laird Superfood
– Tasty plant-based ingredients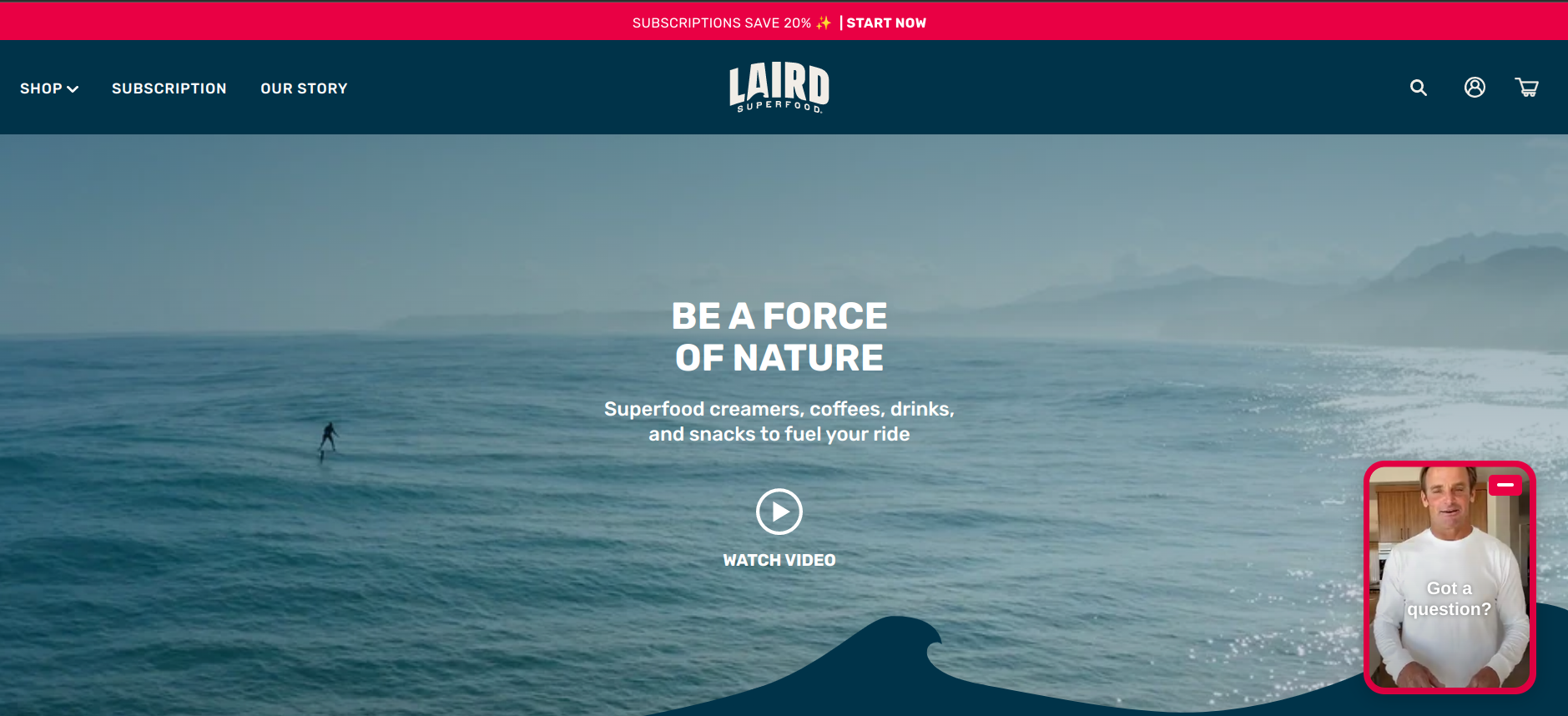 Laird Superfood leverages one of the food website templates from Shopify to deliver a great browsing experience for users seeking clean, plant-based, functional ingredients for meal preparations. The site's homepage starts with a full-width background image ‌inspired by surfer Laird Hamilton. The background image sets earthy tones that evoke the essence of nature's vitality. As you scroll further down the site, the choice of color palettes elicits warmth and a sense of community. 
Other features that make this site stand out include:
An artistic blend of colors throughout the website makes the products more visible.

The story behind the brand and how it started makes the products more relatable.

Eye-catching visuals and icons that match well with the modern, sleek design of the food website.
Example 15:

Tori Avey
– Mediterranean delights hub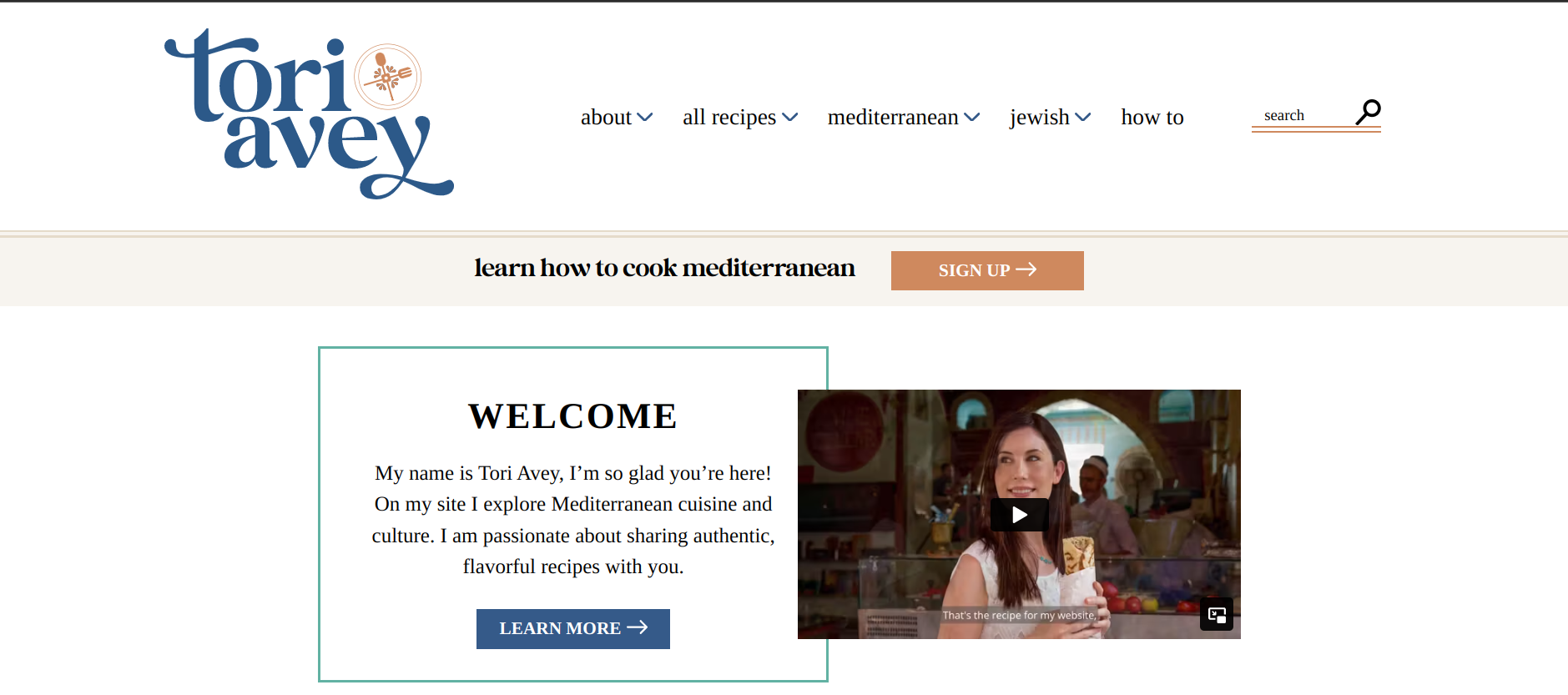 Tori Avey is ‌passionate about sharing authentic, flavorful recipes from the Mediterranean. Although Tori's site uses food website templates, it stands out among other food websites due to its unique structure. Tori also uses her love for history and food to share stories about special diets, Jewish cuisine, and other seasonal and holiday recipes. You can also find recipes for breakfast, lunch, and dinner or special Jewish occasions such as Shabbat.
Other notable features on the site include:
A serene white background that showcases different recipes in detail.

Navigation links gracefully spread across the site allowing visitors to explore different site pages.

A "How-to" section with resources that empower you to try new recipes with confidence.
Conclusion
We have covered some of the top food websites with interactive recipe guides, engaging stories, and interesting product offerings that capture the history and culture behind them. Whether you are an amateur cook trying to recreate the dishes, a professional chef looking for new recipe ideas, or a food enthusiast looking for new products to try, these food websites offer a lot more than just inspiration. As we navigate the digital transformation that is now an integral part of our lives, food websites are great platforms to share your culinary skills. With platforms like the 10Web AI Website Builder, you can easily create your dream food website and avoid the complexities of the web design process. Just provide details about your business, and the AI builder will create your site with tailored images and content.
Get a head start on website creation with AI
Create a custom website tailored to your business needs 10X faster with 10Web AI Website Builder!