The emergence of Artificial Intelligence (AI) tools continues to transform many functional areas of business management. Marketing has been no exception either. Along with sales, marketing is one of the areas identified where AI could have the most considerable financial implications. 
With new AI marketing tools springing up every other week, it is easy to feel left behind. Companies of all sizes are now flocking to AI marketing tools to automate their strategies,  promote their brands and reach new customers more efficiently. However, amid the abundance of AI tools for marketing, it is easy to get lost in the sea of tools trying to find a perfect solution for your business.
In this article, we help you unpack the most exciting AI marketing tools. We'll explore how these AI marketing tools can help run more targeted campaigns, boost customer engagement, and drive sales growth.
What is AI marketing? The use of AI in digital marketing
AI marketing, also known as artificial intelligence marketing,  involves leveraging advanced technologies such as machine learning, sentiment analysis, Natural Language Processing (NLP), and data analysis to improve marketing strategies.
With AI marketing tools, marketers can easily collect and manage vast amounts of data, gain deeper insights into customer needs and expectations, predict trends, create content, and personalize marketing campaigns. 
Here are some use cases of AI in digital marketing:

Personalization: AI personalization marketing allows marketers to tailor customer experiences based on customer behavior, feedback, interests, and popularity.
Customer segmentation: Using different AI tools, marketers can cluster customers into similar groups and run targeted campaigns that suit different groups.
Automation: Using AI marketing tools, teams can automate mundane tasks such as emails, reporting, and common queries saving time and resources.
Content creation and moderation: Different AI marketing tools leverage natural language processing to moderate and generate bias-free content at scale.
Data analytics: Marketing teams can use AI tools to facilitate decision-making, uncover insights, establish data relationships, and predict metrics such as the business churn rate.
Strategy generation: AI marketing strategy generators can be used to create a marketing strategy from scratch and get in the right direction.
25 AI marketing tools categorized by marketing fields
General AI marketing tools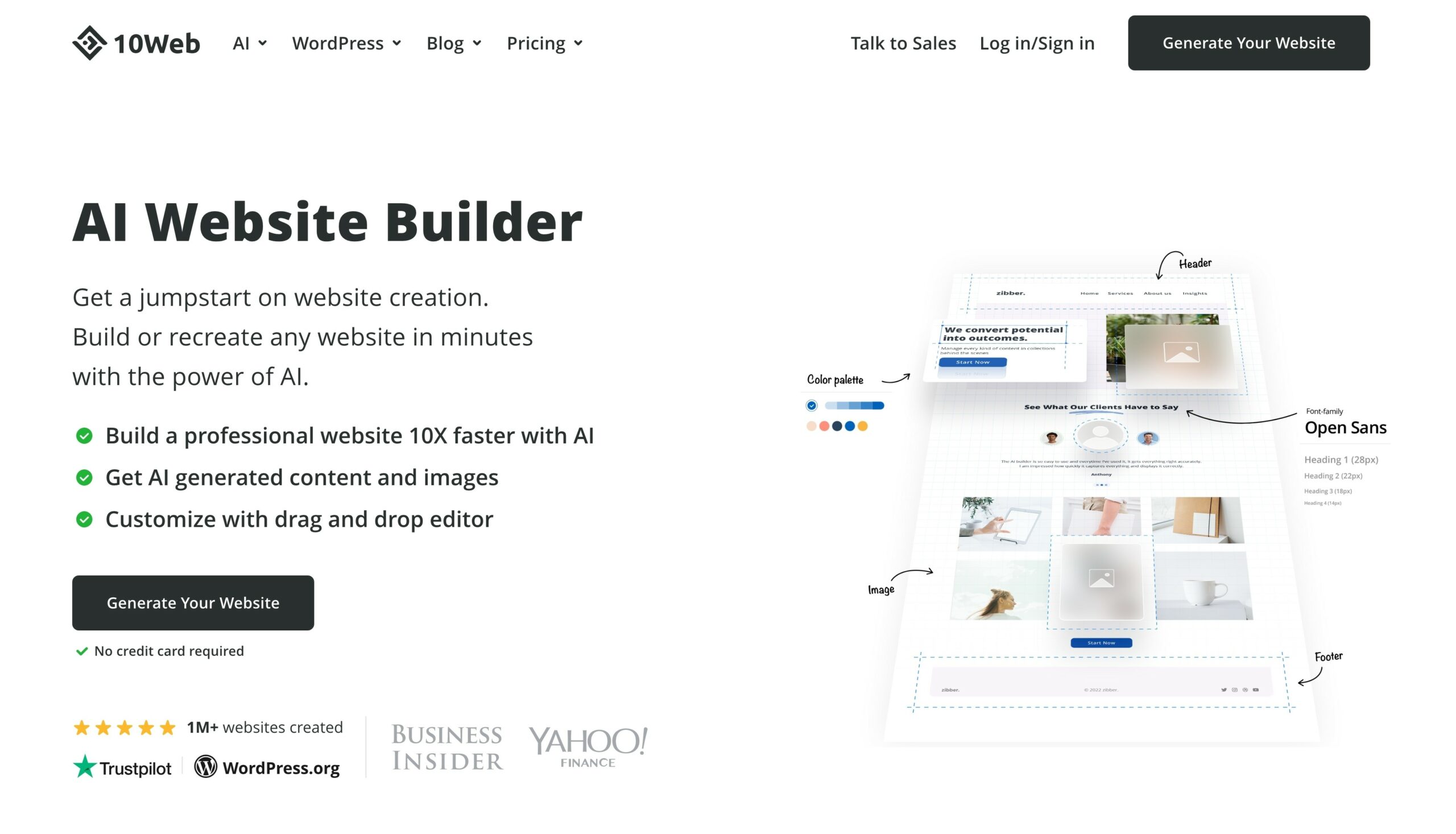 The 10Web AI Website Builder allows you to automatically generate a website with unique content and images tailored to your business needs using the power of AI. All you need to do is to answer a few questions about your company, such as the company name and the services you provide. The website will be populated with customizable elements, content sections and paddings, and forms and sliders. 
Key features:
AI-generated content and images based on your business needs.

Recreate the landing page you like automatically by inserting the web page URL your desire to replicate. 

User-friendly interface and drag-and-drop editor based on Elementor.

Pages automatically inherit your homepage's styling and design elements to provide consistency.

Complete control over the customization and alteration of the website generated by our AI Builder.
Pricing:  
10Web AI Builder has a one-week free period, during which you can create a website with a 10-page limitation. 
You can create unlimited pages by upgrading to one of our platform plans (annual billing).
Get a head start on website creation with AI
Create a custom website tailored to your business needs 10X faster with 10Web AI Website Builder!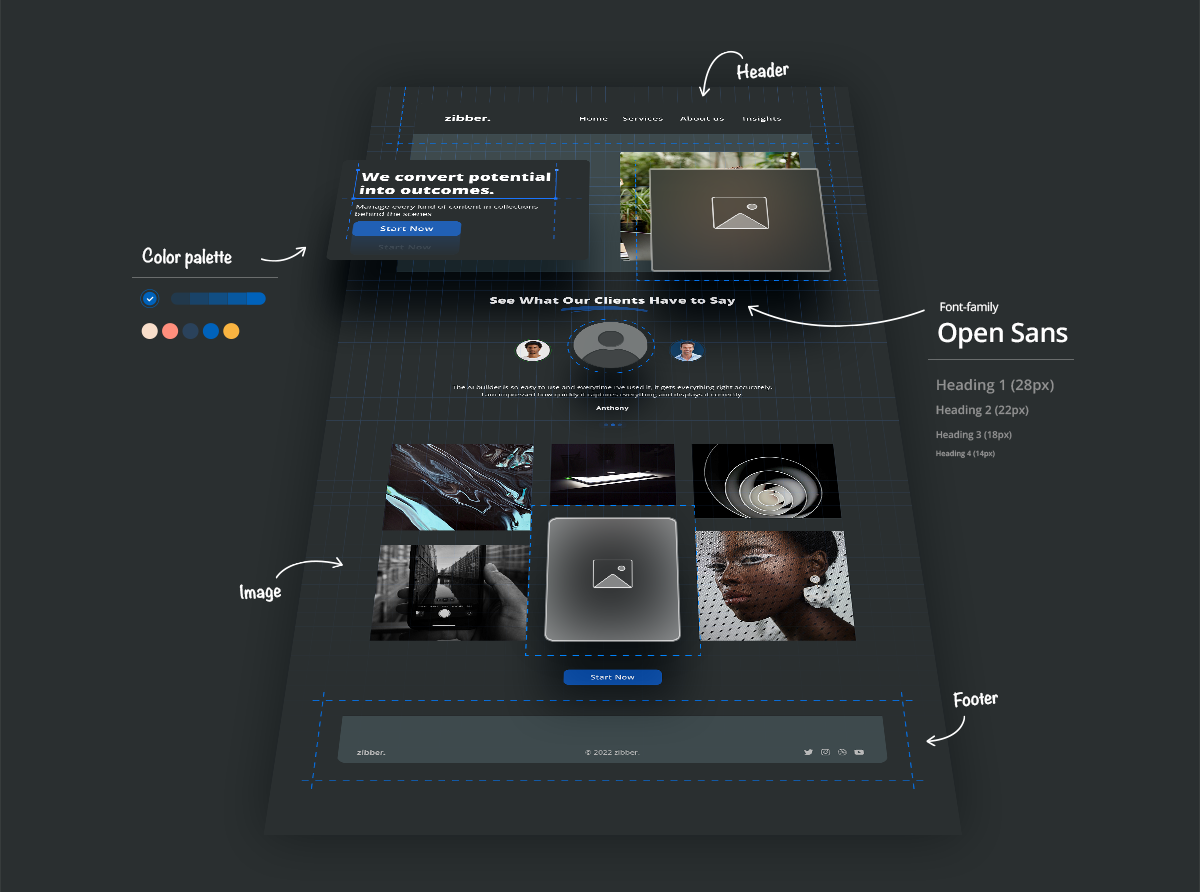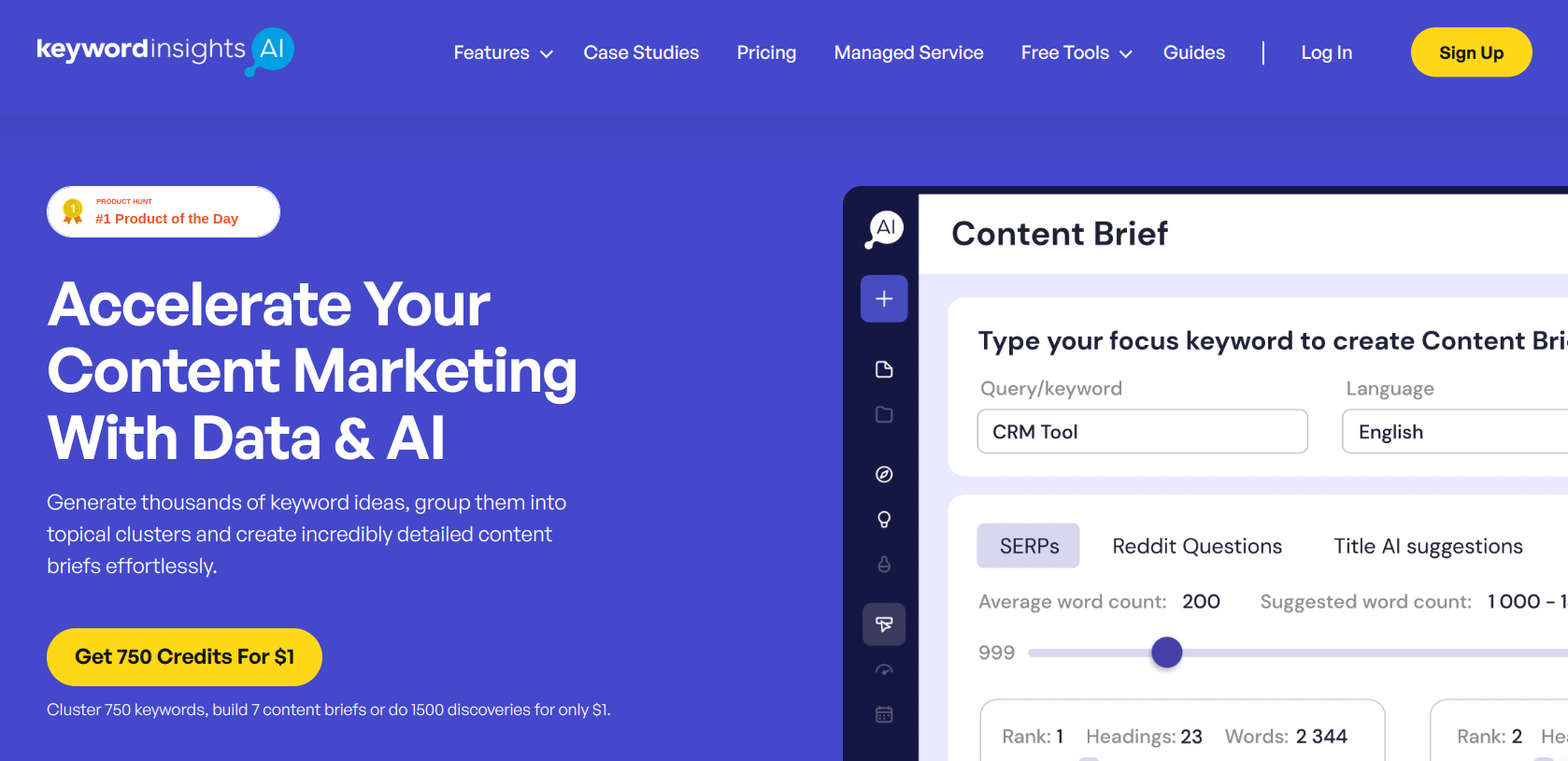 A powerful AI content marketing tool for generating keyword ideas, grouping them into clusters, and creating content briefs effortlessly. Keyword Insights is a perfect AI marketing tool for small businesses, content creators, and marketers that want to improve SEO and their marketing efforts.
Key features:
Identify search intent behind keywords.

Keyword clustering.

Create comprehensive content briefs.

Find internal linking opportunities.

Identify keyword cannibalization.

Identify content gaps.
Pricing: 
Starts at $49/month for the basic plan and goes up to $599/ month for their agency plan.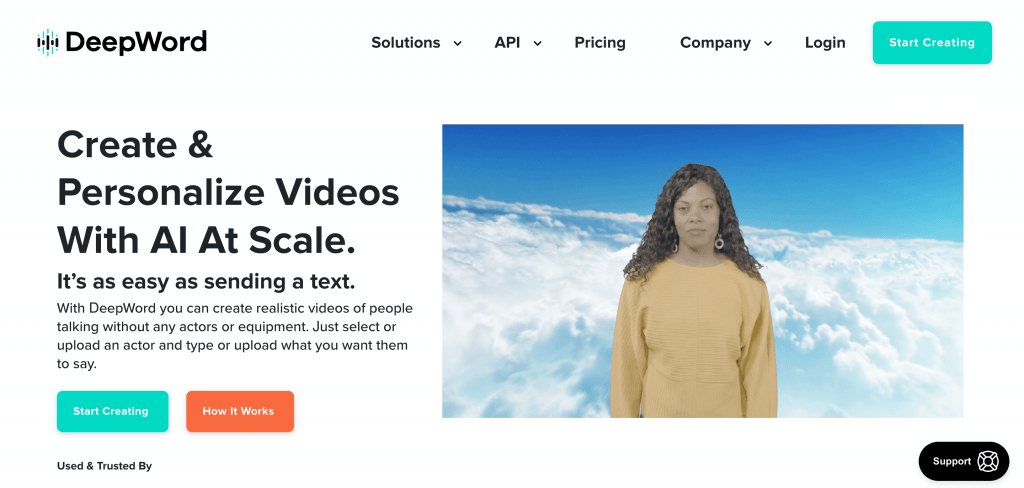 DeepWord is an AI-powered platform that you can leverage to create realistic AI video marketing content within minutes. This AI marketing software can also help transform plain text into videos, create videos in multiple languages and easily download or share them as social media ads.
Key features:
Save money on expensive equipment or actors.

Easily personalize videos.

Access to over 140 languages, accents, and voices.

Create realistic deep fake videos for marketing.

Communicate with clients through engaging videos.
Pricing:
A free plan with a 2-minute video limit and premium plans starting from $14.99/month.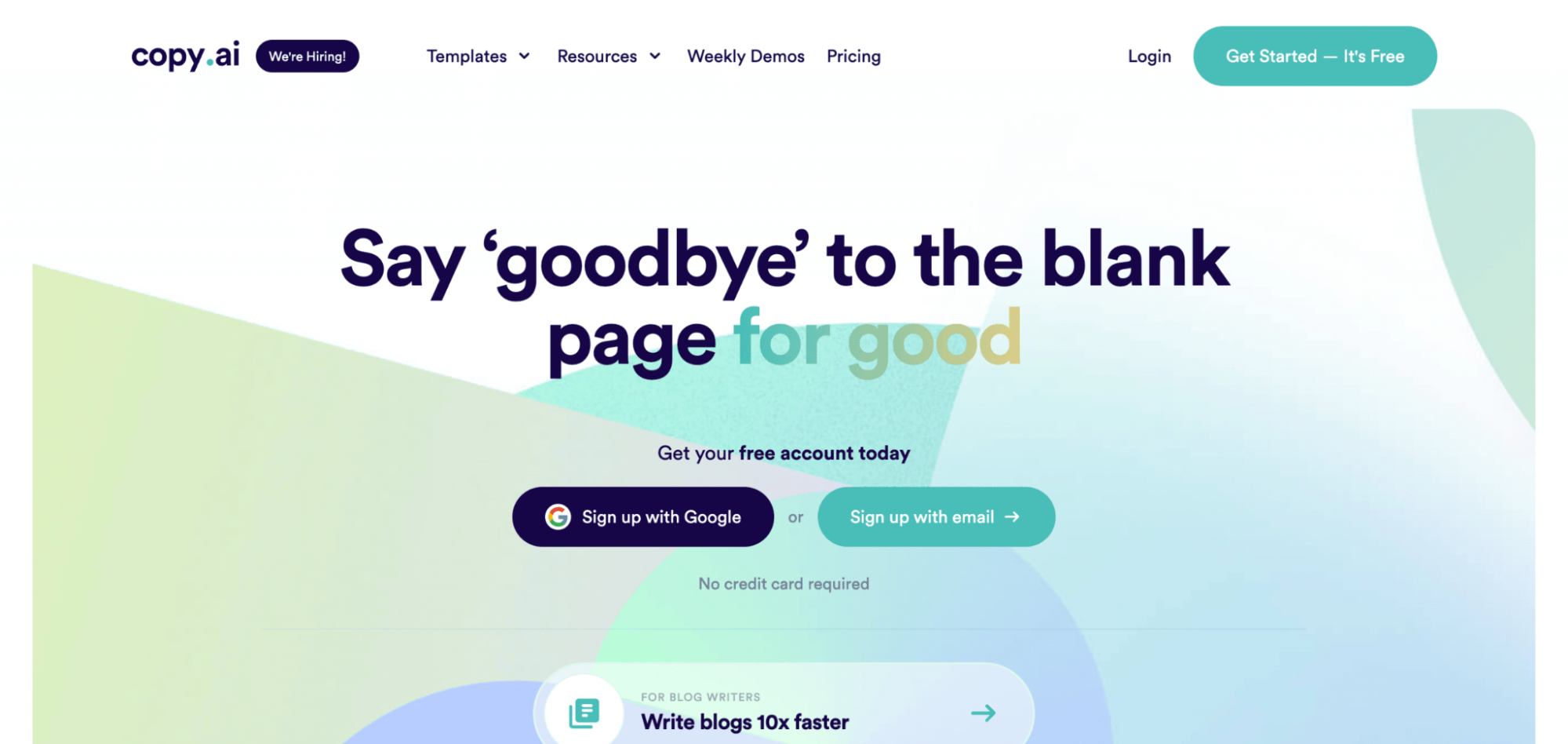 One of the best AI tools for marketing and copywriting assistants that enables you to create marketing campaigns and sales copy using perfectly designed templates and artificial intelligence.
Key features:
Generate SEO-optimized blog content.

Produce compelling ad copy with just a few clicks.

Generate compelling content for social media.

Leverage AI to write better and faster.

Access to 90+ AI marketing tools and templates
Pricing: 
Copy.ai has a free forever plan, but you can upgrade for more features starting from $49/month.
AI marketing automation and optimization tools
Marketing automation involves various software tools that use AI and machine learning to automate monotonous tasks and streamline workflows.
It is an all-in-one AI marketing automation tool that provides businesses of all sizes with features that allow them to automate routine tasks such as email marketing, social media posting, and ad campaigns.  
Key features:
Bot builders allow you to create robust automated emails.

Create complex and targeted workflows with ease.

Automated email campaigns with dozens of triggers.

 Automate daily tasks beyond email, such as task reminders within your CRM.

Integrations that allow you to automate campaigns across other platforms such as chat, ads, web, and more.
Pricing:
Hubspot gives you free access to email and form automation tools. You can access more features starting at $45/month for the starter plan.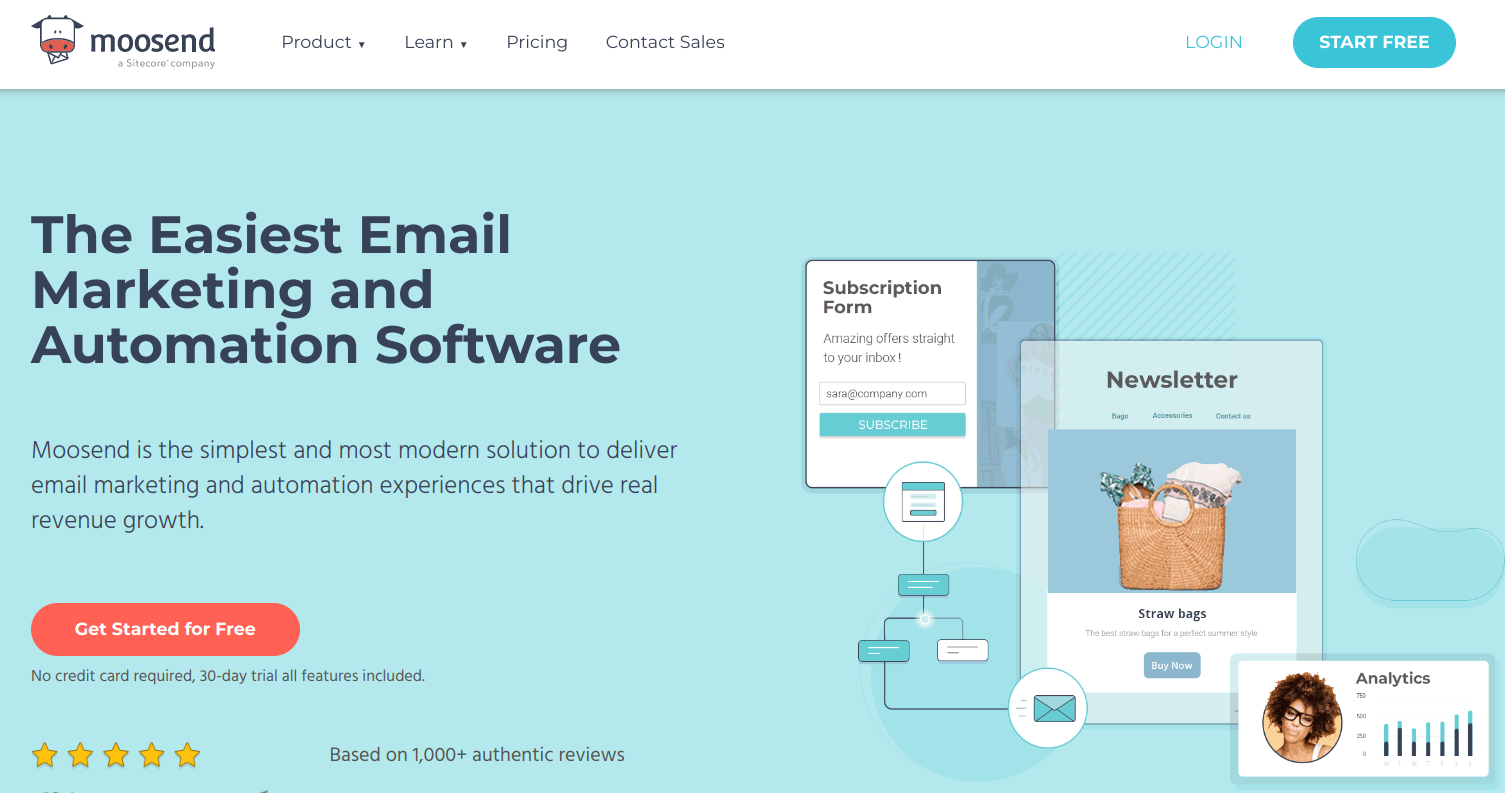 MooSend is a modern email marketing automation platform with features suitable for small and large businesses. To make the most out of your email marketing strategy, MooSend has various marketing automation features to expand your lead nurturing strategy. 
Key features:
Audience segmentation feature – segmenting customers based on shared characteristics allows you to understand them better.

 Automated onboarding sequences- for instance, automated welcome emails for new signups.

Automated customization of product offers for your leads.

They have automated thank-you emails when a customer makes a purchase.

Automated emails for cart abandonment reminders.
Pricing: 
A free trial with a 30-day money-back guarantee and a subscription plan starting at $9/month.
ManyChat functions as an AI chatbot but is a powerful AI marketing tool that allows businesses to automate repetitive questions that businesses often have to answer to leads across various platforms. This allows you to engage leads and deliver personalized support through direct messages.
Key features:
Instagram direct message, Facebook messenger, WhatsApp, and Chat automation allow you to deliver instant support.

Capture emails and phone numbers and store them during conversations. 

Boost your following by running automated messaging campaigns.

Comments automation to extend user engagements.

Automated conversation starters that provide answers to FAQs.
Pricing: 
You can get started with ManyChat basic features to engage up to 100 contacts for free. You can access advanced features with unlimited contacts starting from $15/month.
AI SEO and content marketing tools
With the rise of artificial intelligence in marketing, there are now a variety of tools that can help businesses improve their content marketing strategy and boost their visibility as a result. You can learn more about the role of AI in SEO and what AI writing assistants you can use in your content marketing activities in our related articles.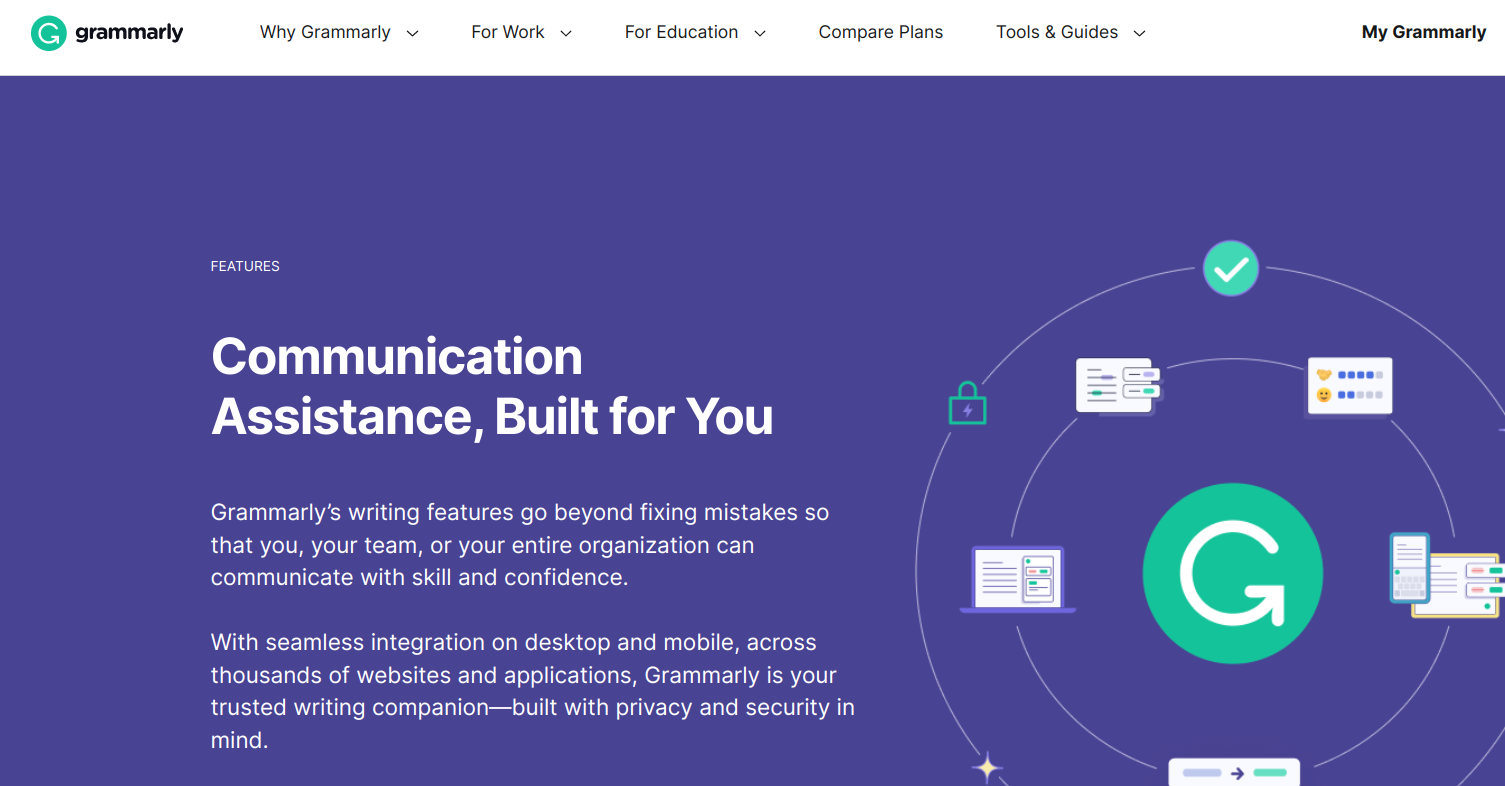 Grammarly is a popular AI content marketing tool that allows you to write clearly by detecting and flagging errors such as punctuation, grammar, readability, spelling, plagiarism, and more in real-time. 
Grammarly also provides context-based suggestions to get your style and tone just right. You can install Grammarly as a plugin across many browsers, and it can be used across apps, social media, documents, and emails. 
Key features:
Correctness: You can catch, punctuation mistakes, and improper word usage.

Tone suggestions: Suggests how you can adjust the mood and attitude of your writing.

Clarity: Full-sentence rewrites allow you to clean tangled and hard-to-read sentences.

Custom style guide: Helps your teams write in a unified voice, tone, and language unique to your brand.

Genre-specific writing style checks.

Plagiarism detector.
Pricing: 
Grammarly has a free plan with essential features such as tone detection, spelling, punctuation, and grammar correction. Premium plans start at $15/month, billed annually, while the business plan for teams and organizations begins at $15/member/month.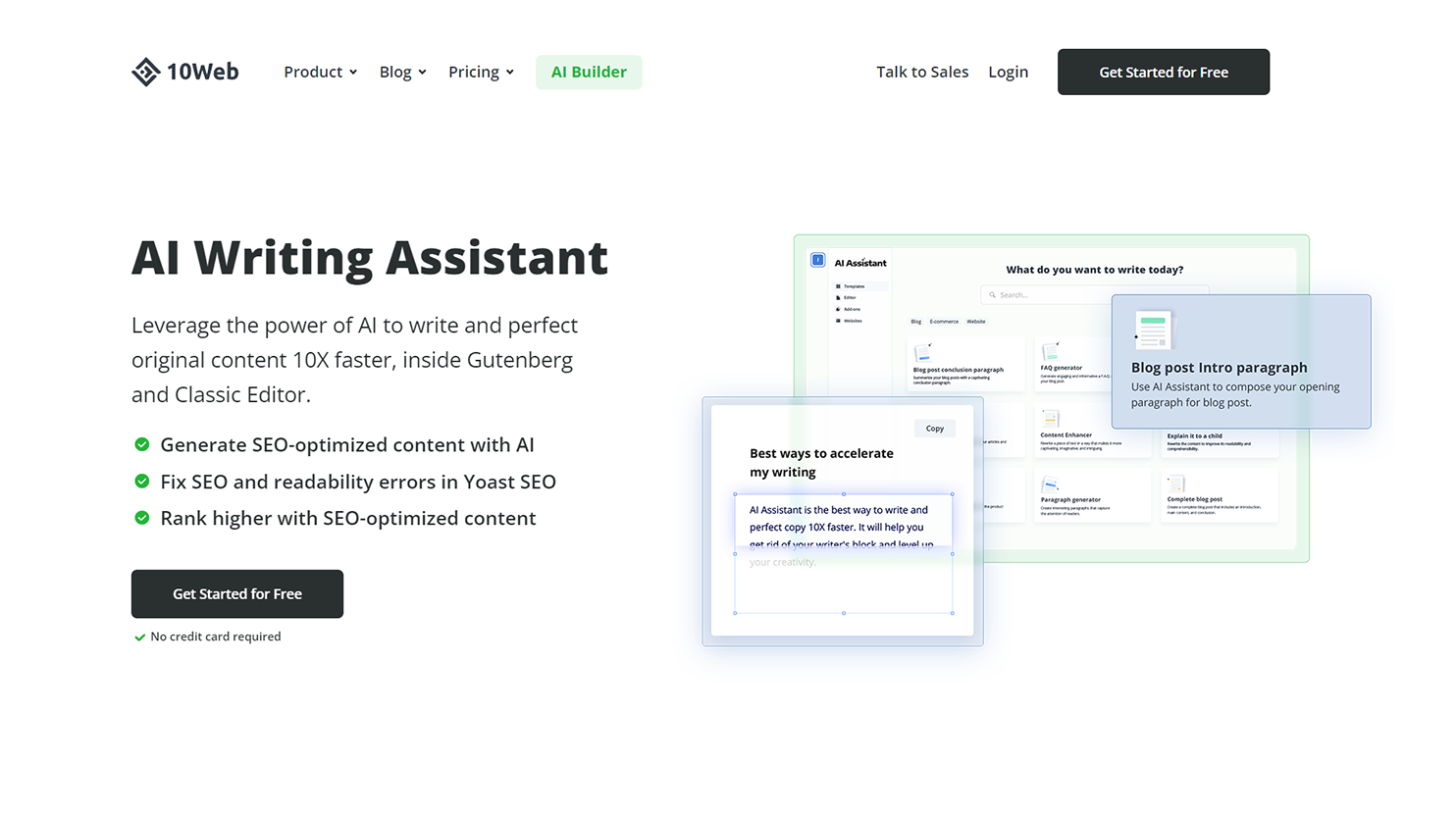 10Web AI Writing Assistant allows you to leverage the power of AI inside your WordPress environment to create highly engaging and SEO-optimized content. With 10Web AI Writing Assistant, you can create content directly in your Gutenberg editor or classic editor faster than the traditional means, as well as fix all readability and SEO issues in Yoast SEO.
Key features:
Simple and intuitive dashboard.

Tailored specifically for the WordPress environment.

Improves content readability and fixes SEO issues in Yoast SEO.

You can edit and optimize your content through a one-click solution.

10 times faster and more accurate than a human writer.

Equipped with content templates for blogs, E-commerce, and website content generation.
Pricing: 
With 10Web AI Writing Assistant, you can generate up to 2000 words per month for free. Paid plans include personal, premium, and agency for $20, $60, and $200 billed monthly. You can also opt for the annual billing plan for $10, $30, and $100 respectively. 
Optimize your content SEO with AI!
Write and perfect original content and fix all SEO and readability errors 10X faster with 10Web AI Writing Assistant.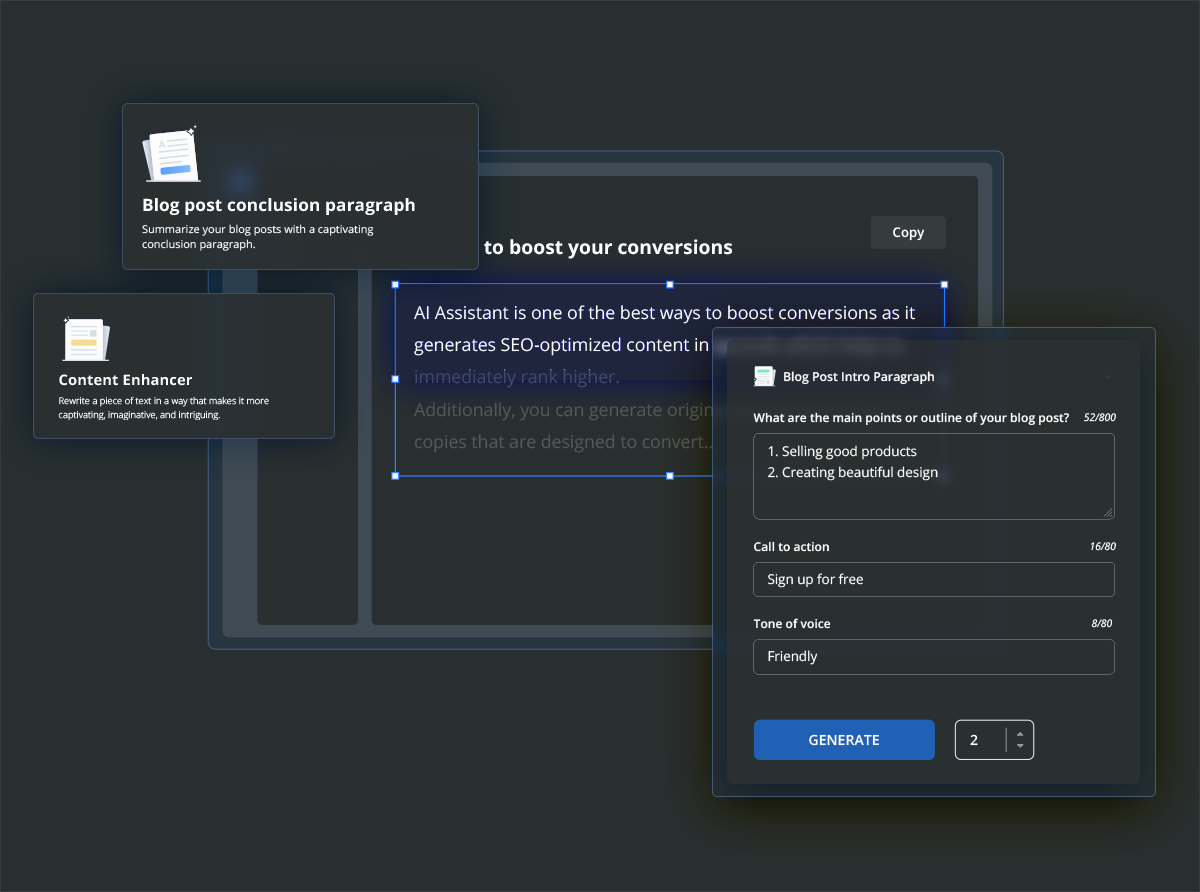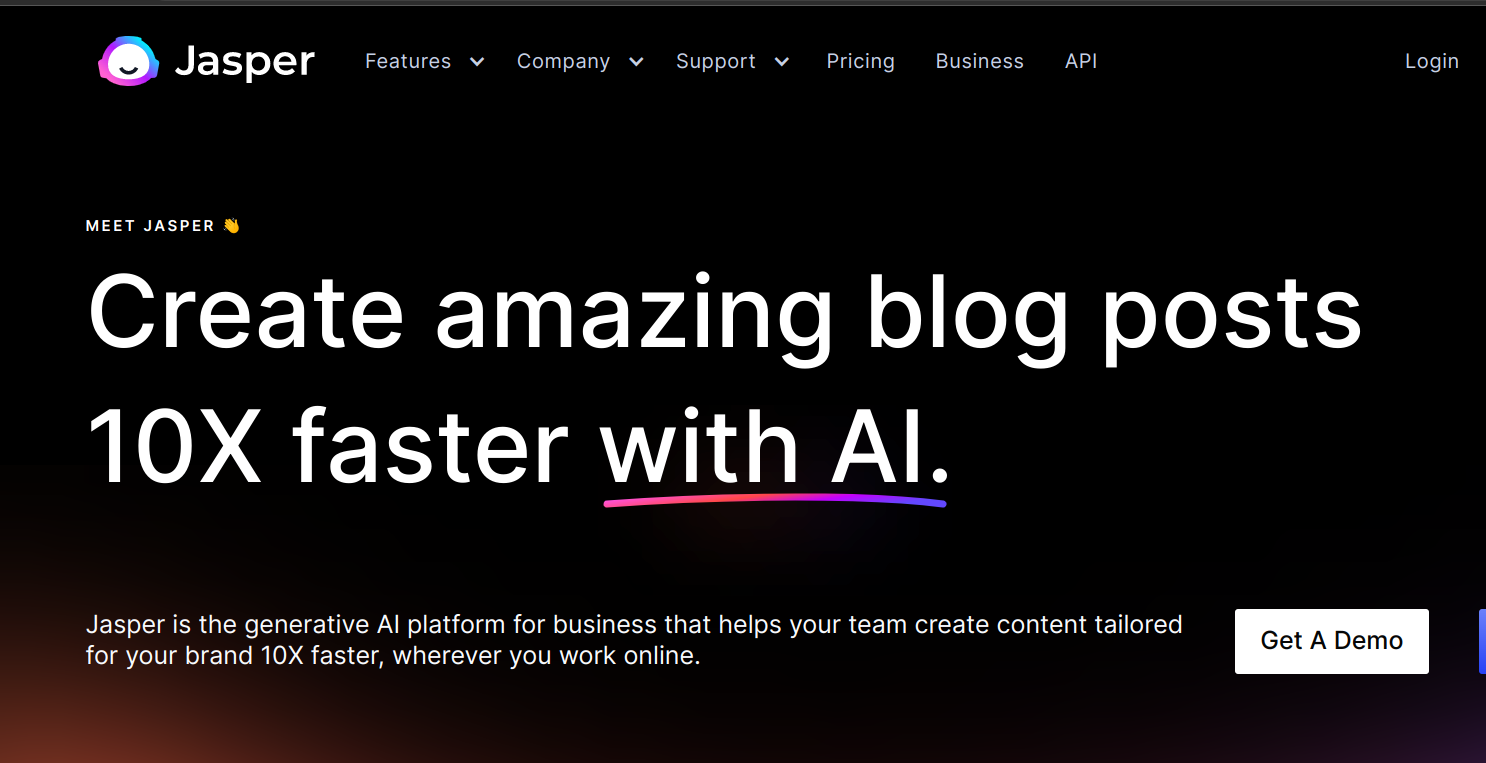 Jasper AI stands out among the best AI tools for digital marketing. This ai content marketing software is for anyone looking to generate top-quality content for marketing, Google ads, landing pages, social media posts, web pages, and subject lines. 
Key features:
Content creation: create content that ranks for your blog, social media posts, landing page, email, etc. 

Create content in 26 languages, including English, Spanish, Japanese, and Portuguese.

Collaborate with your team to work on content in real time.

Grammarly integration allows you to use Grammarly within Jasper.

Templates that give you a head start in content creation.

The keyword input tool allows you to incorporate relevant keywords and boost your SEO rankings.
Pricing: 
Jasper AI has two plans. The boss mode plan pricing starts at $49/month for 50k words. While the business plan has a custom word/user package and billing options.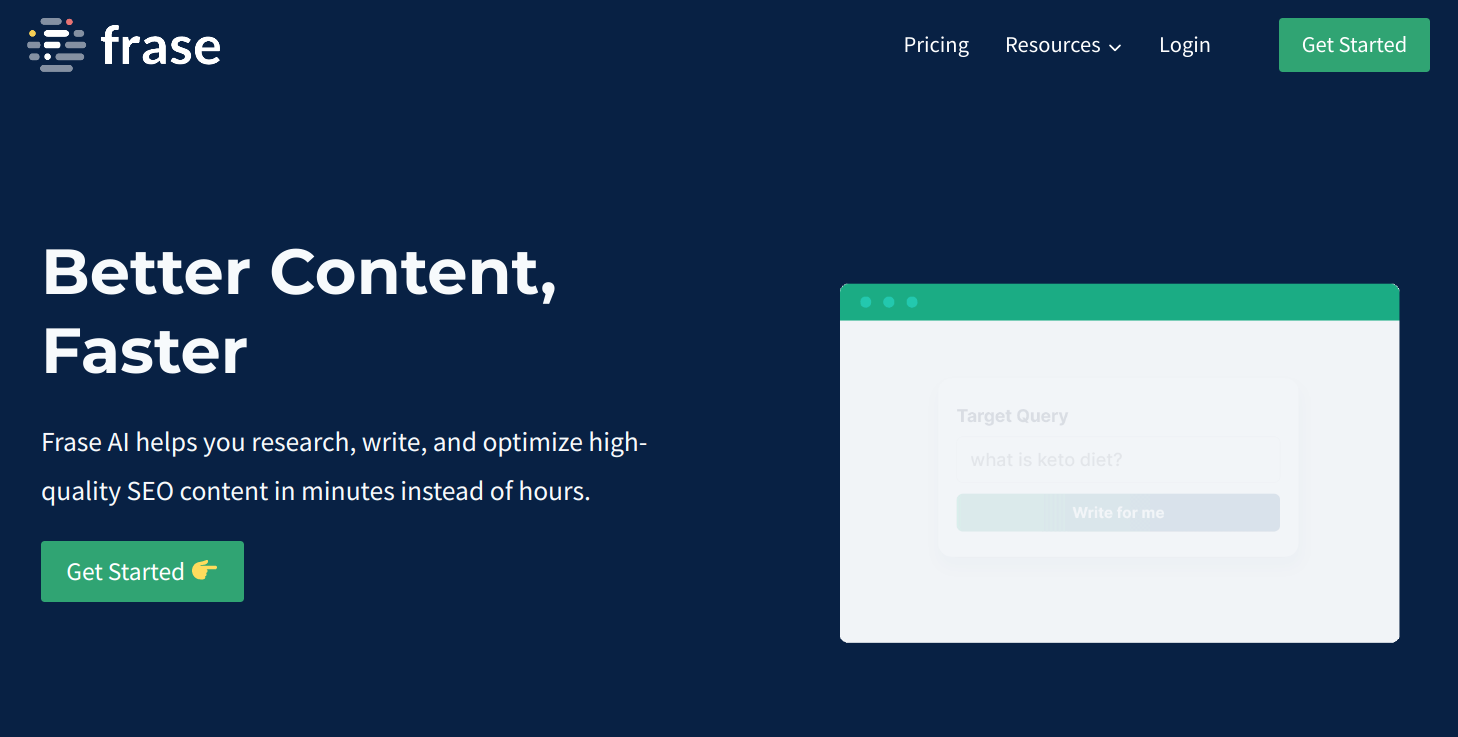 Frase is an AI SEO tool that assists writers in researching, writing, and optimizing high-quality SEO content in minutes. Trusted by thousands of users, Frase saves you hours of SERP research by analyzing and centralizing the best content from the internet in one place. 
Key features:
Generate full-length and SEO-optimized content briefs in seconds.

Identify high-growing keywords and compare them with your competitors.

Built-in AI writing assistant to auto-complete or generate unique content.

The topic model feature allows you to identify keywords to include in your content.

Outline builder.

Content analytics.
Pricing: 
Starts at $14.99/month and comes with a 5-day trial for $1.
AI sales and PR outreach tools
AI Sales and PR Outreach tools leverage machine learning and natural language processing (NLP) to enable businesses to streamline and automate their sales and PR efforts.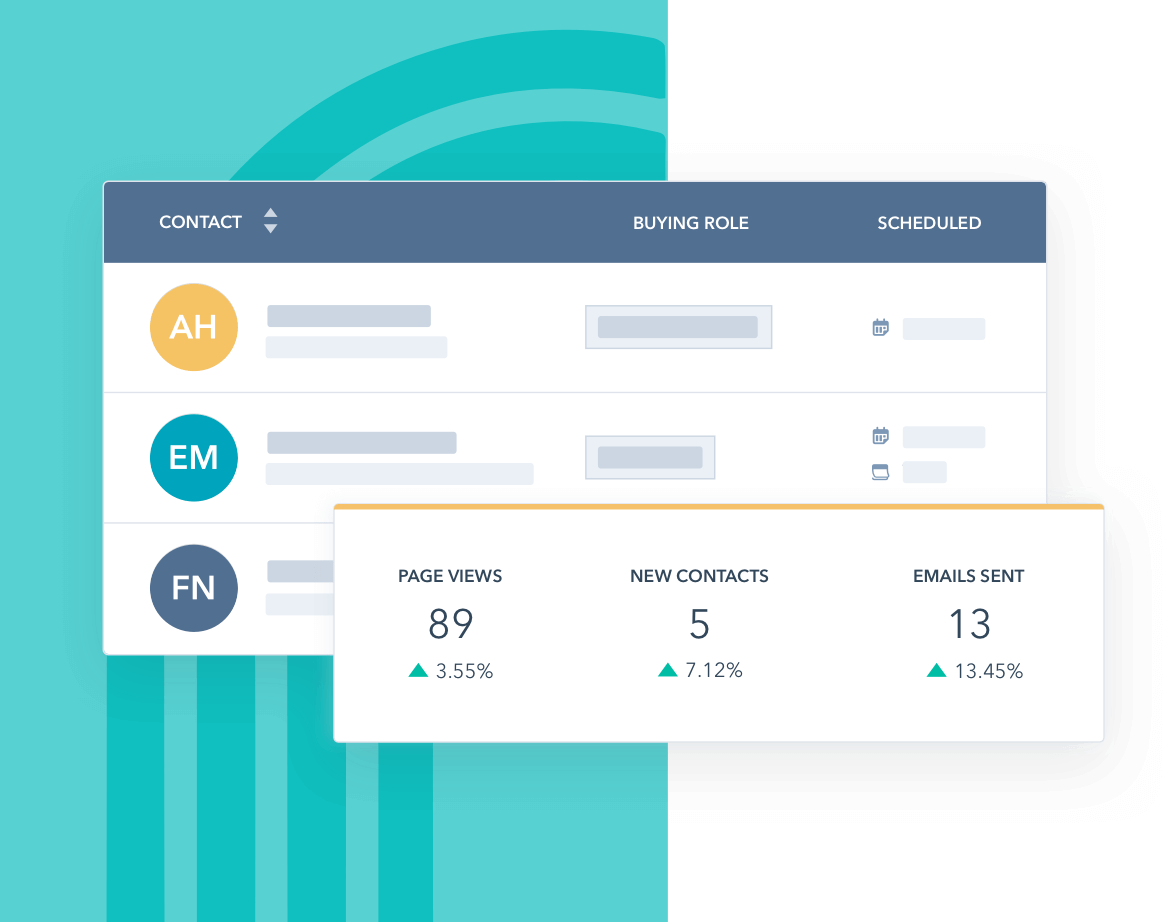 Hubspot sales is a built-in sales platform on the popular Hubspot CRM that helps sales teams manage their pipelines, track leads, and deepen interactions with their clientele. Hubspot sales is also a great marketing automation tool.
Key features:
Lead capture and management capabilities.

Capabilities to enable sales teams to lead engagement level and potential value.

Quote and CPQ functionality.

Drive more sales by automating email responses.

A deal pipeline management feature that allows sales teams to track deals' progress.

Analytics and reporting capabilities allow you to monitor sales and forecast.
Pricing: 
Starts with a free version with basic features and upgrades to paid plans with sales automation capabilities starting from $45/month.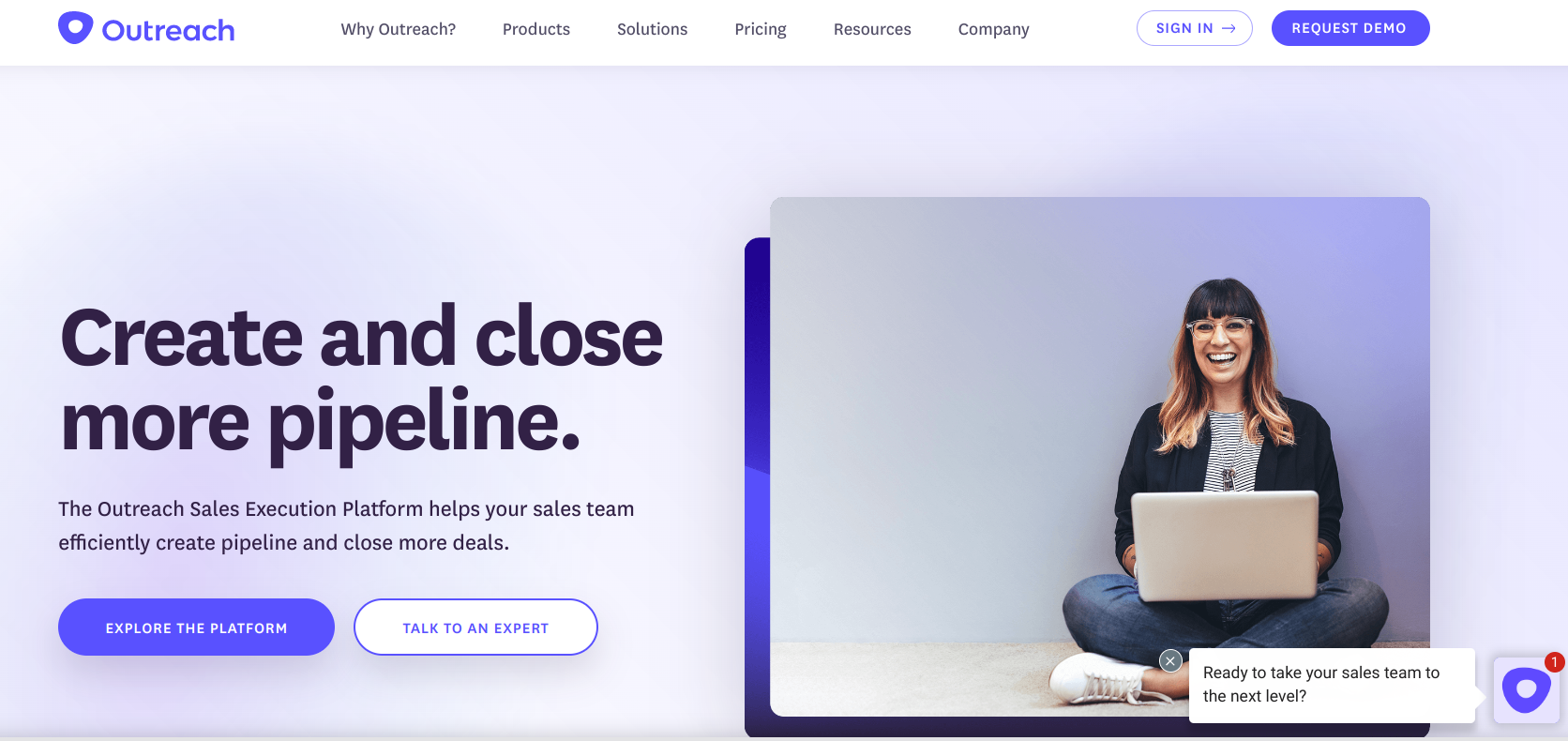 A sales platform with feature-rich AI marketing tools to help your sales team efficiently create and manage sales pipelines and make more sales.  With Outreach, sales reps, and managers can leverage AI intelligence to engage leads, manage pipelines, forecast, and inspect deals.
Key features:
Pipeline generation to allow you reach the right leads and expand connections.

Revenue intelligence that allows sales teams better manage deals and improve execution.

Outreach Kaia is an AI-powered assistant that joins meetings and offers support to teams.

Credible sale analytics and pipeline analysis to enable sales reps to make informed decisions.

Automated forecasting across your sales reps and teams, guaranteeing consistency.
Pricing: 
You need to contact the support team for details on pricing.
AI email marketing tools
AI email marketing tools enable marketing teams to perfect email marketing strategies by providing features such as personalization and targeting, boosting conversion rates.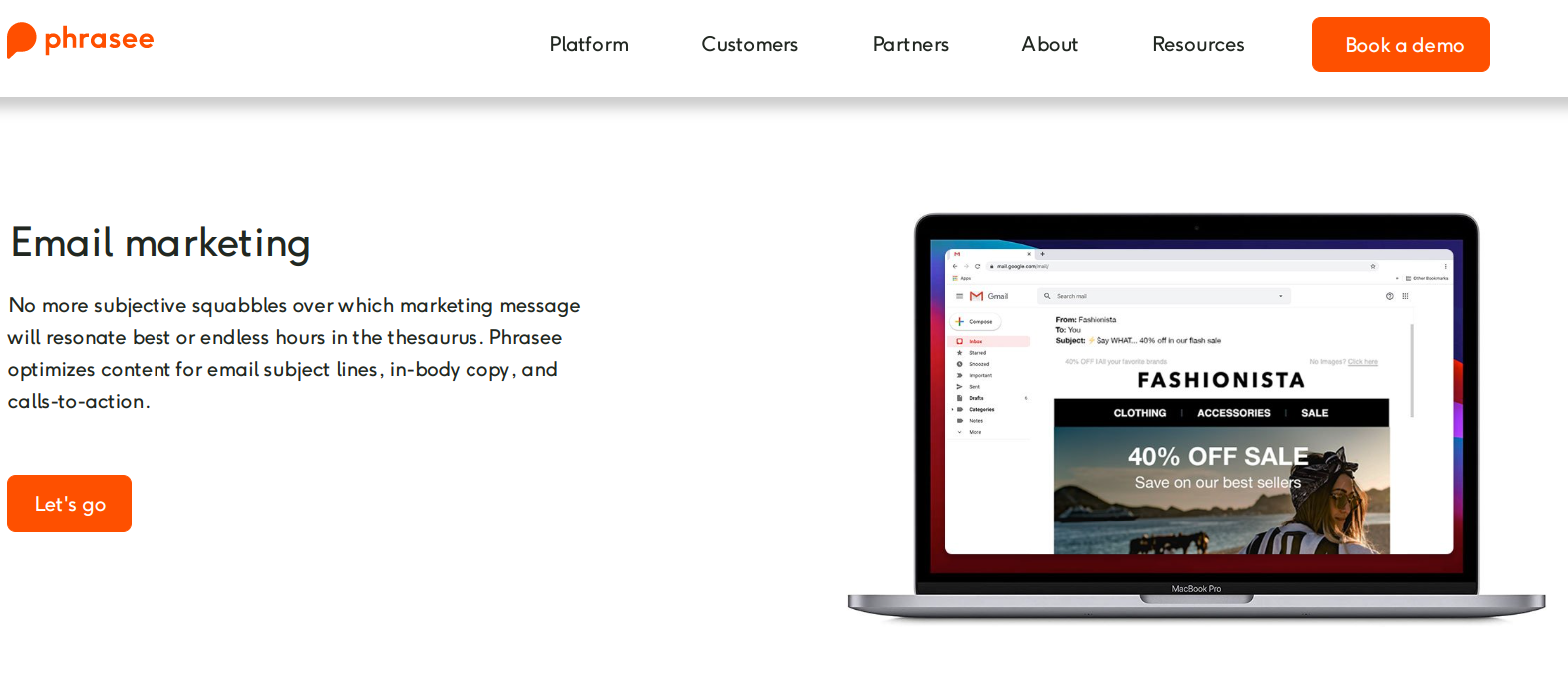 Phrasee is a powerful AI marketing tool that is particularly good with email marketing, allowing you to optimize content for email subject, body, and call to action (CTAs). Using NLP Phrasee generates natural-sounding communications in real-time that are also brand compliant.
Key features:
Generates human-sounding copy variants matching your brand voice.

Personalized response to every customer.

Content optimization to ensure that best-performing messages reach a wide audience.

Able to learn what kind of messages customer are responsive to and makes adjustments.

Calculated revenue impacts.
Pricing: 
You need to book a demo with their team to get details about pricing and more.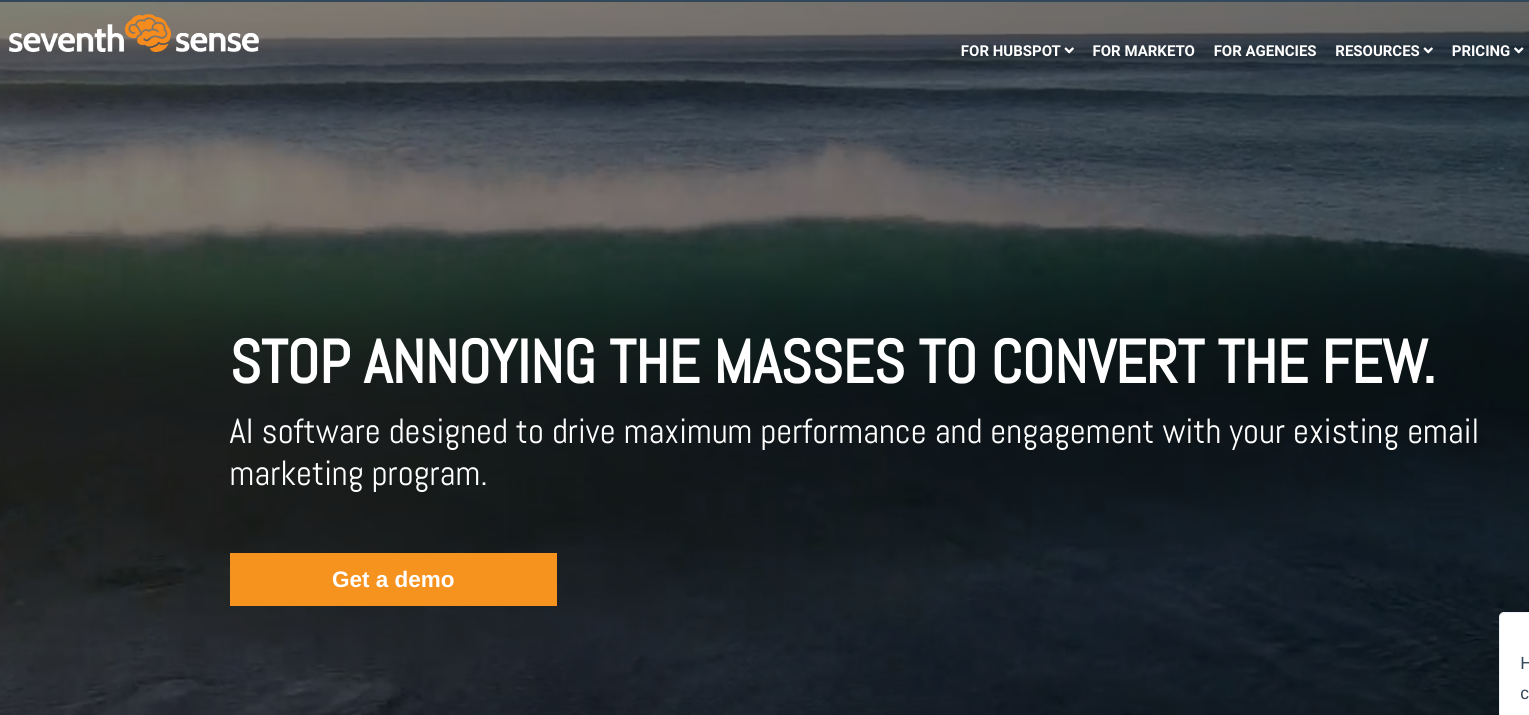 Seventh sense presents a unique solution for Hubspot and Marketo users. Truth be told, modern email marketing can deliver disappointing results now that competition for customer attention is at its all-time high. Using Seventh Sense, businesses can deliver emails using behavioral assessment to increase engagement and conversions.
Key features:
Artificial intelligence-optimized emails.

Personalized email delivery times for all customers.

Email throttling to increase deliverability.

Email frequency optimization according to customer needs.

Customer engagement is based on segmentation.

Sales and marketing teams can access data on when customers or leads engage with your business.
Pricing: 
For Hubspot users, pricing starts at $64/month for 5000 contacts, while for Marketo users, it starts at $360/month with 50k leads.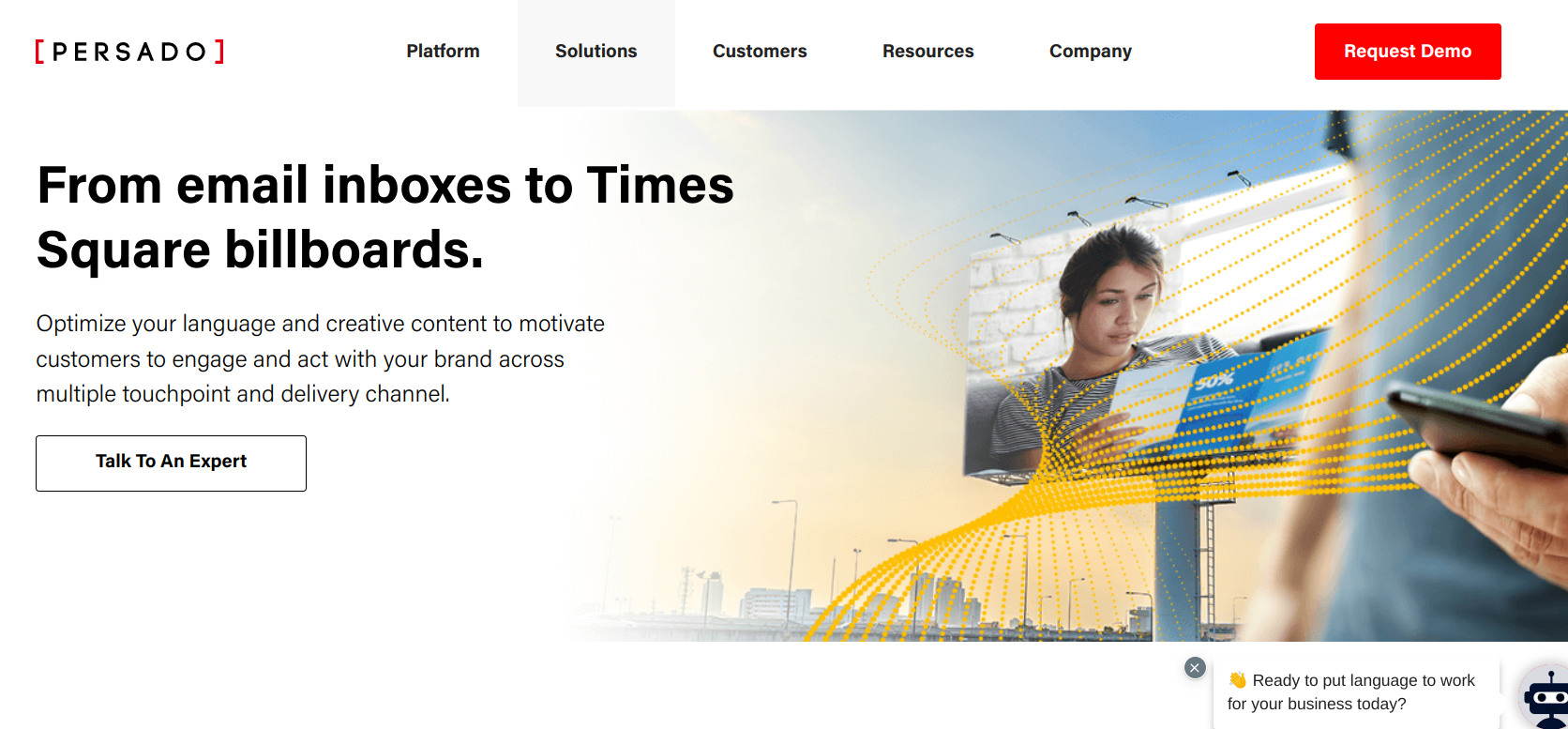 Persado is a leading AI marketing platform with powerful generative APIs and deep learning models that allows you to generate and optimize content that motivates customers to engage with your brand across different channels such as email, social media, sms,  web, and IVR. 
Key features:
Engaging email headlines and engaging messages that cut through the noise.

Clear CTAs that motivate customers to engage.

Measures engagement through open and click-through rates.

Automated reminders that motivate action and drive sales.

AI personalization marketing to a segment of one.
Pricing: 
You can reach out to their support team for details on pricing.
AI social media and influencer marketing tools
Social media and influencer marketing tools allow businesses find influencers and access pre-built audiences using influencers whom the audience already trusts.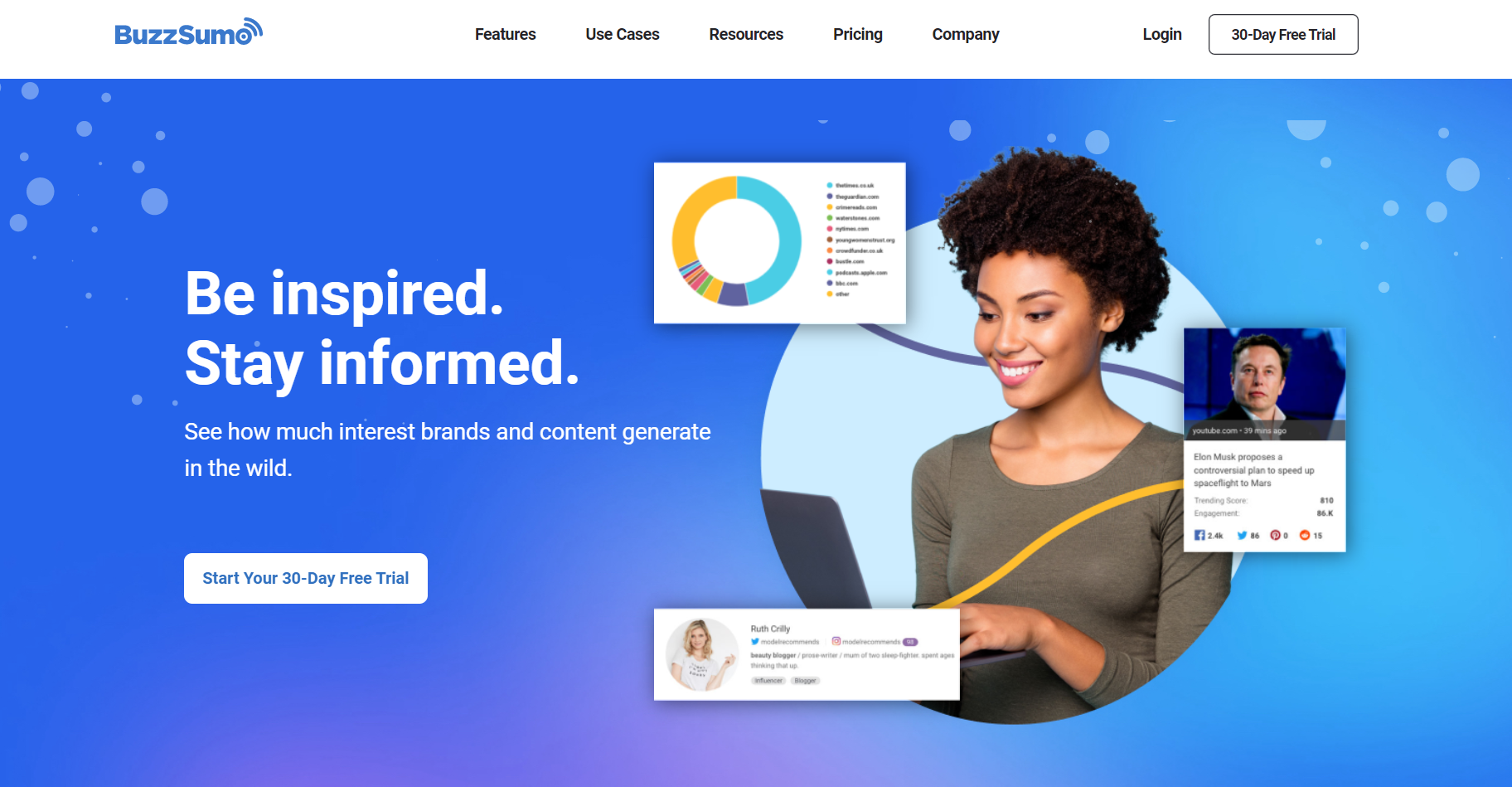 BuzzSumo is a leading AI influencer marketing tool that allows businesses to evaluate influencers based on their strengths. With BuzzSumo, you can analyze millions of accounts and pinpoint influencers on Twitter and Facebook. 
Key features:
Filter influencers and identify creators based on their strengths and following.

Analyze competitor pages and other top pages on Facebook.

Cross-platform search across Twitter, Facebook, and Youtube.

Analyze influencers based on likes and love.

Notifications when influencers publish content.
Pricing: 
BuzzSumo has a limited free trial and paid plans starting at $119/month.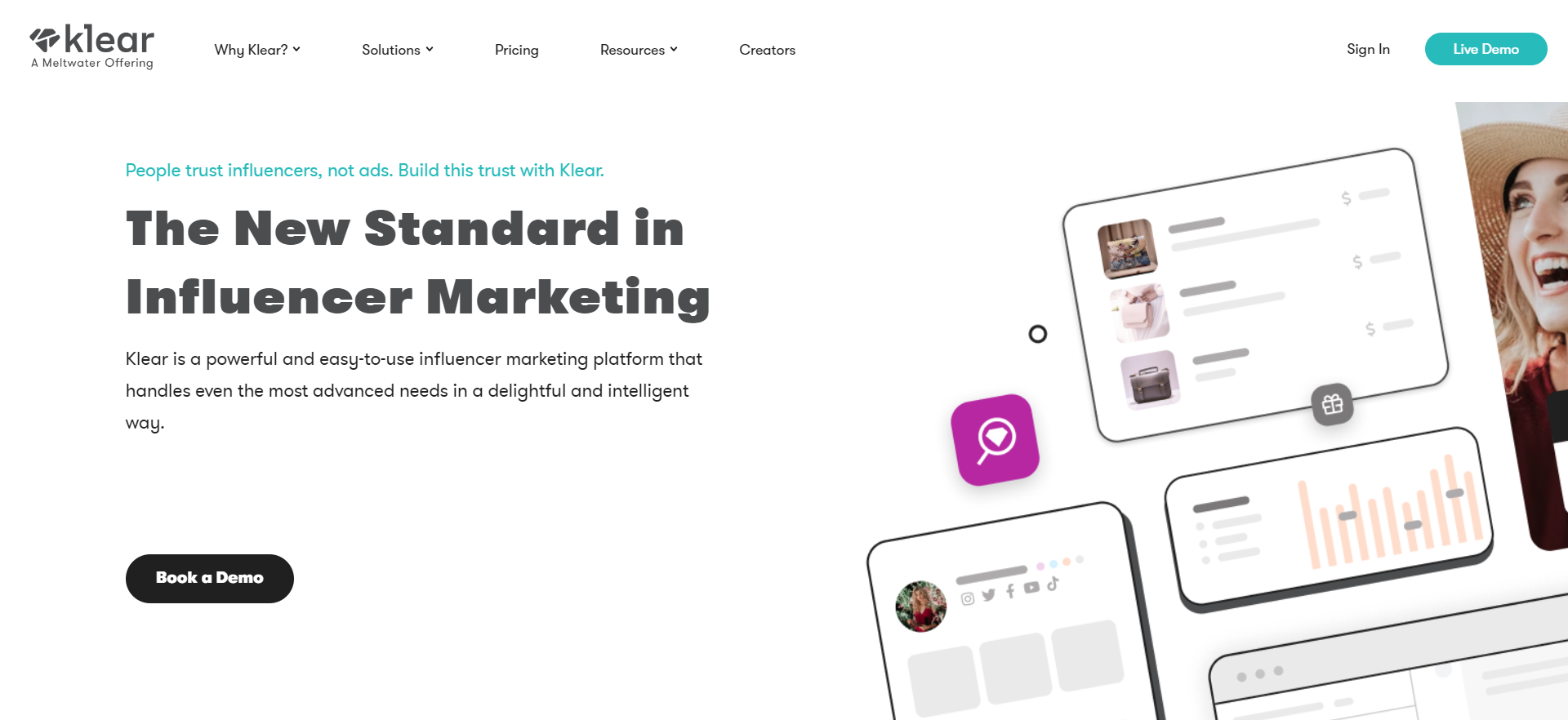 Klear is a also a leading end-to-end and easy-to-use influencer and AI affiliate marketing tool that popular brands across the globe rely on. Klear is built for Enterprises, Agencies, E-Commerce, and businesses of all sizes and can serve your needs across platforms such as Tiktok, Instagram, and Youtube.
Key features:
Advanced discovery tool to find influencers across platforms.

Advanced filters to find influencers based on niche topics, social channels, and demographics.

Complaint analytics tools to help you know your influencers better. 

Influencer CRM to help you manage your whole campaign and keep your team synchronized.

Collaboration hub to easily onboard and manage influencers.

Data-driven metrics to help you measure your campaign's success and ROI.
Pricing: 
You should schedule a demo with the Klear team for pricing details.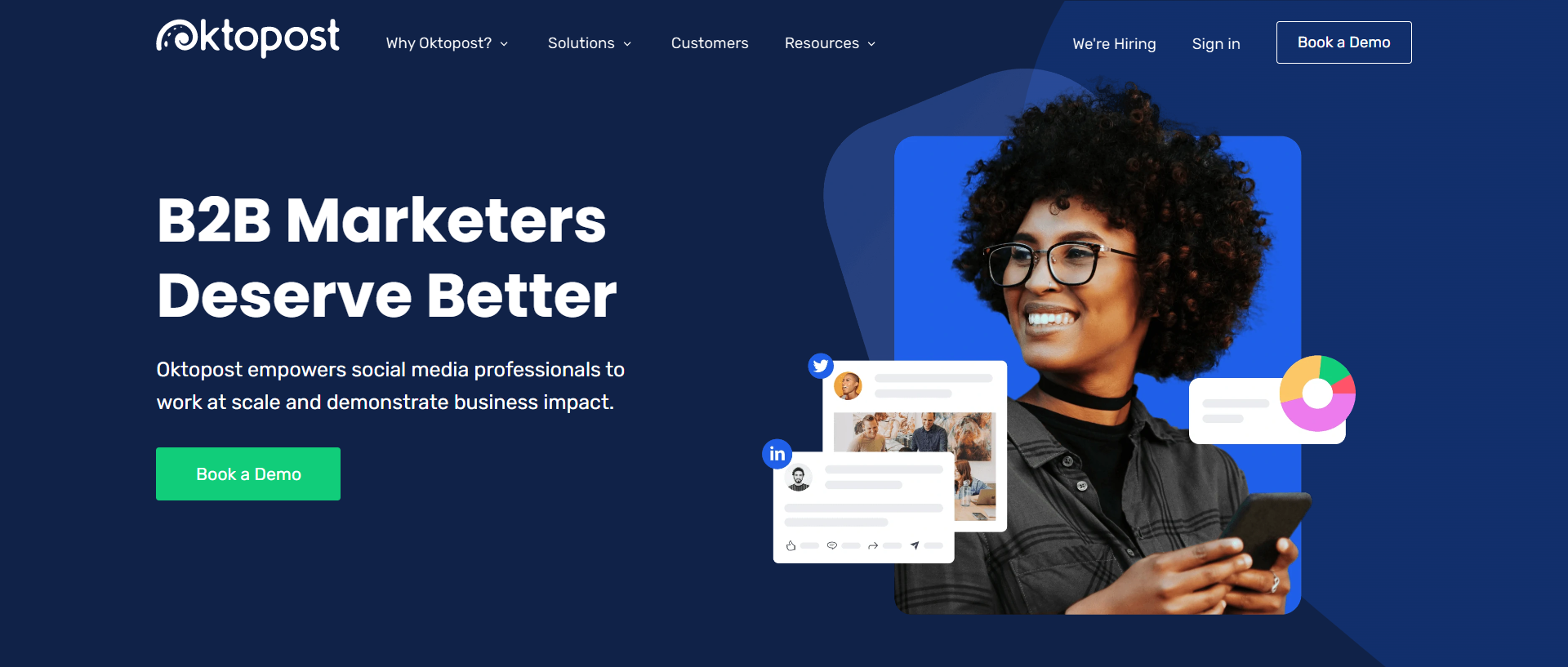 Okotopost allows B2B marketers to harness the power of AI in marketing their business across social media platforms. Oktopost allows you to access powerful social media marketing tools in one place, maximise your visibility, and create engaging content for your customers.
Key features: 
Plan, schedule, and post social media posts.

Discover and manage content at scale.

Employee advocacy tool allows you to harness your employee voices' power on social media.

Connect your social media data with marketing automation, CRM, and business intelligence.

Analytics tool to track your social media marketing efforts. 

AI-powered social media listening tool to monitor your social media brand reputation and mentions.
Pricing: 
You should schedule a demo with the Oktopost team for pricing details.
AI advertising tools
Using AI tools for digital marketing businesses of sizes can help manage their advertising campaigns more effectively.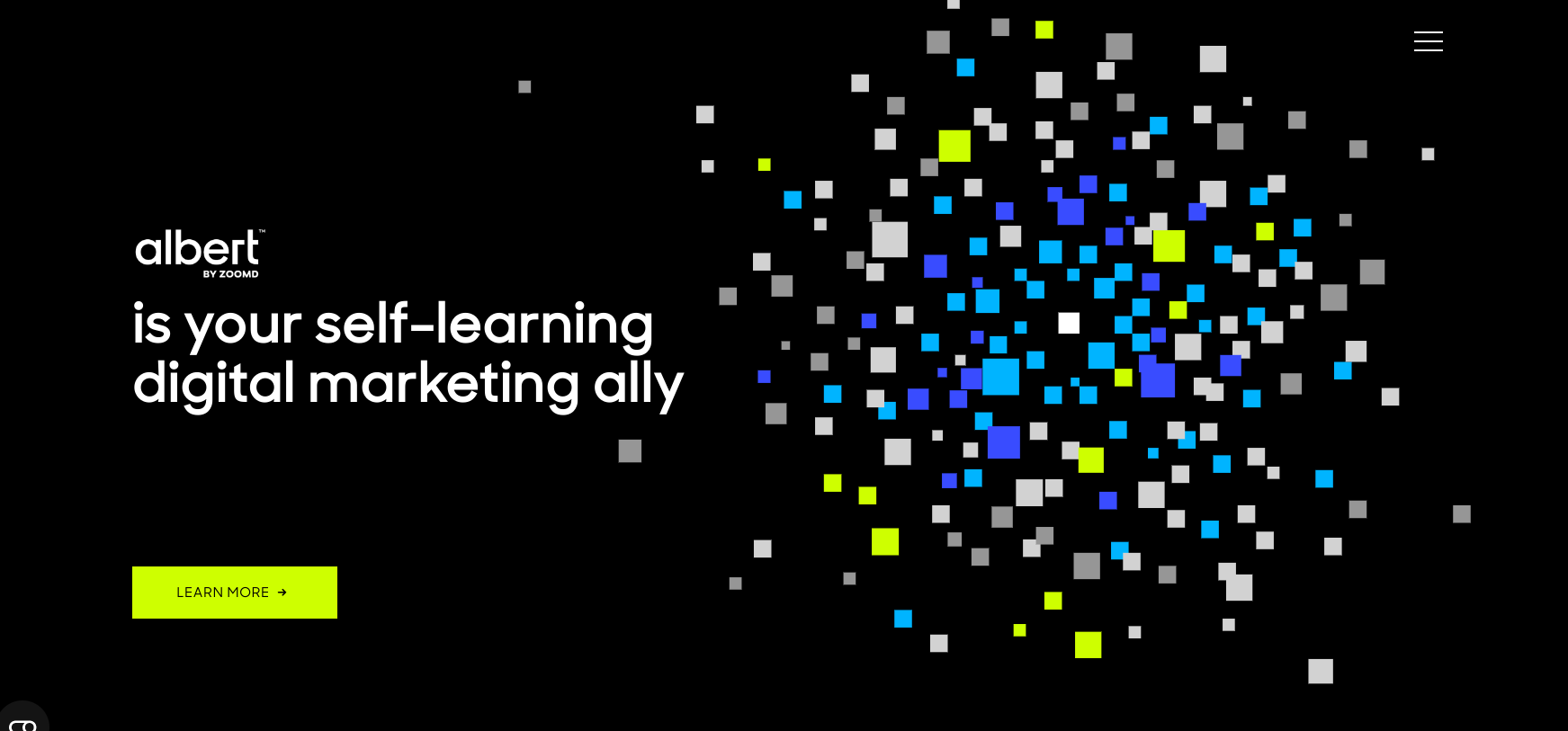 Albert AI is a leading AI tool for digital marketing that enables businesses to optimize their advertising campaigns. Marketers can use Albert AI to personalize and optimize content across social media and search platforms such as Google Ads, Bing, Youtube, and Facebook.
Key features: 
Content personalization at scale.

Agile cross-channel advertising.

Self-advertising campaign and management.

Creative reporting and insights.
Pricing:
Contact the Albert support team for pricing details.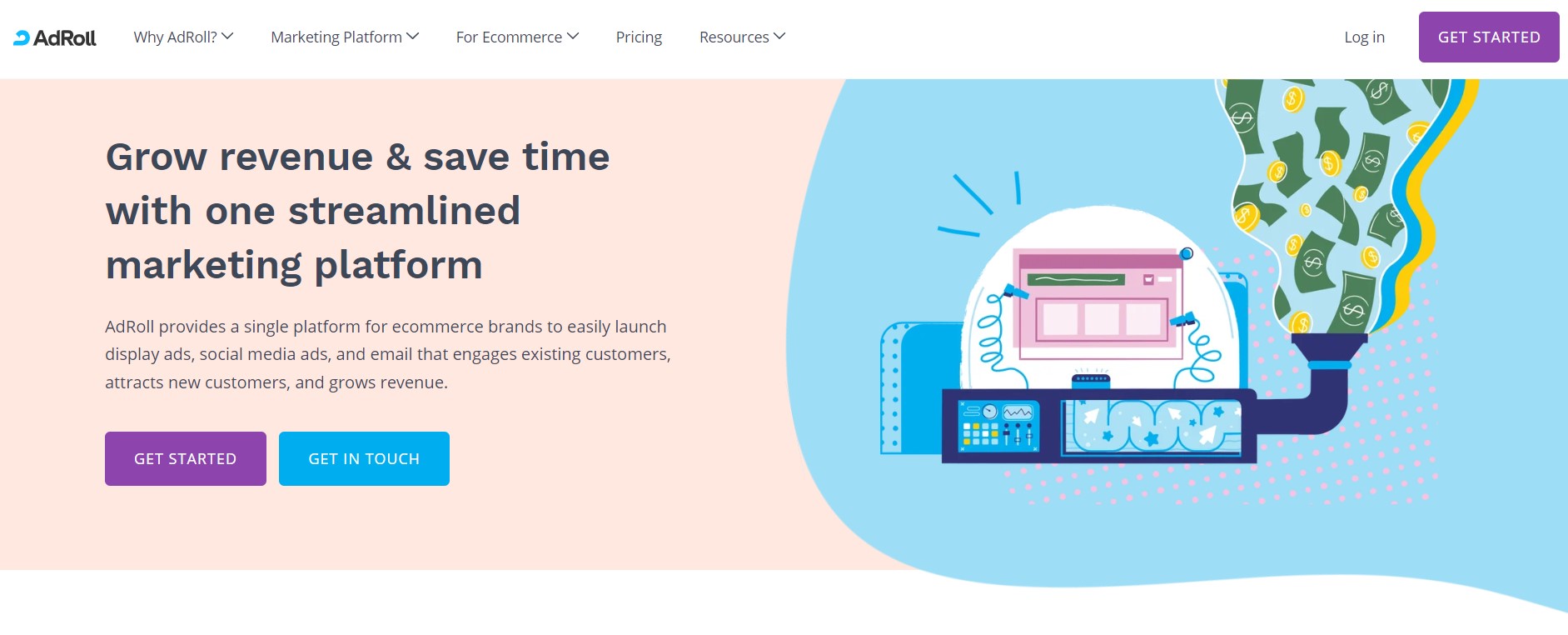 AdRoll is an advertising platform powered by AI technology that allows thousands of brands easily launch and display ads, emails, and social media ads to millions of customers in one place. Whether you are a team or a single creator, AdRoll has the features you need to kickstart your campaign.
Key features:
Powerful AI tools to help you find the right customers.

Retargeting, lookalike, contextual, and targeting campaigning features to help you get new customers.

Social media ad manager to enable you easily manage social media campaigns. 

Manage spending across different platforms.

Email marketing automation that gets the right messages to the right customers.

Actionable insights and reporting using your campaign date.

Pricing: 
Depends on the number of unique visitors to your site, pricing starts from $36/month. However, pricing also depends on the number of campaigns you wish to run.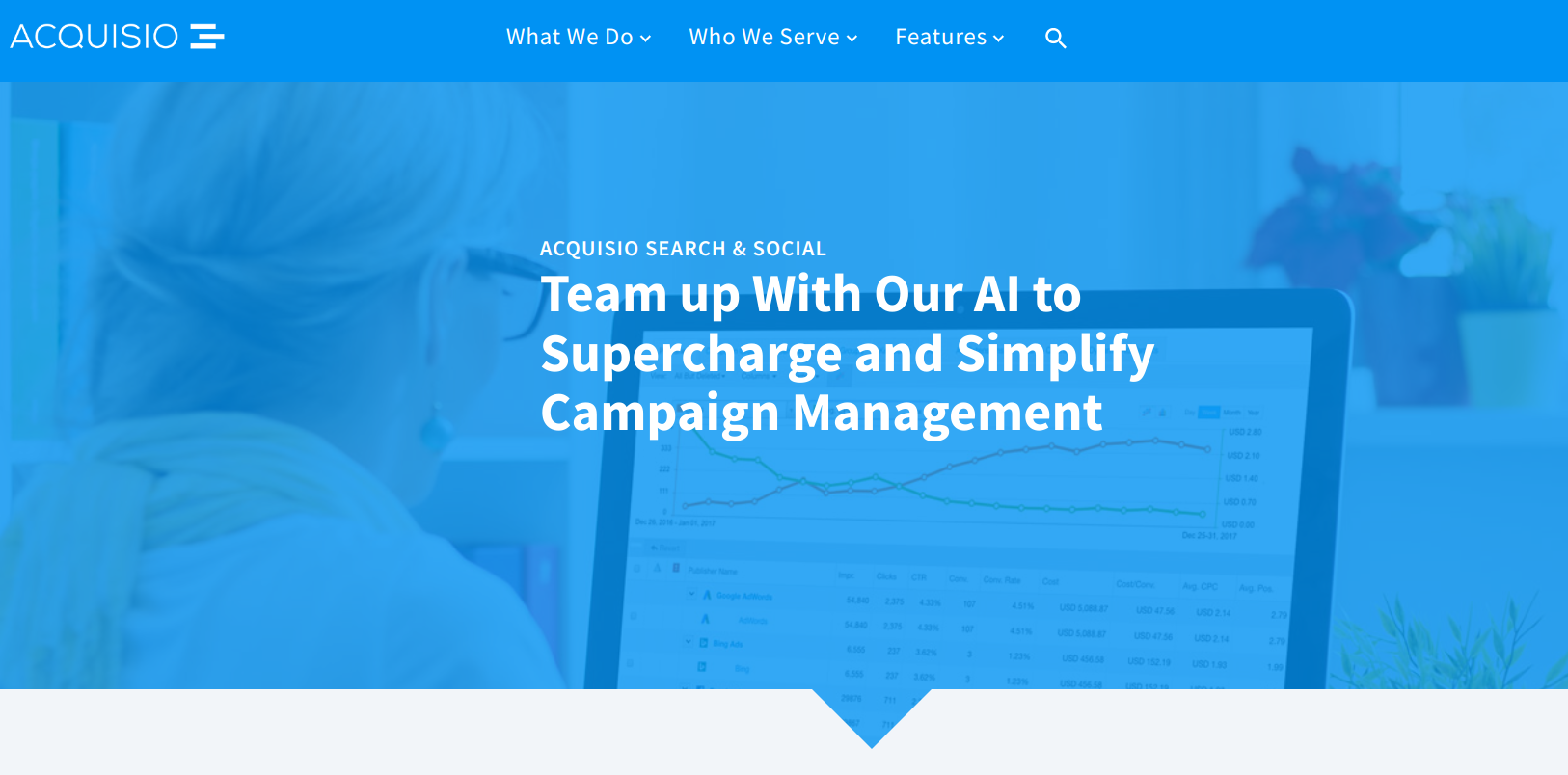 Acquisio is one of the best AI marketing tools to scale your search engine marketing across Bing and Google, supercharged by machine learning tools and automation. With Acquisio's mature artificial intelligence, businesses can simplify cross-channel PPC management complexities. 
Key features:
Bid budget and bid management.

AI and PPC automation tools to streamline campaign management.

Algorithms that work to optimize spend and increase conversions.

Automate search engine marketing campaigns based on product feeds.

Predefined campaign templates that you can customize.

Account dashboard and KPI builder to help you manage campaigns.

Templates and tools to help easily build customized cross-channel reports.
Pricing: 
Contact the support team for details on pricing.
AI video and other creative marketing tools
Video content is increasingly becoming an important form of content. Unlike text, short messages marketers can create personalized and captivating AI marketing videos localized for different audiences, using different AI marketing video tools.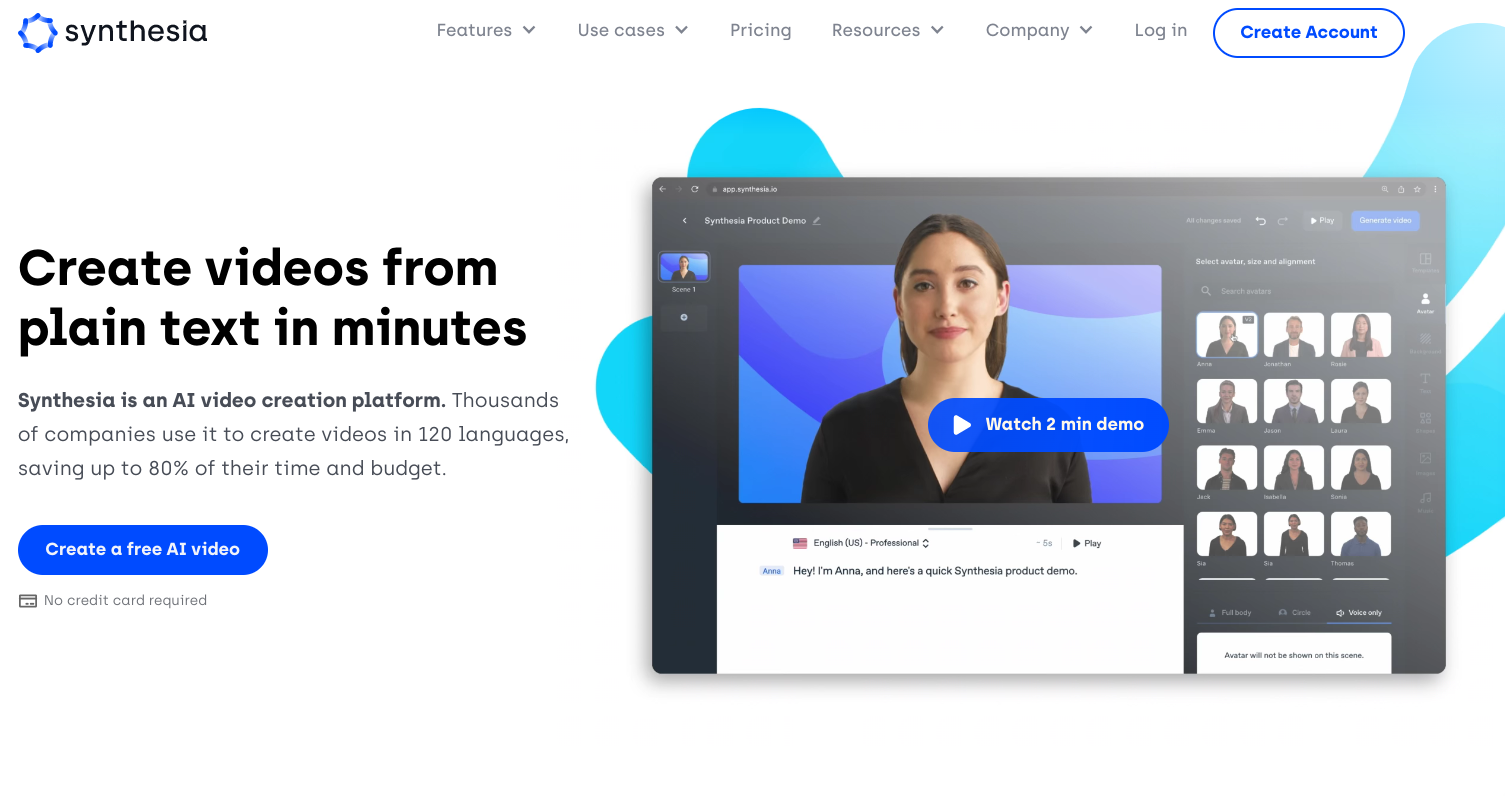 Sythensia is an AI marketing video creation platform that allows marketers and educators to create videos using avatars that appear as real actors in over 200 languages saving time and budget.
Key features:
Intuitive interface that is suitable for beginners with no prior video editing skills.

You can edit or update a video at any time.

Localization features with access to over 120 languages and accents.

You can turn pdf or docs into engaging videos for training.

60+ fully customizable video templates. 

80+ avatars to choose from.
Pricing: 
Synthesia has a personal plan starting at $30/month and a corporate plan for bigger companies whose pricing depends on your needs.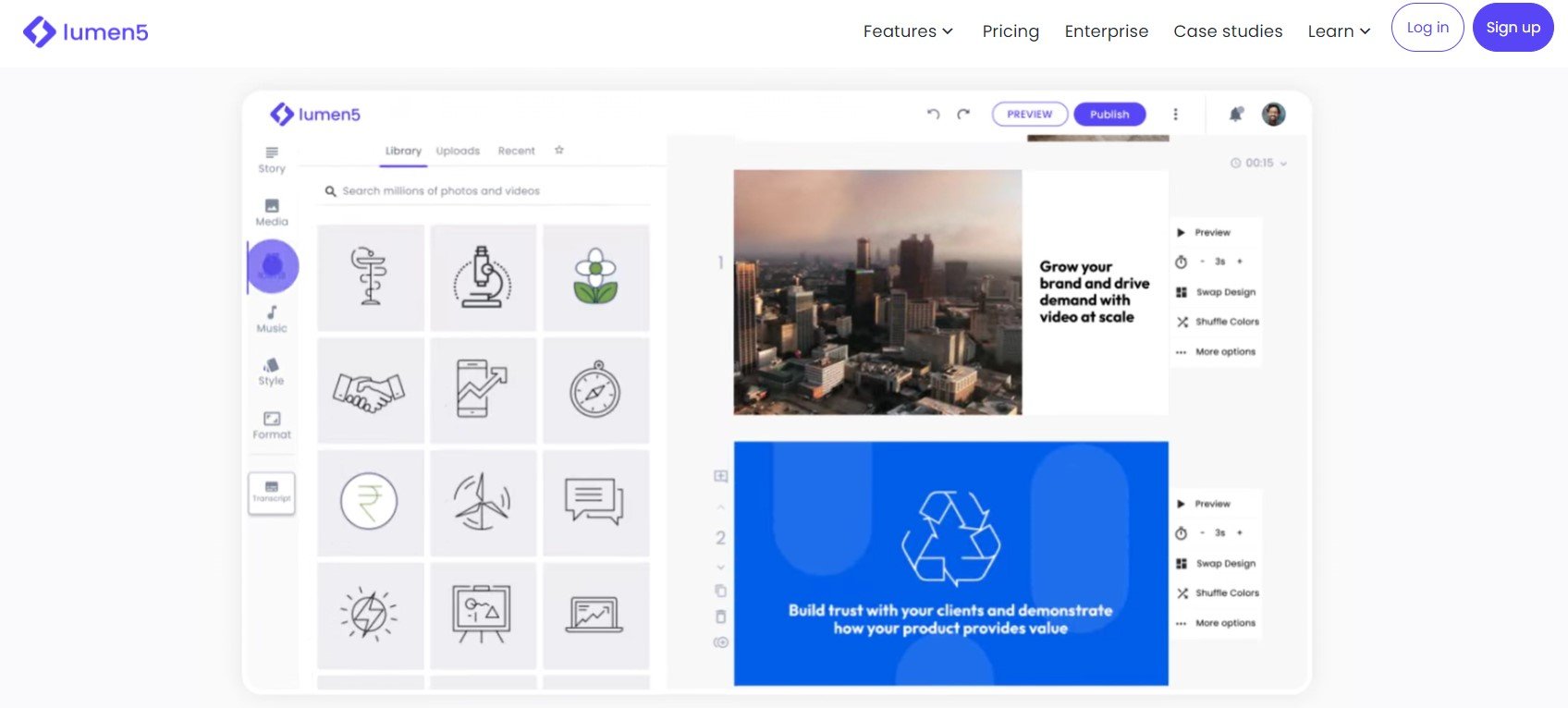 Lumen5 is an AI video creation platform allowing anyone on your team to create quality, engaging videos to help you scale your brand. With Lumen5, marketers can repurpose content such as blog posts as part of their marketing strategy. 
Key features:
You can turn blog posts and any other written content into a video at the click of a button.

You can pull in content such as text and images from written sources using a link.

Machine learning-powered editing capabilities that enable you to enhance the video or switch colors etc.

Callouts and cutaways to enhance videos and emphasize content.

Can autogenerate captions for your videos.
Pricing: 
Starts at $19/month for the basic plan with access to 1M+ stock videos and images. The starter plan starts at $59/month.

Rephrase.ai is an AI marketing tool for creating highly engaging and hyper-personalized, geo-local, and cohort-based marketing campaign messages for higher ROAS and better CTRs and VTRs. 
Key features:
Using videos to direct customers and thus reduce customer acquisition costs.

Personalized messages to customers to reduce churn rates.

Create a personalized and improved onboarding experience for your customer using videos.

Targeted videos to re-engage leads.

AI videos to personally engage your customers.

Run personalized and localized ads for each area.

Videos to help better communicate with internal and external stakeholders.
Pricing: 
Pricing starts with a personal plan for $25/month.
Conclusion
There is no doubt that AI marketing tools and AI software, in general, are quickly becoming an integral part of marketing and most core business functions. The ability of these tools to process and analyze huge amounts of customer data, generate insights and automate mundane tasks make them indispensable marketing tools for any business that wants to take its marketing efforts to the next level. With this listing, you'll discover countless ways to leverage AI tools for digital marketing.
Get a head start on website creation with AI
Create a custom website tailored to your business needs 10X faster with 10Web AI Website Builder!
Get a head start on website creation with AI
Create a custom website tailored to your business needs 10X faster with 10Web AI Website Builder!