Over the past few years, graphic design has undergone a remarkable transformation with the advancement of technology. Graphic designers today use high-performance software to create unique designs that stand out from the competition. 
Artificial Intelligence (AI) is revolutionizing how we work, enhancing efficiency and productivity. With its advanced capabilities, AI assists in simplifying complex tasks, which allows us to focus on more important ones. Research predicts that AI software will generate an astonishing $791.5 billion worldwide by 2025, reflecting its growing importance in the industry. 
The advent of AI has also brought numerous benefits to the design sector. AI graphic design tools have streamlined the creative process, making it easier for designers to optimize their workflow and analyze customer preferences. With the click of a button, these tools select and deliver the perfect visual asset, providing marketers with a powerful tool to enhance brand engagement.
We will examine the top AI graphic design tools, how to choose them, and techniques to successfully merge your human graphic design aptitude with the benefits of AI technology.
What is the role of AI in graphic design in 2023?
AI is revolutionizing graphic design by offering automated solutions that enhance the creative process and produce high-quality results. With AI tools for graphic design, designers can automate repetitive tasks, gain insightful recommendations, and improve the user experience of their designs. Here are AI's essential applications in graphic design:
Layout and composition:

Artificial intelligence algorithms can analyze user data to design websites and applications with personalized layouts. Designers can choose from various layout styles AI algorithms recommend based on the content and user preferences.

Color and typography:

Artificial Intelligence can propose color combinations and typeface layouts based on user interests and historical design trends.

Image editing:

Tools powered by artificial intelligence can change backgrounds, apply filters, and adjust color balance automatically.

Design automation:

AI can automate repetitive design tasks such as image resizing and creating multiple design versions.

User experience optimization:

Using artificial intelligence, designers can optimize a website or application's user experience by analyzing user data.

Generative art:

Using artificial intelligence algorithms, unique designs may be produced over time. Though in its early stages,

AI for graphic design

has the potential to exponentially speed up the design process without superseding the role of human designers. It can enhance the quality of the final product and expand the creative domain.
How to choose the right AI graphic design tool?
When selecting an AI graphic design tool, it is crucial to fully understand the features and capabilities it provides and how they align with your particular requirements. To make a well-informed decision, evaluate the following components:
Ease of use:

Find a tool with a user-friendly interface that is easy to navigate and create designs, regardless of your technical proficiency.

Design templates:

A good

AI graphic design

tool offers a wide range of customizable templates for diverse industries and design styles.

Customization:

Look for tools that enable you to modify design elements like colors, fonts, and images, enabling you to create designs that align seamlessly with your brand identity.

Image library:

An extensive high-quality library of images, icons, and illustrations is essential to create visually stunning designs.

Typography options:

Choose a tool that provides diverse fonts and typographic components to enhance your designs.

AI capabilities:

The AI algorithms should generate design suggestions, automate repetitive tasks, and optimize designs according to your preferences.

Collaboration features:

A tool with real-time collaboration, feedback sharing, and version tracking capabilities would be useful if working with a team.

Integration with other tools:

A seamless integration with other platforms, such as project management software and social media schedulers, improves and streamlines your workflow.

Export options:

Select a tool that offers the ability to export designs in various formats and resolutions appropriate for the purpose for which you intend to use them.

Pricing:

Compare the value of the tool to the features it offers. Most AI photo generators offer a free trial or freemium version, which allows you to test the tool's capabilities before committing to a subscription plan.
By evaluating these factors, you can pick the AI graphic design tool that elevates the quality of your designs, encourages your creative process, and aligns with your vision.

Best AI tools for graphic design
By streamlining the design process, graphic design AI tools enable designers to concentrate on their artistic vision while harnessing technology's potential to produce outstanding visual content. In this section, we will delve into the top AI graphic design tools that revolutionize how designers approach their work and broaden the horizons of creative possibilities, ultimately amplifying the impact and efficacy of visual communication in today's digital world.

Jasper Art, the innovative AI picture generator, makes users effortlessly produce breathtaking and exclusive visuals for any purpose. With its advanced artificial intelligence technology, Jasper Art has become a popular tool for online entrepreneurs, business professionals, and novice business owners looking to produce high-quality graphics without design expertise.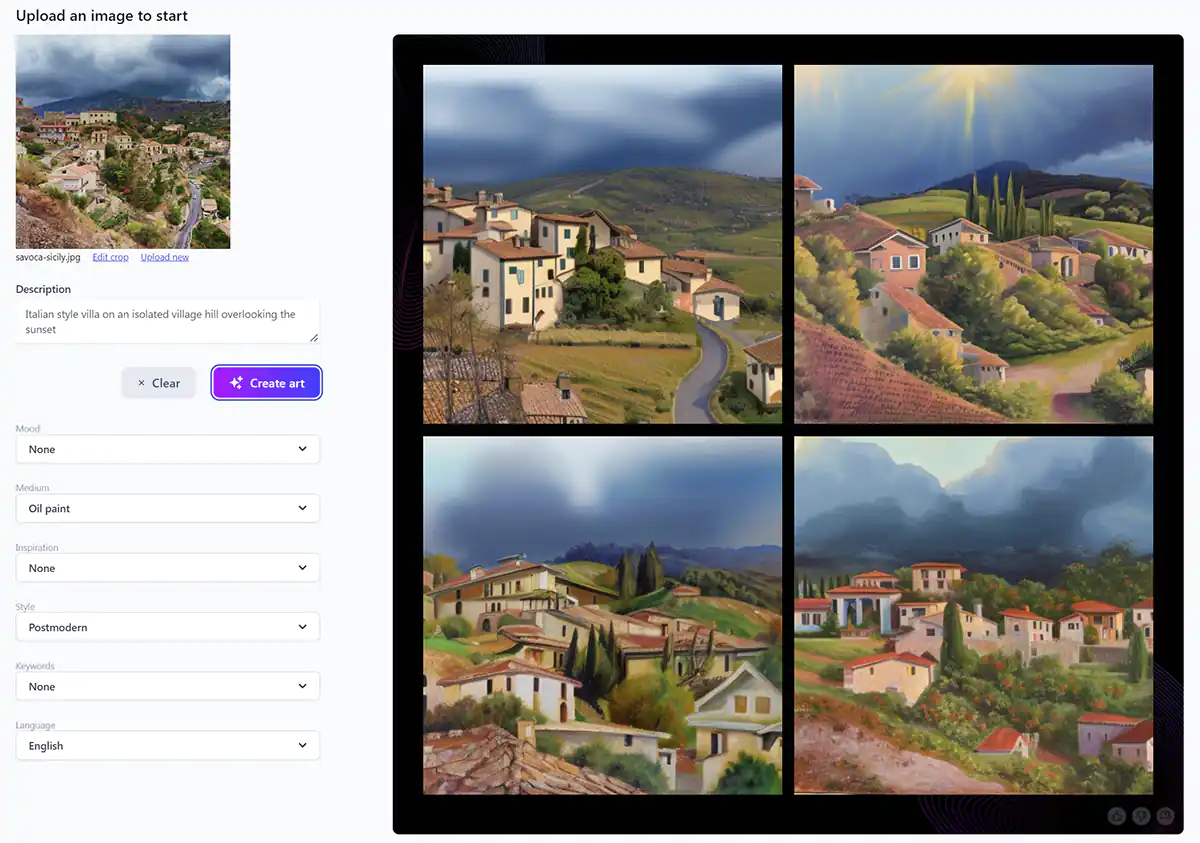 With its intelligent algorithms and deep learning techniques, Jasper Art can create realistic AI images based on user input, whether showcasing pixel art or modern oil paintings.
Here are the benefits of Jasper Art's state-of-the-art AI-driven artistic platform:
Create unique AI art

: Generate one-of-a-kind visuals in various styles, such as pop art, abstract art, vector art, and much more.

User-friendly interface:

Jasper Art's intuitive layout is designed for beginners and experts, allowing you to navigate easily.

Versatile applications:

Use the visuals produced by Jasper Art for marketing campaigns, social media posts, or even product designing.
Features
AI-powered image generation

Extensive library of templates and elements

Customizable text styles

Features mode, medium, artist, style, and keyword filters

Captures vivid images that reflect a mood, an art style, or a realistic representation.
Pros and cons of Jasper Art AI
Pros
Offer customizable options for mode, medium, artist, style, and keywords

Generates high-quality art quickly (usually less than 15 seconds)

Provides multiple options to choose from (4 per generation)

Unlimited customization options based on user imagination
Cons:
Content filters can impede results 

Poor facial and hand generation 

No access to generation history 

Limited image resolution for output 
Pricing
Creator plans, starting at $39/month, includes Jasper Art. 

Designs.ai is innovative AI graphic design software that offers accessible design solutions for everyone. It effortlessly creates a marketing portfolio in under two minutes, even for those without design experience. With its intuitive smart editor and wizard tool, generating design concepts for your marketing content is much more efficient.

Designs.ai offers a powerful tool for creating logos, graphics, videos, mockups, and speeches. With access to an extensive library of over 20,000 templates and 10,000 icons, users can easily bring their design visions to life. By utilizing AI technology, Designs.ai generates thousands of potential designs, providing endless creative possibilities. Users can also customize their logo and design templates by inputting their brand information and style preferences. 
Features
Supportive tools

Brand identity package

Color matching tool and font pairing options

Scalable vector graphics

Sharing and feedback functions

Unlimited downloads
Pros and cons of Designs.ai
Pros
An intuitive and clean user interface

Multi-browser and multi-device compatibility 

Installation not required
Cons
Mobile application not available

Sluggish website
Pricing
Pricing is available on a per-month basis and ranges from a basic package at $29 to a pro option at $69. Enterprises may opt for a customized package suited to their unique needs.

Khroma is an AI-powered color tool primarily catering to designers. With Khroma, users can train an AI algorithm by handpicking 50 visually pleasing colors. This selection helps to train a neural network that can recognize thousands of comparable shades. Based on user preferences, the tool generates a limitless array of color palettes. Khroma features two color combinations that can be displayed in four different templates: Type, Poster, Gradient, and Image (users can even upload their images for color testing). The Palette template supports four color combinations.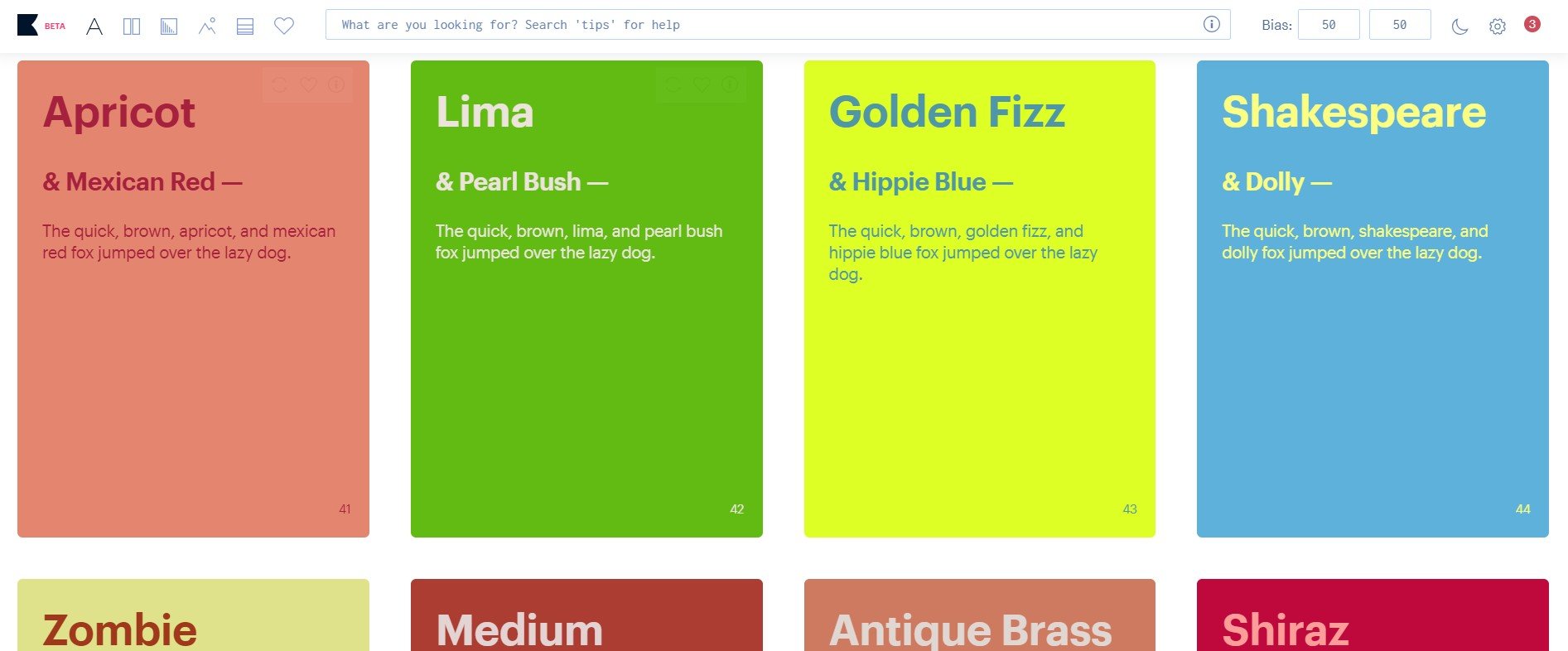 Features
Color search functionality for swift search results

Diverse viewing options with infinite combinations

Personalized algorithm for tailored color portrait

Advanced search and filter feature for pinpoint results

Unlimited favorites library for easy access to handpicked colors
Pros and cons of Khroma
Pros
Various parameters available for color search

Limitless possibilities for color combinations

Easy-to-use and uncomplicated design
Cons
The selection of colors can be time-consuming due to the wide range of options

Infinite scroll UI may cause confusion or overload to the user
Pricing
Khroma is a free application.

RemoveBg is an intelligent and efficient AI software that significantly improves the image editing process. With just a few taps, RemoveBG can transparentize PNG images or apply white backgrounds, delivering more impactful designs in less time. This tool integrates seamlessly with popular design programs, eCommerce sites, and computing environments, enabling smooth incorporation into workflows.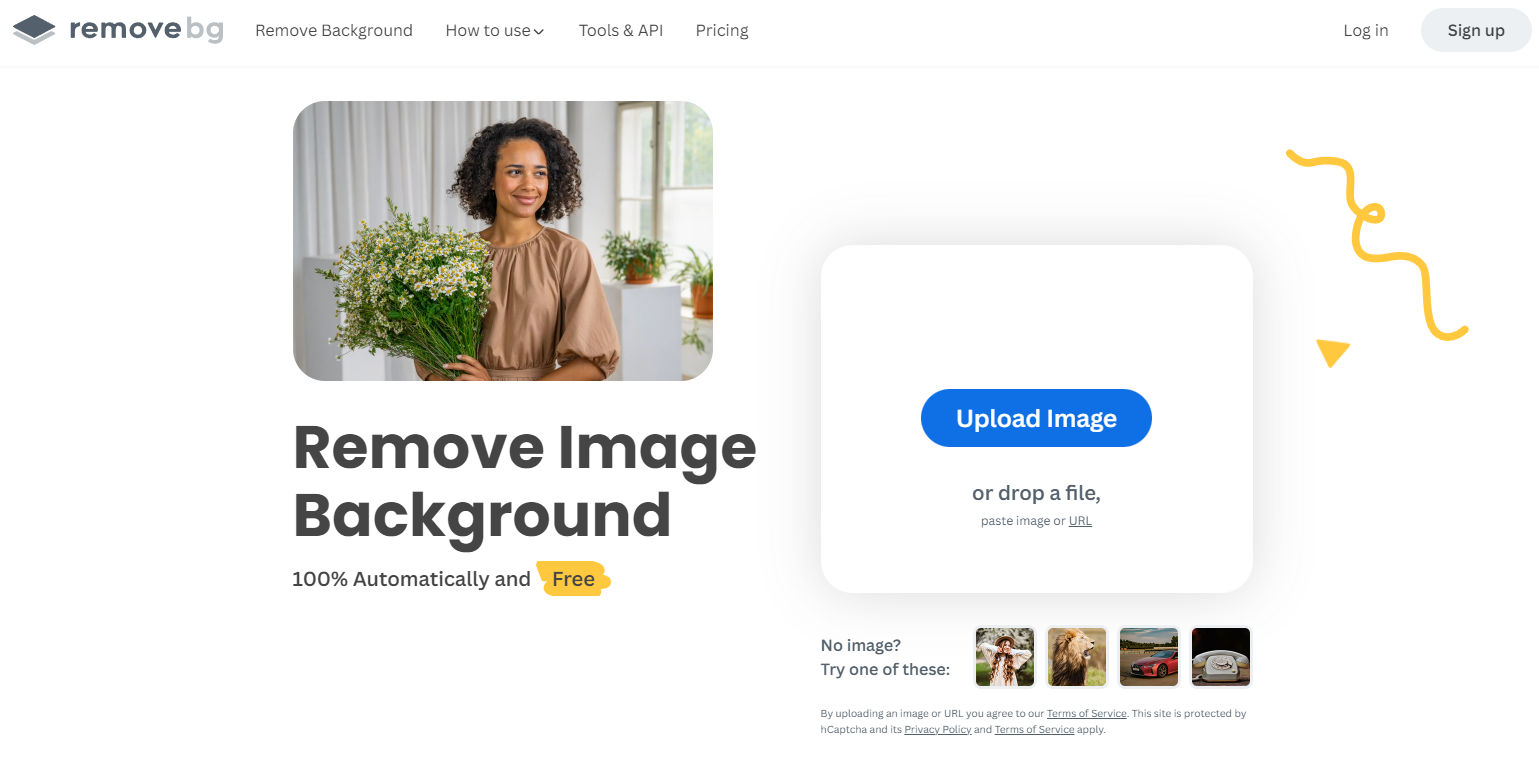 Hence, incorporate the tool into Photoshop to design and easily process thousands of automobile photos.
Features
Add-on for Adobe Photoshop

API documentation

Pre-designed templates

Android, Mac, and Linux apps available for download

Apps, integrations, and tools
Pros and cons of RemoveBG
Pros
Offer multiple benefits to its users

Ability to process multiple images per minute (rate depends on image fidelity)

Automated background removal process

User-friendly and intuitive software design

High-quality output images

Quick operating speed
Cons
Continuous use of the tool requires a software bundle purchase
Pricing
Upon registration, users can opt for the Free Account at no charge. Alternatively, there are two paid options: Subscription Plan, which begins at 40 credits for $0.23 per image, or Pay as You Go, which begins at one credit for $1.99 per image. These flexible options cater to users' specific needs and budget constraints.

Fronty is a cutting-edge AI-based platform that is transforming website development. It analyzes screenshots or images uploaded by users and creates the necessary HTML and CSS code to bring ideas to life in functional websites.
The process is uncomplicated: simply upload prototype images of your website and let the AI identify and generate the corresponding code for each aspect of the layout. If you prefer to have more control, Fronty also has an online UI editor that enables you to customize your web pages according to your preferences.
Features
AI-powered image-to-code converter

Easy-to-use online layout editor

Website Hosting for a reliable online presence

Custom domain name for branding

Customized Bootstrap theme for a unique look

Sassy Cascading Style Sheets for attractive design

Search Engine Optimization to improve website visibility and traffic
Pros and cons of Fronty
Pros:
Codes are guaranteed 100% W3C compliant and ISO/EIC compliant

Customer service uptime impressively stands at 95%

Variety of templates available for selection
Cons:
The platform is still being developed

Processing HTML may take longer
Pricing
Fronty offers a freemium option at no cost, a pro tier priced at $4.52, and an advanced tier offered at $9.

Deep Art Effects is an advanced image processing tool powered by artificial intelligence (AI) that has revolutionized the world of AI graphic design. With just a few clicks, this software can transform your designs into breathtaking works of art.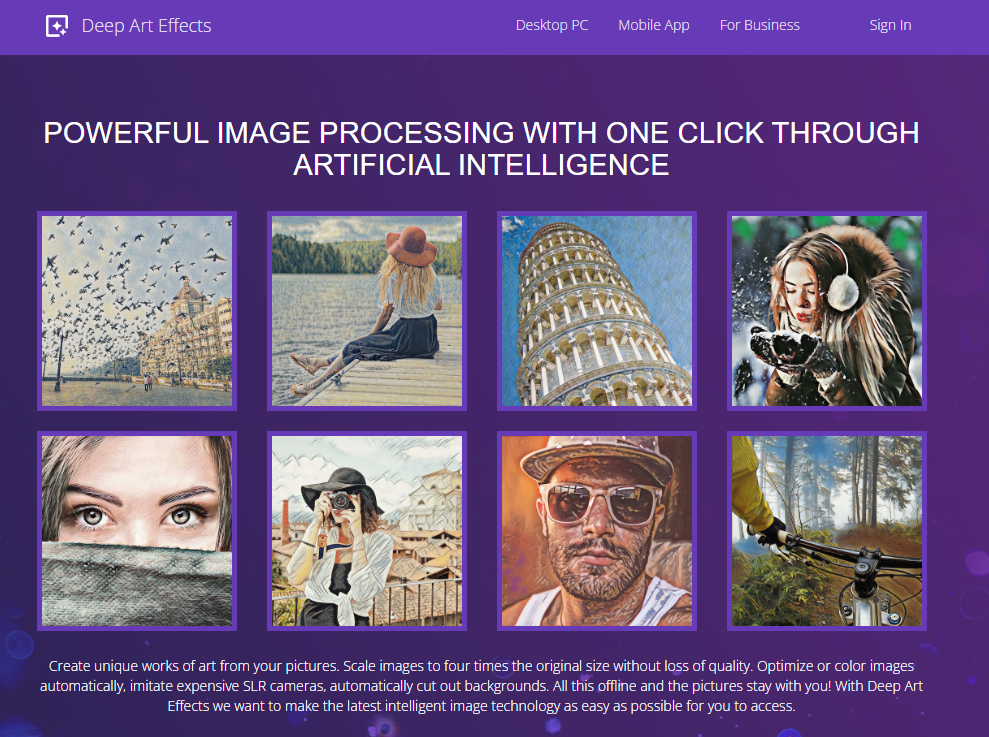 Deep Art Effects allows you to access a wide selection of unique art styles to elevate your images. It offers you to customize foreground and background separately, create personalized artistic styles, render images at any resolution, and choose from the styles of world-renowned artists. Additionally, the software's Application Programming Interface (API) enables other applications to integrate its filters and image-related features.
Features
AI-powered artworks transformation

Predefined filters for easy editing

Offline rendering of images and videos

A comprehensive set of parameters for individual artwork customization

Intelligent resizing for pictures with even better details

4x upscale supported by AI for superb high-quality images

Easy-to-use brush size and style weight settings

Optimized for both PC and Mobile Devices for maximum usability
Pros and cons of Deep Art Effects
Pros:
User-friendly and straightforward interface

Reliable and prompt customer service 

Wide range of design options to choose from 
Cons: 
Pricing 
The subscription options for this product include a one-month plan for $9.90, a three-month plan for a total of $25 (working out to $8.33 each month), and a one-year plan for $80 (equating to just $6.66 a month). A one-time purchase of the product is also available for $129.

Let's Enhance is a powerful image optimization and upscaling tool designed to solve the challenges presented by user-generated images.  It is an ideal graphic design AI tool for enlarging images by up to 16 times without compromising quality.  This tool, which incorporates AI for graphic design, concurrently renders up to 20 visuals, streamlining your work process.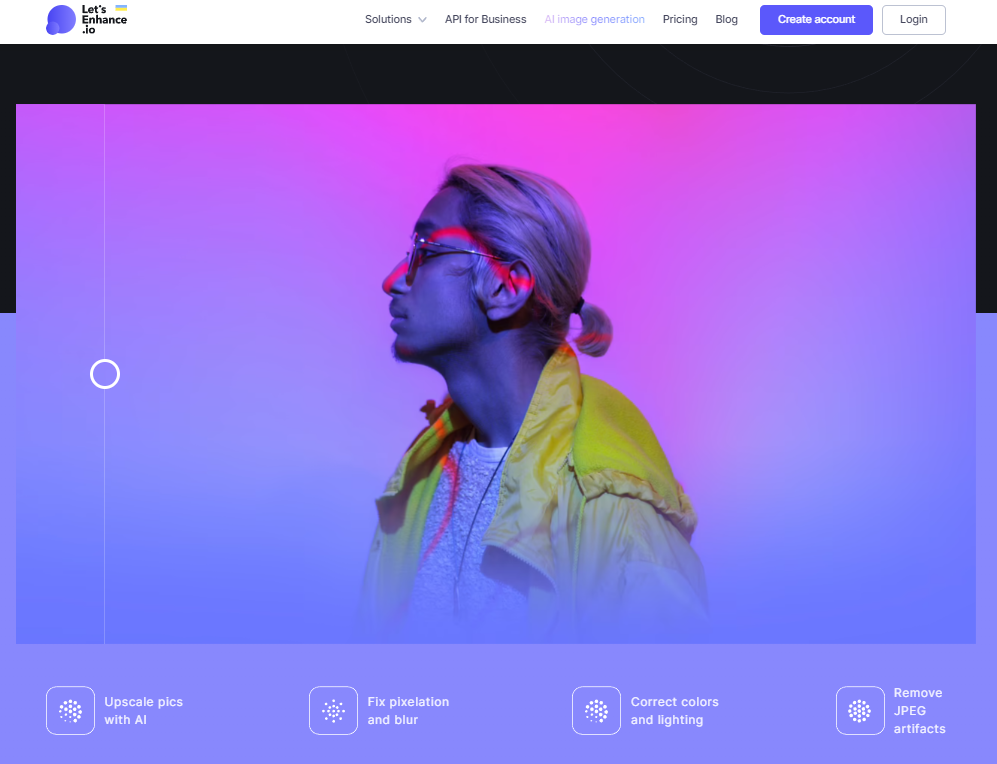 Features
Precise facial recognition

Automated settings

Revitalize color and tone

Cloud storage 

Increase image resolution

Intelligent enhancement algorithms
Pros and cons of Let's Enhance
Pros:
Offers accessibility on any device

Features an intuitive interface

Provides high-quality processing
Cons:
Limited advanced functions for complex images

Higher price point compared to other software

Processing images takes time
Pricing
The following credit options are available for purchase:
10 credits: Free

100 credits: $12 ($9 if billed annually)

300 credits: $32 ($24 if billed annually)

500 credits: $45 ($34 if billed annually)
AutoDraw from Google showcases the capacity of graphic design AI tools. It transforms basic sketches into refined illustrations effortlessly. With its machine learning algorithm, it anticipates the artist's intention and presents several options of refined designs to choose from.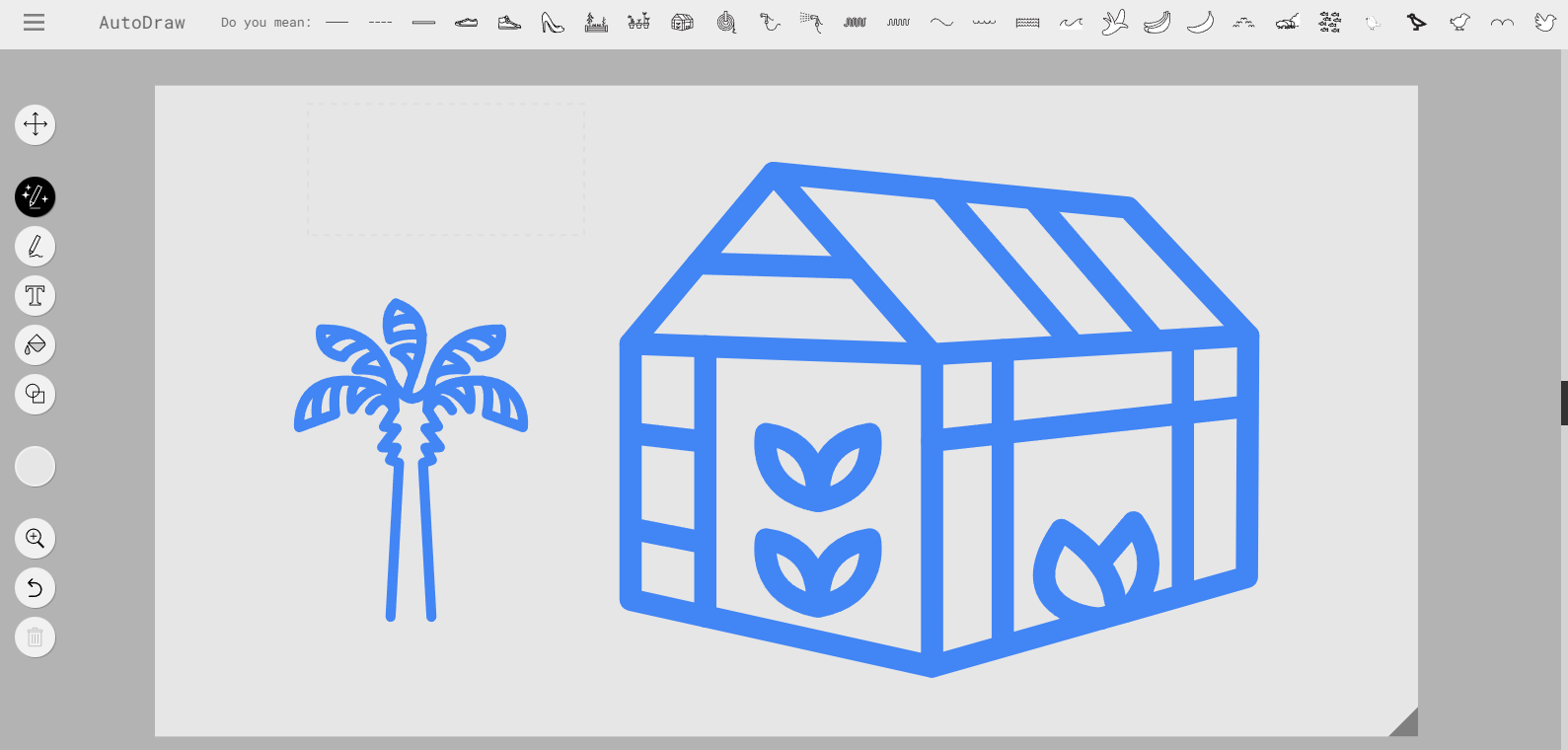 The implementation of AI in AutoDraw revolutionizes rapid sketching and ideation. It is user-friendly and has machine-learning capabilities, making it a practical tool for everyone, from amateur doodlers to seasoned designers. AutoDraw's predictive features enhance the creative process, whether one is working on an intricate design project or simply doodling for amusement.
Features:
Instantly converting rough sketches into polished graphics.

Leveraging machine learning for improved image prediction.

Perfect for rapid ideation and brainstorming.
Pros and cons of AutoDraw
Pros
User-friendly and accessible to all skill levels

Pre-drawn images are available to assist in creating professional-quality artwork

Recognizes and corrects common drawing mistakes

Focused on creating digital artwork
Cons
Imagination may be restrained due to the suggestion function

Dependent on machine learning and may not always produce desired results

Offers a variety of drawing tools and templates for customization

Lacks advanced features such as layers and shading tools
Pricing
AutoDraw is completely free to use.

Tips for combining human graphic design skills with AI
Combining your human graphic design skills with AI can lead to exceptional results by leveraging both strengths. Here are some tips to help you effectively blend your expertise with AI capabilities:
1. Understand AI's capabilities and limitations
Take the time to thoroughly understand the specific features and functions of the AI tool you are using. Recognize its strengths and limitations so that you can use it strategically and intelligently without overly relying on it.
2. Identify AI's role in your creative process
Clearly define which tasks can be effectively delegated to AI and which aspects require your unique expertise. This will allow you to optimize your workflow and allocate your resources efficiently.
3. Leverage AI for inspiration
Utilize AI-generated designs as a source of inspiration to ignite your creativity. Explore the various styles, layouts, and color schemes generated by the AI tool to spark new ideas and concepts.
4. Refine AI outputs with your creative touch
Customize and refine AI-generated designs by incorporating your artistic vision. Modify elements such as colors, typography, and layouts to align them with your brand identity and design preferences. This ensures that the final output reflects your unique style and creative sensibilities.
5. Stay informed about AI advancements
Keep yourself updated with the latest developments in AI technology and tools within the graphic design AI industry. Continuously learn new techniques and explore innovative ways to incorporate AI into your creative process.
6. Experiment with different AI tools and features
Explore and experiment with various AI tools and features to find the best combination that suits your needs. Test different algorithms, settings, and design styles to achieve the desired results and discover new possibilities.
7. Ensure quality control
Thoroughly review AI-generated designs to ensure they meet your quality standards. AI may sometimes produce unexpected or inconsistent results, so it's crucial to double-check the designs and make any necessary adjustments before finalizing them.
8. Collaborate and seek feedback
Share your AI-assisted designs with colleagues, peers, or clients to gather constructive feedback. Their insights can help you identify areas where the AI may have limitations and where human intervention can enhance the design.
9. Adapt your skills and workflow
As AI technology advances, be prepared to adapt your skills and workflow accordingly. Stay open-minded and flexible, embracing new possibilities while staying true to your creative instincts.
10. Balance efficiency and creativity
While AI can significantly speed up the design process, it's important not to sacrifice creativity for the sake of efficiency. Strive to strike a balance between leveraging AI's capabilities and nurturing your artistic vision.
11. Maintain ethical considerations
Be mindful of the potential ethical implications of using AI-generated content, such as copyright issues or concerns around originality. Use AI responsibly and transparently in your work, ensuring that you adhere to ethical guidelines and industry standards.

Conclusion
Graphic design is being revolutionized with AI technologies that can automate tasks, optimize user experiences, and easily provide design recommendations. With innovative tools like Jasper, Designs.ai, Fronty, Khroma, RemoveBG, Deep Art Effects, Let's Enhance, and AutoDraw, the design process is transforming. Moreover, graphic design and website design are closely linked, and the advancements in AI technology are transforming them both. For instance, tools such as 10Web AI Website Builder offers users a comprehensive solution to website design, empowering them to create visually stunning and unique websites with ease. 
Get a head start on website creation with AI
Create a custom website tailored to your business needs 10X faster with 10Web AI Website Builder!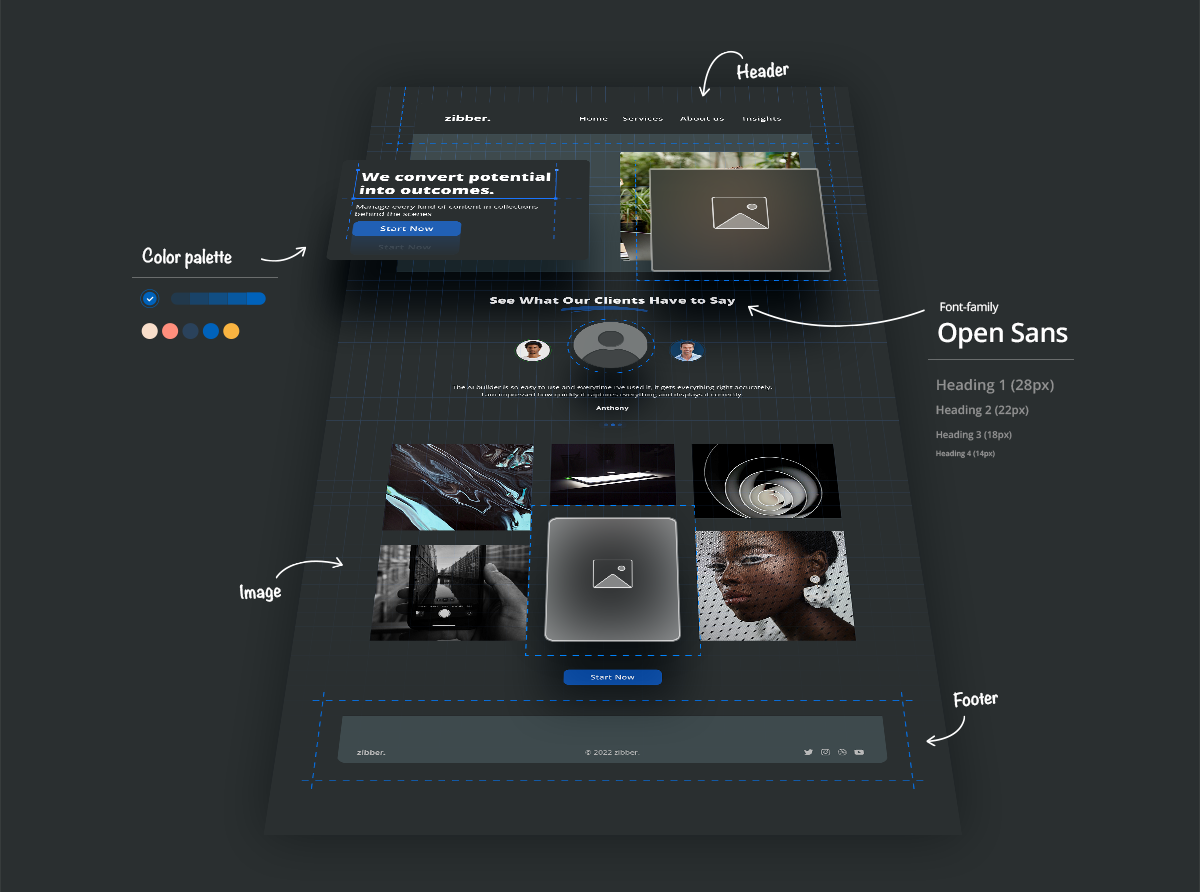 Get a head start on website creation with AI
Create a custom website tailored to your business needs 10X faster with 10Web AI Website Builder!
By providing customizable templates, user-friendly interfaces, and AI-powered design recommendations, these tools have transformed the way designers approach their work. AI is unlocking even more creative possibilities and efficiency in the industry, paving the way for a bright future in graphic design.

FAQ
Will AI take over graphic design entirely?
AI won't be taking over the graphic design world anytime soon. Although it will help automate tasks and speed up processes, human designers still bring creativity, intuition, and communication skills that AI can't match. The future of graphic design will likely involve working together with AI, combining the best of both worlds to create more efficient and innovative designs.
How can AI assist in automating repetitive design tasks?
AI can automate repetitive design tasks to save time and increase efficiency Examples of AI's design capabilities:
Generating multiple variations from templates or styles

Resizing and adapting designs for different platforms and devices

Applying color schemes or typography based on best practices

Identifying design trends from data analysis

Automating image cropping, resizing, and optimization for consistency
By taking on repetitive tasks, AI frees designers to focus on more creative work.
How can AI be used to boost creativity in design?
AI can boost design creativity with fresh ideas, data-driven insights, rapid iteration, and collaborative teamwork. With these tools at their disposal, designers can easily explore new concepts and create outstanding designs more quickly and efficiently.