From the time of Google's updates to its search algorithm for developing a more user-centric ranking system, the involvement of Artificial Intelligence in the Search Engine Optimization (SEO) space has been on the rise. Before AI, Google primarily considered the occurrence of specific keywords to rank content. The more keywords on your page, the higher the rank on Search Engine Results Page (SERP). 
However, Google's aim to improve user experience led to further developments in the search algorithm. Specifically, Google started to look for the context of a user's query instead of keywords only. For example, searching for "AI in SEO" will give you results explaining what AI is in SEO instead of giving you a list of AI SEO tools. 
RankBrain was Google's first AI update in 2015 to improve context recognition by relating words to similar search queries made in the past and delivering relevant results. In 2018, it launched neural matching, which considers the query's language more closely and connects it with relevant content. Next, in 2019, it introduced Bidirectional Encoder Representations from Transformers (BERT) that examines word combinations to understand user intent more accurately. 
As such, SEO today is more than just using the right keywords. Several aspects are now essential for effective on-site and off-site SEO. This article explains how is AI going to change SEO, how artificial intelligence SEO tools can help improve SEO workflows, their potential risks and challenges, and the best tools available in 2023.
AI SEO trends: how does AI change SEO and what to expect next?
AI in SEO helps get relevant information more quickly and allows analysts to gain valuable insights instantly. Given the advancements discussed above, AI is quickly changing how SEO works. More precisely, several SEO tools now provide AI functionalities to augment SEO analysis and make the entire process more efficient. The factors mentioned below explain how AI affects SEO.
1. AI makes keyword research less time-consuming and more effective.
Tools can provide real-time analytics to display useful keyword metrics such as ranks, cost-per-click  (CPC), search volume, related keywords, etc., and analyze the anchor text to check if it helps boost SEO scores.
2. SEO tools with AI can also improve content quality, so it ranks well considering Google's advanced algorithms to provide relevant information to users.
With AI's help, you can quickly generate outlines, meta titles and descriptions, concluding paragraphs, etc., to ensure your content delivers value and is tightly linked to the context of the user's query. Of course, Google penalizes spammy AI-generated content. However, you can still use AI to generate ideas and get inspiration to write more personalized posts and articles to attract maximal traffic. As such, SEO tools today incorporate Natural Language Processing (NLP) models to help you write high-converting content in less time.
Optimize your content SEO with AI!
Write and perfect original content and fix all SEO and readability errors 10X faster with 10Web AI Writing Assistant✨
3. AI's predictive and analytical capabilities help analysts quickly process and interpret SEO-related data.
With ever-changing search engine ranking algorithms, predicting how your page will perform on the search engine results page (SERP) becomes problematic. 
Using AI, SEO tools can quickly analyze several data points and provide robust predictions on page rankings according to the latest search engine algorithm. Analysts no longer need to prepare Excel files and perform manual calculations to make informed decisions.
Overall, AI in SEO will make scalability easier as you can analyze big data instantly, keep up with Google's updates, get reliable predictions, and track competitors' performance by efficiently monitoring the changes they implement. There will be a greater focus on automation, and SEO strategies will become more proactive, leading to more stable rankings on SERPs.
Potential risks and challenges of AI in SEO
While AI has its benefits in the SEO space, some risks and challenges still exist. 
1. Google's penalization of spammy auto-generated content
One of the most significant risks involves Google's penalization of spammy auto-generated content that doesn't provide value to users. Although SEO tools that integrate with advanced NLP models to generate content are helpful, they require a human writer to edit the content so that Google doesn't flag it as fake. 
2. Possibility of failing a plagiarism test
Also, since tools like ChatGPT-3 use existing content on the internet to train their models, any content they generate may fail to pass a plagiarism test. Tracking the content's author or owner for citation is challenging and adds a step of verifying the information to check for accuracy.
3. Low rankings with AI-generated content
Of course, no explicit law prevents SEO analysts from publishing AI-generated content on Google. Still, websites with such auto-generated content tend to rank lower on SERPs. As such, AI should act as an aid and not a substitute for content writing. However, editing high-quality auto-generated content for better rankings can be challenging and time-consuming.
4. Lack of human touch
Although AI content can be grammatically accurate and engaging by assuming a specific tone, it still lacks a human touch. Auto-generated content may not contain elements of jest, sarcasm, story-telling, connotations, localization, and other bells and whistles associated with writing that make it more interesting to read. 
5. Absence of creative element in SEO workflows
In addition, as SEO analysts become more reliant on AI to do most of their job, it's likely to remove the creative element from SEO workflows, making the resulting content devoid of originality. 
6. Possibility of generating biased opinion
Moreover, the potential for bias exists as the NLP models are trained on available data on the internet. As the existing content doesn't represent the entire world population, AI may generate biased opinions and views if the topic of concern doesn't have comprehensive coverage. In particular, generating localized content is challenging if the target audience belongs to a small niche, requiring SEO analysts to be extra careful to remove the risk of marginalization of specific customer segments.
Practical applications of Artificial Intelligence in SEO
Although AI SEO tools are not a panacea, they still streamline the overall process and allow analysts to focus more on strategy development and decision-making instead of performing repetitive and time-consuming tasks. As such, they ensure higher returns on investments (ROIs) by making SEO more cost-effective and increasing conversion rates. The following list discusses areas where AI in SEO is helpful and how it adds value to specific SEO elements.
AI in technical SEO
Technical SEO entails optimizing your website's technical elements, such as page schema, crawlers, indexation, sitemaps, and server-side settings. It can also include link management, consisting of redirects, canonical URLs, and internal links. AI tools can automate several tasks, help quickly identify technical issues, and provide suggestions to guide analysts in the right direction.

Related Article
A page's schema is one area where AI can help through automation. Schemas are essential as they tell a search engine what your page is about. For example, if you're adding a Frequently Asked Questions (FAQ) section on your page, you must include the FAQ tag in the page's schema so the search engine knows your page contains the FAQ section. Otherwise, it won't have a clue by reading the page. 
Of course, manually creating a schema and adding all the relevant schema markup is time-consuming and challenging. Tools like WordLift use AI to recognize your page's content and automatically build an appropriate schema by referring to the schema.org vocabulary.
Similarly, creating a sitemap for your website helps search engines find relevant information on your page against a user's search query. The Extensible Markup Language (XML) sitemap is the most common sitemap format and includes all the URL's on your website, meta-data, importance of each page, versions, etc. Squirrly SEO is an AI tool that can automate sitemap creation and boost rankings with minimal manual effort.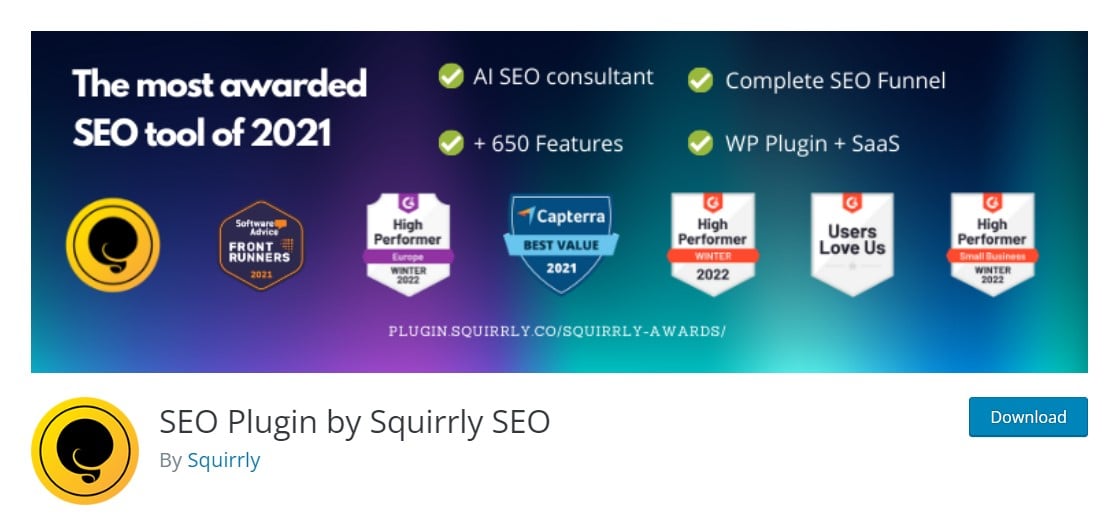 AI tools such as SurferSEO and AlliAI can also help perform comprehensive site audits to identify issues and recommend solutions. For instance, it can check if you have included enough internal links, provided canonical URLs, and whether the page-loading speed is optimal for a smooth user experience. 
AI in on-site optimization
On-site optimization involves improving elements on your website to boost rankings instead of enhancing external aspects or off-site factors (discussed later in the article). On-site optimization techniques overlap with the technical SEO components mentioned earlier. 
For example, improving internal links to direct users to relevant information is critical to on-site SEO. It also means ensuring your page loads in less time, responds quickly when a user interacts with it and doesn't have components like images, text, or videos shifting positions while they load. 
Of course, content quality plays a significant role in on-site optimization, as that's what the user wants. However, improving quality means checking many factors, such as word count, content structure, links, duplication, originality, authoritativeness, accuracy, etc. 

Related Article
As stated in the section above, AI in SEO can help by checking such issues through site audits. Tools like BrightEdge and Can I Rank? can recommend optimization techniques to improve your content's user-friendliness and ensure it delivers value by being specific to a particular topic. They can analyze whether your content requires more headings, images, or videos and recommend the optimal placement to ensure the user can easily find the information they want.
AI in keyword research
One of the future AI SEO trends discussed earlier concerns how AI helps with keyword research. Finding the correct keywords has been the most time-consuming task in the entire SEO lifecycle as it involves significant spreadsheet work to understand all the relevant data. And like any research project, keyword research is also an iterative process and can be challenging if you start at the wrong place.
However, AI changes the workflow by automating the entire process. For example, Keywords Insights AI helps by letting you enter a seed keyword and suggest related keywords that match your topic, providing similar terms and phrases, and giving additional search suggestions to indicate what type of queries users might write to search for your topic.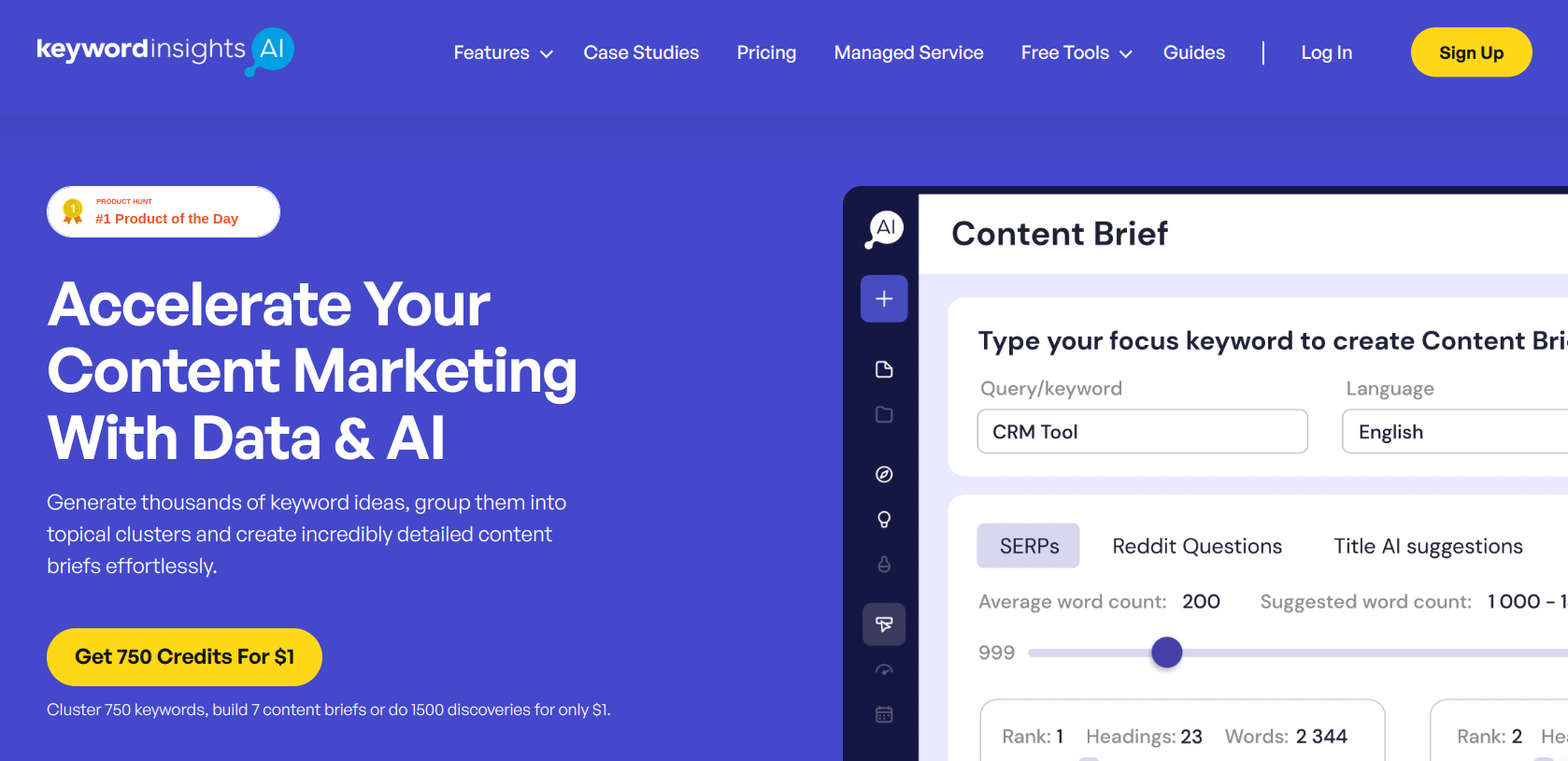 It will also analyze the rankings, cost-per-click (CPC), search traffic, keyword competition, etc., to help you decide which keyword to choose. 
Furthermore, AI tools like ChatGPT 3 can analyze Big Data instantly to provide valuable insights regarding specific keywords. For instance, you can provide a suitable prompt such as, "What do users like most about SEO?" and get responses from which you can get an idea for a seed keyword.
AI in SEO
content production 
Modern AI tools such as ChatGPT-3 generate human-like content and streamline writing by helping writers get valuable ideas to build engaging content. AI SEO tools can assess your content against several factors and suggest improvements to boost your rankings. 
Content quality is a significant factor in determining your page's position on SERP. Tools like 10Web AI Writing Assistant, MarketBrew and Diib can help by automatically identifying issues related to anchors, keyword choice and placement, content length, user-friendliness, structure, meta tags, etc., and provide the proper fixes to save you time and improve quality.
Optimize your content SEO with AI!
Write and perfect original content and fix all SEO and readability errors 10X faster with 10Web AI Writing Assistant.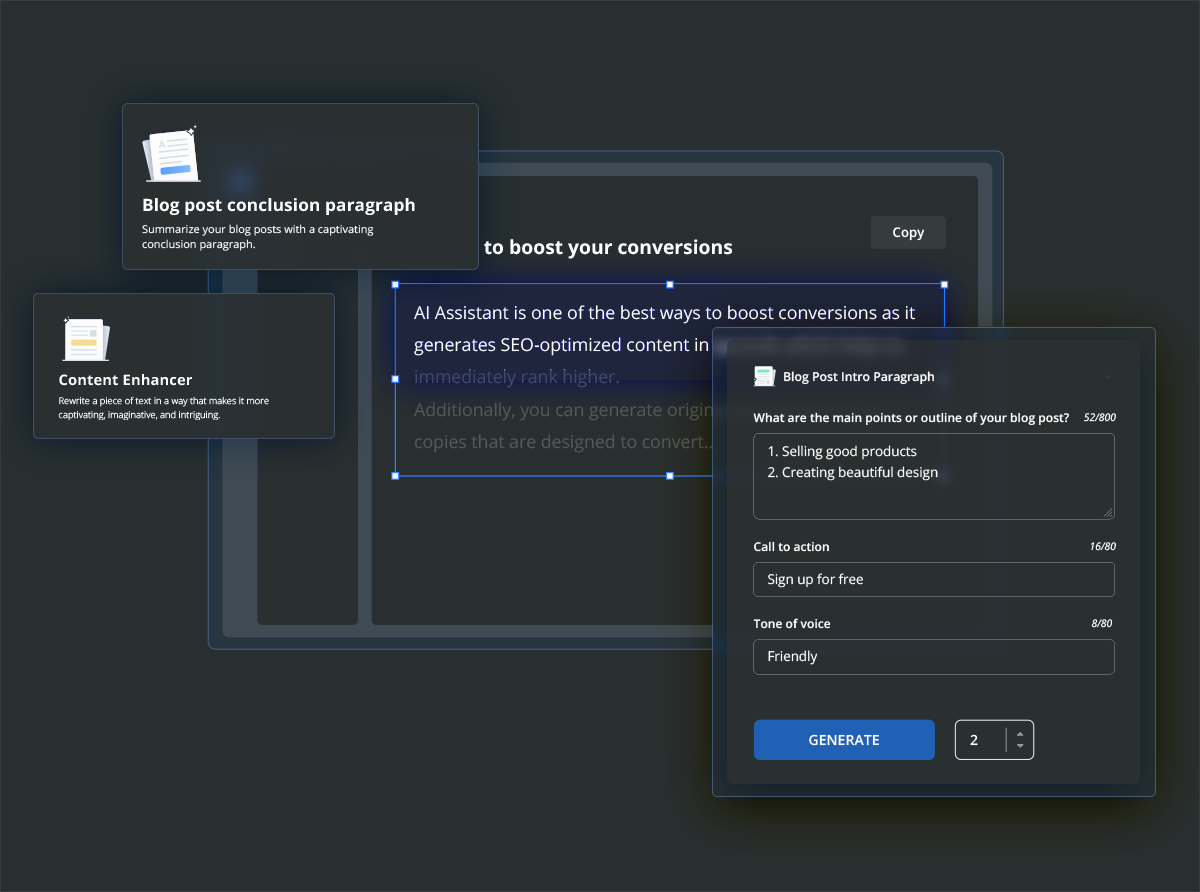 You can also use tools like MarketMuse, topic, ChatGPT 3, etc., to generate outlines, paragraphs, meta titles, descriptions, introductions, and conclusions to help you craft a compelling high-performing copy with an improved chance of a conversion.
However, as mentioned earlier, several ethical concerns surround an AI SEO content generator. For example, it isn't easy to trace ownership, as AI tools use the existing information on the internet to generate content. 
As such, SEO writers should always edit and verify the content's accuracy through AI content detectors before publishing it on the web. 
AI in off-site SEO
Off-site or Off-page SEO involves optimizing your site's rankings by improving its credibility, trustworthiness, and relevance through external factors. Common elements include building backlinks, guest blogging, influencer, and social media marketing. The primary purpose of off-page SEO is to build your site's reputation by having other authoritative sources vouch for your content. Off-page SEO is similar to word-of-mouth marketing which aims to generate popularity for a brand or company.

Related Article
For instance, SEO scores improve if credible and authoritative websites link back (backlinks) to your content. Besides backlinks, improving your social media presence, having external writers as guest bloggers, and getting influencers to talk about your website boosts SEO scores. 
Of course, AI SEO tools are primarily helpful for on-site SEO. Off-site SEO involves manually reaching out to sources to refer to your website. However, AI SEO tools can track your site's backlink and social media performance to help you make better decisions.
For example, you can use SE Ranking's backlink checker to analyze all your backlinks and get instant alerts if you lose a backlink. It also helps you automate social media posts across several platforms and lets you engage with customers at the right time.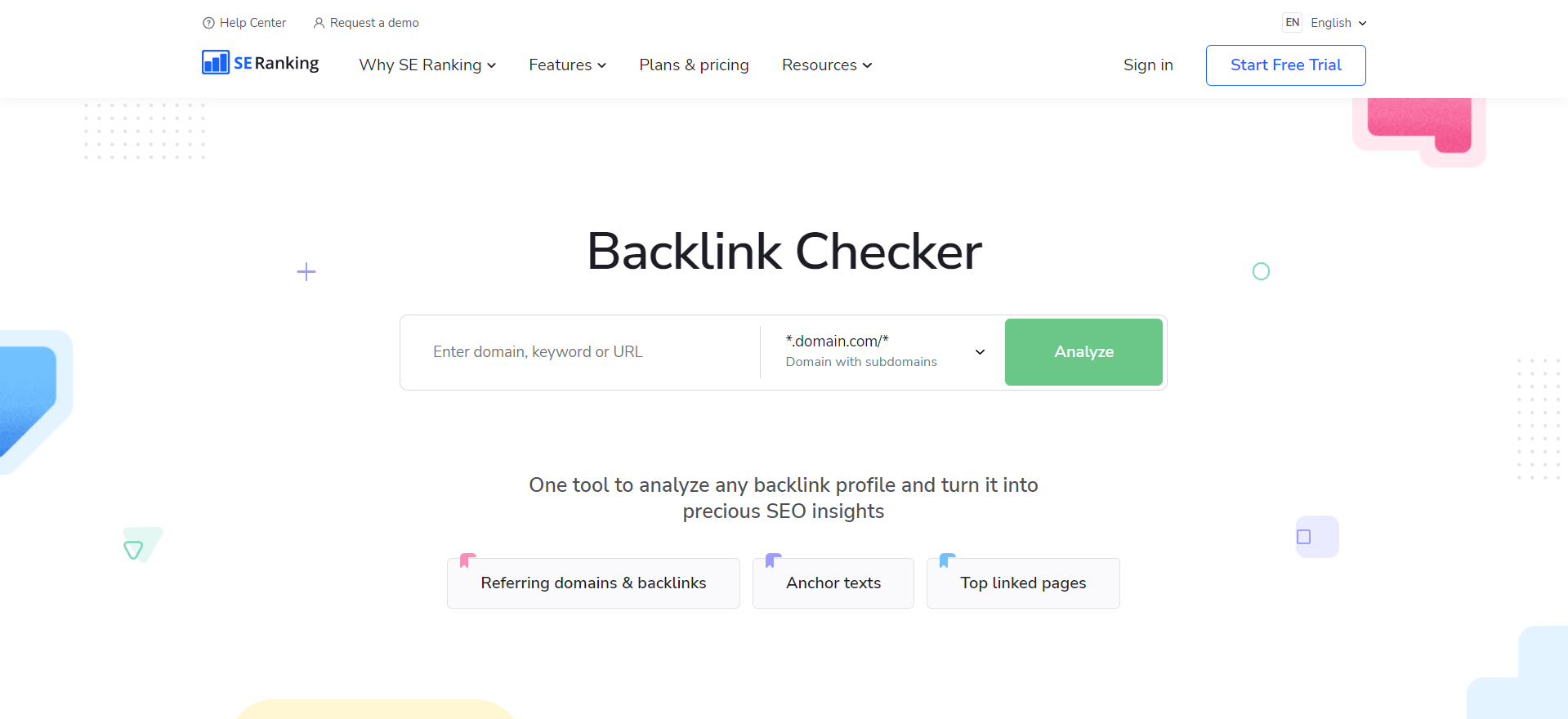 Predictive AI in SEO
Giving predictions is where any AI SEO tool shines the most. It can analyze large datasets and generate meaningful reports with intuitive visualizations to help you make informed decisions. 
As discussed earlier, AI SEO optimization requires analysts to keep track of updates happening to rank algorithms to ensure their website's position on SERP remains stable over time. AI SEO tools like Pave AI, Diib, and hawkeAI provide great value as they can give reliable predictions regarding your website's rank by assessing on-site factors against the latest search engine algorithm.
Also, they can predict traffic volumes by analyzing historical patterns of several variables, such as daily traffic, your target audience's buying behavior, competitor performance, the topic's popularity, etc., to help you set and meet your conversion targets more efficiently. 
The best selection of AI SEO tools in 2023
10Web AI Assistant – SEO Pack is a WordPress content optimizer plugin that integrates with popular SEO tools such as Yoast. Using this plugin can help you fix all the SEO and readability issues and achieve a higher ranking in SERP.
SEO scores are sensitive to meta titles and descriptions, key phrases, and their lengths. With 10Web AI Assistant, you can quickly generate SEO-friendly descriptions and titles that align with Yoast's SEO guidelines or optimize the already written ones. It will let you edit key phrases more efficiently and set the right length, ensuring Yoast gives you a high SEO score.
Optimize your content SEO with AI!
Write and perfect original content and fix all SEO and readability errors 10X faster with 10Web AI Writing Assistant✨
Moreover, passive voice and non-engaging introductions can hurt SEO performance. As such, 10Web lets you fix all these errors with just a click of a button and allows you to include compelling titles and paragraphs with relevant keywords to boost SEO rankings.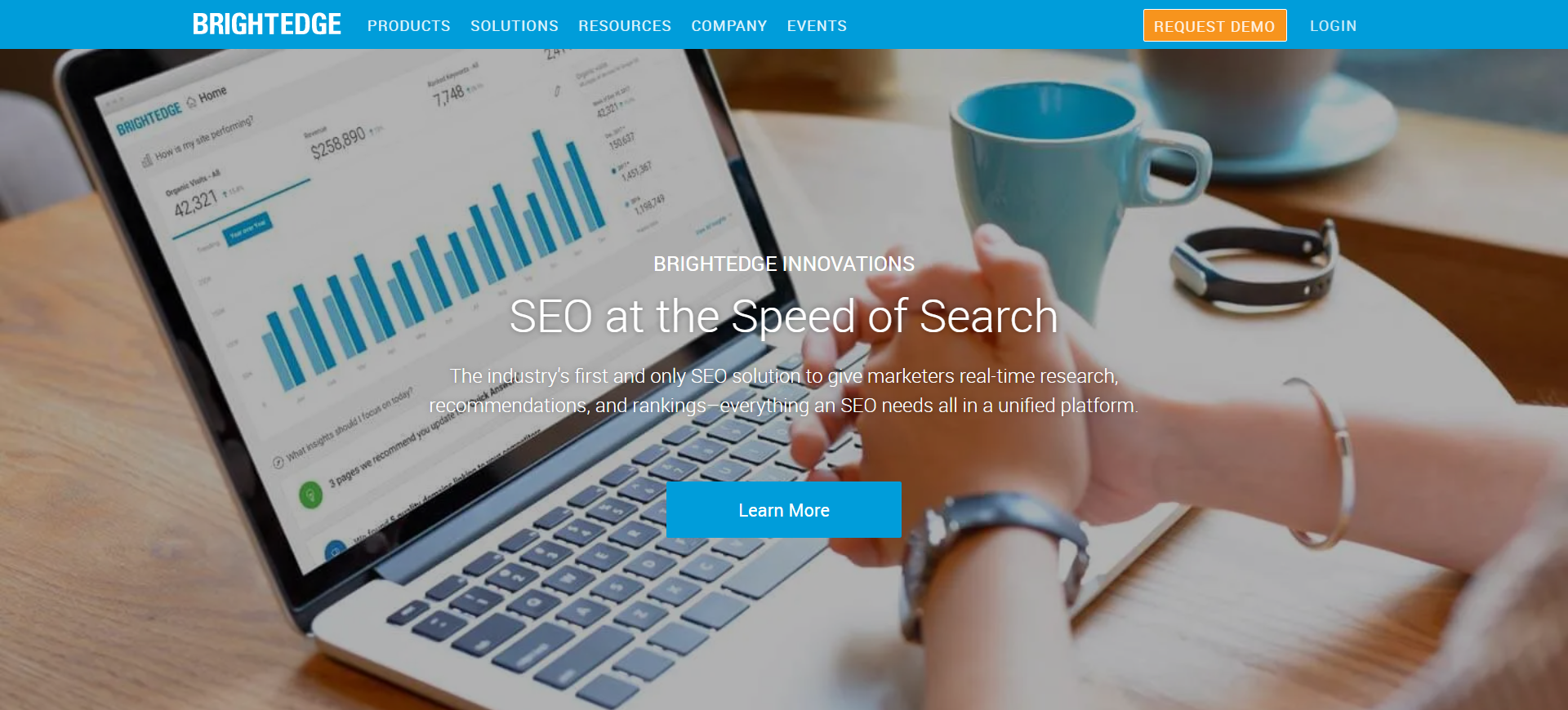 Bright Edge is a versatile AI SEO tool that lets you quickly research relevant keywords with Data Cube, improve the content to rank above the fold on SERP through the Intent Signal feature, and use its Hyperlocal functionality to localize your content for specific markets.
The tool also features detailed content recommendations for each page. It lets you inspect competitors' performance and content by highlighting URLs performing better than your site on SERP through the Share of Voice function.
Additionally, Bright Edge comes with the Story Builder feature that provides executive visualizations to show how your SEO efforts deliver value. It shows how your content is helping increase conversions through intuitive dashboards and summary reports.
MarketBrew is a sophisticated AI platform that lets you configure a particular search engine's algorithm to test your website's rankings. For example, you can tailor Market Brew's platform to behave like Google and see how your site performs after a specific change.
It explains precisely why your site may be in a lower position than a competitor's site. It will tell you whether the meta tags, content structure, or any other element is causing a lower rank while suggesting exactly where to make adjustments.
Conclusion
As with every other field, AI is revolutionizing the SEO space with modern tools that do most of the repetitive and cumbersome tasks, allowing SEO analysts and business executives to make quick decisions in today's fast-paced digital environment.
They help identify issues and suggest fixes to improve SEO scores while giving reliable predictions of your site's performance by analyzing several data patterns. 
However, AI content generation tools require caution as they may fail to create valuable content tailored to a specific user group. Google dislikes such content, bringing down your site's position on SERP. 
Get a head start on website creation with AI
Create a custom website tailored to your business needs 10X faster with 10Web AI Website Builder!