Did you know that websites on the first page of search results receive 95% of web traffic, leaving a meager 5% for those that follow? This makes it crucial for websites to show up at the top of organic search engine rankings, and pay attention to methods that can help achieve this. 
This is why using SEO tools is important, as they make it easier to understand what you need to do to boost your organic rankings. In today's intense race for visibility, these tools offer amazing opportunities to boost your website's performance and make it stand out. 
Put AI into the mix, and you can maximize the value you can achieve with these tools. From generating compelling and search engine-friendly content with AI SEO content generators to conducting in-depth AI semantic SEO analysis, AI-based SEO tools revolutionize the way we optimize for search engines. They also show AI in SEO is here to stay, and will power the next generation of search moving forward. 
In this comprehensive guide, we've compiled the 11 best AI SEO tools available today, carefully classified to suit your needs. 
Let's dive in!
AI SEO tools best for research and planning
Research and planning are the foundation upon which successful strategies are built. Without these crucial steps, SEO efforts can often end up aimless and ineffective, leading to missed website visibility and growth opportunities. 
Let's take a look at some of the best AI SEO tools that excel in this area:

Main features: Content generation, sentiment analysis, language translation, text summarization, question-answering.
Pricing: Free plan that allows up to 100 conversations per month. The paid plans start from $20 per month.
Customer reviews analyzed: Over 10,000 customer reviews were analyzed, and the majority praised the tool's versatility and powerful language processing capabilities.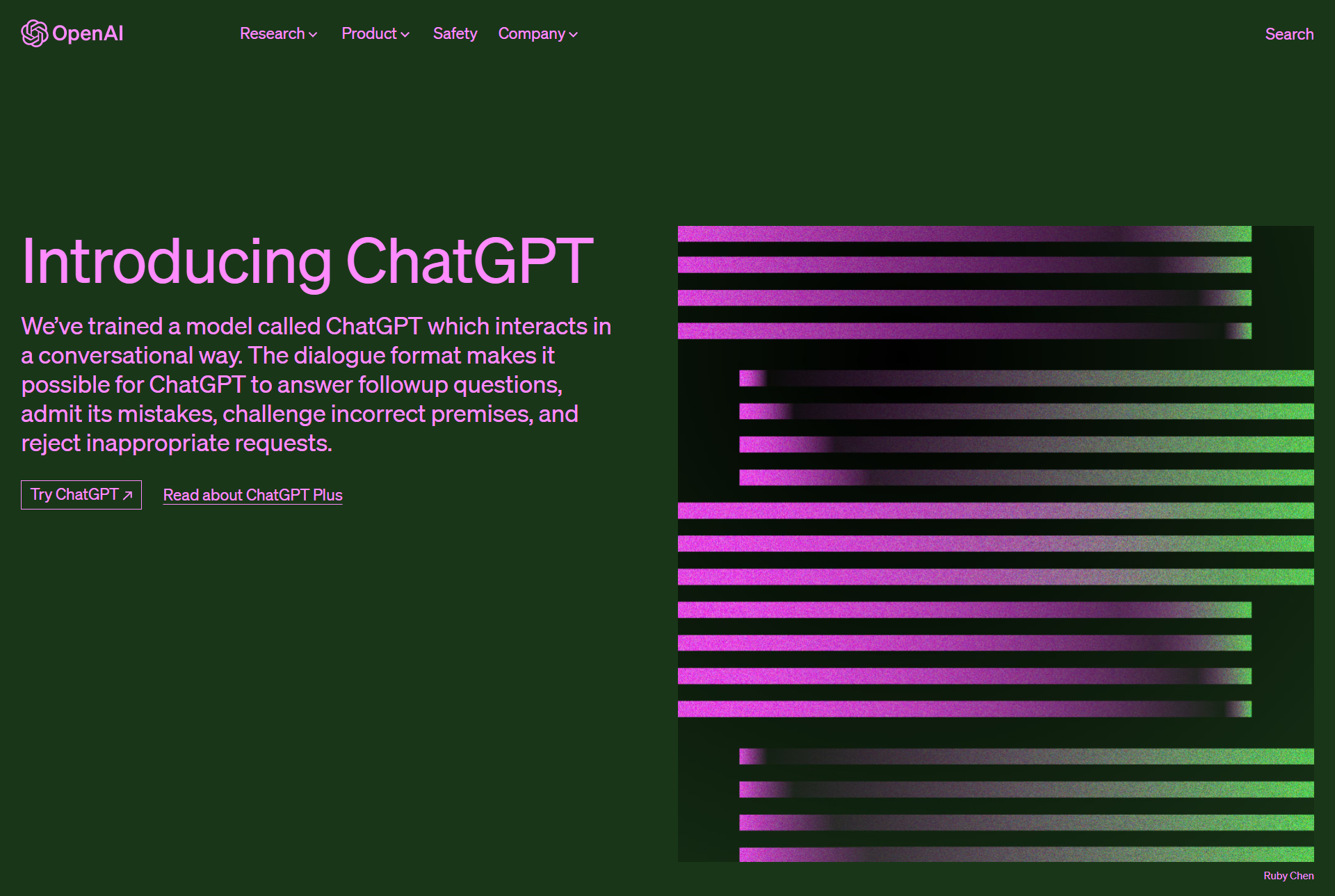 First on our list is ChatGPT, which is probably one of the most popular AI tools of 2023. Its incredible natural language processing abilities have taken the world by storm. Few know that ChatGPT can be used as an AI SEO content generator, and can also help with the planning and researching process. The best part? You don't need to be an expert to use it effectively. All you have to do is provide it with prompts, and it will do the rest for you.
The better your prompts, the better the results you'll get. So, it's essential to frame your questions or requests clearly and specifically. Here are a few examples of how you can utilize ChatGPT prompts for marketing research:
"Hey, can you help me find some powerful stats related to the impact of social media on consumer behavior?"
"Hey ChatGPT, can you suggest some relevant keywords for a travel blog about Italy?"
"Can you assist me in generating a Search engine optimized and engaging outline for an engaging blog post about managing IoT in the workplace?"
"I'm working on a comparison article between two popular smartphones. Can you help me list their key features and differences targeting the keyword?"

Main features: Analyze customer interactions and behaviors, personalize content, emails, and interactions, customer service automation, and sales forecasting.
Pricing: HubSpot offers a free demo. The basic plan starts at $20 per month.
Customer reviews analyzed: Customers appreciated the ease of use and seamless integration of HubSpot's AI tools into their existing workflows.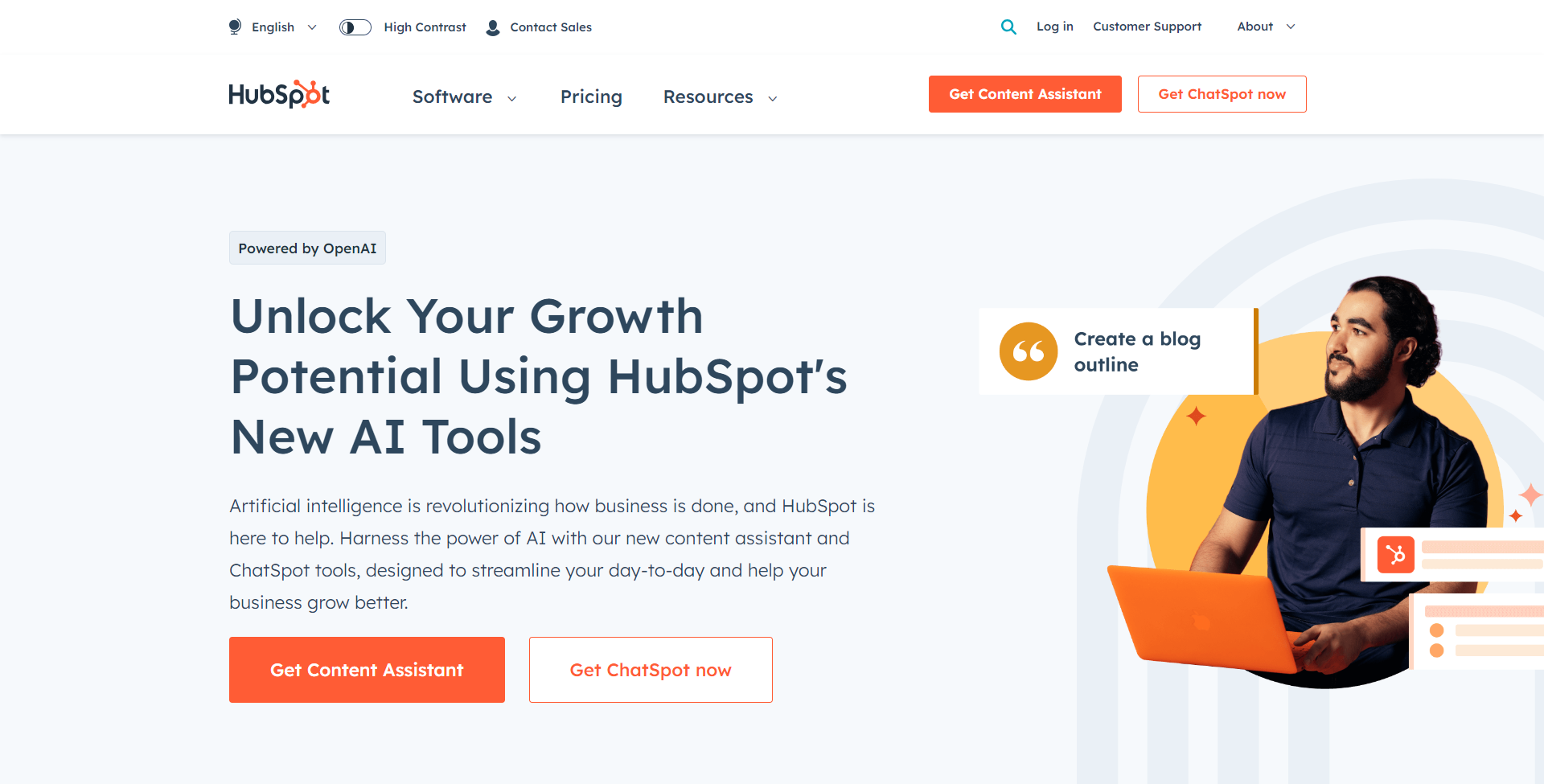 HubSpot's AI tools have been making waves in the digital marketing landscape. And for good reason. This AI SEO tool is especially useful if you're running short of time and need quick optimization for your website. It saves you a ton of time and energy. 
By running your website through its SEO optimization tool, it automatically scans and analyzes every nook and cranny, identifying golden opportunities for optimization. 
Whether improving your meta tags, enhancing your keywords, or fine-tuning your content, this tool will point you in the right direction, ensuring your website climbs up those search engine result pages (SERPs) in no time!
But that's not all, the AI Content Assistant goes above and beyond. 
Need inspiration for your blog? It can brainstorm brilliant blog ideas! 
Looking to structure your content cohesively? It can whip up well-organized outlines! 
Need to fill in the details? It can even create eloquent paragraphs for you! 

Main features: Market analysis, performance tracking, brand monitoring.
Pricing: Different pricing starting at $25 per crawl/ offer customized plans based on specific business needs.
Customer reviews analyzed: While the number of customer reviews analyzed is limited, the feedback indicates that Market Brew's AI tools have been positively received for their accuracy in market analysis. Users found the performance tracking and brand monitoring features particularly helpful for their marketing strategies.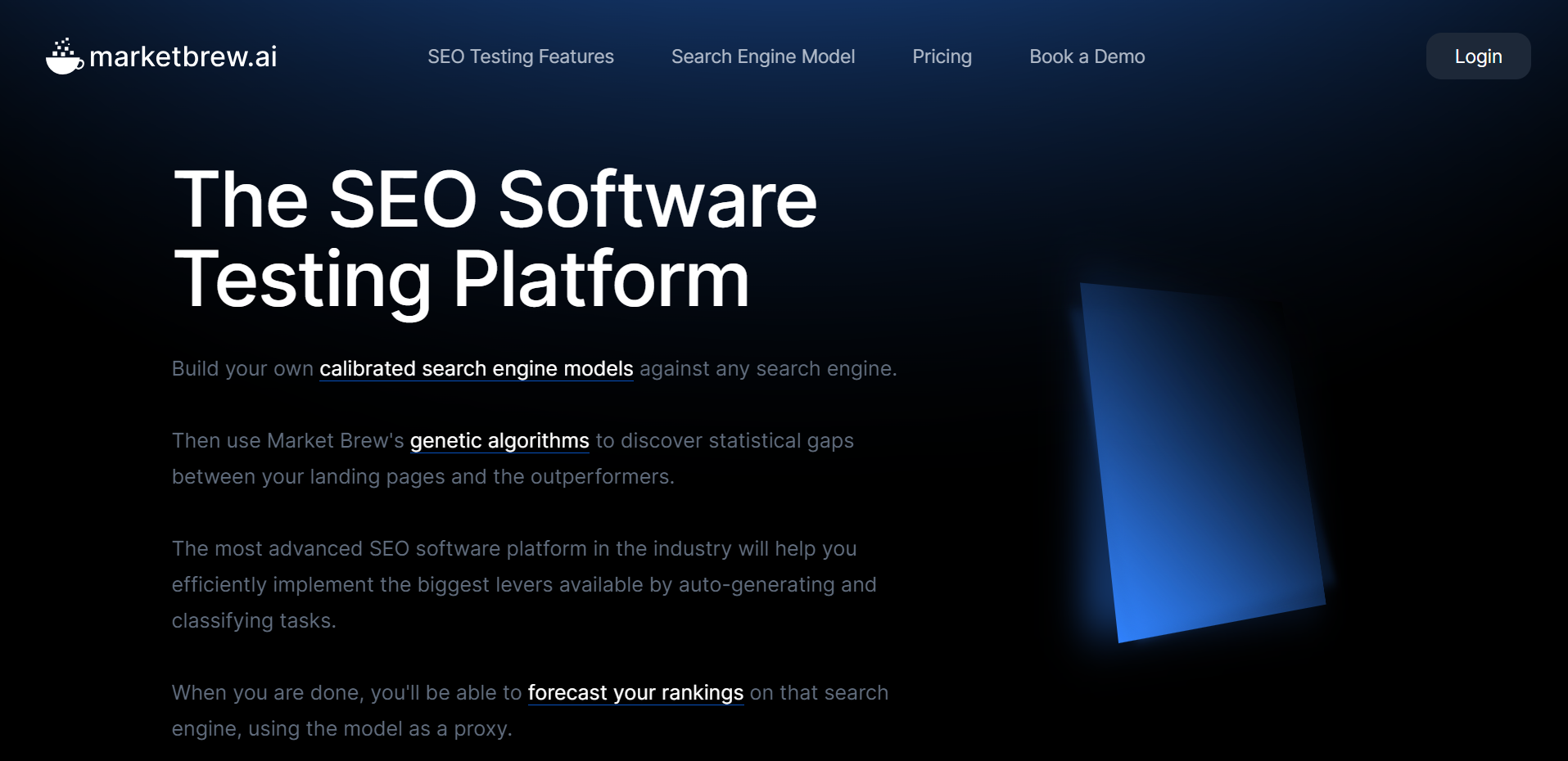 Whether you're a small business or competing with larger SEO teams, Market Brew empowers you to stay ahead in the ever-evolving landscape of search engine rankings.
Unlike traditional SEO tools, this AI SEO software empowers you to build personalized search engine models. It uses genetic algorithms to identify statistical gaps between your landing pages and top-performing sites. This helps understand where improvements are needed to boost your website's visibility and effectiveness.
The software's real magic lies in its auto-generation and classification of tasks. It efficiently generates tasks that have the biggest impact on your SEO performance. As you complete these tasks, you can even forecast your future rankings on the search engine using the model as a proxy.

Main features: Keyword research, competitor analysis, search volume trends.
Pricing: Keyword Insights offers a free trial with limited features. The paid plans start at $29 per month, with more comprehensive features available in higher-tier plans.
Customer reviews analyzed: Users loved Keyword Insights for its user-friendly interface and valuable keyword recommendations. The competitor analysis feature was also highly appreciated for gaining a competitive edge in the market.
Next on our list of 11 AI SEO Tools is Keyword Insights. Understanding the right keywords can make all the difference between getting lost in the crowd and standing out on the first page of search results.
With Keyword Insights, you don't have to be an SEO expert to find the perfect keywords. The tool simplifies the process, providing you with valuable insights into what people are searching for. This way, you can tailor your content to match those popular keywords and attract more visitors.
All you need to do is enter a seed keyword, and within moments, the tool will generate hundreds of related and similar keywords. It's quick, easy, and incredibly effective!

Main features: Website analysis, performance monitoring, search engine optimization.
Pricing: Screpy offers a free plan with limited features. The paid plans start at $2.5 per month for small websites, with higher-tier plans for larger businesses and agencies.
Customer reviews analyzed: Users appreciated Screpy's AI-powered website analysis for its accuracy and ability to identify hidden technical issues. The performance monitoring feature received praise for its proactive approach to website maintenance.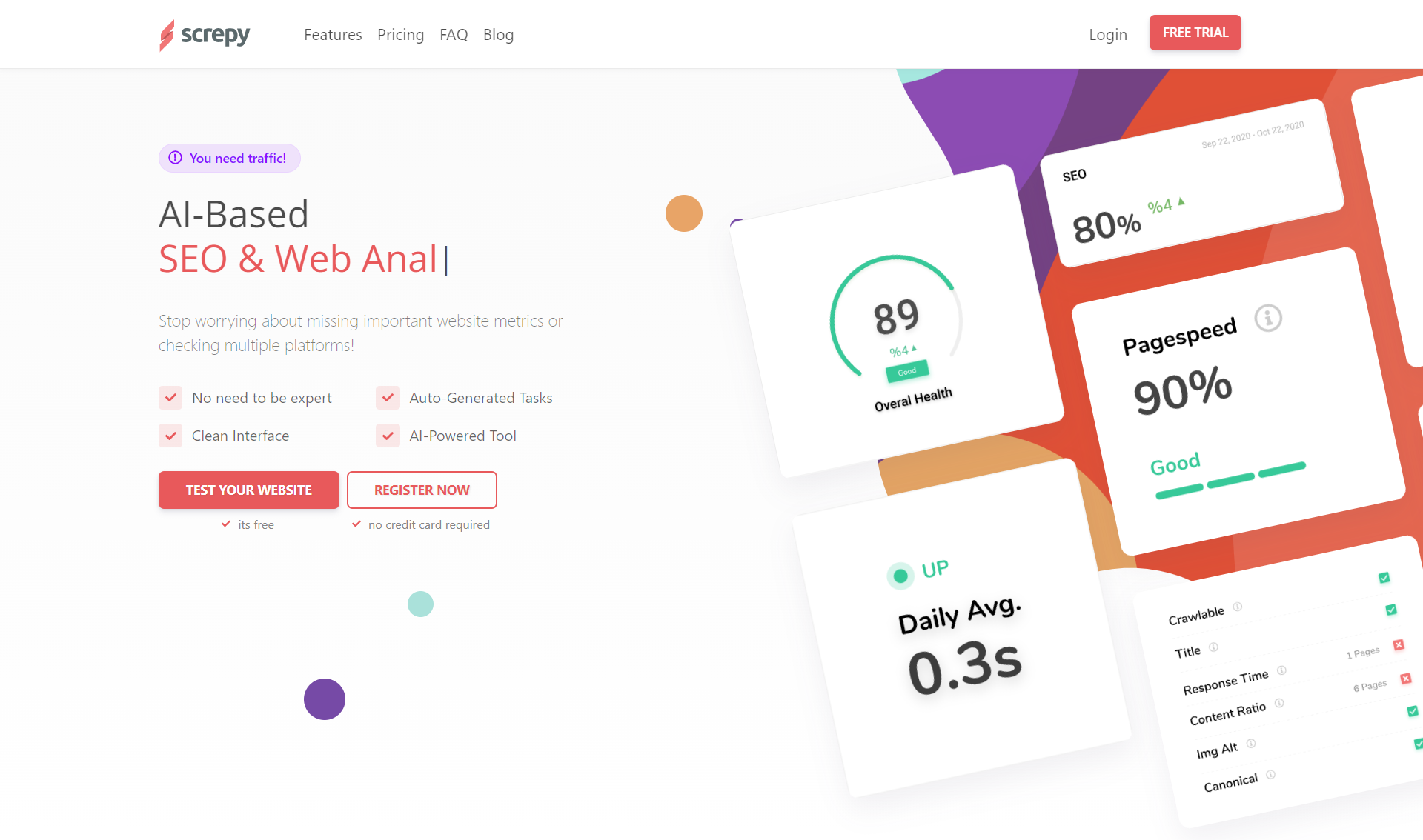 Tired of switching between different tools for your SEO needs? With Screpy, you have everything you need in one place, making your SEO journey smooth and efficient.
With keyword tracking, you can monitor your Google rankings and plan your SEO strategy accordingly. The page speed monitoring feature uses integrated metrics to identify issues and improve your website's speed. It analyzes your site, pinpointing problems and offering specific optimization tasks.
You can stay on top of things with uptime monitoring. This AI SEO tool sends you real-time downtime alerts, enabling you to proactively address any potential problems before they impact your website's performance.
And let's not forget about code quality! The Syntax Checker ensures your website's codes are clean, functional, and user-friendly across all pages.

AI SEO tools best for content and optimization
Main features: Generate AI-powered SEO-optimized content, write content directly in Gutenberg and WordPress classic editor, fix SEO and readability errors in Yoast.
Pricing: 10Web AI Writing Assistant is included in the platform plans that start from $20 per month (billed monthly).
Customer reviews analyzed: 10Web AI Writing Assistant has generally received positive feedback for its user-friendly interface, helpful content generation, and valuable SEO recommendations.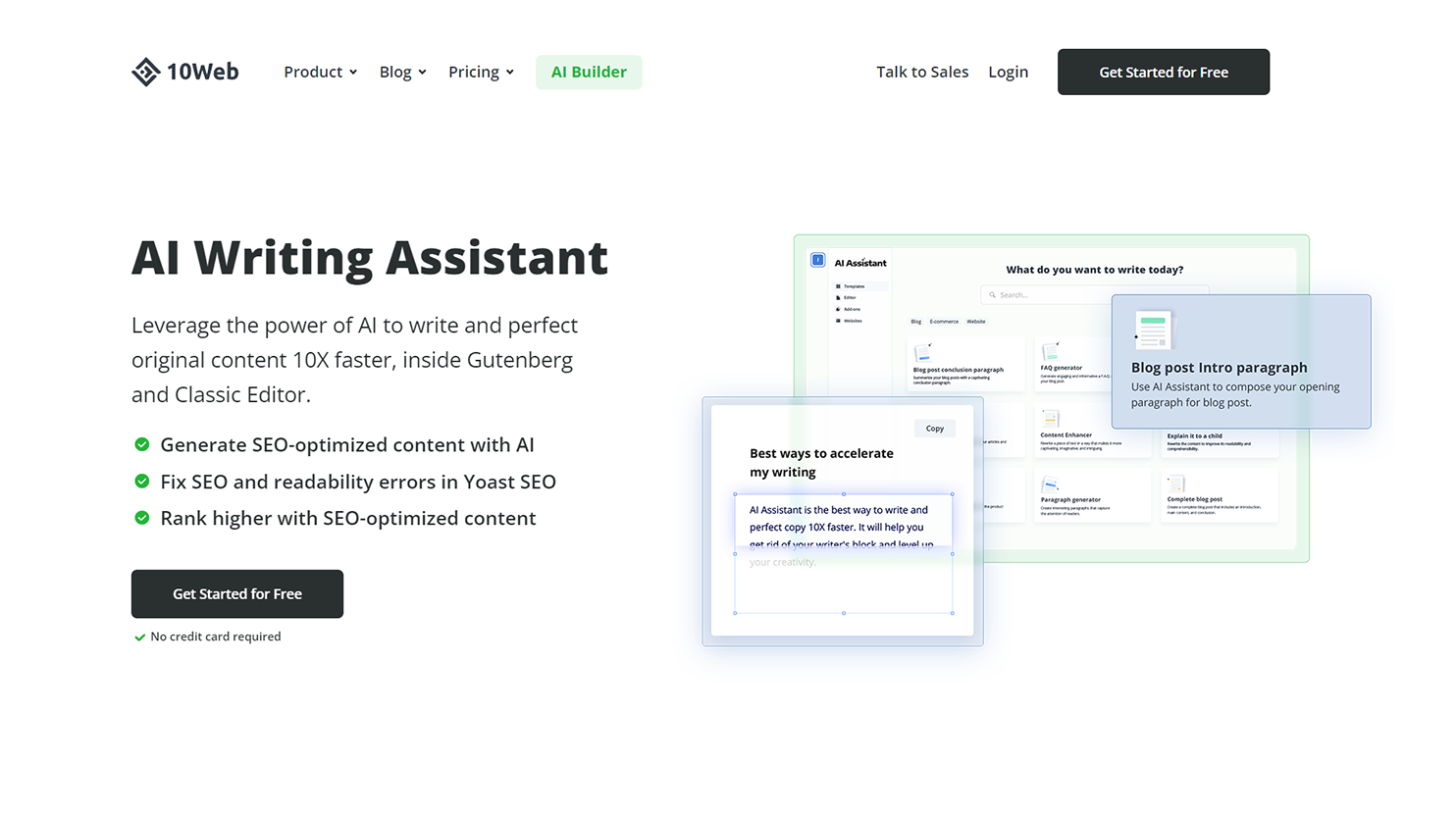 With the help of advanced AI technology, the 10Web AI Writing Assistant empowers users to generate original, high-quality content up to 10 times faster than traditional methods. 
Whether you're a blogger, content marketer, or business owner, this AI SEO software is tailored to meet your content needs with unparalleled efficiency.
The tool also identifies and rectifies SEO and readability errors in Yoast SEO. This ensures that your content aligns with best practices, enabling your website to attract more organic traffic.
The versatility of the 10Web AI Writing Assistant is another key advantage. It offers a range of content templates to suit various purposes, from crafting blog posts and website content to generating press releases and persuasive ad copies. 
The assistant's ability to cater to different content needs streamlines the writing process and boosts productivity significantly. 

Optimize your content SEO with AI!
Write and perfect original content and fix all SEO and readability errors 10X faster with 10Web AI Writing Assistant✨
Main features: 50+ templates, content generator, plagiarism checker, grammatical error checker.
Pricing: Free trial for 4 days. Paid plan starts at $49/month.
Customer reviews analyzed: Users who provided feedback praised Jasper for its thorough content generation.
Next on our list is Jasper, an AI SEO tool that stands out for its exceptional AI-driven search engine optimization capabilities. With 50+ templates, it covers various content needs, from social media copy to eCommerce product descriptions to SEO content writing.
Notable templates include "Content Improver" and "Explain it to a Child," which breathe life into dull content and rephrase complicated content for easy understanding. You can craft personalized templates and workflows to suit your needs, giving you unparalleled flexibility and control over your content creation process. 
The ability to save these templates for repeatable processes on the Teams or Business plan is a gem of a feature, streamlining your workflows and maximizing efficiency.
Moreover, by training the AI with text to imitate your brand's tone and style, you can create unique content that reflects your brand identity. 

Main features: Content optimization, content structure analysis, SERP analysis, outline generator, content generator.
Pricing: Surfer offers a free trial with limited features. The paid plans begin at $89 per month.
Customer reviews analyzed: Users appreciated Surfer's AI writing assistant for its ability to boost content visibility and improve organic traffic. The content structure analysis feature also received praise for streamlining content creation efforts.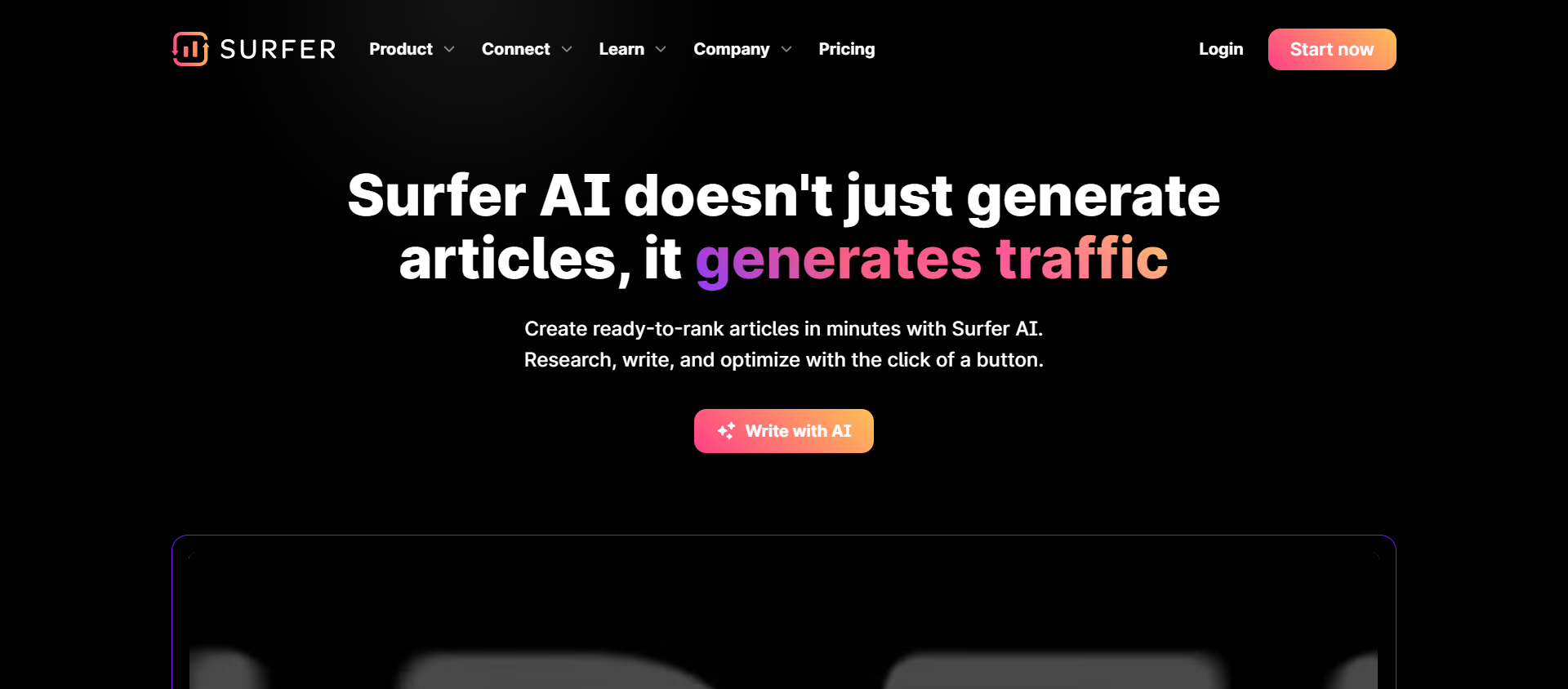 This AI SEO tool offers valuable insights into the ideal word count, heading structure, paragraph length, and the number of images to include in your post. If you're seeking an AI writing assistant that eliminates the guesswork from SEO optimization and empowers you to craft standout content, Surfer is an absolute must-have. 
Additionally, it delves into your competitors' world, analyzing their keywords and content with the help of an open-source NLP model. Armed with this valuable insight, it provides you with strategic suggestions on using those keywords effectively in your content. 

Main features: Content briefs, SEO recommendations, content writing, content analytics.
Pricing: Frase offers a free trial with limited features. The paid plans start at $44.99 per month.
Customer reviews analyzed: Customers liked Frase's AI content generator for its ability to streamline the content creation process and provide valuable SEO insights.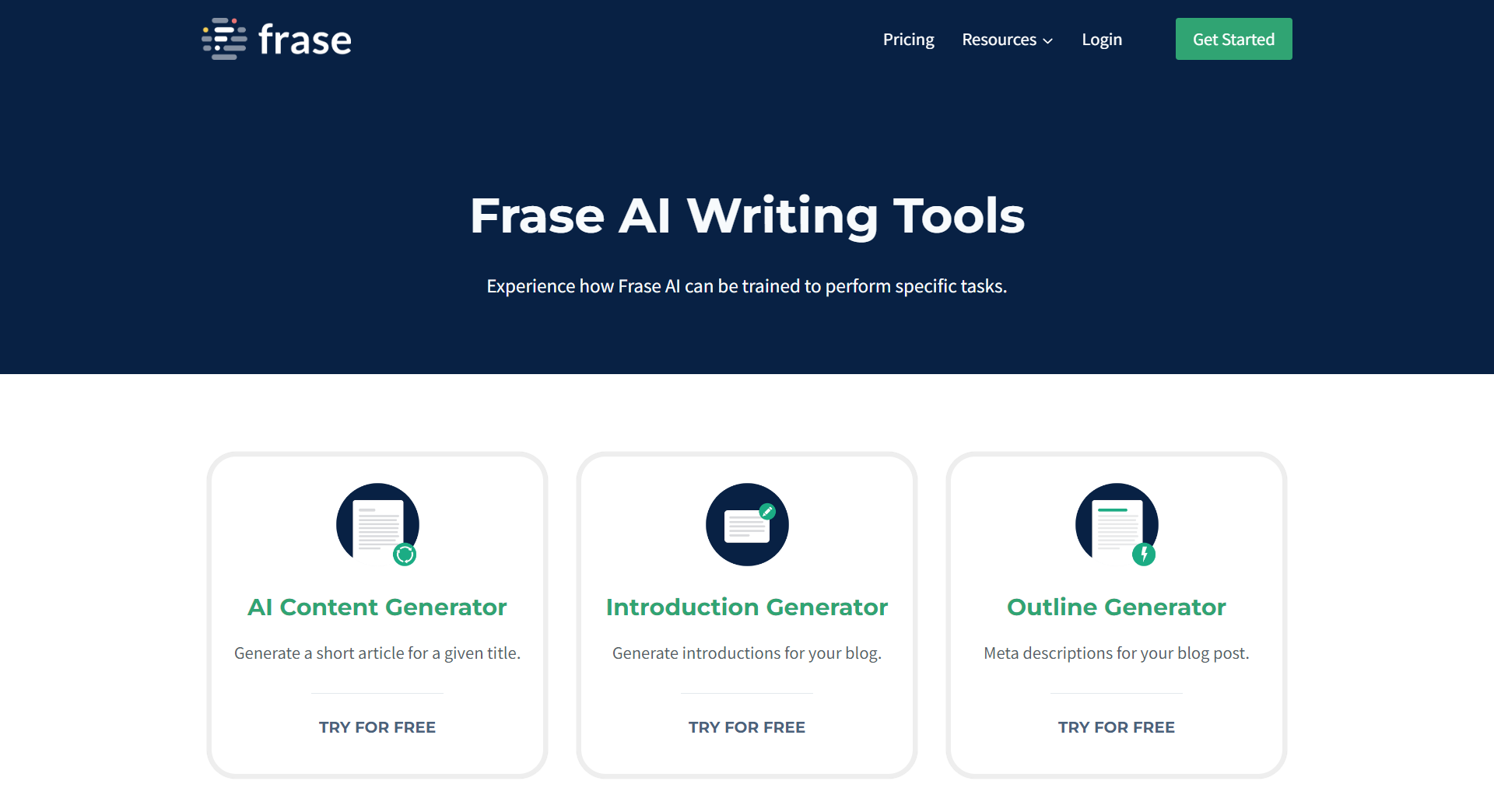 Trusted by an impressive roster of 30,000 clients, including renowned names like Coursera, Merkle, and Digitas, this AI SEO software is a game-changer for SEO content research and optimization.
Creating comprehensive content briefs with Frase becomes a breeze, taking mere minutes instead of hours. Gone are the days of painstakingly researching SERPs. This tool does the heavy lifting by compiling, analyzing, and consolidating the best content available. 
If you haven't used Frase before, do not worry. It goes the extra mile to support its users. It provides a Crash Course section, ensuring you can use the software immediately and maximize its potential for your SEO needs. The lessons are short yet comprehensive, and handy quick clips serve as practical demos to help you navigate the tool like a pro.

AI SEO tools best for technical audit and fixing
Performing an SEO audit of your website can play a crucial role in optimizing for search engines, as sites with minimum technical issues are prioritized more because they provide a better experience for users. Let's look at a couple of AI SEO tools that can help with this. 

Main features: AI auditor, smart reporting, tailored recommendations, talent marketplace.
Pricing: It offers a free plan and a paid plan beginning at $10/user.
Customer reviews analyzed: MRKT365 has garnered positive feedback from satisfied customers. Users appreciate the AI Auditor's effectiveness in identifying marketing opportunities and providing actionable insights.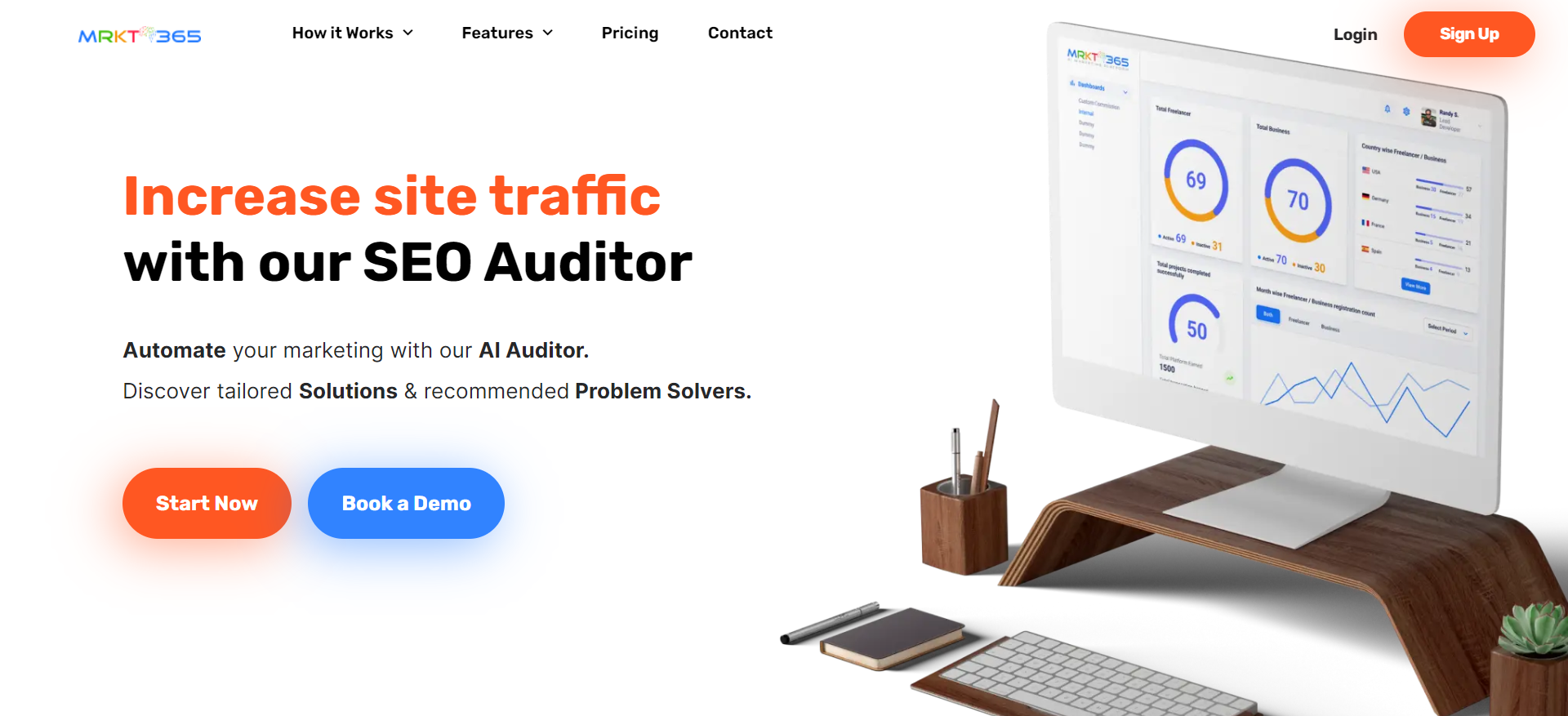 MRKT365 is an AI-driven platform that takes your online marketing to new standards. Whether it's technical SEO, social media, or PPC marketing, their AI Auditor scans your website to find proven opportunities for growth on search engines like Google and Bing. 
MRKT365 provides more than just data – they provide clear insights and smart recommendations that help you make informed decisions and elevate your marketing strategy.

Main features: AI-led SEO auditor, technical SEO error checks, white-label SEO Auditor reports.
Pricing: The pricing plan starts at $19.
Customer reviews analyzed: Sumolings and agencies alike hail Labrika as a must-have tool, thanks to its ability to uncover critical errors and provide actionable guidance for improvement.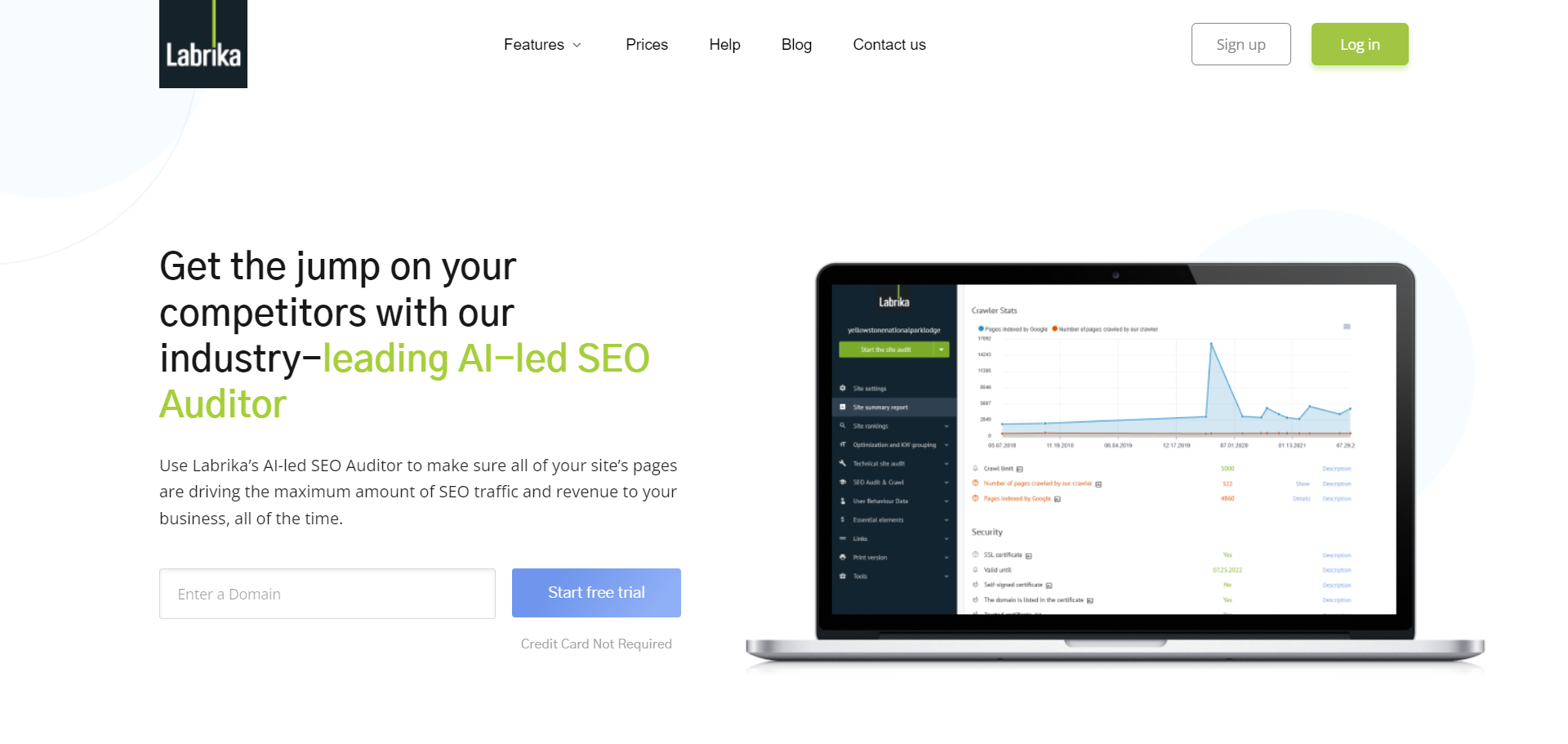 With an impressive track record of optimizing over 134,000 websites and processing a staggering 184.7 million keywords, 
It is the go-to tool for marketers seeking unparalleled value and results. This sophisticated tool checks over 230+ critical ranking factors and presents its findings in a highly detailed yet easily actionable report. 
Furthermore, it streamlines your AI SEO optimization workflow by segregating errors as "critical" or "other." This prioritization helps you focus on fixing the most damaging SEO errors first, ensuring your search rankings remain strong. 
Additionally, it empowers you to automate routine SEO Auditor checks with its easy-to-set-up scheduling feature. Choose how often you want Labrika to check for technical SEO errors on your site and maintain your site's optimization effortlessly!


Conclusion
AI SEO tools have revolutionized the way we approach search engine optimization, providing valuable insights, automation, and efficiency to enhance website performance. These advanced tools offer many features, from content optimization to technical audits, making them indispensable assets in the SEO landscape. 
When seeking an all-in-one AI SEO tool, it's essential to consider the tool's value and effectiveness for your specific needs. While affordability is a factor, prioritize the features and functionalities that align with your SEO goals.

FAQ
Can a single AI SEO tool substitute an SEO specialist?
While AI SEO tools have significantly advanced and can automate various SEO tasks, they cannot completely replace the expertise and insight of a skilled SEO specialist.
AI tools can assist in keyword research, content optimization, technical audits, and other SEO-related tasks. Still, they lack the human touch and deep understanding of the nuances of SEO strategy.
What is the cheapest all-in-one AI SEO tool?
The cost of AI SEO tools can vary depending on their features and capabilities. While affordable options are available, it's essential to consider the value and effectiveness of the tool for your specific requirements.
What's an AI SEO tool that can substitute all other SEO tools?
No single AI SEO tool can completely replace all other SEO tools on the market. Each AI SEO tool has its strengths and focuses on specific aspects of SEO, such as content creation, technical audits, keyword research, or competitor analysis.
Get a head start on website creation with AI
Create a custom website tailored to your business needs 10X faster with 10Web AI Website Builder!